This list of 21 family favorite easy vegan dinner recipes are all ready in 30 minutes or less! This collection of recipes will help you learn to cook simple, healthy, delicious vegan dinners every single night! There's something for everyone on this list, even the kids!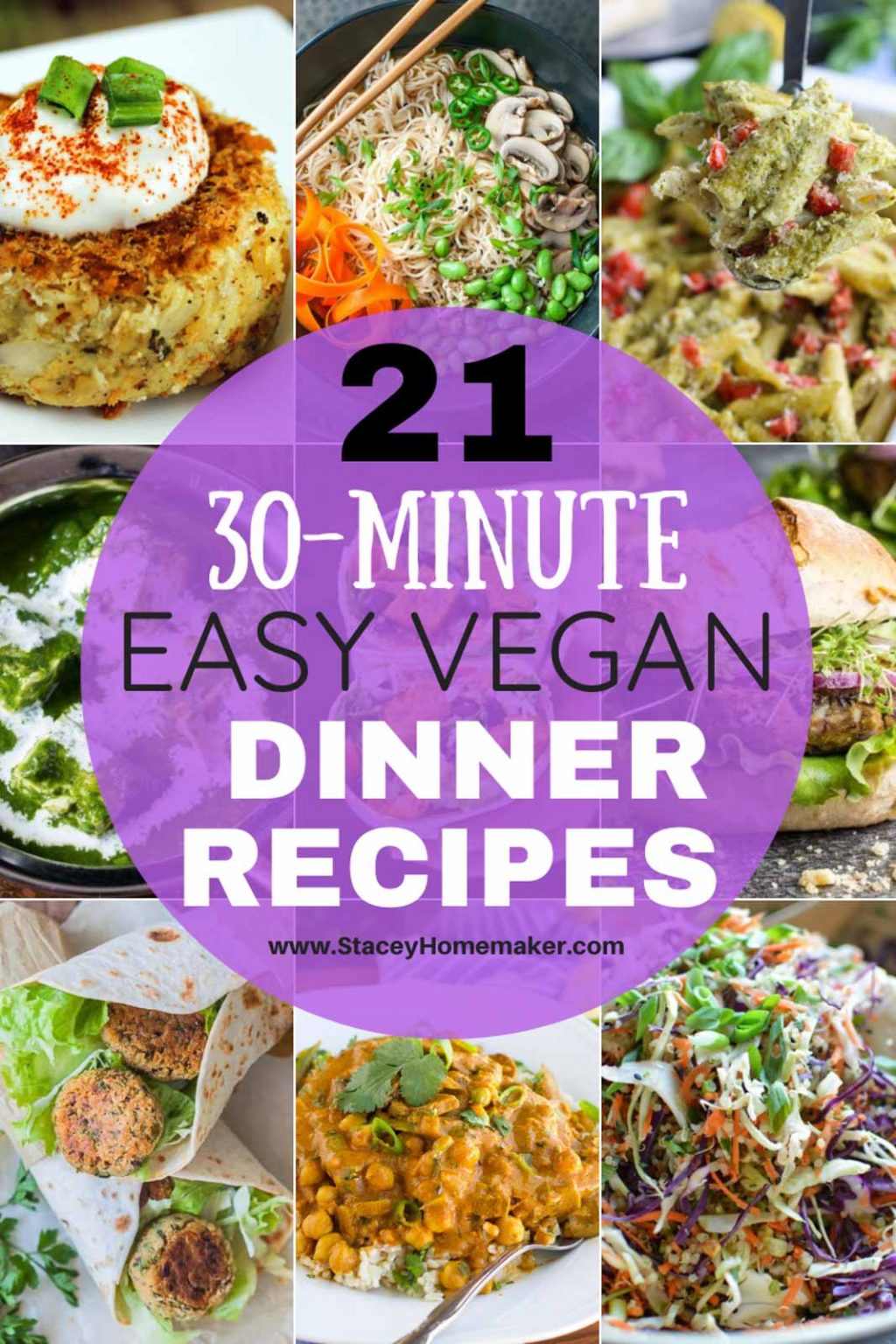 This list of 30-minute easy vegan recipes will be especially helpful to new vegans, but it's also great for experienced vegans, vegetarians, people who follow a plant based diet, or anyone who wants to work more vegetables into their diet but they don't have a lot of time to spend cooking in the kitchen.
What makes this list unique is that I've made every single recipe on this list and I can personally guarantee that each recipe is darn delicious! Each recipe is ready in 30 minutes or less, it's family-friendly, and most of the recipes are kid-friendly too.
I included some of my favorite vegan meal ideas that I make every month and some of my most popular vegan recipes for you to try! There is a wide variety of easy vegan meals on this list for you to choose from and I think that you will love all of them just as much as I do!
If you're a new vegan or if you're cooking for someone who is vegan, you'll find a few more resources below (like this 1-Month vegan meal plan!) that I think you'll find to be helpful.
How Do I Transition to Veganism?
You can transition to veganism overnight or do it slowly (like I did) at your own pace. I recommend removing one animal product at a time from your diet and then replacing it with a plant based option.
I wrote out a detailed weekly timeline in this step by step guide to going vegan that will show you what to remove/add to your diet each week.
What Can I Eat if I Go Vegan?
Vegetables
Fruit
Dried Fruit
Beans
Grains
Tofu
Tempeh
Pasta
Nuts
Nut Butters
Seed Butters
Seeds
Bread
Vegan Meat Substitutes
Vegan Dairy Products (vegan cheese, vegan sour cream, plant milk)
Vegan Egg Products
Vegan Desserts
Plus so much more!
There is a common misconception that being vegan is restrictive, but it's really not! Vegan food options are endless and you can enjoy a wide variety of easy vegan dishes!
Is Vegan Food Tasty?
Vegan food is SO TASTY! By cooking with fresh ingredients, lots of seasonings, fresh herbs, and different textures, you can create extremely satisfying and delicious meals!
Here are some of my favorite vegan recipes:
Join the free Facebook group below to get more easy vegan recipes!
Is Vegan Food Expensive?
I'm sure you've heard that being vegan is expensive, but that's simply not true. Stick to cooking with affordable beans, grains, and local fruit and vegetables, and you can easily stay within your budget. Here are some of my favorite inexpensive easy vegan meals on a budget.
Check out your local stores, shop the sales, and buy in bulk if possible. The following stores are my favorite stores to shop at:
What Can Vegans Eat for Dinner?
Vegans can eat veganized versions of pretty much everything they ate before they were vegan!
Here are some of my favorite vegan dinner recipes:
Vegan Breakfast Recipes
I know this is a roundup of my favorite 30-minute vegan dinner recipes BUT breakfast and lunch are important too!
Here are a few of my favorite vegan breakfast recipes:
Vegan Lunch Recipes
A vegan lunch doesn't have to be complicated, it could be as simple as the leftovers from dinner last night or a quick veggie wrap.
Check out the following list for some of my tried and true easy vegan lunch ideas:
21 Vegan Dinner Recipes That are Ready in 30 Minutes or Less
The number one request that I get is for healthy vegan dinner recipes that are FAST and family-friendly! I love quick recipes too, especially flavorful, satisfying vegan recipes that I can get on the table in less than 30 minutes.
There is something for everyone on this list, so check them all out and PIN your favorites so you can make them all in the future! There are lots of vegan recipes for kids on this list too, especially the lentil sloppy joes and broccoli cheese soup!
1 - Vegan 30-Minute Garden Vegetable Barley Soup
This hearty vegan vegetable barley soup is ready in only 30 minutes and it's absolutely loaded with vegetables and flavor! This fast and easy vegan dinner will be one of your new family favorites!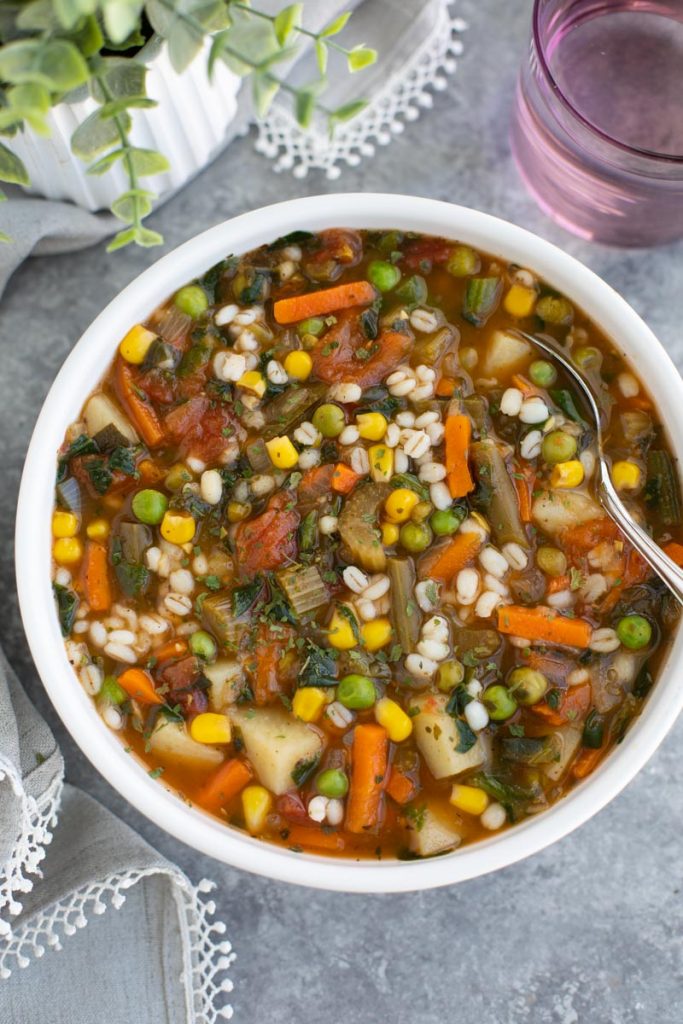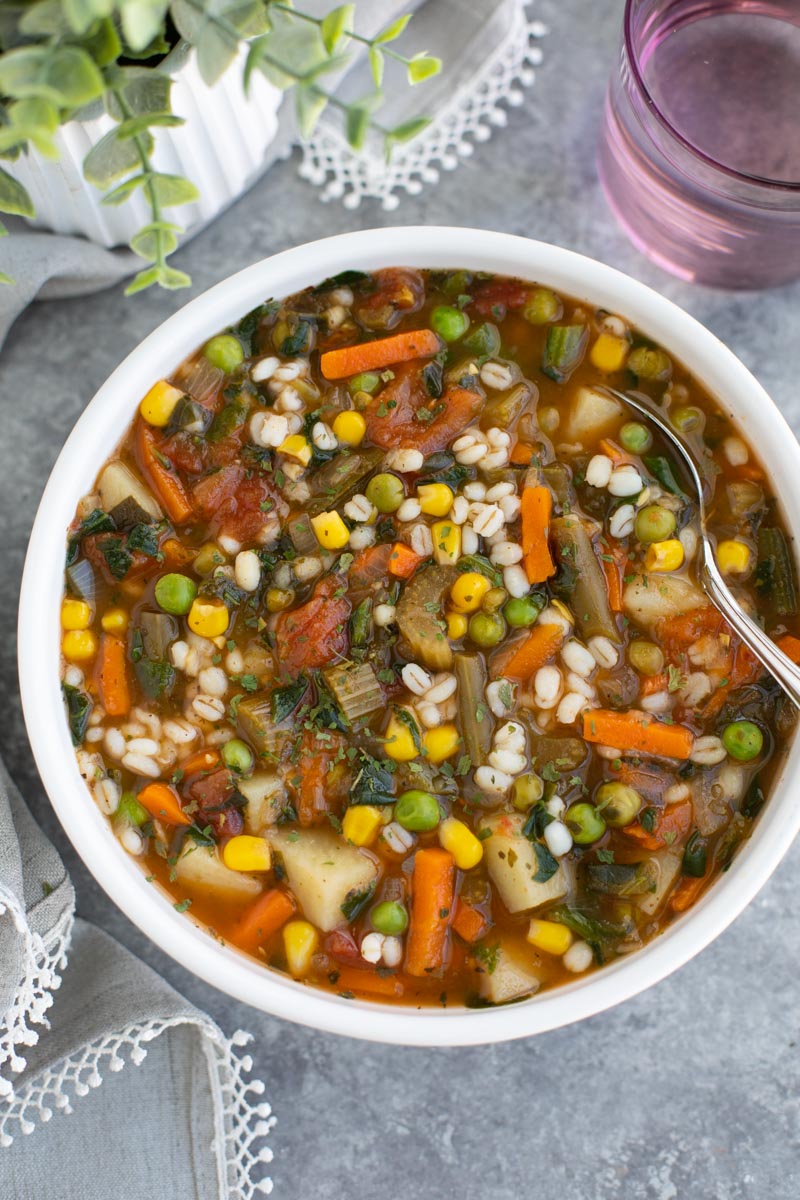 2 - Sweet Potato Black Bean Burritos
This quick and easy, protein-packed, 30-min plant-based black bean burrito recipe will be a new staple in your monthly meal plan! These tasty burritos are loaded with beans, roasted sweet potatoes, rice, lettuce, tomatoes, avocado, cilantro, hot sauce, and tons of flavor! Vegan, nut-free, soy-free + gluten-free options.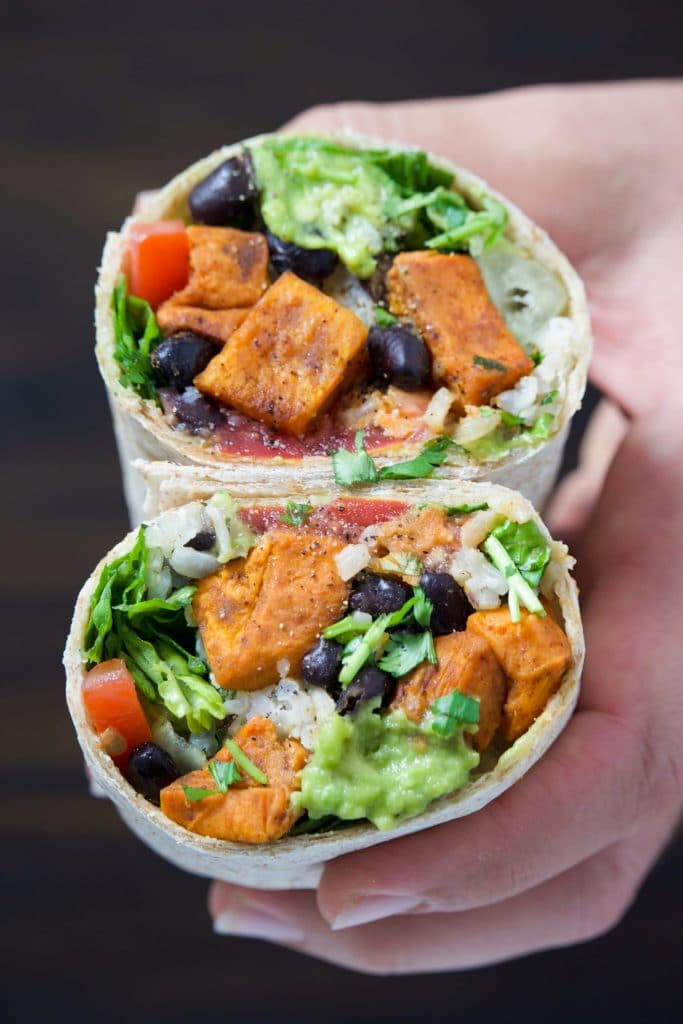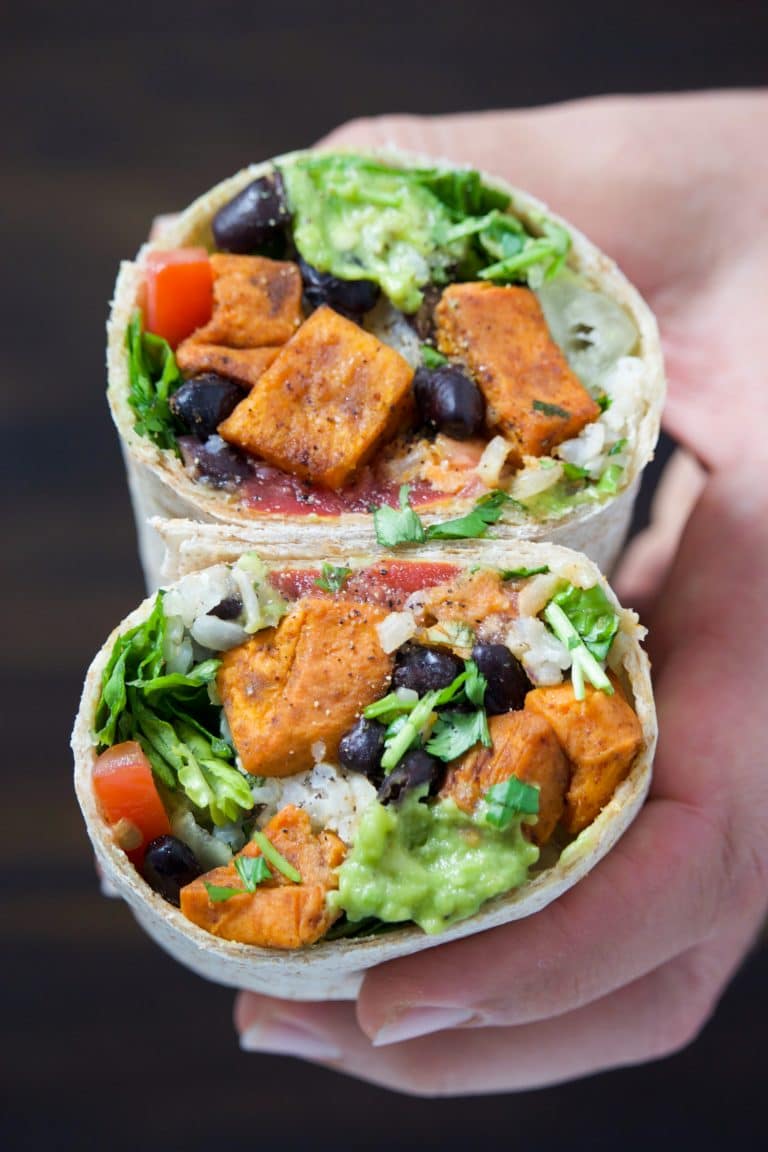 These vegan lentil sloppy joes have the most delicious tangy sauce and meaty lentil filling! This easy to make and freezer-friendly meal is perfect for Meatless Monday and it's ready in 30 minutes! Vegan and gluten-free.
These super flavorful jackfruit tacos are easy to make, ready in just 30 minutes, and they only require one pan! Crush Taco Tuesday with this delicious family-friendly, quick and easy vegan dinner! Vegan, gluten-free, soy-free.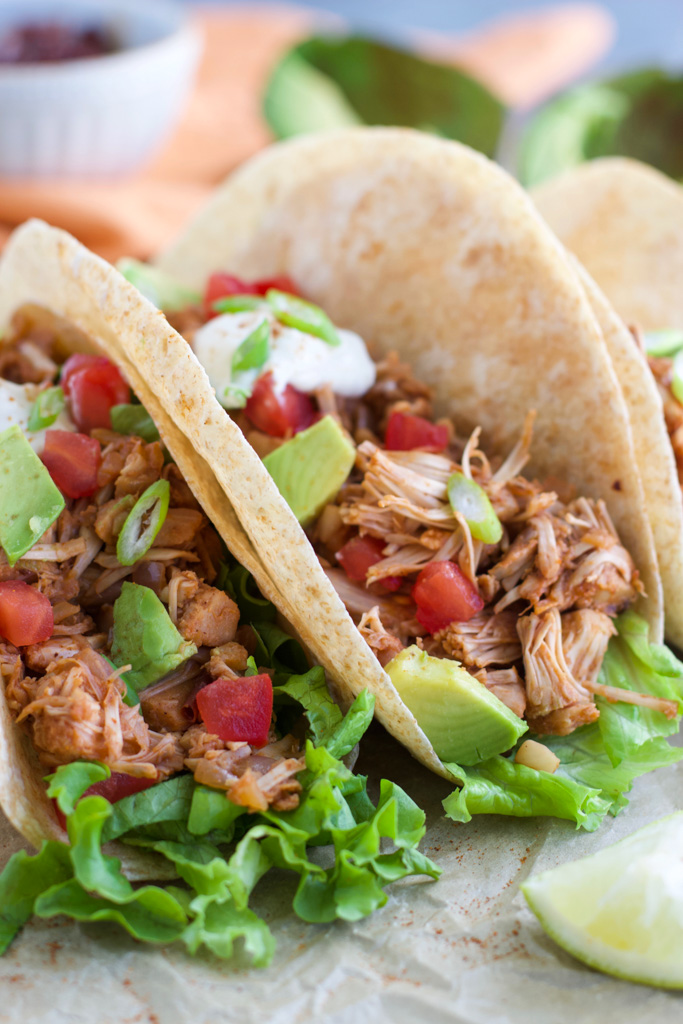 5 - Vegan Pesto Pasta Casserole
This creamy pesto pasta vegan casserole is pure comfort food! It's super simple to assemble, it's ready in 30 minutes, and it's loaded with delicious pesto flavor that everyone will gobble up!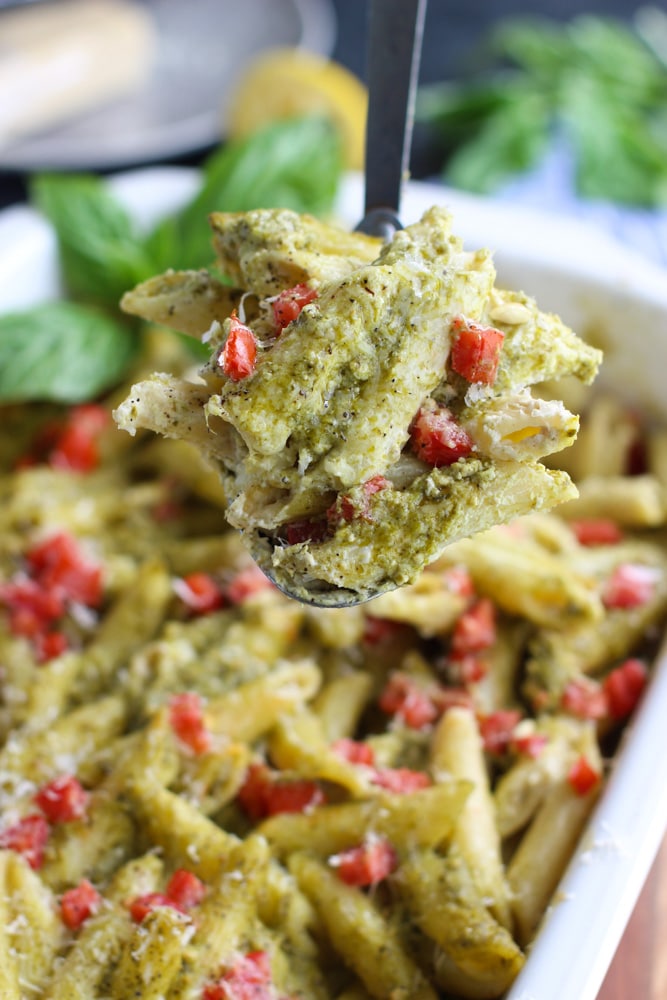 6 - Vegan Creamy Broccoli Cheese Soup
This easy to make, 30-minute vegan broccoli cheese soup recipe is rich and creamy and it will quench your craving for comfort food any night of the week. Kid-friendly, vegan, and gluten-free.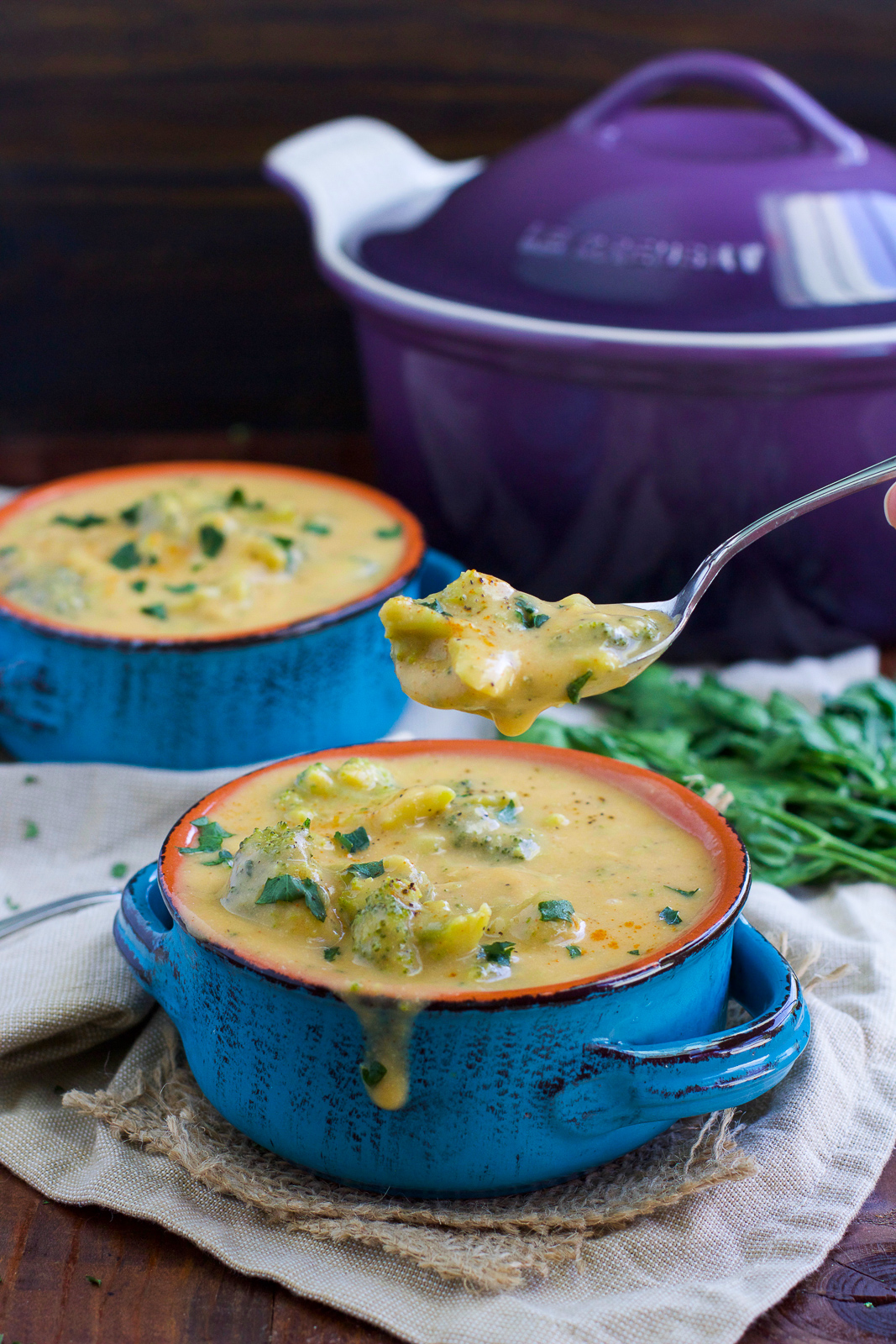 This easy to make, 30-minute vegan broccoli cheese soup recipe is rich and creamy and it will quench your craving for comfort food any night of the week. Kid-friendly, vegan, and gluten-free.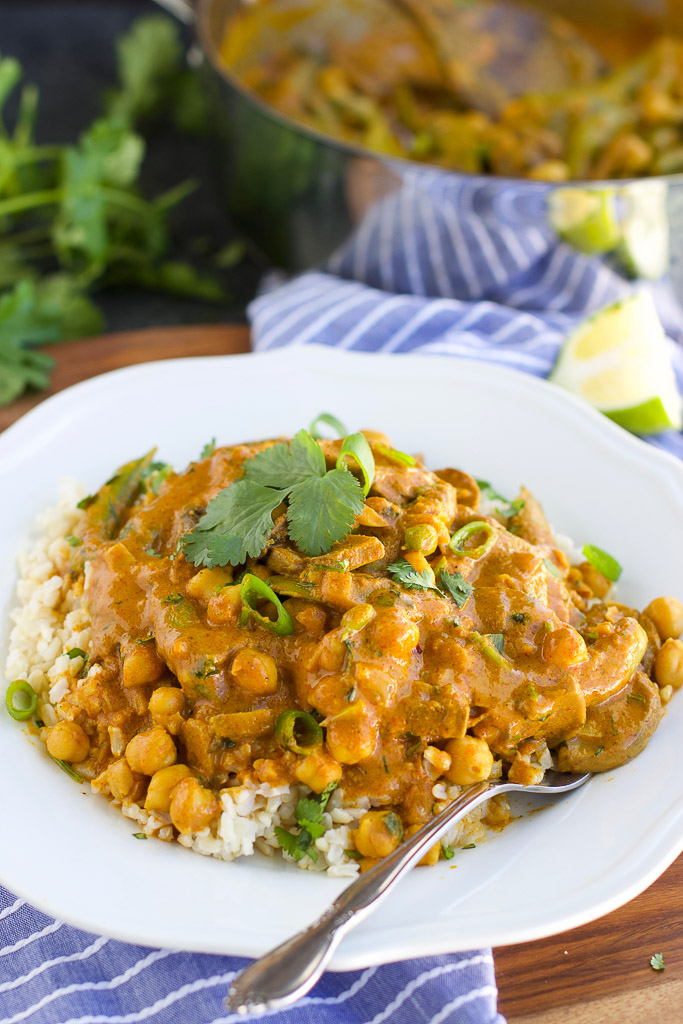 8 - Vegan Walnut Quinoa Taco Meat
This walnut quinoa vegan taco meat is the perfect filling for vegan tacos, burritos, enchiladas, taco salads, or quesadillas! Make Taco Tuesday dinner easy with this delicious 30-minute easy vegan dinner! Vegan, gluten-free.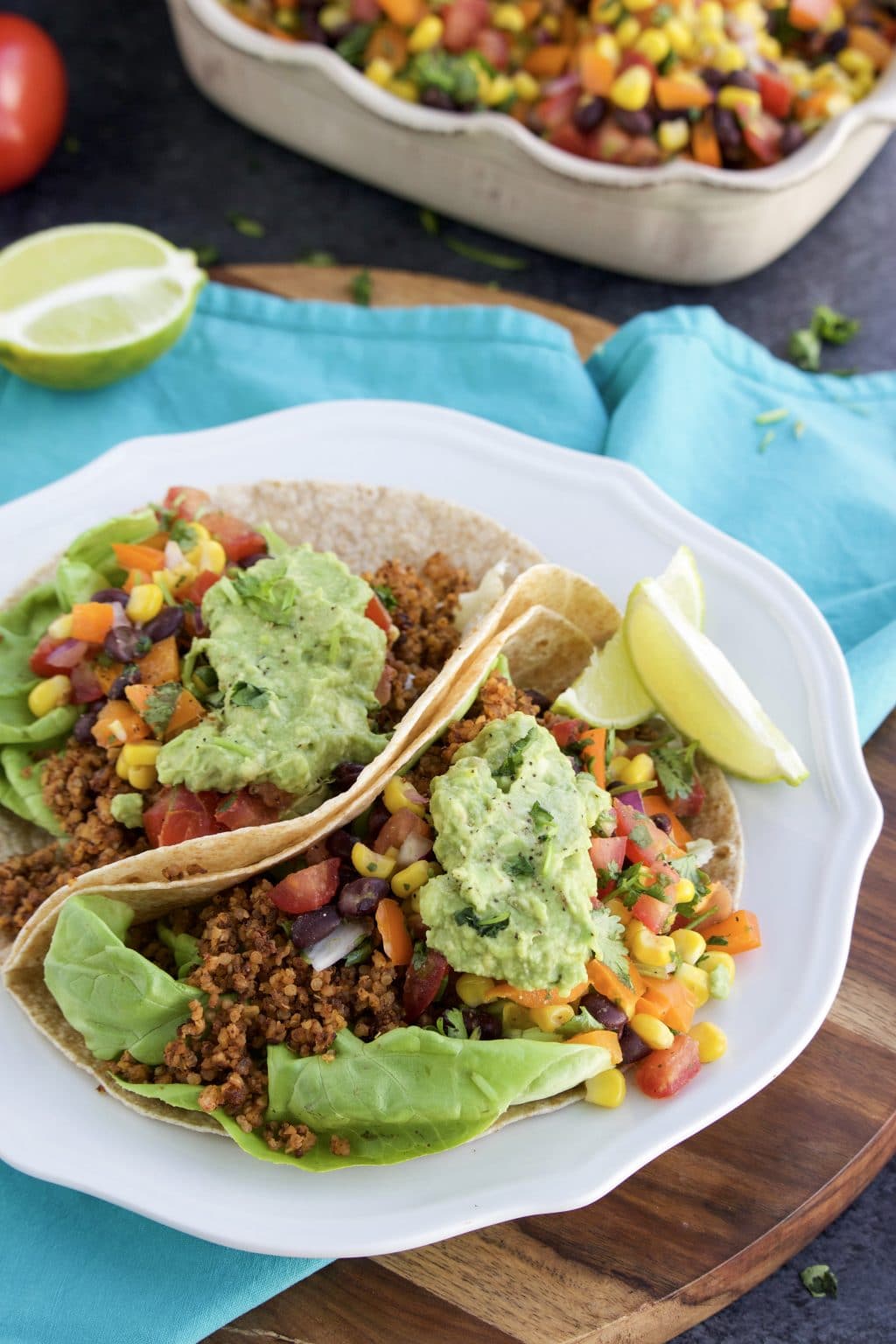 9 - (15-Minute) Vegan Pistachio Pesto Pasta
Learn how to make the creamiest vegan pesto sauce and then use that sauce to make easy vegan pesto pasta (in only 20 minutes!) for an effortless and easy vegan dinner!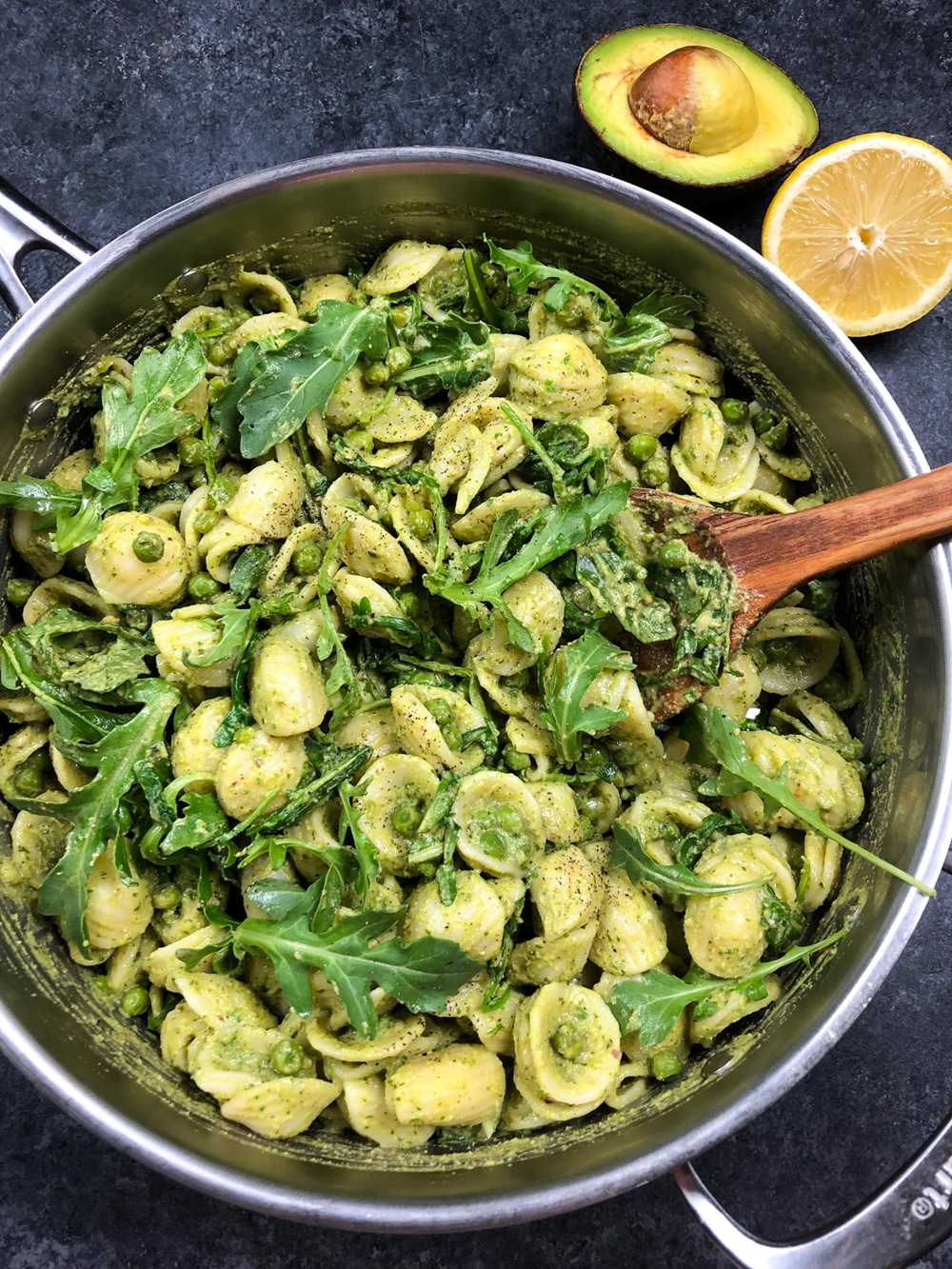 10 - Vegan Lentil Crunchwrap Supreme
This Vegan Taco Bell Crunchwrap Supreme is stuffed with flavorful lentil meat, black beans, vegan cheese, vegan sour cream, lettuce, and tomatoes inside of a crispy tortilla shell! Slather the crunchwrap in guacamole for a truly delicious and satisfying 30-minute easy vegan dinner.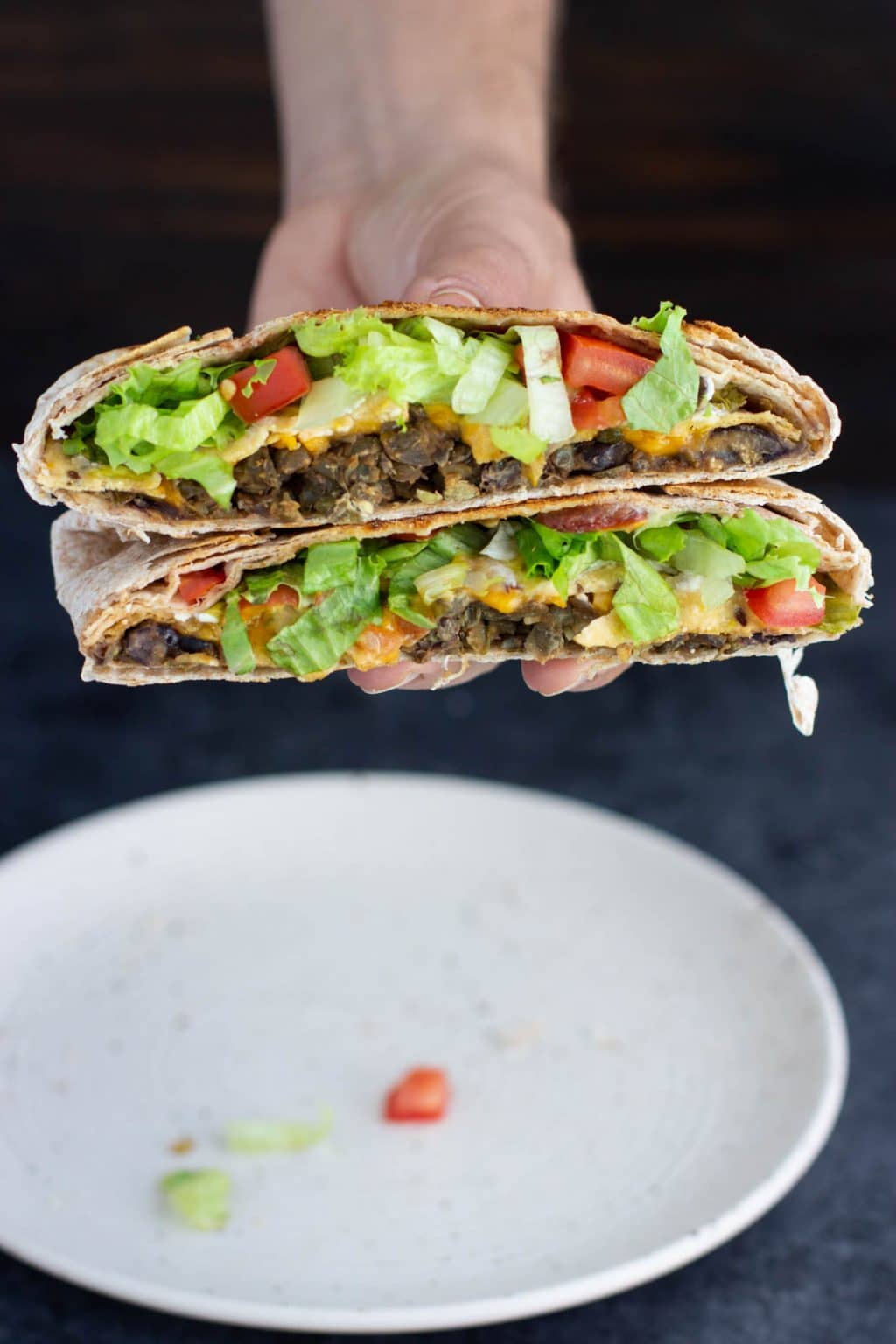 11 - Spicy Thai Sweet Potato Noodles
Sweet potato noodles are tossed in a creamy peanut butter sauce with a spicy kick! Loaded with flavor and spinach, this dish will become your new favorite quick weeknight meal! Vegan and gluten-free.
12 - Vegan Taco Pasta
Skip the tacos on Taco Tuesday and make this 30-minute vegan taco pasta for an easy vegan dinner instead! This easy to make, family-friendly meal is loaded with fire-roasted red peppers, sweet corn, protein-packed black beans, fresh cilantro, and the creamiest taco-inspired sauce!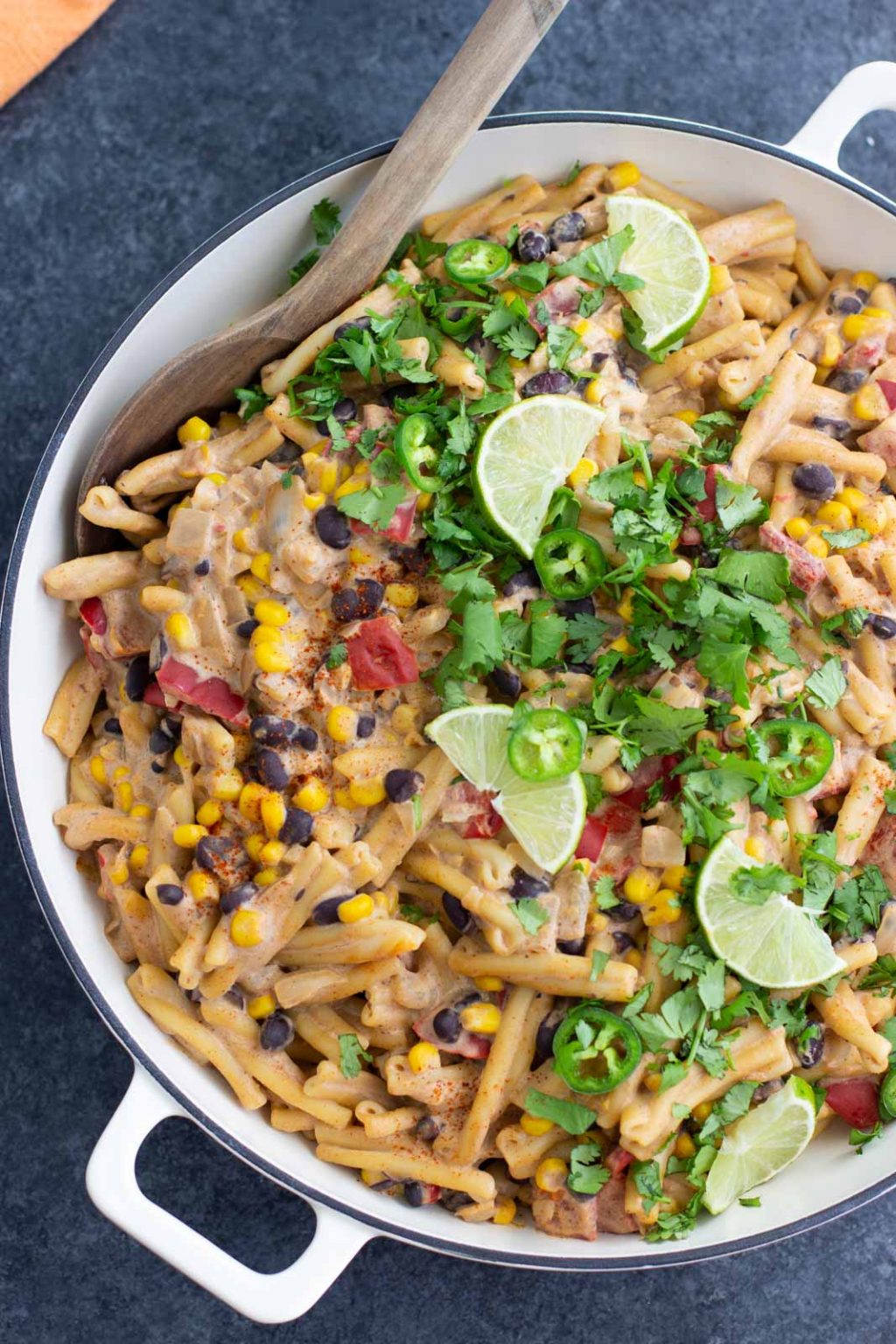 13 - Simple Einkorn Wheat Berry Salad
Wheat berry salad is loaded with flavor, veggies, and it's surprisingly simple to prepare. We love this satisfying salad as a side dish with dinner or a big bowl for lunch.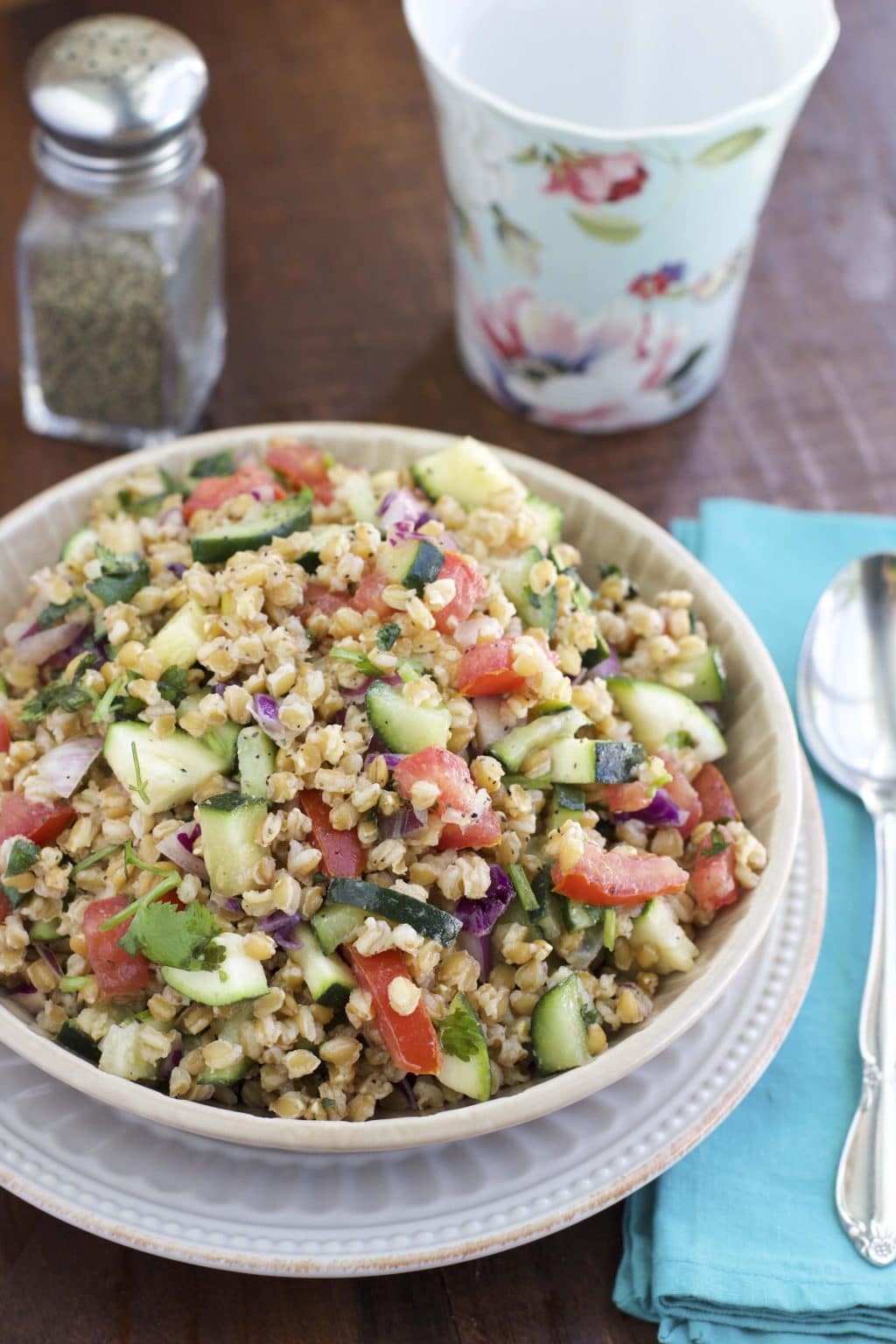 14 - (15-Minute) Creamy Vegan Alfredo Sauce
You only need 15 minutes, less than 10 ingredients, and a blender to make this uber creamy and satisfying easy vegan dinner recipe! Vegan and gluten-free.
15 - Hearts of Palm Crab Cakes
These Vegan Crab Cakes are crispy on the outside, yet moist & flaky on the inside. They can be enjoyed as an appetizer, side or main dish.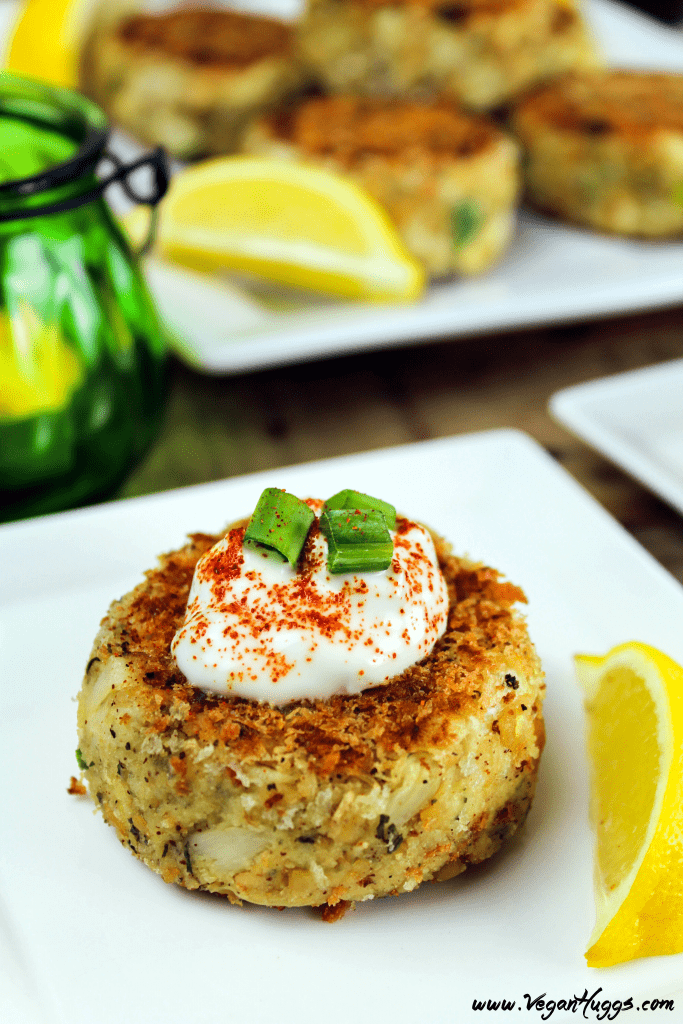 Photo Credit: Vegan Huggs
16 - Asian Quinoa Slaw Salad with Sesame Ginger Vinaigrette
This scrumptious Asian slaw recipe is your ticket to clean eating meal prep! This unique cabbage salad has quinoa, loads of everyday vegetables, and a "drinkable" sesame ginger dressing (with no peanut butter). It's sweet, savory, and so refreshing!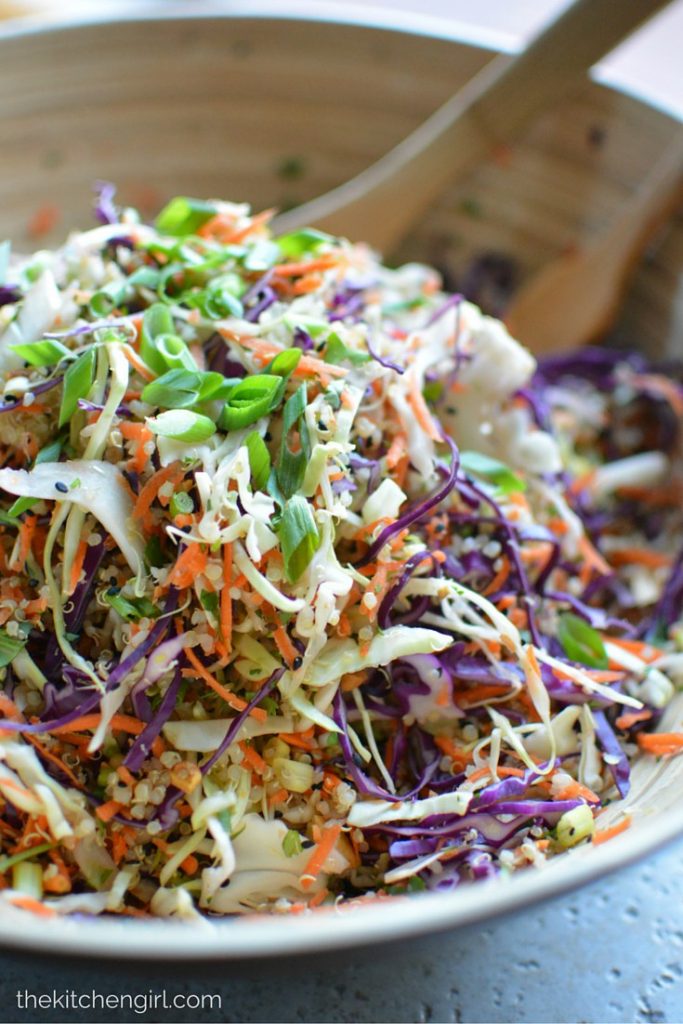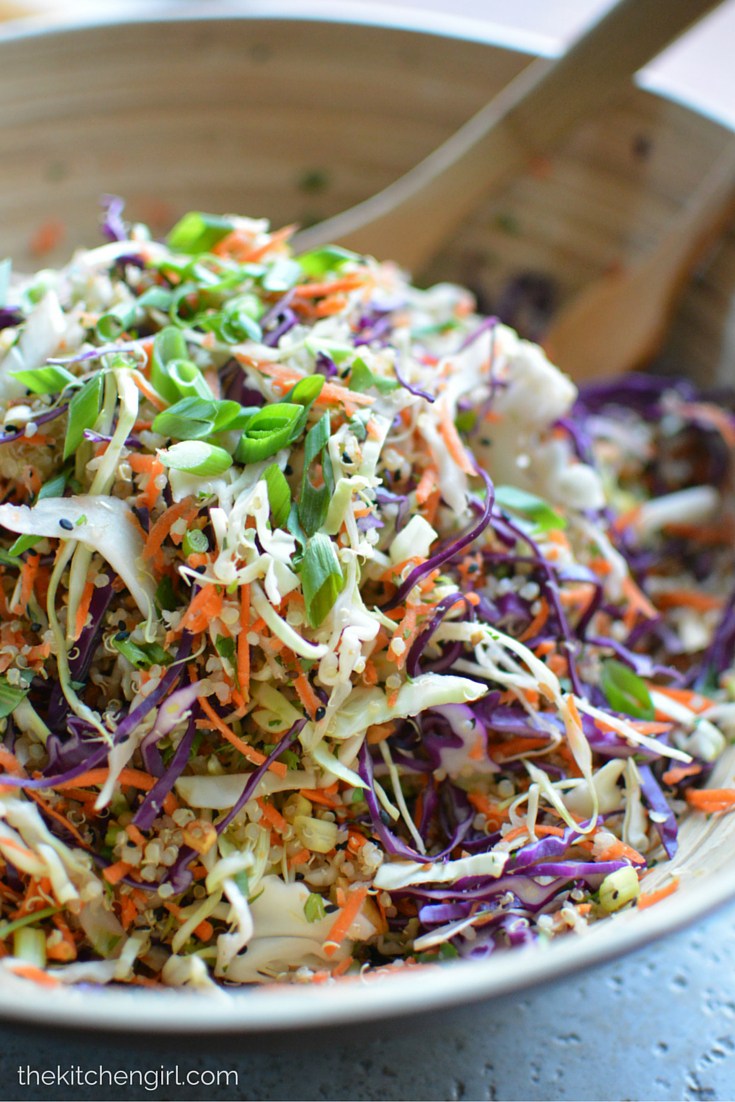 Photo Credit: The Kitchen Girl
17 - Ramen Bowls with Edamame & Mushrooms
These healthy, hearty Vegan Ramen Bowls with Edamame and Mushrooms have an ultra-quick trick for a super flavorful broth that tastes slow simmered in a fraction of the time!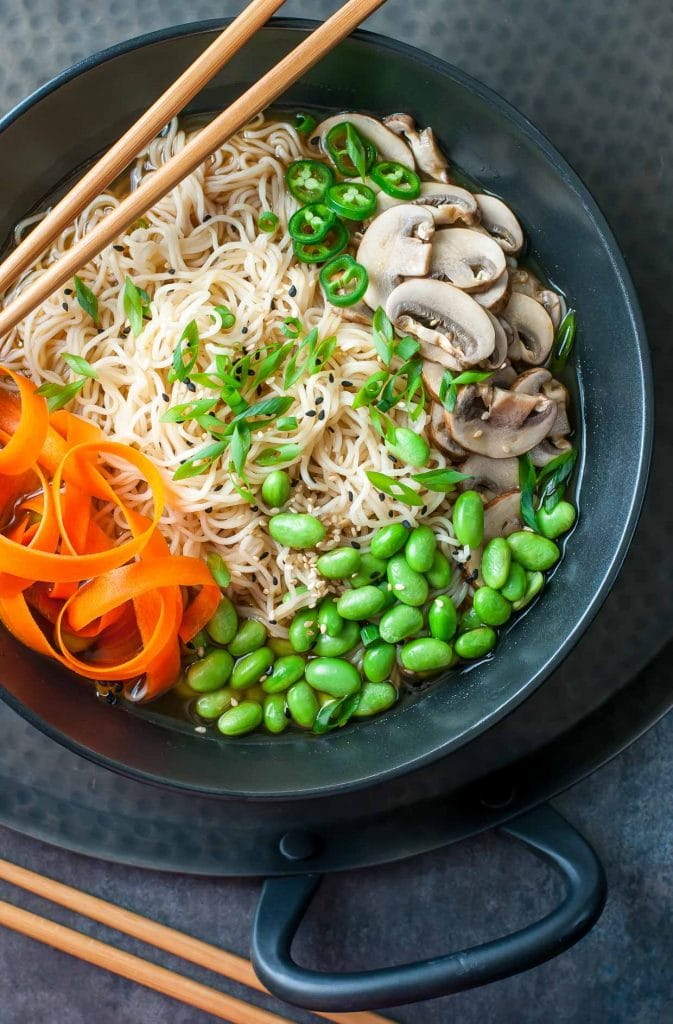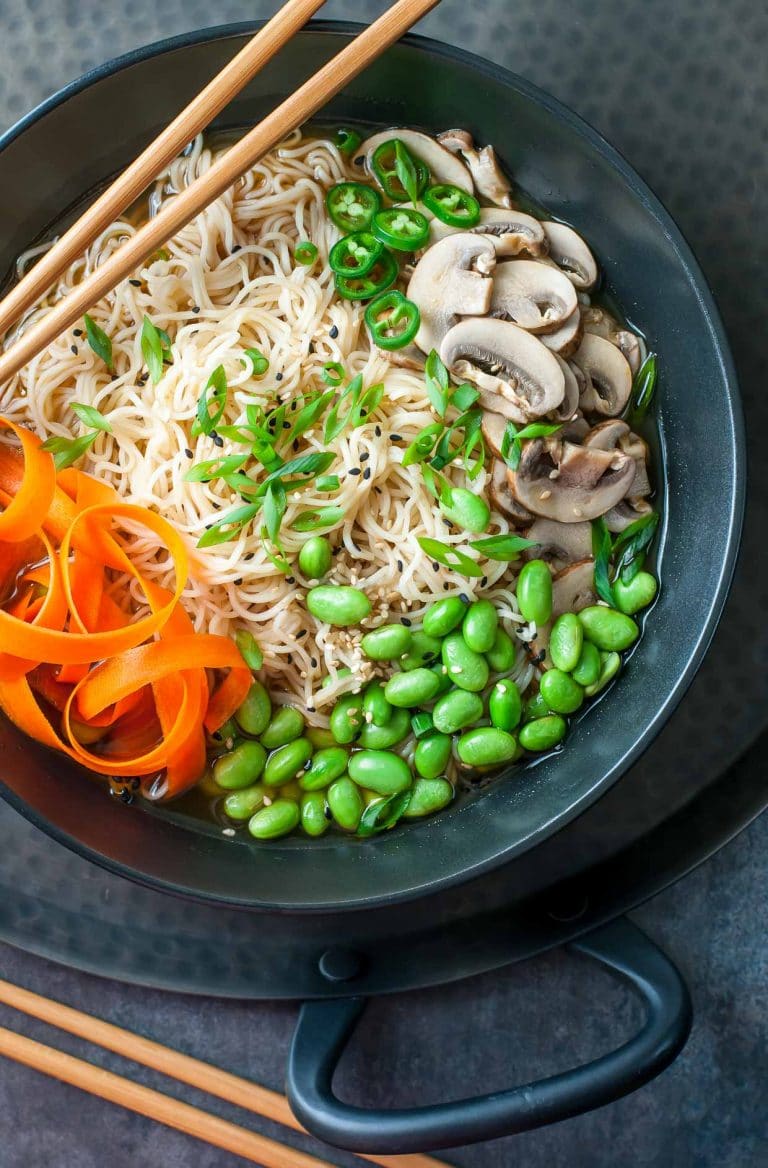 Photo Credit: Peas & Crayons
18 - Spinach Mushroom Leek Long Life Noodles
These take-out inspired noodle bowls are tossed in the most amazing homemade sesame sauce. You could enjoy the noodles on their own or top it with cubes of crispy baked tofu!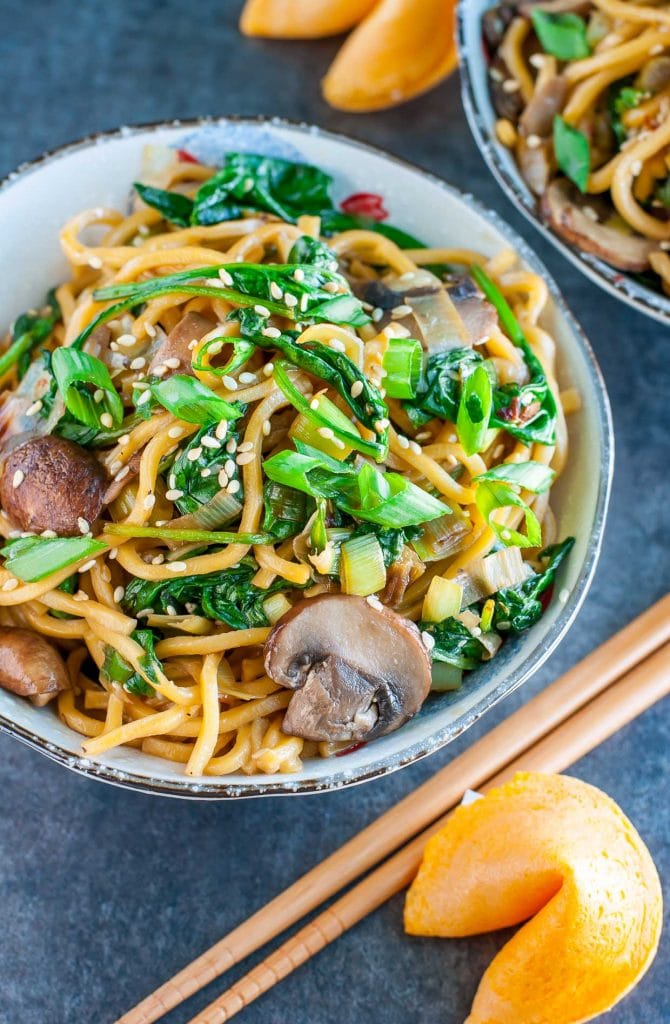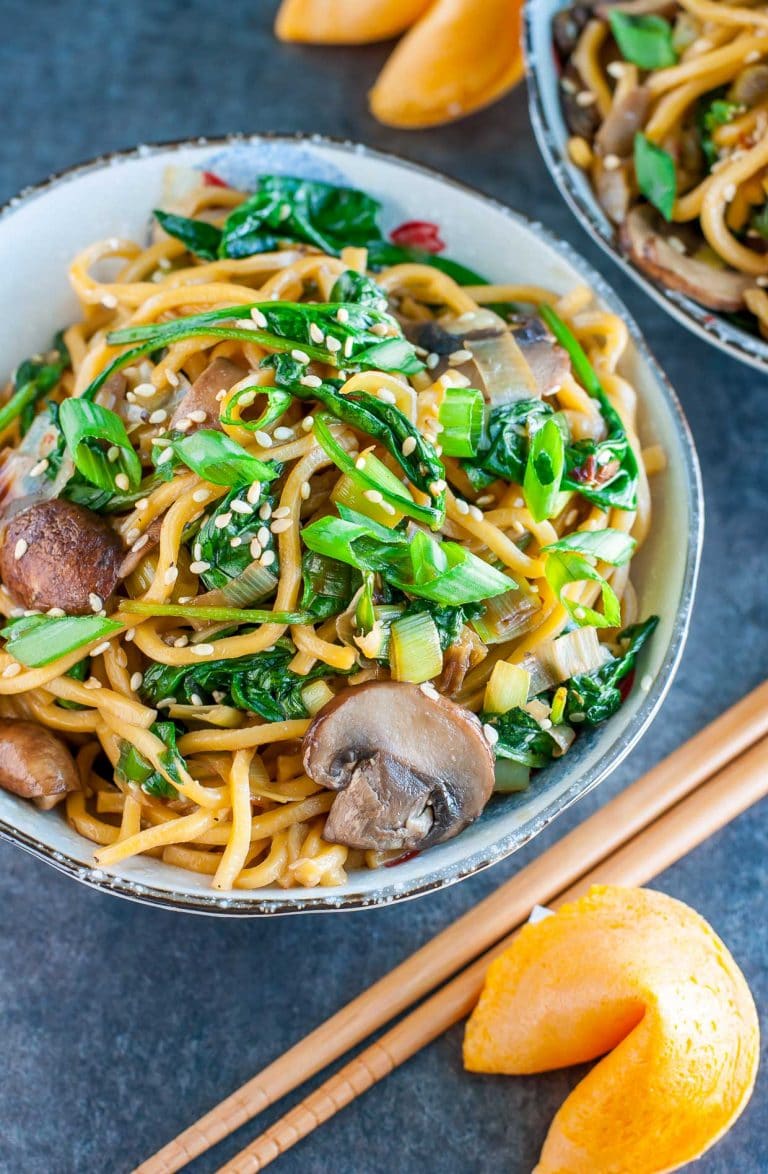 Photo Credit: Peas & Crayons
19 - Palak Tofu
Vegan saag paneer is veganized version of the Indian dish palak paneer. Cheesy tofu cooked in spinach gravy base with mild spices. It's a perfect accompaniment with rotis or naan. Vegan saag paneer recipe is easy to make, and sure to impress. In 30 minutes you have dinner ready on the table.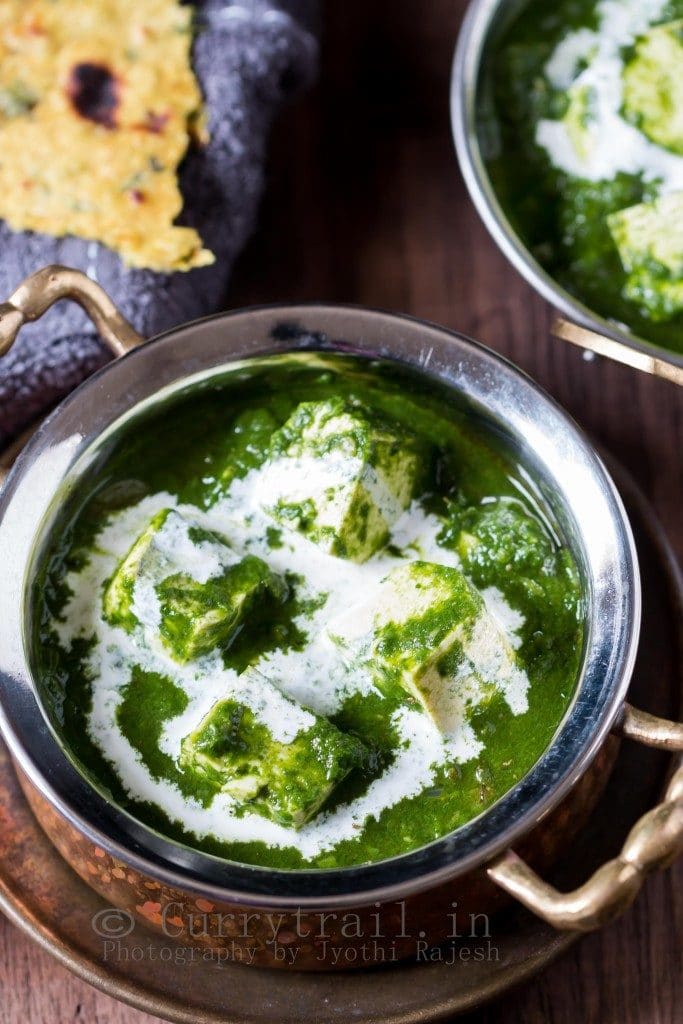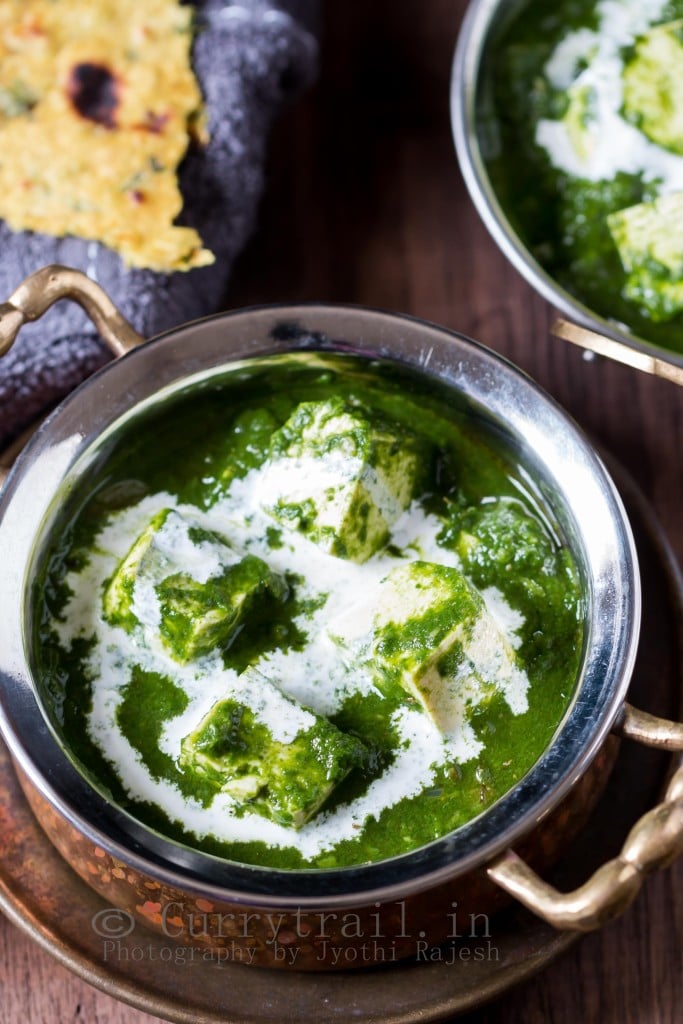 Photo Credit: Curry Trail
20 - Super Quick Black Bean Burgers
These super quick vegan black bean burgers are ready in 15-20 minutes, they're packed with protein and fresh veggies, and they're perfect for a quick vegan dinner!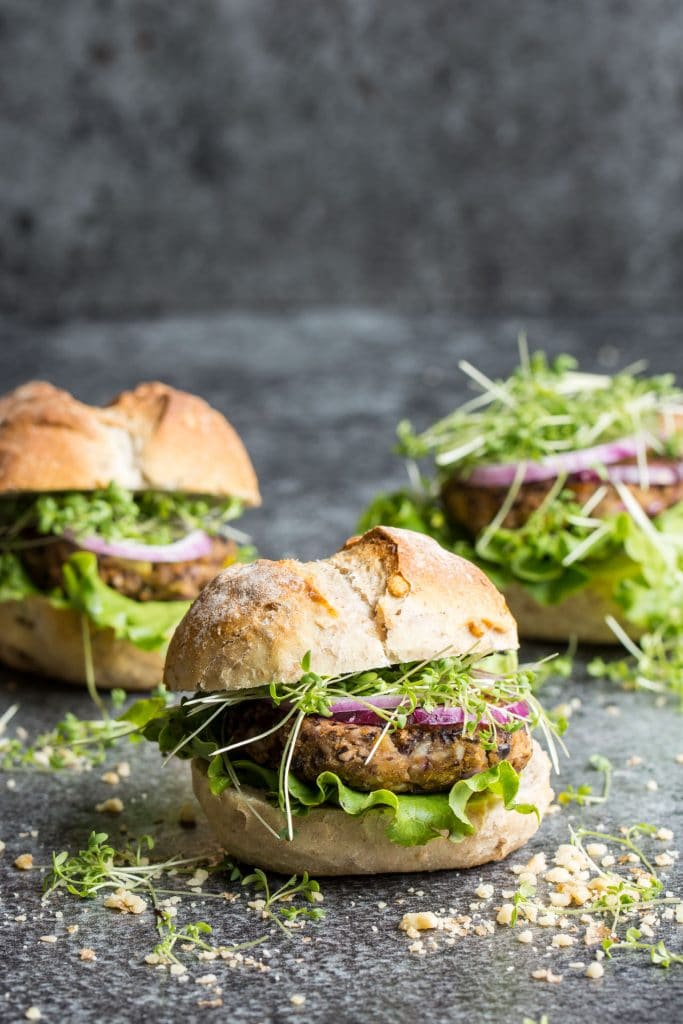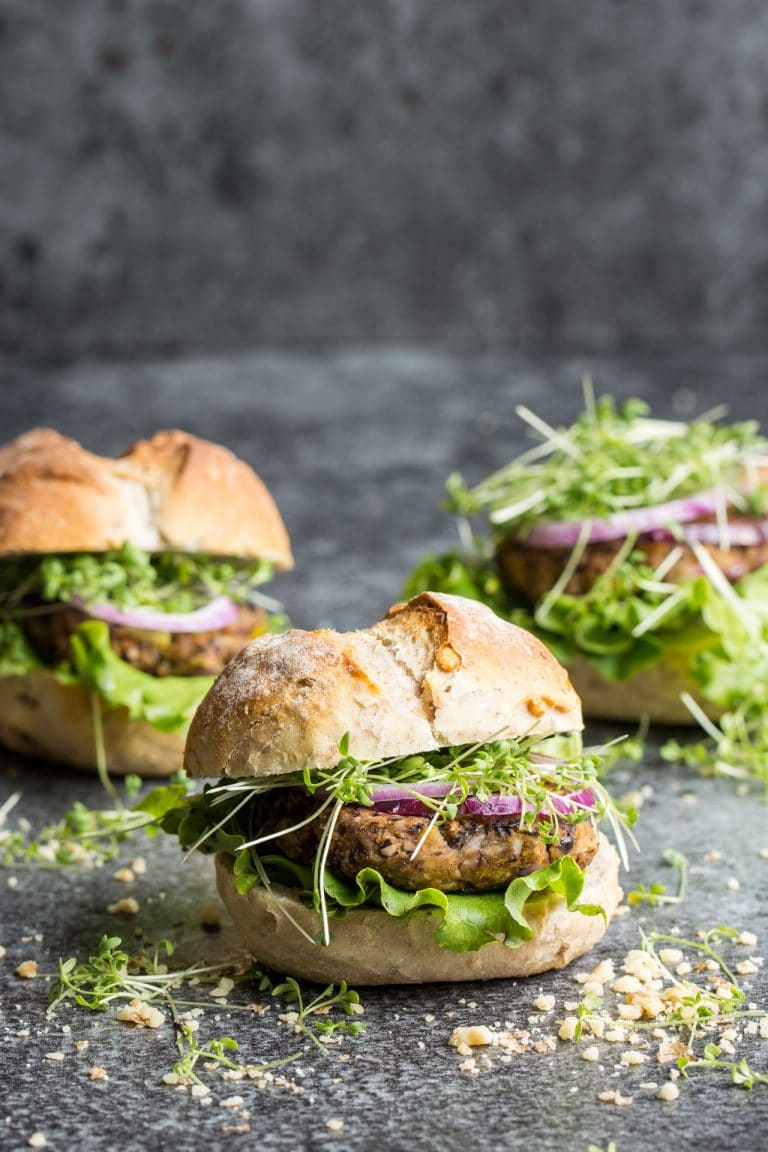 Photo Credit: Lauren Caris Cooks
21 - Easy Lemon Tahini Falafel Wraps
These easy to make Lemon Tahini Falafel Wraps are filled with falafel bites and topped with a delicious lemon tahini sauce. It's a delicious & easy vegan dinner recipe!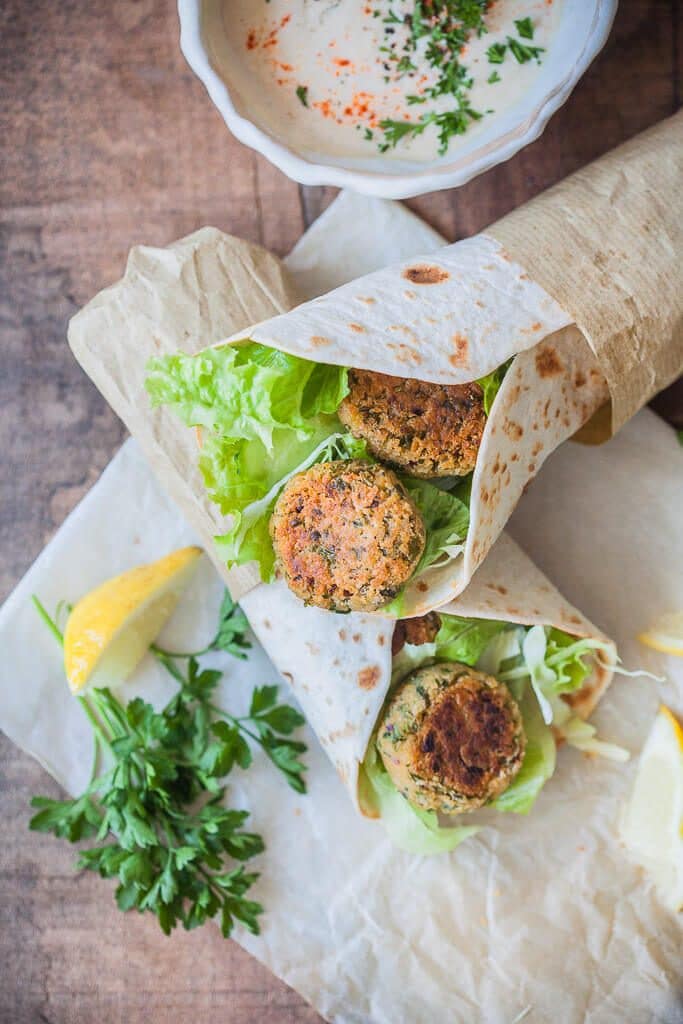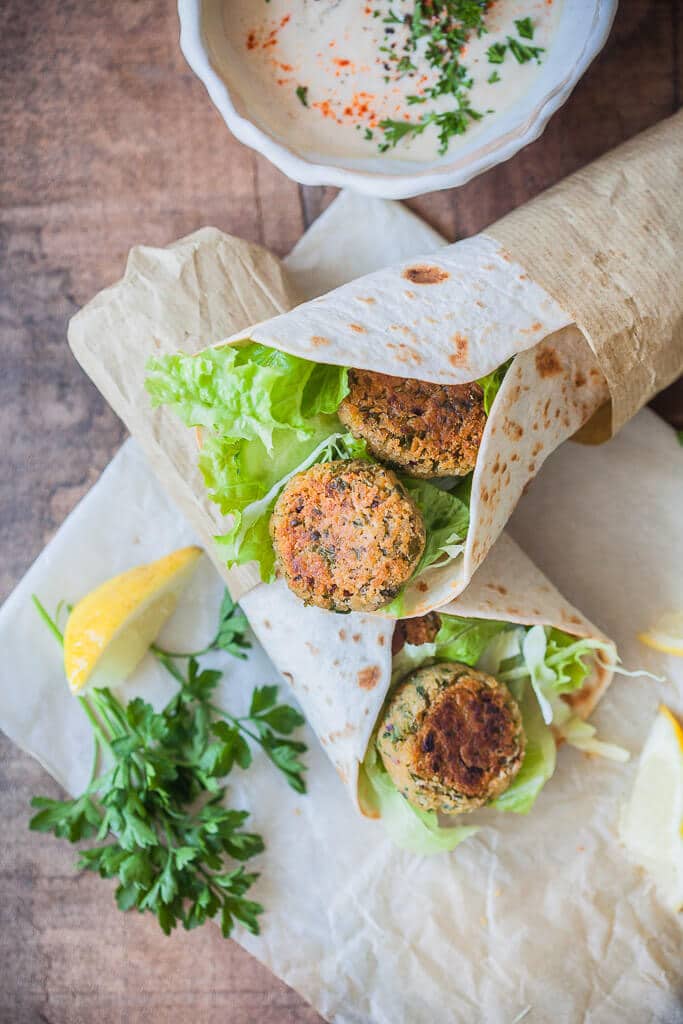 Photo Credit: Vibrant Plate
I hope that this list of family favorite easy vegan meals is helpful to you and that you find a bunch of new recipes to try! If you have any favorite vegan meals that you make often, I'd love to hear about it!
Which easy vegan recipes will you be making for dinner this week? Let me know in the comments!
Want More Easy Vegan Dinner Recipes?