Skinny quinoa bowls are packed with veggies, whole foods, healthy fats & my favorite pistachio kale sauce. Eat meals like this and you'll be satisfied and full of energy! I double the recipe so I have 4-5 meals ready for the week! Gluten-free, vegan.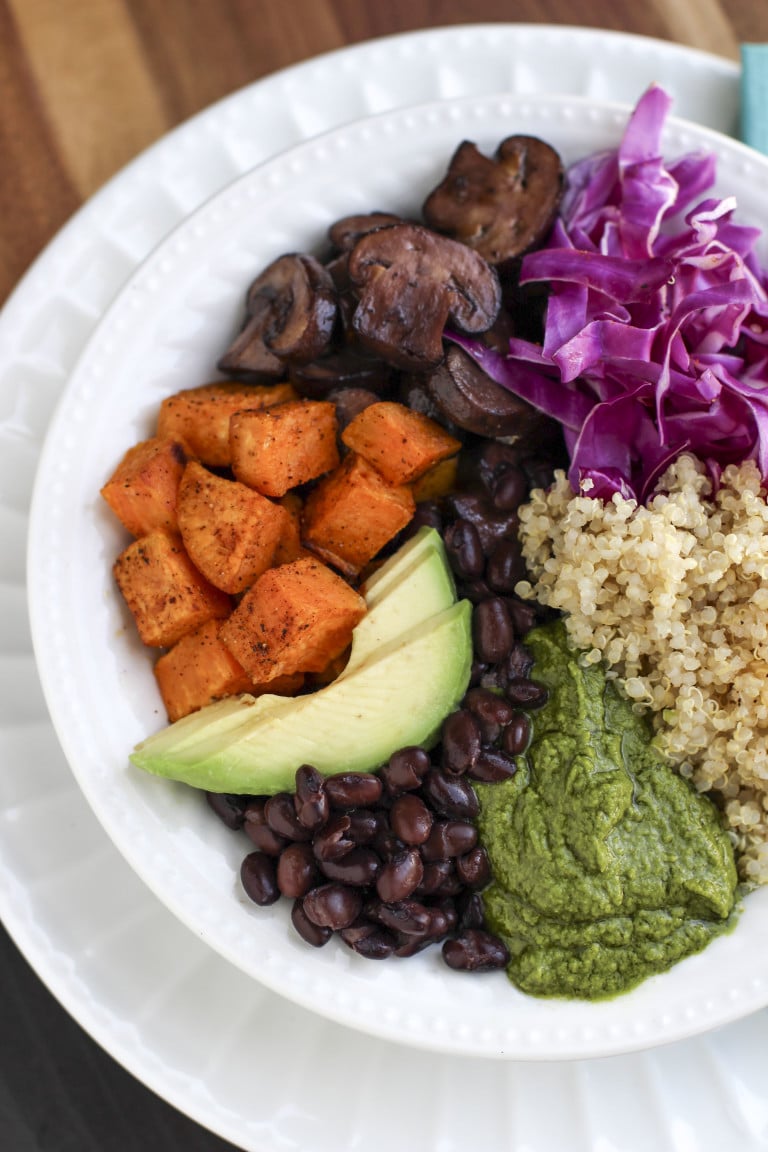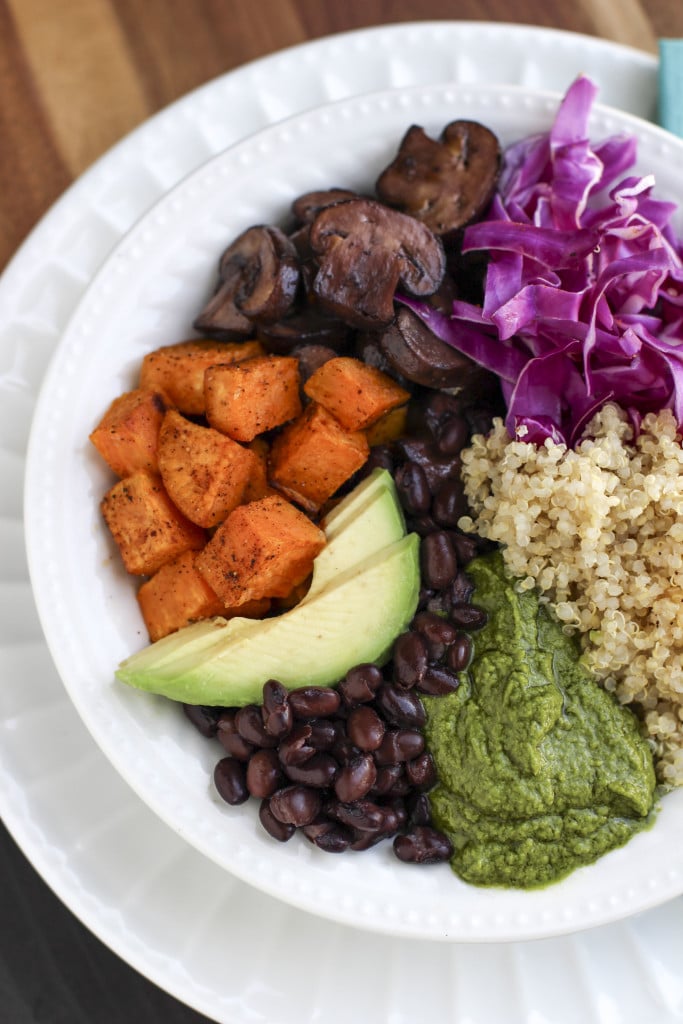 Vibrant. Satisfying. Savory. Those are the words that I would use to describe this plant-powered nourish bowl. It's filled with fluffy quinoa, roasted garlicky mushrooms, crisp red cabbage, protein-rich black beans, seasoned sweet potatoes, creamy avocado slices, and a dollop of basil kale pistachio sauce. It's a delicious combination!
What's so great about a nourish bowl, is that it's easily customizable so you can tailor it to your tastes or build it with whatever vegetables that you have on hand. Another reason to love this recipe is because it's perfect for meal prepping! This is a delicious and filling meal that you can enjoy for lunch or dinner and it can be eaten hot or cold.
Now that I've told you how great a nourish bowl can be, let's talk about why it's called a nourish bowl.
What are Nourish Bowls?
Nourish bowls can also be called macro bowls or buddha bowls. Basically, it means that you fill a bowl with a balanced amount of nourishing, vitamin-rich vegetables, fruits, protein, healthy fats, and carbohydrates, and you can top it with a healthy dressing.
How do You Make Nourish Bowls?
The trick to quickly preparing all the ingredients for nourish bowls is to stagger the cooking times so everything is cooking at the same time and it will be ready at the same time.
The sweet potatoes and mushrooms take the longest to cook, so start by prepping and roasting them first. Next, cook the quinoa according to package instructions. When it's done cooking, take it off the heat and leave it covered so it stays warm until you're ready to eat.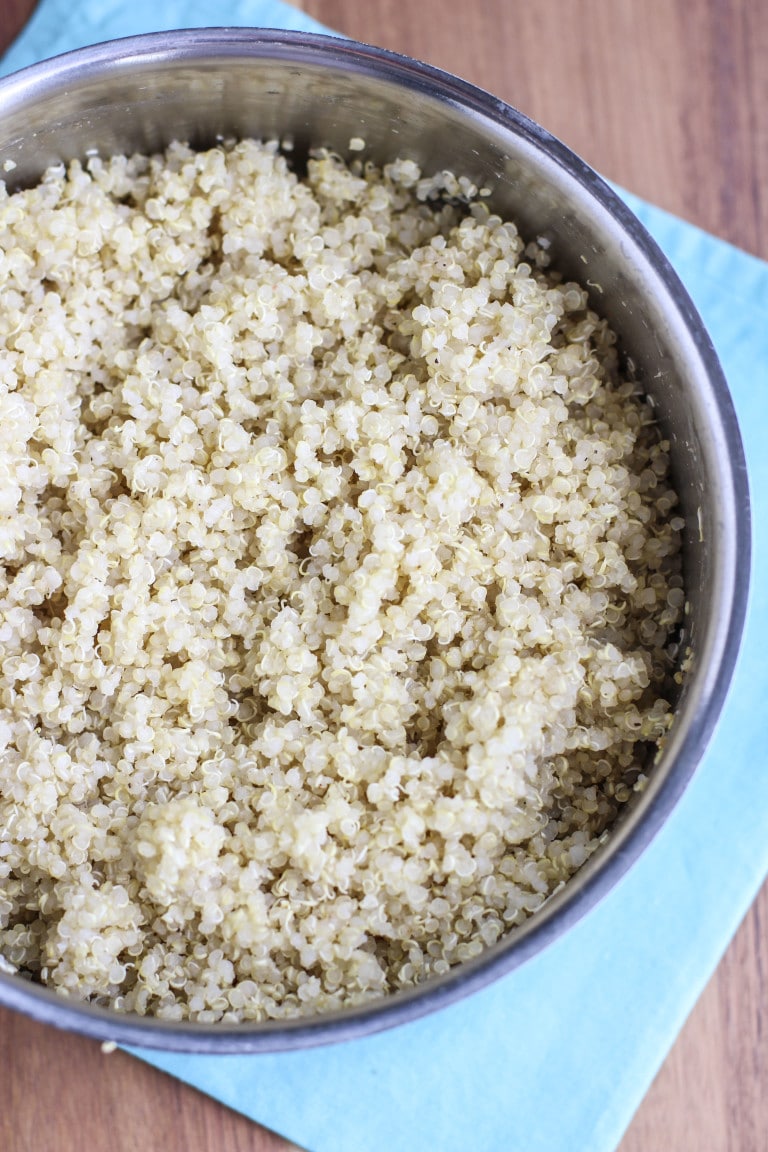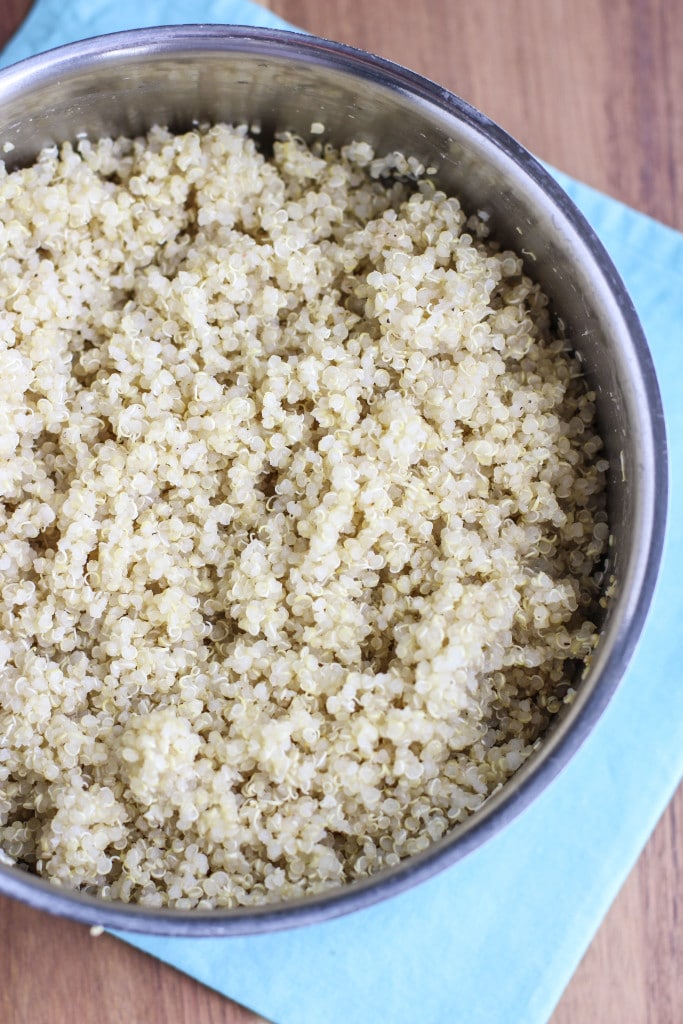 While the mushrooms, sweet potatoes, and quinoa are cooking, slice the red cabbage, rinse the black beans, and make the pistachio sauce. Have all the ingredients prepped and ready to go in bowls on the counter so you can easily build bowls or pack lunches for the week.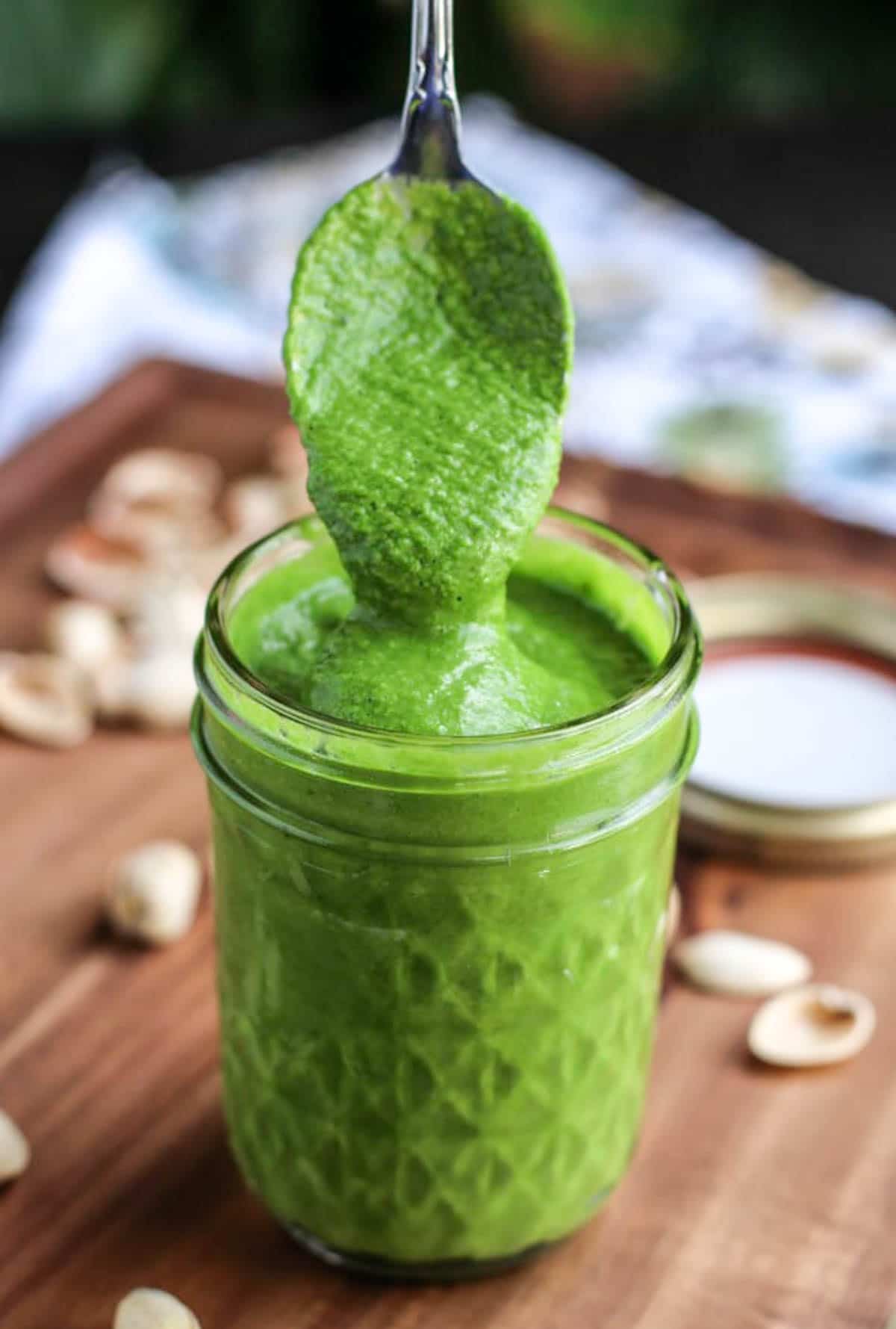 Once the sweet potatoes, mushrooms, and quinoa are done cooking and you have the cabbage, beans, and dressing prepped, it's time to build the bowl! Wait to slice the avocado until right before you build the nourish bowl. If you cut it too early, it will start to turn brown.
Fill a large bowl with a scoop of the roasted mushrooms, sweet potatoes, avocado, black beans, red cabbage, quinoa, and a dollop of the pistachio sauce. It doesn't matter if you make a big pile or go section by section like the picture, both ways taste delicious!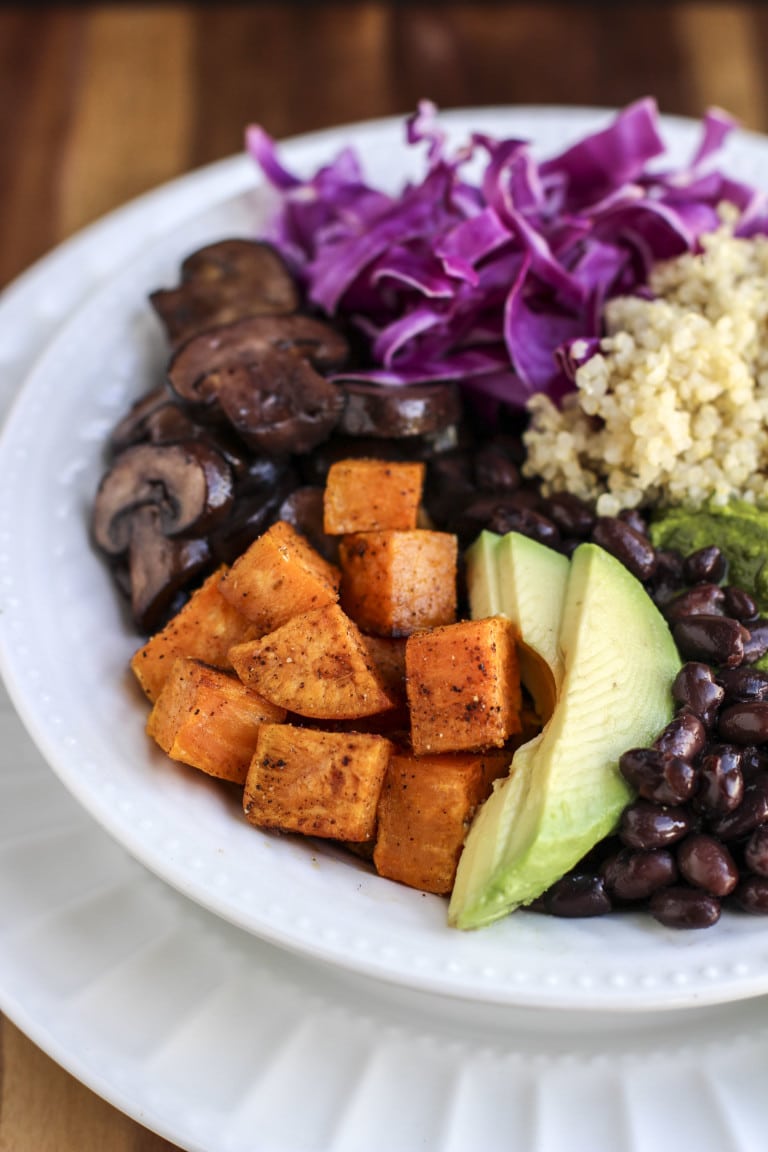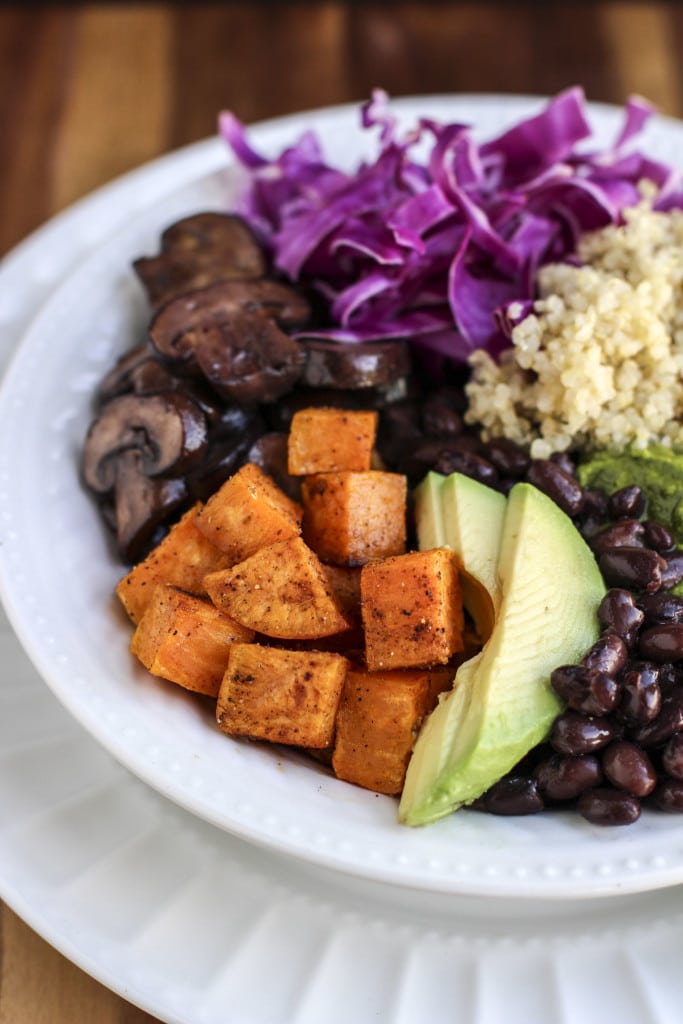 How Long Will it Last in the Refrigerator?
As long as the ingredients for the quinoa nourish bowls are stored in the refrigerator properly, they should last for 3-5 days. You can learn more about storing the food, here.
Can You Freeze Nourish Bowls?
You can freeze all of the ingredients except for the red cabbage. Raw cabbage doesn't defrost well, it needs to be cooked first if you want to freeze it. However, I wouldn't freeze the nourish bowl ingredients together in one container, I recommend that you freeze all of the ingredients separately in their own containers. Doing this will make it easier to defrost and reheat the ingredients for a future meal.
Ways to Adapt this Recipe
Make it a Salad: You can still enjoy it in bowl-form, but build it on top of a base of fresh greens.
Try a Different Dressing: Use spicy avocado chipotle sauce or roasted red pepper hummus.
Switch Up the Seasonings: Use taco seasonings on the sweet potatoes and mushrooms and use the chipotle sauce dressing that I shared above to give it a mexican flair!
Make Tacos: You can use all of these ingredients to make delicious plant-based tacos!
Tofu Buddha Bowl: Swap the black beans for the best baked tofu for added texture and flavor and make a tofu buddha bowl instead!

Substitutions & FAQ
Success Tips

More Vegan Quinoa Recipes You'll Love!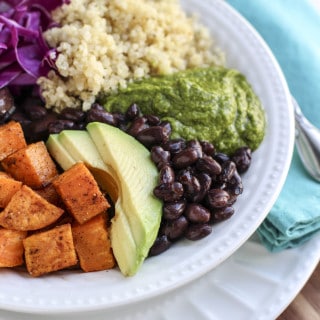 Skinny Quinoa Bowls with Pistachio Kale Sauce
Skinny quinoa bowls that are packed with veggies, whole foods, healthy fats & my favorite pistachio kale sauce. Don't restrict yourself to "diet food" to lose weight. Eat meals like this and you'll be satisfied and full of energy! I make this in large batches so I have 3-4 meals ready to go! 21 day fix-approved, gluten-free, dairy-free & vegetarian.
Print
Pin
Rate
Ingredients
Instructions
Preheat the oven to 400 degrees. Peel and chop the sweet potato into 1-inch cubes. Lay the chunks out on a parchment lined tray. Sprinkle cumin, paprika, garlic powder, sea salt & pepper, and 1 Tbsp olive oil over the potatoes. Mix with your hands. Bake for 10 minutes, turn with a spatula. Bake an additional 10 minutes.

Lay the sliced mushrooms on a separate parchment-lined tray and drizzle 1 Tbsp olive oil and garlic powder over the top. Toss to combine and roast for 20 minutes.

While the mushroom's and potatoes are cooking, rinse the quinoa and cook it according to package directions. Let sit for 5 minutes, covered. Fluff with a fork.

Assemble pistachio kale sauce ingredients in a blender and blend until smooth.

Assemble quinoa bowls with roasted potatoes, mushrooms, black beans, raw cabbage, avocado, and kale sauce. If you have extra veggies in the fridge, add them too!
Nutrition
Serving:
4
cups
|
Calories:
917
kcal
|
Carbohydrates:
128
g
|
Protein:
31
g
|
Fat:
34
g
|
Saturated Fat:
4
g
|
Sodium:
107
mg
|
Potassium:
2514
mg
|
Fiber:
29
g
|
Sugar:
10
g
|
Vitamin A:
17295
IU
|
Vitamin C:
63.5
mg
|
Calcium:
180
mg
|
Iron:
9.1
mg
Click here for the Pistachio Kale Sauce recipe.
What's your favorite healthy meal to eat? Let me know in the comments!