Skinny quinoa bowls are packed with veggies, whole foods, healthy fats & my favorite pistachio kale sauce. Eat meals like this and you'll be satisfied and full of energy! I double the recipe so I have 4-5 meals ready for the week! Gluten-free, vegan.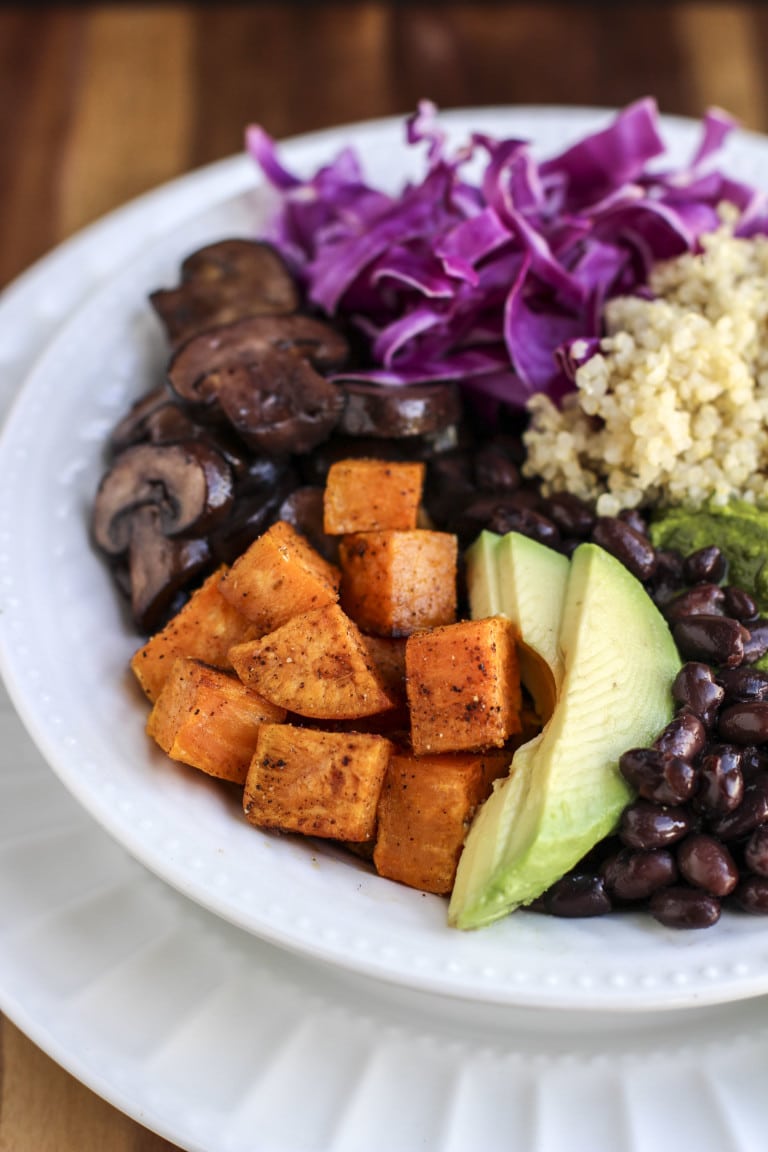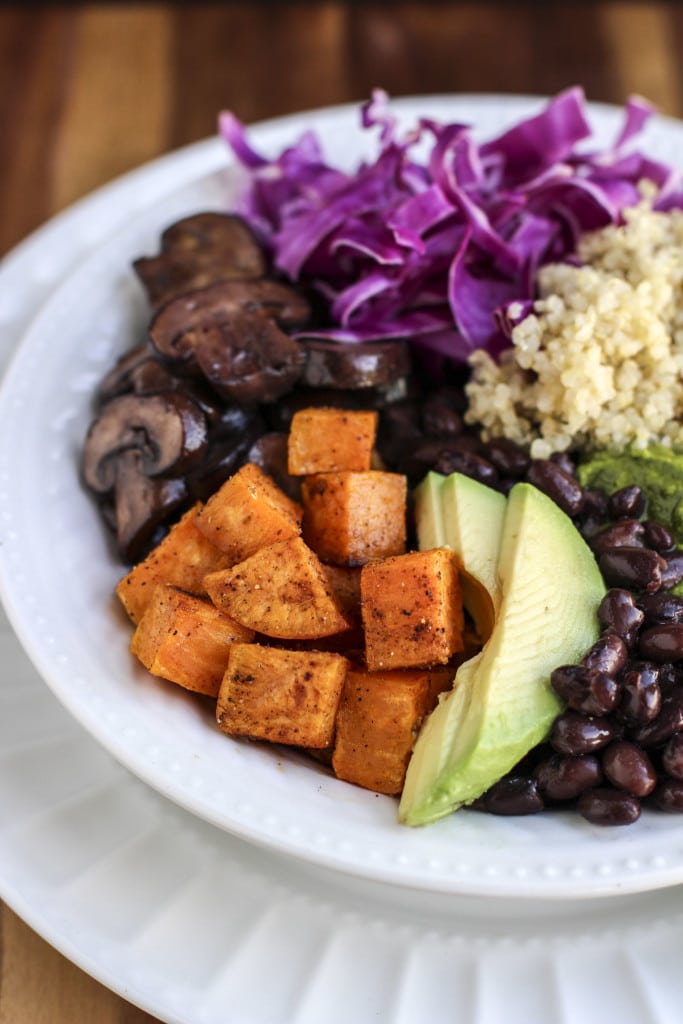 Want more easy vegan recipes? Join our vegan Facebook community below!

I LOVE PASTA. Love, love, love it.
But I can't eat it all the time, too much white flour is just not good for you. So, when I'm trying to watch what I eat but I get a craving for pasta, I turn to quinoa. It tastes like a tiny noodle, so I feel like I'm getting my pasta fix without actually eating it! I'm sure you all know by now that it's a superfood and it's really healthy for you. You can easily find it at any grocery store.
Quinoa is full of protein, fiber, and antioxidants. It's high in protein which helps to boost your metabolism and full of fiber that helps to keep you feeling full. The best part? One cup of cooked quinoa is only a little more than 200 calories! I don't count calories when I eat, but that is such a big difference from pasta that I felt it was important to share.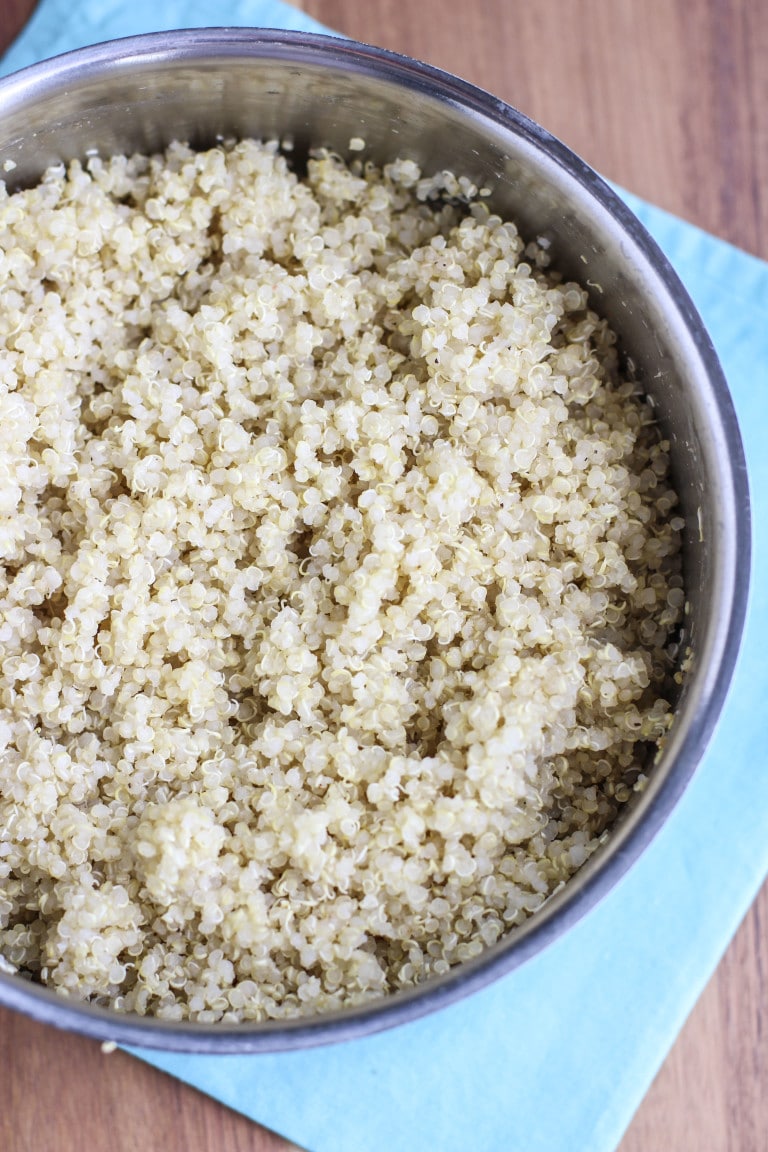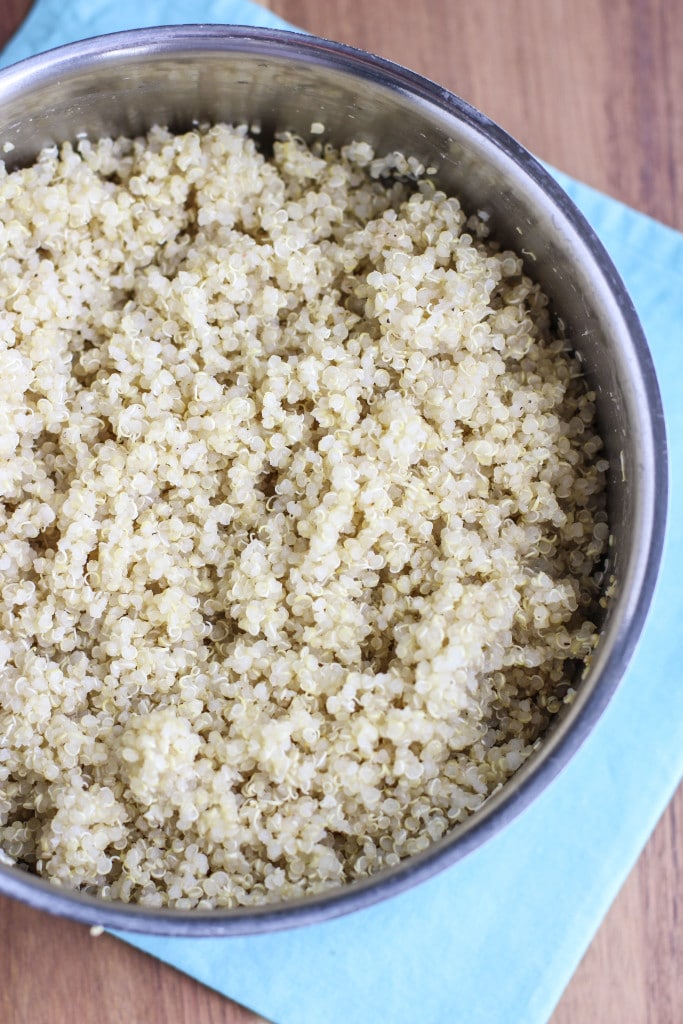 If you're looking to eat healthier on a regular basis or if you're just on a health kick for the new year, skinny quinoa bowls are for you!
It's my favorite healthy quinoa dish that's loaded with flavor from the pistachio kale sauce I drizzle all over it. You're already getting all these veggies and healthy fats in, why not add some kale and heart-healthy pistachios into the mix?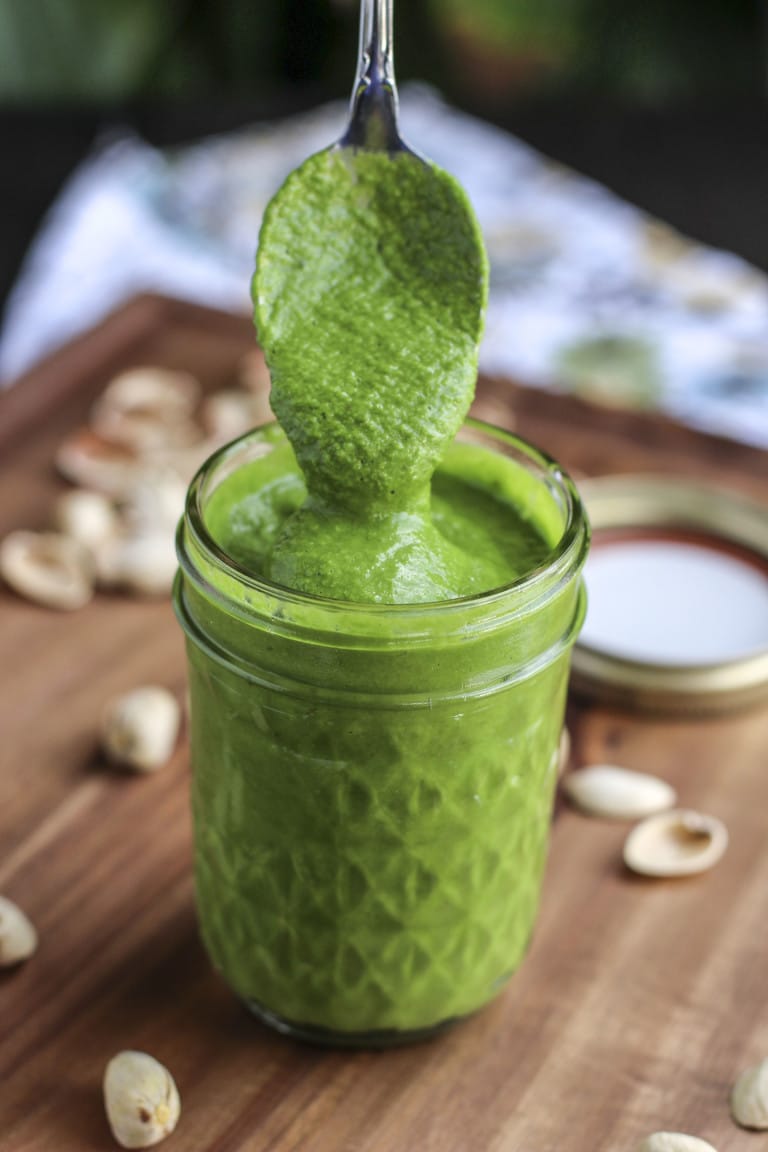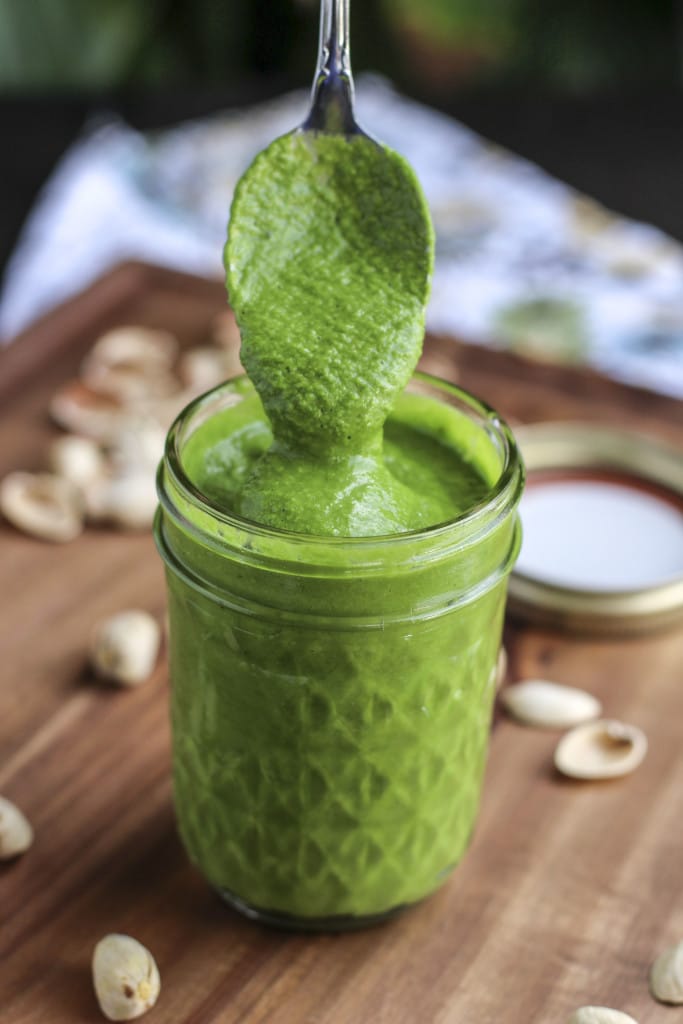 Skinny quinoa bowls pretty much have everything but the kitchen sink. Garlic mushrooms, crunchy red cabbage, black beans, creamy avocado, and spicy caramelized roasted sweet potatoes. I always choose sweet potatoes over regular because they're loaded with vitamins and nutrients, are super filling, and delicious. When you bake a sweet potato, it naturally releases sugar that caramelizes and gets crispy on the edges.
One of my favorite sweet potato recipes that I make all the time is roasted sweet potato salsa!
Assembling Your Skinny Quinoa Bowls 
My trick for prepping all the ingredients for skinny quinoa bowls is to cook everything at once. I prep all my veggies, then sauté the mushrooms, cook the quinoa and bake the sweet potatoes chunks at the same time.
While everything is cooking, I wash and spin dry my red cabbage, rinse the beans and make my 5-minute pistachio kale sauce. Once everything is done cooking, it's time to assemble the bowls. Oh, and these skinny quinoa bowls are delicious hot or cold, I'll eat them any way I can.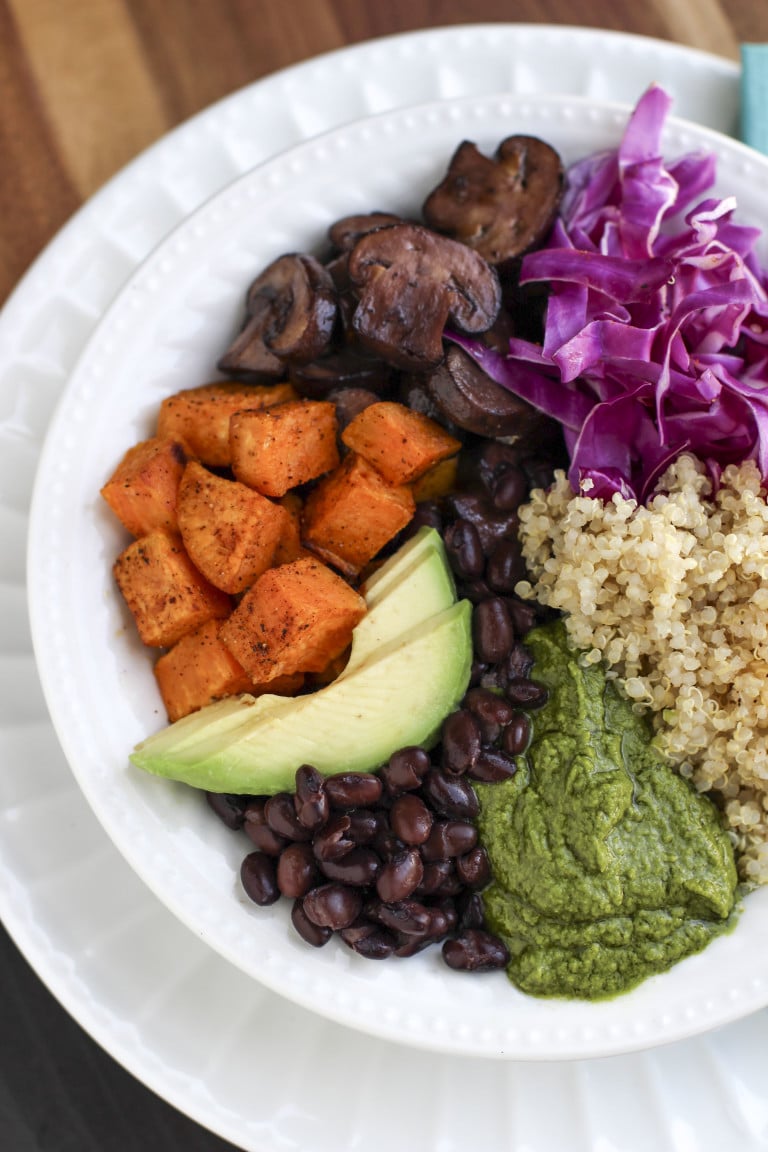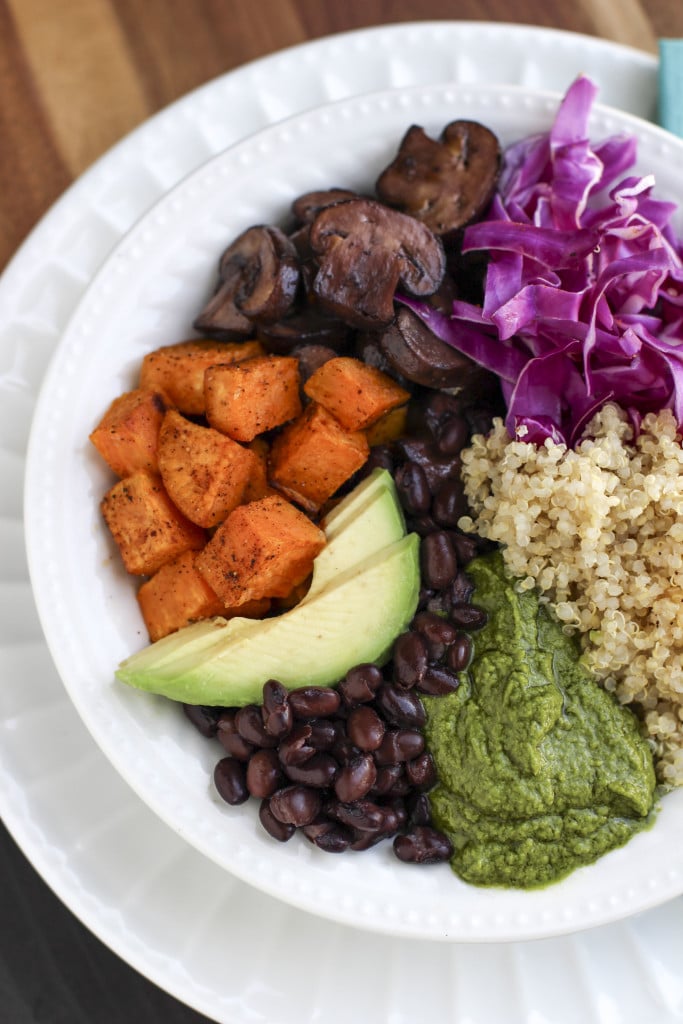 I doubled the recipe so I could prep 4-5 lunches for the week! I love just being able to reach in and have everything ready to go. Just make sure to store all ingredients separately, especially the sauce! Assemble the bowl when you're ready to eat.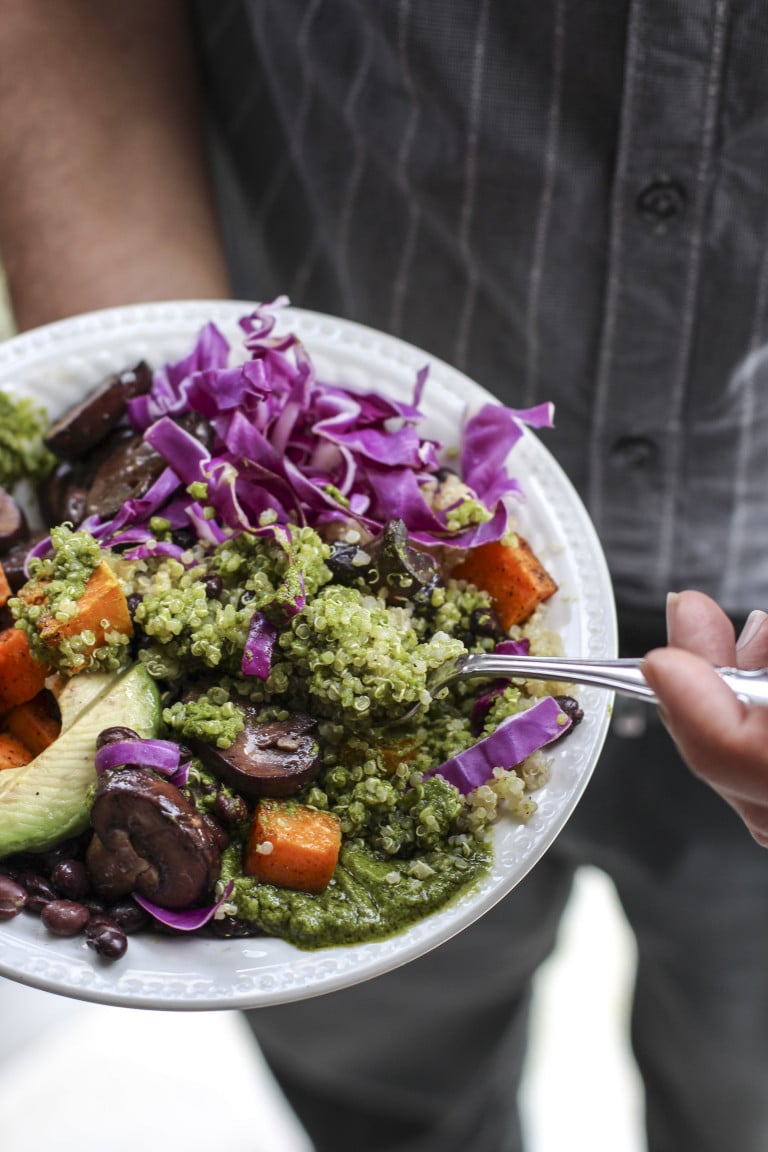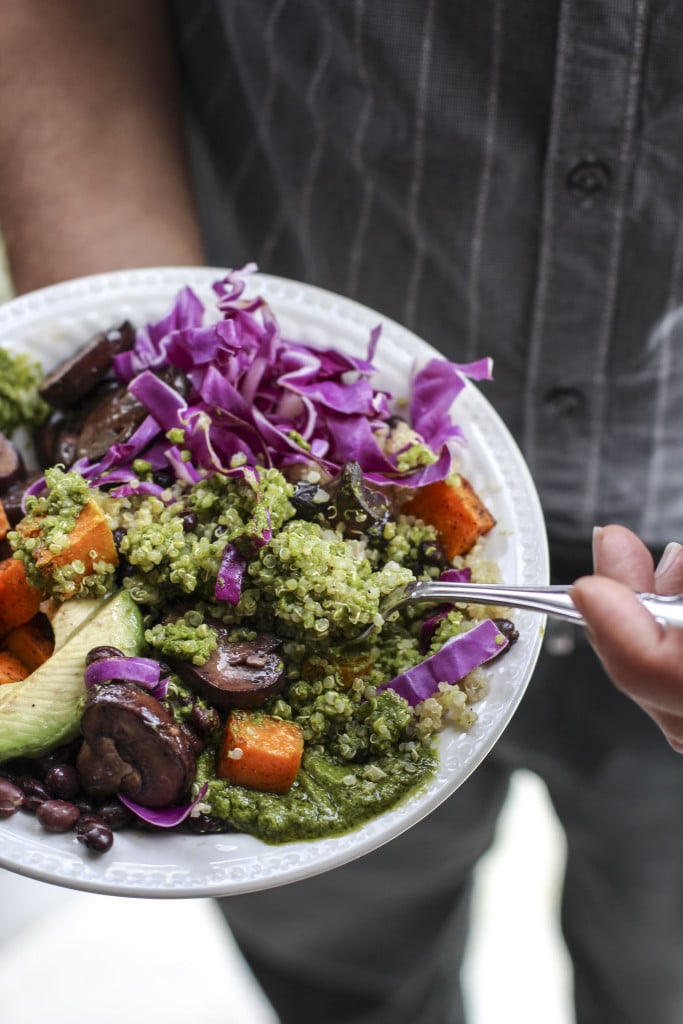 If you're not a big kale fan, try my favorite spicy avocado chipotle sauce instead. Although, if you give the kale sauce a try, I promise you'll love it! My fiance hates when I try to get him to eat a kale salad but he puts the pistachio kale sauce on everything— he loves it!
Skinny Quinoa Bowls with Pistachio Kale Sauce
Skinny quinoa bowls that are packed with veggies, whole foods, healthy fats & my favorite pistachio kale sauce. Don't restrict yourself to "diet food" to lose weight. Eat meals like this and you'll be satisfied and full of energy! I make this in large batches so I have 3-4 meals ready to go! 21 day fix-approved, gluten-free, dairy-free & vegetarian.
Print
Pin
Rate
Ingredients
Instructions
Preheat the oven to 400 degrees. Peel and chop the sweet potato into 1-inch cubes. Lay the chunks out on a parchment lined tray. Sprinkle cumin, paprika, garlic powder, sea salt & pepper, and 1 Tbsp olive oil over the potatoes. Mix with your hands. Bake for 10 minutes, turn with a spatula. Bake an additional 10 minutes.

Lay the sliced mushrooms on a separate parchment-lined tray and drizzle 1 Tbsp olive oil and garlic powder over the top. Toss to combine and roast for 20 minutes.

While the mushroom's and potatoes are cooking, rinse the quinoa and cook it according to package directions. Let sit for 5 minutes, covered. Fluff with a fork.

Assemble pistachio kale sauce ingredients in a blender and blend until smooth.

Assemble quinoa bowls with roasted potatoes, mushrooms, black beans, raw cabbage, avocado, and kale sauce. If you have extra veggies in the fridge, add them too!
Nutrition
Serving:
4
cups
|
Calories:
917
kcal
|
Carbohydrates:
128
g
|
Protein:
31
g
|
Fat:
34
g
|
Saturated Fat:
4
g
|
Sodium:
107
mg
|
Potassium:
2514
mg
|
Fiber:
29
g
|
Sugar:
10
g
|
Vitamin A:
17295
IU
|
Vitamin C:
63.5
mg
|
Calcium:
180
mg
|
Iron:
9.1
mg
Click here for the Pistachio Kale Sauce recipe.
What's your favorite healthy meal to eat? Let me know in the comments!
NEVER MISS A STACEY HOMEMAKER CREATION!
FACEBOOK / INSTAGRAM / PINTEREST / TWITTER