This list has the BEST Whole Foods vegan products that you have to try! Plus, info on which Whole Foods vegan prepared foods you should buy (or skip) and shopping tips!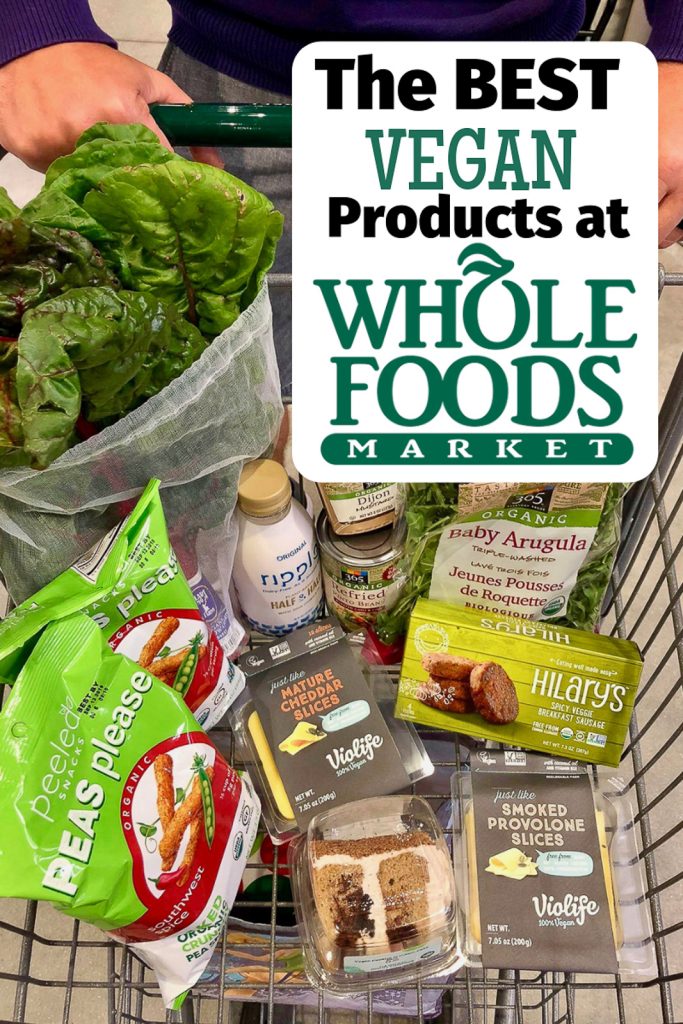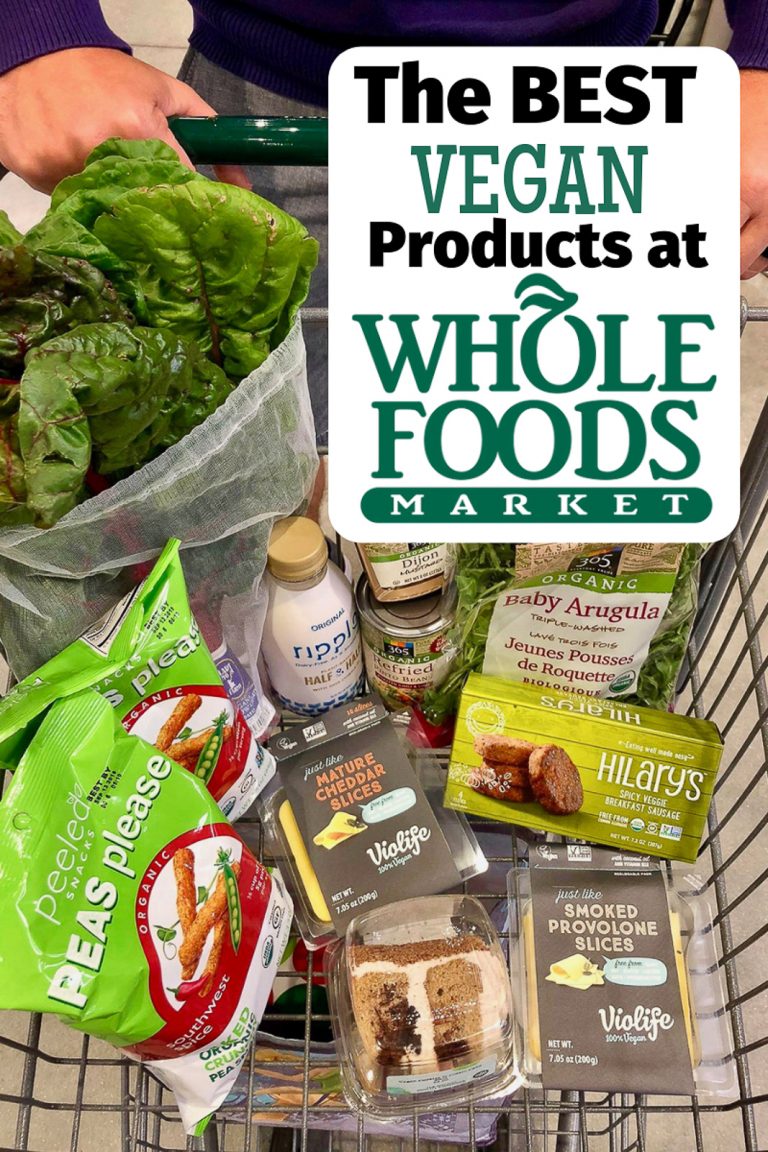 Want easy vegan recipes? Join our vegan Facebook community below!


To be honest, I never shopped at Whole Foods...until Amazon bought them out and they started lowering their prices and offering a 10% prime member discount on yellow tag sale items and special blue tag sales just for Prime members!
I used to go into Whole Foods and look at items that I wanted to buy but then I would compare the prices to other stores that I could shop at and Whole Foods was almost always more expensive.
I do most of my shopping at a local organic market for our fresh produce, I go to Costco for organic bulk items and I do a monthly trip to Trader Joe's for vegan products that only they carry (like super cheap organic coconut aminos and my favorite organic granola bars!).
If you want to know what I buy at Trader Joe's, check this list out --> My Trader Joe's vegan shopping list!
If you want to know what I buy at Costco, check this list out --> My favorite vegan products at Costco!
However, lately, I've also found myself making a few trips each month to Whole Foods too because they have specific vegan products (that I can't find anywhere else) that I love for a great price!
Let's answer a few questions about Whole Foods vegan prepared food first before we get to my favorite products...
Whole Foods Vegan Prepared Food
I cook almost every day but when I want a day off, Whole Foods vegan prepared foods are a great option that we like to pick up occasionally:
Whole Foods vegan pizza (Deli)
Chocolate chip and oatmeal cookies (Bakery)
Whole Foods vegan sandwich (We love Whole Foods TTLA so much that I recreated it at home!)
Walnut date scones!!!! (Bakery)
Roasted garlic kale salad (Deli)
Whole Foods vegan cake (They have whole cakes and slices available in the Bakery!)
Organic lentil soup (Hot bar)
Whole Food Vegan Sandwich
Whole Foods has a vegan sandwich called the TTLA that you can get in the Deli. Have you heard of it? It's the vegan version of a BLT.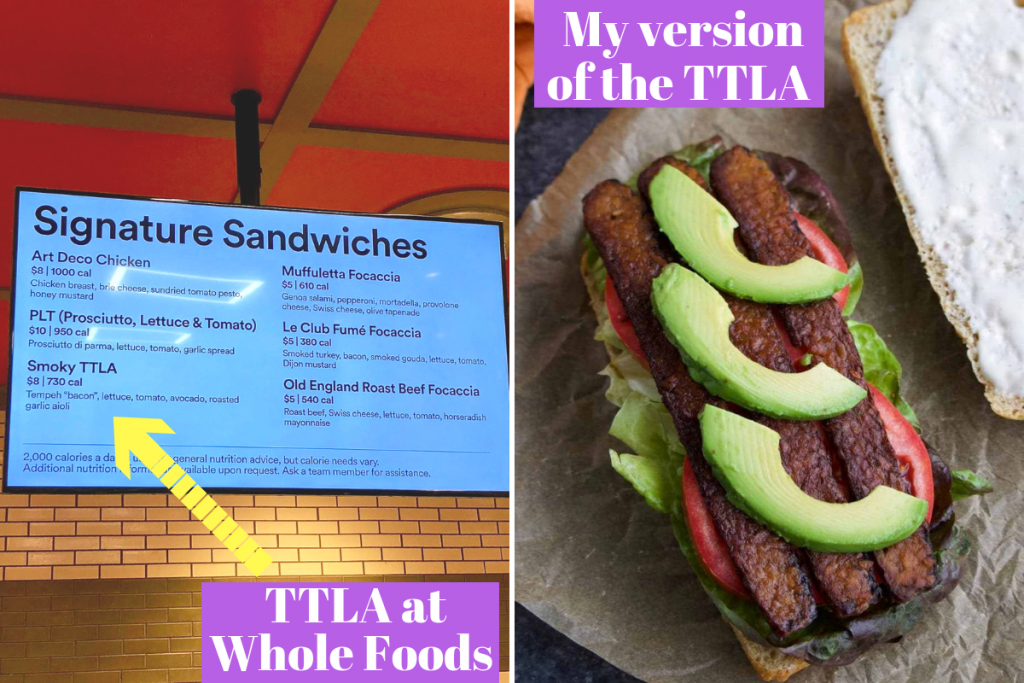 It's not a new concept but they renamed it the TTLA - Tempeh Tomato Lettuce Avocado Sandwich and a popular YouTuber posted a video of herself eating the TTLA for the first time (and loving it!) and the video (watch it here!) went viral on Facebook! That's how I learned about it anyway and now it's my go-to sandwich to eat at home. I even recreated it, here is my Whole Foods copycat TTLA recipe!
Is Whole Foods Pizza Vegan?
Yes, Whole Foods has super tasty vegan pizza! Let's talk about Whole Foods vegan pizza: it's delicious, affordable, and perfect for a quick easy dinner.
Whole Foods Vegan Pizza Info
They have two size options: Individual or Large
Individual pizzas + 2 toppings are $8.
Large cheese pizzas are $13 (You can add up to 5 veggie toppings for an additional minimal cost $3-$5).
They use Daiya cutting board shredded cheese (If you don't like that cheese brand, you can buy your own in the store and they will use that one).
Their red sauce is vegan!
There is no extra charge for vegan cheese!
Does Whole Foods Have Vegan Cheese?
YASSSS, Whole Foods vegan cheese assortment is the best I've found at any grocery store. It's actually where I first tried my favorite vegan cheese of all time....Violife cheese! They have smoked provolone, cheddar, feta, and even an actual parmesan wedge! It's seriously life-changing for cheese lovers who turned vegan. You can tell it's really good when you can eat slices of it by itself right out of the package!
Whole Foods definitely has the biggest variety of vegan cheeses that I've found anywhere. They have:
Violife
Follow Your Heart
Kite Hill
So Delicious
Chao
Pamela Creamery
Daiya
They probably have other vegan cheese brands too but these are the brands that I've bought there.
Whole Foods Vegan Cake
I've heard mixed reviews about the Whole Foods vegan cake. Have you tried it?
At first, I was super happy to find individual slices and whole cakes (and a cheesecake!) because I was looking for something to get for my husbands birthday dessert. The cakes are a little expensive at $30, so we wanted to try a slice first to see if we liked it. The slices ranged from $3-$4 for one piece and they had a sale going on for mix n match two pieces for $6.
I've found these cake flavors:
Chocolate
Chocolate mousse
Vanilla
Carrot cake
Cookies and cream
Chocolate chip cheesecake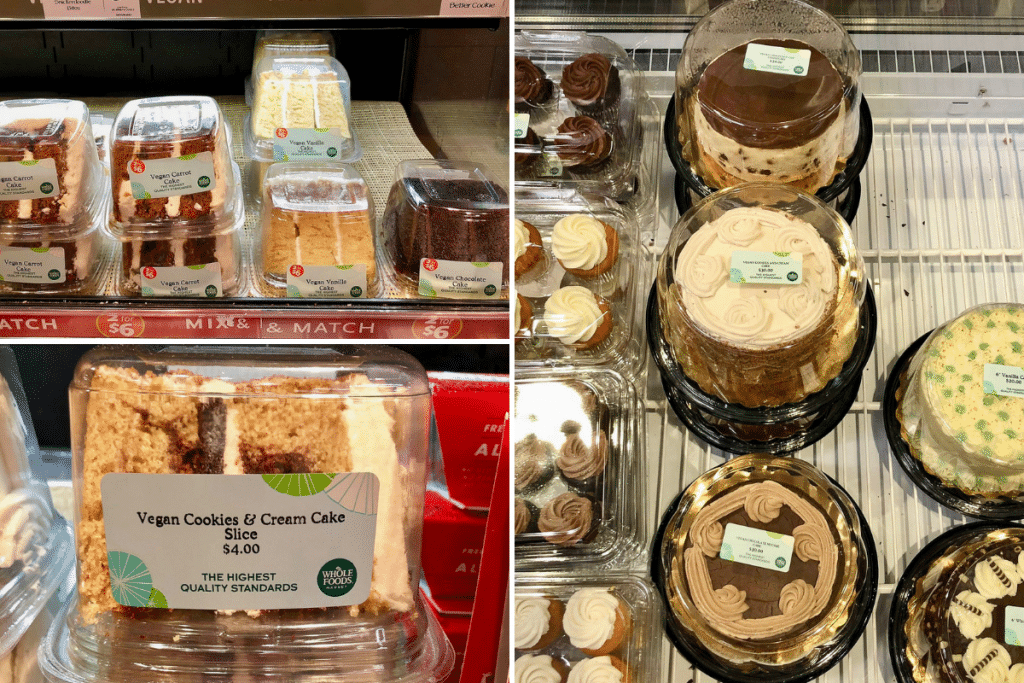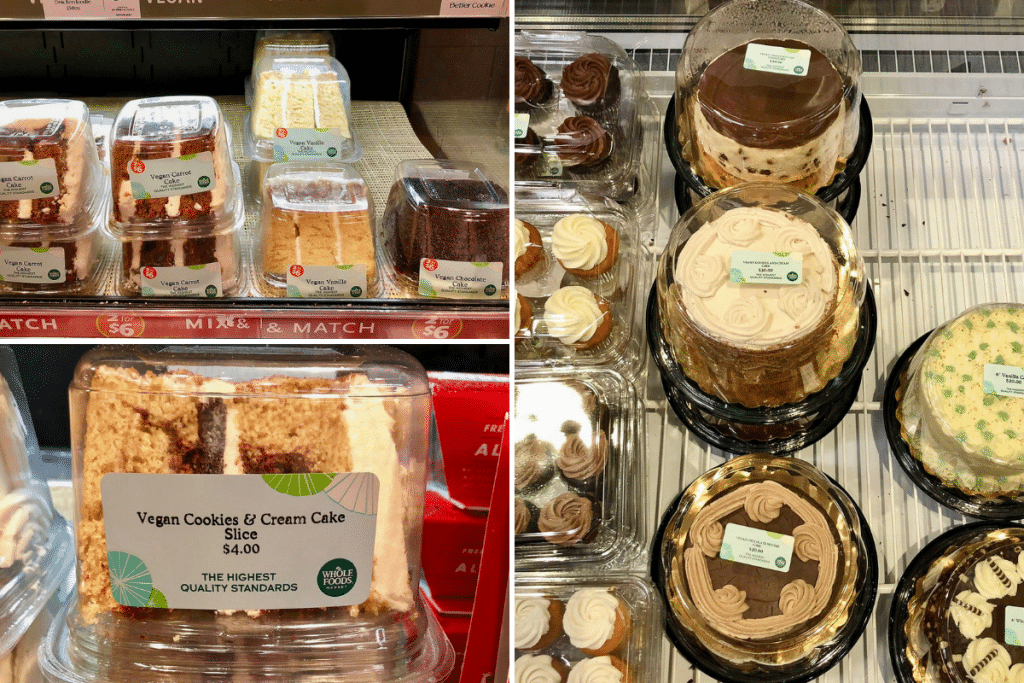 Travis was shopping with me that day, so he decided on the cookies and cream cake. We really had high hopes for the cake because it looked really delicious. It had great flavor but, unfortunately, it was super dry. Maybe it was dry because it was sliced and exposed to the air? Maybe a whole cake would be moister? We'll try a Whole Foods vegan cake one day and update this review when we do.
Whole Foods Vegan Bakery Items
Besides the vegan cakes, the Whole Foods bakery also has other vegan dessert options! They have seriously delicious vegan scones and vegan cookies in the grab and go case that are my absolute favorite. I love love love the walnut date scones, they are the best vegan scones that I've ever had! (The best way to eat them IMO is to toast them for 3 minutes and then let it cool for 1 minute so the edges get crispy...OMG it's so bomb with a cup of coffee!)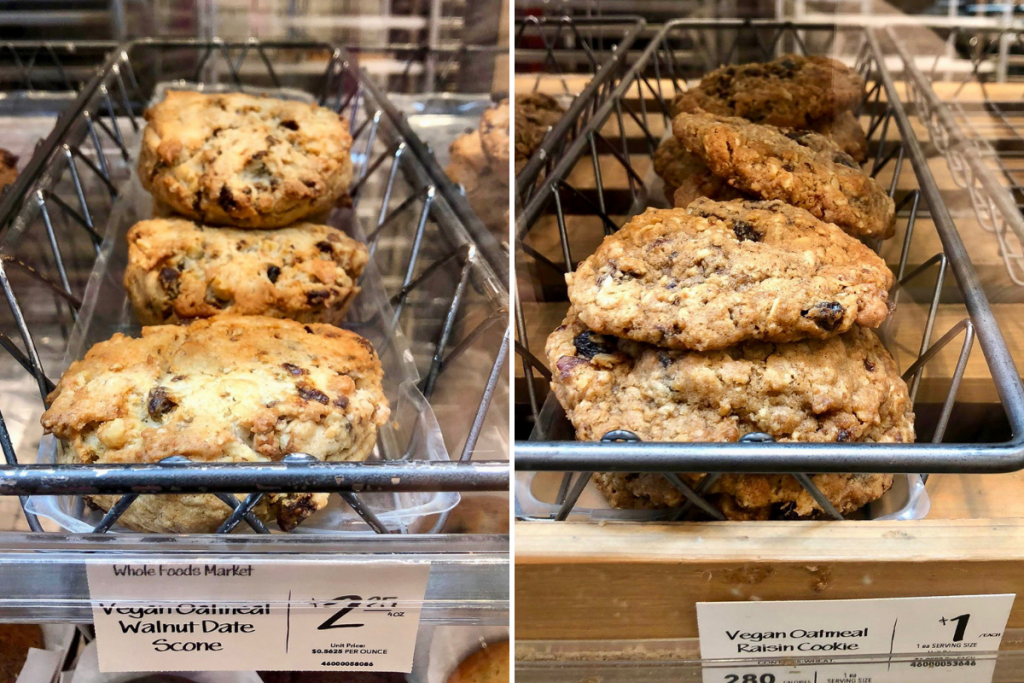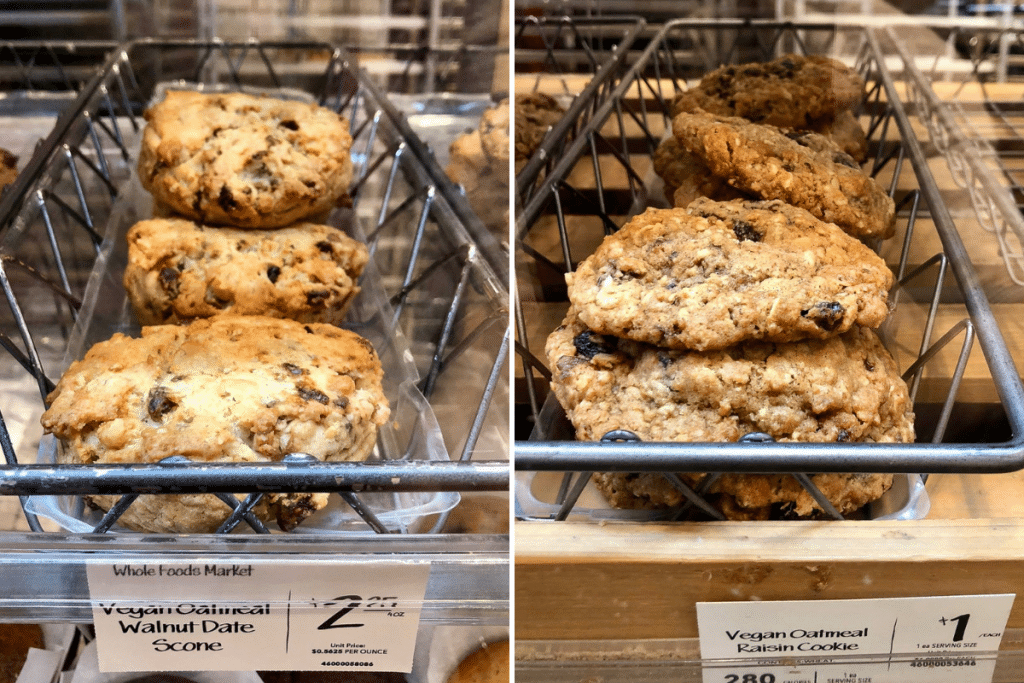 They also have vegan chocolate chip cookies, oatmeal cookies, and chocolate oatmeal cookies that might be my favorite cookies of all time! We get a platter for every holiday because they're that good and non-vegans never guess that the cookies are vegan-- that's how you know they're the best!
My non-vegan mom actually turned me on to both of these desserts. Thanks, mama. You're the best!
Whole Foods Organic Produce
Let's talk about organic produce at Whole Foods.
First of all, I only know the prices of the organic produce because that's what I buy. The conventional produce is probably cheaper but I don't buy it so I can't say for sure.
Second, not all of Whole Foods organic produce is a great deal. You have to know your prices and be willing to shop around if you want the biggest bang for your buck.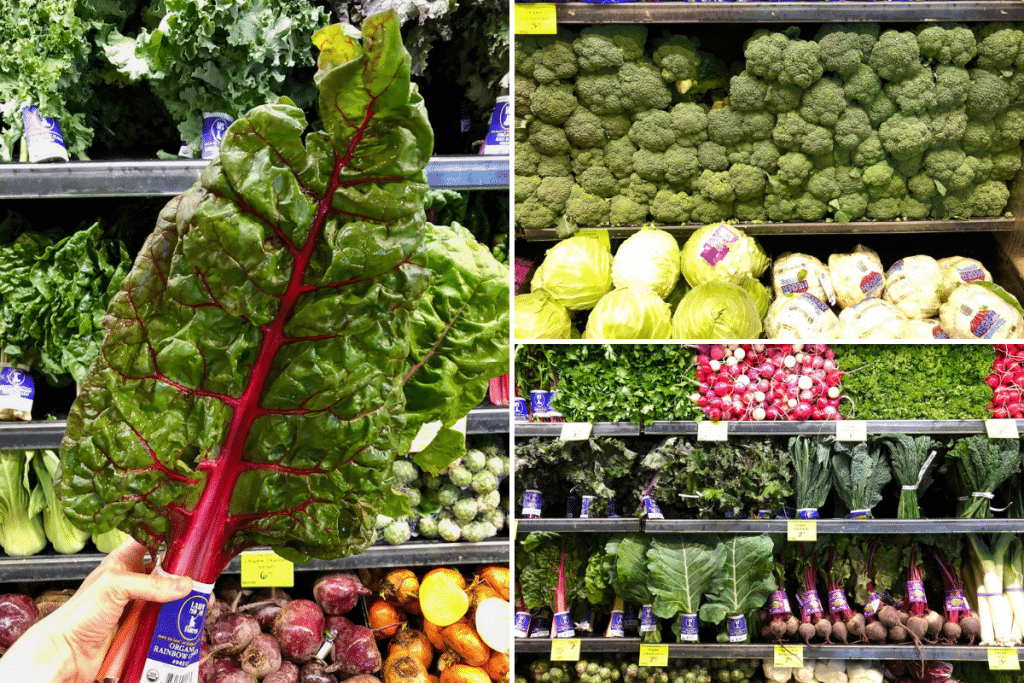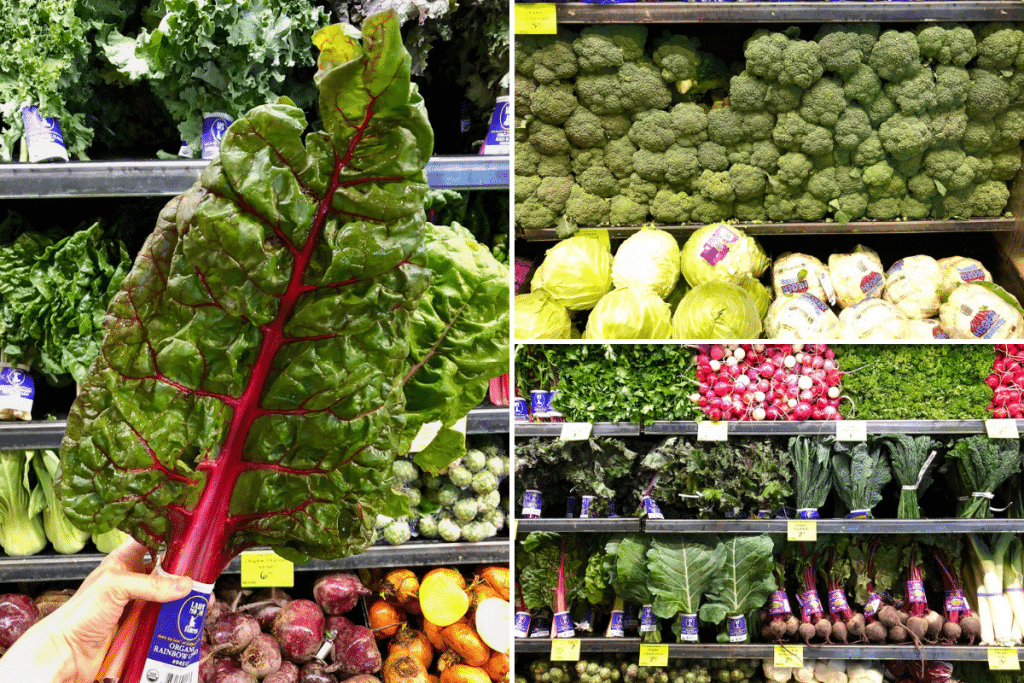 Tips for buying Whole Foods produce:
Buy produce that's in season. If you want something that's out of season it's going to be more expensive.
If you're a Prime member, look for produce that has a yellow sales tag on it so you get 10% off or a blue sale tag (that means the sale is just for Prime members). They do a lot of Prime sales on produce!
At the Whole Foods that I shop at, the produce section is located right when you walk into the store. The front of the produce section is where I usually find the best sales. I'm sure that's intentional to make me buy more but it works because I know my prices and usually the sales at the front of the produce section are pretty great! So don't blow right past because you might pass up a good sale.
Buy organic mushrooms from the bulk bin, it's a better deal than buying them in a sealed package.
I always find the fresh organic bell peppers to be really expensive at Whole Foods, it's a much better deal to buy them frozen (I like the Woodstock brand).
Make sure you check out the wall of broccoli, it's pretty awesome! (See picture above!)
The heads of organic romaine, swiss chard, red leaf lettuce, and green leaf lettuce are usually priced fairly between $2-$4.
They tend to have at least one brand of organic apple on sale and it's usually a good deal. I look for $2.99 and under.
Skip the bulk bags of organic lemons, it's not the best deal. I stock up on lemons when I go to Trader Joe's because they have the best price-- $2.99 for six lemons!
Organic onions, gold potatoes, and sweet potatoes are usually a fair price.
Organic tomatoes are usually a bit overpriced compared to what I can find at a farmers market.
Skip the fresh-cut fruit in plastic containers, it's a lot more expensive than buying the product whole and cutting it yourself.
When buying greens, check if there is a 365 Whole Foods brand of bagged greens because it will most likely be cheaper! I used to buy the 5oz hard plastic container of organic arugula for $3.49, now I buy the 5oz bag of organic arugula for $2.50 and treat myself to a walnut date scone with the money that I saved!
Also, please bring your own produce bags or at least use the brown paper bags instead of plastic bags for your produce because you can recycle or reuse the bags the next time that you shop. I always bring my own reusable mesh bags (these are the bags that I use and LOVE-- they are so strong and last forever!) for my produce.
Whole Foods Vegan Thanksgiving Menu
You can learn more about the Whole Foods vegan Thanksgiving feast here if you're interested.
First of all, I think this is a great option if you don't want to cook for Thanksgiving and I'm really happy that they offer it because it's nice to have choices. That being said, I haven't tried it myself yet but I haven't heard the best reviews about it. When I try it I will update this section with my review. If you've tried it please leave your thoughts about it in a comment below!
Does Whole Foods Have Vegan Products?
Whole Foods has so many vegan products, probably the biggest selection that I've found at any grocery store. They have all the popular vegan brands (plus lots more!) like:
Amy's
Gardein
Unreal
Chao
Follow Your Heart
Kite Hill
Beyond Meat
So Delicious
Field Roast
Ripple
Hilary's
Hippeas
Violife
Plus, they make a lot of their own vegan products in the bakery, deli, and on the hot bar. My non-vegan mom surprised me and tried jackfruit for the first time at the Whole Foods hot bar and she loved it! She probably never would have made it on her own so it was so nice that they have that vegan option on the hot bar! Have you found any vegan options that you loved on the Whole Foods hot bar?
What Can I buy at Whole Foods Vegan?
Do you find yourself wondering, "What can I buy at Whole Foods that's vegan?" If so, the following list will definitely be helpful to you.
The following Whole Foods vegan products are items that I think are a great price and I buy them on a regular basis. My husband and I have taste tested all of them and we think that you'll enjoy them too. Please let me know if I missed any of your favorite Whol Foods vegan products!
The BEST Whole Foods Vegan Products!
1 - Organic Vegan Worcestershire Sauce
This is my favorite Worcestershire sauce, it has the best flavor!
Try this recipe --> Vegan walnut quinoa taco meat recipe.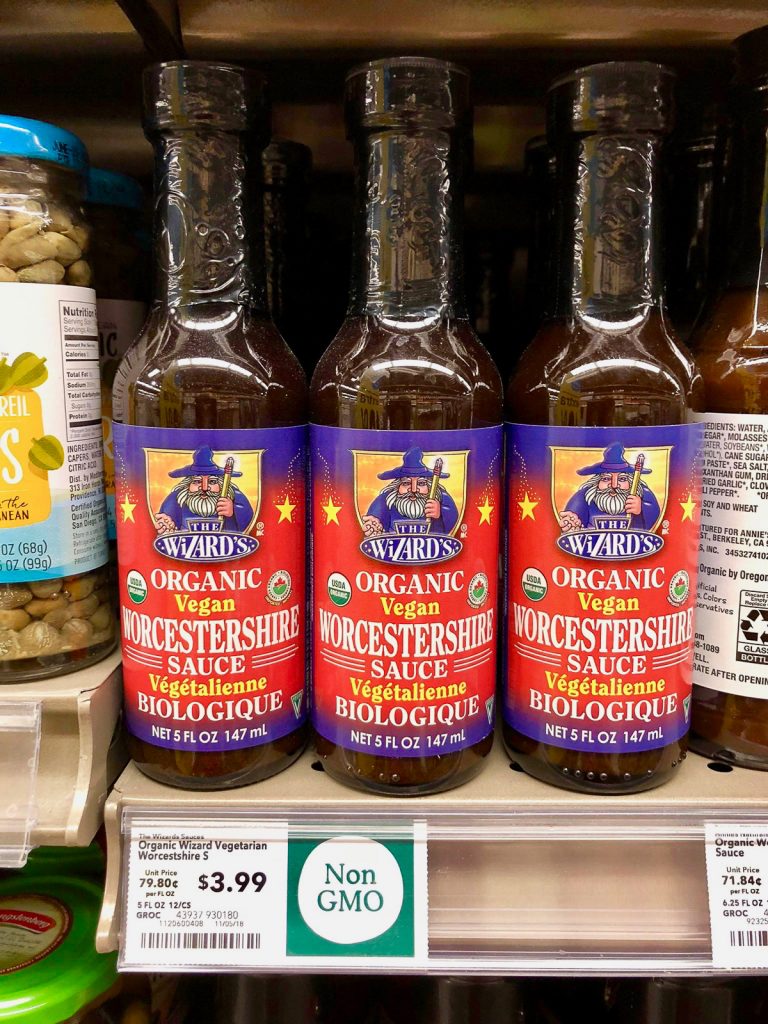 2 - Organic Jalapeno Nacho Slices
We make black beans and rice a lot and these jalapeno slices are one of our favorite toppings. My husband also like to add them to vegan crunchwrap supremes!
3 - Whole Artichoke Hearts
I'm obsessed with artichoke hearts (in water, not oil), it's my favorite snack. I've been known to eat the whole jar in one sitting. If I can't get the bulk bottle at Costco (they don't always carry it) then this is my go-to brand. These artichokes never have the tough leaves on the outside, they're so soft and flavorful.
Try this recipe --> Lemon artichoke orzo soup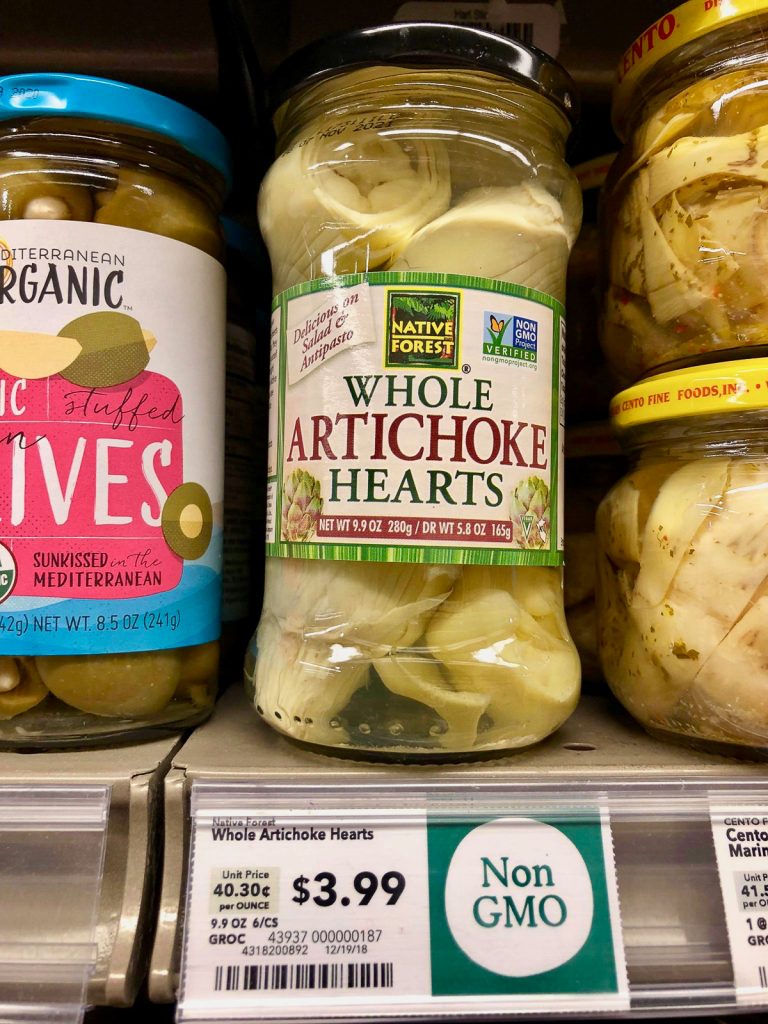 4 - Organic Dijon Mustard
I try not to buy pre-made dressings because I like to control the salt and sugar that I consume. My favorite homemade dressing is 1 tsp dijon + 2 tsp white wine vinegar + 2 tsp maple syrup. It's so tasty and this is the dijon mustard that I used to make it on a regular basis.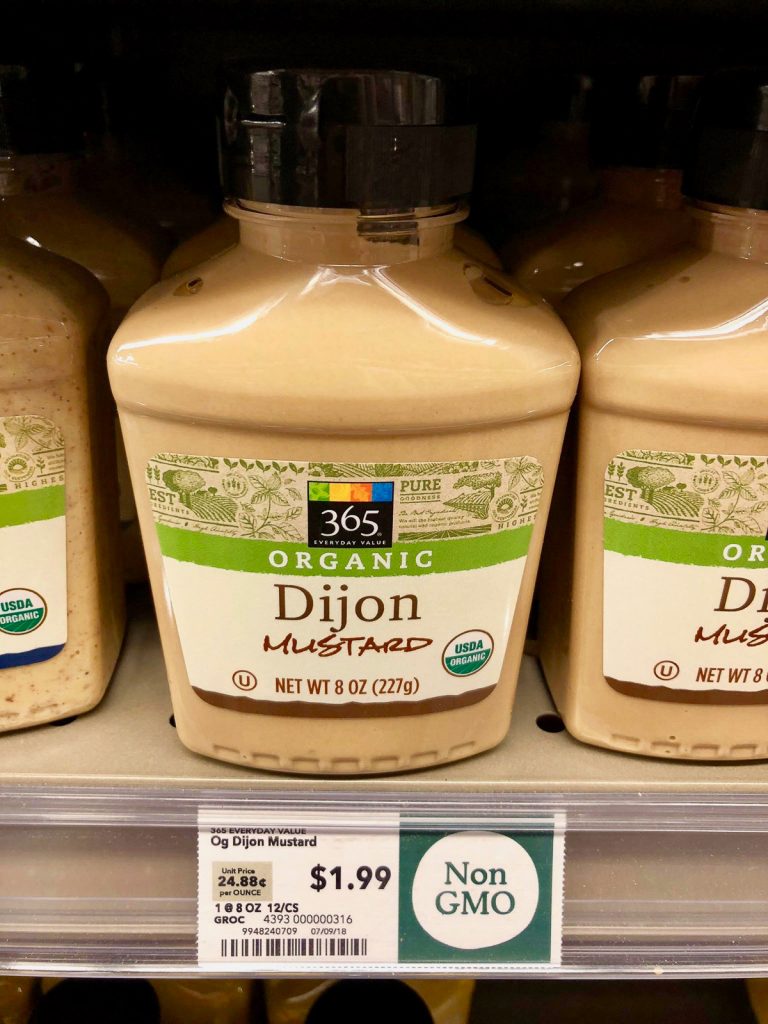 5 - Organic Kalamata Spread
My husband loves this spread! It's delicious with raw veggies or I've even put the whole jar out on a vegan cheese board. Everyone always raves about it!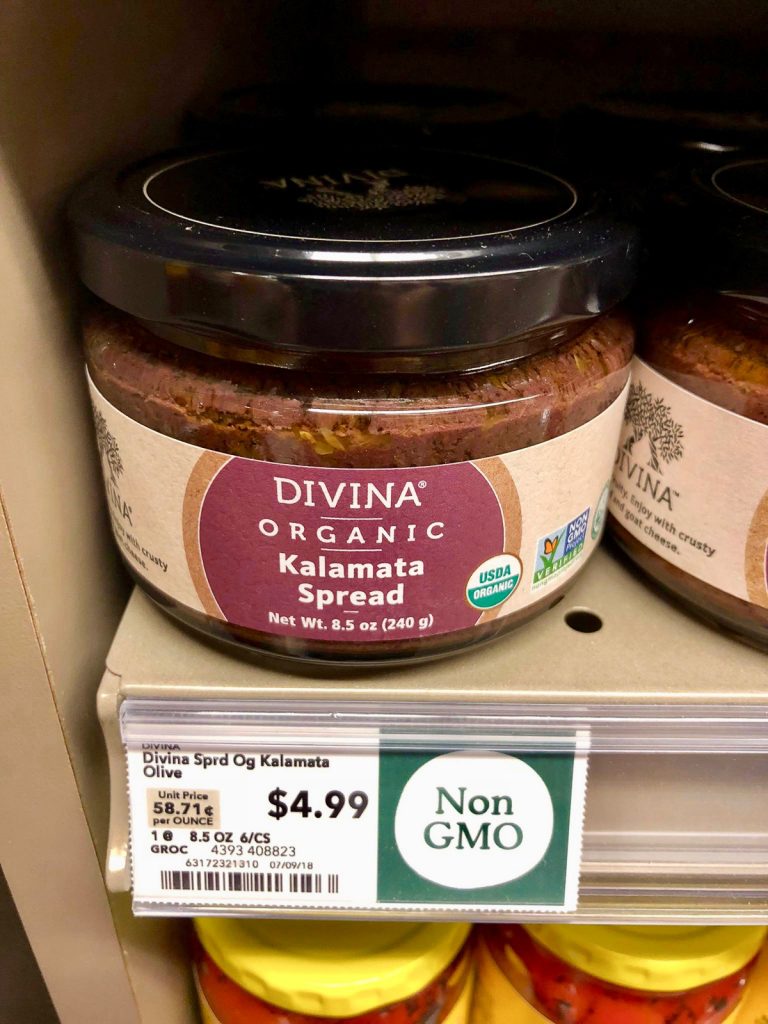 6 - Organic Refried Beans (BPA-Free can lining)
I like to keep a few cans of these refried beans in my pantry at all times. I add them to tacos, sweet potato black bean enchiladas, and nachos!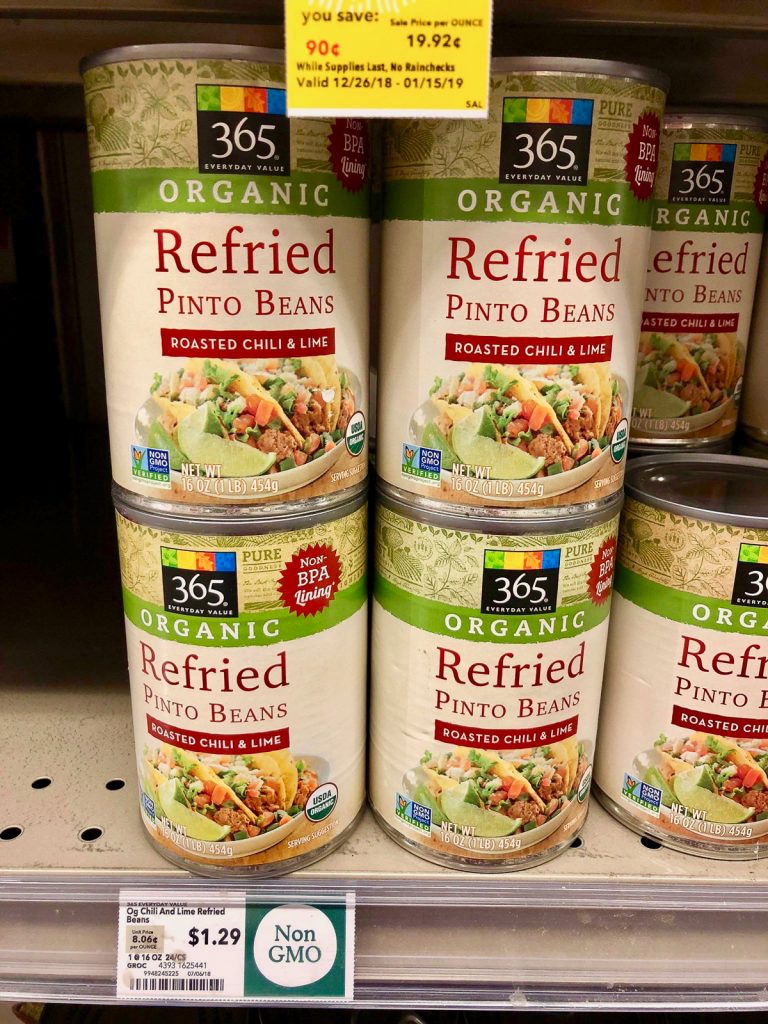 7 - Organic Red Enchilada Sauce
Sure, I make my own enchilada sauce occasionally but it's nice to have a shortcut for quick dinners. Plus, this sauce tastes good, it's oil-free, low in sugar and salt, and I know all the ingredients on the label! That's just as good as if I made the sauce myself!
I use the enchilada sauce to make these Vegan Jackfruit Enchiladas! (It's one of my husband's favorite meals!)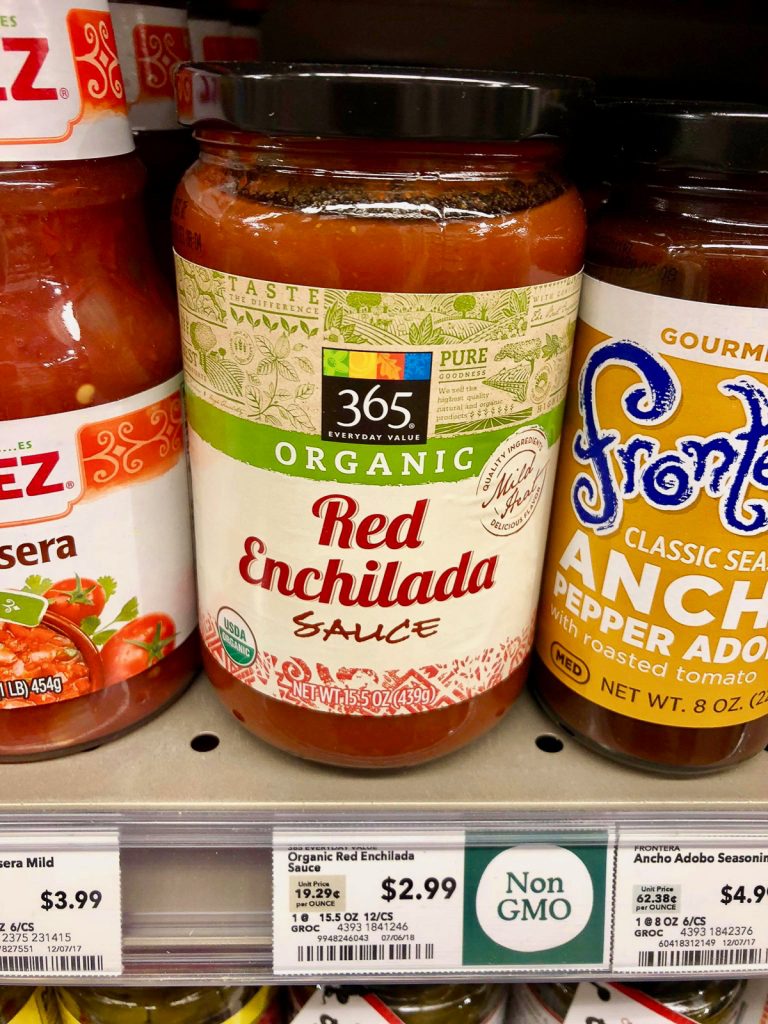 8 - Peeled Snacks Peas Please
See that yellow price tag? That means it's on sale plus Prime members get an additional 10% off! Yeah! We love these pea puffs and they are double this price at most other stores. This is a stock up price!
9 - Organic Toasted Nori Sheets
We like to make easy sweet potato sushi rolls at home (hello inexpensive and easy dinner!) and these are our favorite nori sheets to make them with!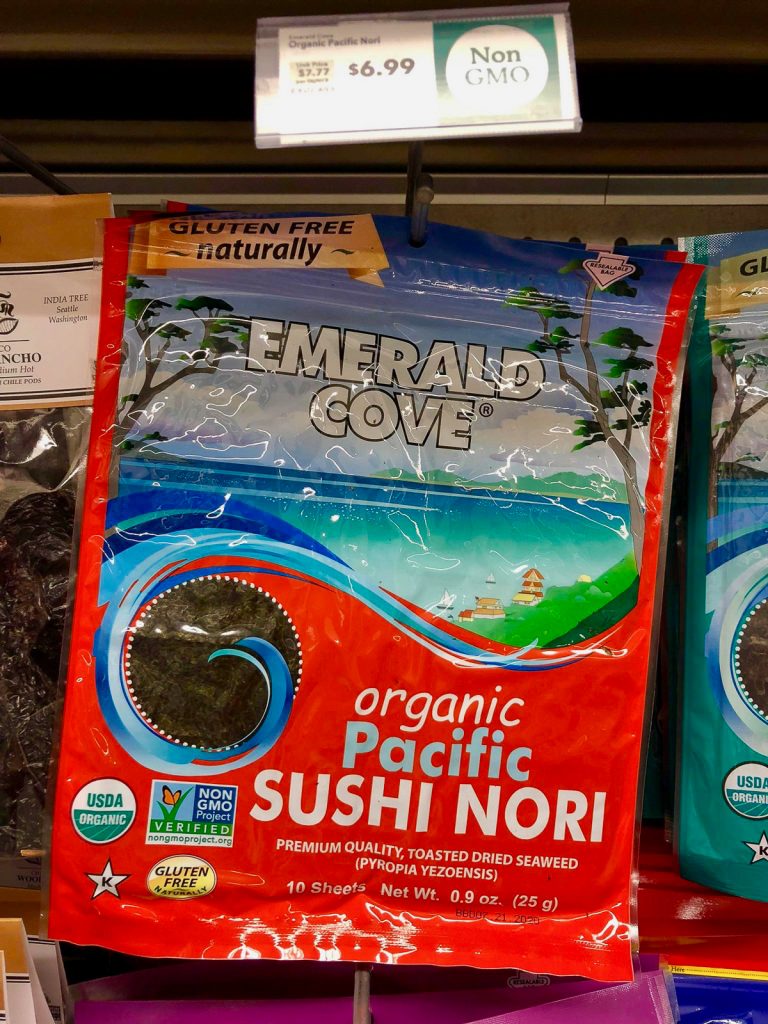 10 - Organic Wild Rice
For some reason, I can only find organic wild rice in tiny packages at other stores and it's always super expensive. Whole Foods is the only store that I've found it in bulk for a good price!
Try this recipe --> Vegan creamy chicken wild rice soup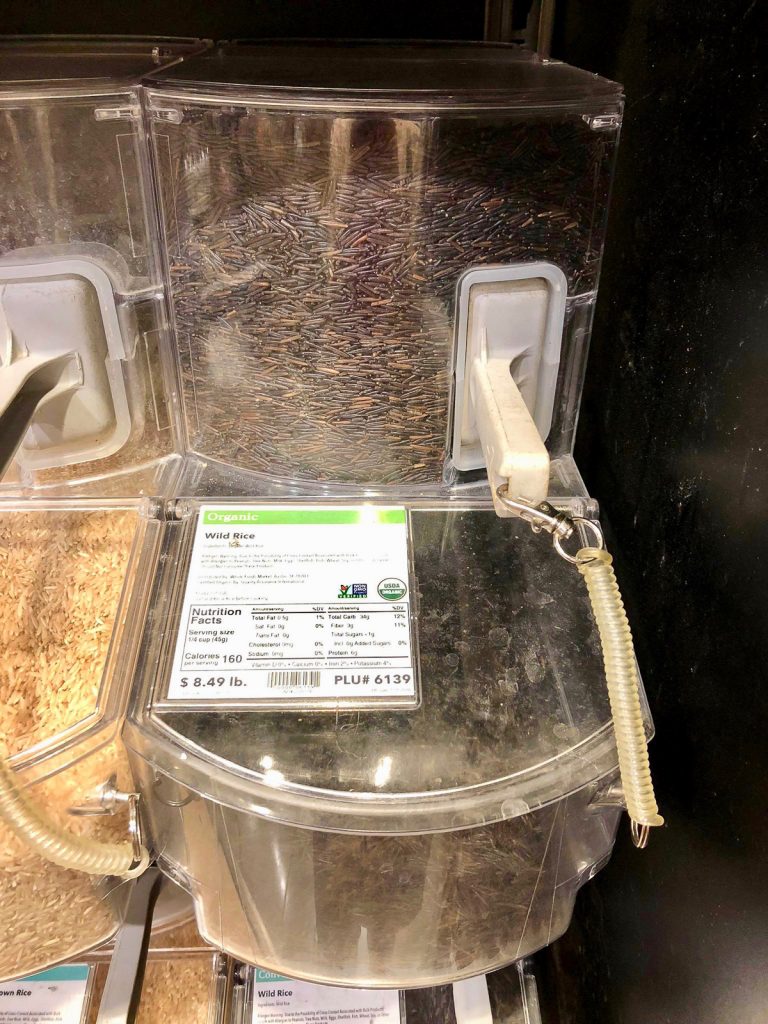 11 - Vegan Candy
Whole Foods has a huge assortment of vegan candy! I don't buy candy on a regular basis but this is definitely where I get all of my treats for Halloween, Christmas stockings, and Easter baskets.
Check out this list of the BEST vegan Halloween candy!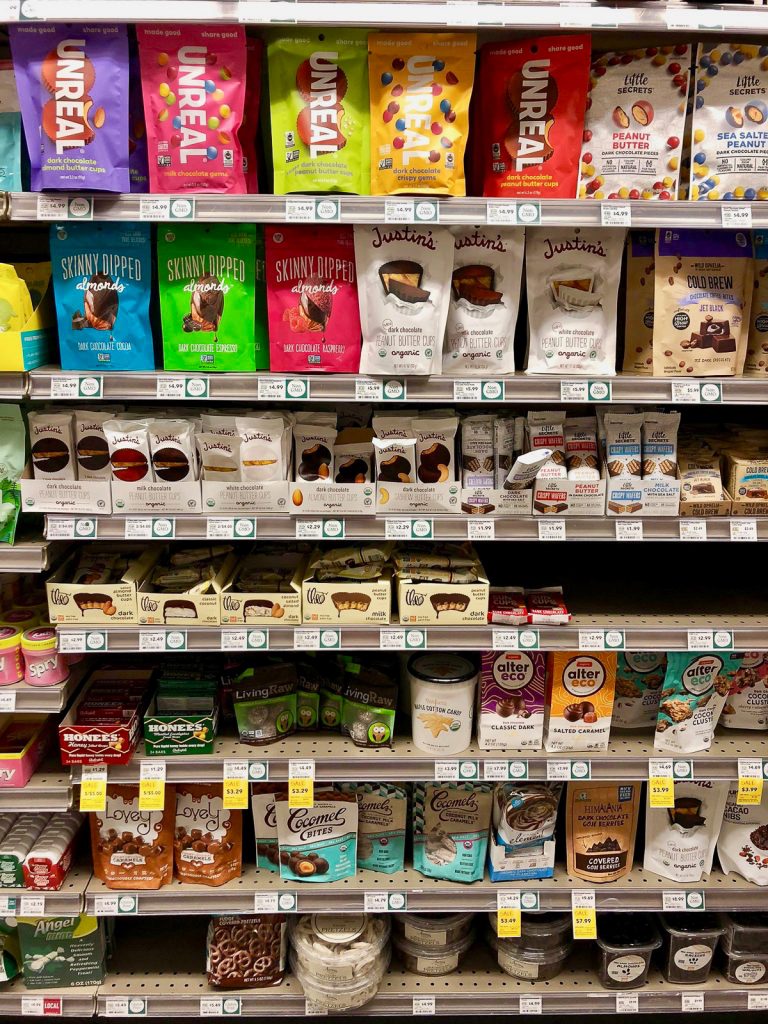 12 - Field Roast Wild Mushroom Deli Slices
We eat a lot of sandwiches for lunch and these mushroom meat deli slices are our favorite! They have a delicious earthy mushroom flavor and they look, feel, and taste like lunch meat. We've also tried the lentil and tomato varieties but the mushroom is our favorite.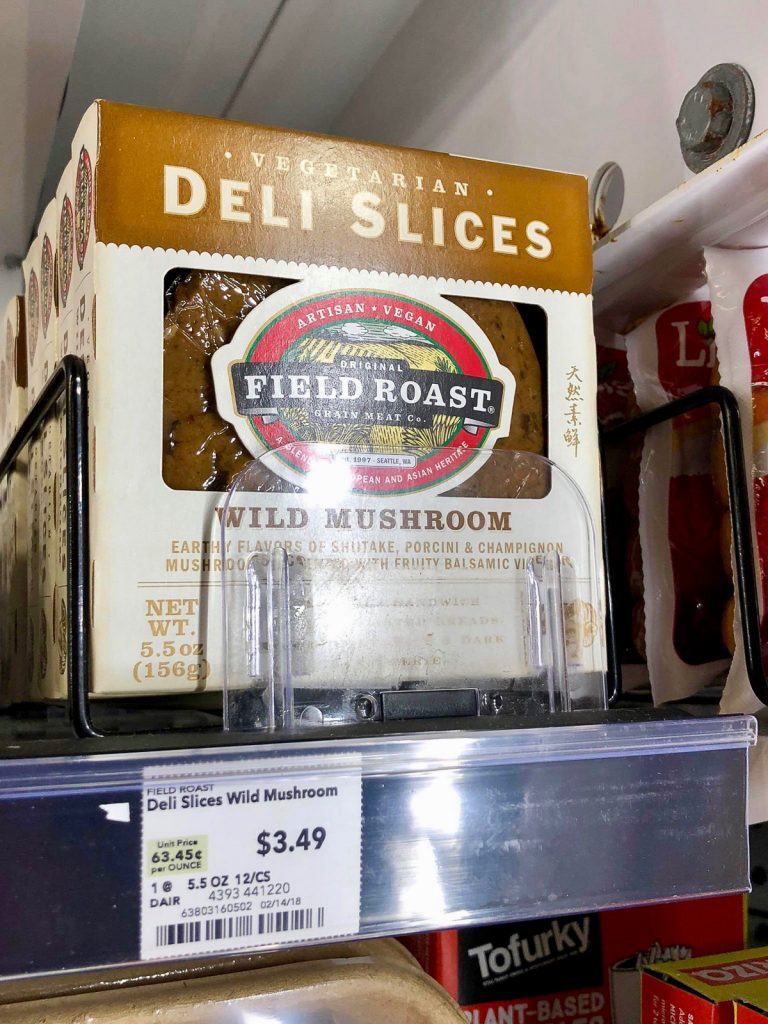 13 - Farmhouse Culture Kraut
We are huge fans of anything fermented, we put it on everything! We love this classic kraut and the beet ginger kraut is really delicious too. Try adding it to your salad or on top of a Field Roast "sausage dog" for loads of extra flavor!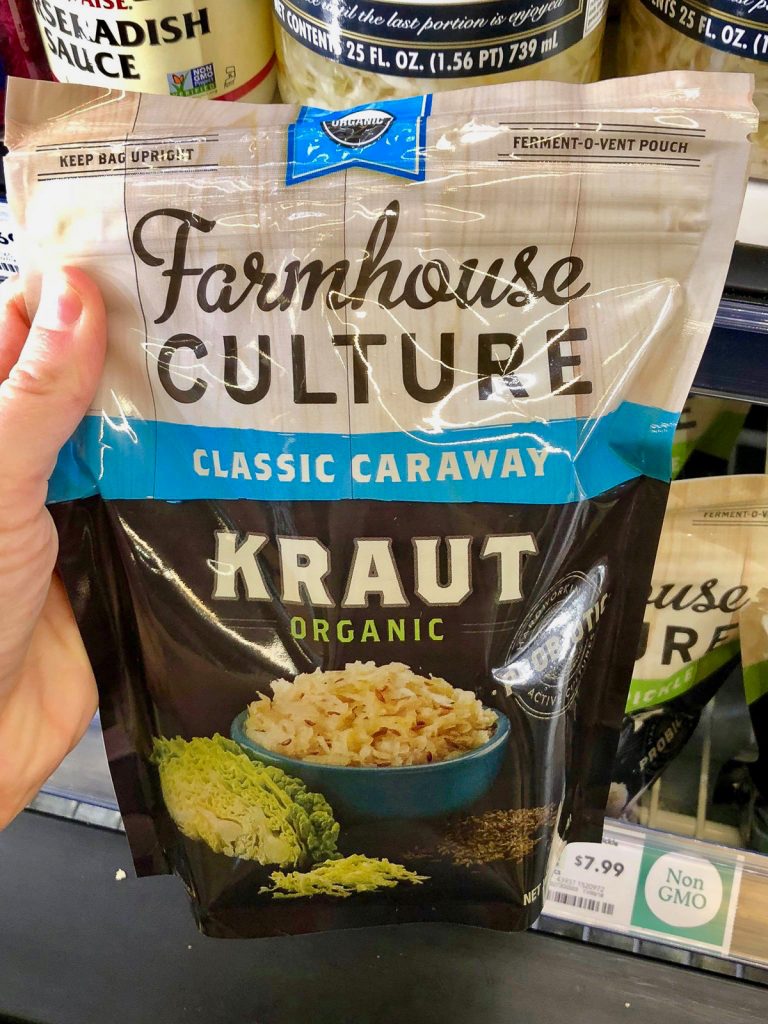 14 - Kite Hill Chive Cream Cheese
This cream cheese is our all-time favorite bagel topping! It's so rich and creamy and it has the perfect chive flavor. We love love love it! We also like the Kite Hill almond ricotta to make vegan Spanakopita!
Try this --> Spread this cream cheese on the everything bagels (see bagels below, I get them from Whole Foods too!) and top with slices of avocado, pumpkin seeds, hemp seeds, and cayenne pepper! Holy YUM!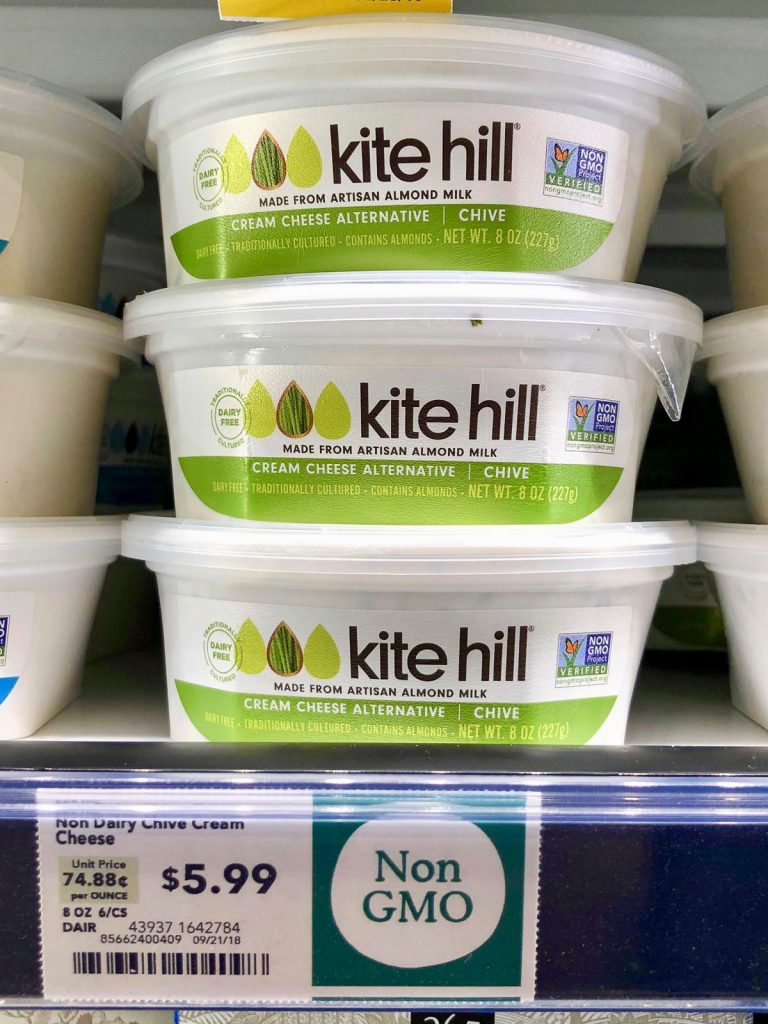 15 - Beyond Meat Burgers
We don't eat these vegan burgers on a daily basis, it's more of a special treat for 4th of July or for days when we want to grill out-- but they're definitely delicious. The burgers are $4.99 (2-pack) at Whole Foods and this is the best price that I've found anywhere.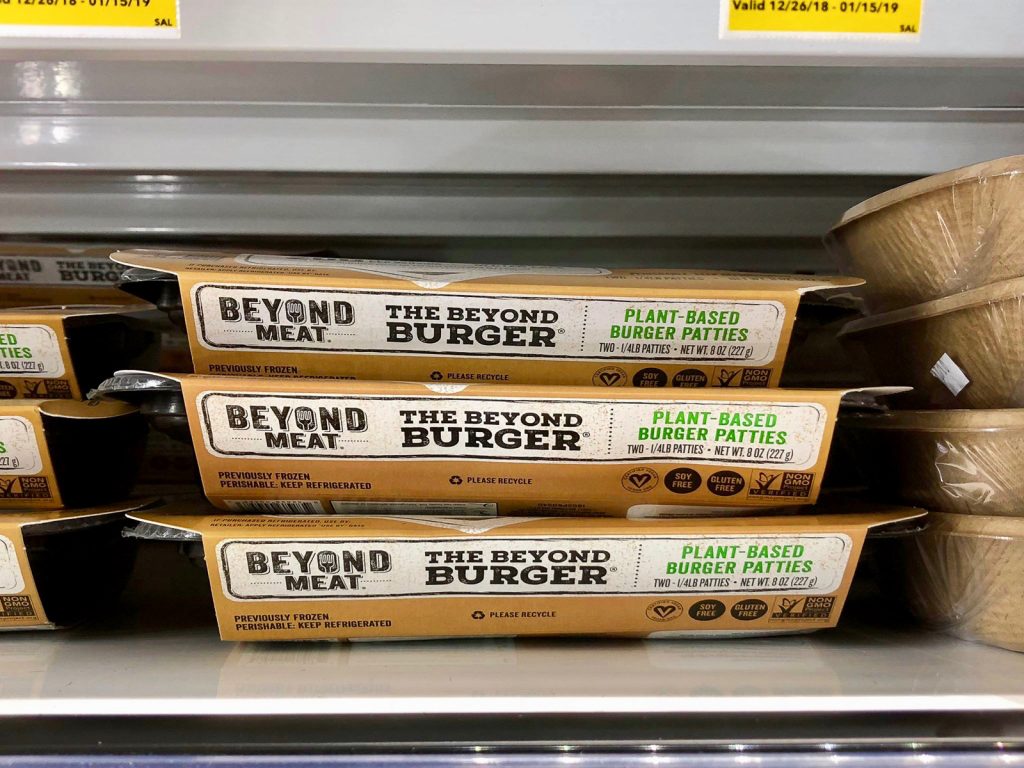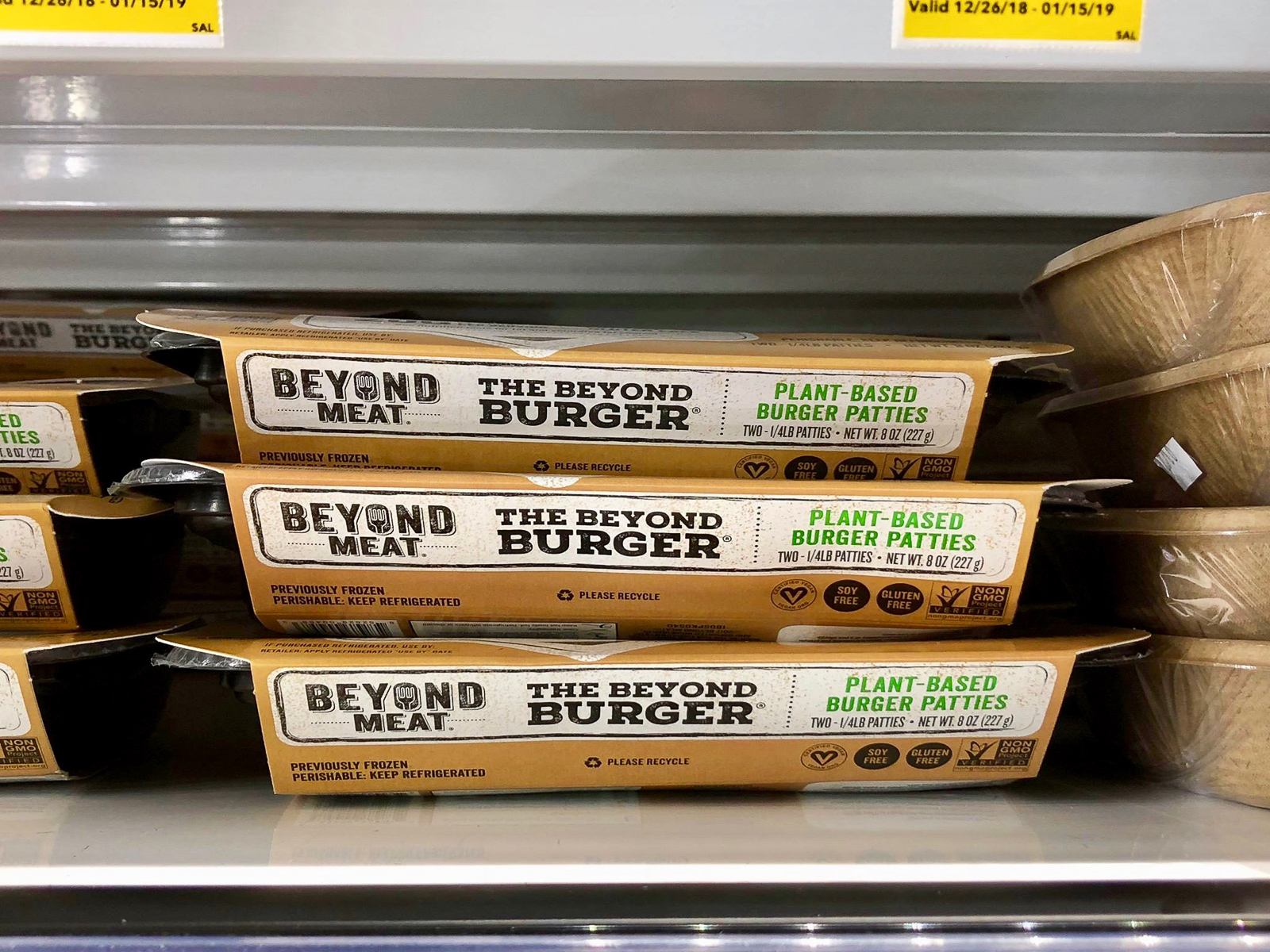 16 - Beyond Meat Sausage
We also love the hot Italian and bratwurst sausages, they are sooo good! They are a little pricey at $8.99 so if that's not in your price range check out the next option (the next sausages are just as delicious and are a little less expensive) instead.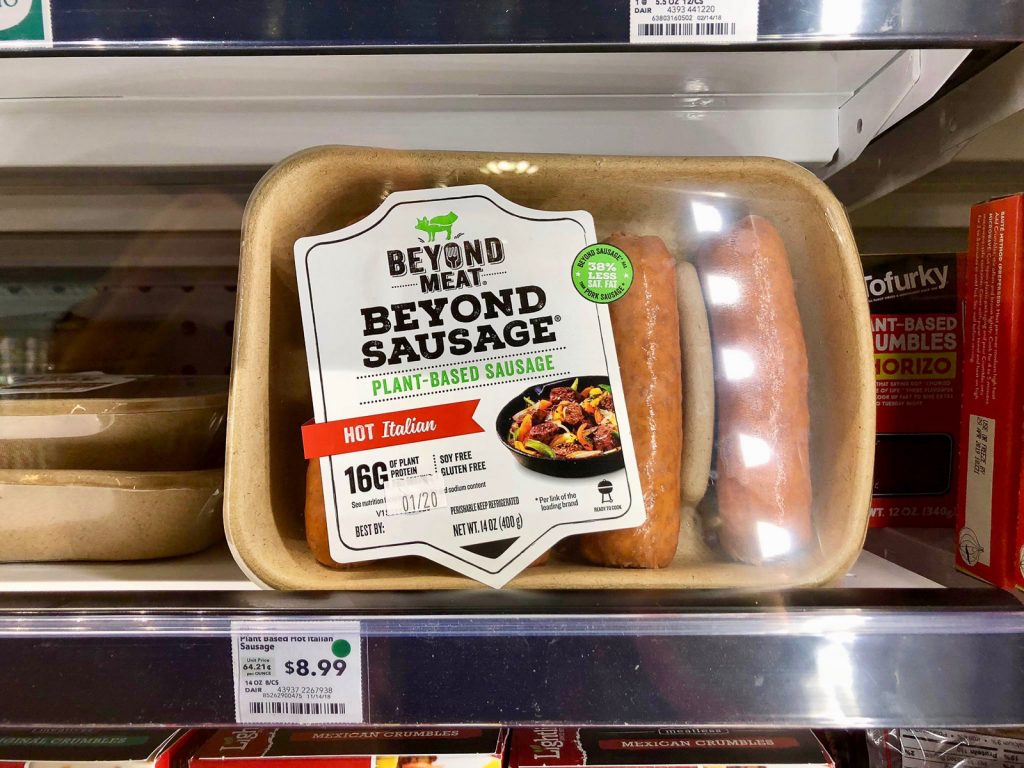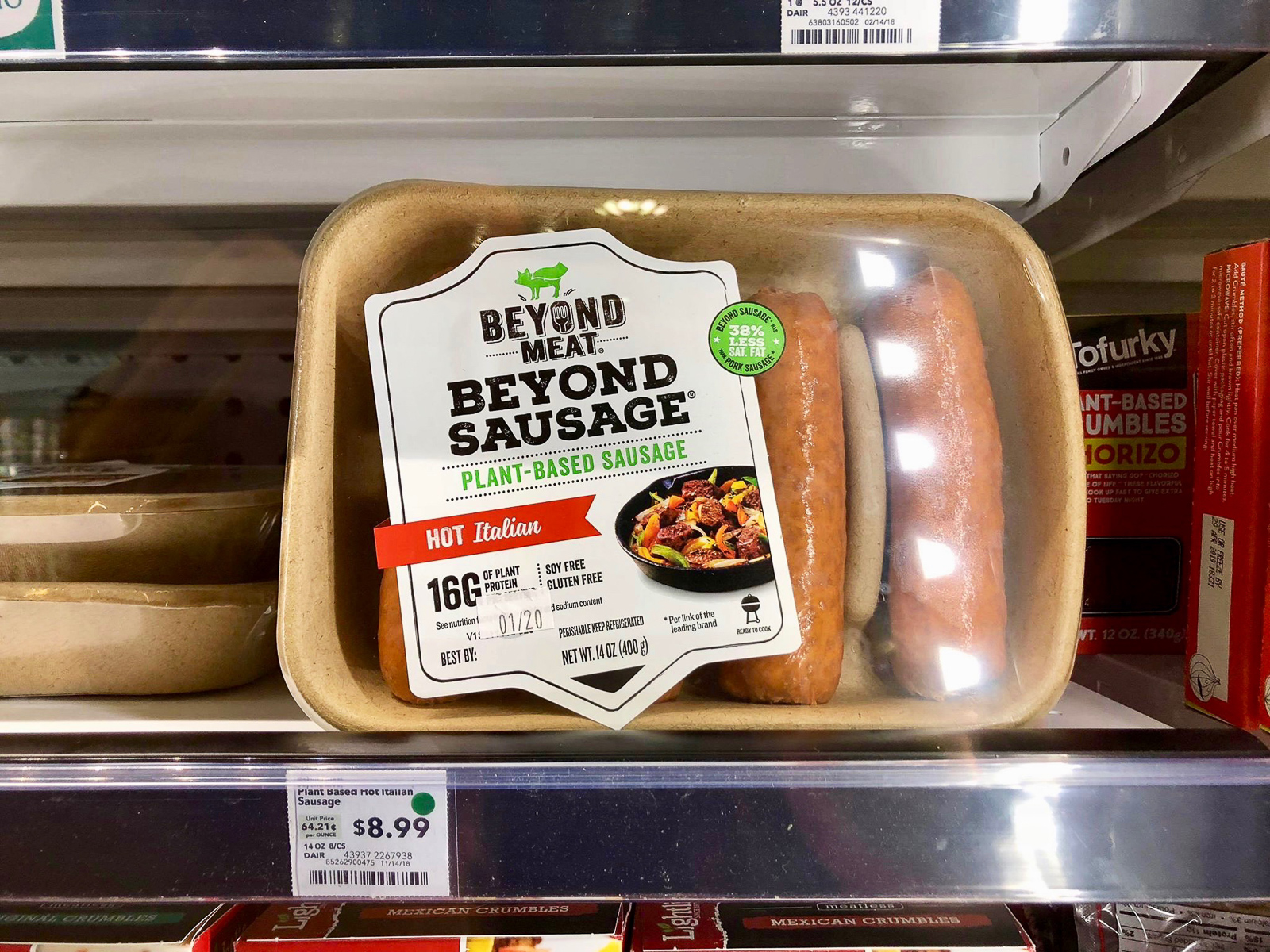 17 - Field Roast Sausages
To be honest, these Field Roast sausages are our #1 favorite vegan sausage if we had to choose. We like both Field Roast and Beyond Meat sausages but the Field Roast sausages have more flavor in our opinion. That being said, we've tried all three flavors: chipotle, Italian, and apple maple. The chipotle is super spicy, the apple maple is a little sweet, and the Italian is loaded with savory flavors. You really can't go wrong with any of them.
Try this recipe --> Vegan sausage & peppers skillet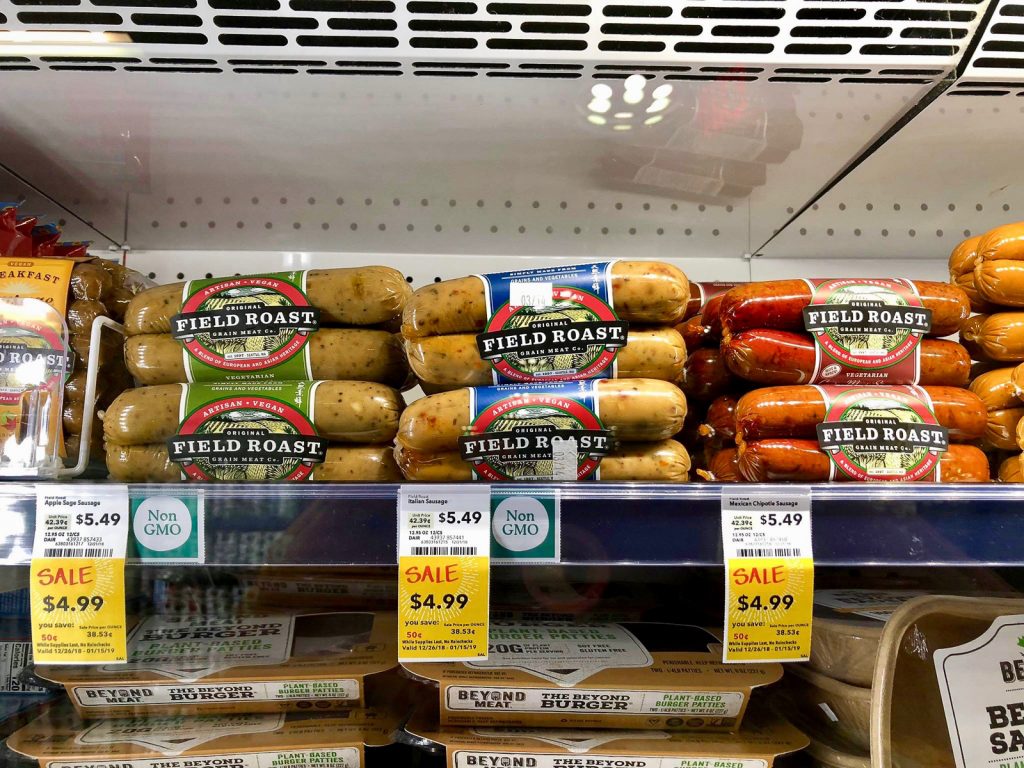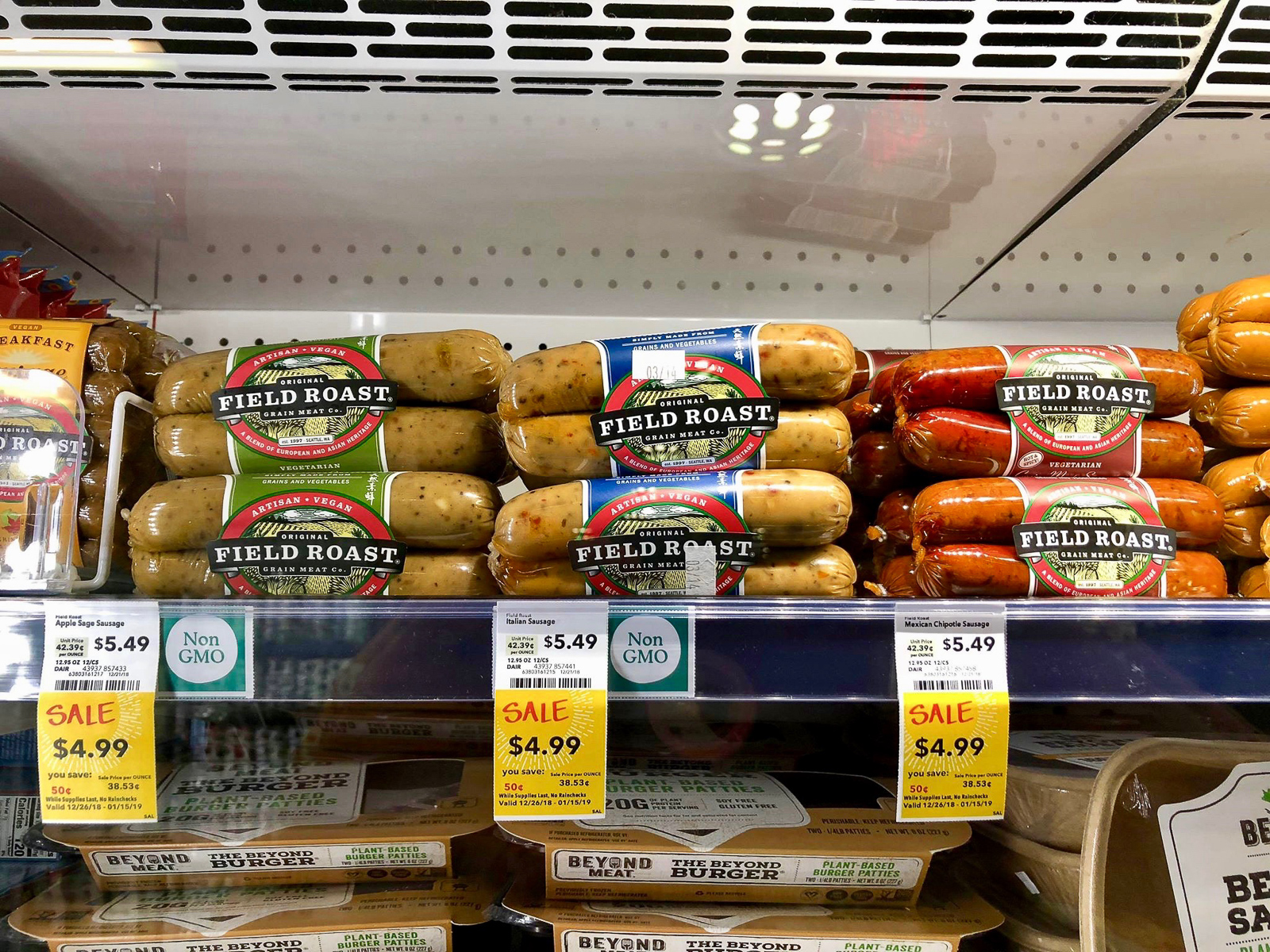 18 - Ripple Unsweetened Coffee Creamer
This is my all-time favorite dairy-free coffee creamer. I've tried SO MANY DF CREAMERS over the last two years and this one by far is the creamiest! It actually turns my coffee the creamy shade that I like and it doesn't have any strange after taste.
I also use it as a half & half substitute in creamy soups like this --> Vegan chicken & wild rice soup!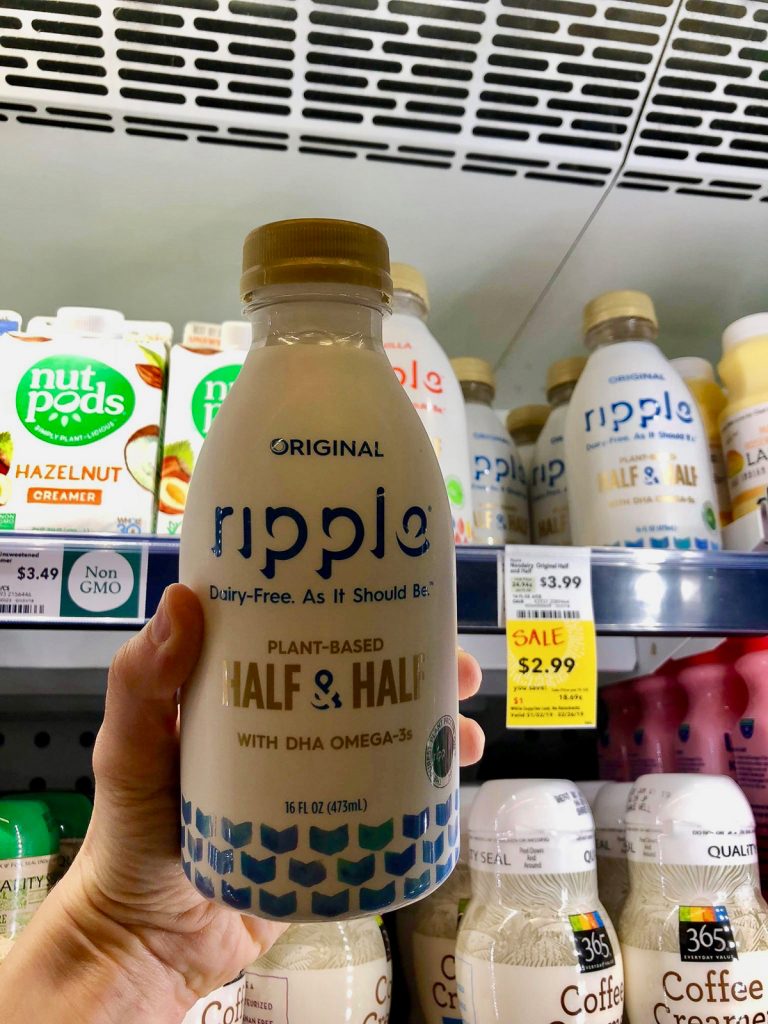 19 - Kite Hill Plain Unsweetened Greek-Style Yogurt
This dairy-free greek yogurt is my favorite substitute for sour cream. It's rich, thick, and super tangy. I don't eat it by itself like regular yogurt because it's too tangy but it's the perfect sour cream substitute and it's delicious in tacos and burritos.
Try using it in this --> Sweet potato black bean burritos!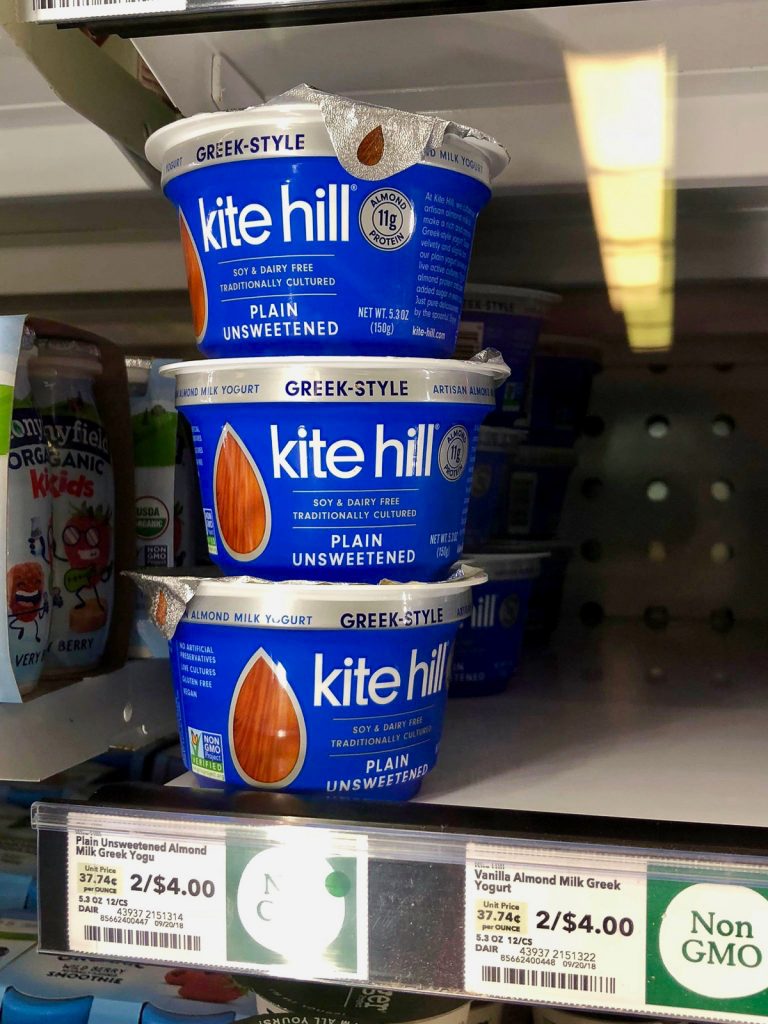 20 - Violife Vegan Cheese
I've tried A LOT of vegan cheeses over the years, possibly all of them that are available at the grocery store. This Violife vegan cheese is by far the best vegan cheese that I've ever tasted. We love it so much that we eat slices of it right out of the container. There is no weird after taste, it tastes just like what I remember dairy cheese to taste like. It's amazing!
What's even more amazing is all the varieties that they offer. They have smoked provolone, cheddar slices (white and yellow!), a parmesan wedge, shredded cheese, and even a block of feta cheese! Each one is so delicious that it's hard to pick a favorite.
Try this recipe --> Vegan mac n cheese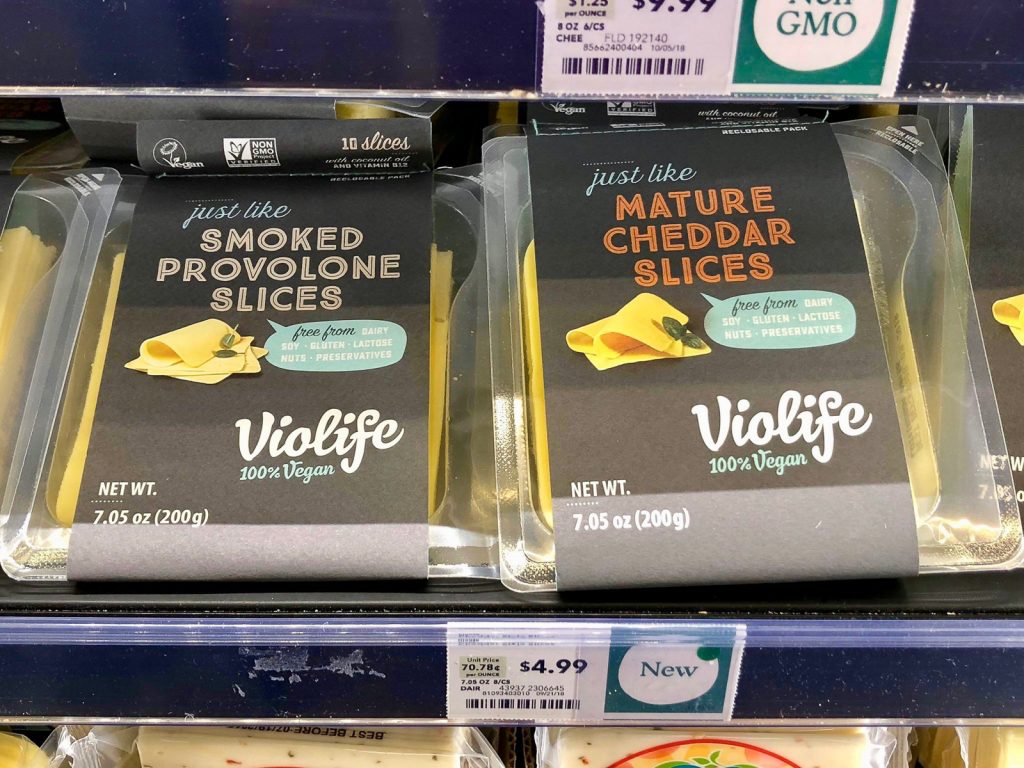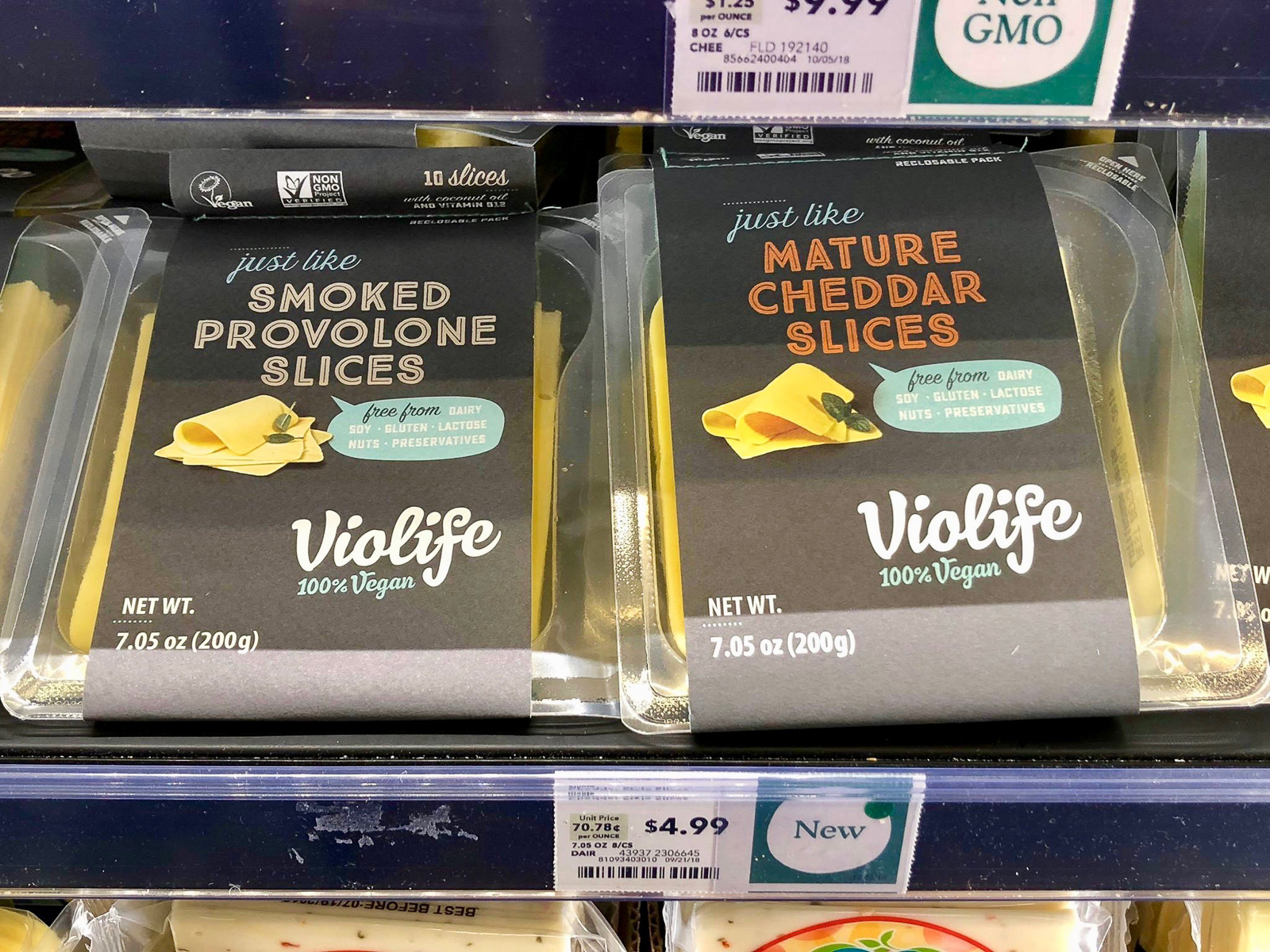 21 - So Delicious Unsweetened Coconut Milk
This coconut milk is my favorite mixer for smoothies, it's so creamy and makes my favorite high-protein cherry smoothie taste so good! I also love to make vegan alfredo sauce with this unsweetened coconut milk.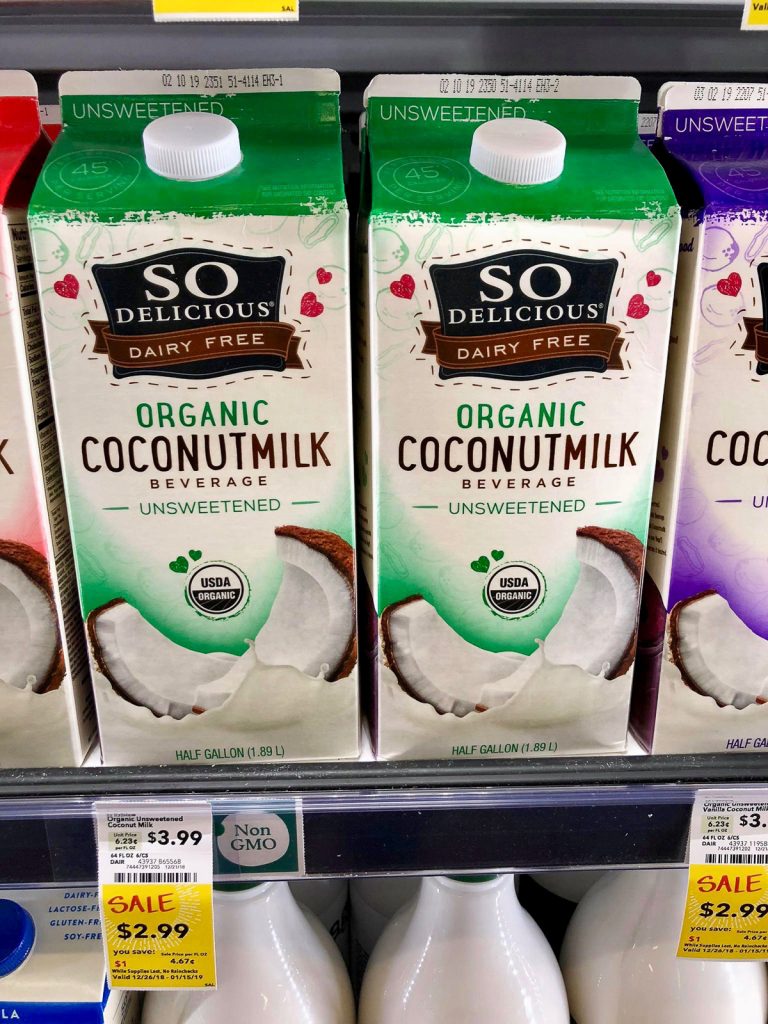 22 - 365 Organic Unsweetened Soy Milk
I love to pour this ice-cold unsweetened soy milk over a big bowl of my homemade rawnola (raw granola)! It's the perfect healthy, easy to make, and filling breakfast!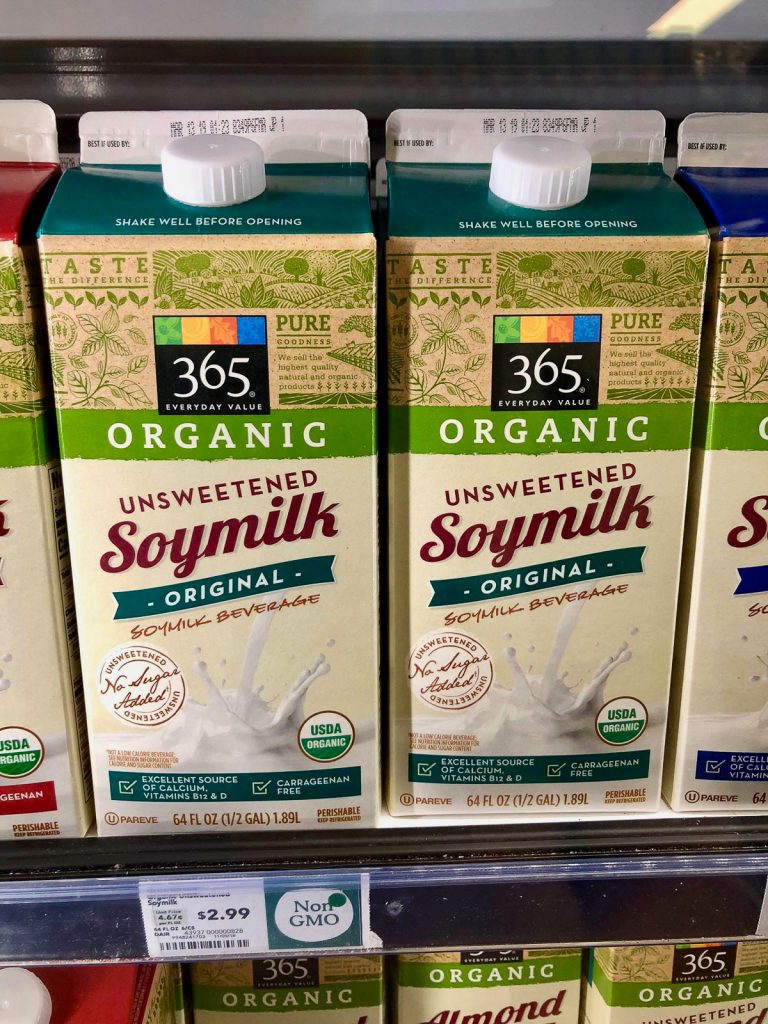 23 - Hilary's Veggie Breakfast Sausage
This is another treat food that we don't buy all the time but they are so dang yummy. Travis recently requested them for his birthday breakfast to go with a tofu scramble. We love that they have real ingredients like lentils in them and they taste delicious.
Try these veggie breakfast sausages as a side dish with this curried tofu scramble recipe.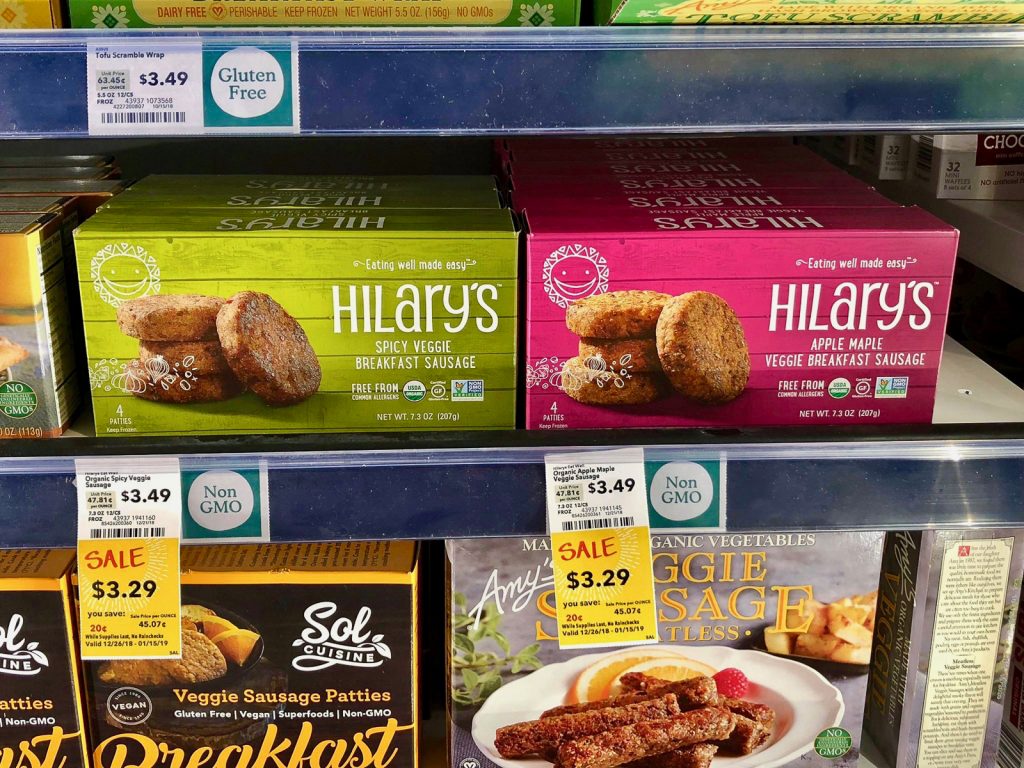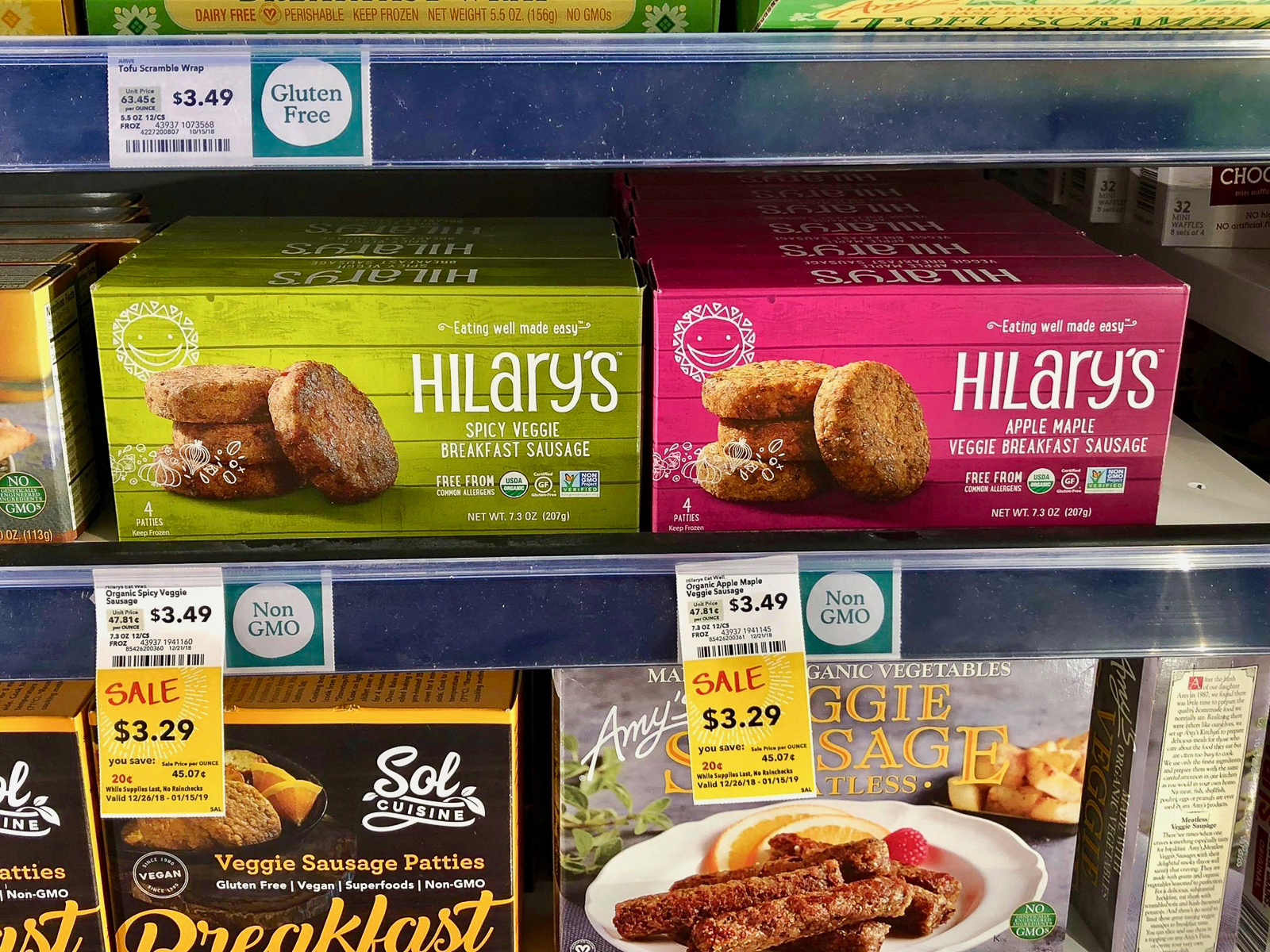 24 - Alvarado Street Bakery Sprouted Onion Bagels
Dang, these are good and we eat these bagels for breakfast more than I'd like to admit. Are they as good as my favorite New York bagel? No, but they have great flavor, they're vegan, and they're made of organic sprouted flour. Score.
Try this --> one bagel + Kite Hill chive cream cheese + slices of avocado + hemp seeds + pumpkin seeds for breakfast...YUM.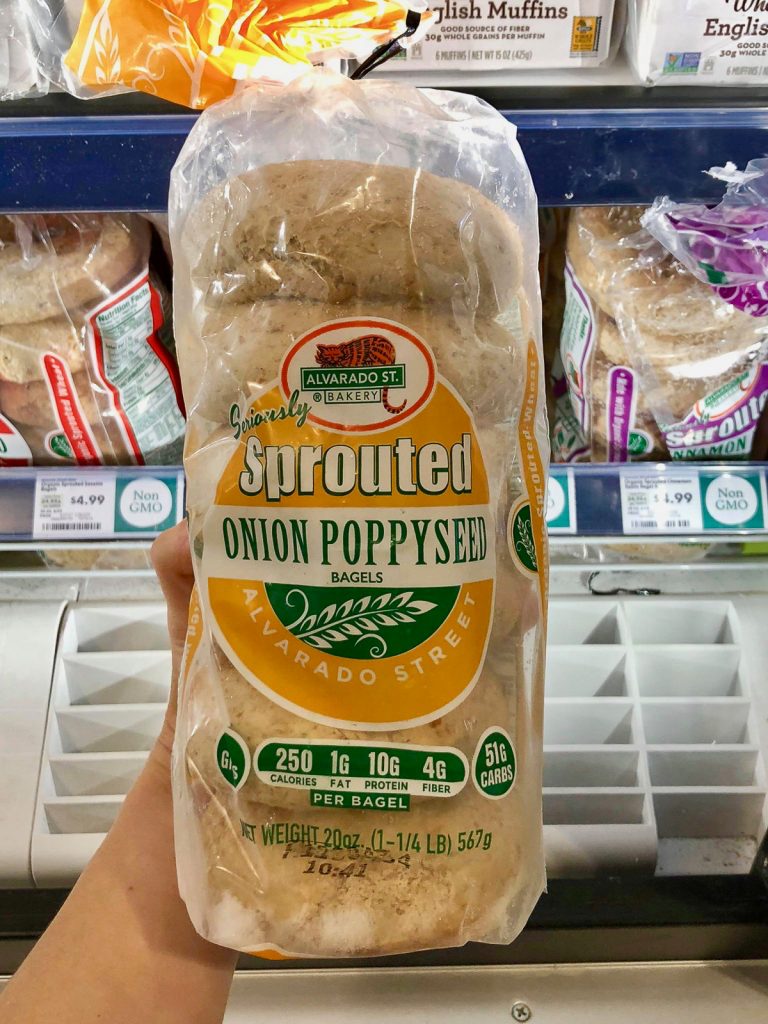 25 - The Fillo Factory Organic Fillo Dough
This fillo dough is awesome, it gets super flaky and it makes the BEST vegan spanakopita! I make it for holidays and it always gets rave reviews!
Try this recipe --> Vegan spanakopita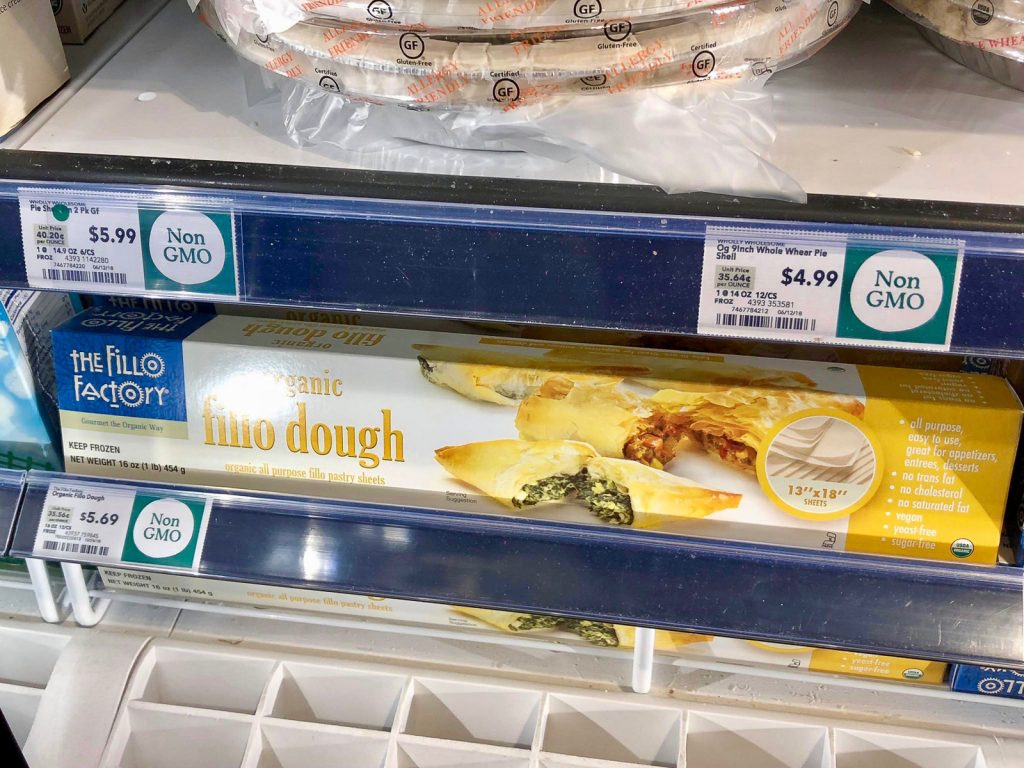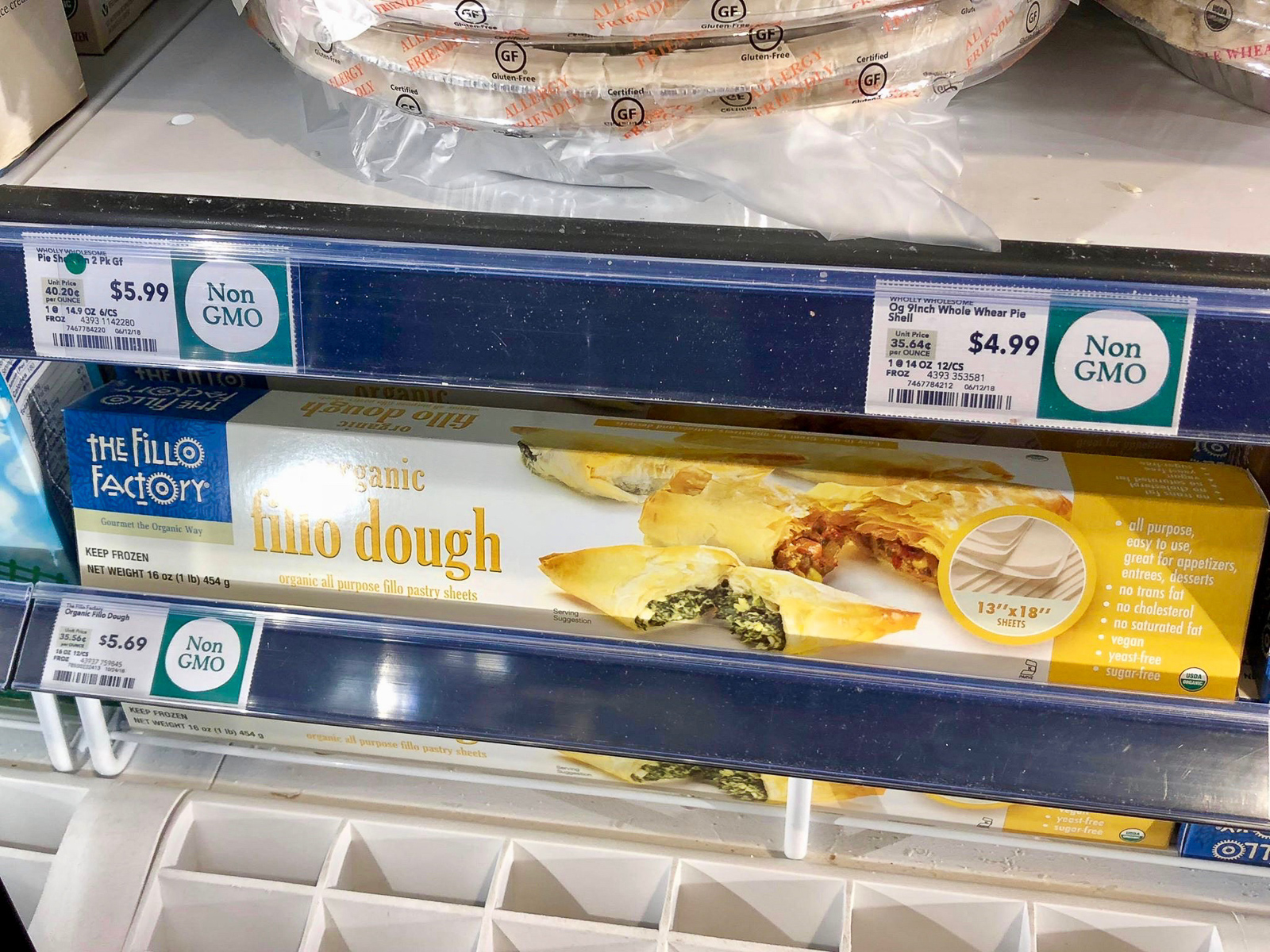 26 - Wholly Wholesome Organic Pie Crusts
If you're like me and you like easy shortcuts that don't taste like you took a shortcut then you'll love these vegan pie crusts. It tastes just like homemade, pinky promise.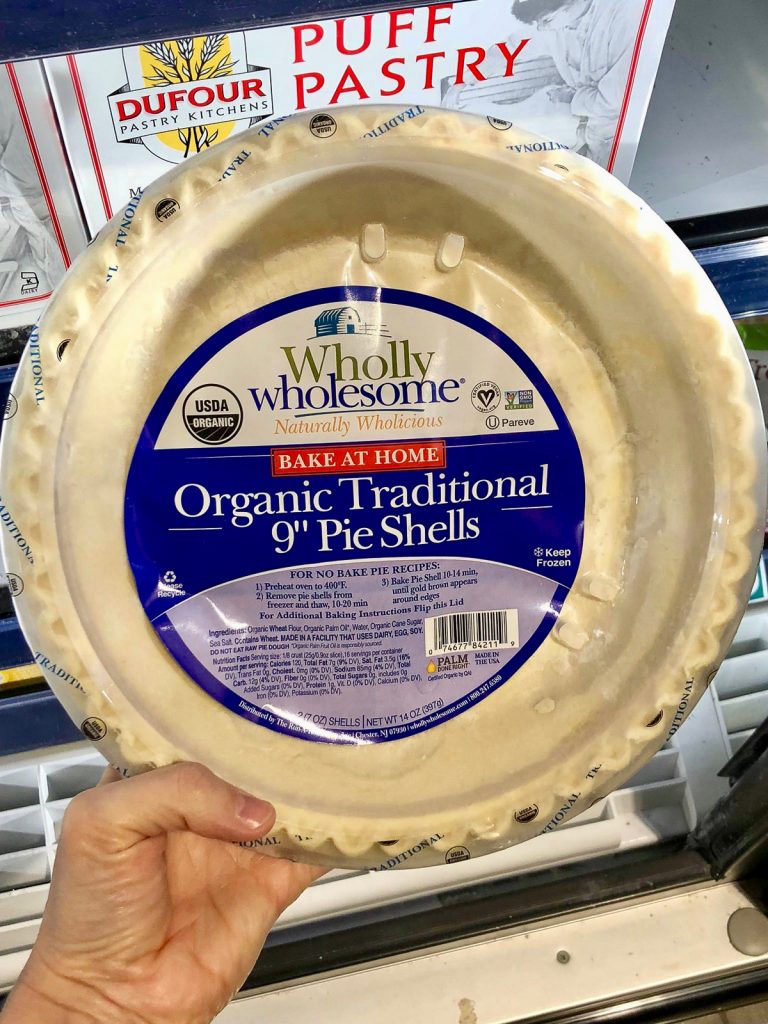 27 - So Delicious Coconut Whipped Cream
This stuff is addicting, it's so rich and creamy. It tastes better than dairy whipped cream and we love it on top of the next product. I've seen that Reddi Whip (I think Whole Foods carries it too) makes a vegan whipped cream in a can but I prefer to buy brands that have been vegan from the start.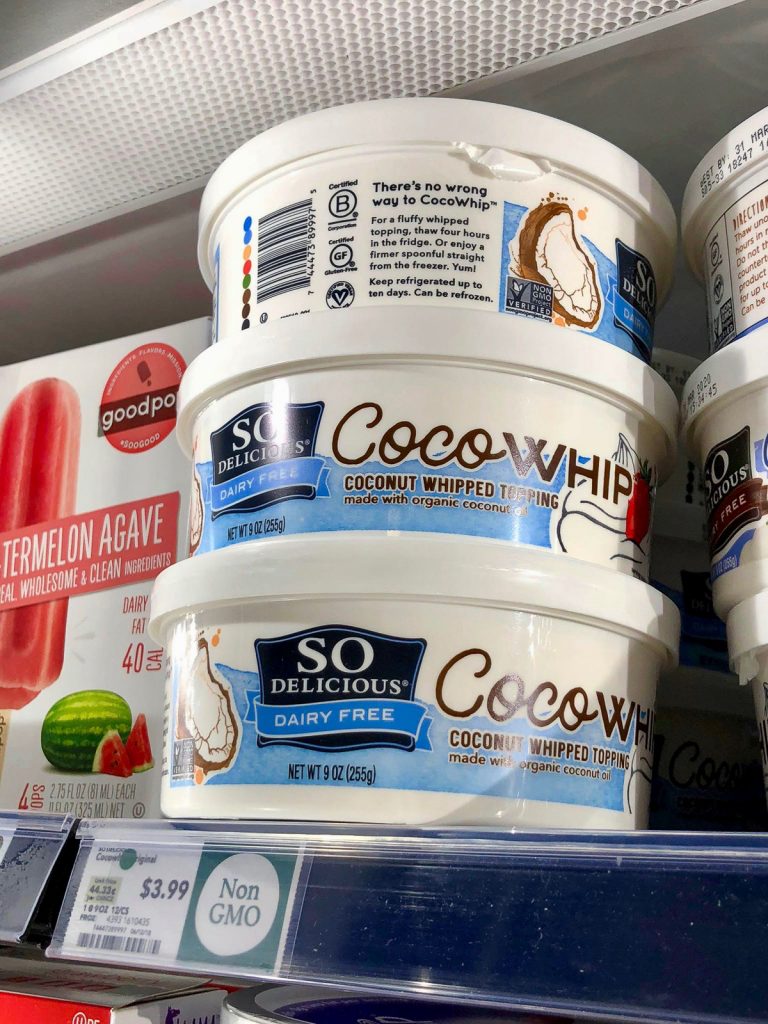 28 - Daiya Key Lime Cheezecake
If you need a dessert for whatever reason, give this key lime cheezecake a try. It's so delicious and tastes just like key lime pie! It's super-rich and creamy and has just the right amount of tangy lime flavor. Put a big scoop of the coco whip on top and enjoy!
We've also tried the pumpkin spice flavor at Thanksgiving and we loved that too.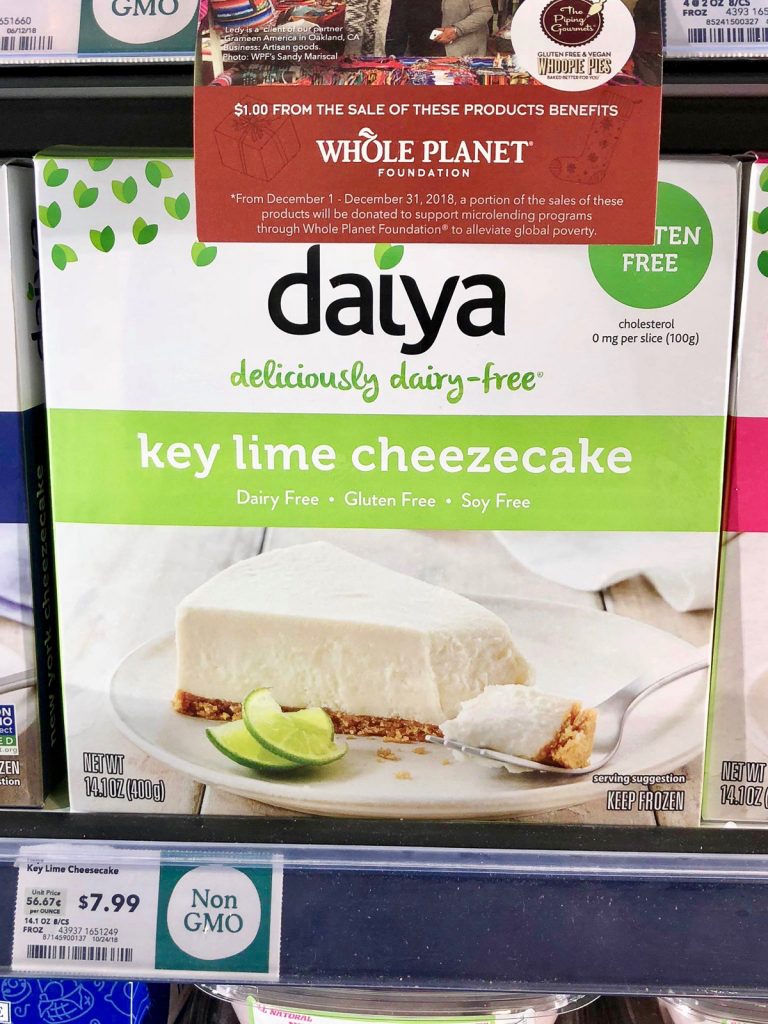 My Regular Vegan Whole Foods Shopping List
Based on my favorite products that I shared above, this is normally what I buy when I shop at Whole Foods. If any items are not listed it's because I don't buy them every trip, I only buy them when I need them or for a special occasion.
(2) organic head of lettuce (whatever greens are on sale)
Assorted produce (varies depending on sales)
(1) organic baby arugula bag
(2) sprouted frozen bagel bags (keep one in the freezer!)
(2) Violife vegan cheese packs (depending on what I'm making that week)
(1) Ripple unsweetened coffee creamer (one bottle usually lasts for the month)
(1) Field Roast sausages (we eat these once a month for a quick dinner)
(1) unsweetened soy milk carton
(1) unsweetened coconut milk carton
(1) artichoke hearts jar
(1) jalapeno slices jar
I hope this list is helpful to you and inspires you to try some new vegan products! If I missed any of your favorite vegan products at Whole Foods, please leave your answer in a comment below!