Learn how to make the creamiest pesto sauce and then use that sauce to make easy vegan pesto pasta (in only 20 minutes!) for an effortless and quick family-friendly dinner!
*This recipe was originally posted on 5/29/18 but I updated it with better recipe instructions on 6/24/19.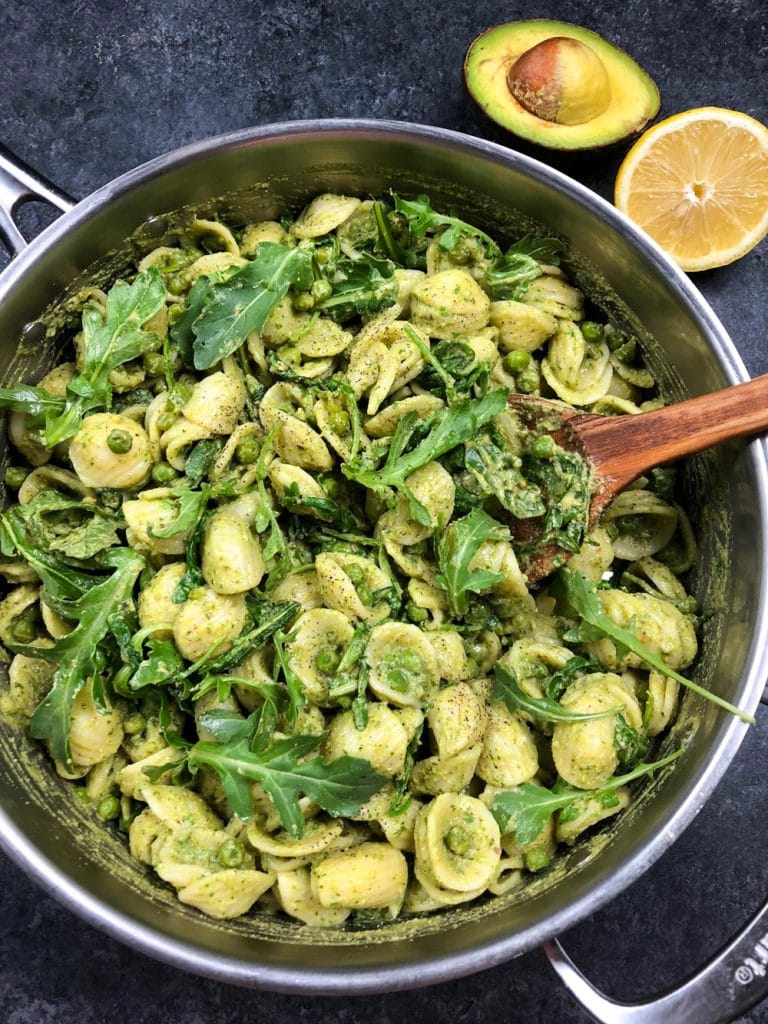 Want more easy vegan recipes? Join our vegan Facebook community below!


You're going to fall in love with this delicious and super easy to make vegan basil pesto sauce! The combination of buttery pistachios, creamy avocado, and fresh basil is so flavorful and the way the vegan basil pesto sauce coats each noodle is dang near addicting!
This pesto pasta recipe is extremely easy to make and it's perfect for an effortless Meatless Monday dinner.
Is Pesto Vegan Friendly?
Traditional pesto is ok for vegetarians but it's not vegan friendly because it usually contains animal-based parmesan cheese. However, it's very easy to make pesto dairy-free by omitting the parmesan cheese and replacing that fat with a healthy plant-based fat like avocado.
How To Make Homemade Vegan Pesto Sauce
Follow the next two steps to make the best dairy-free pesto:
Step 1 – Add the fresh basil, avocado, shelled pistachios, lemon juice, olive oil, and garlic to a

small food processor

or

small blender

.
Step 2 – Blend until smooth and creamy. Taste it and then season it to taste with salt and black pepper.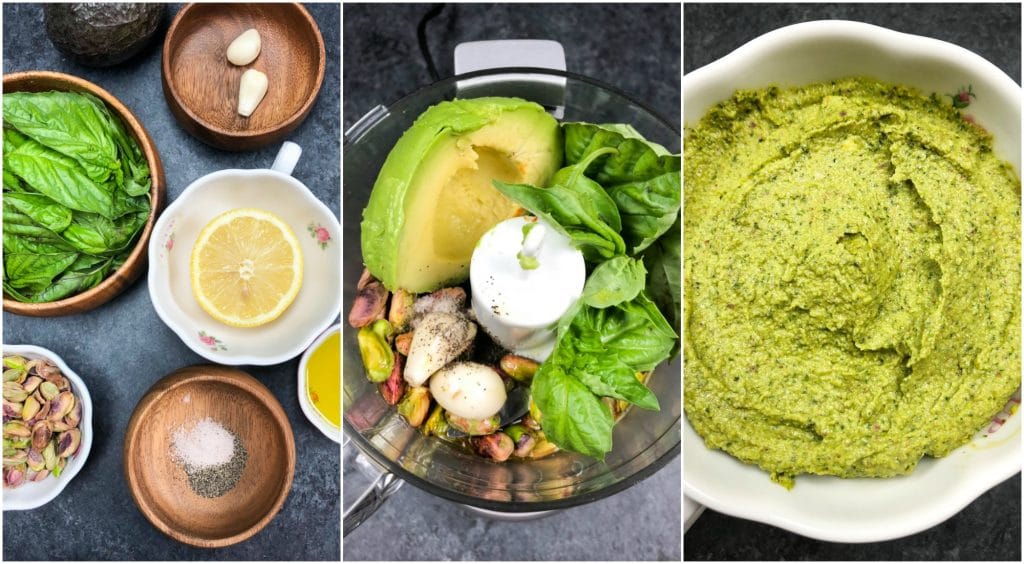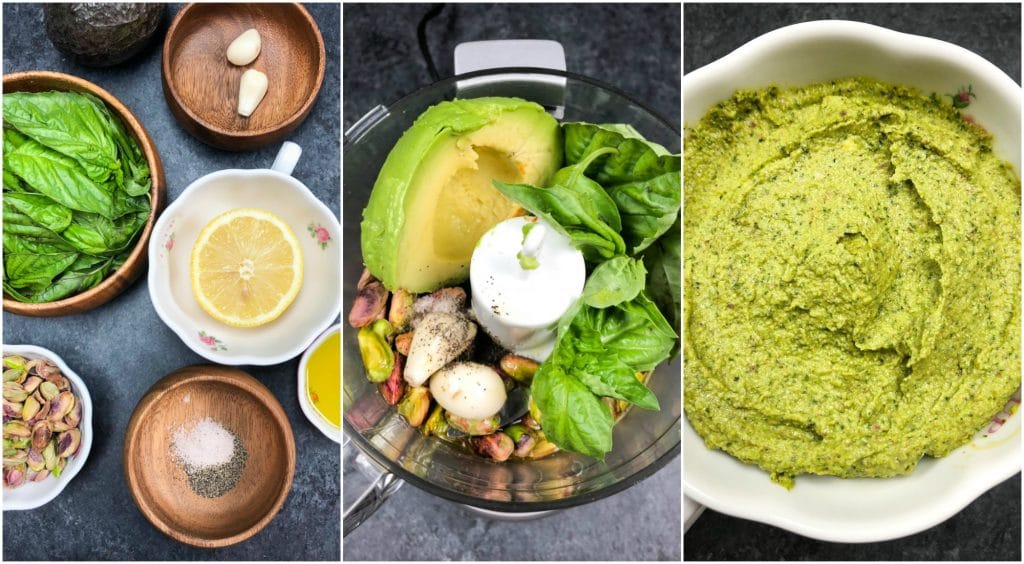 Step #3 – Once you've made the pesto sauce, boil water and cook a package of your favorite noodles. Drain the noodles but reserve 1 cup of the hot pasta water in case you need it.
Step #4 – In a large pan, put the noodles, all of the pesto sauce, 5 oz of baby arugula (you could also use spinach or kale), and one cup of green peas. Toss to combine and let the arugula wilt a little bit. Serve hot!
Is This Recipe Gluten-Free?
Yes, the pesto sauce is naturally gluten-free. The only substitute you need to make is to use gluten-free noodles.
How Long Does Pesto Last?
This homemade pesto will taste just as fresh and delicious as the first day you made it for up to 5 days. Make sure you store the pesto sauce in an airtight container in the fridge.
What Else Can You Use This Pesto Sauce For?
If you don't want to make basil pesto pasta you also put this homemade pesto sauce on pizza, sandwiches, and wraps. I also shared more vegan recipes that call for vegan pesto at the end of this post.
Notes & Substitutions
Do this step before you juice the lemon! Place the whole lemon on the counter, put your hand on top of the lemon, press down and roll it back and forth a few times. This helps to release the juices so you get more juice out of the lemon! Also, zest the lemon first (before you cut it) so you can use the zest for another recipe.
If you don't want to use pistachios you can substitute raw cashews, walnuts, or almonds.
You can substitute fresh spinach or kale for the arugula.
Use unsalted pistachios so you can control how much salt is in the vegan pesto.
Tips to Make the Best Pesto Pasta
You need to use fresh ingredients for this recipe. Dried basil, garlic powder, or artificial lemon juice in the squeezy bottle just won't cut it for this recipe.
Make sure that you use a ripe avocado so the pesto sauce will be creamy and have a good texture.
Use noodles that will catch the sauce! I use orecchiette because I love how the little pockets hold the pesto sauce and you get so much flavor in each bite.
Reserve 1 cup of the hot pasta water so you can adjust the thickness of the pesto sauce to your preference.
Store the leftover pasta in an airtight jar in the fridge for up to 5 days. Leftover pasta makes a delicious easy lunch to pack for work the next day– it's even good cold!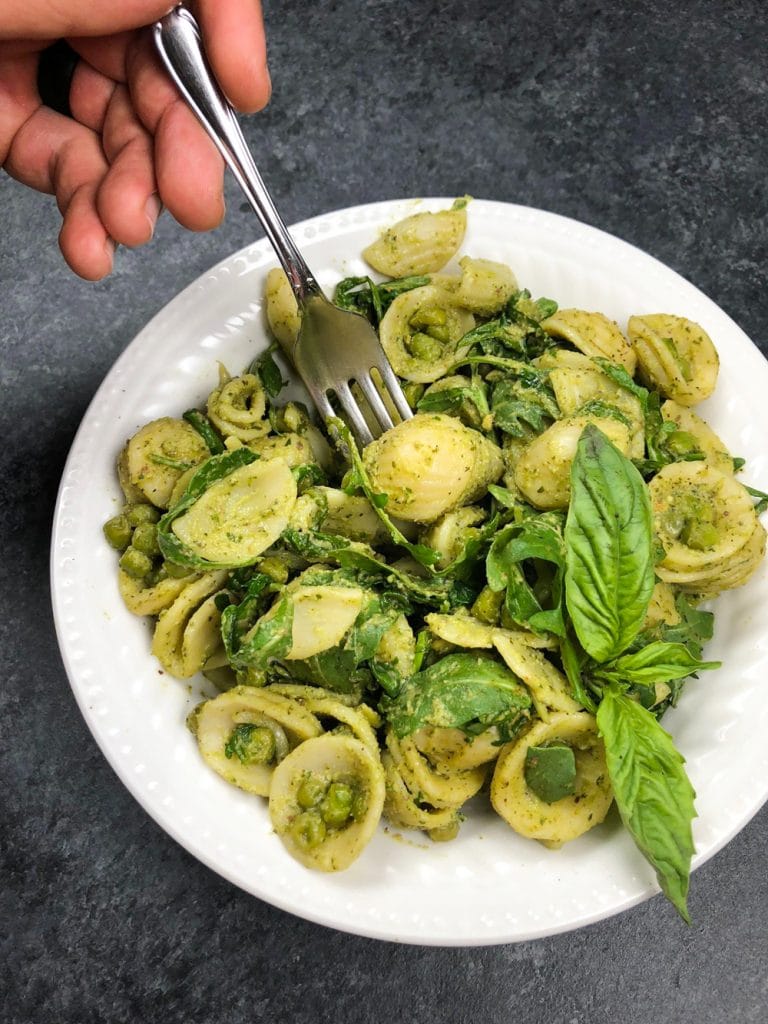 More Delicious Pesto Recipes You'll Love!
Pesto Spinach Quinoa Stuffed Tomatoes
Roasted Portobello Mushrooms with Green Pea Pesto Lentils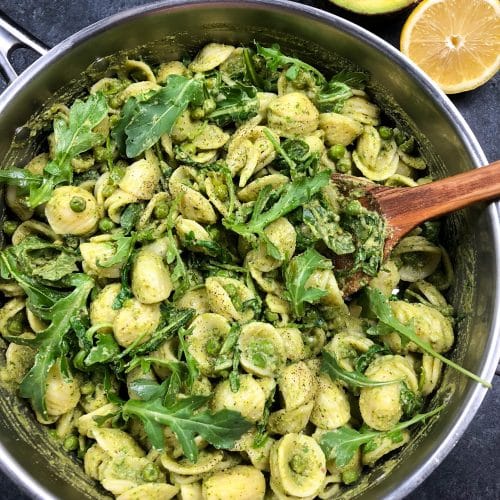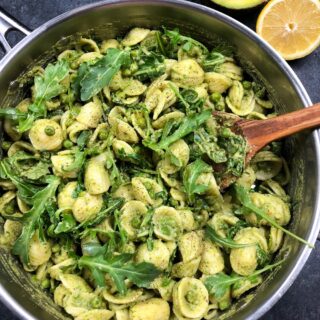 Vegan Pesto Pasta
Learn how to make the creamiest vegan pesto sauce and then use that sauce to make the best high-protein vegan pesto pasta!
Print
Pin
Rate
Ingredients
Vegan Pesto Sauce -
1

cup

fresh basil leaves

(about 2 ounces without stems)

1/2

cup

unsalted pistachios

(shelled)

2

garlic cloves

1/2

large

avocado

1

tbsp

fresh lemon juice

(about 1/2 a lemon)

2

tbsp

olive oil

(or water or non-dairy milk)

sea salt and black pepper to taste
Vegan Pesto Pasta -
vegan pesto sauce

(that you just made)

1/2

cup

hot pasta water

(reserve 1 cup just in case you need more)

1

cup

green peas

5 oz

package

baby arugula

16 oz

orecchiette pasta

(use gluten-free noodles if necessary)
Instructions
Boil a large pot of water and cook the noodles.

While the noodles are cooking, make the vegan pesto. Add the basil, pistachios, garlic, avocado, lemon juice, and olive oil to a small food processor or blender and blend until smooth and creamy. Taste it and season with salt and pepper to taste.

Pour the (drained) hot noodles into a large skillet over low heat. Add all of the pesto sauce, green peas, and fresh arugula to the pan. Mix it well to coat the noodles with the pesto sauce. If the pesto sauce is too thick, add 1/2 cup at a time of the reserved hot pasta water to help loosen the sauce.
Notes
You can substitute cashews, almonds, or walnuts for the pistachios. 
If you want to add a "cheesy" flavor to the pesto sauce, add 2 tsbp of nutritional yeast. 
If you want to omit the oil from the pesto recipe, you can use water or unsweetened non-dairy milk instead (coconut, almond, or cashew).
You can use fresh, canned, or frozen green peas for the pasta recipe. Just make sure if you use frozen peas that you let them fully cook in the pan first before you add the pasta. 
You can substitute spinach or thinly sliced kale for arugula. 
You do not have to use orecchiette pasta, you can use whatever you have on hand. I just like how the sauce fills up the little pockets. 
Before you drain the noodles, reserve 1 cup of the hot pasta water. I only used 1/2 cup but you might prefer the pesto sauce to be saucier. 
Nutrition
Calories:
238
kcal
|
Carbohydrates:
16
g
|
Protein:
7
g
|
Fat:
18
g
|
Saturated Fat:
2
g
|
Sodium:
6
mg
|
Potassium:
392
mg
|
Fiber:
5
g
|
Sugar:
4
g
|
Vitamin A:
700
IU
|
Vitamin C:
21
mg
|
Calcium:
42
mg
|
Iron:
1.5
mg