This nourishing vegan lemon orzo soup has been fully loaded with the addition of artichokes, mushrooms, and great northern beans. It's wholesome, nourishing, comfort food! Vegan, soy-free, nut-free, dairy-free.
*This post contains affiliate links.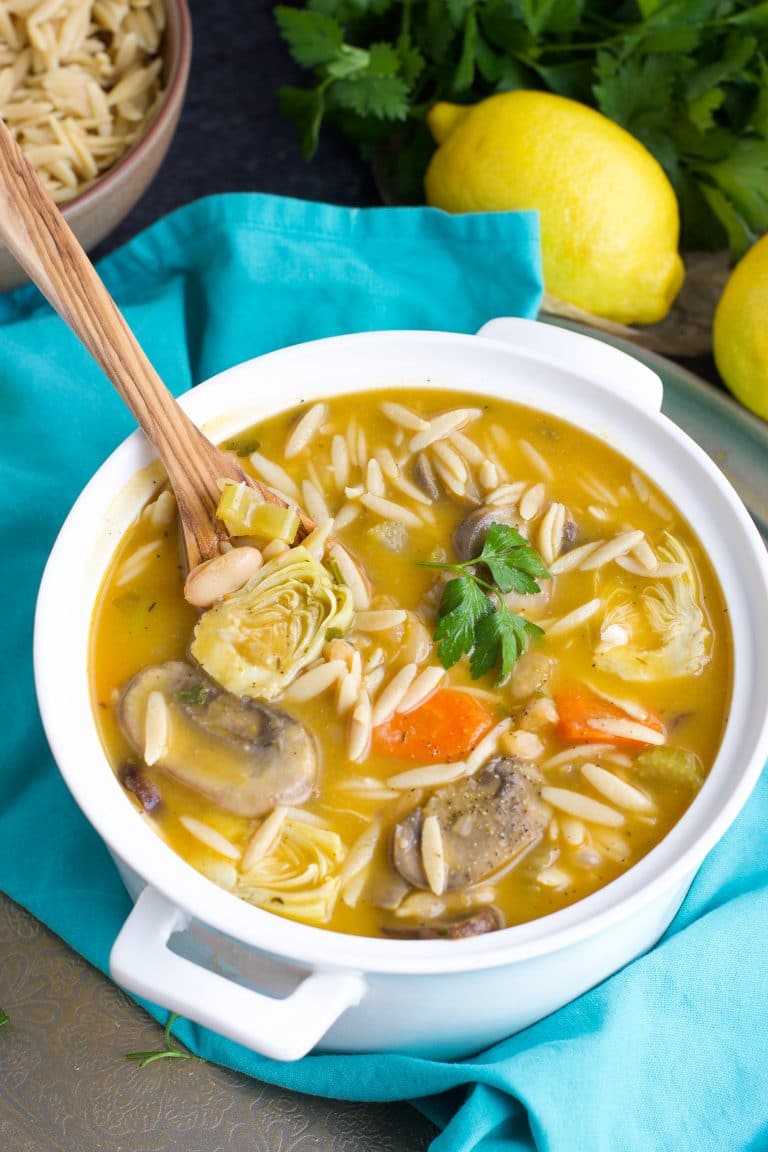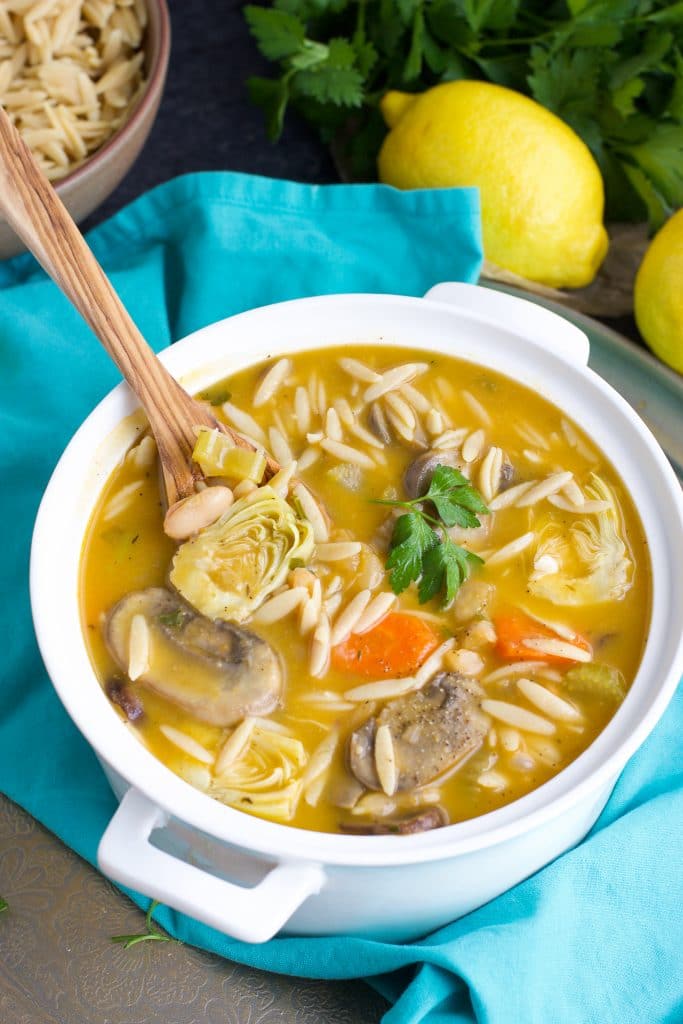 Want more easy vegan recipes? Join our vegan Facebook community below!
Soup is one of my favorite meals to cook, especially comfort food soups like white bean chili or creamy vegan broccoli cheese soup.
Most people only want to eat soup during the cooler months of the year (like my husband) but I love it during any time of the year. This lemon orzo soup is cozy, comforting, and perfect for a cold night. But it's also a bright, lemon-infused, bowl of sunshine that's much lighter than a creamy-based soup so it's delicious during the summer too!
This lemon orzo soup is also my go-to recipe to make when I'm feeling sick. I love the lemon garlic flavor combination and it's also great for your immune system. Forget chicken noodle soup, this is what you should make!
How To Make Lemon Orzo Soup
Classic greek lemon chicken orzo soup is usually served with chicken but I veganized it by replacing the chicken with tender artichokes and meaty mushrooms. You could substitute jackfruit if you don't care for mushrooms or artichokes.
I also added two full cans of great northern beans for an extra hearty boost of low-fat plant-based protein. Each can of beans adds almost 25 grams of protein to the soup!
This healthy lemon orzo soup recipe is so easy to make! Begin by cooking the orzo in a separate pot while you make the rest of the soup. While the orzo is cooking, saute the onions, celery, carrots, and mushrooms in a soup pot until they've softened. Then add all of the seasonings and garlic and let it cook for a few minutes to allow the flavors to meld.
Next, you add the vegetable broth and the beans and bring it to a low simmer for 10 minutes. Lastly, stir in the greens (spinach, kale, collard greens), artichokes, fresh parsley, and lemon juice. When you serve the soup, put a scoop of the cooked orzo noodles in each bowl and pour the hot soup over it.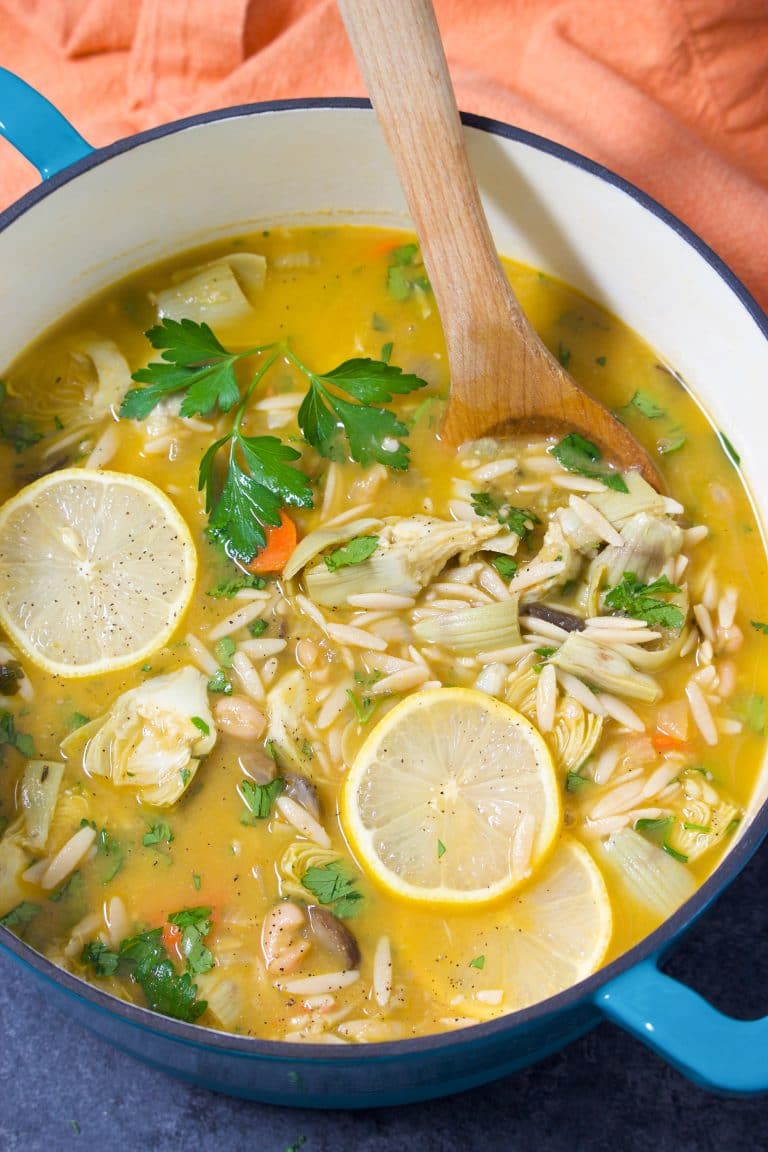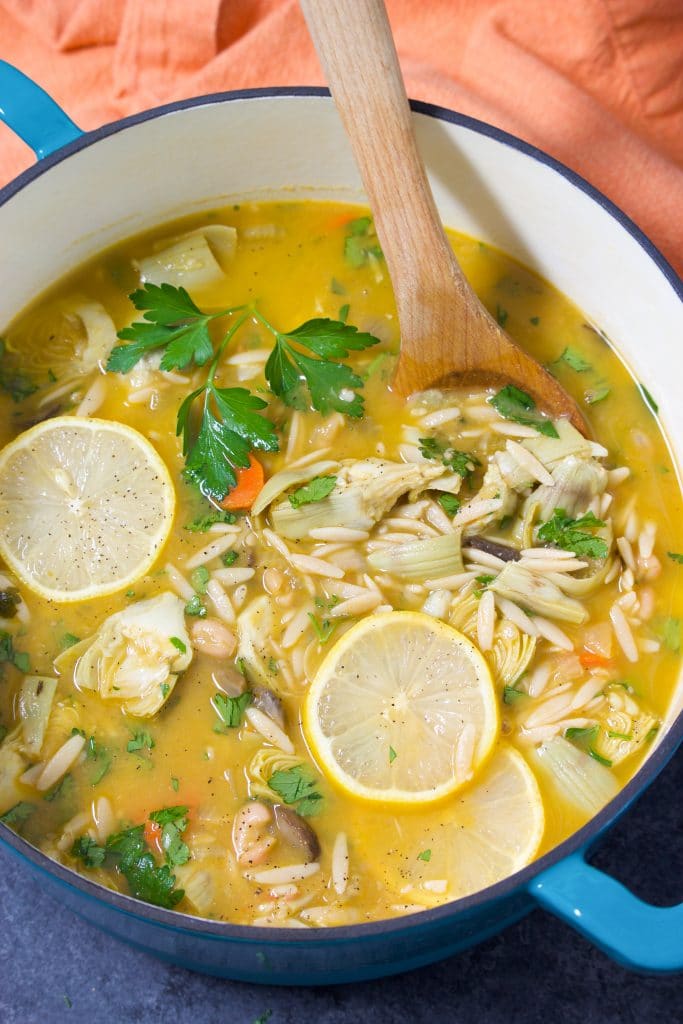 Should You Store the Orzo in the Soup or Separately?
I always run into this dilemma. I want to use fewer glass containers to store the leftover soup but I don't like soggy noodles that have soaked up all the broth in the soup. I think your best option is to store the orzo separately from the soup but then combine the leftovers when you want to heat them up.
If you decide to add the cooked orzo to the soup when storing the leftovers, you will need to add more vegetable broth or water to loosen the soup up when you heat up the leftovers because it will have more of a stew consistency.
Is This Lemon Orzo Soup Recipe Allergy-Friendly?
Yes, this lemon orzo soup recipe is very allergy-friendly! It's naturally nut-free, soy-free, and vegan. If you'd like to make it gluten-free, use this gluten-free orzo instead of the wheat-based variety.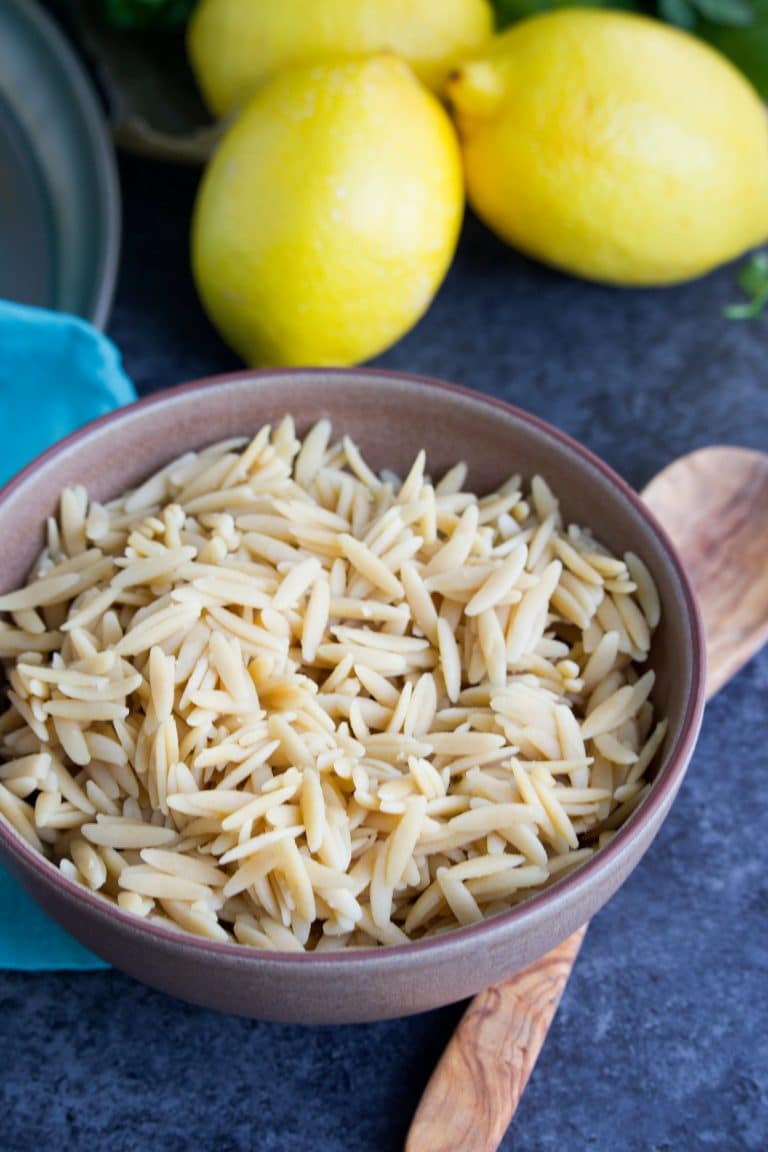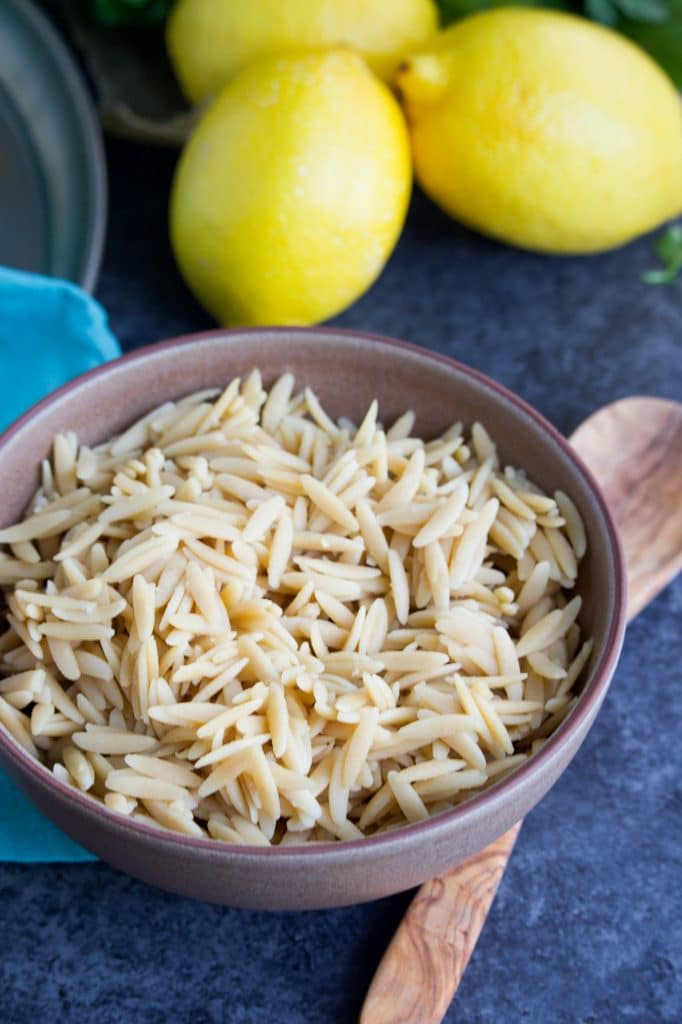 Tips to Make the Best Vegan Lemon Orzo Soup
Cook the orzo in a separate pot. If you cook the orzo in the soup, the soup will have more of a stew consistency.
Use jarred artichokes that are stored in water, not oil. The soup doesn't need extra oil and I think the texture of water-based artichokes is better too.
Use fresh lemon juice, the stuff in a squeezy bottle does not taste the same as fresh!
If you're gluten-free, use these

gluten-free orzo noodles

instead.
Cannellini beans or chickpeas would be good options to use instead of great northern beans.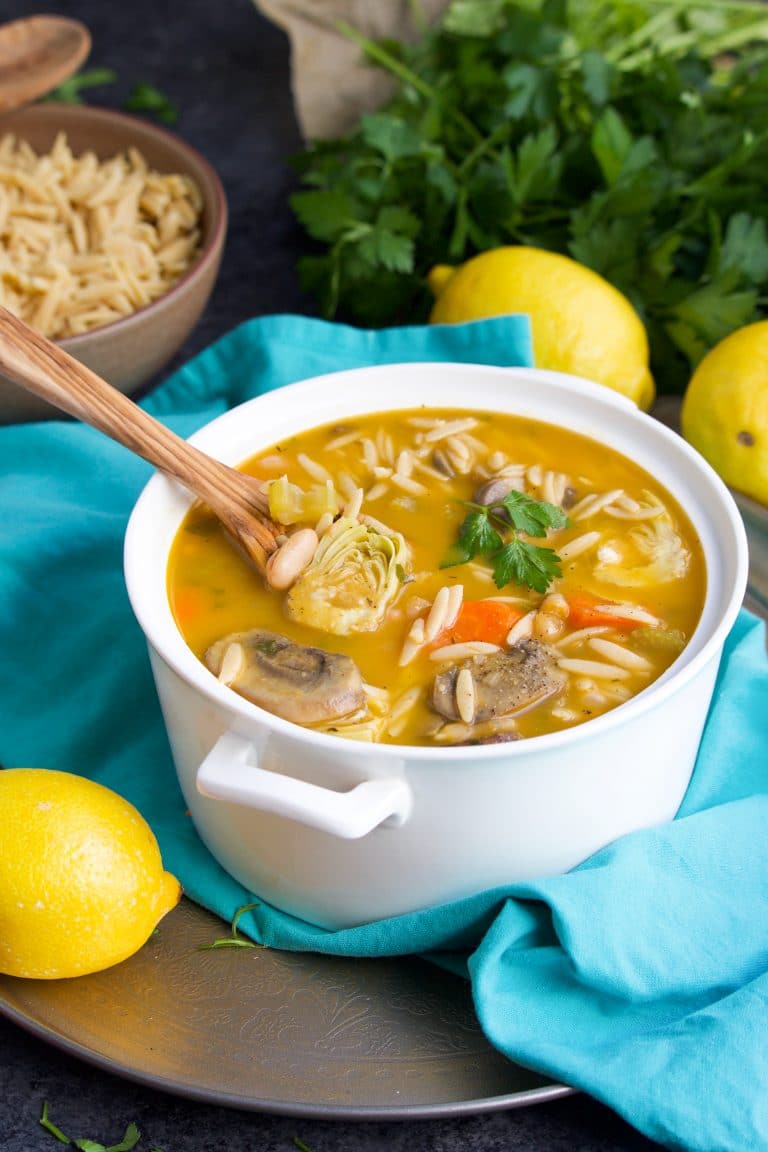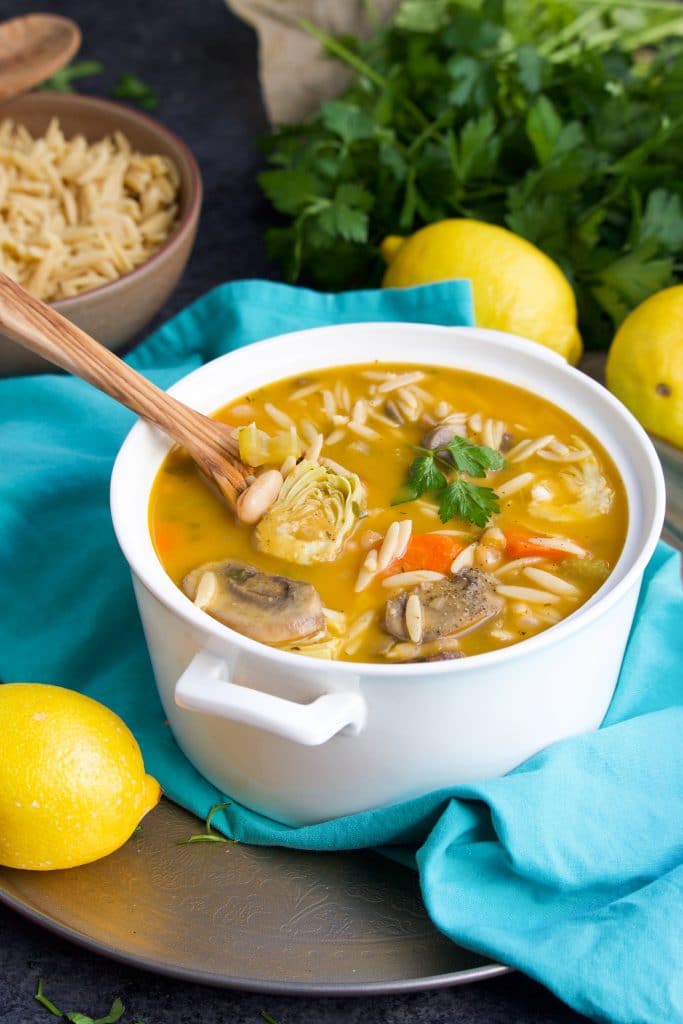 I hope you enjoy this vegan lemon orzo soup as much as we do! Happy slurping!
More Vegan Soup Recipes that You'll Love!
Vegan Creamy Broccoli Cheese Soup
30-Min Garden Vegetable Barley Soup
Ginger Carrot Sweet Potato Soup
If you make this vegan and vegetarian lemon orzo soup recipe, please share your picture on Instagram and tag @Stacey_Homemaker and use the hashtag #StaceyHomemaker so I can see your delicious creation!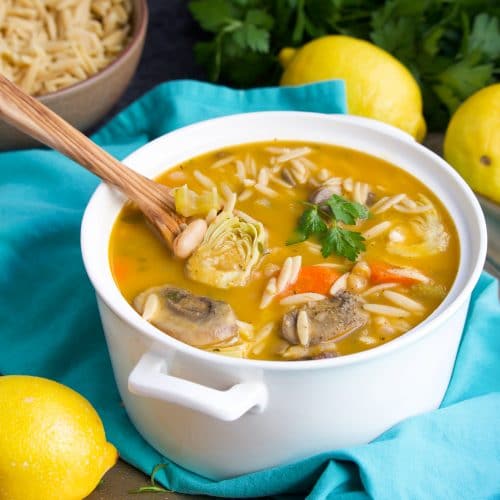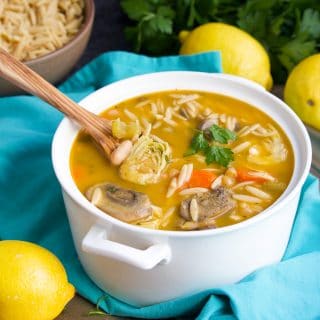 Loaded Lemon Artichoke Orzo Soup Recipe
This nourishing vegan lemon orzo soup is fully loaded with the addition of artichokes, mushrooms, and great northern beans. It's wholesome, nourishing, comfort food! Vegan, soy-free, nut-free, dairy-free.
Print
Pin
Rate
Instructions
Cook the orzo according to package instructions and set it aside.

Heat oil or vegetable broth in a large soup pot over medium heat. Add onions, carrots, mushrooms, and celery and cook until soft, about 10 minutes. Stir in the garlic, thyme, rosemary, salt, and cook until fragrant, about 1-2 minutes.

Add the beans and vegetable broth to the pot. Bring it to a simmer, cover, reduce the heat and let it cook for 10 minutes or until all the vegetables have softened.

Stir in the lemon juice, artichoke hearts, any greens you want to use (spinach, arugula, kale), and parsley. Let the soup cook for 5 more minutes or just until the greens have wilted.

Add a 1/4 cup of the cooked orzo to each bowl and pour the hot soup over it.
Notes
If you don't cook the orzo separately, make sure you add enough extra vegetable broth to the soup pot for it to cook in.  
If you don't have great northern beans you could substitute cannellini beans or chickpeas. 
If you aren't a fan of artichokes, jackfruit would be a delicious substitute for the chicken and artichokes. Add the canned young green jackfruit to the soup when you add the beans so it has time to cook and get tender.
If you put the leftover soup away with the orzo mixed in, it will absorb most of the broth by the next day. You'll need to add additional broth or water when you reheat it. 
Nutrition