Classic avocado toast that's loaded with 26 grams of complete protein will be your go-to breakfast from now on!
I loveeee avocado toast! I really debated whether or not to even post this avocado toast recipe because it's so simple. There's no exotic fruit toppings or sauce drizzles– just regular old seeds that you probably have in your pantry right now.
However, I eat this exact avocado toast every. single. morning. So, how could I not be real with you and share it? On my days off I'll make the fancy avocado toast but this three seed avocado toast is a staple in our house. Even my husband loves it.
Oh, and banana coins with cinnamon sprinkled on top are delish! Thanks, mom. You were right.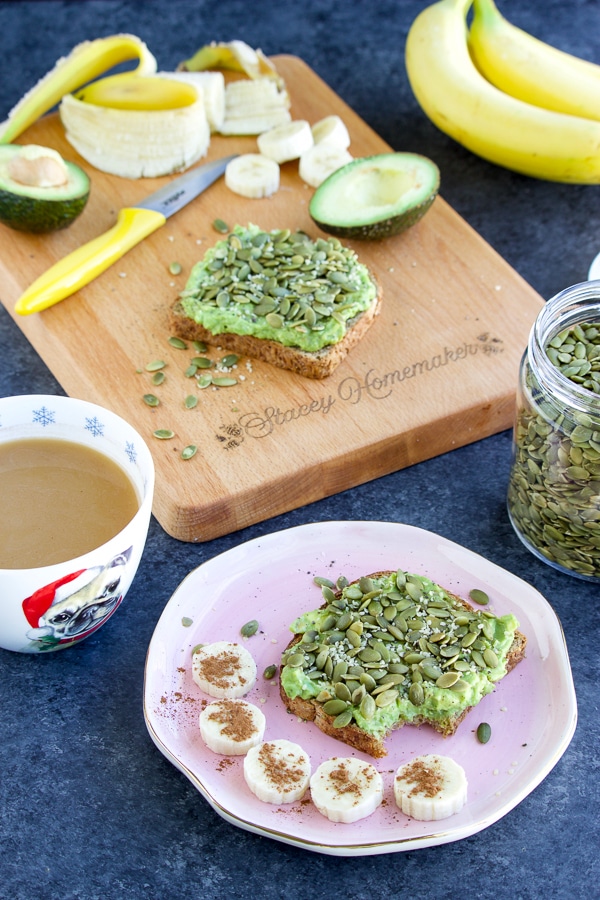 Oh, and if you're doing some Christmas shopping today, a personalized cutting board would be an extremely thoughtful gift for the home cook in your life! My friend, Llze, can customize anything for you. She can even engrave a copy of grandma's handwritten recipe onto the board! Check out her work here.
What Toppings are on This Avocado Toast?
This protein-packed avocado toast requires only 5 ingredients:
Ezekial bread
Avocado
Pumpkin seeds
Chia seeds
Hemp seeds
However, I felt it would be helpful to post this avocado toast recipe because of its high protein level.
If you're vegan, you've probably been asked this question a million times too…
"You don't eat meat?! But where do you get your protein from?!"
I find this question to be quite funny because before I was vegan nobody except my mom gave two poops whether or not I got enough protein in my diet.
How Much Protein is In This Avocado Toast Recipe?
This three seed avocado toast is loaded with plant-based protein!
It has 26 grams of protein to be exact. Let me break it down for you:
2 toasted slices of Ezekial bread – 8 grams
1 ripe avocado, mashed – 3 grams
4 Tbsp (1/4 cup) raw pumpkin seeds – 10 grams
1 Tbsp chia seeds – 1.6 grams
1 Tbsp hemp seeds – 3.3 grams
Total grams of plant-based protein – almost 26 grams! WOW!
According to Healthline, the average healthy woman needs 46-75 grams per day (the number depends on your level of exercise/activity). Also, you can figure out how much protein you should be eating per day by multiplying .36 x how much you weigh = grams of protein.
I'll share my amount for an example: I weigh 122lbs x .36 = 44 grams of protein per day
If I'm trying to eat, at the very least, 44 grams of protein per day, (which I'll probably end up eating more) then a quick breakfast that has 26 grams is more than half of the daily protein that I need.
In addition to this three seed avocado toast being protein packed, it's ready in only 3 minutes, and it doesn't require any hard to find ingredients that you have to travel to the ends of the earth to find.
I'm looking at you organic chipotle peppers in adobo sauce. BTW if anyone knows where I can find these, please let me know! Thanks!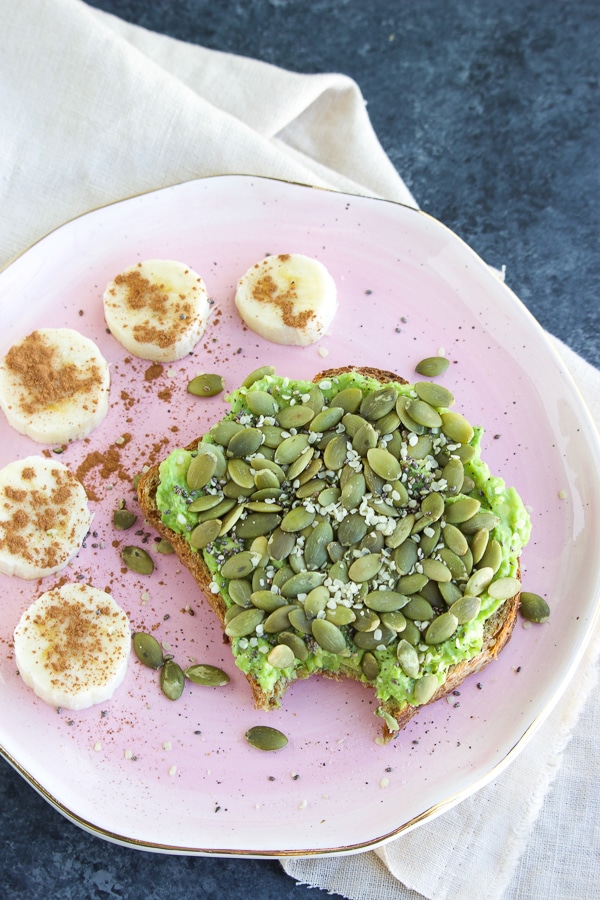 What Type of Bread should You Use?
Of course, you can use whatever bread you like but Ezekial bread is the best option if you're not gluten-free.
Here's why…
According to Food for Life, "When these six grains and legumes (Wheat, and Barley, and beans, and lentils, and millet, and Spelt) are sprouted and combined, an amazing thing happens. A complete protein is created that closely parallels the protein found in milk and eggs. In fact, the protein quality is so high, that it is 84.3% as efficient as the highest recognized source of protein, containing all 9 essential amino acids. There are 18 amino acids present in this unique bread – from all vegetable sources – naturally balanced in nature."
You definitely won't find a complete protein in regular old white bread.
This is the Ezekial bread that I buy (click the picture to purchase) –>
While you're ordering the Ezekial bread, I'd also highly recommend picking up one of these handy-dandy avocado knives! (Click the picture to purchase.)
I know, I know– you could just use a spoon AND a knife BUT why dirty two utensils when you could so the same job easily with one utensil that's made for the task?
After one too many close calls trying to remove the pit with a knife, my mom got me this avocado knife. It works so well and I don't have to worry about cutting myself everytime I prep an avocado.
Avocado Knife Pros:
It has an easy avocado handle to hold on to while prepping the avocado.
It has two sharp points that pierce the pit and stay inserted while you twist to easily remove it.
The sharp serrated side cuts the tough avocado skin easily.
The tip is thin and rounded so it's easy to slide it in between the avocado flesh and the skin and scrape out every last bit. No waste!
I also tried an avocado slicer but didn't care for it because after you scooped out the slices there was avocado still left in the shell. I don't waste food, so, I then had to get a spoon to scrape the rest out. Using two utensils totally defeats the purpose.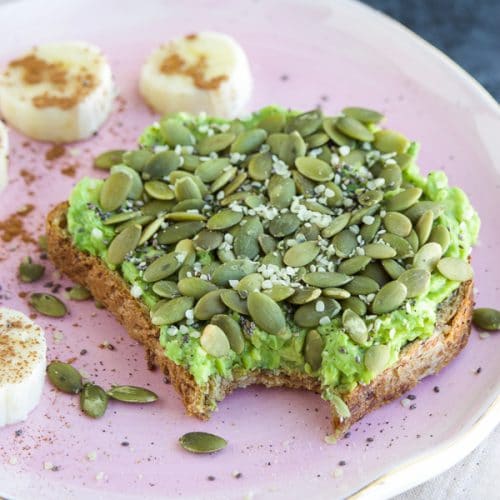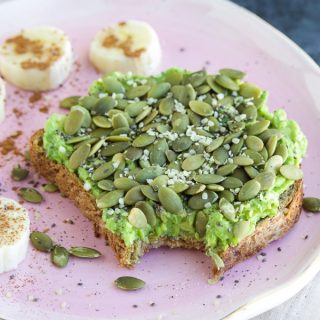 Ingredients
2

Slices

Ezekiel Bread

Toasted

1

Ripe

Avocado

Mashed

4

Tbsp

Pumpkin Seeds

Divided (Note- these pumpkin seeds are the only ones I can find online that aren't sourced from China)

1

Tbsp

Chia Seeds

1

Tbsp

Hemp Seeds
Instructions
Toast the bread slices until crispy.

While the bread is toasting, mash the avocado and season with salt and pepper to taste.

Spread the mashed avocado on the toast and sprinkle 2 Tbsp of pumpkin seeds on each slice of toast. Sprinkle chia and hemp seeds evenly over each slice.
Notes
1 - Any other nuts or seeds would be delicious toppings but it will change the protein amount.
2 - If you like a kick with your avocado toast, add a sprinkle or garlic powder and cayenne pepper. 
3 - I mainly eat raw pumpkin seeds but the roasted pumpkin seeds that I linked too in the recipe are the only ones I could find online that are sourced from the USA. I always make sure to buy the seeds that aren't grown in China.