This tomato salad is loaded with juicy cherry tomatoes, spicy arugula, and creamy avocado tossed with a tangy balsamic vinaigrette. It's the most flavorful healthy side dish! Vegan, gluten-free, soy-free, nut-free.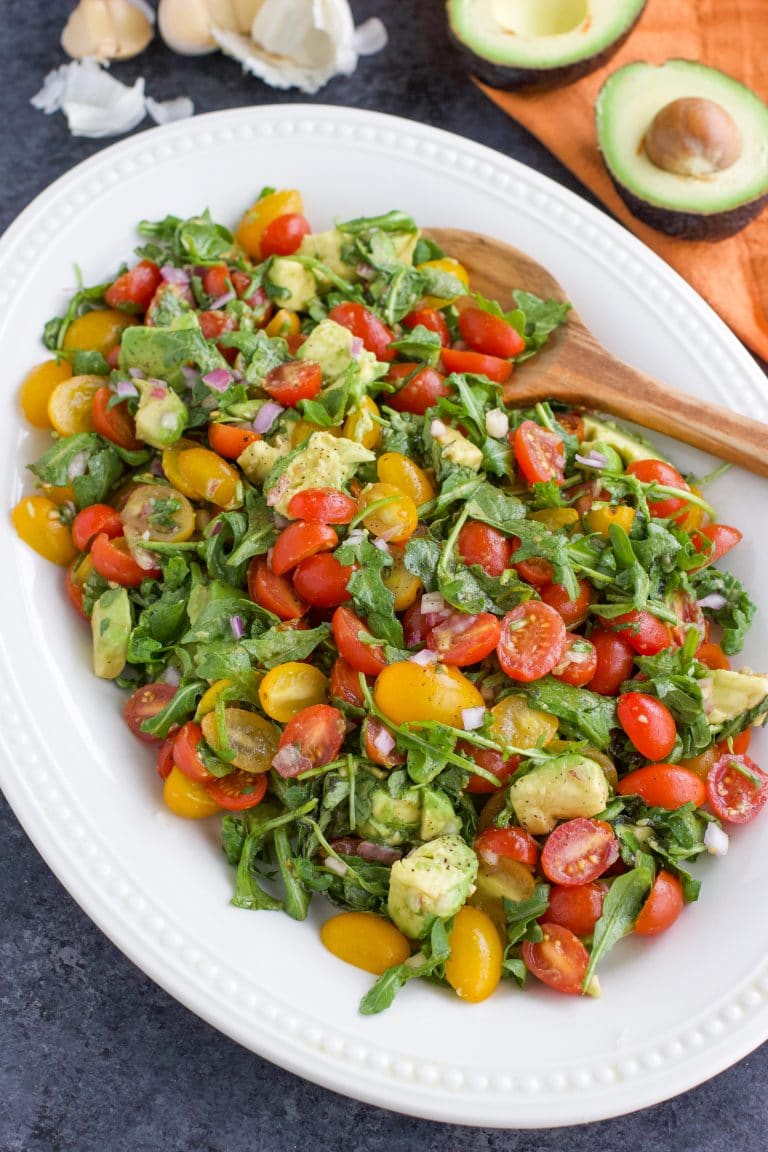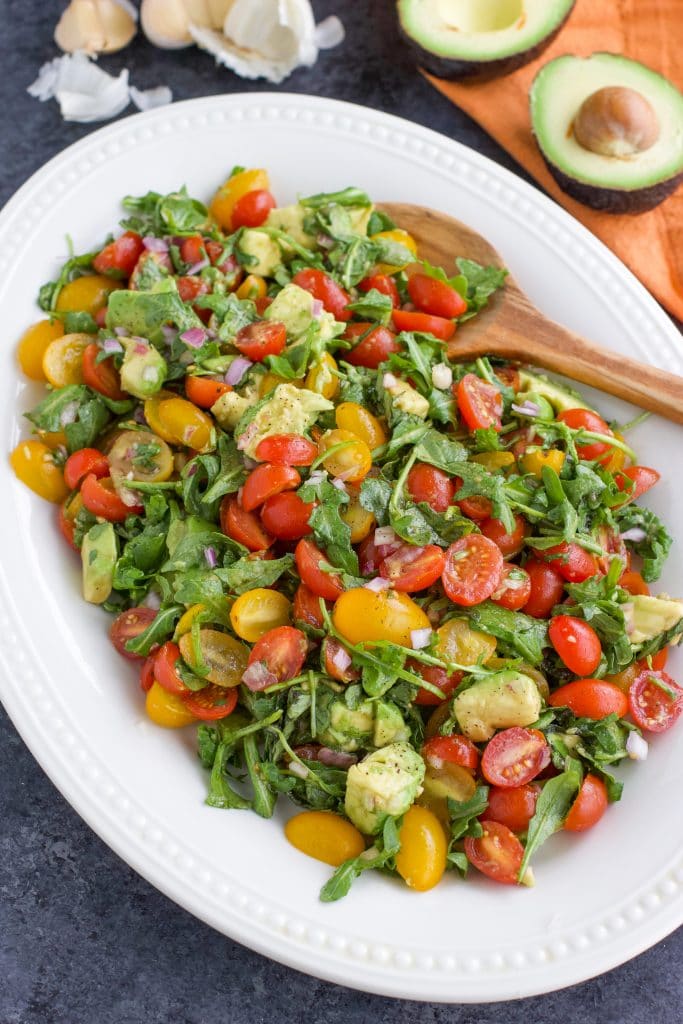 I found the most beautiful local organic rainbow tomatoes at the market last week! I used the larger red cherry tomatoes to make our favorite avocado toast topped with cherry and grape tomatoes and balsamic drizzle. After our delicious breakfast, I was left with two pints of juicy, plump cherry tomatoes. Travis doesn't really care for them, he says he doesn't like how they burst in your mouth when you bite them.
I can't be too hard on him though because he really isn't a picky eater. He always tries all of the crazy concoctions that I come up with, even if he doesn't love the ingredients. In case you were wondering, his all-time favorite meal is bomb ass buffalo cauliflower tacos— can you tell that he named the recipe?! Ha!
So, I really made this avocado tomato salad for me, I love cherry tomatoes…and avocado…and arugula! Ok, I love everything in this tomato salad! I love the combination of tomatoes and balsamic vinegar, I used to loveeee tomato mozzarella salad. Before I was vegan, I would've put mozzarella balls in this tomato salad but I thought big chunks of soft and creamy avocado would be the perfect substitution. I was right, it's absolutely delish.
What is a Tomato Salad?
Tomato salad is exactly what it sounds like…a salad where the main ingredient is tomatoes plus a bunch of other tasty additions. I think my love of tomatoes came from my dad, he eats beefsteak tomatoes like you would eat an apple! This is the best tomato salad because of all the fresh ingredients: rainbow cherry tomatoes, red onion, creamy chunks of avocado, and baby arugula.
How to Make Tomato Salad
This is the best tomato salad because it's delicious and so easy to make. Start by washing and prepping the tomatoes, avocado, arugula, red onion, and fresh basil. Put all of the prepped tomato salad ingredients into a large bowl. Note – If you're not serving the tomato salad right away then wait to add the avocado. If you prep the salad too early the avocado will turn brown.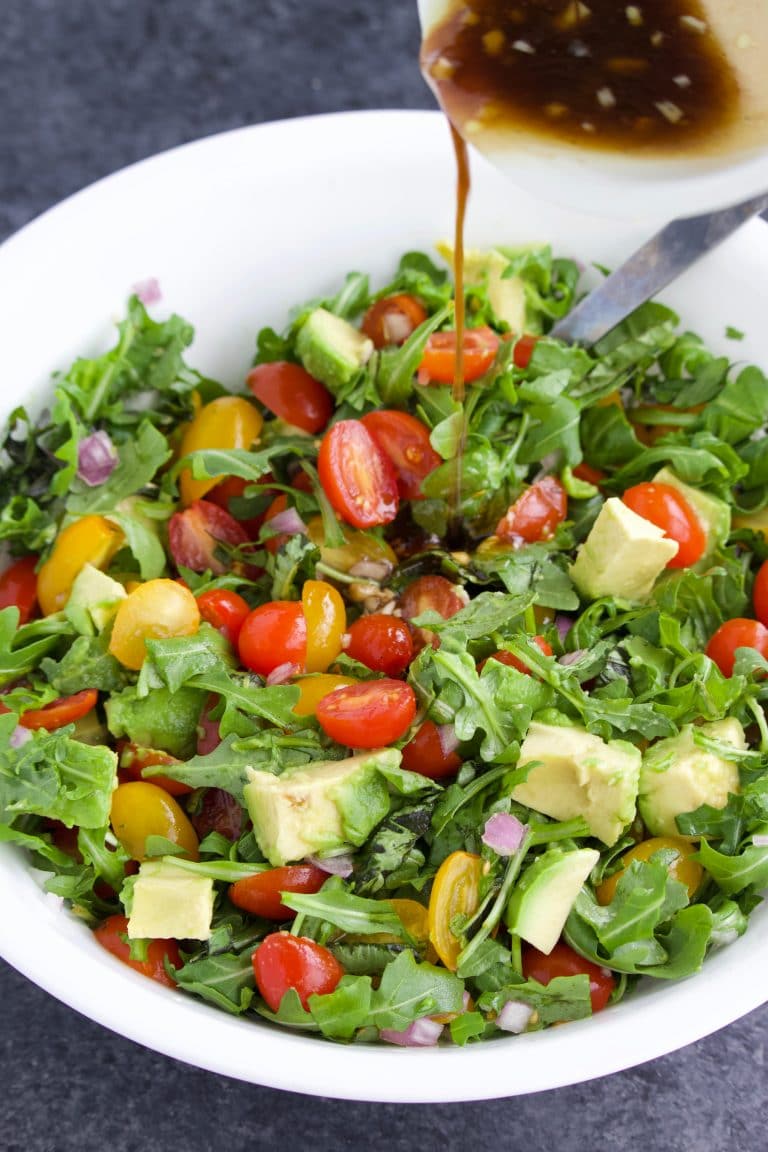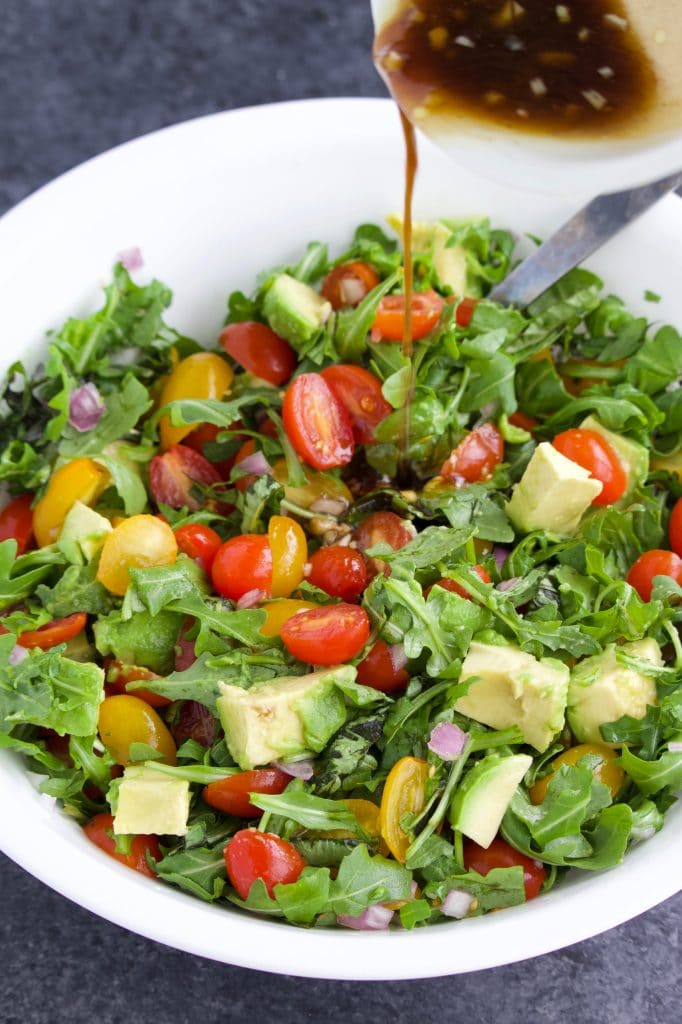 Next, whisk together the balsamic vinegar, olive oil, maple syrup, fresh garlic, Italian seasonings, lemon juice, sea salt, and pepper in a small bowl. Pour the dressing over the bowl of tomato salad ingredients. Toss to coat everything in the dressing and serve immediately.
This is a delicious side dish to vegan BLT sandwiches, lentil sloppy joes, or to a big bowl of noodles tossed in vegan alfredo sauce.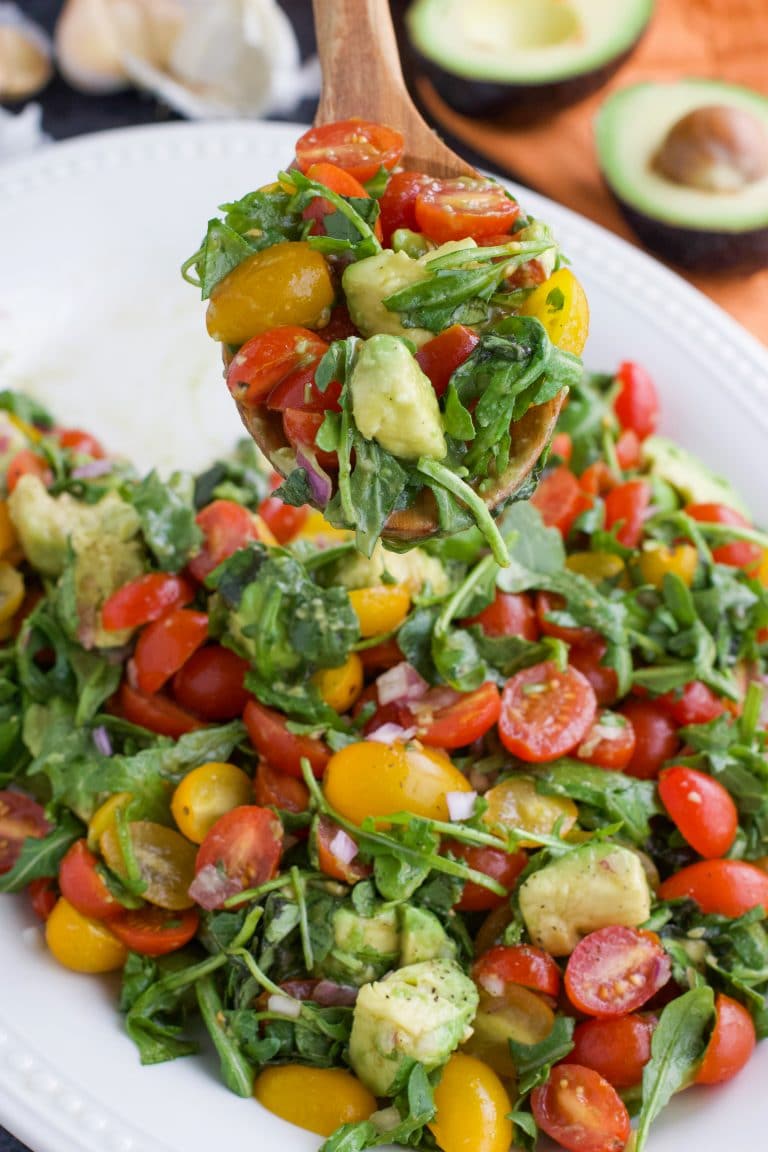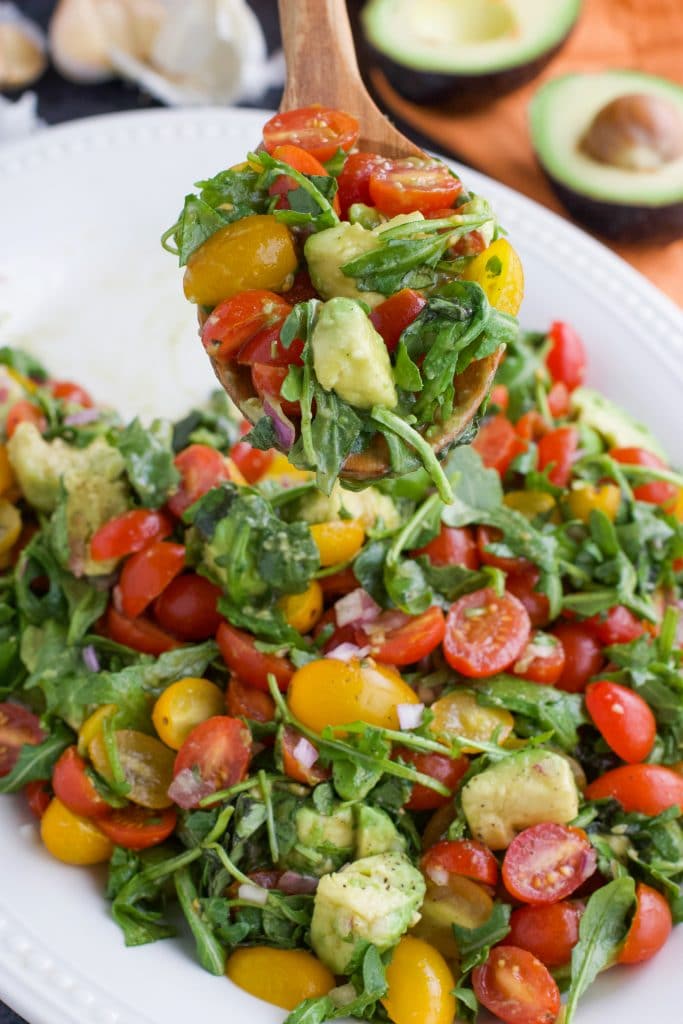 What is The Best Tomato For Salad?
I prefer to make this fresh tomato salad with cherry or grape tomatoes because they hold their shape better than chunks of a larger tomato (like beefsteak or heirloom). I also love using cherry or grape tomatoes when I can find them in different colors, it makes such a beautiful presentation! The only time I would choose to use a larger tomato for this particular salad is if it's tomato season and I run into a particularly beautiful lot of juicy ripe tomatoes.
Now, if I was just picking tomatoes for a regular everyday salad that I was making then I usually buy Roma tomatoes, beefsteak tomatoes, or tomatoes on the vine. Honestly, it depends on what's on sale that week, which variety is organic, and what looks the best.
How Do You Cut Cherry Tomatoes in Half?
Have you seen the grape trick? You will need two small plates along with the cherry tomatoes. Put one plate on the counter, fill the plate with one layer of cherry tomatoes, and then put the second plate on top of the tomatoes like you would stack it in the cabinet. Then take a very sharp knife and run it between the two plates. Viola! You've just cut a dozen tomatoes in the time it would take you to cut one tomato! Or you could just slice them one at a time on a cutting board.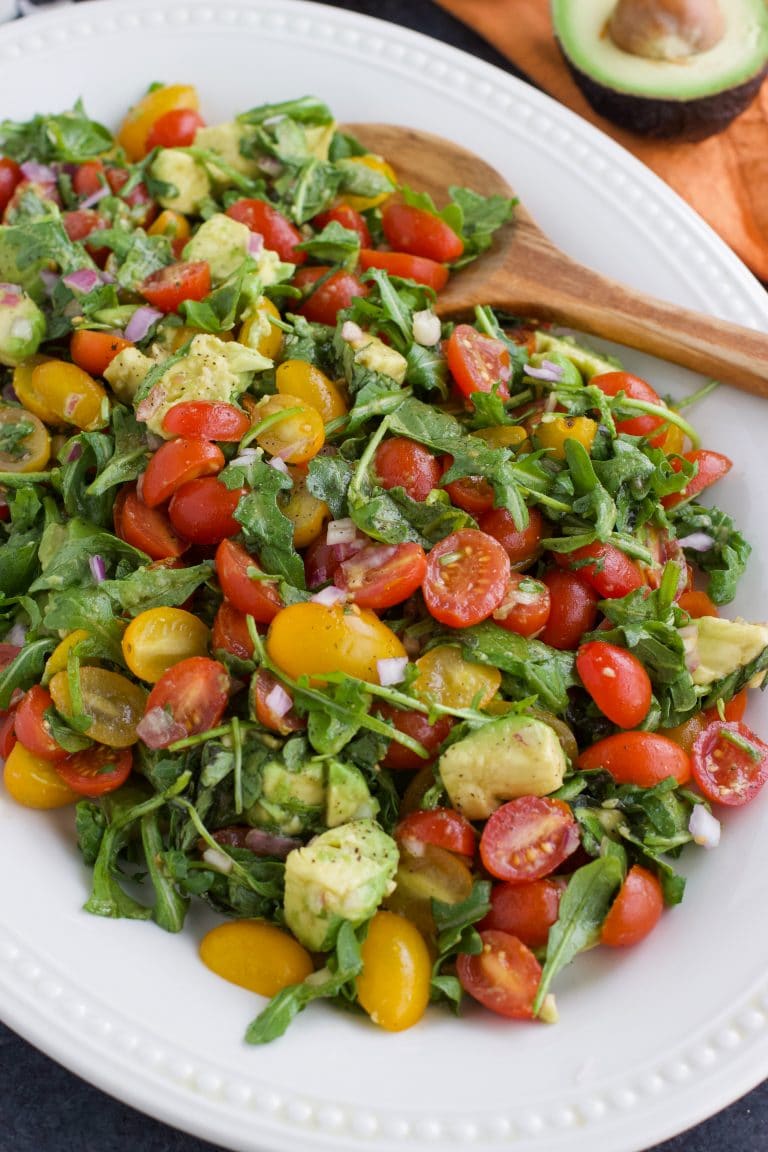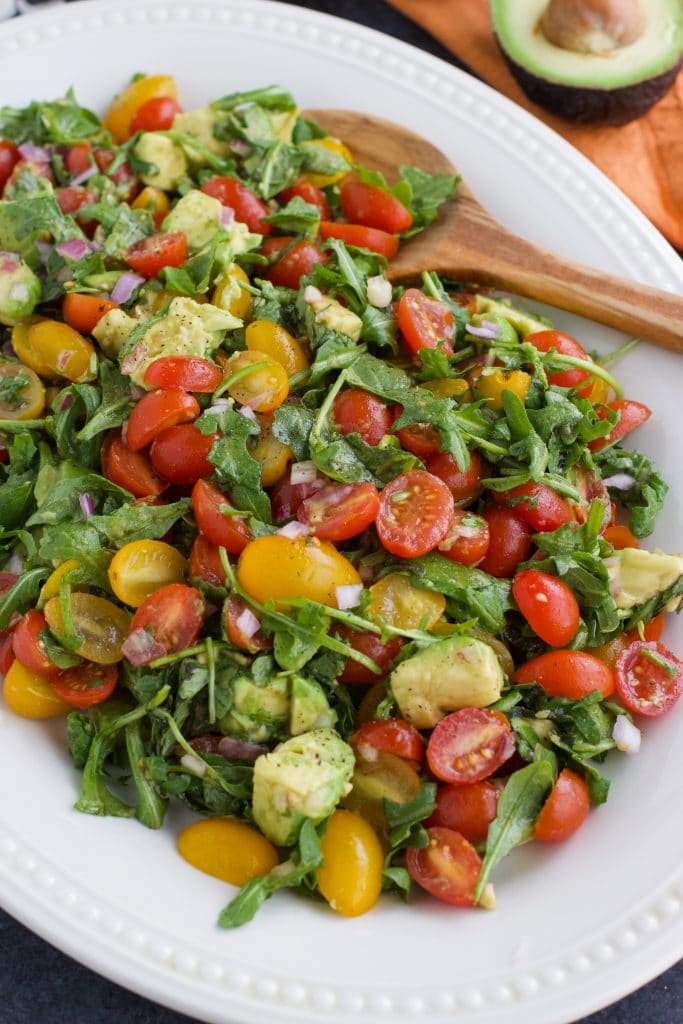 Tips For Making The Best Tomato Salad
Use plump, ripe, juicy cherry or grape tomatoes for this tomato salad. If you can't find any cherry or grape tomatoes then buy the best variety of ripe tomatoes that you can find. The quality of the tomatoes truly impacts the flavor of the salad.
If you're serving this salad for a party or event, wait until the very last second to add the avocado. If you add the avocado chunks to early then they will turn brown. I recommend squeezing fresh lemon juice over the avocado chunks before adding them to the salad. The lemon juice will help the avocado keep its bright green color for a few hours.
Make sure you use ripe but not too ripe avocados for this salad. If the avocado is perfect for guacamole then it's too ripe for this dish. You want the avocado to keep its shape when you toss it in the salad, not turn to mush.
If you don't care for the bite of baby arugula leaves then fresh spinach or kale would be delicious substitutions.
To make this fresh tomato salad a meal instead of a side dish, you could add cooked quinoa, rice, or orzo to make it more filling. If you do add any of these options, double the dressing recipe because the grains will soak it up.
This tomato salad doesn't make the best leftovers. The juice from the tomatoes makes the arugula soggy and the avocado chunks turn brown. This dish is best served fresh and eaten in one sitting.
More Vegan Tomato Recipes you'll Love!
Pesto Spinach Quinoa Stuffed Tomatoes
Heirloom Tomato Caprese Sandwich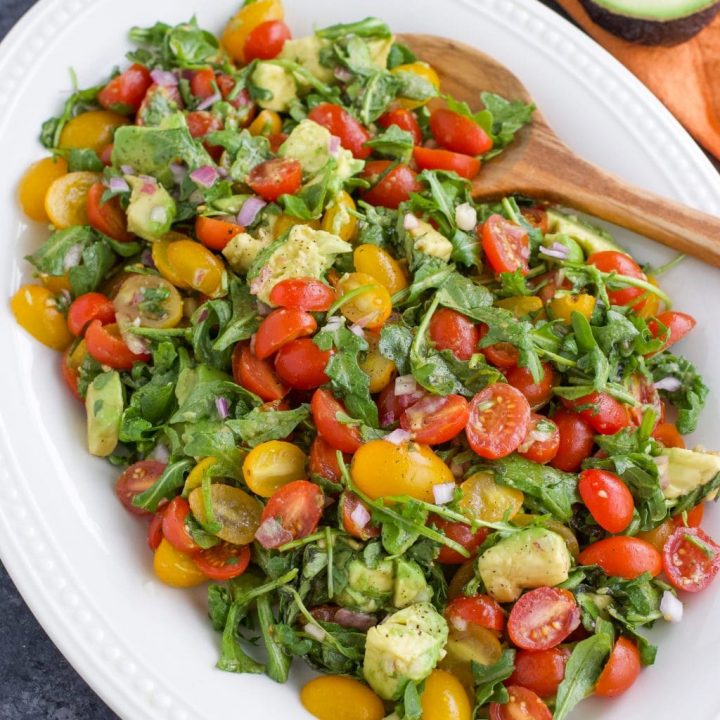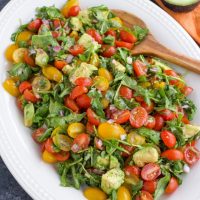 Avocado Arugula Tomato Salad
Juicy cherry tomatoes, spicy arugula, and creamy avocado tossed in a tangy balsamic vinaigrette is the perfect healthy side dish! Vegan, dairy-free, gluten-free, soy-free, nut-free.
Print
Pin
Rate
Ingredients
Tomato Salad -
1

pint

yellow cherry or grape tomatoes,

sliced in half

1

pint

red cherry or grape tomatoes,

sliced in half

5

oz

baby arugula,

roughly chopped

2

large

firm avocados (ripe but not too soft),

cut into chunks

1/4

cup

red onion,

diced

6

large

basil leaves,

thinly sliced
Instructions
Put the halved tomatoes, chopped arugula, diced red onion, basil leaves, and avocado chunks into a large mixing bowl.

In a small bowl, whisk the vinegar, olive oil, maple syrup, lemon juice, garlic, Italian seasonings, salt, and pepper until well combined. Pour the dressing over the tomato salad. Gently mix the salad until the dressing has been evenly distributed. Garnish with fresh basil.
Notes
It's best to make this salad right before you want to serve it. If you prep it too early, the juice from the tomatoes will make the arugula soggy and the avocados will turn brown. 
You can prep the dressing early if you want to, just wait until right before you serve the tomato salad to dress it.
Spinach or kale would be a tasty substitute for arugula. 
If you're serving this salad for a party or event, I recommend squeezing fresh lemon juice over the avocado chunks to help preserve their bright green color. 
Use avocados that are ready to eat but make sure they're not too soft. 
Nutrition