Thick, flavorful slices of heirloom tomatoes, creamy vegan mozzarella, fresh basil, and tangy balsamic glaze make a delicious filling for a quick and easy tomato caprese sandwich. Vegan, Dairy-free.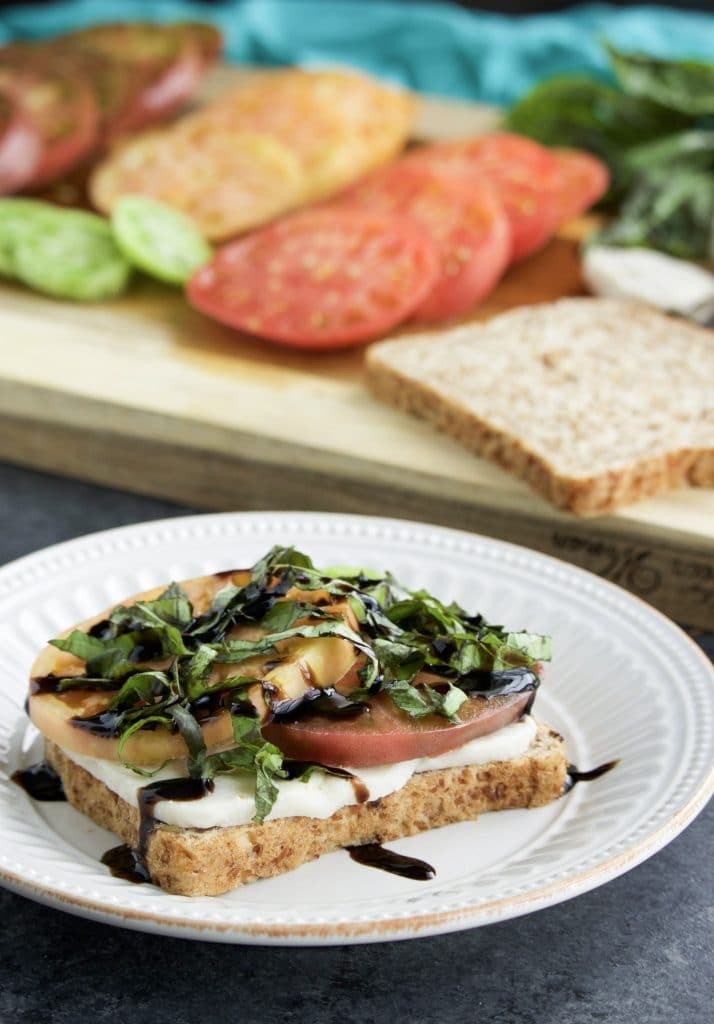 I love easy lunches! Don't you?
Lately, we've been eating a lot of tempeh sandwiches, pb&j's, and avocado toast for lunch. I love all of those options but I wanted something different today…
This morning, when I headed to the market to get a few things for the stuffed pepper soup I was making for dinner, inspiration hit me right in the middle of the produce section!
When I saw the over flowing container of perfectly ripe rainbow-colored heirloom tomatoes, I knew exactly what I was going to make for lunch.
Vegan Heirloom Tomato Caprese Sandwich
This heirloom tomato caprese sandwich is loaded with everything you love about caprese salad except it's in sandwich form. Also, it's been upgraded with big, juicy slices of the most beautiful heirloom tomatoes! Plus, it's so
Plus, it's so EASY to make!
Classic caprese salad has fresh basil leaves nestled in between the slices, so, basil is definitely a must for these sandwiches too. If you don't have fresh basil, vegan pesto spread would work just as well and be just as tasty.
Besides being damn tasty, what I really love about this sandwich is how easy it is to prepare. Steps only include slicing, spreading, and assembling. Five minute lunches are my favorite kind!
When my husband saw the colorful sandwich I was eating for lunch, he asked if he could have one too but grilled cheese style.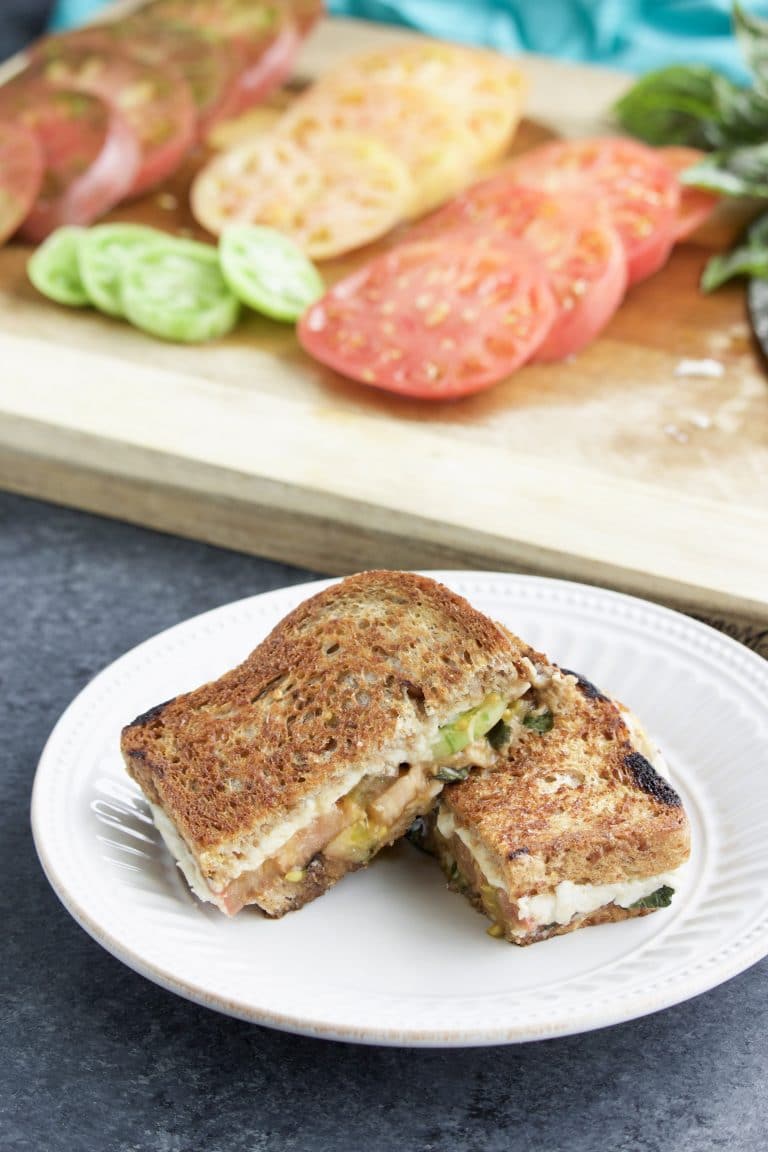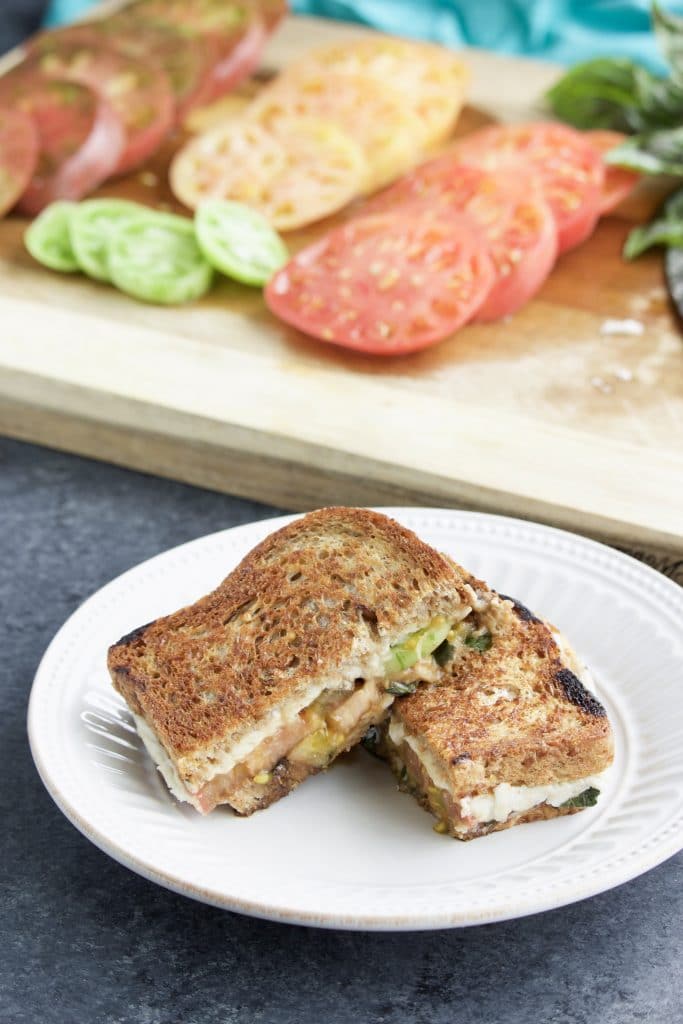 It turned out delicious, I might have snuck a bite or two before I handed it over to him. So, if you have a few extra minutes, a grilled heirloom tomato caprese sandwich is pretty delightful too.
Note – Add a tiny bit of vegan butter to the pan (this is the pan that I use) before you press the sandwich if you're in the mood for some comfort food.
Of course, then he wanted to try it cold with leaf lettuce instead of pressed. Typical.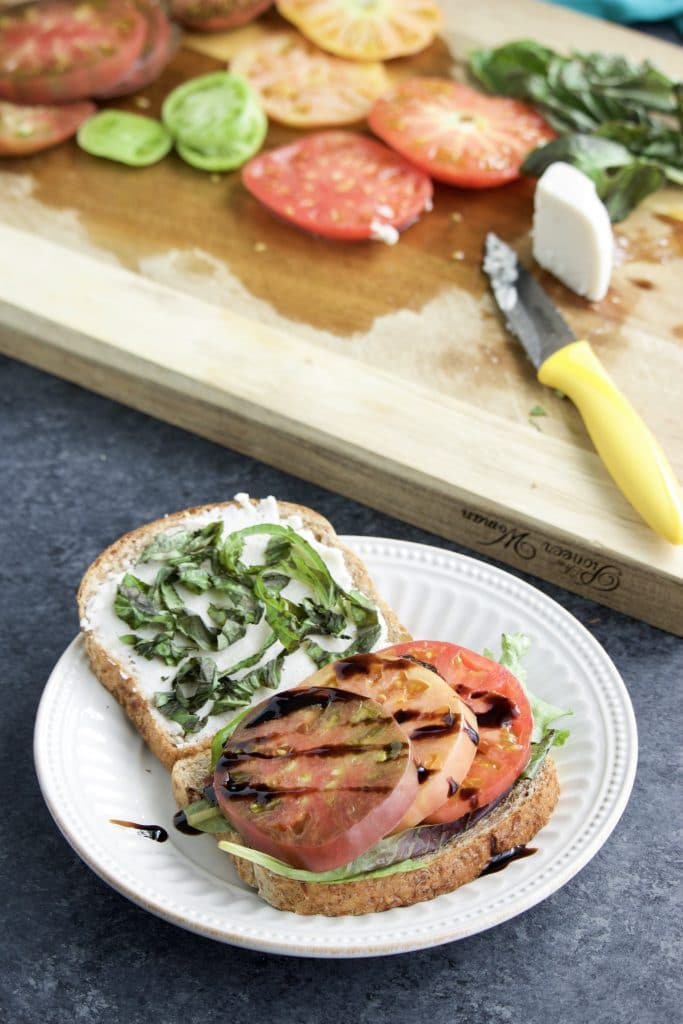 Basically, I've tried this sandwich many different ways and each version is delicious. You can't go wrong!
Do You Have to Use Heirloom Tomatoes?
No, you definitely don't have to use heirloom tomatoes. You can use any tomatoes you like.
However, I think that heirloom tomatoes taste better than regular tomatoes. They're so flavorful and juicy and I like to get the different varieties. The rainbow of colors on the tomato caprese sandwich is so gorgeous! If you can afford to splurge a little bit on the heirlooms, I promise you won't be disappointed!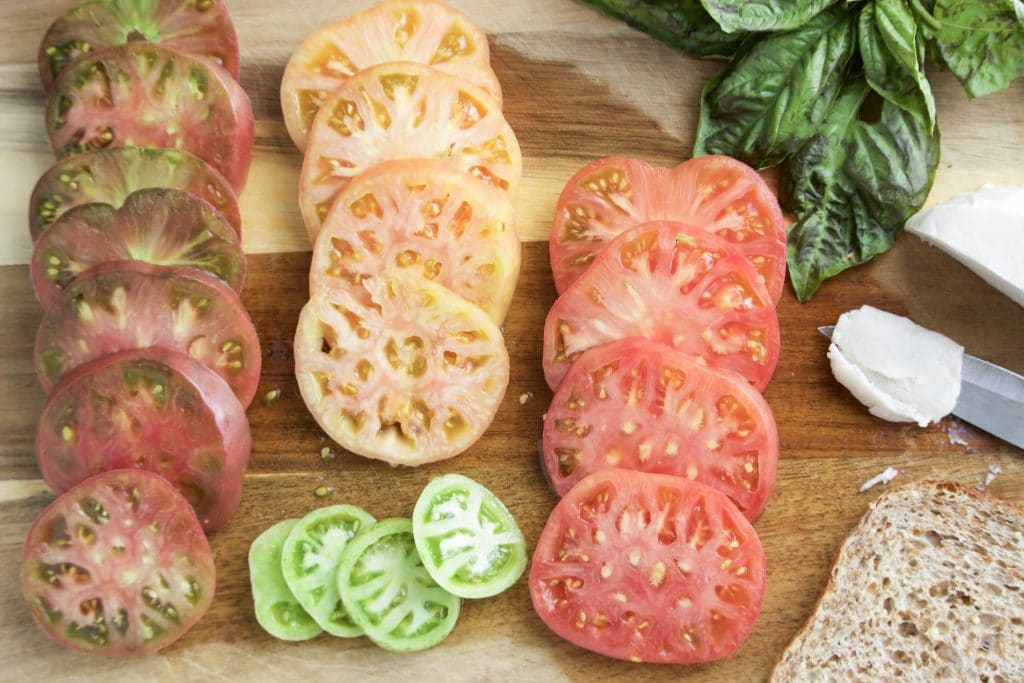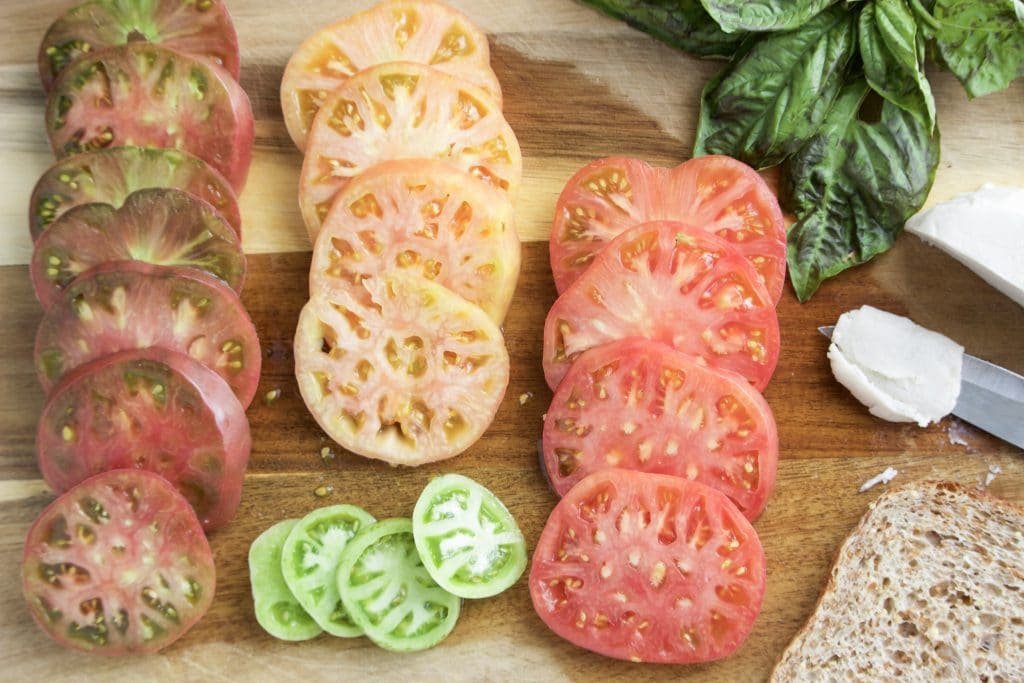 What Type of Vegan Mozzarella Should You Use?
I like to try new vegan cheeses when I find them at the market. For a long time, I couldn't find one that I really thought tasted like cheese, so I made my own because I was craving stretchy, gooey, cheesy quesadillas. However, you can use either cheese for this sandwich recipe.
If you want to make your own cheese for the tomato caprese sandwich, this creamy cheese recipe would be delicious. If you don't want to make it yourself then I prefer to use Miyoko'a Fresh VeganMozz for this sandwich. It's delicious cut into slices or you can let it sit on the counter for a few minutes and then spread it on the bread.
Let me know if you have any other favorite vegan cheese recipes or brands that you love. I'd love to try them!
Notes & Substitutions
You can use store-bought pesto spread instead of fresh basil leaves.
You don't have to use heirloom tomatoes, any variety of tomatoes will be delicious.
This sandwich can be enjoyed cold or pressed. If you make it hot, leave out the lettuce.
More Vegan Cheese Recipes You'll Love!
The Cheesiest Broccoli Cheese Soup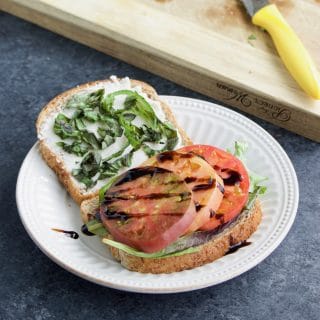 Ingredients
4

slices

of bread

2

medium heirloom tomatoes,

sliced (3-4 slices per sandwich)

Vegan cheese

(I like Miyoko's Fresh VeganMozz or this recipe for homemade cheese)

Leaf lettuce

6-8

basil leaves,

thinly sliced or use vegan pesto spread

1

tsp

Balsamic glaze
Instructions
Slice the tomatoes and chiffonade the basil leaves.

Assemble the sandwich. Add the lettuce, heirloom tomato slices, vegan cheese, and basil. Drizzle the balsamic glaze on top.

Enjoy the sandwich cold or press it like a grilled cheese and serve it hot.