This is a realistic Trader Joe's vegan shopping list of (healthy & organic) products that I actually buy and use on a daily basis, it's not just a list of everything that's vegan at Trader Joe's. Every item has been label-checked, taste-tested, and picky husband-approved!
*I originally posted this Trader Joes vegan grocery list on 3/29/18 but I updated it with new products on 6/5/19.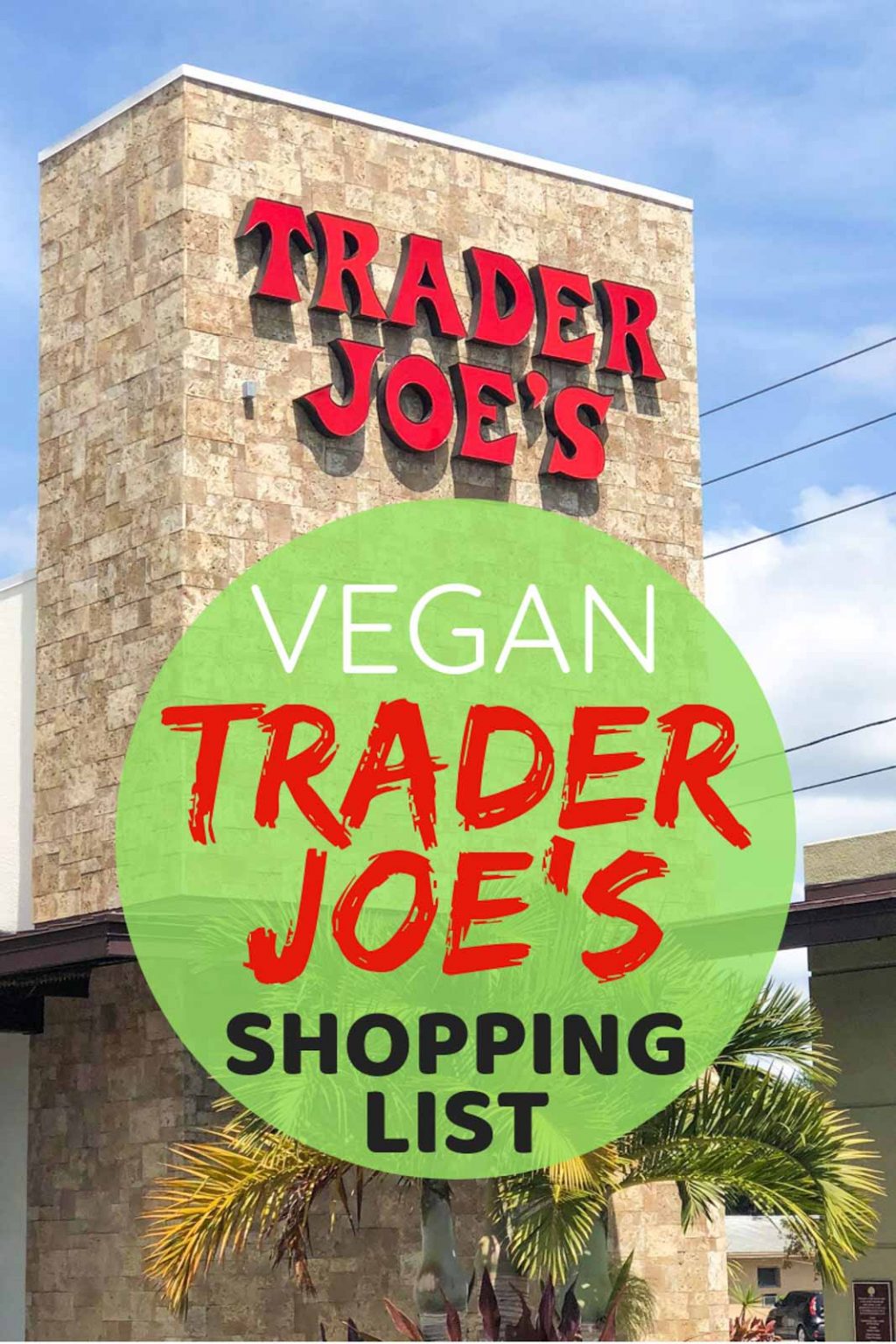 I love grocery shopping in general but I really love shopping at Trader Joe's. It's such a fun store! The produce is always fresh, their return policy is great, and I love getting a coffee sample to sip on while I shop. It's the little things, am I right? 
I do most of my grocery shopping at three stores: a local organic market, Costco, and Trader Joes. Here is my vegan Costco shopping list and vegan Whole Foods shopping list if you shop at either of these stores and need some shopping inspiration!
Unfortunately, I only make it to Trader Joe's once every few months because it's a little bit of a drive from my house. The local organic market and Costco are right down the street from where I live so I get most of my fresh produce and bulk items from those stores but I always look forward to going to Trader Joe's!
There are a few staple products that I love that I can only get at Trader Joe's, so I always make sure to stock up on them when I get the chance.
Want to see my latest vegan Trader Joe's grocery haul? Watch this video! 
Trader Joe's has lots of healthy, organic, vegan products but they also have a lot of processed vegan junk food too. I'm very picky when it comes to the products that I buy. I want to know exactly what's in the food that I'm eating, where it came from, and it has to be organic and vegan.
That's why I called this a realistic Trader Joe's vegan shopping list because it's not just a list of all the vegan products at Trader Joe's, it's a real list of the products that I actually buy for my family.
I know for some people, especially new vegans, going grocery shopping can be very overwhelming if you don't know what you're looking for. I hope that sharing my personal Trader Joe's vegan shopping list will save you time and help to guide you through the aisles at the store while you're grocery shopping.
If you need help meal planning, you may find this 1-month vegan meal plan to be helpful!
Trader Joe's Vegan Food List
The following list is of my favorite 30 Trader Joe's vegan options. I buy most of these items every single time I shop so I highly recommend them. I hope this list gives you some inspiration for your next shopping trip.
Look for this label on the list --> Stock up Item! This label means that I usually buy multiples of that item. It's delicious, it will last a while, and it's a great price. 
1 - Everything in the Organic Produce Aisle
The apples, potatoes, onions, sweet potatoes, pomegranates, avocados, and fresh basil are always a great price. I usually skip bananas because they charge a base price per banana instead of weighing them individually.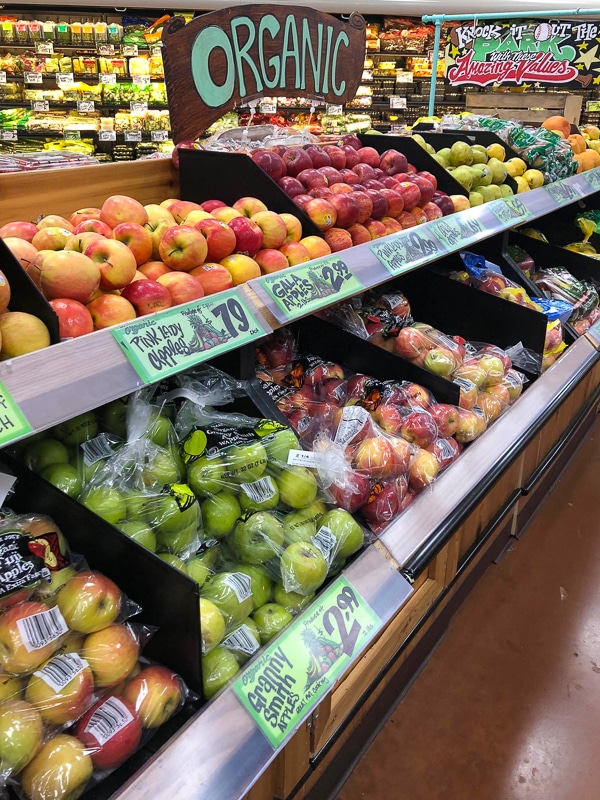 2 - Organic Lemons & Limes
The bags of lemons and limes are a great deal! I'm used to paying $.89 for one lemon, so $1.99 for 5 (1 lb) lemons is a fantastic price!
You can never have too many lemons! I like to use them for 15-minute vegan alfredo sauce, lemon artichoke orzo soup, and lemon garlic cauliflower steaks!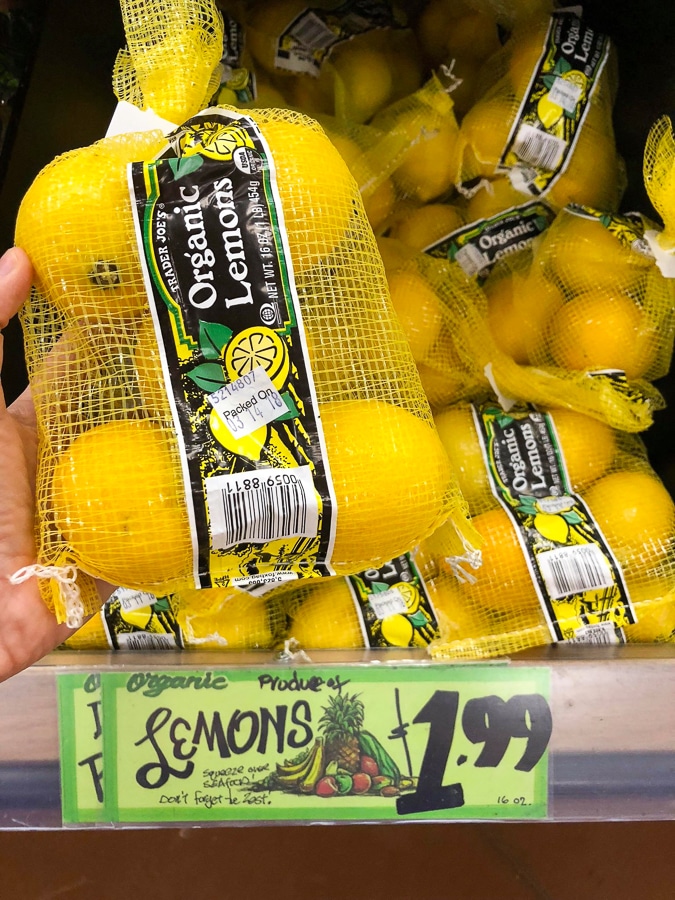 3 - Organic Kiwis 
I usually pay $.89 for one small kiwi at my local market, so $2.99 for 8 (1 lb) kiwis is an awesome deal! We go through them like crazy, we love having kiwis in our rawnola breakfast bowls or cherry mango kiwi chia seed pudding cups.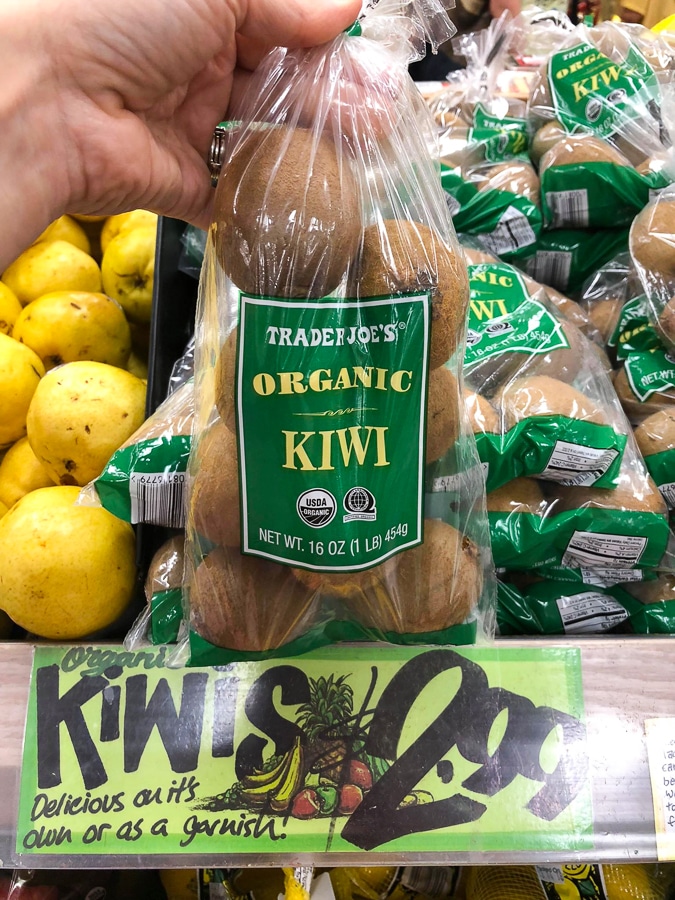 4 - Organic Ezekial Bread (Stock up Item!) 
Ezekial bread is our favorite bread, we love it with high-protein avocado toast. It's loaded with nut and bean flours and it'd delicious! It's usually $5.49 at the health food stores in my area so I always buy 3-4 loaves when I go to Trader Joes to save a few bucks. It freezes really well and lasts for quite a while.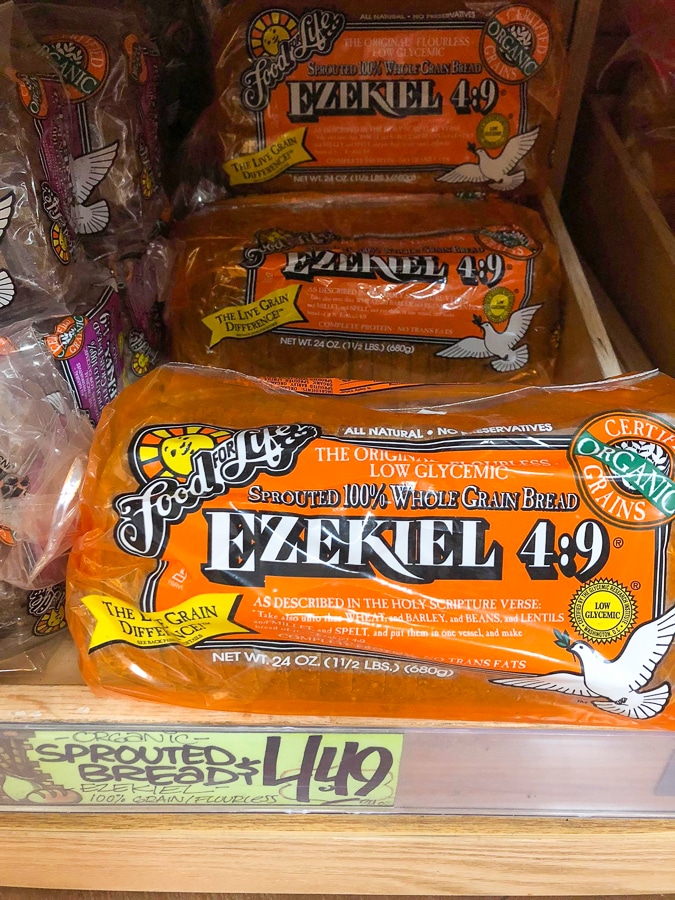 5 - Organic Chia Seed Bars (Stock Up Item!)
I love love love these chia seed bars, they're chewy and packed with nuts and seeds! I hate when you read the ingredient list of most granola bars and they're full of cheap ingredients like white flour and sugar. The first ingredient of these granola bars is chia seeds-- and the bars are absolutely loaded with them!
I usually buy three boxes to last me a few months because I like to bring these to Disney World with us or Travis takes them to work for a snack.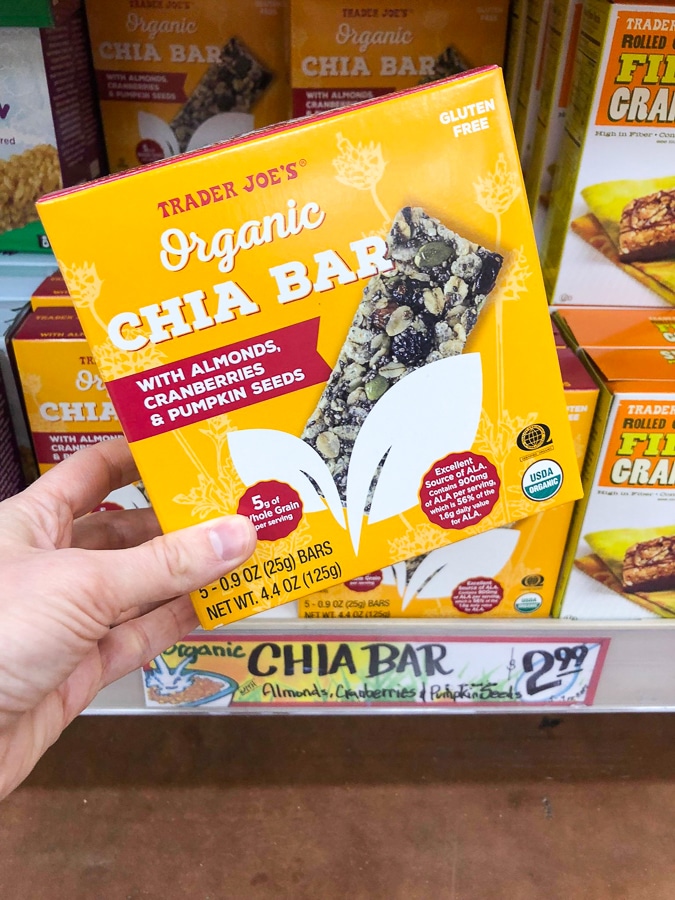 6 - Organic Unsweetened Applesauce
Applesauce is a baking necessity-- you need this in your pantry! It's a delicious substitute for eggs or bananas in quick bread and muffins. Plus, I love that it has no added sugar.
7 - Organic Coconut Aminos 
I use this brand of coconut aminos in place of soy sauce or tamari in all of my Asian-inspired recipes. It's delicious, flavorful, and much lower in sodium. Also, Trader Joe's has the best price that I've found anywhere!
You can use coconut aminos to make crispy baked almond butter tofu, cauliflower fried rice lettuce cups, and ginger coleslaw.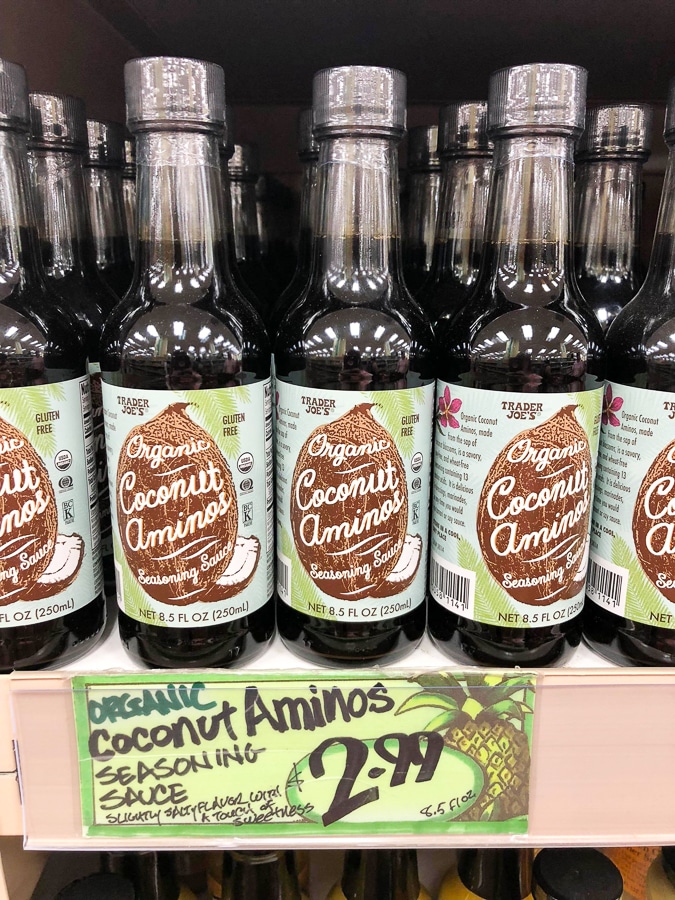 8 - Organic Pomegranate Vinegar
This pomegranate vinegar makes a delicious salad dressing! I often use it instead of balsamic vinegar to make these garlic roasted brussel sprouts.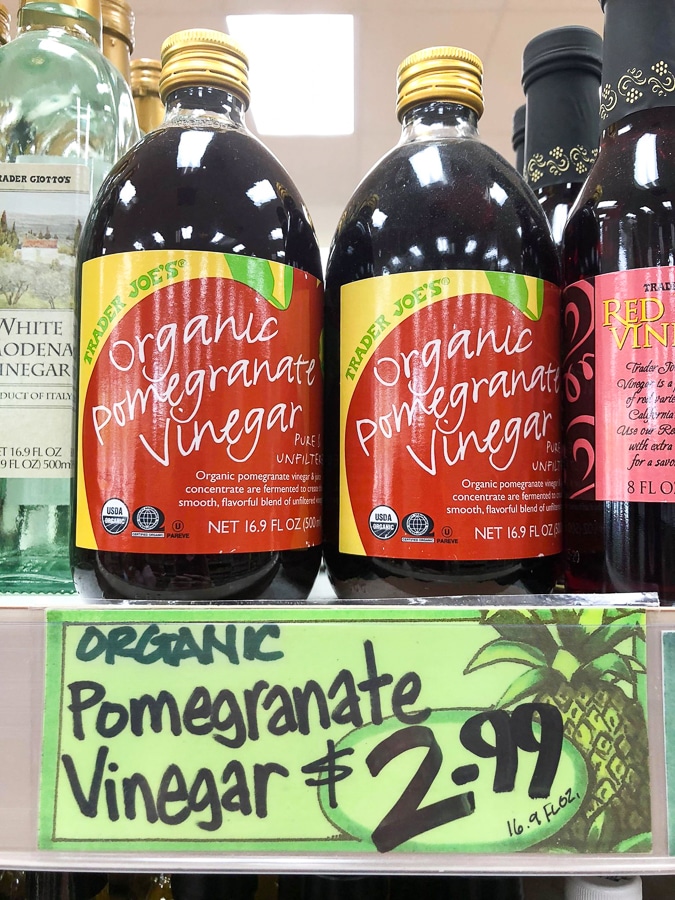 9 - Organic Tahini
If you like to make your own hummus you need to have tahini in your pantry! I also like to mix 1 tbsp of tahini + the juice of half a lemon + 1 tsp dijon mustard + water to thin it out to make a delicious salad dressing.
10 - Organic Ketchup
This is a great price for organic ketchup! I use it to make these lentil sloppy joes-- they're delicious, meat-eater approved, and one of our favorite inexpensive vegan meals!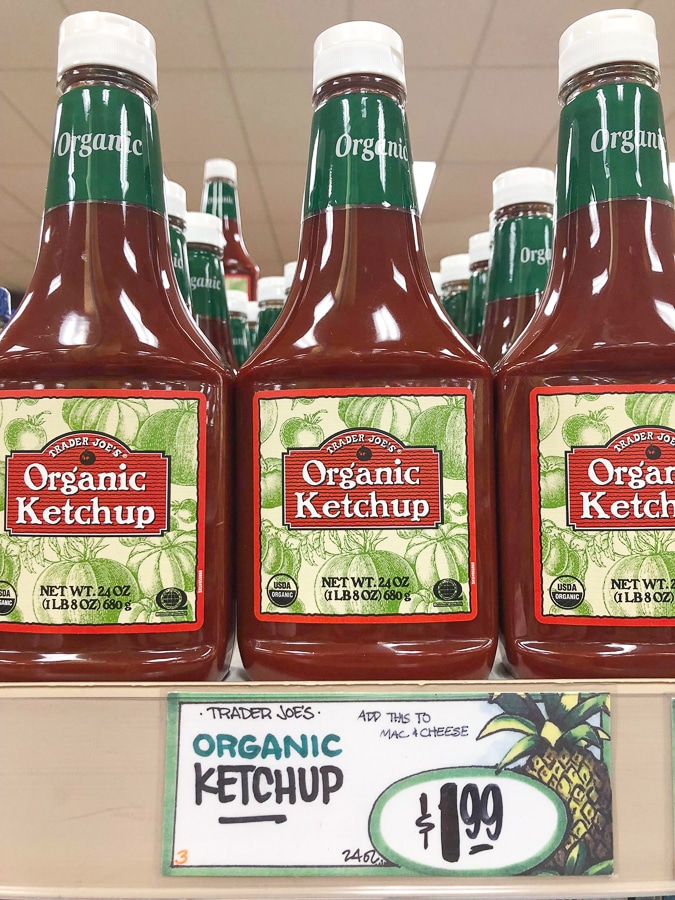 11 - Organic Mustard
This is a great price for organic mustard! I always keep two bottles of mustard in the fridge at all times. One bottle is for eating and the other bottle is for burns. Yes, burns! When I used to serve in a restaurant, I saw the cooks putting mustard on their burns. I tried it on myself and it really helps to reduce the blistering and pain.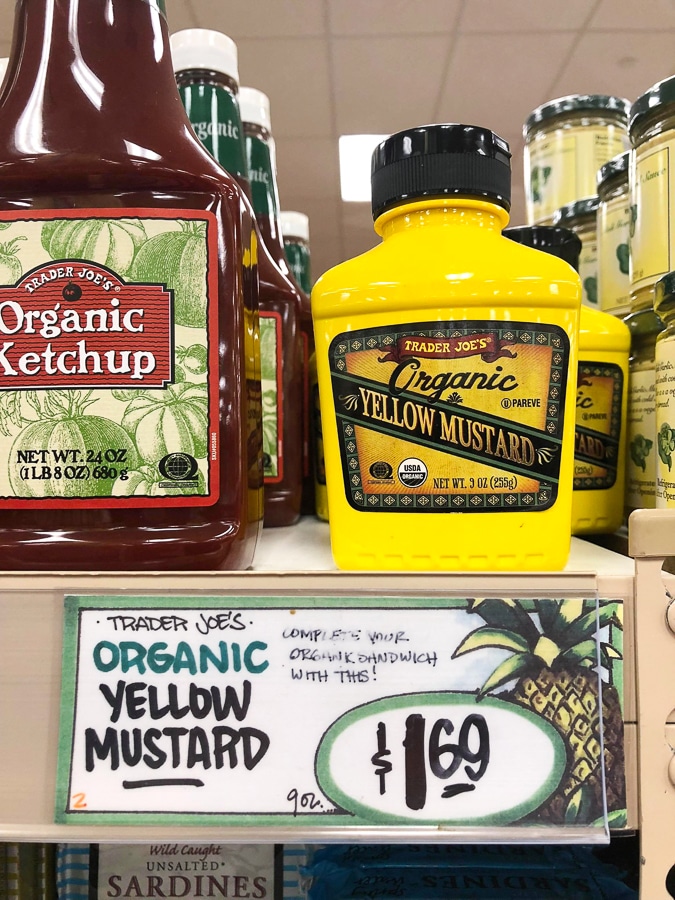 12 - Organic Cacao Powder
I always have a bag of cacao powder in my pantry-- it's a staple! I use it for chocolate peanut butter oatmeal, chocolate nice cream, and chocolate rawnola breakfast bowls.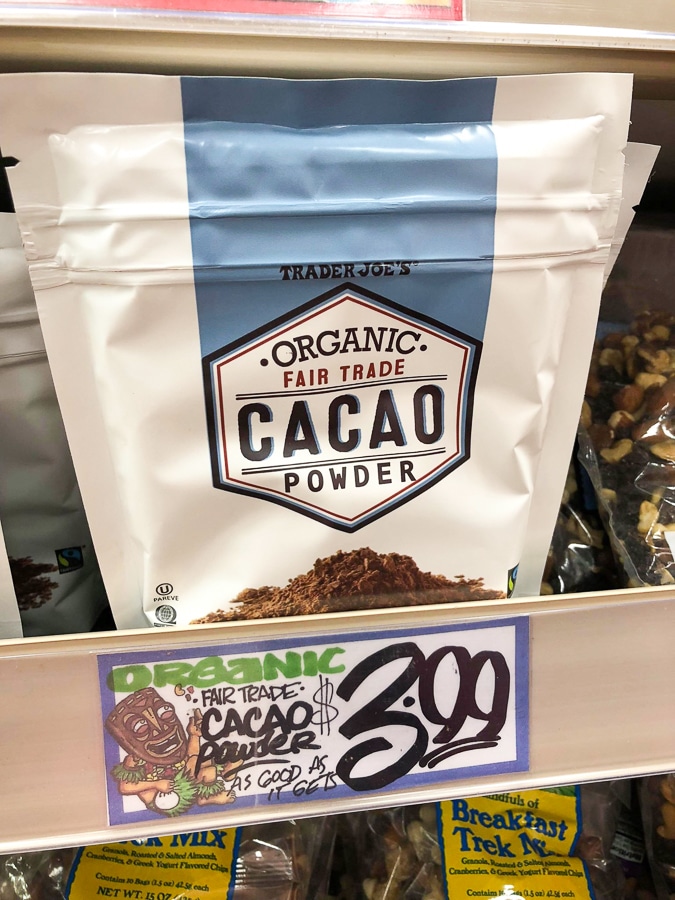 13 - Organic Raw Walnuts
Raw walnuts are a staple in our house + they're my husband's favorite nut to snack on. I always serve a handful with our avocado toast for breakfast in the morning and they're also the base of our favorite rawnola bowls. I also use these organic raw walnuts to make walnut quinoa taco meat.
Note - I've found that it's usually cheaper to look for "halves and pieces" instead of whole walnuts. It really doesn't matter whether the walnuts are whole or pieces when you're going to chop them up for recipes anyways. I say, go for the best deal!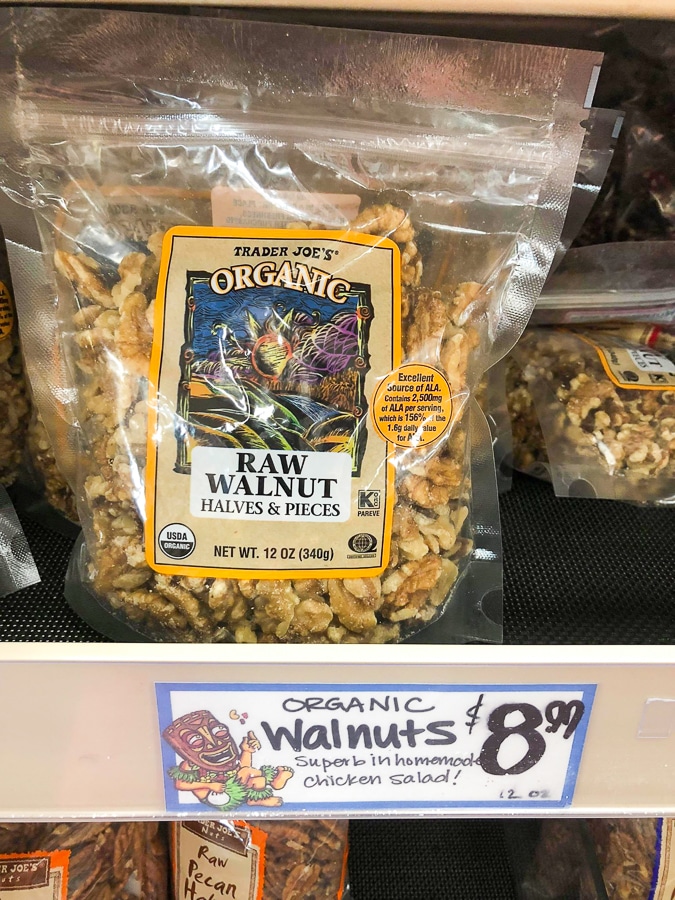 14 - Organic Pasta
I love the colors of this delicious vegetable-based radiatore, it makes such a pretty pesto pasta! On the same shelf, you'll find lentil pasta which is ok but I would skip the black bean pasta.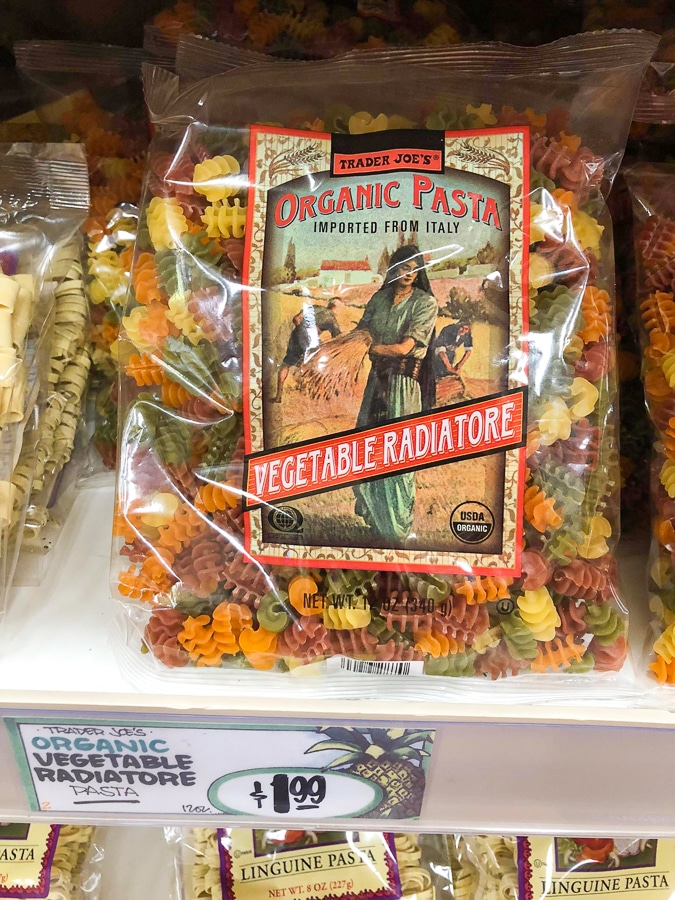 15 - Organic Flaxseed
Flaxseed is a staple in my pantry because it's my favorite vegan egg substitute. You'll need it to make the best vegan lentil meatballs and you can also add it to healthy smoothies, muffins, oatmeal, or homemade bread!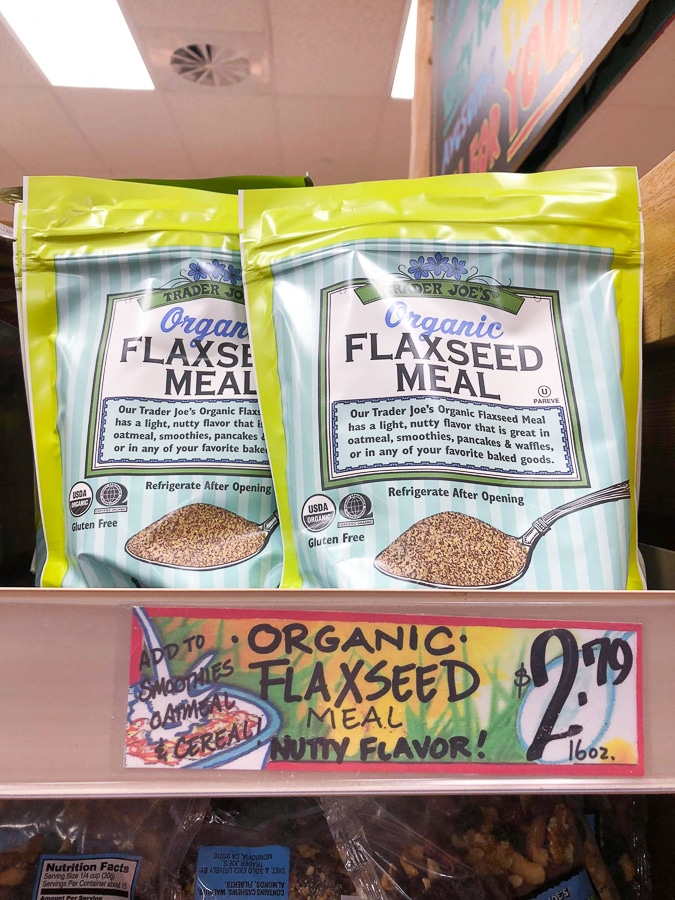 16 - Organic Sprouted Tricolor Quinoa
We eat a lot of quinoa, it's so versatile, easy to make, and delicious! It's also naturally gluten-free and you can prepare it so many different ways. Use this quinoa to make pizza crust, southwest quinoa salad, cilantro lime quinoa, pesto quinoa stuffed tomatoes, or stuffed pepper soup... and that's just a few of our favorite quinoa recipes!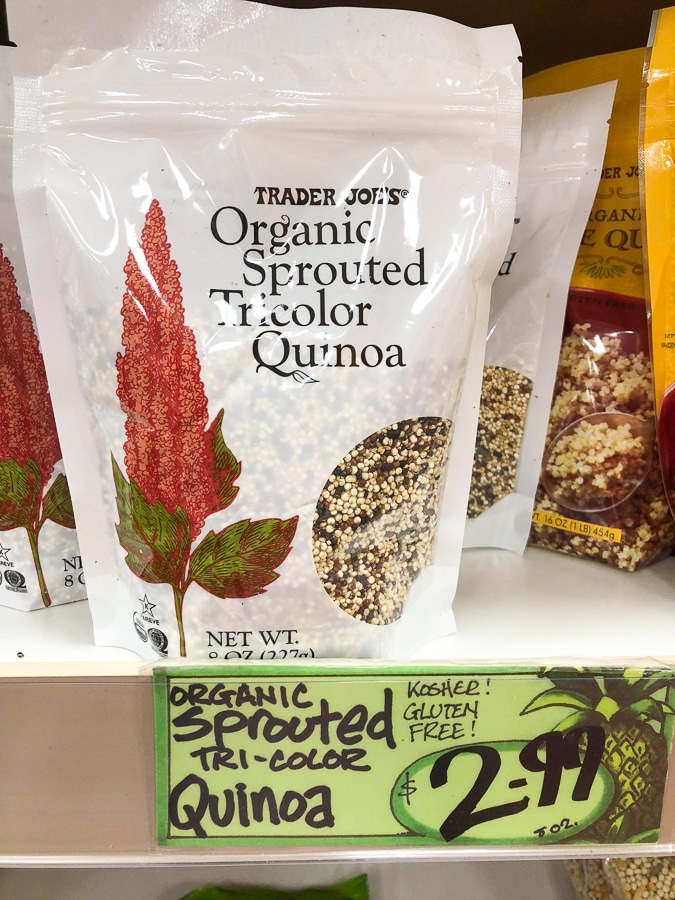 17 - Organic Coconut Sugar
Anytime a recipe calls for refined sugar (white, brown, or cane) I swap it out 1:1 with coconut sugar. It's delicious and you can't even tell the difference.
This is my all-time favorite crunchy baked granola recipe! Try it. You'll love it, I promise.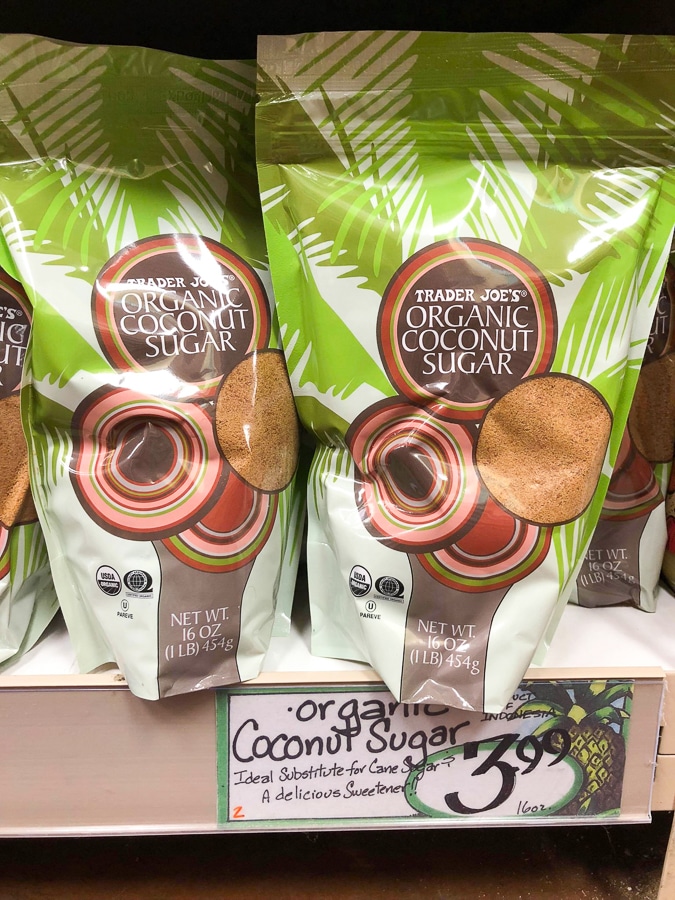 18 - Young Green Jackfruit (Stock Up Item!)
Jackfruit is our favorite vegan meat substitute. I think it tastes like a cross between pulled pork and pineapple and it's absolutely delicious in whiskey pineapple BBQ jackfruit sliders, chipotle jackfruit tacos, salsa stuffed peppers, the BEST EVER vegan enchiladas (one of my husband's favorite recipes!) and slow cooker jackfruit wild rice soup!
This is one of my favorite brands of jackfruit because the pieces are usually big and meaty with less hard pieces of core. Here are 17 more meals you can make with this canned jackfruit if you're looking for something new to make with it!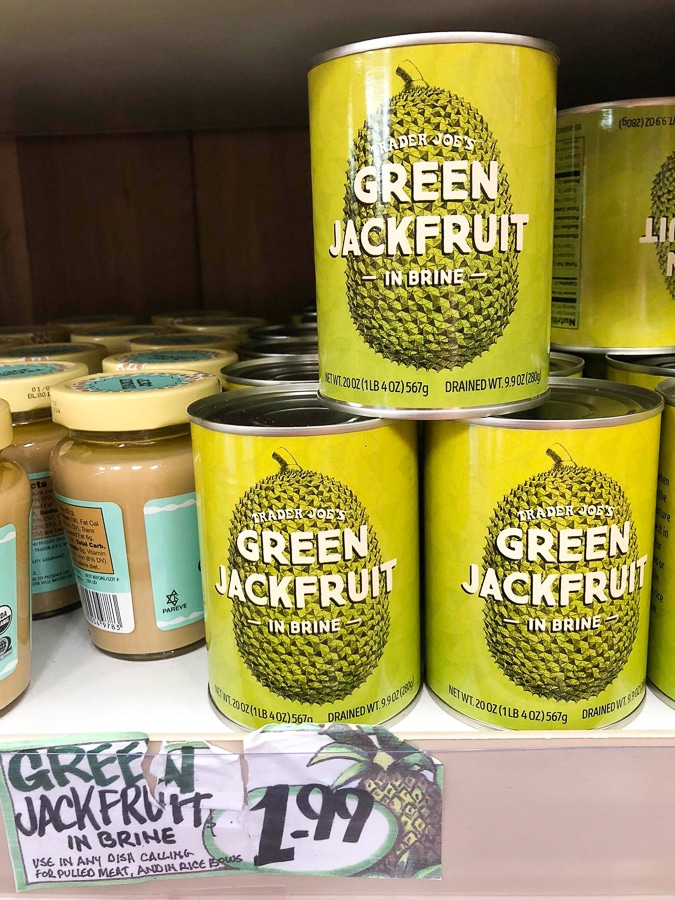 19 - Nutritional Yeast 
Nutritional yeast is a pantry staple for most vegans and I'm no exception. I use it to make caesar dressing, sprinkle it on popcorn, and I also use it to make our favorite vegan alfredo sauce recipe.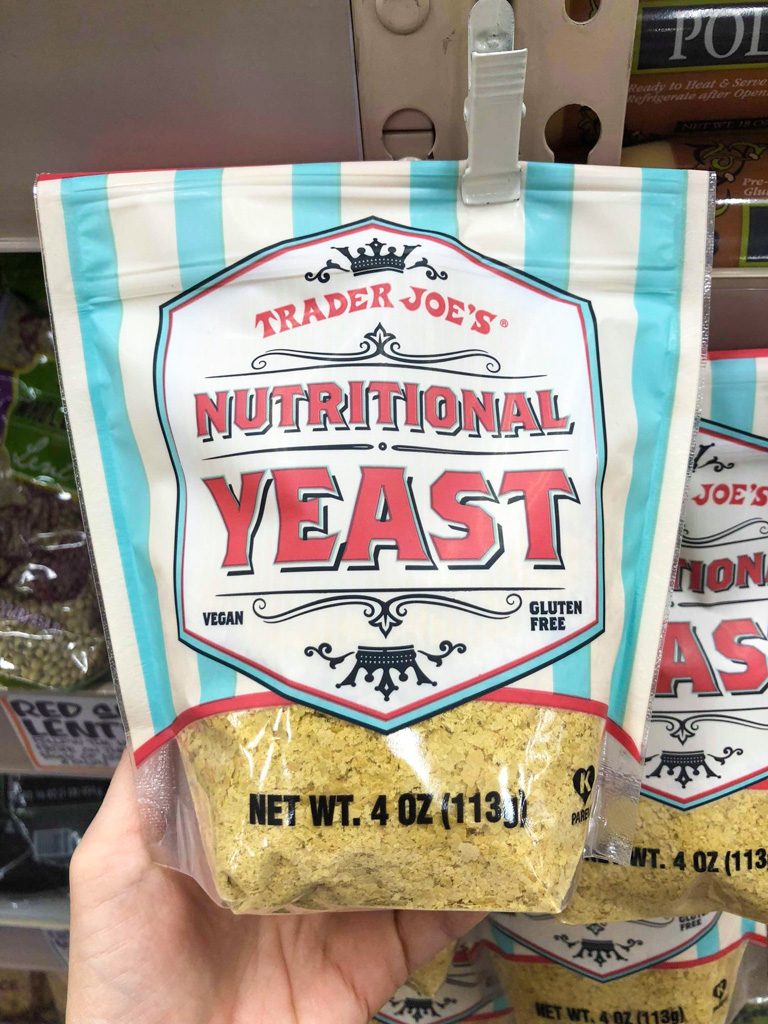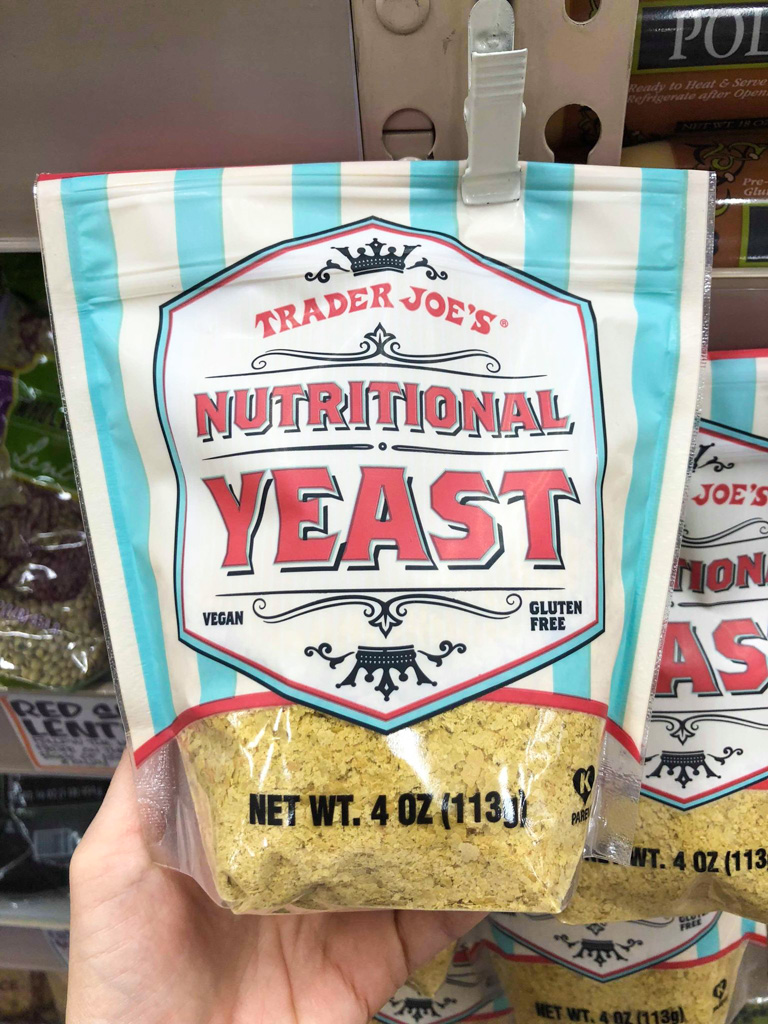 20 - Organic Brown Rice Quinoa Spaghetti
This pasta is so delicious! We're not gluten-free but I like to switch it up and this is the perfect swap. Usually, I don't buy rice noodles because they get so soft and mushy but with the addition of the quinoa, these noodles have a great consistency!
The quinoa spiral noodles are quite tasty too. These noodles would be perfect to serve with vegan lentil quinoa meatballs!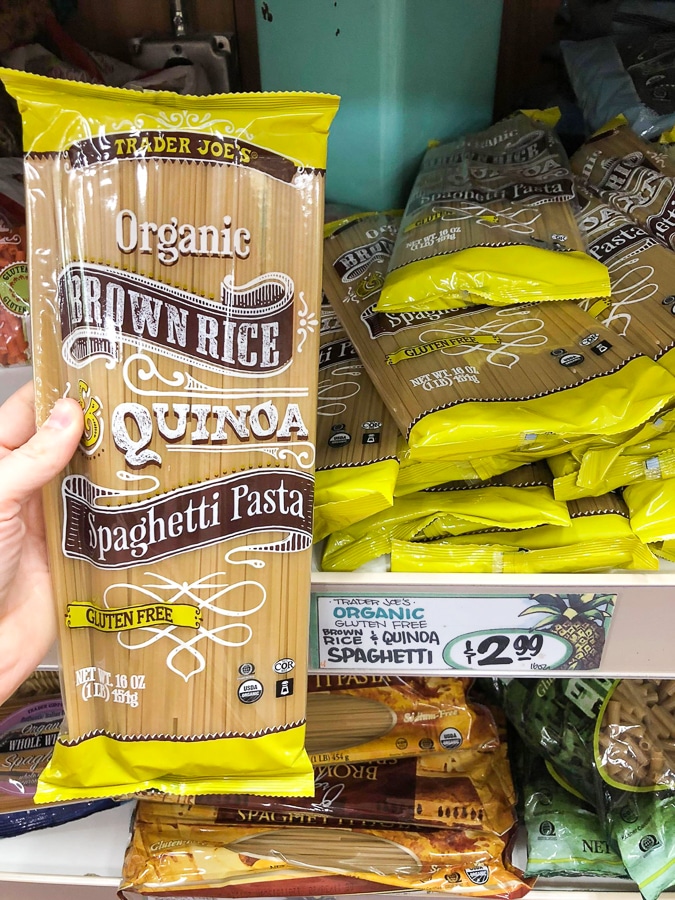 21 - Organic Dried Mango 
Dried mango is one of my favorite sweet treats. I especially love it to make these chocolate mango candy bars. OMG they're so good!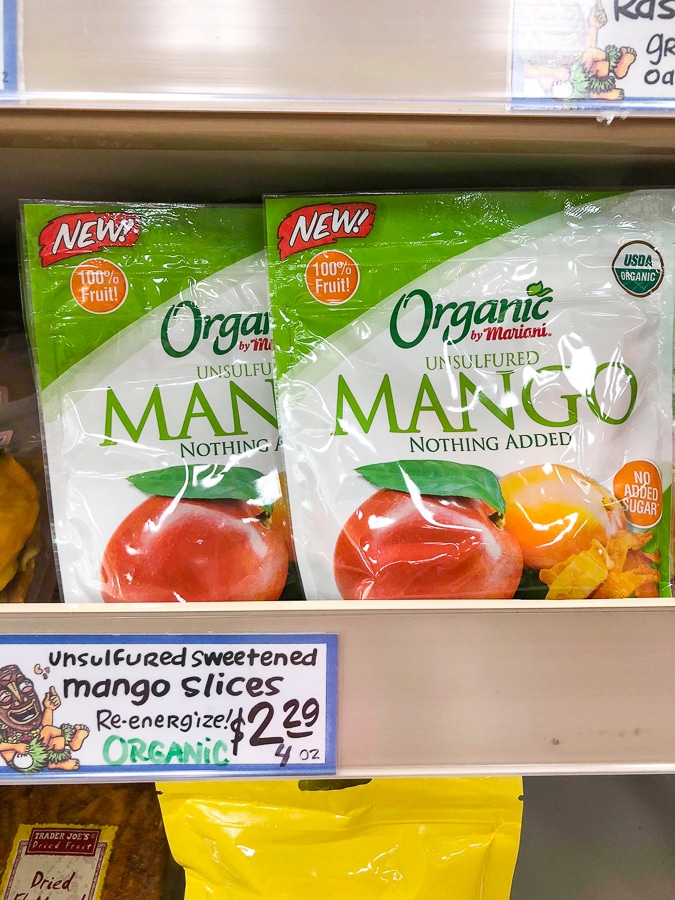 22 - Organic Kettle Chips
I normally don't buy processed junk food but my husband loves kettle-style chips and at these are delicious, organic, and a good price. So, occasionally, I'll surprise him with a handful of these chips alongside a vegan BLT sandwich for lunch for a treat.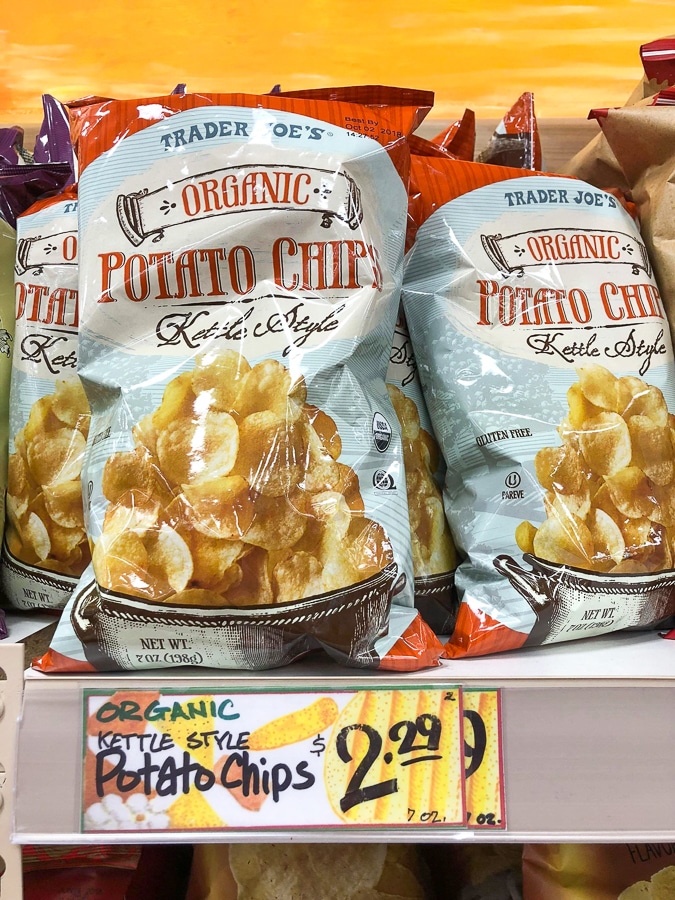 23 - Organic Thick and Chunky Medium Salsa
I think this is a new item because Trader Joes used to only have one organic salsa and it wasn't very good. I found this on our last trip (May 2019) and it's delicious! It does have a kick to it but we really liked the flavor and texture. It's very tasty in salsa stuffed peppers!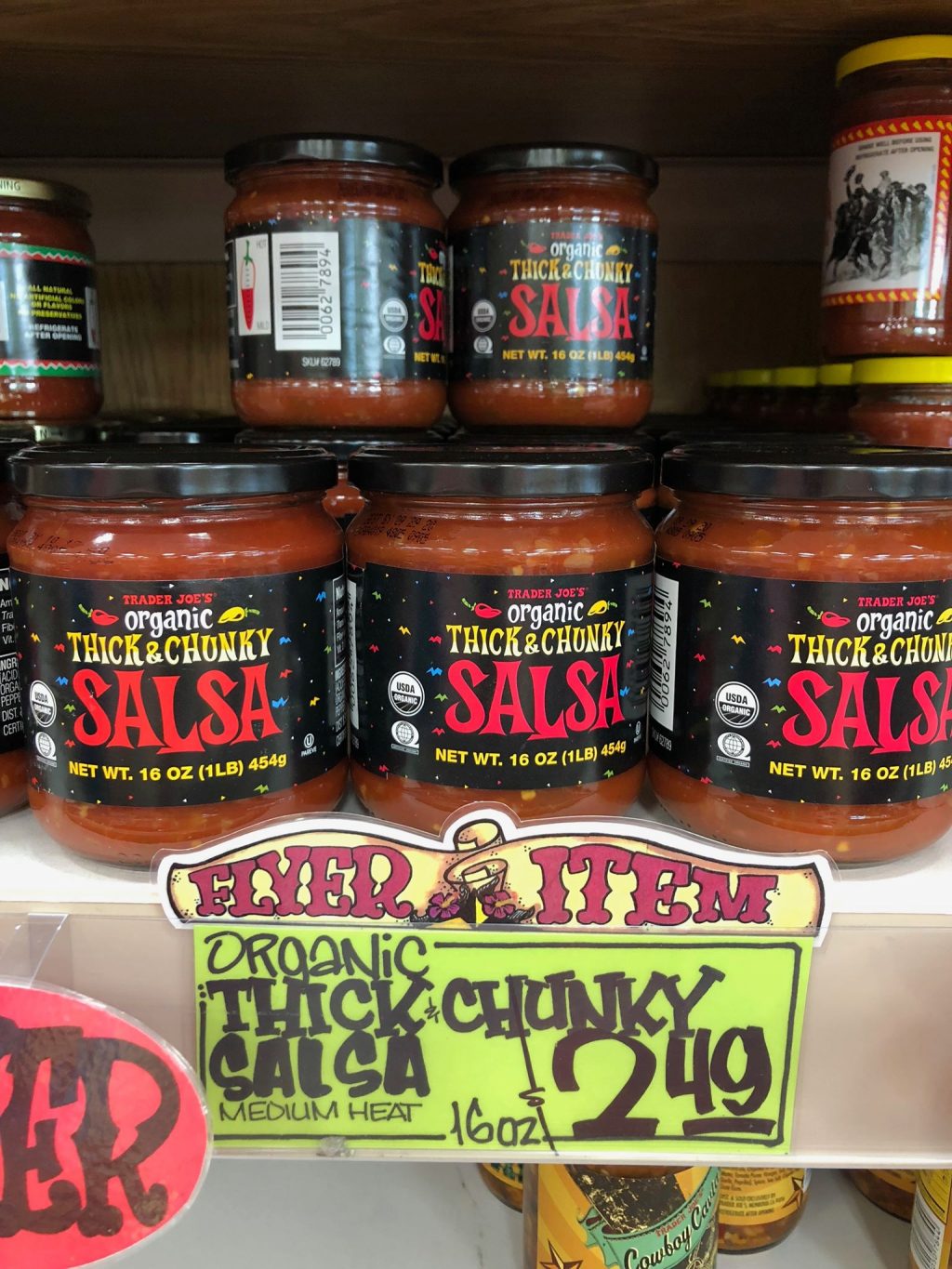 24 - Organic Vegan Wine 
This is my favorite organic vegan wine-- it's also the best inexpensive organic vegan wine that I've found anywhere!
I like to drink it and cook with it, I especially love cooking mushrooms in this wine. It gives the mushrooms in my jackfruit mushroom stroganoff recipe the most decadent flavor!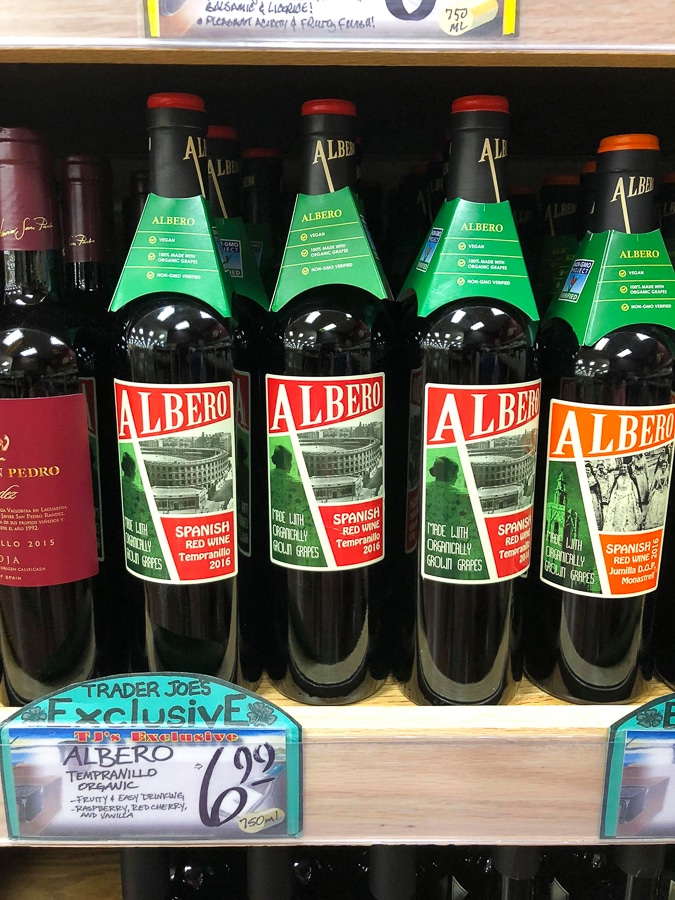 25 - Organic Sprouted Tofu
Tofu is a staple for us and I loveee that the Trader Joe's brand is sprouted, inexpensive, and organic. I like it pan-fried with veggies, crumbled in veggie tacos, and tossed in almond butter ginger sauce.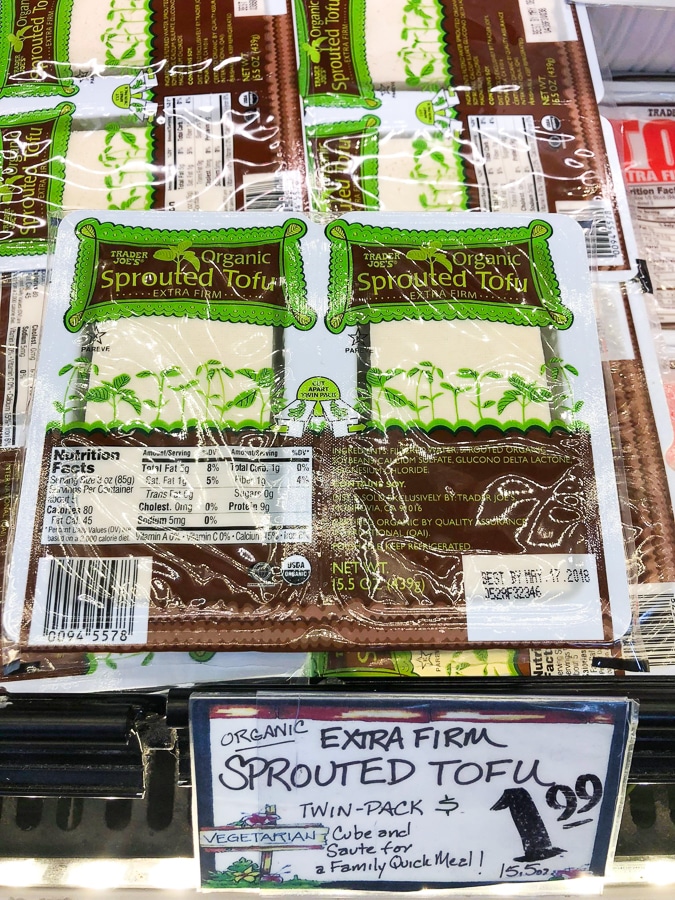 26 - Organic Blueberries
A 6oz package of organic blueberries can run you $4-$5, so this is a fantastic price for an 18oz package!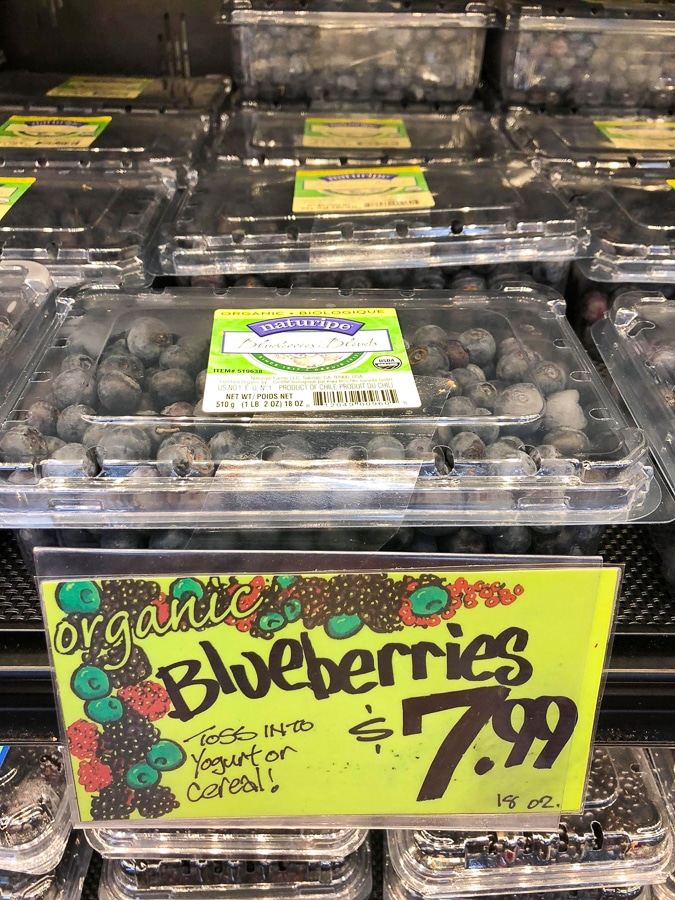 27 - Organic Arugula 
I always have a container of baby arugula in my fridge. I love the flavor and it's so delicious on sandwiches, in tacos, sprinkled on top of pizza, or in pasta. $2.49 for an 8oz bag is a great price!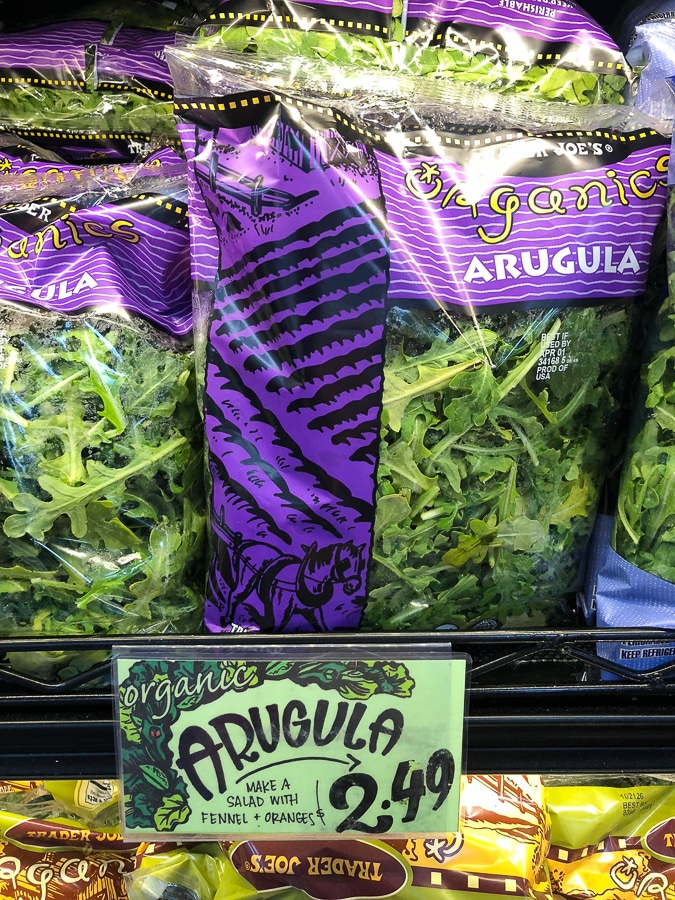 28 - Organic 3-Grain Tempeh (Stock Up Item!)
We eat a lot of tempeh-- it's so good for you! I like to crumble the tempeh up and add it to our favorite vegan chili. We also love BBQ tempeh, simply slice it and coat the tempeh slices with one cup of BBQ sauce and then bake it for 10 minutes at 400 degrees. You can use the BBQ tempeh in tacos, burritos, wraps, or add it to salads. At most stores, organic tempeh is around $3.99, so this is a fantastic stock up price!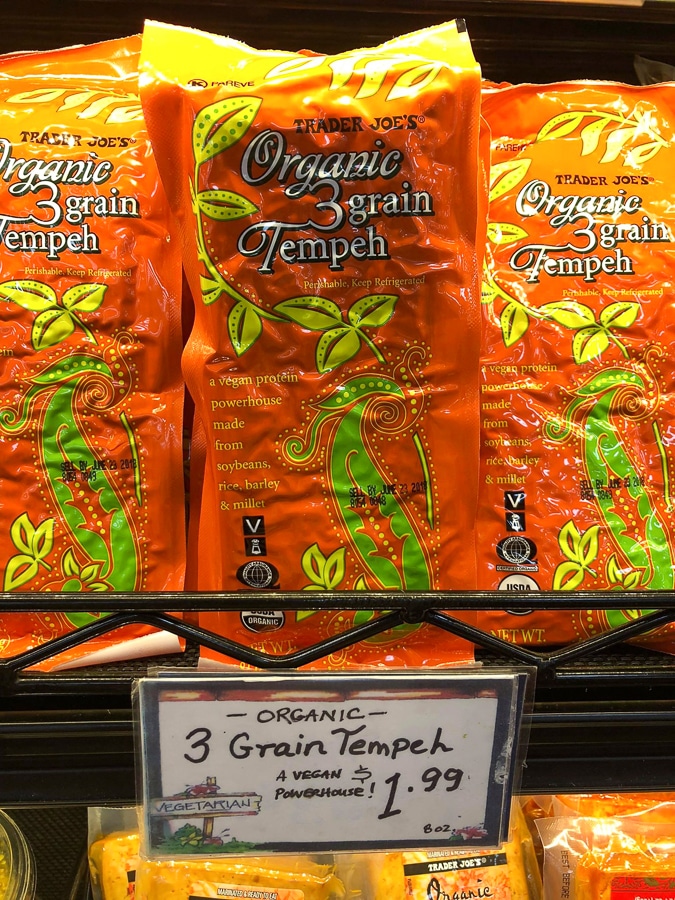 29 - Organic Brocolli Slaw
I just love that this broccoli slaw is already sliced and prepped for you, it's so easy to throw on top of a salad or add to tacos.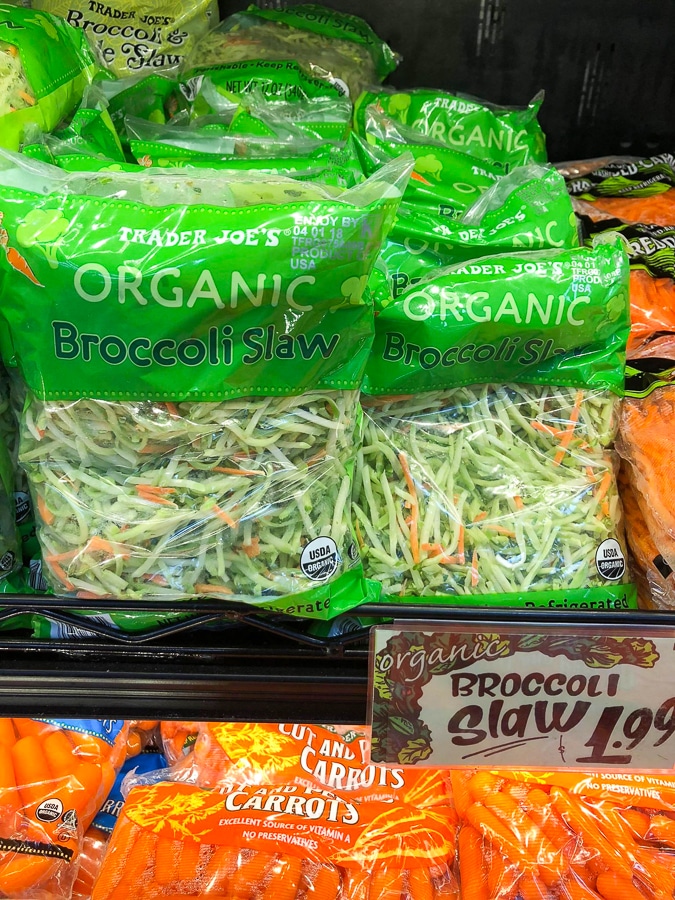 30 - Organic Cauliflower
I pretty much always have a head or two of cauliflower in my fridge and it's always a great price at Trader Joe's. If I need an easy side dish with dinner I make turmeric roasted cauliflower, and we also love cauliflower steaks or bomb ass buffalo cauliflower tacos for an easy healthy dinner.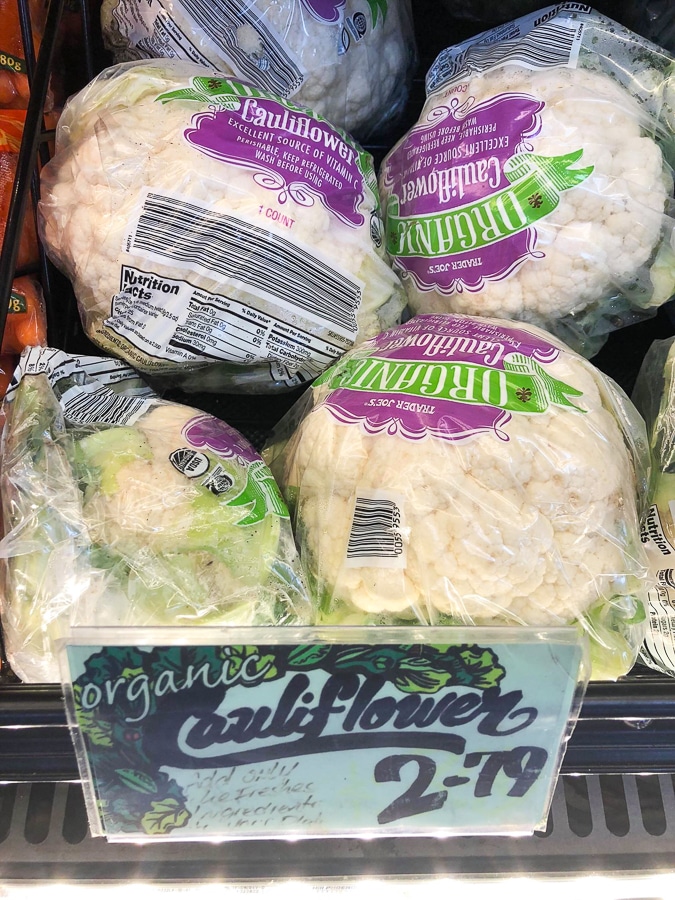 I hope my list of Trader Joe's vegan items will help you to decide which products are best for you and your family. You can print the full grocery list, here. Happy shopping!
What products are on your Trader Joe's vegan shopping list? Let me know in the comments!