This is a complete guide to all of your lentil questions + 49 delicious vegan lentil recipes that cover every type of lentil and ways to cook them!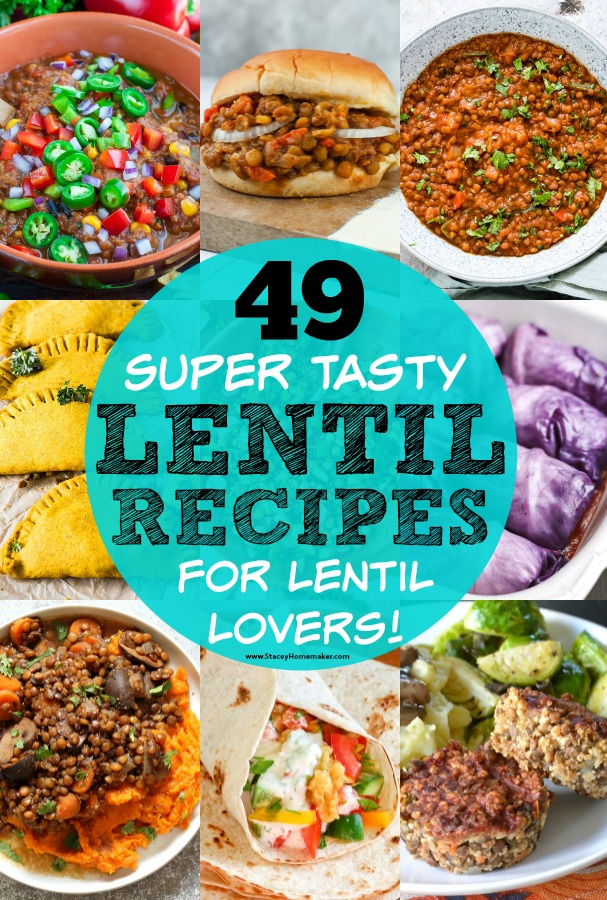 Want more easy vegan recipes? Join our vegan Facebook community below!
I absolutely love lentils! I guess you do too because you're here looking for more vegan lentil recipes to try! Lentils are one of my favorite ingredients to cook with because 1) they taste delicious, 2) they're very inexpensive, and 3) you can use lentils for so many different types of recipes! Lentils can be used for soup, salads, veggie burgers, veggie meatballs, chili, stews, dahl, curry recipes, sloppy joes, lasagna, meatloaf, taco filling, and so much more!!!
What Type of Vegan Lentil Recipes Will You Find in This Roundup?
Red lentil recipes
Black lentil recipes
Canned lentil recipes
Indian lentil recipes
Lentil soup recipe
Lentil side dish recipes
Instant pot lentil recipes
Brown lentil soup
Vegan lentil stew
Lentil recipes that are not soup
Gluten-free lentil recipes
You might be wondering how you can make all of these different recipes using lentils? What can I do with lentils? What type of lentil should you use? Which lentil variety tastes the best? How many lentil varieties are there?! There are so many options!
I've broken the recipes down into categories based on which type of lentil is used. Plus, there is a canned lentil recipes section and an instant pot lentil recipes section at the end of the post if those are the type of recipes you're looking for. Before we get into the recipes, let's go over some of the most asked lentils questions.
What Do Lentils Taste Like?
Lentils are part of the legume family so you might think they will taste like beans. Lentils kind of look like small beans but they don't exactly taste like beans. Depending on the variety of lentil you choose, lentils can taste creamy, firm, meaty, peppery, earthy, or sweet. Lentils also cook a lot quicker than beans so it's a great option if you want to get dinner ready in less than one hour!
Are Lentils Good For Vegans?
Yes, lentils are fantastic for vegans to eat! Lentils are low-fat and contain high amounts of protein, calcium, fiber, iron, and other vitamins. Lentils can be part of the main course in veggie burgers, lentil meatballs, or in lentil soups. Lentils can also be delicious mixed into salads, with vegetables, or with other grains to make a super filling side dish.
Are Lentils Filling?
Are lentils filling? Yes! Lentils are extremely filling! I can promise you that you won't feel hungry after eating a bowl of red lentil curry or lentil soup. You'll be very full but in a good way because lentils are so healthy for you!
Why Are Lentils Healthy?
Lentils are very healthy, and not just for people who follow a plant-based diet. Lentils are healthy for everyone!
Lentils are high in fiber.
Lentils are high in folate and magnesium.
Lentils support a healthy heart.
Lentils help to balance blood sugar while supplying lasting energy.
Lentils are high in iron.
If you want to learn more about why lentils are healthy for you, read this article.
Do You Have to Soak Lentils Before Cooking Them?
You do not have to soak lentils before you cook them. This rule applies to most people. However, if you eat a lentil dish and find yourself developing an upset stomach afterward then you might want to try soaking the lentils before cooking them and see if that helps. Some people are sensitive to the outer shell of the lentil and that can cause indigestion. By soaking the lentils in cold water for 2 hours before you cook with them, it will make the lentils easier for you to digest.
I will say that I never soak lentils before I cook with them and no one in my family has ever had an issue.
Do You Have to Rinse Lentils?
Yes, it's very important to rinse your lentils very well before cooking them. You should also look through the lentils and keep your eyes peeled for any small rocks or debris. I like to pour the lentils into a mesh strainer (like this one), hold it under cool running water, and use my hand to scoop up handfuls of the lentils to look through while rinsing them off. I found multiple rocks over the years so, please, don't skip this step! You could break a tooth if you bite into one of those hard rocks.
I've also found that brown, green, and french lentils are much easier to clean. I have to put red lentils into a pot, fill it with water, swish it around a few times, drain, and then repeat 2-3 more times to get clear water. The red lentils let off so much dirt!
What Is The Difference Between Red And Green Lentils?
Green lentils and red lentils are extremely different. Here are the four main differences:
Texture: Green lentils are firm and will hold their shape after being cooked. Red lentils will have a soft and creamy consistency after being cooked.
Taste: Green lentils have more of an earthy taste, while red lentils taste sweeter.
Cooking Time: Green lentils take 35-40 minutes to cook while red lentils take only 10-15 minutes to cook.
Color: Just in case this wasn't obvious, red lentils are red and green lentils are green.
What Food Goes With Lentils?
I can't really think of any vegan food that doesn't go with lentils. You can mix lentils with quinoa, rice, cauliflower rice, pasta, fruit (citrus), or vegetables. There are so many ways to enjoy lentils and I'm sharing a ton of them in this post!
What To Put On Plain Lentils
I actually really enjoy eating hot plain lentils as a side dish, they're delicious! However, if you don't want to eat plain lentils, try mixing them with roasted seasoned vegetables, adding them to your salad and drizzling your favorite dressing on top, or mix them into your bowl of spaghetti and tomato sauce.
The Ultimate List of Lentil Recipes
The following list of seriously good lentil recipes has been broken down into categories by which lentil you should use to make the recipe. Plus, each category has the flavor profile, cook time, pros, cons, and what you should make with that type of lentil. This list of lentil recipes has any meal you could possibly want and each recipe is guaranteed to be delicious! Scroll to the end of this post if you're looking for tasty instant pot lentil recipes or canned lentil recipes.
Green Lentil Recipes
Flavor Profile: Green lentils have an earthy, peppery flavor.
Cook Time: 35-40 minutes
Pros: Green lentils are inexpensive, easy to find, and they taste delicious!
Cons: None
What to Make with Green Lentils: Green lentils hold their shape and color after being cooked so they're perfect for vegan lentil meatballs, casseroles, and sloppy joe's.
Try These Easy Green Lentil Recipes!
You can't go wrong with any of these easy green lentil recipes! Green lentil soup, green lentil meatballs, and green lentil chili are fan favorites!
French (or Puy) Lentil Recipes
Flavor Profile: French lentils taste nutty, peppery, and earthy.
Cook Time: 20-25 minutes
Pros: They hold their shape extremely well and taste delicious.
Cons: None
What to Make with Puy Lentils: Since french lentils hold their shape well and have a beautiful color, I love to make curry, shepherd's pie, and salads with this variety of lentil.
Try These Flavorful French or Puy Lentil Recipes!
These are the best french lentils recipes and they're sure to please everyone!
Brown Lentil Recipes
Flavor Profile: Brown lentils have a mild and earthy flavor.
Cook Time: 35-40 minutes
Pros: Brown lentils are the most common variety so they're very easy to find and are inexpensive. They also hold their shape well after being cooked.
Cons: The color of the cooked brown lentil isn't as appealing as the other varieties.
What to Make with Brown Lentils: Because of their lack of color, brown lentils are perfect for blending into pasta sauce, vegan meatballs, or lentil soup.
Try These Tasty Brown Lentil Recipes!
Transform regular ol' brown lentils into something special with one of these delicious brown lentil recipes!
Yellow & Red Lentil Recipes
Flavor Profile: Yellow and red lentils have a sweet, creamy, nutty flavor. They're also known as split lentils because they have been split into smaller pieces.
Cook Time: 15 minutes
Pros: Yellow and red lentils cook quickly because they're smaller, so you can get dinner ready super fast!
Cons: They can easily turn to mush if you overcook them.
What to Make with Red Lentils: Indian dahl, creamy curry dishes, lasagna, or wherever you want a thick and creamy consistency.
Try These Easy Red Lentil Recipes!
Red lentils are so tasty, creamy, and versatile! Try one of these easy red lentil recipes: red lentil dahl, red lentil soup recipes, or red lentil curry.
Black (or Beluga) Lentil Recipes
Flavor Profile: Black lentils have a rich earthy flavor and they taste similar to a black bean.
Cook Time: 25 minutes
Pros: Black lentils are the superfood of lentils, ½ cup of uncooked lentils contains a whopping 26 grams of protein! Plus, they contain anthocyanin which is the antioxidant that's found in naturally purple vegetables like red cabbage!
Cons: They are a little bit more expensive than other lentil varieties.
What to Make with Black Lentils: Black lentils are black, small, and look like caviar. They hold their shape well so they're perfect for salads or mixing with vegetables.
Try These Beautiful Black Lentil Recipes!
Black lentils taste delicious and make a beautiful presentation. If you're looking for a vegan black lentil recipe​ that is extra special, try one of these recipes: black lentil salad, black lentil soup, or black lentil stew.
Instant Pot Lentil Recipes
Flavor Profile: You can use any type of lentil for an instant pot lentil recipe, so I would say the flavor profile is...delicious!
Cook Time: Depends on the type of lentil you use.
Pros: You can make an instant pot lentil recipe super quick and without a lot of hands-on cooking.
Cons: You can easily overcook the lentils in the instant pot, so make sure you follow the cooking times closely.
What to Make with Instant Pot Lentils: It's easy and convenient to make lentil soup, stew, and curries in the instant pot.
Try These Easy Instant Pot Lentil Recipes!
If you're looking for a quick and easy lentil recipe, try one of these instant pot recipes: instant pot lentil​ chili, instant pot red lentil soup, or lentil mushroom soup.
Canned Lentil Recipes
Flavor Profile: Canned lentils usually contain brown lentils (unless they're labeled something else). Brown lentils taste earthy and mild, they're very delicious.
Cook Time: Canned lentils are already cooked. Just rinse the lentils and drain them well.
Pros: Canned lentils are very convenient because they're cooked and ready to eat.
Cons: Canned lentils are a little more expensive because they're already cooked.
What to Make with Canned Lentils: Canned lentils are great for when you want a super quick meal or if you're making a recipe with a lot of steps and you want to cut down on your prep time.
Try These Convenient Canned Lentil Recipes!
If you're looking for a super quick and healthy meal, try using one of these canned lentil recipes: lentil salad orlentil meatloaf muffins.

I hope that you find all of these vegan lentil recipes helpful! Which one are you going to try first? I'm especially excited about trying the creamy lemon red lentil soup recipe and the puy lentils salad!
If you try any of these vegan lentil recipes, please post a picture on Instagram, tag @Stacey_Homemaker and use the hashtag #StaceyHomemaker so I can see your delicious creation!