A guide to choosing, preparing, and cooking lentils + 27 delicious vegan lentil recipes that you have to try for dinner!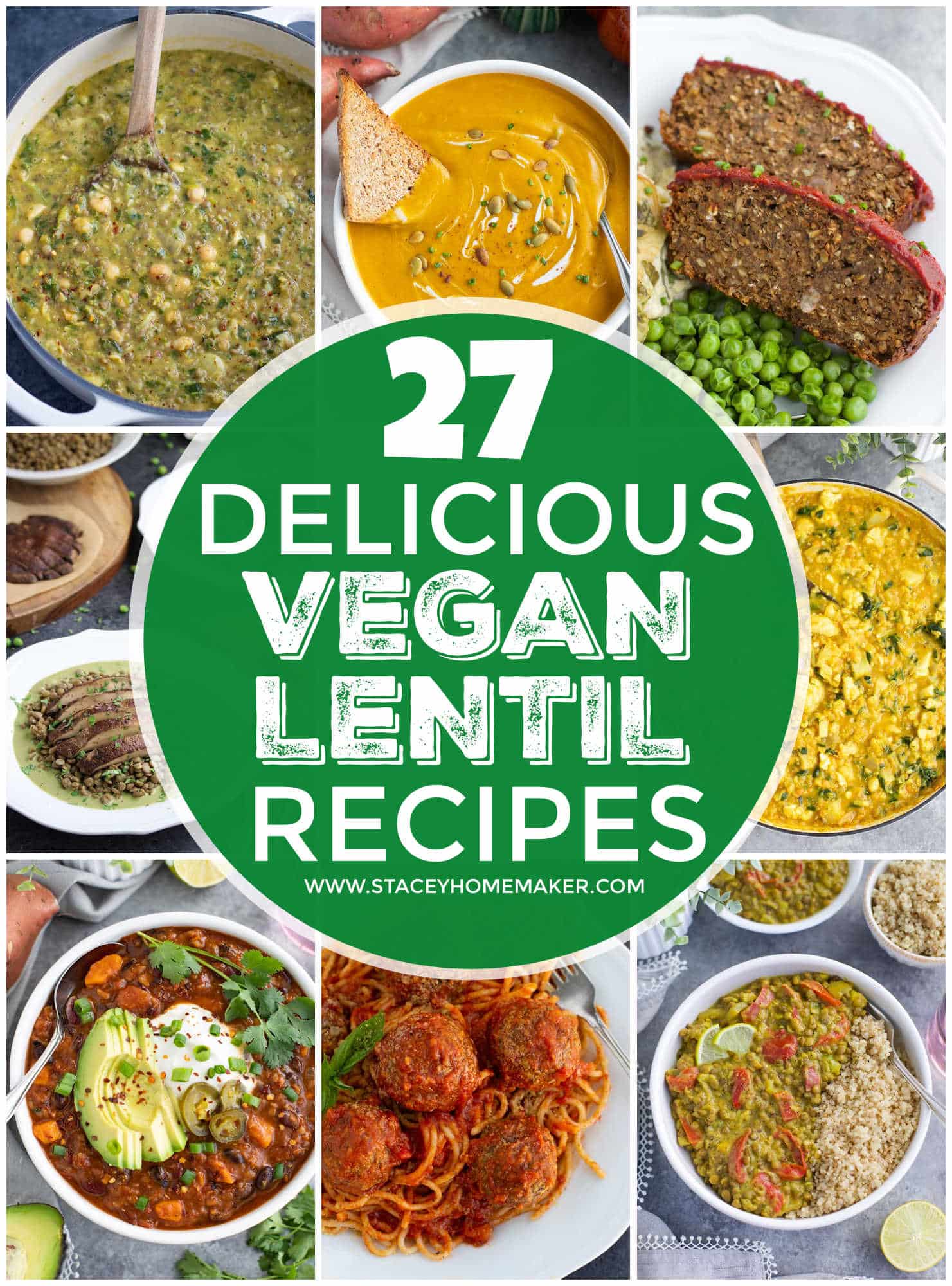 Lentils are the best! They taste delicious and they are a good source of plant-based protein. They're also rich in fiber, folate, iron, and magnesium (Learn more about lentils, here). They're inexpensive, they cook quickly, and there's a bunch of varieties to choose from depending on what you want to make.
You can use lentils to make soup, salads, veggie burgers, veggie meatballs, chili, stews, dahl, curry, sloppy joes, lasagna filling, meatloaf, bolognese, taco "meat" and so much more!
The lentils that I use the most are green, french, brown, black, and red. I do keep a few cans of lentils in my pantry just in case, but I usually cook them fresh because they cook so quickly. You can make them on the stovetop or add them to a dish that you're making in the instant pot or slow cooker.
Whether you're looking for new vegan lentil recipes to try or you've never tried them before and this is your first time cooking them, I've included all of my favorite lentil recipes on this list for you to try! All of the recipes are incredibly tasty and make a delicious dinner!
Before we get to the recipes, let's talk some more about lentils!
What Do Lentils Taste Like?
Lentils are part of the legume family and they kind of look like small beans, but they don't really taste like a bean. I think they have a more earthy flavor and firmer texture. Lentils cook a lot quicker than beans do, so it's a great option to pick if you want to get dinner ready in less than one hour!
Types of Lentils
There are five main varieties of lentils along with some subtypes and specialties.
Brown Lentils - This is the most common lentil and is also the type you will usually find canned. They have an earthy flavor and take about 20-30 minutes to cook.
Green Lentils - Has an earthy flavor and take about 45 minutes to cook.
Red Lentils - They range in color from yellow to red and have a nutty, sweet flavor. They take about 30 minutes to cook and don't hold their shape well.
Black (Beluga) Lentils - Have an earthy flavor and are very small and black. They can be hard to find. They take about 25 minutes to cook.
French (Puy) Lentils - Have a peppery flavor and hold their shape well.
Frequently Asked Questions
Are lentils considered vegan?
Yes, lentils are vegan. They grow on plants and are a great choice for vegans to enjoy.
Why do vegans eat lentils?
Lentils are a good source of plant-based protein and fiber, and they can be used to make lots of recipes that are filling and delicious. 
Do lentils need to be soaked first?
Lentils don't need to be soaked first because they cook quickly. However, you can soak them overnight or for a few hours before cooking them to aid in digestion.
How do you prepare lentils to eat?
Rinse the lentils thoroughly first. Add water to a pot, bring it to a boil, add the rinsed lentils, reduce the heat to a simmer, and let it cook (about 20-45 minutes depending on type) until the lentils are tender.
Expert Tips
Sort through the lentils before you cook them and look for any small rocks or debris.
Rinse the lentils multiple times before cooking to remove any dirt. Pour the lentils into a mesh strainer and hold it under cool running water until the water runs clear. Red lentils especially need to be rinsed multiple times.
Soak the lentils in water overnight before cooking to help with digestion.
Lentils like to be cooked like pasta, not rice. They don't need to absorb all the water in the pot.
Once the water is boiling, reduce it to a low simmer to maintain the shape of the lentils. If the lentils are cooked on to high of heat, they can be overcooked quickly and get mushy.
27 Tasty Vegan Lentil Recipes
This list of vegan lentil recipes has everything from soup and meatloaf to cabbage rolls and curry! Lentils are so versatile and can be used in so many ways! Enjoy the recipes!
I hope that you find all of these vegan recipes helpful! Which one are you going to try first? Please leave a comment below and let me know which recipes are your favorite!
Want More Delicious Vegan Recipes?