This guide will help you through your first full month as a vegan! It contains a healthy vegan grocery list for beginners, a 1-month meal plan + printable grocery lists, and tons of delicious recipes!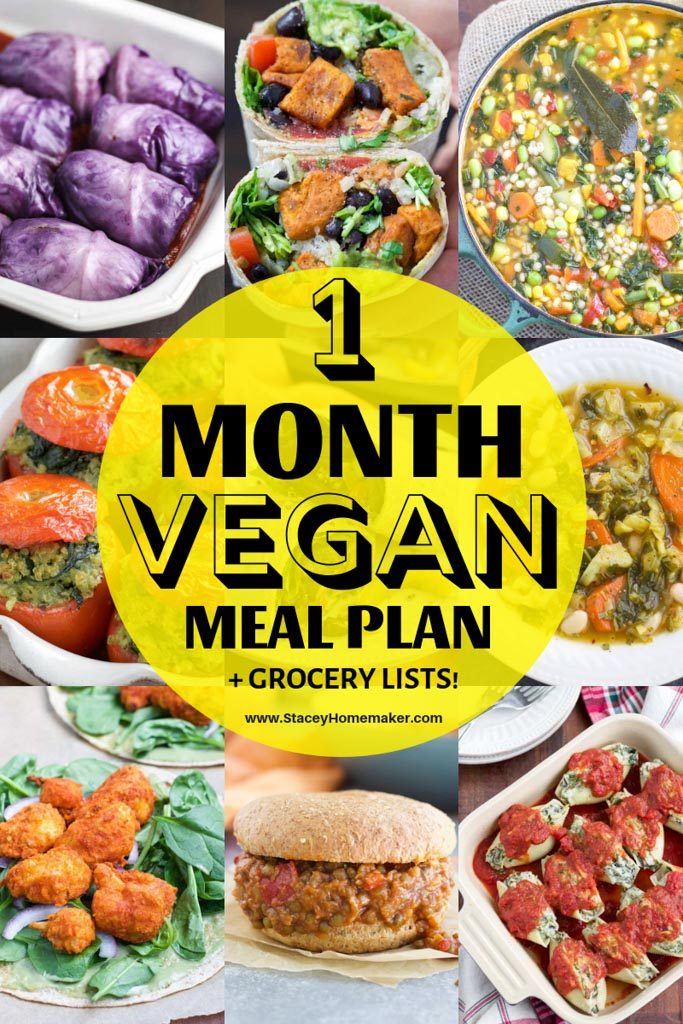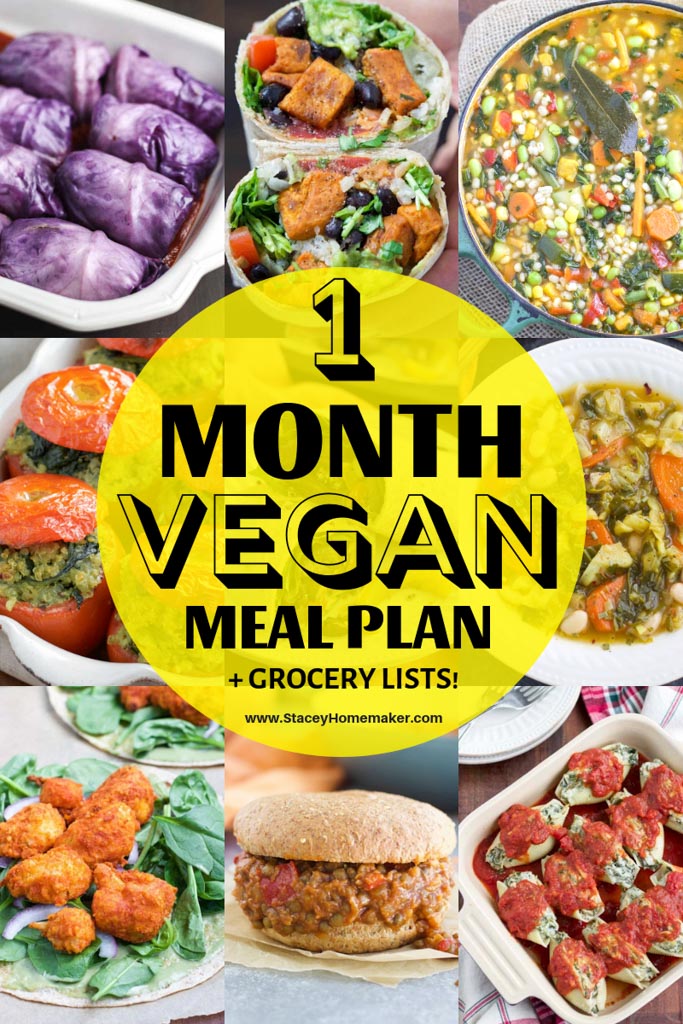 First, you should check out this Ultimate Guide to Veganism! I think you'll find it to be extremely helpful if you're thinking about going vegan, if you're currently in the process of transitioning to veganism, or if you have friends or family members who are vegan. Next, join this Easy Vegan Recipes Facebook group for even more delicious vegan recipes!
I created this vegan grocery list for beginners + 1-month meal plan because I've seen so many people with good intentions want to make the transition to a plant-based lifestyle but they just don't know how or where to start. This guide is where you should start and it will show you exactly what to do.
This meal plan will guide you through the first full month of your vegan journey! You can do it, I promise. Once you get the first month under your belt you'll see how easy and affordable it is.
Over the last few years, I've learned a lot of tips and tricks to saving money and making my vegan grocery list on a budget. I absolutely love picking out produce, comparing prices, and finding the best deals. That trait must run in the family because my mom and grandpa are the same way! I share my best tips for saving money on your grocery bill a little farther down in the post.
Who Should Try This Meal Plan?
This meal plan is not just for new vegans! I think that you will find it especially helpful if you're a new vegan and you need a little guidance and help to get through your first month of living a vegan lifestyle.
However, this guide is also for vegetarians, experienced vegans, college students, people who follow a plant based diet, and for people who simply want to work more vegetables into their diet.
What Should Be on a Vegan Grocery List? 
This basic vegan grocery list for beginners is a list of everything (this is not a gluten-free, low-carb for weight loss, or raw vegan grocery list) that I buy on a monthly basis.
It includes fruit, vegetables, greens, grains, nuts, seeds, dairy substitutions, meat substitutions, my favorite vegan must have foods and prepared products, and anything else that I've found to be delicious (I've tried a lot of vegan products!) or a helpful vegan substitute. I hope that it helps you the next time you go grocery shopping!
You can get your free printable vegan shopping list, here! 
Why You Should Try This Meal Plan
You should try this meal plan because it will help you save time in the kitchen by showing you how to plan out your meals ahead of time, how to shop efficiently, and how to cook delicious and healthy vegan meals.
The plan includes many of my favorite and most popular easy vegan recipes. My guide details exactly what you should make every day for breakfast, lunch, snacks, and dinner during the first month of your vegan journey. It also includes printable grocery lists of all the ingredients that you need to buy to make each of the recipes in the meal plan.
The meal plans contain simple vegan dinner recipes for beginners that taste delicious, and they don't require any hard to find ingredients that you can't buy at a local grocery store or on Amazon.
All of the recipes have been tried, tested, and family-approved.
Almost all of the recipes make enough for leftovers! Less cooking, YAY!
If you'd like more easy vegan meals on a budget, check out this list.
Vegan Grocery List For Beginners - Where to Shop?
I do most of my grocery shopping at Costco (bulk items), a local market (organic produce), Whole Foods (organic produce + specific products), and Trader Joe's (specialty items) depending on sales and the season.
If you're interested, you can check out my vegan food lists for beginners at Costco, Whole Foods, and Trader Joe's if you need inspiration for your next shopping trip. Or you can watch my real life vegan grocery haul videos here and here.
How to Make a Vegan Grocery List on a Budget
The easiest way to make a cheap vegan grocery list on a budget is to focus on buying only whole foods, think legumes, grains, fruit, greens, and vegetables.
Stay away from vegan meat substitutes, vegan cheese substitutes, and prepared or processed foods because they can be very expensive. While these items can be helpful for new vegans to eat while transitioning away from animal-based products that they are used to consuming, it's definitely not necessary to buy if you're on a budget.
My best money saving tips:
You have to shop around to save money. At least in my experience, I haven't found one store that meets all of my needs and standards.
Shop at a bulk store (like Costco, Sam's Club, or BJ's) to buy all of your organic basic items like brown rice, quinoa, frozen fruit, crackers, pasta, and hummus. It's much cheaper to buy shelf-stable items in bulk!
I would also recommend freezing any bulk grains, rice, pasta, or flours that you purchase. Weevils can grow in these products and infest your pantry. Freezing the products stop the growth and kill any eggs that might be in the grains. Don't waste money by having to throw out items you bought in bulk but didn't store properly for the long term.
Figure out which store by you has the best price on fresh organic produce. For me, that's usually a toss-up between my local market and Whole Foods.
Stay away from prepared and packaged foods if you're trying to watch your budget.
Find a store that has an organic bulk section where you can stock up on oats, lentils, beans, nuts, and seeds.
Always look for produce that's on sale, especially if it's reduced in price or on "clearance". If you can eat it within a few days or freeze it, buy it! I always buy reduced price organic bell peppers that are 1-2 days past their prime and then freeze them for a future meal or add them to a meal that I make that week.
Buy produce that's in season. For example, if you love asparagus, wait until the Spring to buy it. When you do find it at a good price, I would stock up and freeze it if possible.
Shop the weekly sales! Check out the sales flyer for your favorite store before you go shopping.
Make a grocery list before you go shopping. If you head to the store without knowing exactly what you need to buy then it's very easy to get distracted and buy a bunch of items that you don't need to make specific meals for the week. This is also part of the meal planning process!
You don't have to buy fresh fruit or vegetables, frozen is just as good and it's usually cheaper--especially if you buy it from a bulk store.
How to Meal Plan
There are a few important steps to follow while preparing your weekly vegan grocery list and meal plan, this is exactly what I do. If you choose to follow my vegan meal plans then you can skip the first step because I already did that step for you and you can print the meal plans below,
Sit down on Friday night and pick the healthy vegan food recipes you'd like to make for the following week.
Use my grocery lists or make a list of all of the ingredients that you will need to make the recipes you want to make. Go through your pantry and cross off any ingredients that you already have and don't need to buy.
Go shopping on Saturday and get all of the ingredients that you will need for the week.
Take a few hours on Sunday (I usually get up early on Sunday morning to do this) and prep as much as you can. Cook a batch of quinoa or rice, black beans or chickpeas, wash the lettuce for salads and chop any veggies that will last in the fridge for a few days. This will make cooking during the week so much easier!
Printable Vegan Meal Plan and Grocery List 
I've created four individual weekly vegan meal plans for you that are made up of some of my all-time favorite tried and true vegan recipes. I've made these recipes so many times that they've become family favorites and staples in our monthly meal plan. I'm confident that you'll love these recipes as much as my family does.
In addition to the meal plan, I created a printable vegan food list pdf of all the ingredients that you'll need to make all of the recipes for each weekly meal plan. Make sure you print each list out and bring it to the store with you when you go grocery shopping!
Feel free to switch up the weeks, skip recipes, swap recipes, or tailor it to your needs. I realize that not everyone eats a full breakfast, lunch, dinner, and snacks every day (I don't always either) but I wanted to provide options for you to choose from if you need it. I also included a blank meal plan chart if you'd like to use it to create your own weekly meal plan.
These meal plans are based on two people (because that's how many people that I cook for) and each of the recipes contains 4-6 servings. My husband has a huge appetite and the recipes always make enough to have leftovers the next night. Cook once, eat twice!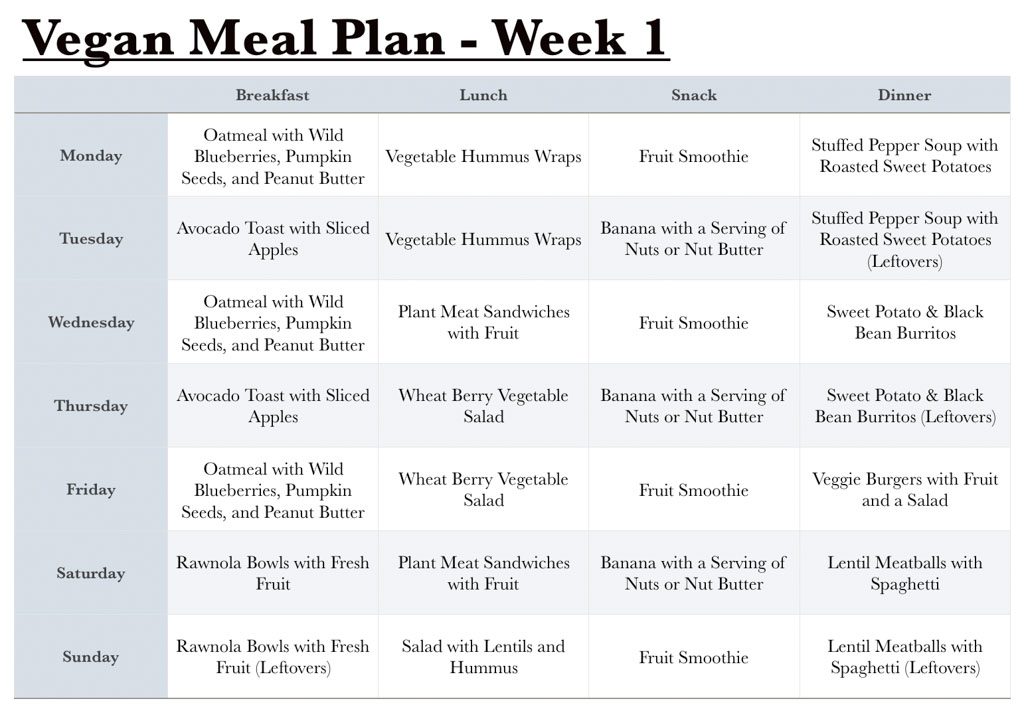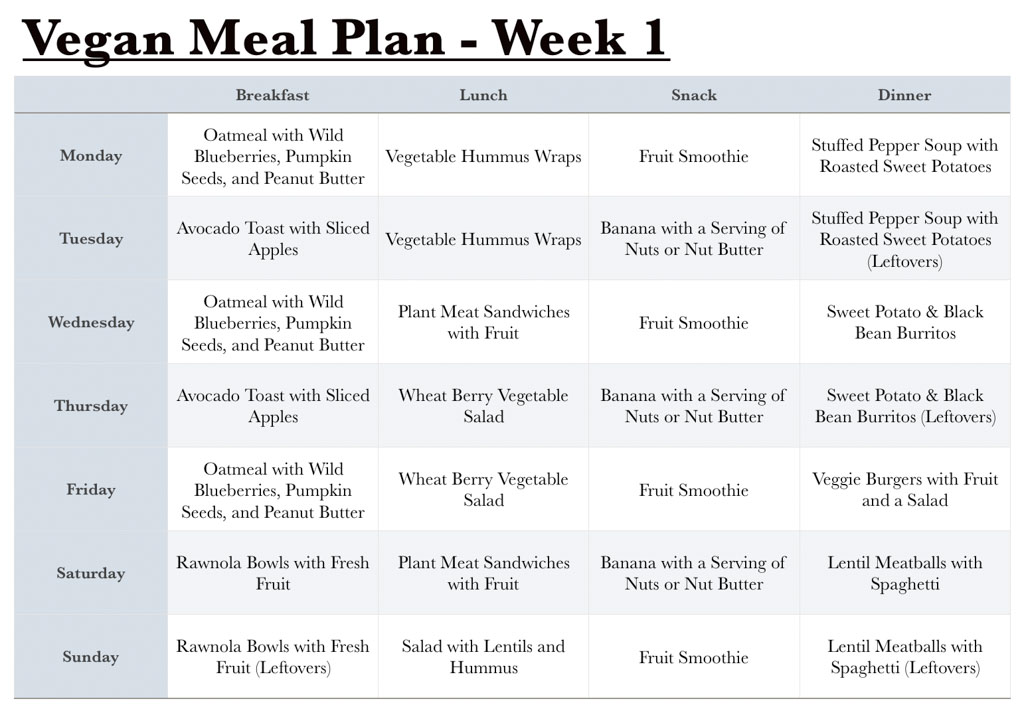 You can print the week 1 vegan meal plan and grocery list, here.
Meal Plan Recipes:
Week 1 Vegan Meal Plan Notes - 
Find the recipe for the best oatmeal at the end of this post.
To make a raw version of the vegetable hummus wraps, simply spread your favorite store-bought or homemade hummus on a wrap, add lettuce + a variety of sliced vegetables like carrots, zucchini, bell peppers, green onions, and avocado.
Where it says, "plant meat sandwiches," I recommend using Field Roast mushroom deli slices or Tofurkey deli slices to make sandwiches with for a quick and easy lunch. If you don't want to use a meat replacement, you could substitute sliced vegetables or make a PB&J sandwich instead.
These are the organic vegetable burgers that I make, they're delicious! I usually make an easy dinner like veggie burgers on Friday night because that's when I work on my weekly meal plan.
You can make this vegan meal plan gluten-free by using gluten-free bread, wraps, burger buns, and pasta.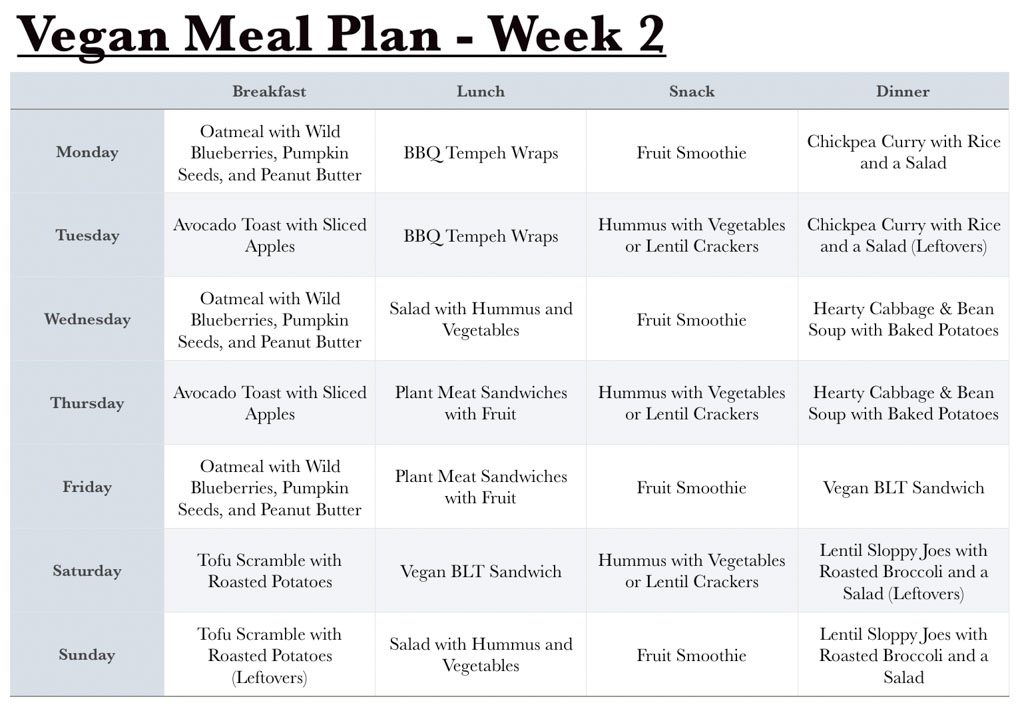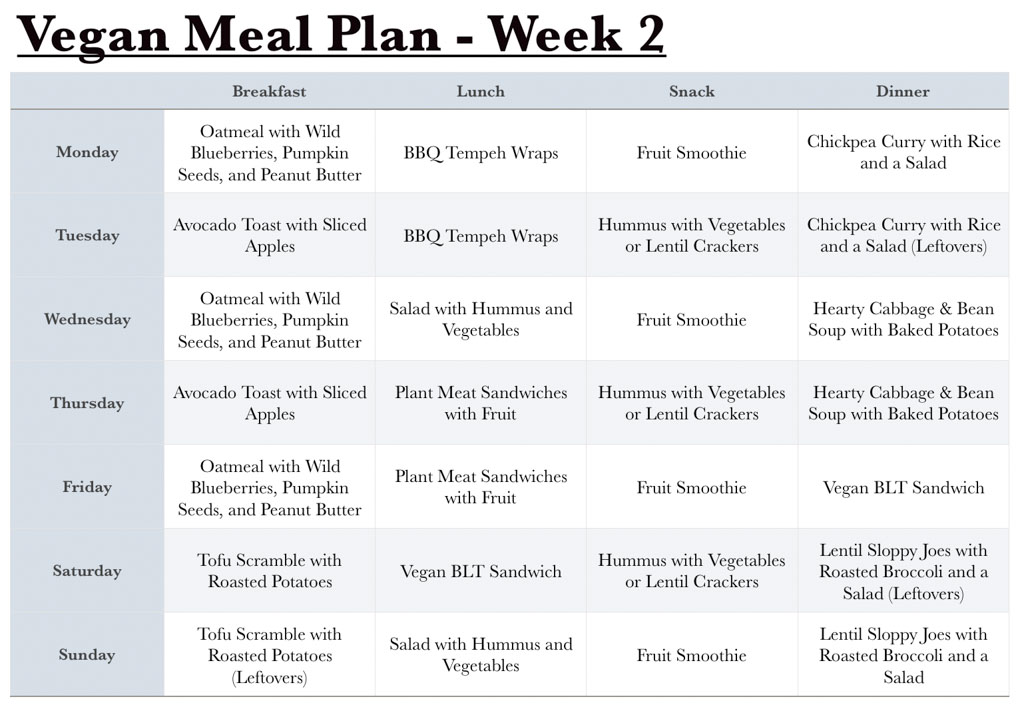 You can print the week 2 vegan meal plan and grocery list here.
Meal Plan Recipes:
Week 2 Vegan Meal Plan Notes - 
Find the oatmeal recipe at the end of this post.
To make the BBQ tempeh, simply slice the block of tempeh into (16) ¼ inch slices, coat each side with BBQ sauce. Put all the slices on a parchment lined tray and bake it for 10 minutes at 400 degrees. Fill a tortilla with lettuce, tomato, BBQ tempeh, and avocado slices.
Find my recommendation for vegan plant meats to try in the Week 1 notes.
For the avocado toast and lentil sloppy joes, I recommend using Ezekial bread slices and burger buns. You can keep them in the freezer to extend their shelf life.
You can make the vegan BLT sandwiches on ciabatta rolls like the recipe calls for or you can use Ezekial bread if you already have it for the avocado toast.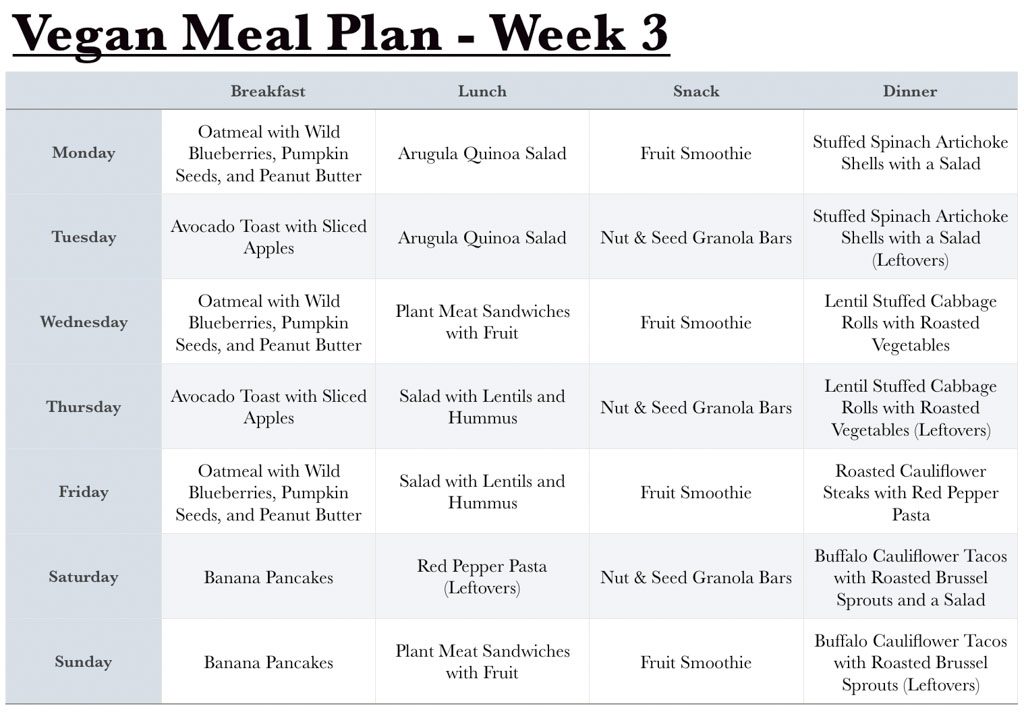 You can print the week 3 vegan meal plan and grocery list, here.
Meal Plan Recipes:
Week 3 Vegan Meal Plan Notes - 
Find the recipe for our favorite oatmeal at the end of this post.
We like adding slices of banana or blueberries to our pancakes but you can top it with any fruit that you prefer.
When you make the lentils for the lentil cabbage rolls, make an extra cup of lentils to add to your salads for lunch during the week.
When you make the roasted cauliflower steaks, you can either eat the small leftover pieces or save them for the next night when you make the buffalo cauliflower tacos.
Store the nut and seed granola bars in an airtight container on the counter.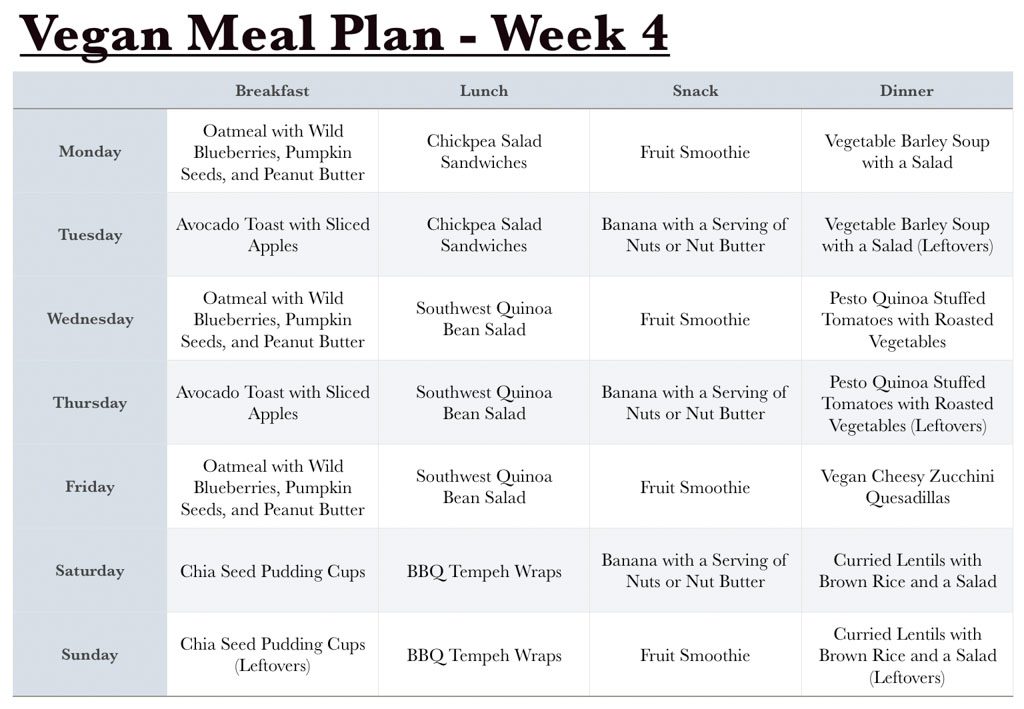 You can print the week 4 vegan meal plan and grocery list, here.
Meal Plan Recipes:
Week 4 Vegan Meal Plan Notes - 
Instead of cooking the quinoa for the stuffed tomatoes and quinoa salad separately, make it all in one batch and divide it for both recipes.
Find the oatmeal recipe at the end of this post.
Find the instructions to make the BBQ tempeh wraps in the week 1 notes.
If you don't want to make your own pesto sauce for the stuffed tomatoes, you can use store-bought vegan pesto instead.
What if You Don't Like the Recipes on the Meal Plan
Listen, I get it. Everyone doesn't have the same tastes. I love mushrooms and artichokes but you might not. If you don't care for one or more of the recipes on any of the weekly meal plans then I suggest you search Pinterest for another recipe to substitute or you can look over the following list of popular vegan recipes and pick a different recipe to try.
10 Tips to Help You Be Successful at Meal Planning
Pick one night a week to actually sit down, plan out your weekly meals, and make your vegan grocery list for a week and stick to it!
Plan an easy dinner (hello veggie burgers!) or leftovers for the night that you'll be meal planning so you don't feel stressed to cook and plan all in one night.
If you find a recipe that you love, PIN it to Pinterest or print it out and save it so you can make it again in the future! I use a recipe binder to save my absolute favorite recipes.
Take shortcuts, not everything has to be made from scratch. Take my stuffed tomatoes recipes for example. The recipe calls for homemade pesto but I often use store-bought instead to save time!
Don't skip the meal prep on Sunday morning, it really helps to have a few steps already done on busy nights during the week.
If you end up with a lot of leftovers, freeze it for another night and then schedule it on your meal plan!
Use these glass snapware containers (say no to plastic!) to store your leftovers in the fridge or freezer. I've been using this same set for 6 years and it's still in great shape!
Make sure to make your grocery list before you go shopping so you don't buy unnecessary things at the store.
Try to do all of your shopping in one day so you don't have to make a second or third trip later on in the week.
Be easy on yourself! If you plan your perfect menu out for the week and then you end up needing a night off it's totally ok to head to Chipotle for a fuss-free dinner. It happens to the best of us!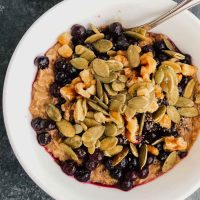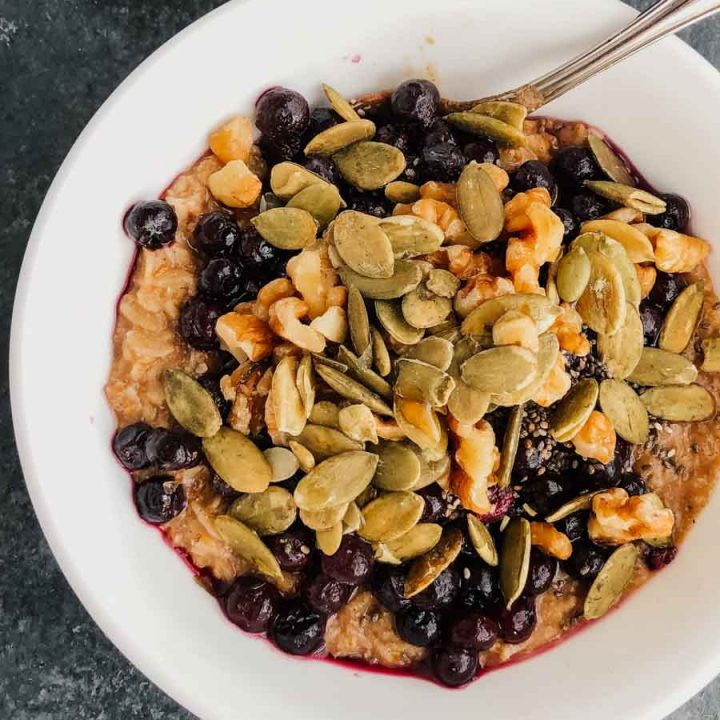 The BEST Oatmeal Recipe (From Vegan Meal Plan)
This is the best and easiest oatmeal recipe that you'll love eating for breakfast every morning!
Print
Pin
Rate
Instructions
Bring the plant milk to a low simmer and then add the oats, flax, cinnamon, and salt. Reduce the heat to medium-low and stir it well to combine. Let it cook for 3-5 minutes or until it has thickened to your desired consistency and is hot all the way through. 

Top with peanut butter, frozen wild blueberries, pumpkin seeds, chia seeds, hemp seeds, and walnuts. 
Notes
I prefer frozen wild blueberries, pumpkin seeds, hemp seeds, and 1 tbsp of peanut butter on top of the oatmeal but feel free to use other fruit, nuts, or seeds. 
You could use water instead of plant milk to make the oatmeal. 
You could use almond butter instead of peanut butter. 
Nutrition
Calories:
305
kcal
|
Carbohydrates:
37
g
|
Protein:
10
g
|
Fat:
13
g
|
Saturated Fat:
1
g
|
Potassium:
279
mg
|
Fiber:
12
g
|
Calcium:
436
mg
|
Iron:
3.2
mg
Tried this recipe?
Please rate it and leave a comment below if you have any feedback! If you post a picture on Instagram, please tag @Stacey_Homemaker and use the hashtag #StaceyHomemaker so I can see your delicious creation!
More Vegan Recipes That You'll Love
21 Low-Cab Vegan Recipes that Will Fill You Up!
27 Delicious Vegan Keto Recipes
Vegan Christmas Dinner Menu that Will Please All of Your Guests!