Rawnola is a delicious, quick and easy vegan breakfast that's loaded with healthy fats, probiotics, antioxidants, fiber, protein, and it's naturally sweet! Vegan, gluten-free.
Thank you to Mariani for sponsoring today's healthy recipe post! My opinions are always 100% honest, thank you for supporting the brands that I love and use daily.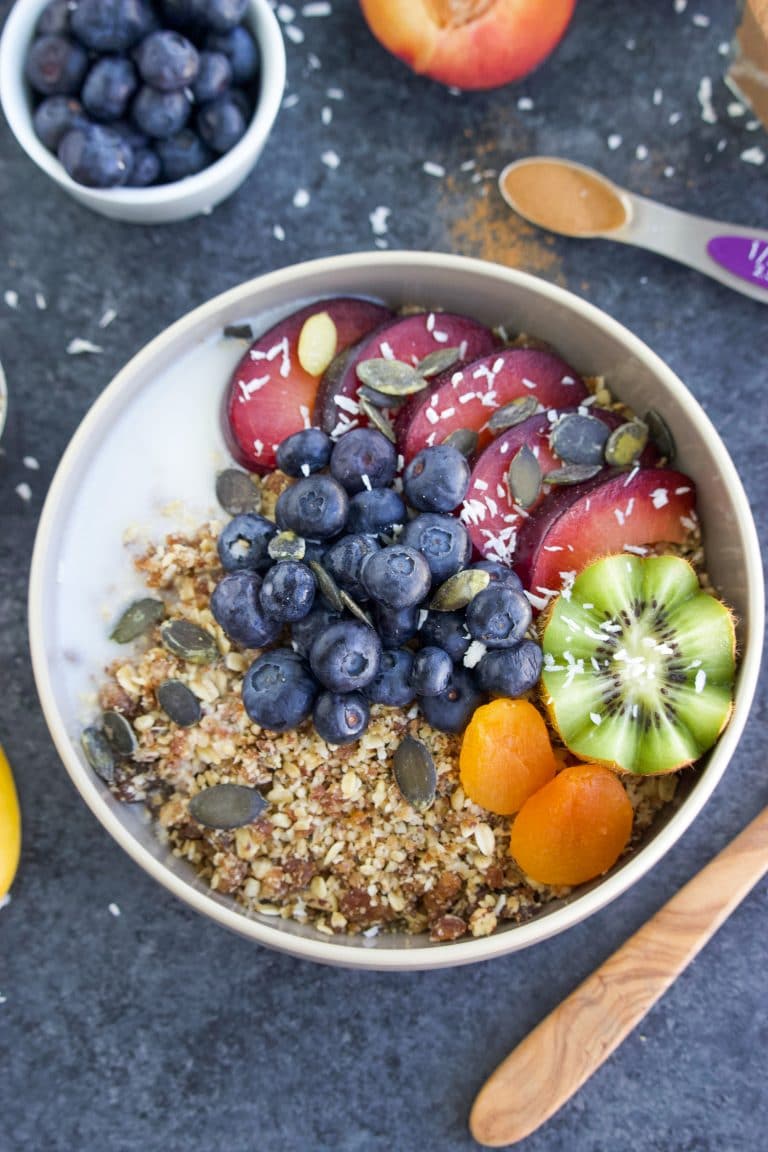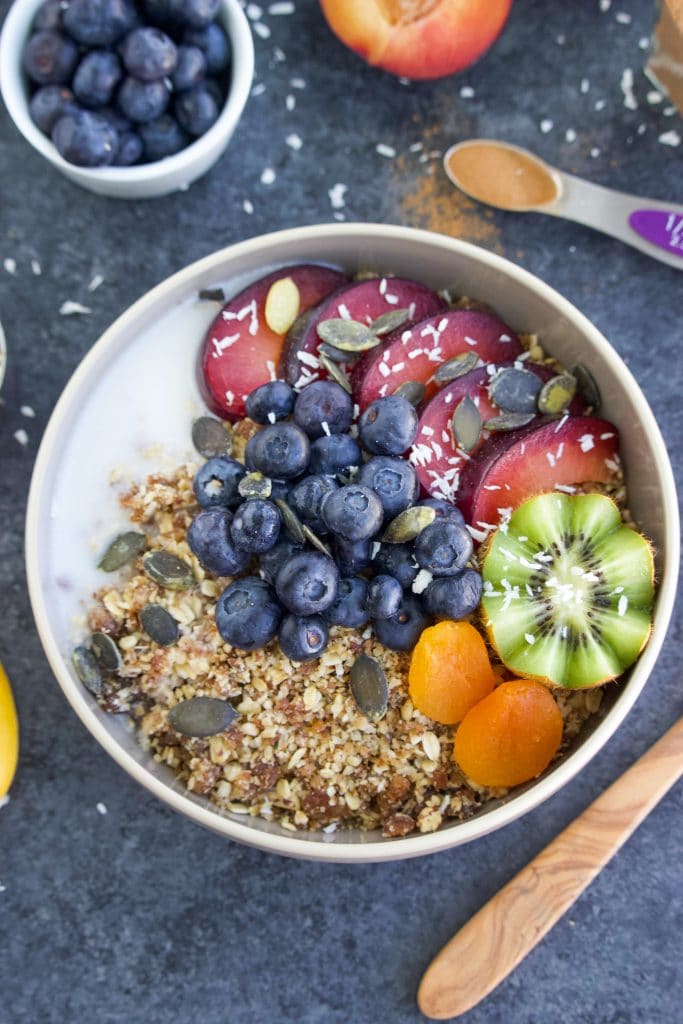 People always ask me, "What can you eat for breakfast on a plant-based diet?" If you're tired of avocado toast (my version has 26 grams of protein so it's a great way to start the morning) and oatmeal, try a delicious bowl of rawnola! It's one of my favorite easy vegan breakfasts that I can make super quick, the leftovers last all week, and it tastes delicious!
How to Make Rawnola Bowls
Rawnola is just the raw version of granola! It's so easy to make and you can make a big batch on Sunday so you have an easy vegan breakfast that's ready to go all week.
Start by putting all of the nuts into the food processor and pulse it a few times to break them up. Next, add the dates and any dried fruit you're using and chop that up too. Lastly, add the oats, coconut, flax, chia, cinnamon, salt, and hemp hearts and pulse it a few more times. Serve the rawnola with your favorite plant milk and lots of fresh fruit on top for an easy vegan breakfast on the go!

If you're one of those people who don't love oatmeal because it doesn't have a lot of texture (like my husband), then you're going to love this rawnola. It has tons of texture! Big chunks of nuts, seeds, and oats mixed with sticky dates and dried fruit, it's so delicious! I like to eat it like cereal with ice cold coconut milk and tons of fresh fruit.
Rawnola is loaded with healthy fats:
Walnuts
Almonds
Pecans
Flax
Chia seeds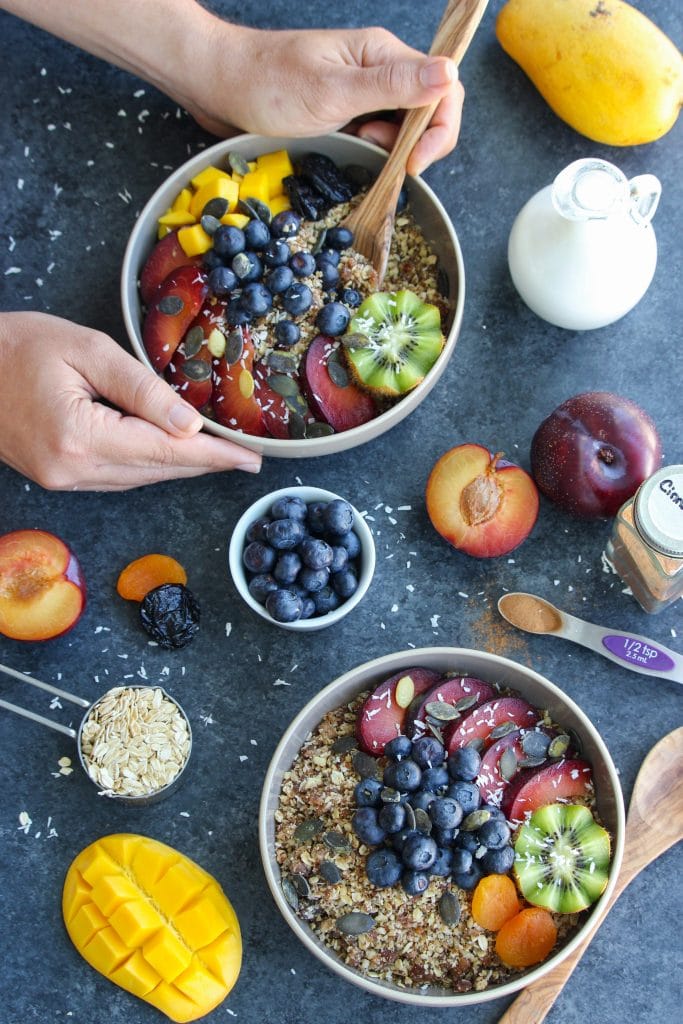 Monounsaturated and polyunsaturated fats are healthy fats that are good for your heart, they help to lower cholesterol, and they help fight inflammation in your body.
Rawnola also has plenty of superfoods:
Cinnamon
Blueberries
Flaxseed
Almonds
Superfoods are specific foods that are nutrient-dense and high in vitamins and minerals that your body needs to thrive. I always try to work in a few superfoods to each meal. I want to feel the best that I can!
Rawnola Has Probiotics Too!
I use a mixture of pitted dates and Mariani probiotic apricots or prunes to give rawnola its natural sweetness and the chunky granola-like texture that I love.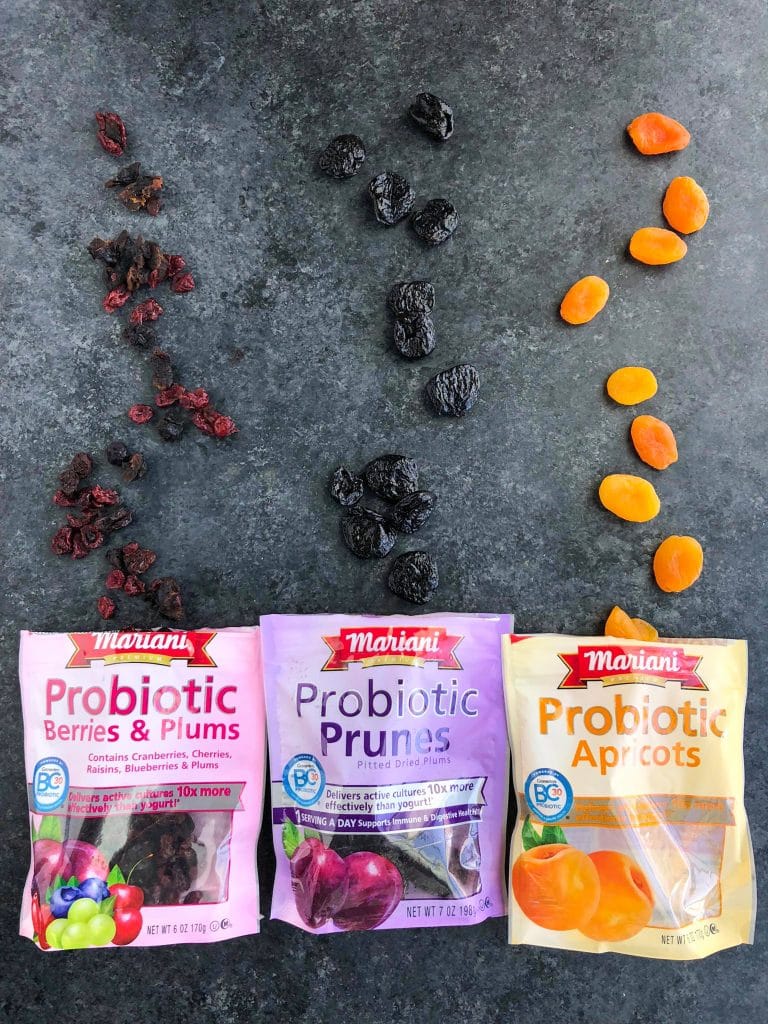 Just one serving of Mariani probiotic apricots, prunes, or berries per day delivers active cultures that are 10x more effective than yogurt! Plus, a healthy dose of fiber!
I try to remember to take my probiotic supplement every day but sometimes I forget, so I love that this easy vegan breakfast rawnola already has probiotics in it. Just remember that you have to eat the probiotic prunes, apricots, or berries cold, if you heat them then it will kill the good bacteria that your body needs! You could also blend the Mariani probiotic apricots, prunes, or berries into a smoothie if you want a delicious snack on the go.
My favorite rawnola combination is a mixture of stone fruits and superfoods: juicy probiotic apricots, fresh plums, blueberries, and a kiwi for a pop of color. It's such a delicious easy vegan breakfast! I hope you enjoy it as much as we do!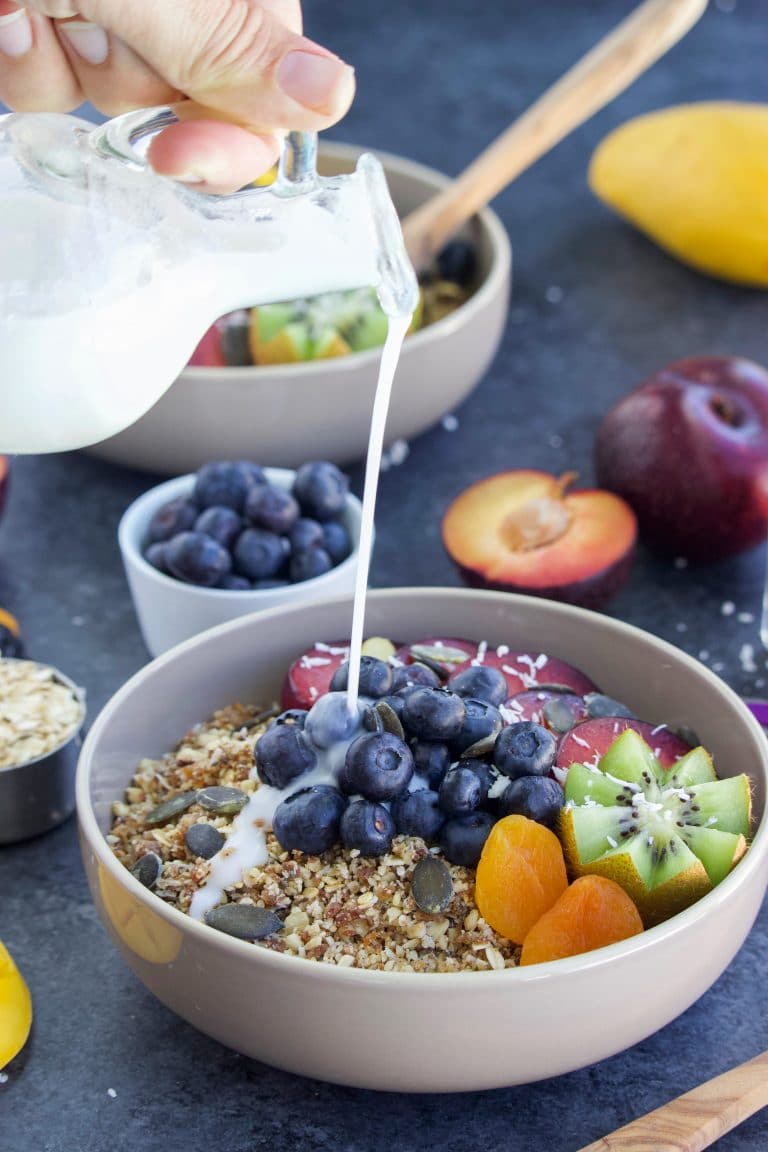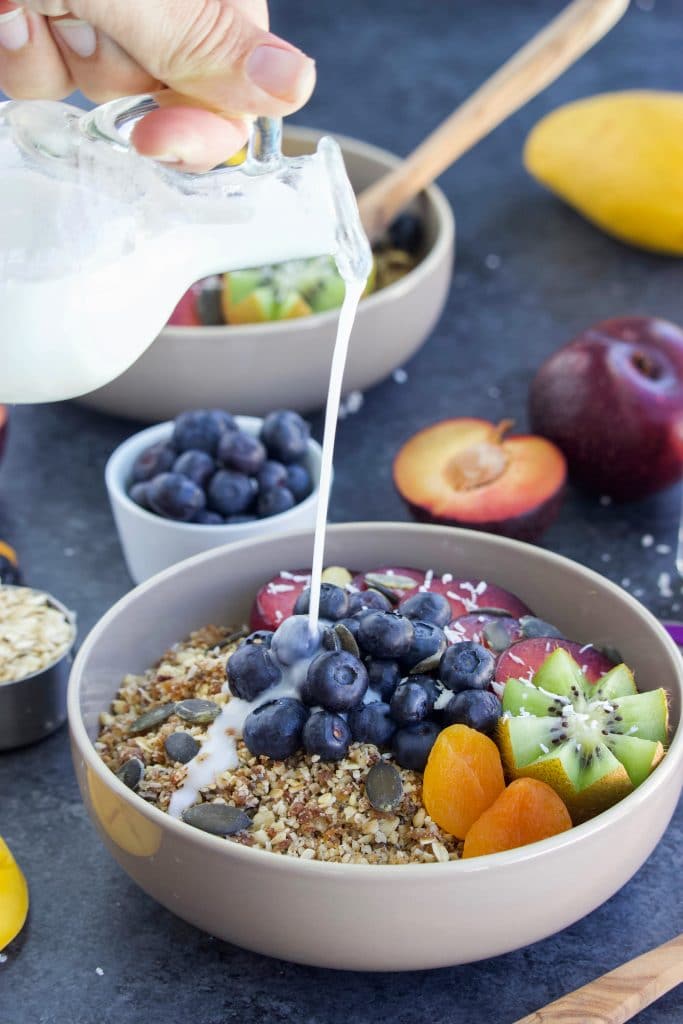 More Easy Vegan Breakfast Recipes You'll Love
Mango Kiwi Cherry Chia Seed Pudding
26 Grams of Protein Avocado Toast
Balsamic Cherry Tomato Avocado Toast
If you make this easy vegan breakfast recipe, please share your picture on Instagram and tag @StaceyHomemaker so I can see your delicious creation!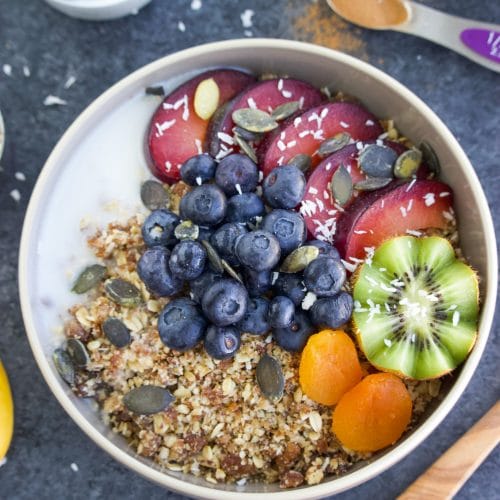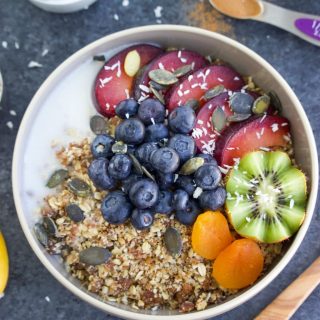 Easy Vegan Breakfast: Superfood Stone Fruit Rawnola
Rawnola is a quick and easy vegan breakfast that's loaded with healthy fats, probiotics, antioxidants, fiber, protein, and it's naturally sweet! Vegan.
Print
Pin
Rate
Ingredients
Rawnola -
1 1/2

cups

raw walnuts

1/2

cup

raw almonds,

1/2

cup

raw pecans

1

cup

pitted dates

1/2

cup

shredded coconut

1

tbsp

chia seeds

1

tbsp

flaxseed meal

1

tbsp

hemp seeds

1

cup

old fashioned oats

(gluten-free)

1

tsp

cinnamon

Sea salt to taste

Dairy-free milk

(I prefer coconut)
Toppings -
Blueberries

Pumpkin seeds

Mango chunks

Kiwi

Banana slices
Instructions
In a food processor, roughly chop the walnuts, almonds, and pecans.

Add the pitted dates and dried fruit, pulse the blender until everything is broken down.

Add the coconut flakes, chia seeds, flaxseed, hemp seeds, oats, cinnamon, and salt. Pulse until everything is broken down and well combined.

Serve rawnola with plant milk and your choice of fruit!
Notes
You can also make a chocolate flavored rawnola. Instead of the cinnamon powder, add 1/4 cup of carob powder or cocoa powder to the mixture. 
If your dates are dry, soak them in water until they're soft. Drain well before adding them to the food processor. 
Store the rawnola in an airtight container on the counter for up to one week.