Jackfruit is the most nutritious and delicious vegan meat replacement! This guide explains everything you need to know about jackfruit, how to cook it + 17 vegan jackfruit recipes that taste better than meat!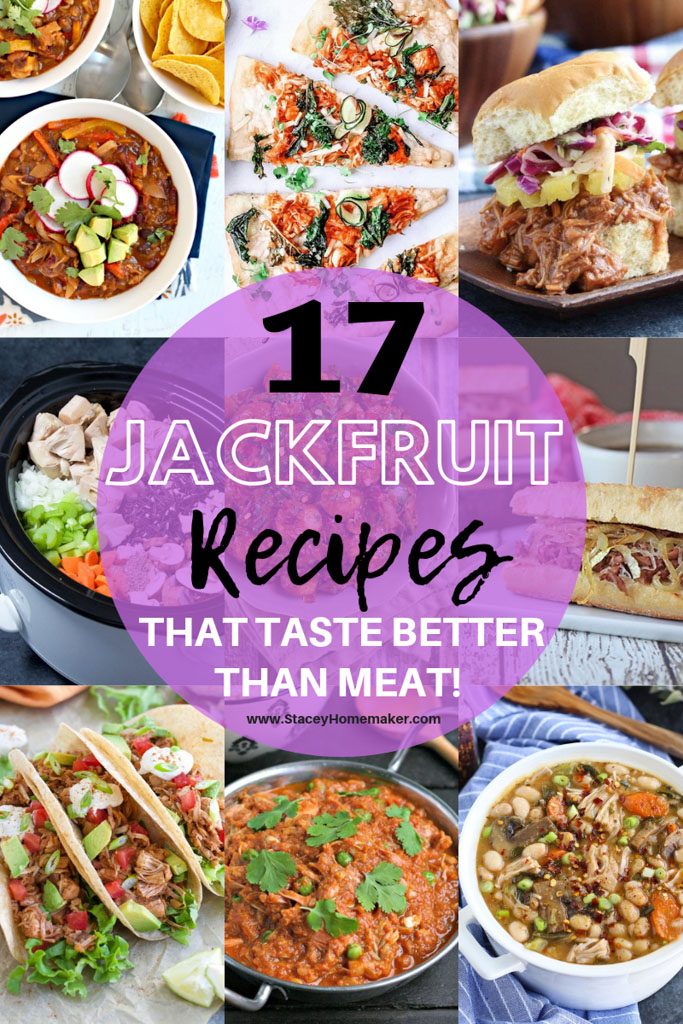 Want more easy vegan recipes? Join our vegan Facebook community below!
Jackfruit is easily my favorite vegan meat substitute because it tastes delicious and although it is canned, it's definitely less processed than vegan sausages (but we do occasionally enjoy this vegan sausage peppers and rice skillet) or vegan burgers.
I always recommend to new vegans or to vegans who are serving meat-eaters a meal to serve a jackfruit recipe because it tastes so much like meat! It helps new vegans to easily transition because they can still eat their favorite recipes while substituting jackfruit for meat, and it's a great dish to serve non-vegans because it shows them how delicious vegan food can be!
If you're not sure whether or not you want to try cooking with jackfruit, I encourage you to try it at least once so you can see what all the hype is about! I think you'll truly be surprised by how delicious these recipes taste. In this vegan roundup you'll find:
Fresh Jackfruit Recipes
Green Jackfruit Recipes
Ripe Jackfruit Recipes
Canned Jackfruit Recipes
Indian Jackfruit Recipes
Instant pot Jackfruit Recipes
Vegan Keto Jackfruit Recipes
Since people always ask me for my favorite vegan jackfruit recipes, I thought it would be helpful to round up some of my favorite easy jackfruit recipes to share with you. Before we get to the recipes, let's go over some of the most asked jackfruit questions!
What Does Jackfruit Meat Taste Like?
Jackfruit meat tastes like a mix of shredded chicken/pork and pineapple. It doesn't have a strong flavor on its own so it's the perfect base to pick up the flavors that you're cooking with. Once the jackfruit has been cooked it will shred and the texture is very similar to shredded animal meat.
Does Jackfruit Really Taste Like Pork?
I think that jackfruit tastes a lot like pork! Jackfruit doesn't have a strong flavor on its own but its texture is thick, chunky, and meaty! It shreds perfectly, just like pork or chicken does. I truly think that jackfruit is the best vegan replacement for pork.
What Are The Benefits of Eating Jackfruit?
Jackfruit is a very nutritious option! It's high in vitamin C, flavanones, and carotenoids, as well as being low in calories. Jackfruit also has a substantial amount (about 3 grams each) of fiber and protein per cup. If you'd like to learn more about jackfruit health benefits, read this nutrition breakdown.
What Does Jackfruit Look Like?
Ripe jackfruit that hasn't been cut yet looks like a large dinosaur egg with bumps and small spikes all over it. Depending on how ripe the jackfruit is will determine its color which can range from green to yellow to brown. Unripe jackfruit that you buy in a can comes in the form of light-colored triangular chunks.
How to Cut Jackfruit
I know that it can be intimidating learning how to cut jackfruit because it's such a large strange-looking fruit. It can be difficult to cut, very messy, and it requires multiple steps. I've never attempted it because I prefer to use jackfruit as a vegan meat substitute. However, if you'd like to attempt cutting a fresh jackfruit yourself, follow this guide.
Can You Eat Jackfruit Raw?
You can eat ripe jackfruit raw, but not unripe jackfruit. Unripe, green, young jackfruit needs to be cooked before you can eat it.
Does Jackfruit Smell Bad?
I've heard a lot of people say that they think ripe jackfruit smells bad but I don't think so. It must be one of those things like some people think cilantro tastes like soap. I think that unripe jackfruit doesn't have any smell and ripe jackfruit smells fruity and sweet.
What's the Difference Between Fresh and Canned Jackfruit?
Fresh and canned jackfruit are two very different ingredients. If you want to make a recipe that uses jackfruit as a vegan meat substitute then you must use unripe canned jackfruit in brine not syrup. Unripe jackfruit might also be labeled as green jackfruit or young jackfruit. Unripe jackfruit cans contain firm chunks of jackfruit in brine that, when cooked, will turn into a delicious, tender meat substitute. Make sure to rinse the jackfruit well to remove as much of the brine as possible.
If you find a fresh jackfruit at the store (it kind of looks like a large, spiky dinosaur egg) then that is what you can cut up and east like fresh fruit or use for a sweet recipe like smoothies or dessert. Don't use the fresh jackfruit as a vegan meat substitute because it's sweet and too soft.
Does It Matter Which Brand of Jackfruit You Use?
Yes, it does matter. Let me explain why. I tend to make a lot of canned jackfruit recipes because I prefer to use jackfruit as a vegan meat substitute over using fresh jackfruit for a sweet recipe.
I've tried multiple brands of tinned jackfruit in brine (not syrup) and my favorite brand of unripe jackfruit is Native Forest Organic Young Jackfruit (this post is not sponsored I just really love their product).
I've heard so many people say that they have to cut out the hard center of the jackfruit off or that they need to remove the seeds because they're too large and unedible. I always wondered why I didn't have to do this until I tried other brands of jackfruit.
The Native Forest jackfruit chunks already have the hard cores cut off and the seeds are small enough to eat. I also love that it's organic.
My second favorite brand is Trader Joe's Green Jackfruit in brine. The quality is really good but I wish it was organic. You can see what the can looks like here in my Trader Joe's Vegan Grocery List.
Of course, any can of unripe/green/young jackfruit in brine will work as a vegan meat substitute but depending on which brand you use might require a few extra steps to prep the jackfruit before you cook it.
What Can I Do With a Can of Jackfruit?
A better question would be, "what can't you do with jackfruit?!" You can use unripe jackfruit in soup, stews, tacos, sandwiches, enchiladas, burritos, etc.! Any recipe that you would use meat, you can use jackfruit as a meat replacement.
17 Plant-Based Jackfruit Recipes
The following plant-based recipes are all delicious and I hope you try a few of them! The jackfruit tacos make an appearance at least 1-2 times a month at our house and the jackfruit pulled pork recipe is what I make when we go to events or potlucks...it's definitely a crowd-pleaser! Also, I recently made the corned jackfruit for St. Patrick's day, and let me tell you, my husband licked his plate clean. It's fantastic!
Unripe Green Jackfruit Recipes
All of these easy jackfruit recipes use young/unripe canned jackfruit as a delicious vegan meat substitute.
Ripe Jackfruit Recipes
The following recipes all use ripe sweet jackfruit to make recipes using the jackfruit seeds, smoothies, and dessert!

Photo Credit: savoryspin.com

This gloriously thick and delicious Jackfruit Mango Smoothie is spiked with a hint of vanilla and cardamom – making it a cold and satisfying treat to enjoy this summer.

Photo Credit: savoryspin.com

If you happen to get your hands on a jackfruit, please don't throw the seeds away. Instead, wash, boil and peel them and then use them in this hearty and filling Easy Jackfruit Seed Curry.
More Vegan Meat Substitute Recipes You'll Love
Super Saucy Vegan Meatball Subs