This no-knead bread is so easy to make, and it's loaded with grated vegan parmesan cheese, fresh rosemary, and garlic. Perfect for sandwiches, avocado toast, or serving with any Italian dinner! Vegan.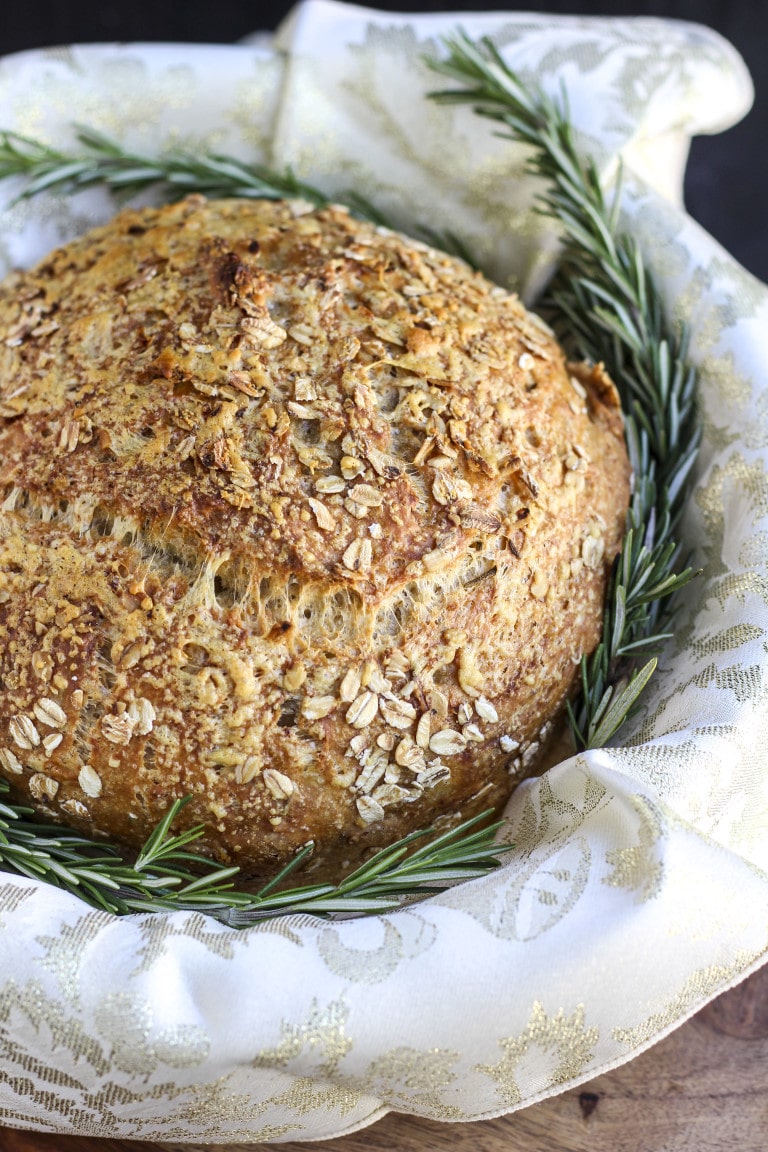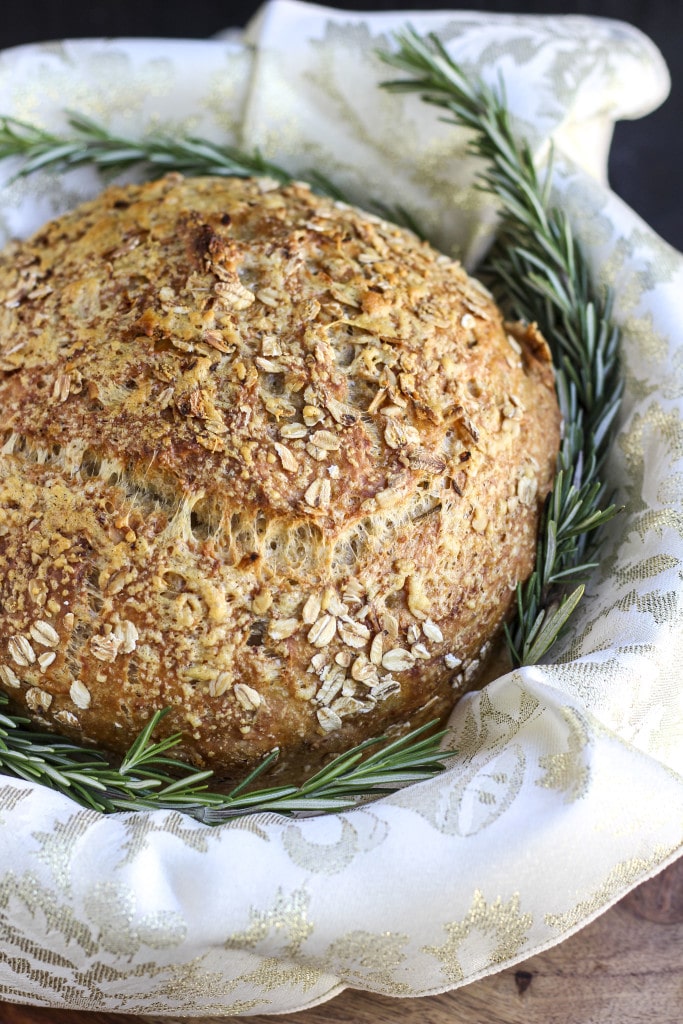 Want more easy vegan recipes? Join our vegan Facebook community below!
I don't buy bread from the grocery store.
Why? Because it's usually loaded with preservatives and a bunch of ingredients I can't pronounce and have no business being in the food we eat. However, I do make my own no-knead bread almost every single week, mainly my favorite no-knead whole wheat chia bread.  It's simple to do, requires barely any hands-on time and is very inexpensive.
I promise you this loaf tastes 100x better than anything you could buy at the store! I know that's a pretty bold statement to make but it's true. My fiancé, mom, and aunt will wholeheartedly support this statement, as they're the ones who eat my homemade bread. My mom and aunt are bread aficionados, and I've seen my mom walk right past the fresh bread section at the bakery when she knows I have a hot loaf at home for her. You may not think anything of that, but that tells me a lot!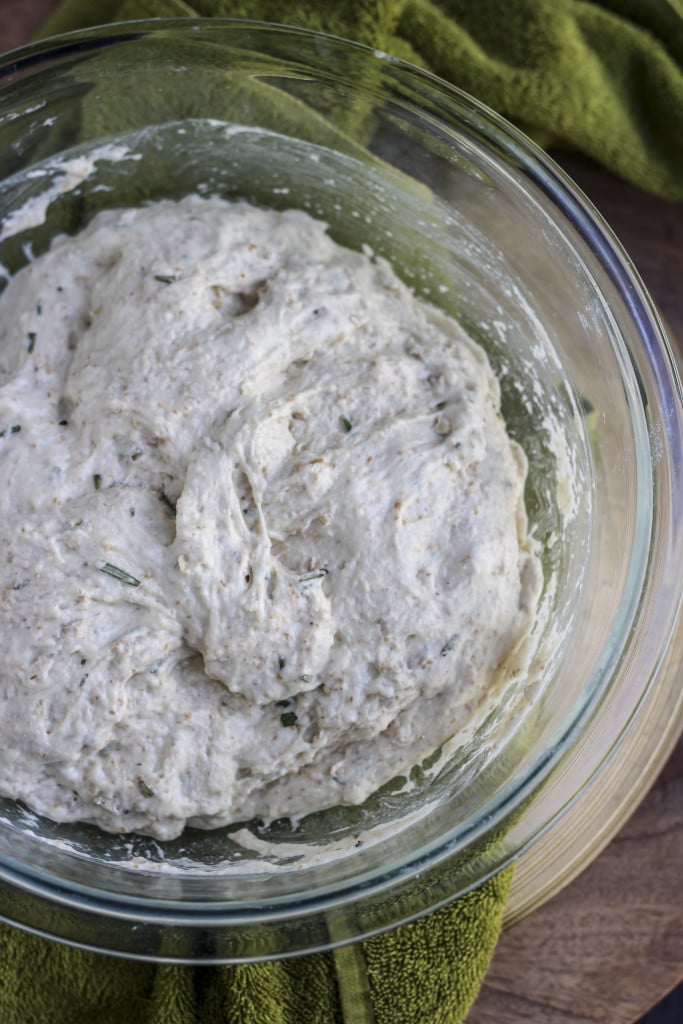 I've made this no-knead bread so many times that I don't even look at the recipe anymore, and can have the dough mixed and put away in 2 minutes flat! I love trying different flavor combinations and adding cheeses and fresh herbs. It comes out perfectly every single time. 
The loaves that come out the prettiest and look like artisan loaves, often look ugly and messy after I dumped them into the pot. So, don't worry if you think your dough blob looks hideous because it will be perfect once you bake it!
Yep, you heard me right! No kneading, little hands-on time, and dough dumping = THE BEST BREAD EVER! Just look at that crispy crust! Don't you want to take a bite? Or eat the whole loaf, I'm not judging!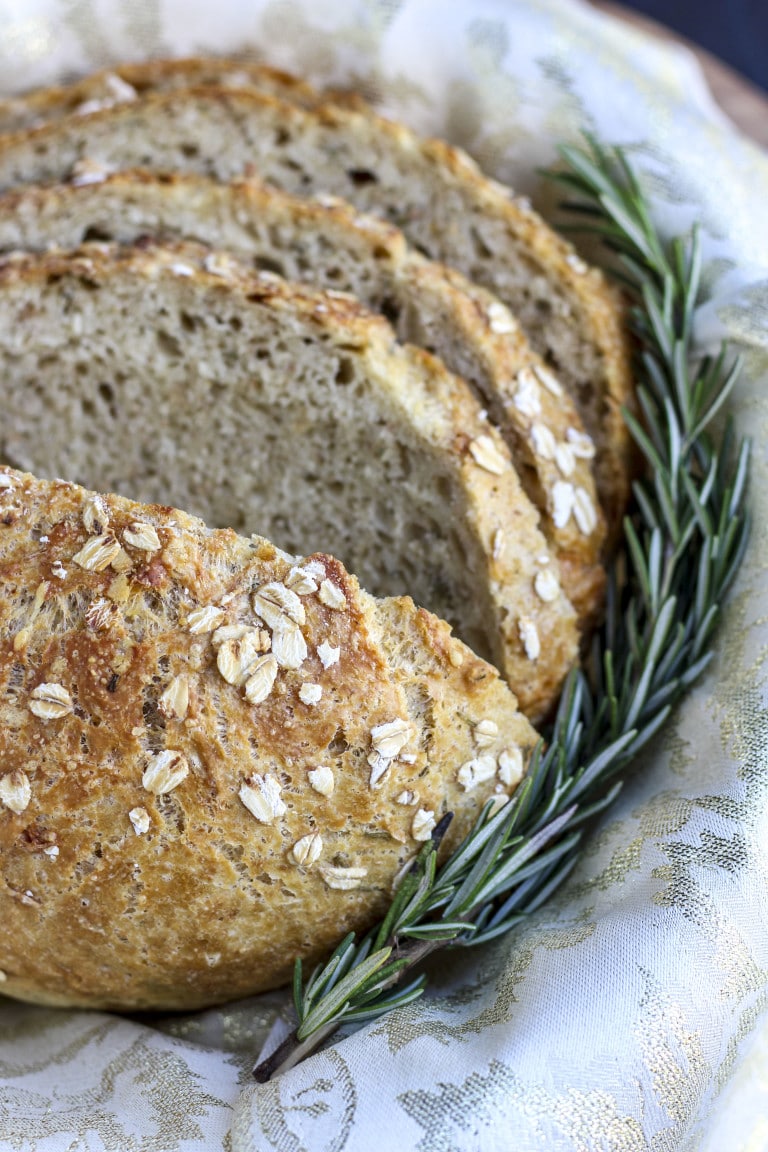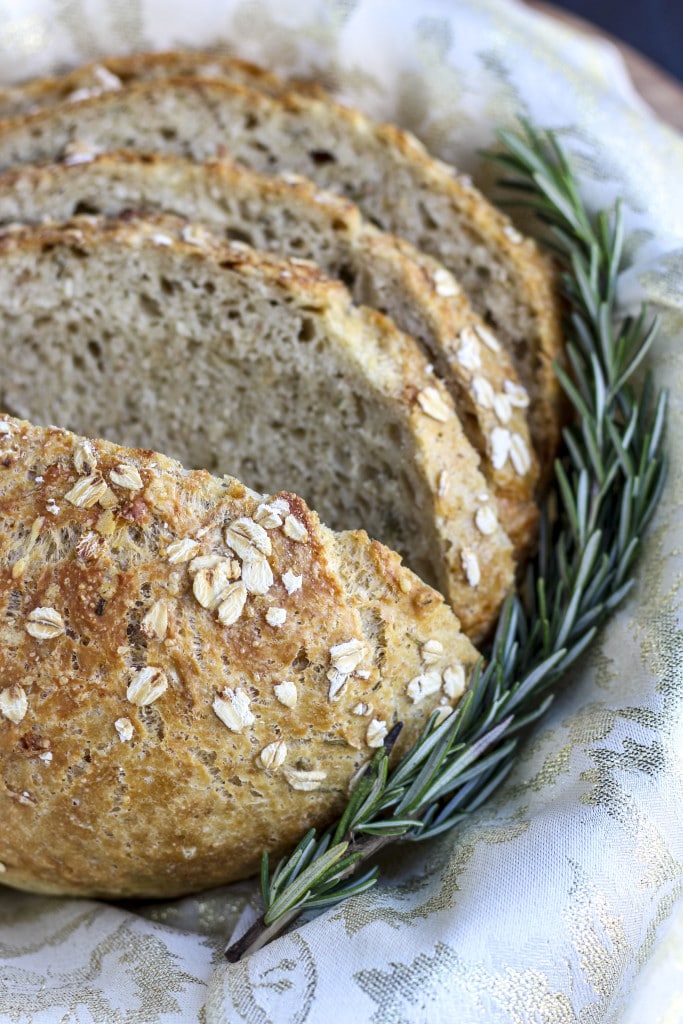 Travis likes to use the no-knead parmesan rosemary garlic bread for sandwiches but I love to toast slices and slather it with mashed avocado, sea salt, pepper and cayenne. It's my go-to breakfast or lunch option, I eat an avocado almost every day. So yummy!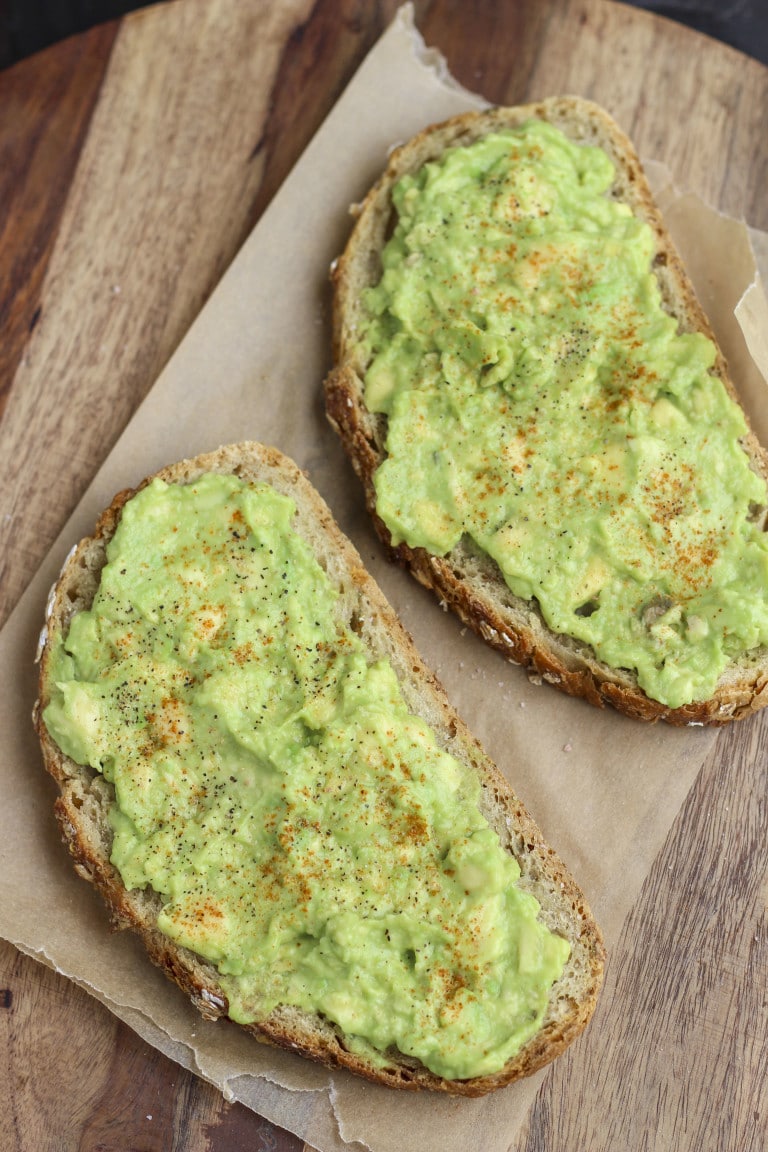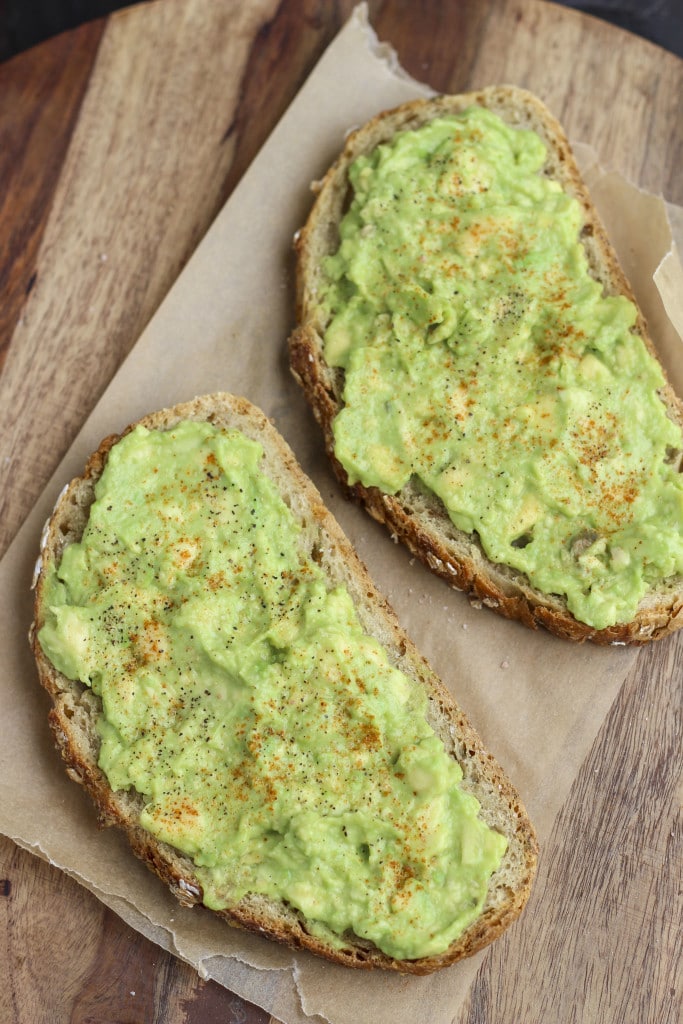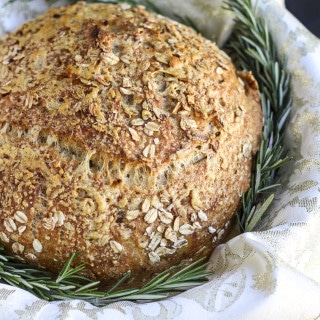 No-Knead Parmesan Rosemary Garlic Bread
This no-knead bread is so easy to make, and it's loaded with grated vegan parmesan cheese, fresh rosemary, and garlic. Perfect for sandwiches, avocado toast, or serving with any Italian dinner!
Print
Pin
Rate
Ingredients
2 1/2

cups

AP flour

1/2

cup

whole wheat flour

1/2

cup

old-fashioned oats + 2 Tbsp for topping

1/4

cup

grated vegan parmesan cheese + 2 Tbsp for topping

(I use Violife Parmesan wedge)

1

tsp

pink sea salt

1/4

tsp

instant yeast

2

Tbsp

freshly chopped rosemary

1

tsp

garlic powder

2

Tbsp

vital wheat gluten

1 3/4

cup

lukewarm water

2

Tbsp

wheat bran

Optional - 1/4 cup hemp seeds
Instructions
Add all ingredients except water and wheat bran, to a large bowl. Mix together until fully combined.

Add water, continue to mix until you don't see any white flour patches. If you have trouble combining, add up to 2 more Tbsp of water. The dough shouldn't be soupy, so be careful not to add too much. The dough should look shaggy once combined.

Cover and put in a warm place for 12 hours. (I put mine in the oven with the door shut overnight so it's ready to bake in the morning when I get up.)

Preheat the oven to 450 degrees. Take your bread dough out of the oven and place 3-4 quart dutch oven with the lid on into the oven, let it heat for 30 minutes.

Punch down your risen dough, stretch it out and fold your dough 3-4 times to get rid of any air bubbles. Cover and let rise again for 20 minutes while the pot is heating up,

After the 30 minutes, carefully remove the pot. Take off the lid and sprinkle the wheat bran into the bottom of the pot. Scrape the dough out of the bowl and into the hot pot. Sprinkle 2 Tbsp of oats and parmesan cheese on top. Replace the lid and put the pot into the oven.

Bake for 35 minutes covered, remove the lid and bake for 15 more minutes until the crust is a golden brown.

Note - if you like a lighter/softer crust, bake for 45 minutes covered and remove the lid for only the last 5 minutes of bake time to brown the cheese.

Remove the pot from the oven, take the bread out and place it on a wire rack to cool for at least one hour.

If you cut into it while it's still warm the middle will get sticky. I know it's hard to resist warm bread but do your best!
Nutrition
Note – You MUST use a dutch oven to make this bread! 
Have you ever tried making no-knead bread before? Let me know in the comments how it turned out!
NEVER MISS A STACEY HOMEMAKER CREATION!
FACEBOOK / INSTAGRAM / PINTEREST / TWITTER