This vegan version of a classic recipe for easy, creamy slow cooker chicken wild rice soup is exactly what you want to eat on a chilly winter night. Vegan, gluten-free, oil-free.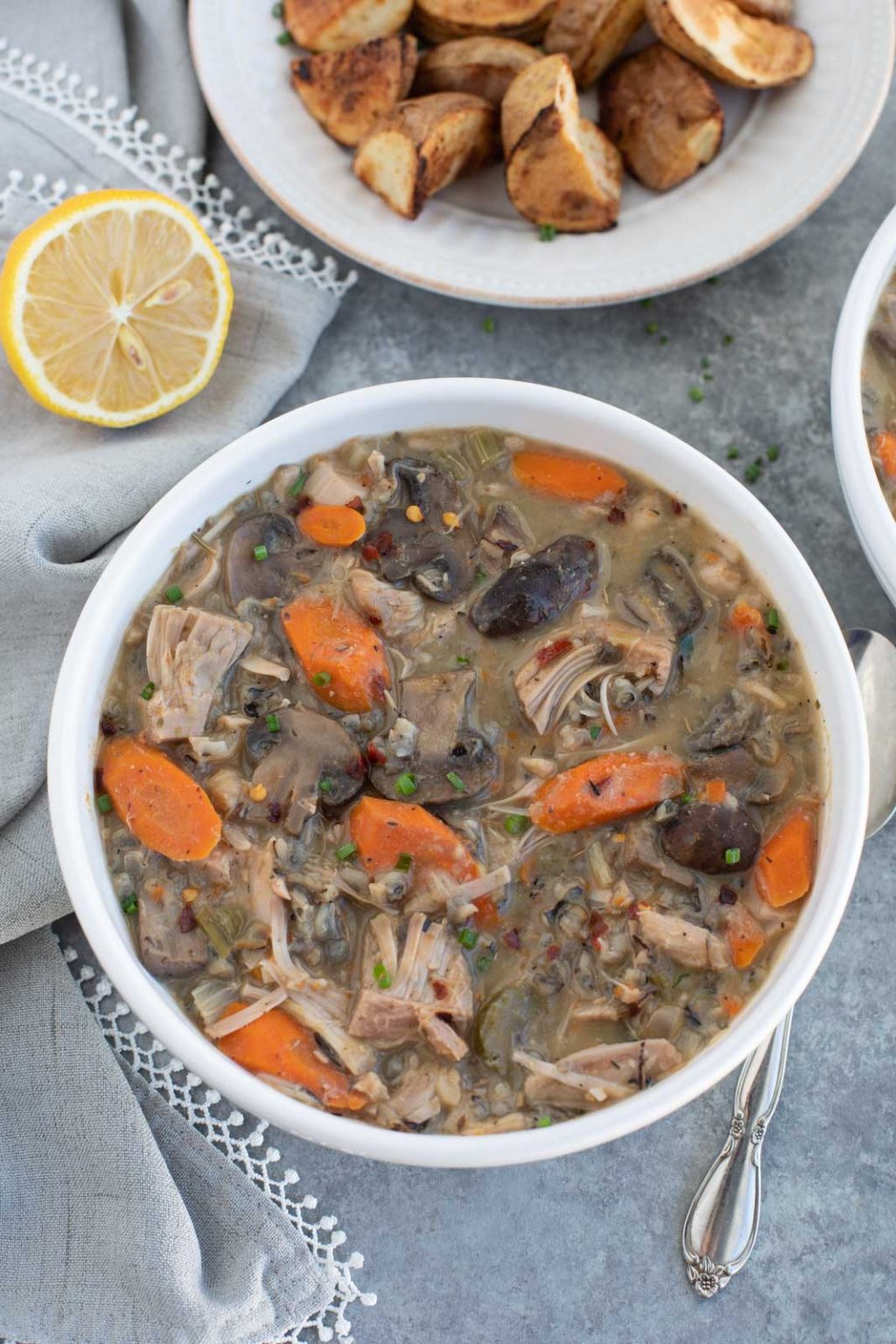 Surprise! This chicken wild rice soup recipe doesn't have any chicken in it! You won't miss it, I promise.
Just because we're vegan doesn't mean that we don't love rich and creamy soups with broth so thick that it coats the back of your spoon.
On really cold nights, my go-to recipe used to be animal-based chicken and wild rice soup. You know the soup, it's loaded with chicken, cream, butter, etc. We had our first cold front of the season last week and we have another one coming next week so I started thinking about how I could recreate our old favorite cold-weather recipe.
What Should You Use In Place Of Chicken?
What are the main ingredients of chicken wild rice soup?
chicken
wild rice
carrots
celery
onions
cream sauce
I couldn't leave the chicken out of the soup because it's one of the main ingredients but I obviously need to use a replacement for the meat.
My go-to meat replacement for chicken or pork is always jackfruit!
Jackfruit is mild in taste but it looks and shreds just like chicken or pork. It's pretty crazy how easily it replaces the chicken in this "chicken" wild rice soup. I sent my mom a picture and she couldn't believe that it wasn't real chicken!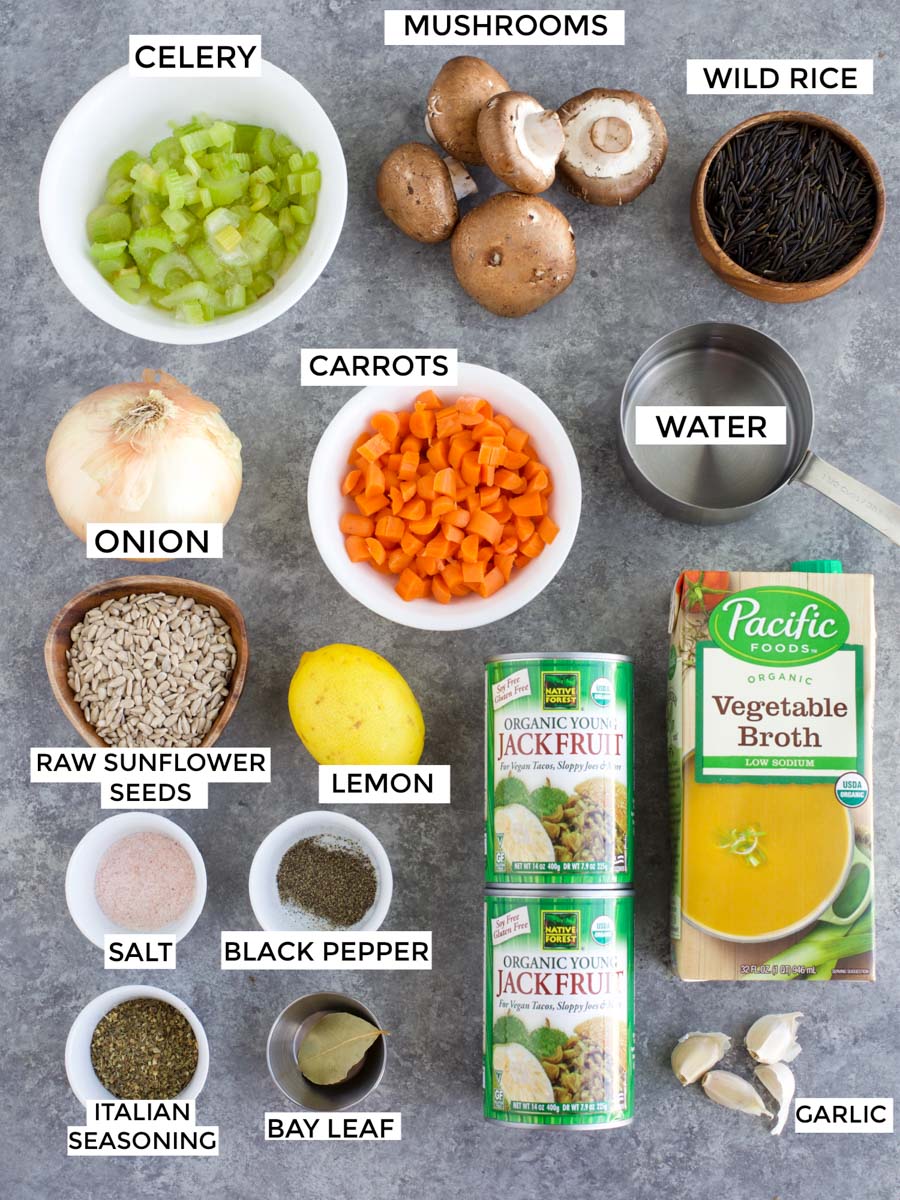 Make sure to look for these three things when you buy jackfruit for cooking:
Fresh, ripe jackfruit is used for desserts. The unripe, young, canned jackfruit is what you want to buy to use as a meat replacement.
Look for canned jackfruit that is in brine, not syrup. Make sure to rinse the brine off before you cook with it to reduce the sodium.
If possible, buy organic canned jackfruit.
This is the brand of jackfruit that I always cook with –>
I also add mushrooms to this vegan chicken wild rice soup recipe because mushrooms lend a "meaty" flavor and texture. Additionally, I just really love mushrooms so it was a no-brainer to add them to this soup.
What's The Easiest Way To Make This Chicken Wild Rice Soup?
The slow cooker is my number #1 choice for easy dinner.
You just can't beat putting all the ingredients in the pot, putting the lid on it, and waiting for the buzzer to go off.
You could definitely make this chicken wild rice soup in a dutch oven on the stove top but then you'll have to stand there and tend to it.
You don't have time for that! Neither do I.
That's why this slow cooker vegan chicken wild rice soup recipe will be your new best friend this winter. This rich and creamy soup will fill your belly with healthy foods and make you feel all warm and cozy without having to put out a lot of effort.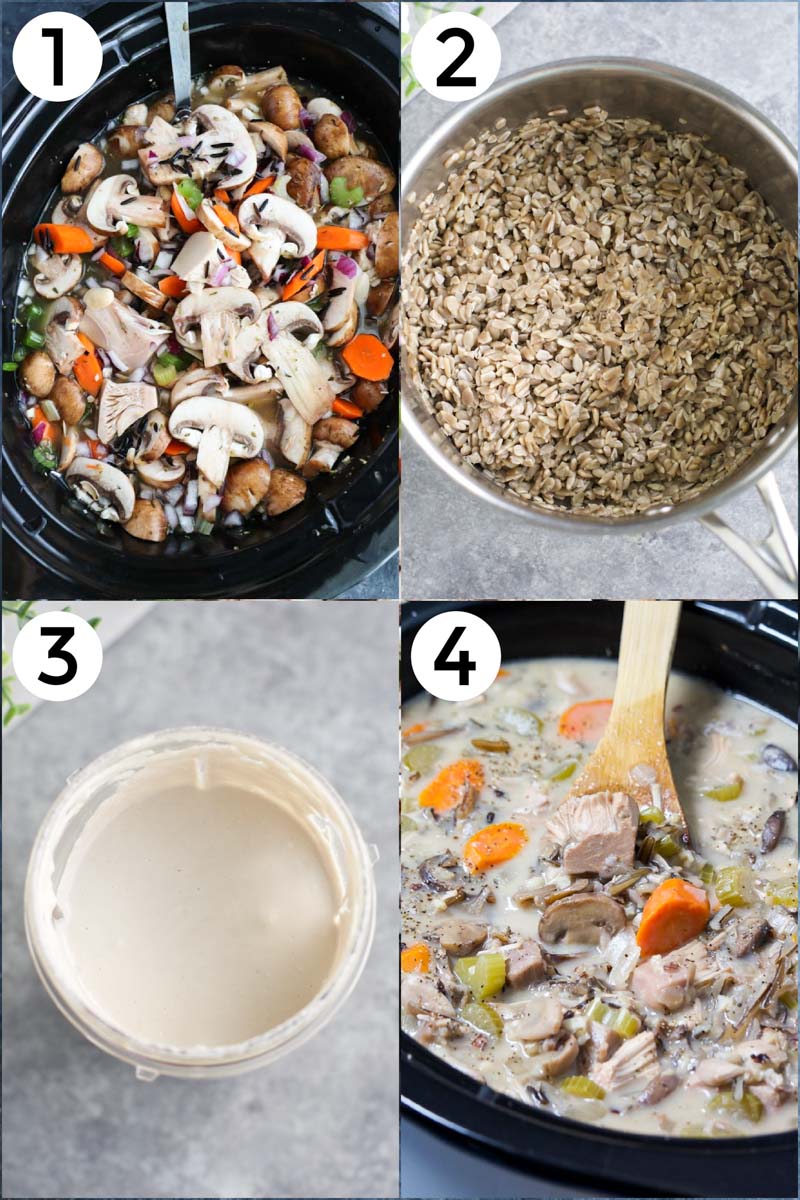 5 Reasons Why You'll Love This Recipe!
I promise you're going to love this vegan slow cooker chicken wild rice soup!
Why? Because its…
Rich, thick, and creamy
Loaded with fresh veggies
Filled with tender chunks of jackfruit
It's SO easy to make
Free of gluten, dairy, oil, and animal products.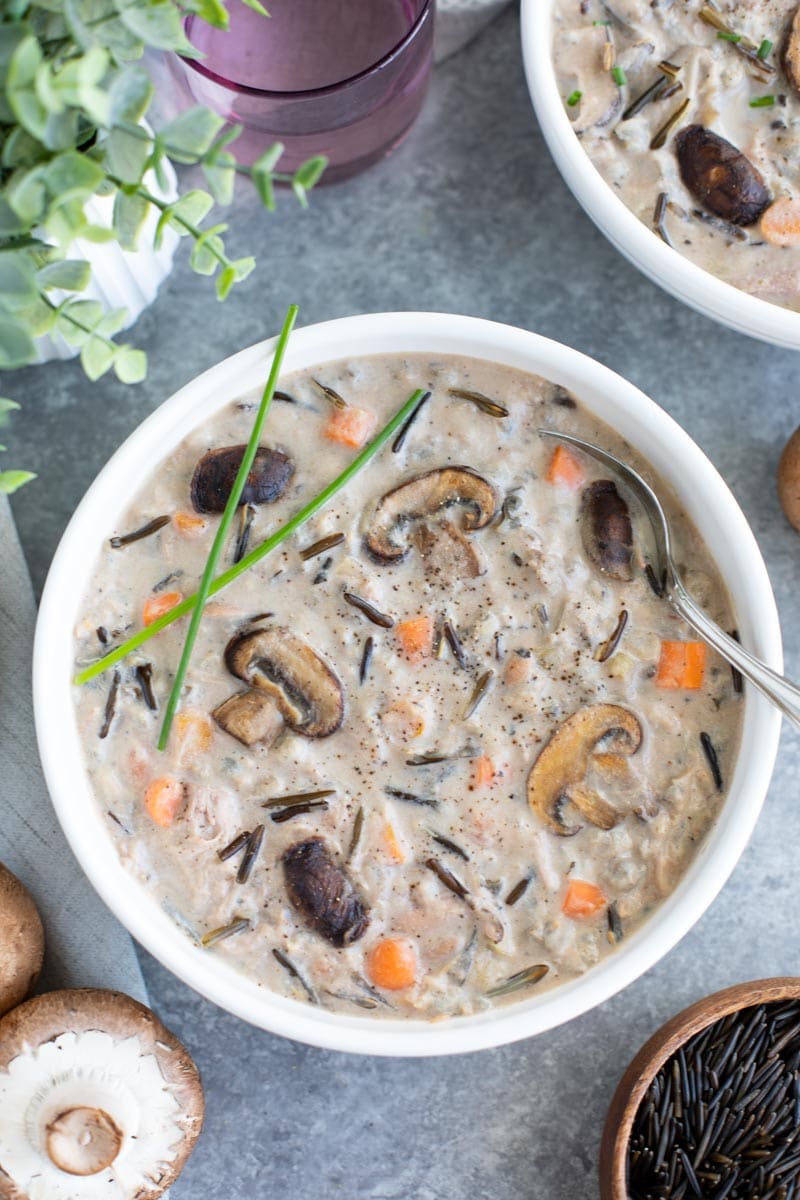 More Vegan Jackfruit Recipes You'll Love!
Slow Cooker Whiskey BBQ Jackfruit Sliders
Vegan Jackfruit Mushroom Stroganoff
17 Jackfruit Recipes that Taste Better Than Meat!
Chipotle-Seasoned Jackfruit Tacos
Best Ever Jackfruit Enchiladas
If you make this slow cooker jackfruit & wild rice soup recipe, please share your picture on Instagram and tag @Stacey_Homemaker so I can see your delicious creation!
Vegan Slow Cooker Chicken Wild Rice Soup
This vegan version of a classic recipe for easy, creamy slow cooker chicken wild rice soup is exactly what you want to eat on a chilly winter night. Vegan, gluten-free, oil-free. 
Print
Pin
Rate
Total Time:
4
hours
10
minutes
Instructions
Put onions, celery, carrots, garlic, mushrooms, jackfruit, Italian seasonings, salt, pepper, bay leaf, vegetable broth, water, and rice into a

slow cooker

. Cover and turn on high, cook for 3 1/2 hours.

After 3 1/2 hours, remove 1/2 cup of the broth and put into a small bowl. Add the cornstarch to the bowl, whisk to combine. Pour it back into the crockpot to thicken the sauce.

Pour the coconut milk into the slow cooker, discard the water in the can. Stir to combine.

Replace the lid and cook for 30 additional minutes.

Serve with a sprinkle of parsley and black pepper. Enjoy!
Notes
If you don't like jackfruit, you can use potatoes, artichoke hearts, cauliflower, or another meat substitute instead but adjust the cooking time accordingly.
The coconut milk does not give it a coconut flavor, it just makes it taste rich and creamy. However, you could substitute unsweetened cashew milk if you prefer that.
If you want the broth to be extra rich, add 1/2 cup of a vegan half & half like Ripple.
Do not add the cornstarch or arrowroot powder into the slow cooker! If you do, it will clump and you won't be able to whisk the clumps out. You have to thicken the broth in a separate small bowl and then add it to the soup.
When you warm up leftovers, add a little bit more plant milk to help loosen the broth.