Up your morning smoothie game with these 29 delicious healthy fruit smoothie recipes. Each recipe is loaded with fruit and nutrition to jumpstart your day! Vegan, dairy-free, gluten-free.
***This post contains affiliate links.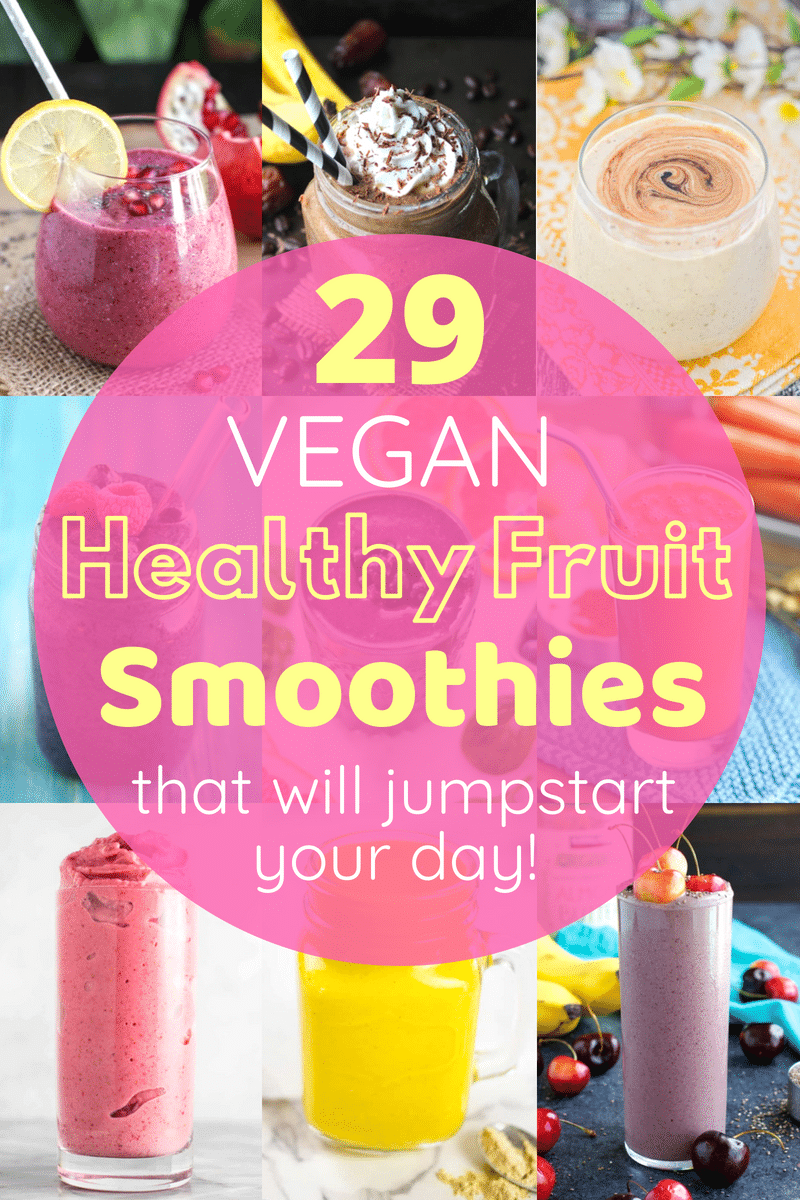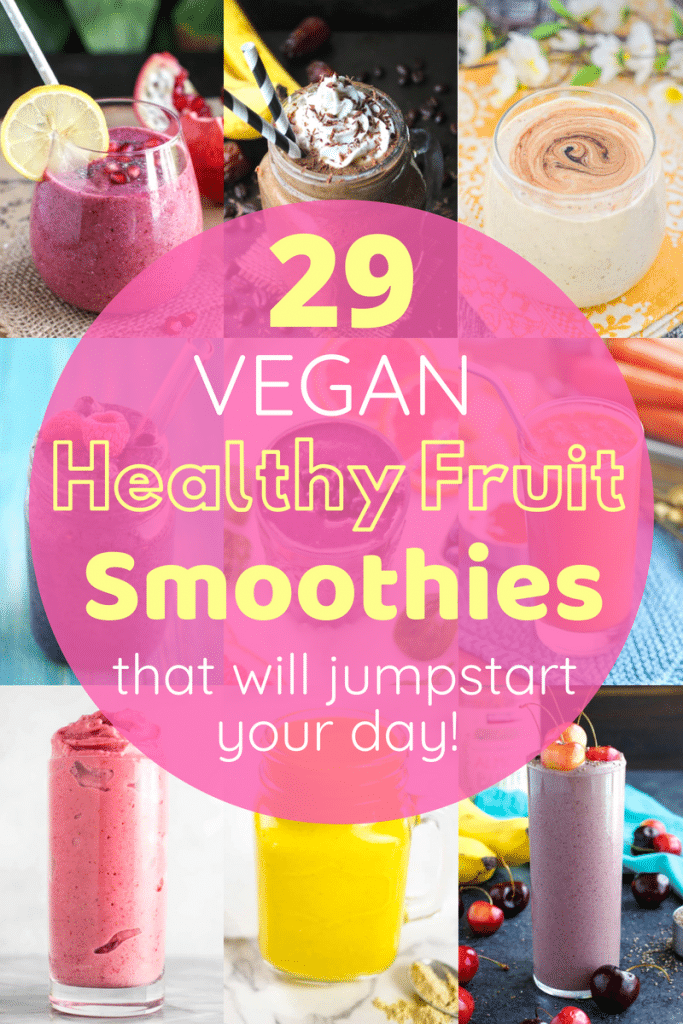 Ya know, I never used to really like smoothies.
Why? Because I was doing it wrong!
I bet you're thinking, "you can't mess up a smoothie recipe, it's too easy!"
Well, let me tell you. 
I was blending a handful of greens with a handful of fruit and using water as a mixer and no frozen fruit! What was I thinking?
My smoothies turned out room temperature, watered down, and they were usually gray. I didn't understand what people liked about them!?
Easy Smoothie Recipe Tips
I kept playing around with different variations and I started to notice that the smoothies that I really liked and enjoyed drinking were creamy smoothies that followed a flavor profile: fruity, green, chocolate, vanilla, etc. Not just a bunch of random ingredients thrown together with water as a mixer. It doesn't work when you just put in a little bit of everything, hit the blend button, and cross your fingers.
If you use fruits that taste good together + follow the tips below, your smoothie will turn out delicious!
Make it easy on yourself, buy bulk bags of frozen organic fruit (Costco is my go-to place to get a good deal on organic frozen fruit– my

vegan Costco shopping list

has all the fruit prices) to use for your smoothies.
Don't use water as the liquid component, creamy nut or plant milk makes it taste so much better! Trust!
If you come across a smoothie recipe that calls for orange juice, substitute plant milk. Orange juice is loaded with sugar and you're already getting plenty of natural sugar from the fruit.
Smoothies need a creamy ingredient, I prefer bananas, or almond butter…sometimes both!
Don't add ice to make it cold, it just waters the smoothie down. Use frozen fruit instead.
Use a high-powered blender to make super smooth and creamy smoothies. You don't want a gritty smoothie, it's just wrong! (Read the next section to see which blender that I think is the best smoothie maker.)
What's the Best Blender for Smoothies? 
My first blender was a cheapy from Walmart that barely blended anything, then I transitioned to a NutriBullet that I used exclusively for years until my husband got me a Vitamix for Christmas last year.
NutriBullet Blender Pros & Cons 
The Nutribullet was awesome for the first year and a half of using it 2-3 times a week. Then it went downhill after that…
Pros:
Blends super fast and doesn't leave any grit or chunks behind (even when blending  nuts!)
Easy to clean.
I liked the small blending cup for making dressing and sauces.
The blender is small and compact, easy to store.
Good price, brand new is around $80.
Cons:
Even the biggest blending cup wasn't big enough for two large smoothies.
It only has one speed, no options.
Very loud while blending.
The blending cups don't have a vent so you can't blend hot foods. No hot soup! (I tried once and it blew the cup right off the base and I had tomato soup EVERYWHERE!)
The blending cups started leaking after using it for one year.
After 1 1/2 years, the motor started making a grinding sound and it smelled like something was burning.
Vitamix Blender Pros & Cons 
Last Christmas, my husband surprised me with a Vitamix blender! It's effing fantastic and I use it almost daily.
Pros:
Blends super fast and doesn't leave any grit or chunks behind. It's great for blending nuts into sauces, making pureed soup, and blending smoothies.
It has 10 variable speeds + a pulse button.
The blender container holds 64 ounces! (More than enough for 4 large smoothies at least!)
Has a vent in the lid so you can carefully blend hot foods.
Easy to clean.
Not very loud while blending.
Feels like a high-quality machine.
No leaking issues yet.
Automatically shuts off if it starts to overheat.
Comes with a blending stick that you can stick into the blender cup while it's blending to move things around.
Cons:
It's expensive.
Not a good choice if you only want to blend small amounts.
Takes up more counter space.
I actually ended up buying a second NutriBullet to use for small amounts of dips and sauces (like this vegan spicy chipotle cream sauce) because I really liked how compact it is and how quickly and effectively it blends. When I tried to make small amounts of sauce in the Vitamix the blade would just spin and go right over the ingredients. The NutriBullet (hopefully this one will last longer than 1 1/2 years) is perfect for those small jobs.
The NutriBullet is also a good option if you're looking for a personal blender. If you're a college student, you live on your own, or you're the only one in your family that likes smoothies, then the NutriBullet is a great option for you. It's very powerful and it will make a very creamy smoothie that I think you'll be happy with. Plus, it's around $80 so it's a pretty good deal.
If you're looking for a higher quality multi-use blender that has a bigger blender cup, speed options, a steam vent, a blender stick, and it can make more than one smoothie at a time (plus pureed hot soups, hummus, sauce, etc) than the Vitamix blender is for you. 
I'll update this post each year to share how my Vitamix blender is holding up. No issues so far! 
What Are Good Smoothie Combinations?
Now that you've decided what blender to use to make your smoothie, what ingredients are you going to use?
I tend to lean towards the sweeter fruit smoothies instead of pure green smoothies. They just taste better to me. I don't really like to drink liquid greens, I'd rather eat them.
There is one exception to this rule! I've found that blueberries color and flavor will cover just about any greens you add to the smoothie. The smoothie will be dark blue/purple and you really can't tell there is anything green in there.
Here are some of my favorite fruit smoothie ingredient combinations:
Strawberry + mango
Pineapple + banana + coconut milk (tastes like a dole whip!)
Cherry + kiwi + blueberry
Raspberry + mango + pineapple
Peach + strawberry + pineapple
Strawberry + peanut butter (tastes like peanut butter & jelly sandwich)
Pomegranate + lemon
Cherry + banana + chocolate protein powder
Blueberry + raspberry + blackberry
Acai + blueberry
Kiwi + strawberry + peach
I love all of these fruit smoothie flavor combinations, but fruit alone is not enough. I always add lots of seeds (usually a mix of hemp, chia, and ground flaxseed), a whole banana, a full scoop of protein powder, and coconut milk (cashew, almond, hemp, or oat milk would work too) to make these smoothie recipes with frozen fruit super filling.
If you only blend frozen fruit with plant milk it won't be very filling. You have to add all the other yummy ingredients to bulk it up!
Do I Need Ice For Smoothies? 
Nooooooo, don't do it! Please!
I can't stand smoothies made with ice, they taste like watered down juice! Is that what you want, a watered down fruit smoothie? Yuck!
The perfect smoothie doesn't need any ice, just frozen fruit. The only exception I would be okay with is if you don't have any frozen fruit, you don't want a warm smoothie either.
I like to buy bulk bags of organic frozen fruit from Costco so I have frozen fruit ready to blend for healthy fruit smoothie recipes at all times! Skip the ice, trust me. 
What Should I Put in My Smoothie?
This is the exact recipe format that I follow for most of my smoothies:
1 1/2 cups frozen fruit + 1 whole frozen banana + 1 scoop protein powder + 1 Tbsp chia seeds + 1 Tbsp hemp seeds + 1 Tbsp ground flaxseed + 2 Tbsp nut butter + 1 cup plant/nut milk = smoothie heaven!
It makes a filling and rich smoothie that keeps my energy high and it stops me from snacking in between meals!
Are Fruit Smoothies Good for Weight Loss?
If you're drinking smoothies to try to lose weight, follow these tips for a healthy smoothie:
Don't add any extra sweeteners (like maple syrup or agave). If your smoothie has fruit in it, it should be naturally sweet enough.
Add more fiber to help fill you up. I recommend avocado, ground flaxseed (make sure you get ground flax or it will pass right through you), kale, or chia seeds.
Add a scoop of organic vegan protein powder to keep you feeling full and your energy high. If you're feeling low and hungry, you'll probably start snacking.

This is my favorite protein powder.

I know it's easy to load up the blender but if you end up making too much smoothie, pour the extra into

silicone ice cube molds

and freeze it. Then blend those cubes with plant milk for a smoothie another time.
If you're trying to decide on a protein powder based on ingredients, fillers, organic, sugar, gluten, dairy, vegan, etc, this article is a great resource. They break down all of the most popular protein powder brands and compare them to others to help you find the protein powder that's best for you.
How Do You Make the Best Banana Smoothie?
In my opinion, bananas are a key ingredient to a healthy & easy smoothie recipe. They are high in fiber, low calorie, and they will make your smoothie extra creamy!
I don't make straight banana smoothies, I always mix in some other fruit because I prefer a more tropical flavored smoothie. See possible flavor fruit combinations above. 
But there is a secret to making the best banana smoothie…
Use a frozen banana!

I swear the banana gets even creamier when it's frozen and it makes your smoothie taste more like ice cream than liquid breakfast! There's nothing worse than a warm, liquidy, thin smoothie when you're expecting a refreshing, chilled, creamy treat.
How Do You Freeze Bananas for Fruit Smoothies? 
If you fill a bag with peeled bananas and freeze them together in a pile, you're going to have a real hard time getting one banana out when you want to make a healthy smoothie. The bananas will all be frozen together in a big clump.
The best way to freeze bananas for healthy fruit smoothies is to:
Peel the bananas.
Line a baking tray with parchment paper. (This is my favorite earth-friendly parchment paper)
Lay the bananas side by side on the tray (not touching).
Freeze the bananas for 2-3 hours or until solid.
Once the bananas are frozen, transfer them to a container or bag and put them back into the freezer.
By freezing the bananas this way, they will stay separated and it will be much easier to get one frozen banana at a time out of the bag.
20 Vegan Healthy Fruit Smoothie Recipes that Will Jumpstart Your Day! 
Now that you know my tips for making the best smoothies, what blender you should use, my basic smoothie format, the frozen banana secret, and my favorite frozen fruit combinations…it's time to pick a smoothie to make!
The high-protein vegan cherry banana smoothie is my number #1 recommendation for you to try because it's effing delicious and I drink one almost every morning. I basically lived off it when I had my wisdom teeth removed and I'm still not tired of it. It's so yummy!
If cherries aren't your thing then I included a ton of other vegan smoothie recipes for you try too. Happy blending!
1 – High Protein Cherry Banana Smoothie – Stacey Homemaker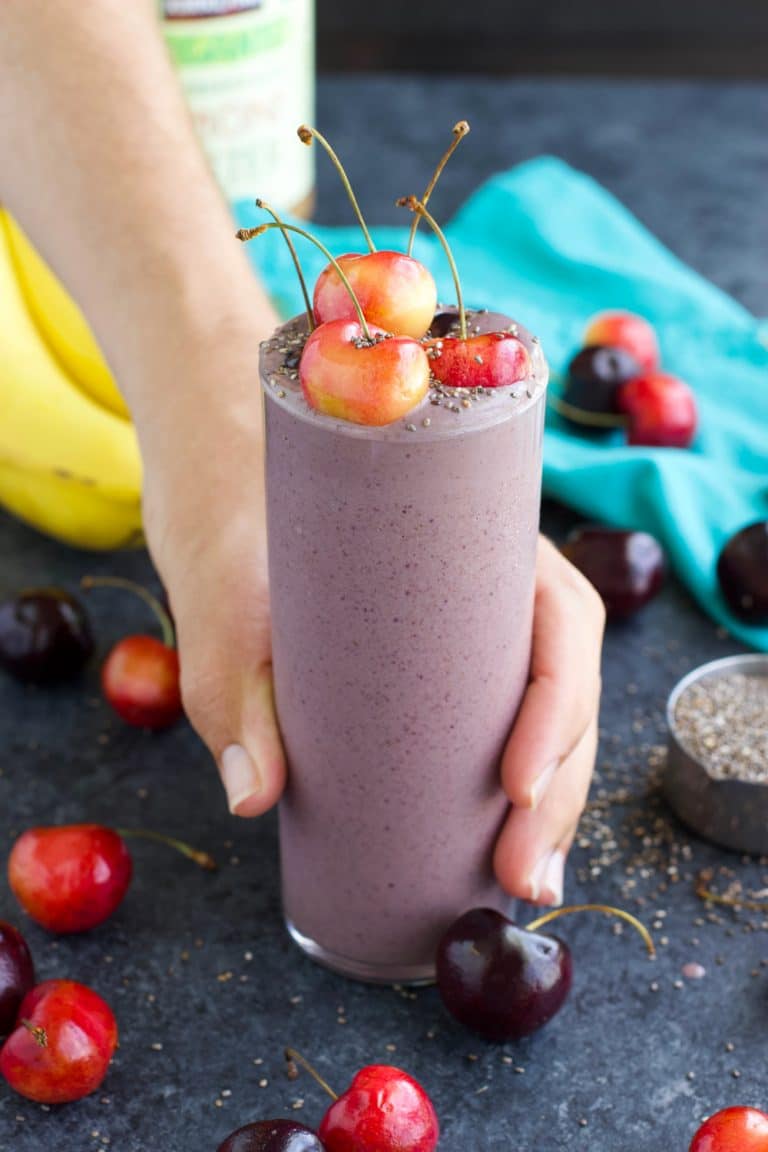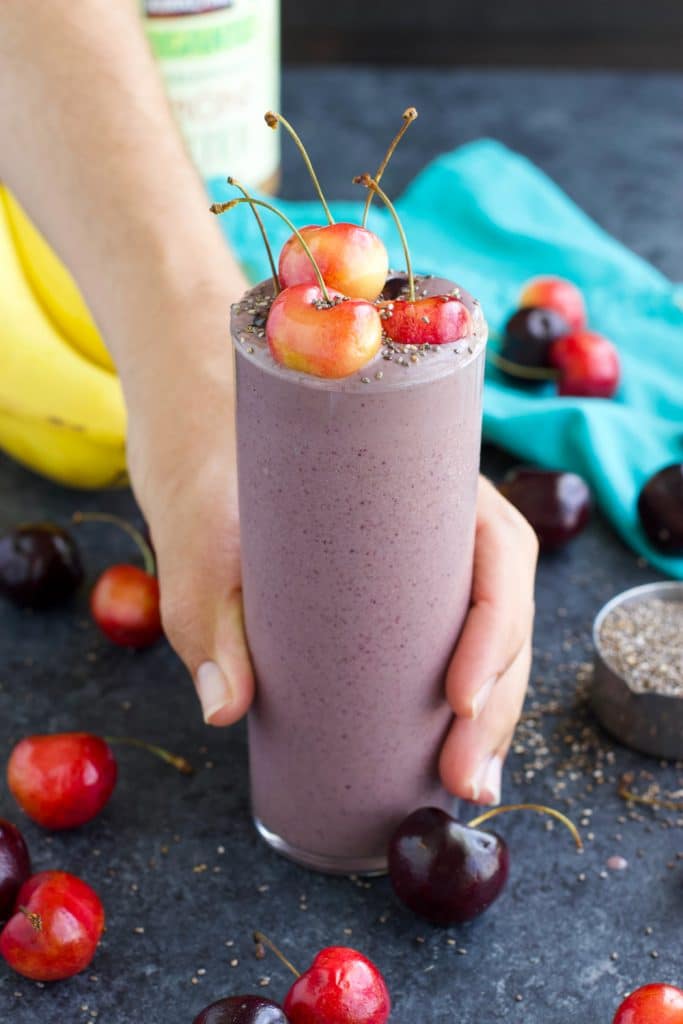 2 – Body Booster Lemon Pomegranate Smoothie – Stacey Homemaker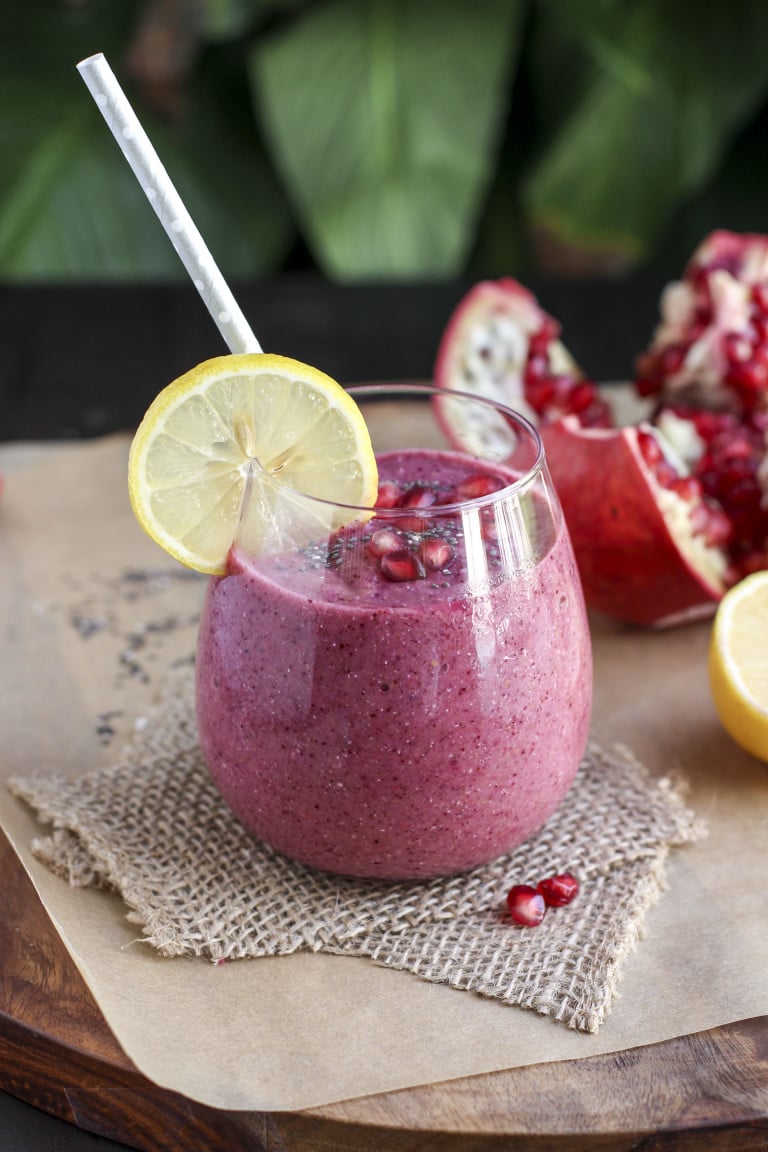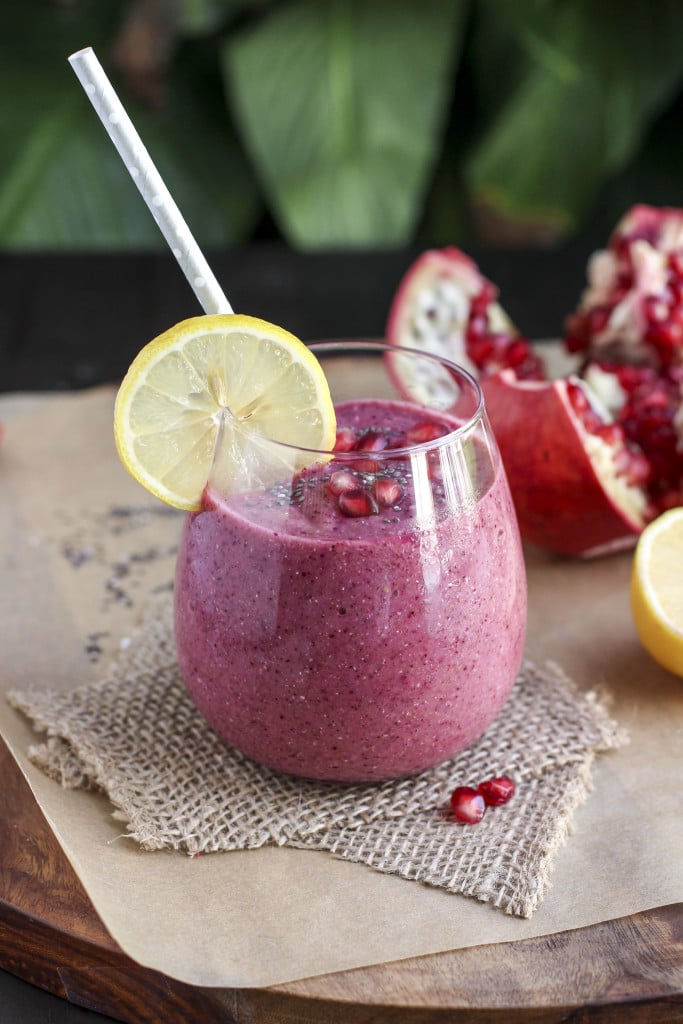 3 – Triple Berry Smoothie – Beaming Baker 
4 – Rise and Shine Smoothie – A Beautiful Plate 
5 – Creamy Banana Smoothie – A Virtual Vegan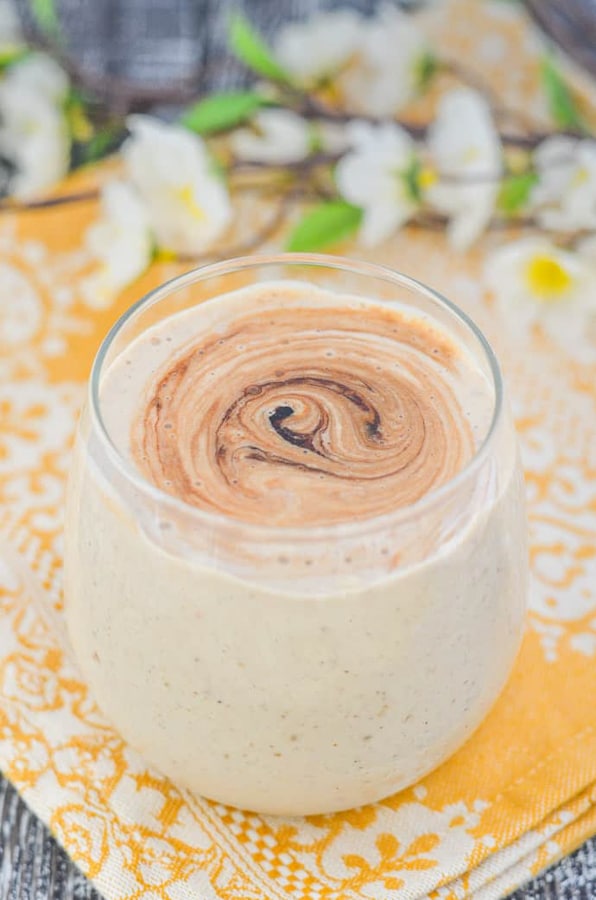 6 – Blueberry Oatmeal Smoothie – Veggie Inspired 
7 – Tropical Strawberry Pitaya Smoothie – One Lovely Life
8 – Strawberry Beet Smoothie – Veggie Inspired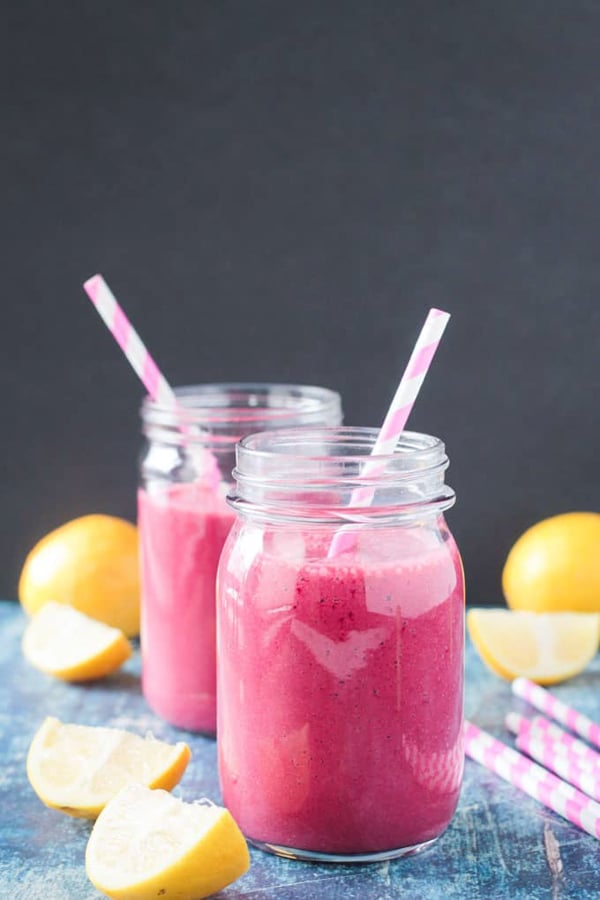 9 – Blood Orange Berry Smoothie – Wife Mama Foodie 
10 – Blueberry Matcha Smoothie – As Easy as Apple Pie 
11 – Chocolate Banana Coffee Smoothie – A Saucy Kitchen 
12 – Beet & Berry Smoothie – Salt & Lavender 
13 – Nourishing Mango Papaya Ginger Smoothie – Berry Sweet Life 
14 – Berry Beautiful Smoothie – The Pretty Bee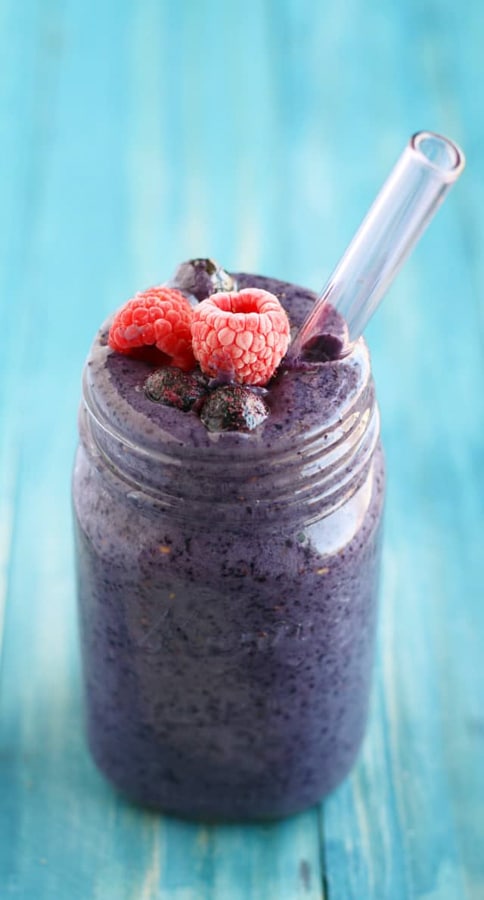 15 – Creamy Golden Milk Smoothie – Minimalist Baker 
16 – Healthy Banana Mango Smoothie – Jar of Lemons 
17 – Kiwi Mango Pineapple Smoothie – Recipes From a Pantry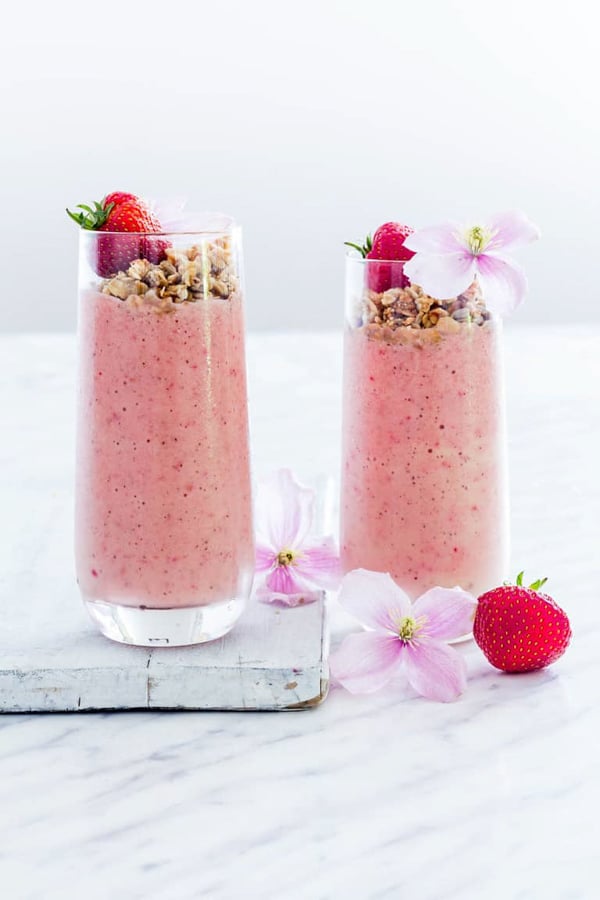 18 – Creamy Peach Smoothie – Yummy Mummy Kitchen 
19 – Grapefruit Ginger Smoothie – Natalie's Health
20 – Turmeric Pineapple Carrot Smoothie – Yay for Food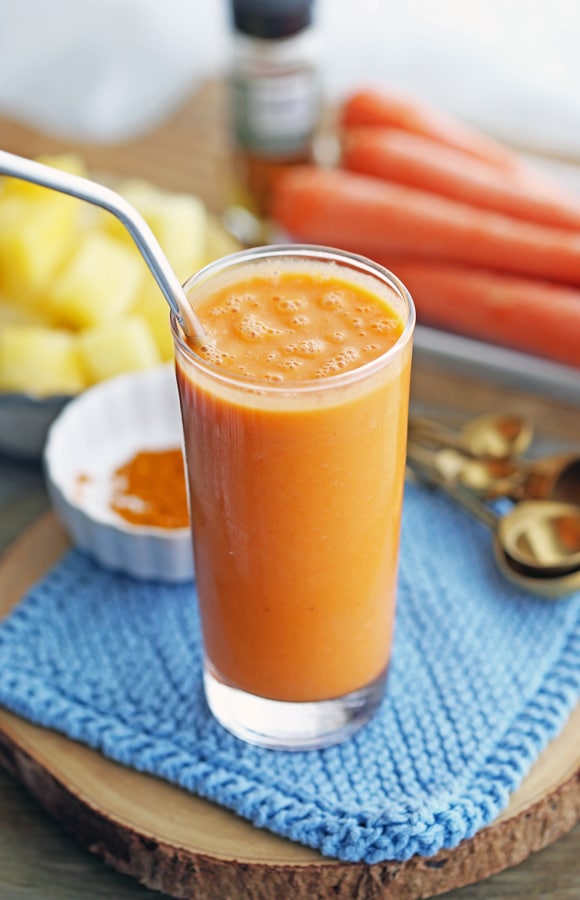 21 – Sunrise Smoothie – Vegan Guide to the Galaxy
22 – Luscious Lemon Cheesecake Smoothie – A Virtual Vegan 
23 – Healthy Strawberry Banana Smoothie – Build Your Byte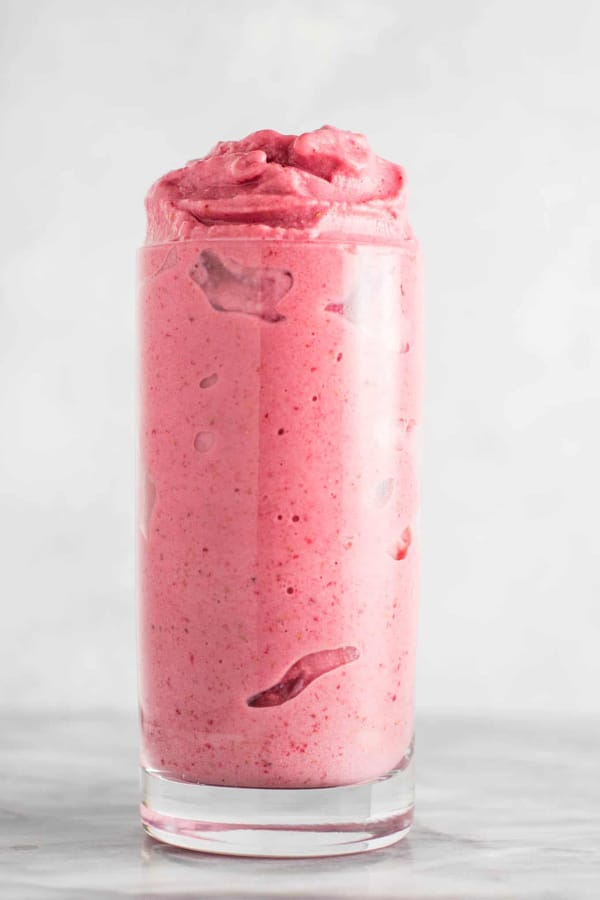 24 – Cherry Lime Beet Smoothie – Oat and Sesame 
25 – Beaming Banana Berry Detox Smoothie – Blissful Basil 
26 – Mango Maca Smoothie – Love Food Nourish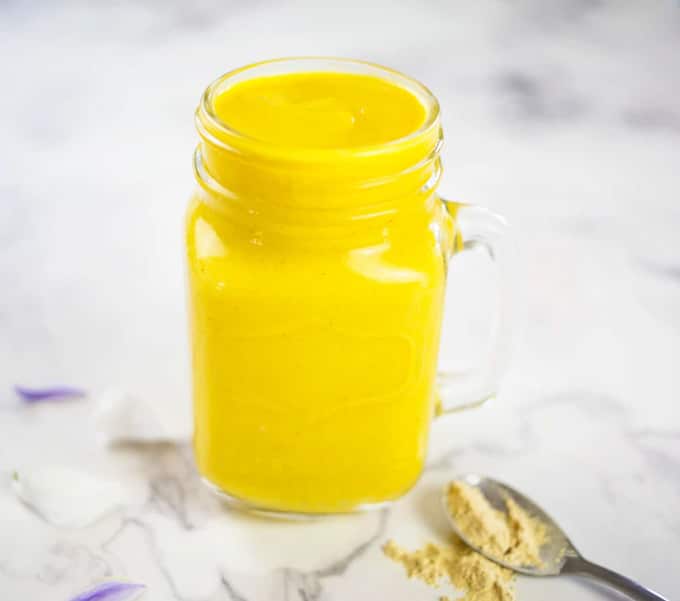 27 – Blueberry Citrus Green Smoothie – Joy Food Sunshine 
28 – Strawberry Peanut Butter Smoothie – Beaming Baker 
29 – Mango Berry Smoothie – Real Food Real Deals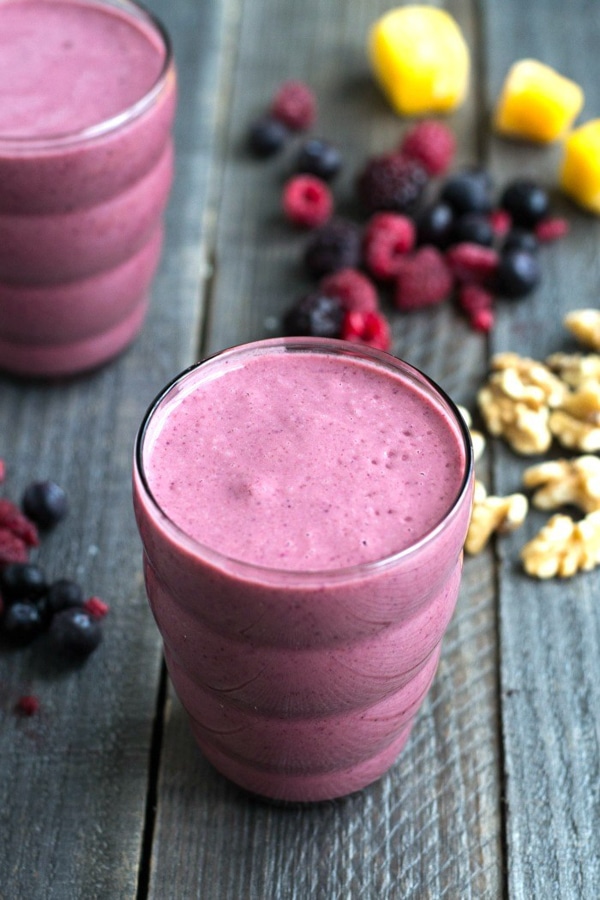 Bonus Smoothies – Healthy Green Smoothies! 
I'm more of a pure fruit smoothie kind of girl– I prefer my greens in a salad or in a burrito but these green smoothie recipes have fruit mixed in so they are okay by me!
If I'm going to drink a green smoothie, it better be green! There is nothing more unappealing than a grey "green" smoothie. I think that's what turned me off to smoothies with greens in them in the first place. If you mix greens with certain fruits, your smoothie will turn out a muddled grey color. Bleh.
These easy green smoothies have a beautiful color and have delicious fresh fruit in them too. Clearly, I was doing it wrong. I can't wait to try these delicious vegan green smoothies!
1 – Pineapple Green Smoothie – Veggies Save the Day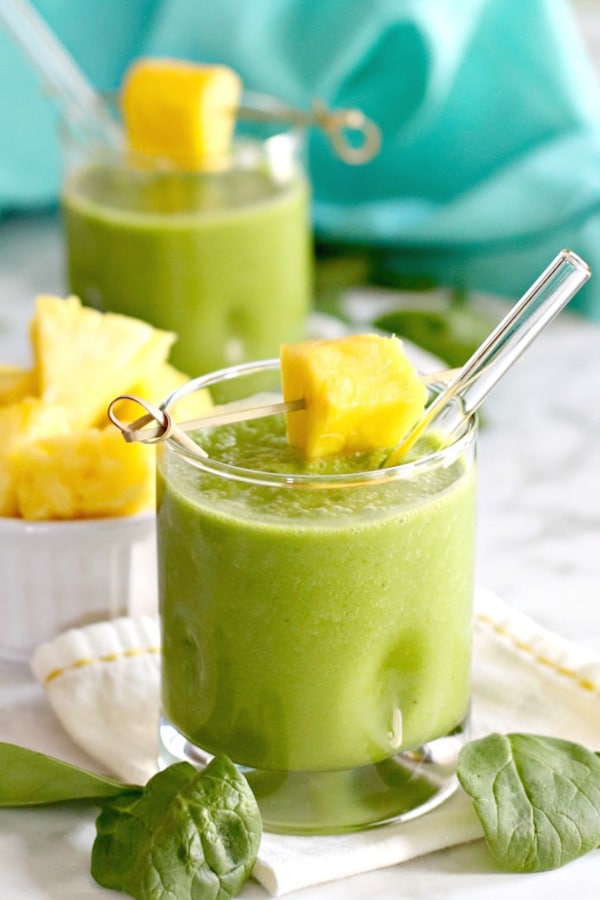 2 – Cucumber Mint Pineapple Smoothie – Yay for Food!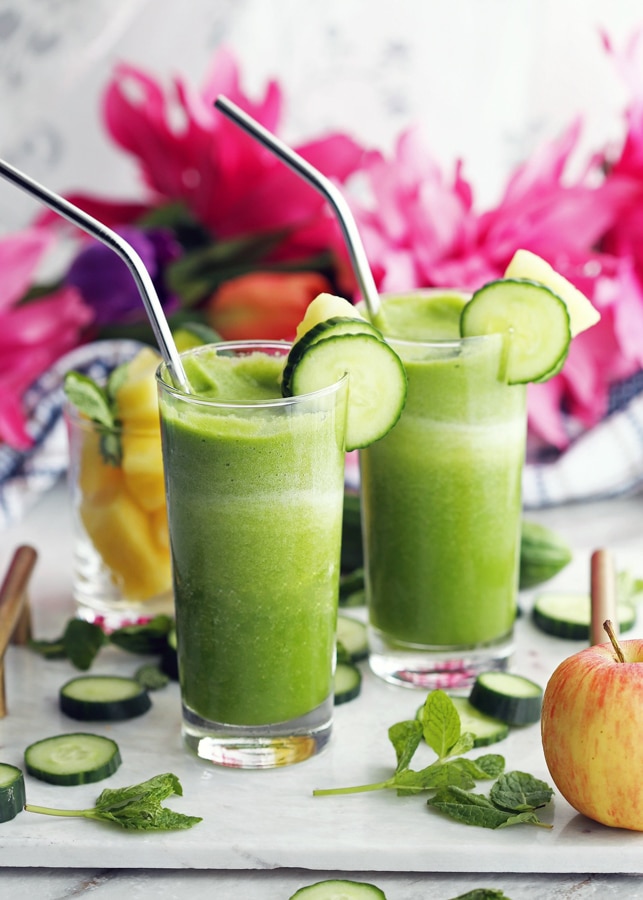 If you try any of these healthy fruit smoothie recipes, please let me know what you thought of it in the comments below, I love hearing from you! You can also FOLLOW ME on FACEBOOK, TWITTER, INSTAGRAM and PINTEREST to see more delicious vegan recipes + our monthly trips to Disney World!
Which healthy fruit smoothie recipes are you going to try first?! Let me know in the comments!