Looking for smoothie inspiration? Any of these vibrant and refreshing plant-based smoothies would make a delicious and nutritious breakfast or filling snack!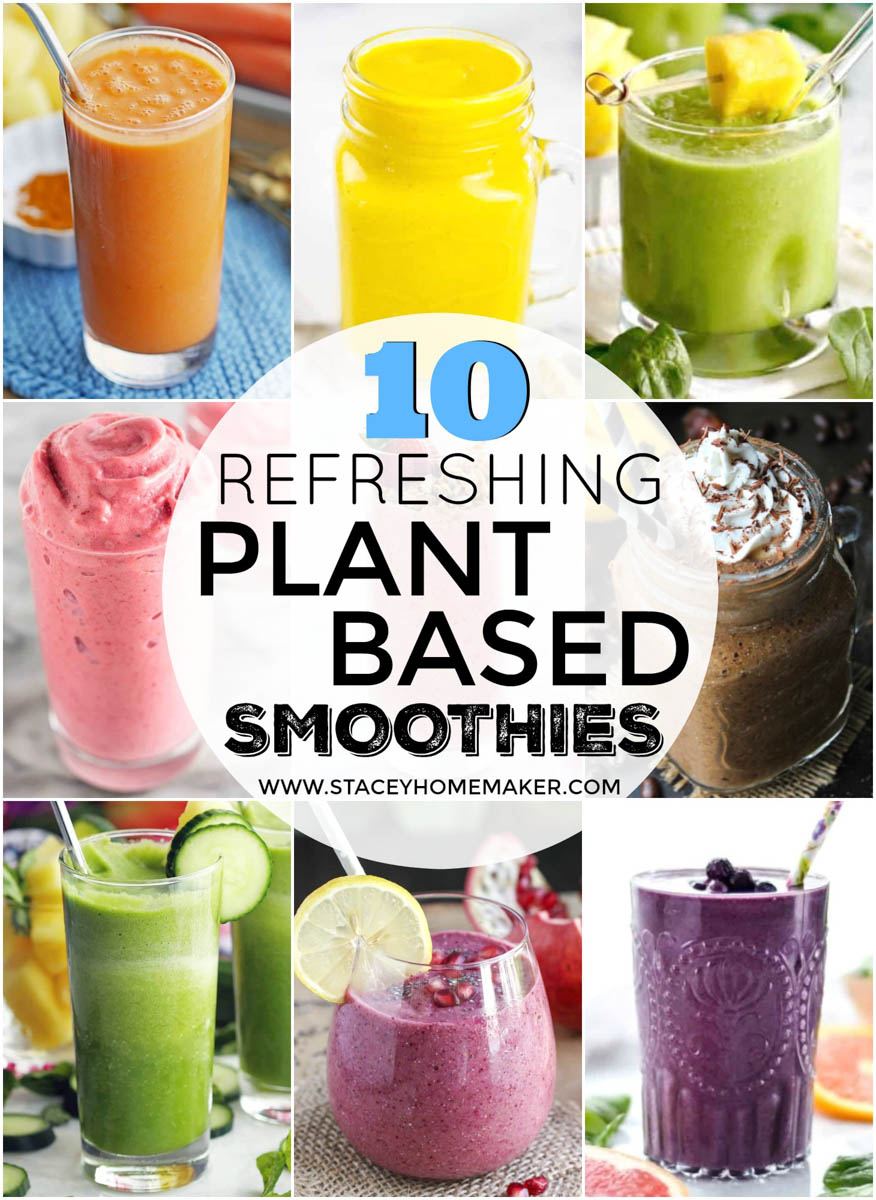 Aren't smoothies the best? I always liked smoothies, but I really fell in love with them when I had my wisdom teeth removed a few years ago. They're quick and simple to make and it's an easy way to consume a few servings of fruit and vegetables for breakfast or for an afternoon snack! I especially enjoy drinking a cold and frosty plant-based smoothie to cool down after my morning run or afternoon rollerblading session at my local park.
What Do You Eat For Breakfast on a Plant-Based Diet?
I usually rotate between avocado toast with a sliced apple, a bowl of oatmeal topped with frozen blueberries, a frozen fruit smoothie, or curried tofu scramble with potatoes for breakfast. Plant-based smoothies are my go-to breakfast on days that I don't have a lot of time to prep or cook because of how quickly I can make it and pack it full of fruit and vegetables!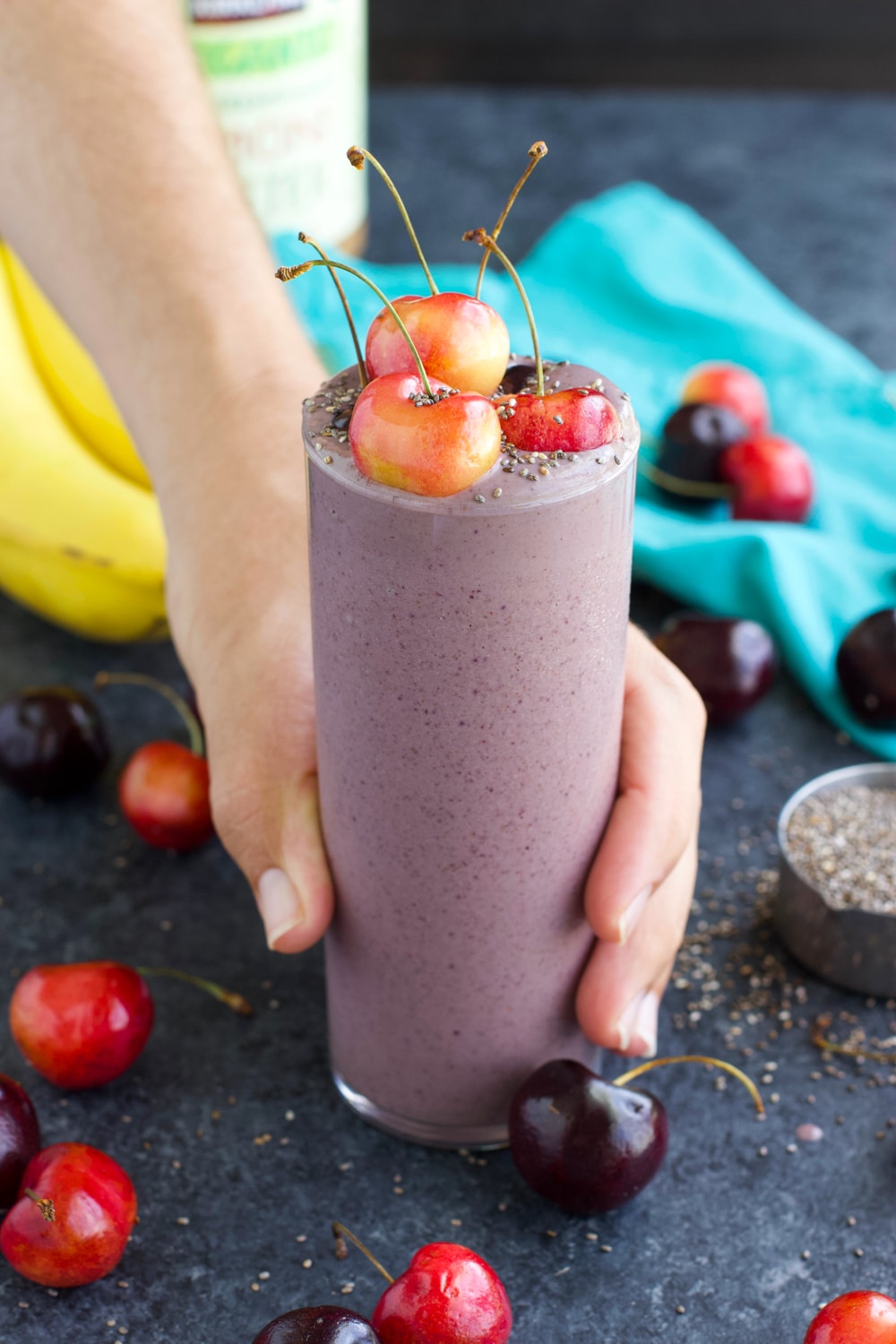 One of the best things about smoothies is that you can "hide" fruit, vegetables, protein powder, or supplements (sometimes I add mushroom powders or barley grass juice powder) in them without being able to taste it.
What Frozen Fruit is Good to Use in Smoothies?
You can pretty much put any kind of frozen fruit in a smoothie, but there are some top contenders that I like to use more than others.
Blueberries
Raspberries
Blackberries
Strawberries
Cherries
Mango
Pineapple
Kiwi
Peaches
Pomegranate Arils
Banana
Pitaya
What Veggies Can You Put in a Smoothie?
My favorite leafy veggie to put in a plant-based smoothie is spinach! You can add 2-3 handfuls of fresh spinach and completely cover the color and flavor by adding 1 cup of frozen blueberries to the blender. Plus, it tastes delicious! Any of the following vegetables are also really delicious in smoothies:
Kale
Swiss Chard
Carrots
Cucumber
Celery
Cauliflower
Beets - I like to buy the package of cooked beets (from Costco) below, freeze them the same way I do bananas (see below for freezing instructions). Doing this makes it so easy to grab one beet to add to my smoothie when I'm in the mood!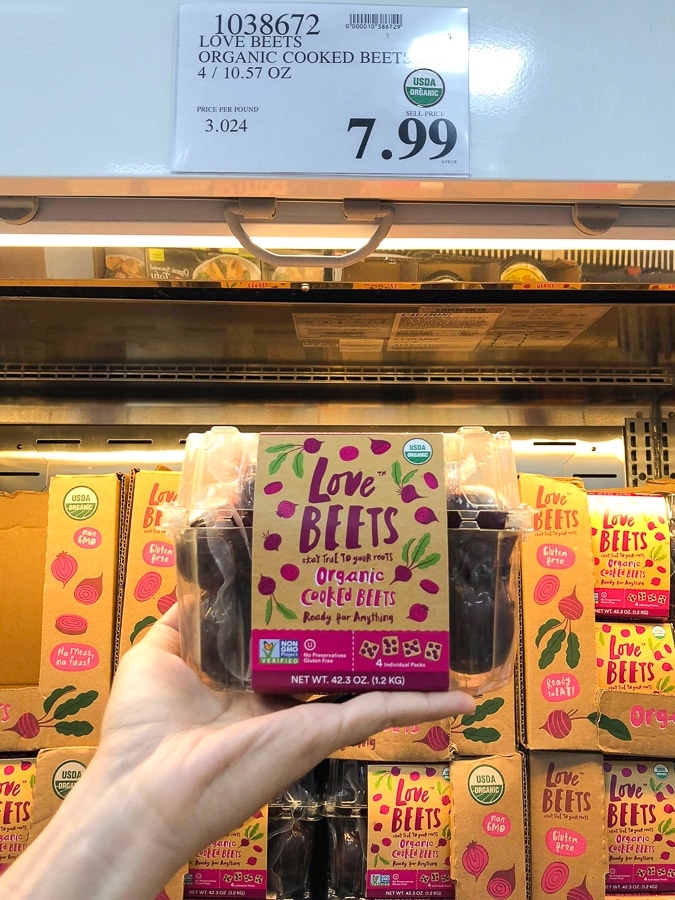 Should I Use Fresh or Frozen Bananas? 

 
You can use fresh bananas to make a plant-based smoothie, but I think that frozen bananas make it taste so much better! Let me show you the best way to freeze bananas for smoothies.
Peel the bananas.
Line a large sheet pan with parchment paper.
Arrange the peeled bananas side by side on the tray so they're not touching each other.
Put the tray into the freezer and freeze for 2-3 hours or until solid.
Once frozen, transfer them to an airtight container or ziploc bag and put them back into the freezer.
If you put room temperature bananas in a bag and then freeze them, they will freeze together in a solid clump. It's will be very difficult to break them apart. By freezing the bananas individually before transferring them to a container, it will be easy to separate the bananas to get one frozen banana at a time out of the bag.
What's the Best Liquid to Use?
You need a liquid component to break down the frozen fruit in your smoothie. I don't think there is only one "best liquid" to use to make a delicious plant-based smoothie. Just use whatever you have on hand. There are lots of options that you can use. My favorite choices are:
Unsweetened Almond Milk
Unsweetened Coconut Milk
Cold Water
No Sugar Added Orange Juice
Any kind of plant or nut milk (use unsweetened if you don't want added sugar) is fine to use. Fruit juice can also be used, I love to use pineapple juice or mango juice for extra flavor.
Tips to Make the Best Smoothie
I've made lots of vegan smoothies that were delicious, but I've also made some not-so-great smoothies too. I've learned what works and what doesn't, so here are my best smoothie making tips to make all of your plant-based smoothies taste incredible!
You can use fresh fruit, but frozen fruit is better because it makes the smoothie taste cold and frosty without needing any ice.
It's more affordable to buy frozen organic fruit in bulk (I buy the big bags of frozen fruit at Costco. Here's my vegan Costco shopping list if you want to check prices) instead of small bags to use for smoothies.
If you like to use orange juice as the liquid component of your smoothie, try to use freshly squeezed juice or buy orange juice that doesn't contain any processed sugar (I love the organic OJ from Costco!) in it.
To naturally sweeten a tart or green smoothie, add 1-2 pitted medjool dates or a little bit of orange juice or frozen pineapple.
If you want to add protein powder to the smoothie, pick one that is made with ingredients that you know what they are and doesn't have any added sugar. This is my favorite vegan protein powder to use.
If your smoothie turns gray because you combined too many different colored fruit and veg, you can fix it by adding 1 cup of frozen blueberries and it will transform it into a vibrant purple smoothie!
Take time to freeze bananas in advance so you'll have them ready use for smoothies! Frozen bananas will make your plant-based smoothie taste like a thick milkshake, it's so delicious!
I compiled a list of my favorite creamy and filling smoothie recipes for you to look through and enjoy! In my opinion, the brighter and more vibrant the better! Do you agree? I also included a healthier smoothie version of my favorite treat, a vegan mocha frappuccino. It's not super colorful, but it's incredibly delicious and naturally sweetened!
10 Refreshing Plant-Based Smoothies
Looking for smoothie inspiration? Any of these vibrant and refreshing plant-based smoothies would make a delicious and nutritious breakfast or filling snack! 
Want More Filling Vegan Breakfast Recipes?