Quinoa pizza will be your new favorite gluten-free pizza that you can get on the dinner table in only 35-minutes! It's healthy, delicious, and you only need 5 ingredients to make it! Vegan, gluten-free, nut-free.
*This post contains affiliate links.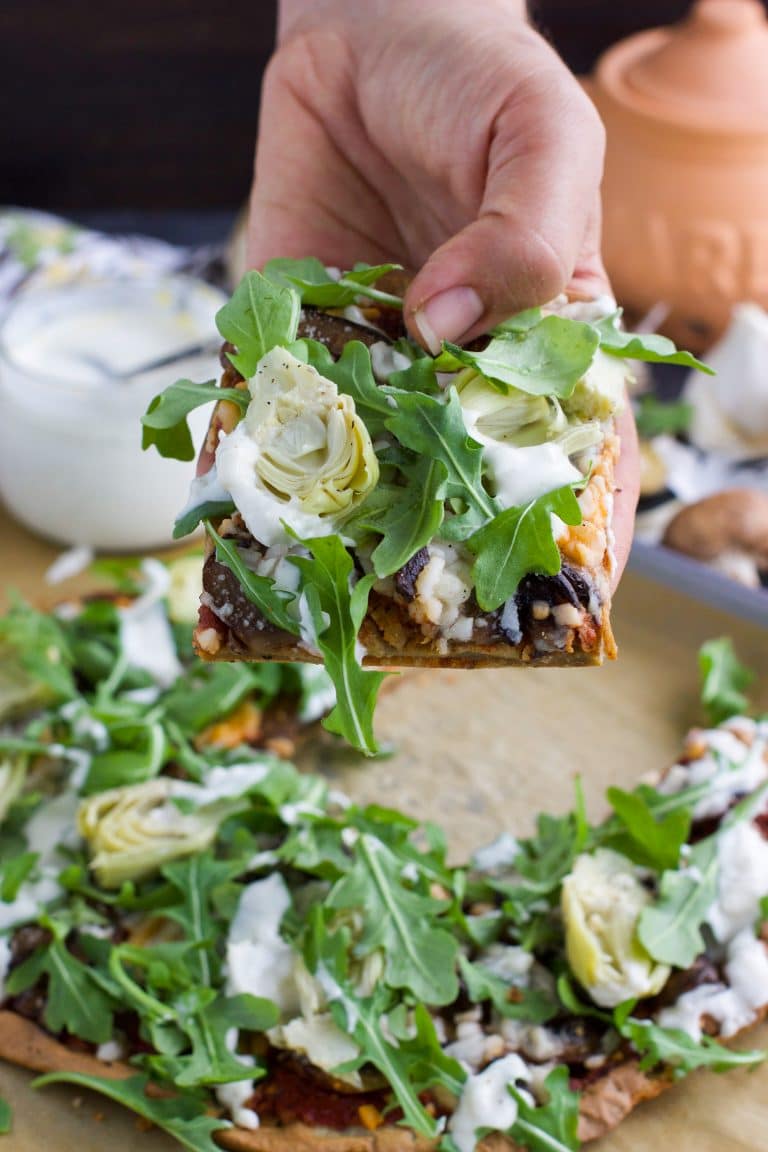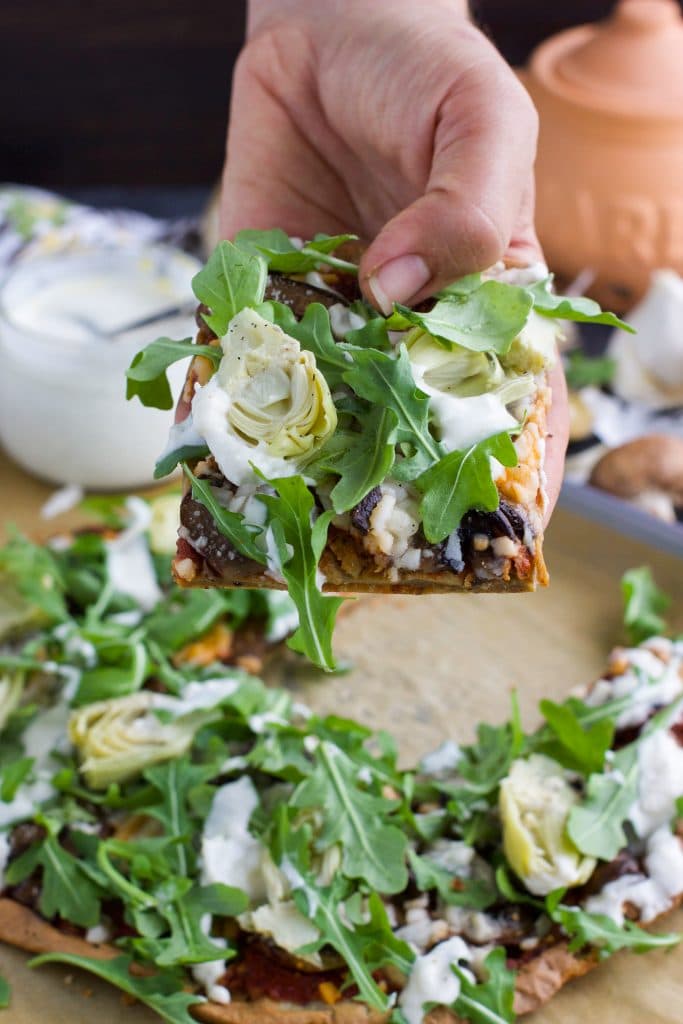 I loveee pizza, It's one of my favorite foods of all time! It's right up there with creamy vegan mac and cheese and loaded vegan cheesy quesadillas.
One thing I can't stand doing is kneading dough, even if it means I get pizza after doing it. It's so time-consuming and it makes my hands so tired. UGH, no thanks. That's also the main reason why I always make no-knead bread. Whole wheat chia bread is our all time fav, it's easy and delish! YUM!
When you make homemade pizza dough, you have to wait for the dough to rise and then you have to roll it out on the counter which leaves the dried dough bits behind. Nope, nope, nope. I don't have time for that! Homemade quinoa pizza crust is the solution to get pizza in your belly– QUICK!
How to Make GF Quinoa Pizza Crust
Quinoa pizza crust is awesome because:
You make the dough in the blender! Easy-peasy!
You don't have to wait for the dough to rise.
Easy clean-up since it bakes on a sheet pan.
The pizza crust is naturally gluten-free.
From start to finish, it only takes 35-min to make!
Being able to make the pizza crust dough in the blender is what made me really fall in love with this pizza! It's so easy and convenient to just throw all the ingredients into my blender and make the pizza crust dough!
No yeast, no rising, no mixing, no nothing. You don't even need one of those special perforated pizza trays, all you need is a regular old sheet pan. Just blend, bake, and eat! Pizza crust doesn't get any easier than this.

Since there is no yeast in this pizza crust recipe, the quinoa dough bakes into more of a flatbread style pizza rather than a traditional puffy pizza crust.
I like to spread the quinoa pizza dough out 1/4 inch thick on the sheet pan so it's sturdy enough to hold sauce and all the toppings that you want! It has a delicious chewy texture and you can pick it up without it bending or breaking.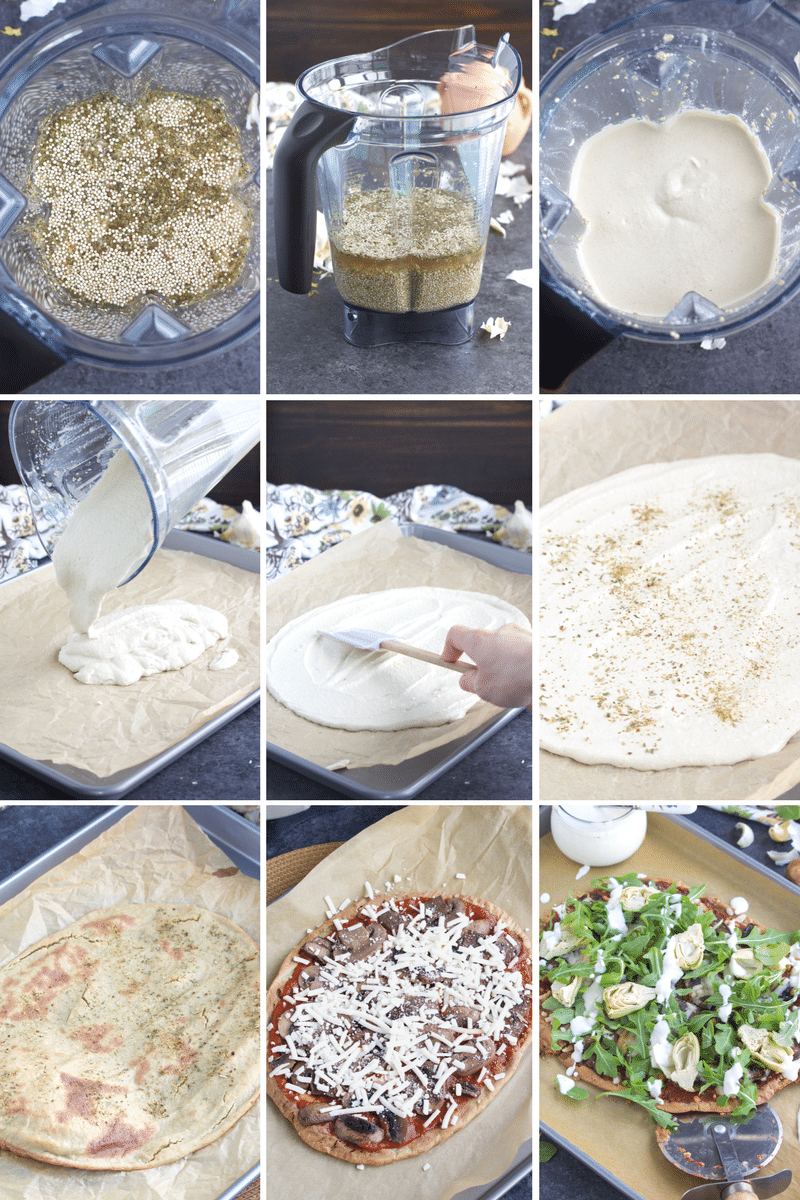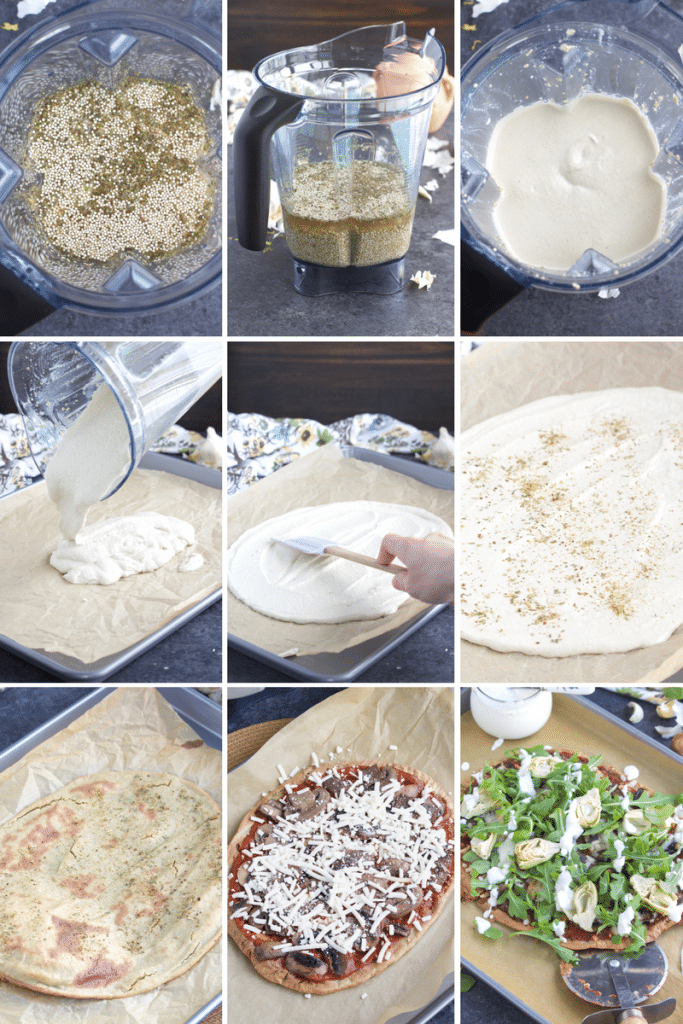 Why Quinoa?
I use quinoa for this pizza crust recipe because it's great for so many different diets! It doesn't hurt that it's delicious and the perfect neutral base for any toppings.
Quinoa is…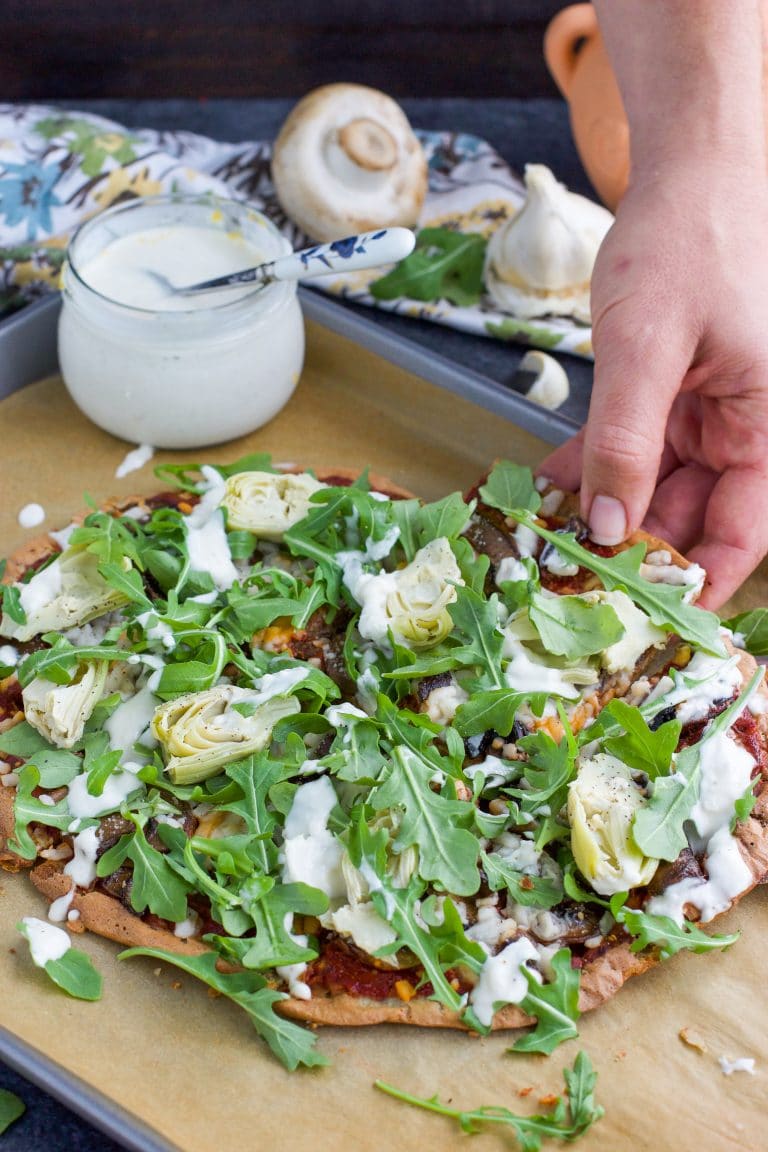 What Toppings Should You Put On Quinoa Crust Pizza?
I usually try to recreate my favorite Mellow Mushroom pizza: the Holy Shiitake pizza. Caramelized onions, sauteed mushrooms, and the BEST vegan garlic aioli sauce drizzled over a huge handful of fresh baby arugula. It's killer!
I also like to add any leftover veggies we have in the fridge:
Diced zucchini
Artichokes
Sliced bell peppers
Spinach
Roasted garlic
Broccoli
Olives
Kale
Beet greens

More Quinoa Recipes You'll Love
Chipotle Walnut Quinoa Taco Meat
Easy Quinoa Fried Rice Lettuce Wraps
If you make this gluten-free quinoa pizza, please share your picture on Instagram and tag @Stacey_Homemaker so I can see your delicious creation!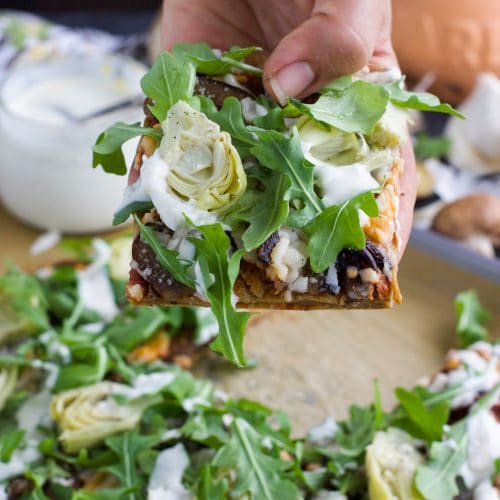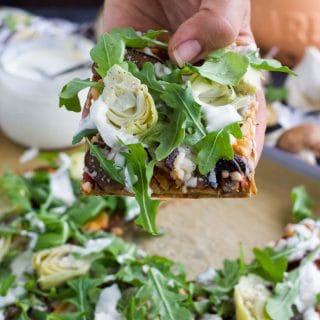 Instructions
Preheat oven to 425 degrees.

Blend quinoa, water, garlic, 1/2 tsp pizza seasonings, and sea salt in a high powered blender until smooth.

Pour the mixture onto a parchment lined baking tray. Use a spatula to evenly spread the dough into a 1/4 inch pizza. Sprinkle a pinch of pizza seasoning over the dough. Bake for 15 minutes.

Lay a new piece of parchment over the top of the pizza and carefully flip it over. Slowly peel of the top layer of parchment paper. Bake for 5 more minutes.

Add sauce, cheese, and toppings, bake for 10 minutes. Slice and top with fresh arugula and vegan garlic aioli sauce. Enjoy!