Every recipe that you need to make the BEST vegan Christmas dinner is on this list! These recipes will impress all of your guests, even the carnivores! A sample dinner menu + tips for prepping and planning are also included.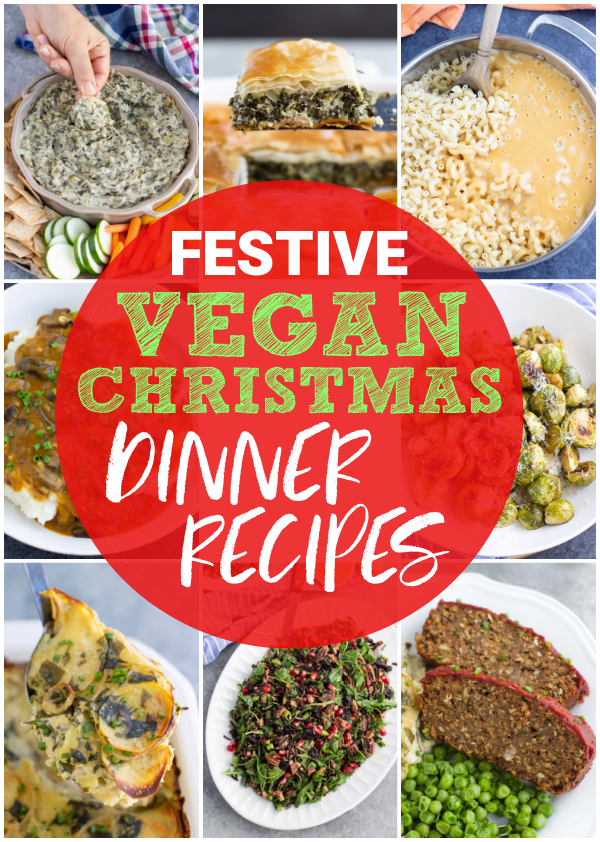 Whether you're a new vegan, an experienced vegan looking for new recipes to try, or a person with a vegan family member that you're going to be cooking for this Christmas, this vegan Christmas dinner recipe list has something for everyone! From classic recipes to unique non-traditional dishes, every recipe is a winner!
First of all, if you're not vegan and you're taking the time to research vegan Christmas recipes so you can make something special for dinner for your vegan guest, I want to thank you for doing that! Seriously, it will mean so much to that person and I know that they will be blown away by how thoughtful you are.
Christmas dinner can be difficult to navigate for vegans, especially if someone else is preparing the food. They may feel uncomfortable bringing up their dietary preferences to the host/hostess and asking which dishes are safe for them to eat because they don't want to make a big deal about it or draw attention to themselves in a group setting.
It can also be hard if you're vegan and you're the one hosting dinner, but nobody else at the table is vegan. You may be worried about finding vegan recipes to make that replicate classic Christmas dishes that are delicious and safe for everyone to enjoy. Especially, when it comes to the meat or roast for the main course.
Please don't worry! This list has so many tried and true delicious recipes that whether you are looking for a dish to bring to Christmas dinner or you're cooking the whole enchilada, I'm sure you'll find something on this list that piques your interest.
Best Vegan Christmas Roast Substitutions
Traditionally, people serve a roast as the centerpiece of their Christmas dinner. When I first went vegan years ago, figuring out what plant-based option to serve for the main course was so hard. Now we have so many options to choose from to replace the roast!
You could pick up a store-bought vegan roast, make one from scratch, or substitute a non-traditional main course instead. My top three favorite store-bought vegan roasts are listed below. All three are delicious and make an impressive main course.
Gardein Holiday Roast
Trader Joe's Breaded Turkey-less Stuffed Roast
Field Roast Celebration Roast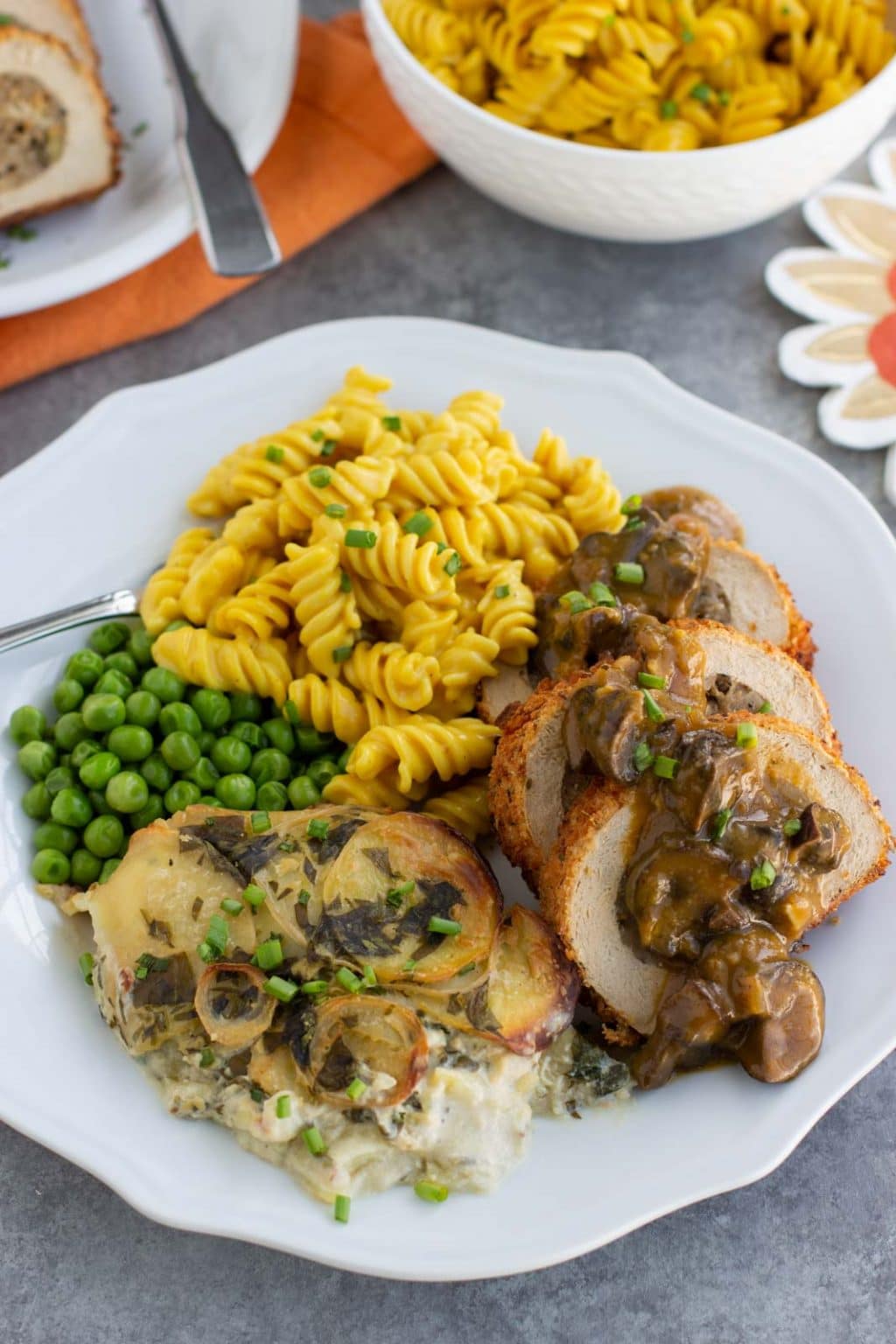 If you're not interested in a store-bought vegan roast, here are some alternative homemade recipes for you to try.
Once you decide what you want to make for the main course, it's easy to plan the rest of your menu around that. I also wrote out my personal vegan Christmas dinner menu at the end of this post + tips to help you plan your vegan Christmas dinner menu too!
Okay, let's get into all the delicious recipes! I separated everything by courses so it will be easy for you to skim through and find the recipes that you need.
Finger foods and small bites are a must! Whether you're having a sit-down meal or a casual buffet, you need to have a few platters of starters out that your guests can munch on while the main meal is being prepared. 
After starters, serve something light like a delicious soup and salad!
For many vegans, the side dishes are the main course-- so they gotta be reaaaal good. For Christmas, I feel like the side dishes should be amped up a little bit more than normal. All of the following are extra special and delicious side dish recipes.
The main course of your vegan Christmas dinner is so important, it's the centerpiece of your meal! I included multiple traditional and non-traditional main course recipes for you to choose from. Each one is delicious and sure to impress your guests!
No Christmas dinner is complete without dessert! From cake to mini pecan pies and cookeis, all of these choices are delicious!
A special signature drink is a really nice touch for your vegan Christmas dinner and it can be alcoholic or not.
Photo Credit: www.elephantasticvegan.com
Seriously, what would the Christmas season be without eggnog?! This date-sweetened vegan eggnog is perfect for vegans and health-conscious people!
Photo Credit: www.vnutritionandwellness.com
Cozy, creamy, and loaded with Christmas spice, this vegan Gingerbread Hot Chocolate is the perfect warming drink for the holidays!
Photo Credit: cadryskitchen.com
Made with just three ingredients, this cranberry mimosa is a festive and easy holiday cocktail!
Expert Tips
If you're going to someone else's house for dinner on Christmas, always bring a dish or two to share. That way, you'll at least have something safe for you to eat for dinner. Also, remember to bring a hostess gift.
I understand that you might feel uncomfortable talking to the host/hostess about your dietary preference, but the sooner you do it the better so you both have time to plan. You never know, it might be an easy ingredient swap for them to make a dish vegan!
If you're cooking the whole dinner, try to prep as much as you can a few days before Christmas. You can even make some dishes further in advance, freeze it, and then defrost it for Christmas.
If you don't want to cook at all, many grocery stores now offer vegan options that you can pick up. Some even offer the whole meal! Last year, my local health food store and Whole Foods had all the fixins for a holiday plant-based dinner available to pre-order.
For a store-bought dessert option, the Daiya Pumpkin Spice Cheesecake with So Delicious Coco Whip or a scoop of So Delicious Salted Caramel Ice Cream is great!
Sample Dinner Menu + Prep Tips
This is my menu that I'll be making for dinner on Christmas. I thought it might be helpful to write it out and share it with you in case you need some inspiration. I also included my notes for prep time. I try to make as much as possible in the days leading up to Christmas so I won't be stuck in the kitchen most of the day on Christmas.
I hope all of these vegan Christmas recipes make your holiday extra festive and delicious! Merry Christmas!
Did I miss any of your favorite vegan holiday recipes? Let me know in the comments!
Want More Vegan Holiday Recipes?
If you make any vegan Christmas recipes from this list, please share a picture of it on Instagram and tag me @Stacey_Homemaker or use the hashtag #StaceyHomemaker so I can see your creation! You can also FOLLOW ME on FACEBOOK, TWITTER, INSTAGRAM, and PINTEREST to see weekly delicious vegan recipes.