Cooking a vegan Thanksgiving feast is easy when you have this list of delicious vegan Thanksgiving recipes + a day by day schedule to follow! All the recipes you'll need from appetizers to dessert + tips to host a stress-free Thanksgiving!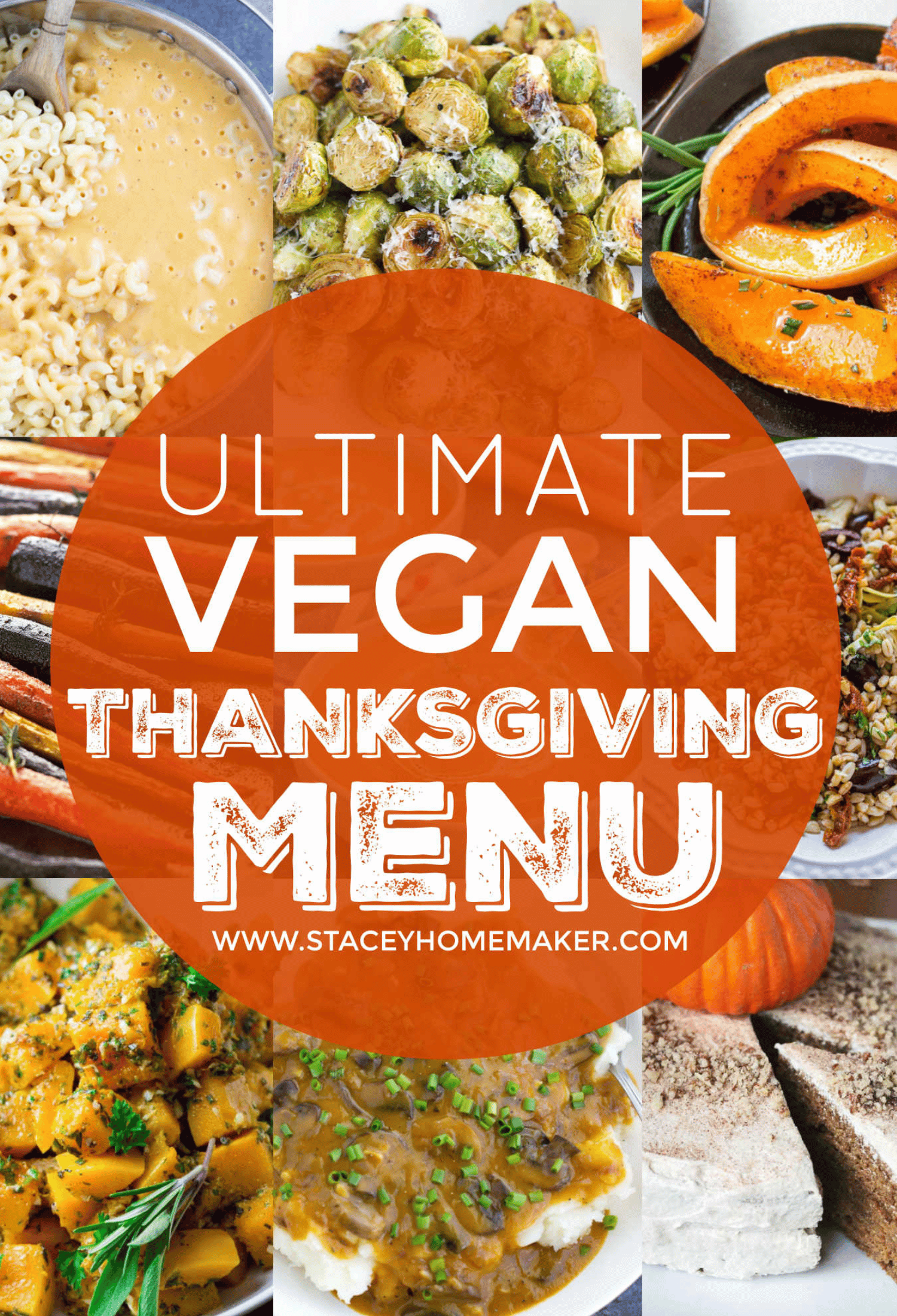 Thanksgiving will be here before you know it but there's no need to stress when you have this list of delicious vegan recipes that you can make for your Thanksgiving dinner!
Just in case you're planning ahead and Halloween hasn't even passed yet, here's my list of 51 Vegan Halloween Recipes!
We're so lucky to be vegan in this day and age, because there are delish vegan recipes for all of your favorite classic Thanksgiving recipes! We don't have to miss out on anything anymore!
There's even a bunch of options for a vegan turkey replacement. (Keep reading to find out which store-bought vegan turkey substitute I think is the best!)
Whether you're hosting Thanksgiving at your house, having a vegan Thanksgiving dinner for one at home, bringing a dish (or two) to your family gathering, or going to a vegan Thanksgiving potluck with all of your vegan friends, this list has all the BEST vegan Thanksgiving recipes for you!
What Do Vegan People Eat on Thanksgiving?
A traditional Thanksgiving meal consists of a turkey, stuffing, mashed potatoes, gravy, cornbread, cranberry sauce, green bean casserole, sweet potato casserole, and some type of dessert.
Luckily, I've found the best vegan Thanksgiving recipes to replace all of these traditional recipes. Vegans can eat everything that I listed above because there is a compassionate veganized recipe for each traditional dish.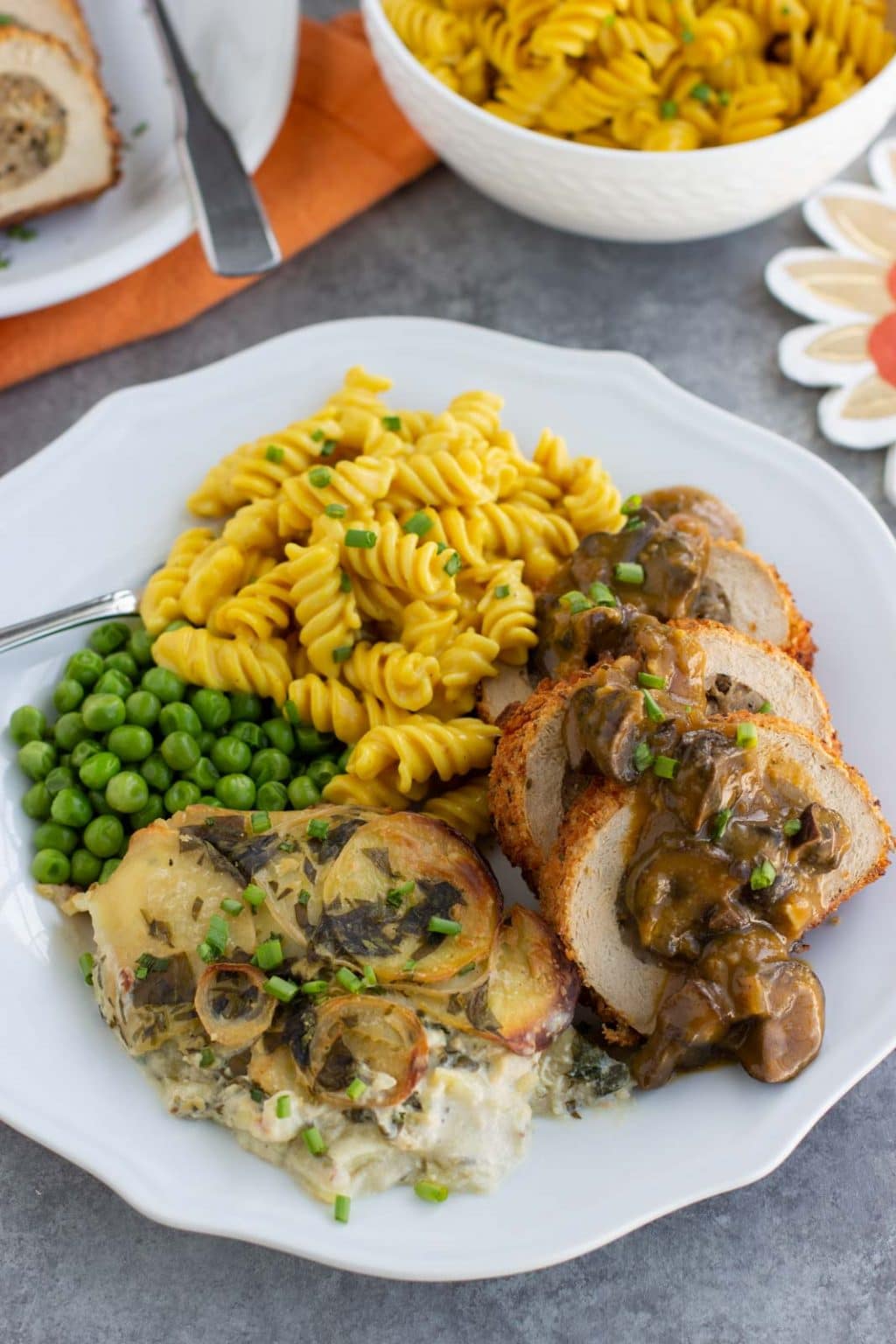 That means that we can also enjoy vegan turkey, vegan stuffing, vegan mashed potatoes, vegan gravy, vegan cornbread, vegan cranberry sauce, vegan green bean casserole, vegan sweet potato casserole, and vegan desserts too!
What is a Vegan Turkey?
A store-bought vegan turkey is made of soy or wheat gluten, depending on what brand you purchase. A vegan turkey doesn't look like the roasted turkey that you associate with Thanksgiving dinner because it doesn't have any bones or skin. It's usually formed into a loaf shape that you can slice and enjoy.
Which is the Best Vegan Roast?
I've tried a lot of vegan roasts over the years. We usually try a new one each Thanksgiving and then end up buying one of our favorites to serve for Christmas dinner.
Some aren't very good at all, but a few are absolutely delicious! Of all the vegan roasts that I tried, there are three that meet all my requirements.
It's flavorful + moist
It actually looks like a piece of turkey with stuffing
The stuffing in the middle is tasty
Prep work only includes baking it
The texture is very "meat-like"
Not too expensive
Instead of only picking my #1 favorite, I decided to share my top three favorite options in case you weren't able to find it at your local store. All three of of these roasts are delicious and make the perfect main course for your Thanksgiving dinner!
Gardein Holiday Roast
Trader Joe's Breaded Turkey-less Stuffed Roast
Field Roast Celebration Roast
My only complaint was that I didn't like the gravy packets that came with any of the roasts. The flavor just wasn't there for me. So, I made my own vegan gravy to go with it and it was delicious!
What Can I Make For Thanksgiving Dinner Instead of Turkey?
If you're not into a "fake meat" vegan turkey replacement or you don't want to deal with the tofurky jokes from your non-vegan family, here are some tried and true vegan recipes that could easily be the star of your Thanksgiving dinner!
Ultimate List of Vegan Thanksgiving Recipes
The following list of vegan Thanksgiving recipes has everything you could possibly need to prepare the ultimate vegan Thanksgiving dinner menu for your friends and family! I also included my personal vegan Thanksgiving menu (that I use when hosting) at the end of the post if you need some inspiration.
After you read through this list of the best vegan Thanksgiving recipes, start thinking about planning your vegan Christmas dinner menu next!
Vegan Thanksgiving Starters
Start your vegan Thanksgiving dinner off right with delicious appetizers like spinach artichoke dip, pumpkin soup, festive salads, or a vegan charcuterie board!
Vegan Thanksgiving Side Dishes
You can't have a vegan Thanksgiving dinner menu without having lots of classic side dishes, like mashed potatoes or mac and cheese! All of the traditional sides that we all know and love have been veganized to perfection!
Vegan Thanksgiving Stuffing & Casseroles
Round out your vegan Thanksgiving dinner with a one or two of these delicious and hearty casseroles! 
Vegan Thanksgiving Desserts
No vegan holiday meal is complete without a crowd-pleasing vegan Thanksgiving dessert!
Photo Credit: www.veggieinspired.com
Pumpkin Layer Cake with chai spices, a thin layer of pumpkin cashew filling, and topped off with creamy dairy free cinnamon buttercream frosting. It will delight your senses. The perfect fall dessert!
Photo Credit: healthiersteps.com
This Vegan Pumpkin Cheesecake is so delicious, rich, and creamy, the perfect dessert for your holiday table this fall. It's a definite crowd-pleaser!
Tips For Hosting Thanksgiving Dinner
Prep in advance. The most important tip that I can give you is to start prepping days in advance, don't wait till the day before or the day of! You want to enjoy the holiday and not be running around like crazy, so try to prep in advance as much as you can.
Plan the menu. Start looking for recipes a few weeks in advance. I wrote out a timeline below of the week leading up to Thanksgiving below to help you prepare.
Use tried and true vegan recipes. Don't make a brand new recipe on the big day, always test it out before the holiday just in case you don't like it.
Ask guests to bring a dish. You can take a lot of stress of yourself if you ask whoever is coming over to bring a dish! Appetizers and desserts are the easiest because they could pick something up from the store if they didn't want to make it from scratch.
Outsource some recipes. If you're feeling anxious and overwhelmed about doing all of this (hello, welcome to my life!), it's completely okay to order food to pick up. You can pick up a veggie tray from Costco (it's huge!) for an easy appetizer or you could skip all the work and order a

Whole Foods vegan Thanksgiving dinner TOGO

! They even have vegan pies and cakes if you don't have a local vegan bakery to order from.
Ask for help! When people start arriving, ask them to help you with something! That way it feels like a team effort to get the meal on the table. I actually love when hosts ask me to help because sometimes I feel a little awkward at first so it gives me a way to interact and get involved. Don't feel bad asking for help!
Let guests help clean up. Once the meal is over, ask for help cleaning up. Often times, people want to help but don't know what you need to be done. So if you say that you specifically need help clearing the table or loading the dishwasher, then they'll be more likely to help you where you really need it.
Thanksgiving Cooking Schedule
Saturday - If they're not already out, pull out your Thanksgiving decorations and decorate. Also, pull out the table decor, plates, linens, glasses, and silverware that you'll be using for Thanksgiving and wash it now so you can just grab it and lay it out on Thursday.
Sunday - Go over all the recipes that you plan on making and make one large grocery list on your phone, just in case you tend to leave paper lists on the kitchen counter like I do.
Also, look over the sales flyer and decide which grocery store you'll be going to. Don't forget your reusable produce bags (these are the sturdy produce bags that I use and LOVE)!
Monday - Beat the crowds and go grocery shopping! I used to work in a grocery store and while Monday is still a busy day, Tuesday and Wednesday are much busier during Thanksgiving week.
Tuesday - Start cooking anything that will last a few days in the fridge, like spinach artichoke dip or mushroom gravy. Recipes like these are just as delicious when you heat them up on the big day! Also, start cleaning the house today.
Wednesday - Finish cleaning the house and continue to cook any side dishes that can be made ahead of time. Prep anything you can, like washing lettuce for a salad or chopping vegetables.
If you decide to order any store-bought desserts, arrange to pick them up today! Most stores will be closed on Thanksgiving.
Also, make a list of everything that needs to be done the next day and a list of all the dishes you'll be serving. One time, I left the spinach artichoke dip in the fridge (that I made in advance) and forgot to serve it. If I'd had a list that wouldn't have happened!
If you're making a store-bought vegan turkey, some of them need to be defrosted overnight, so make sure you check the box and pop it into the fridge to thaw if necessary.
Thursday (Thanksgiving) - Get up early and make one final sweep of the house. Set the table and get started on any dishes that need to be prepared the day of.
Remember to put the vegan turkey in the oven before everyone comes over but it takes a lot less time to cook than a real turkey does, so plan accordingly.
Friday - Relax, you deserve it after all of that hard work!
My Menu + Prep Notes
This is my personal vegan Thanksgiving menu that I make for my family.
Vegan Roast (one of the three I listed above) - This needs to be cooked fresh the day of so the coating is crisp.
Spinach Artichoke Dip - You can make this the day before, it reheats really well.
Cranberry Sauce - You can make this a few days before.
Vegan Mac and Cheese - Make this the day of so the sauce stays "saucy." If you need to make it the day before, make sure you add additional vegetable broth or water to the sauce to loosen it up.
Mashed Potatoes with Mushroom Gravy - Make the mashed potatoes the day before or early the day of and keep it warm in a crockpot until dinner. Make the gravy the 1-2 days before and reheat for dinner.
Mediterranean Farro Salad - You can make this the day before and serve it hot or cold.
Spicy Rosemary Butternut Squash - This dish can be made up to 3 days in advance and then reheated.
Roasted Balsamic Brussel Sprouts - I don't like the flavor of reheated brussel sprouts, so I always make these fresh if possible.
Mashed Cauliflower Green Bean Casserole - Prepare this right before dinner so the topping stays crisp.
I hope you enjoy these vegan Thanksgiving recipes and can mix n' match them to create the perfect Thanksgiving menu for your family!
If you try any of these vegan Thanksgiving dinner ideas, please remember to post a picture on Instagram and tag me @Stacey_Homemaker and use the hashtag #StaceyHomemaker so I can see your meal!
You can also FOLLOW ME on FACEBOOK, TWITTER, INSTAGRAM and PINTEREST to see more delicious vegan recipes!
Want More Vegan Holiday Recipes?