Avocado toast is my favorite healthy breakfast and there are so many different ways to make it! The toppings are the most important part, so here are four different variations for you to try! Vegan.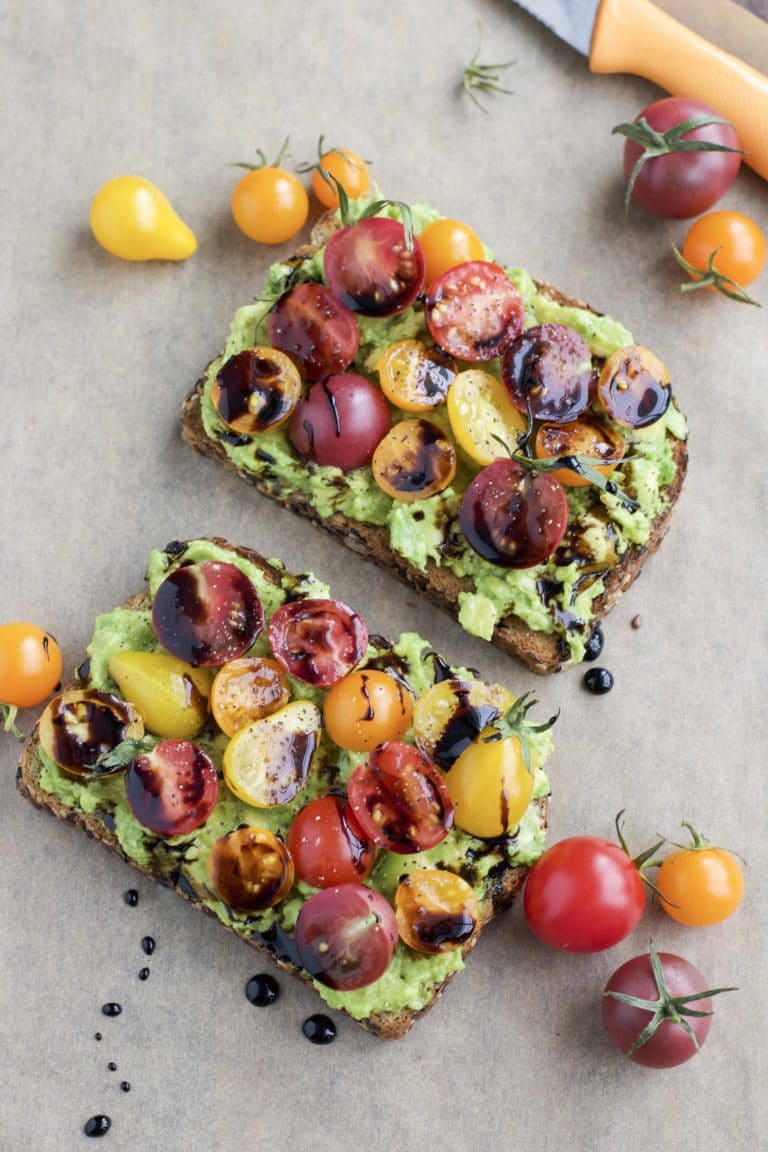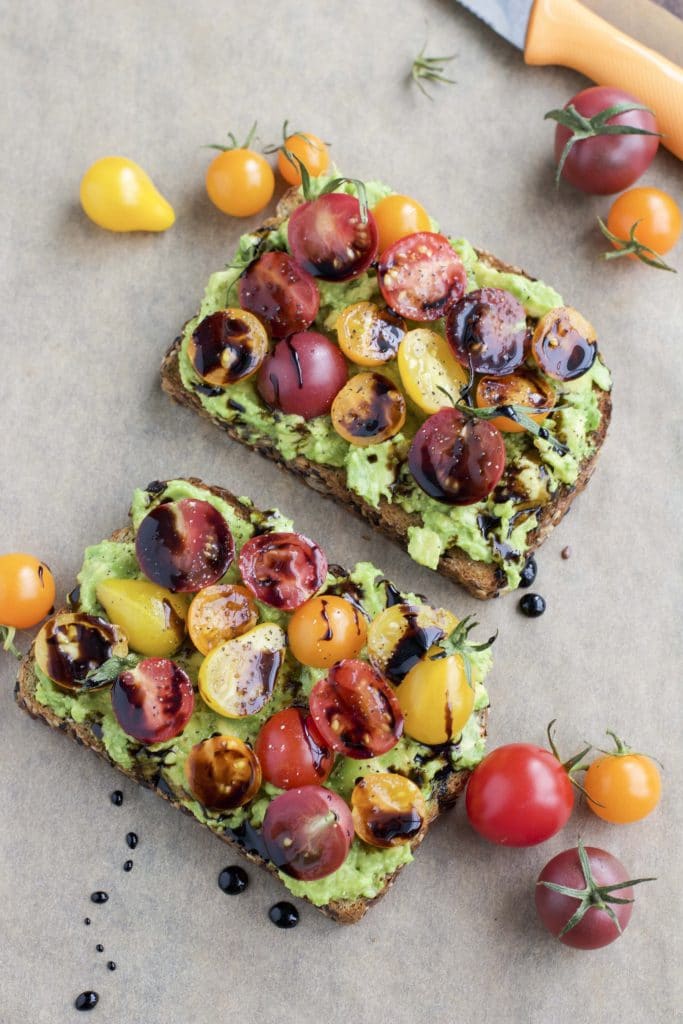 I eat avocado toast almost every single day for breakfast or lunch. It's the perfect healthy breakfast option because it's quick, easy, filling, and it's so good for you!
It's funny, my mom told me that she never used to eat avocados because she was told that they were high in fat. Now that she knows that avocados are high in good fats, she eats avocado toast for breakfast every day too! Even my dad who never tried an avocado until he was in his 60's, now loves mashed avocado on toast for breakfast!
How to Make Simple Avocado Toast
It's so easy to make! You could make it really simple and just mash avocado on top of toasted slices of bread. Or you can really amp up the flavor by adding seasonings and lots of toppings!
If I'm in a hurry, my simple version consists of two slices of toasted bread, topped with one whole mashed avocado, a sprinkle of sea salt, black pepper, cayenne pepper, and a mix of seeds on top. If I have a few extra minutes, I like to try different flavor combinations to see what I can come up with. If you want a quick flavor boost, add a sprinkle of garlic powder and onion powder!
I usually use sprouted bagels or Ezekial bread that I buy at Trader Joe's (check out my vegan Trader Joe's shopping list!) but if I plan ahead then I like to make our favorite no-knead bread.
Check out the following delicious flavor combinations!
Cherry Tomato Balsamic Avocado Toast
Cherry tomatoes sliced in half + a drizzle of balsamic vinegar glaze + sea salt + pepper. This is such a delicious flavor combination! I just love these avocado toast toppings, especially when you get a bite of a juicy cherry tomato mixed with the balsamic glaze! It's so so so good!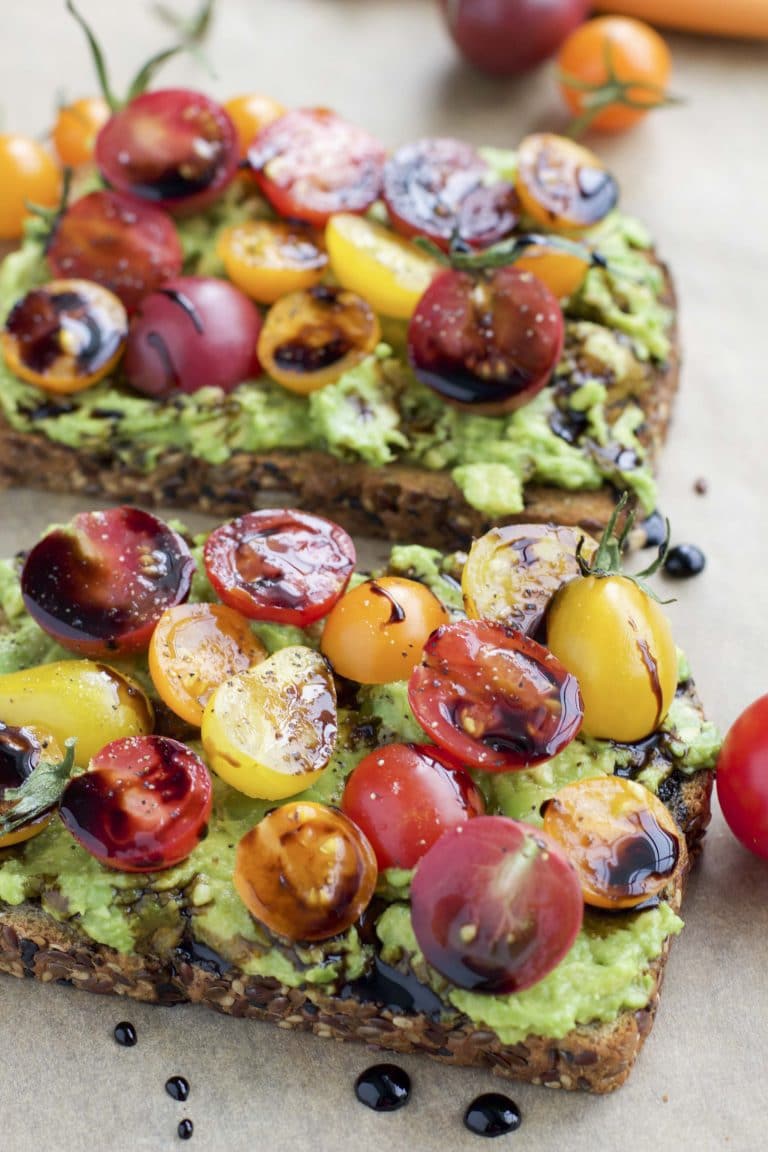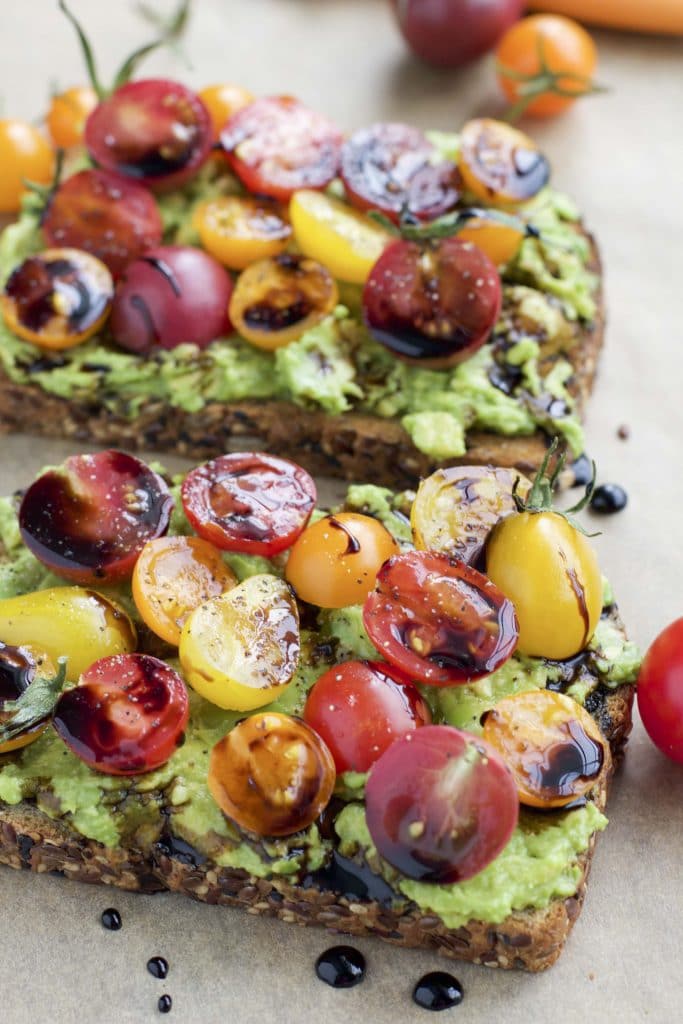 Blackberry Peach Avocado Toast
Stick with me here, I know this flavor combination seems a little out there but trust me, peaches, blackberry, and basil go so well together! Mixed with creamy, buttery avocado and a hearty slice of bread and you have a hearty breakfast that will make your belly super happy!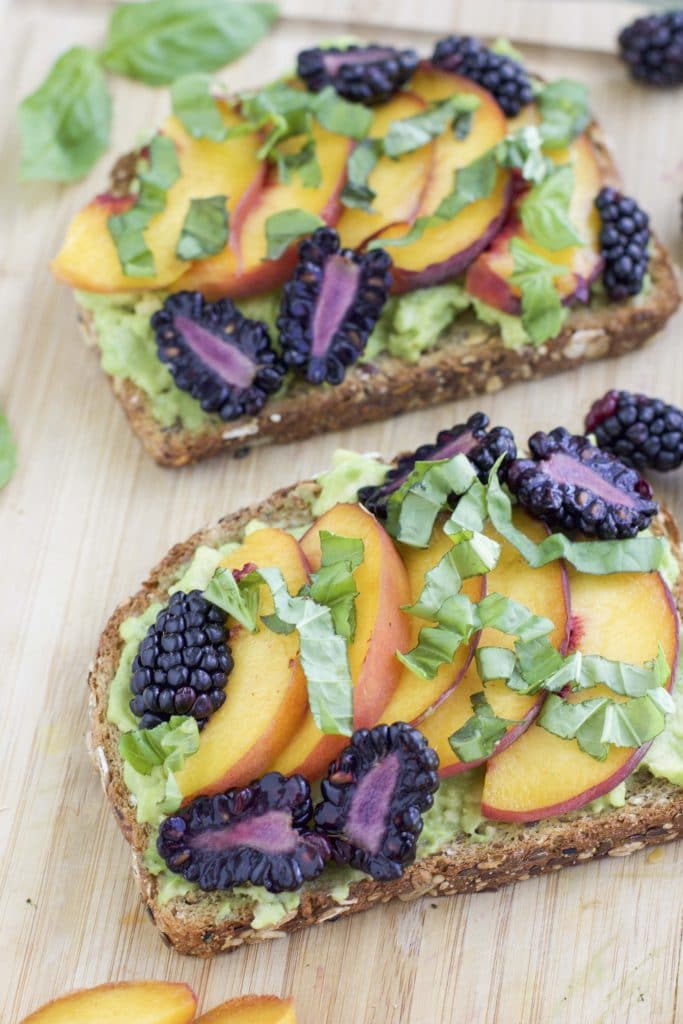 High Protein Avocado Toast
This is my amped up version of my simple avocado toast. I load it up with pumpkin seeds, hemp seeds, and chia seeds to give it a whopping total of 26 grams of protein! I actually created this specific recipe because I hear so many people ask vegans, "but where do you get your protein from?" It's easy! Look, you can get 26 grams (that's over half the recommended daily amount for most people) just from two slices of vegan avocado toast!
Get the recipe here –> High Protein Avocado Toast
Garlic Mushroom Avocado Toast
Who would've guessed that mushrooms, garlic, and avocados go so well together?! Not me, until I tasted this version and I was blown away! It's so savory and it's loaded with flavor. This healthy breakfast came to be after we made quinoa crust pizzas for dinner the night before and we had leftover mushrooms. I topped my toast with mashed avocado and the leftover mushrooms not expecting the flavor bomb that went off in my mouth after tasting it.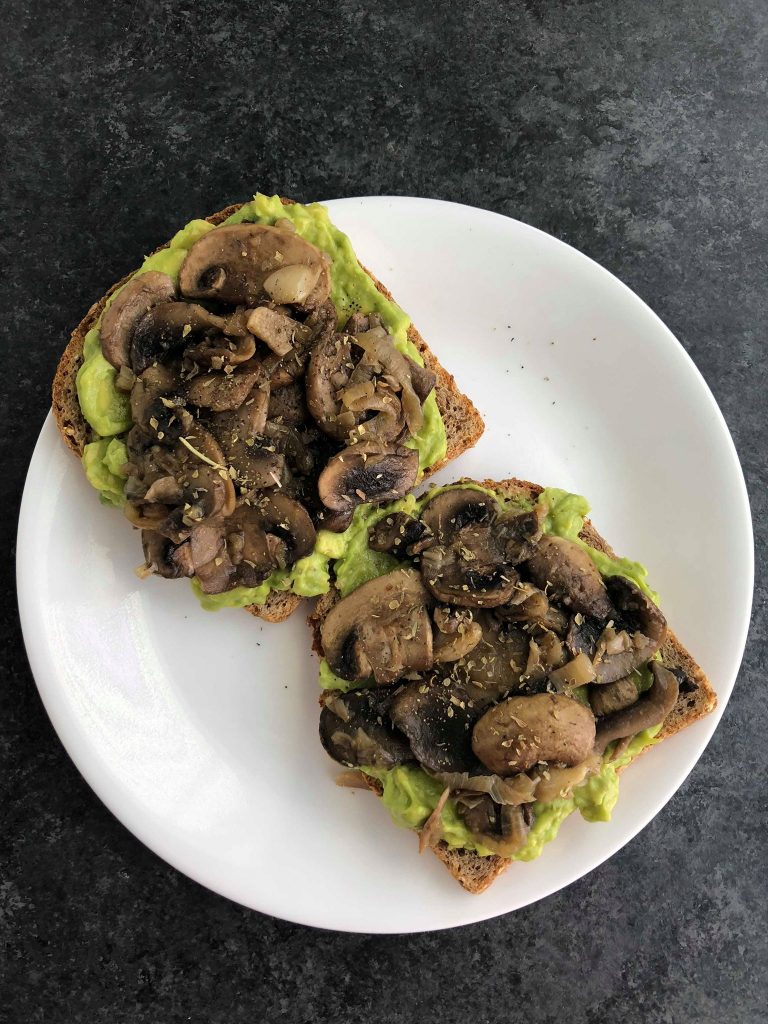 If you don't have leftover pizza mushrooms, grab the recipe at the end of this post to make your own.
15 Avocado Toast Toppings
If none of these avocado toast toppings strike your fancy then give one of these tasty topping combinations a try! Surely, one of these will please your palate.
Roasted sweet potato rounds + a sprinkle of cinnamon + cayenne pepper
Scrambled tofu + cilantro
Vegan chive cream cheese + avocado slices
Roasted butternut squash chunks + sage + pumpkin seeds
Mixed berries + hemp seeds
Strawberry slices + kiwi slices + mint
Blueberries + basil
Hummus + Avocado Slices
Vegan cream cheese + cucumber
Mint + raspberries +lime
Mandarin orange slices + roughly chopped pistachios
Banana coins + pumpkin seeds +cinnammonnn
Mango slices + pomegranate seeds
Stone fruit slices + chia seeds
Beet hummus + avocado slices
More Easy Avocado Recipes You Might Enjoy
Avocado Arugula Cherry Tomato Salad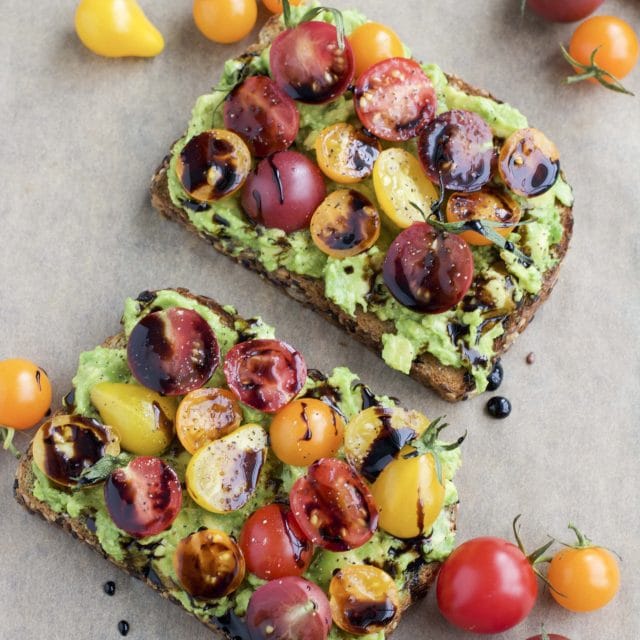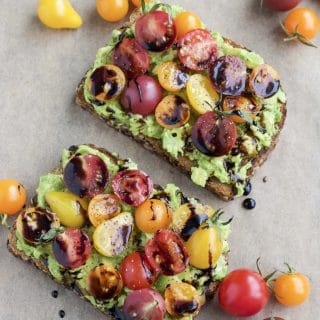 Simple Avocado Toast
Avocado toast is my go-to vegan breakfast and there are so many variations to try! Avocado toast toppings make all the difference so give one of these a try! Vegan.
Print
Pin
Rate
Instructions
Preheat the oven to 375 degrees. Sprinkle garlic powder and Italian seasonings over the sliced mushrooms, and roast them for 20 minutes.

Spread the mashed avocado on the toasted bread and top with roasted garlic mushrooms. Season with salt, pepper, and extra garlic if you like.