Sweet roasted beet and onion salad is the best side dish for summer! Topped with tangy vegan feta cheese and a rich balsamic drizzle gives it loads of flavor! This salad uses all parts of the beet!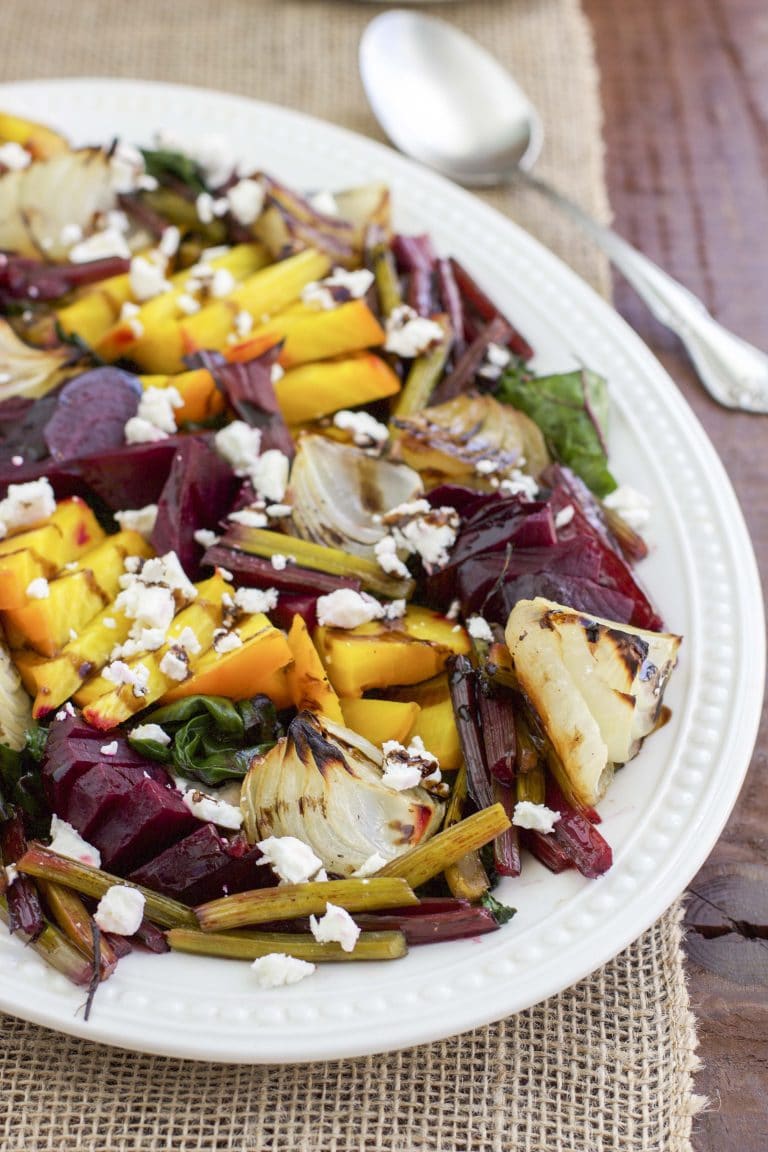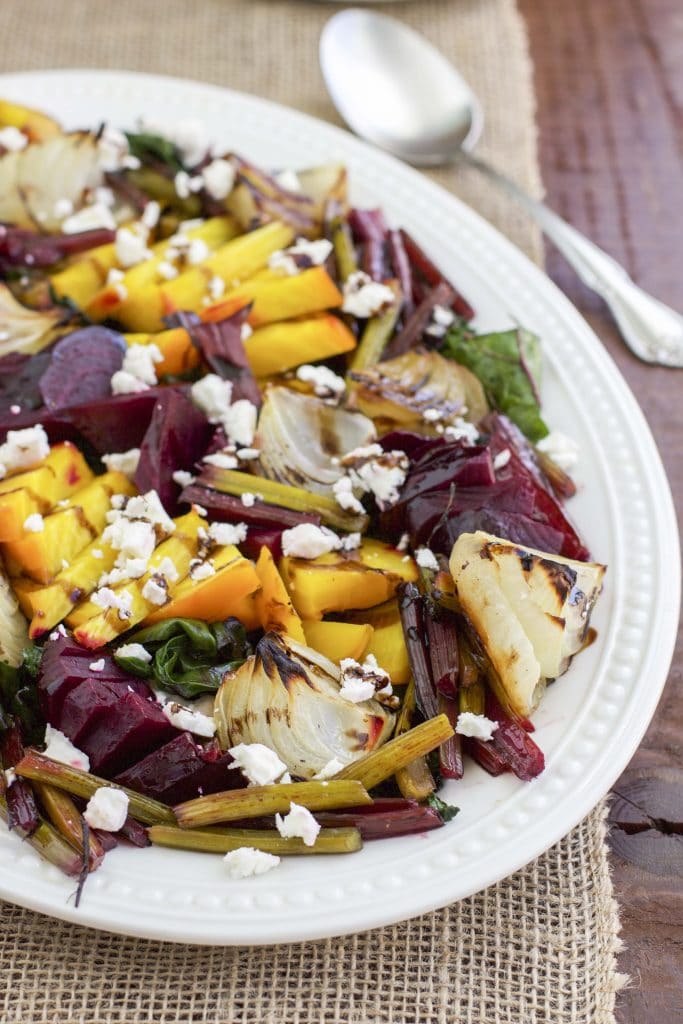 Stop what you're doing right now and run to the grocery store so you can buy at least 6 bunches of beets!
Ok, fine. Don't go right now, but can you promise me that you'll add them to your grocery list? This dish blew my mind and I want you to experience it too!
Funny story, I never used to like beets. Not one bit.
Now, I loveeee them!
How has it taken me 27 years to try roasted beets?
I've had them in salads before but I didn't really like it. They were cold, unseasoned and a little wet tasting, clearly I was not a fan. However, roasted beets are on a completely different level.
I think the beets being hot and well seasoned made the biggest difference for me. Plus all the feta cheese I sprinkled on top! Yasss.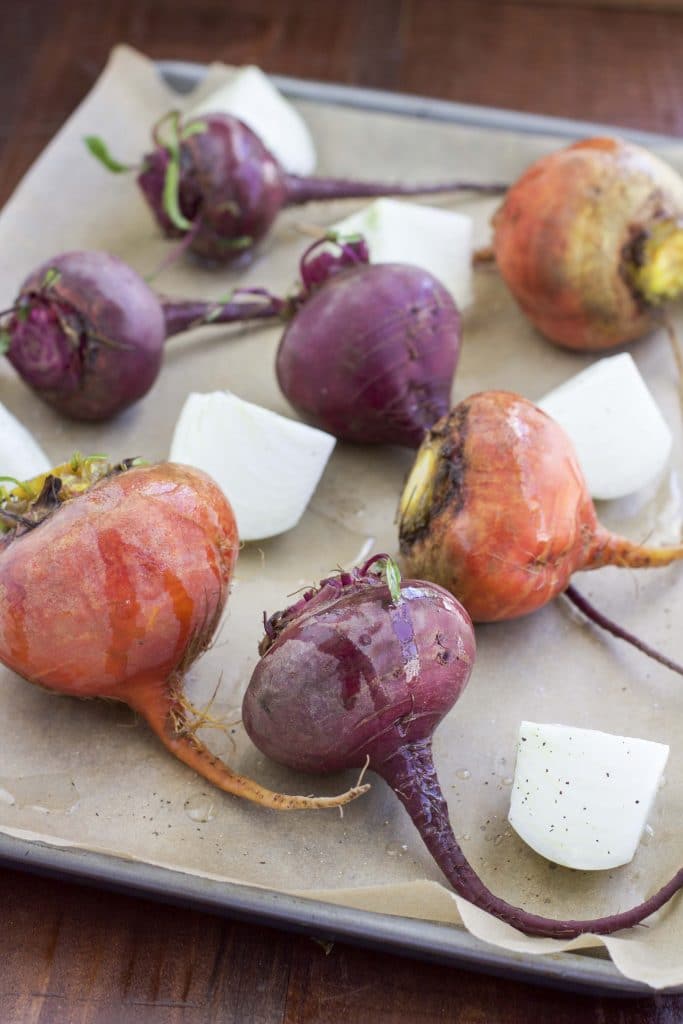 Oh, and the roasted onions. I know, onions are definitely not the first veggie that pops to my mind when I think of something I want to roast. Trust me when I say I would eat a whole tray just of roasted onions. Holy smokes are they little flavor bombs. They taste like sweet caramelized nuggets of heaven that practically dissolve on your tongue.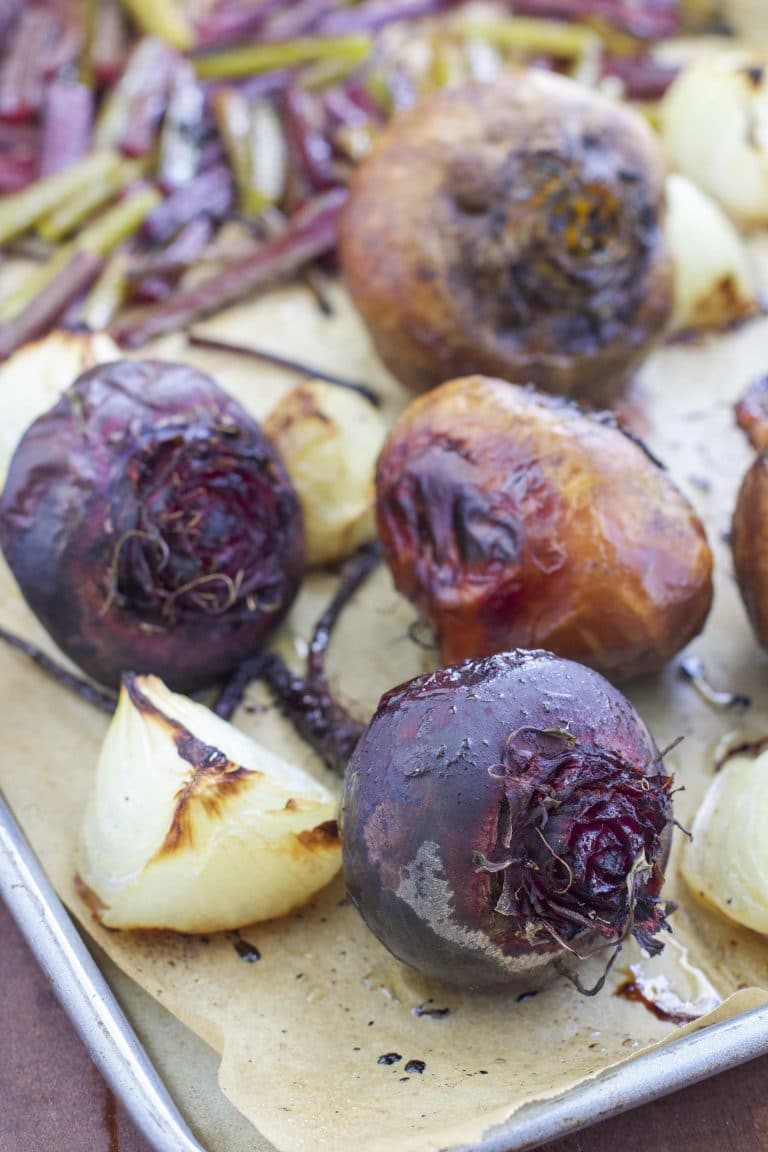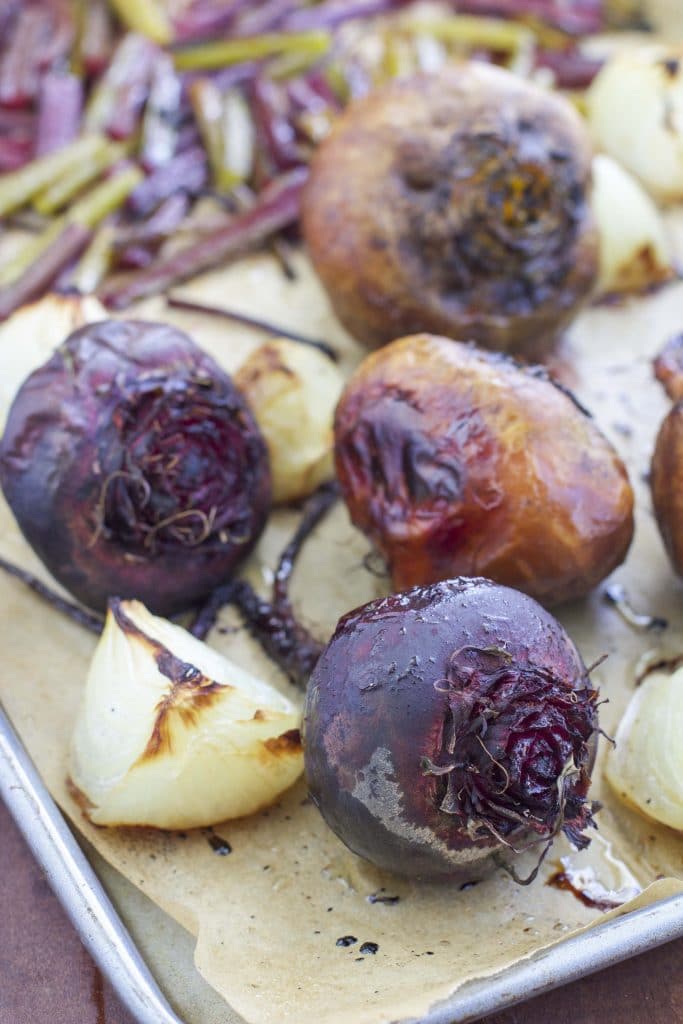 Pure bliss I tell you!
Why You'll Love Roasted Beet and Onion Salad!
The flavors go P-E-R-F-E-C-T-L-Y together!
The sweet onions and beets mix with the tangy feta cheese crumbles and balsamic glaze so well that it's almost to good to just be a sidedish. It should be the star of the meal! I had a huge plate of just roasted beet and onion salad for lunch today– so good!
Plus, beets are so good for you! They're packed with vitamins and minerals, they help to cleanse your liver and purify your blood.
How Do You Pick the perfect Bunch of Beets?
Look for beets that are all similar in size so they cook evenly.
The beet leaves should be bright green and crisp, not yellow or wilting. Fresh leaves = fresh beets!
Pick beets that don't have any cuts, or knicks in the skin.
If the taproot has a lot of little prongs sticking out of it, it might be old and losing flavor.
I've heard smaller beets are sweeter, but I've found all sizes to be perfectly sweet and delicious!
Don't Throw Out Beet Greens or Stems!
The first few times I roasted beets, I threw out the stems and the greens. I didn't know any better. What a waste! The other day when I was prepping them, I started thinking about what I could do with them because I hate wasting food. It's my #1 pet peeve.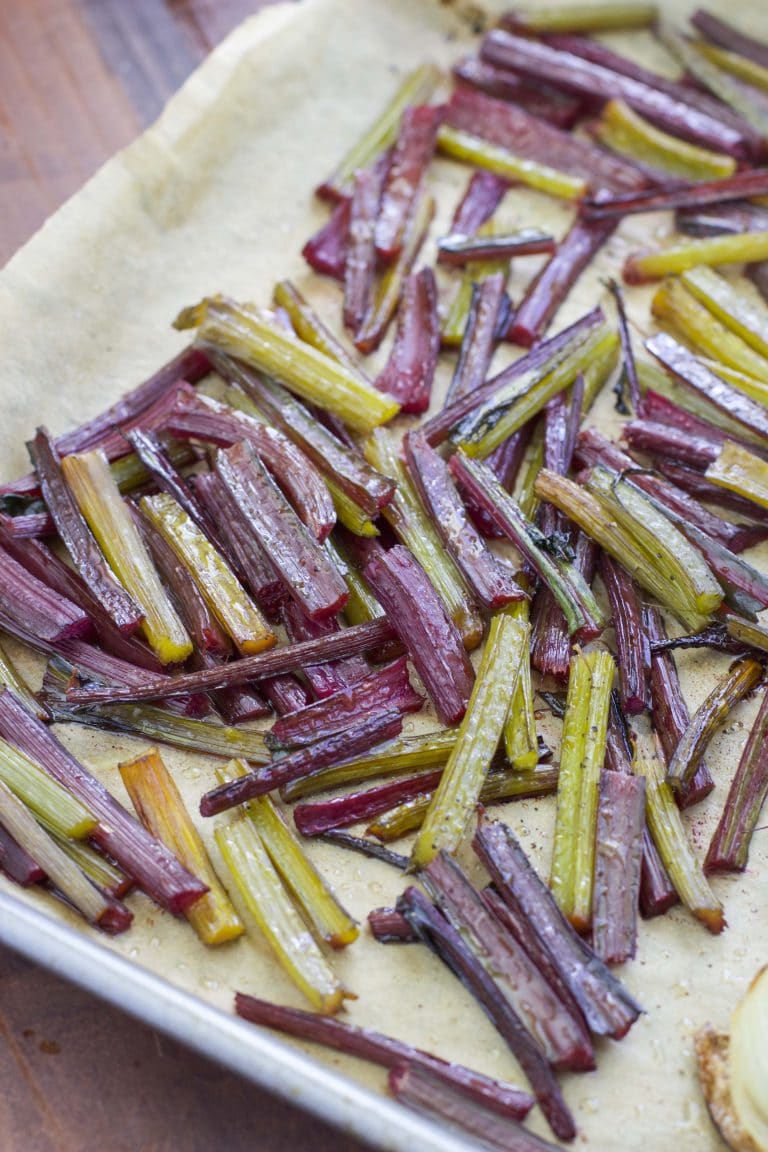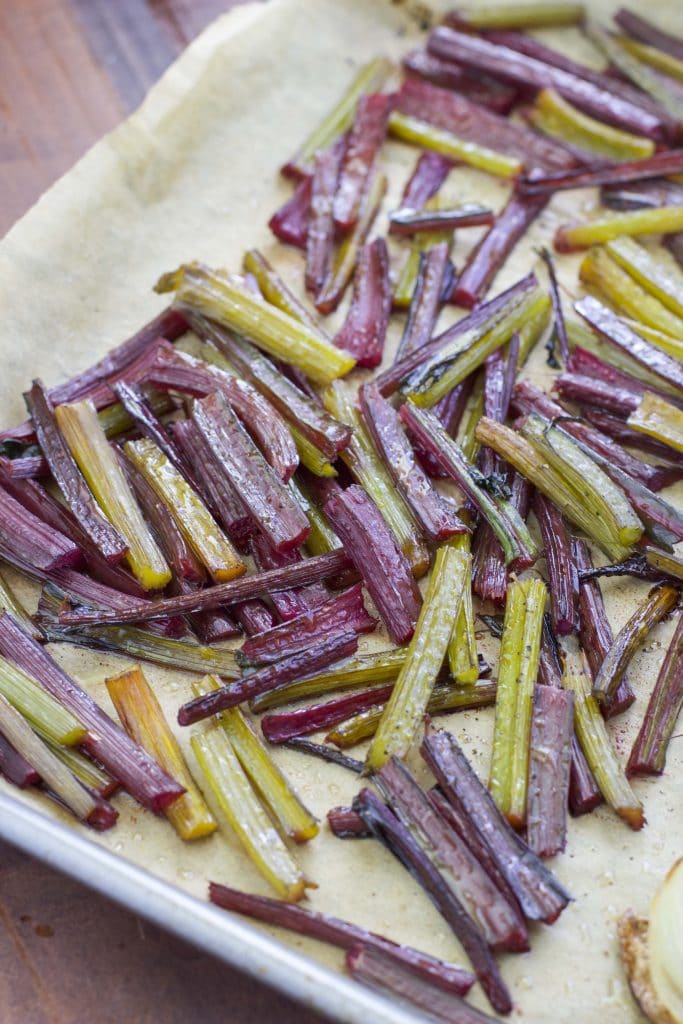 The stems kind of look like celery stalks, so I thought if cooked celery is good these might be too. So I threw them onto the baking tray with the beets. They only took about 20 minutes to roast and they were delicious!
Btw, did you know that celery leaves are loaded with good stuff? My mom just informed me of that this morning. Thanks mom!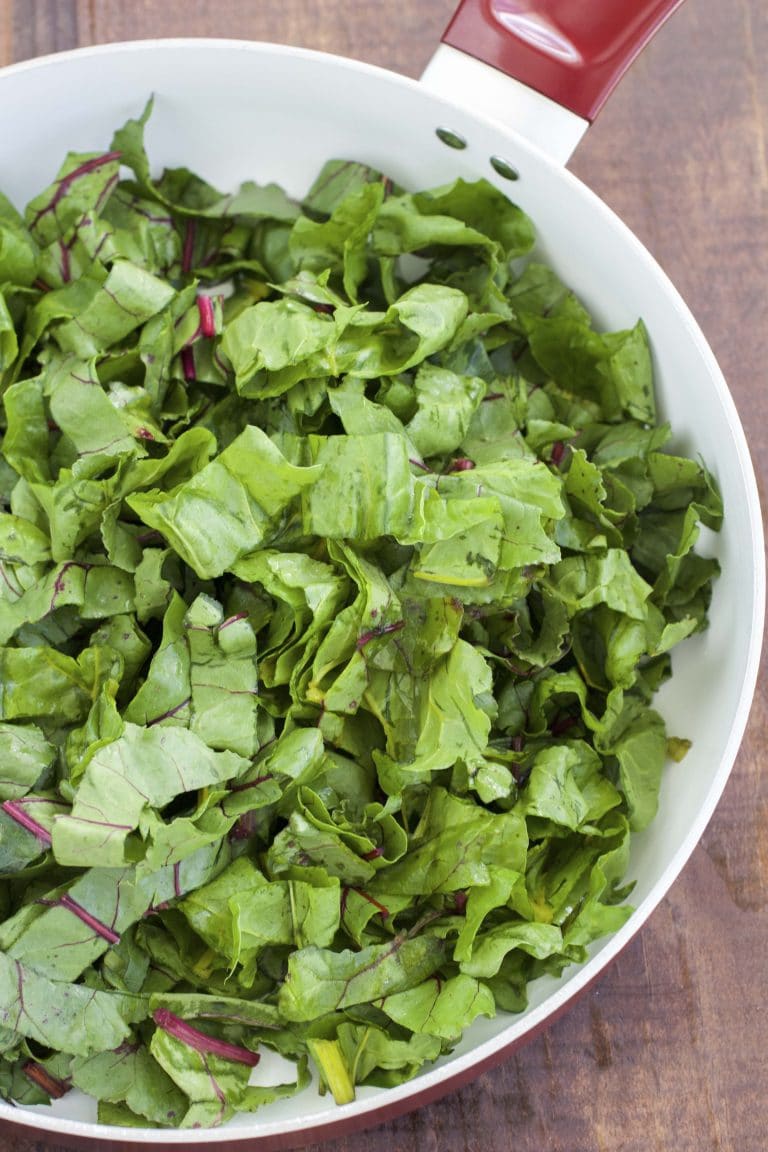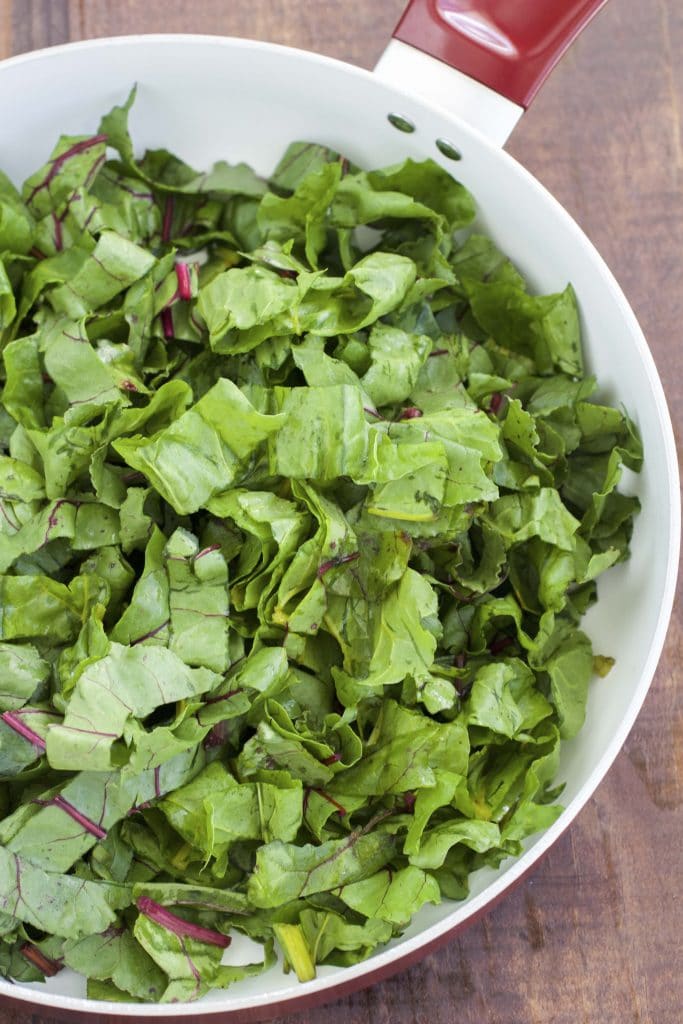 I sliced the beet greens and added a few to my salad. They were a little tough and slightly bitter, so I tried sauteing them in a little coconut oil. Bingo! They got sweet and tender, so I added them to the roasted beet and onion salad for a pop of green.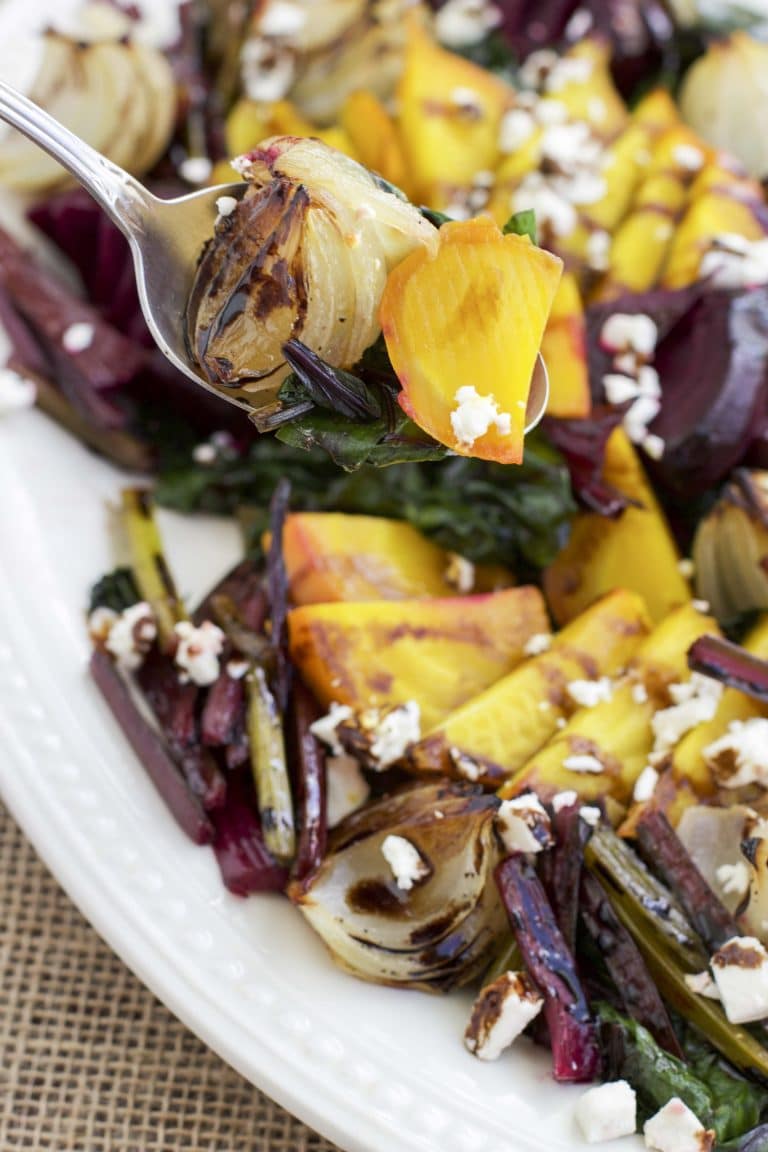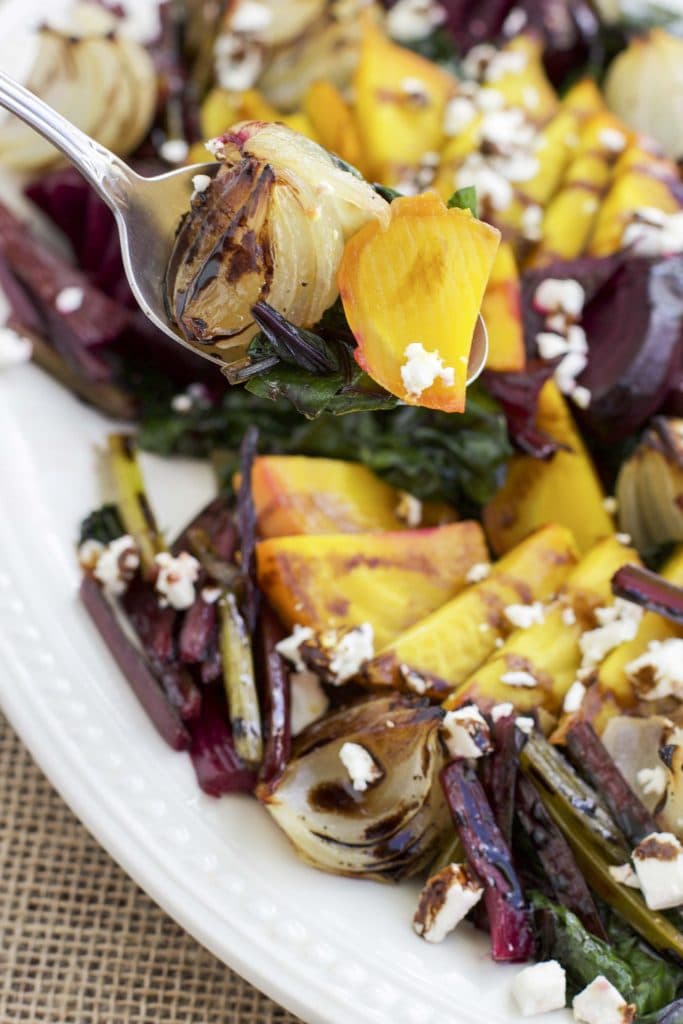 This roasted beet and onion salad will go deliciously with chicken, fish or steak. The colors are so bright that it feels like the perfect summer dish, and it would be really easy to make a big tray for a party! Or you can be like me who will be bringing a big snapware container full of it to work tomorrow for lunch!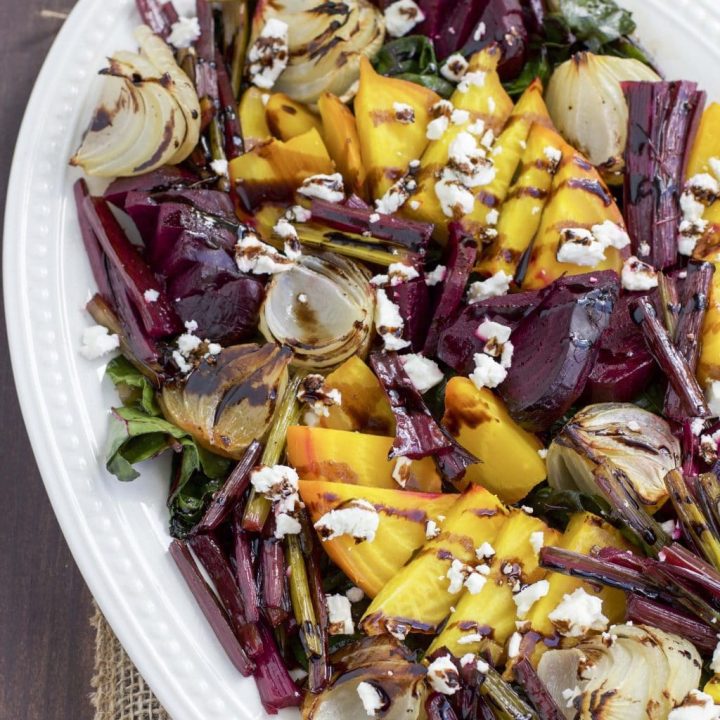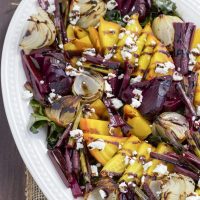 Roasted Beet and Onion Salad with Vegan Feta Cheese
Sweet roasted beet and onion salad is the best side dish for summer! Topped with tangy feta cheese and a rich balsamic drizzle gives it loads of flavor! This salad uses all parts of the beet!
Print
Pin
Rate
Total Time:
1
hour
5
minutes
Ingredients
6

medium

beets

3

small

sweet onions

2-3

Tbsp

olive oil

4 oz

vegan feta cheese

(I like Violife vegan feta)

Pink sea salt & pepper to taste

2

Tbsp

Balsamic glaze
Instructions
Preheat the oven to 400 degrees.

Cut the stems off the beets and remove the greens from the stems. Cut the stems into 2 inch pieces.

Remove the roots and cut the onions into quarters.

Put the beets and onions on a parchment lined tray. Drizzle 2-3 tbsp of olive oil over the top. Season the onions with salt and pepper. Roast for 1 hour. If your beets are large you may need to roast for an additional 10-15 minutes until very easily pierced with a knife.

In a large pan, saute the thinly sliced beet greens in 2 Tbsp olive oil for 5-6 minutes or until slightly wilted. Season with salt & pepper.

20 minutes before the beets are done, remove the tray from the oven and add the beet stems to the tray. Spray them with a light layer of olive oil and season with salt and pepper. Put the tray back into the oven to finish cooking.

Let the beets cool for at least 10 minutes before you try to peel them.

Put the beet greens down first on a serving dish and top with the sliced beets and roasted onions. Sprinkle the crumbled vegan feta cheese over the top. Drizzle the balsamic vinegar over the top right before you serve it hot. Enjoy!
Nutrition
Serving:
6
g
|
Calories:
50
kcal
|
Carbohydrates:
2
g
|
Fat:
4
g
|
Sugar:
1
g


Roasted Beet Salad Notes –
If you can't find golden beets and red beets that are the same size, then just take the smaller ones out after cooking for one hour and let the rest finish cooking.
If you don't have or like feta cheese, goat cheese would be a great substitute!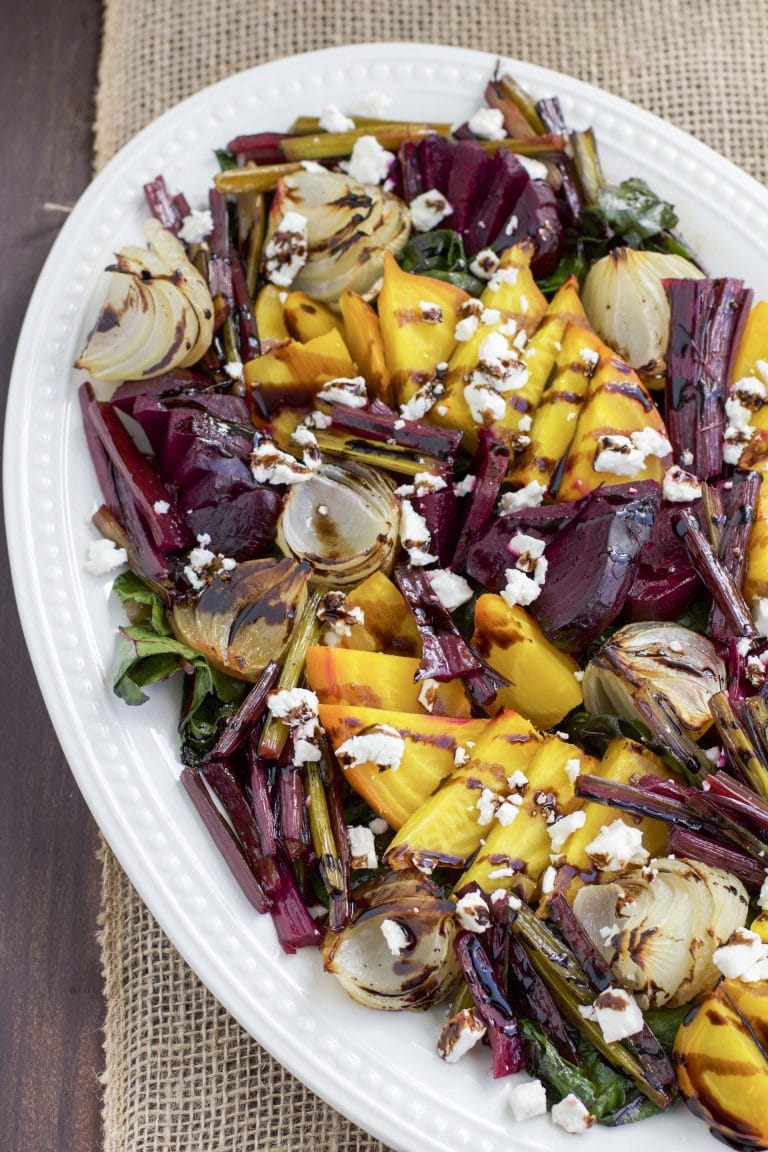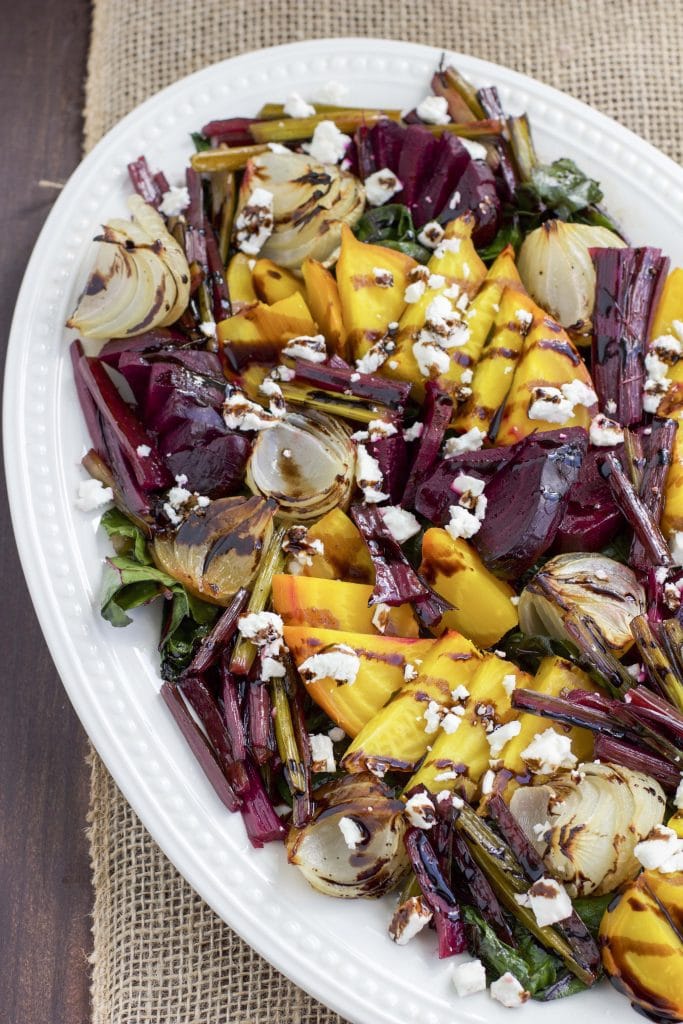 What's your favorite way to prepare and eat beets? Let me know in the comments!
NEVER MISS A STACEY HOMEMAKER CREATION!
FACEBOOK / INSTAGRAM / PINTEREST / TWITTER
You may also like…
Twice Bake Sweet Potatoes with Balsamic Onions & Goat Cheese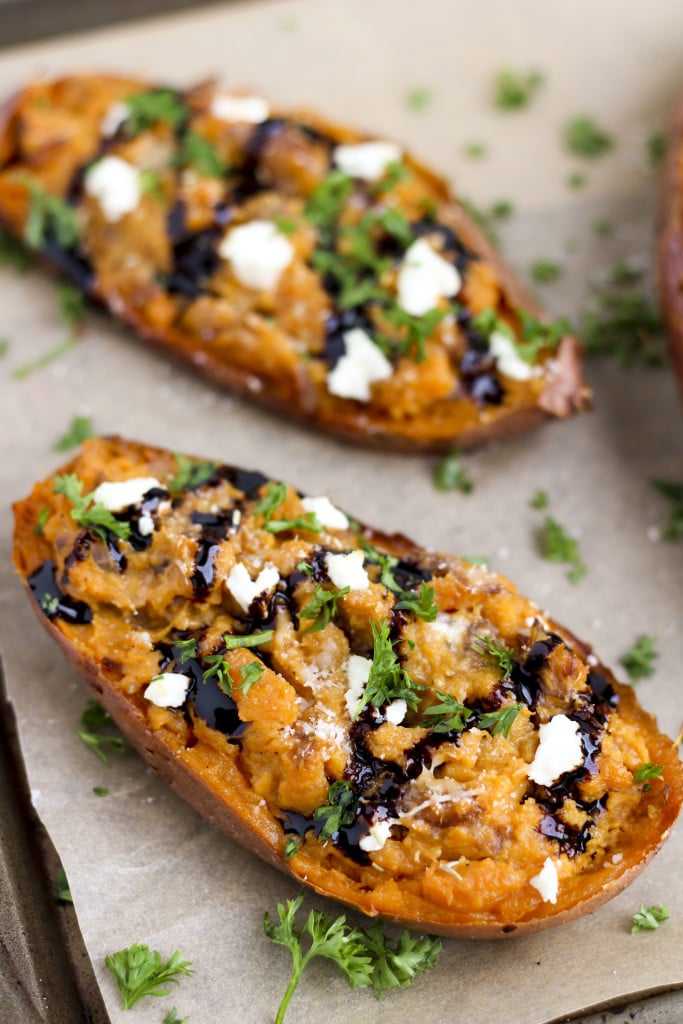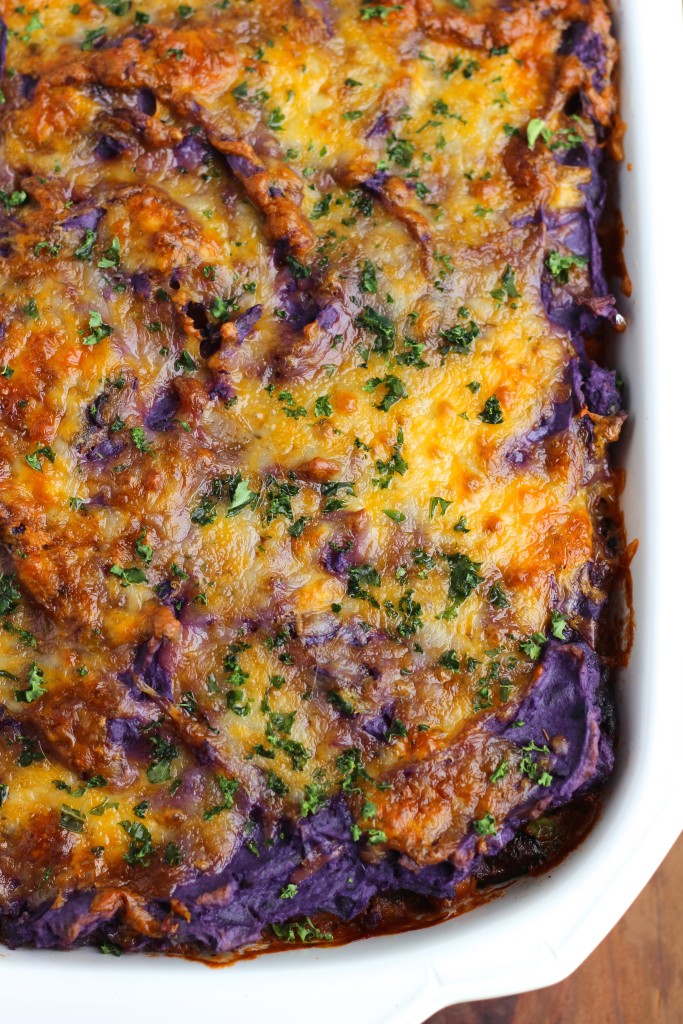 Lentil Stuffed Red Cabbage Rolls