Here's a list of the best vegan Halloween recipes for you to try this Fall! From breakfast to vegan gluten-free Halloween treats, this list has everything you need to throw a spooktacular vegan Halloween feast for your friends and family!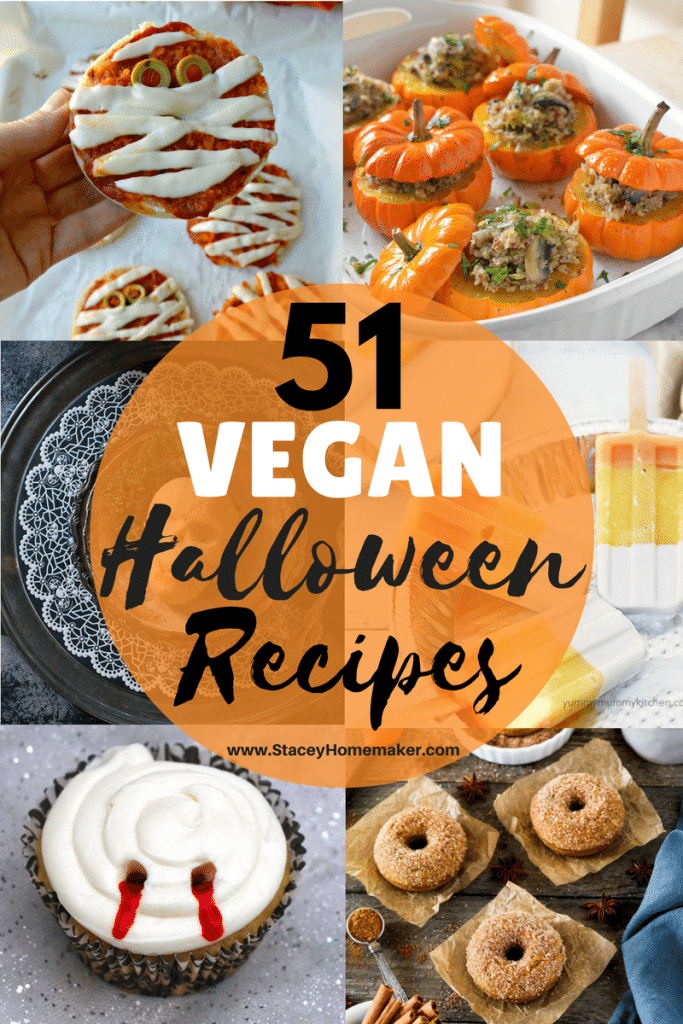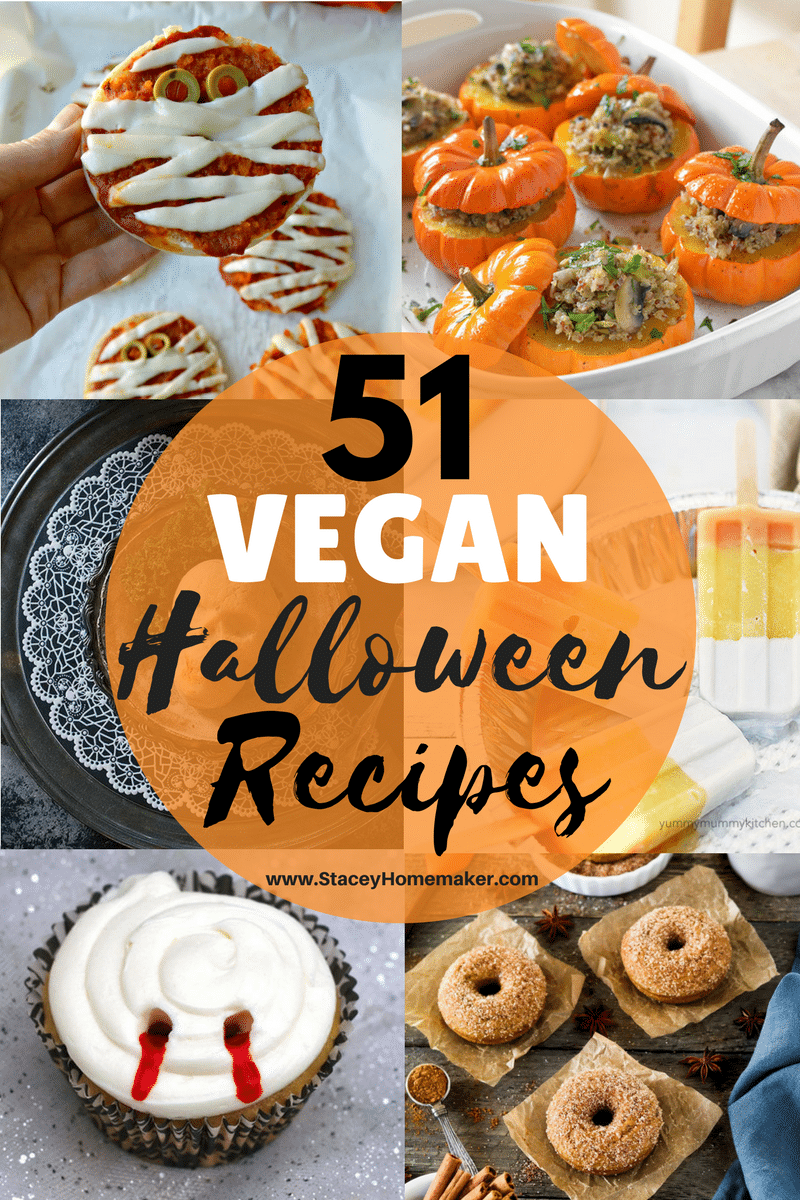 October 31st will be here before you know it so it's time to start planning your vegan Halloween feast! Whether you're having a small get together with your family (like we are) or you're throwing a huge bash for everyone on your block after trick or treating, you'll find exactly what you need to please your guests on this list of spooky vegan recipes!
What Will You Find On This List? 
Halloween Finger Foods
Halloween Appetizers
Easy Halloween Recipes
Kid-Friendly Vegan Halloween Recipes
Savory Halloween Food
Halloween Main Dishes
Healthy Halloween Food (Real food, not just sweets!)
Vegan Halloween Baking Recipes
Vegan Halloween Candy Recipes
Vegan Gluten-Free Halloween Treats
Vegan Halloween Candy
After you've planned your vegan Halloween menu, make sure you pick up some vegan Halloween treats for yourself and don't forget the vegan candy for the trick-or-treaters!
It can be really overwhelming and time-consuming to read all the candy labels at the grocery store. No worries, I got you! Over the years, I've tried a lot of vegan candy and read all the labels for you-- all of the candy on this list is 100% vegan and 100% delicious! All of your vegan candy questions will be answered in this guide!
Here's my Ultimate Guide to Vegan Halloween Candy!
Are These Vegan Halloween Recipes Allergy-Friendly? 
Yes, all of these homemade Halloween recipes are vegetarian, vegan, and dairy-free. All of these recipes are not nut-free. If you're gluten-free, there is a section at the end of the list of vegan gluten-free Halloween treats for you to enjoy too!
51 Vegan Halloween Recipes
The following healthy vegan Halloween recipes are all delicious options that you could make to celebrate the holiday in a spooky way! I divided the themed Halloween recipes into sections to help you find what you need. From breakfast to dessert, there's a recipe for every course.
Don't miss my ultimate Halloween dinner menu at the end of the list!
Vegan Halloween Breakfast Recipes
Start your holiday off right with any of these tasty vegan Halloween breakfast recipes!
1 - Vegan Pumpkin Scones (Starbucks Copycat)
2 - Pumpkin Pancakes
3 - Pumpkin Muffins with Pecan Streusel & Maple Glaze
4 - Pumpkin Waffles with Maple Cashew Cream
Vegan Halloween Lunch Ideas 
Put a little spook in your lunch with any of these yummy vegan Halloween lunch ideas!
6 - Mummied Bananas
8 - Spooky Raw Cucumber Coffins 
9 - Witchy Green Guacamole Dip 
10 - English Muffin Mummy Pizzas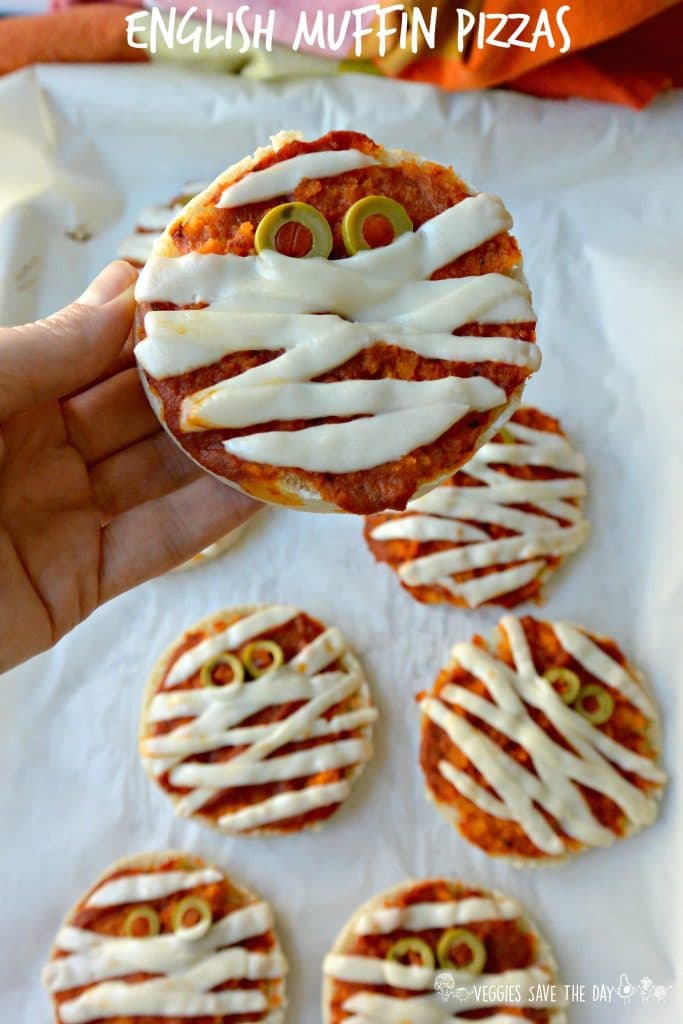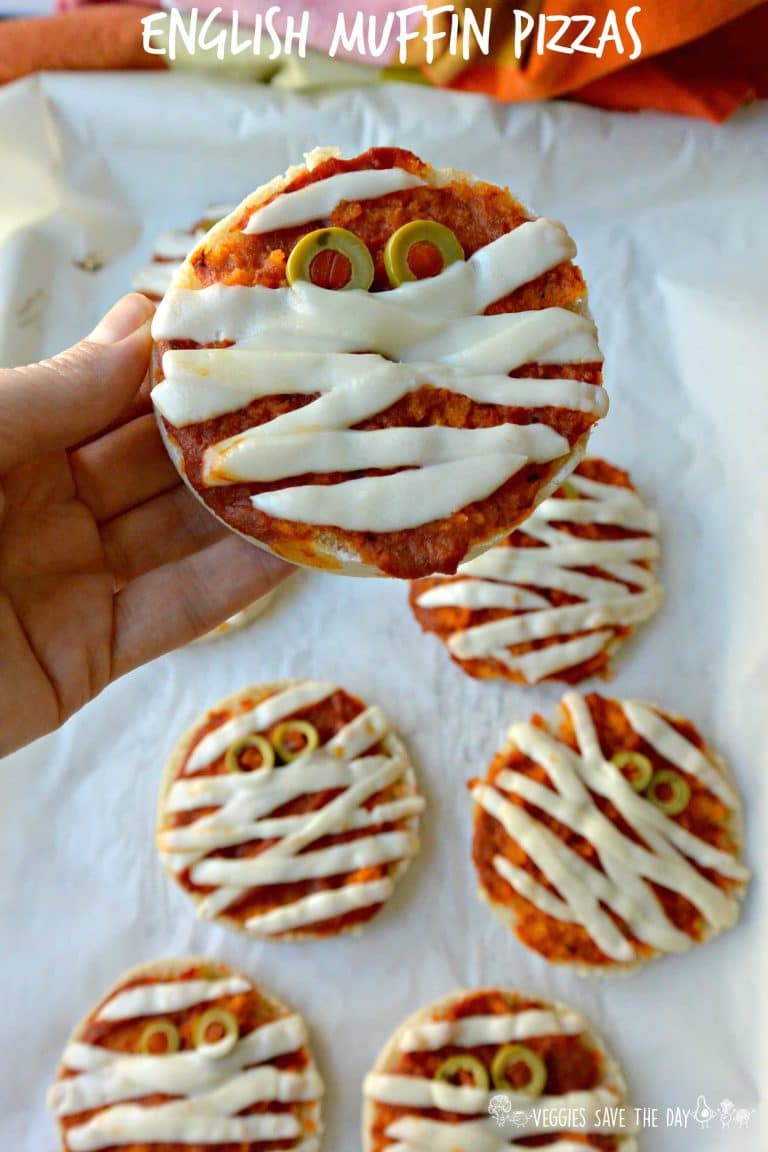 Photo Credit: Veggies Save the Day
Vegan Halloween Appetizers & Starters
Any of the following vegan Halloween appetizer recipes are perfect for serving a crowd at your party or to start off your dinner.
11 - Ginger Carrot Sweet Potato Soup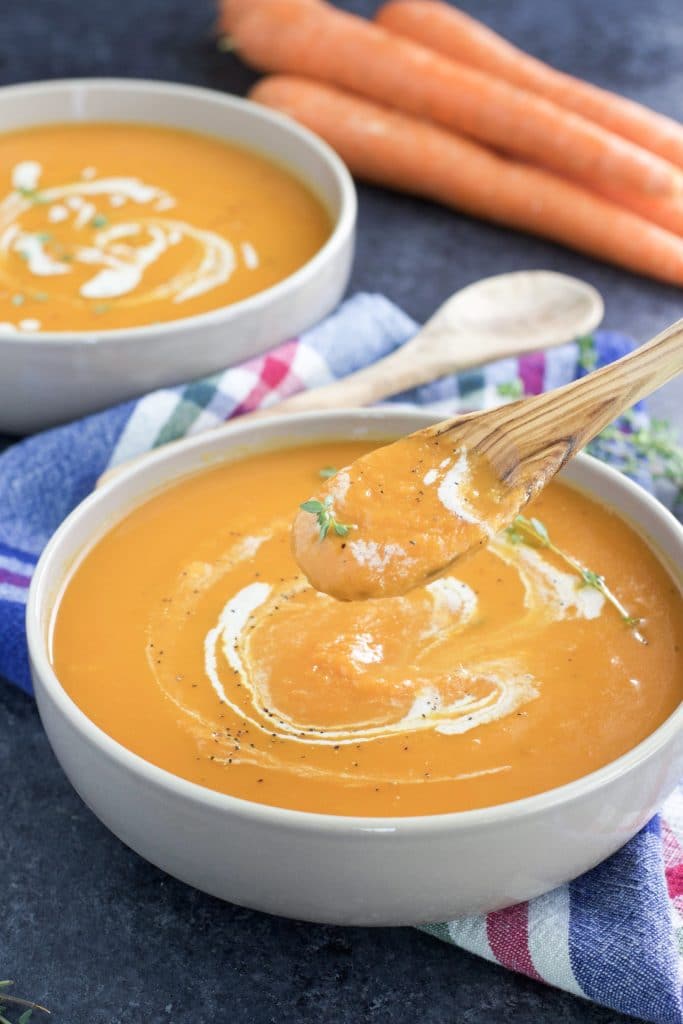 12 - Stuffed Mushroom Eyeballs
15 - Mango Guacamole in Jack -O- Lantern Peppers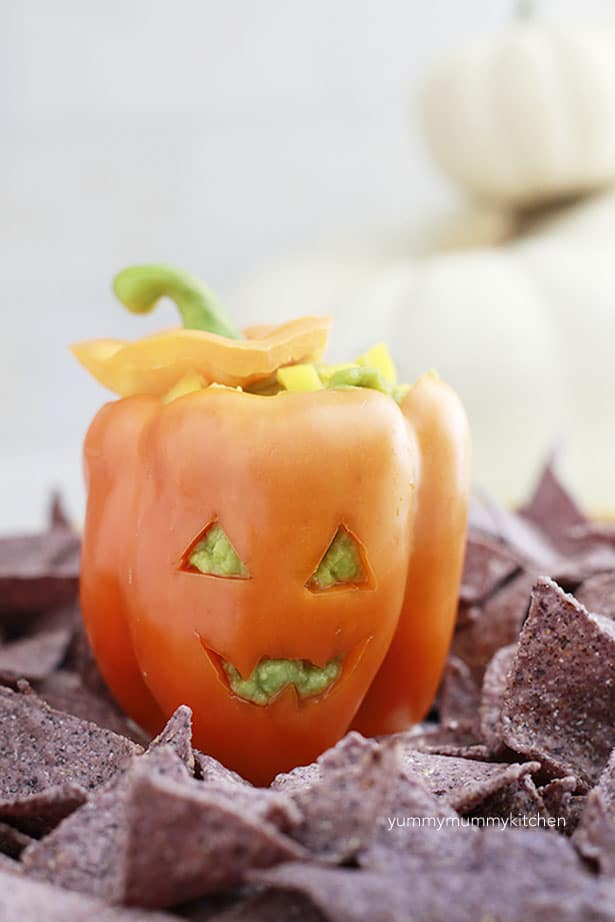 Photo Credit: Yummy Mummy Kitchen
16 - Mummy Quesadilla Polenta Bites 
18 - Potato Pizza Mummies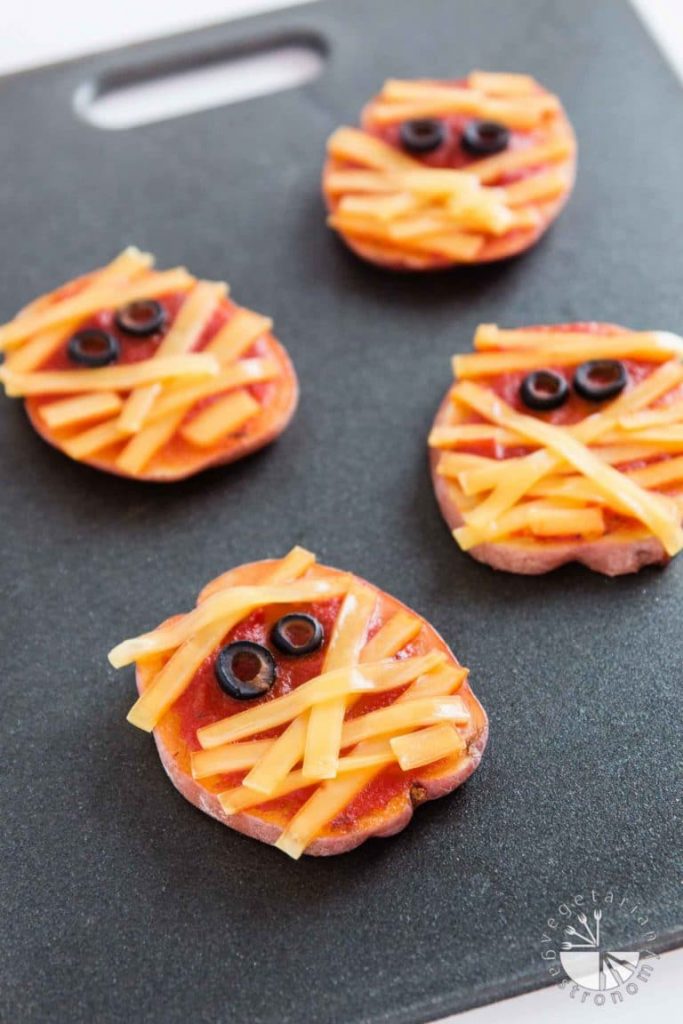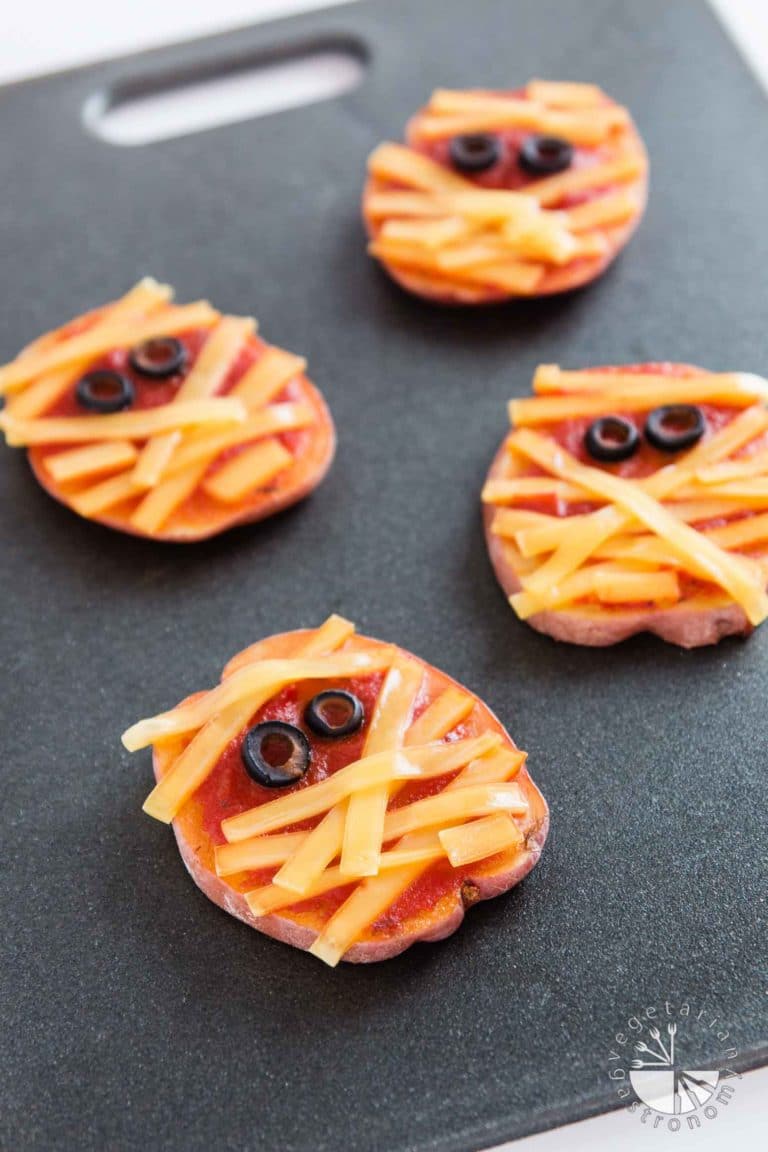 Photo Credit: Vegetarian Gastronomy
Vegan Halloween Dinner Recipes
Surprise your guests with one (or two!) of these haunting but delicious vegan Halloween main course recipes! I guarantee that their socks will be knocked off by your creativity!
19 - Savory Pumpkin Pasta (Gluten-Free)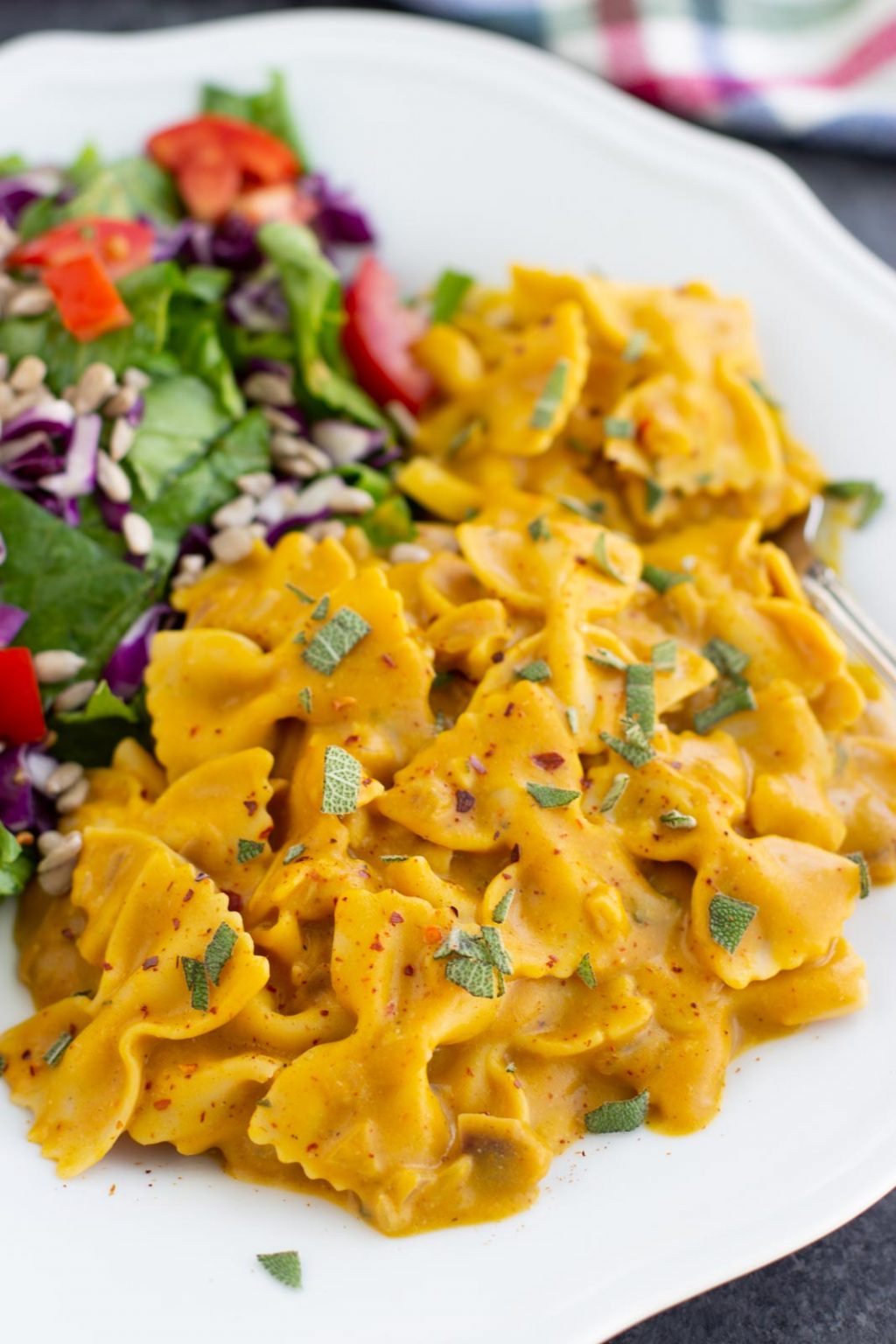 20 - Carrot Ginger Quinoa Pepper Jacks
21 - Spooky Skull Vegan Pot Pies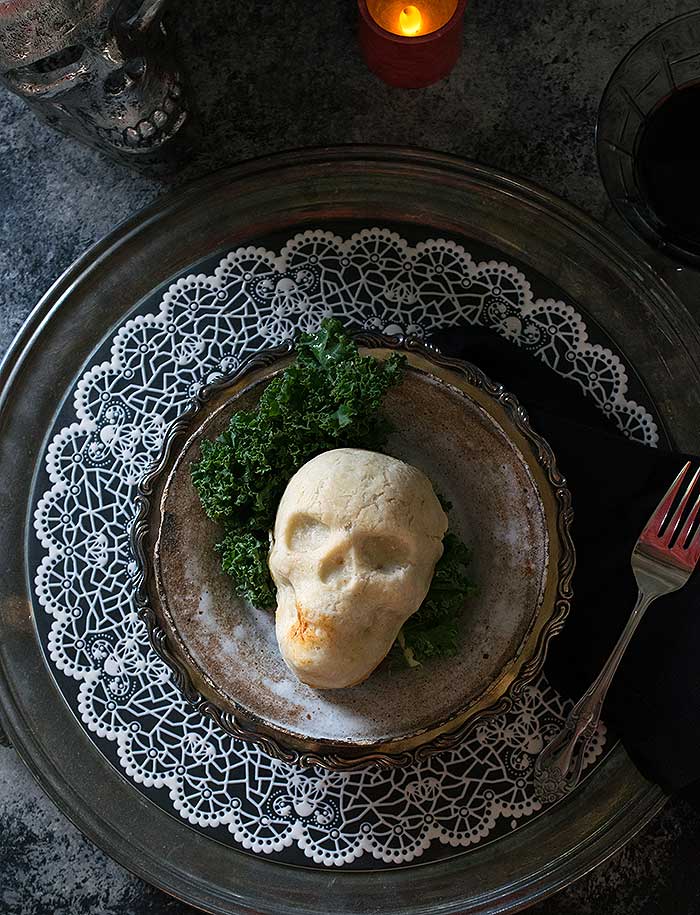 Photo Credit: Healthy Slow Cooking 
22 - Parsnip & Apple Soup with Black Lentils
23 - Pumpkin, Spinach & Walnut Spaghetti
24 - Zoodles with Pumpkin Kale Pesto
25 - Savory Mushroom & Quinoa Stuffed Mini Pumpkins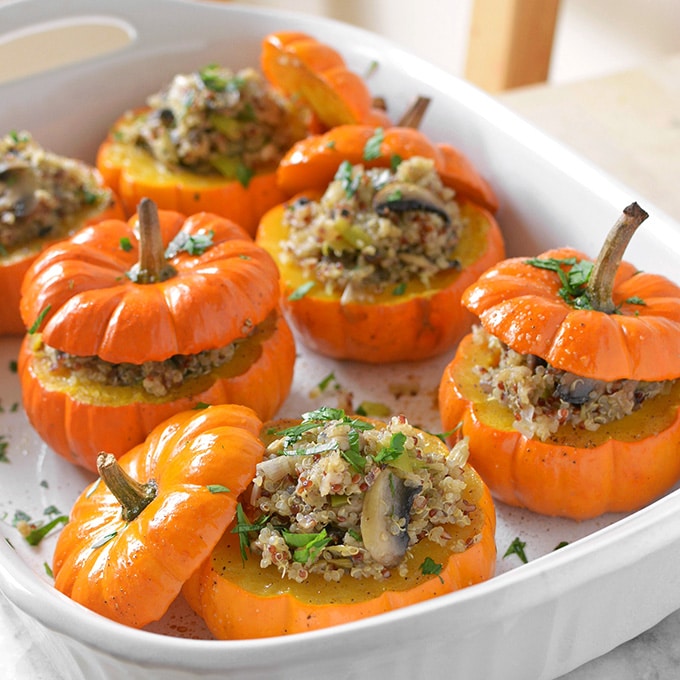 Photo Credit: Simple Seasonal 
Vegan Halloween Side Dish Recipes
Any of the following vegan side dishes will complement your main course perfectly!
26 - The Best Pumpkin Macaroni & "Cheese" 
28 - Maple Butternut Mash with Crispy Sage
29 - Creamy Pumpkin Risotto with Sweet & Spicy Roasted Pepitas
Vegan Halloween Snack Recipes
Why wait until dinner to whip up some vegan Halloween snacks to enjoy!? Start early with these spine-chilling yummy treats!
31 - Vegan Pastry Voodoo Dolls 
32 - Spooky Granola Bars with EyeBalls (These are the sticky googly eyeballs that I stuck to the bars)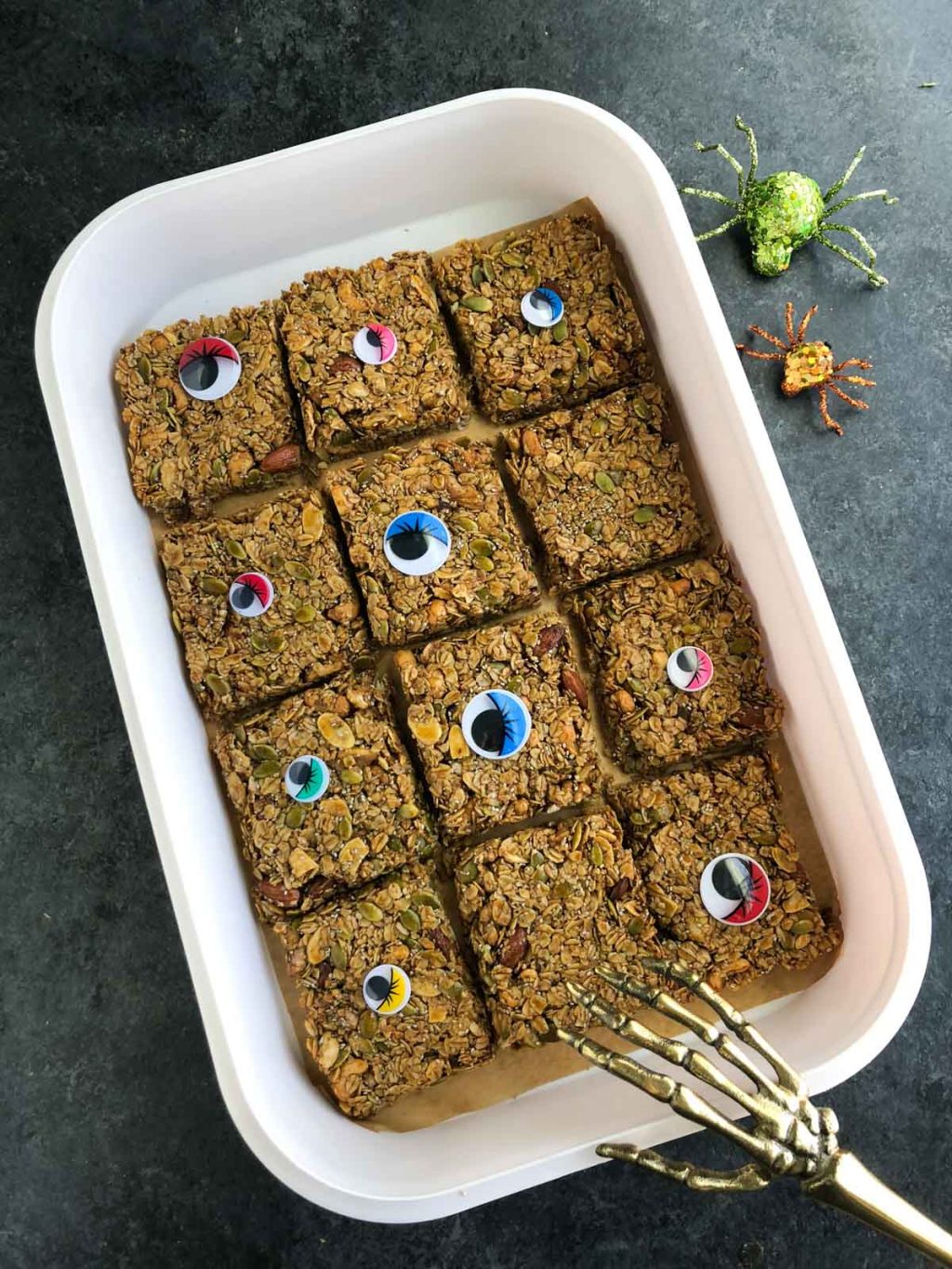 33 - Pumpkin Muffins 
34 - Pumpkin Pie Bites (No Bake Vegan Halloween Treats!)
35 - Pumpkin Lentil Flax Crackers
Easy Vegan Halloween Dessert Recipes
Dessert is 100% required on Halloween! All of these eerily delicious vegan Halloween dessert recipes are sure to thrill your guests with each terrifying bite!
36 - Halloween Graveyard Pudding Cups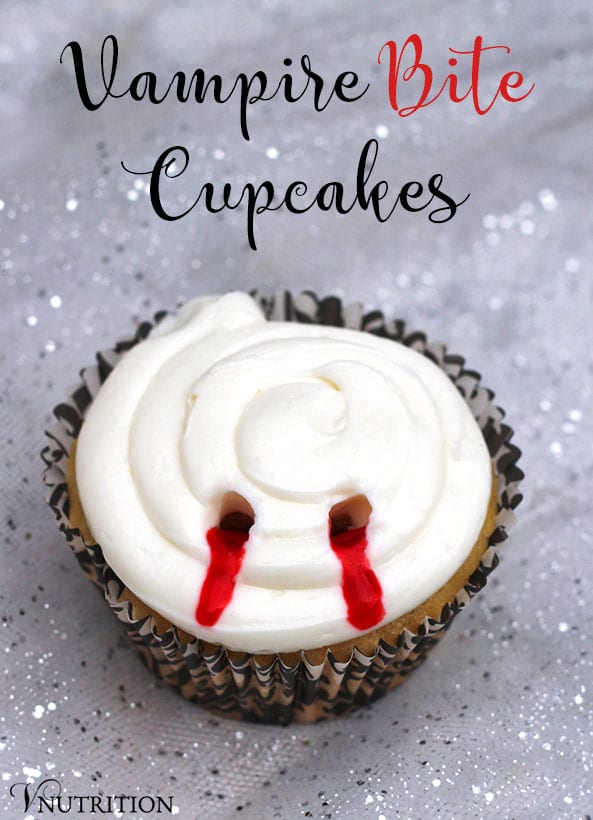 Photo Credit: VNutrition
38 - Pumpkin Spice Cake 
39 - Cinnamon Sugar Pumpkin Spice Donuts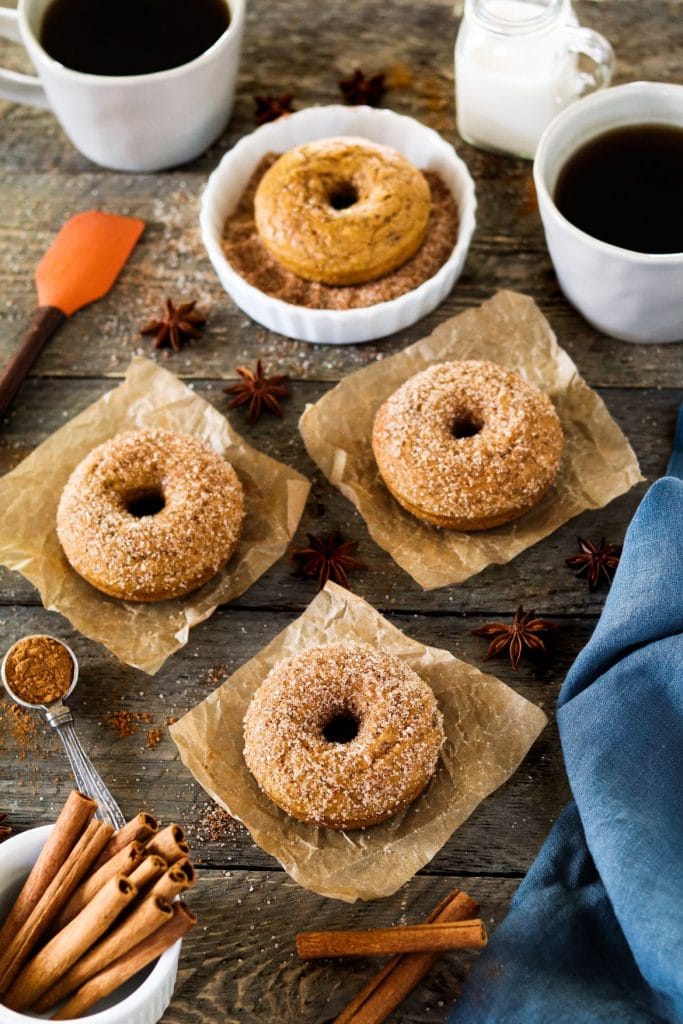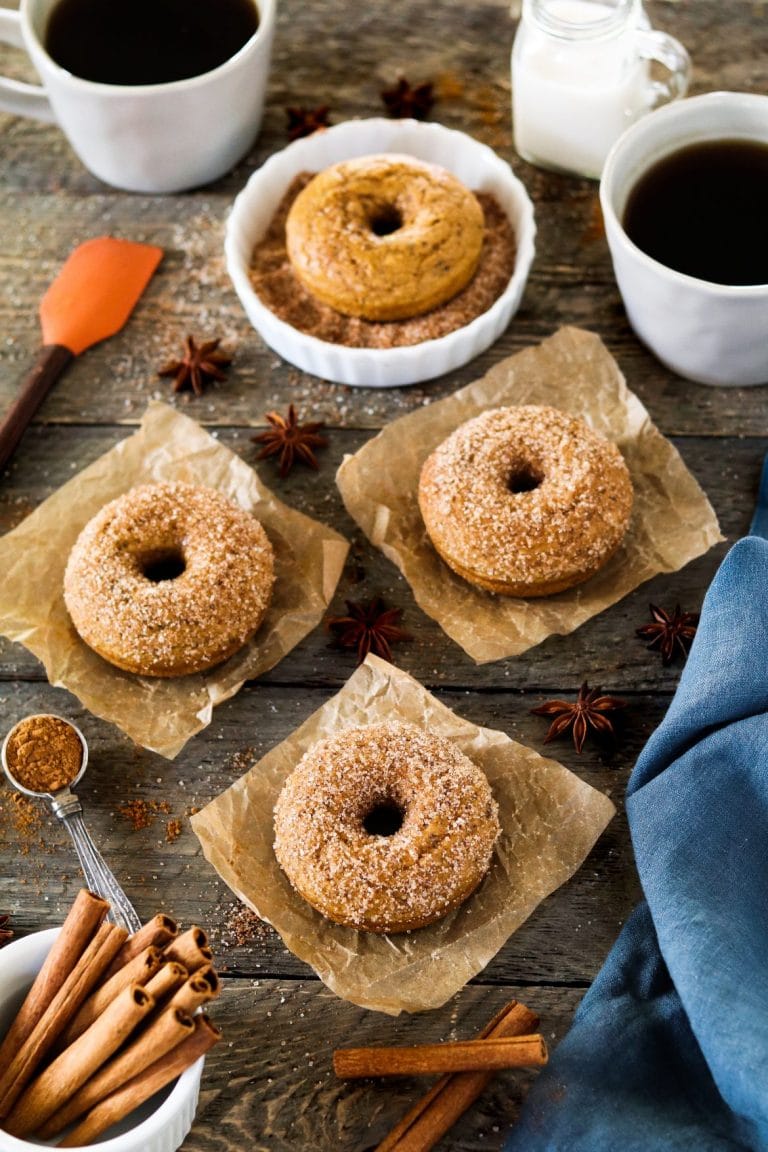 Photo Credit: Vegan Huggs
40 - Jack Skellington Mounds Cups
42 - Pumpkin Chocolate Cake with Ginger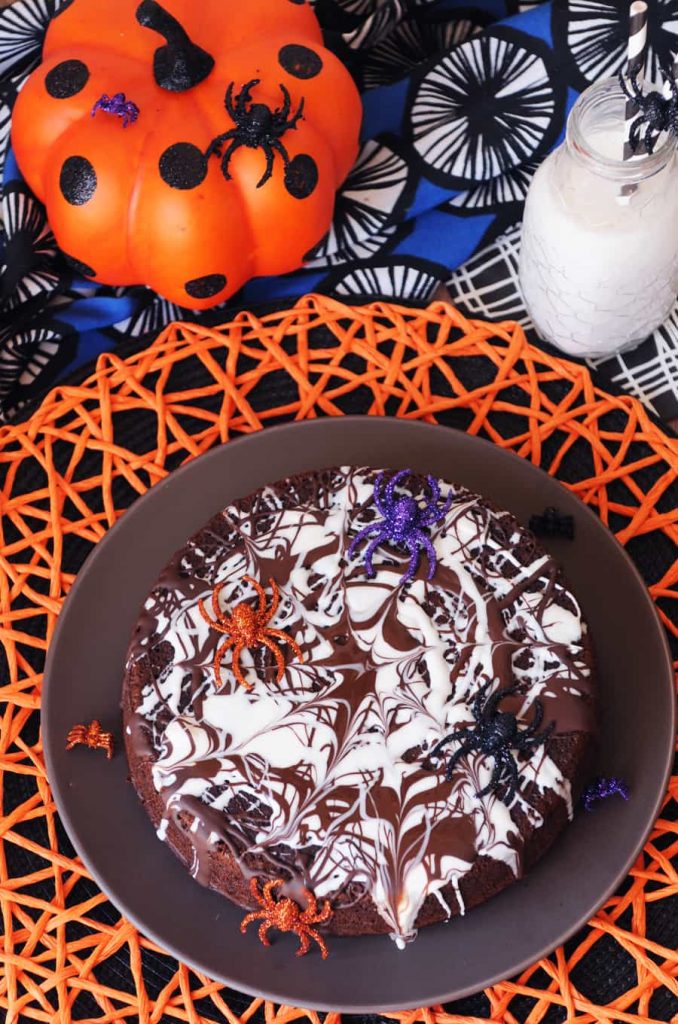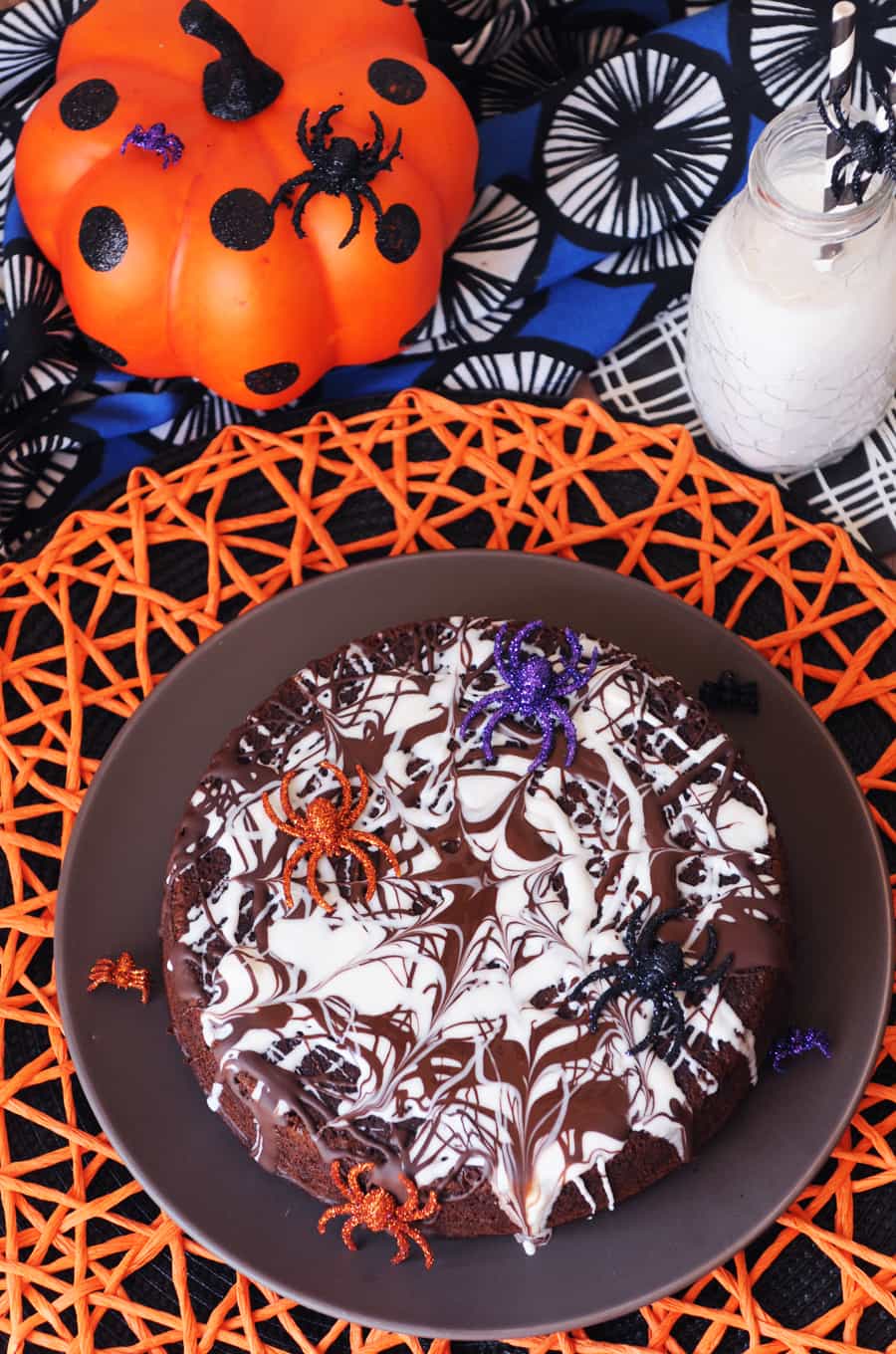 Photo Credit: Fried Dandelions 
Vegan Gluten-Free Halloween Treats
Just in case you or your guests are vegan and gluten-free, I thought it would be helpful to include a few vegan and gluten-free Halloween treats so everyone can enjoy the desserts!
43 - Easy Vegan Pumpkin Pie (Use a Gluten-Free pie crust)
44 - Chocolate Peanut Butter Spiderweb Brownies
45 - Candy Skull Crushers 
46 - Pumpkin Cheesecake 
47 - Healthy Tropical Candy Corn Ice Pops (No Bake Vegan Halloween Treats!)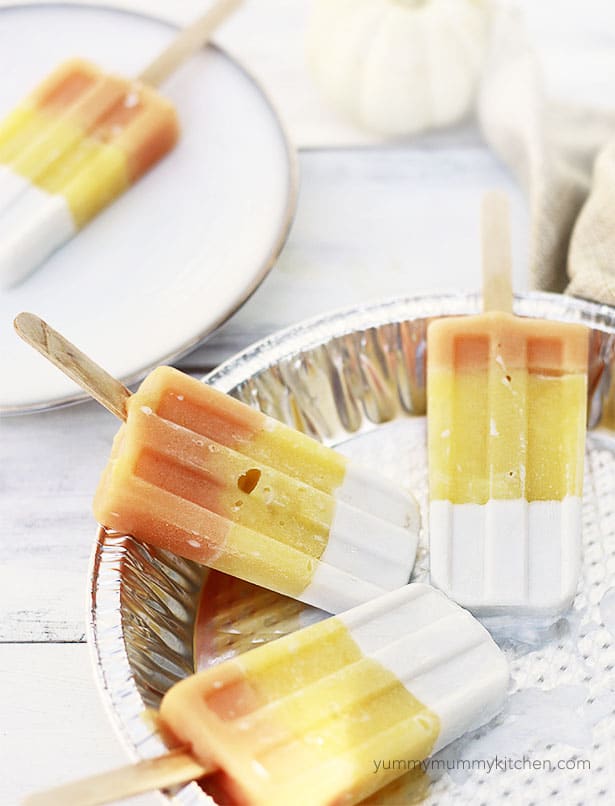 Photo Credit: Yummy Mummy Kitchen
48 - 4 Ingredient Pumpkin Fudge 
49 - Witch Finger Cookies 
50 - Frankenstein Brown Rice Crispy Treats
51 - Chocolate-Dipped Mango Candy Bites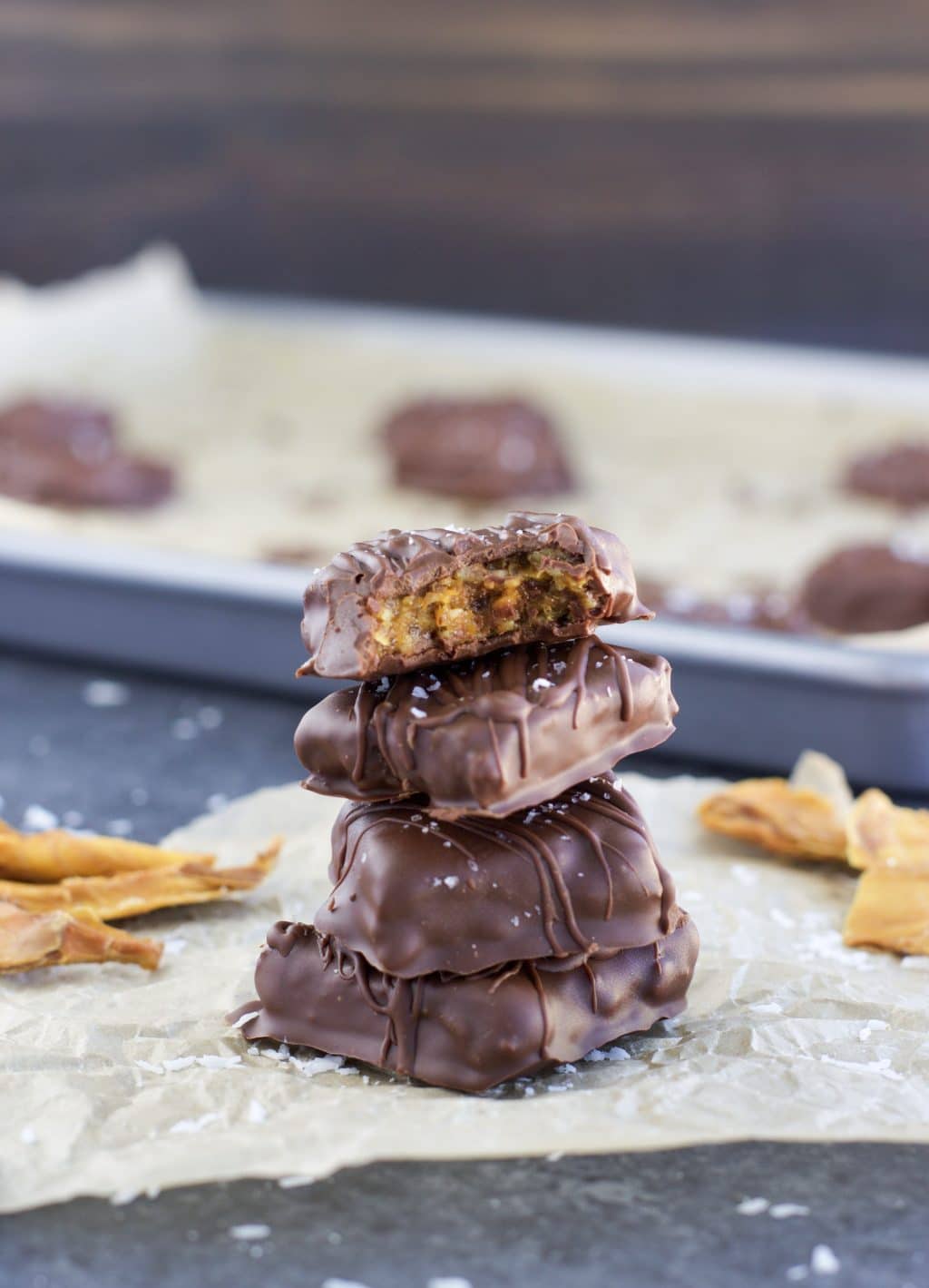 Vegan Ultimate Halloween Party Dinner Menu
We always throw a Halloween costume party at our house for our family each year, it's a lot of fun! This is the food that I'll be making (and picking up last minute) this year for the party:
I hope you all have a spooky fun Halloween that's filled with deliciously scary food! Enjoy the vegan Halloween recipes!
If you try any of these spooky vegan Halloween recipes, please remember to post a picture on Instagram and tag me @Stacey_Homemaker and use the hashtag #StaceyHomemaker so I can see your scary creation! You can also FOLLOW ME on FACEBOOK, TWITTER, INSTAGRAM and PINTEREST to see more delicious vegan recipes!
More Vegan Holiday Recipes You'll Love!
Ultimate Vegan Thanksgiving Dinner Menu
A Vegan Christmas Dinner Menu that Will Please All of Your Guests!
Easy Valentine's Day Themed Breakfast