This post may contain affiliate links.
Please read my disclosure.
Roasted acorn squash hummus is vegan, gluten-free, and low-calorie. It's a creamy delicious snack that's packed with protein that everyone will love!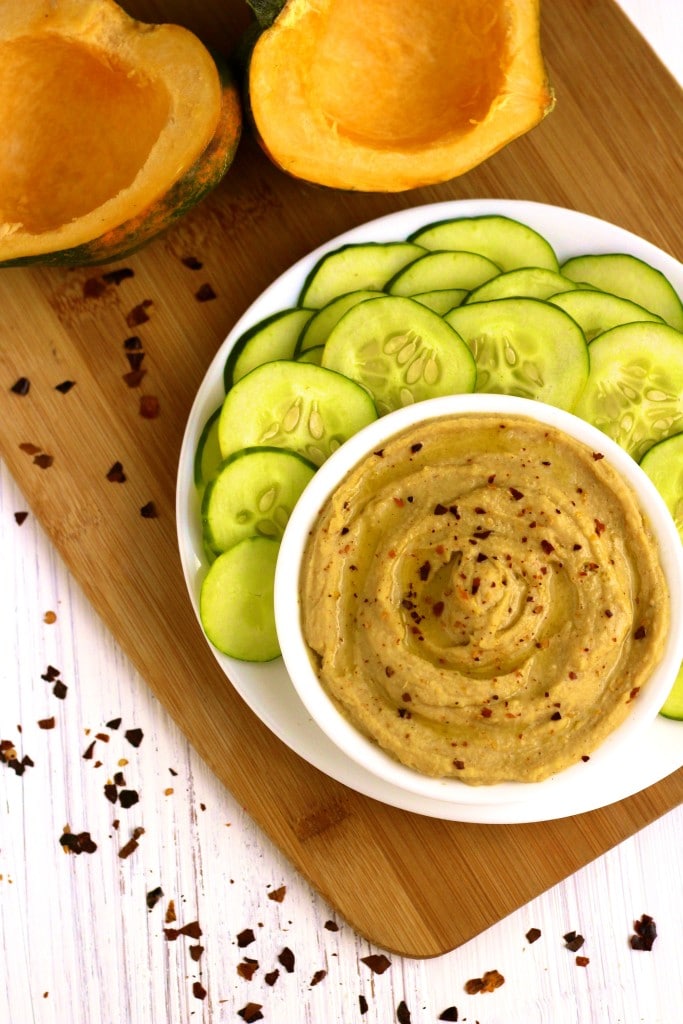 Want more easy vegan recipes? Join our vegan Facebook community below!
Acorn Squash Hummus
Acorn squash is my absolute favorite squash! It has such a creamy texture and sweet flavor. I love to roast slices of acorn squash as a side dish or make acorn squash soup– It's so tasty!
I love hummus too, so, why not make acorn squash hummus?
Hummus is smooth and creamy on its own, blending it with acorn squash gives it an extra layer of flavor PLUS a hidden veggie! You guys know that I like to hide extra veggies in my recipes so you don't even know you're eating something really good for you!
What To Do With Acorn Squash Seeds
Don't forget to save the seeds that you scoop out of the acorn squash. Rinse and dry them, bake at 300 degrees for 20 minutes with your favorite seasonings and you have a delicious snack! I like to use as many parts of the vegetable that I can, I hate wasting food.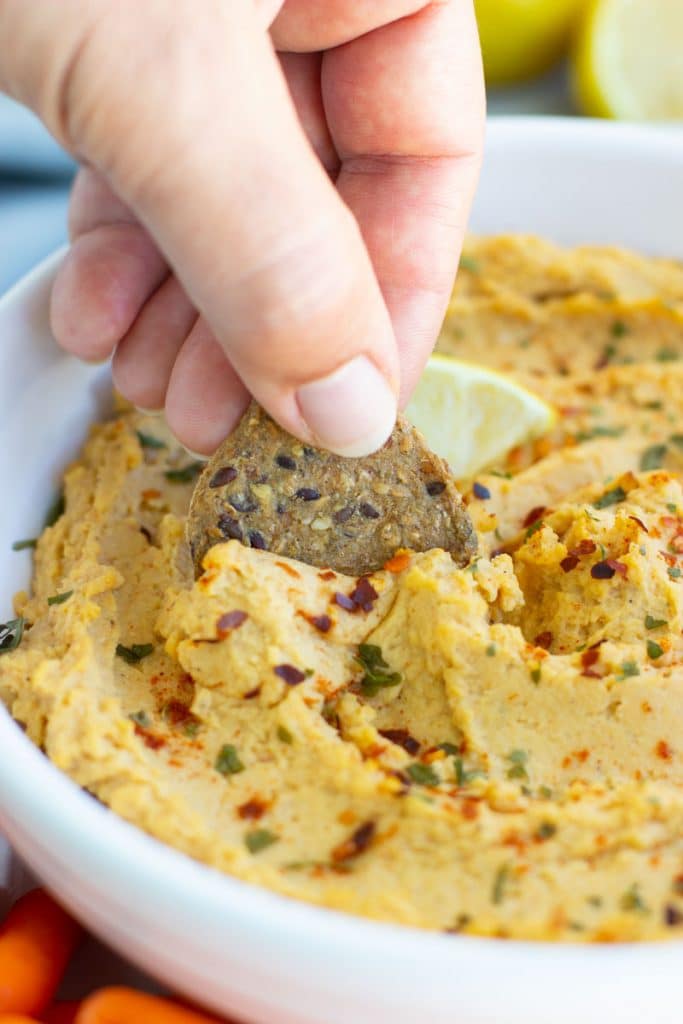 What's Chickpea Aquafaba?
Have you guys heard of Aquafaba? It's bean juice that's used as a vegan egg replacement.
It's a pretty new concept to me, I just recently read about it while I was on Pinterest one day. You know the juice that's in the can of chickpeas, that you usually toss? It's being used in all kinds of dessert recipes!
When it's whipped, it looks just like meringue and when drained from the chickpeas, it looks like egg whites. Crazy right!?
UPDATE – I whipped the aquafaba with a little bit of cream of tartar until it had stiff peaks. It turned into a delicious whipped cream! It really works, I was shocked!
Acorn Squash Hummus Dippers
I like hummus with all kinds of dippers! What's your favorite?
Zucchini sticks
Tortilla chips
Carrot sticks
Broccoli stalks
Cucumber slices
Cauliflower florets
Today, I was feeling like dipping some cucumber slices into the acorn squash hummus. Creamy and crunchy – another delicious flavor combo! Also, sprinkle some red pepper flakes on top for an extra kick and a drizzle of olive oil so it looks extra fancy!
More Hidden Vegetable Recipes You'll Love!
30-Minute ginger cauliflower fried rice
Coconut crusted cauliflower tacos
Butternut squash spinach pasta sauce
Roasted cauliflower cashew cream alfredo sauce
If you've tried this acorn squash hummus or any other recipe on the blog, please remember to rate the recipe and let me know what you thought of it in the comments below, I love hearing from you! You can also FOLLOW ME on FACEBOOK, TWITTER, INSTAGRAM and PINTEREST to see more delicious vegan recipes + our monthly trips to Disney World!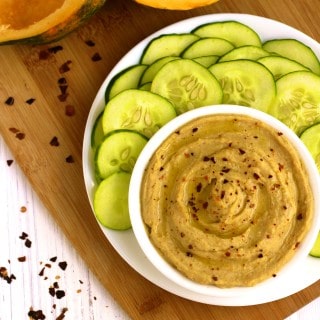 Acorn Squash Hummus
Roasted acorn squash blended with chickpeas to make the creamiest fall-inspired hummus ever! Vegan,
Print
Pin
Rate
Instructions
Preheat the oven to 400 degrees.

Cut the acorn squash in half and remove the seeds. Line a tray with parchment paper and put the squash face up and drizzle with 1 tbsp olive oil.

Bake the squash for 20 minutes or until pierced with a fork easily. Remove it from the oven & let it cool enough so you can handle it.

While the squash is roasting, drain and rinse the chickpeas. Add them to the

blender

.

Scoop the squash out of the skins and add it to the blender too. Add garlic, lemon juice, olive oil, and seasonings. Blend on high until the hummus is completely smooth & creamy.

(Optional) Top with a drizzle of olive oil and red pepper flakes to garnish.