This zucchini tomato bake is easy to make, quick to assemble, delicious, and so IMPRESSIVE! It's a gorgeous healthy side dish to go with any dinner. Vegan, dairy-free, gluten-free.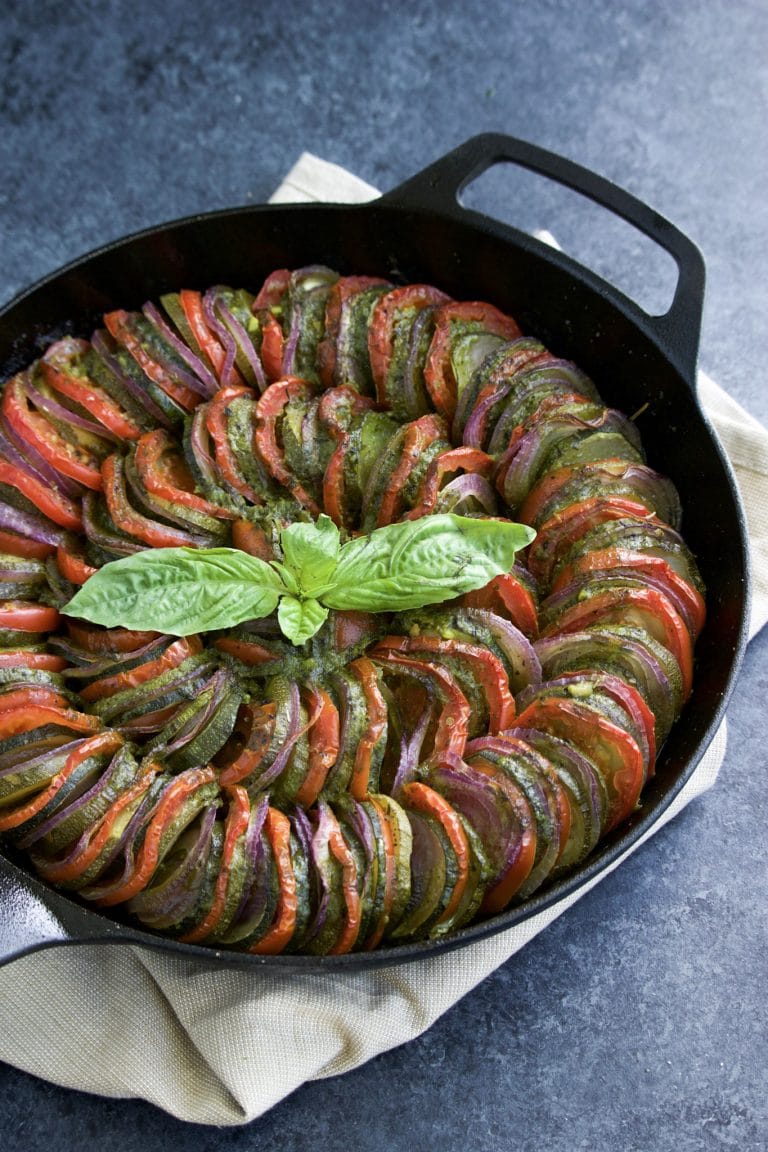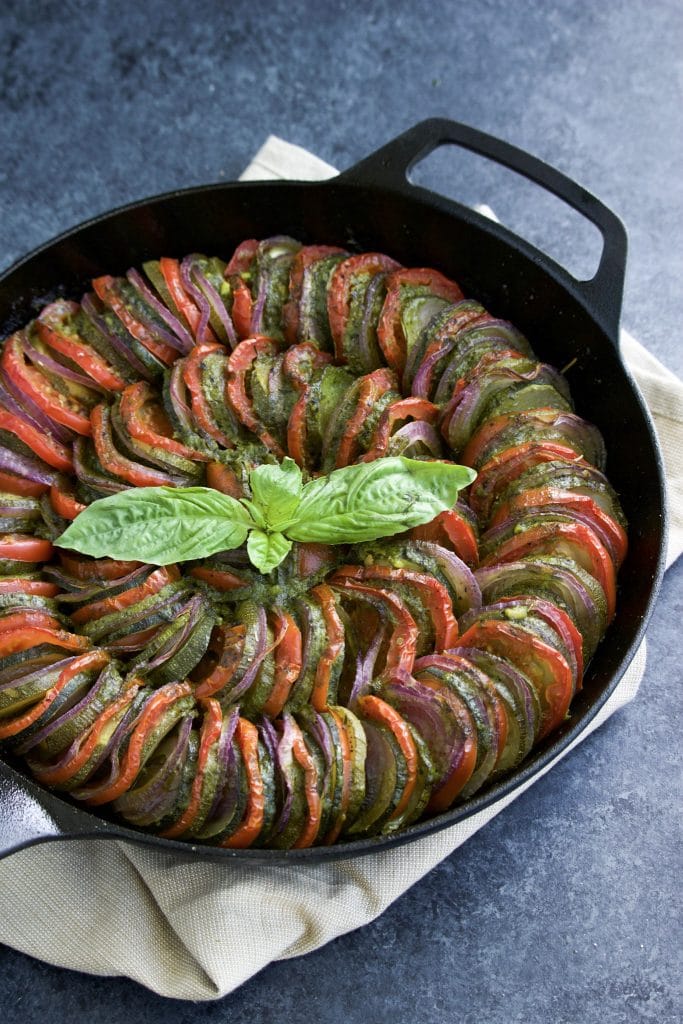 Want more easy vegan recipes? Join our vegan Facebook community below!
This zucchini tomato bake is officially my favorite way to serve a veggie side dish! It's so easy to prepare (promise!) and assemble (really, I swear) but it looks like it's super fancy. Don't you just loveeee a fancy dish that's easy to make and deliciously healthy?
Zucchini Tomato Bake Ingredients
This dish has zucchini, tomatoes, red onions, and pesto sauce…that's pretty much it!
You could actually make this zucchini and tomato dish with any veggies that you have on hand, it's so easy to customize! I just bought a big bag of red onions and this was the perfect way to use them up along with the plentiful zucchini and tomatoes that I found at the market.
Try to stick to vegetables that are circular and easy to slice very thin with a mandolin, like:
Eggplant
Yellow Squash
Small sweet onions
Golden beets (the red ones will dye the other veggies)
Radishes
Carrots
Small bell peppers
Small sweet potatoes
Fingerling potatoes
I'm going to experiment with other vegetable combinations and I'll let you know what I come up with soon. Maybe a mushroom and onion pesto bake? Yum!
What If You Don't Like Onions?
If you don't like onions you could easily substitute a different vegetable. However, I would highly recommend that you give it a try with the onions! When onions are roasted, they lose their harsh bite and they get the best caramelized sweet flavor that's seriously addicting. I didn't realize how delicious roasted onions were until I made a roasted beet and onion salad.
It's important to use small red onions for this zucchini bake because you want all the slices to be uniform. If you use a large onion then you'll have huge onion ring slices next to small zucchini and tomato slices. If you only have large onions, slice them and then pop out the small rings that you want to use and then save the larger rings for another recipe. Easy fix!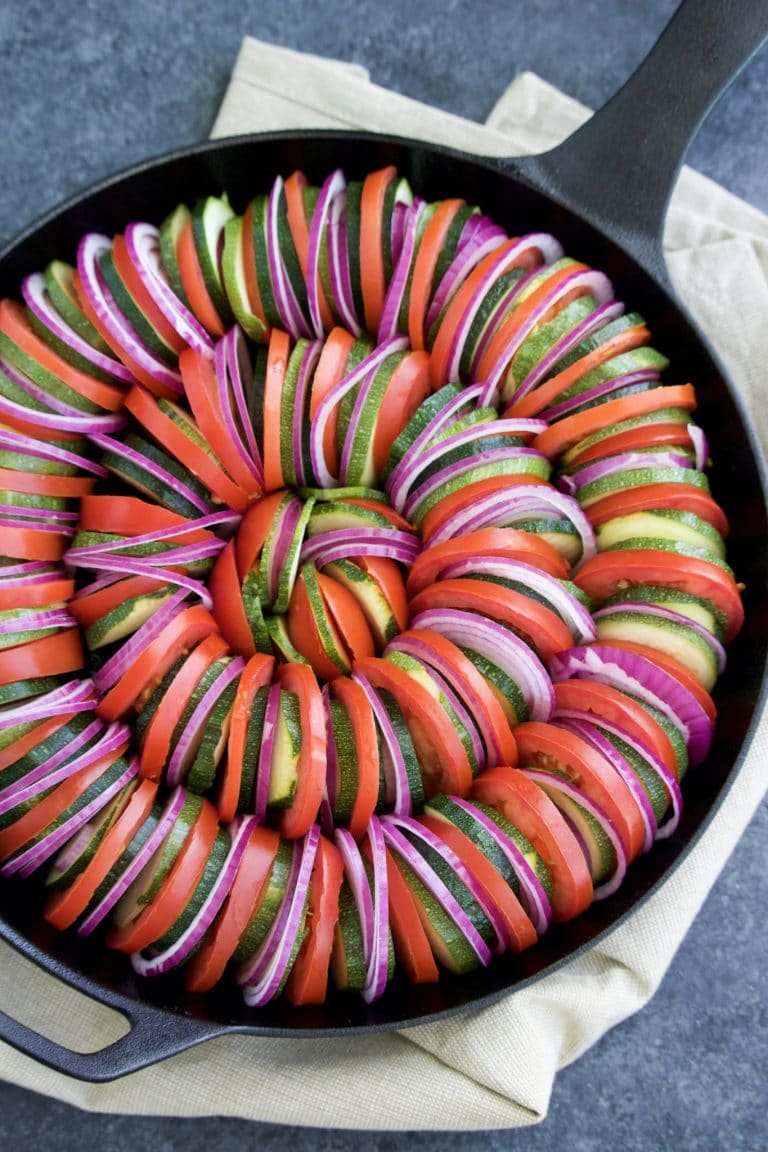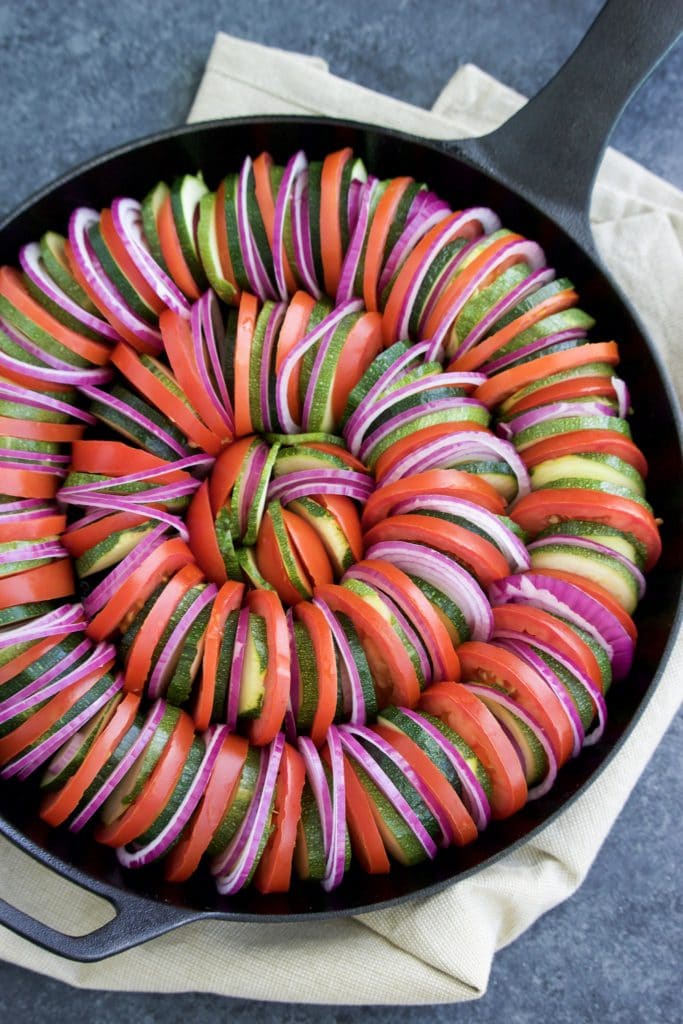 Is a Zucchini Bake Hard to Make?
The placement of the veggies might look hard but it's not difficult to do, I promise. The most time intensive part of this recipe is slicing the vegetables, that's it! And it really doesn't even take that long to slice if you use a hand mandolin.
Slice all the veggies first, then arrange little stacks in your hand and keep squeezing the stacks into the cast iron skillet until you run out of space. That's it!
I arranged the vegetables in this order –> zucchini – tomato – zucchini – red onion – repeat.
You don't have to follow this order, you can make up any design you want. Or if you don't want to take the time to arrange the vegetables you could just toss them all in a big casserole dish and call it a day. It'll still be delicious! Sometimes it's just nice to make a pretty presentation, you know?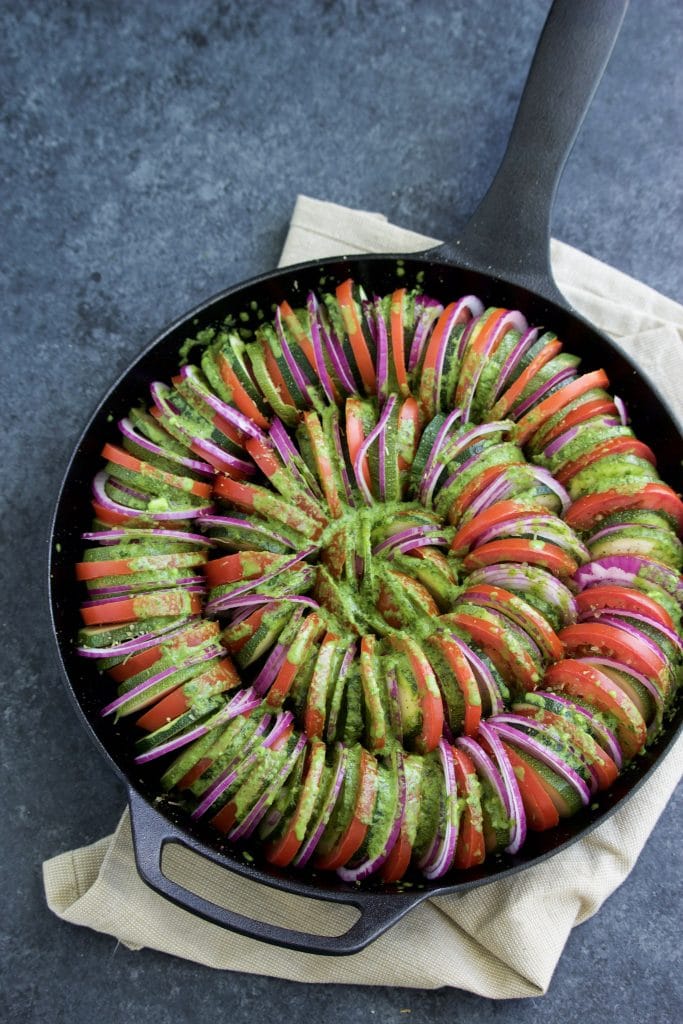 Basil Pesto Sauce
This dish is similar to ratatouille except for the sauce.
A traditional ratatouille also has eggplant, bell peppers, and a tomato-based sauce. Instead of using tomato sauce to flavor the vegetables, I thought a basil pesto sauce would be much more flavorful! I love pesto sauce, I put it on everything: pesto pasta casserole, pesto quinoa stuffed tomatoes, and even pea pesto lentils!
I just love how this pesto sauce seeps into every nook and cranny while the vegetables are roasting. It's seriously tasty!
What Should You Serve This With Zucchini Bake?
This zucchini tomato pesto bake side dish can go with anything! I served it with roasted cauliflower steaks last week but I might even eat it as a main dish.
The vegetables are perfectly roasted, caramelized, and covered in the most flavorful pesto sauce that everyone will love!
More Zucchini and Tomato Recipes You Might Enjoy
Pesto Quinoa Spinach Stuffed Tomatoes
If you've tried this zucchini tomato bake or any other recipe on the blog, please remember to rate the recipe and let me know what you thought of it in the comments below, I love hearing from you! You can also FOLLOW ME on FACEBOOK, TWITTER, INSTAGRAM and PINTEREST to see more delicious vegan recipes!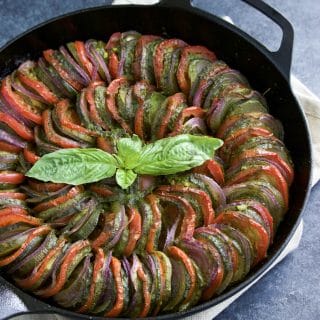 Zucchini Tomato Pesto Bake
Zucchini tomato pesto bake is a delicious and impressive side dish that will go perfectly with any dinner! Vegan, dairy-free, gluten-free.
Print
Pin
Rate
Ingredients
Pesto Sauce -
1

cup

fresh basil leaves

1

tbsp

pumpkin seeds

(or pine nuts)

1

garlic clove,

peeled

2

tbsp

olive oil

1

Tbsp

water
Vegetables -
1

tbsp

olive oil

3

medium

zucchini,

sliced thin

2

small

red onions,

sliced thin

8

medium

roma tomatoes,

sliced thin

1/4

tsp

Italian seasoning
Instructions
Preheat the oven to 350 degrees.

Prepare the pesto sauce and set aside for later.

Using a

mandolin

, (CAREFULLY!) slice the tomatoes, zucchini, and onions very thin.

Spread 1 tbsp olive oil in the bottom of a

cast iron pan

. Arrange veggies in the pan. I did this order: zucchini, tomato, zucchini, red onion, repeat.

Use a

silicone brush

to brush the pesto sauce over all the veggies. Sprinkle Italians seasoning, salt, and pepper on the veggies.

Lay a piece of

parchment paper

on top of the veggies to stop them from burning. Bake for 30-35 minutes or until all the vegetables are soft.

Zucchini Tomato Zucchini Tomato Zucchini Tomato Zucchini Tomato Zucchini Tomato omato Zucchini Tomato Zucchini Tomato Zucchini Tomato Zucchini Tomato