Vegan spanakopita is just as delicious as the classic spanakopita that everyone knows and loves. My version is loaded with a super flavorful mixture of spinach, garlic, onions, and almond ricotta (store-bought), between multiple crispy layers of filo dough. It's the best! Vegan, dairy-free, soy-free.  
***This post contains affiliate links.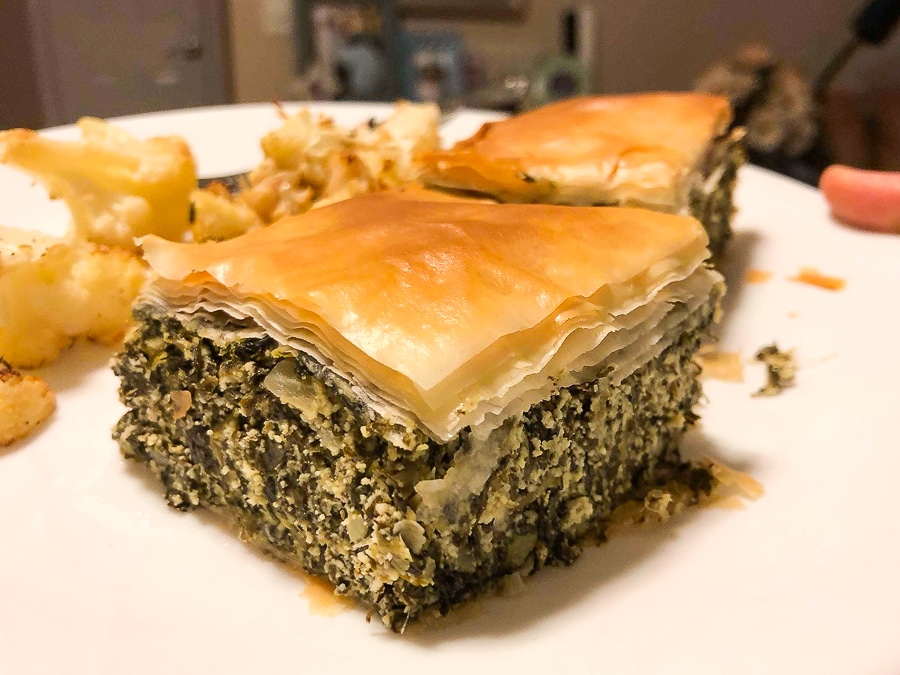 I've been trying to write this post all week but I just couldn't get it finished. I'd start, stop, start again, stop again. I couldn't completely focus on it and honestly, I just didn't feel like writing.
I've taken the last two weeks off from my blog and life in general because my super-special Aunty (my mom's twin sister) unexpectedly passed away on March 30, 2018.
I've never lost anyone so close to me in my life before so the last two weeks have been very difficult to get through. Partially, because her death literally came out of nowhere so it's really hard to process. It still doesn't feel real.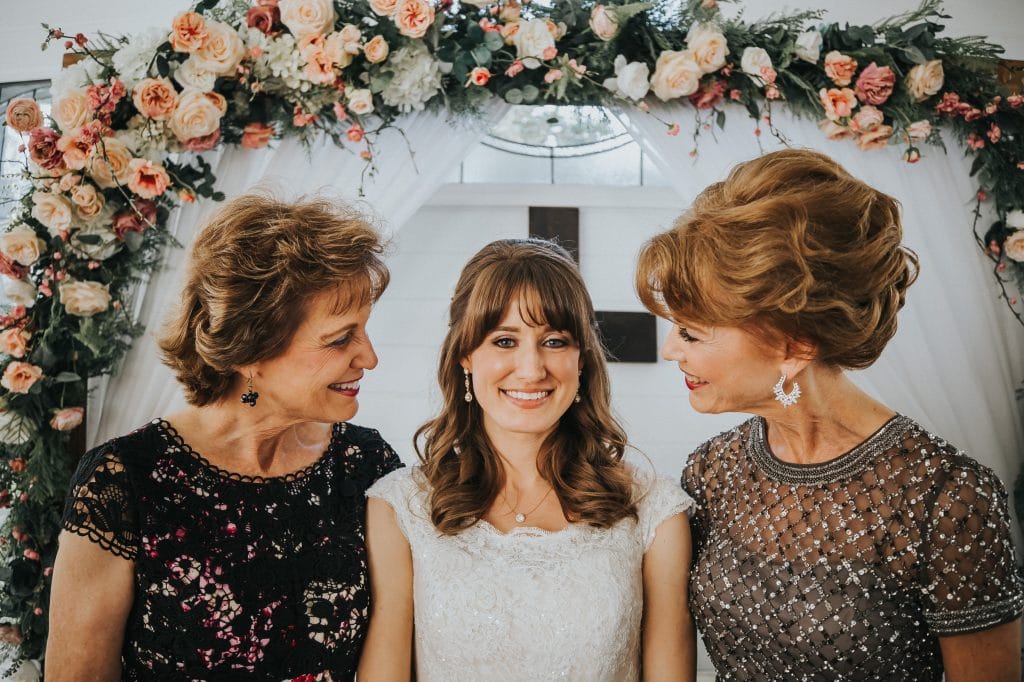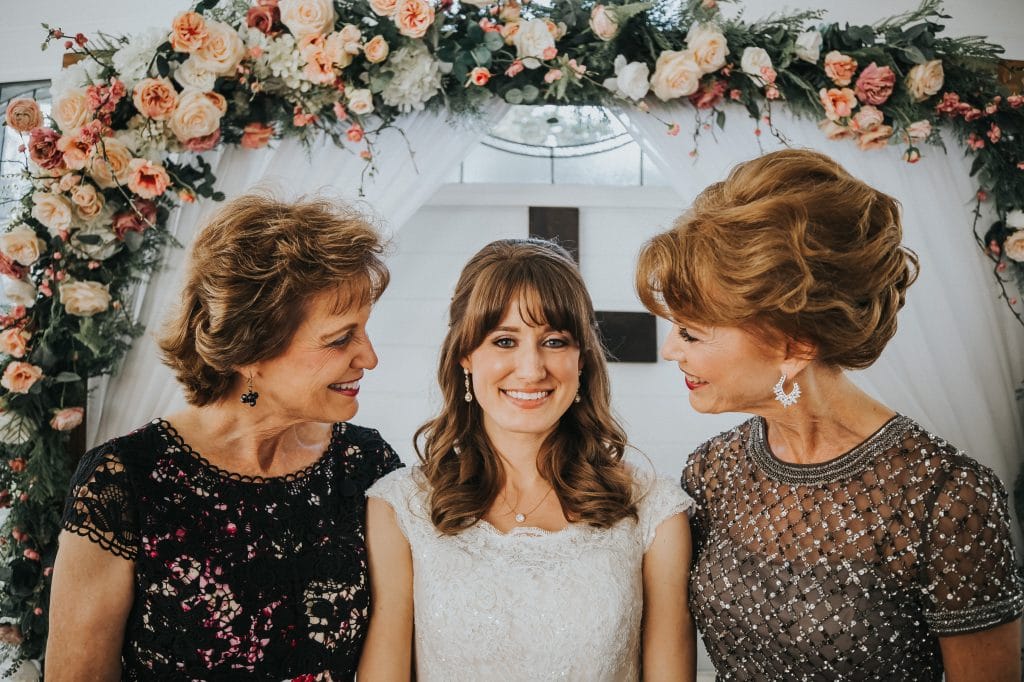 We had a beautiful celebration of life for Aunty last week. It was very hard to get through but what made it a little easier was all the people that showed up to tell us about how much they loved Aunty. She helped so many people. Maybe her heart was just too big or she gave too much of it away, I don't know. What I do know is that I miss her with all of my heart and I always will.
I want to dedicate this vegan spanakopita recipe to the memory of my Aunty because anytime either of us would make a delicious dinner we would take pictures of it and send it to each other. The pictures in this post are my not typical posed blog pictures, they are the real cell phone pictures that I sent to my Aunty the first time I made it. Pictures are a memory and I don't ever want to forget how supportive she was of all my recipes, not just the staged food pictures that made it to the blog.
The text below is her response to the pictures of the vegan spanakopita that I texted to her…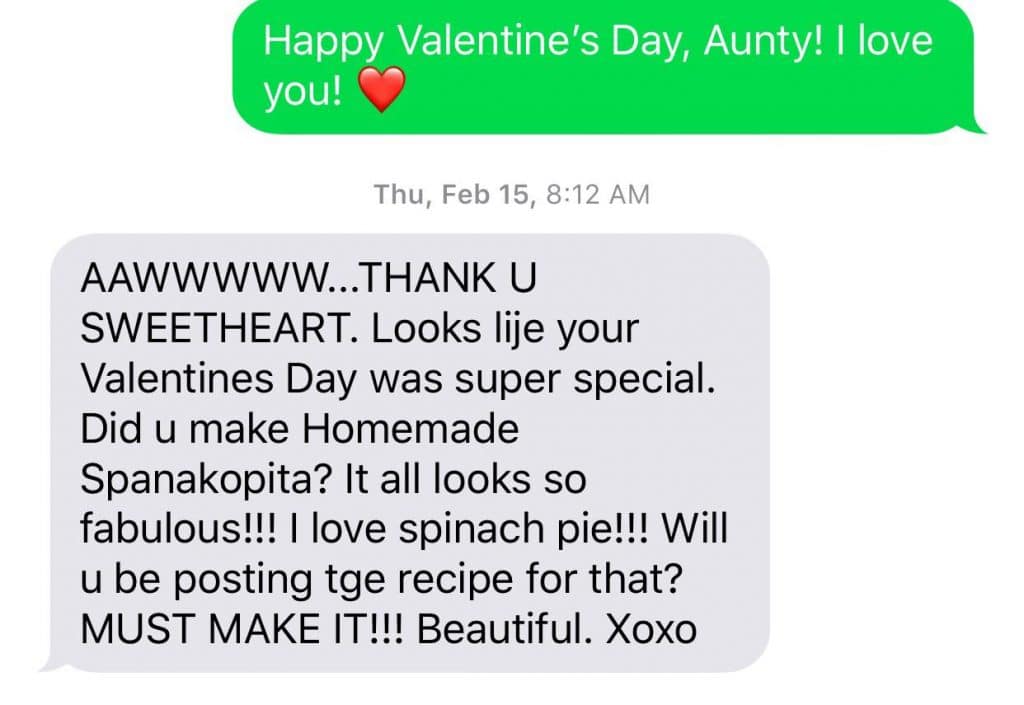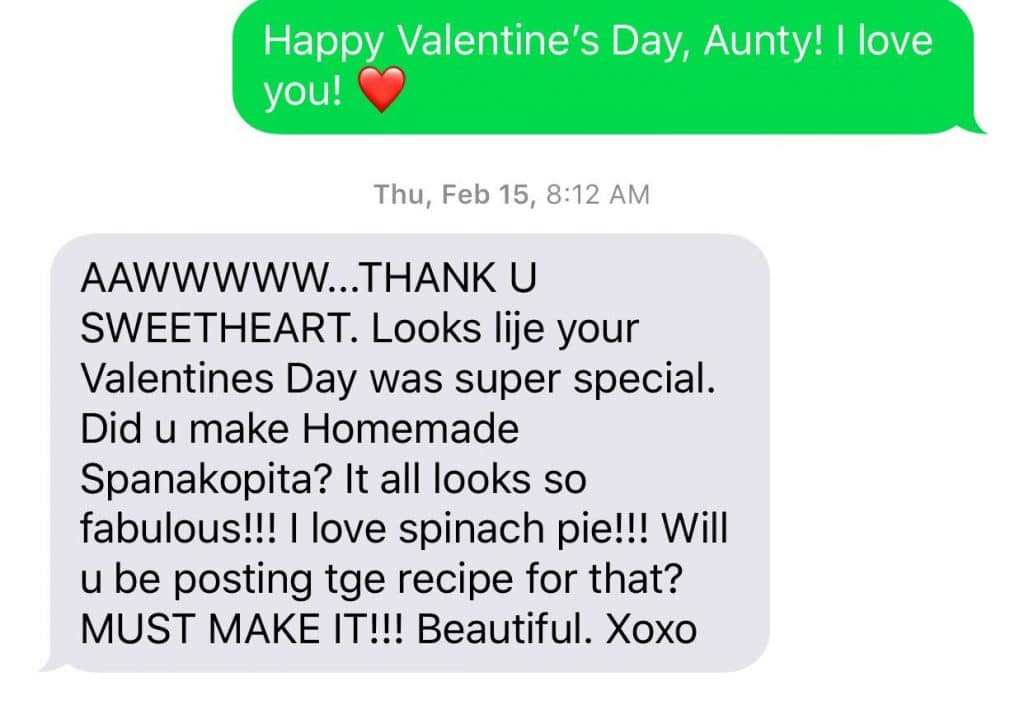 Aunty was one of my biggest cheerleaders and blog supporters. She always told me how proud she was that I turned her (and my mama's) love of food and photography into a job. I'm truly going to miss her unconditional love and support. I always knew that I could go to her for anything, she was the best Aunty.
I know that she would have loved this vegan spanakopita and I wish that I could've made it for her. I hope that you can make this vegan spanakopita for someone special in your life.
I didn't want to say anything cliche like "life is short" but it's really true. Aunty was only 63 years young, she was still so healthy and vibrant! She had so much life in her. So much spirit. So much love. I feel extremely lucky to have had her in my life for 29 years but I just wish it was longer.
As you can see from the pictures below, she had a beautiful life but she should have had more time, it's just not fair. I wish I had done more for her to show her how special I thought she was. I hope she knew how I felt. I just always thought we would have more time.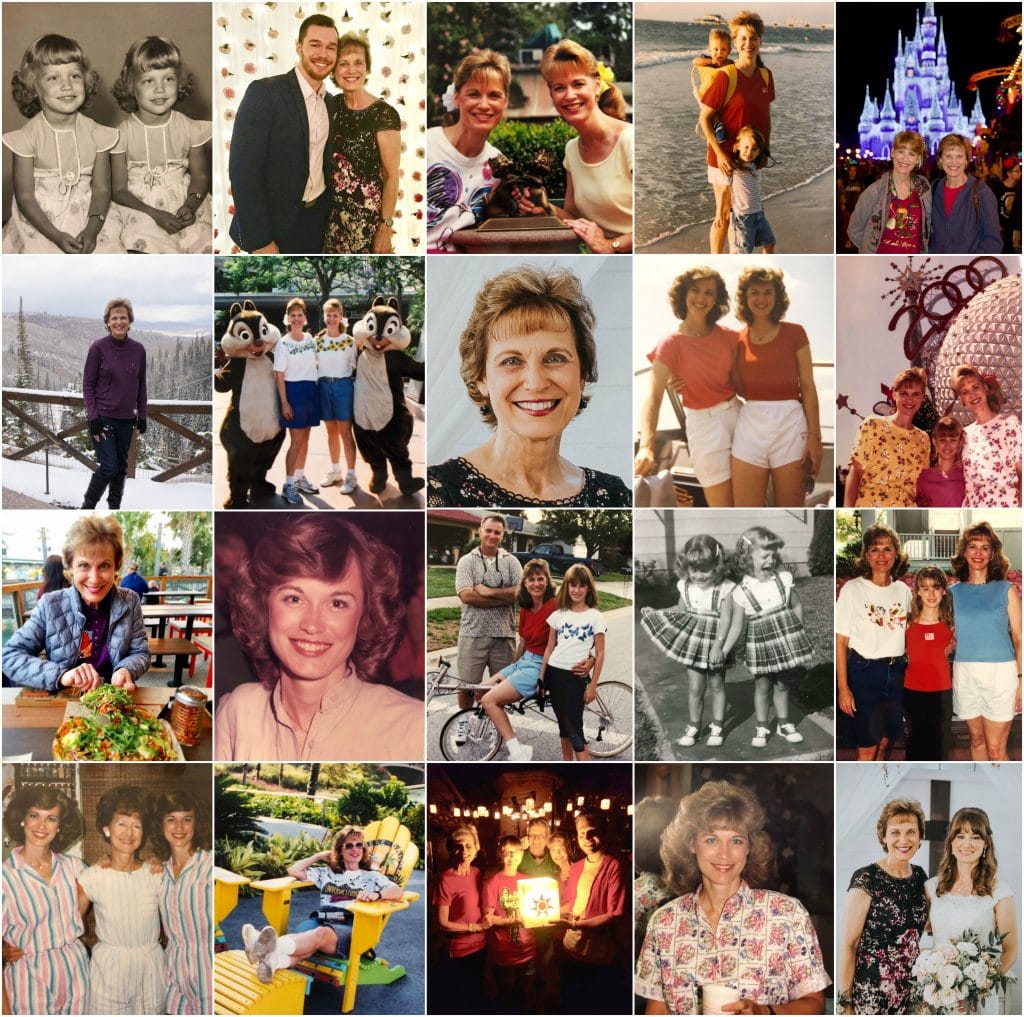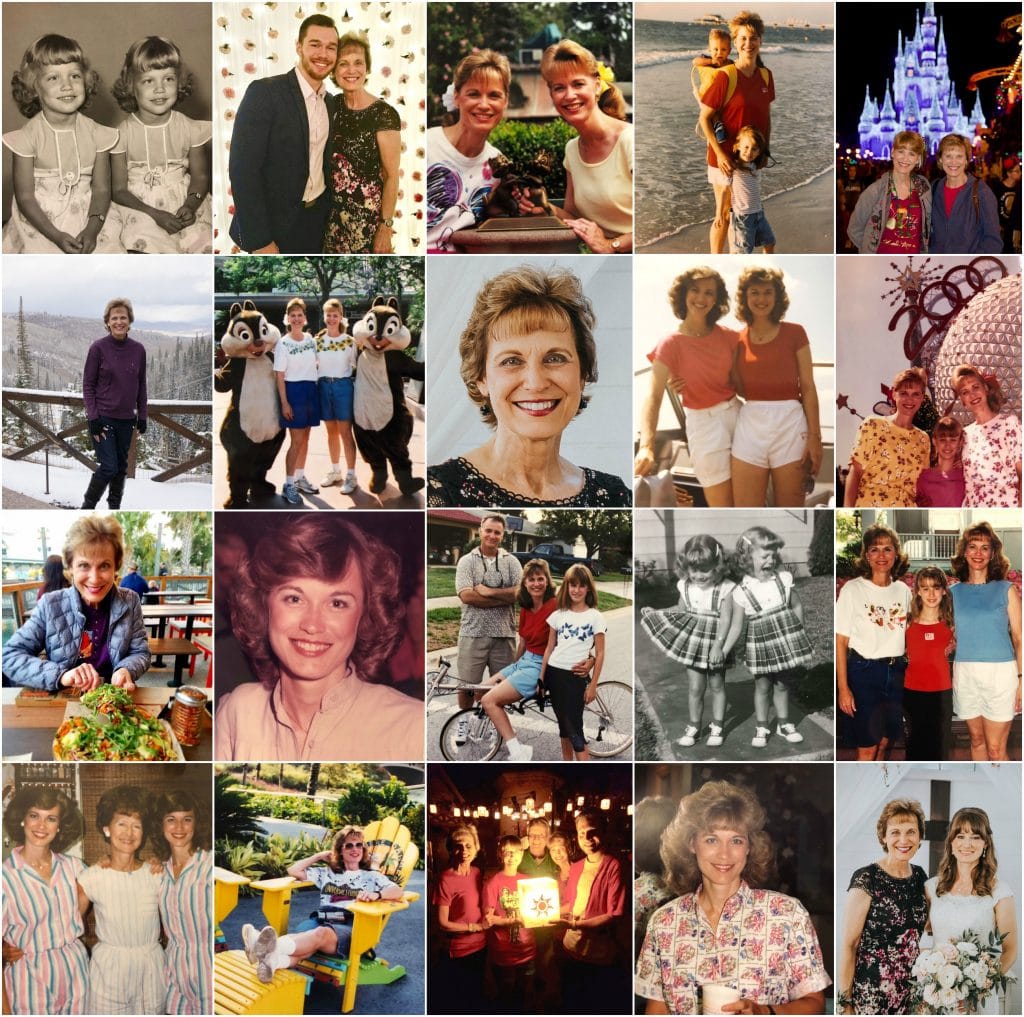 What I hope you'll take away from this post is that none of us know how much time we have left and we have to do the best we can while we're on this earth.
Help someone without expecting to be noticed or rewarded!
Take the trip you've always dreamt of, don't put it off!
Spend time with the people who matter the most to you!
Don't let stress or anger get the best of you, find happiness in little things!
Do the best you can but remember that it's not a competition, we're all on this journey with the same ending and it matters how you treat people along the way!
Aunty's Vegan Spanakopita
I think Aunty would get a kick out of people making this vegan spanakopita recipe in memory of her so I hope you'll try it! It's quite delicious if I do say so myself.
I would eat vegan spanakopita every day if I could, it's one of my favorite meals. The flavorful spinach filling and the super crispy, flaky layers are so addicting. This recipe will definitely be a new family favorite! Just listen to that crunch in the video below!
What Kind of Spinach Should You Use?
I use a ton of spinach in this vegan spanakopita recipe, it's loaded with 2lbs of frozen organic spinach! You could use fresh spinach but I found it easier to use frozen because it's already sliced and all you have to do is heat it up and drain it. Draining the spinach realllllly well is very important because you want the filo layers to be crispy, not soggy, from excess water.
After I saute the spinach, I put it in a strainer and use a spoon to press the spinach against the mesh to drain a majority of the excess water out. Then I put the spinach in a cheesecloth or thin hand towel and squeeze the remaining water out.


Once you ring all the water out, you'll be left with a baseball-sized ball of spinach. Don't worry– once you mix in the onions, garlic, and almond ricotta, it will spread out and fill up the pan.
I like to make this vegan spanakopita in a 9.5×9.5 baking dish, each piece is about 2 1/2 inches high. It's the perfect slice!
This is the baking dish that I use for the vegan spanakopita –>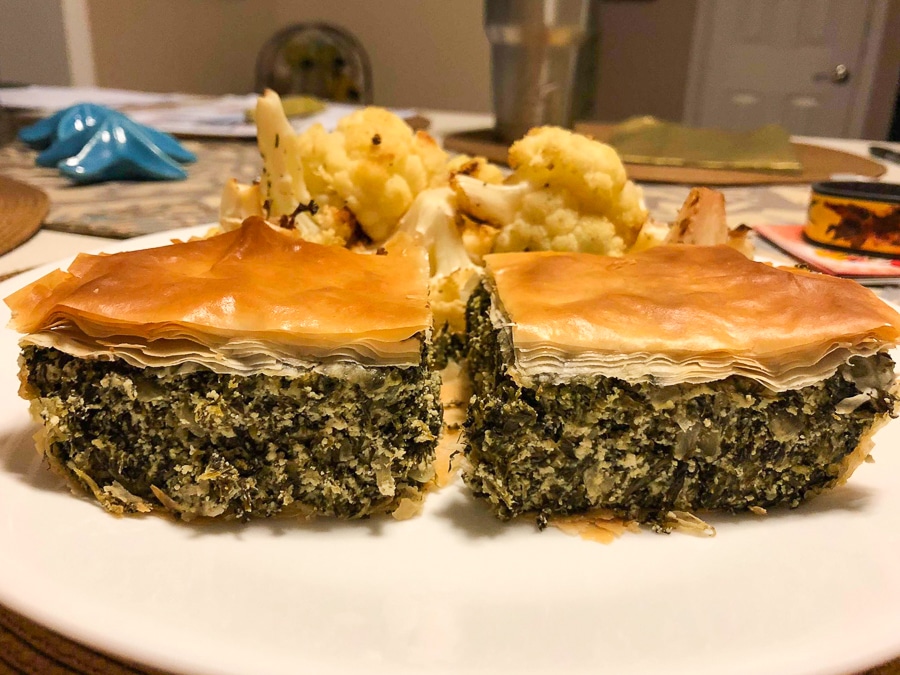 What Does Almond Ricotta Taste Like? 
I use store-bought almond ricotta in the vegan spanakopita filling. It's creamy, tangy, and dairy-free! You could definitely make your own tofu-based tofu-based ricotta but I like to save a little bit of time by using this shortcut. I like to use Kite Hill almond ricotta, it's so delicious! (Their chive cream cheese is bomb too!)
I prefer to use Kite Hill almond ricotta, it's so delicious! (Their chive cream cheese is bomb too!) This recipe is not sponsored by Kite Hill, I just really love their products. 
Click here to print a $1/1 product coupon!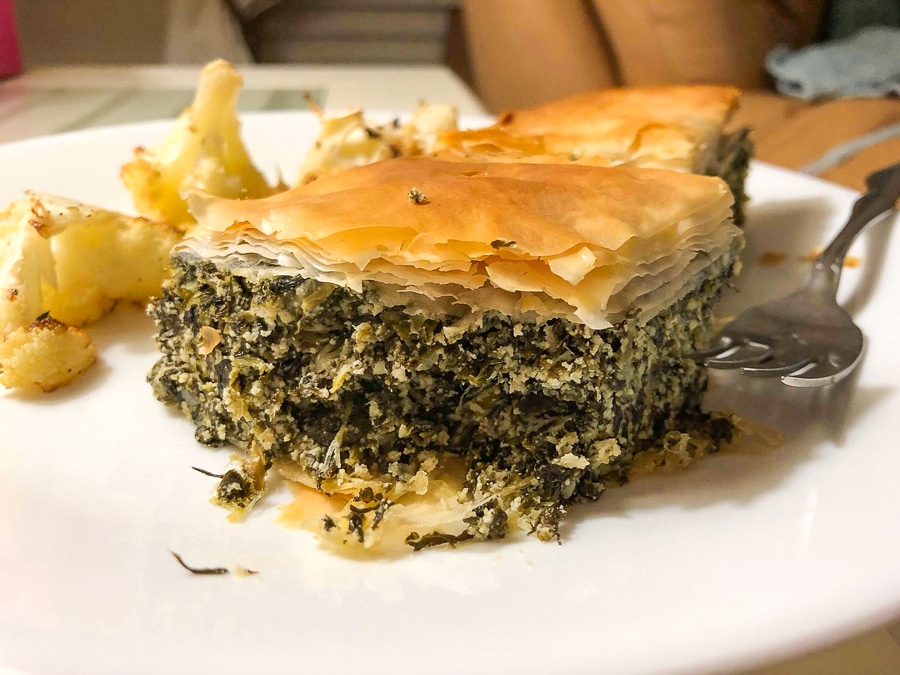 I hope you enjoy this vegan spanakopita recipe as much as I do!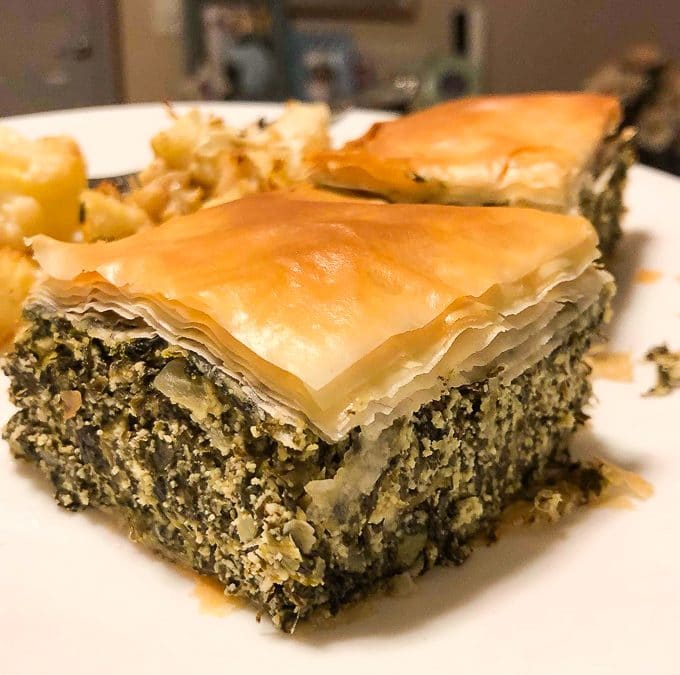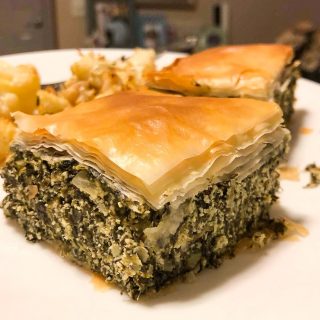 Aunty's Vegan Spanakopita Recipe
Vegan spanakopita is just as delicious as the classic spanakopita that everyone knows and loves. My version is loaded with a super flavorful mixture of spinach, garlic, onions, and almond ricotta (store-bought), between multiple crispy layers of filo dough. Vegan, dairy-free, soy-free.
Print
Pin
Rate
Ingredients
2

lbs

frozen spinach

1/4 cup + 1 tbsp

olive oil

1

large

onion,

diced

6

garlic cloves,

minced

1/2

tsp

nutmeg

1/4

tsp

pink sea salt

1/8

tsp

black pepper

2

(8 oz)

packages of almond ricotta

14

layers

vegan fillo dough

1

tbsp

lemon juice (or more to taste)
Instructions
Preheat the oven to 400 degrees.

In a large pan, cook the frozen spinach over medium heat until warmed through. Put the cooked spinach into a strainer and use a spoon to press out most of the water. Then transfer the spinach into cheesecloth or a thin dish towel and squeeze the remaining water out. You want the spinach to be as dry as possible.

In the same pan, saute the diced onion in 1 tbsp of olive oil for 5 minutes. Add the minced garlic and saute for 1 additional minute. Add the drained spinach and almond ricotta. Mix well to break up the spinach and combine all the ingredients. You'll end up with a creamy filling that should be thick, not wet.

Lightly brush the bottom of a 9.5x9.5 baking dish with olive oil. Cut 6 layers of fillo dough to fit your baking dish and then brush each one with olive oil and arrange 6 layers on the bottom. Add the spinach filling and use a spatula to smooth it out evenly in the dish. Top the spinach pie with 8 pieces of fillo dough (make sure each layer is lightly brushed with olive oil.)

Use a sharp paring knife to score the pie into 9 square pieces. It's much easier to cut it now before it's crispy. Bake the pie for 25-30 minutes or until the top layer is brown and crispy. Let it rest for 5 minutes before removing it from the pan.
Notes
If you don't drain all of the water out of the spinach and the mixture turns out wet, use a paper towel to blot and absorb the extra water.
 If you make this vegan spanakopita recipe, please share your picture on Instagram and tag @StaceyHomemaker so I can see your delicious creation! 
Want to start your own healthy food blog and share all of your delicious recipes?
Learn how to do it in just 3 easy steps + check out the 10 tools that all new bloggers need to be successful!
What would you serve with this vegan spanakopita? Let me know in the comments!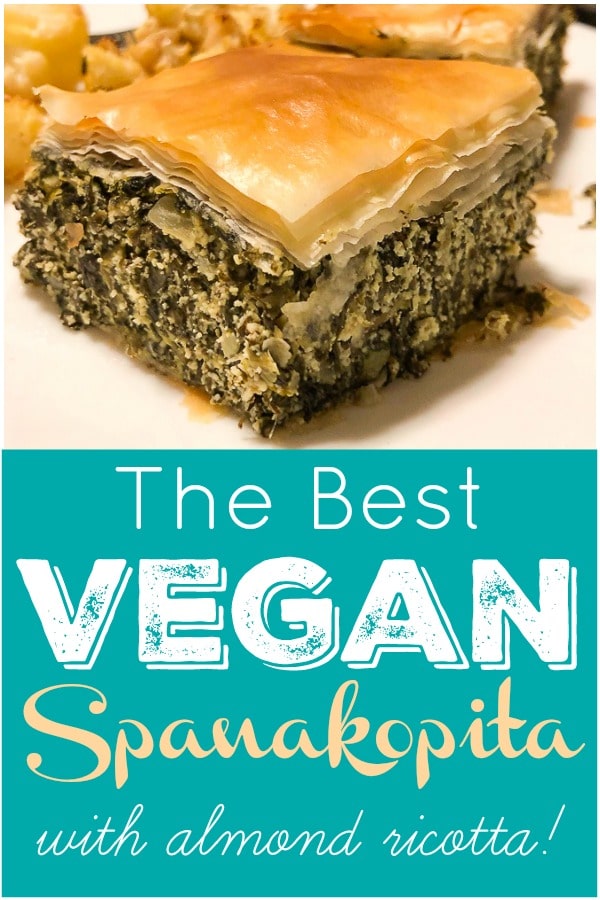 NEVER MISS A STACEY HOMEMAKER CREATION!
FACEBOOK / INSTAGRAM / PINTEREST / TWITTER
Add me on Snapchat to see what I'm cooking today! – StaceyHomemaker
You might also like…