Not sure what vegan recipes to make for Easter dinner? This list has everything you need! Delicious and unique vegan recipes, a complete vegan Easter dinner menu + a printable grocery shopping checklist to make your shopping trip quick and easy. 
Easter is quickly approaching! Have you started planning your special holiday menu?
I tend to stick to my favorite plant based holiday recipes and make the same menu every year. Do you do the same thing? Food is a big part of holiday traditions and when you find recipes that everyone loves, you stick to them! Amiright?
Related Posts You'll Enjoy: Vegan Christmas Dinner Menu and Vegan Thanksgiving Menu
Having a dietary preference that's different from your friends or family can be extremely difficult to deal with during a holiday. Whether you're hosting or attending a gathering this year for Easter, I want to share recipes with you that are tried and true, approachable, and of course, delicious.
I compiled a list of the best vegan Easter recipes to help you plan your Easter meal and I hope that you love them as much as I do! I also included my personal vegan Easter menu at the end of this post with my prep notes and a complete grocery list to help you plan your grocery shopping trip.
What Do Vegans Eat on Easter?
There are so many options, but it definitely depends on how much you want to cook from scratch. You can serve a store-bought vegan roast (I recommend the Gardein Holiday Roast with my homemade vegan mushroom gravy) or you can make my personal favorite main course, vegan spanakopita! 
For sides, I like to stick to the classics like roasted vegetables, creamy scalloped potatoes, macaroni and cheese, and a big salad. Many of these dishes can be made ahead of time so you can spend more time with your family instead of being in the kitchen on the big day.
If you'd like to make these recipes too, you can find my notes below for how many days in advance you can prep these dishes before your vegan Easter meal.
If you're a new vegan or if you're not vegan, but you're looking for vegan dishes to make for your vegan friend, family member, or guest, and you're feeling overwhelmed-- I totally get it. I know it seems like a big change at first but, trust me, you can do this!
If you need more information about being vegan and helpful tips, read this Step by Step Guide to Going Vegan. I think it will help you a lot!
Also, if you don't think you're ready to attempt cooking vegan recipes for Easter, that's totally okay! I recommend that you pre-order dishes from local vegan restaurants or grocery stores like Whole Foods Market so you don't have to worry about it.
In the past, I've seen Whole Foods Market and my local health food grocery store offering a plant-based holiday menu that you can order from and pick up a complete ready-to-eat meal! I tried it last year and it was delicious, I would definitely do it again.
How Do Vegans Do Easter?
Besides not serving any roasts or dishes with animal products in them, the only other difference that I can think of is that vegans don't dye eggs.
Vegans can still have easter egg hunts with plastic eggs filled with vegan candy.
You can still take your kids to the mall to visit the Easter bunny (or rent a bunny costume like my parents did when I was a kid).
Vegans can still make Easter baskets filled with vegan treats, candy, prizes, or money.
Vegans can have their family over to celebrate the holiday together. 
Instead of dying eggs, vegans can bedazzle or decorate plastic eggs with stickers or they can paint craft eggs.
You can make 

dark chocolate truffle vegan Easter eggs

 for dessert! I make this recipe every year, my family goes crazy for them!
Want to know the best brands of vegan candy that you should buy to fill your Easter basket with? Read this post!
Plant Based Easter Prep Tips 
Prepping for a holiday, especially if you're hosting, can be extremely stressful! Follow these tips to make it so much easier for yourself.
Pick tried & true recipes that you have made before. There is nothing more frustrating than making a recipe and it not turning out. There's never a good time for this to happen but you definitely don't want this to happen on a holiday when you have guests! If you want to try new recipes, make sure to test them a few weeks before the holiday meal to make sure that you love it.
Cook as much as you can in advance! If you can make the dish a few weeks ahead of time and freeze it, do it! You'll be so happy that you're not running yourself ragged trying to cook multiple dishes on the big day.
Avoid doing your full grocery shopping trip 1-2 days before Easter because the stores will be packed and picked over. I like to do my big grocery shopping trip 3-4 days prior to the holiday and then run in real quick during an off-time (around 2-3 PM) the day before to grab any fresh greens, garnishes, bakery orders, or last-minute items that I need. I've found this method to be effective.
Ask for help and pickup store-bought dishes to reduce the workload. If this is your first big holiday and you're feeling overwhelmed with how much you need to do or if you're not a seasoned hostess, it's okay to ask your guests to bring a dish or to buy pre-made dishes (desserts, side dishes, or vegan roasts) from the grocery store.
Let Go of Perfection. I know this is so much easier said than done, but you really have to let go of the perfect image in your head and just do the best you can. There have been so many instances where I imagined how something would turn out and it didn't pan out the way I thought and I let it get to me. Trust me, your guests won't even notice and they'll be so grateful that you're hosting them at all.
28 Vegan Easter Recipes
Check out the following easy vegan recipes and plan your plant based Easter menu! I chose a small selection of my favorite vegan appetizers, soups, salads, main courses, side dishes, and desserts for you to pick from.
All of these delicious vegan Easter dishes are guaranteed to please any crowd, vegans and meat-eaters alike! BTW, all of these recipes are perfect for your vegan Easter brunch, lunch, or dinner or whatever time that you decide to celebrate!
Vegan Easter Appetizers & Finger Foods
Any of these delicious vegan appetizers will make a delicious snack for your guests to munch on before Easter dinner!
This is the best vegan spinach artichoke dip you'll ever taste and it's loved by vegans and non-vegans alike! It's loaded with spinach, artichoke hearts, garlic, and the creamiest sauce! This gluten-free and vegan artichoke dip is so easy to make and it's ready in just 30 minutes!
Photo Credit: www.natalieshealth.com
Soft, sweet and just delicious, these Carrot Cake Balls made with all HEALTHY stuff are perfect for an Easter snack. These yummy bites are flavored with fresh ginger and totally addictive!
Photo Credit: thehiddenveggies.com
These vegan spinach balls are perfect for your next party or holiday. They're dairy-free and can be made gluten-free as well, so everyone can enjoy them.
Vegan Easter Soups & Salads
Start your plant based Easter meal off right with one of these delicious, fresh, and vibrant spring-inspired soups or salads!
Vegan Easter Main Courses
Any of these vegan main courses would be a show stopping dish to serve at your Easter dinner! From traditional recipes like lentil meatloaf and mushroom wellington to unexpected chickpea curry or my favorite, vegan spanakopita, any of these recipes could serve as the star of your holiday feast!
Vegan Easter Side Dishes
Complete your plant based Easter feast with a few of these easy to make and delicious side dishes. From classic macaroni and cheese to scalloped potatoes with a healthy twist, you can't go wrong with any of them!
Vegan Easter Dessert Recipes
Don't forget dessert! Any of these delicious vegan Easter dessert recipes will be sure to please and impress your guests. From decadent dark chocolate truffle vegan Easter eggs to classic carrot cake to a spring-inspired vegan Easter cake recipe, all of these unique desserts deserve a spot on your holiday table.
Complete Vegan Easter Dinner Menu
If you like what you see and would like to make the same dinner menu that I will be serving for Easter, please find my vegan Easter dinner menu below!
You can print the free grocery shopping checklist, here.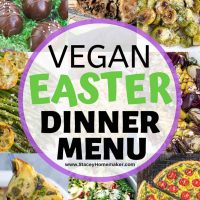 Vegan Easter Dinner Menu
If you need some inspiration, this is my personal vegan Easter dinner menu and prep tips! I hope it helps you to plan your own holiday meal.
Print
Pin
Rate
Ingredients
Vegan Spinach Artichoke Dip
Roasted Lemon Garlic Asparagus
Vegan Macaroni and Cheese
Vegan Scalloped Potatoes Florentine
Roasted Balsamic Brussels Sprouts
Vegan Dark Chocolate Truffle Eggs
Notes
Pick tried & true recipes that you have made before.
Cook/prep as much as you can in advance!
Avoid doing your full grocery shopping trip 1-2 days before Easter because the stores will be packed and picked over.
Ask for help and pickup store-bought dishes to reduce the workload.
Let Go of Perfection.
Tried this recipe?
Please rate it and leave a comment below if you have any feedback! If you post a picture on Instagram, please tag @Stacey_Homemaker and use the hashtag #StaceyHomemaker so I can see your delicious creation!
I hope that you found this recipe list of my favorite vegan recipes, dinner menu, and grocery shopping checklist to be helpful! If you have any questions, please feel free to reach out to me. I'm here for you!
Happy Easter, friends!
More Vegan Holiday Recipes You'll Love
Festive Vegan Valentine's Day Breakfast
51 Spooky Delicious Vegan Halloween Recipes
Easy Vegan New Year's Breakfast