Avocado toast with heart-shaped cherry tomatoes is the easiest and quickest love-filled Valentine's day breakfast! It's perfect for kids and adults! Vegan.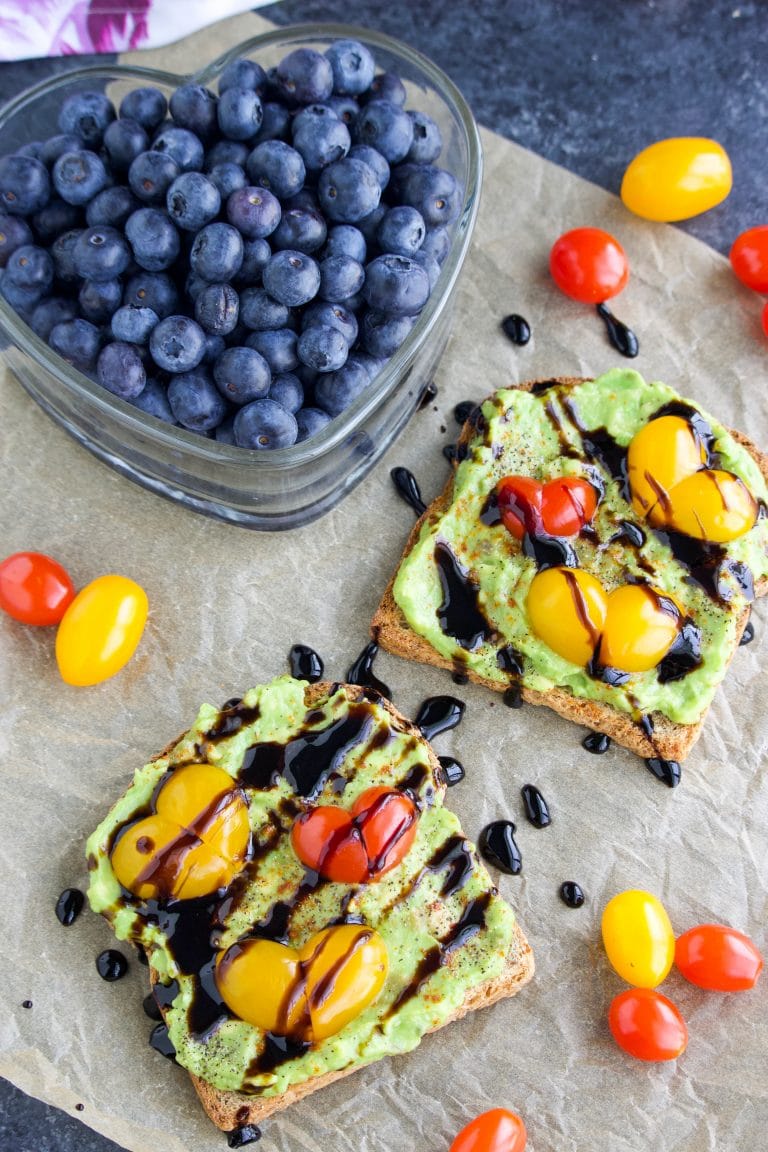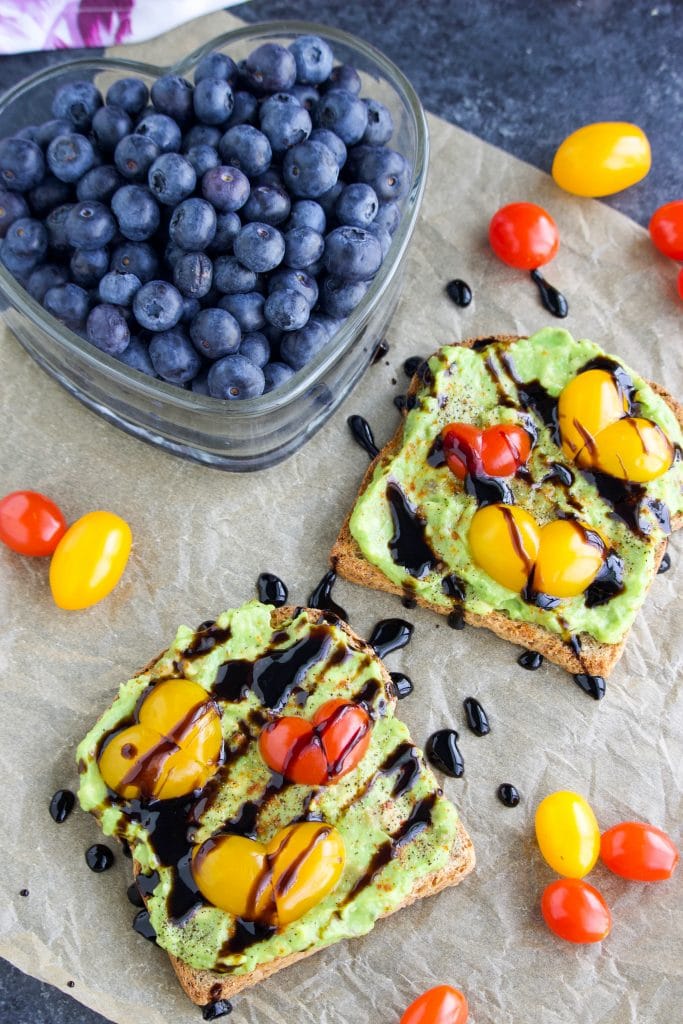 My love for avocado toast runs deep. It's true love, people.
Sometimes I switch it up but my favorite variety is this –> 26 gram Three Seed Avocado Toast. A close second would be avocado toast topped with rainbow cherry tomatoes, basil, and balsamic glaze. Ermagerd, it's soooo good!
Speaking of love, Valentine's day is almost here!
When I was little, my mom always made us Valentine-themed treats; heart-shaped pancakes and strawberry milk for breakfast, heart-shaped PB&J's and a love note in my lunch box. Holiday-themed food is the best!
Also, February 19th is our first wedding anniversary, so we decided that we're going to celebrate a whole week of love! This love-loaded avocado toast would be perfect for Valentine's day breakfast or an anniversary breakfast!
Special Breakfast Ideas for Valentine's Day
If you don't have a lot of time in the morning before the kids go off to school or before you or your partner leave for work but you still want to make something special then this is the recipe for you!
It only takes a few minutes to mash the avocado (make sure you use an avocado knife!), toast the bread, and slice up the tomato hearts. Bingo-bango, you have a Valentine-themed breakfast on the table for your loved ones that will make them feel extra special!
If you have time in the morning to prepare more delicious options than here are a few more ideas for you!
Heart-shaped pancakes

Tofu scramble

(with the tomato hearts on top!)
If you're looking for a special Valentine's day entree to make, try this pink beet pasta sauce with noodles!
How To Make Heart-Shaped Tomatoes
The heart tomatoes are so simple to make– I promise!
All you need is medium-sized cherry tomatoes (multi-color is optional) and a sharp paring knife.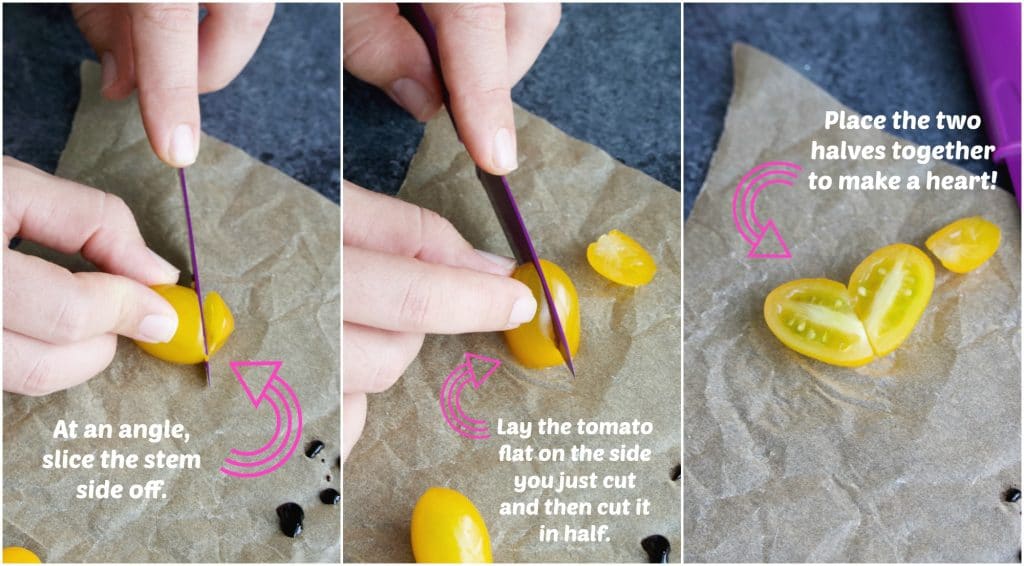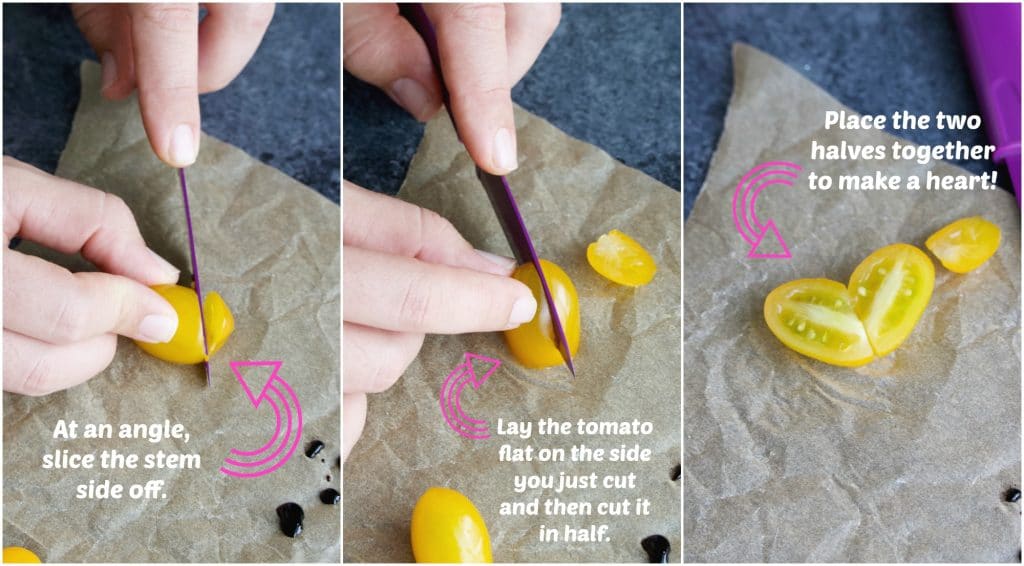 Instructions:
At an angle, slice the side with the stem off.
Turn the tomato so the sliced end is resting on the cutting board and cut the tomato in half down the center.
Turn the two pieces so they fit together like a heart and place them on the avocado toast. The mashed avocado acts as the glue and holds them in place.
That's it! Isn't that so easy?!
Note – You can use the smaller cherry tomatoes but I prefer the medium-sized cherry tomatoes because they give the heart a better shape.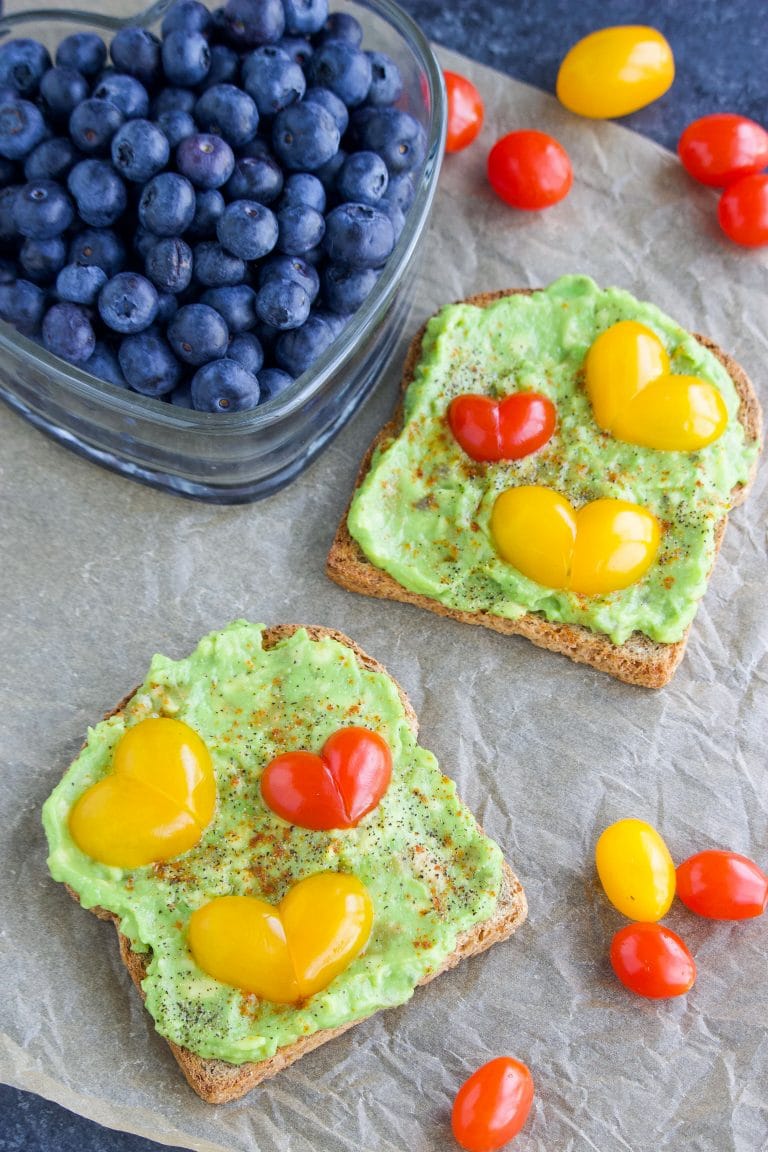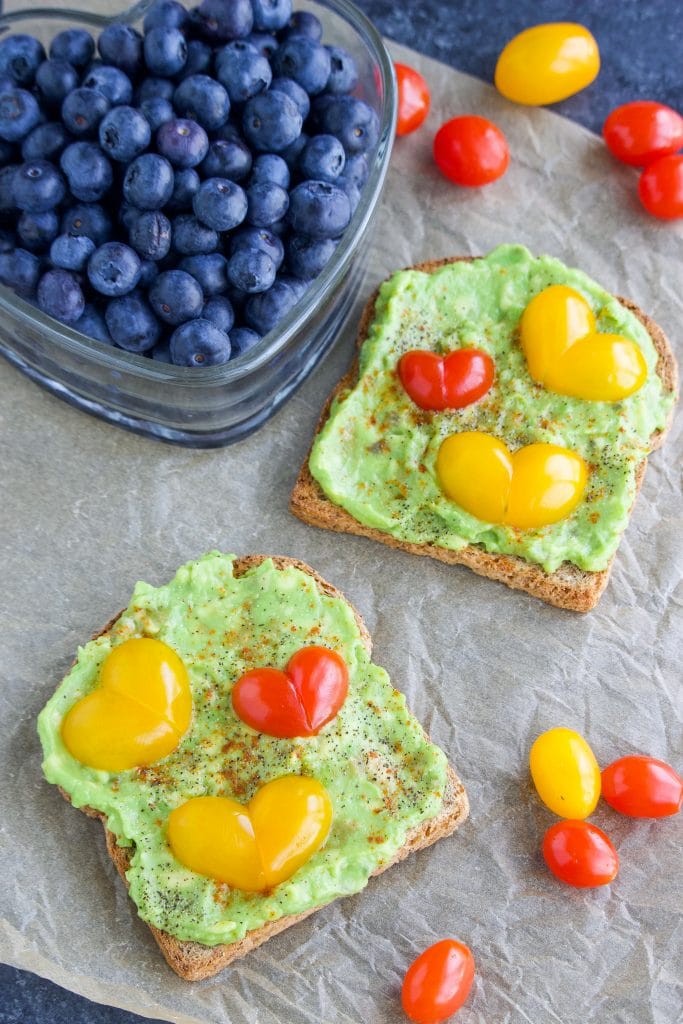 Is This Valentine's Day Breakfast Recipe Just For Kids?
No way!
I would love it if my hubby made this love-filled avocado toast for me on Valentine's day!
If you make it for your kids, I would stick to seasoning the mashed avocado with just sea salt and a tiny bit of pepper.
However, if you want an adult version– I like to use:
Load that sucker up! Give it tons of flavor and a balsamic glaze drizzle to really push it over the top!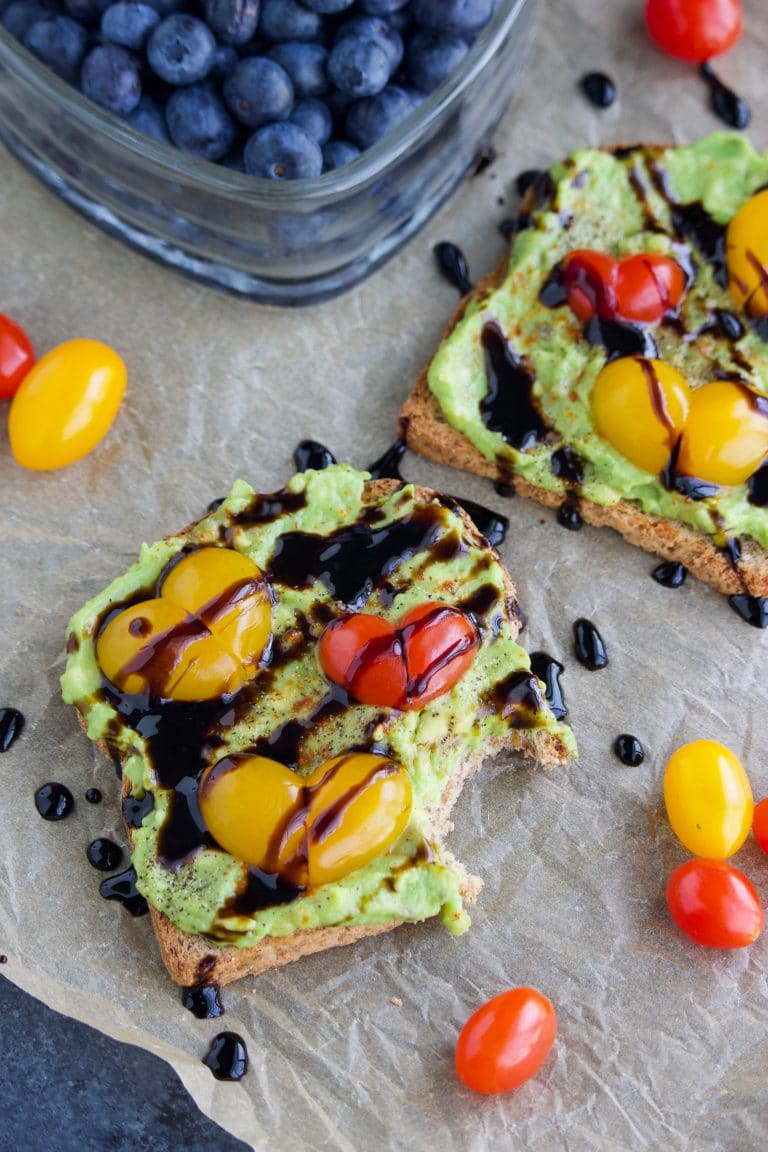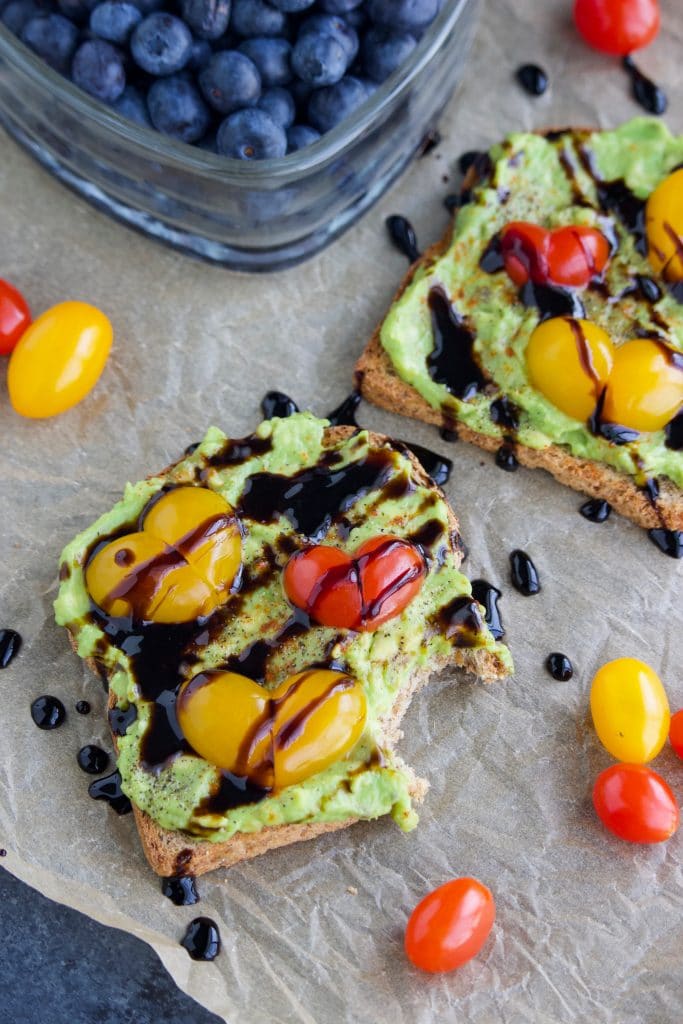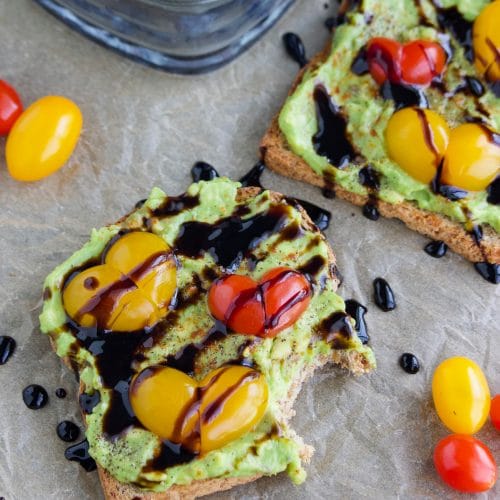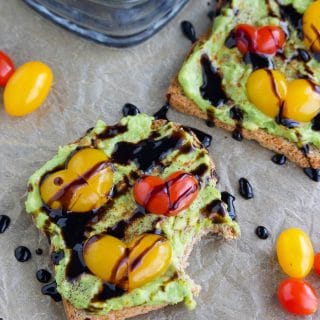 Easy Vegan Valentine's Day Breakfast
Avocado toast with heart-shaped cherry tomatoes is the easiest and quickest love-filled Valentine's day breakfast! It's perfect for kids and adults! Vegan.
Print
Pin
Rate
Ingredients
2

slices of

Ezekiel bread,

toasted

1

avocado,

mashed

6

medium

cherry tomatoes,

cut into hearts
Instructions
At an angle, slice the stem side off of each cherry tomato. Then, lay the tomato on the side you just cut and slice the tomato in half. Set tomato hearts aside.

While the Ezekial bread is toasting, mash the avocado.

Spread the mashed avocado on the toast, Season with salt, pepper, and any other seasoning you like. Arrange the tomato halves into hearts and press down lightly so they stick to the avocado.

Optional: Drizzle with balsamic glaze.