This is the creamiest, most satisfying vegan lasagna you'll ever taste! The filling is an ultra-rich cashew-based spinach artichoke dip that's loaded with veggies and tucked in between layers of noodles. It's vegan comfort food that will please the whole family. Plus, it's naturally vegan, soy-free, and has a gluten-free option!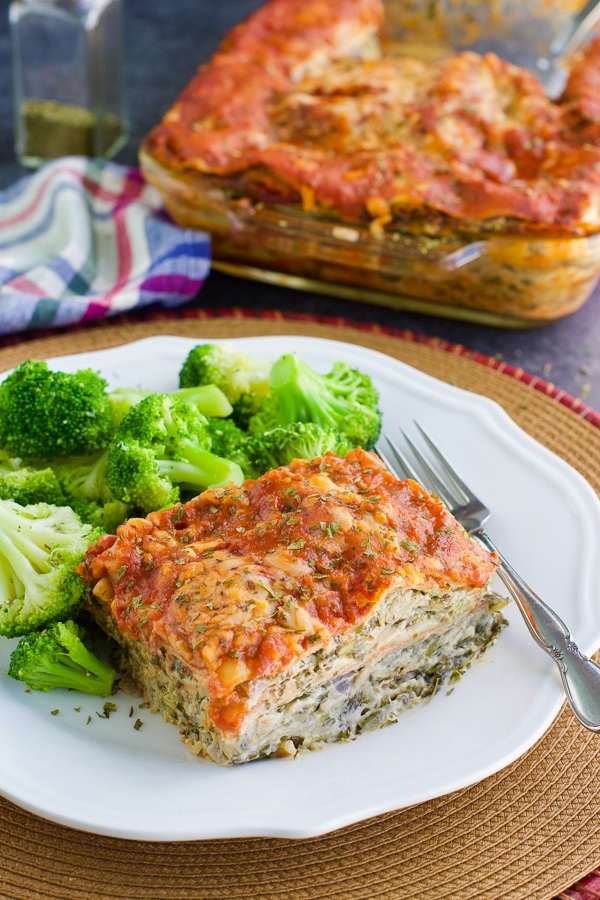 In my humble opinion, this is the best vegan lasagna because of the super creamy spinach artichoke dip filling!
Funny story, this spinach artichoke vegan lasagna actually happened by accident. I was planning on making roll-ups with the spinach artichoke dip but when it came down to actually filling and rolling, it seemed like a lot more work than just doing layers and making a lasagna! Voila, creamy spinach artichoke dip vegan lasagna was born!
The vegan spinach artichoke dip is the main filling but I also alternated with a few layers of tomato sauce. I really love the flavor of a creamy spinach dip blending with a tomato basil sauce. If you haven't tried my vegan spinach artichoke dip yet, what are you waiting for? It's one of my most popular recipes! Besides eating it with chips or as a lasagna filling, I also use it as a filling for stuffed shells. Yummo!
5 Reasons Why You'll Love this Vegan Lasagna
It's not hard to make and practically impossible to mess up.
It's easily customizable to whatever vegetables your family likes.
It's super satisfying healthy-ish vegan comfort food.
It's an easy way to get your family to eat more (hidden) vegetables!
It makes a lot so you'll have leftovers and won't have to cook for a few nights!
Is This Vegan Lasagna Hard to Make?
Not at all. This vegan lasagna is one of those recipes that's really hard to mess up. The spinach artichoke dip filling is really easy to make, you can use jarred tomato sauce, and if you can boil noodles, you're good to go!
You can make the vegan lasagna recipe as I have it written or you also could do any of the following:
You could add a few layers of vegan ricotta (keep reading for ricotta suggestions).
You could mix a cup of cooked lentils into the tomato sauce to make it more "meaty."
You could swap out the semolina flour lasagna noodles for rice noodles or a gluten-free noodle of your choice.
If you really want to up the cheesy factor, you could add a sprinkle of vegan cheese on each layer of the vegan lasagna.
If you're not a fan of faux cheese, you can totally omit it and it won't make a difference. It will still be so delicious!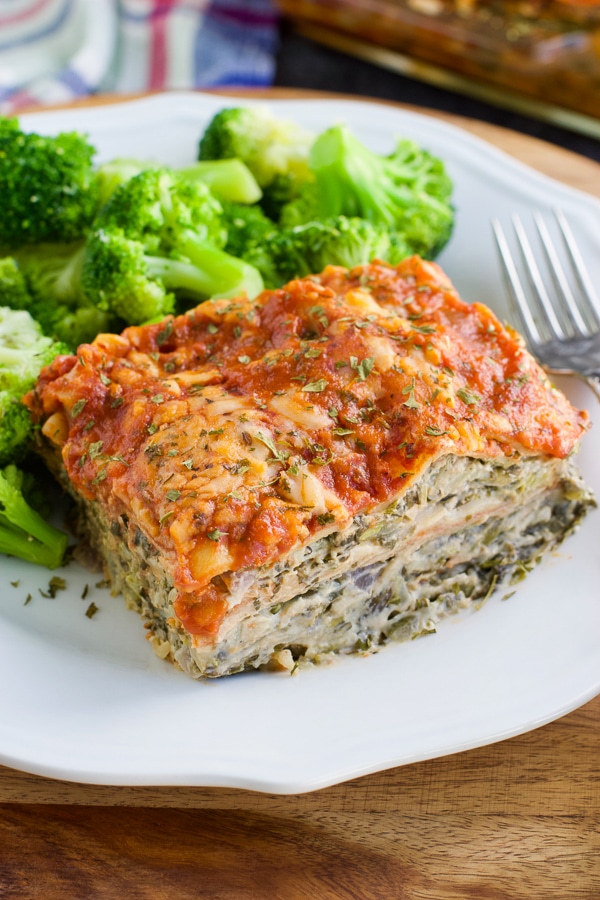 Is There a Vegan Substitute for Ricotta Cheese?
Yep, there sure is! If you decide that you want to add a few layers of vegan ricotta to the lasagna you'll need to make your own or buy a premade package. There are lots of different recipes out there for a vegan ricotta, it just depends on which main ingredient you prefer: tofu, cashew, or almond.
I like all three of these vegan ricotta cheese recipes:
Or if you don't feel like making your own vegan ricotta, I LOVE the Kite Hill vegan ricotta cheese, it's amazing how much it tastes like the real deal. I always use it when I make my favorite vegan spanakopita recipe!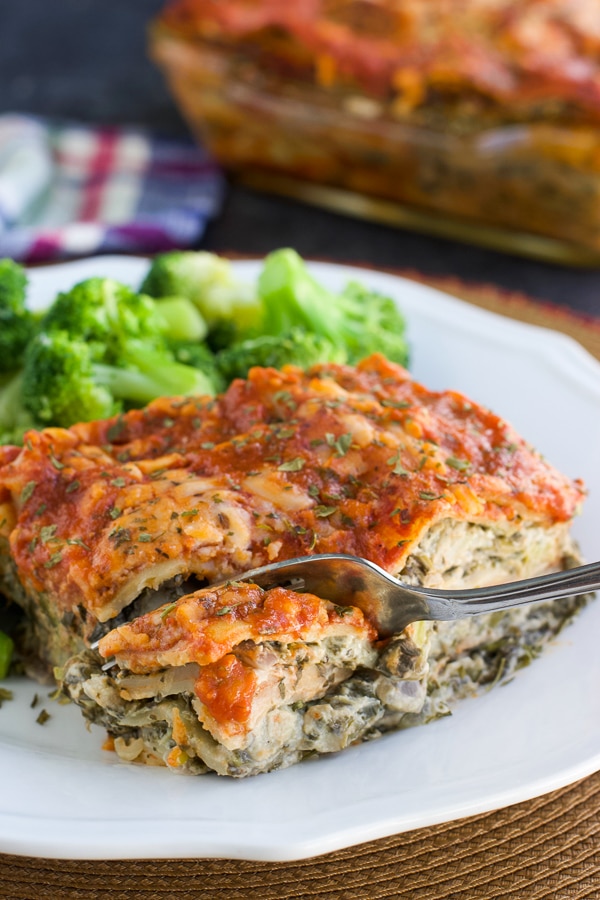 Tips to Make the Best Vegan Lasagna
Make sure you boil the lasagna noodles for 4-5 minutes first.
Lay the noodles out flat as soon as you can handle them safely. Don't just leave them in a clump in a bowl because they will dry like that and rip when you try to pull them apart. If you have trouble with the noodles,

these tips will help you

.
If you're in a pinch or don't want to deal with cooking the noodles first, you can use no-boil lasagna noodles. Not my first choice, but they'll work if you're in a hurry.
Make sure you put a layer of tomato sauce on the bottom of the baking dish before you start to build the vegan lasagna. If you put a plain lasagna noodle down first it will get hard and crispy. Nobody wants crispy lasagna!
You have to cover the lasagna with parchment or foil while it's baking or it will dry out. I leave it covered until the last 5 minutes, so it has just enough time to melt the vegan cheese on top.
After you assemble the lasagna, place it on top of a parchment-lined tray for easy cleanup. If you put the lasagna dish right on the oven rack and anything bubbles over (been there done that) you'll have a huge mess on your hands.
Once the lasagna has finished baking, let it set up for 10-15 minutes. It will be easier to cut the lasagna into pretty pieces when it's not boiling hot. If you cut it when it first comes out of the oven it will be more like a pile of noodles rather than a tower of layers.
Side Dishes that Go Well With Vegan Lasagna
If you liked this creamy vegan lasagna, please remember to rate the recipe and let me know what you thought of it in the comments below, I love hearing from you! You can also FOLLOW ME on FACEBOOK, TWITTER, INSTAGRAM and PINTEREST to see more delicious vegan recipes + our monthly trips to Disney World!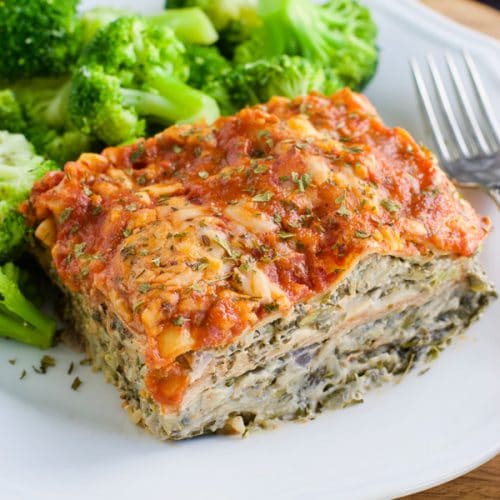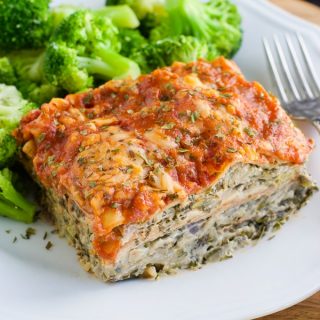 Creamy Spinach Artichoke Vegan Lasagna
This is the creamiest, most satisfying vegan lasagna you'll ever taste! The filling is an ultra-rich cashew-based spinach artichoke dip that's loaded with veggies and tucked in between layers of noodles. It's vegan comfort food that will please the whole family. Plus, it's naturally vegan with a gluten-free option!

Print
Pin
Rate
Instructions
Preheat the oven to 375 degrees. 

In a large pan over medium heat, saute the mushrooms and zucchini in vegetable broth until tender, about 5-8 minutes.

Boil the lasagna noodles according to package instructions (about 4-5 minutes). When the lasagna noodles are done cooking, drain the water.

As soon as you can safely handle the noodles, lay each noodle flat on a parchment-lined tray that has been lightly oiled. It will stop the noodles from sticking to the tray. If you let the noodles cool in the bowl, it will be impossible to pull them apart without ripping the noodles. 

Pour 1 cup of tomato sauce on the bottom of the dish and spread it out evenly to cover the whole bottom of the pan. Reserve 1 cup of tomato sauce for the final layer.

Layer the ingredients in the pan in this order: lasagna noodles, spinach dip, tomato sauce, and repeat until you run out of ingredients. The final layer should be the 1 cup of tomato sauce that you reserved earlier.

Sprinkle vegan cheese over the top of the lasagna, cover it with parchment paper or foil and bake for 30-35 minutes. Remove the covering during the last 5 minutes to make sure the cheese melts completely.
Notes
To make this vegan lasagna gluten-free, you must use gluten-free noodles like these rice noodles.
If you don't have spinach, you could substitute thinly sliced kale. 
This recipe is very flexible, you could add more vegan cheese shreds, a few layers of vegan ricotta, or more vegetables. 
Homemade tomato sauce is not required, a jarred tomato sauce will work just fine. 
Nutrition
Calories:
384
kcal
|
Carbohydrates:
25
g
|
Protein:
13
g
|
Fat:
6
g
|
Saturated Fat:
5
g
|
Sodium:
150
mg
|
Potassium:
806
mg
|
Fiber:
3
g
|
Sugar:
8
g
|
Vitamin A:
400
IU
|
Vitamin C:
7.3
mg
|
Calcium:
36
mg
|
Iron:
5.4
mg