Tender slices of garlicky roasted portobello mushrooms and protein-packed lentils swimming in a flavorful green pea basil pesto sauce. Vegan.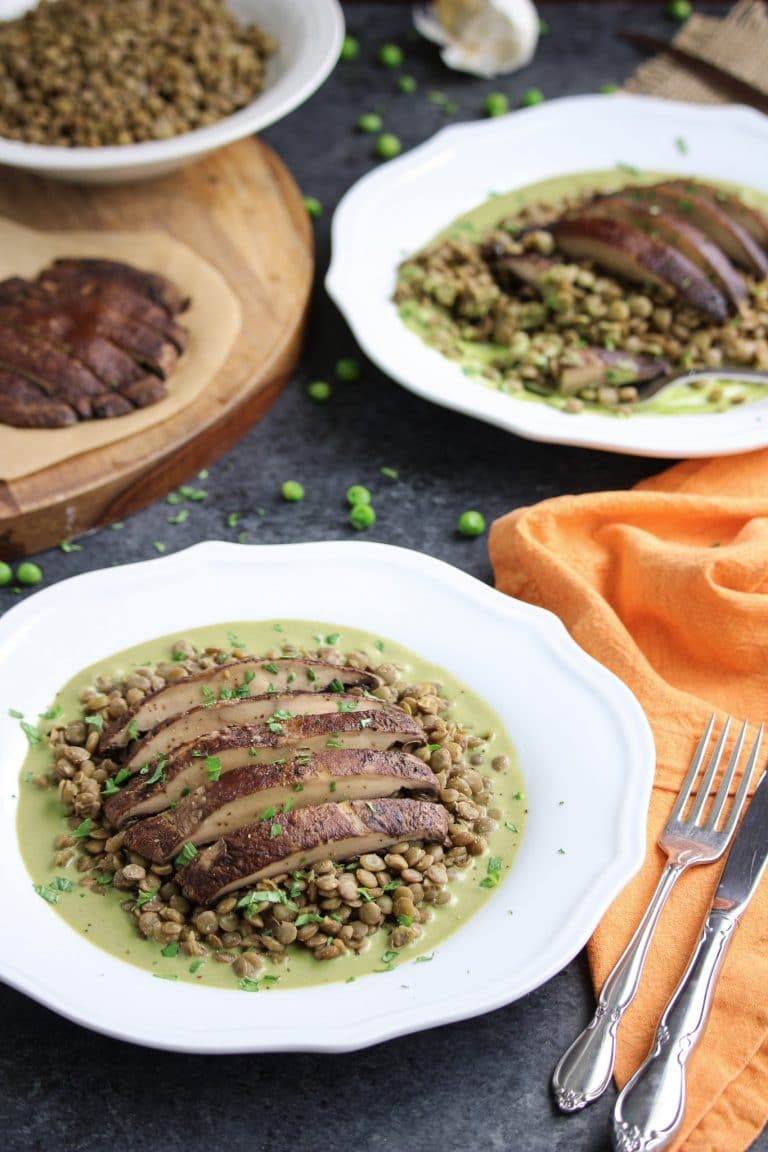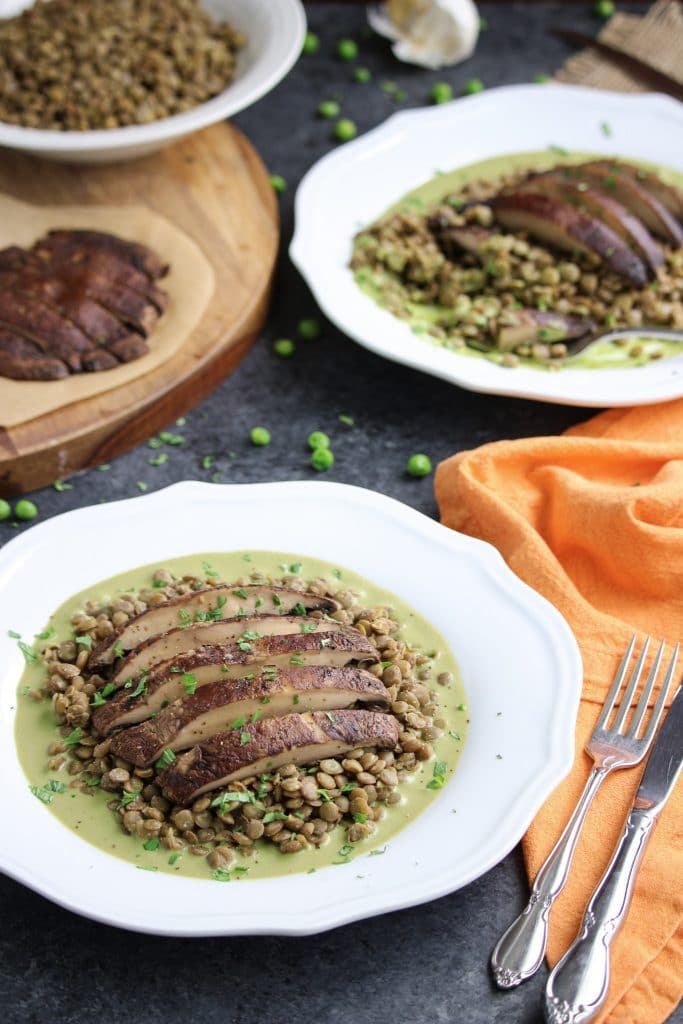 I had this delicious dish for dinner when we were on our Disney cruise honeymoon last month.
I couldn't believe the texture of the roasted portobello mushrooms, it was so meat-like. I had to double check the menu to make sure that my vegan dinner wasn't really sliced chicken or pork!
Nope, it was definitely a portobello mushroom. Delicious, garlicky, perfectly-cooked roasted portobello mushrooms sitting on top of a mountain of lentils surrounded by a moat of pea pesto sauce.
It was so darn good.
I knew that I had to try recreating it once I got home.
Recreate it, I sure did!
Omnivore & Vegan Approved
This portobello mushroom dinner is perfect for omnivores, vegetarians, and vegans alike.
I've found that Travis' favorite vegan recipes are the ones that replicate meals that he's used to eating. Recipes that traditionally have meat or dairy in them, like; spinach artichoke dip, jackfruit mushroom stroganoff, and buffalo cauliflower tacos.
The roasted portobello mushrooms have such a meaty flavor and texture that it easily replaces the meat in any meal. Travis and I both loved this dish. It's very filling and it's a great healthy option for omni-vegan families like ours.
How to Pick a Portobello Mushroom
Portobello mushrooms are just adult cremini mushrooms. Some of the same rules apply for picking portobellos that you follow when you pick creminis.
Look for portobellos that are smooth and dry on top. You don't want it if it's wet, slimy, or breaking apart.
Check the gills, they should also be dry and intact. If they're wet, mushy or smushed– put it back.
This might be a personal preference but I like when the stems have already been removed because they're too tough and fibrous to eat. You can use the stems for stock, but I don't make my own stock too often so I don't want to pay for part of the mushroom that I won't use.
When I pick out cremini mushrooms, I always look for the underside to be intact. If it's broken then that means it's old. This is not the case for portobellos. If you can see the gills, that's totally fine.
Buy organic portobellos if possible.
How to Prepare a Portobello Mushroom
I know that it's recommended not to wash your mushrooms, but I just don't see how brushing a damp paper towel over the top is enough to thoroughly clean it.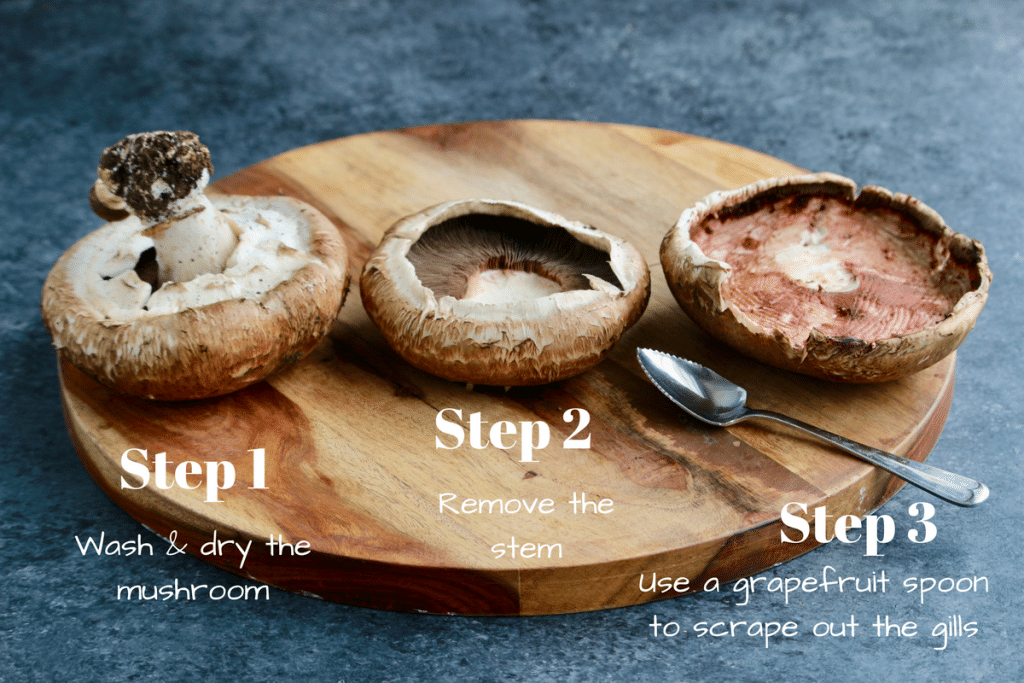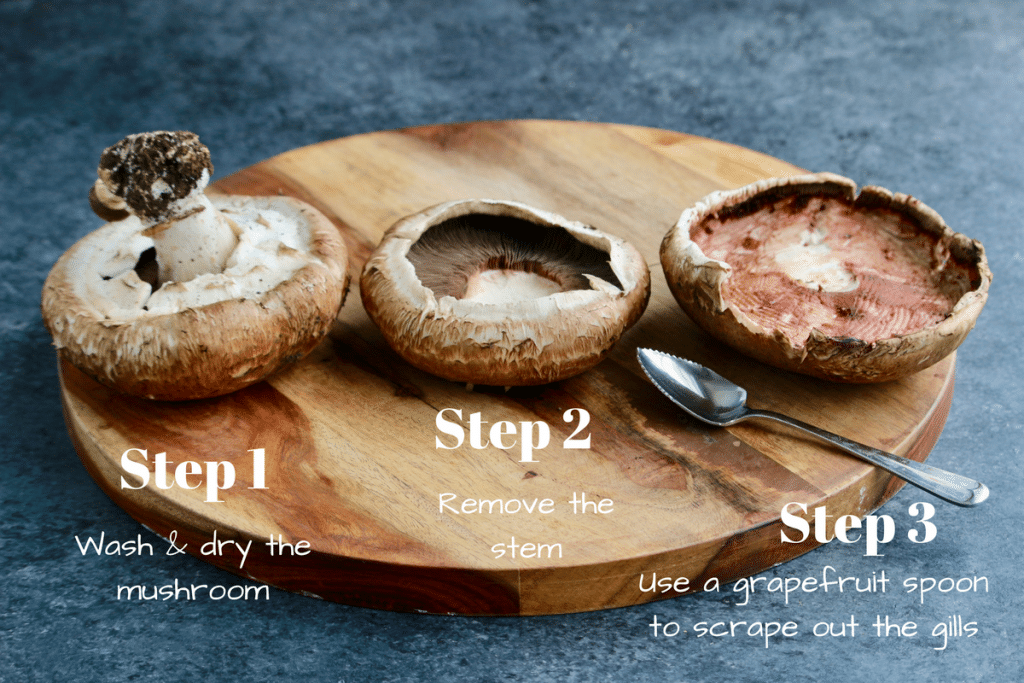 I always quickly rinse my mushrooms under cold water and use my fingers to wipe off the dirt. Then I dry them right away with a dish towel. I haven't had any problems with soggy, water-logged mushrooms by doing this, so that's what I recommend. I mean, who wants to eat dirt? Not me!
After you wash and thoroughly dry the mushrooms, remove the stems, and scrape out the gills using a grapefruit spoon. If you don't scrape out the gills, they will give your dinner an unpleasant musty taste. I've tried it and I don't recommend it.
Roasted Portobello Mushrooms
I prefer roasted portobello mushrooms because it's just easier for me. I can pop em' in the oven and forget about them until the buzzer goes off. I like to do all the recipe components at once, so I'll have the mushrooms cooking in the oven, lentils cooking on the stove, and the sauce ready is in the blender.
However, you could definitely saute the mushrooms in a pan or grill them for 5-8 minutes on each side if you wanted too.
Related Mushroom Recipes You Might Enjoy–
Portobello mushroom veggie quinoa wraps

Rainbow cherry tomato pesto portobello mushrooms
Vegan jackfruit mushroom stroganoff
Green Pea Basil Pesto 
The green pea pesto is so flavorful!
Pesto sauce is so versatile, I love trying different combinations of seeds, nuts, and herbs to make it different each time. I prefer to make pesto with basil but you could definitely substitute fresh cilantro or parsley instead. Any fresh herb will give it killer flavor!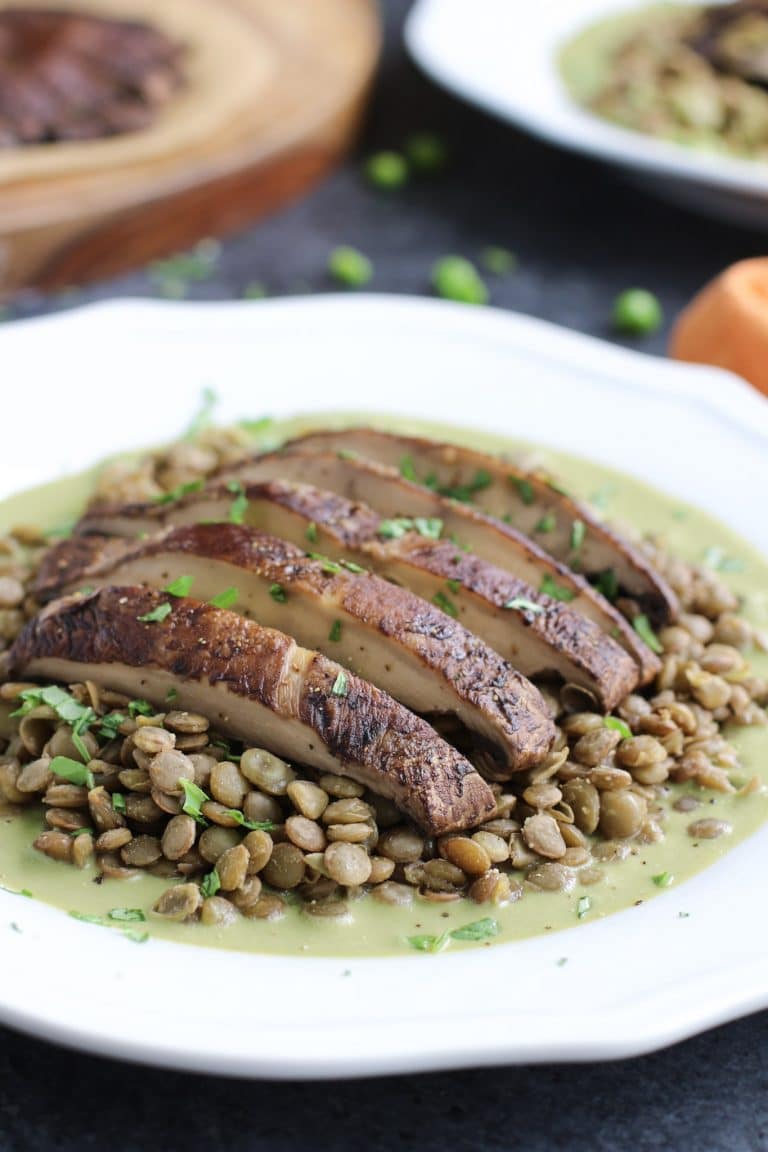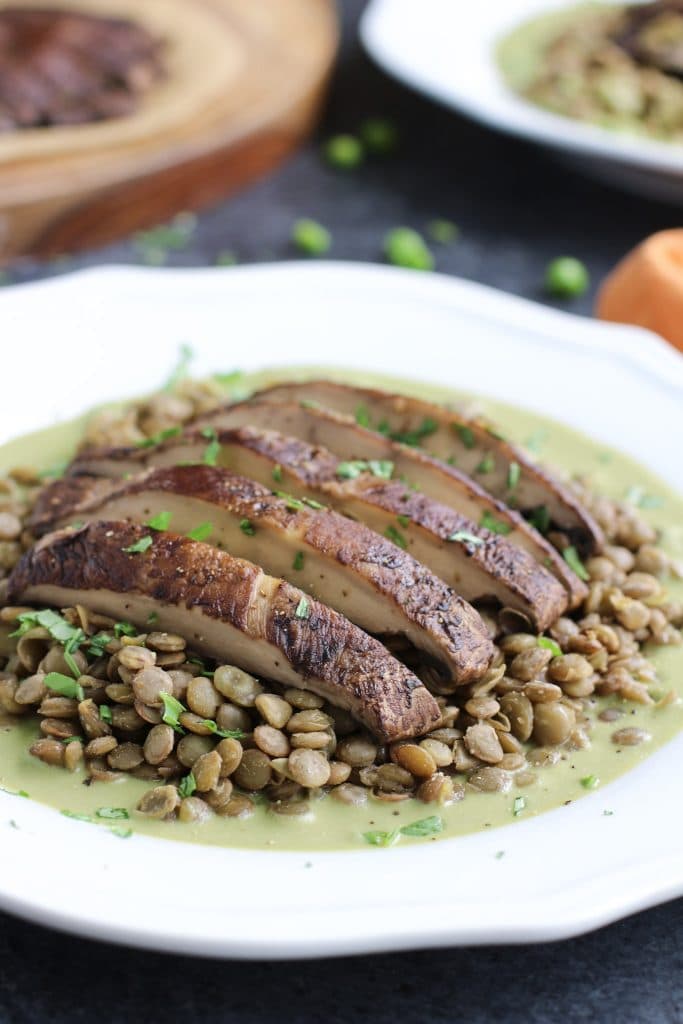 The green peas give the pesto sauce the most beautiful green color and saucy texture, while the two cups of fresh basil that I packed in give it a ginormous boost of flavor. I didn't use any nuts/seeds in the pesto sauce since I added peas, I think they give it plenty of texture.
Presentation
This is not a fancy dinner at all, it just looks fancy the way it's presented, at least I think so.
I loved how my dinner was presented on the cruise, so that's how I served it at home too. Pesto sauce on the bottom, seasoned lentils in a little mountain, and the sliced portobello mushroom on top.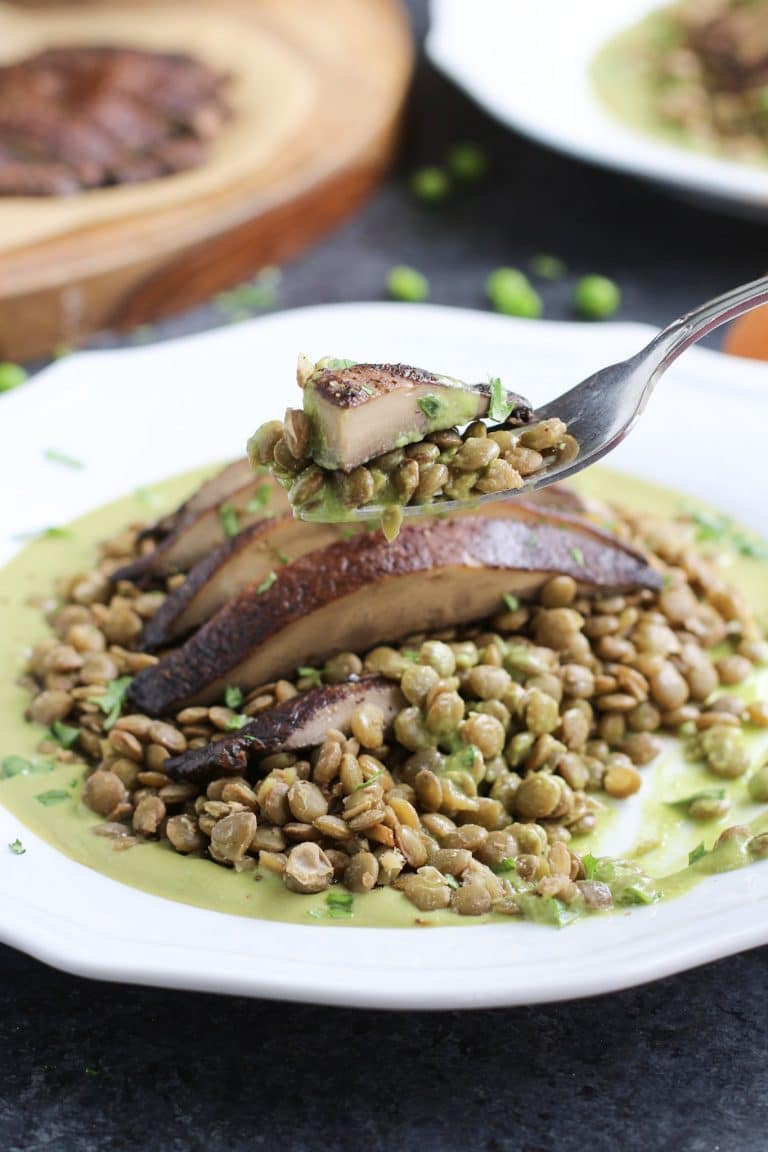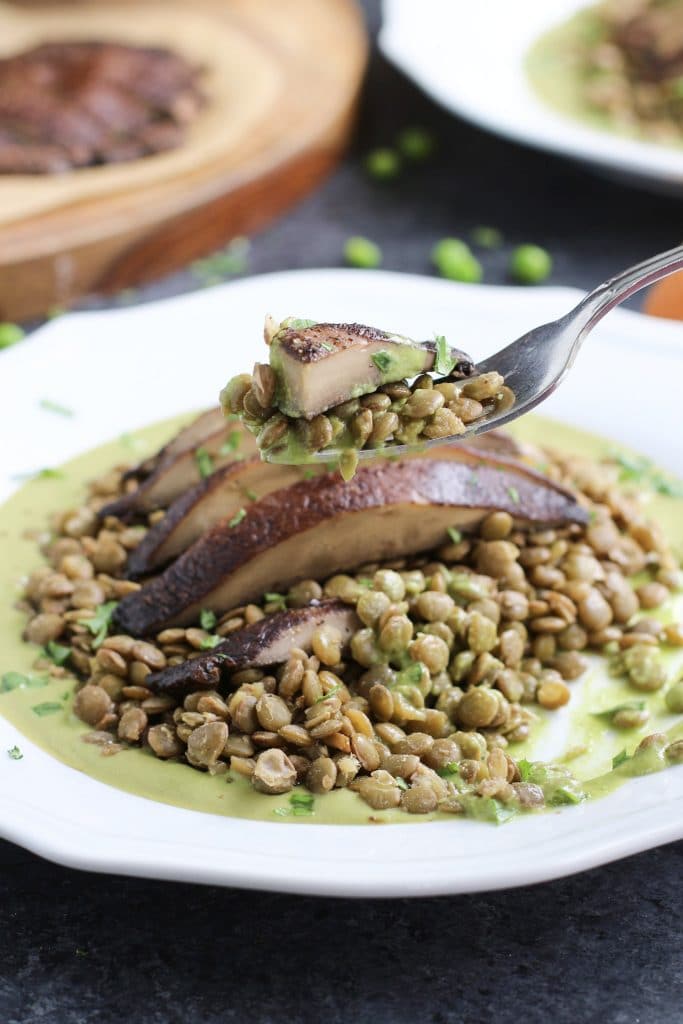 You definitely don't have to serve it like this if you don't feel like plating each meal. I mixed the sauce with the lentil leftovers and served it just like that in a bowl the next night for dinner. It was still delicious.
However, if you're making dinner for anyone that you want to impress or maybe someone who doesn't think vegan meals can be seriously delicious and filling– you might want to step your game up and prepare it like they do on a Disney cruise. You eat with your eyes first!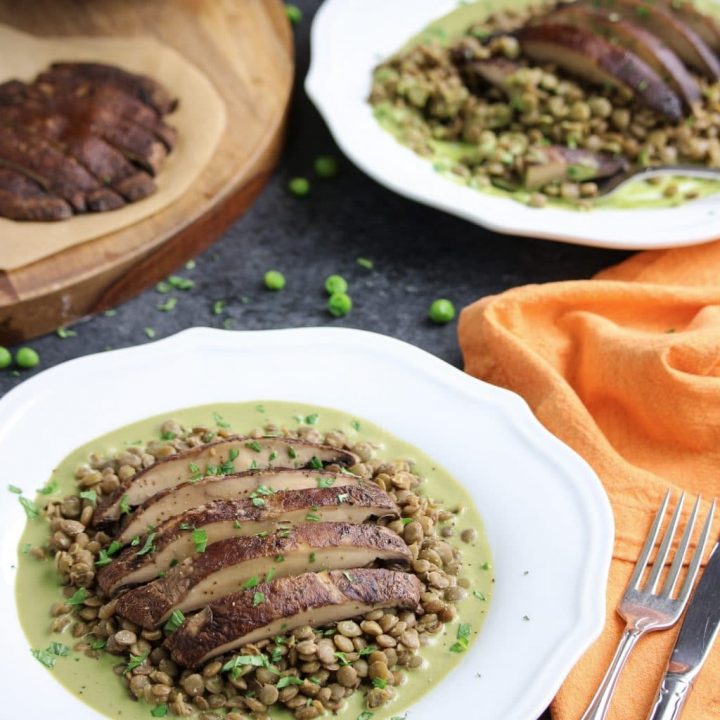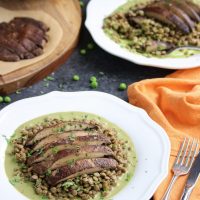 Roasted Portobello Mushrooms with Green Pea Pesto Lentils
Print
Pin
Rate
Ingredients
Pea Pesto Sauce -
2

cups

fresh basil

(1) 14 oz

can of peas,

rinsed and drained (frozen peas will work too)

3

cloves

garlic

1/4

cup

olive oil

1/2

cup

water
Instructions
Rinse and drain the lentils. Cook according to package directions in salted water and then set aside.

Preheat the oven to 400 degrees.

Prepare the mushrooms, then lay them on a

parchment paper

lined

tray

. Drizzle olive oil over the mushrooms and use your fingers to rub it all over the top and bottom of the mushroom cap.

Sprinkle garlic powder, sea salt, and pepper on the top and bottom of each mushroom.

Cover the mushrooms with a separate piece of parchment or foil, bake for 22-23 minutes. Remove the parchment on top and bake for an additional 1-2 minutes.

In a

high-powered blender

, add the rinsed and drained peas, garlic cloves, basil, sea salt, and pepper. Blend on high until smooth.

Assemble the plates. Put 2-3 spoonfuls of sauce on each plate, add the lentils, and sliced mushrooms.

Garnish with parsley
Notes
You don't have to use green lentils, any type will be fine.
You can use fresh, canned, or frozen peas.
You can substitute cilantro or parsley for the basil in the green pea sauce.
You don't have to roast the mushrooms, you could grill or saute them too.
Roasted Portobello Mushrooms with Green Pea Pesto Lentils Notes
You don't have to use green lentils, any type will be fine.
You can use fresh, canned, or frozen peas.
You can substitute cilantro or parsley for the basil in the green pea sauce.
You don't have to roast the mushrooms, you could grill or saute them too.
If you make this vegan mushroom stroganoff please share it on Instagram and tag @StaceyHomemaker so I can see your delicious creation! 
Want to start your own healthy food blog and share all of your delicious recipes? Learn how to do it in only 3 easy steps + check out the 10 tools that all new bloggers need to be successful!
Roasted portobello mushrooms are one of my favorite veggies, what's your favorite way to cook with them? Let me know in the comments! 


NEVER MISS A STACEY HOMEMAKER CREATION!
FACEBOOK / INSTAGRAM / PINTEREST / TWITTER
You might also like…
Portobello Mushroom Veggie Quinoa Wraps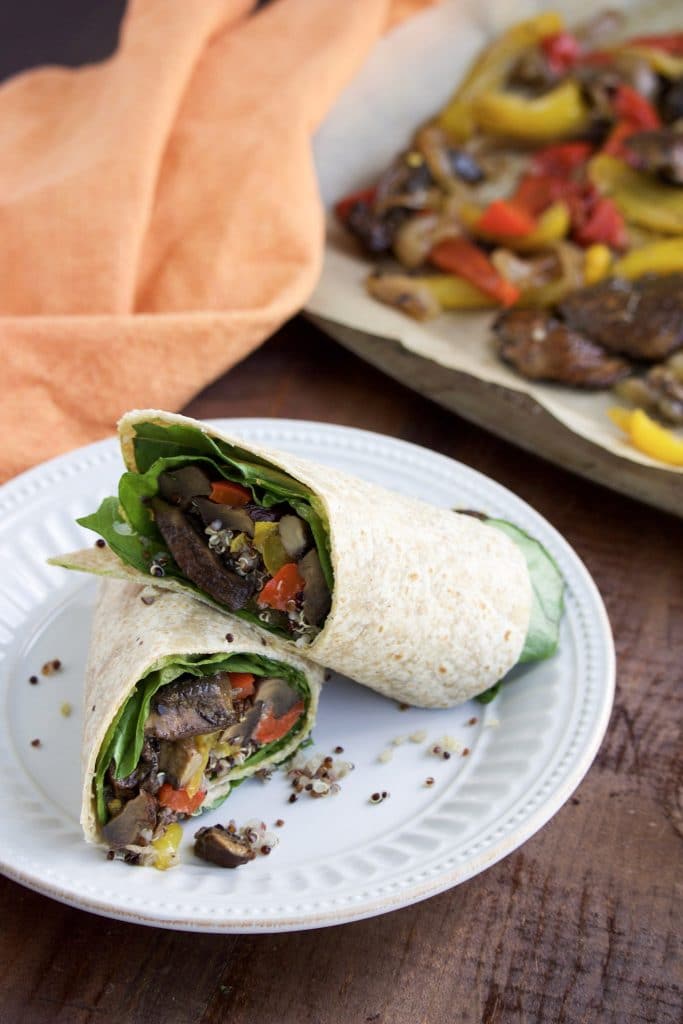 Rainbow Cherry Tomato Pesto Stuffed Portobello Mushrooms