Spicy roasted butternut squash, sautéed onions, mashed avocado, and Portobello mushrooms on a toasted pita with a chipotle yogurt sauce. Perfect for a healthy lunch or dinner! Vegan.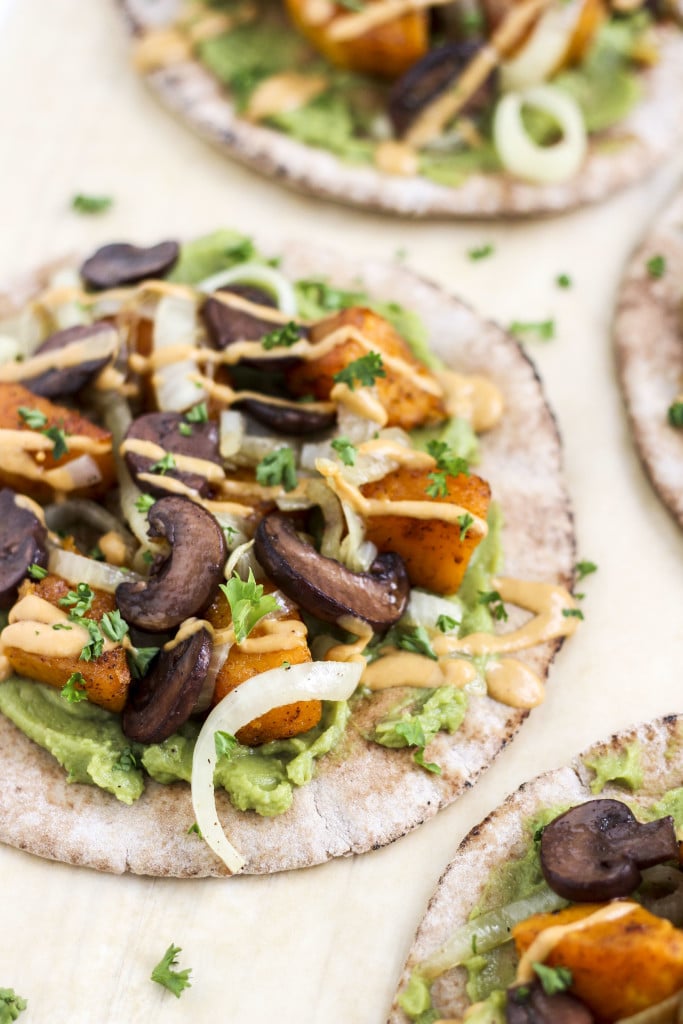 Want more easy vegan recipes? Join our vegan Facebook community below!
With today being the second day of fall, I've been inspired to make foods with all types of squashes, gourds, and pumpkin flavors.
They're finally in season, and can easily be prepared so many different ways!  Butternut squashes are really hard to handle when they're not cooked. I've come close to losing a finger trying to cut one, and I'll share an easy tip to handle them later on!
I used some of my favorite ingredients for these pitas. Don't sautéed mushrooms and onions go with everything though? I'd say so, and the same goes for an avocado spread. You could put mashed avocados on pretty much anything, and I'd probably eat it, I'm just saying.
Don't even ask Travis, as soon as he saw that I was making his favorite Avocado Chipotle Sauce, he was over the moon excited! These butternut squash pitas are packed with fall flavors and are creamy, sweet, and spicy all in the same bite.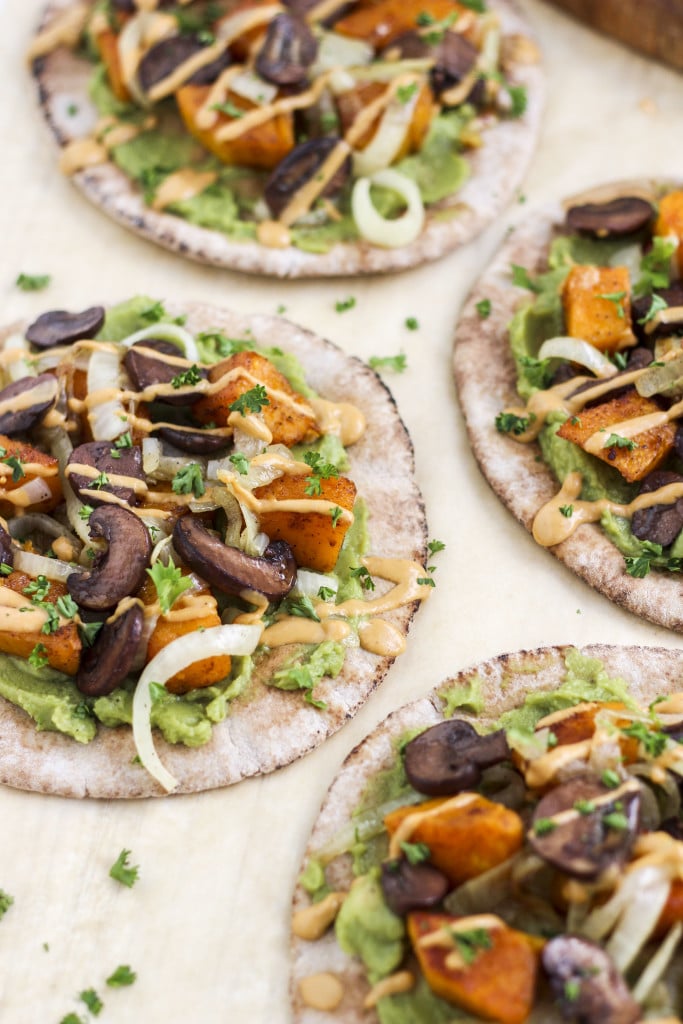 How to  Cook a Butternut Squash
Are you ready for the easy tip? Roast the whole squash first, to soften it up!
Yes, really. The. Whole. Squash.
Don't pierce it, poke it, or slice it. Just put it on a tray, and pop it in the oven for 25 minutes. After the 25 minutes, remove it from the oven, let it cool and then peel the skin off, remove the seeds, and slice it into chunks. Roast again, until the chunks start to brown and get crispy on the ends.
You can check out the original recipe for these butternut squash chunks here, from Cinammon-Spice and Everything Nice. I love these and make them all the time as a side dish, but I wanted to really kick them up a notch today since they're the stars of my pitas. The original recipe inspired me to use similar flavors plus a seasoning you wouldn't expect…..Garam Masala! It's an Indian spice traditionally used in curries, it brings a flavor and warmth to the squash that pairs perfectly with its natural sweetness.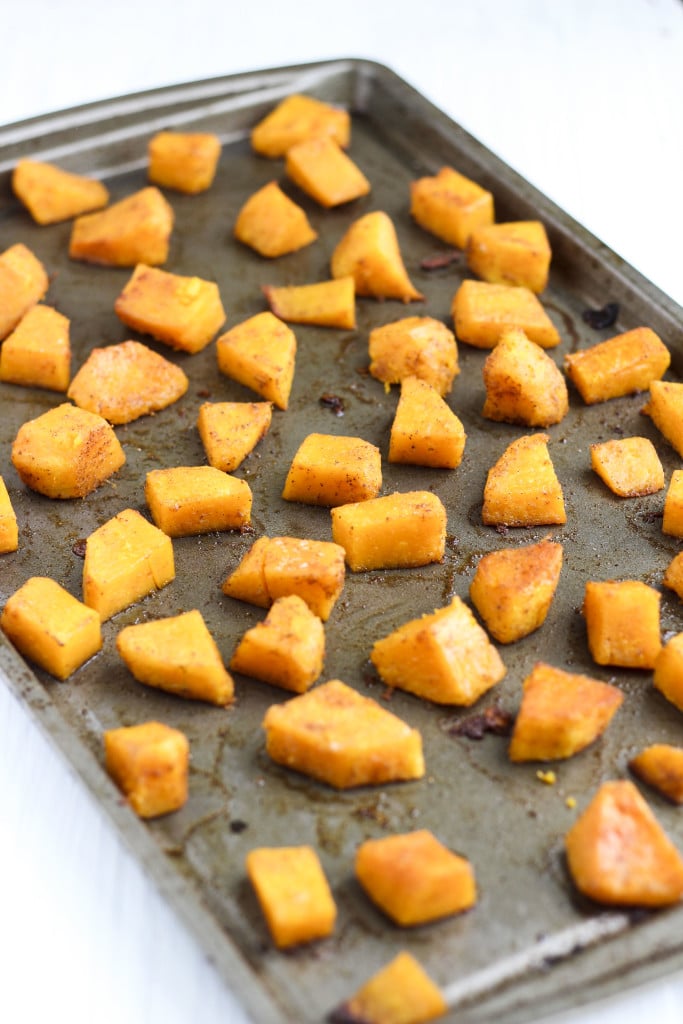 These butternut squash pitas were easy to prepare and so good that we had them for lunch and dinner! If Travis wasn't waiting for lunch, I probably would've just eaten the whole tray of roasted squash myself!
It smells so good when it's roasting. The spicy squash, creamy avocado, sautéed mushrooms, and onions, make the best pita toppings! Cover it in Avocado Chipotle Sauce, and you have a flavor explosion in your mouth!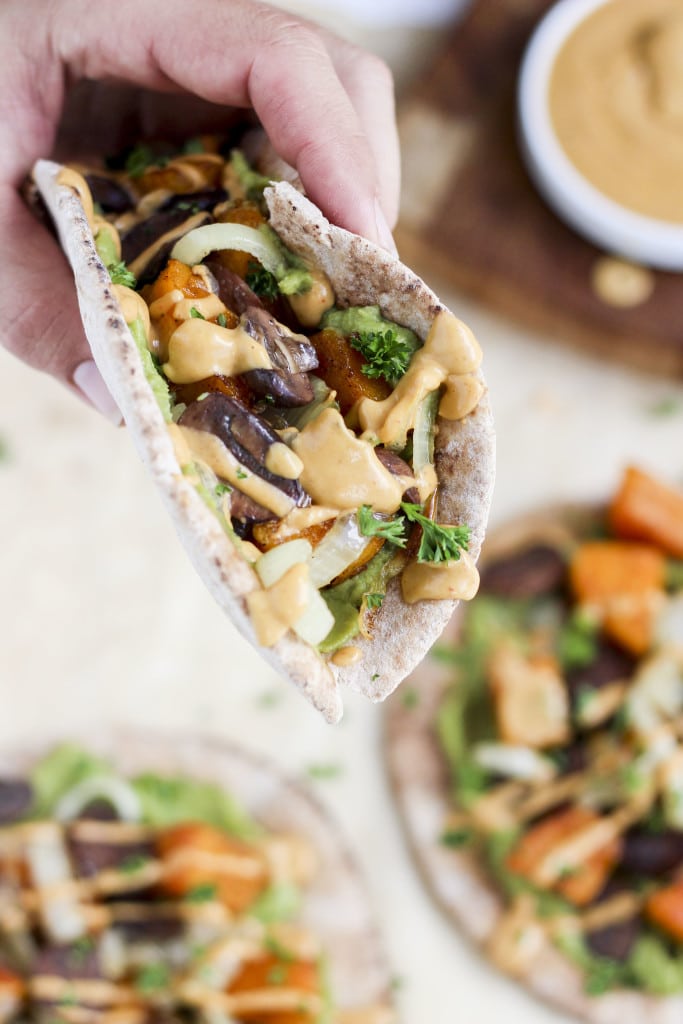 They can get a little messy with all the sauce, so if you feel like eating it like a taco, go for it! The messier the better! Usually, Travis ends up with sauce all over his face and hands, he really gets into it.
If you've tried this quinoa spinach salad or any other recipe on the blog, please remember to rate the recipe and let me know what you thought of it in the comments below, I love hearing from you! You can also FOLLOW ME on FACEBOOK, TWITTER, INSTAGRAM and PINTEREST to see more delicious vegan recipes + our monthly trips to Disney World!
Roasted Butternut Squash Pitas with Avocado Chipotle Sauce
Spicy roasted butternut squash pitas loaded with sautéed onions, mashed avocado, portobello mushrooms, and chipotle yogurt sauce is the best lunch ever! You'll be craving it all week.
Print
Pin
Rate
Instructions
Preheat the oven to 400 degrees. Roast the whole squash on a tray for 25 minutes, then remove it and let it cool for 10 minutes.

While the squash is roasting, sauté your onions and mushrooms in a large pan in 1 Tbsp of olive oil over medium heat.

Peel the skin off the squash, remove the seeds, and cut it into 1 inch cubes. Lay the chunks on a parchment lined tray, drizzle 2 T olive oil over the top, and toss with your hands to coat each piece. Add all your spices to a small bowl, mix it up and sprinkle it over the squash. Season well with salt and pepper. Roast for 15 minutes or until soft.

Mash the avocado and spread it over your lightly toasted pitas. Add the butternut squash chunks, mushrooms, and onions. Drizzle the chipotle sauce over the top.
Here is the recipe for the Avocado Chipotle Sauce. 
What are your favorite butternut squash recipes? Let me know in the comments!