Trying to figure out which candy is vegan can be time-consuming and confusing! There are so many ingredients, some are labeled vegan, some are accidentally vegan, some are organic, some are NON-GMO. What should you buy?! I've got you covered, this vegan Halloween candy guide is taste-tested and vegan-approved!
*The candy that is listed is 100% vegan as of 10/9/19. I will update the list if anything changes. Always read the label first before you buy or eat anything, just in case.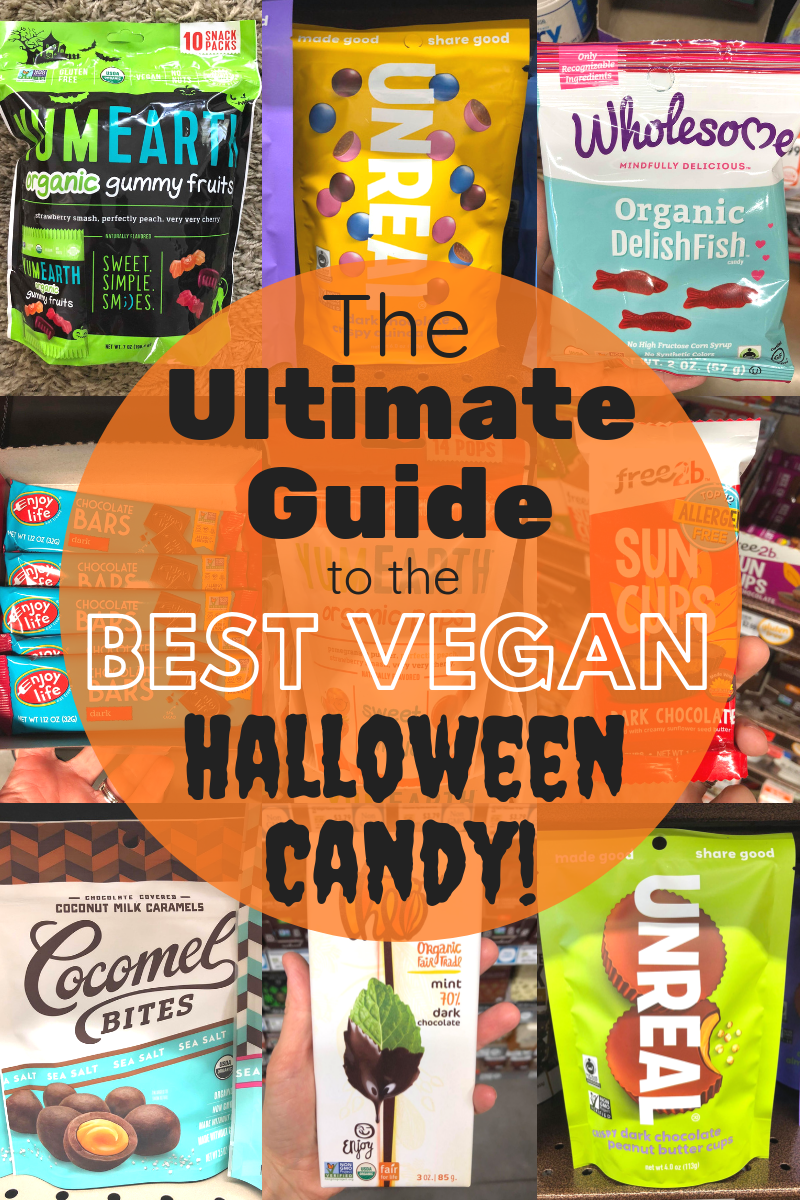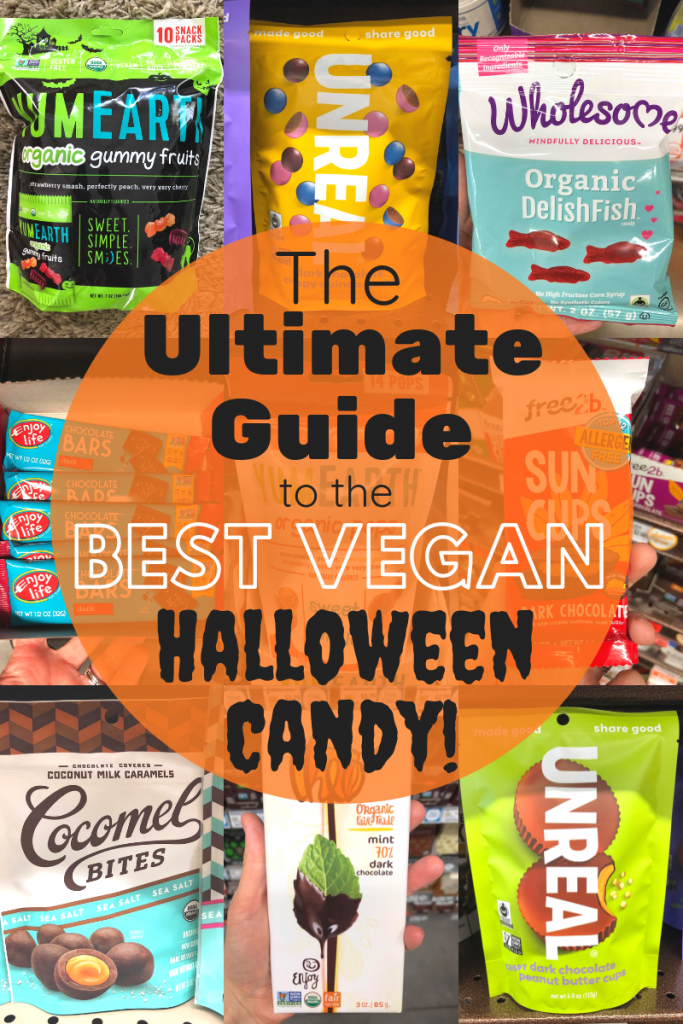 Want more easy vegan recipes? Join our vegan Facebook community below!


Can you believe Halloween is only a few weeks away?! It will be here before you know it. Are you ready?
My mom and I have a tradition every year where we make little treat baskets for each other and exchange them on Halloween. It's so much fun! When I transitioned to a vegan lifestyle three years ago, it was hard for my family to understand that I no longer wanted the things that I'd previously enjoyed.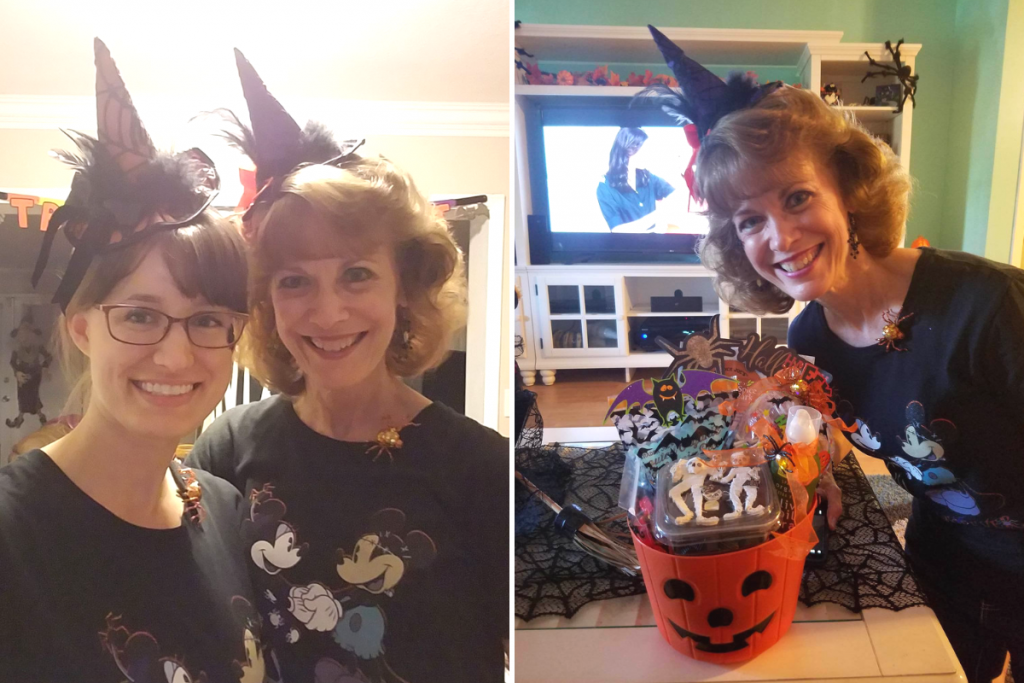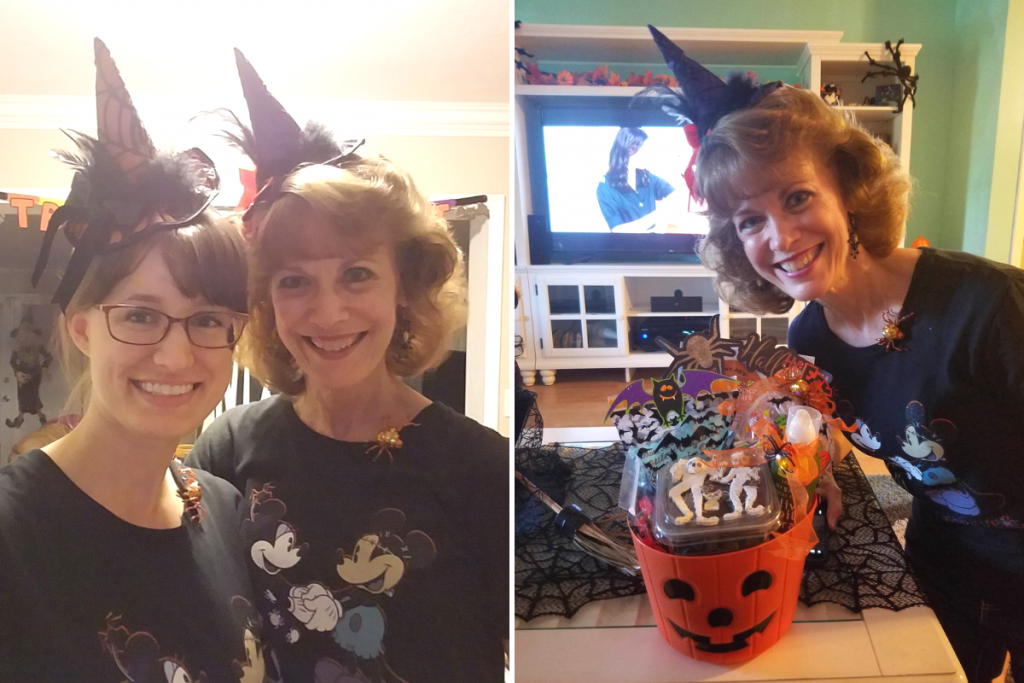 It was especially hard for my mom because she always prepared the food for family holidays and events. Halloween was the first holiday that came up after my lifestyle change, and I remember my mom calling me from the candy aisle of Whole Foods asking me what treats could she get for my basket this year?
Normally, mom would pick everything out for me so it would be a surprise but she wasn't sure about what I could eat any more. She had spent so much time reading candy labels and trying to figure out which items were vegan and safe for me to eat. It was so frustrating to her because the candy ingredients can be so confusing and misleading!
It sure would be nice if every product was clearly labeled vegan or not-vegan, but, unfortunately, that's just not how it is. Hopefully, it will be different one day!
Vegan-Friendly Safe Candy Ingredients
For example, cocoa butter. It sounds like it could be vegan but maybe not because of the butter. If it has butter then it must have dairy, right? Before I was vegan, I thought it was a milk-based butter but it's not. Cocoa butter is actually the fat portion of the cocoa bean, so it's vegan. Who knew?!
The following list has vegan-friendly ingredients that you might see on a candy ingredient label. These ingredients are safe for vegans:
Dark Chocolate
Cocoa Butter
Carnauba Wax
Organic sugar
Rice milk
Brown Rice Syrup
Palm Fruit Oil (Somewhat controversial – some vegans consume it if it's sustainably sourced and some vegans don't no matter what. It's a personal choice.)
Soy Lecithin (Want to know more about these ingredients?

Read this article

)
Candy Ingredients That Are Not Suitable For Vegans
If you see any of the following ingredients on a candy label, the candy is not vegan and it's not safe for vegans to consume.
Gelatin
Carmine
Shellac
Bone Char
Milk Chocolate
Beeswax
Honey
Casein
Whey
Albumen
Confectioner's Glaze
Food Grade Wax
You can find definitions of each of these terms here.
To be 100% safe, you really have to read the candy label and know what every ingredient is. I hope this list of the best vegan Halloween candy saves you some time at the store!
Can Vegans Eat Chocolate?
I've seen a lot of people ask, "Is there any vegan chocolate candy?"
Yes, there is vegan chocolate candy! Vegans can eat dark chocolate candy and "milk" chocolate that is made with dairy-free milk. I really like these vegan rice milk chocolates and these dark chocolate candy bars. They're absolutely delicious!
Ultimate List of Vegan Halloween Candy 2019
I've tried a lot of vegan Halloween candy over the last few years so I thought I should share what I've found to be the best!
When I look for vegan Halloween candy (or any candy), it obviously has to be vegan and I would prefer it to be organic if possible. If it's fair-trade certified or contains locally sourced ingredients, that's a big bonus.
I don't eat mainstream candy (like Skittles or Starbursts), even if it's accidentally vegan because I try to stay away from corn syrup, food dyes, and artificial ingredients.
However, I know many vegans do enjoy the mainstream candy so I'm still going to share which of those candy brands are vegan or not because I want this vegan candy list to be helpful to everyone!
What Halloween Candies are Vegan?
Finding mainstream accidentally vegan candy at big box stores like Walmart or Target really isn't that difficult. There are many well-known brands of candy that are accidentally vegan! You were probably eating them before you were vegan.
Here is the most comprehensive list of every vegan candy (including a list of flavors) that I've found so far.
What Candy Is Not Vegan?
If you don't have time to go through the whole list, here's a quick reference to go back to. The following mainstream candy is not vegan:
Reese's
Milky Way
Twix
Baby Ruth
Butterfingers
Nestle Crunch
Almond Joy
Snickers
3 Musketeers
Lindt
Dove
M&M's
Nerds
Kit Kat
Are There Vegan Candy Bars?
Yes, there are vegan chocolate candy bars! The Ocho dark chocolate coconut candy bar is a top contender for me, especially if you're a fan of Mounds candy.
There are many other vegan candy bar options for you to choose from. Check out this list of vegan candy bars if this is your candy of choice or if you're one of those awesome houses that give out full-size candy bars on Halloween!
My Favorite Vegan Halloween Candy!
When I'm in the mood for something sweet or when Halloween rolls around, these are the vegan candies that I love and buy over and over again! I've tried a lot of different types of candies and in my opinion, these are the best options available.
They all taste just as good if not better than their non-vegan counterparts (think Reese's vs Unreal or Delishfish vs. Sweedish fish) and I hope that you enjoy them as much as I do!
Click on any of the orange links below to check out the product ingredient list or to purchase the candy.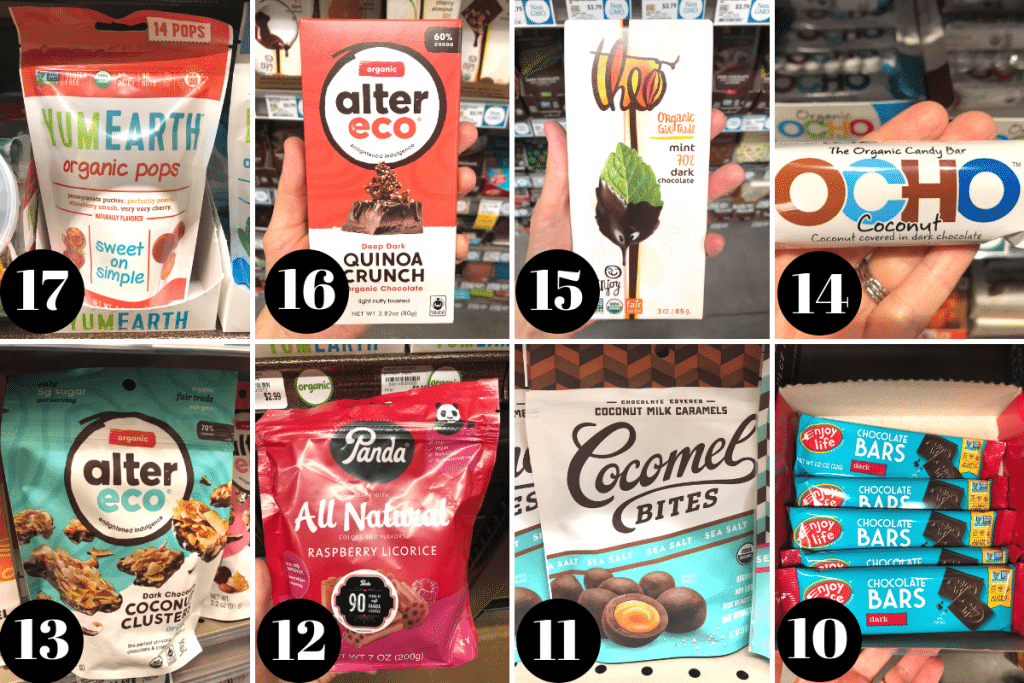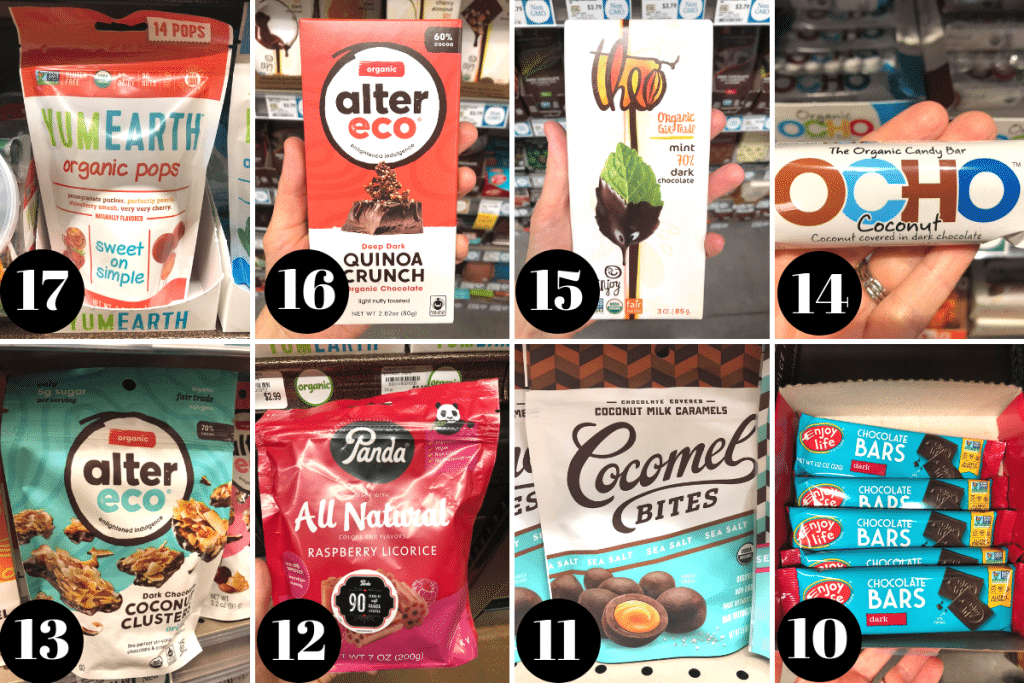 #17 – Yum Earth Organic Pops
#16 – Alter Eco Quinoa Crunch Bar
#15 – Theo Dark Chocolate Mint Bar
#14 – Ocho Coconut Candy Bar
#13 – Alter Eco Dark Chocolate Coconut Clusters
#12 – Panda Raspberry Licorice
#11 – Cocomel Bites
#10 – Enjoy Life Rice Milk Chocolate or Dark Chocolate Candy Bars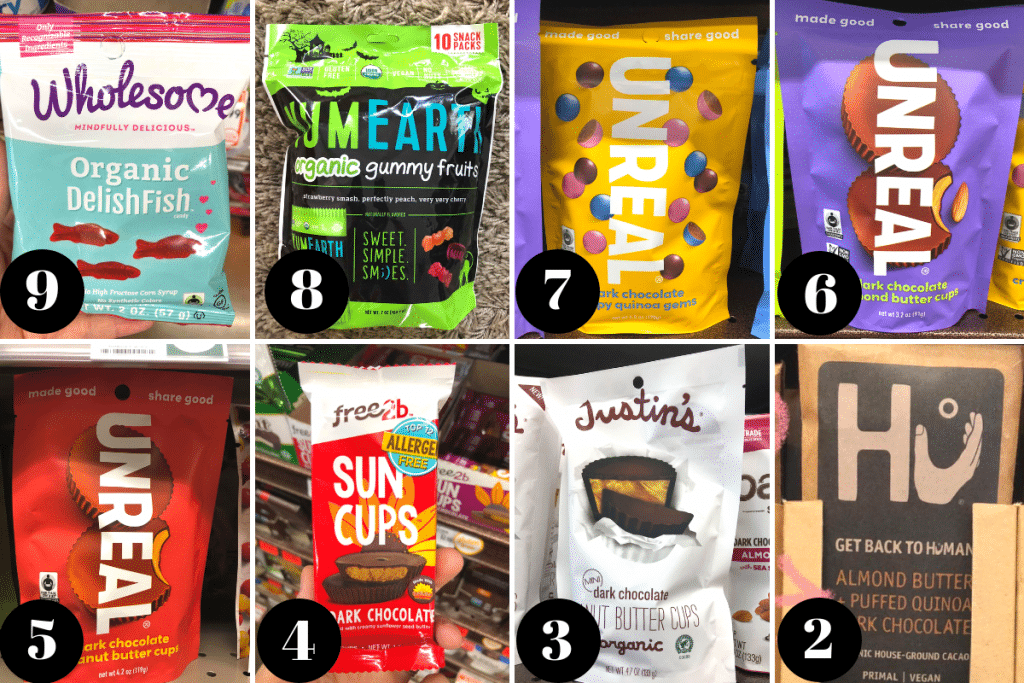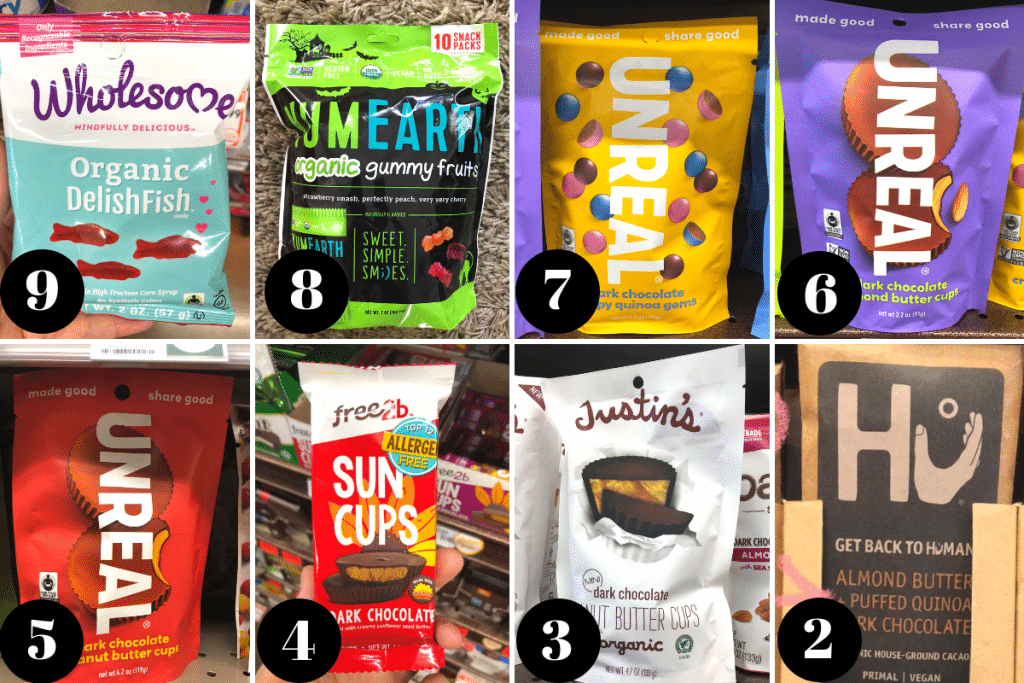 #9 – Wholesome Organic Delish Fish
#8 – Organic Surf Sweets Halloween Spooky Gummies
#7 – Unreal Dark Chocolate Crispy Quinoa Gems
#6 – Unreal Dark Chocolate Almond Butter Cups
#5 – Unreal Dark Chocolate Peanut Butter Cups
#4 – Free2be Sun Cups
#3 – Justin's Dark Chocolate Peanut Butter Mini Cups
#2 – HU Almond Butter Puffed Quinoa Dark Chocolate Bar
#1 – Unreal Crispy Dark Chocolate Peanut Butter Cups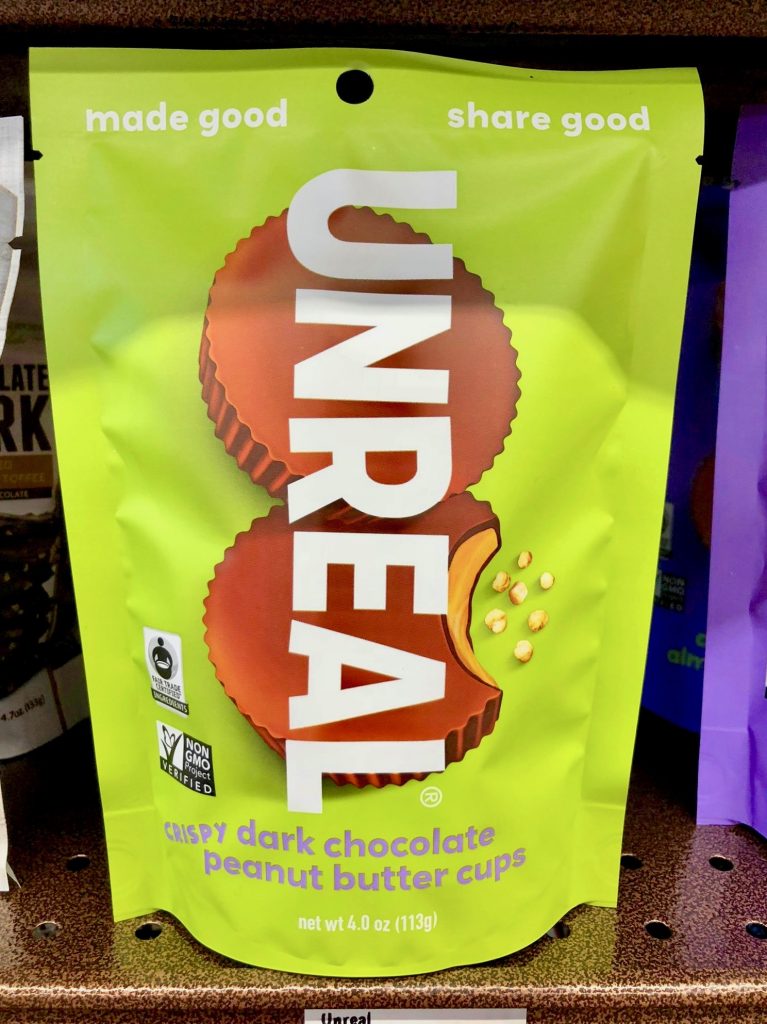 I hope this list of the best vegan Halloween candy helps you to quickly and easily pick out treats for Halloween. This list would also be helpful for when you make Easter baskets or stuff Christmas stockings! Make sure you PIN it so you can reference it when you need it.
If you didn't see any pre-made candies that strike your fancy, give these easy chocolate mango coconut candy bites a try. I made them for our Halloween party last year and everyone loved them!
You can also FOLLOW ME on FACEBOOK, TWITTER, INSTAGRAM and PINTEREST to see weekly delicious vegan recipes!
What's your favorite vegan candy? Did I miss anything delicious? Let me know in the comments!
More Vegan Holiday Posts You'll Love!
Ultimate Vegan Thanksgiving Dinner Menu
A Vegan Christmas Dinner Menu that Will Please All of Your Guests!
New Year's Day Breakfast Clock Bagels
Easy Valentine's Day Themed Breakfast