Toss your favorite pasta with spinach and creamy cashew vegan beet pasta sauce that gets its unique pink color from roasted beets. Topped with dollops of sun-dried tomato cashew cheese and green onions. This quick and colorful dinner is perfect for Valentine's Day, spring or summer! Dairy-free, vegan.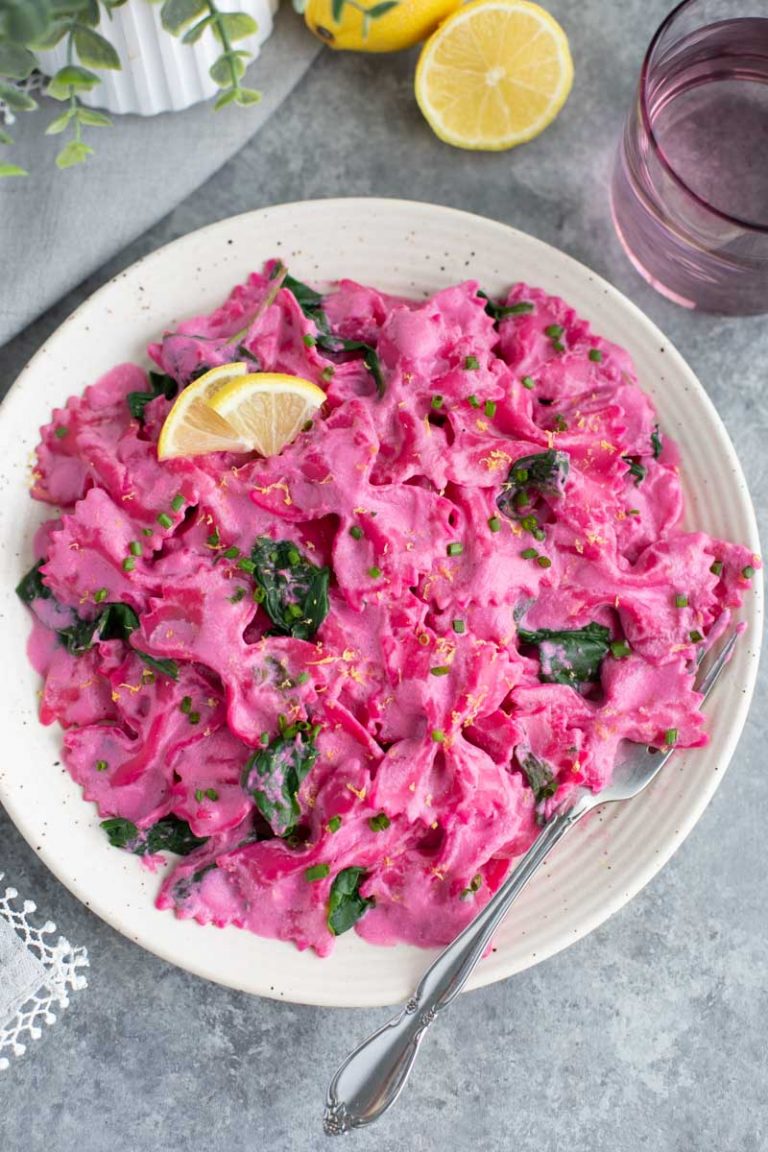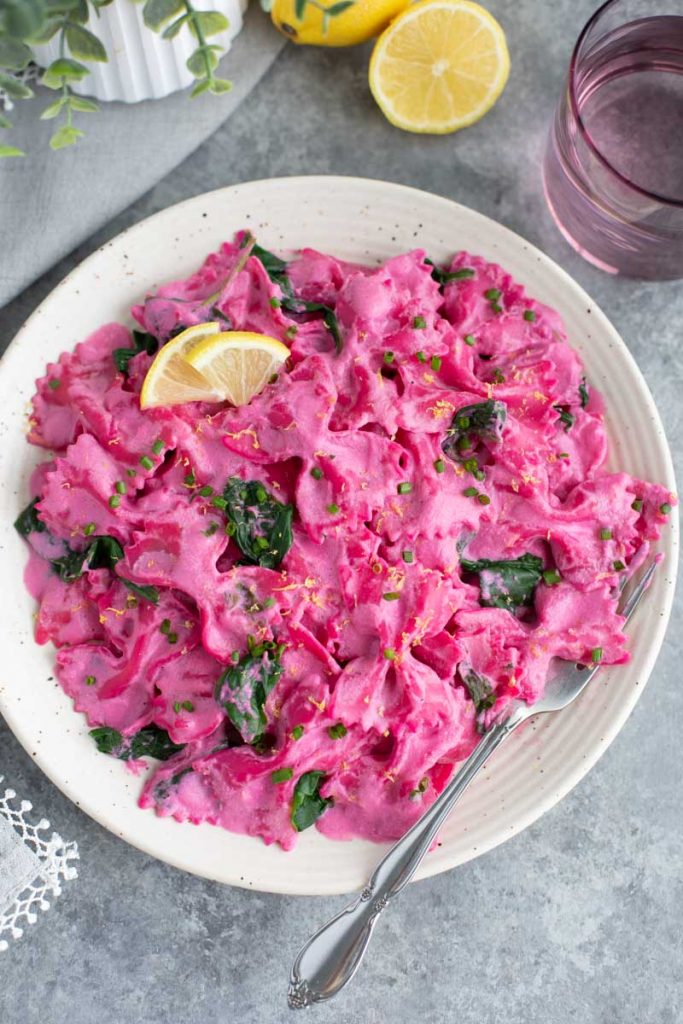 Hello, friends!
I'm baaacckkk and I'm now a Mrs.!
I took a few weeks off from blogging to get ready for our wedding, to celebrate, and to relax after. The husband (I love saying that!) and I aren't going on our honeymoon for a few months because we wanted to wait for better beach weather but skip the peak times of spring break, so we took a quick jaunt up to Disney World to celebrate being newlyweds.
Make sure you check back next week for our review of this year's Epcot Flower & Garden Festival!
Wedding Details
I'll be sharing everything about our wedding in an upcoming post. When I say everything, I mean everything!
The planning process – Why it's so stressful and tips to save your sanity!
What traditions we did and didn't follow on our wedding day.
Our vendors – Do you really need a videographer? Which is better, buffet or sit down meals? Is it worth it to upgrade to the fancier chairs? How do you pick the right photographer for you?
My dress, where I got it and how I knew it was the one!
Why I think all couples should 100% do a first look!
The ONE thing we wish we would've done differently at our wedding.
Our stunning venue + my honest review of having a wedding at an all inclusive venue.
What you should cut corners on and what you should splurge on.
Should you DIY or buy it new?
Plus much, much, more!
I have the answers to all of your burning wedding questions! I'll also be sharing our wonderful pictures and wedding video from one of our favorite vendors —> Rad Red Creative.
Vegan Beet Pasta Sauce
Okay, back to the food!
I actually made this vegan beet pasta sauce on Valentine's Day because of its lovely fuchsia color, but it's also perfect for a light and healthy spring or summer meal.
I always try to come up with foods that match the holiday or season, I get this from my mom. When I was little, my mom always made us heart shaped pancakes with a cold glass of pink strawberry milk for Valentine's Day breakfast! It was the besttt!
I make beet hummus for a healthy snack quite often and the color of the hummus gave me the inspiration to try the roasted beets blended with cashews and veggie broth to create a truly flavorful and delicious sauce! The best part is that the color is natural, nothing artificial in this colorful recipe!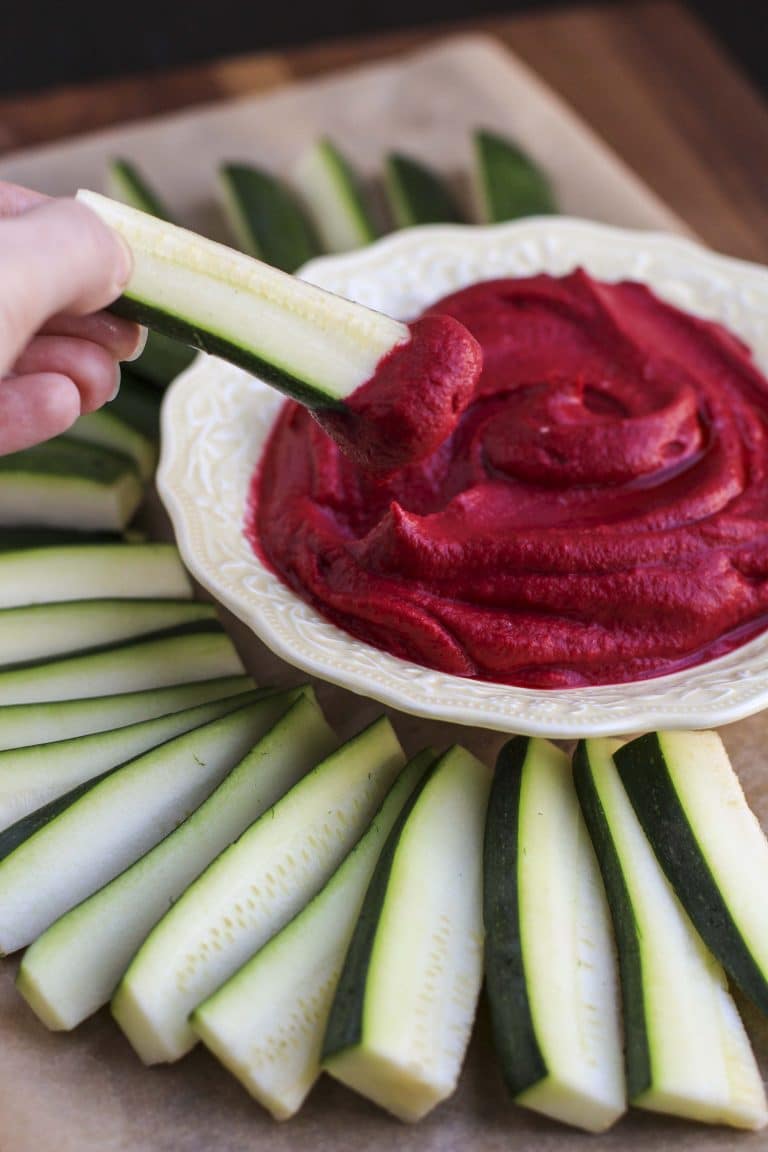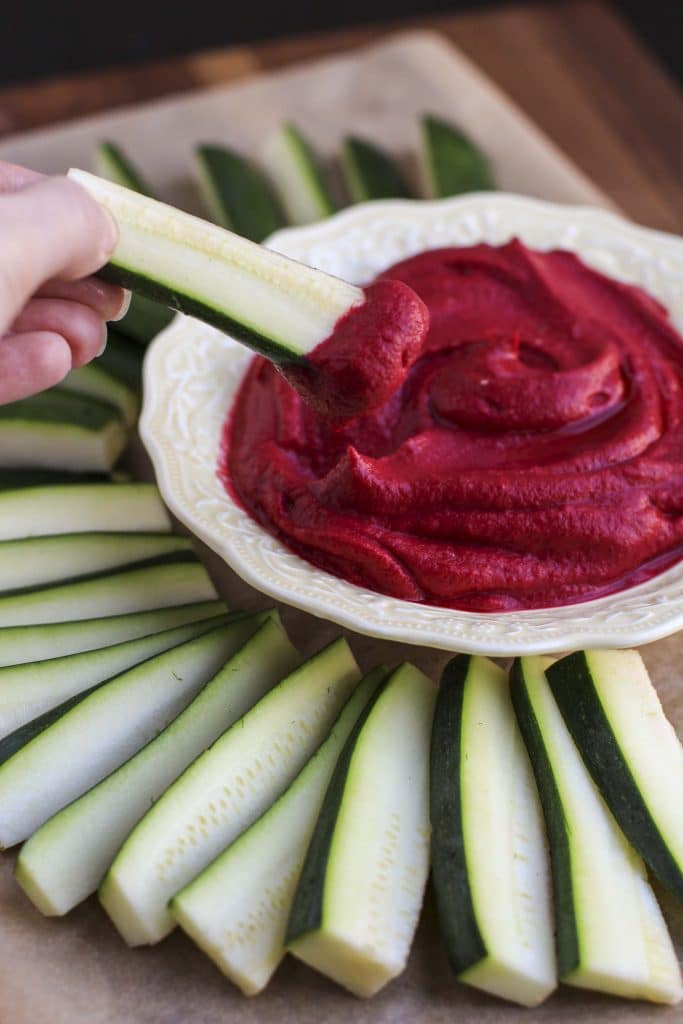 What Does Vegan Beet Pasta Sauce Taste Like?
The vegan beet pasta sauce is loaded with flavor! I love the earthy flavor of the sweet roasted beets balanced with a bright punch from the fresh lemon juice and the creaminess of the cashews. It's so so so tasty! I definitely dipped my spoon in more than once to "test the sauce" even though it was already perfect! =)
Travis loved it too! He described it as creamy and tangy and said it was such a cool color! He was shocked to see that the noodles started out white but turned bright pink after I mixed in the sauce. The noodles weren't just coated in the sauce, they absorbed the sauce and the color!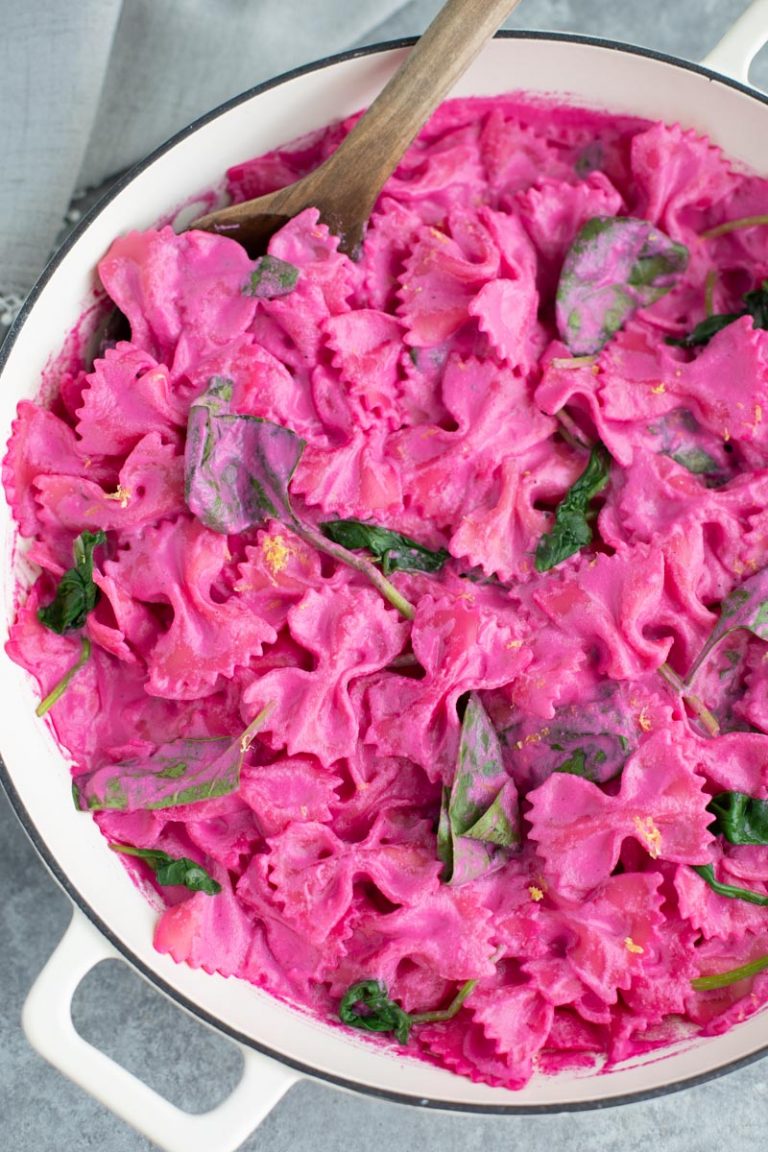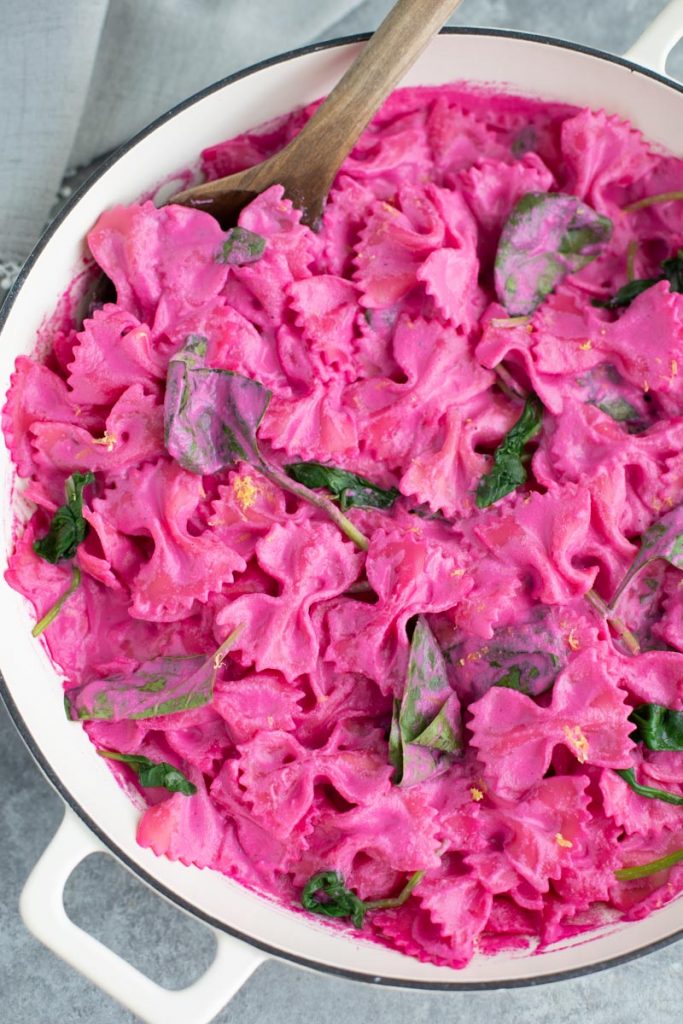 Have You Tried Nut Cheese Yet?
You all know that I try to keep dairy out of our diet so I was super pumped to find a new type of "cheese" at the grocery store —> Miyokos double cream sun-dried tomato garlic "cheese" that's made from cashews!
I was a little skeptical at first but then I remembered that I love using cashews for sauces and dressings so I figured it would be just as creamy and delicious in cheese. I was right, I'm so glad I tried it! I don't know how they do it but it's so smooth and creamy and it really gave me the sensation that I was eating real cheese!
When I served the vegan beet pasta, I added dollops of the cashew cheese all over the top and let it melt into all the nooks and crannies of our favorite twisty noodles. So decadent!
Note – If you're not dairy-free, crumbled goat cheese would be delicious with this pasta dish!
More Vegan Colorful Recipes
Rainbow cherry tomato pesto cream stuffed mushrooms
Watermelon kiwi mango fruit salsa
Kiwi mango cherry chia seed pudding
Lentil stuffed red cabbage rolls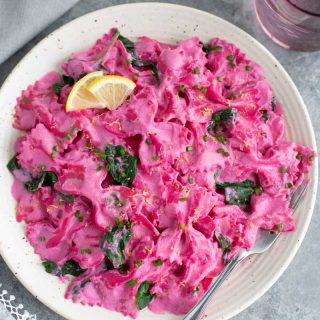 Ingredients
1

large

red beet,

roasted and peeled

1/2

cup

cashews

Juice of 1 large lemon

1/2

tsp

garlic powder

1

cup

vegetable broth

(Add more if you prefer the sauce to be thinner)

2

Tbsp

olive oil

1

medium

sweet onion,

thinly sliced

8

oz

bag of frozen spinach

Sun-dried tomato cashew cheese

Sliced green onions for garnish

1

box

of your favorite pasta
Instructions
Preheat the oven to 400 degrees. (This recipe only calls for one cooked beet but I usually roast a few at a time. You can freeze the extra beets for the future!)

Drizzle olive oil over and salt on each beet. Cover with parchment or foil and roast for one hour.

Remove the beets from the oven and let cool until you can handle them without burning yourself. Use a paper towel to carefully peel off the skin.

Add the cooled roasted beet, cashews, lemon juice, garlic powder, vegetable broth, salt, and pepper to a

high powered blender

. Blend on high until the sauce is smooth and creamy. Set aside.

In a large saute pan, saute the onion in olive oil for 5-8 minutes, or until translucent. Add the frozen spinach and cook until fully defrosted. Season with salt and pepper.

In a separate pot, boil salted water and cook your noodles of choice.

Once the noodles are cooked, drain the water (reserve 1/2 a cup in case you want to thin the sauce) and pour the noodles into the pan with the spinach and onions. Pour the beet sauce over the noodles and stir to coat everything evenly.

Top the pasta with dollops of cashew cheese and sliced green onions.