This vegan pomegranate smoothie will get your booty back on track! It's packed with antioxidants and nutrients from an entire lemon and pomegranate arils that will give your immune system a healthy kickstart. Vegan.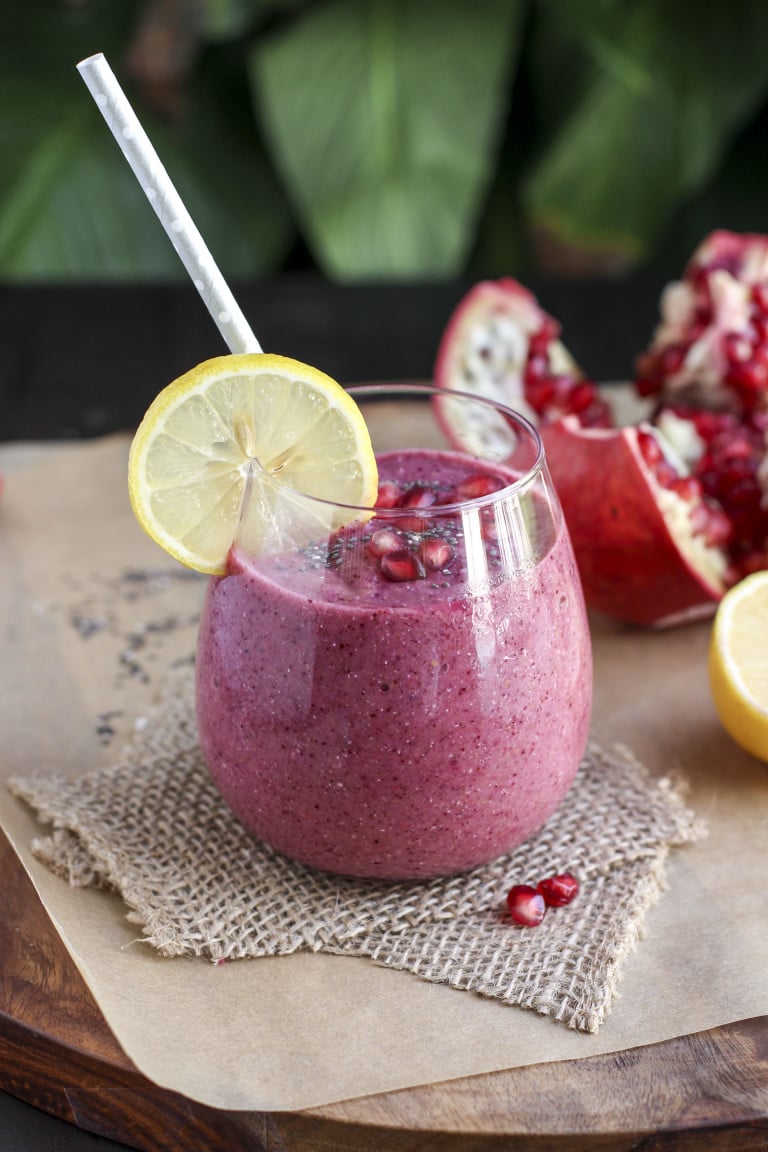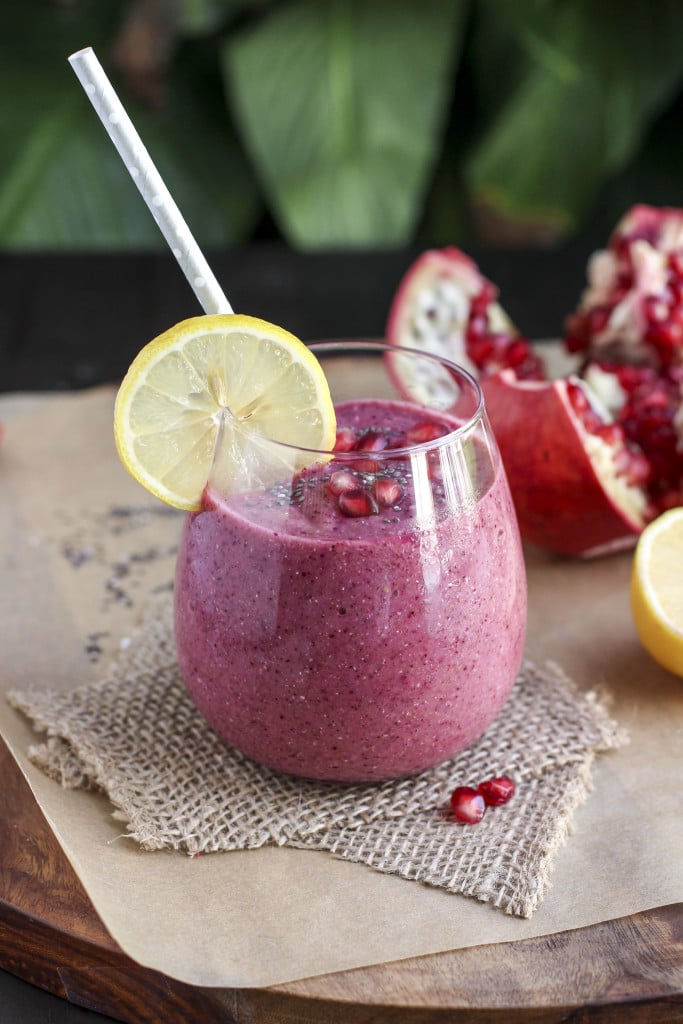 Guyyyssss.
How is today January 2nd? Where did December go? How is Christmas over already? I'm in a major slump, and I just can't pull myself out! The week between Christmas and New Years are a blur. I couldn't remember what day it was or what I was supposed to be doing. For a few days, I camped out on the couch next to the Christmas tree watching sappy Christmas movies on the Hallmark channel, and eating all the candy I got in my stocking. Did that happen to you too? Tell me I'm not alone!
I told myself that I would get back at it on January 1st– but that obviously didn't happen. So, here I am today trying to get back on the grind.
I've been pretty bad for the last two weeks, my diet consisted of lots of sugar! Not a green food in sight. That's probably why I'm feeling like such a slug now. Were you as bad as me? No judgment! I think it's totally acceptable to go wild a few times a year, as long as you're pretty good the rest of the time.
Want more easy vegan recipes? Join our vegan Facebook community below!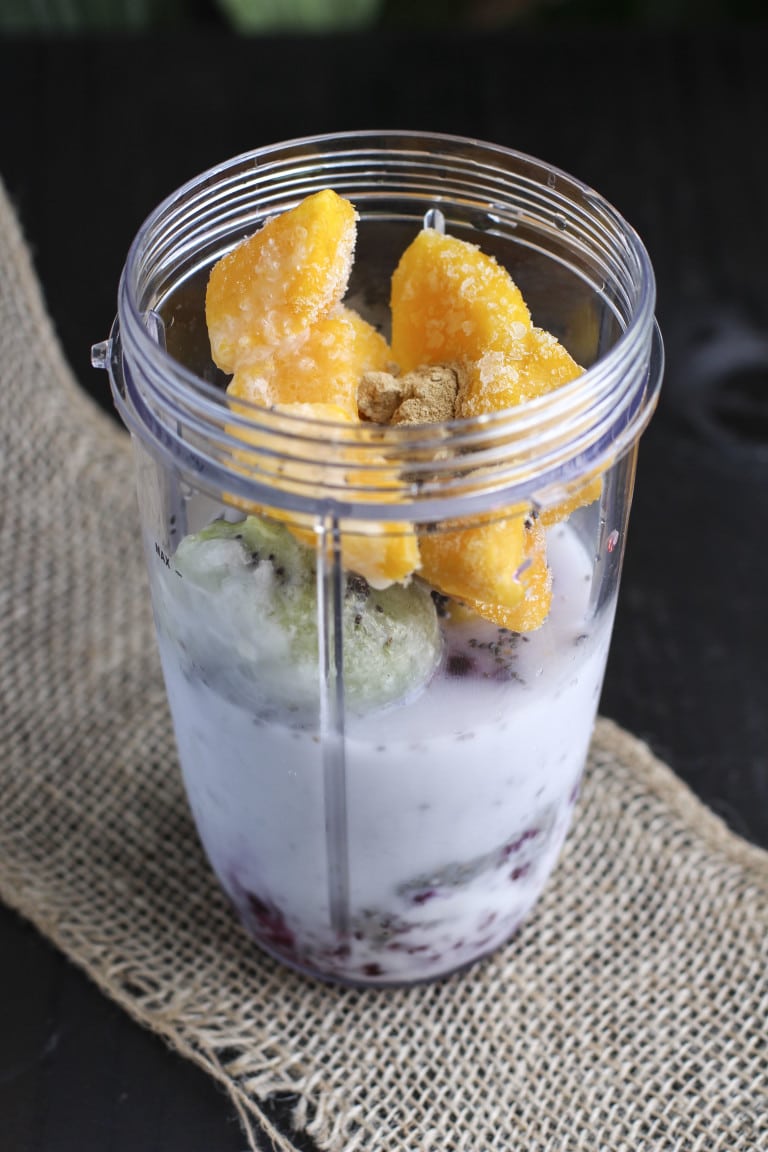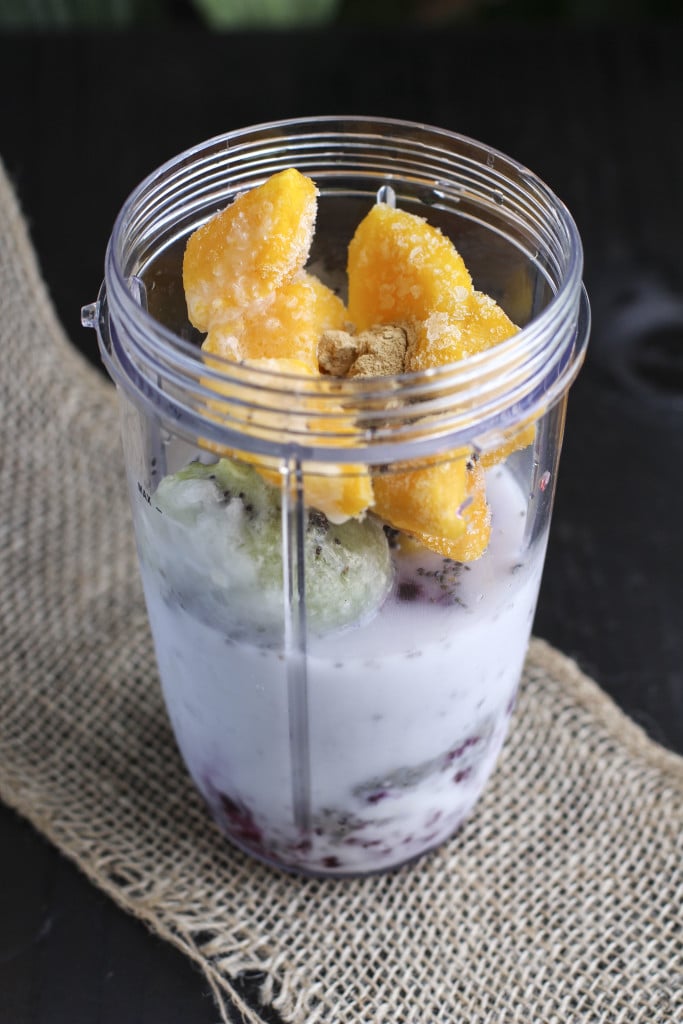 I feel my body telling me that it wants the fruits and veggies I usually eat on a daily basis, and it's done with the sugar rush. I figured a smoothie would be my best bet to get a lot of nutrients in at once. I usually make smoothies a few mornings a week because they're delicious and super quick to prepare.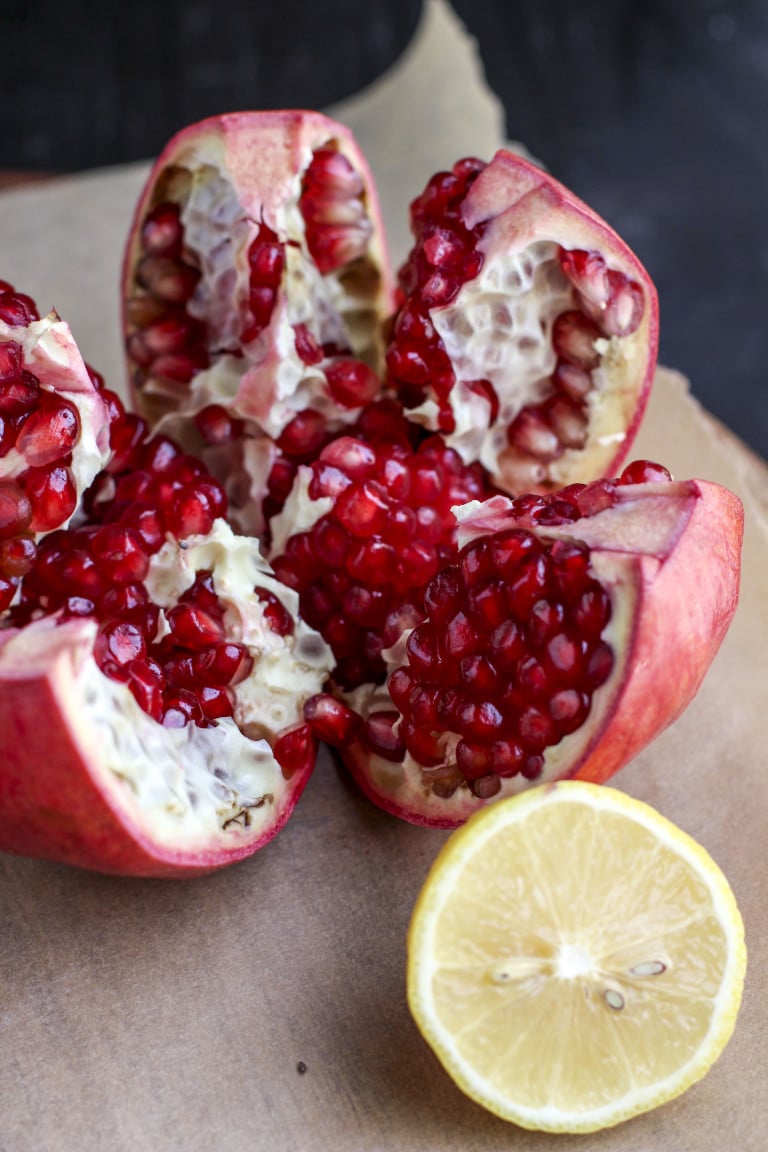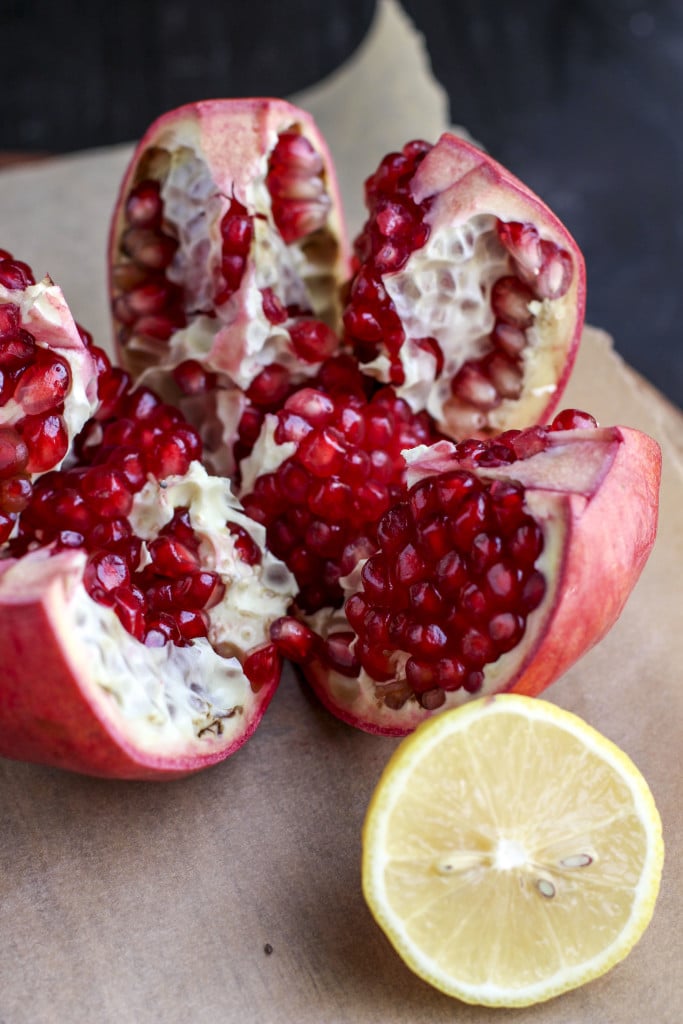 How to Cut a Pomegranate Hack
Have you tasted a pomegranate before? They're in season November-January, so go pick one up if you haven't tried one yet! They're so delicious and you can use them in salads, salsa, smoothies, or just eat them for a snack.
I've tried slicing the pomegranate in half and then using a spoon to smack the sides to get the arils to fall out, but I just make a mess.
I like this easy pomegranate hack so much better:
Use a sharp pairing knife to remove the stem.
Make 4-5 incisions around the outside of the pomegranate.
Use your fingers to pull each section apart and remove the arils.
If you can't find fresh pomegranates, frozen arils will work just fine. I like to keep a bag of the frozen pomegranate seeds in the freezer just in case I can't find a fresh pomegranate.
Are Pomegranate Seeds Good in Smoothies?
Yes, they're delicious! The pomegranate seeds will give your smoothie a tart and tangy flavor and a gorgeous pink color! Plus, they are loaded with so many vitamins and minerals that your body will love.
Can You Blend Pomegranate Sees in a Blender?
Yes, you can blend pomegranate seeds in a blender but make sure you use a high powered blender that will completely break them up. I use a Vitamix blender and I've never had a problem with blending pomegranate seeds.
What Fruit Can You Freeze?
I like to have a big assortment of frozen fruit to choose from in the freezer. I buy big bags of organic frozen fruit from Costco, (compare frozen fruit prices on my vegan Costco shopping list) and if I run into a really great sale at my local health food store, I'll stock up big time and freeze.
My favorite frozen fruits for smoothies:
Apples (whole)
Cherries
Blackberries
Raspberries
Mango chunks
Strawberries
Kiwi, peeled (whole)
Blueberries
Lemons (whole)
Bananas, peeled (whole)
Avocados, peeled & sliced (pit removed)
Pineapple chunks
Orange slices
Papaya chunks
Why Is This Smoothie Called The Body Booster?
This lemon mango pomegranate smoothie is by far my favorite smoothie recipe! I call it the body booster because it does so much good for your body & this is exactly what my slug booty needed today to get moving. The lemon is packed full of immune system boosters that's very important for your body during flu season. Really, all year long but especially now!
It's sweet & tangy but extra creamy from the coconut milk and the only green food in it is a whole frozen kiwi. Don't get me wrong, I love my greens but I also don't want my body to go into shock from a straight kale juice cleanse.
This smoothie is the best first step towards a healthier diet for the new year. It's loaded with antioxidants and immune system boosters, and it will definitely fill you up.
I'm pomegranates aren't your jam, try this high-protein vegan cherry smoothie!
Lemon Pomegranate Smoothie Secret Ingredient
What really pushes this smoothie over the top is the lemon. I use the whole lemon. Not just the juice, not just the rind, the whole lemon. I want to get all of the antioxidants and cancer-fighting nutrients from the lemon, so the best way to do that is to eat the whole darn thing.
If you want to slice the ends off you can, but I don't. Just wash it and pop the whole thing into your blender.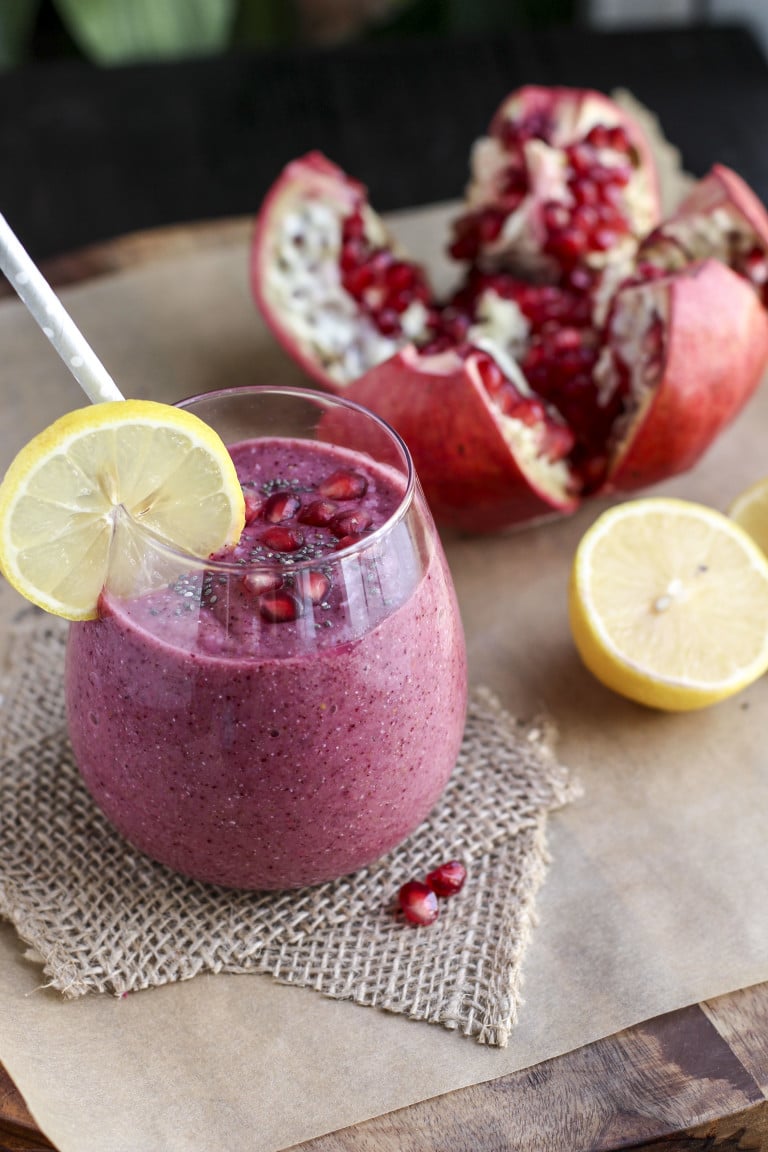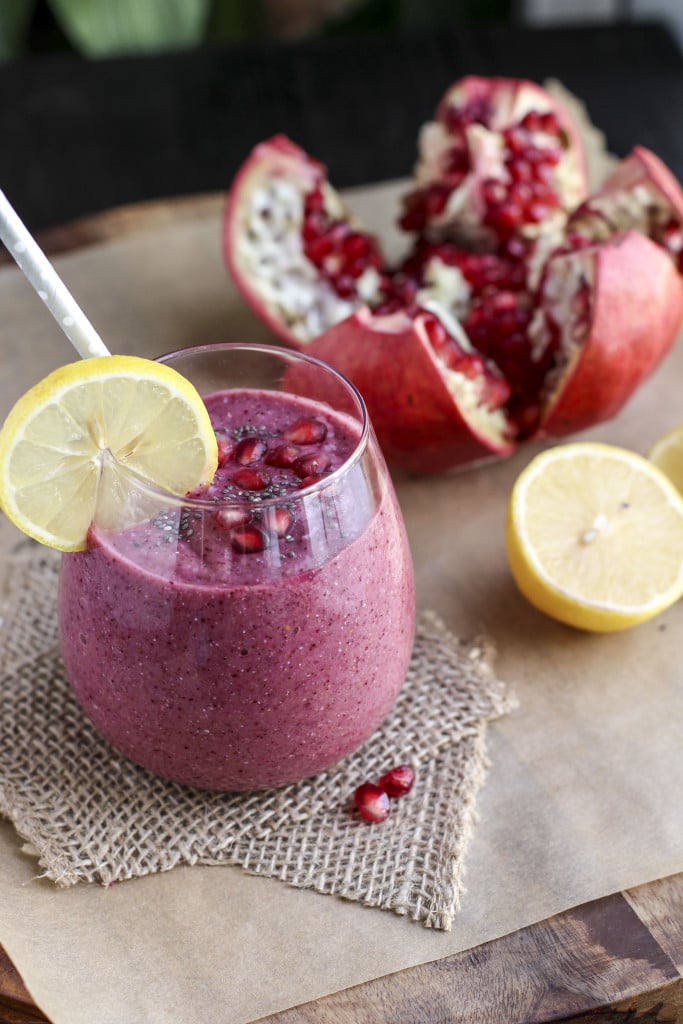 Should You Use Fresh Or Frozen Lemons?
You can use fresh or frozen lemons for this lemon pomegranate smoothie, but I try to stick with frozen fruits because I like my smoothies ice cold without having to add ice that would water it down.
Last month, I ran into a really good sale on organic lemons so I stocked up. I washed them and froze them whole, so I can just pop one into my smoothie when I feel like it. I also do this with kiwis and apples. Peel the kiwis and core the apples before you freeze them so they're ready to go.
Tip – If you're worried about the acidity from the lemon, you can drink the smoothie with a paper straw so it's less likely to touch your teeth. Otherwise, I just rinse my mouth with water after I drink it.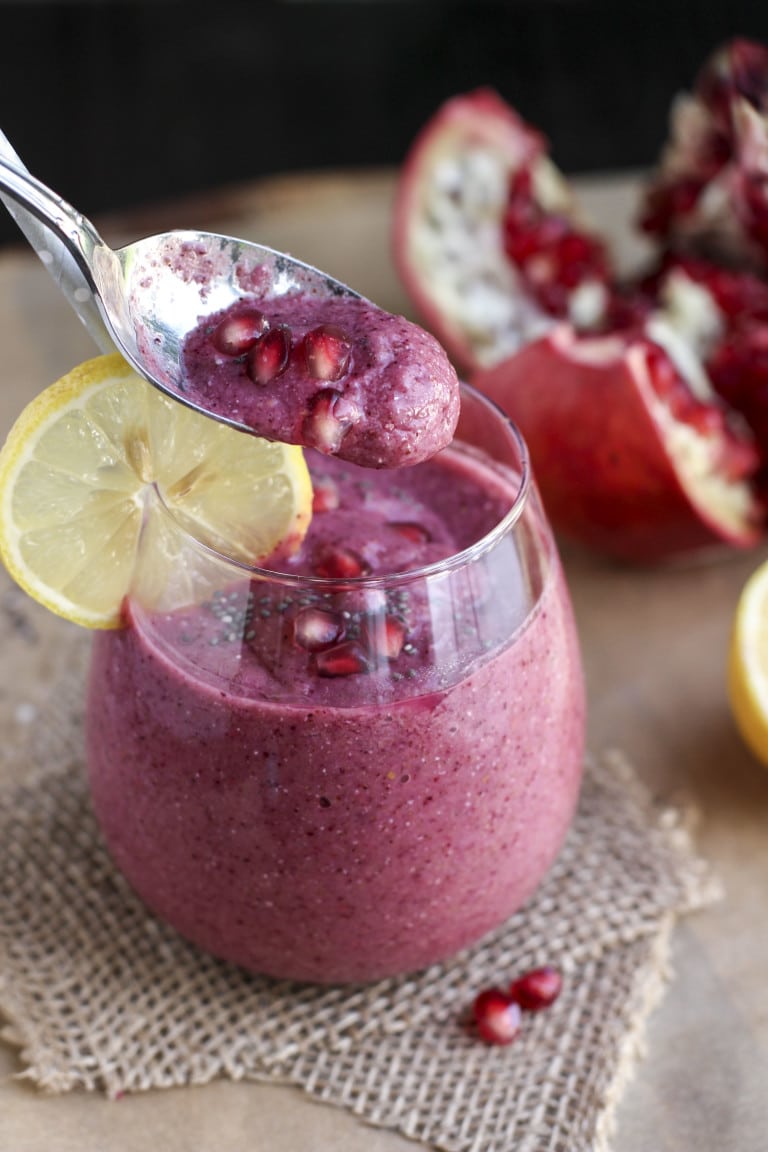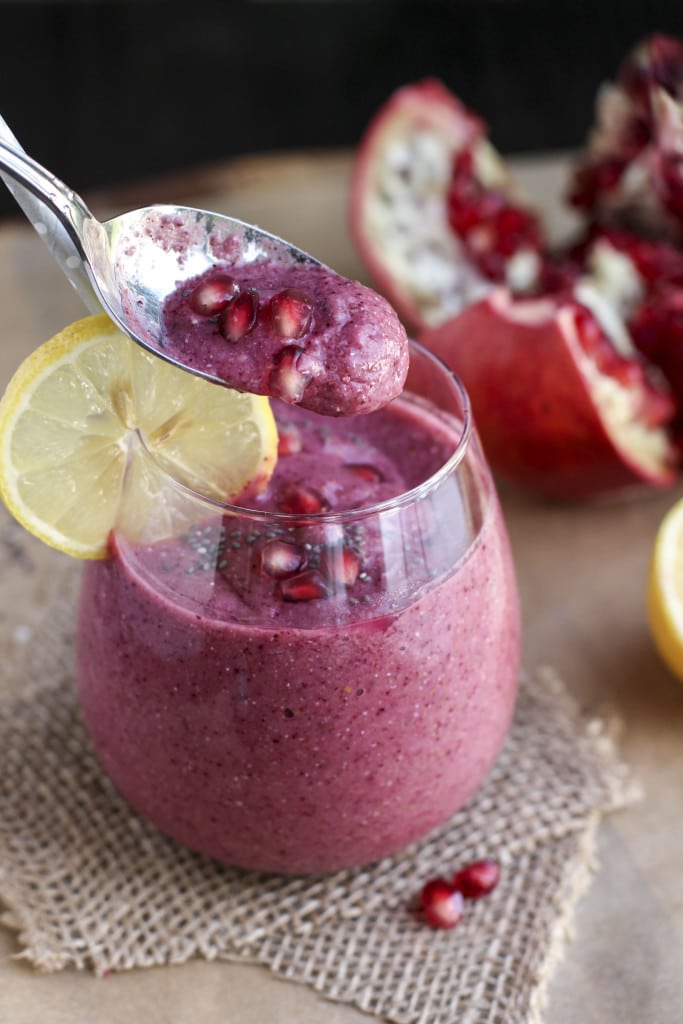 This lemon pomegranate smoothie is perfect to make if you're feeling a bit under the weather too. Did you know that a kiwi has more vitamin C than an orange does? All of the ingredients combined are sure to give your immune system the boost it needs to fight off that nasty cold.
Get off the couch and go make this smoothie so you can get rid of your holiday blues!


If you tried this vegan pomegranate smoothie, please remember to rate the recipe and let me know what you thought of it in the comments below, I love hearing from you! You can also FOLLOW MEon FACEBOOK, TWITTER, INSTAGRAM and PINTEREST to see more delicious vegan recipes + our monthly trips to Disney World!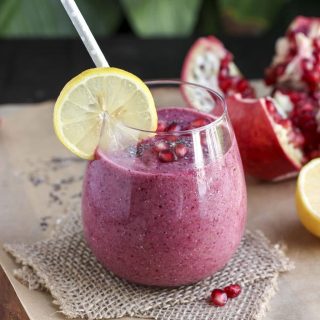 Body Booster Lemon Pomegranate Smoothie
Try my favorite body boosting, tart & sweet, lemon pomegranate smoothie to get your booty back on track! It's packed with antioxidants and nutrients from an entire lemon and pomegranate arils that will give your immune system a healthy kickstart.
Print
Pin
Rate
Instructions
Add all the ingredients to the blender and blend on high until smooth and creamy.
Nutrition
Serving:
3
g
|
Calories:
154
kcal
|
Carbohydrates:
21
g
|
Protein:
4
g
|
Fat:
6
g
|
Saturated Fat:
1
g
|
Sodium:
4
mg
|
Potassium:
266
mg
|
Fiber:
5
g
|
Sugar:
12
g
|
Vitamin A:
350
IU
|
Vitamin C:
59.8
mg
|
Calcium:
93
mg
|
Iron:
1.5
mg
What's your favorite smoothie fruit combos? Let me know in the comments!