Flavorful lentil meatballs nestled into a hoagie bun and topped with tomato sauce and melted vegan cheese. These super saucy vegan meatball subs are healthy comfort food and picky husband approved! Vegan, dairy-free, soy-free.
***This post contains affiliate links.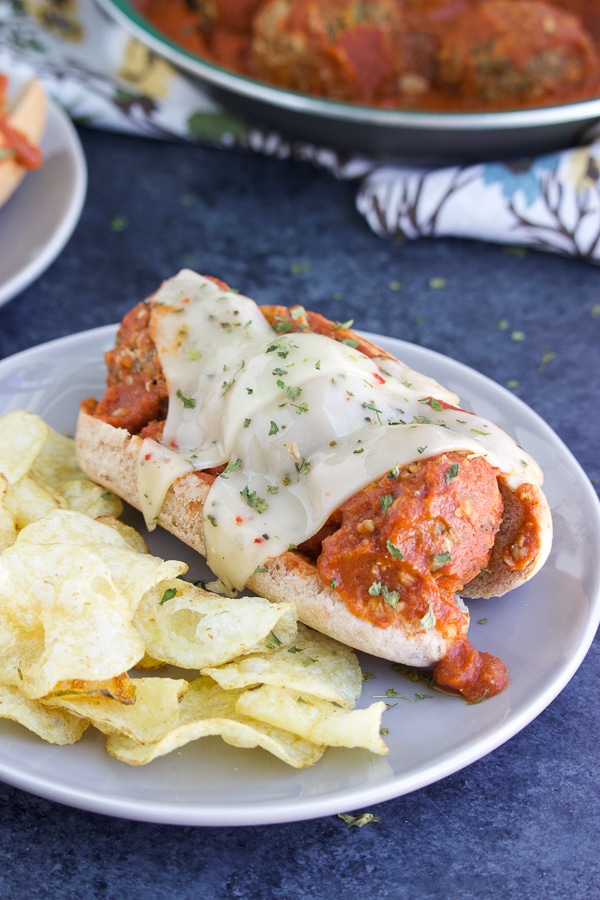 My husband loves vegan meatball subs! What's not to love?
Protein-packed tender lentil quinoa meatballs
Super flavorful tomato sauce that coats every nook an cranny
Melted ooey-gooey vegan cheese
Warm toasty buns to hold it all together
I mean he really really loves them! He would also like me to tell everyone that it was his idea to serve the lentil meatballs as subs and top it with tomato sauce and melty vegan cheese. I've been making lentil meatballs with spaghetti for years but I guess he thought that was pretty basic. LOL
The recipe for lentil quinoa meatballs was one of the first posts that I shared on my blog and it's been super popular ever since. It's held the test of time!
Vegans Don't Eat Meatballs! Right?
I recently had someone ask me why I would make "meatballs?" Vegans don't eat meatballs! Right?
Well, yes and no. Vegans don't eat dead rotting flesh meatballs but some vegans do eat healthy, flavorful, protein-packed, plant-based lentil balls!
Travis and I didn't stop eating meat because we didn't like the way it tasted, we stopped eating meat because of the cruelty, health issues, and its effect on the environment. Still being able to eat food that resembles meals that we used to eat before we transitioned to a vegan lifestyle makes it easier to not have cravings. If you're like us, give these delicious jackfruit tacos a try!
There are also some vegans that don't want any food that resembles meat even if it's plant-based. I totally get that! Do whatever works for you! That being said, these vegan meatball subs are freaking delicious and they definitely look like real meatballs. So, if you aren't into faux meat meals then don't make these vegan meatball subs– try this spicy red Thai curry chickpeas and veggie recipe instead!
What Should You Serve With Vegan Meatball Subs?
Vegan meatball subs are fun food! They would be great for a game day or anytime you want healthy comfort food. Since it's a fun meal, my husband likes to have his favorite Trader Joe's kettle chips (read this post to see my complete Trader Joe's vegan shopping list) on the side while I prefer to have roasted veggies. Besides kettle chips or roasted veggies, avocado arugula cherry tomato salad would be a super tasty side dish too.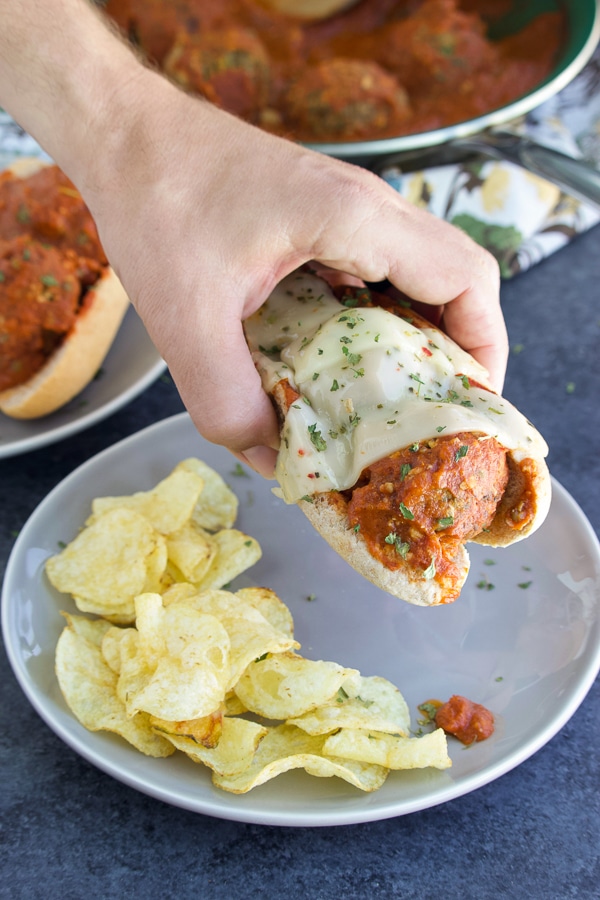 Why You'll Love Vegan Meatball Subs
I really think you're going to love these vegan meatball subs!
Mainly because the recipe for my lentil quinoa meatballs has gotten rave reviews!
"I just made these and they are delicious!" – Lauren
"I made these meatballs tonight and they were AMAZING." – Beth
So adding tomato sauce, vegan cheese, and toasty buns are just going to make the lentil meatballs 100x better!
The meatballs are truly yummy. The Italian seasonings give the lentil meatballs a delicious flavor, they have a lot of texture, and they hold together perfectly. Besides being really tasty, the meatballs are gluten-free, dairy-free, soy-free, and plant-based. Basically, it can work for many different diets!
Before putting the lentil meatballs into the subs, I like to heat the tomato sauce in a pan and put the lentil meatballs right into the sauce and swirl them around for a few minutes to let them absorb the flavor of the sauce. The sauce gets into all the nooks and crannies and it's sooooo goood.
I hope you love this recipe as much as we do! Vegan meatball subs are:
Satisfying
Healthy comfort food
Easy to make
Cheesy
Saucy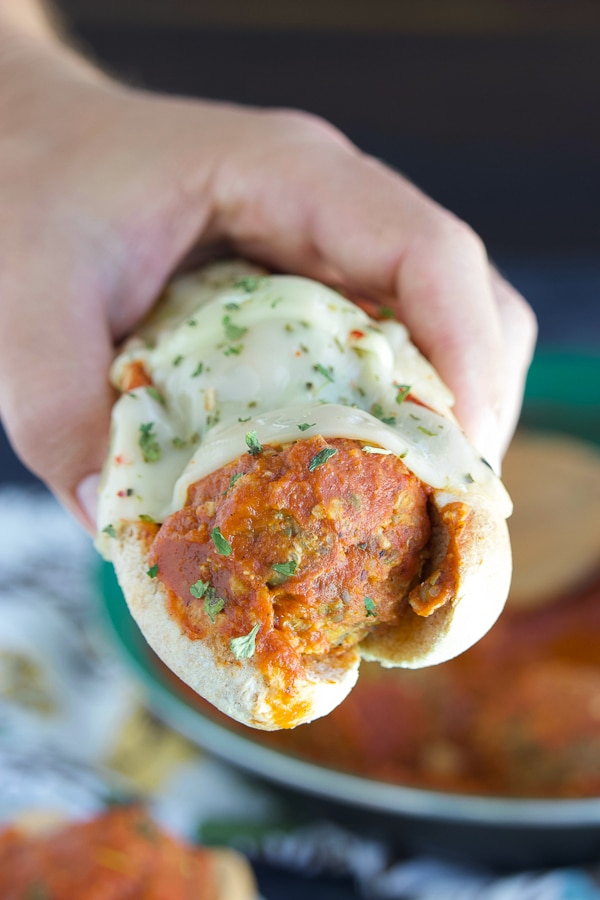 More Vegan Recipes You'll Love!
Spinach Artichoke Dip Stuffed Shells
Spicy Buffalo Cauliflower Tacos
Veggie-Loaded Cheesy Quesadillas
Slow Cooker Whiskey Pineapple Jackfruit Sliders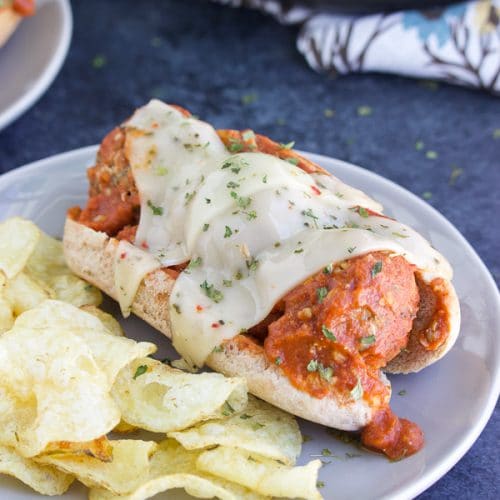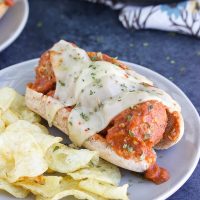 Vegan Meatball Subs
Flavorful lentil meatballs nestled into a hoagie bun and topped with tomato sauce and melted vegan cheese. These vegan meatball subs are healthy comfort food and husband-approved! Vegan, dairy-free, soy-free.
Print
Pin
Rate
Ingredients
10-12

vegan lentil meatballs

(large)

2

cups

tomato sauce

4

slices

vegan cheese, cut in half

(I like Follow Your Heart Pepper Jack Cheese)

4

hoagie buns

(or hot dog buns)

Pinch of

dried parsley
Instructions
Assemble the lentil meatballs and bake them for 15-20 minutes. Place the baked meatballs into a pan with the warm tomato sauce. Use tongs to roll the meatballs around the pan to coat them in the tomato sauce.

Open a lightly toasted hoagie and place 2-3 large lentil meatballs into the roll. Spoon a little bit more tomato sauce over the top and lay slices of vegan cheese on top.

Put the subs into the toaster oven just long enough to melt the cheese. Garnish with a sprinkle of parsley.
Notes
You can make the lentil meatball recipe into 10-12 large meatballs or 22-24 small meatballs. You can use either size for the vegan meatball subs but I usually make the larger size and put 2-3 meatballs on each sub.
The cheese is optional. I don't always put the cheese on my sub and it's still delicious. 
Store-bought tomato sauce is perfectly fine for this recipe, it doesn't have to be from scratch.
If you make these vegan meatball subs, please share your picture on Instagram and tag @Stacey_Homemaker so I can see your delicious creation!