This easy to make hearty vegan meatloaf is made from the perfect combination of lentils, quinoa, mushrooms, oats, and lots of seasonings that give it the best flavor! If you miss traditional meatloaf, this lentil mushroom meatloaf is really going to hit the spot! It looks like classic meatloaf, tastes better than animal-based meatloaf, and it's slathered with the most delicious tangy tomato glaze!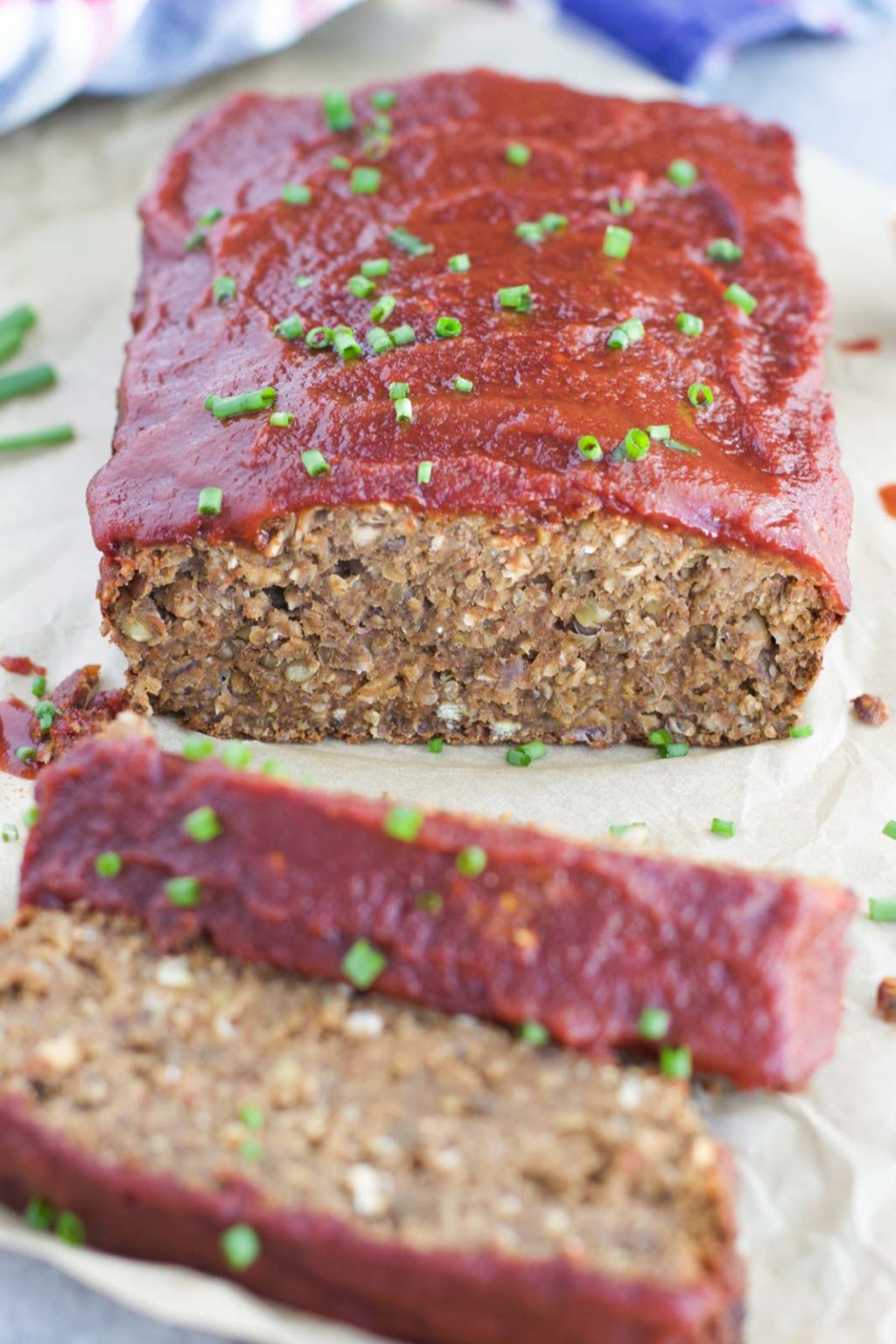 I've been working on perfecting this homemade vegan meatloaf recipe for years! The first time I made our favorite
vegan meatballs recipe
, I thought, "wow, this meatball recipe is so good that it would also make a great base for meatloaf!"
I've made this savory lentil meatloaf at least five times in the last two weeks! I've been tweaking ingredients, testing different types of lentil loaf with oats vs oat flour to find the best meatloaf-like texture, adding carrots, removing carrots, trying all different variations until it was perfect to share with you!
I've eaten a lot of different types of vegetable-based loaves and I think that there are a few key points to making the best vegan lentil loaf.
It can't be too soft and mushy, it should be firm but moist.
It has to hold together when you slice it and pick it up out of the pan.
The "meat" loaf has to be very flavorful.
It has to have a meat-like texture.
There has to be lots of extra tangy tomato glaze!
This vegan mushroom lentil meatloaf hits all of these notes! The mushrooms give it a meaty flavor and keep it very moist, the lentils, quinoa, oats, and flax egg give it the perfect texture, and the seasonings, garlic, onions, vegan Worcestershire sauce, and nutritional yeast give it loads of flavor! I just know you're going to love this recipe for vegan lentil meatloaf as much as I do!
While this simple vegan lentil loaf is delicious for dinner any night of the week, it would also make the perfect main course for your Thanksgiving feast or Christmas dinner!
…