Roasted sweet potato salsa has caramelized sweet potato chunks tossed with fresh tomatoes, corn, black beans, onions, and cilantro! It's the best salsa for fall! Vegan.
Want more easy vegan recipes? Join our vegan Facebook community below!
I don't know about you, but salsa is one of our favorite snacks! I usually make it a lot during the summer, because tomatoes are in season, so I can make a lot of it and it doesn't cost that much. Plus, fresh is way better than jarred salsa any day.
One of my favorite salsas to eat is my secret ingredient cilantro lime salsa!
Unfortunately, I didn't get to make that much this summer because of the cilantro shortage that happened in July. So, to make up for the loss of summer salsa, I wanted to create a salsa that is perfect for fall.
It has sweet and spicy roasted sweet potato chunks, that go perfectly with the corn, black beans, onion, tomatoes, and lots of cilantro. If you don't like cilantro, I would reduce or omit the amount of cilantro used.
When you first taste a roasted sweet potato chunk, it's spicy but as you bite into it, you get a burst of sweetness. It's sooooo delicious! It's what makes the salsa so special.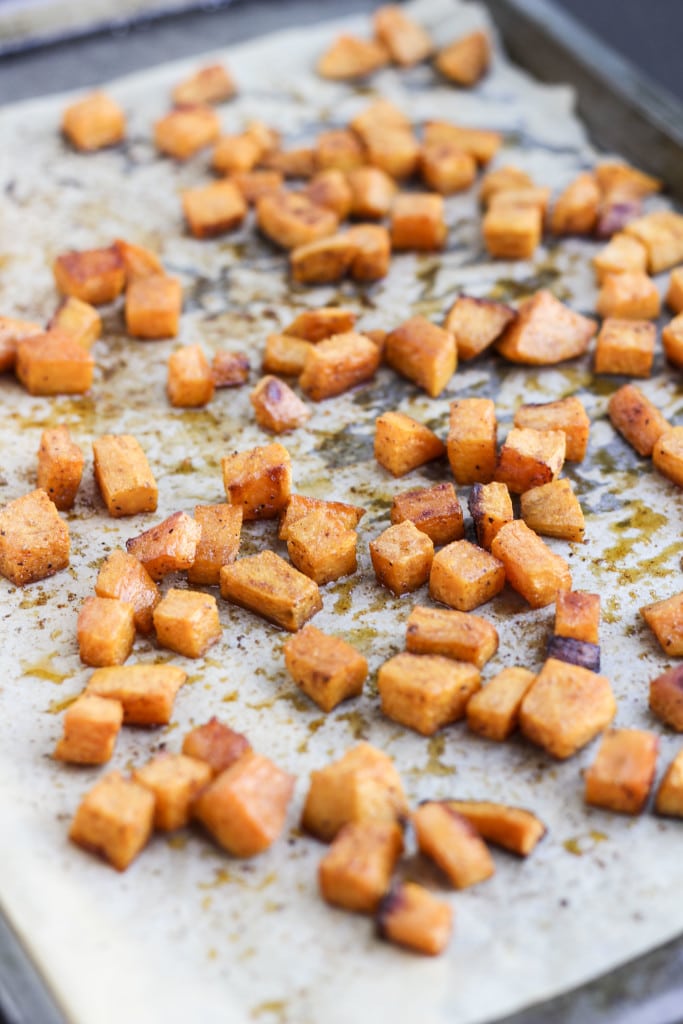 Roasted Sweet Potato Salsa
I cut the sweet potato into really tiny chunks, so it would be similar in size to the tomatoes, corn, and black beans. Then I tossed them in olive oil, cumin, paprika, and garlic powder, and I roasted them until crisp. The contrast of the warm, sweet caramelized potatoes to the black beans and corn is perfection.
Tip – Watch the sweet potatoes, they can burn quickly. Turn halfway through cooking time, so both sides get crispy.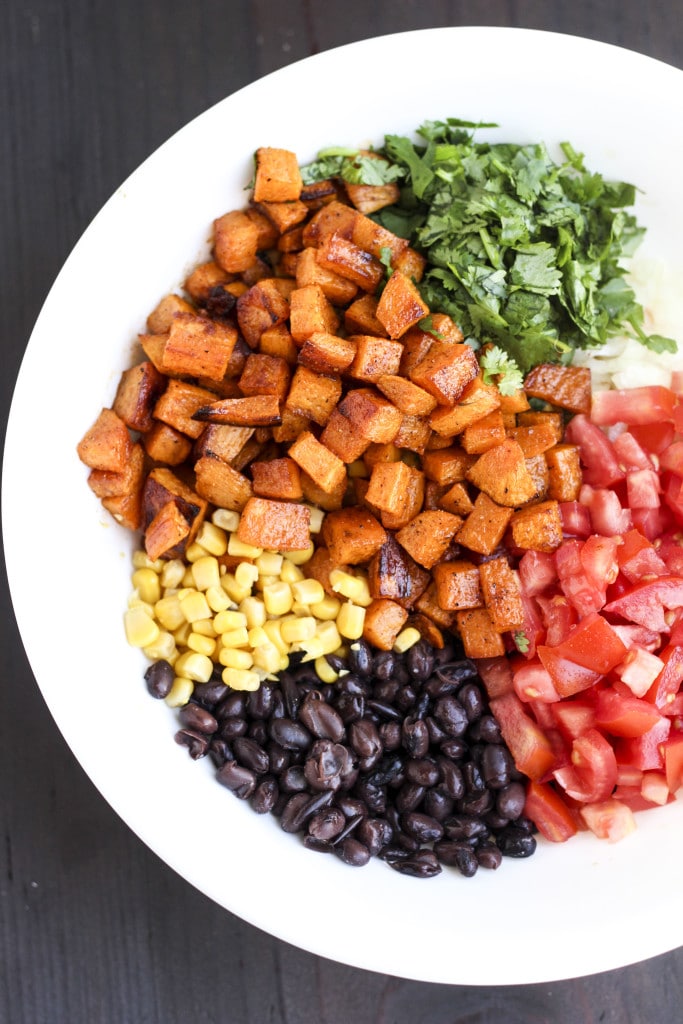 This sweet potato salsa is so easy to assemble too. Just cut everything up, rinse the beans and corn, and toss it into a bowl. Mix and serve, that's it! It's a simple appetizer, or you could put it on top of tacos or as a filling for burritos mixed with ground beef. So many delicious possibilities!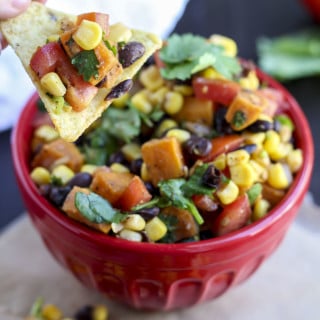 Instructions
Preheat the oven to 400 degrees.

Cut the sweet potato into small chunks and lay the chunks on a parchment-lined tray. Add olive oil and seasonings, toss to combine. Cook for 15-20 minutes, or until soft. Turn halfway through.

Add corn, black beans, onion, tomatoes, cilantro, lime juice, and salsa seasonings to a large bowl. Let sweet potato chunks cool for 5 minutes and then add them to the large bowl. Mix together and serve with tortilla chips.
What's your favorite salsa recipe? Do you prefer regular salsa, or do you like to throw in some secret ingredients? Let me know in the comments!
NEVER MISS A STACEY HOMEMAKER CREATION!
FACEBOOK / INSTAGRAM / PINTEREST / TWITTER
Add me on Snapchat to see what I'm cooking today! – StaceyHomemaker