Do you want to know where do the locals eat in Clearwater Beach? Take it from a local, the following 14 restaurants are the BEST places to eat at on Clearwater Beach for breakfast, lunch, and dinner!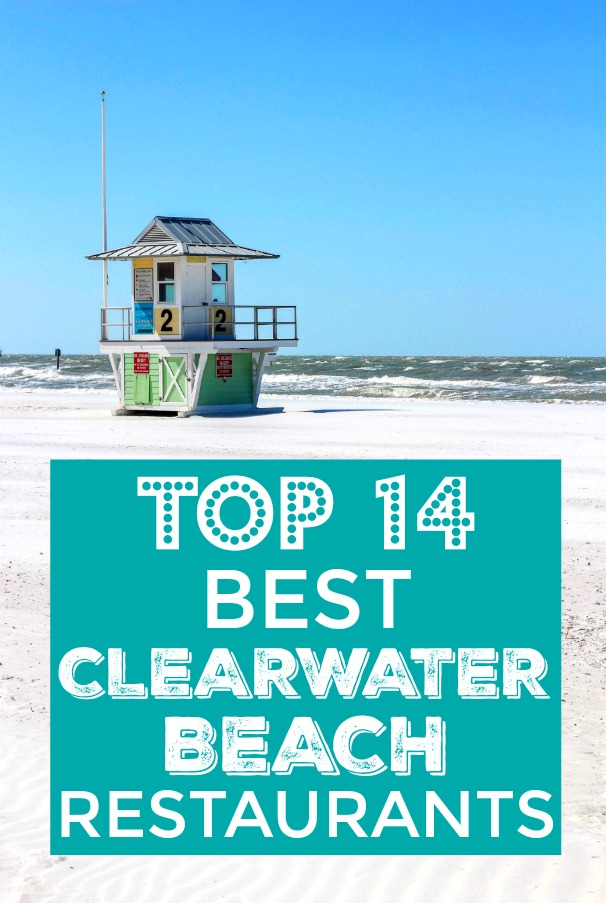 If you're planning on visiting Clearwater Beach for your vacation, you've made the right choice! Clearwater Beach was recently named the #1 beach in the United States for the third time in four years by TripAdvisor!
After you've spent time relaxing on the white sandy beach and swimming in the refreshing blue-green water, you're going to be hungry and wondering where you should eat breakfast, lunch, or dinner. Take it from a local, the following restaurants are the best Clearwater Beach restaurants that you should visit!
Just like my list of the Top 12 Best Restaurants in Disney World, this list is unique because all of the restaurants have delicious food, great atmosphere, awesome reviews, and they're all allergy-friendly. My husband and I have been going to Clearwater Beach for the last 30 years but we've recently transitioned to a plant-based diet. No matter what your dietary preference is there is an option for you to enjoy at all of these Clearwater Beach restaurants!
Top 14 Best Restaurants in Clearwater Beach
In no particular order, I believe that the following establishments are the best restaurants in Clearwater Beach. You can look up the address for each restaurant on this map of Clearwater Beach. Each restaurant is also within walking distance of the most popular Clearwater Beach hotels.
I awarded each restaurant a category (best seafood, best quick bite, best fine dining, etc) to help you figure out which restaurant is best for you. If you try any of these restaurants near Clearwater Beach during your trip, please leave a comment and let me know what you thought!
14 - Beach Comber (Best Date Night Restaurant)
Bob Heilman's Beachcomber is an old-school upscale restaurant that is perfect for a special date night with your significant other. If you're a fan of Mad Men, delicious food, stiff drinks, and casual fine dining on the beach than this is the restaurant for you!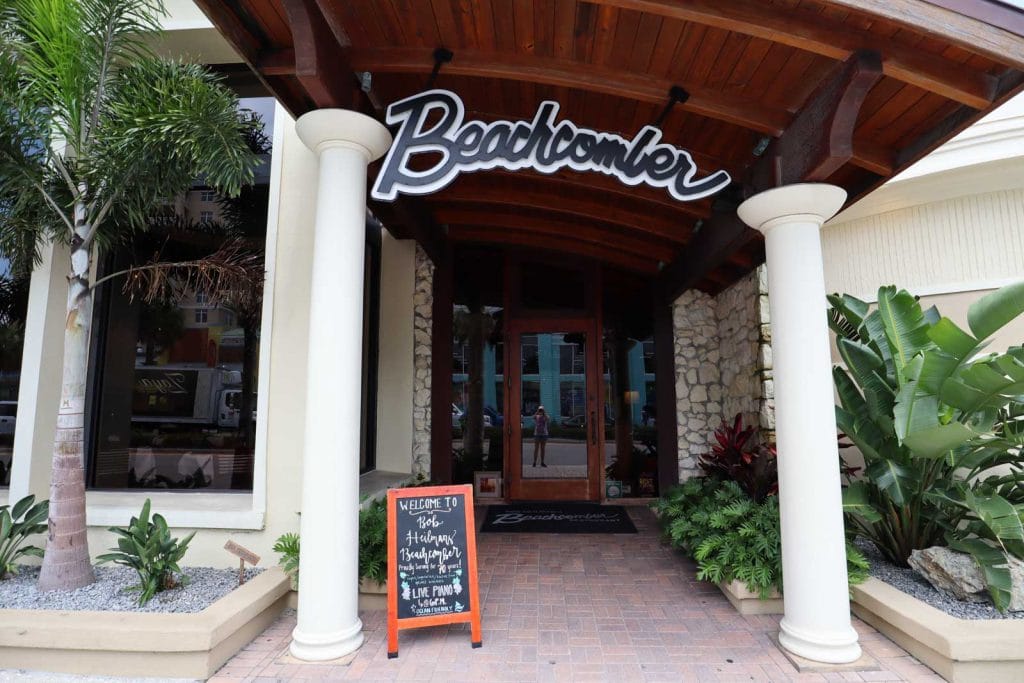 You can view the Beachcomber menu, here.
Plant-Based Options: The plant-based options at Beachcomber are west coast pasta, gourmet pizza, or an Impossible burger. For dessert, you can order a triple layer chocolate cake or the seasonal fruit compote.
13 - Clear Sky Cafe (Best Dining Any Time of Day)
Clear Sky Cafe actually was voted the restaurant with the best dining any time of day! Located right on Mandalay Avenue (we also love the location in downtown Clearwater), Clear Sky Beachside Cafe is where the locals eat breakfast, lunch, and dinner.
Clear Sky Cafe is known to have upscale gourmet food without gourmet prices and it's served in a relaxed environment with fun vibes. On Saturday, Sunday, and holidays they have a bloody mary bar and they serve brunch every Sunday. Don't pass the fun photo op (you can't miss it, it's a huge beach chair) right outside of the entrance to the restaurant!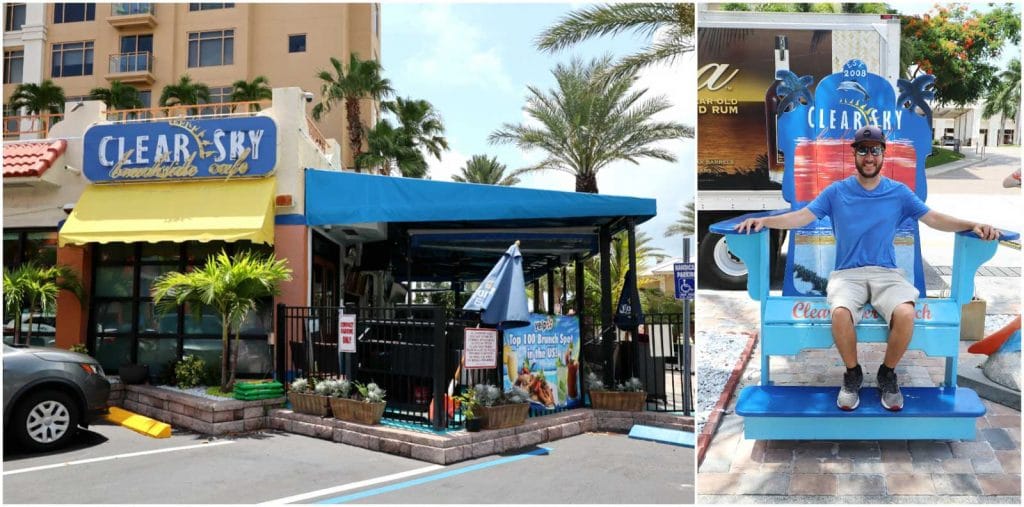 You can view the Clear Sky Cafe menu, here.
Plant-Based Options: You can order a modified beet salad, falafel with pita, Beyond Burger, wild mushroom dumplings (my favorite!) a modified sesame vegetable platter, or a modified burrito. Ask for Juan when you visit, he's an excellent server and is very knowledgeable on dietary food preferences and will help guide you through the menu.
12 - Ocean Hai (Best Resort Restaurant)
Ocean Hai is the Wyndham Grand Hotel signature dining restaurant. Ocean Hai earns a hai five from us because it features delicious upscale Asian fusion fare (and excellent service!) for breakfast, lunch, and dinner at affordable prices in an elegant setting.
You won't find a bad review online about Ocean Hai; the breakfast buffet is superb, the dim sum at lunch is excellent, and you'll love watching the sunset while enjoying fresh sushi at dinner on the outdoor patio. Save room for dessert, the giant fortune cookie is famous!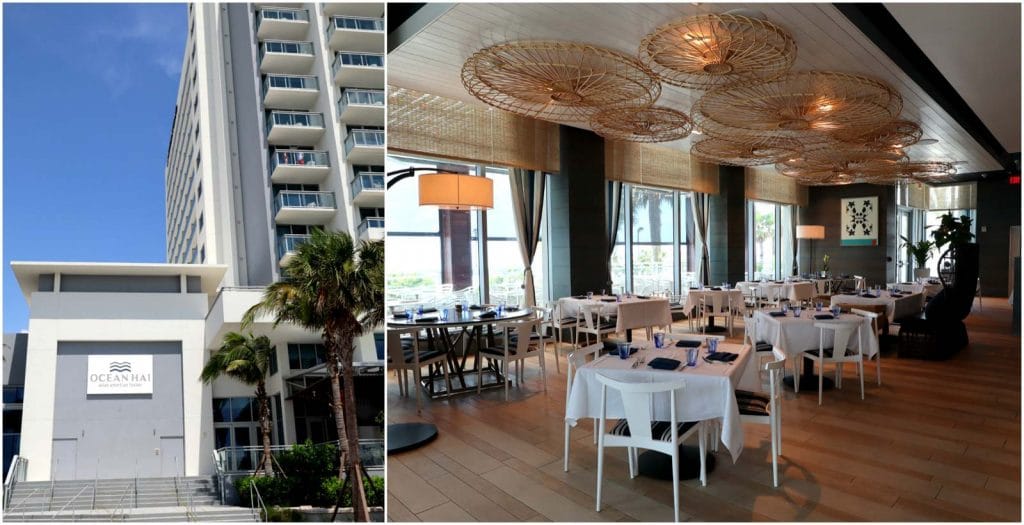 You can view the Ocean Hai menu, here.
Plant-Based Options: There is an entire vegetarian menu that our server told us can all be made vegan. You can order a modified Asian green salad, hearts of palm salad, heirloom beet salad, fried brussel sprouts, vegetable spring rolls, vegetable sushi roll, vegetable fried rice, vegetable hot pot, or vegetable lo mein.
11 - Basimo Cafe (Best Organic Cafe)
If you're looking for a health-conscious quaint cafe that offers delicious food made with high-quality organic ingredients, then Basimo (it means delicious!) Cafe is where you should go! Basimo Cafe is tucked away on the second floor of a building right on Mandalay Avenue. Grab a coffee and avocado toast (and a vegan donut!) for a quick breakfast before heading out to enjoy the beach!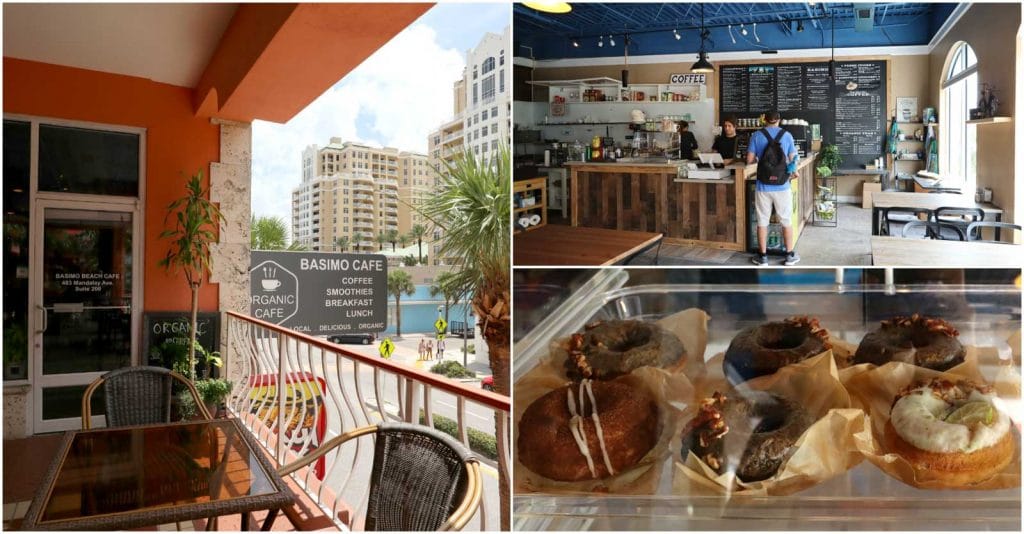 You can view the Basimo Cafe menu, here.
Plant-Based Options: You can order oatmeal, avocado toast, fresh fruit, hummus, a veggie burger, salad, any of the smoothies, or a vegan donut (when we were there they had vegan donuts from Sunshine Donuts).
10 - Taco Bus (Best Quick Bite)
Taco Bus is where it's at if you want hot and fresh, authentic Mexican fare. You'll find large portions of reasonably priced delicious food that's made quickly and to order at Taco Bus. This is a great spot to walk to for lunch after a fun day at Clearwater Beach!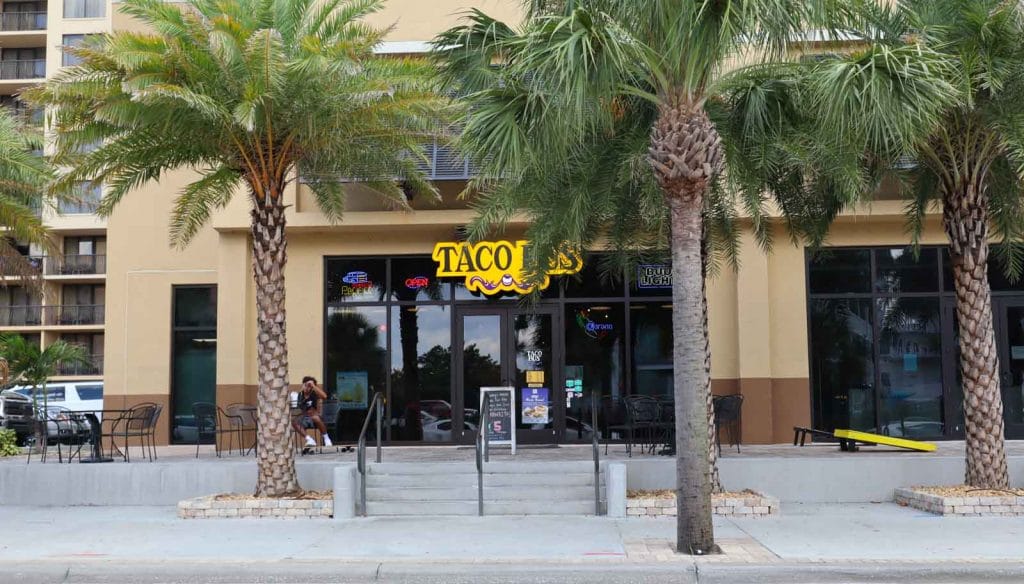 You can view the Taco Bus menu, here.
Plant-Based Options: You can order the portabello rancheros, vegan empanadas, vegan quesadilla, or tacos made with smoky chipotle-seasoned Plantfare protein, soy "steak" strips, or grilled butternut squash. They also have vegan VioLife cheese!
Best Waterfront Dining Clearwater Beach Restaurants
If you're looking for a restaurant with beautiful views of the water and delicious food, your search is over! In my opinion, the following restaurants are the best oceanfront Clearwater Beach dining options. You can't go wrong with any of these choices!
9 - Palm Pavillion (Best Family-Friendly Restaurant)
The Palm Pavillion has been open since 1926! It's a classic beachy Florida town restaurant that locals love and it's located directly on Clearwater Beach. You'll find delicious food, great drinks, fair prices, friendly service (ask for Vince!), live music, and a great place to watch the sunset.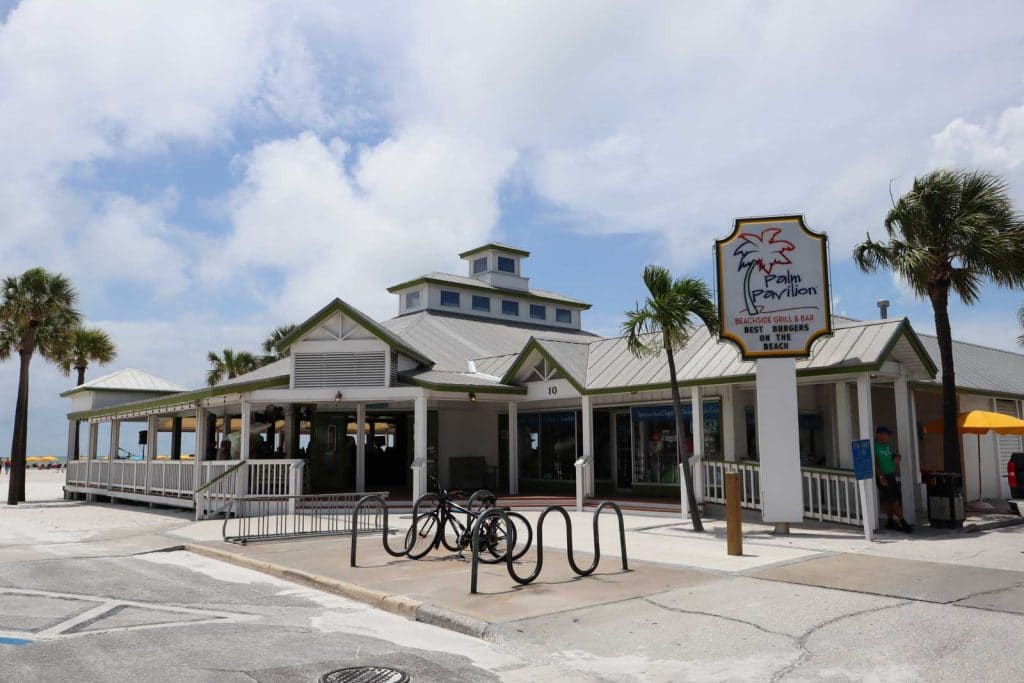 You can view the Palm Pavillion menu, here.
Plant-Based Options: You can order the chips and salsa, guacamole, a garden salad with balsamic vinaigrette, or the garden wrap.
8 - Marina Cantina (Best Atmosphere)
Visit the Marina Cantina if you want a restaurant with a fun atmosphere and good vibes all around! Try to visit close to sunset and ask to sit out on the gorgeous rooftop (weather permitting). You can enjoy fresh and unique cocktails, eat delicious food, and enjoy the breathtaking view!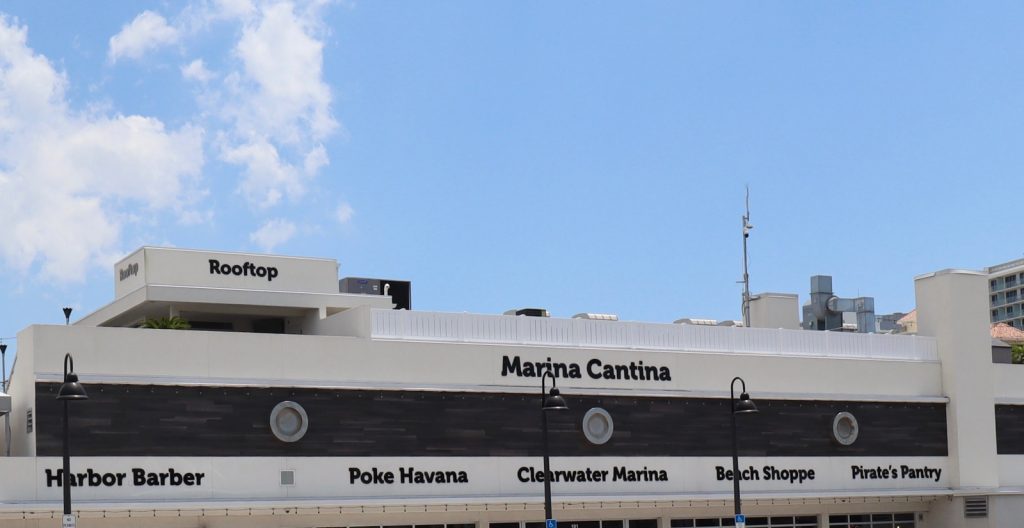 You can view the Marina Cantina menu, here.
Plant-Based Options: You can order the modified crispy cauliflower tacos, cauliflower steaks without butter, caprese salad without mozzarella, roasted plantains, side of street corn, side of black beans, side of rice, or the guacamole appetizer.
7 - Frenchy's Rockaway Grill (Best Seafood)
Frenchy's Rockaway Grill is the quintessential beachfront restaurant! Frenchy's is located directly on Clearwater Beach so you can throw on a coverup and walk right up to the restaurant after a fun day in the sun and sand.
Sit out back, watch the sunset, listen to live music, and enjoy the best seafood in Clearwater Beach while you sip on a tropical cocktail. I highly recommend that you try the she-crab soup and a blackened super grouper sandwich, it's absolutely delicious!
If Frenchy's Rockaway Grill has a really long wait, you could head to one of the other three locations on Clearwater Beach. We also like going to Frenchy's Saltwater Cafe on Poinsettia Avenue because it's a little quieter, the food is just as delicious, and the service (ask for Chris!) is great.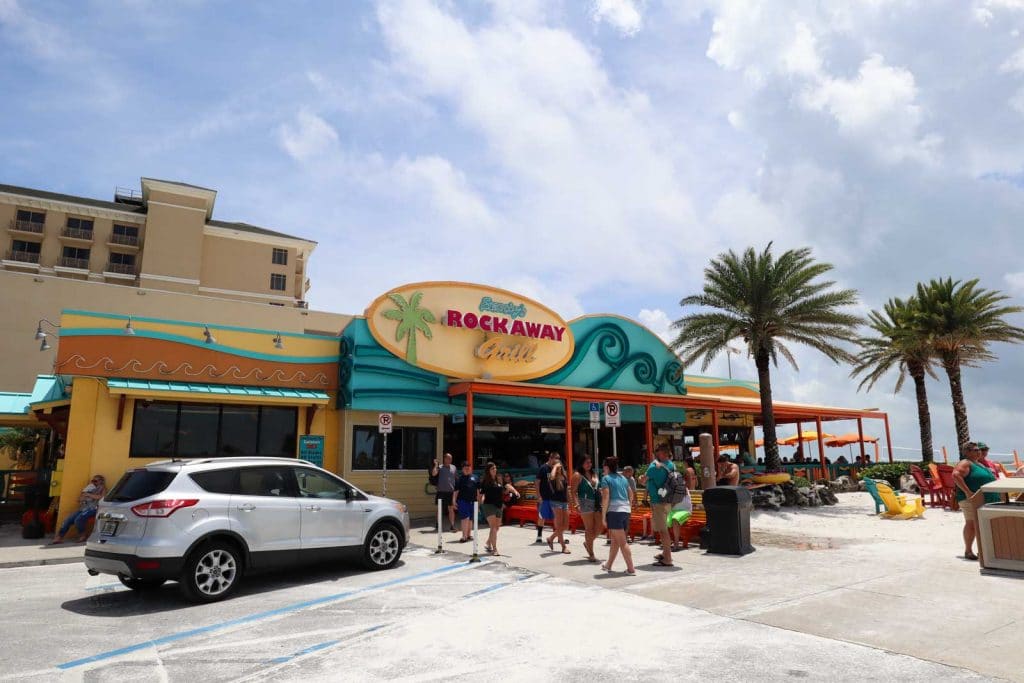 You can view the Frenchy's Rockaway menu, here.
Plant-Based Options: The plant-based options at Frenchy's are a garden salad or a Beyond burger.
6 - Columbia (Most Authentic Restaurant)
The Columbia restaurant in Sand Key has been a family favorite for years, we love it and you will too! Request a window table in the dining room so you can enjoy the light and airy Mediterranean-themed dining room and a view of the beautiful intercoastal waterway. They also have an outdoor patio if you'd like to eat outside.
For dinner, I recommend their famous 1905 salad, the sea bass a la rusa, vegetable paella (pictured), or the stuffed salmon, and make sure that you wash it down with a pitcher of their delicious sangria.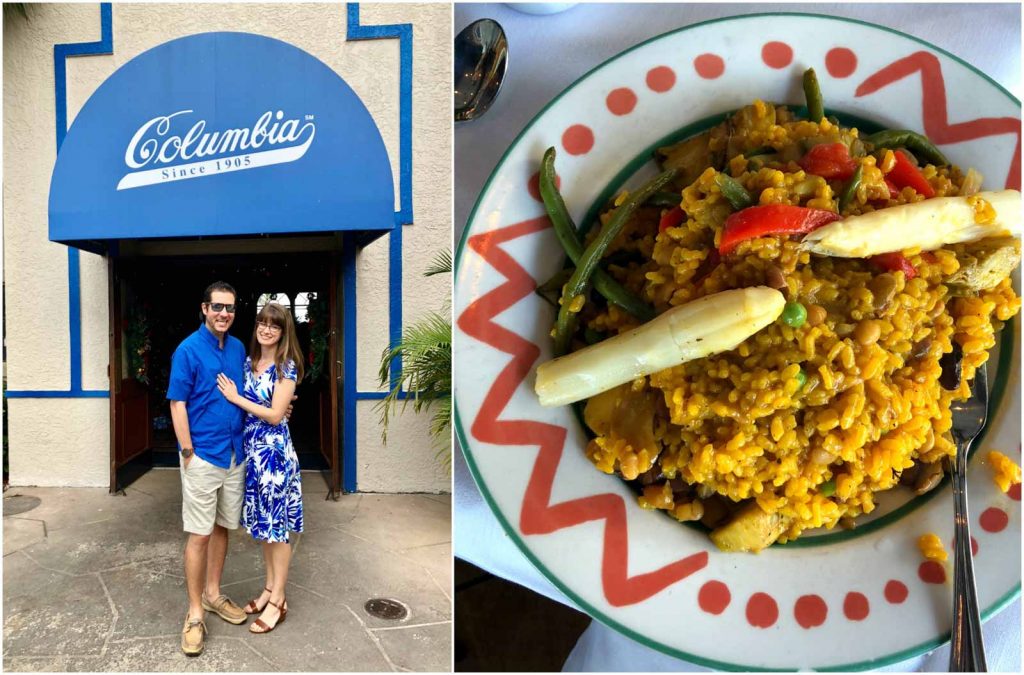 You can view the Columbia menu, here.
Plant-Based Options: You can enjoy the tableside vegetable paella and black bean soup, both options are delicious!
5 - Tate Island Grill (Best Beachfront Bar)
Tate Island Grill is a small casual beachfront bar and patio that's located next to the pool at the Sandpearl Resort. It's a great spot to enjoy some coastal-style pub fare and tropical drinks while you watch the sunset. You don't have to stay at the Sandpearl Resort in order to visit Tate Island Grill but I highly recommend it if you're looking for a hotel to stay at for your trip, it's a beautiful resort!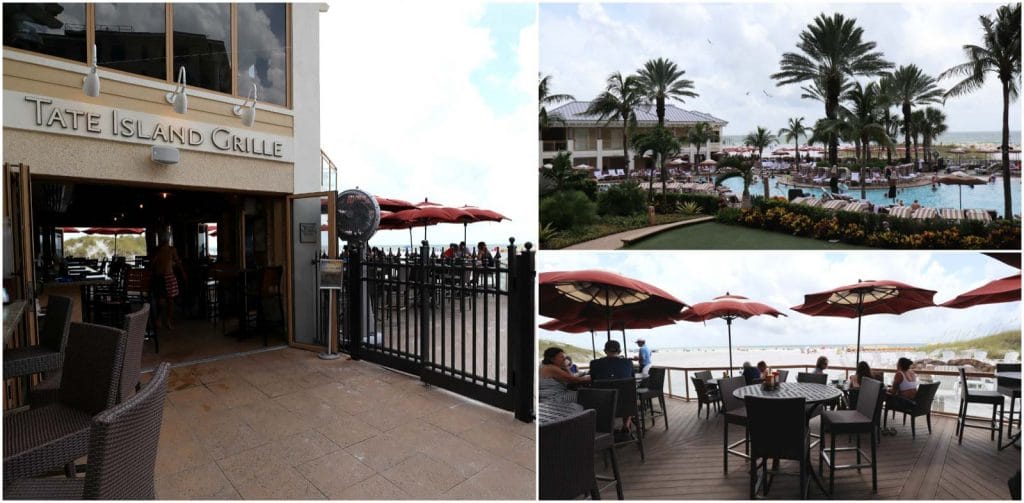 You can view the Tate Island menu, here.
Plant-Based Options: You can order a Beyond burger, vegetable quesadilla, or a hummus vegetable wrap.
4 - Caretta's on the Gulf (Best Fine Dining Restaurant)
What sets Caretta's on the Gulf (at the Sandpearl Resort) a step above all of the other restaurants is the stunning views of the gulf, impeccable service, expertly prepared food, and the elegant ambiance of the restaurant. Try to arrive before sunset so you can enjoy watching the sun go down while you eat, it's part of the experience! Caretta's on the Gulf also offers a champagne brunch on Sunday's that has rave reviews!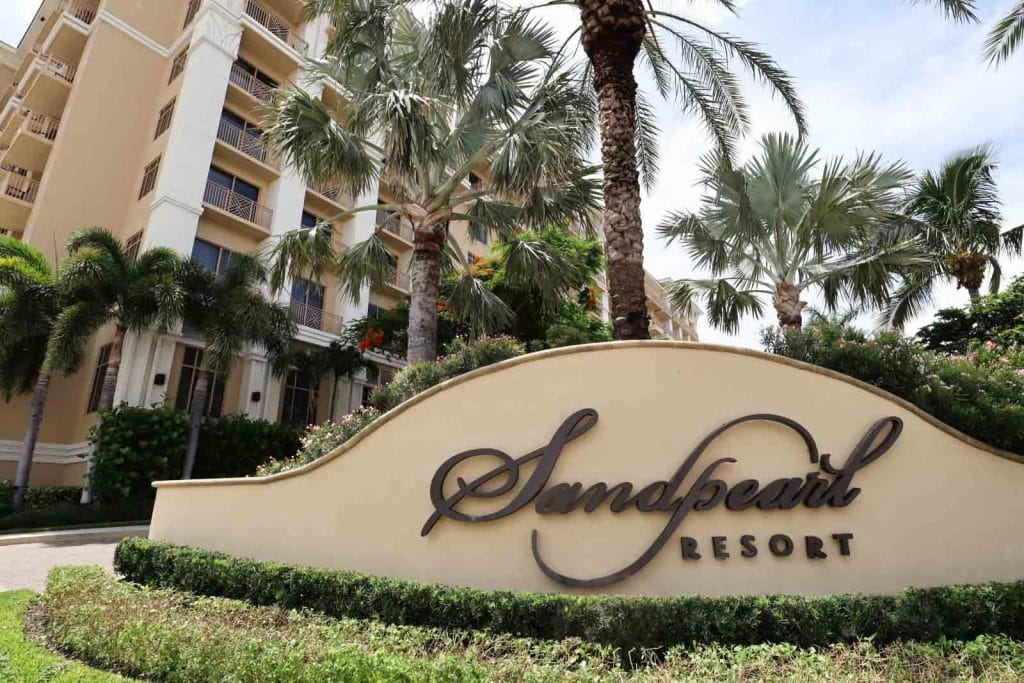 You can view Caretta's on the Gulf menu, here.
Plant-Based Options: There are no vegan options on the menu but the chef can make you a vegetable platter with grilled tofu and quinoa, salad, or vegetable sushi.
3 - Sea-Guini (Best Casual Resort Restaurant)
Sea-Guini is located inside of the stunning Opal Sands Resort (I recently stayed here, it's a gorgeous new resort!) which is located near the heart of Clearwater Beach on Gulfview Boulevard.
Sea-Guini is a beautifully-decorated, modern restaurant and lounge that offers fantastic food and a beautiful view of the water! The restaurant vibe is casual and relaxed but the food is gourmet! I highly recommend the baked artichoke fonduta and rustic pizza, it's absolutely delicious.
You can view the Sea-Guini menu, here.
Plant-Based Options: Sea-Guini has an entire vegan-friendly menu! You can order the spaghetti ali olio, truffle and asparagus risotto, or the vegetable lasagna. They also have almond milk for coffee with your breakfast!
2 - Sandbar (Best Waterfront Bar)
Head to the Sandbar if you want to put your toes in the sand and look at the water without actually stepping foot on the beach! This beach bar has the best oceanfront view of the Gulf! The sand-covered floor, tropical drinks, and being able to watch brilliant sunsets from the deck will make you feel like you're relaxing right on Clearwater beach.
The Sandbar is situated on the outside deck (of the Opal Sands Resort) and it overlooks the gulf. The large tiki hut bar, relaxed island vibes, colorful drinks, and delicious food will keep you coming back again and again!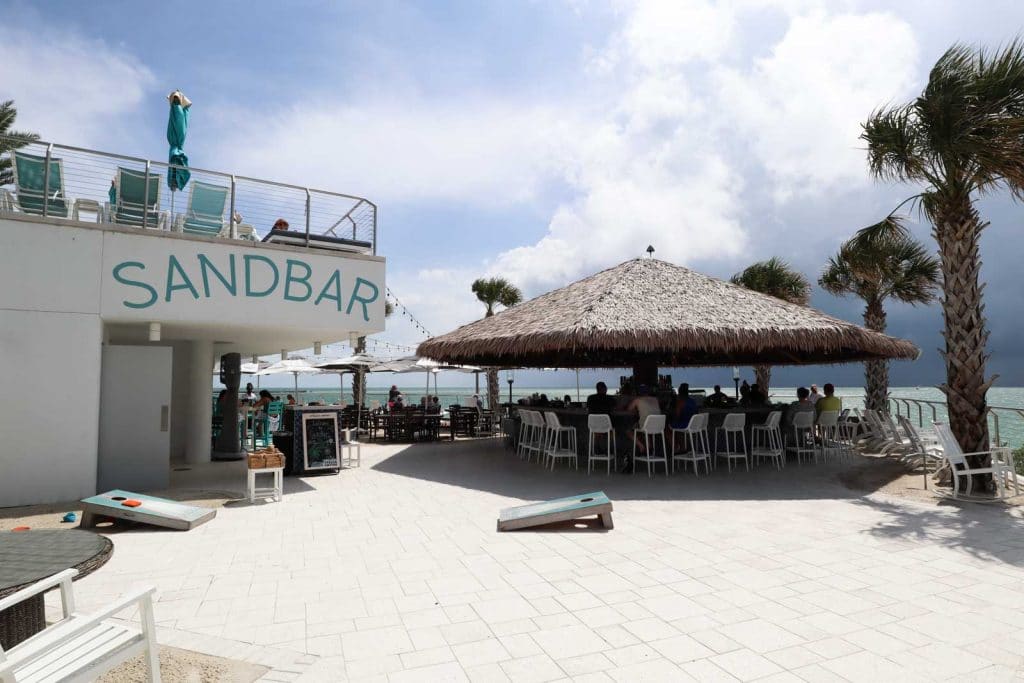 You can view the Sand Bar menu, here.
Plant-Based Options: You can order the chips and salsa, guacamole, or the hummus duo from the menu. You can also order any of the meals off the vegan menu from Sea-Guini.
1 - Island Way Grill (Best Sunday Brunch)
Island Way Grill is well known for their fresh seafood, extensive wine list (350+ bottles!), fresh sushi bar, and their award-winning Sunday brunch! If you're looking for the perfect place to celebrate a special event, wedding, or holiday (their Easter brunch is wonderful!) then Island Way Grill is where you should make a reservation.
Island Way Grill's Sunday brunch is especially popular, it features a bloody mary bar, carving stations, omelet bar, fresh seafood, waffles, pancakes, french toast, eggs benedict, fruit, sushi, oysters, salmon, shrimp, crab, assorted salads, a kids station, and dessert + a complimentary mimosa. If the weather is nice, grab a table outside on the back deck, it's a lovely spot to relax, enjoy your food, and look for dolphins!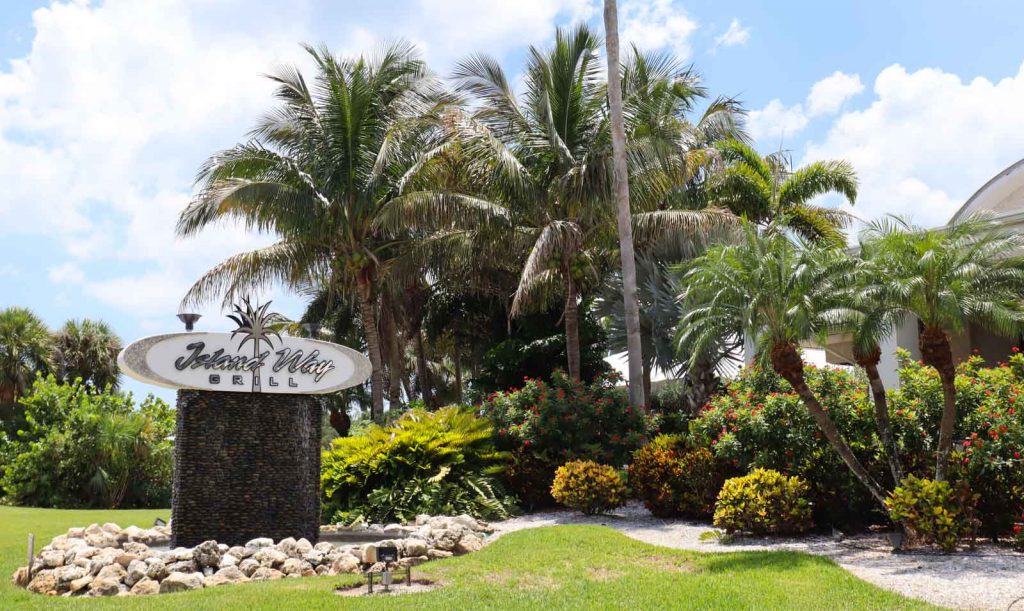 You can view the Island Way Grill menu, here.
Plant-Based Options: menu - At brunch, a few of the prepared salads on the buffet are vegan as-is but make sure that you ask which ones are safe as they change seasonally. There is also fresh fruit, roasted vegetables, roasted potatoes, fresh bread, and you can order vegetable sushi rolls.
If you visit on any other day, you can order a vegetable pasta, veggie stack, modified buffalo cauliflower, vegetable stir fry, vegetable rice bowl, or vegetable sushi off the menu.
What Should You Do After Dinner?
After you enjoy a delicious dinner at one of these Clearwater Beach restaurants, I recommend that you walk the boardwalk and check out the Sunsets at Pier 60 daily festival. The festival runs 364 days a year, from two hours before until two hours after sunset. It's really fun to explore!
The nightly sunset celebration features crafters, artisans, street performers, and it's a great spot to watch the sunset. Remember, Florida weather can change in minutes (especially during the summer) so make sure you check the weather before you head to the pier.
Clearwater Beach Nightlife
After the sun goes down, the Clearwater Beach nightlife is still going strong with live music and drinks at Frenchy's, Palm Pavillion, the Bait House, and Marina Cantina to name a few.
We also like to grab late-night cocktails at Jimmy's Crows Nest, even at night it has a beautiful view! If you're looking for more of a club vibe, head over to the Wave night club at Shephard's Resort for adults-only dancing and drinks.
More Florida Attraction Guides to Help You Plan Your Vacation!
I hope that this list of the best Clearwater Beach Florida restaurants helps you to plan your beach vacation! While you're in the area, you might also be interested in checking out the following fun things to do!
Ultimate Guide to Caladesi Island + How to Walk There!
10 Fun Activities to do at Rainbow Springs State Park
Your Guide to Paddle Boarding Down the Weeki Wachee River
159 Disney Cruise Tips You Need to Know Before Your First Cruise!