If you're vegan and you're planning a Disney vacation, you need this list of the best quick service Disney World meal options. Eating vegan at WDW isn't hard or expensive, you just need to know where to go and what to order!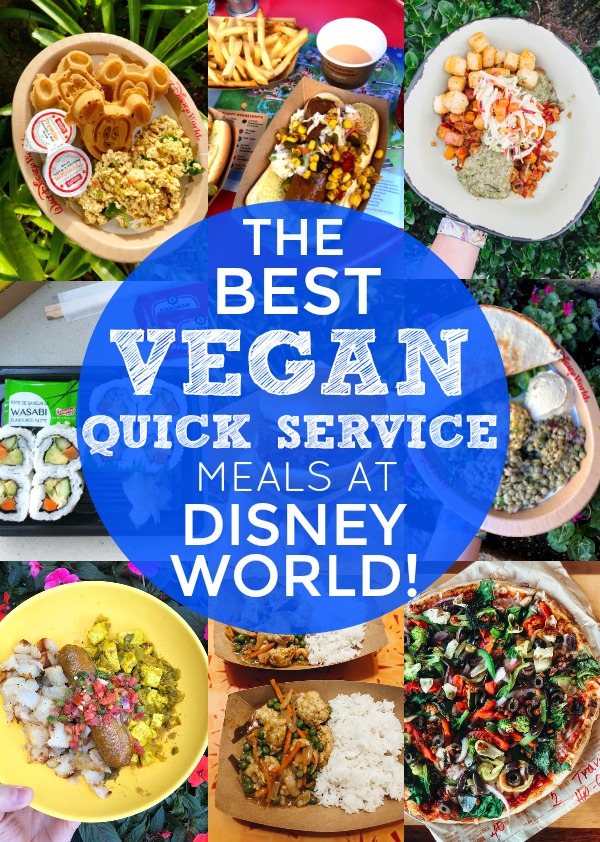 I'm vegan, I'm a Disney World local, I love to eat, and I've eaten at a lot of Disney quick service restaurants over the years. You can trust my taste buds, they won't steer you wrong! This isn't just a list of all the vegan quick service options, it's only a list of the best vegan quick service options at Disney World.
I've compiled this list of the 13 best vegan Disney World quick service restaurants to make it easy for you to find the most delicious, fast, and inexpensive vegan food on your next Disney vacation!
Can You Eat Vegan at Disney World? 
Yes, it's very easy to eat vegan at Disney World! Every day, WDW is becoming more and more vegan-friendly. They even recently came out with a plant-based guide to the Magic Kingdom and bet the other Disney parks will be following suit soon. This quick service dining guide will help you navigate the quick service restaurants at each of the Disney parks, some of the resorts, and at Disney Springs.
If you're also looking for more Disney restaurants (table service, character meals, fine dining) that have delicious plant-based options to try, check out this list of the Best Restaurants in Disney World!
Disney Quick Service Dining Plan
If you purchase the Disney quick service dining plan for your vacation, you (and everyone in your party over the age of 3) will receive the following:
Two quick service meals + two snack credits per person, per night of your package.
Refillable drink mug + unlimited free refills during your stay.
Each quick service meal includes 1 entree + 1 non-alcoholic beverage, you can read more package details, here. If you have the Disney quick service dining plan then this is a great opportunity for you to try many of the meals on this list!
Best Quick Service Disney World Vegan Meals 
In my opinion, the following vegan meals are the best quick service Disney World options available. There are other vegan quick service meals available but if I didn't include them on this list it's because I didn't like it or I haven't tried it yet. If you think the list is missing a delicious vegan option, please leave me a comment and tell me about it!
I hope that you try each of these Disney quick service restaurants the next time you visit, you won't be disappointed! It's easy to eat delicious vegan food at Disney World, you just need to know which tried and true meals to order! 
13 - Plant-Based Burger from Everything POP Food Court (Pop Century)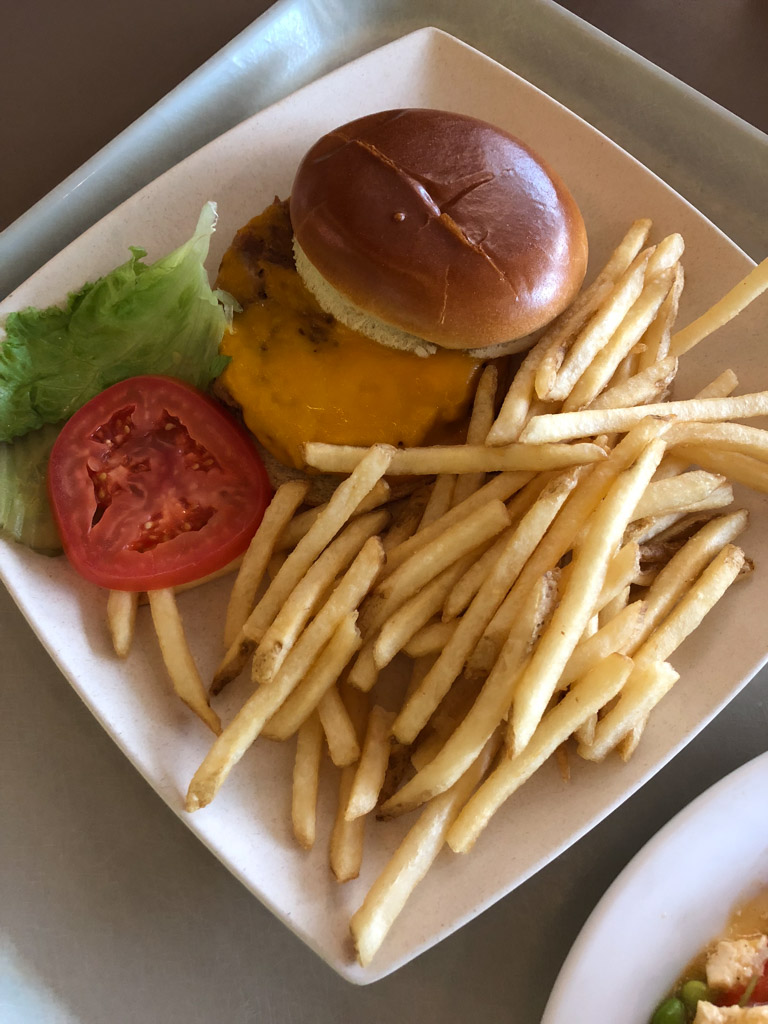 This plant-based burger features a beyond burger with avocado, vegan cheese, lettuce, and tomato on a brioche bun and it comes with a side of fries. We weren't expecting much since it was from the Pop Century food court but we really enjoyed this burger!
We asked them to cook it a little bit longer so the burger got some color on the outside, the first time we got it it wasn't very hot and it was still a little pink on the outside. The fries were fresh and hot and delicious!
You can also get a Plant-Based burger at the Landscape of Flavors food court at Art of Animation, the Riverside Mill food court at Port Orleans, Gasparilla Island Grill, at the Grand Floridian Resort and a few other places. However, I have to tell you that we haven't had good luck with the burgers at Liberty Inn, they're always cold and undercooked.
12 - Vegan Tomato Basil Pizza from Gasparilla Island Grill (Grand Floridian Resort)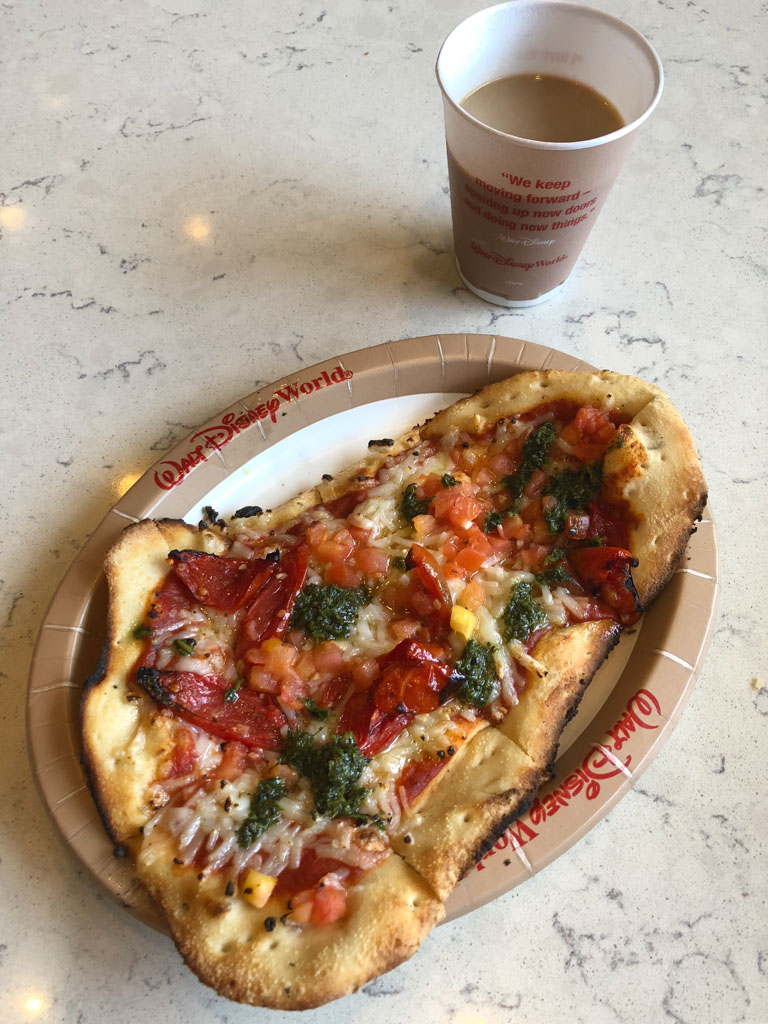 The Gasparilla Island Grill at the Grand Floridian actually has an entirely vegan menu for you to choose from!  We really enjoyed the vegan chicken sandwich and this vegan tomato basil pizza. The basil pesto sauce is a little oily for my taste, so if I got it again I would order the basil pesto on the side.
If you'd like a cup of coffee with your meal, they have almond milk that they will put in a small cup for you if you ask.
11 - Seitan Breakfast Scramble from Landscape of Flavors Food Court (Art of Animation)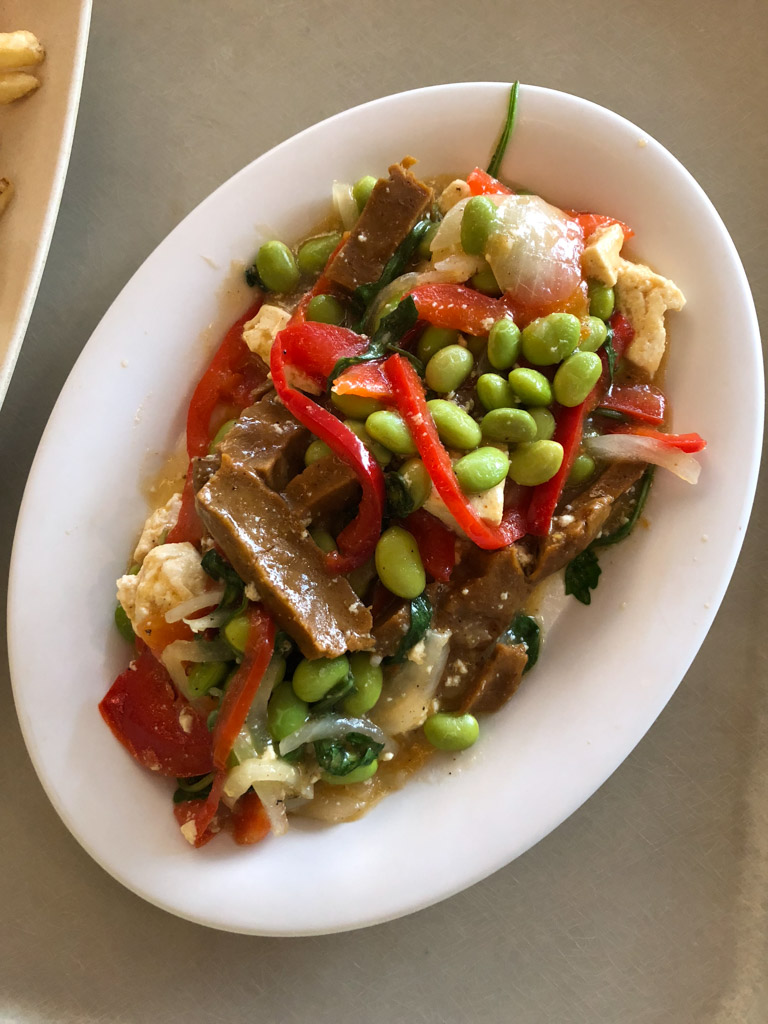 This vegan breakfast scramble is surprisingly delicious and filling! It features sauteed edamame, tofu, chipotle-seasoned seitan, arugula, peppers, and onions. The tofu is a little bland but the seitan is very flavorful so it makes up for the tofu's lack of seasoning.
10 - Vegetable Sushi from Katsura Grill (Japan Pavillion - Epcot)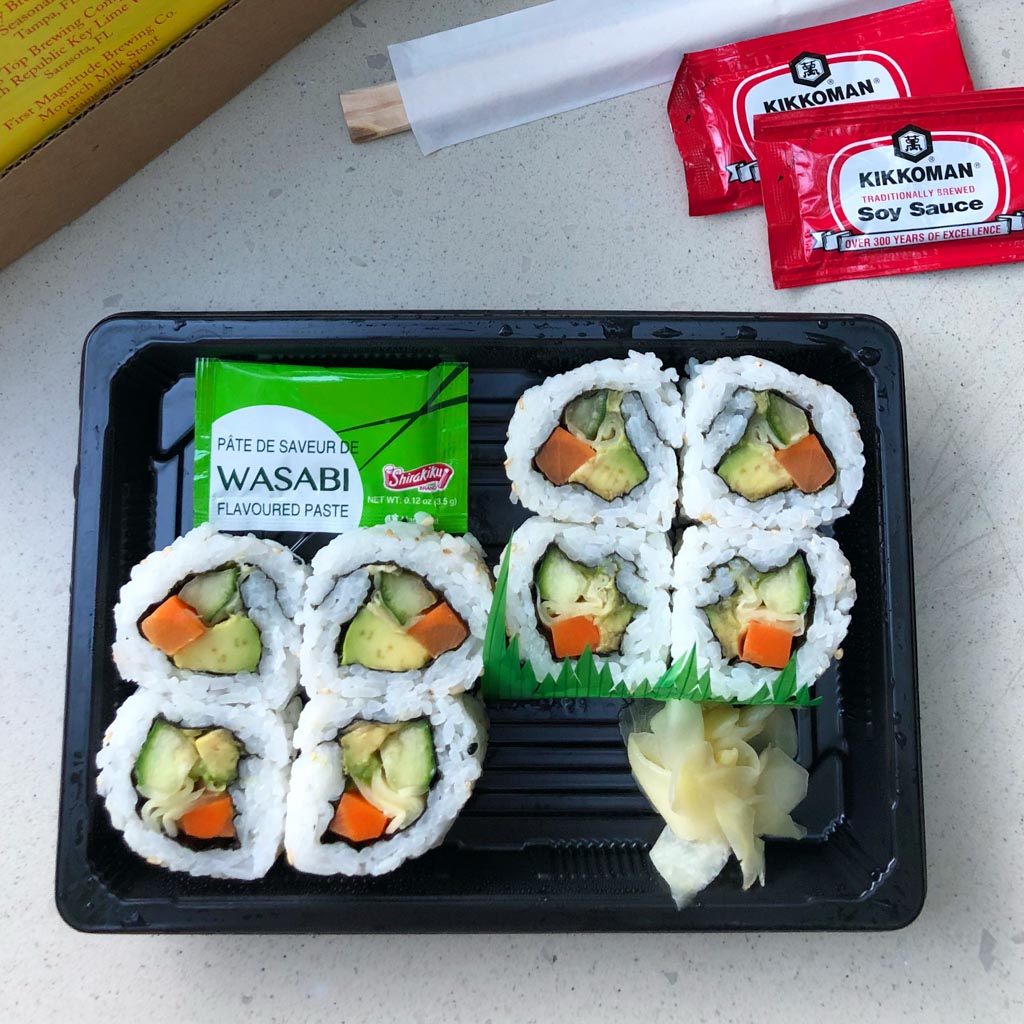 The pre-made package of vegetable sushi at Katsura Grill is tasty! We really enjoyed the fresh crisp carrots, avocado, and cucumber in the sushi roll and we liked that it came with fresh ginger. It's more of a snack than a meal for us but it's consistently delicious.
9 - Plant-Based Loaded Slaw Dog from Casey's Corner (Magic Kingdom)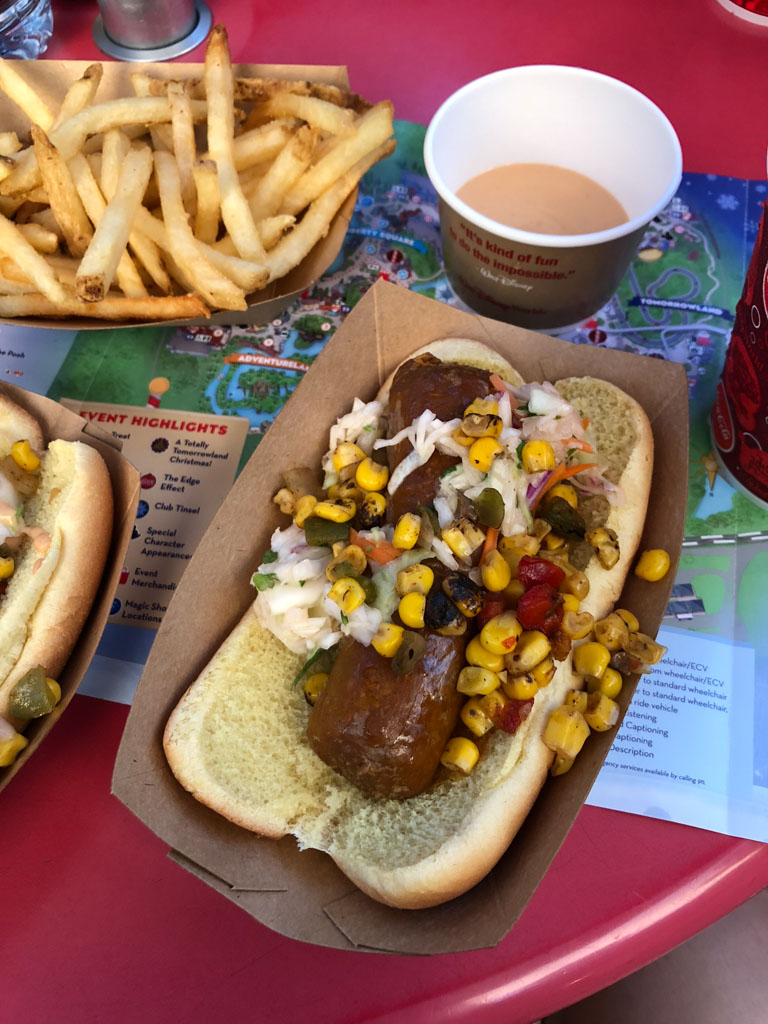 The loaded slaw dog features pickled slaw, BBQ vegan aïoli, and roasted corn relish and it's served with a side of fries or apple slices. If you don't want all of the toppings, you can save $2 and just get some mustard and sauerkraut from the toppings bar. Grab a table that overlooks Cinderella castle for a tasty lunch with a great view!
8 - Vegan Bounty Platter from The Mara (Animal Kingdom Lodge)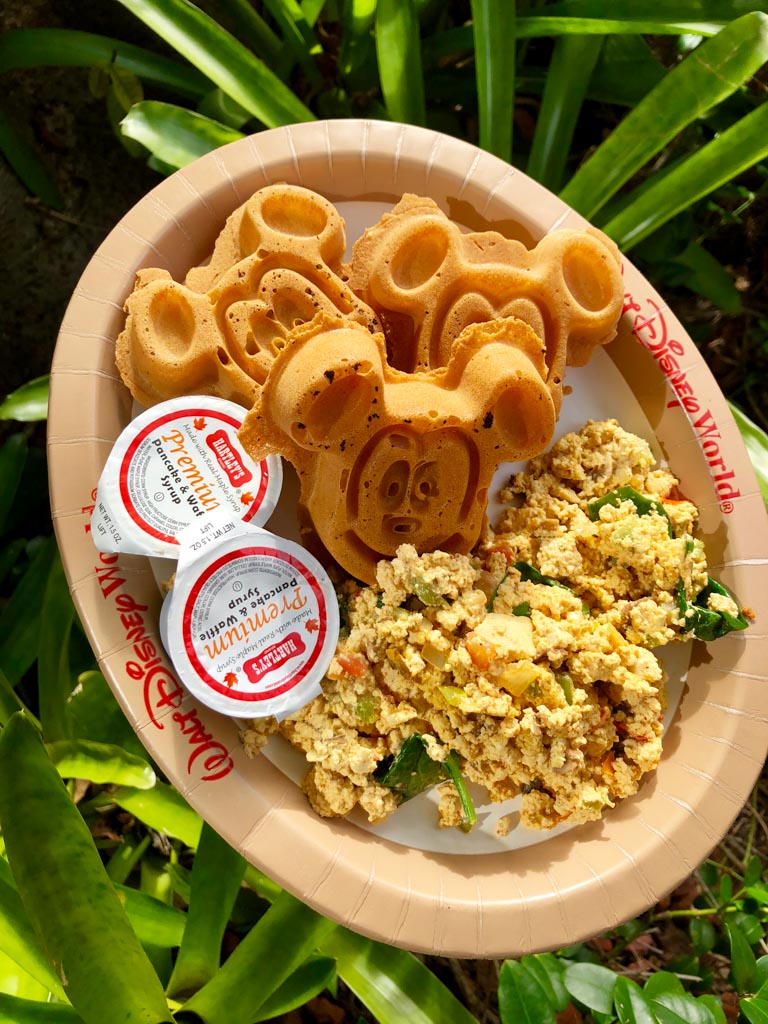 The Mara doesn't have a vegan option on the menu but if you ask to speak to an allergy coordinator they can make you a veganized version of the Bounty Platter from the breakfast menu.
The tofu scramble is just as good as the one that they make for vegans at the Boma breakfast buffet and the Mickey waffles were hot and crispy. I highly recommend this vegan option for a delicious breakfast!
7 - Plant-Based Southwest Cheese Burger from Pecos Bill Tall Tale Inn & Cafe (Magic Kingdom)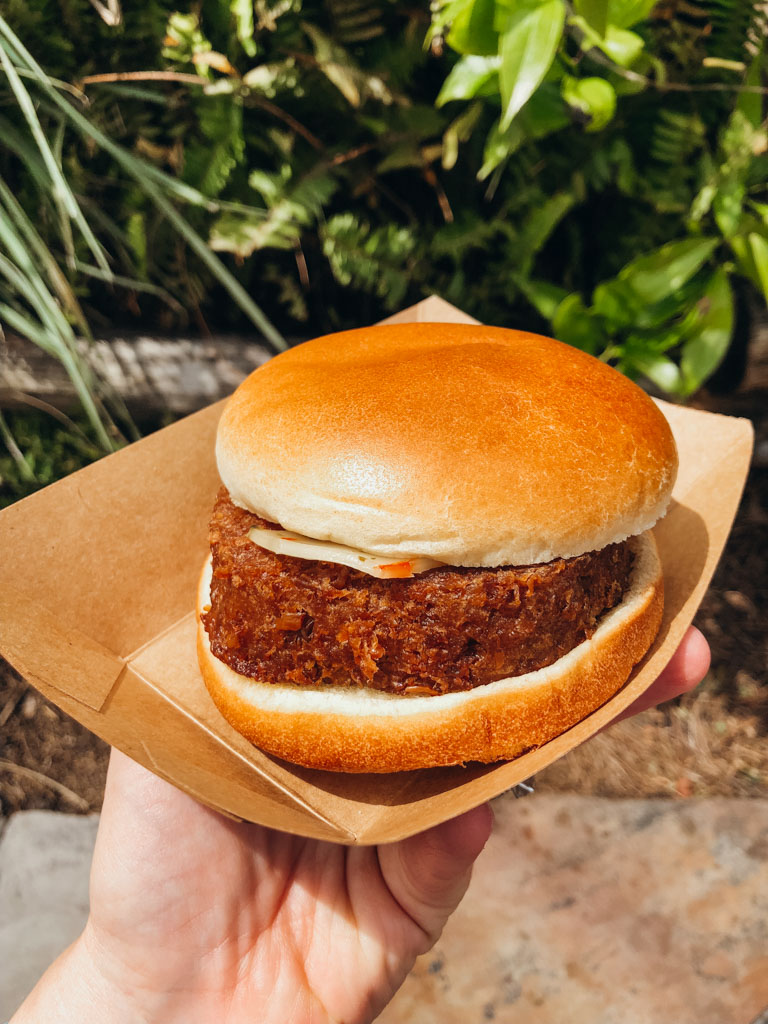 This is our favorite vegan quick service burger! We love that it comes with vegan jalapeno jack cheese, avocado aioli (ask for extra!), and it's served on a toasted bun. It's served with a side of chips and you can help yourself to salsa, lettuce, tomatoes, and pickles from the toppings bar.
6 - Seven Layer Rice Bowl from Fairfax Fare (Hollywood Studios)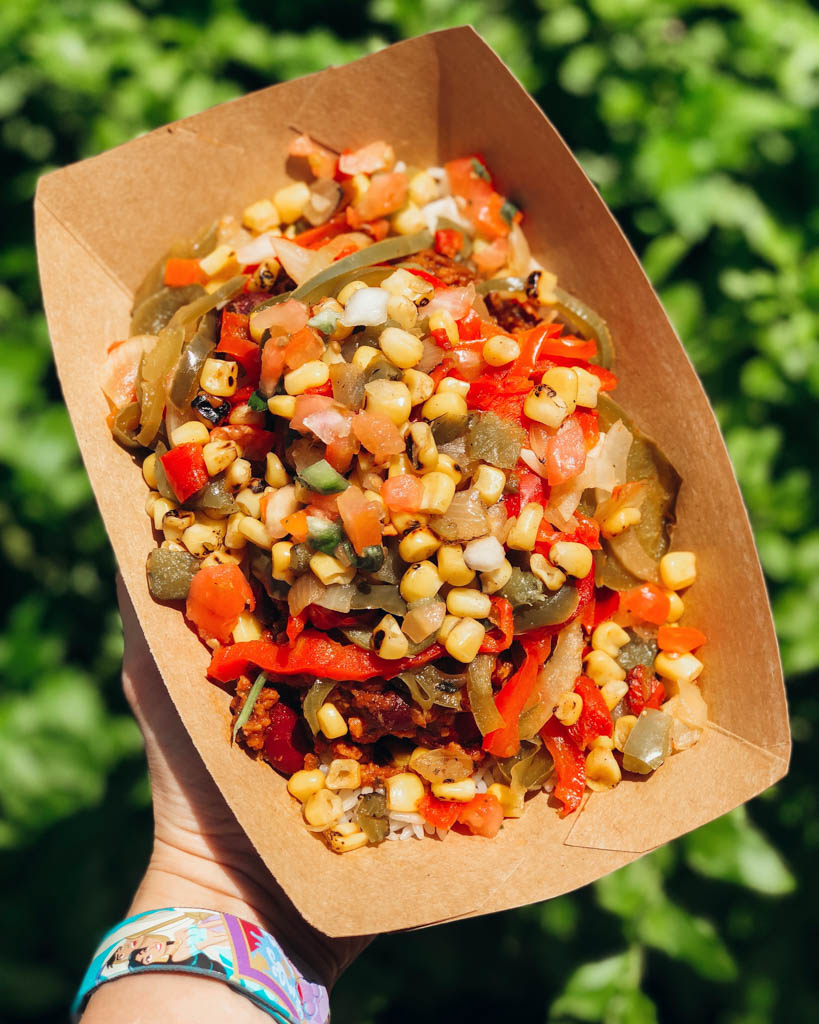 To be honest, when I first ordered this 7-layer rice bowl from Fairfax Fare, I really wasn't expecting much but I was happily surprised! It's a huge portion and it was hot, fresh, and very flavorful.
To order a veganized 7-layer rice bowl, ask for it to be made without cheese and sour cream, and to substitute vegan chili for the meat. You can also add guacamole for $1 extra if you'd like.
5 - Plant-Based Breakfast Bowl from Centertown Market (Caribbean Beach Resort)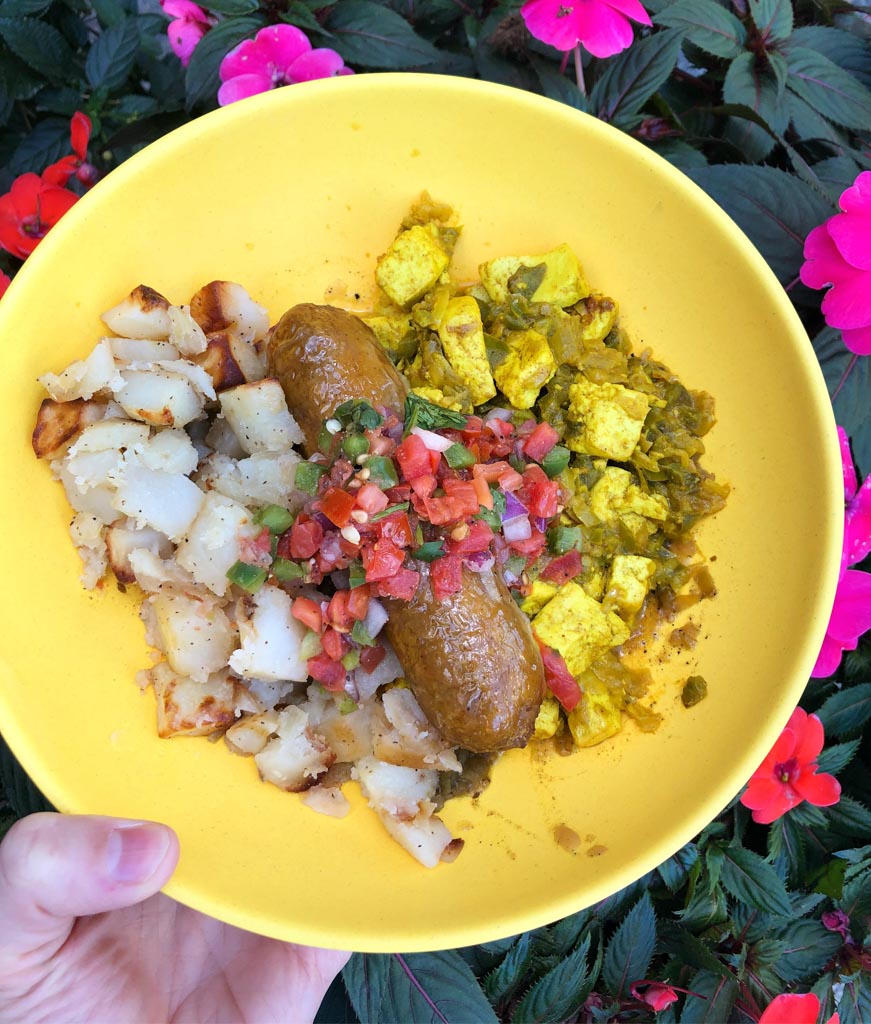 I love this plant-based breakfast bowl from Centertown Market. It features a very flavorful Just Egg or tofu scramble, potato hash, pico de gallo, and hot and crispy vegan sausage. This breakfast is very filling and I loved every bite. You could also order avocado toast if you're still hungry!
4 - Chili-Spiced Crispy Fried Tofu Bowl from Satu'li Canteen (Animal Kingdom)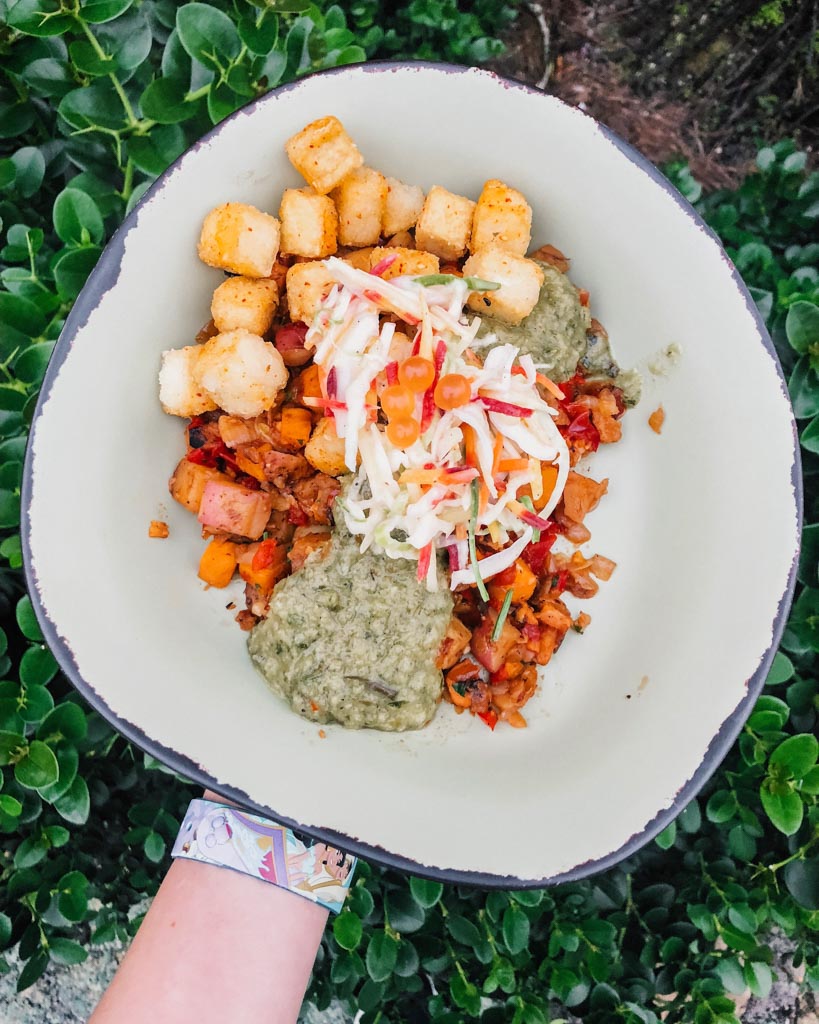 This crispy tofu bowl is one of my top favorite vegan quick service options because of how consistently delicious it always is! I love the combination of crispy tofu, sweet potato hash, crunchy slaw, and the flavorful charred onion chimichurri sauce!
Make sure to always ask if the boba balls are vegan or not because for some reason they switch suppliers so the ingredients tend to change.
3 - Vegan Korma from Sunshine Seasons (Epcot)
The vegan korma at Sunshine Seasons is inexpensive and absolutely delicious! It's loaded with cauliflower, vegan Gardein chicken, cashews, green peas, carrots, onions, and a very flavorful sauce.
The korma is served with a hearty side of rice and it's very filling. Try to visit Sunshine Seasons at an off time otherwise, the food court is packed and it can be difficult to find a seat on a busy day!
2 - Vegetable Platter from Tangerine Cafe (Epcot)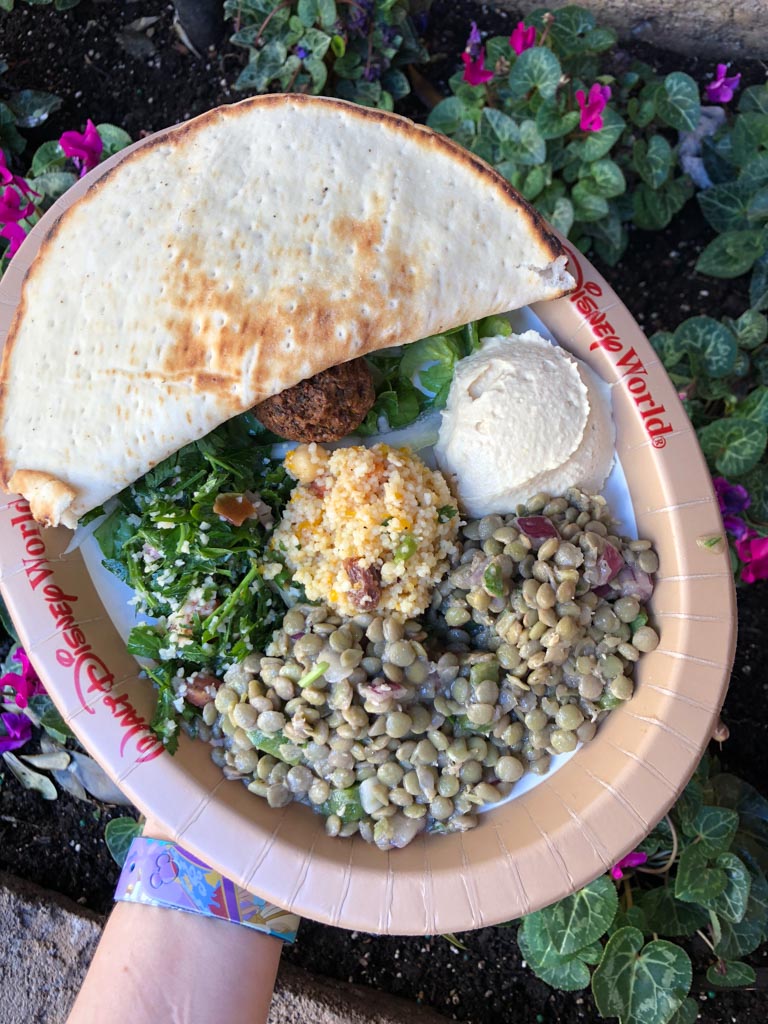 I love love love the vegetable platter at Epcot, it's huge and delicious! The platter features cold lentil salad, tabouleh, couscous salad, a scoop of hummus, three falafel, lettuce, and a pita wrap.
The falafel is fried in a shared fryer so if that is an issue for you then you should avoid this meal. Also, ask to speak with an allergy coordinator and ask if the pita is vegan. They often change their supplier and the pita ingredients sometimes contain dairy. I haven't run into this issue but I've heard of others experiencing it.
1 - Vegan Pizza from Blaze Pizza (Disney Springs)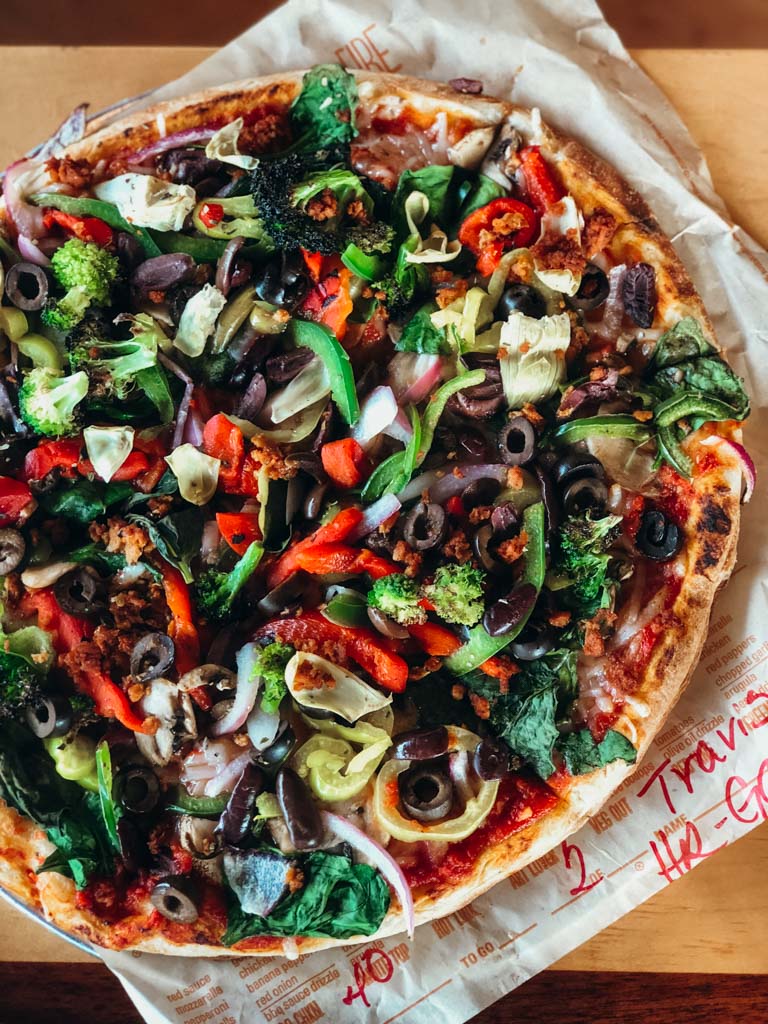 The pizza at Blaze is AWESOME and it's by far the best quick service Disney Springs option. For under $10 you can get a pizza with vegan cheese, unlimited veggies, and they even have vegan chorizo now! It's such a great deal, you even get a discount if you're an annual passholder. They also have a loyalty app that you can download to your phone to help you get even more discounts!
The thin, high-rise (my favorite!), and gluten-free crusts are all vegan as is and so is the classic and spicy red sauce. They will also ask you if you'd like a glove change before they make your pizza which I always take them up on and recommend that you do the same. I also love that they have something for everyone, no matter what your dietary preference is.
Quick Service Disney World Vegan Desserts 
After you eat a delicious vegan meal at your favorite quick service, you gotta get dessert too! You are on vacation after all, am I right? The following desserts (from top left to right) are our favorite vegan desserts that you can find at quick service restaurants in Walt Disney World.
Coconut Pineapple Cupcake (Sunshine Seasons)
Raspberry Sorbet (Ghiradelli)
Mini Cupcakes (The Mara Grab & Go)
Beignets (Port Orleans Food Court)
Erin McKenna's Bakery has so many yummy options, we especially love the mint chocolate cookie, coffee mocha cupcake, mint chocolate cupcake, eclairs, and the chocolate soft serve.
Pineapple Dole Whip (Aloha Isle or Pineapple Lanai)
Assorted Dole Whips (Magic Kingdom)
I also love to grab a hot or iced almond milk latte from Joffrey's to go with my dessert. If you get a hot latte from the Joffrey's store in Disney Springs you can get a design on top of your coffee for an additional $.50.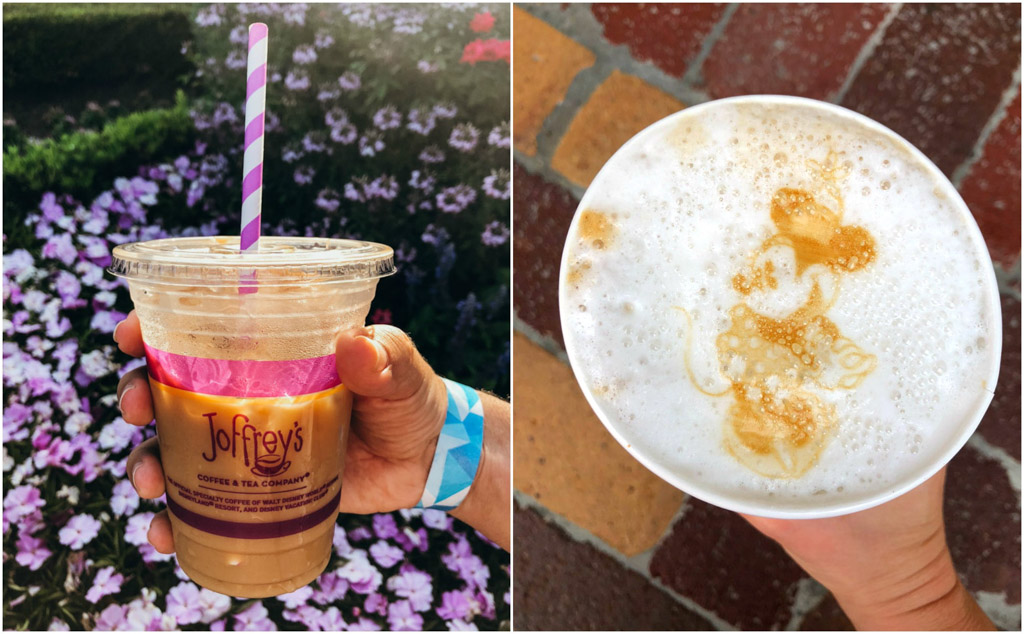 I hope that this Disney quick service dining guide is helpful to you on your next vacation! If I missed anything that you think is especially delicious, please leave me a comment and tell me about it so I can add it to my list to try!
More Disney World Posts to Help You Plan Your Next Trip
Guide to Eating Vegan on a Disney Cruise
159 Disney Cruise Tips I Wish I Would've Known Before My First Cruise