Read this list of the Best Restaurants in Disney World (table service, character meals, and fine dining!) before you make any reservations for your next WDW vacation! This list has suggestions for any type of Disney dining that you're looking for!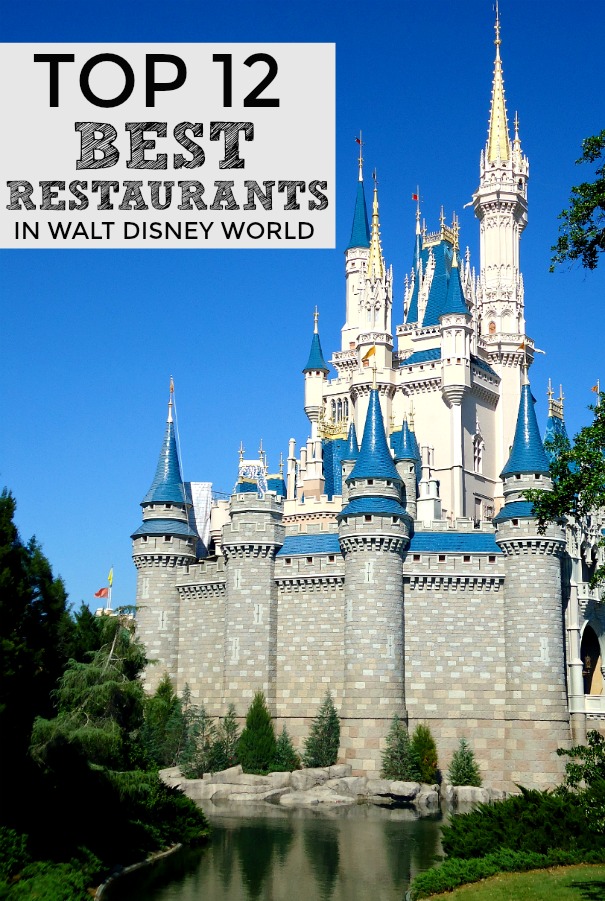 As an Orlando local, I've been visiting Walt Disney World for the last 30 years. During that time, I've eaten at many restaurants in the Disney bubble (at the Parks, Resorts, and Disney Springs), multiple times!
Over the years, I've definitely gone back to certain restaurants more than others because I think that they're the best for a reason! That reason could be based on food, presentation, experience, atmosphere, decor, characters, or all of the above. Based on my experiences, I've compiled a list of the best restaurants in Walt Disney World to help you plan your next vacation!
What makes this list of the best dining in Disney World unique is that each restaurant is also allergy and vegan-friendly. My husband and I have been vegan for almost three years now and all of these restaurants have delicious options for everyone to enjoy!
Many of these restaurants were my favorite before I was vegan but they continue to surprise us with new plant-based options almost every time we visit! I included links to the menus for each restaurant + what plant-based options they offer, so you can check out the food and decide if it's somewhere you'd like to eat or not no matter what your dietary preference is.
This list is not just one category of tourist-friendly restaurants, it contains a range of restaurants from quick service to fine dining. No matter what type of dining experience you are looking for, there's an option for you on this list! Before we get to the list, let's go over some of the most asked Disney World restaurant questions.
What is the Best Restaurant in Magic Kingdom? 
The best Magic Kingdom restaurant is by far, Cinderella's Royal Table. You get to dine inside of Cinderella Castle, the food is delicious, you can meet multiple princesses while you eat, and if you time it right, you can watch the fireworks from the window while you eat!
What are the Hardest Reservations to Get at Disney World?
In my experience, the hardest reservation to get at Disney World is for dinner at 'Ohana at the Polynesian Resort and for Cinderella's Royal Table. Your best shot is to book 6 months out or hope that someone cancels their reservation the day before and you can grab it last minute.
When Can You Book Restaurants at Disney World?
You can book restaurants at Disney World 180 days prior to your vacation. I recommend booking as soon as your window opens up for the best selection.
Where Can You Eat With Princesses at Disney World?
You can dine with multiple princesses at the Bon Voyage Breakfast (Trattoria al Forno), Akershus, Cinderella's Royal Table (Cinderella Castle), and at the Perfect Princess Tea (Disney's Grand Floridian Resort & Spa). You can also see Cinderella at Cinderella's Happily Ever After dinner (1900 Park Fare) and Snow White at Storybook Dining (Artist Point).
What Character Dining is the Best at Disney World?
My favorite character dining restaurants at Disney World are Cinderella's Happily Ever After Dinner at 1900 Park Fare, Minnie's Beach Bash Breakfast at Cape May, Cinderella's Royal Table at Cinderella Castle, Crystal Palace at the Magic Kingdom, and Tusker House at the Animal Kingdom.
Best Restaurants in Disney World For Adults
The best restaurants in Disney World for adults are Trader Sam's, California Grill, Victoria & Albert's, Flying Fish, and Monsieur Paul.
What Are the Best Table Service Restaurants at Disney World?
The best table service restaurants in Disney World are Be Our Guest, Yak & Yeti, Cinderella's Royal table, 'Ohana, Le Cellier, Monsieur Paul, Spice Road Table, and Via Napoli.
What Are The Best Buffet Restaurants at Disney World?
The best buffet-style restaurants in Disney World are Boma, Cape May, Tusker House, 1900 Park Fare, and Biergarten.
What Restaurant Should I go to?
It all depends on your budget, what type of food you like, what kind of experience are you looking for? What is more important to you: food or atmosphere? Look through my list of the best Disney dining options and I think it will help you to decide which restaurants are best for you!
What are the Best Dining Experiences at Disney World? 
If you read through the previous questions then you probably have an idea of what I think the best restaurants in Disney World are but you might find some of the categories to be a surprise! In no particular order, I think that you can consider the following restaurants to be some of the best dining in Disney World as of Summer 2019. If anything changes, I'll be sure to update this list!
Top 12 Best Restaurants in Disney World!
1 - Boma (Restaurant with the Most Authentic Food)
You can't go wrong with breakfast or dinner (I love them both!) at the Boma in the Animal Kingdom Lodge. The restaurant is designed to look like an African Marketplace, complete with a thatched roof, vibrant colors, exotic animal themed decor, and lots of delicious food.
The buffet features bold flavors from over 50 African countries! After you eat, make sure to explore the resort and savannas where over 200 hooved animals and birds call home!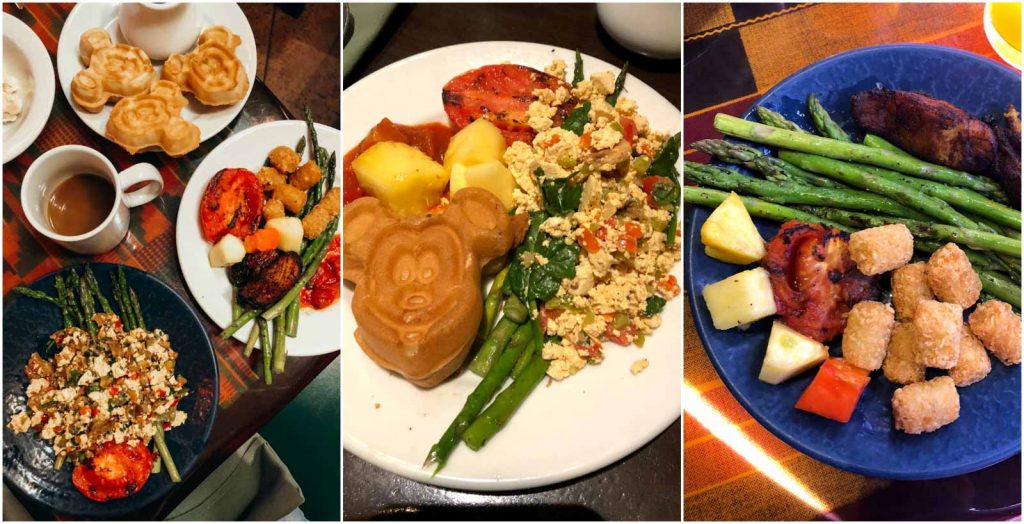 You can view the Boma's breakfast and dinner buffet menus, here. 
Plant-Based Options: For breakfast, you can order a tofu scramble, vegan Mickey waffles, and Beyond sausages. On the buffet, you can enjoy oak-grilled asparagus, oak-grilled tomatoes, tater tots, fresh fruit, oatmeal, quinoa, and sweet plantains.
For dinner, you can order vegetable curry or hummus with pita bread. There may be more options to order based on the chef that is working. On the buffet, you can enjoy the couscous with dried fruit and nuts, coconut rice, Western African black-eyed peas with greens and stewed tomatoes, green beans, and green plantain chips.
There is a plant-based dessert on the buffet and you can also request Erin McKenna's cupcakes or sorbet.
2 - Biergarten

 (Best 

Restaurant in Epcot)
When you step into the Biergarten, you will feel as if you've been transported into a traditional Bavarian Village that's celebrating Oktoberfest at night under the moonlight (thanks to some intentional landscape lighting and an actual moon above the village!)!
At the center of the room, there is a stage where a lively band of German musicians will be playing lively traditional music (every 30 minutes or so) and singing songs that will have you swinging your beer back and forth and cheering "ticky tocky ticky tocky, oi oi oi!" with your table mates! On the other side of the restaurant is a sprawling buffet that's loaded with traditional German fare.
You can view the Biergarten's menu, here. 
Plant-Based Options: On the buffet, you can enjoy mixed greens with mustard dressing, grape tomato salad, bean salad, cold beets, cold mushrooms, vegan split pea soup, pretzel rolls, roasted potatoes, green beans, and red cabbage.
You can also order pork-free sauerkrout, Gardein beefless tips, beefless crumbles, and Gardein fishless filets. For dessert, you can get fresh pineapple and berry compote from the buffet and ask your server for Enjoy Life cookies.
3 - California Grill (Best Fine Dining Restaurant)
California Grill at the Contemporary Resort is our favorite fine-dining signature restaurant that we save for birthdays and special events. The food is fantastic, the view of the Magic Kingdom is stunning, and you can watch the fireworks while you eat or you can come back after dinner (keep your receipt!) and watch the fireworks from the observation deck!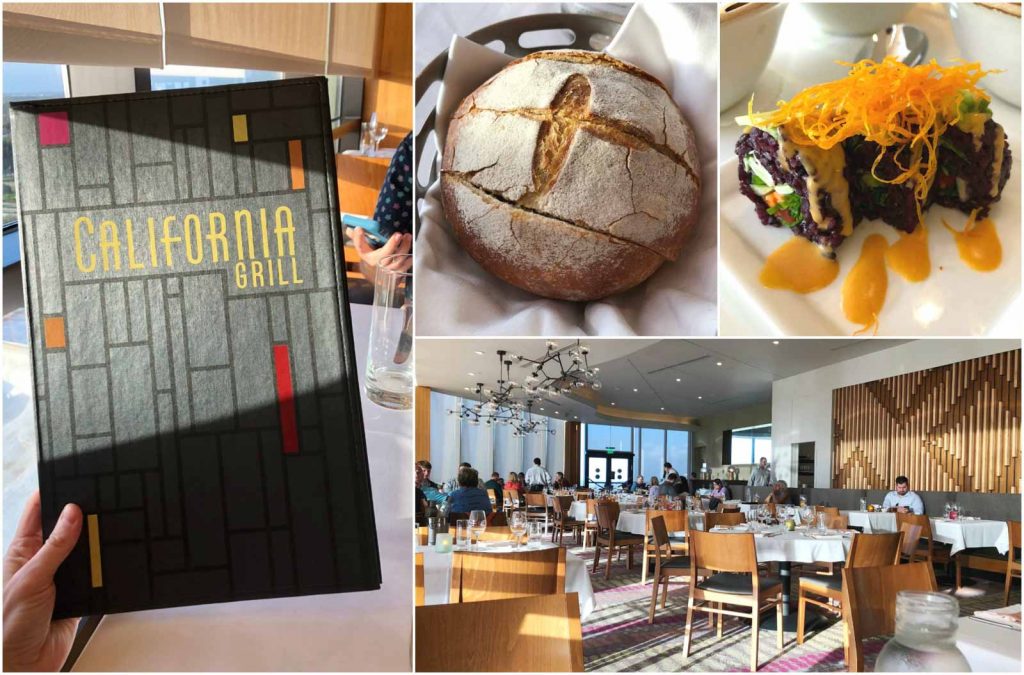 You can view the California Grill menu, here. 
Plant-Based Options: California Grill has an entire vegan unplugged menu!
4 - Tusker House (Best Kid-Friendly Restaurant)
If you are looking for a high-energy restaurant that has a delicious buffet, safari-themed characters, excellent theming, and a kid-friendly environment, then Tusker House in the Animal Kingdom is the restaurant for you! Tusker House is a colorful Harambe marketplace that features tasty all you can eat African fare for breakfast, lunch, and dinner.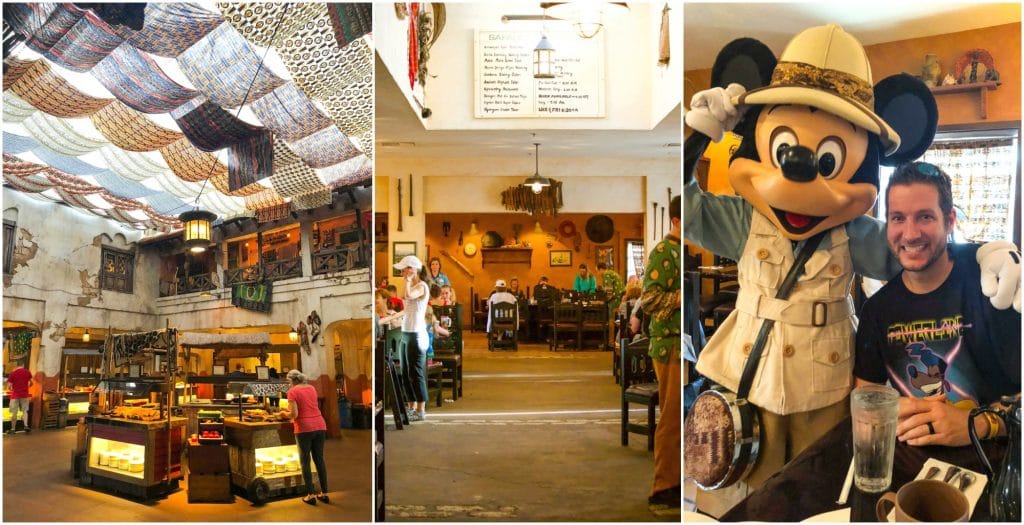 You can view the Tusker House breakfast, lunch, and dinner menus, here. 
Plant-Based Options: From the lunch and dinner buffet, you can enjoy basmati rice, roasted vegetable pearl couscous, roasted potatoes, fried hummus, trek salad, black-eyed pea salad, roasted cauliflower salad, sauteed green beans, tabouleh, collard greens, corn medley, and hummus. The chef can also make you a delicious tandoori tofu dish if you ask for it!
5 - Blaze Pizza (Best Quick Service Restaurant)
If you're looking for an inexpensive quick service restaurant with fast and delicious food then Blaze Pizza in Disney Springs is your best choice!
You will build your own 11" fast-fired pizza here and they have options for everyone: meat, vegetables, vegan cheese, gluten-free pizza crust, etc. I highly recommend that you try the high-rise crust for $2 extra (I've tried them all and high-rise has the best texture) and always ask for extra toppings, they will give you as much as you like!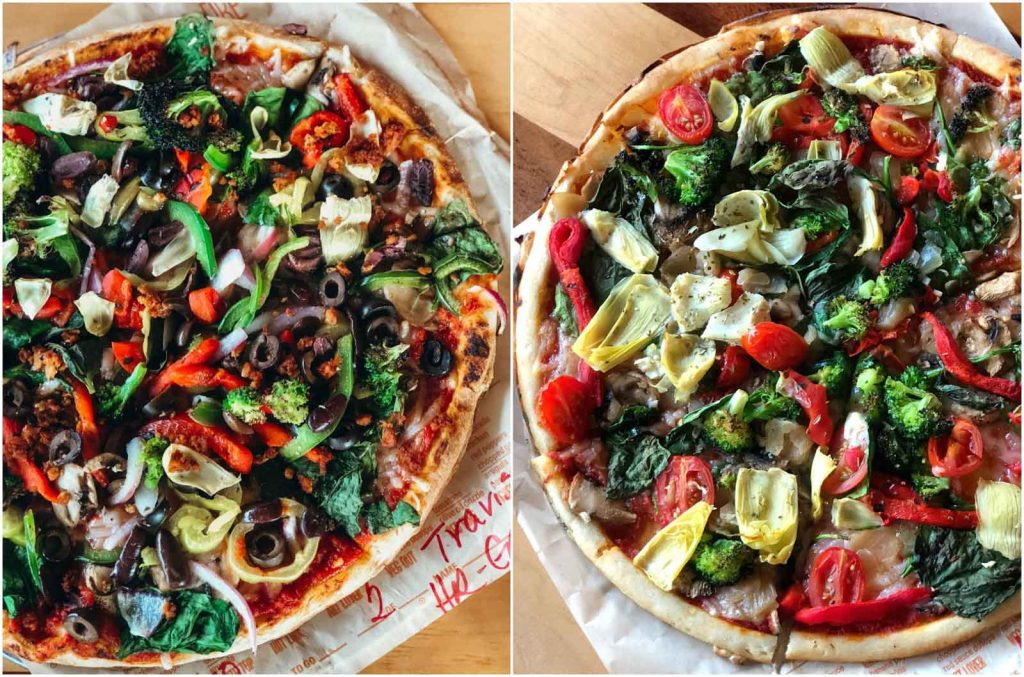 You can view the Blaze Pizza menu, here. 
Plant-Based Options: All three of the crust options (thin, high-rise, and gluten-free) are vegan as well as the classic and spicy red sauce. They offer vegan cheese, vegan chorizo, and all the vegetable toppings you would like. They will also change their gloves before making your pizza and use a clean pizza cutter to slice your pizza if you ask for it.
6 - Whispering Canyon Cafe (Best Family Restaurant)
Round up the family and head to Whispering Canyon Cafe at the Wilderness Lodge for a rootin' tootin' fun frontier-themed meal served in all you can eat skillets. Whatever you do, don't ask your server for ketchup!
You can view the Whispering Canyon menu, here. 
Plant-Based Options: Whispering canyon has an entirely plant-based skillet! The skillet features Gardein chicken, beefless tips, Beyond sausage, BBQ jackfruit, green beans, potato wedges, cornbread, and a side salad. They also have vegan milkshakes for dessert.
7 - Trader Sam's Grog Grotto (Best Themed Restaurant)
Trader Sam's Grog Grotto at the Polynesian Resort is one of Disney World's best-kept secrets. It's not really advertised and you might only hear about it because you heard from a friend of a friend about how original and unique it is!
Trader Sam's is a tropical tiki bar hidden away down the hall from Captain Cook's and it's only marked by a small unassuming sign that you will probably walk right by, as we did 100 times!
The restaurant/lounge is small and only has a few tables but it's jam-packed with personality and surprises! I don't want to ruin the surprise for you so please go and experience it for yourself! Make sure you try the zombie head cocktail and don't be surprised if your server acts a little funny when they hand it to you. Trader Sam's is also our favorite stop on the Monorail Bar Crawl!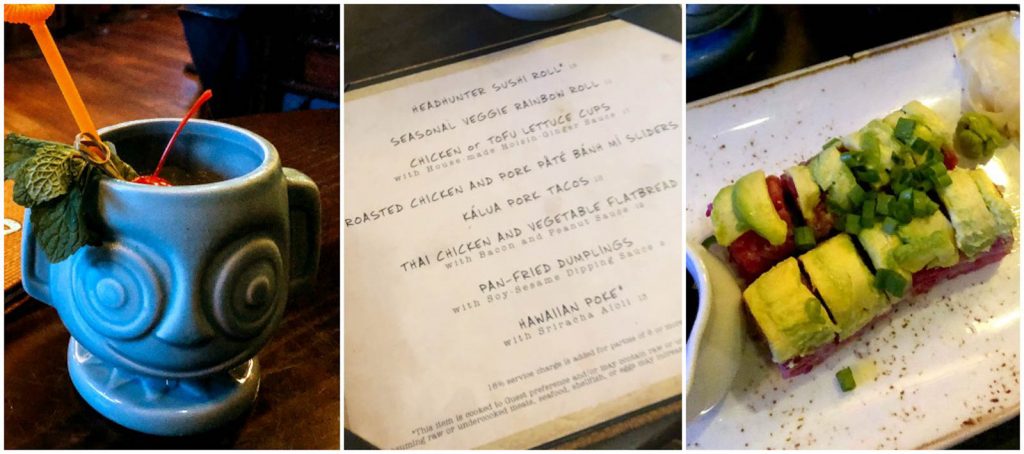 You can view the Trader Sam's Grog Grotto lounge menu, here. 
Plant-Based Options: You can order the veggie rainbow roll (it's so good!) and tofu lettuce cups.
8 - Cinderella's Royal Table (Best Restaurant in Magic Kingdom)
While a reservation at Cinderella's Royal Table is one of the hardest reservations to get, it's for a good reason and totally worth the effort. Eating at Cinderella's Royal Table is most likely the only way you'll be able to step foot inside of Cinderella Castle!
The restaurant is stunning with large castle windows that overlook the park (and fireworks at night!), the food is tasty, and you get to meet multiple princesses while you eat! The last time I visited, Ariel, Rapunzel, Jasmine, and Aurora were making rounds upstairs in the restaurant and we got to do a meet and greet with Cinderella at the entrance of the restaurant.
You can view Cinderella's Royal Table menu, here. 
Plant-Based Options: For breakfast, you can order avocado toast, oatmeal, fresh fruit, Mickey waffles, and Erin Mckenna's muffins. For lunch and dinner, you can order a salad, the plant-based protein bowl, the chickpea panisse, and the lemon sorbet.
9 - 1900 Park Fare (Best Character Meal)
1900 Park Fare at the Grand Floridian Resort won the title of Best Character Dinner because meeting Anastasia, Drizella, and Lady Tremaine at dinner is the best character interaction that I've ever experienced!
It wasn't just one time either, it's every single time we've eaten there! The women who play these roles truly take on the character and are as dramatic as possible, it's so much fun! The food is delicious too and you just can't beat relaxing after dinner in the Grand Floridian Resort lobby listening to the live band or grabbing a cocktail to unwind at Mizner's Lounge.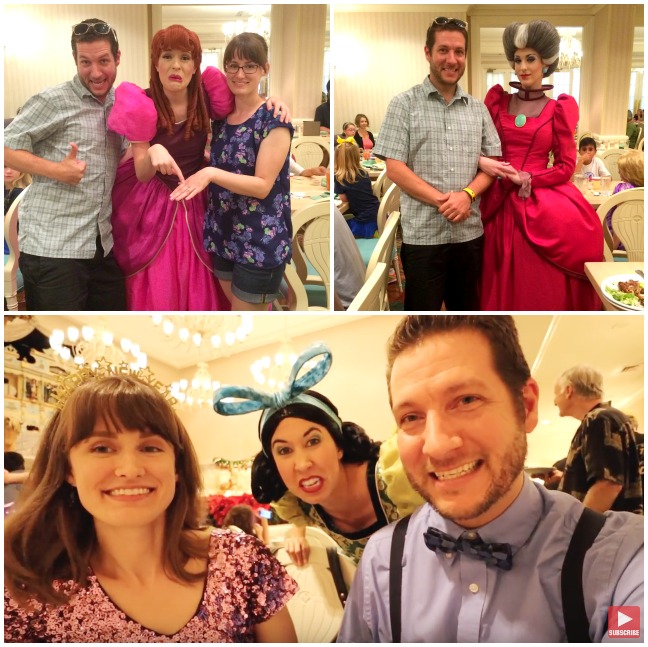 You can view the 1900 Park Fare menu, here. 
Plant-Based Options: Watch this video to see our most recent dining experience with the characters at 1900 Park Fare on New Year's Eve.
10 - Yak & Yeti

 (Best Restaurant in Animal Kingdom)
Yak & Yeti is a casual Nepalese-style restaurant that features delicious pan-Asian food. You might not expect much from this restaurant because it's kind of hidden away in Asia at the Animal Kingdom but it's a vintage diamond in the rough! The food is so good that I would make the trek to the Animal Kingdom just for a dinner reservation at Yak & Yeti!
You can view the Yak & Yeti menu, here. 
Plant-Based Options: From the menu, you can order the Korean roasted cauliflower, seared miso salmon (sub tofu), and vegetable lo mein (swap egg noodles with rice noodles and sub soy sauce for oyster sauce). For dessert, you can order mango sorbet with raspberry sauce.
11 - Ohana (Best All-Around Restaurant)
I believe that Ohana's at the Polynesian Resort is the best all-around restaurant in Disney World because it has everything you could possibly want in a dining experience! Delicious food (check out our recent dinner review), a gorgeous view of Seven Seas Lagoon and the Magic Kingdom, authentic Hawaiian theming, and fun entertainment!
Imagine yourself drinking a tropical cocktail out of a fresh pineapple while enjoying family-style Hawaiian-flavored specialties (don't skip dessert!) and listening to live music. After dinner, you can explore the resort and watch the Magic Kingdom fireworks from the beach. It doesn't get any better!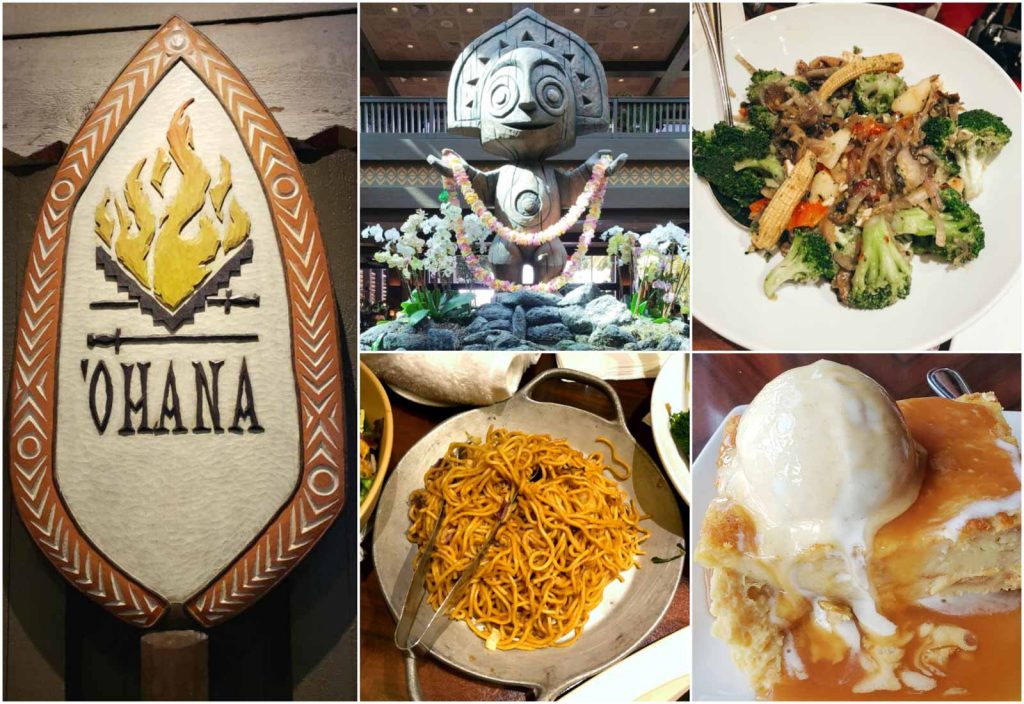 You can view the 'Ohana menu, here. 
Plant-Based Options: For breakfast, they will bring you a skillet loaded with scrambled Just eggs, Mickey and Stitch waffles, potato wedges, Beyond sausages, fresh fruit, and Erin Mckenna's donuts!
At dinner, they will bring you platter after platter of salad with passionfruit dressing, babaganoush and red pepper hummus with crispy pita chips, egg-free noodles, and sauteed vegetables with tofu. For dessert, they only offered us fresh fruit but I've seen other people get Erin Mckenna's sweets and rice cream.
12 - Be Our Guest (Best Atmosphere)
Be Our Guest restaurant at the Magic Kingdom is the most beautifully themed restaurant that I've ever seen. You'll be in awe as you walk up to the enchanted Beast's Castle and see the gargoyles and mythical creatures guarding the entrance.
Prepare yourself to be amazed as you walk into the magical restaurant. The restaurant is divided into three sections: the West Wing, the Ballroom, and the Rose Gallery. Each room is more mesmerizing than the last!
The food (breakfast, lunch, and dinner) is good but you really go to Be Our Guest for the experience. From the magical windows that show snow falling outside of the Ballroom to the West Wing where it's dark and gloomy and the rose petals slowly fall off the enchanted rose, it's truly amazing!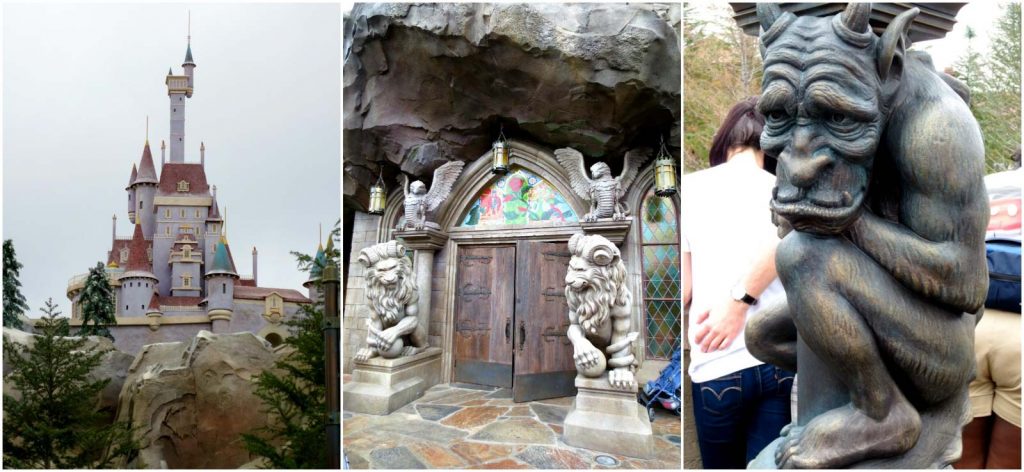 You can view the Be Our Guest menu, here. 
Plant-Based Options: Be Our Guest just updated their vegan options this week so we haven't gotten to try the corn bisque, cannellini bean cassoulet or spring salad yet, but as soon as we go I will update this post. We use to enjoy the quinoa salad so hopefully, these new options are just as good!
So What's the #1 Best Disney Dining Restaurant? 
Honestly, I truly think that you'll have a great time at any of these restaurants on the list. That's why these specific restaurants made the cut because I've had such great experiences at each of these restaurants over the years.
I don't think that one restaurant is better than another, they're all awesome for different reasons! Of course, we all have our favorites (mine is 'Ohana!) but I hope you will get to experience all of these restaurants too!
I hope that this list of the top 12 best restaurants in Disney World helps you to plan your next vacation! If I missed any of your favorite Disney dining restaurants on this list that you think should make the cut, please leave a comment and tell me why it's the best!
Tips to Get Reservations to Popular Disney Restaurants
Book as soon as your 180-day vacation window opens up for the best selection. You can book online or on the My Disney Experience app at 6 AM EST or at 7 AM EST by calling (407) WDW-DINE.
If you don't get the reservations that you want right away keep checking back every few days, people cancel reservations all the time.
Check the day before you want to go to a specific restaurant. I can't tell you how many times I've gotten last-minute reservations for popular restaurants by waiting until the day before to book it. The reason this strategy works is that lots of people book too many dining reservations when they're planning their trip and then they have to cancel the day before so they won't be charged the $20 per person fee for not canceling.
If you don't get the reservation that you want by checking the day before, make sure to check the day of as well. If guests don't show up for their reservation then that reservation will become available again for anyone looking for a last-minute meal.
If all of these strategies fail and you can't get a reservation, you can always show up at the restaurant and just wait for an opening. I've done this multiple times at 'Ohana and we've never been turned away. Yes, we had to wait an hour or two to be seated but you can wander around the gift shops and explore the resort while you wait, it's worth it!
More Disney Posts to Help You Plan Your Next Vacation!
The Best Quick Service Meals in Disney World
159 Disney Cruise Tips You Need to Know Before Your First Cruise!