This list has all the vegan brunch recipes you need to make a delicious feast for your friends and family to enjoy + tips to make hosting brunch so much easier!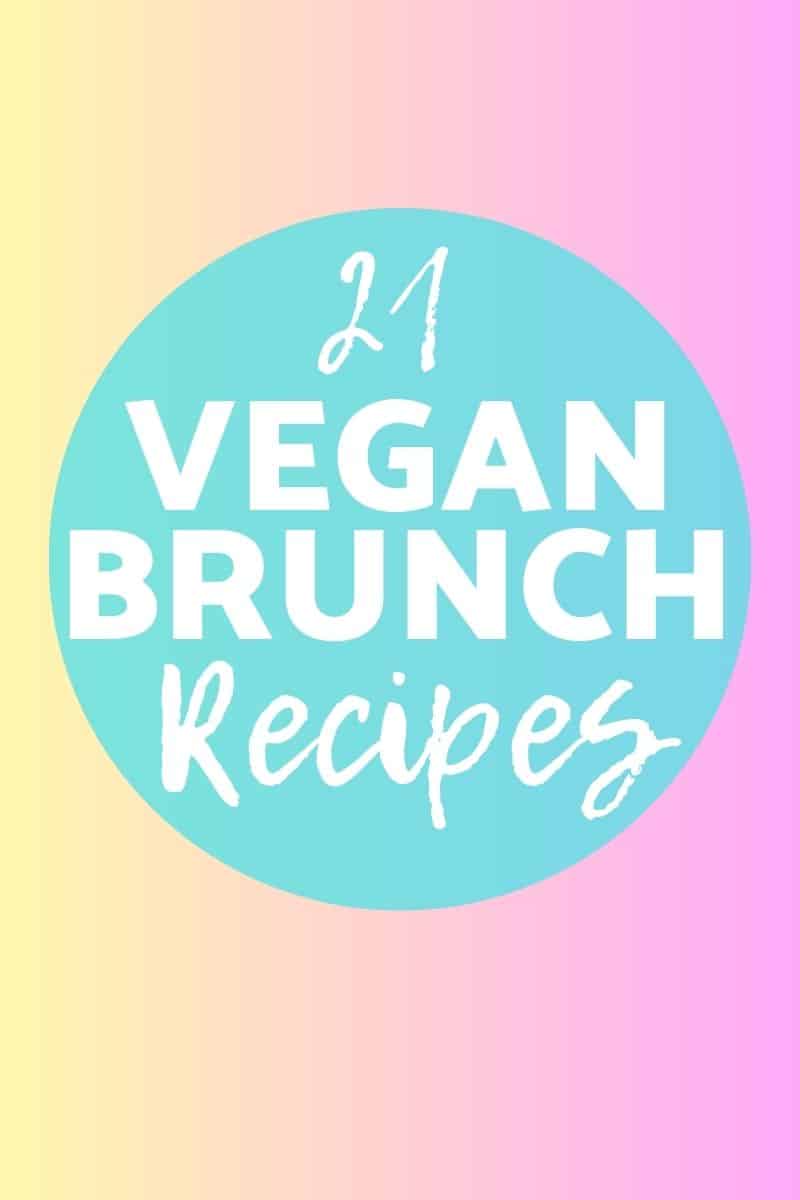 Brunch is the best meal because you get the best of both worlds! You can enjoy breakfast and lunch foods, it's a little bit more relaxed so you can really take your time and enjoy all the treats, and it usually includes some type of special coffee, cocktail, or mocktail to sip on.
Brunch can be served on any day of the week, normally between 11AM - 3PM, but it's usually reserved for weekends and for holidays like a Birthday, Mother's Day, or Easter.
Hosting a vegan brunch isn't any different than a regular brunch, you just need to make sure that the food and drinks are all vegan-friendly. I have great news for you! All of the recipes that you need for a vegan-friendly brunch are listed below!
Now that you know the basics, let's go over some tips to make hosting brunch for a crowd easier for you + the most important part...the recipes that you need to make the food!
Tips For Hosting Brunch
Let's go over a few tips to make it easier to host a vegan brunch!
Prep as much as possible in advance and then reheat it in the morning. Doing this will reduce the amount of work that needs to be done the day of (and time spent in the kitchen) so you can spend the time with your guests. 
It's ok to serve store-bought treats. I know it's tempting to want to make all the fancy recipes that you found on Pinterest from scratch because you want to impress your guests, but buying desserts from your local bakery will be easier and possibly even more delicious! (If you have a Whole Foods close to you, their allergy-friendly walnut date scones and cookies from the bakery are excellent!)  
Check with your guests for food allergies or diet preferences before you plan the menu. I can't tell you how much it means to me when a host/hostess reaches out to me before I come over to see if the food they're planning on serving is safe for me to eat. Doing this makes me feel comfortable and it gives me the opportunity to offer to bring a dish to share in case the host can't accommodate my dietary preference.
Make it a buffet. Set up stations for food and drinks or serve the food on big platters at the table so everyone can help themselves. It's a lot easier this way if you aren't running around waiting on and serving everyone.
Don't make place cards. I love a personalized place setting, but it sure makes it a lot easier to just set the table for everyone and let your guests pick where they want to sit. Keep it simple! Also, set the table the night before if possible. 
If someone offers to help clean up...let them! Yes, you're the host, but you don't have to be the clean-up crew too! I remember my mom always telling everyone to relax and enjoy themselves after the meal, and then she would run around like crazy trying to clean up. I wouldn't suggest asking your guests to clean up after brunch, but if someone offers then there is nothing wrong with accepting the help. 
Now that I've shared my best tips for hosting brunch, let's get to the recipes! I compiled a list of all my favorite vegan brunch recipes to share with you so you can easily throw your own vegan brunch for the special people in your life too!
Vegan Brunch Recipes
Treat your friends and family to a delicious meal using any of these vegan brunch recipes! From breakfast to lunch, apps, and dessert! It has everything you need.
Want More Special Event Vegan Recipes?