Easy Mother's Day decoration ideas for hosting a beautiful flower-themed party. From the smallest details to setting a flower-inspired table + a recipe for rose-shaped vegan dark chocolate cherry cordials!
*This post contains affiliate links.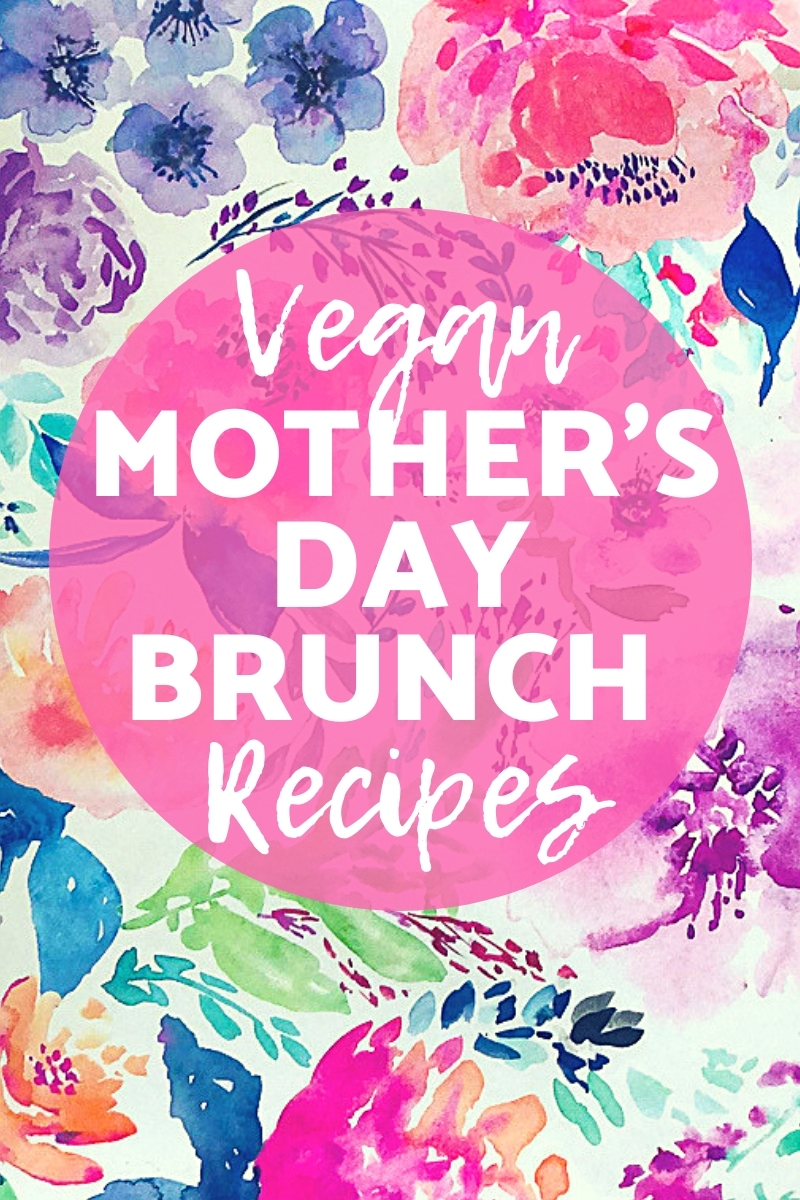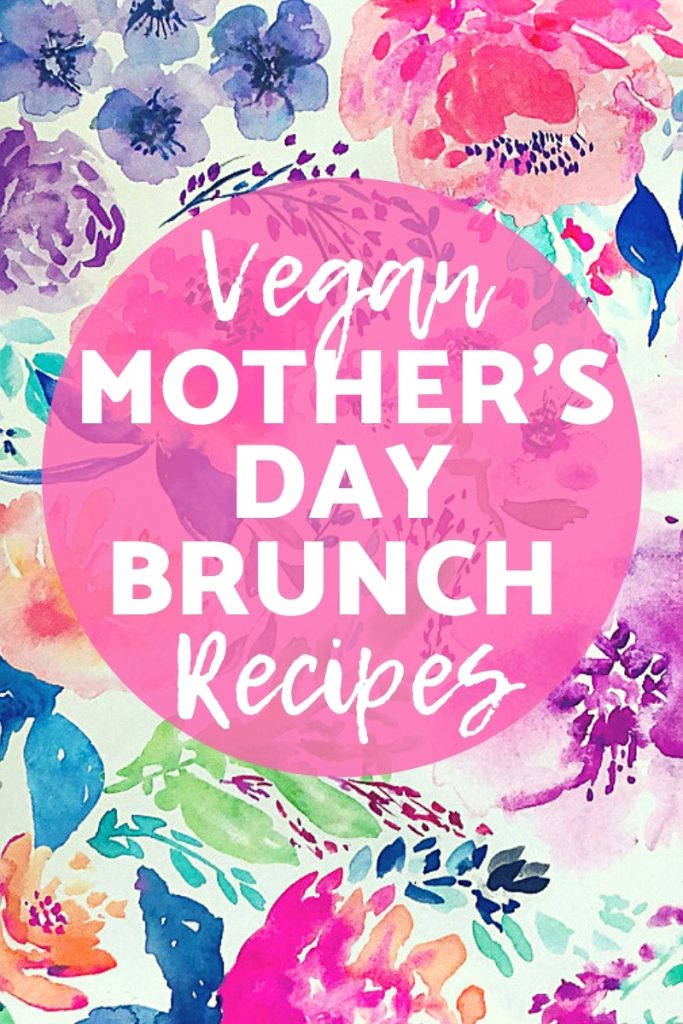 Mother's Day is one of my favorite holidays because I love to celebrate my mama and make her feel special! She does so much for us every day of the year that she definitely deserves a day to be pampered and spoiled.
On Sunday, my parents came over to my house so we could celebrate my special mama and spend the day together. We had so much fun that I wish we could re-live the day over again!
It's never too early to start planning Mother's Day decoration ideas for next year!
Mother's Day Decoration Ideas
I chose a bright and colorful watercolor flower design for the party theme because I wanted it to feel happy! Flowers are so beautiful, elegant, and feminine that it just feels natural to use them as a decoration for Mother's Day. The watercolor design gave it a sense of whimsy that made it feel fun and casual!
Hosting a themed party that feels cohesive might seem daunting but it's really pretty easy when you break it up into 6 simple categories. It's all in the details and all the details need to mesh together to create the ambiance!
Table setting (tablecloth, napkins, dishes, glassware, utensils)
Table centerpiece
Gift wrap
Outfit (Yes, your outfit should be complementary to the theme!)
Food (Match by style or flavors)
Small details (cards, pictures, surprises)
How to Set a Flower-Themed Table
Follow these steps to create a beautiful flower-themed table setting for Mother's Day!
Step #1 – Pick a Tablecloth + Matching Napkins
Pick a tablecloth that matches your theme! I always do this step first and then pick out pieces to match it so everything feels cohesive.
I chose a very colorful watercolor flower tablecloth (similar to this one) as the focal point of the party. I wanted it to draw your eye as soon as you walked into the room.
Luckily, there were matching napkins available to purchase. I folded them using the accordion-style napkin fold but instead of putting in a glass, I put a napkin ring (like this set) around it and placed the napkin on the plate like a fan. It was just the right pop of color!
Note – If your tablecloth doesn't come with matching napkins, don't just pair any set of flower napkins with it. Different flower prints don't always jive. I would recommend picking a solid colored set of napkins that match one color in the tablecloth.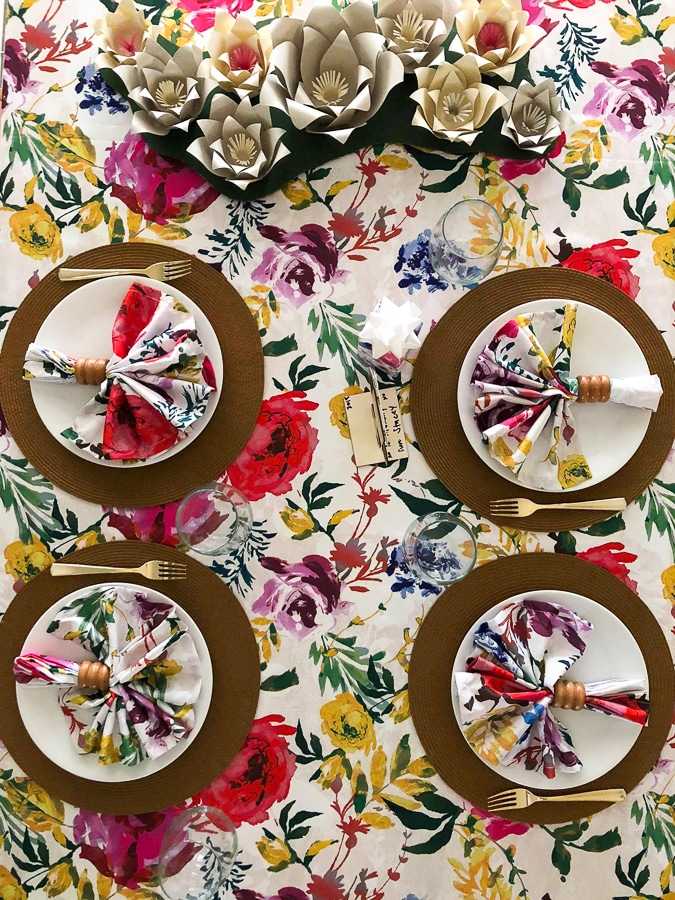 Step #2 – Choose Complimentary Dishes
After you've decided on a tablecloth and matching napkins, it's time to pick dishes. You don't need to buy brand new expensive dishes, I prefer new-to-me-and-inexpensive thrift store or garage sale dishes. You could even use dishes that you already have.
As you can see in the picture of my table setting, I used plain white dishes. Those are actually our everyday dinner plates and they just happened to match! I used white dishes because the tablecloth print is so vivid and busy that I didn't want the dishes to clash.
I also like to layer plates with chargers or placemats because it adds interest to the place setting. If it was a fancier dinner, I would have used gold chargers (these are the ones I have) but since it was a casual dessert table, I used rustic brown placemats (like these placemats).
Step #3 – Pick Coordinating Flatware
The color scheme and pattern of the tablecloth will help you to decide what color utensils pair with it. I've been on a gold kick lately, it just looks so pretty with bright colors. If you're on a shoestring budget, these plastic "gold" utensils will work just fine. If you can splurge a little bit, this "gold" flatware will make your place setting pop!
You might also notice that I only set the table with forks. No, I didn't forget to put the rest of the flatware out, it's because we were going out for dinner and only having dessert (that you would need a fork to eat) at my house. There was no point to set out knives and spoons too.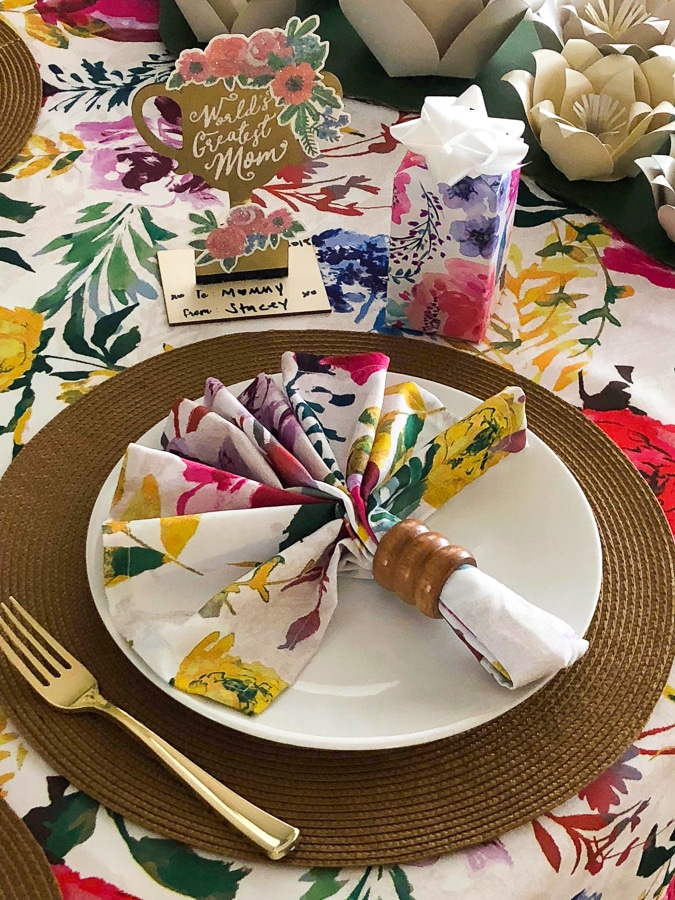 Step #4 – Choose Glassware
Last but not least…glassware! Depending on how casual or fancy the table setting is will help you to choose what size and shape glass to use. Since the pattern is pretty busy I chose a simple stemless wine glass.
Another factor that determines which glasses I use depends on what I already have! Glassware takes up a lot of space to store. I do my best to be minimalistic with glasses so I have a few core sets that use over and over. So try to pick a set of glasses that you really the shape and style of so you'll want to use it again.
Once you've assembled all the pieces of your table setting, it's time to think of what the centerpiece will be.
What Type of Centerpiece Should You Use?
Originally, I wasn't going to use a centerpiece for this table setting because the pattern is so busy. I didn't want it to fight the tablecloth. However, I set the table and lived with it for a few days to help me decide if it needed a centerpiece or not.
I eventually decided that the table did need a centerpiece. My eyes would look over the table and not know where to land.
You could use fresh or faux flowers in a vase, candles, a present, or a hand-crafted item as a centerpiece. I decided on making a paper flower centerpiece (get the easy tutorial here!) for the table. I used sparkly neutral-colored cardstock to make the flowers (so it wouldn't clash with the flowers in the tablecloth) and then glued them to a piece of cardboard that I covered with green scrapbook paper and cut out in an "S" formation.
I thought it would be too busy to put it in the center of the table, so I put it in the back to draw interest there too. It would also be fine to place it in the front of the table.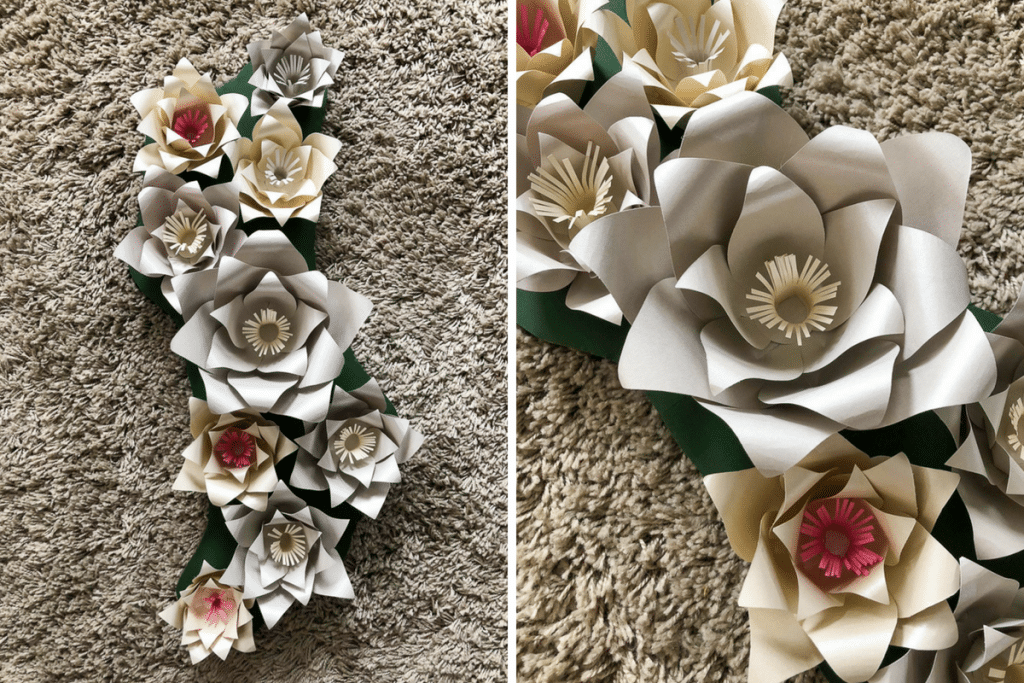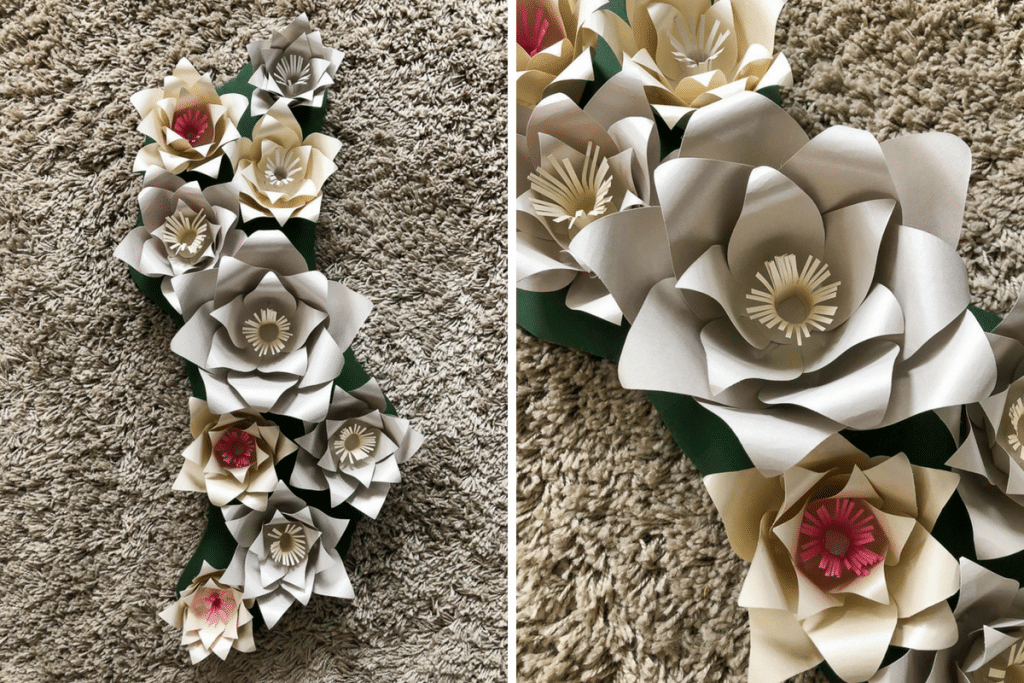 Note – If you think the table will look too busy with a centerpiece, I would make a sign or decoration to hang behind the table. For my Mother's Day table set up last year, I made this Happy Mother's Day paper flower sign. You can change the color of the paper to match your theme (Get the instructions here).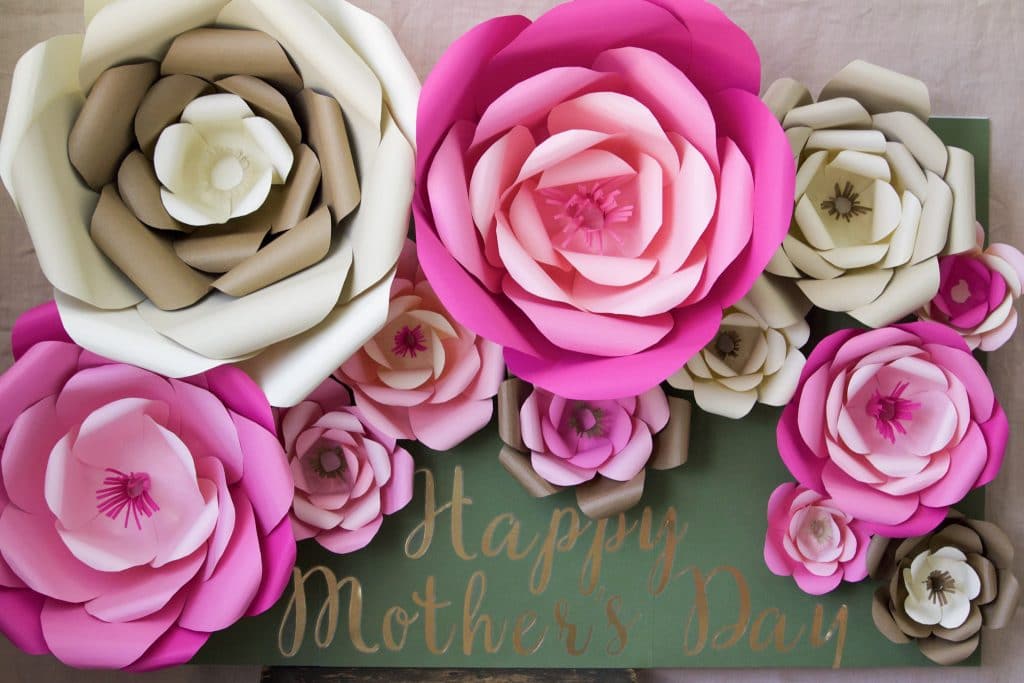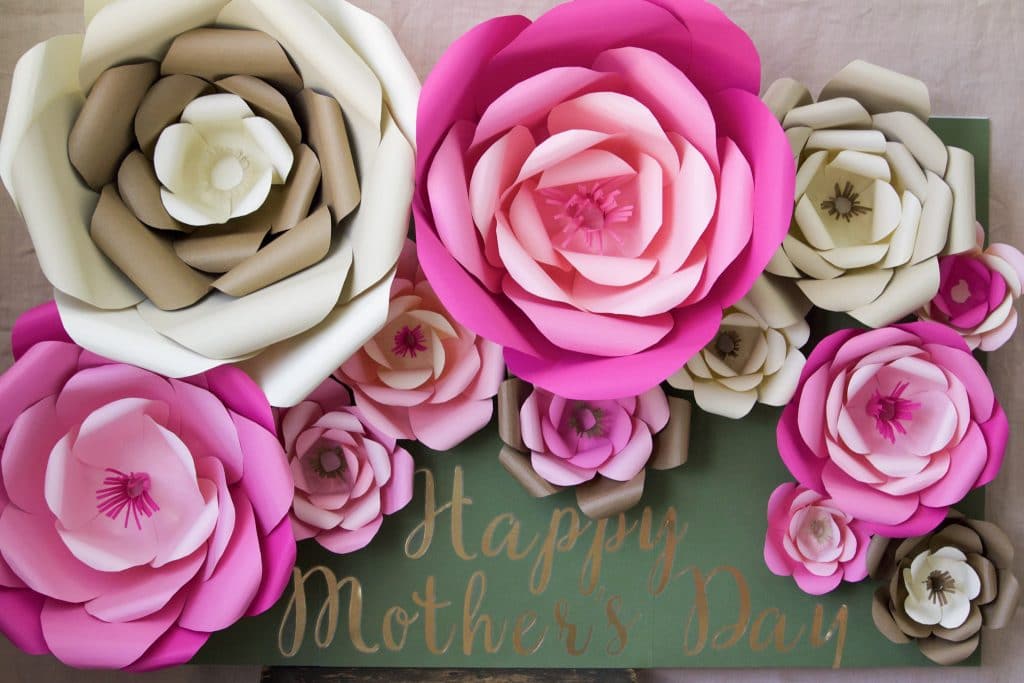 Flower-Themed Small Details
As they say, it's all in the details! Once you've picked the style, found all the matching pieces, wrapped the gifts, and planned which recipes you're going to make, you need to think of a few small details that weave all of these Mother's Day decoration ideas together! I like to use sentimental items at the small details because that's what matters most to the person you're celebrating!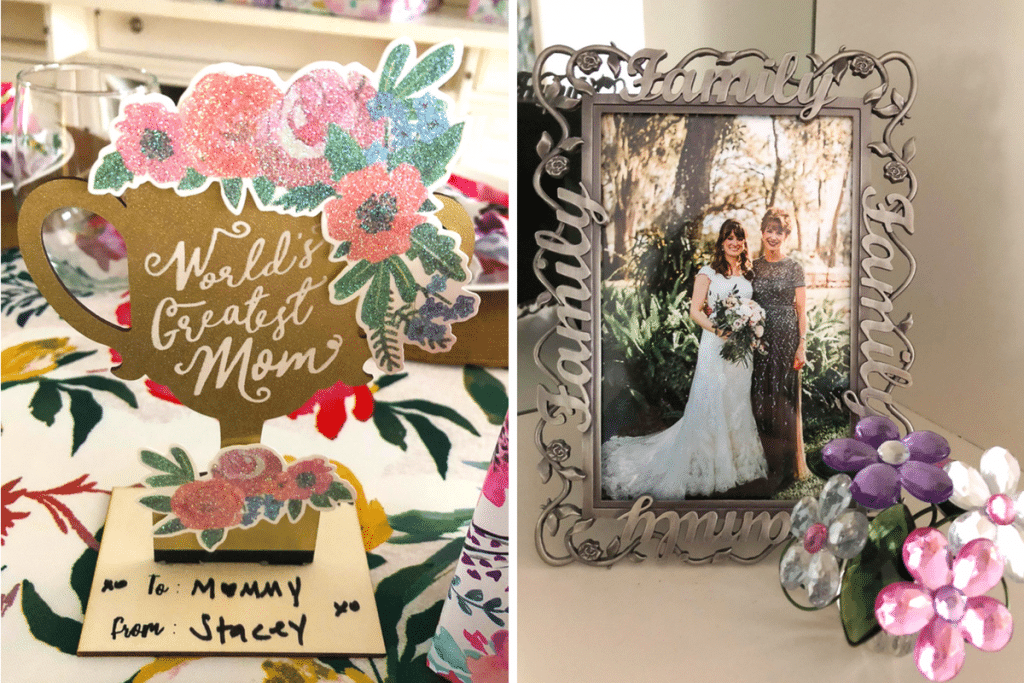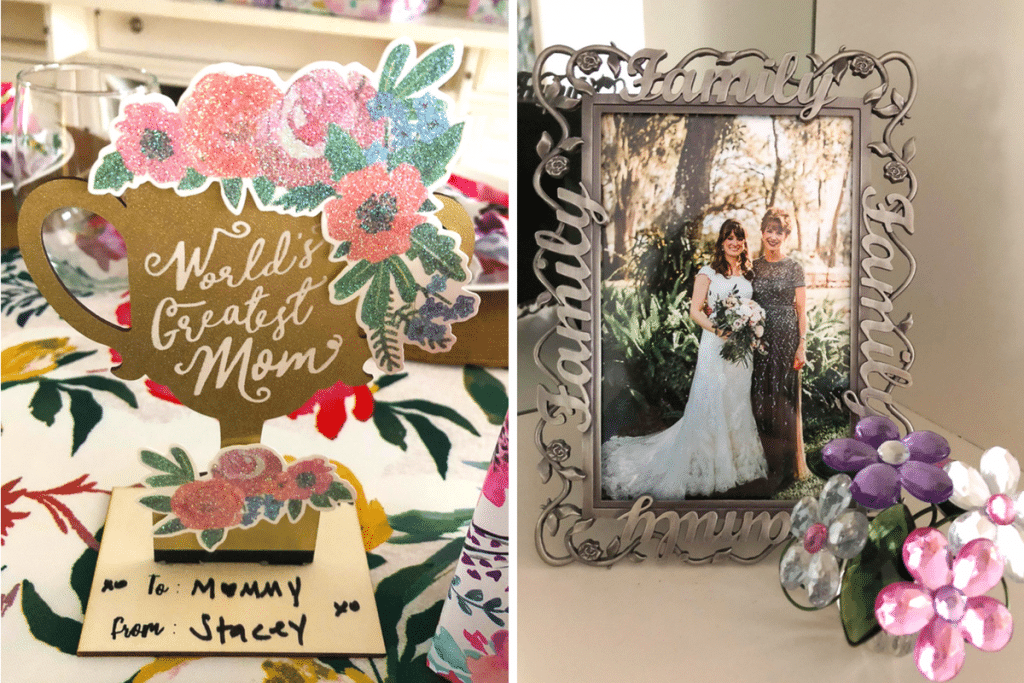 A pretty picture of your mama.
A handwritten card that tells her exactly how you feel.
Something that says, "best mom ever!" (

Like this plaque

)
Wrap your gift in floral gift wrap.
I loveeee specialty gift wrap. It's my mom's fault, she always wrapped our presents in pretty paper and now it's ingrained in me to do the same. It just makes the gift look so special when it has beautiful wrapping paper.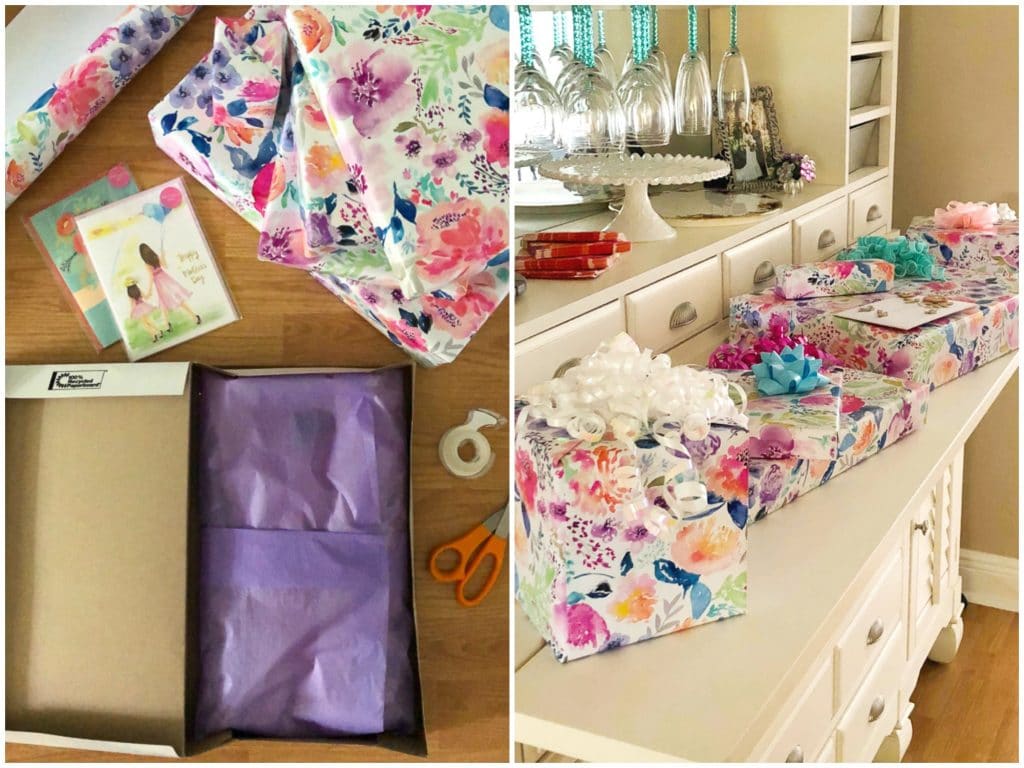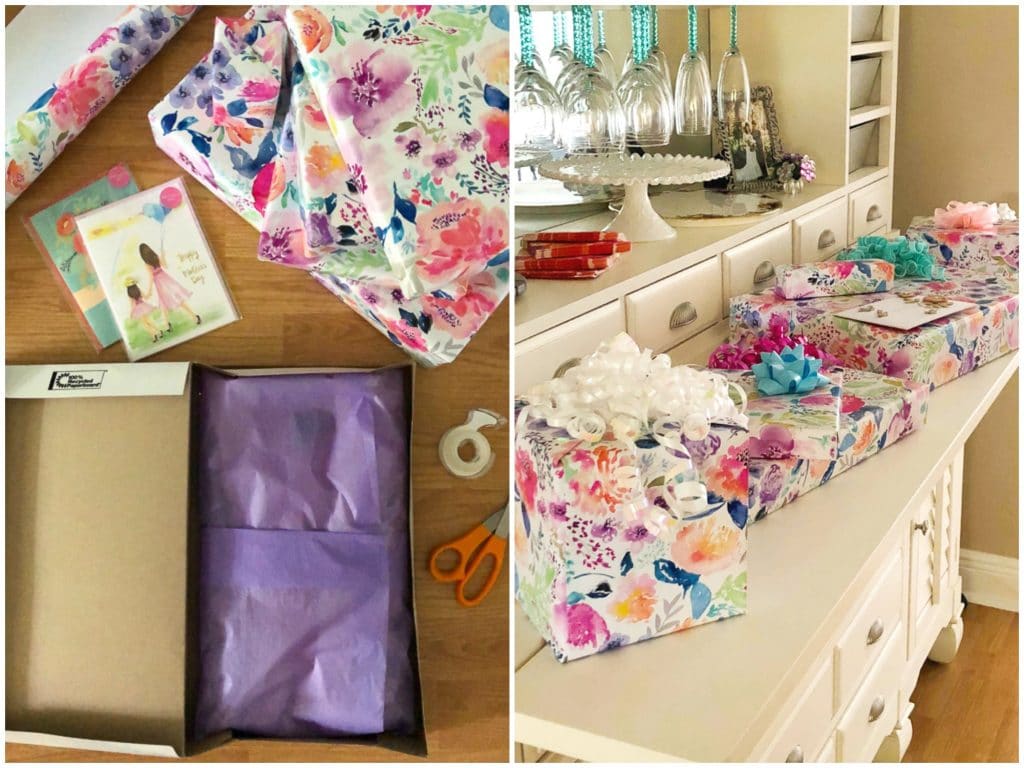 I always, always, always match the gift wrap to the theme of the party or event that I'm going to. If it's a princess party, you better believe the gifts will be wrapped with Disney princess paper!
I was ecstatic when I found a watercolor flower gift wrap at Tjmaxx. Lately, I've been finding a lot of high-quality premium wrapping paper at Tjmaxx, Homegoods, and Marshalls. If you can't find any gift wrap that you like at the store, this 6-roll selection is pretty close!
It's so important to pay attention to these little details because when everything flows together it makes such a beautiful presentation!
Flower-Themed Dessert Recipes
When you are deciding what flower-themed food to make, think of complementary colors (yellow, pink, light blue, purple, green), seasonal recipes (think spring or summer), shapes, and flavors (lemon, raspberry, blueberry, strawberry, guava).
It doesn't have to be a flower-shaped cake. It could be spring-inspired lemon cupcakes with an edible flower or flower icing design on top, or the cake batter could be made of flower flavors like hibiscus, lavender, or rose paired with a simple vanilla icing. Also, take into consideration the flavors that the person you're celebrating likes!
My mama loves lemon and cherry so I chose to make vegan lemon cheesecake bars (very bright and spring-like!) and vegan dark chocolate flower-shaped cherry cordials.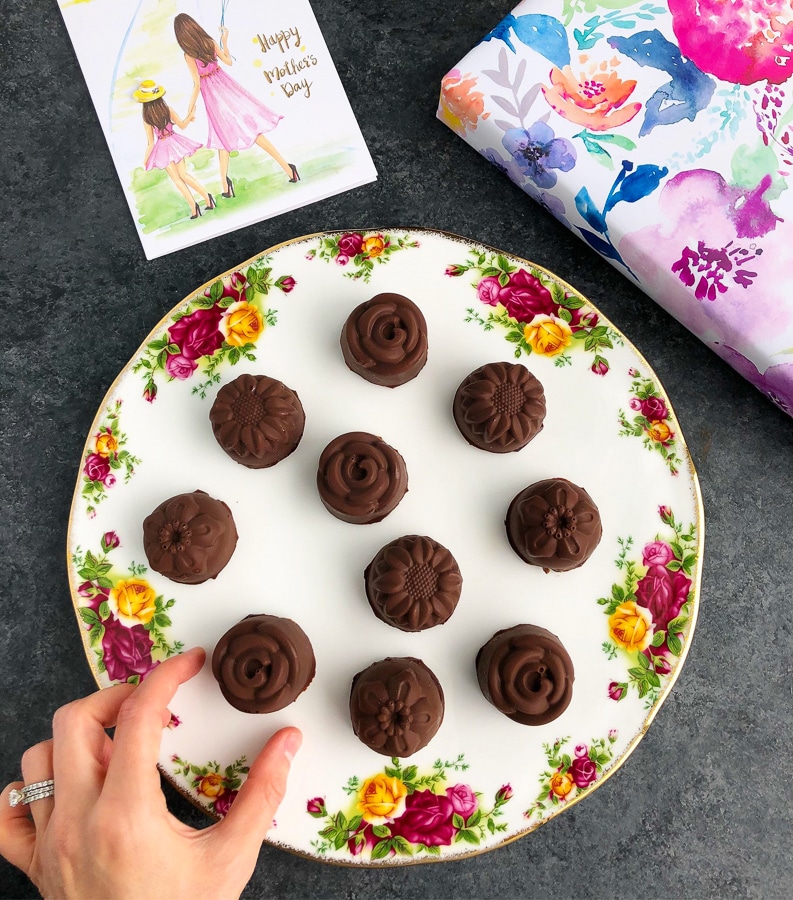 The cherry cordials turned out so delicious! Of all the goodies my mom had to choose from, she said the cherry cordials were her favorite! They are so much better than the overly sweet store-bought cherry cordials because I used juicy organic cherries and let them simmer until they made their own thick filling– almost like a compote. They are so decadent!
The cherry cordials look fancy but are really easy to make! I first discovered using food molds last Easter when I made these bakery-quality dark chocolate truffle Easter eggs.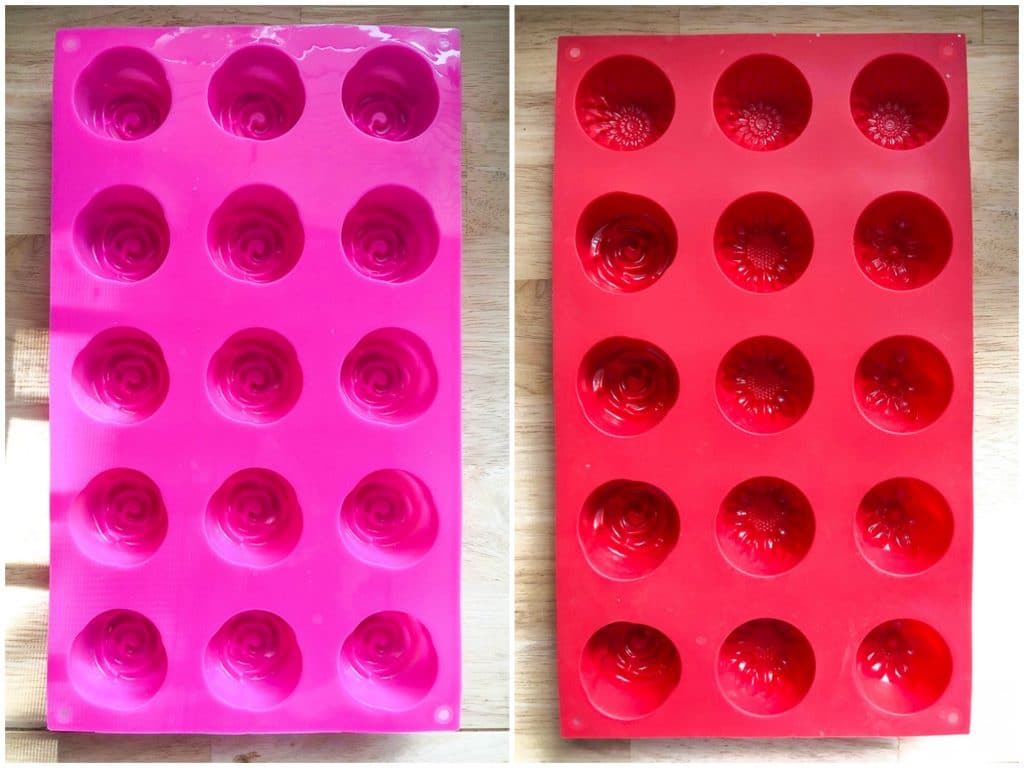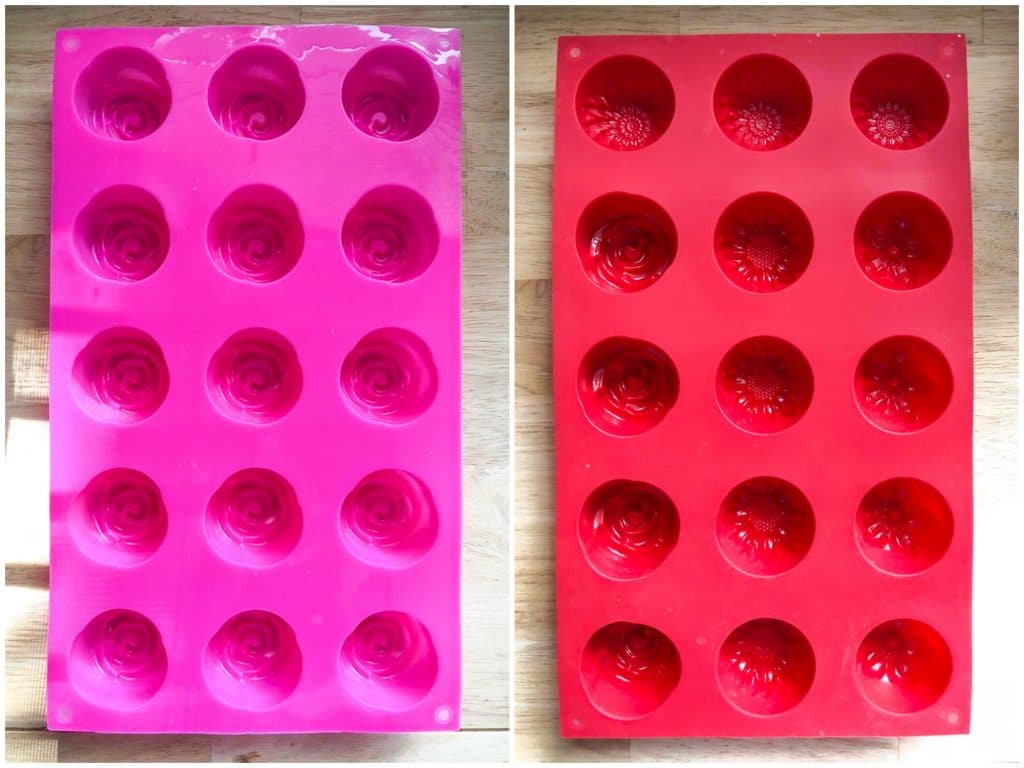 I used a food-grade silicone flower-shaped mold to make this cherry cordial recipe. I love that it matched the theme and had a spring-like flavor that my mom loved.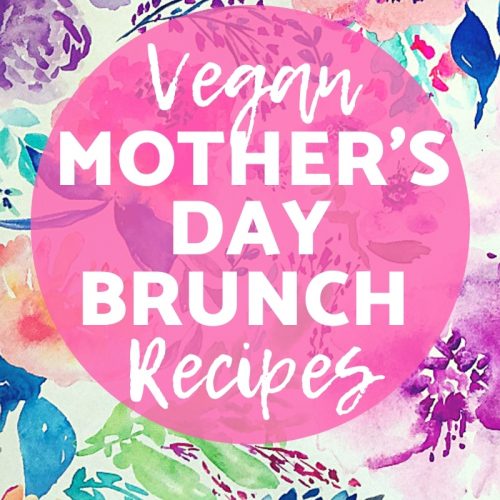 Vegan Dark Chocolate Cherry Cordial Recipe
These super decadent vegan dark chocolate cherry cordials are easy to make and are filled with a delicious compote-like organic cherry filling. Vegan.
Print
Pin
Rate
Instructions
Add cherries to a medium saucepan and cook over medium heat until the cherries are fully defrosted.

Add agave, vanilla extract, brandy, and almond extract. Bring it to a low simmer.

Add arrowroot and water to a small bowl and whisk it together. Add it to the pan. Reduce the heat to low and let it reduce until the sauce is thick and sticks to the back of a spoon. Season with a pinch of salt.

Set aside and let the filling cool before you add it to the candy molds or it will melt the chocolate.

Melt the chocolate chips in a double boiler.

Spoon a small amount of chocolate into each flower mold (about 1 tsp) and use the back of the spoon to swirl it around and coat all the sides evenly.

Flip the candy mold upside down onto a parchment lined tray and put it in the freezer to set for 15 minutes. (Putting it upside down will help the chocolate distribute evenly and not settle on the bottom of the mold.)

Remove the candy mold from the freezer. Spoon about 1/2 tbsp of cherry filling into each chilled candy mold (about 2 cherries + sauce). Then fill up the remaining space with a little bit more melted chocolate and smooth it over. Freeze for 20 minutes or until solid. Remove the tray from the freezer, pop each candy out of the mold, and serve immediately.
Notes
Store the leftover cherry cordials in an airtight container in the fridge. 
You can substitute frozen blueberries, blackberries, or raspberries for the cherries. 
Vegan cherry cordials inspired by this recipe. 
If you use fresh cherries make sure you remove the pits before cooking them. 
Tried this recipe?
Please rate it and leave a comment below if you have any feedback! If you post a picture on Instagram, please tag @Stacey_Homemaker and use the hashtag #StaceyHomemaker so I can see your delicious creation!
I hope all these Mother's Day decoration ideas help you to throw a beautiful celebration for your mama! You could also use these flowery ideas for a baby shower, bridal shower, or super feminine birthday.