Carob peanut butter dessert hummus is a wholesome treat that tastes decadent and indulgent! It's free of refined sugar, gluten, and dairy. Vegan.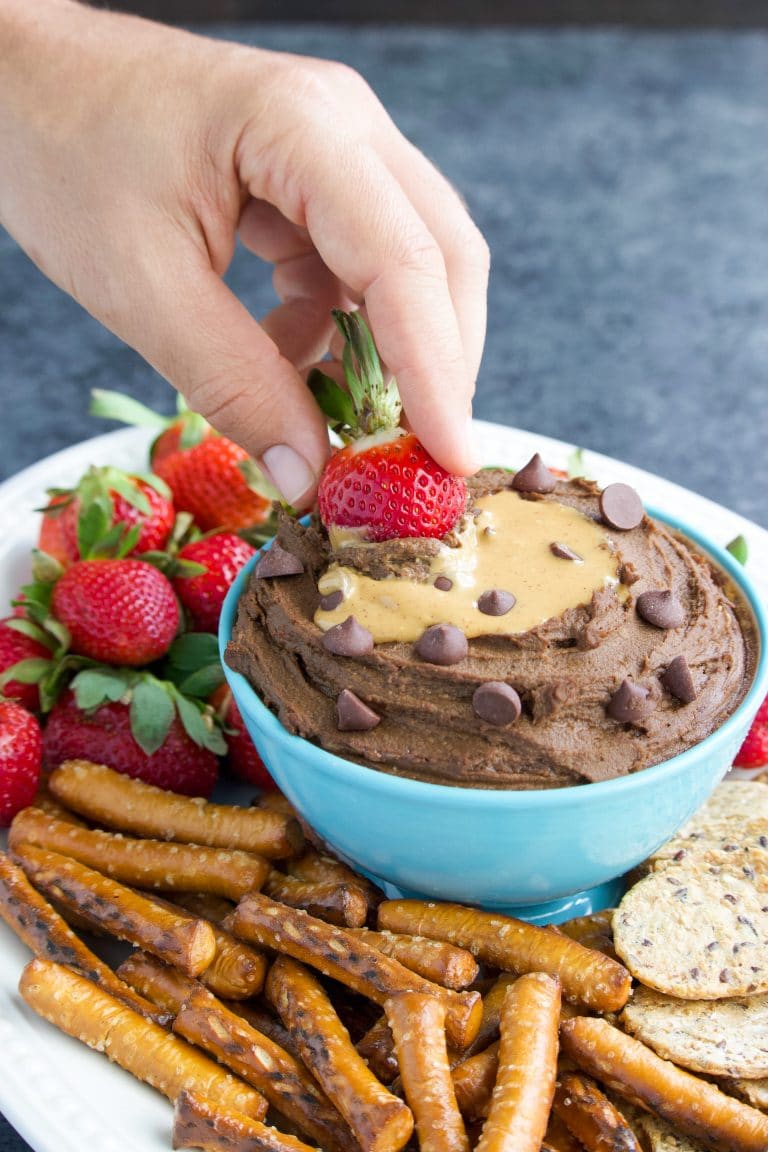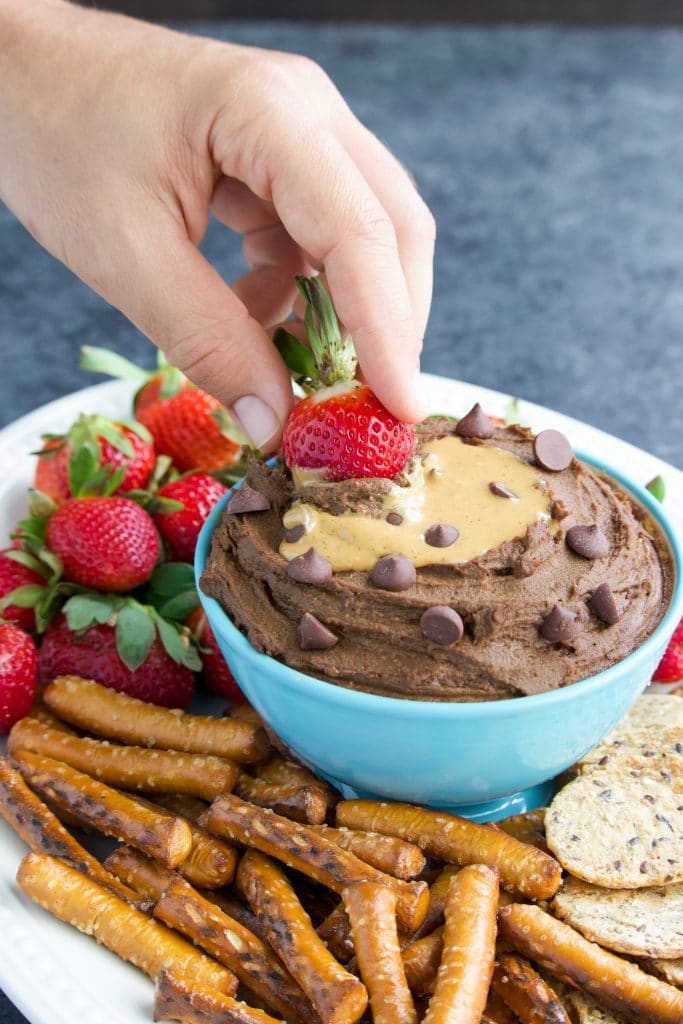 Hummus is one of our favorite healthy snacks! We love savory beet hummus and roasted acorn squash hummus to eat with veggies or put in wraps but this dessert hummus recipe is our favorite sweet treat!
You can feel good about eating this dessert hummus because it doesn't contain any added refined sugar and it's loaded with protein!
What is Carob Powder?
Carob is a delicious chocolate substitute that tastes similar to chocolate. Carob is chocolate's healthy and yummy cousin. It has more of a rich and nutty flavor than a sugary chocolate flavor. The color of carob is identical to chocolate, so you can use it 1:1.
I like this brand of organic carob powder –>
Carob powder comes from a carob pod that grows on a carob tree in the Mediterranean. Carob pods contain a sweet pulp that is dried, roasted, and ground into carob powder. You can buy carob in the form of powder or chips.
Chocolate also has health benefits, but what I really love about carob is that it's stimulant-free.
Lately, I've been watching the amount of caffeine that I consume because I've noticed that it increases my heart rate. I've cut my coffee down to 1 cup in the morning or I switch it out altogether for caffeine-free camomile tea if I just want a hot drink to sip on.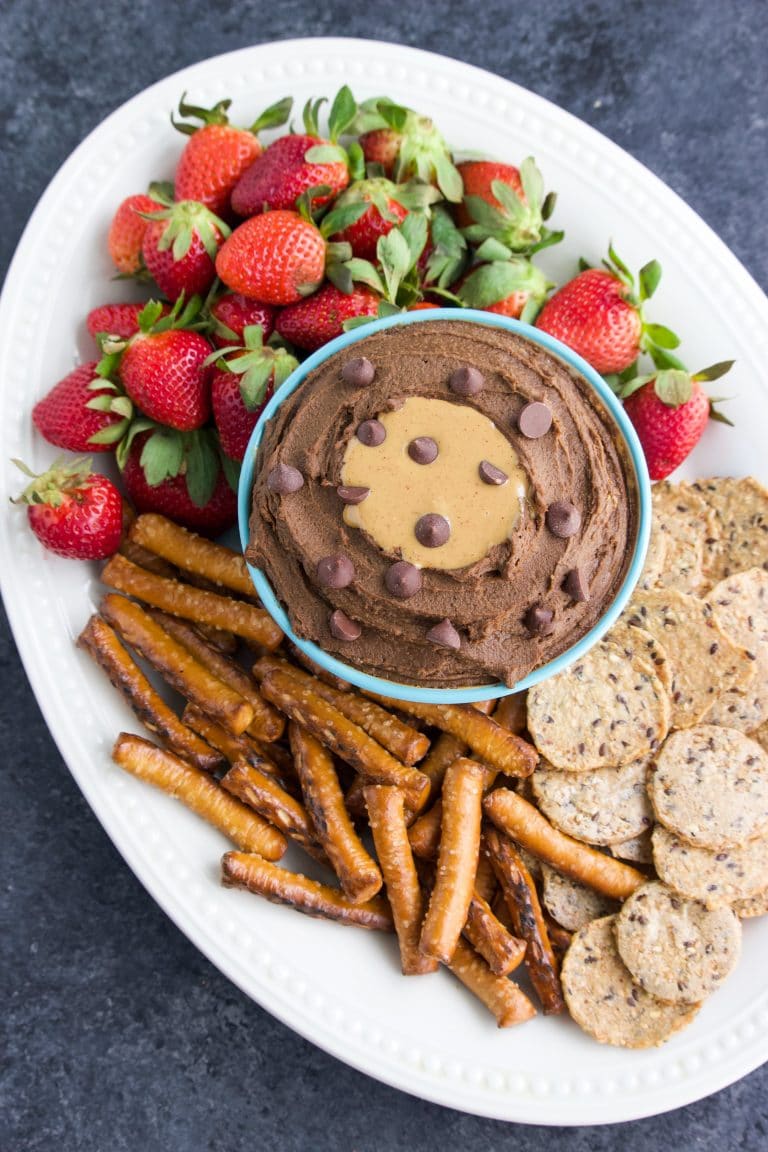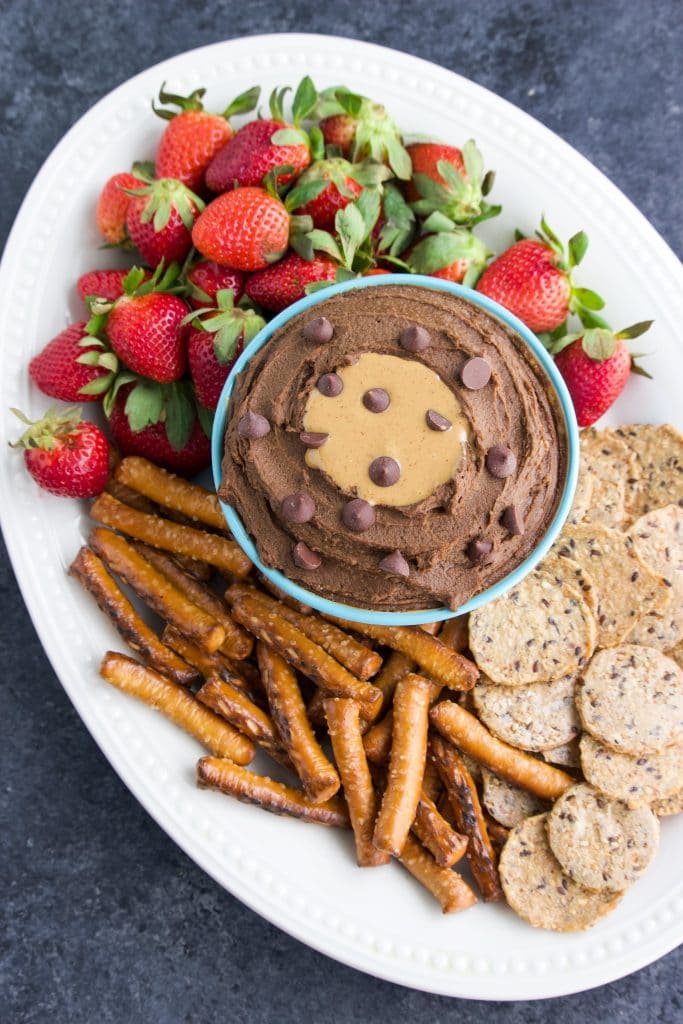 What Should You Serve With Dessert Hummus?
I've been known to eat this delicious dessert hummus by the spoonful because it's so rich and creamy but dippers are great too! It would also be tasty as a spread on bread with banana coins!
Any fruit would be delicious but we specifically love strawberries to dip in this dessert hummus recipe. There's just something about chocolate– I mean, carob and strawberries! So yummy!
We also like raspberries, pretzel rods, and crispy plain crackers to dip.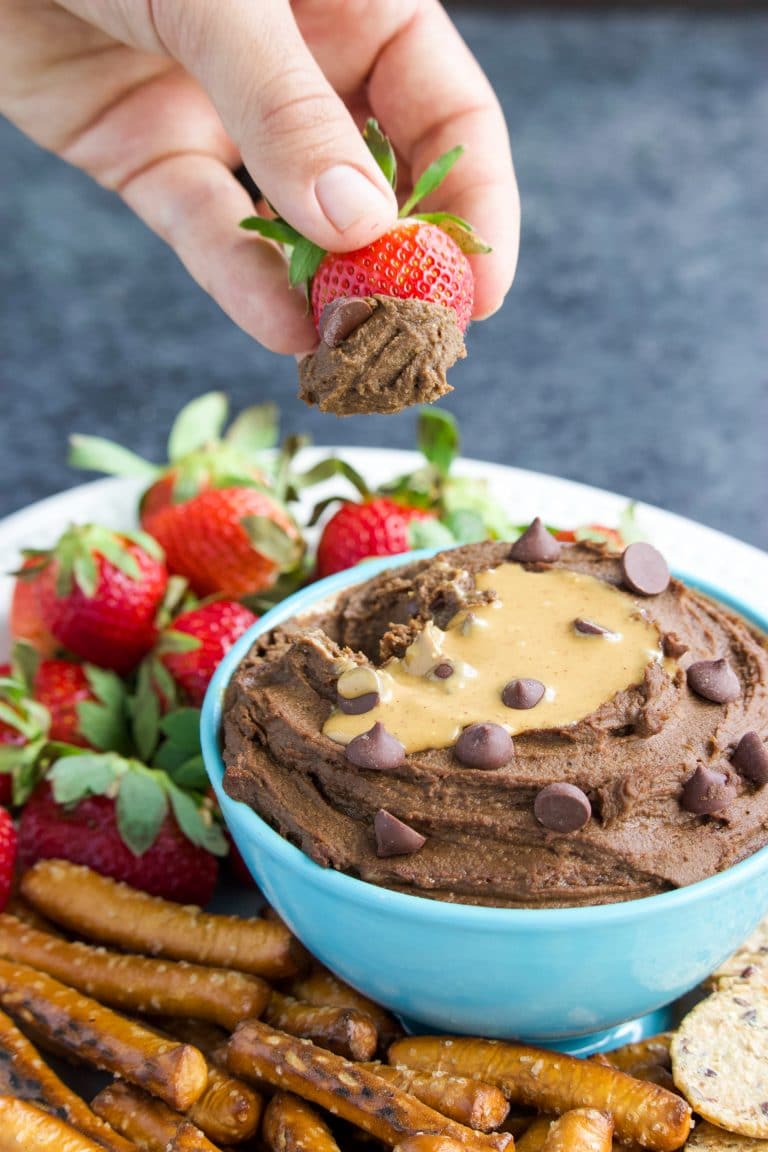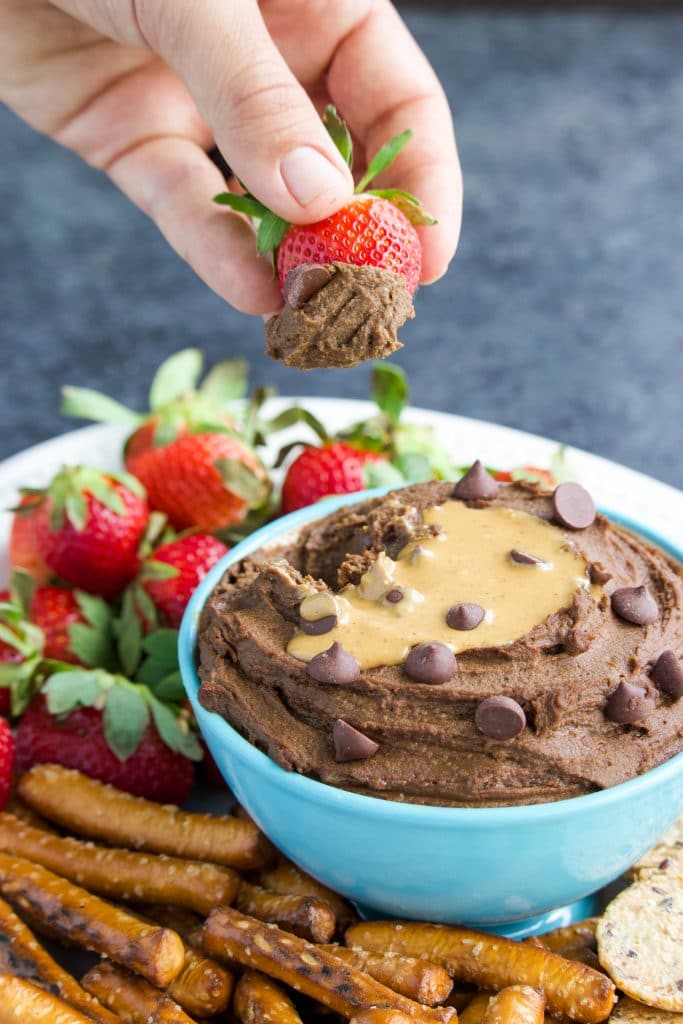 More Vegan Dessert Recipes You'll Love!
Chocolate Coconut Mango Candy Bites
Starbucks Mocha Frappuccino (COPYCAT)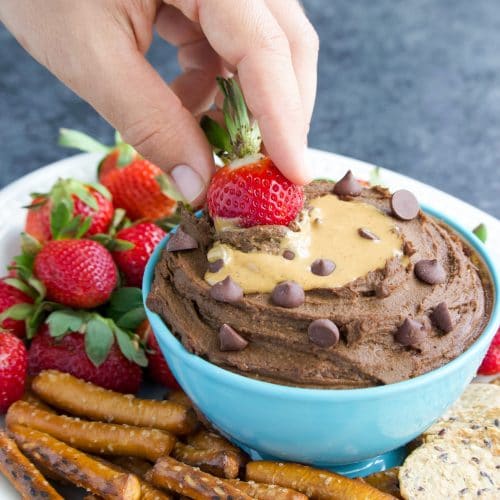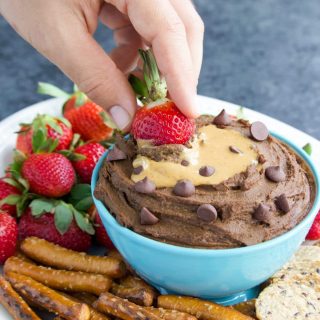 Carob Peanut Butter Dessert Hummus Recipe
Carob peanut butter dessert hummus is a wholesome treat that tastes decadent and indulgent! It's free of refined sugar, gluten, and dairy. Vegan.
Print
Pin
Rate
Instructions
Add the chickpeas, peanut butter, carob powder, maple syrup, coconut milk, and sea salt to a high powered blender. Blend on high until smooth and creamy.

Garnish with a dollop or drizzle of peanut butter and serve with strawberries, pretzels, or crackers. Store in an airtight container in the fridge.
Notes
You can use

canned chickpeas

 for this recipe or you can cook

dried chickpeas

(cover by 2-3 inches of water) in your

Instant Pot

on high pressure for 35 minutes and then let it naturally slow release for 20 minutes. 
You can use coconut milk from a can or carton, either will be fine. 
If you only have sweetened coconut milk, adjust the amount of maple syrup you use.
You can substitute cocoa powder instead of carob 1:1.