This is the ultimate guide to eating vegan on a Disney cruise! It includes options to eat at Cabanas, all of the MDR restaurants, Palo, and dessert. Plus, a printable pre-order form to help you order your meals on the ship!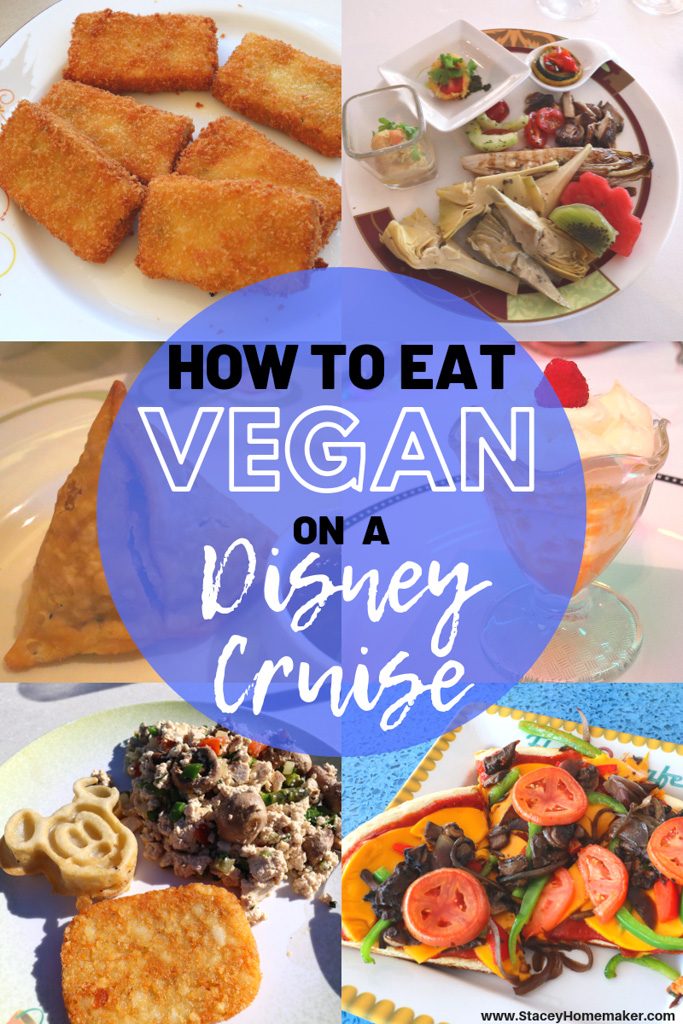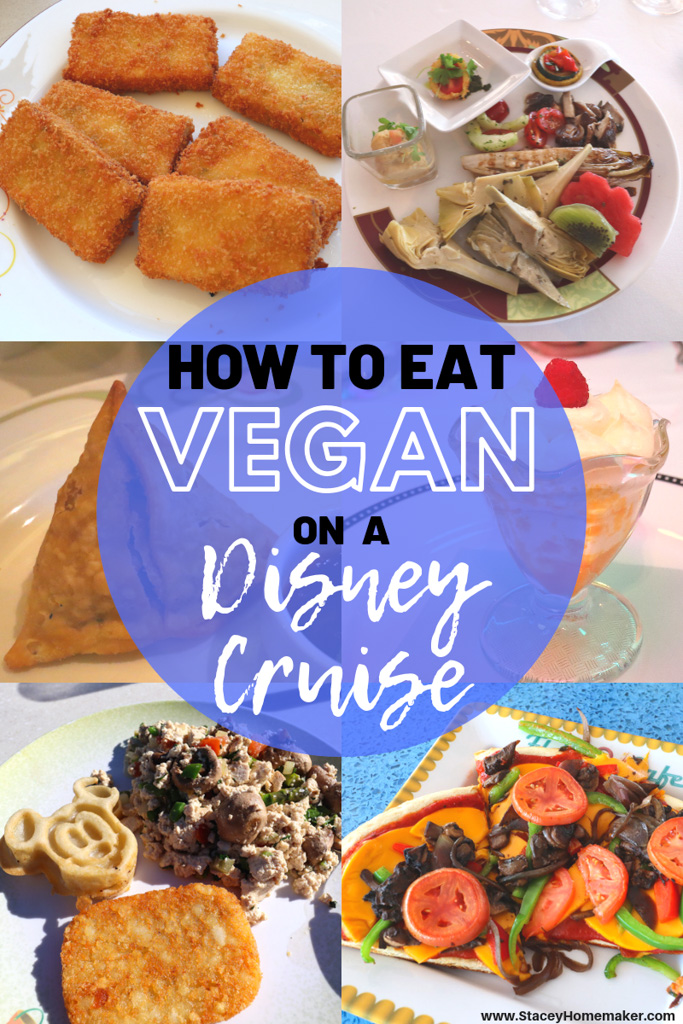 I recently got back from my third Disney cruise and I feel pretty comfortable saying that I got to experience most of the vegan options that are offered on a Disney cruise. I was vegetarian on our first cruise and 100% vegan on the last two.
If you're interested in watching our super fun daily cruise vlogs on our youtube channel, check out our vegan Halloween on the High Seas cruise videos and our vegan Very Merrytime Christmas cruise videos.
I want you to have the best experience eating vegan on a Disney cruise, that's why I'm sharing everything that I've learned. Don't make the same mistakes that I made, if you follow this guide you'll be good to go! Make sure you check out my list of 159 Disney Cruise Tips if this is your first cruise!
Are Disney Cruises Vegan-Friendly?
Yes, Disney cruises are extremely vegan-friendly! They truly want to please you and will go out of their way to make a delicious vegan meal for you. They offer vegan meals for breakfast, lunch, and dinner at the buffet, quick service, and sit-down MDR restaurants.
My Disney Cruise Experience as a Vegetarian/Vegan
I've been lucky enough to go on three Disney cruises (twice on the Fantasy and once on the Magic) in the last three years and each one was fantastic but the food was different on each cruise.
I found it extremely easy to eat vegetarian on the first Disney cruise because all of the restaurants and quick service spots had at least one vegetarian option on the menu.
I was a bit worried before our last two cruises if there would be enough for us to eat on the cruise that was vegan-friendly. The first cruise we went on as vegans (in September 2018) started out a bit rough. I wasn't aware that there was a specific way that you should order so you could get vegan-friendly meals. Once I learned the right way to order, the rest of the second cruise and the entire third cruise was a breeze!
Do This as Soon as You Book a Cruise
The first thing you need to do is call Disney Cruise Line and let them know that you're vegan or have food allergies. They will put a note about your food preference on your account and that will alert the servers of your food preference before you get on the ship.
Next, join the Veg Disney Facebook group so you can ask any questions that you might have about vegan food on a Disney cruise and you'll be able to see any recent pictures of Disney cruise vegan options.
What to do When You First Get on the Ship
As soon as you board the ship, most people go to lunch at Cabanas or to one of the MDR restaurants if it's open. If you go to Cabanas (like we do), look for an employee that's wearing a headset, they will be able to help you order a special vegan meal from the chef. You can either request something from them and they will talk to the chef or the chef might come out and tell you what options they can make for you.
Vegan Food at Cabanas Buffet
Yes, Cabanas does have a few vegan as-is options on the buffet for breakfast and lunch. I would recommend always pre-ordering a vegan meal for breakfast and lunch even if there are vegan options on the buffet.
Vegan Breakfast Options at Cabanas
There is an oatmeal bar with nuts, seeds, and dried fruit toppings. There is plenty of fruit: pineapple, grapes, papaya, watermelon, bananas, honeydew melon, and cantaloupe. The roasted potatoes are cooked in oil and so are the mushrooms. Recently, a sign has been spotted on the Fantasy at the omelet bar that says you can order a plant-based scramble with vegetables that's made with the Just Egg.
In addition to the buffet options, we always pre-ordered a seasoned tofu scramble with extra vegetables, vegan mickey waffles, and hash browns. For some reason, the Mickey waffles were never good-- they always tasted chewy and like they had been microwaved for too long.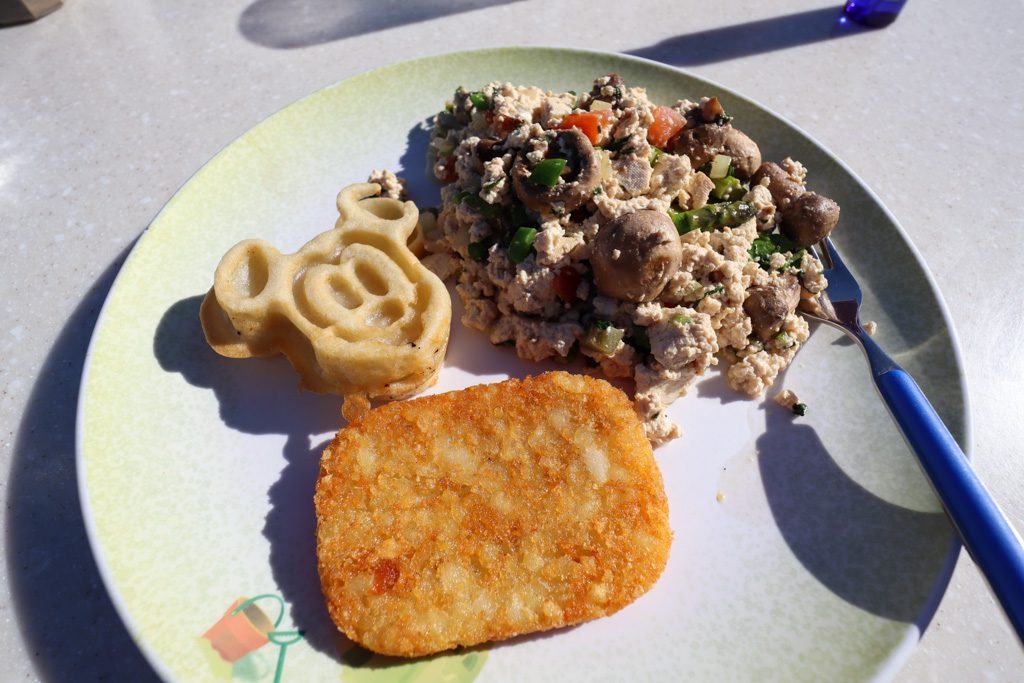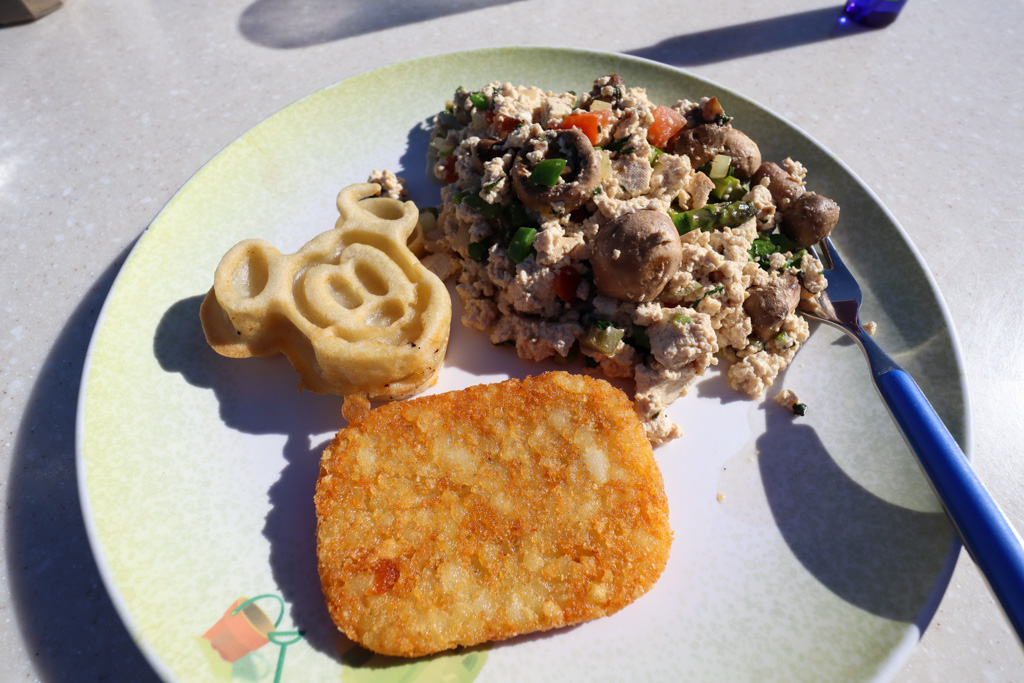 Vegan Lunch Options at Cabanas
On the buffet, there are french fries, plain pasta with marinara sauce, mushroom and asparagus salad, and the salad bar are all vegan (bottom left picture). Occasionally, they have vegan Indian food on the lunch buffet but that changes daily.
Besides those options, you'll need to speak to a chef about what they can make for you or make sure to pre-order the day before if you know you'll be eating at Cabanas the next day. Besides the vegan options on the buffet, we also pre-ordered:
Crispy tofu nuggets
Vegetables hummus wraps
Vegetable stir-fry with noodles
Vegetable sushi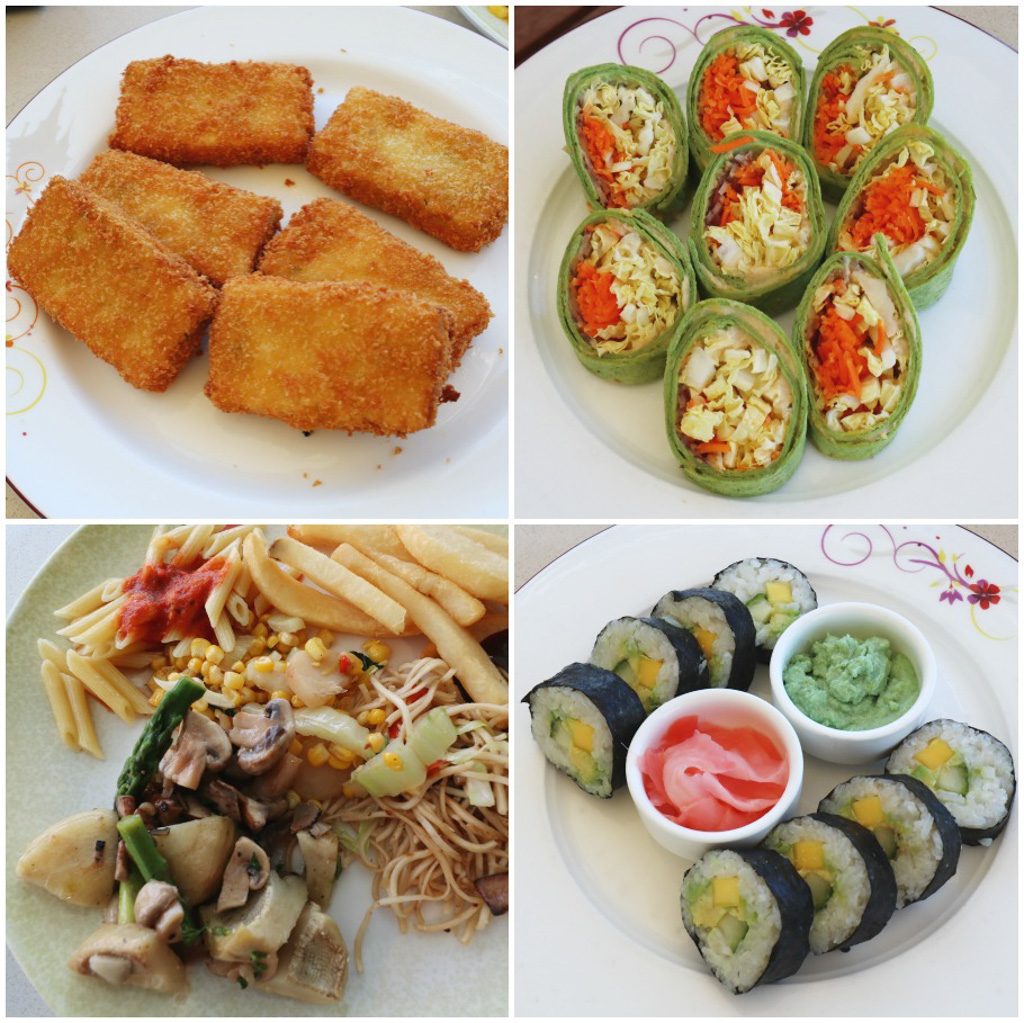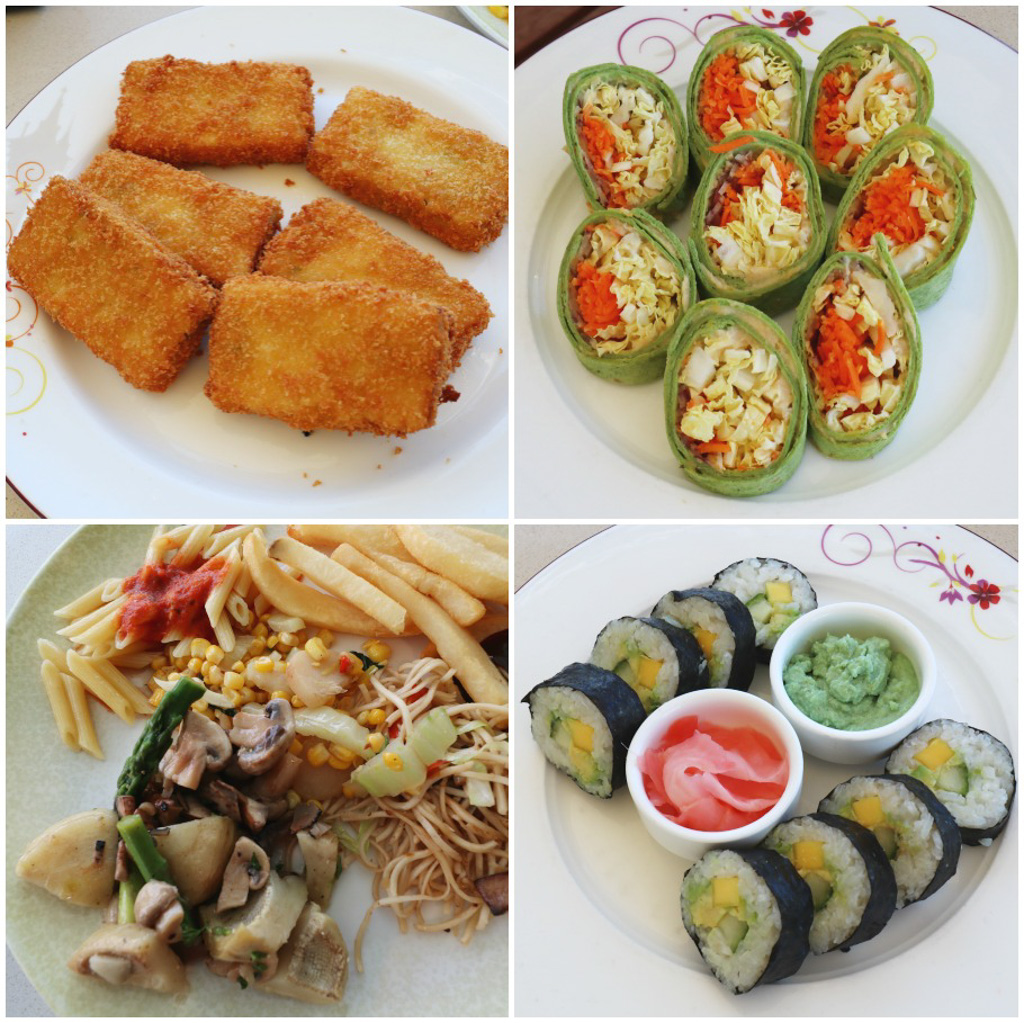 How to Pre-Order Your Vegan Meals
The key to having the best vegan dining experience on a Disney cruise is to pre-order your meals the night before.
On the first night of your cruise, you'll have to order off the dinner menu since you just arrived that afternoon (not enough time to pre-order). Hopefully, they will be able to veganize the vegetarian option that's on the menu (each MDR has 1-2 vegetarian options on the menu). This is the first time you'll meet your serving team, so make sure you explain your dietary preferences right away so they can guide you through the menu.
Before you leave the restaurant, make sure you ask your server to see the menu for the next night. Review the menu and see if any of the vegetable-based appetizers, salads, or vegetarian entree options appeal to you.
Tell your server (nicely) exactly what you would like to eat the next day. You can politely request for them to prepare a vegan version of almost anything vegetable-based on the menu for dinner the next night. If you don't care for anything on the menu, you can request something else within reason.
After our first vegan cruise, I found that it was much easier to write down my food requests (for the next day for breakfast, lunch, and dinner) on this pre-order form that I made and give it to our head server each night at dinner. The head server then passed my order on to the chef and they actually thanked us for writing it out because it made it easier for them to know exactly what we wanted and where we would be eating.
Pro Tip - I noticed that some nights they brought out family-sized portions of meals that I pre-ordered. If you don't want enough for the table to share, make sure you make a note on the pre-order form how many portions you would like.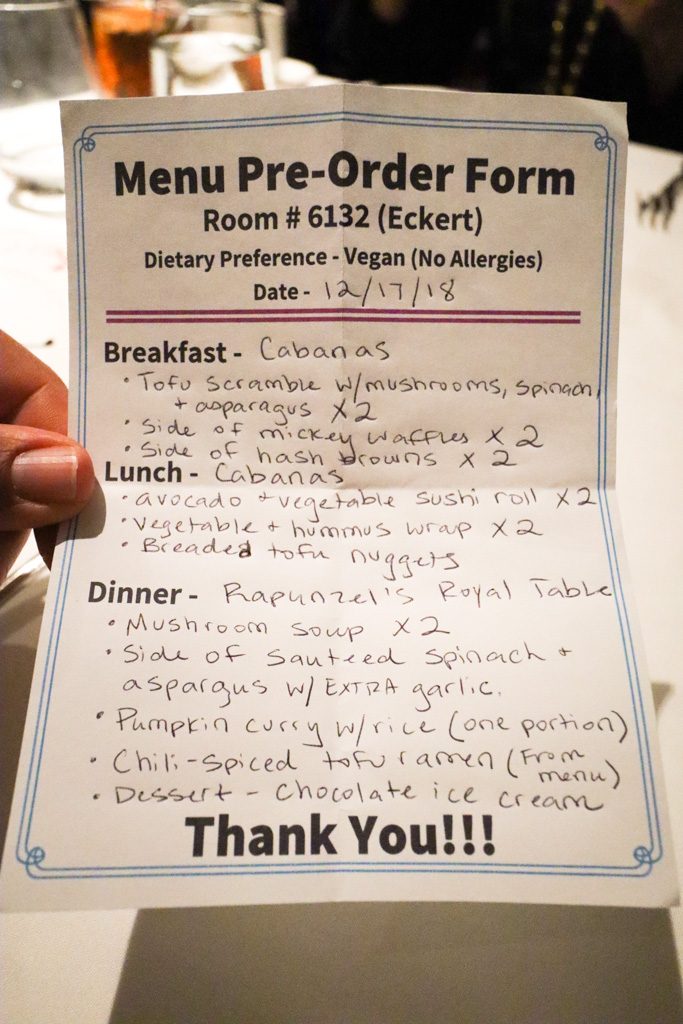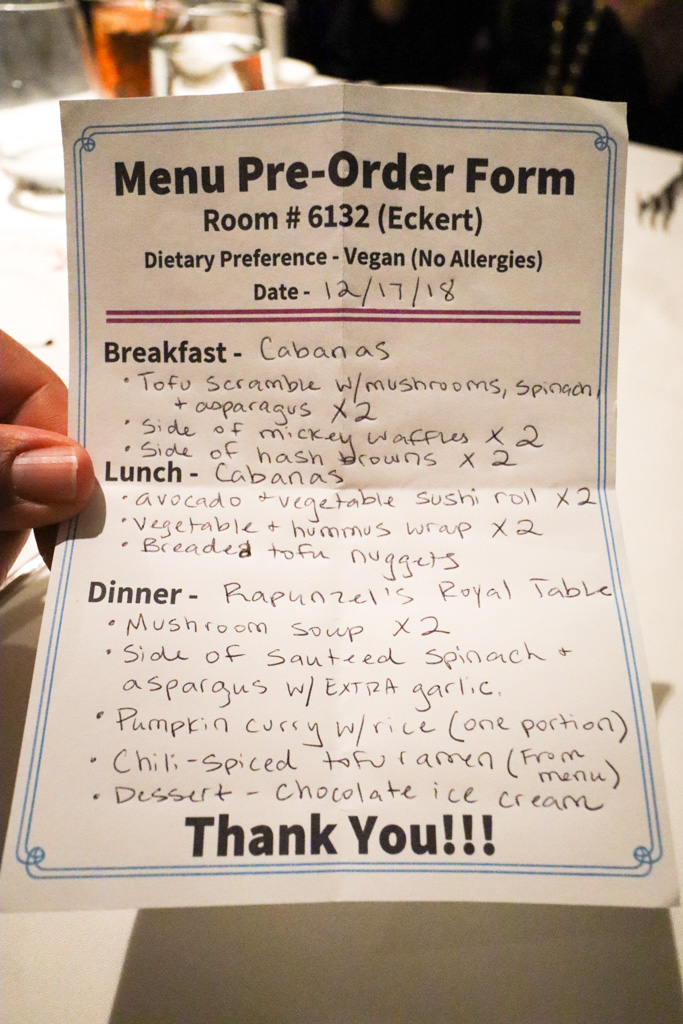 You can get my pre-order menu form, here.
If you leave hungry as we did on the first night, you can always go to the quick-service restaurant (located on the pool deck) and order a vegetable burger with fries or vegan pizza. If you'd like pizza, make sure you ask for vegan cheese and extra vegetables. For some reason, they only had yellow cheddar slices available. It looks odd but tasted pretty good!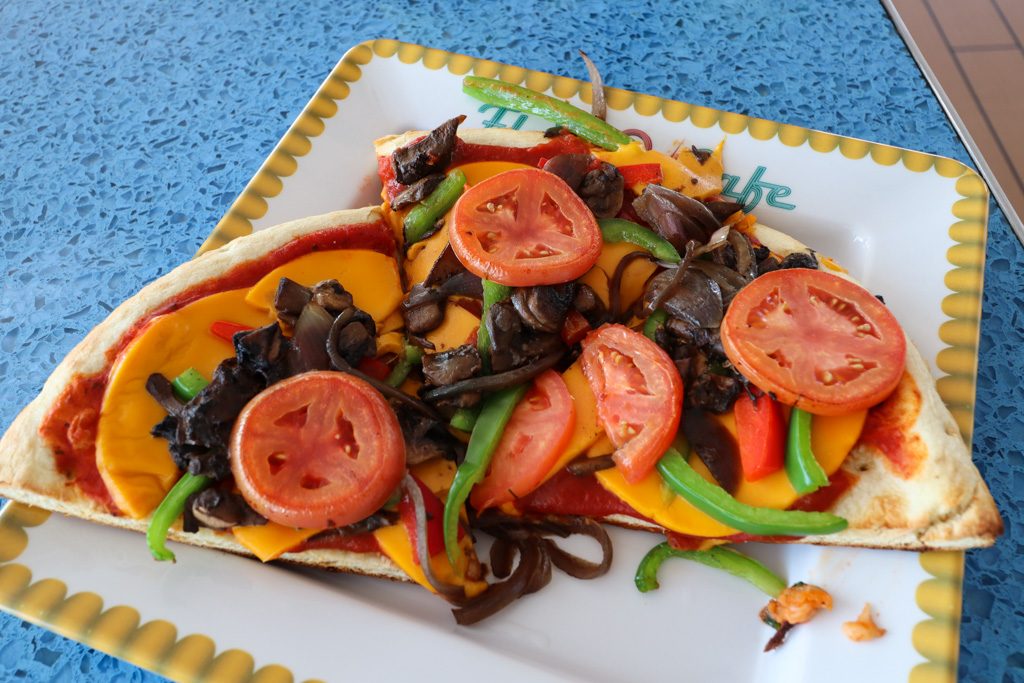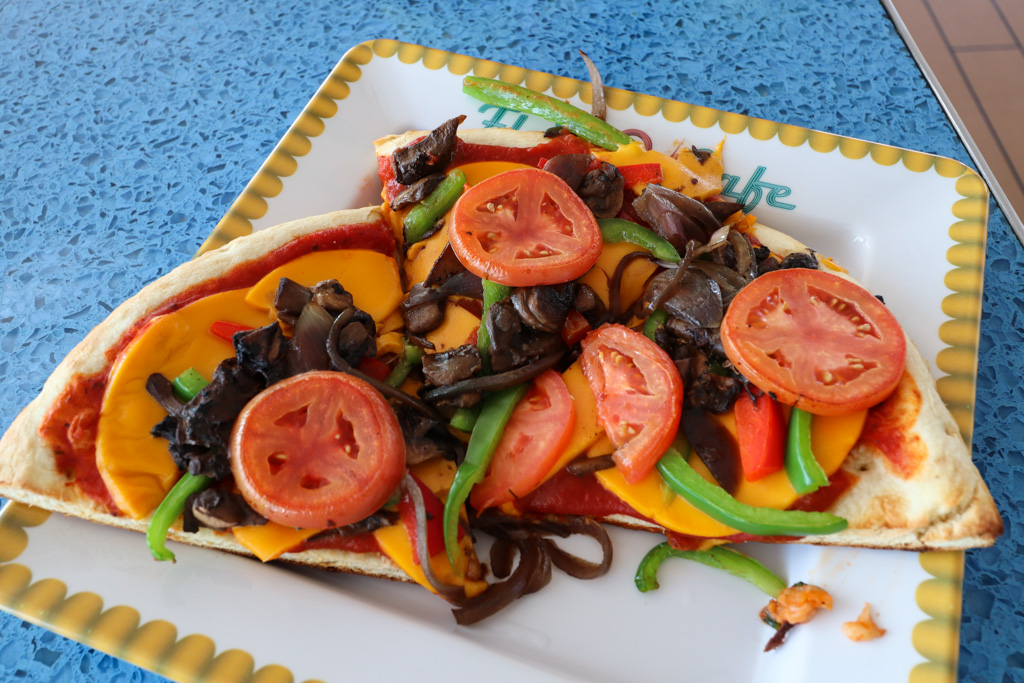 MDR Restaurants Vegan Options
On our second Disney cruise (the first cruise as vegans), we only ordered off the menu for dinner each night at the Main Dining Room (MDR) restaurants because we didn't know that we could request anything else. All of the dinner menus had vegetarian options and some were vegan as is. They were able to veganize some of the vegetarian options for us.
Here are some of the menu items that we ordered off the menu (from top left to bottom right):
Cucumber roll
Samosas (without the yogurt dipping sauce)
Salad (We also loved the spinach salad with raspberry vinaigrette)
Quinoa fennel salad
Couscous salad with hummus
Pumpkin curry with jasmine rice, spinach, and asparagus
Pearl barley cakes
Grilled tofu with vegetables and pearl couscous
Spicy black bean cakes with rice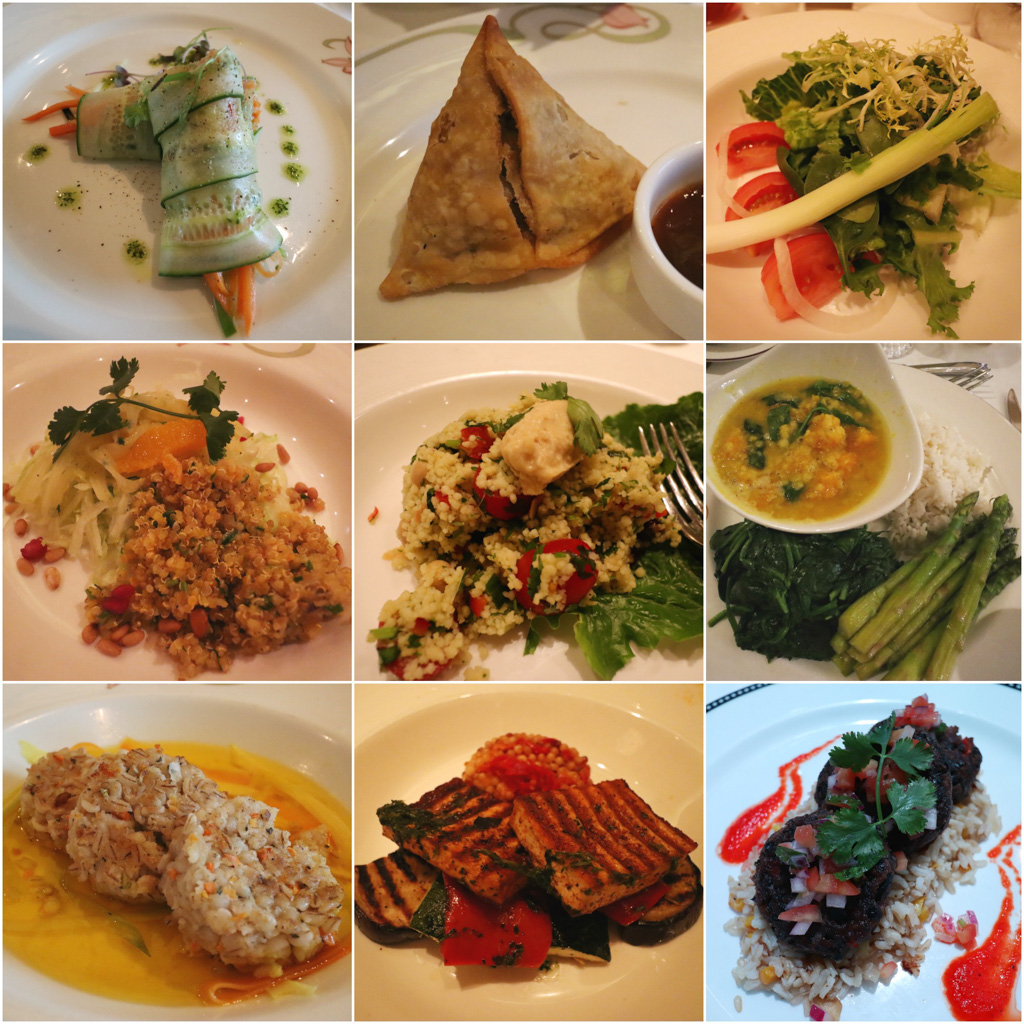 We learned on our third cruise that in addition to ordering veganized versions of entrees off the menu you could request specific dishes that weren't on the menu. We already knew they could make certain entrees from our previous cruises so it was awesome to be able to request some of our favorite items like the samosas and mushroom soup. I pre-ordered the samosas every night of the cruise-- they are delicious!
Falafel wraps with hummus and pita bread
Spicy tofu ramen noodle bowls
Sauteed veggies with tofu (request that the tofu is crispy, our was soft and unseasoned)
Mushroom soup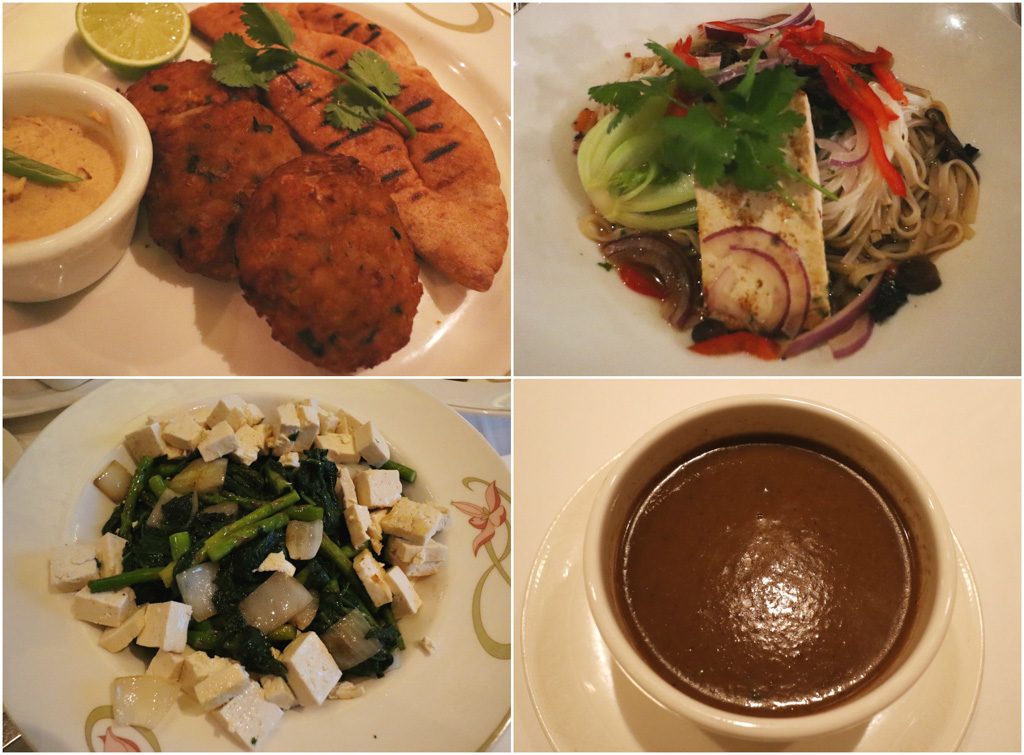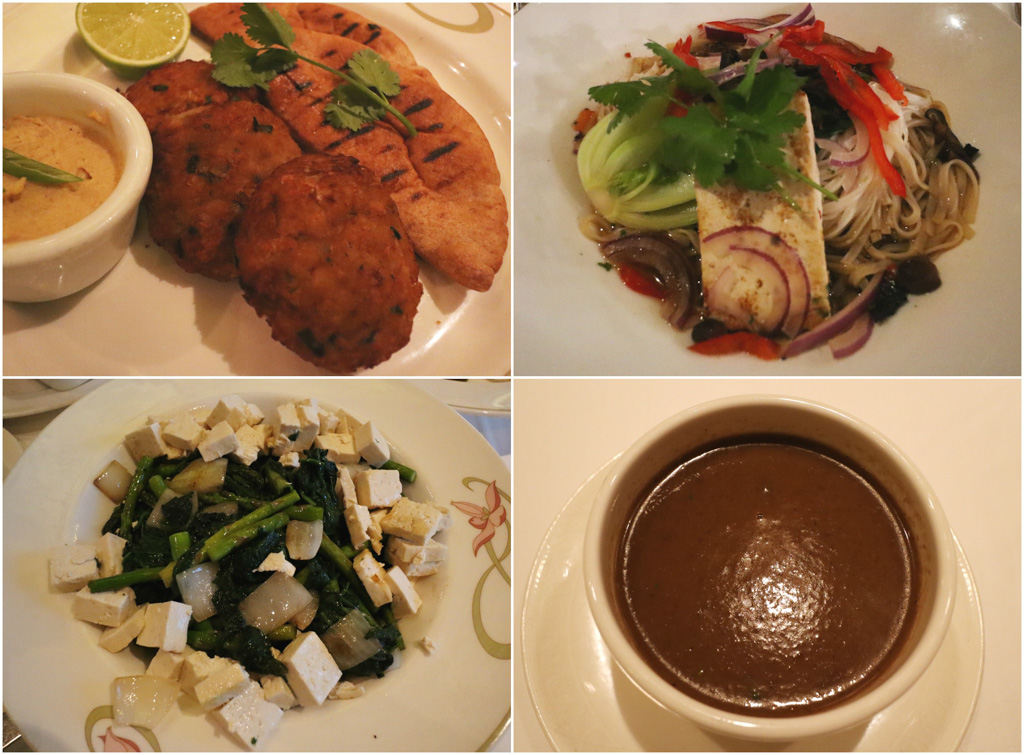 Disney Cruise Indian Food
After our first vegan Disney cruise, we learned that you can pre-order Indian food with your choice of protein. I wish we had known about this option on our first vegan cruise because the Indian food that we had on our second vegan cruise was fantastic! I loved every single dish!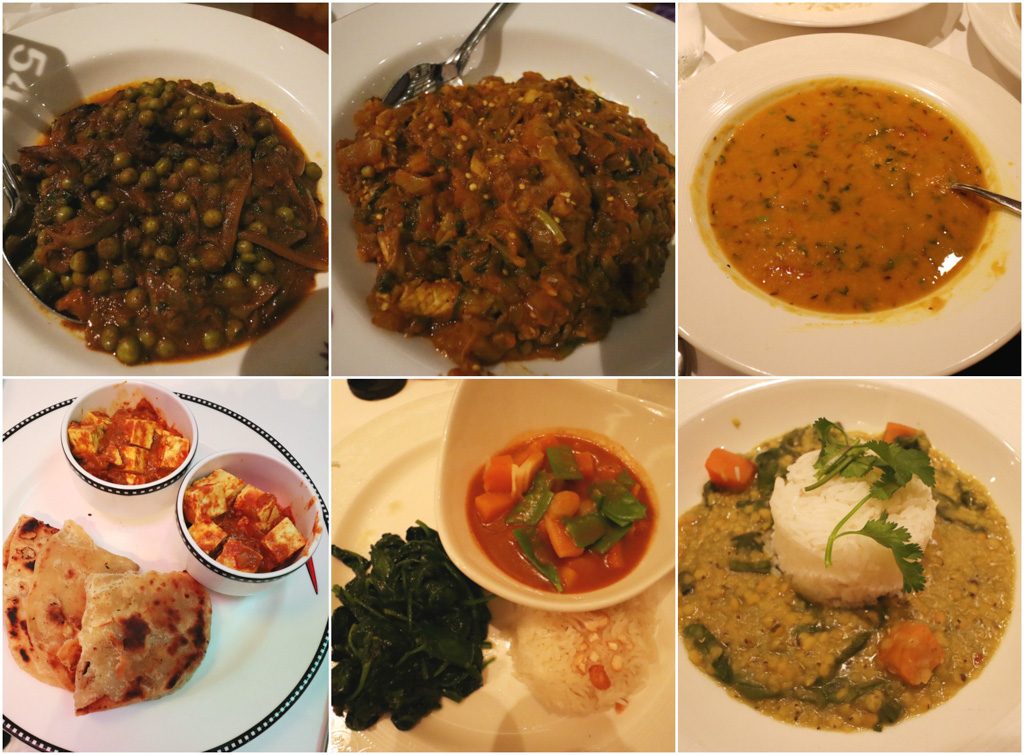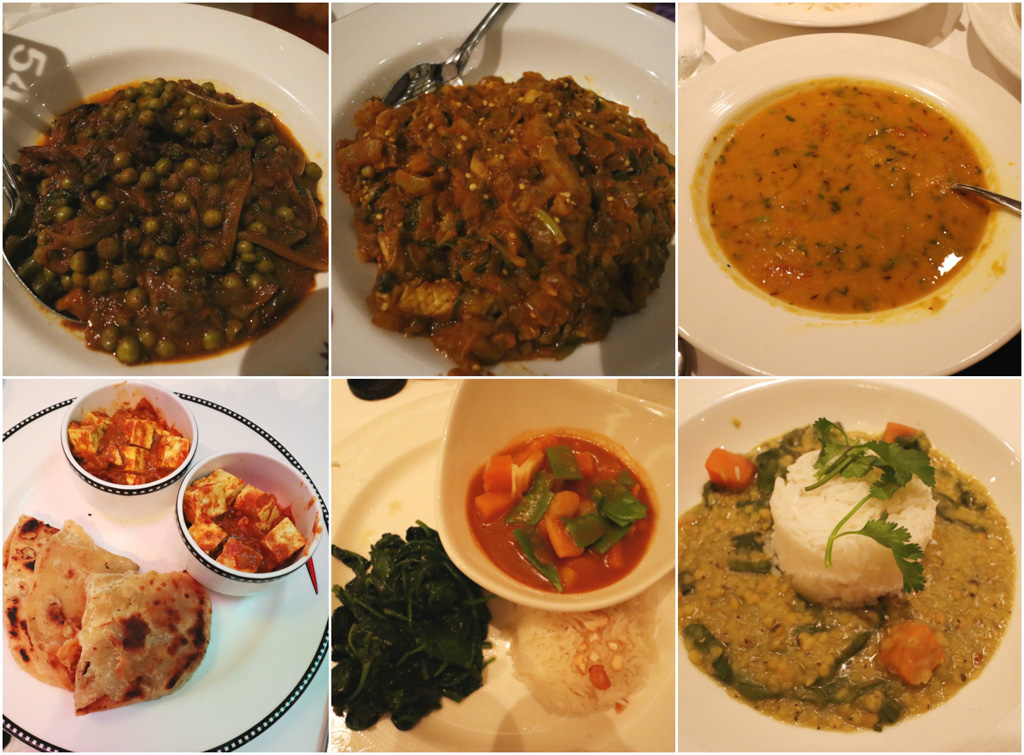 We tried (from top left to bottom right):
Mushroom pea curry
Eggplant curry
Red lentil dahl
Spicy red curry tofu with crispy naan bread
Vegetable curry with jasmine rice and sauteed spinach
Lentil curry with jasmine rice
Disney Cruise Vegan Palo Options
We also went to Palo brunch while on the cruise and they did have multiple vegan options on the buffet!
Marinated artichokes
Arancini
Fresh fruit
Roasted endive
Roasted vegetable stack
Hummus
Cucumber salad
Mushroom salad
The tomato soup is the only vegan option on the menu but they did make me a vegetable pasta dish that was very tasty. For dessert, there are no vegan options on the buffet but they made me a strawberry basil sorbet and it was the best sorbet I've ever tasted in my life! I definitely didn't leave hungry and I would go back again in heartbeat!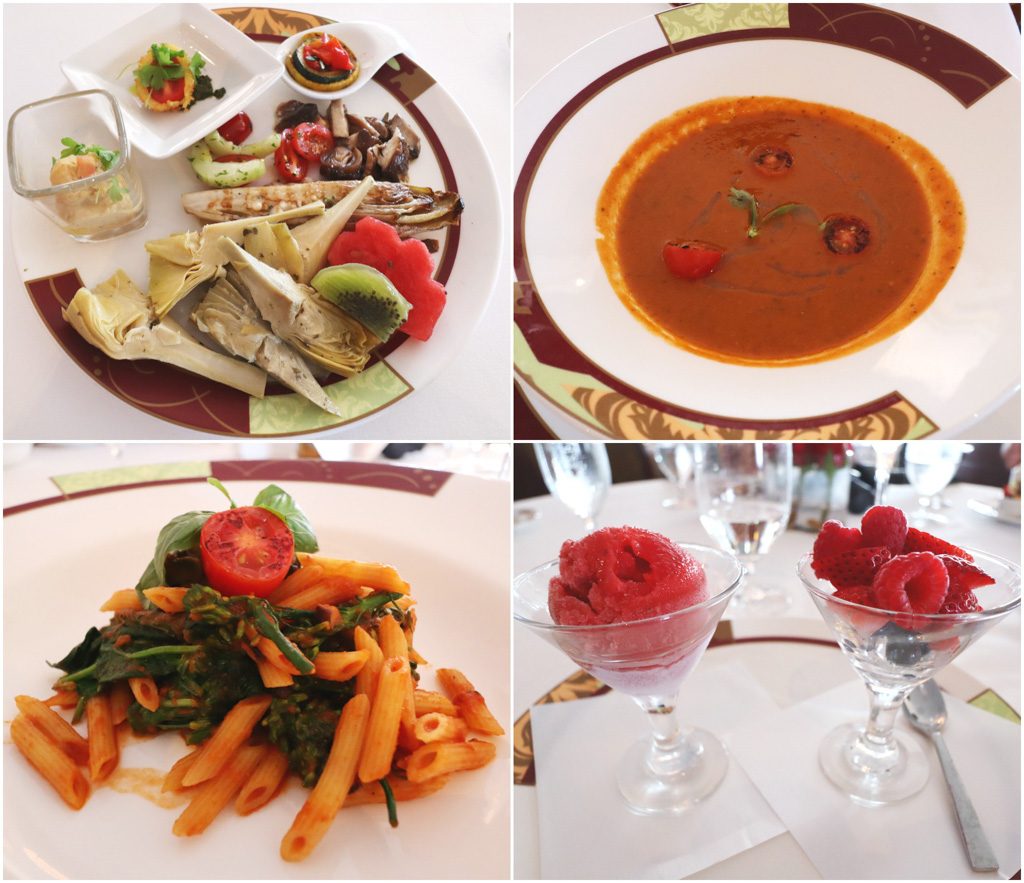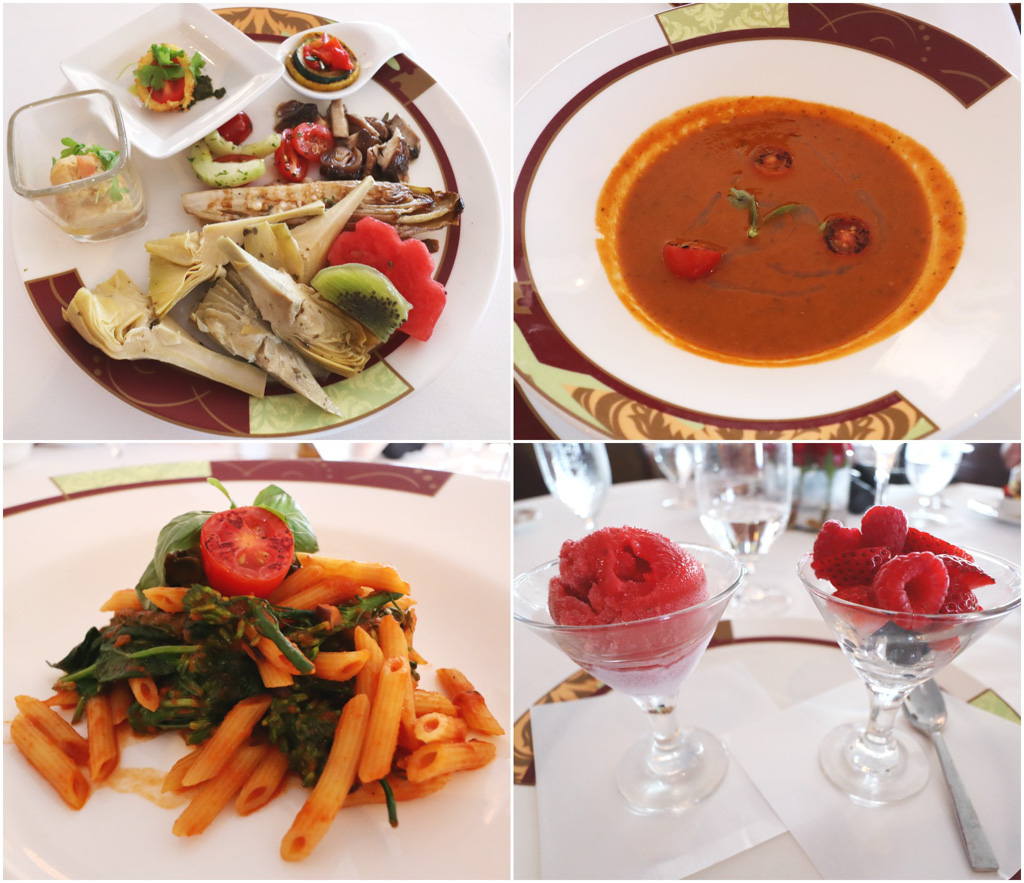 We didn't go to Palo dinner on either vegan cruise so I can't tell you for sure what vegan options they might be able to prepare. However, I'd probably guess that it would be very similar to the brunch options.
If you're vegetarian, I can highly recommend the portobello mushroom with polenta. I ordered this vegetarian option off the menu on our first cruise (when I was just vegetarian) and it was one of my favorite meals I've ever had!
Vegan Castaway Cay Options
Eating vegan at Castaway Cay is very easy to do as long as you pre-order your meal the night before! If you don't pre-order your meal, they do have vegetable burgers available upon request but they will most likely cook it on a shared grill. There is a large fruit bar available at each of the Cookies BBQ locations that are safe for you to eat from but there's not much else.
We always preorder a vegetable burger, a greek salad with tofu, couscous vegetable salad, and fruit.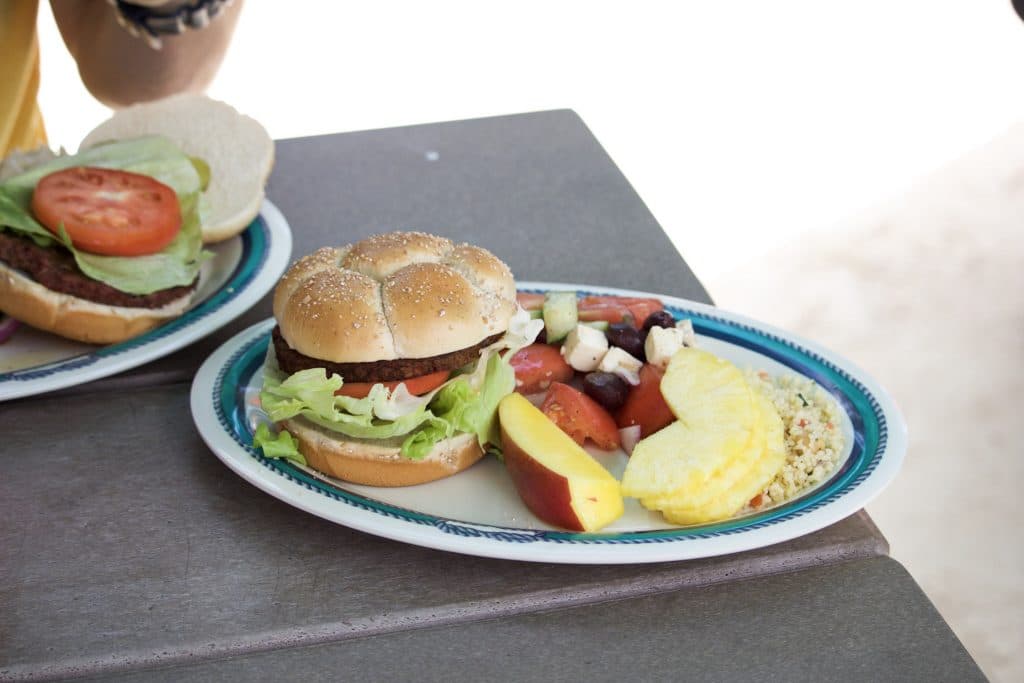 Dairy-Free Ice Cream & Desserts
The eye scream ice cream machines that are on the pool deck of the Disney cruise ships are not vegan. However, you can get dairy-free rice cream or raspberry sorbet at the dessert counter in Cabanas during lunch. You can also preorder vegan ice cream for dessert at dinner.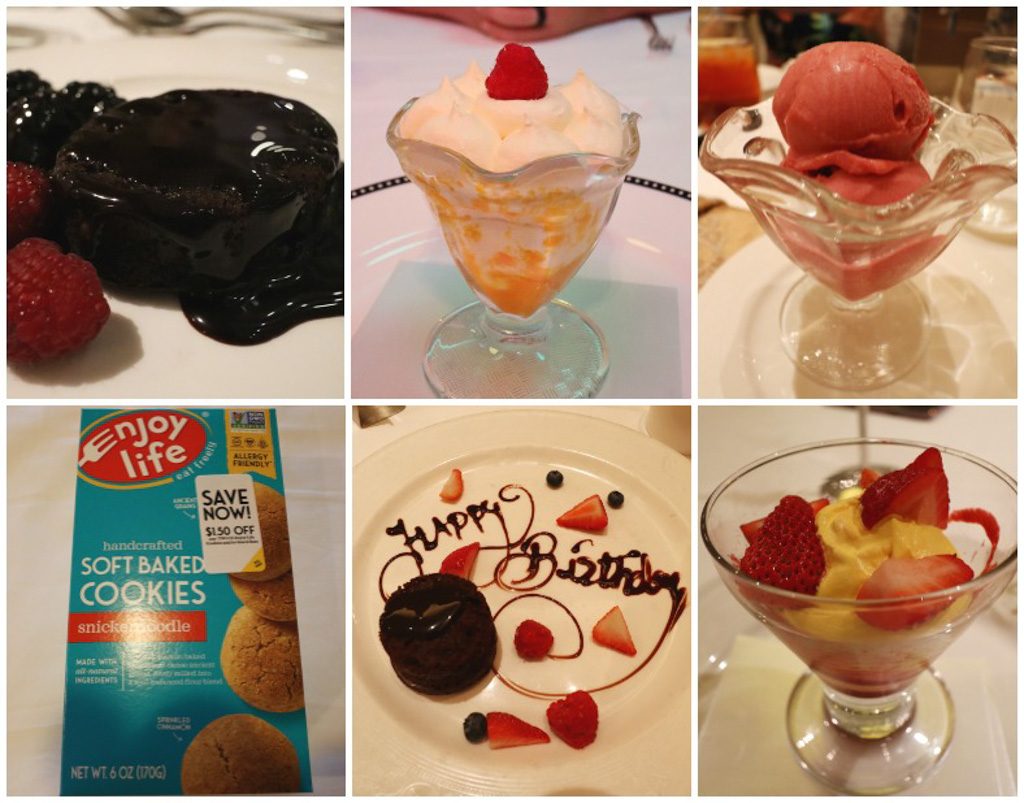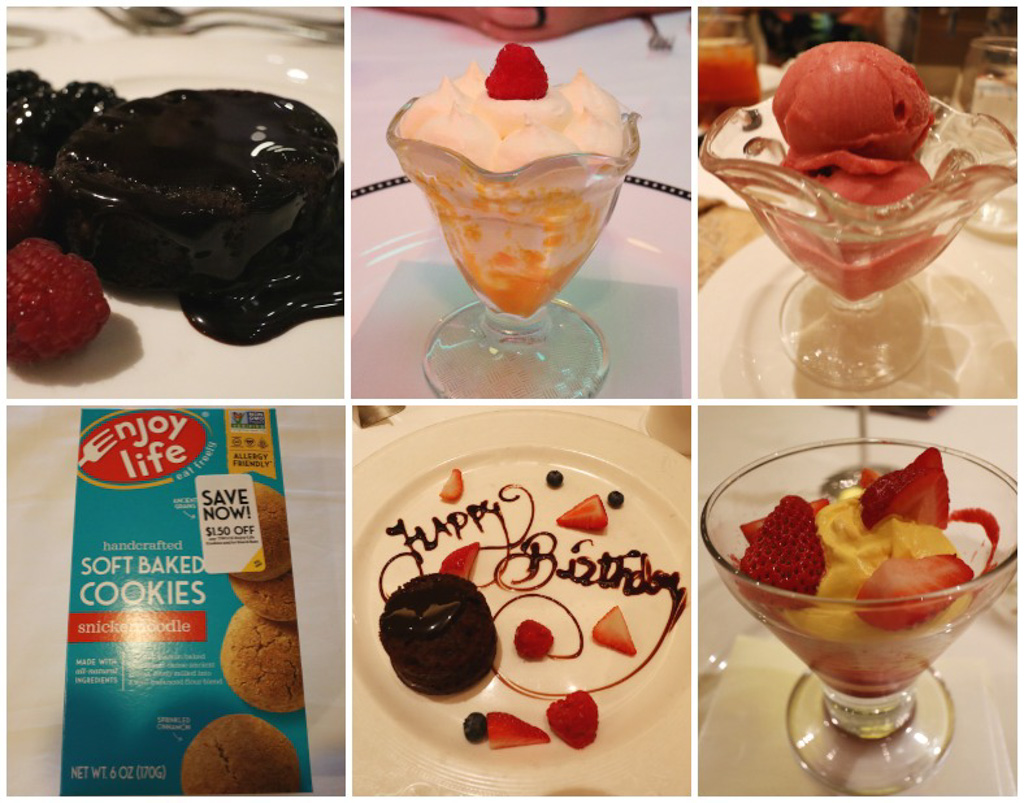 Here are all of the desserts that we tried (from top left to bottom right):
Chocolate lava cake
Mango mousse with coconut whipped cream
Raspberry sorbet
Enjoy Life Snickerdoodles
"Happy Birthday" chocolate cake
Mango pudding with fresh strawberries
The chocolate cakes were hit or miss, one night it was delicious and the other three times I ordered it it was tough and rubbery. I loved the mango mousse (on the Fantasy) and mango pudding (on the Magic). Raspberry sorbet or fresh fruit are offered for dessert at all of the MDR restaurants or you can pre-order the chocolate cake or mango mousse.
The Enjoy Life cookies are what they brought when I called room service and asked if they had any vegan cookies. I wasn't sure what was going to show up, but they were delicious and it was a nice surprise that they brought a whole box!
There are also a few vegan options at "Sweet on You" on the Fantasy.
What About Coffee Creamer?
I know coffee creamer may seem trivial but as a person who drinks a cup of coffee every morning, having my favorite vegan coffee creamer is important! Disney cruise ships only carry almond milk (as of 12/15/18) to use as a substitute coffee creamer.
To be honest, it's not great. I dealt with it on our first cruise but I didn't want to do it again so I brought my own creamer for the next two cruises!
We live within driving distance of Port Canaveral so I put a sealed bottle of my favorite unsweetened Ripple coffee creamer in a soft top lunch box with a small ice pack and carried it on board with me.
I was prepared to explain my dietary issue if the security people asked why I had it but nobody said anything. I carried it on board with no issues and put it in the mini-fridge in my room. It worked perfectly!
Even if you don't live close as we do, you could make a quick stop at a grocery store on the way to the port to pick up a new bottle of your favorite coffee creamer to use on the ship. It's worth it!
Which Disney Cruise Ship Had Better Food?
That's a really tough call because our first two cruises were on the Fantasy and at that time we didn't know how to pre-order properly. We only had one dinner that wasn't great on the Fantasy and that was my fault for not pre-ordering the night before.
Everything else that we ate on both ships was delicious! Honestly, I don't think you could go wrong with either ship. I truly felt that they wanted to please us and make sure that we ate exactly what we wanted.
Is Disney The Best Cruise Line For Food Allergies?
I haven't been on any other cruise lines to compare. We're afraid to book anything but Disney because we don't want to be disappointed! If you have tried other cruise lines while being vegan, please leave a comment and share your experience with us!
Is a Disney Cruise Worth it for Vegans?
In my opinion, yes, it's definitely worth it! All three of the Disney cruises that we went on were the best vacations of my life! As I said, there was only one meal that wasn't great and it was my fault that it turned out like that.
If you do your research about what to order, use the pre-order form that I linked above, and communicate your dietary needs (food preference or allergy) with your server then it will be smooth sailing!
Disney makes it so easy and they have so many options for vegans, I bet there will be even more new options by the time you get on the ship. I hope you have the best time on your vacation and eat tons of delicious food for me!
More Disney Cruise Posts You'll Love!
7-Night Eastern Caribbean Disney Cruise Review
Which is Better? Brunch or dinner at Palo?
FREE Printable Disney Cruise Packing List
What's the Food (not vegan) Really Like on a Disney Cruise?
Everything You Need to Know About Pirate Night!
11 Funtastic Disney Cruise Activities for Adults!