Which is better? Palo brunch or Palo dinner? I'm breaking down both experiences to help you decide which meal you should book for your next Disney cruise! From the brunch buffet to the chocolate souffle, this review answers all of your questions about dining at Palo!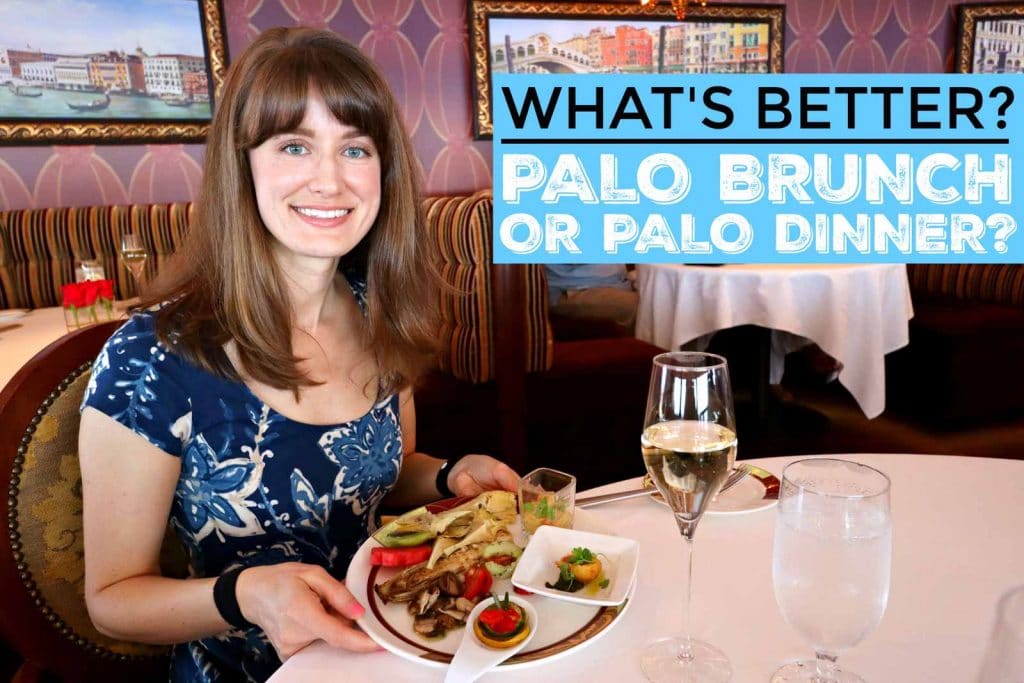 Palo is the extremely popular adult-exclusive restaurant onboard all four of the Disney cruise ships (Disney Fantasy, Disney Dream, Disney Magic, and Disney Wonder). At Palo, you can savor classic Northern Italian cooking with a modern twist while enjoying oceans views. The food is incredible, the restaurant is stunning, and the service is top-notch.
If you're booking a Disney cruise, you probably already know how coveted the Palo brunch reservations are. They are extremely hard to get and for good reason, Palo brunch is fantastic!
Dinner reservations at Palo for dinner are much easier to get but does that mean it's not as good as brunch at Palo? I've been lucky enough to enjoy both brunch and dinner at Palo (on the Disney Fantasy and Disney Magic), so I want to help you decide which experience is best for you.
Some Questions That You Might Be Wondering:
Which experience is better?
Is the food better at brunch or dinner?
Is dinner fancier than brunch?
Is dinner more expensive than brunch?
Is Palo the same on all of the Disney ships?
We'll go into detail about Palo brunch and Palo dinner, but let's start with something they both have in common,
the dress code.
Palo Dress Code
The dress code is strictly enforced at Palo for brunch and dinner. The first time we went to Palo brunch (on our honeymoon), my husband was wearing dress shorts with a button-down collared shirt and Sperry's, and he was asked to change his pants (oops!) before we could be seated.
Palo doesn't mess around with the dress code! Make sure you dress appropriately so you don't embarrass yourself. Use this FREE printable Disney Cruise packing list to help you pack the right clothes for your Disney cruise!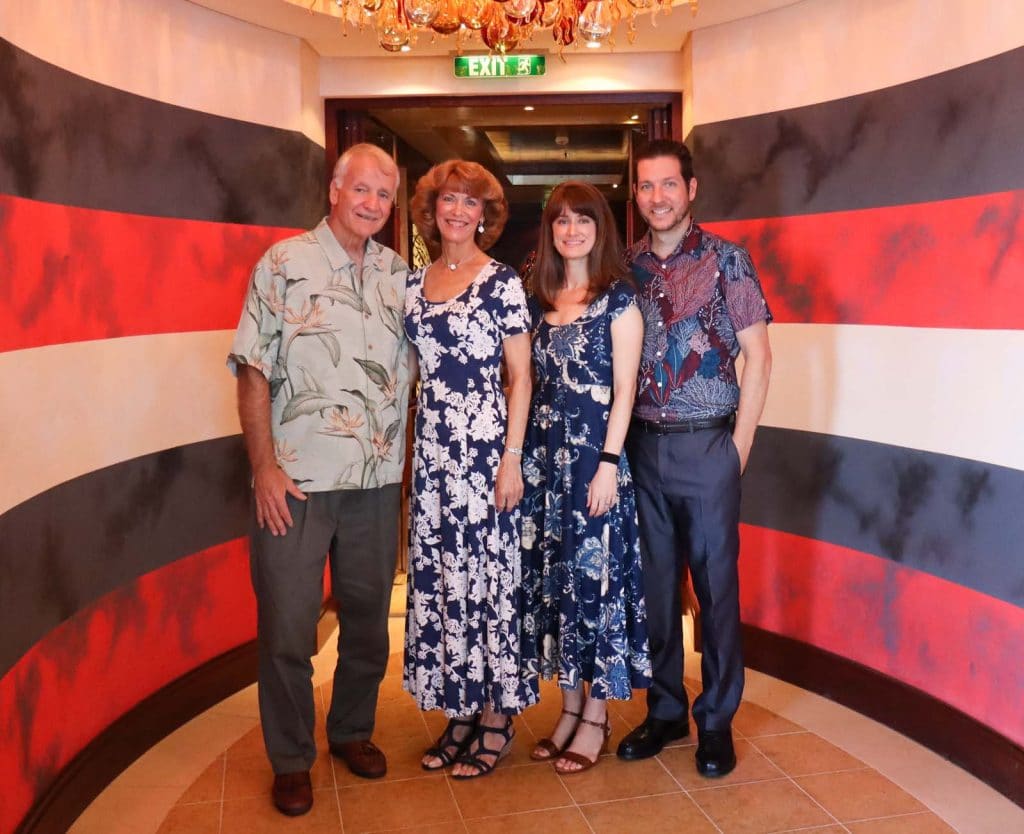 Men Should Wear -
Dress Pants or Slacks
Belt
Collared Shirt
Blazer or Jacket (We saw many men wearing jackets at dinner (not at brunch), but it's not required)
Dress Shoes
Women Should Wear -
Dress
Skirt or Pants
Blouse
Jeans (without any holes)
Heels, Strappy Sandals, or Flats
These Clothing Items Are NOT Allowed -
Flip Flops
Tennis Shoes
Ripped Clothing
Tank Tops
Swimsuits
Cover-ups
Shorts
Hats
Cut-offs
T-shirts with Offensive Language
T-Shirts with Graphics
Disney Cruise Palo Brunch FAQ's
What is Palo Brunch?
Palo brunch is a buffet featuring a medley of delectable Italian-inspired cuisine. You will enjoy foods like fresh croissants, warm sticky buns, lobster salad, scallops, and arancini (plus lots more!) from the buffet and you can also order a la carte entrees off the brunch menu. Save room, because there's a dessert buffet that's not to be missed.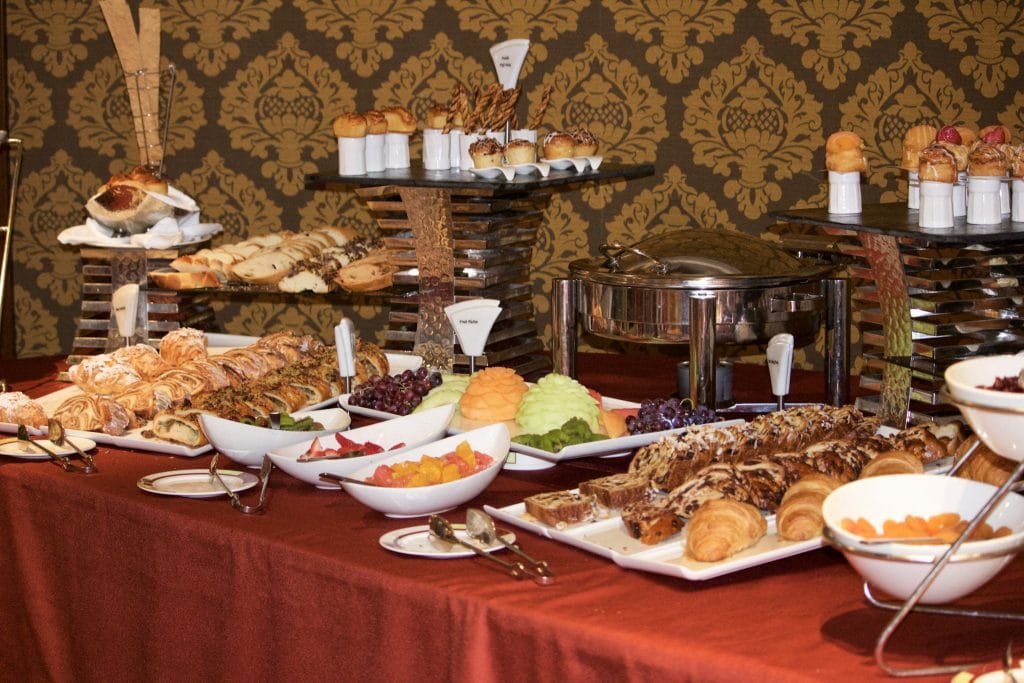 How Much is Brunch at Palo?
Brunch at Palo is $30 per person right now, but the price is increasing to $40 per person if you book after December 14, 2019.
Is Palo Brunch Only on Sea Days?
Palo brunch is only offered on sea days on cruises that are 4 nights or longer. There is no Palo brunch on a 3 day cruise.
Should You Make a Reservation?
Reservations are required (for brunch and dinner) and can be made online or onboard the ship. If you're not able to book a reservation online prior to your cruise, you can be added to the waiting list once you board the ship on the first day.
Where Can I Find the Palo Brunch Menu?
You can see the 2019 Palo brunch menu, here.
Are Palo Restaurants the Same on All of the Disney Ships?
The food is the same at all of the Palo restaurants, but the decor is a little bit different on the Fantasy and Dream vs. the Magic and Wonder.
Disney Cruise Palo Brunch Buffet
The following pictures show the food that we enjoyed from the Palo brunch buffet. You can watch our video of brunch at Palo, here.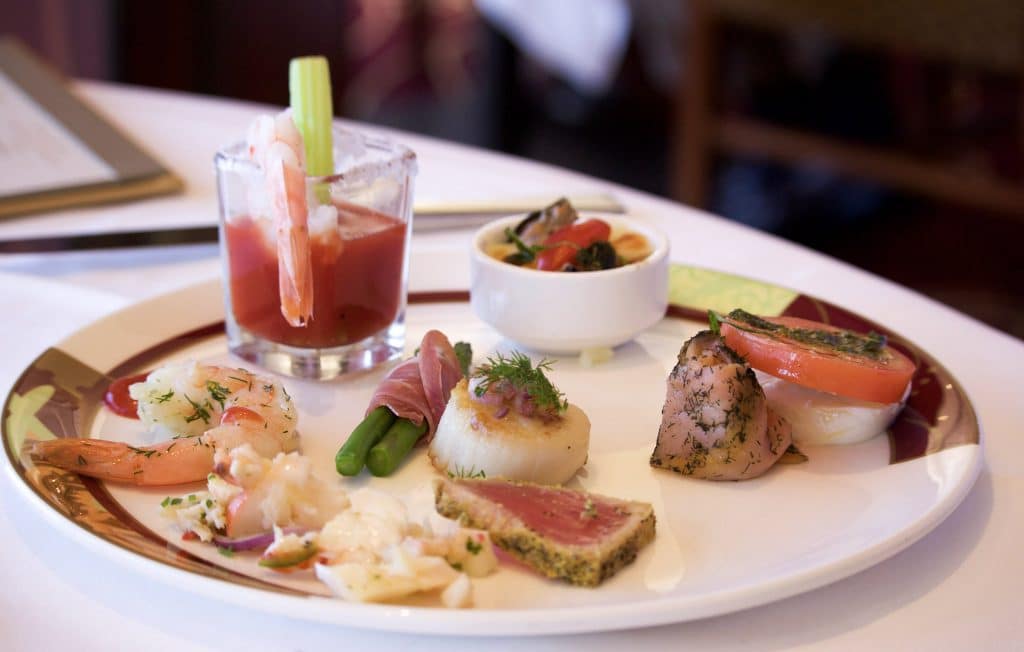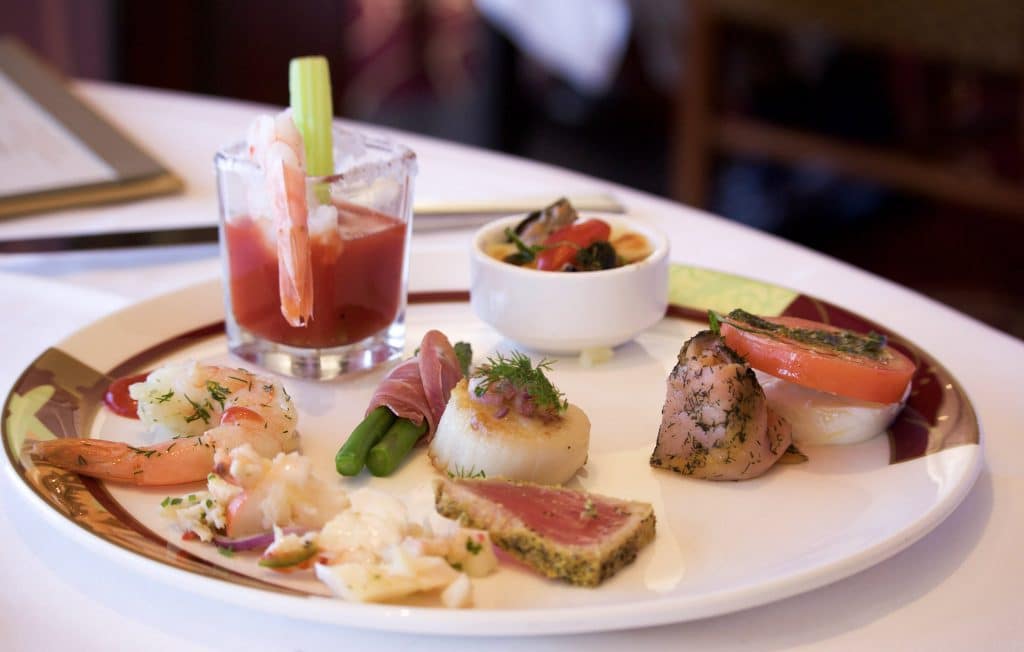 Palo Brunch Menu -
Assorted Pastries
Crispy Croissants
Fresh Fruit
Warm Sticky Buns
Crab Legs
Lobster Salad
Scallops
Caprese Salad
Caviar
Strawberry Soup
Cold Boiled Shrimp
Ahi Tuna
Assorted Meats
Marie Rose Sauce
Nicoise Salad
Oysters
Prosciutto-Wrapped Asparagus
Marinated Artichokes
Salmon Mousse
Cucumber Salad
Assorted Cheeses
Sauteed Mushrooms
Arancini
Grilled Endive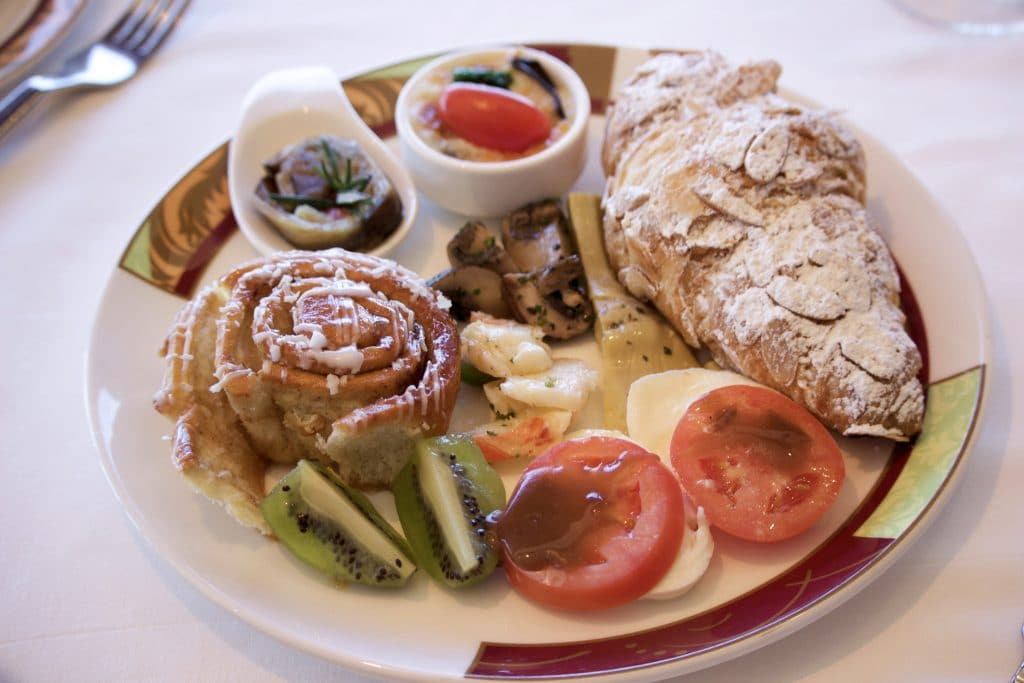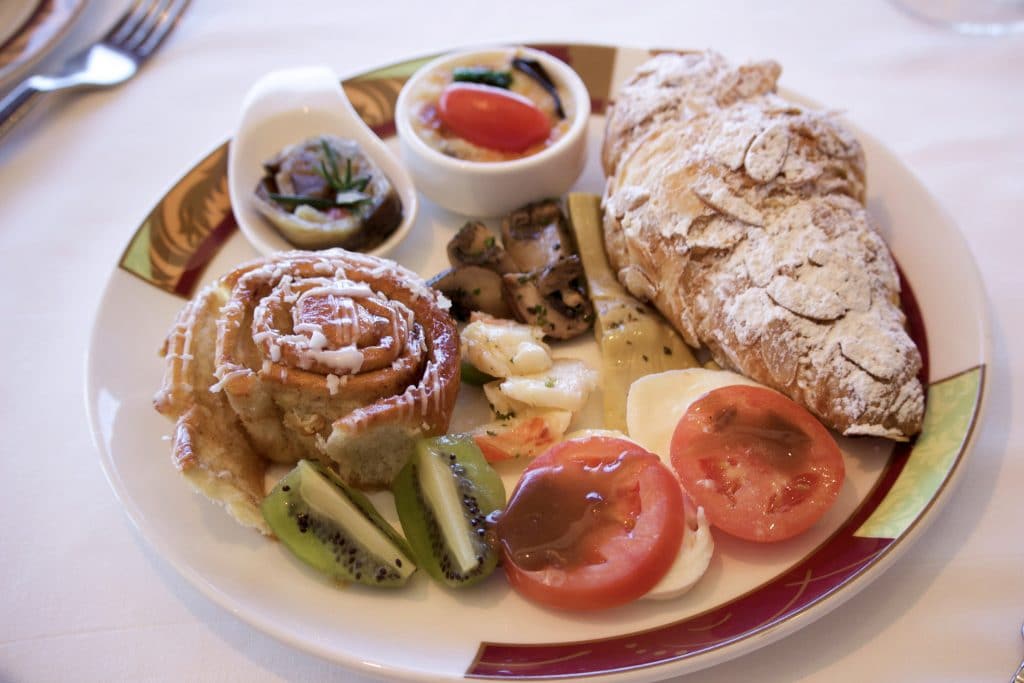 Does Palo Brunch Have Vegan Options?
Yes, there are lots of delicious vegan options at Palo brunch!
Hummus
Arancini
Grilled Vegetables
Marinated Artichoke Hearts
Fresh Fruit
Sauteed Mushrooms
Grilled Endive
Cucumber Salad
Tomato Soup
Vegetable Pasta
Strawberry Basil Sorbet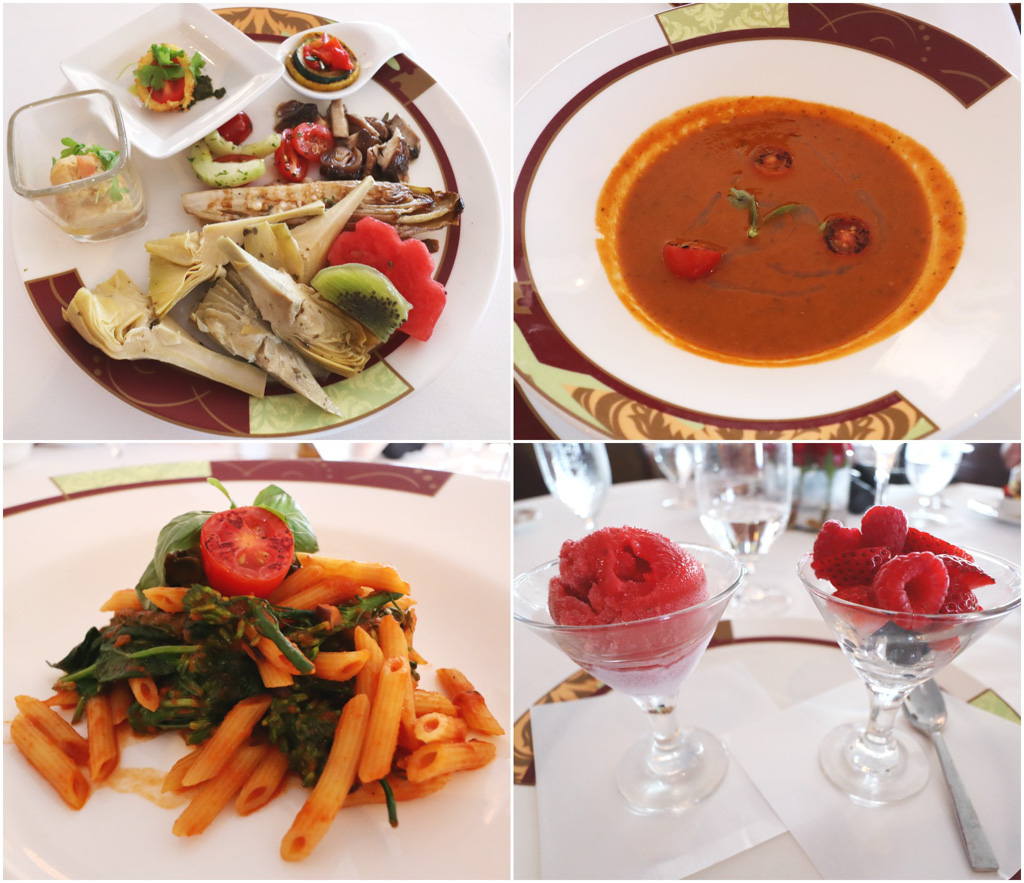 Palo Brunch A La Carte Menu
You can order as many dishes that you want from the a la carte menu. We tried the following dishes:
Artichoke Ravioli
Red Snapper Filet
Chicken Parmesan
Grape & Gorgonzola Pizza
Lasagna
Mickey Waffle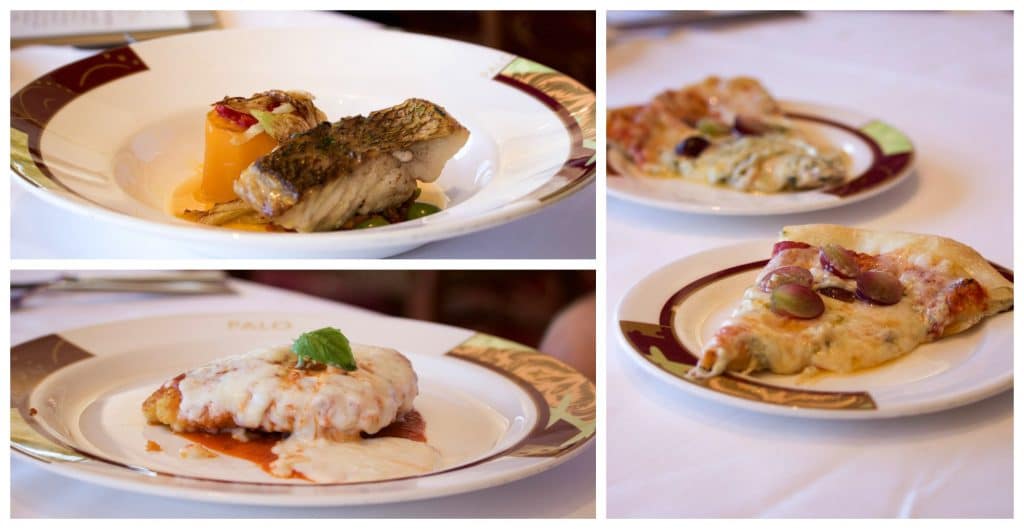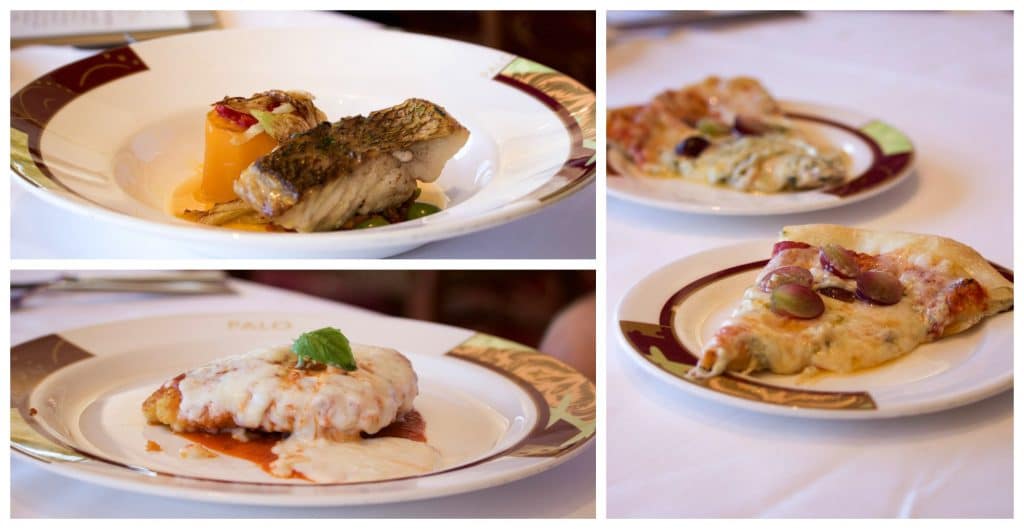 The grape & gorgonzola pizza isn't on the menu anymore but you can still order it! It's a unique pizza that many Disney cruisers love, it's still very popular. All of the dishes that my family ordered off the a la carte menu were delicious.
My mom's favorite menu item was the giant Mickey waffle! It was perfectly crispy and it came with a tureen filled with strawberry syrup and she toppped the waffle with fresh strawberries from the buffet.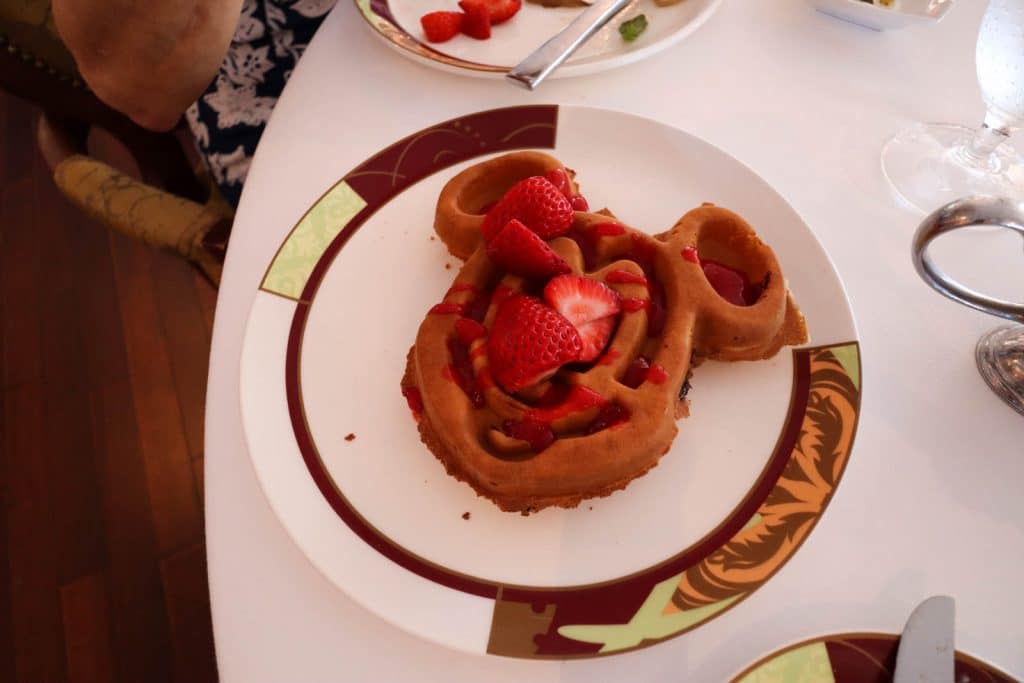 Disney Cruise Palo Brunch Dessert Buffet
Every dessert offered at Palo brunch is artfully prepared, absolutely delicious, and unique. Thankfully, the desserts are all bite-sized so you can try everything!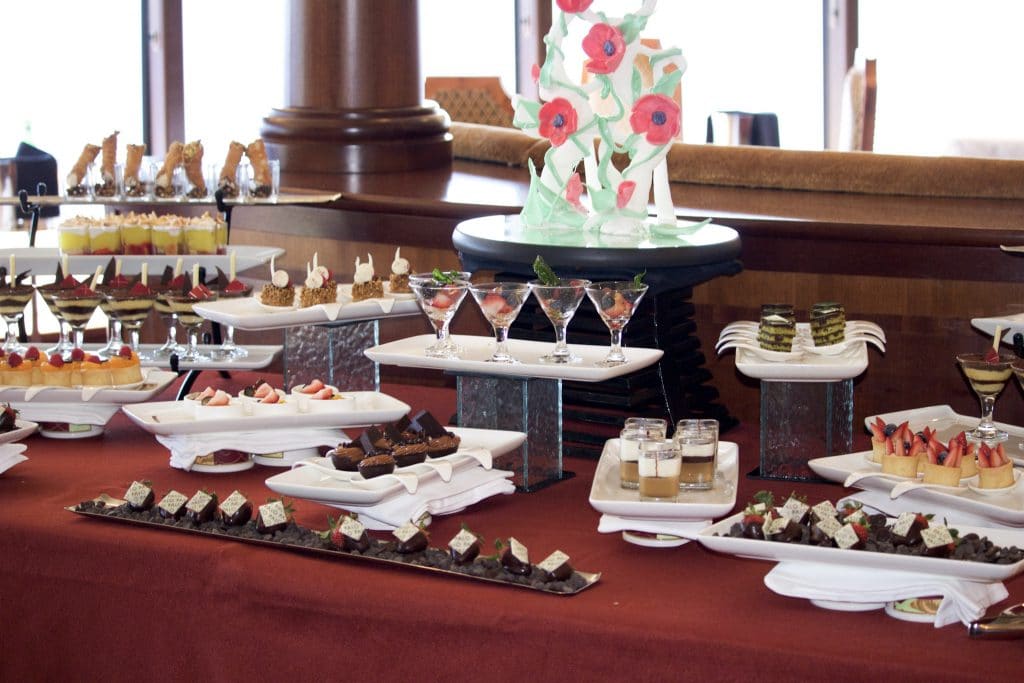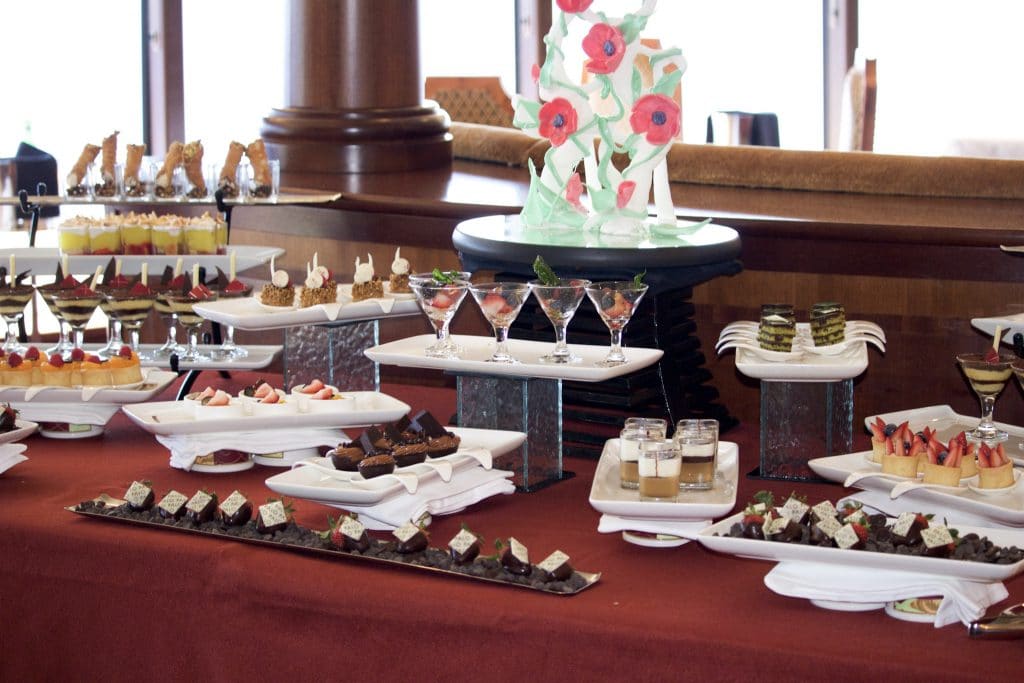 Our favorite desserts were the espresso creme pudding and strawberry lemon shortcake!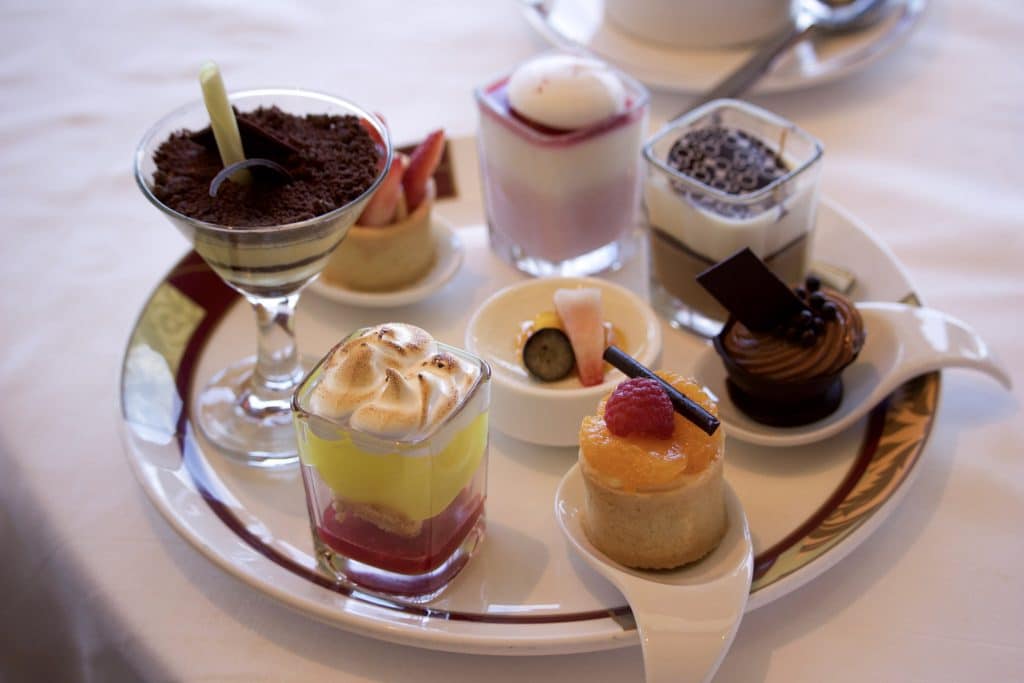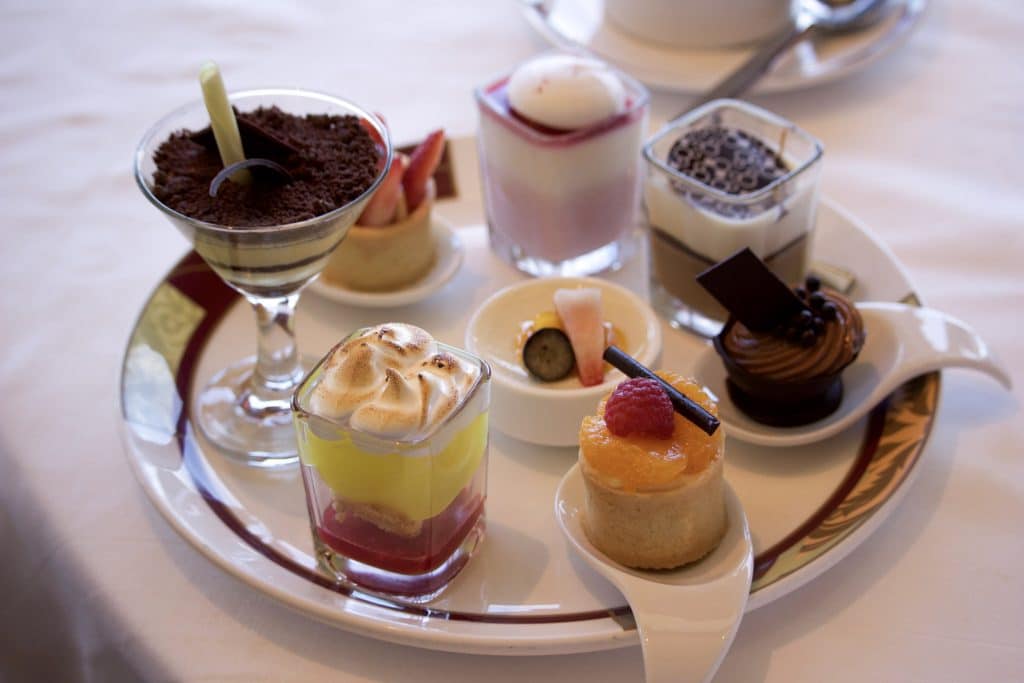 Overall, we thoroughly enjoyed ourselves at Palo brunch and we left stuffed and happy.
Disney Cruise Palo Dinner FAQ's
How Much is Dinner at Palo?
As of September 2019, dinner at Palo is $30 per person. However, after December 14, 2019, the price will increase to $40 per person.
Do You Tip at Palo?
Yes, you should absolutely leave a tip at Palo. The service is exceptional and your server should be tipped generously for their work.
Where Can I Find the Palo Dinner Menu?
You can view the 2019 Palo dinner menu, here.
What's the Palo Cancellation Policy?
You must cancel reservations at least 24 hours prior to your reservation time to avoid the cancellation fee. If you don't cancel your reservation and fail to show up, you will be charged the full cost of the meal.
Disney Cruise Palo Dinner
Dinner at Palo is different than brunch at Palo. Let's go over the differences:
There is no buffet at dinner.
A photographer will be making rounds to take your picture during dinner.
The dress code is a little bit more formal at night, we saw many men wearing blazers.
A charcuterie cart will be brought to your table and your server will prepare a plate for you based on your preferences.
Dinner includes 5 courses.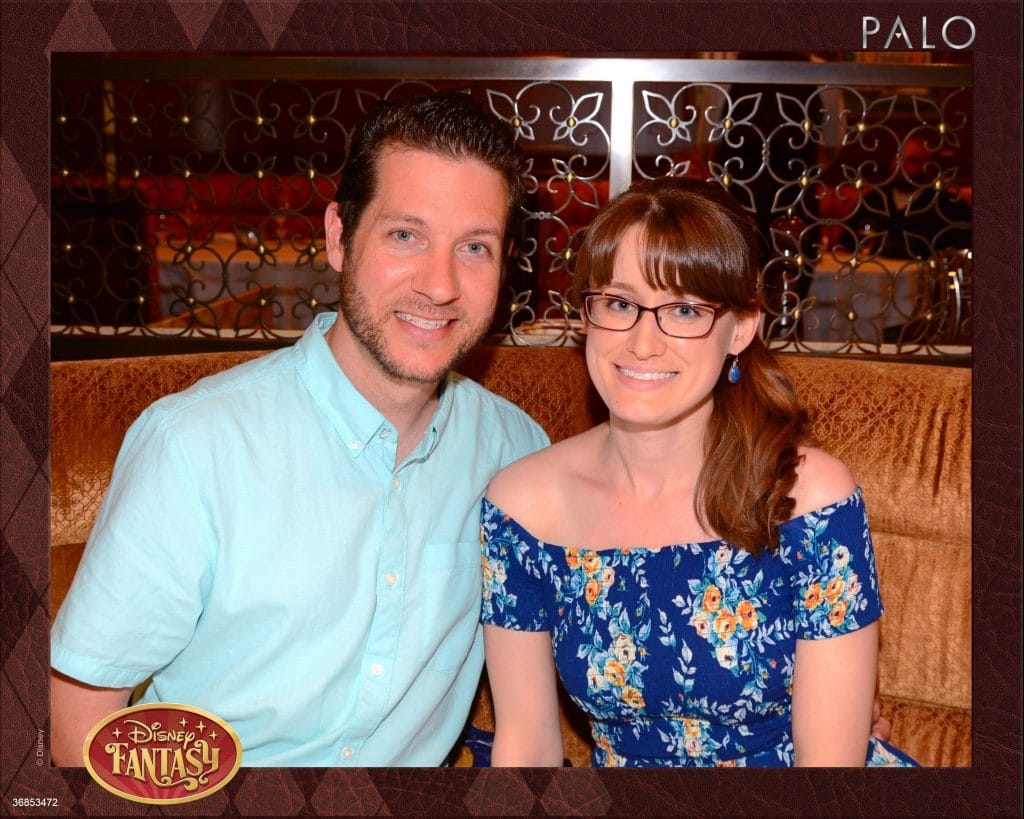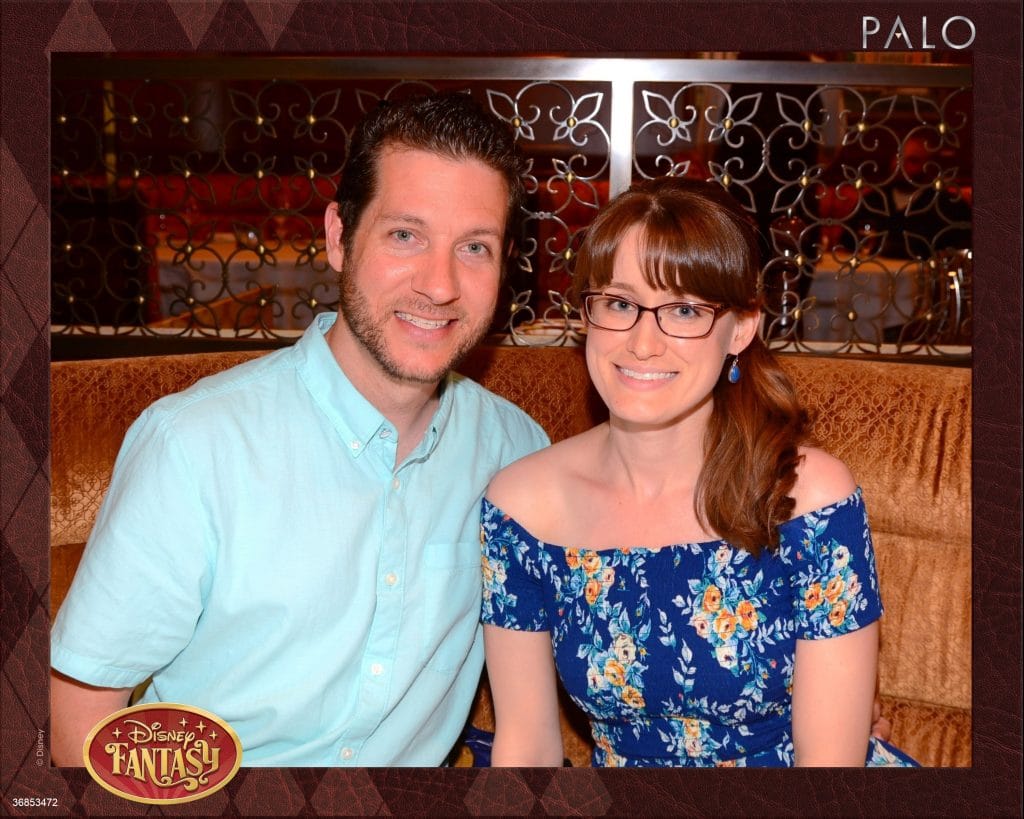 Now, let's get into the food!
Palo Dinner First Course - Charcuterie Cart
Dinner began with our amazing server, Stefanos, bringing a charcuterie cart to our table and making a plate for each of us. He dressed our plates with a drizzle of balsamic vinegar and left us to enjoy our snack.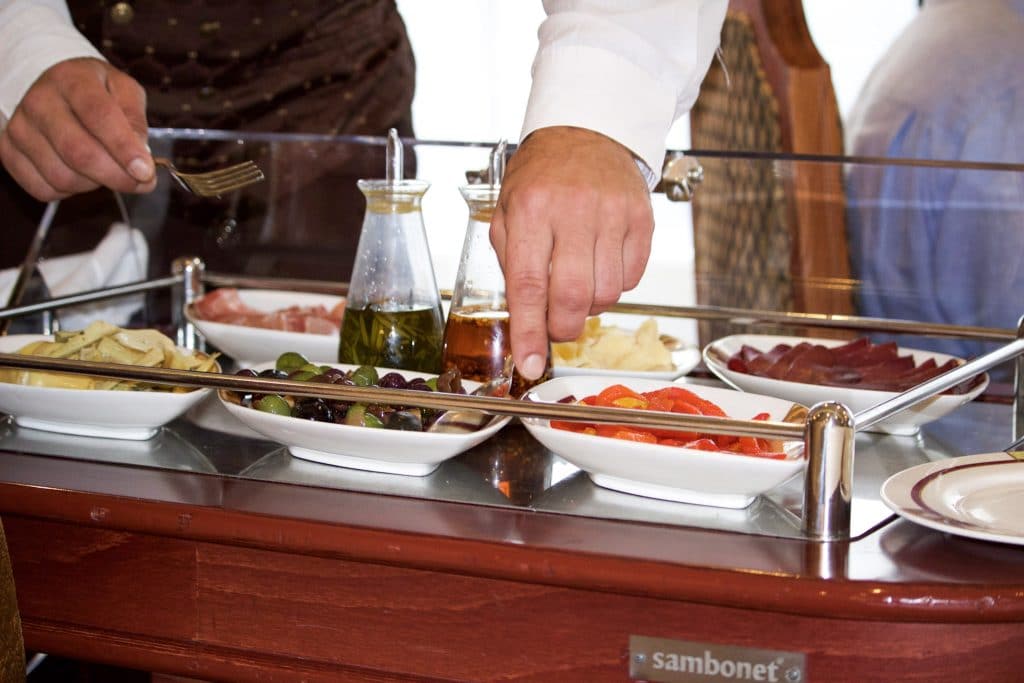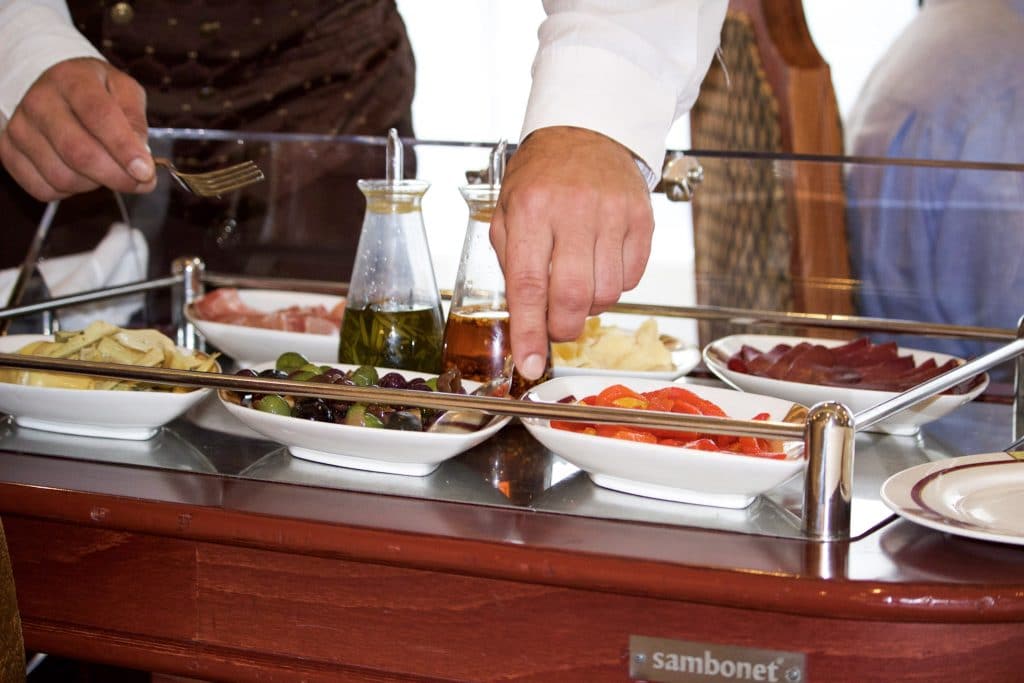 We were also given a bread basket, but not just any bread basket. A bread basket full of the best pesto flatbread and crispy breadsticks! I never eat bread at a restaurant but I made an exception for this bread, it was so delicious!
Service at Palo is 5-star! Our server, Stefanos, also waited on us when we came for Palo brunch, so he remembered that I was vegetarian (at that time, now I'm vegan) and made my charcuterie plate without any meat and I didn't even have to remind him. It's the attention to little details that really make you feel special!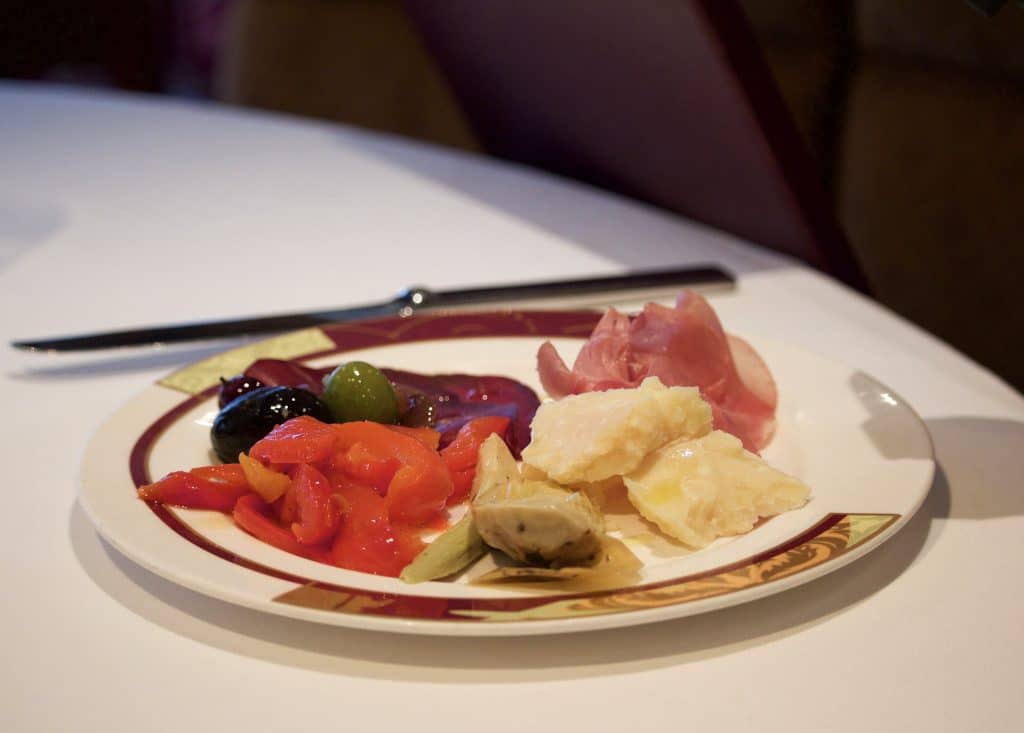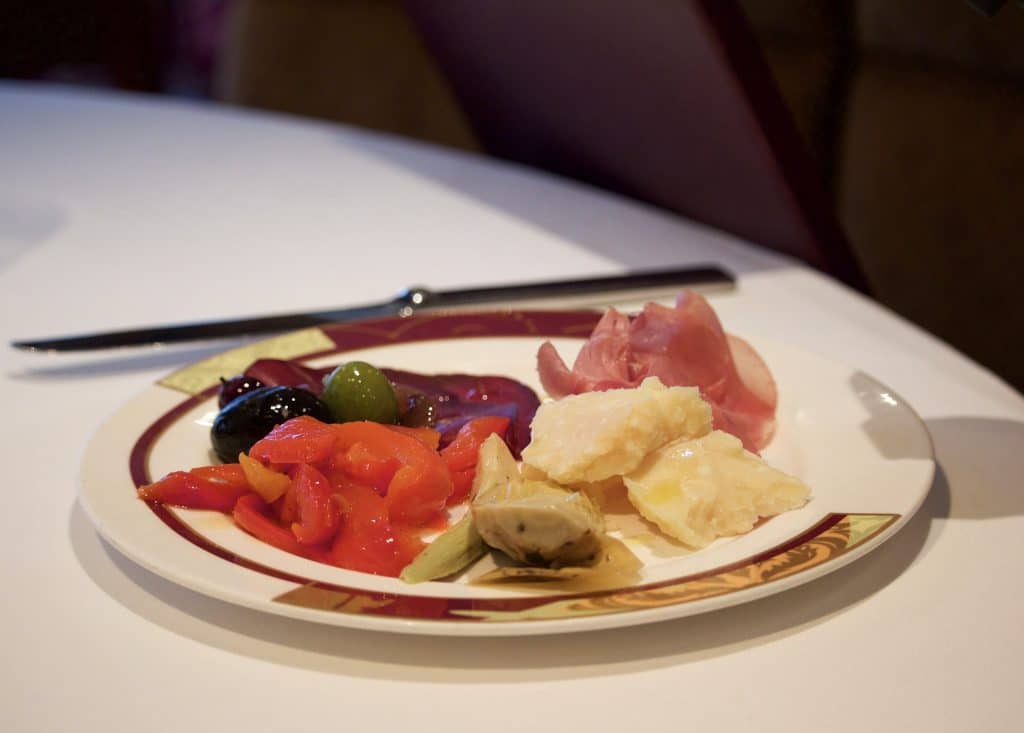 Palo Dinner Second Course - Appetizers
For appetizers, we ordered potato gnocchi swimming in a delicate piennolo tomato sauce and fritto di calamari e gamberi (fried shrimp and calamari).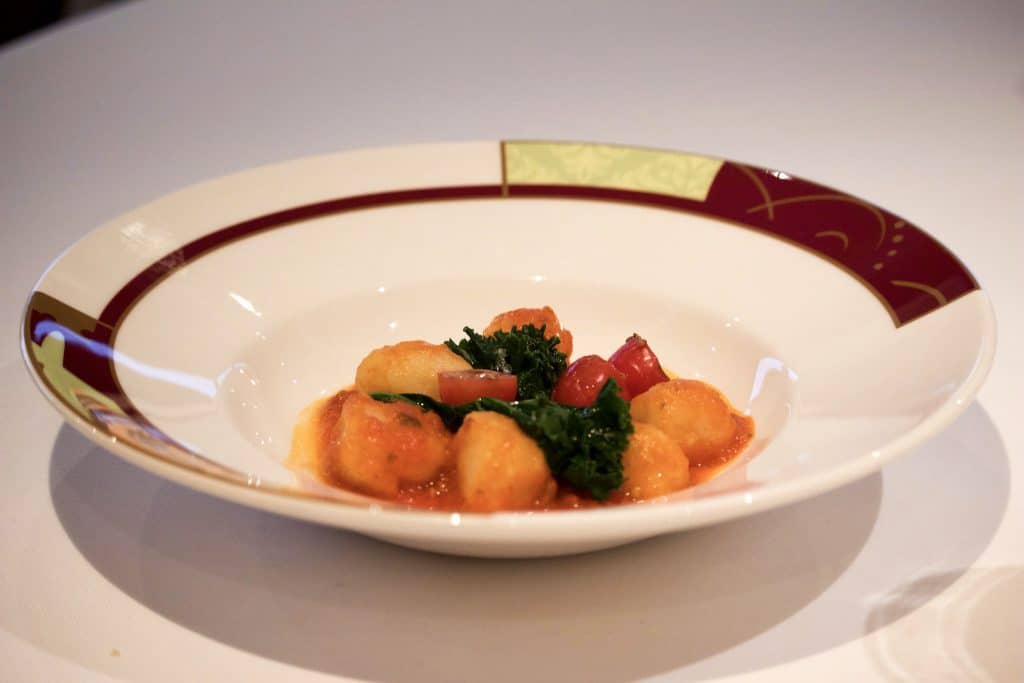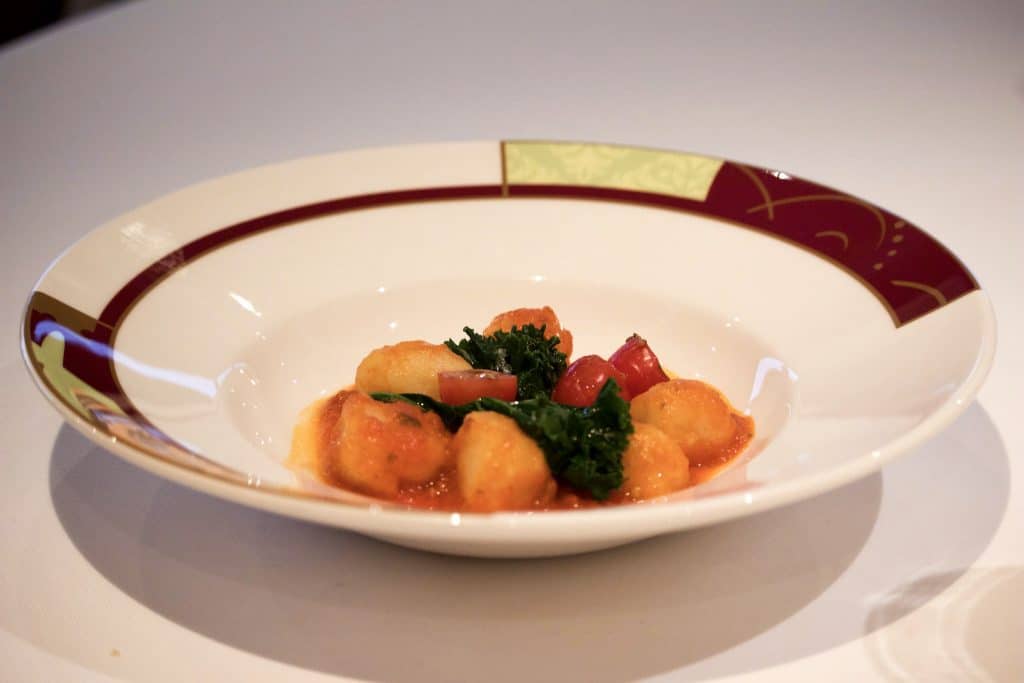 The gnocchi were the lightest, fluffiest, little potato balls that I've ever tasted! I didn't try the calamari but Travis said it is very good and crispy. He said the shrimp was excellent too.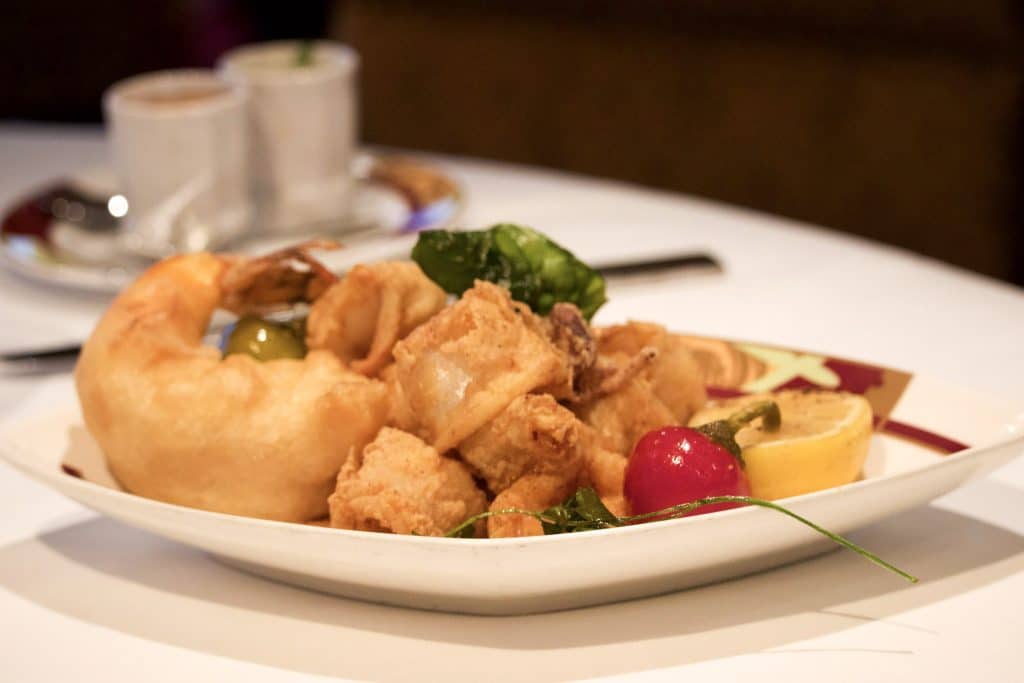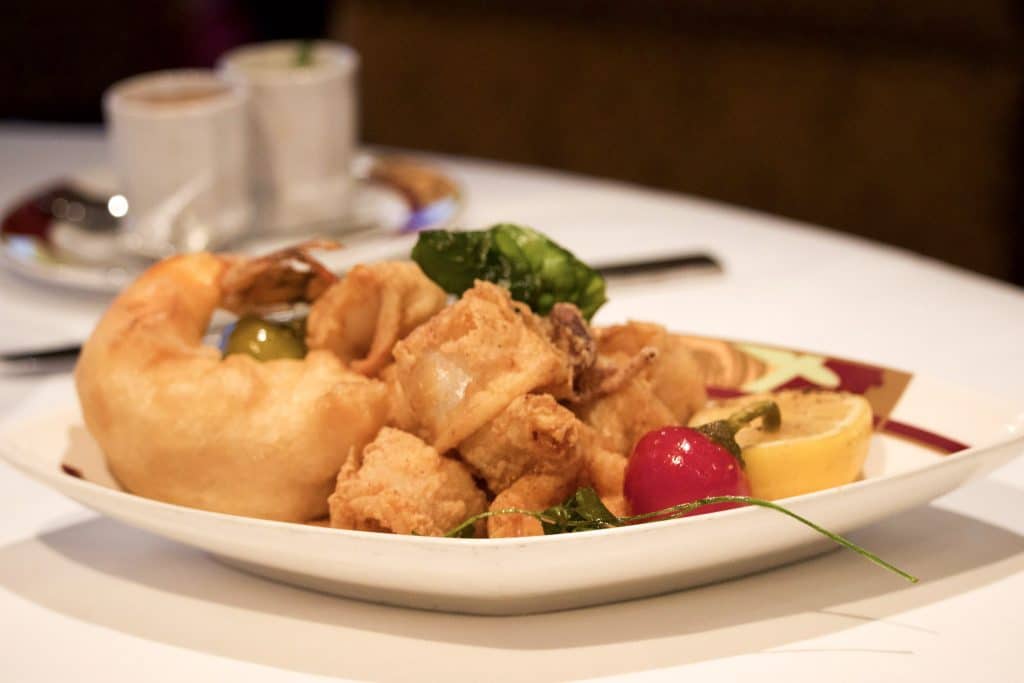 After the appetizers, for your third course, you'll be served a small scoop of delicious lemon sorbet to cleanse your palate for dinner.
Palo Dinner Fourth Course - Entrees
I ordered the vegetarian grilled portobello mushroom with spinach and polenta, and Travis ordered the grilled prime beef tenderloin with gorgonzola cheese sauce.
I was not expecting my dinner to be as incredible as it turned out to be. It was, I kid you not, the best meal that I have ever had at a restaurant.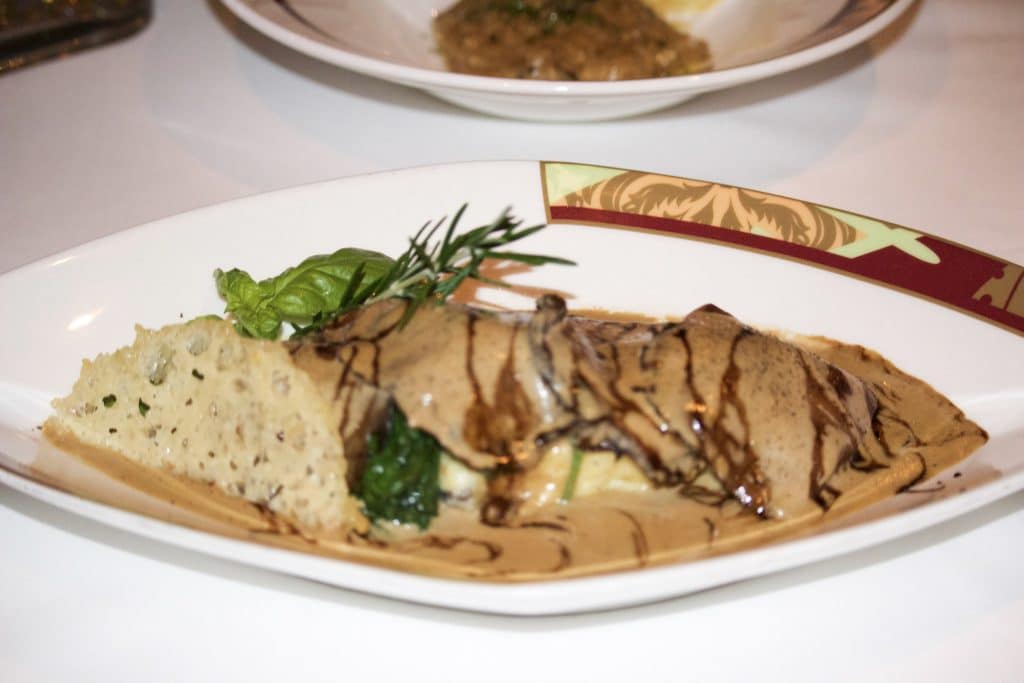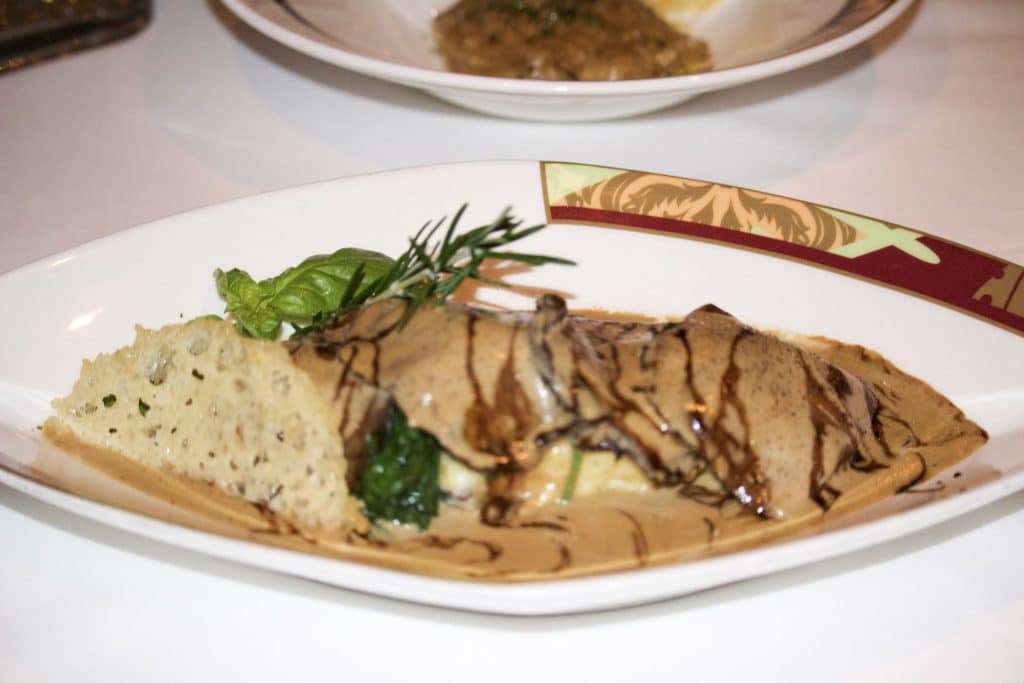 The grilled portobello mushroom is shaved paper-thin, and it's covered in the most delectable roasted porcini shallot sauce. The shaved portobello mushroom is layered on top of the creamiest polenta and topped with a parmesan crisp and a balsamic vinegar drizzle. It's seriously amazing!
I also ordered a side of the mushroom risotto, I was in mushroom heaven!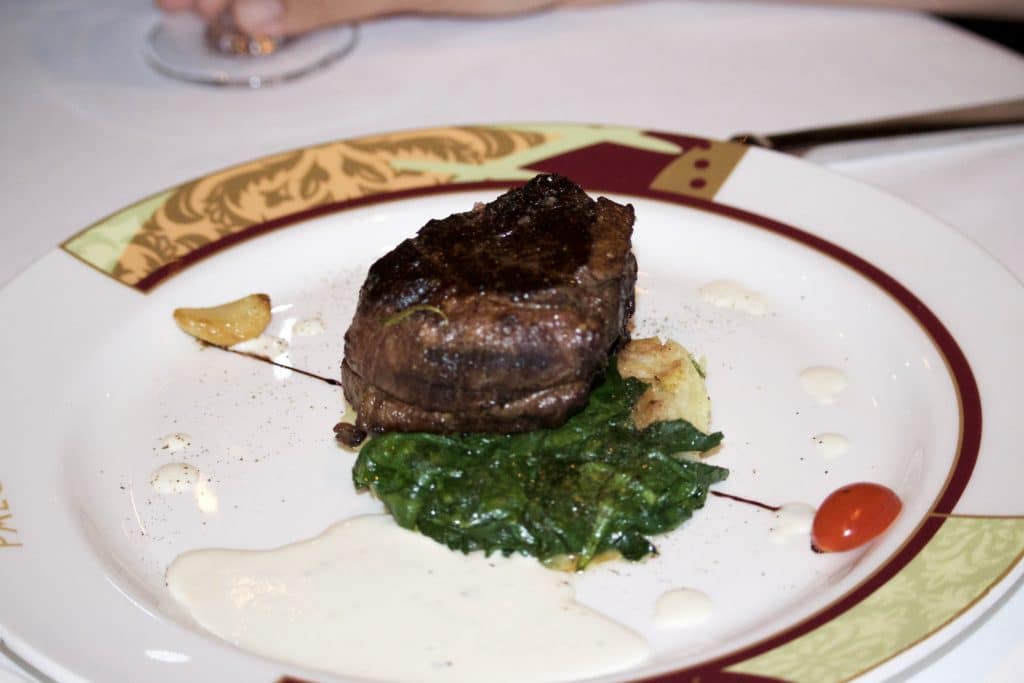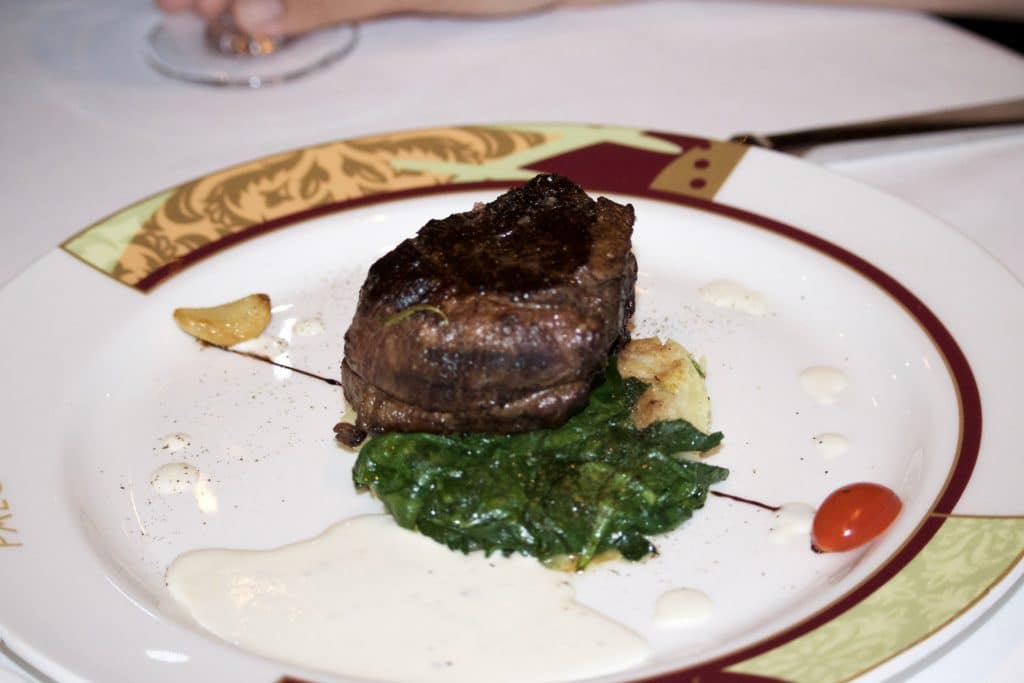 Travis loved his dish too and said it was cooked perfectly. We loved the way Stefanos presented it by pouring the gorgonzola sauce all around the tenderloin.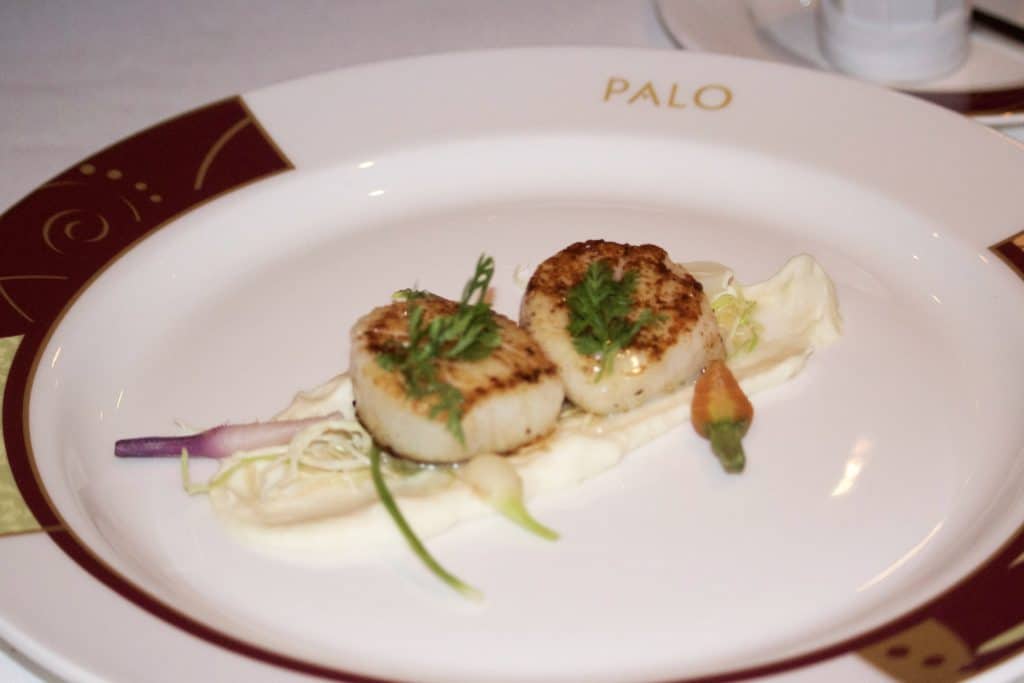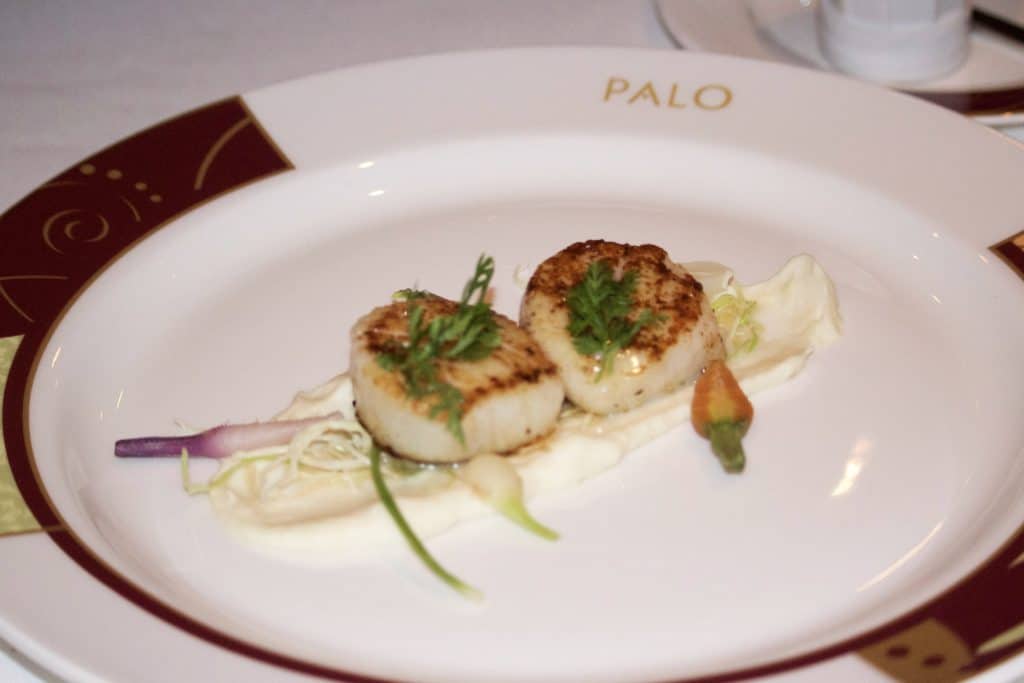 Stefanos surprised us and brought a half order of the scallops for Travis to have with the beef because he was having a hard time deciding between the two menu items. The scallops were perfectly seared and tender on the inside.
Palo Dinner Fifth Course - Dessert
I went into Palo knowing that I was going to order the chocolate souffle with vanilla bean gelato for dessert because I'd heard so much about it from other Disney cruisers. I had to try it!
The chocolate souffle did not disappoint.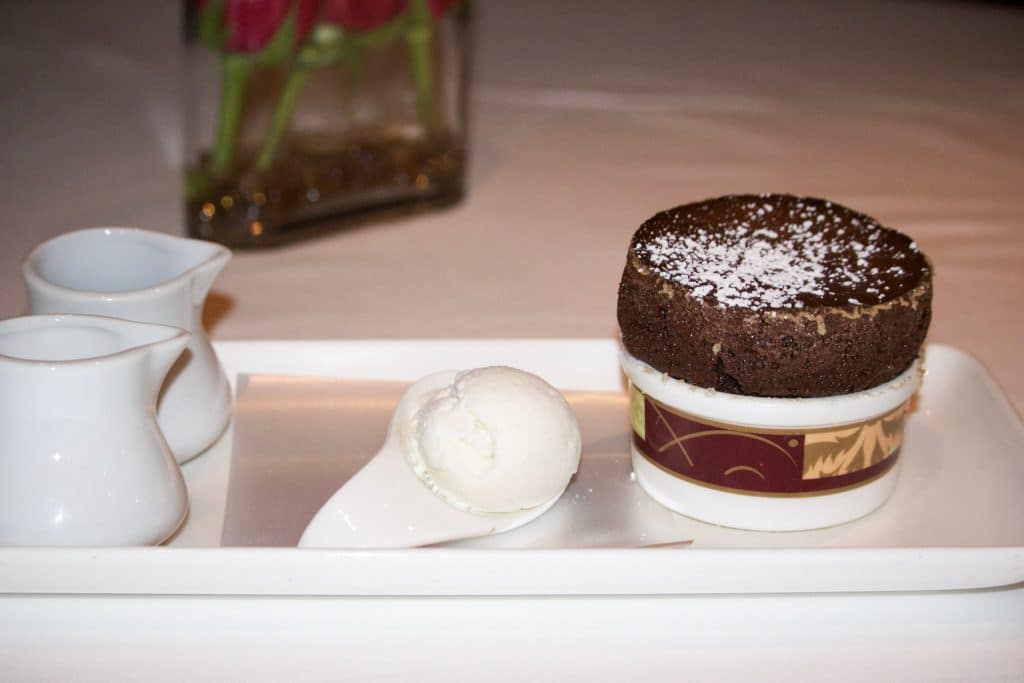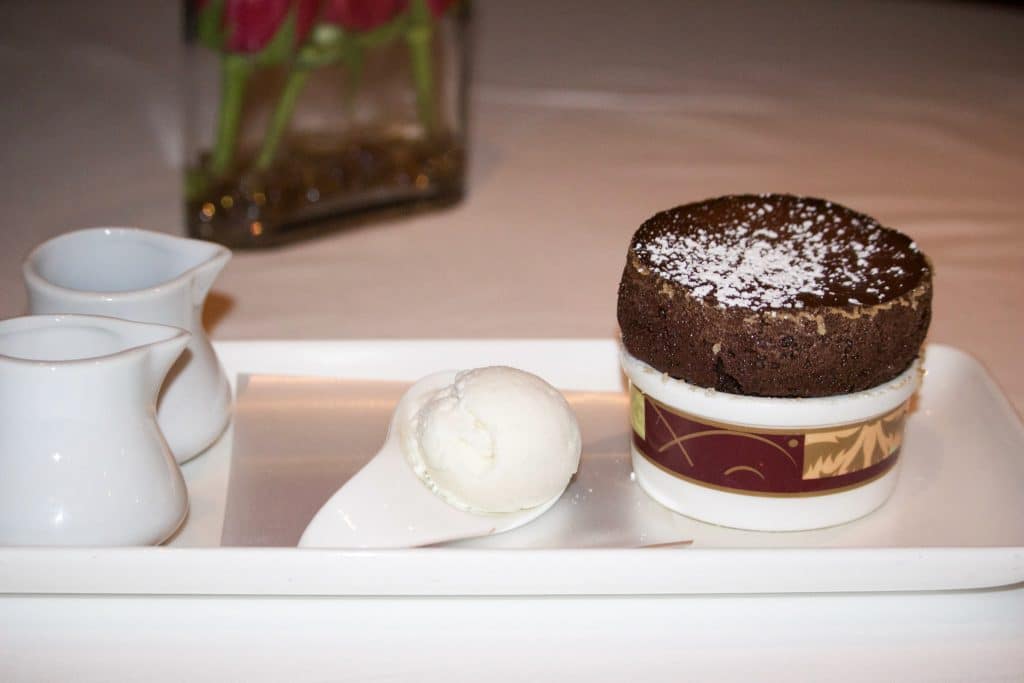 The chocolate souffle is light and airy but also rich, melty, gooey, chocolate-y goodness all at the same time. Any chocolate lover will adore it! It has a puffy top that is a solid inch over the lip of the souffle cup, it's a real work of art. The vanilla bean gelato is scrumptious too.
Stefanos even carved a heart into the top of the souffle (before he poured the warm chocolate sauce all over it) and told us Happy Honeymoon! It was such a lovely presentation.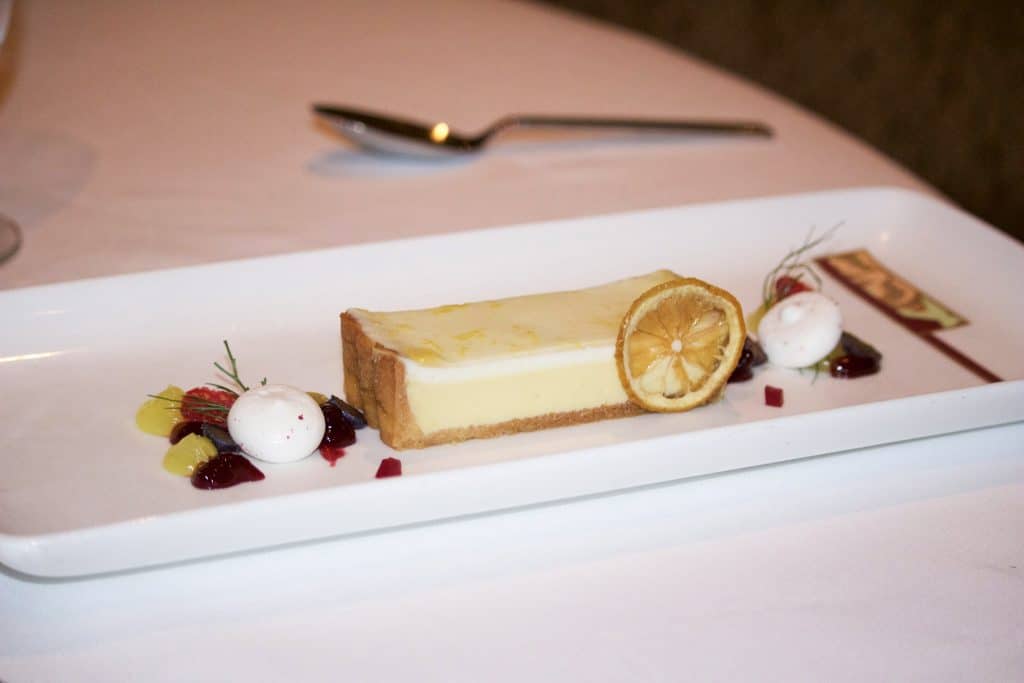 We also ordered the limoncello tart at Stefanos' suggestion. He was right, it's delightful! The tart had a crisp almond crust with yogurt creme, a tangy lemon flavor, and caramel candied citrus.
To totally knock our socks off, Stefanos brought each of us a shot of ice-cold limoncello slush to complete the meal.
We thoroughly enjoyed every single bite of food that night. The food, service, and overall experience we had at Palo was 5-star, I wish I could give it 10 stars!
Which Experience is Better? Brunch or Dinner?
Now, to answer the question that everyone is wondering about!
Which meal did we enjoy most...Palo brunch or Palo dinner?
My honest opinion is that I enjoyed dinner a tiny bit more than brunch, but it's very close.
There are a few reasons why dinner was a little bit more enjoyable than brunch for me:
We got to watch the sunset while we were eating, it was so lovely and romantic.
I liked the menu items more at dinner than I did at brunch.
The marinated artichokes were my favorite item from the brunch and I was able to get those from the charcuterie plate that Stefanos made for me. He gave me extra because he remembered how much I enjoyed them at brunch.
You can only get the chocolate souffle for dessert at Palo dinner.
The whole experience felt more intimate and one-on-one at dinner.
The flavors of our meals were more complex, each dish was presented so creatively, the service was extremely personalized (Stefanos making each of us a personalized charcuterie plate because he knew what we liked, carving a heart into the souffle for our honeymoon, etc), the romantic atmosphere of the restaurant at night, and just the overall fantastic experience that we had, pushed dinner at Palo into the #1 spot.
I truly enjoyed Palo brunch too, you really can't go wrong with either option.
If you prefer buffets, a more relaxed atmosphere, or being able to try multiple bite-sized options, then Palo brunch is definitely a better option for you. If you prefer an intimate, special, and one of a kind dining experience with food that's a step above then you should book Palo dinner.
Is Palo Brunch or Dinner Worth the Extra Charge?
When my husband and I first visited Palo in 2017, it only cost $25 per person. In 2018, the price jumped to $30 per person. Now, as of December 14, 2019, the price has jumped again to a whopping $40 per person.
To be honest, $40 per person is the most I'll pay per person for brunch or dinner at Palo. If the trend continues, and the price jumps to $50 per person in 2020, I don't think it would be worth it for me when we could eat for "free" at one of the MDR restaurants. That's double what we paid to eat at Palo just 3 years ago!
If you can forget the fact that you're on a cruise (and there are other free places to eat at), and just think of it like you're going out for dinner at a restaurant, then $80 + tip is worth it for the quality of food you get and the overall experience of eating at Palo.
It all depends on your mindset. If you want a special date night out or if you're a foodie who loves a fine dining experience, then it's worth the price.
Final Thoughts About Palo
I recommend that you book both Palo brunch and Palo dinner so you can experience both meals and make your own decision as to which meal is better.
I hope that you found this review to be helpful and that you get to visit Palo for both brunch and dinner on your next Disney cruise! Please leave me a comment and let me know your thoughts about Palo brunch and Palo dinner!
More Disney Cruise Posts That Will Help You Plan Your Next Cruise!