Disney Cruise Palo brunch or dinner: which do you prefer? We visited Palo for both brunch and dinner while on our Disney cruise honeymoon to determine which is better!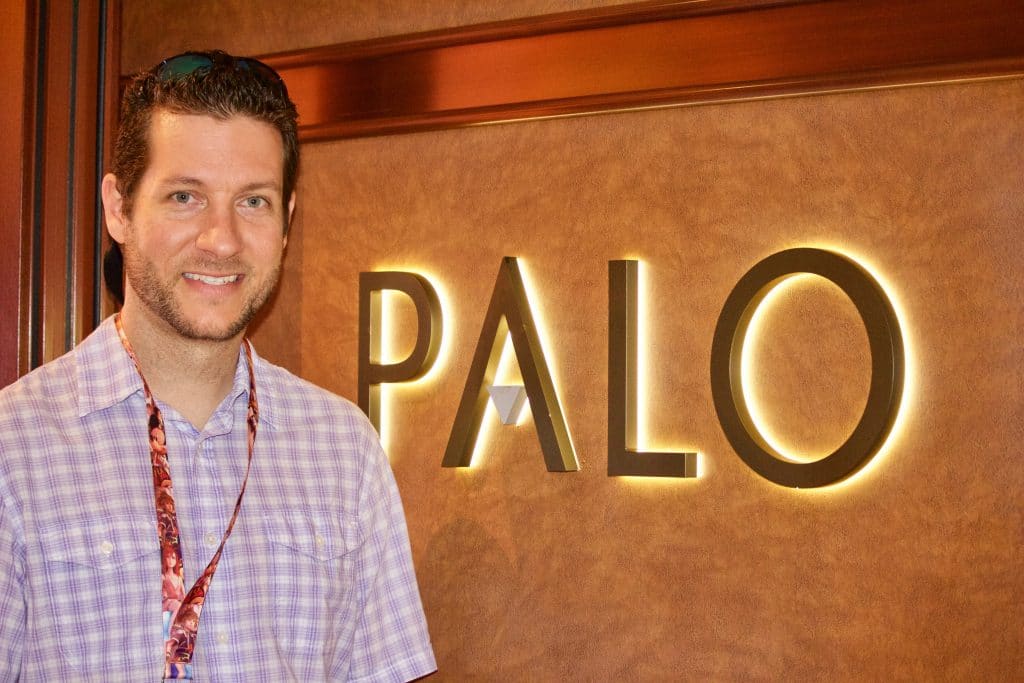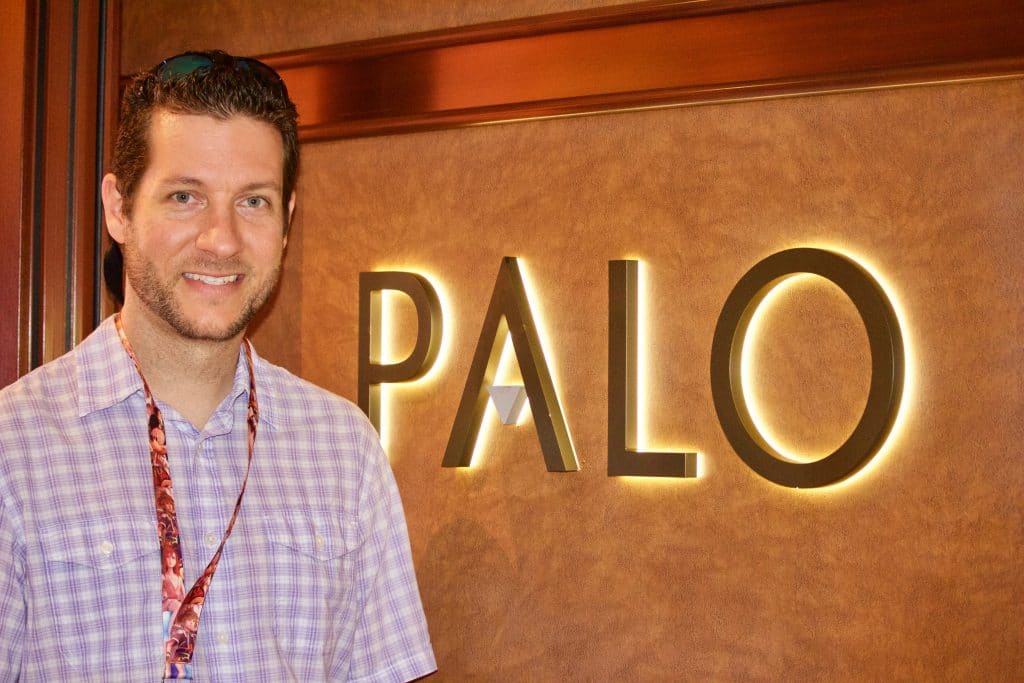 My favorite part of our honeymoon cruise on the Disney Fantasy was the food!
The only meal that wasn't fan-freaking-tastic was a pasta dish that I had on pirate night. Everything else that passed my lips was so delicious!
Especially, both of the meals that we had at Palo.
I did a lot of research before deciding to book brunch and dinner at Palo. Originally, we were just going to go to brunch or dinner, not both. I mean, why pay extra when we can eat at the free restaurants on the ship?
I asked experienced cruisers for their opinion (it was split 50/50), I searched the interwebs for a deciding factor, I asked Travis where he would rather go (he was no help), but I couldn't find a definitive reason why people preferred one meal over the other.
So, we didn't really have a choice, we had to try both!
I booked both brunch (at 12:30 pm) and dinner (at 7 pm) on sea days so we could relax and enjoy it, we didn't want to rush back from port to make it on time. We got to take our time and really enjoy each of the courses!
10 Important Facts About Disney Cruise Palo Brunch & Dinner
It costs an additional $30 per person for brunch and dinner.
There is a strict dress code for brunch and dinner.
Try to make a reservation on Sea Days so you don't have to rush. Book as soon as the window opens up for your cruise. Don't wait!
Palo is on Deck 12 AFT.
Palo is an adults-only restaurant.
You can leave the tip on your KTTWC or in cash.
You don't need to request a table by the window because every table has a fabulous window view.
You can order as many dishes as you want off the menu.
You can order items that aren't on the menu anymore, like grape gorgonzola pizza.
Come hungry, there is so much delicious food to try!
Disney Cruise Palo Brunch
Warning!! I didn't realize that the dress code is very strictly enforced so make sure that you follow it! Travis was wearing a dress shirt, shorts, and sandals (ya know, vacation clothes). It was only lunch, so I thought it would fine but they asked him to change to dress pants and closed-toe shoes. No biggie, but be prepared!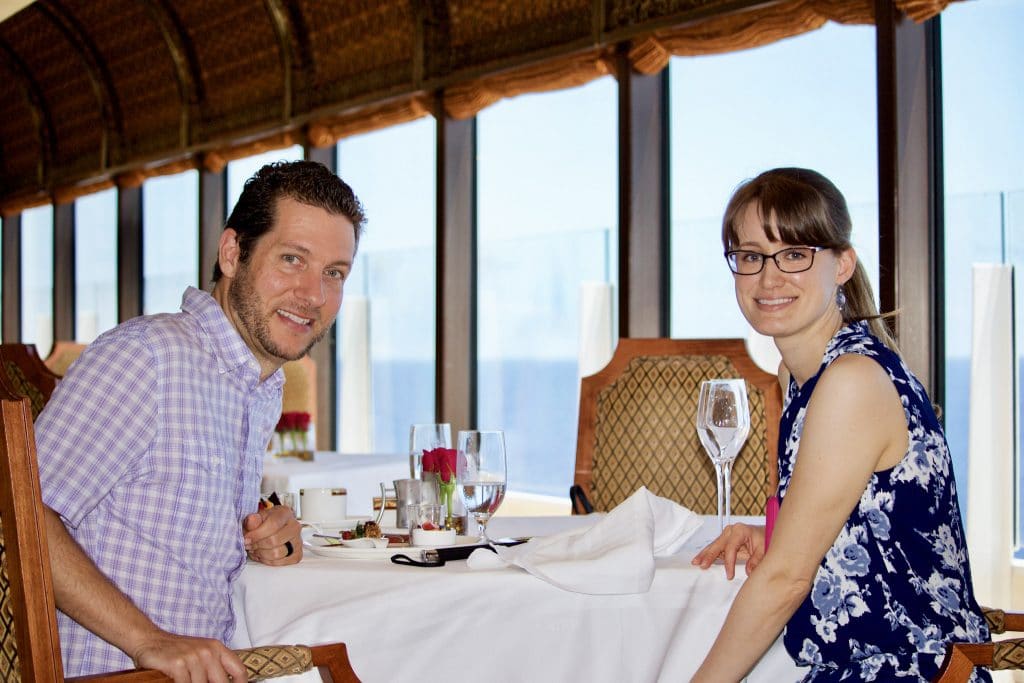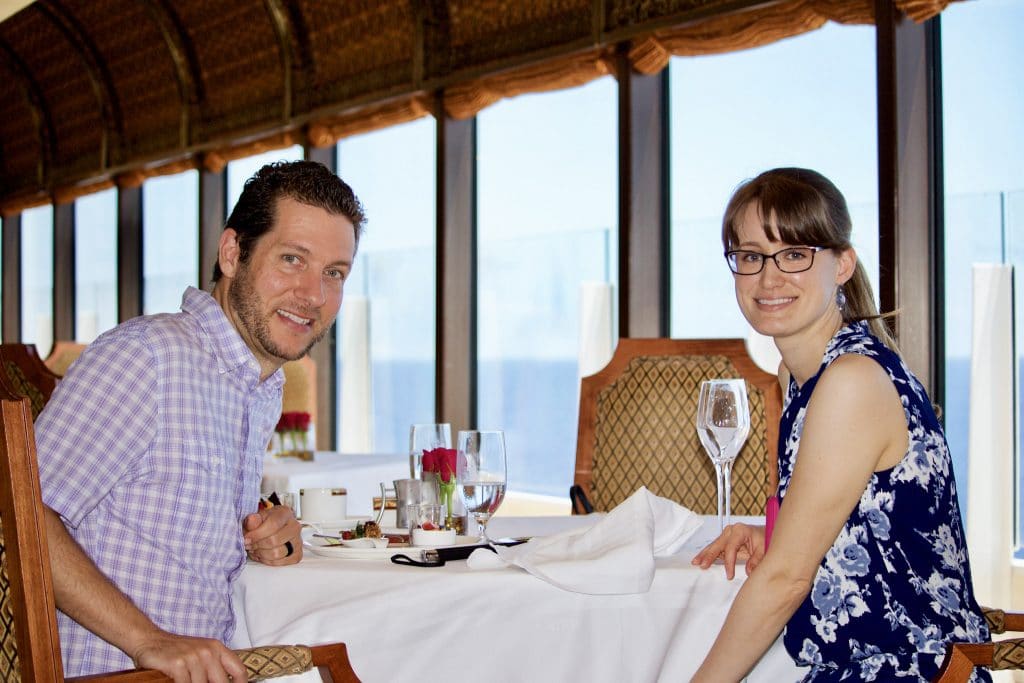 We were seated right away at a beautiful table right by the window. Palo has floor to ceiling windows on one side of the restaurant so almost every single table has a gorgeous view of the water.
We were greeted instantly by our fantastic server, Stefanos. He thoroughly explained the menu to us and then gave us a guided tour of the buffet.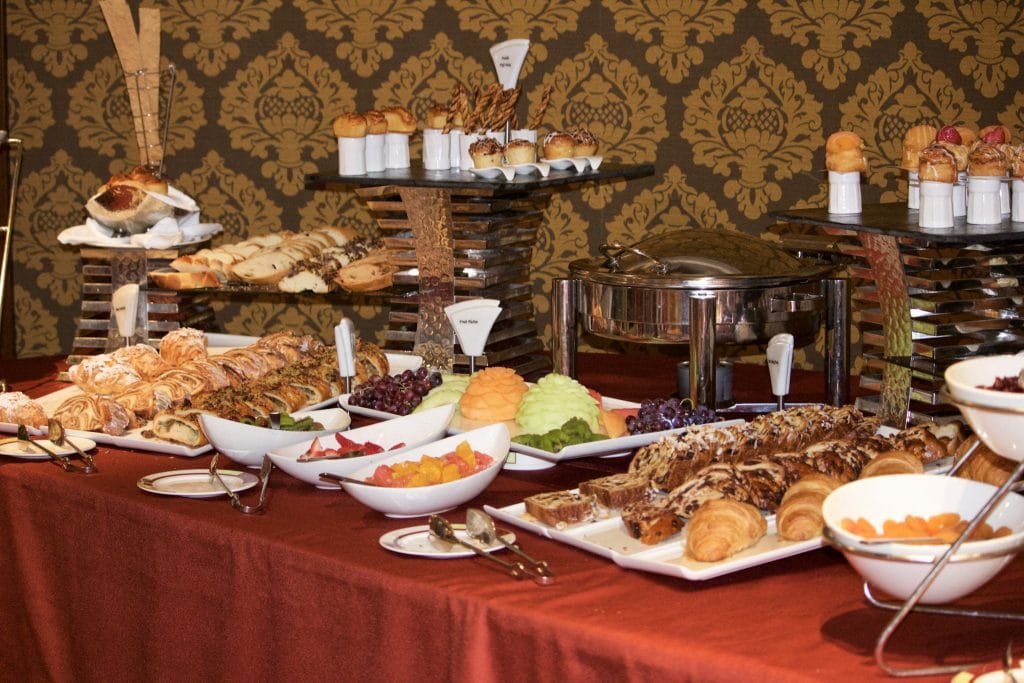 You can see all of the food on the buffet plus the hot menu in the following video:
Disney Cruise Palo Brunch Menu
Assorted pastries, croissants, and bread
Fresh fruit
Warm sticky buns
Crab legs
Lobster salad
Scallops
Caprese salad
Caviar
Strawberry soup
Cold boiled shrimp
Ahi tuna
Assorted meats
Marie rose sauce
Nicoise salad
Oysters
Prosciutto-wrapped asparagus
Marinated artichokes
Salmon mousse
Cucumber salad
Assorted cheeses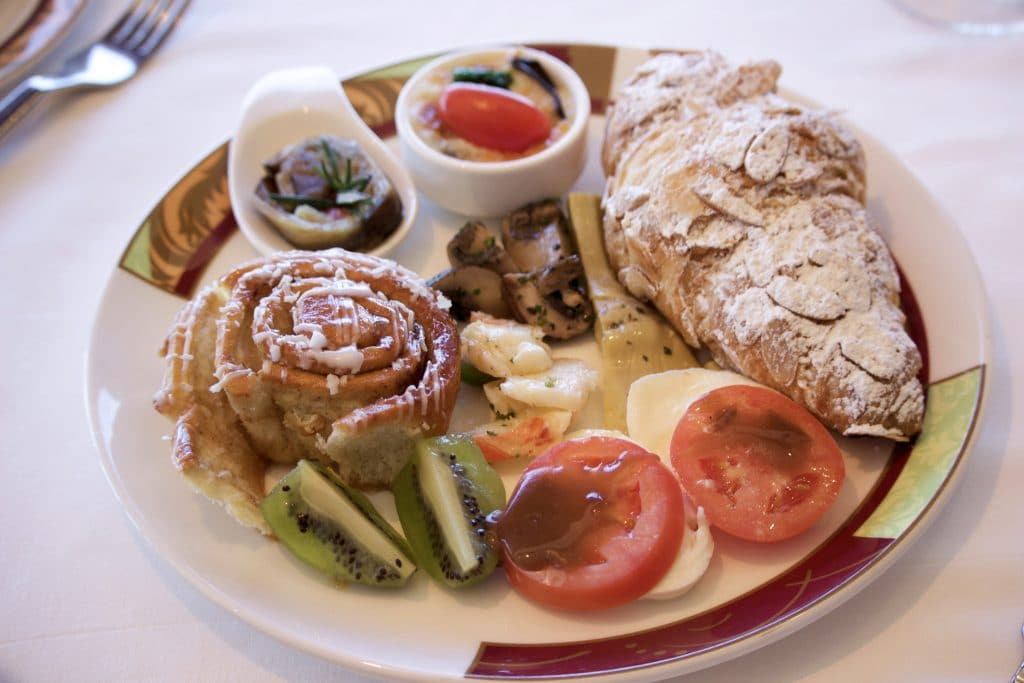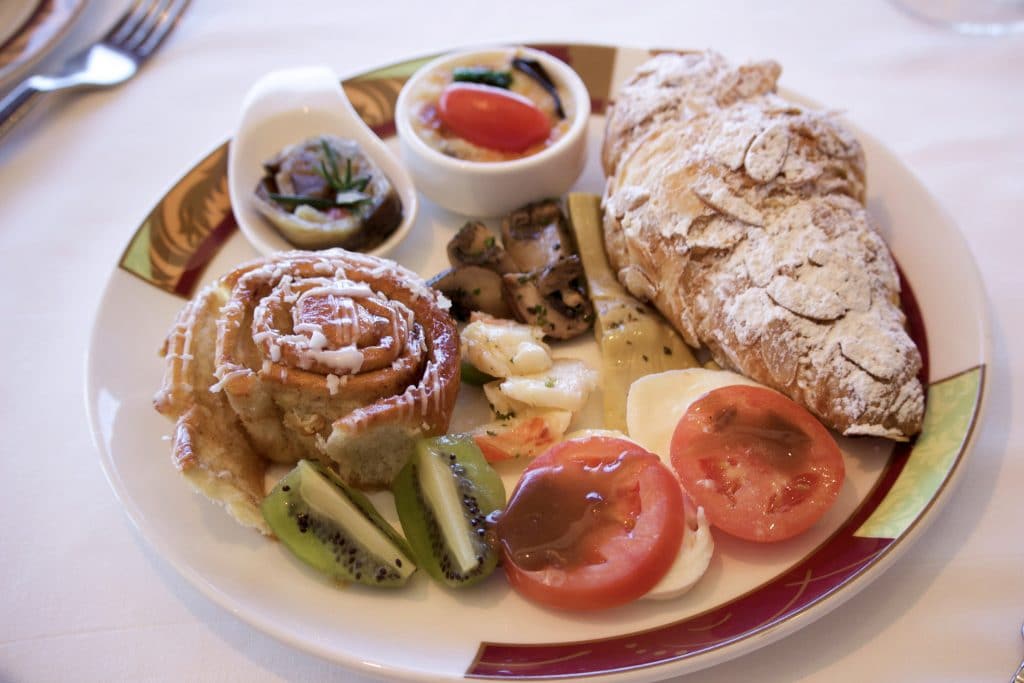 Everything is artfully prepared, beautifully displayed and absolutely delicious! After you have your fill of the (mostly cold) buffet, you can order as many dishes as you like from the hot menu.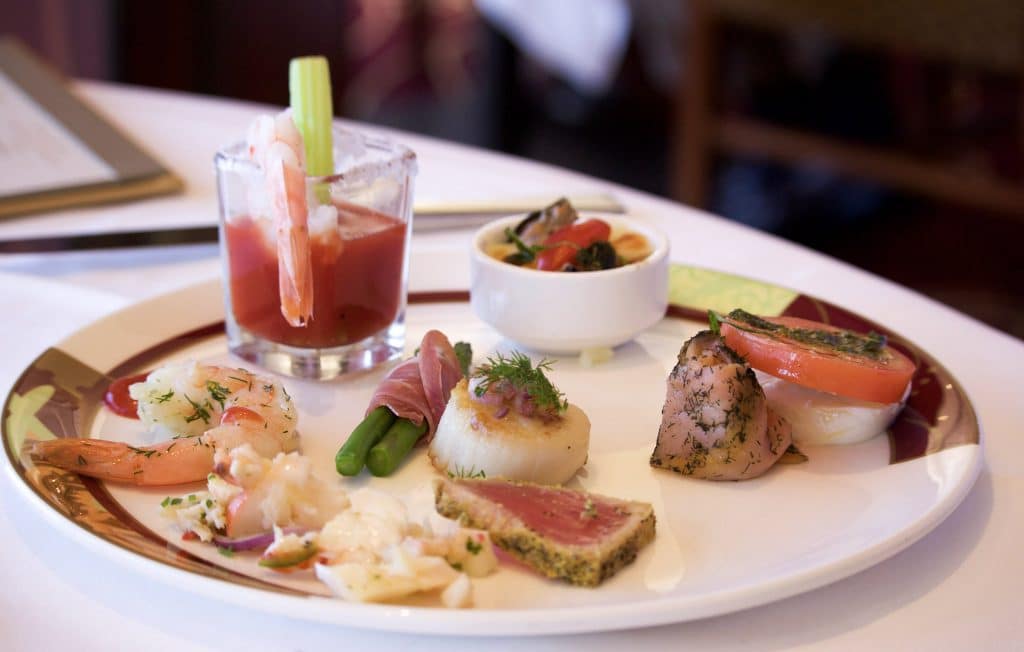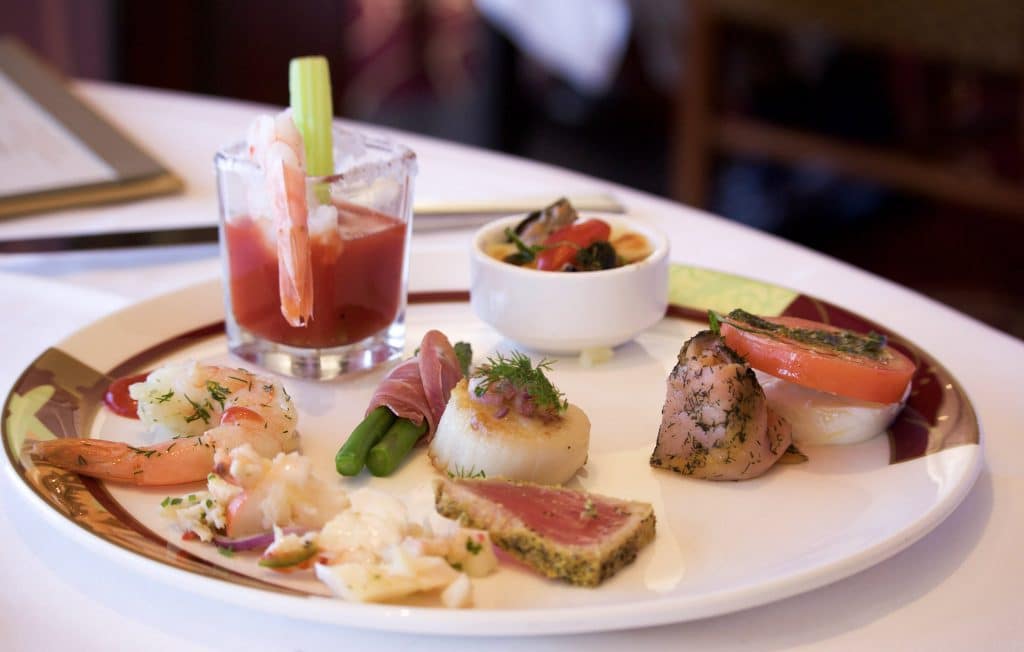 We ordered four dishes from the menu:
Artichoke Ravioli
Red Snapper Filet
Chicken Parmesan
Grape & Gorgonzola Pizza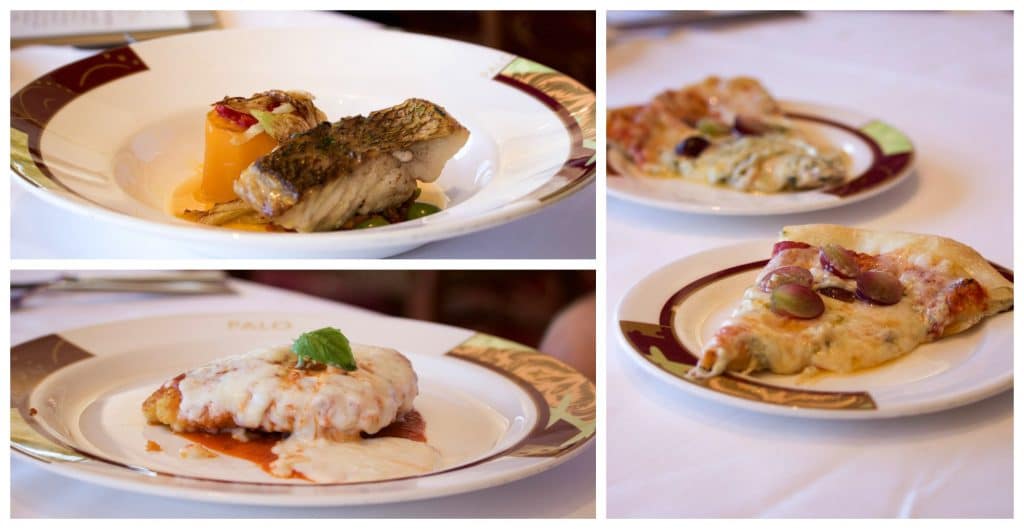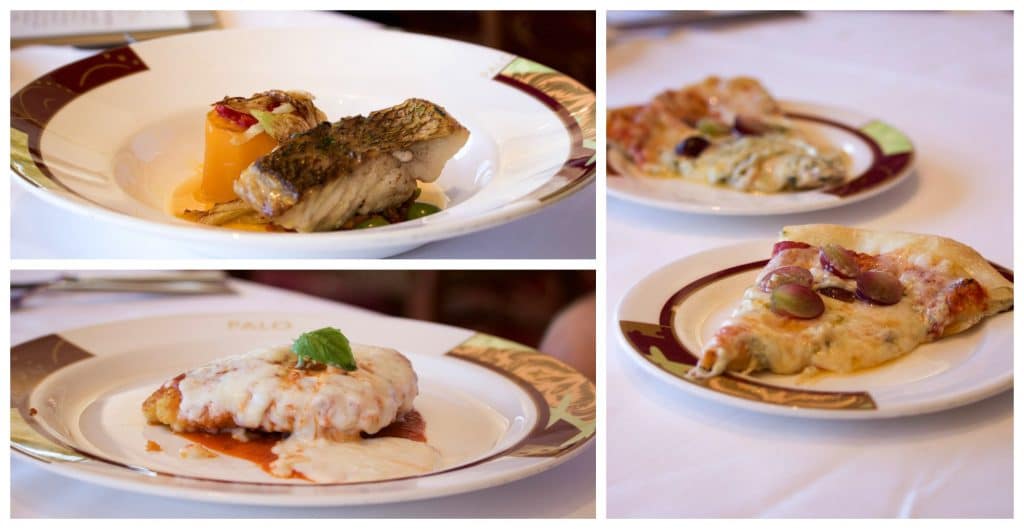 The grape & gorgonzola pizza isn't on the menu anymore but you can still order it! It's a unique pizza that many Disney cruisers love and always request! It's salty and sweet– surprisingly delicious! I don't even like gorgonzola but I thought that the flavor combination was very good.
The other three (full-size) entrees were all delicious too. We might have ordered more to try had there not been a loaded dessert bar calling our name.
Disney Cruise Palo Brunch Dessert Buffet
We tried every single delicious treat on the buffet! Thank goodness they were bite-sized so I could taste all of them. Each dessert is artfully prepared, perfectly chilled, and fresh.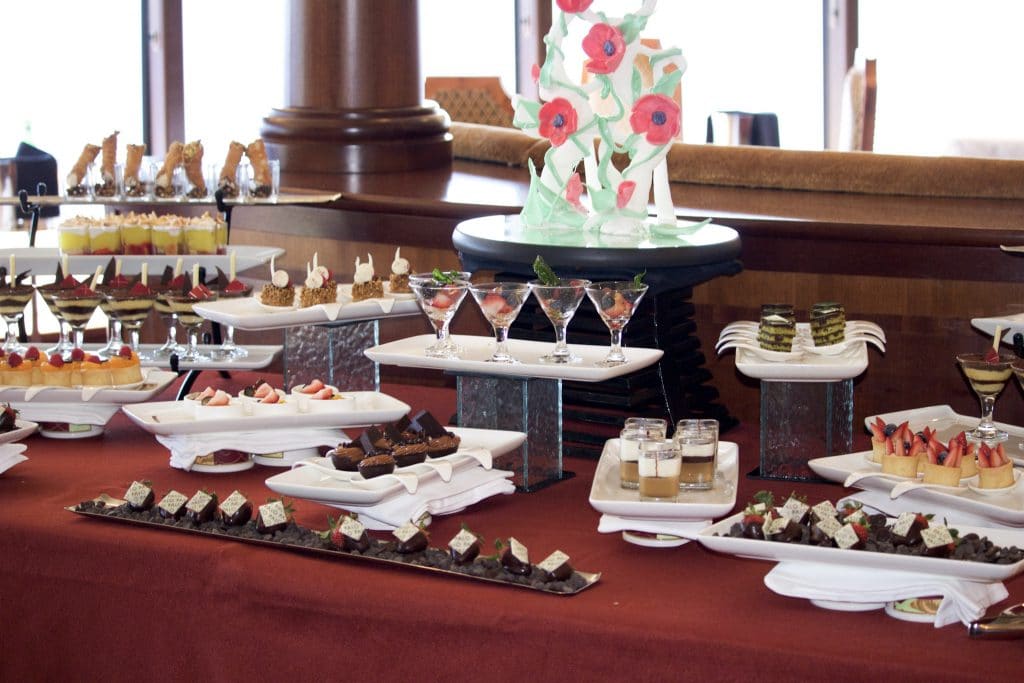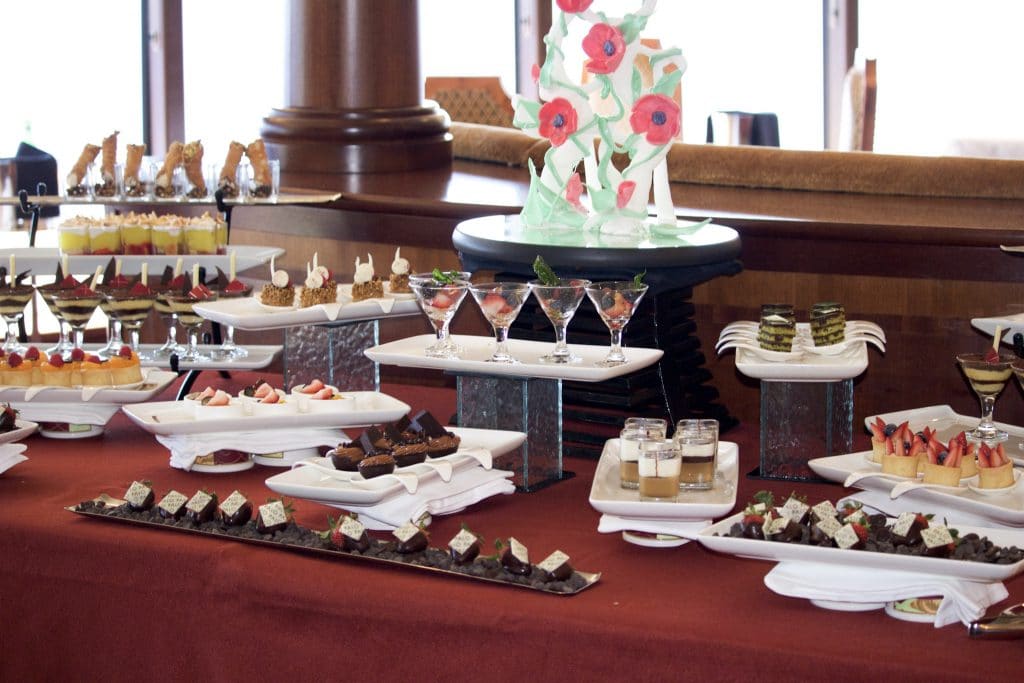 They were all tasty but there were a few standouts, specifically the espresso creme pudding and strawberry lemon shortcake!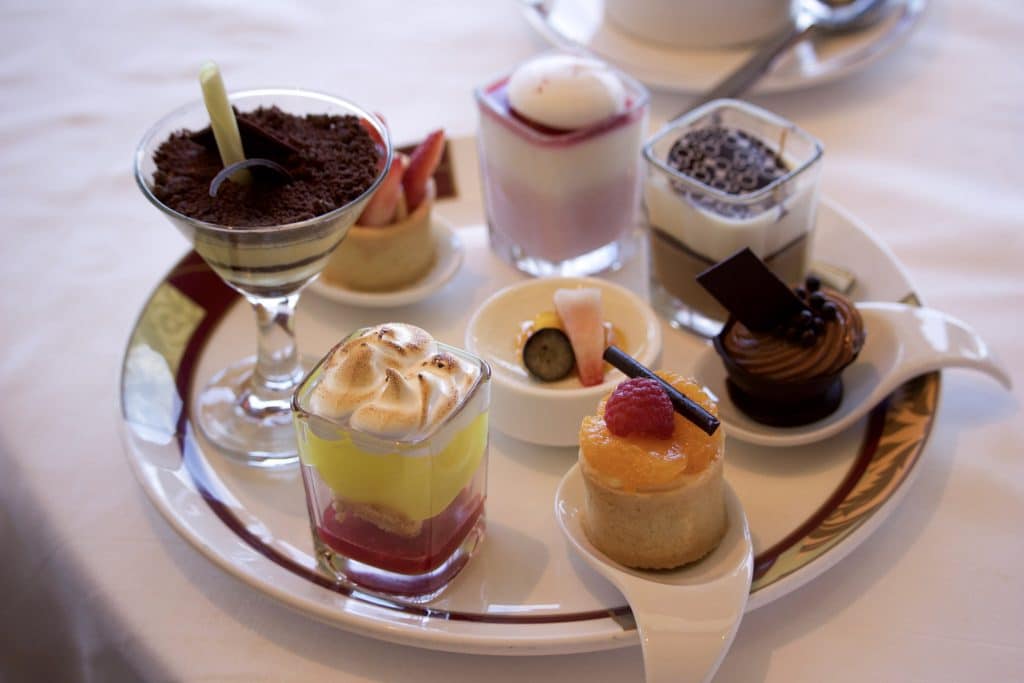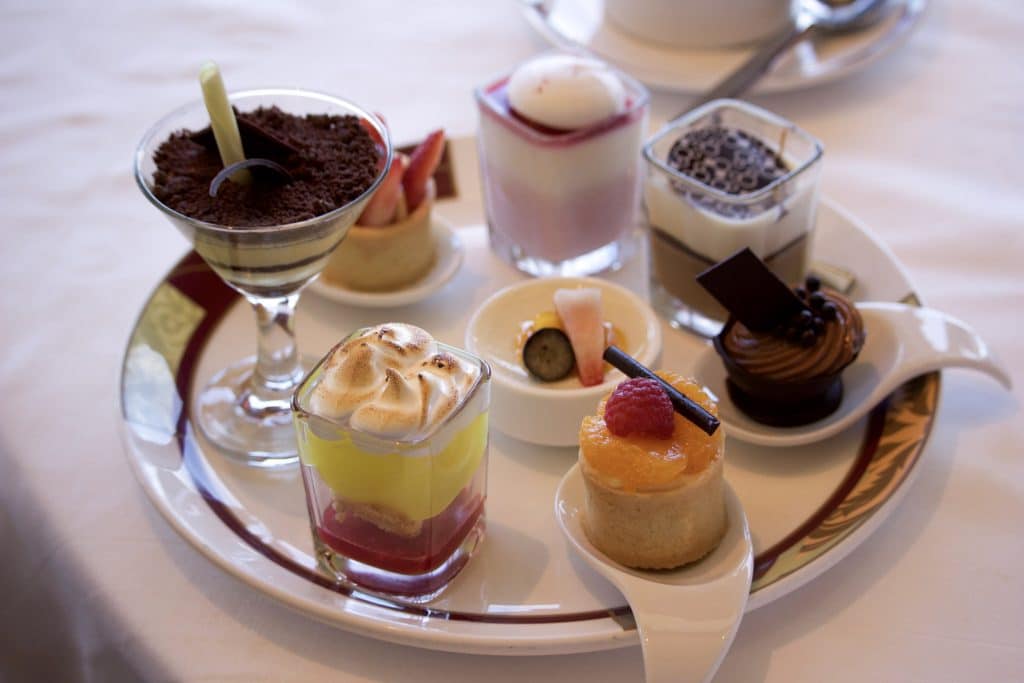 We thoroughly enjoyed ourselves at brunch and we left overly-stuffed and happy.
Disney Cruise Dinner at Palo
After our wonderful experience at brunch, we were so excited for dinner at Palo!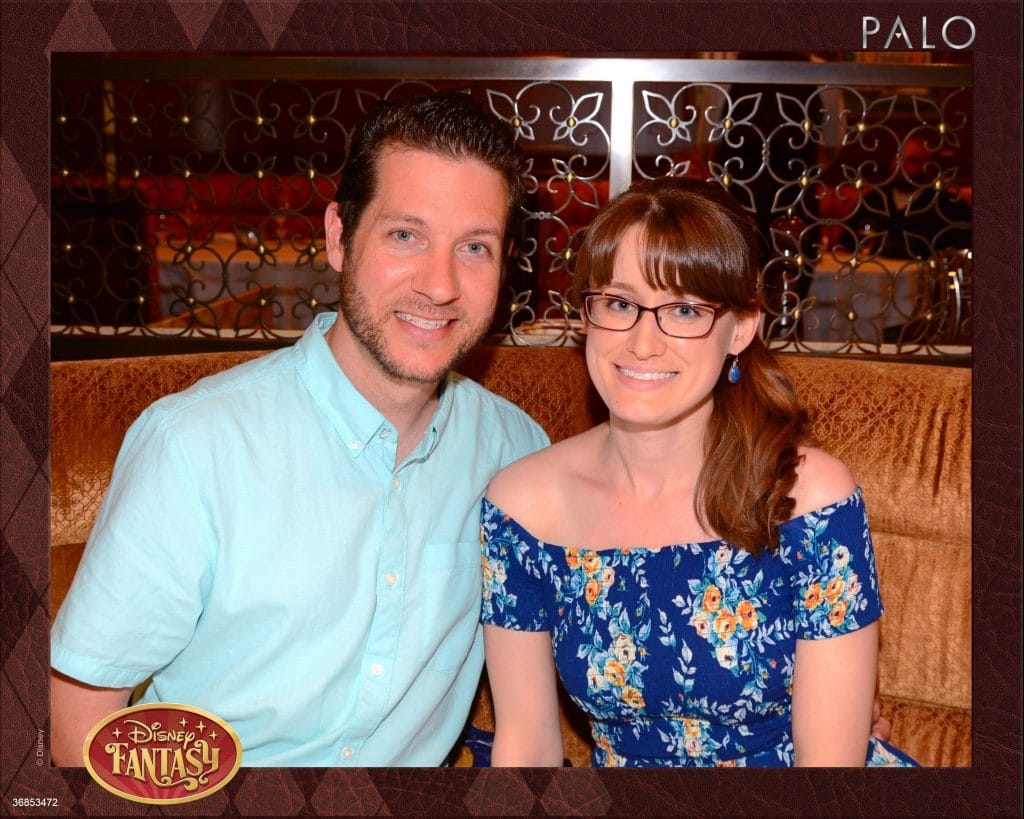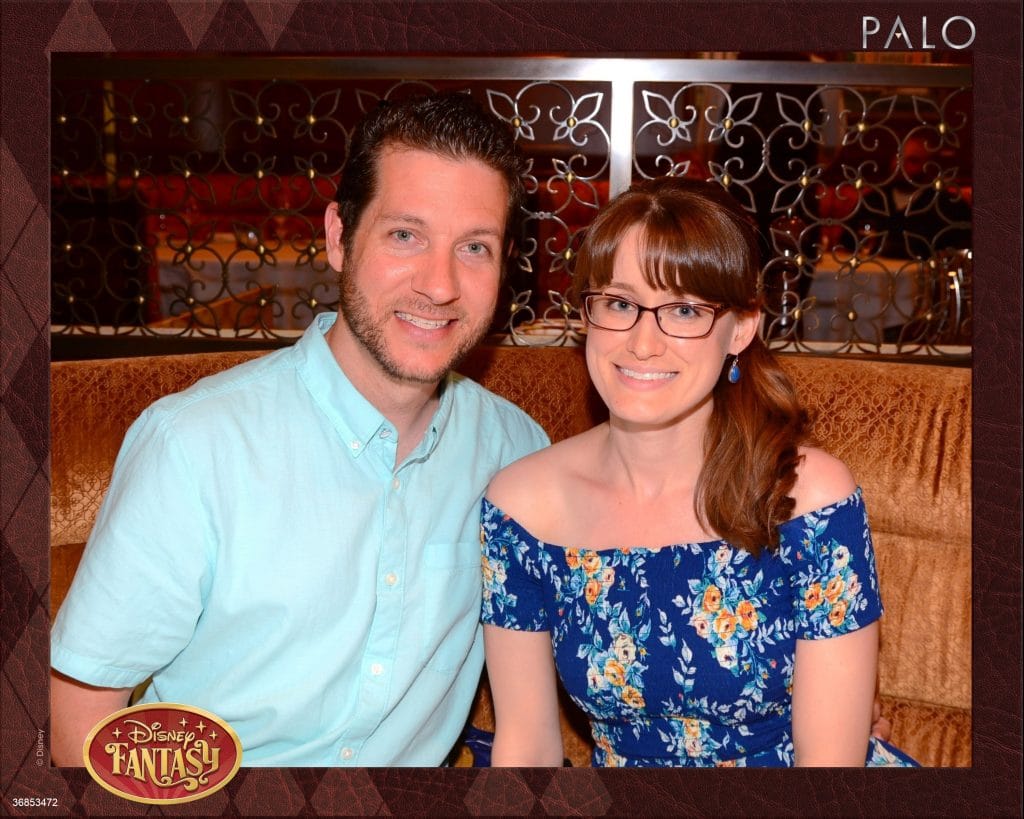 (A photographer goes around to each table and takes a picture of you that you can see at Shutter's after dinner.)
The restaurant was packed, probably because we were just in time for sunset. We were lucky enough to have the same server again. Stefanos remembered our names and even remembered that I'm a vegetarian! The service at Palo is seriously next level.
Palo Dinner – Charcuterie
Dinner began with Stefanos bringing a charcuterie cart to our table and making a plate for each of us. He dressed our plates with a drizzle of balsamic vinegar and left us to enjoy our snack.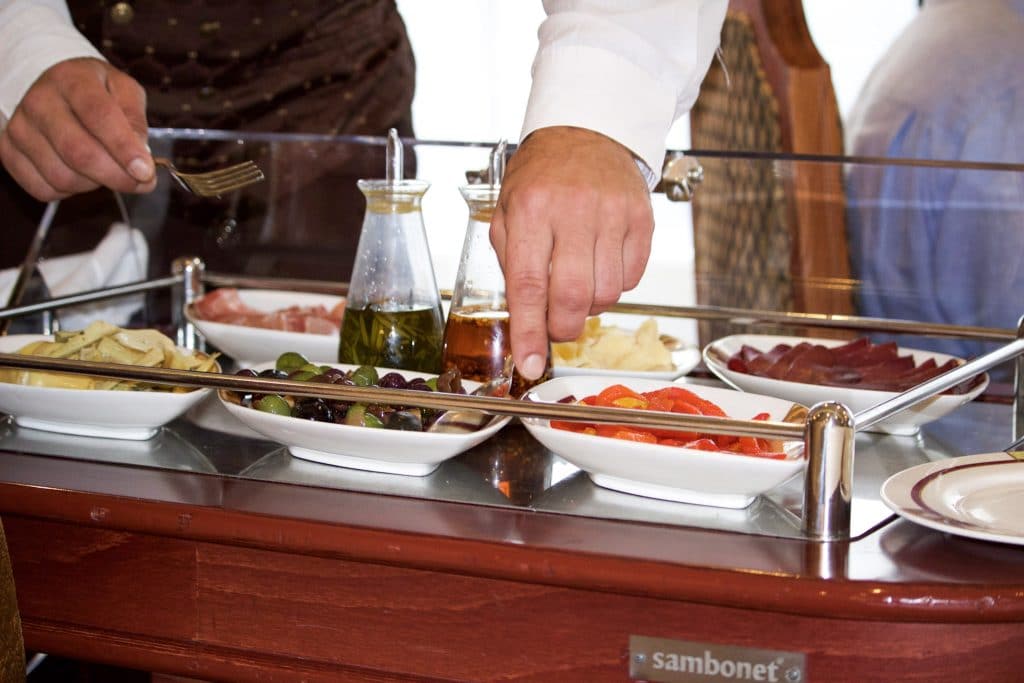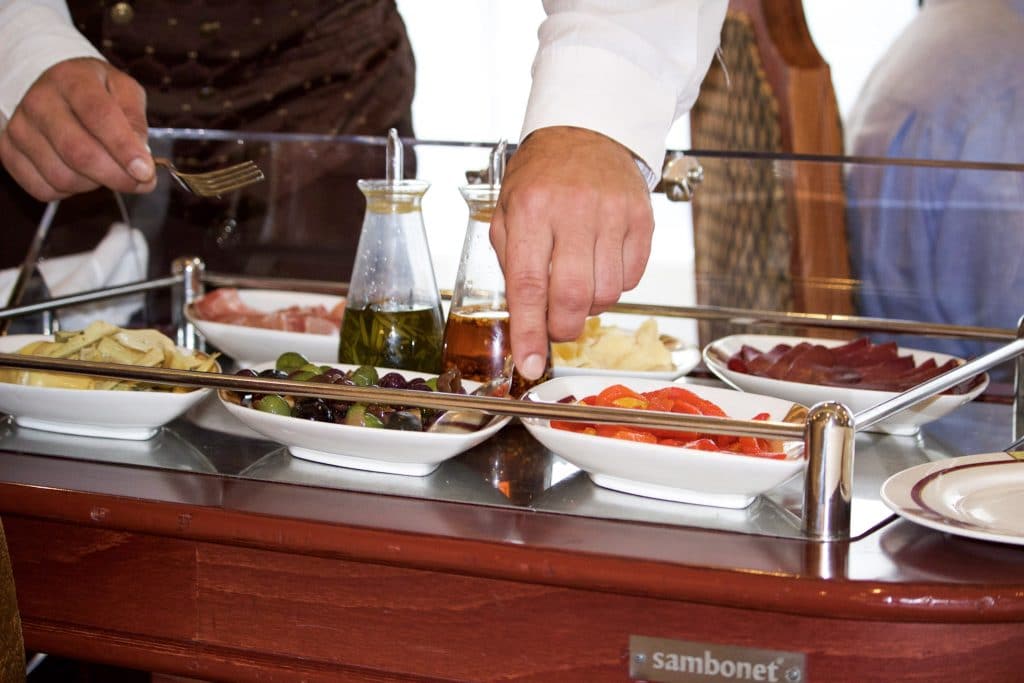 We also got a bread basket, but not just any bread basket. A bread basket full of the best pesto flatbread and crispy breadsticks! I never eat bread at a restaurant but I made an exception for this bread, it was that good.
Pesto flatbread, parmesan cheese, balsamic vinegar, marinated artichokes…I was one happy girl.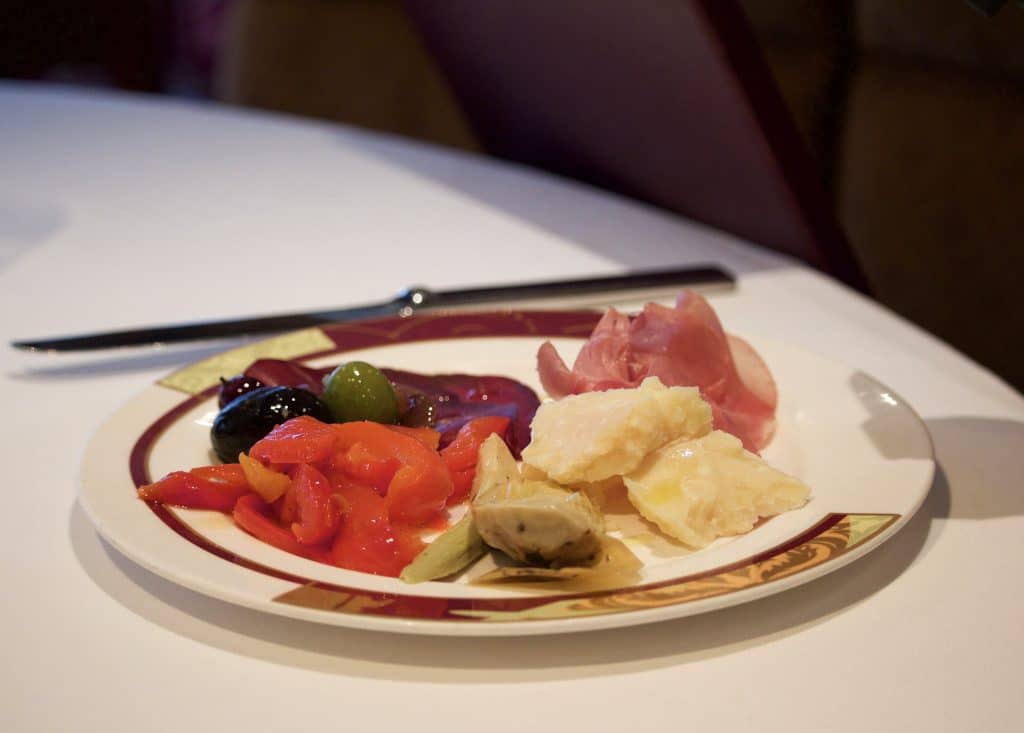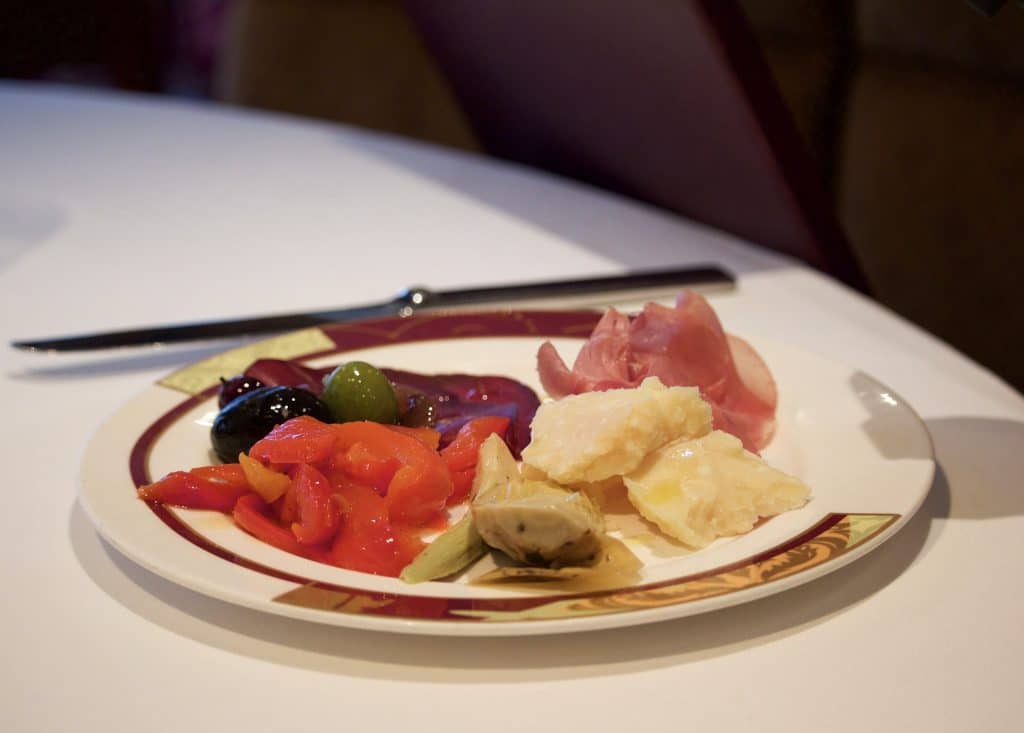 Palo Dinner – Appetizers
For appetizers, we ordered potato gnocchi swimming in a delicate piennolo tomato sauce and fritto di calamari e gamberi (fried shrimp and calamari).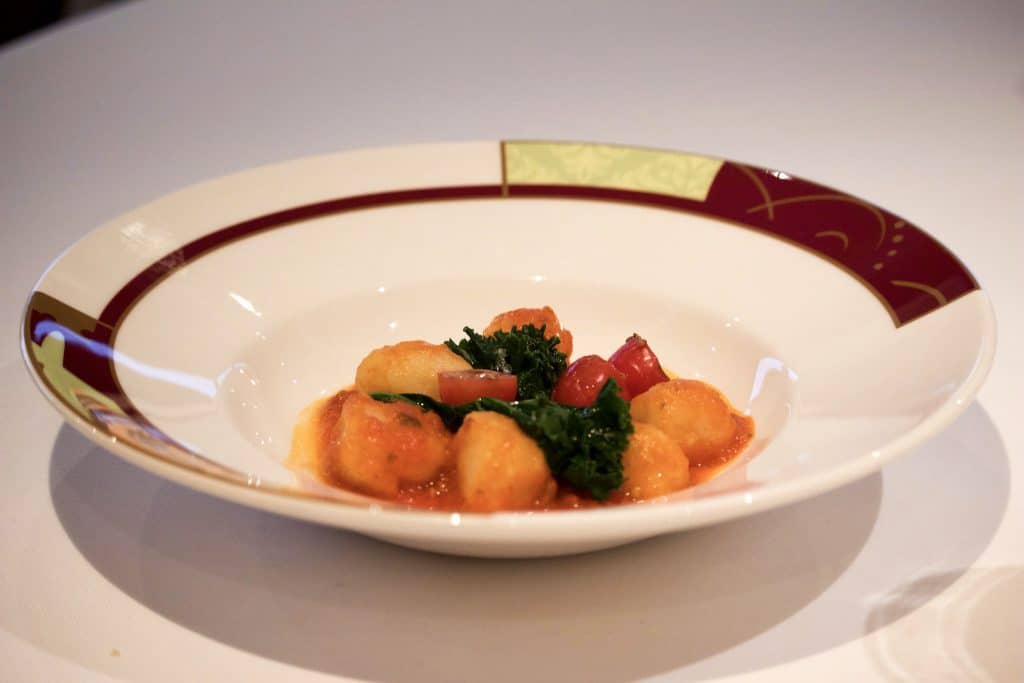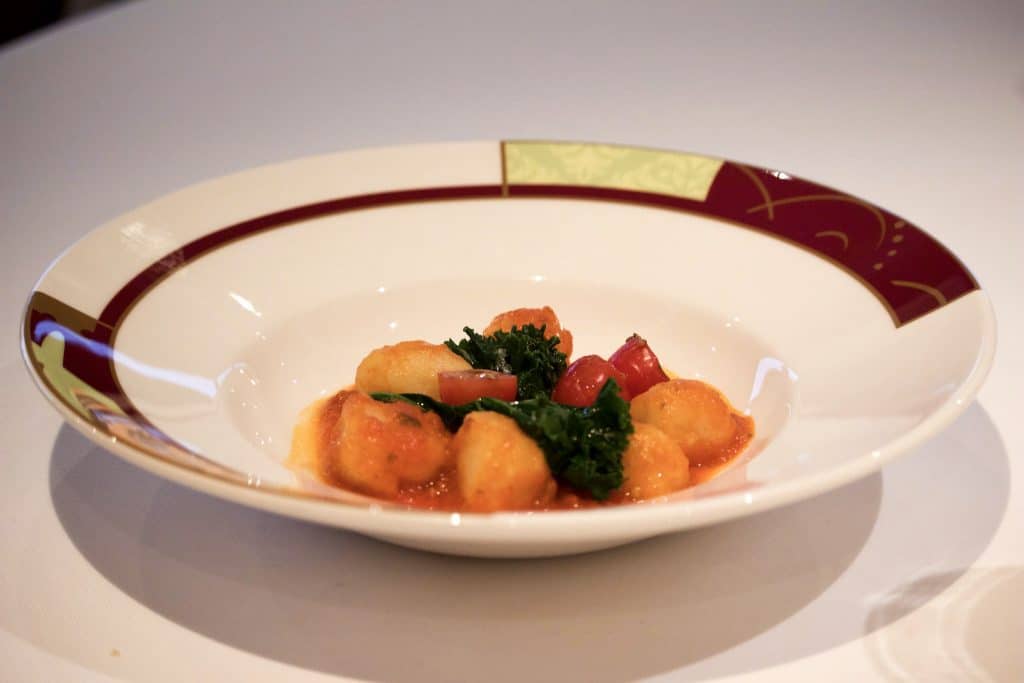 The gnocchi are the lightest, fluffiest little potato balls that I've ever tasted! I didn't try the calamari but Travis said it is very good and crispy.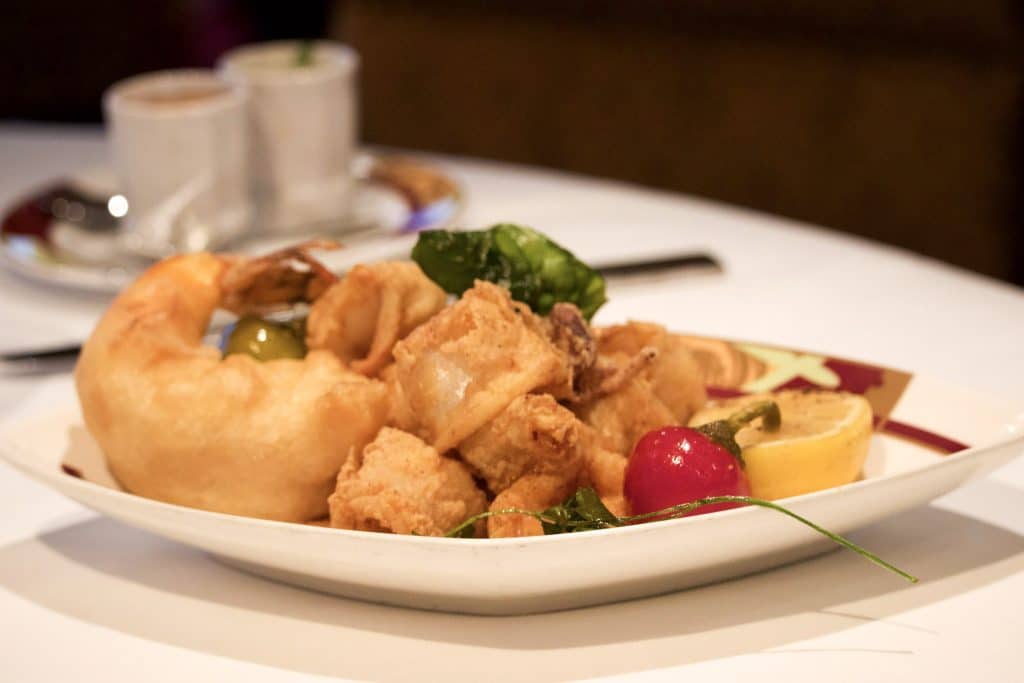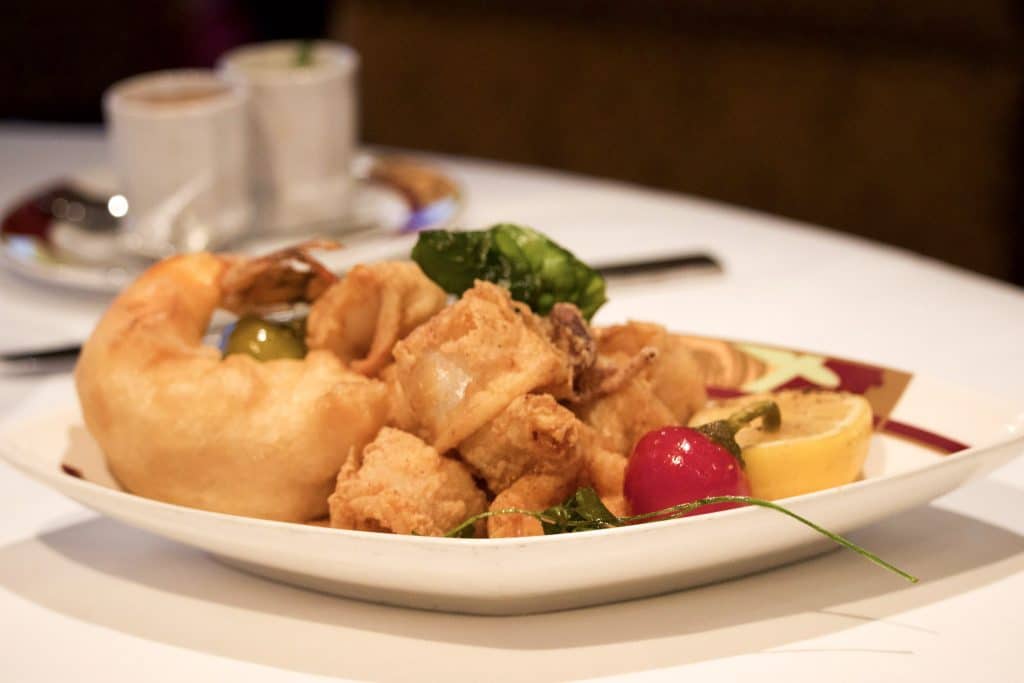 After the appetizers, you'll be served a small scoop of lemon sorbet to cleanse your palate for dinner.
Palo Dinner – Entrees
I ordered the grilled portobello mushroom with spinach and polenta, and Travis ordered the grilled prime beef tenderloin with gorgonzola cheese sauce.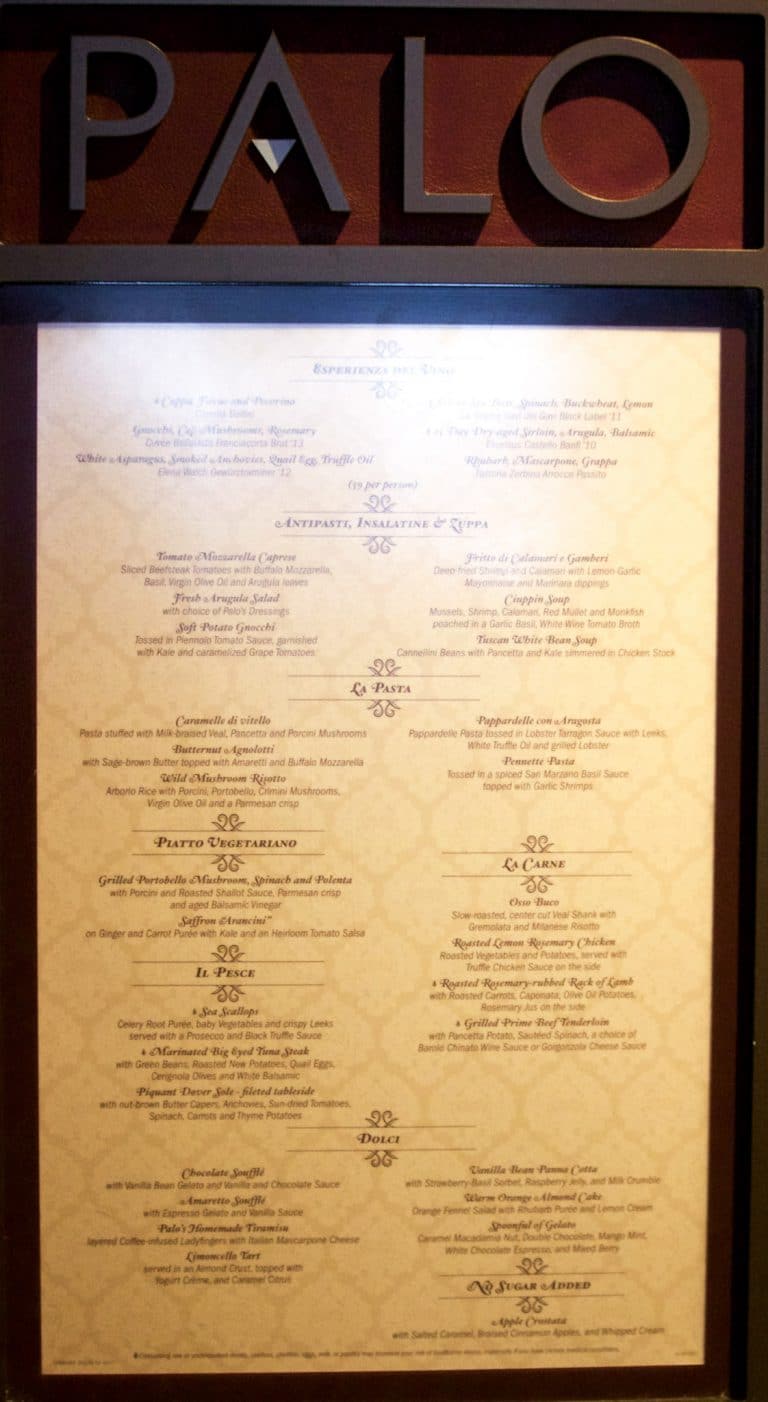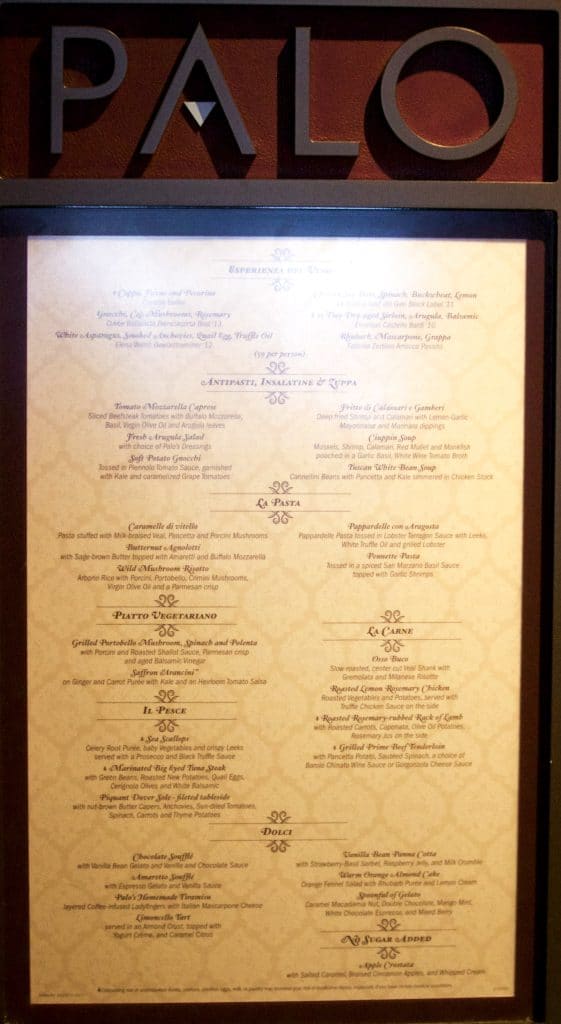 I was not expecting my dinner to be as fabulous as it turned out to be. It was, I kid you not, the best meal thatI have ever had at a restaurant.
I wish the photo turned out better so you could see how gorgeous the dish was, but the lighting in the restaurant is turned down very low after the sunset.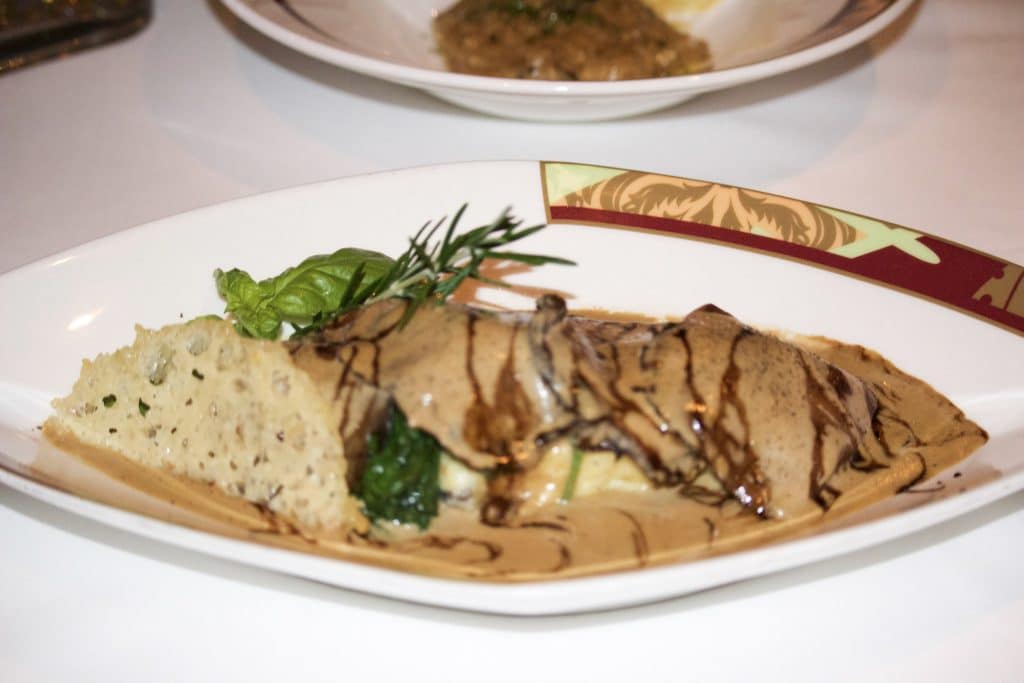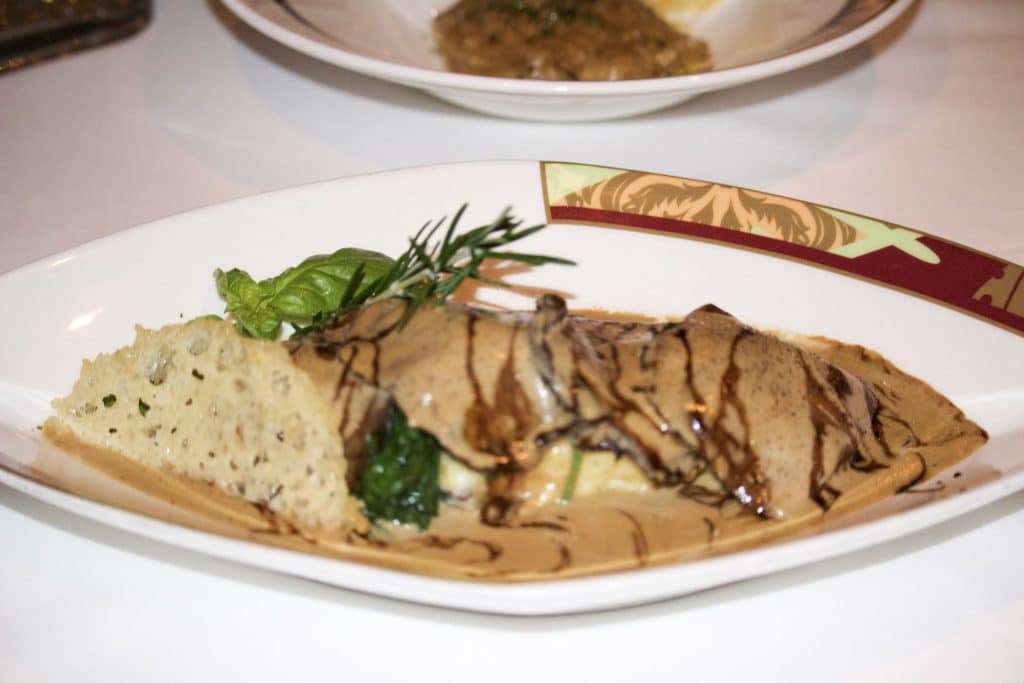 The grilled portobello mushroom is shaved paper-thin, like deli meat, and it's covered in the most delectable porcini roasted shallot sauce. The shaved portobello is layered on top of the creamiest polenta and topped with a parmesan crisp and a balsamic vinegar drizzle. It's seriously amazing!
I also ordered a side of the mushroom risotto, I was in mushroom heaven!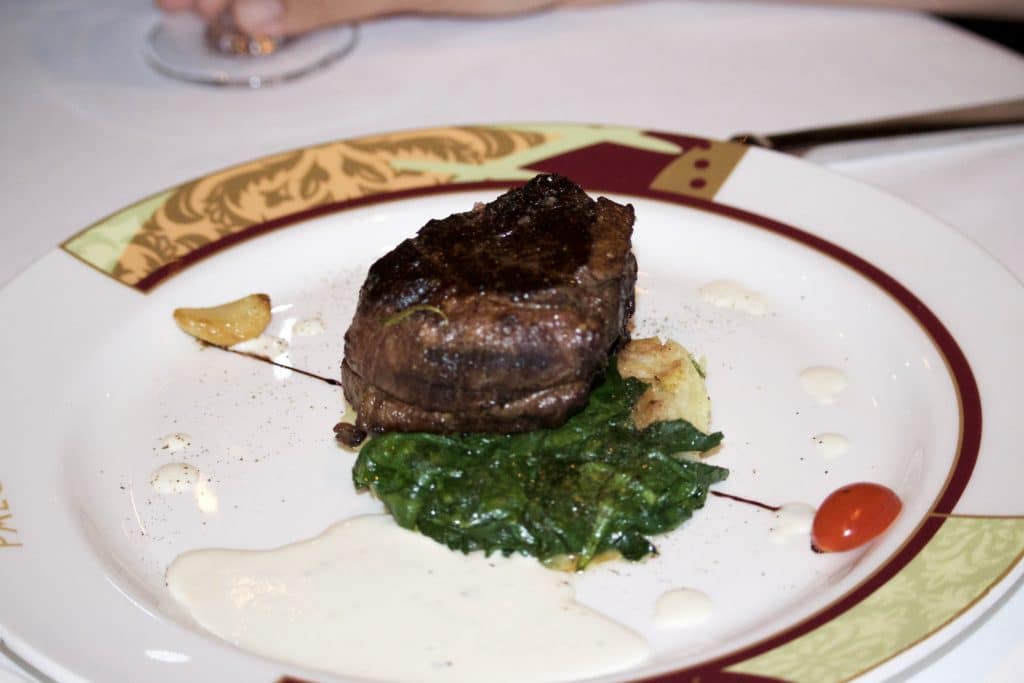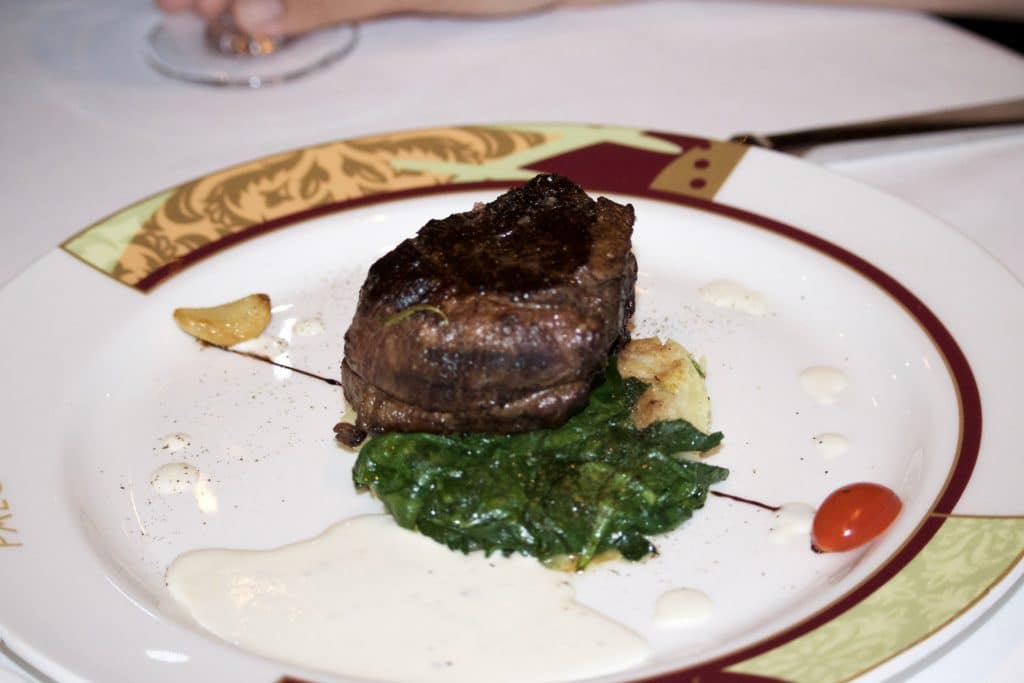 Travis loved his dish too, the beef was cooked exactly how he wanted it. We loved the way Stefanos presented it by pouring the gorgonzola sauce all around the tenderloin.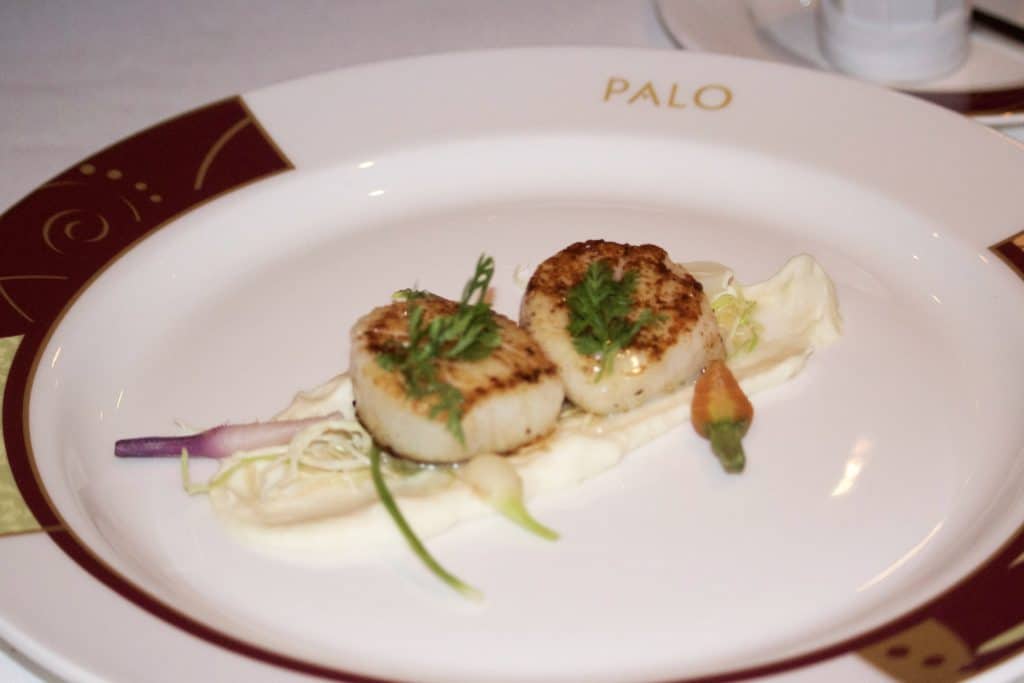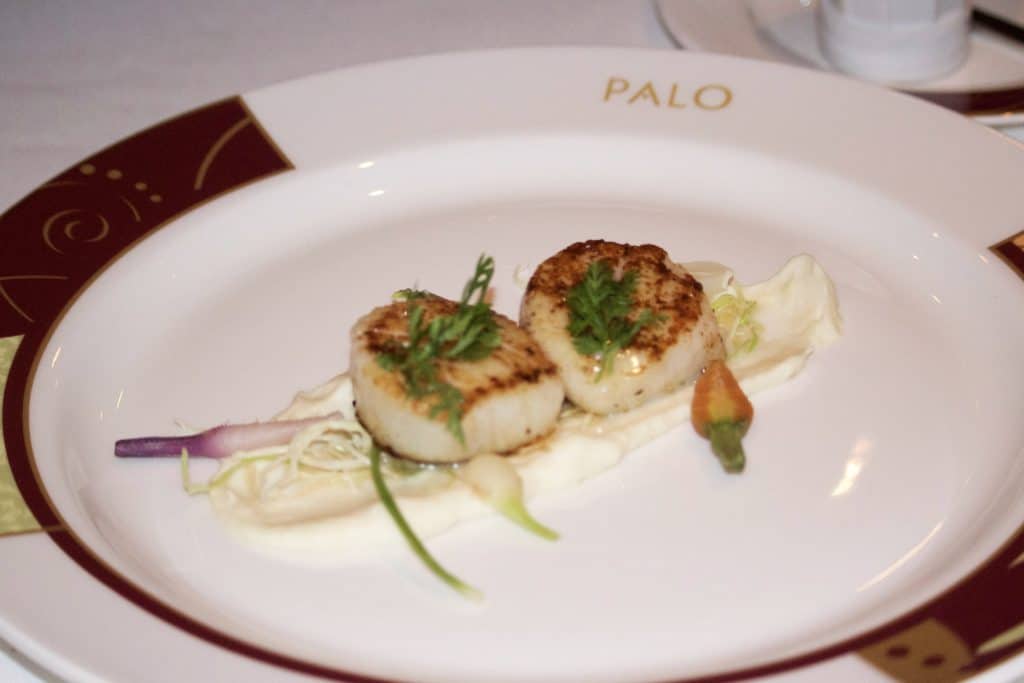 He even brought a half order of the scallops for Travis to have with the beef because he was having a hard time deciding what to order. They were perfectly seared and tender on the inside.
Palo Dinner – Dessert
I went into Palo knowing that I was going to order the chocolate souffle with vanilla bean gelato for dessert because I'd heard so much about it from other Disney cruisers. I had to try it!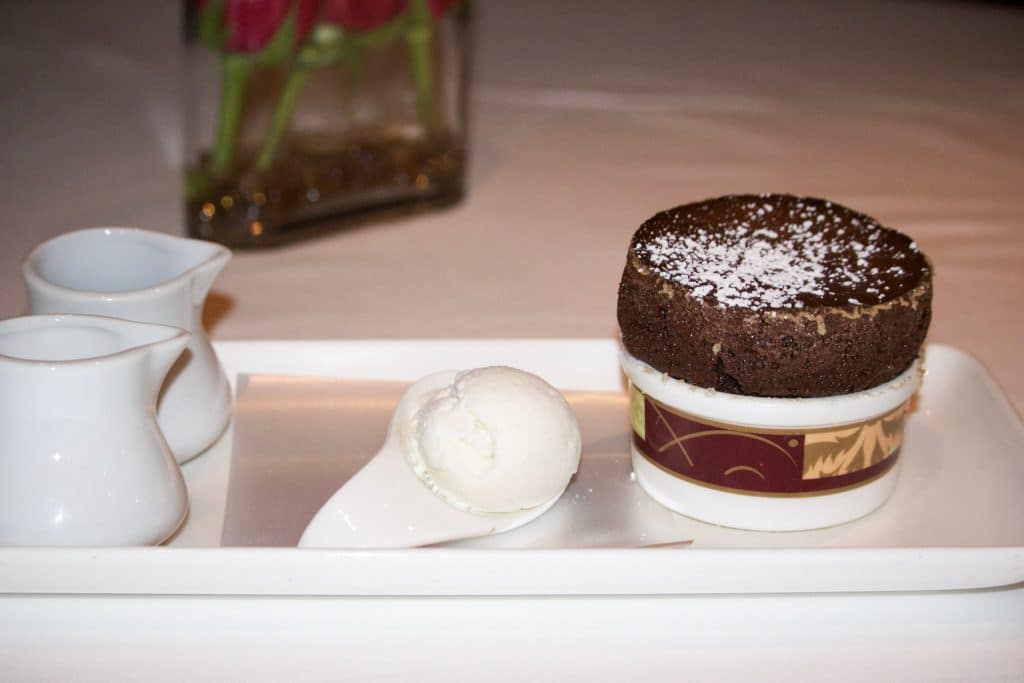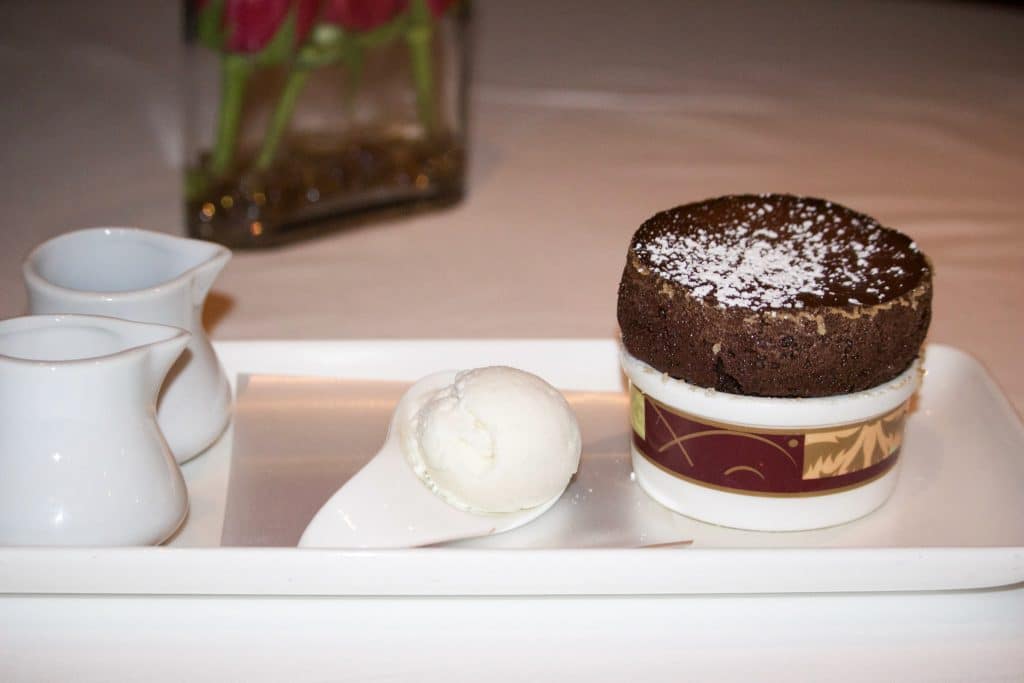 It did not disappoint.
The chocolate souffle is light and airy but also rich, melty, gooey, chocolate-y goodness all at the same time. Any chocolate lover will adore it! It has a puffy top that is a solid inch over the lip of the souffle cup, it's a real work of art. The vanilla bean gelato is scrumptious too.
Stefanos even carved a heart into the top of the souffle (before he poured the warm chocolate sauce all over it) and told us Happy Honeymoon! It was such a lovely presentation.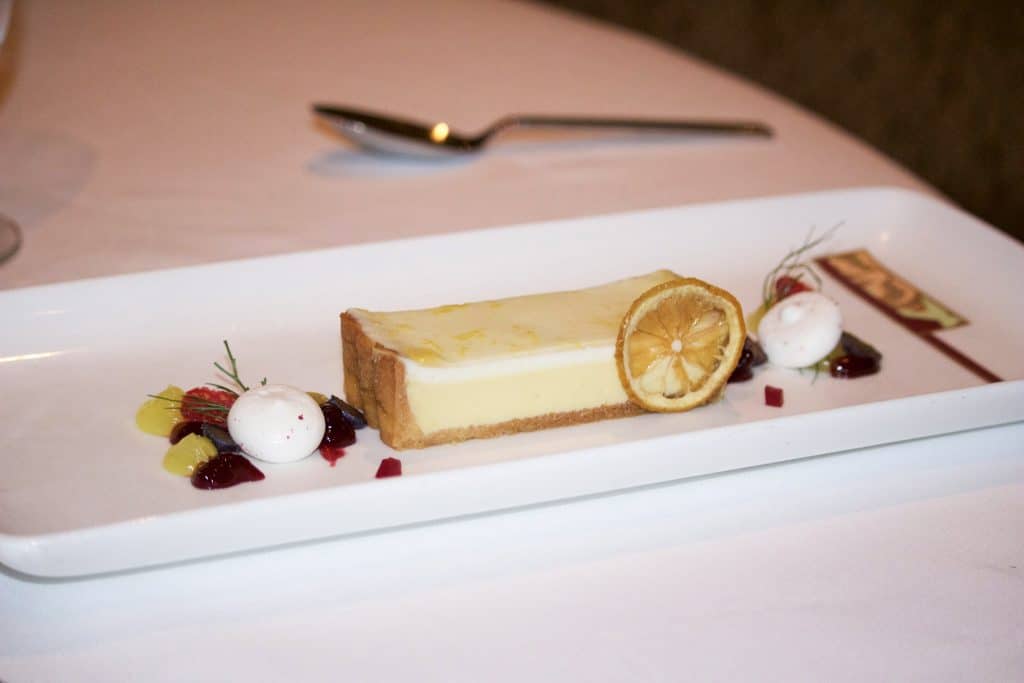 We also ordered the limoncello tart at Stefanos' suggestion. He was right, it's delightful! It had a crisp almond crust with yogurt creme, a tangy lemon flavor, and caramel candied citrus. Holy yum!
To totally knock our socks off, Stefanos brought each of us a shot of ice-cold limoncello slush to finish the night off with.
We thoroughly enjoyed every single bite of food that night. The food, service, and overall experience we had at Palo was 5-star, I wish I could give it 10 stars!
Disney Cruise Palo Brunch or Dinner: Which is Better?
Now, to answer the question that everyone is wondering!
Disney cruise Palo brunch or Palo dinner: which is better?
My honest opinion is that I enjoyed dinner a tiny bit more than brunch. However, brunch was fantastic too. It's really very close.
We loved the vast selection of treats on the cold buffet, the delicious hot menu, pizza to order, and endless bite-sized desserts at brunch…BUT the food at dinner tasted just a step above.
The flavors were more complex, each dish was presented very creatively, the service was extremely personalized (Stefanos making each of us a charcuterie plate, pouring the sauce over Travis' dinner, carving a heart into the souffle, etc), the romantic atmosphere of the restaurant at night, and just the overall fantastic experience we had pushed dinner at Palo into the #1 spot.
I would still recommend doing both brunch and dinner if possible, so you can try all the food and make your own decision. The next time we go on a Disney cruise, we'll definitely be doing both brunch and dinner again!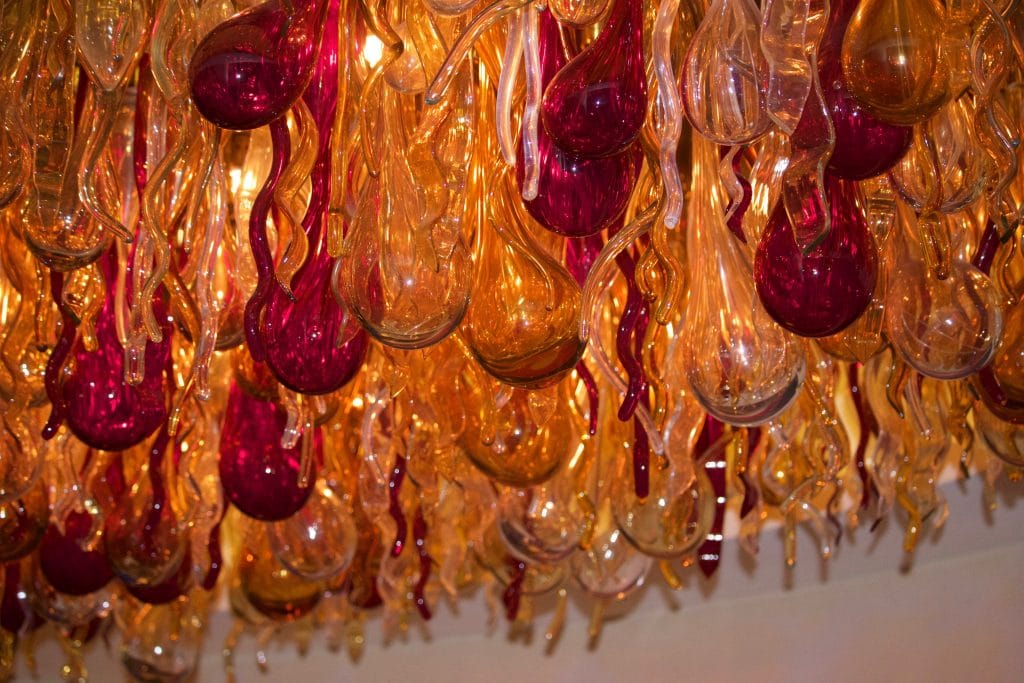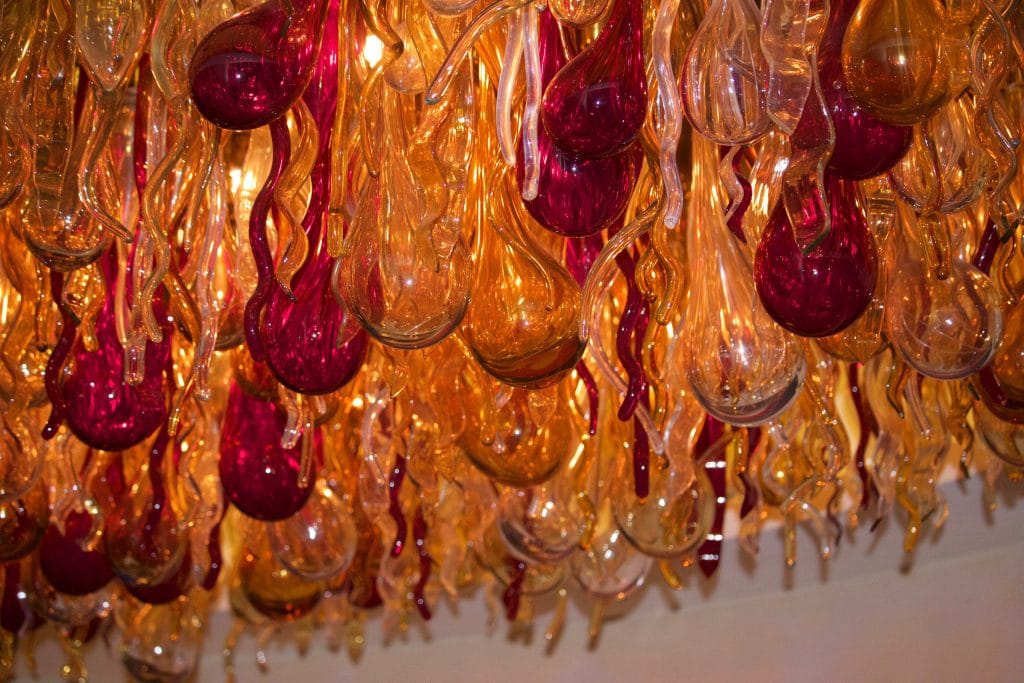 Make sure you look up when you walk into or when you leave Palo. There is a stunning glass light fixture on the ceiling, it's so pretty!
I hope you get to visit Palo for both brunch and dinner on your next Disney cruise! Please let me know what you think if you get to try brunch or dinner.
Are you trying to decide between Disney cruise Palo brunch or dinner? Do you have a preference or do you like both equally? Let me know what you think in the comments!
More Disney Cruise Posts That Will Help You Plan Your Next Cruise!
Everything You Want to Know About a Disney Cruise Pirate Night
Disney Cruise Restaurants: What's the Food Really Like?
13 Activities to do at Disney's Castaway Cay
11 Funtastic Disney Cruise Activities That Aren't for Kids!
35 Travel Essentials You Need to Pack for a Disney Cruise!