This guide has everything you need to know about a Disney cruise pirate night! From pirate costume suggestions to tips about the pirate buffet, stage shows, fireworks, and special character meet and greets, you don't want to miss anything on pirate night!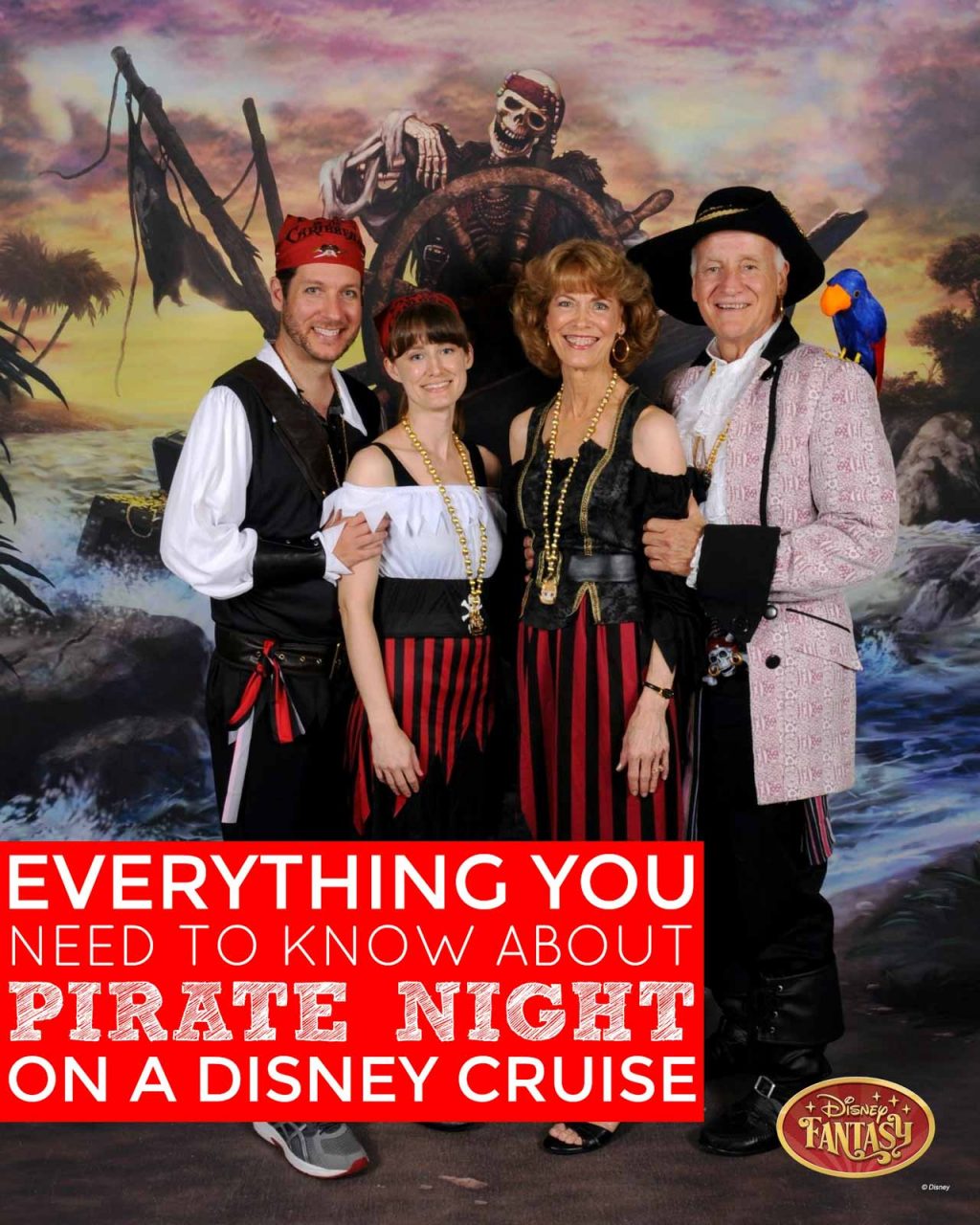 Pirate night on a Disney cruise is one of the best nights of the cruise! The guests, crew, and characters all dress up in pirate gear, there are pirate-themed shows, pirate-themed food, fireworks, a dance party, pirate-themed photo backdrops, pirate games, and special character meet and greets. You don't want to miss any of it!
After going on multiple Disney cruises, we've gotten to experience everything that pirate night on a Disney cruise has to offer. This guide includes everything that you need to know about planning ahead for pirate night, pirate costumes, fireworks, pirate night dinner, and my best tips for you to have the best experience on pirate night!
If you want to see what pirate night is really like, you can watch our Disney cruise pirate night video, here and here.
What Night is Pirate Night on Disney Cruise?
Depending on how long your Disney cruise and where the ship is going will impact which night pirate night is held on and if there is one at all. Be aware, if you're going on an Alaskan cruise, there is no pirate night. Instead, there is a "Freezing the Night Away Party" with Anna and Elsa to match the theme of the climate.
Once you book your cruise, you can call DCL and they should be able to tell you what night pirate night (if there is one) will be on your specific cruise.
On both of the 7-night Eastern Caribbean cruises that we went on, pirate night was on the 4th night for both of those cruises. On our most recent 5-night Eastern Caribbean Disney cruise, pirate night was on the 3rd night of the cruise.
Disney Cruise Pirate Night Schedule
This is the Personal Navigator from pirate night on our most recent Disney cruise. Here's a list of all the pirate-themed activities that are offered on pirate day and night.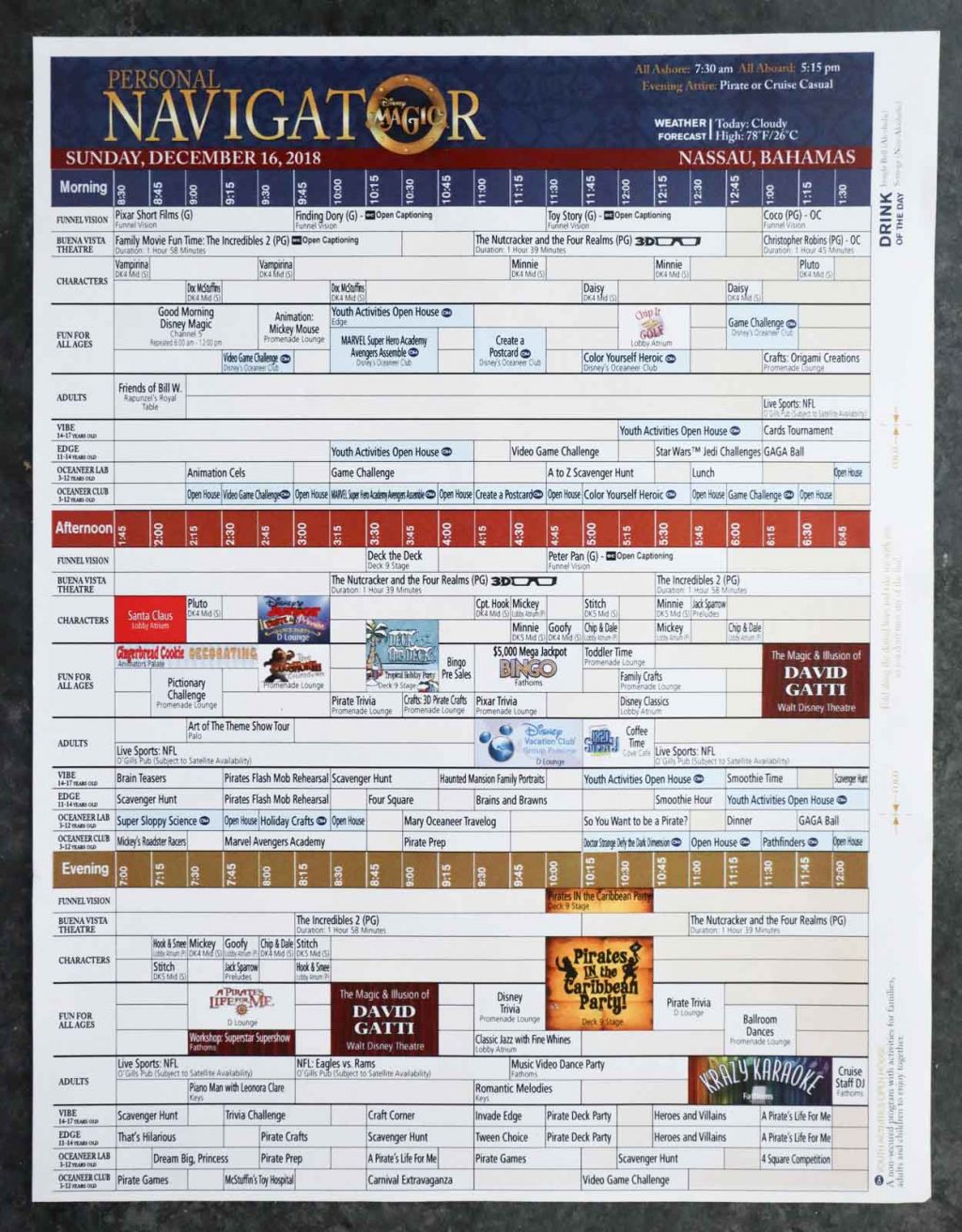 2:30 PM - Pirates Flash Mob Rehearsal
2:45 PM - Disney Junior Pirate & Princess Dance Party
3:15 PM - Pirate Trivia
3:45 PM & 8 PM - 3D Pirate Crafts or Pirate Prep
4:30 PM - Meet & Greet with Pirate Mickey & Minnie
5 PM - So You Want to Be a Pirate?
5:45 PM & 7:45 PM - Meet & Greet with Jack Sparrow
7 PM & 9:30 PM - Pirate Games
7:15 PM & 8:15 PM - Meet & Greet with Captain Hook and Smee
7:30 PM - A Pirate's Life for Me Workshop
8:15 PM - Pirate-Themed Dinner (Second Seating)
10 PM - Pirates in the Caribbean Party Deck Party (Deck 9)
10:30 PM - Cabanas Pirate Buffet
11 PM - Club Pirate Dance Party
Disney Pirate Night Costume Ideas
Are you wondering what to wear on Disney cruise pirate night? No worries, I have ideas for you! Many people go all out and wear elaborate pirate costumes. However, if you don't want to dress up in pirate gear, that's okay too. Instead of dressing up in costume, you could wear a pirate t-shirt or pirate dress.
If you forget to pack a pirate costume for your child, they do have children's costumes in the gift shop onboard. As of December 2018, there were no adult pirate costumes in the gift shop.
Some people wear their pirate costume all day, but pirate night was on a port day on our cruise, so we didn't change into our costumes until close to 5 PM.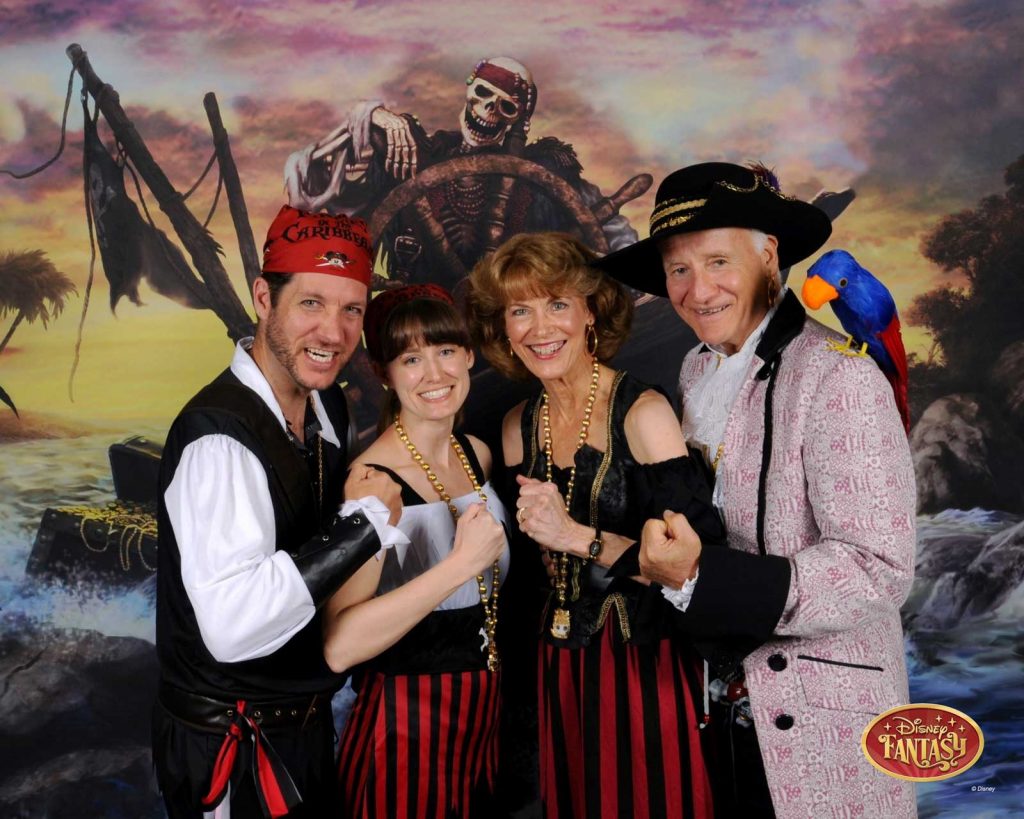 Where Did We Get Our Costumes From?
My whole family dressed up for pirate night, it's half the fun! We bought all of our pirate costumes (except my dad, he rented his from a local costume shop) from Amazon. This is the women's pirate wench costume that I wore, this is the men's cutthroat pirate costume my husband wore, and this is the women's queen of the high seas pirate costume that my mom wore.
How's the Weather on Pirate Night?
Keep in mind that (even in mid-December!) it's warm on Eastern and Western Caribbean cruises, so plan your costumes accordingly. My dad was very hot in his heavy pirate costume but our lightweight (and inexpensive) pirate costumes were very comfortable for the weather.
Should You Pack Any Accessories?
We also packed the following accessories to go with our costumes for pirate night!
Black Eye Liner and Eye Shadow (To make my husbands eyes and face look a little dirty like a scruffy pirate)
Glow Stick Necklaces/Bracelets (We wore these during the firework show and dance party at night!)
Small Fake Plastic Sword (We had no issues bringing these small swords on board with us but security did ask to examine them before we boarded)
Parrot (My dad clipped this parrot to his shoulder)
What Kind of Shoes Should You Wear?
I recommend that you pack comfortable shoes for pirate night. If you're anything like us, you'll want to go to all the pirate-themed activities and dance your booty off at the dance party (after the fireworks), so you'll be out until close to midnight. I wore black flats and Travis wore sneakers and we were both very comfortable all night.
Disney Cruise Pirate Night Bandanas
When you come back to your stateroom after your room attendant cleans up during the day, you should find a pirate Mickey bandana (one for each guest) and edible gold chocolate coins on the counter for you to enjoy. There should also be a Pirates of the Caribbean folded towel character waiting on the bed for you!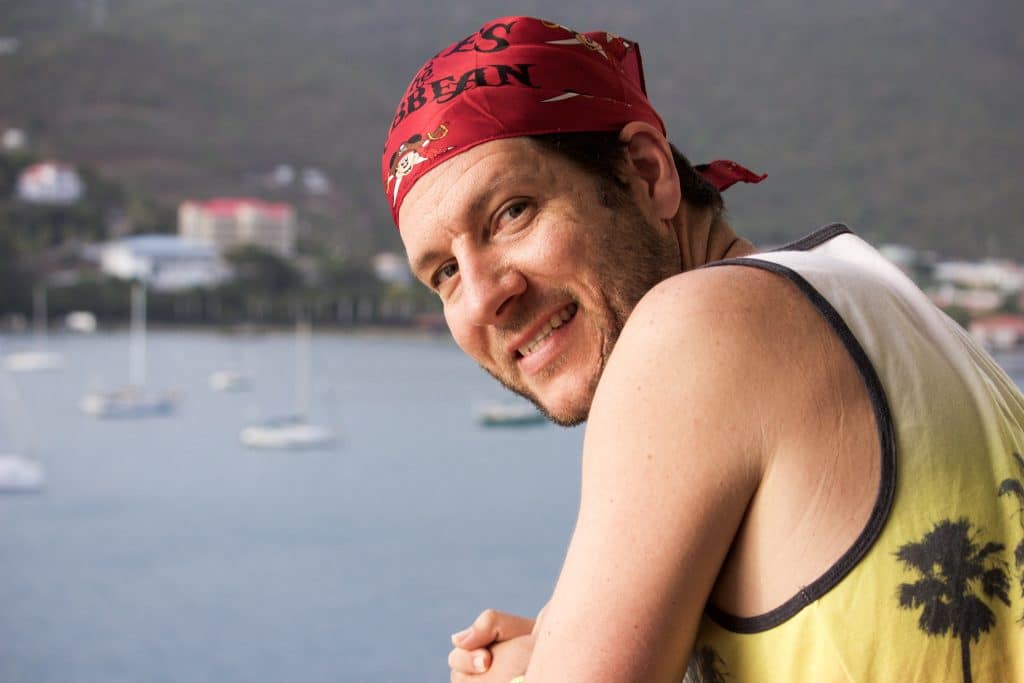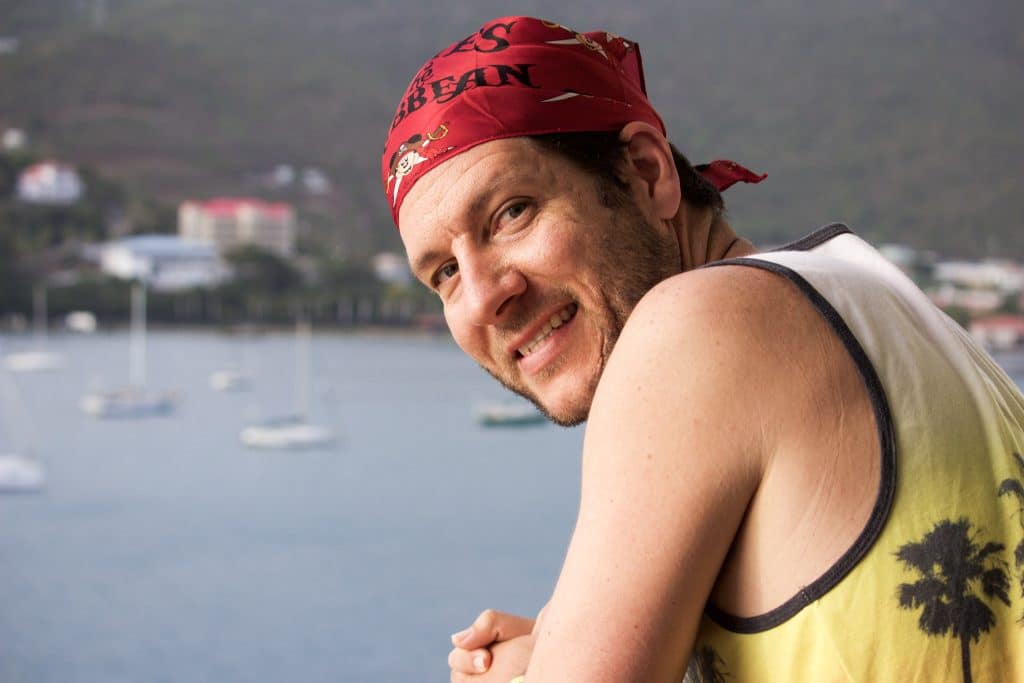 A lot of people wear the bandanas at night for all the festivities. The bandanas are especially great if you don't want to dress up in costume. At least, by wearing the pirate bandana, you're joining in the fun a little bit!
The best part? You get to keep the bandana as a free Disney cruise souvenir!
Disney Cruise Pirate Night Menu & Food
On pirate night, there is a special pirate-themed menu at all of the main dining restaurants. We've eaten at Animator's Palate and Enchanted Garden for pirate night and the experience at Animator's Palate was our favorite.
I recommend that you find out what night your pirate night will be on and then call DCL and request to go to Animator's Palate on that night. What makes it so cool is that the whole restaurant is decorated for pirate night!
There are big screens on the walls in Animator's Palate where Crush usually swims around, but on pirate night everything changes!
The screens show images (like the one below) of pirates and treasure maps, pirate music is playing in the background, and even the lighting in the restaurant is changed from blue to red for the night. Add in the pirate menu and the servers who are all dressed as pirates and it really feels like you're dining on a pirate ship!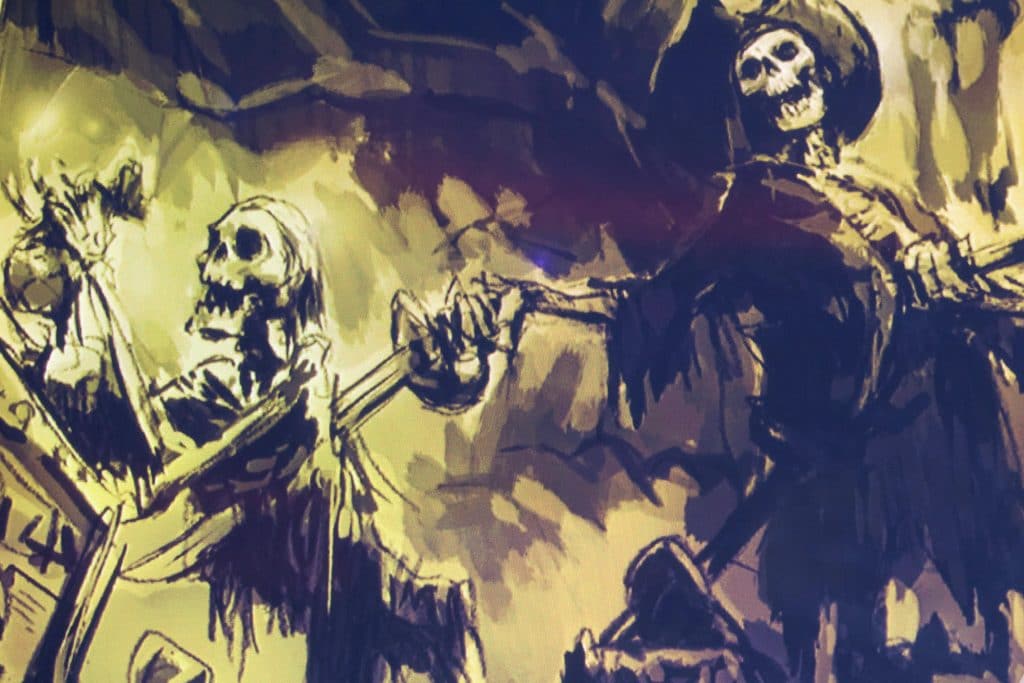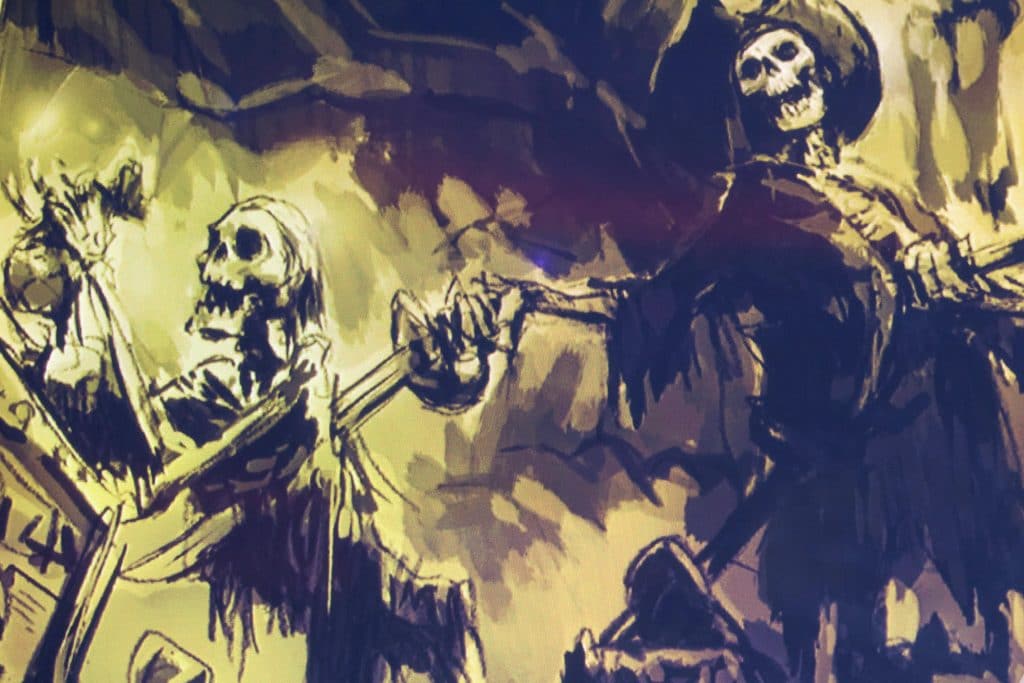 The menu is pirate-themed and all of the dishes have pirate-themed names! One of my favorite courses (from the entire cruise!) is the samosa appetizer that's on the pirate night menu. It's absolutely delicious!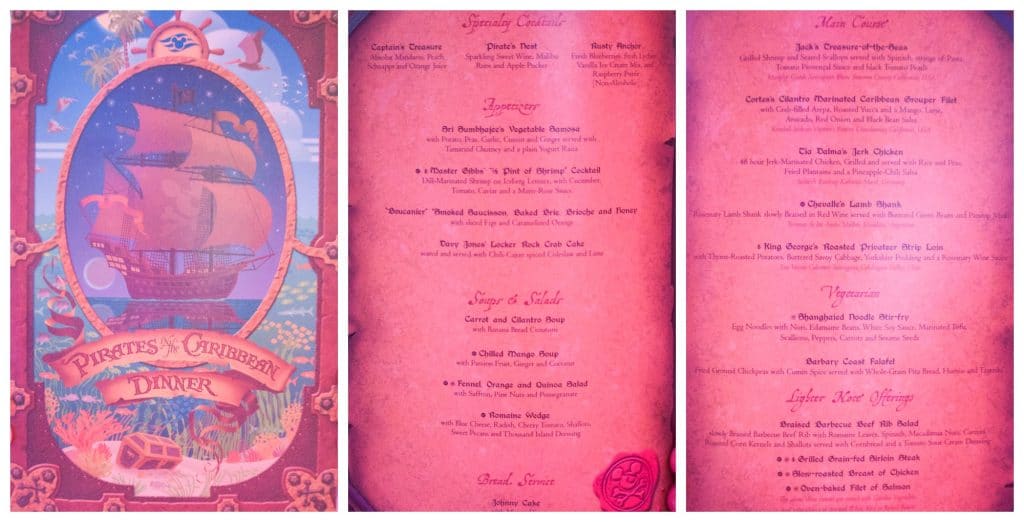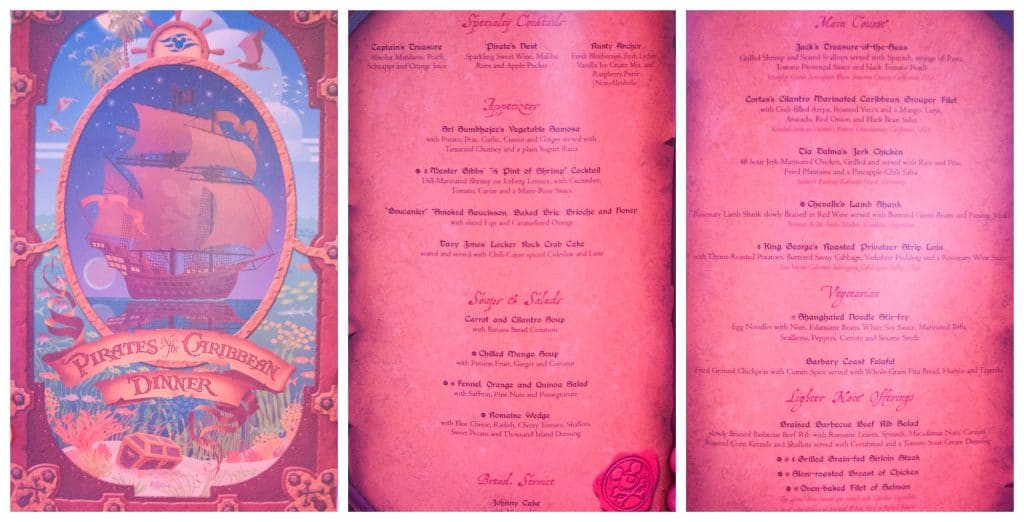 There is also a pirate-themed dessert menu. I recommend that you try the rum cake, it's fabulous.
Pirate Night Stage Shows
The Pirates in the Caribbean deck party doesn't start until 10 PM. Whether you have first or second seating for dinner doesn't matter because you'll have plenty of time to eat dinner before the show.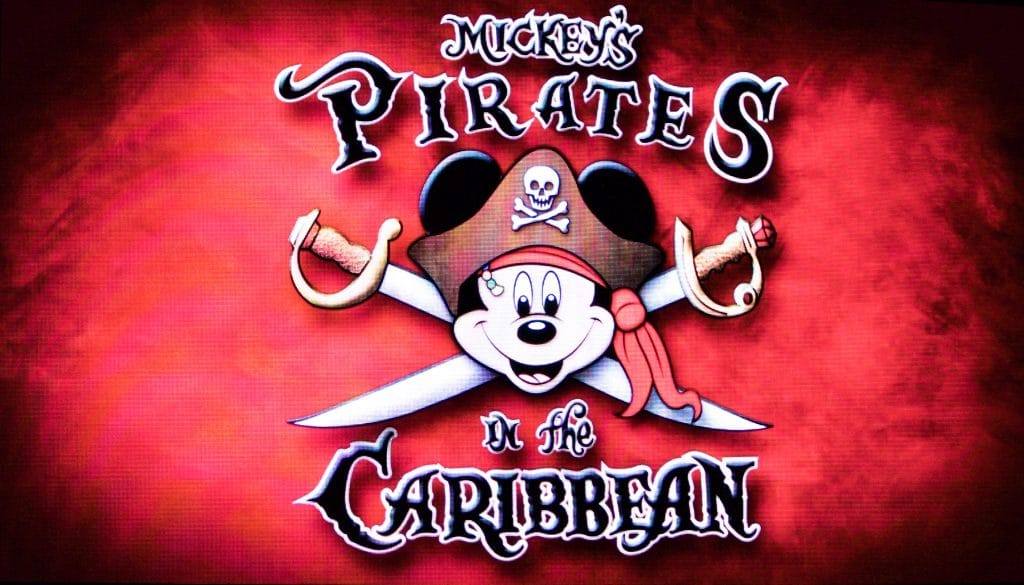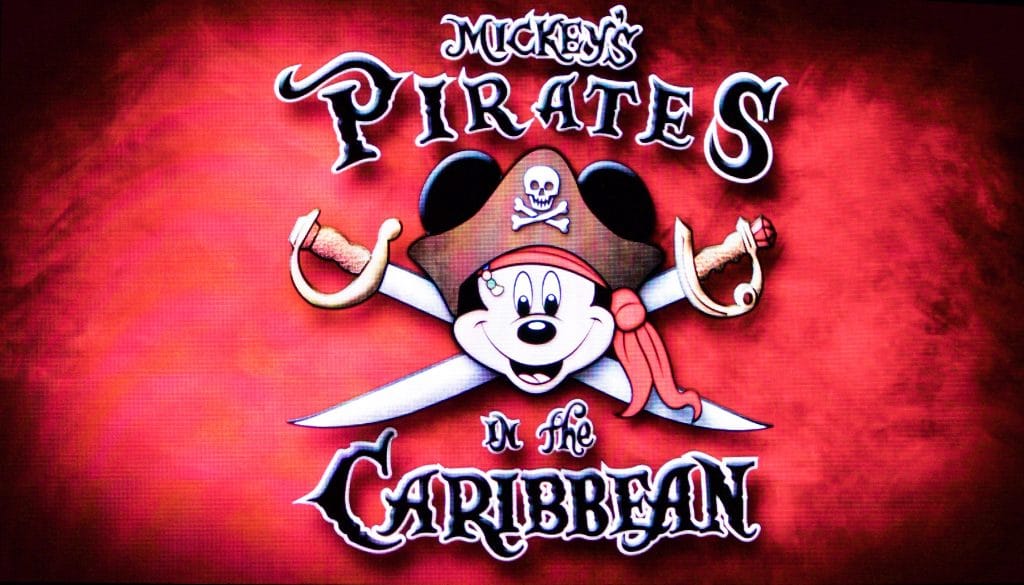 The pirate deck party is very family-friendly and appropriate for kids of all ages. There are a few loud blasts during the show but I don't think it's loud enough to scare the little ones.
All of the pirate deck party's we've been to have been very similar, except for one big difference. On the Magic, the pirate deck party was themed around Captain Mickey being the hero and saving the day. On the Fantasy, the show is themed around Captain Jack Sparrow. Both shows are awesome!
Disney Cruise Pirate Night Fireworks
The deck party transitions right into the fireworks. Keep that fact in mind when you pick your spot for the show because that will also be your view of the fireworks. We prefer to stand on deck 12 by the railing on the Starboard side of the ship. There is no bad view of the fireworks but we like to be by the railing so we have a wide-open view of the fireworks right in front of us!
We found the firework display to be the same on all three cruises and each one was fantastic!
Late-Night Pirate Night Buffet
The pirate-themed buffet at Cabanas isn't exactly a secret but it's not really talked about or promoted either. I didn't hear anyone on the ship promote it and I only knew about it because the time and location are listed on the back of the pirate night Personal Navigator.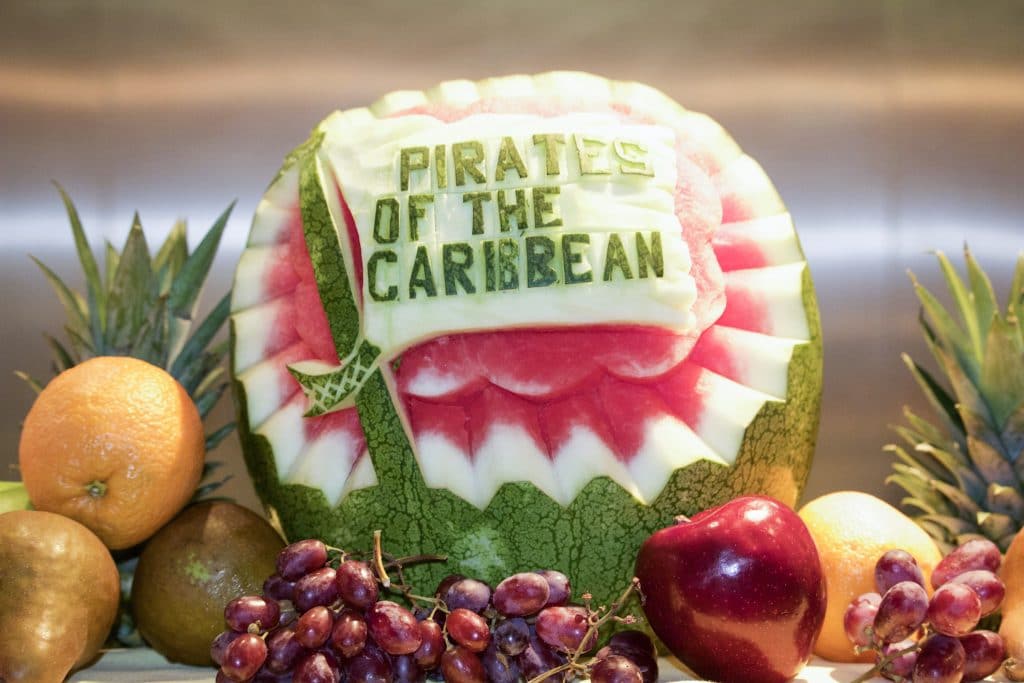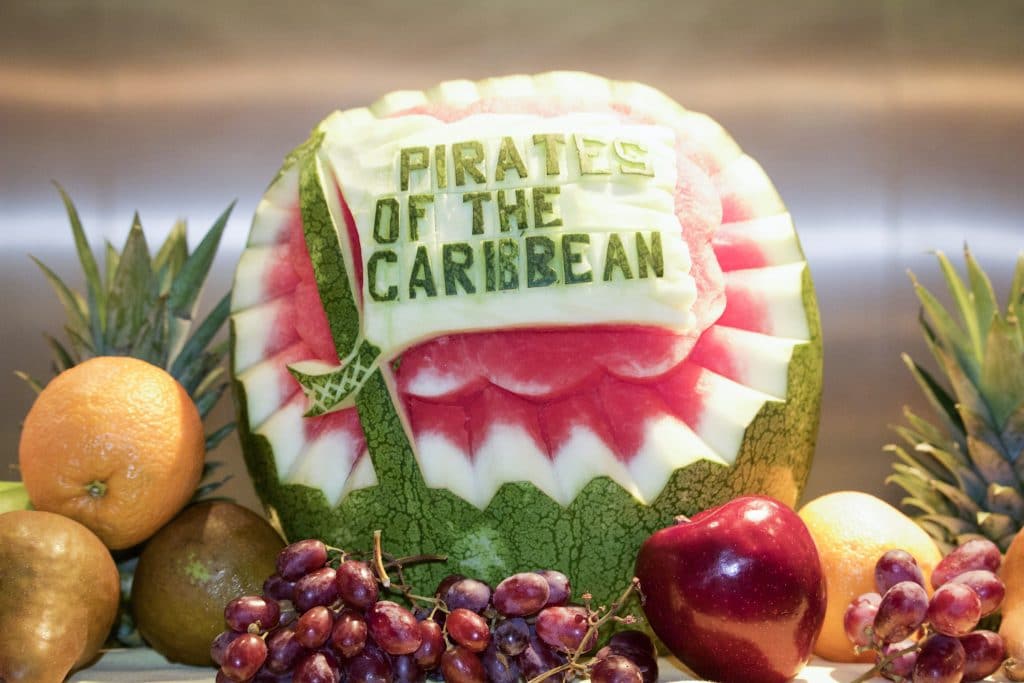 The Personal Navigator states that the buffet starts at 10:30 pm, but I checked in at that time and nothing was open yet. We went back to Cabanas right after the fireworks and it was already super packed, so the buffet must have opened up during the fireworks or right before the show ended.
The pirate buffet is only offered on one side of Cabanas, so it's very crowded and it takes a while to get through the line.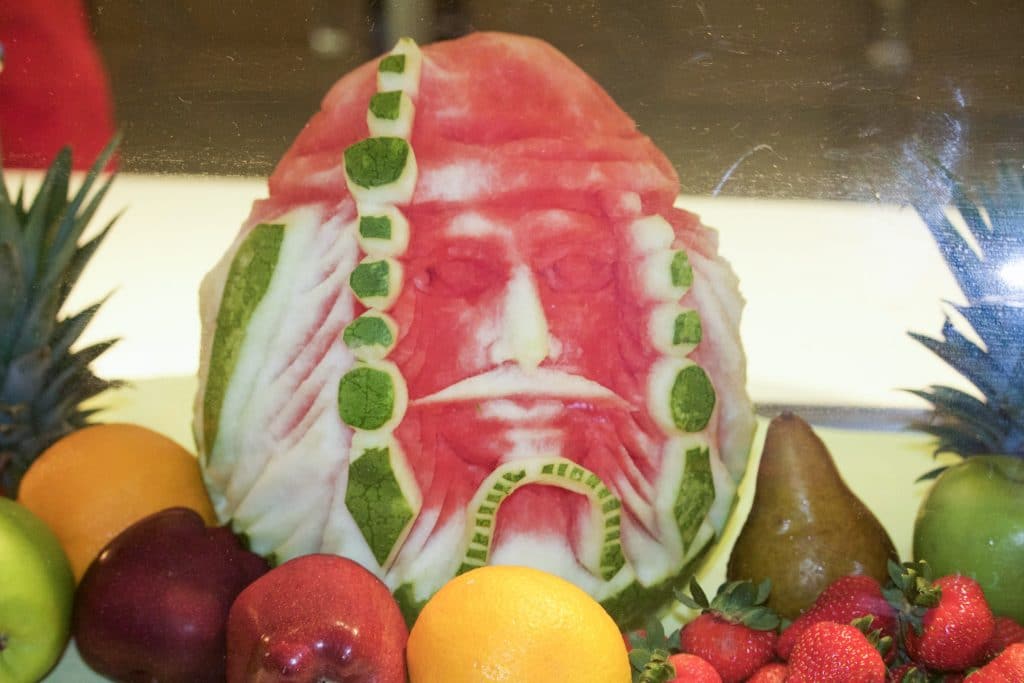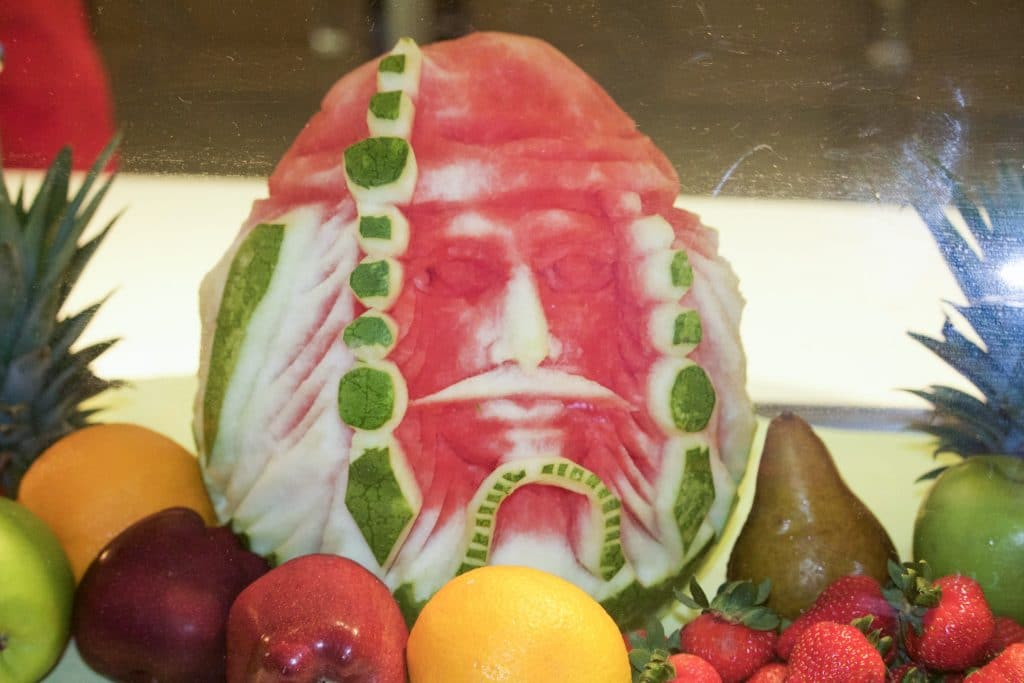 There's a lot of food on the buffet! I really love the carved watermelons and cantaloupes that looked like pirate faces, it's very artistic! There was also a huge ship made just out of bread, a fruit treasure chest, and lots of other pirate-themed details. The following list is everything that I saw on the pirate-themed buffet.
Disney Cruise Pirate Buffet Menu
Assorted Bread
Fruit
Large Turkey Legs
Tacos
Burritos
Nachos
Loaded Baked Potato Bar
Soup
Assorted Desserts
Pirate Night Dance Party
After you check out the pirate buffet, head back to the pool deck because the pirate dance party will just be getting started. The dance party is for everyone, not just for kids. People of all ages will be breaking it down on the dance floor, so get out there and dance!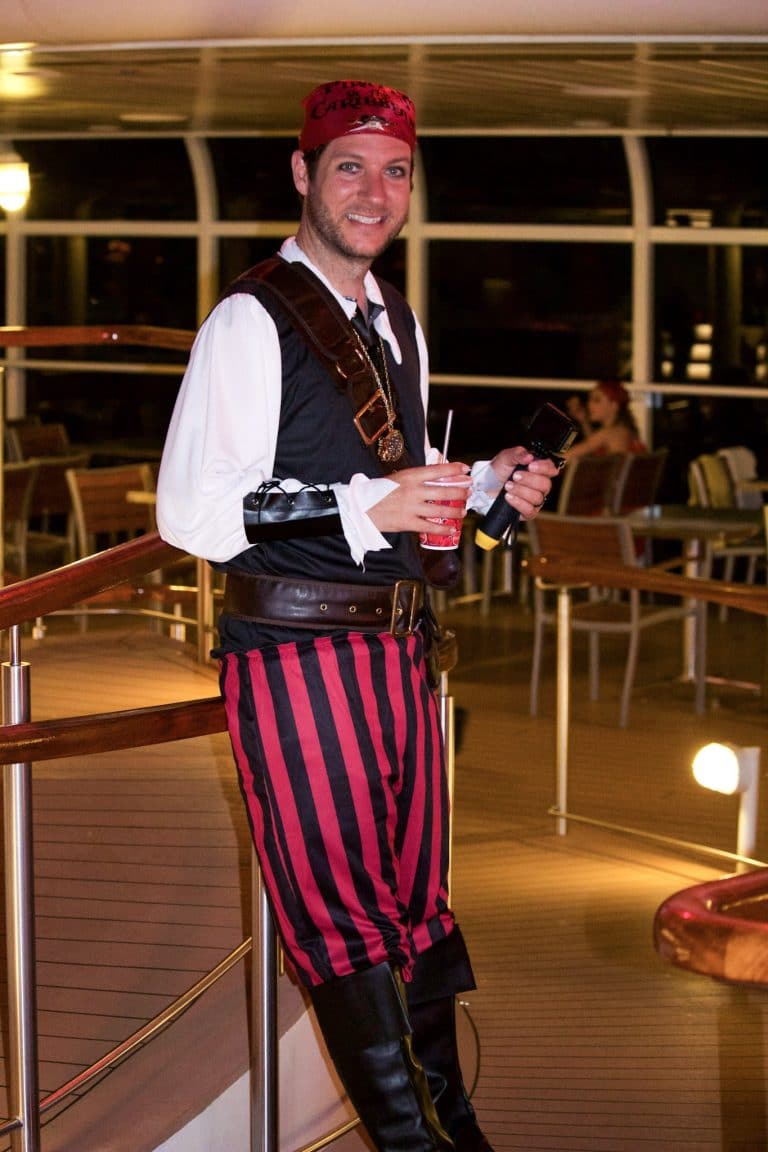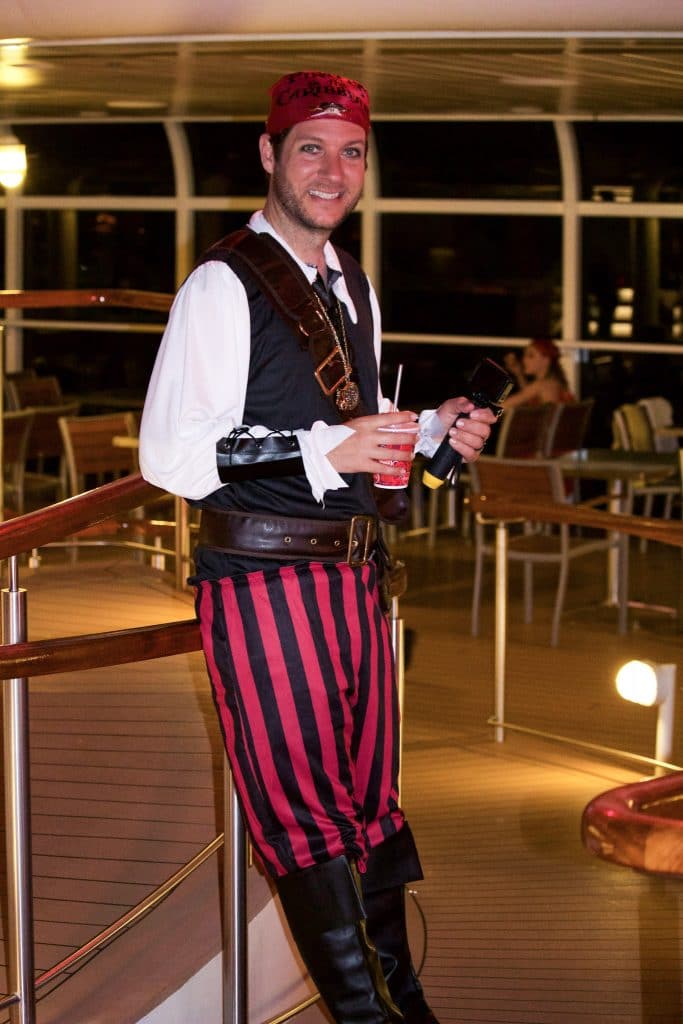 There's a DJ playing popular songs to dance to, lights are flashing, and it's fun to try to spot yourself on the big screen in front of the dance floor. It's a great way to end pirate night!
Disney Cruise Pirate Night Ideas & Tips
Pack a pirate costume or at least a pirate t-shirt that you can wear with the free pirate Mickey bandana that your stateroom host will leave in your stateroom for you.
Call DCL and request to eat at Animator's Palate for dinner on pirate night because it's the most immersive restaurant.
Try not to plan dinner at Palo or Remy on pirate night because they're not themed and you don't want to miss the pirate-themed dinner at your MDR. If you do go to Palo or Remy for dinner on pirate night, you can't wear your costume for dinner and you'll have to change after you eat.
The night before pirate night, look over the Personal Navigator and highlight the pirate-themed activities that you want to do the next day. There's a lot going on for pirate night, so try to plan ahead so you don't miss anything!
Wait to take pictures in the lobby with the special pirate-themed backgrounds until later in the night. Everyone lines up to take the pictures right when they open so the lines are long. If you wait until later in the night, the lines should be much shorter or you might have no wait at all.
Get the pirate-themed drink of the day, it's delicious to sip on during the stage show.
If you want to take a picture with Captain Jack Sparrow, plan to arrive early and wait in line for a bit. This meet and greet is very popular on pirate night.
Try not to overeat at dinner because you'll want to save room for the late-night pirate buffet at Cabanas after the fireworks.
Arrive early to get a spot against the railing on the starboard side of Deck 12 for the firework show. We thought that it was the best location to watch the firework show and the pirate deck party.
Wear flats or sneakers so you will be comfortable walking all night and tearing it up at the dance party after the fireworks.
Overall, pirate night is so much fun and it's packed with lots of festive activities for kids and adults both to enjoy! We thoroughly enjoyed pirate night and can't wait to do it again! I hope all of this information about pirate night is helpful to you. If I missed any important information, please leave me your best tips in a comment below!
More Disney Cruise Posts You'll Love!
159 Disney Cruise Tips that You NEED to Know Before Your Cruise!
Which is Better: Brunch or Dinner at Palo?
7-Night Eastern Caribbean Honeymoon Disney Cruise Review
What's the Food Really Like on a Disney Cruise?
11 Funtastic Activities for Adults on a Disney Cruise!
How to Eat Vegan on a Disney Cruise
FREE Printable Disney Cruise Packing List