Everything you need to know about a Disney cruise pirate night + a video of all the special surprises and activities! From the pirate costumes, the secret pirate buffet, the stage shows, and the fantastic fireworks, you don't want to miss anything on pirate night!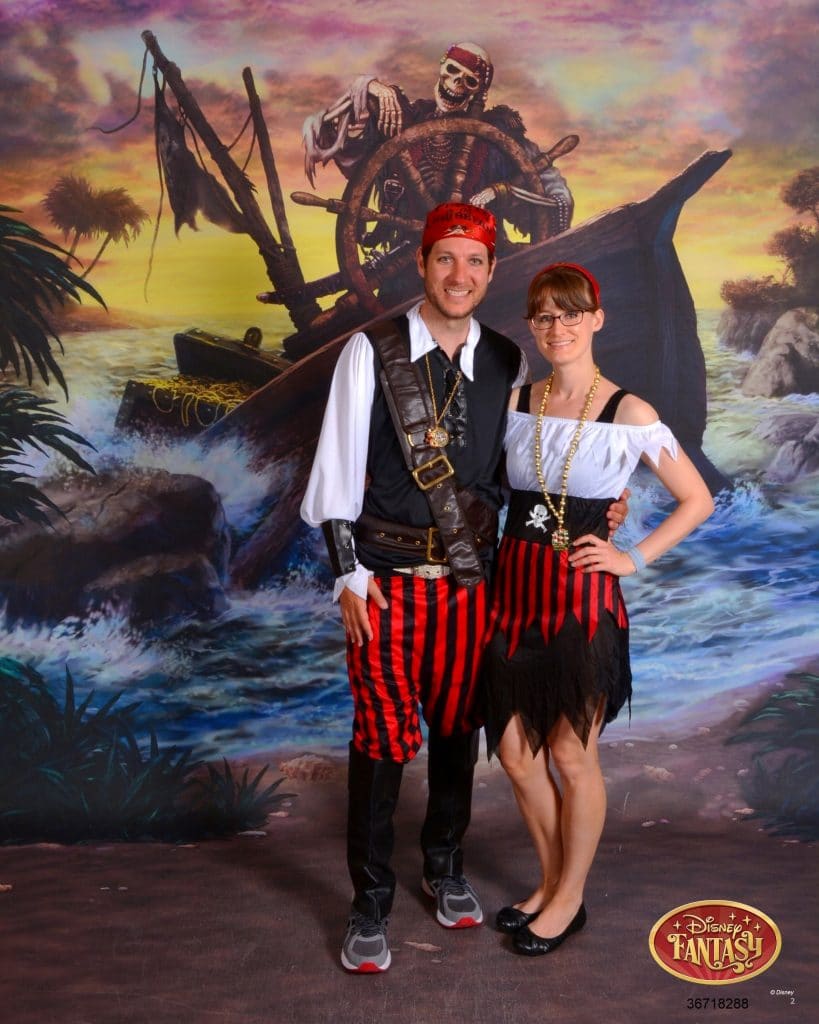 We had the best time on our magical Disney cruise honeymoon!
Since this was our first Disney cruise, we weren't sure what to expect on Pirate Night. The whole night was packed full of exciting events and fun activities.
Disney Cruise Pirate Night Schedule
Our Disney cruise pirate night happened on the day we visited St. Thomas (day 4). We'd gotten up really early to go zip lining so we weren't too sure how late we would stay up to celebrate pirate night, but we ended up partying until midnight on the top deck of the ship! We were having too much fun to go to bed early.
7:15 pm – Pirate Games (Deck 11)
7:30 pm – Pirates of the Caribbean stage show (Deck 11)
8:15 pm – Pirate themed dinner at Animators Palate
10:30 pm – Buccaneer Blast (Stage show + Fireworks)
11 pm – Secret Pirate-themed buffet at Cabanas
11 pm – Club Pirate Dance Party (Deck 11)
Disney Cruise Pirate Night Costume Ideas
My husband and I both wore pirate costumes of course, did you see our picture at the top of this post?
Almost everyone dressed up for the occasion. If you don't dress up, you'll definitely be the odd man out. Don't let that happen to you! It's fun to dress up and join the party!
If you forget to pack a costume, they do have children's costumes in the gift shop onboard.
This is the women's pirate costume that I wore.
Click on the image to buy it –>
This is the men's pirate costume that my husband, Travis, wore.
Click on the image to buy it –>  
Both costumes are your typical Halloween costume, they were perfect for pirate night. Not too hot and not too expensive either. The women's costume runs a little small, so I would recommend ordering one size bigger than you normally wear to ensure that it fits properly.
We also packed light-up pirate medallion necklaces to wear with our costumes for pirate night. I also brought black eye liner and eye shadow to make our eyes and face look a little dirty like Captain Jack Sparrow. Travis called it his "guy liner!"
I wore black flats and Travis wore his sneakers.
Glow stick necklaces and bracelets would've been fun to wear too since the party is on the top deck at night. I'll pack those for our next Disney cruise!
Disney Cruise Pirate Night Bandana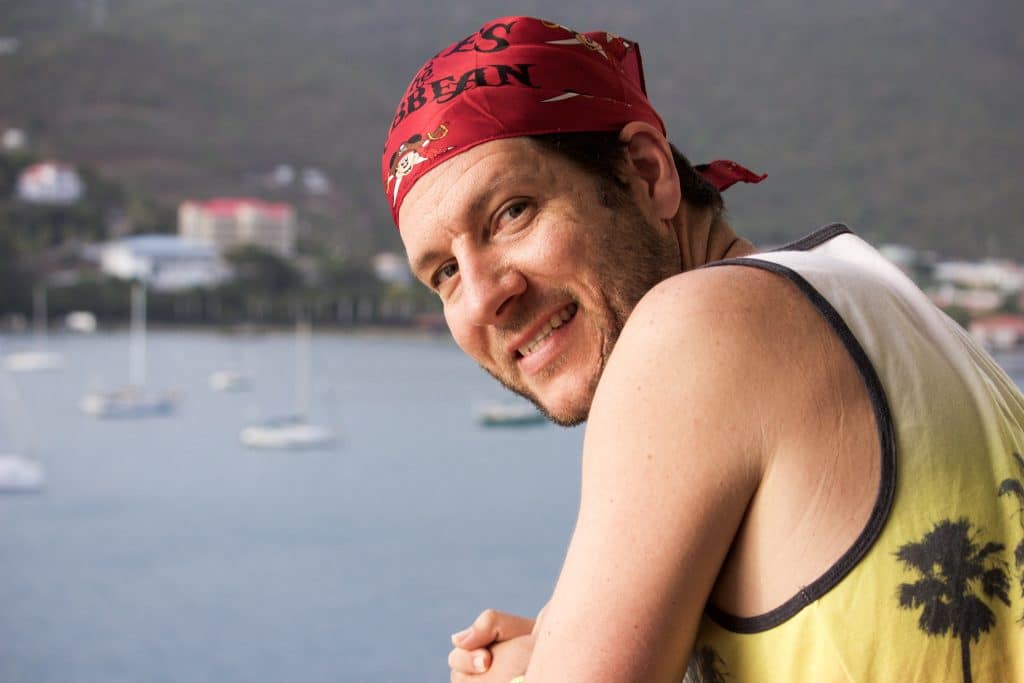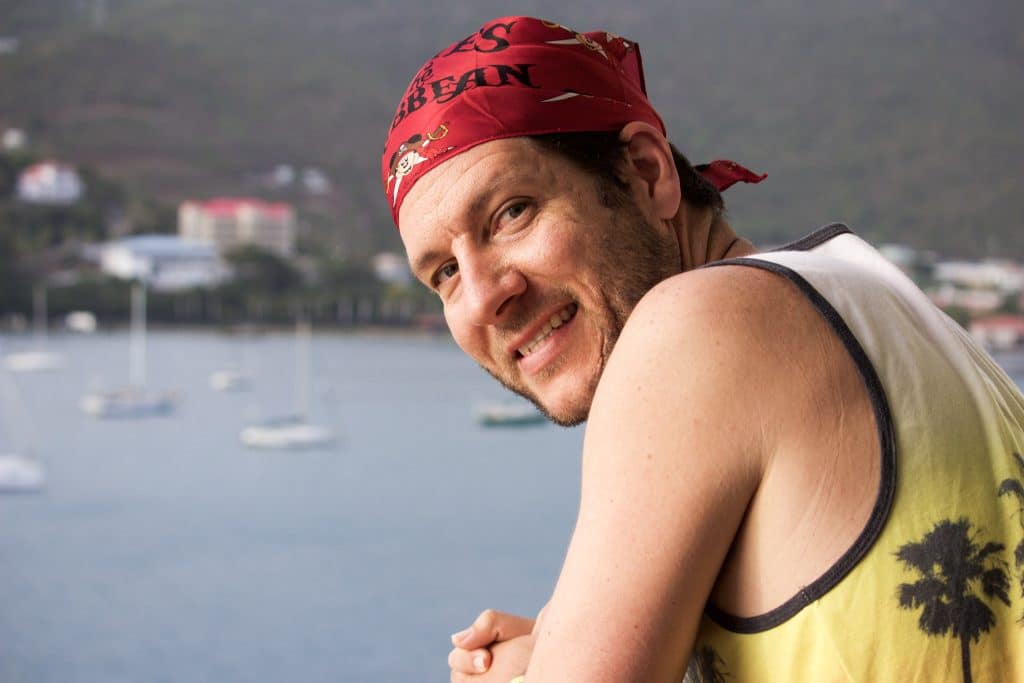 When we came back to our stateroom after zip lining during the day in St. Thomas, we found two (free!) pirate Mickey bandanas and chocolate pirate coins laid out on the bed for us! I thought it was a really nice touch for DCL to provide the treats and bandanas for us to wear for pirate night.
If you're not into wearing a full pirate costume but still want to participate, this low-key pirate "costume" t-shirt would be a great option for you. Wear the free Mickey bandana and an eye patch and you'll fit right in!
My dad doesn't know it yet but he's getting this Disney cruise pirate night shirt (see link below) to wear on pirate night! 
Pirate Stage Shows 
There were two pirate-themed stage shows. The first show was before dinner and the second show was after dinner, right before the fireworks.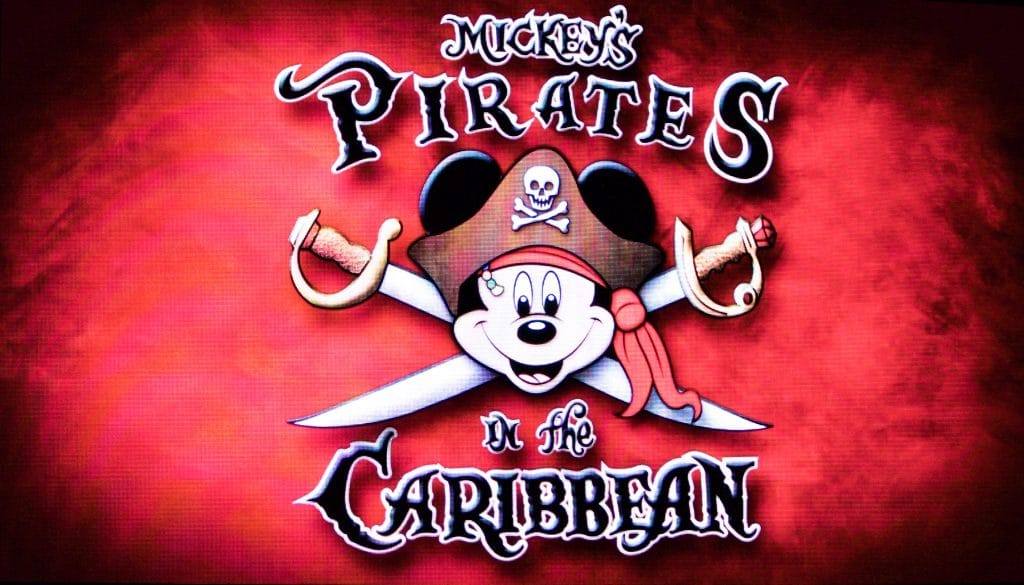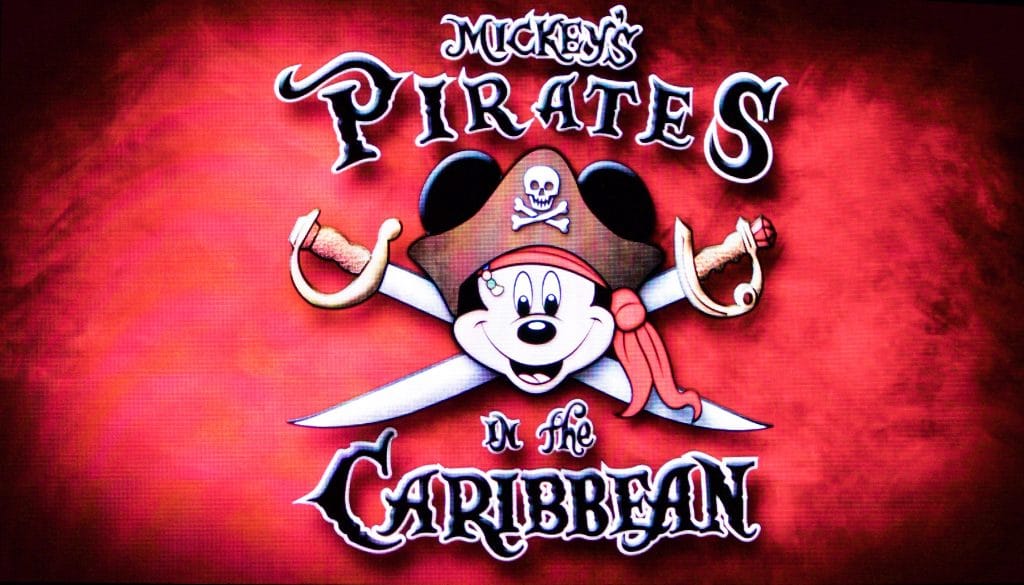 I felt that the earlier show was geared more towards younger kids while the later show was more for older kids.  The first show was all classic characters and happy songs while the second show had a few explosions and it was focused on Captain Jack Sparrow.
Both shows are okay for kids of all ages but if you have any little ones who might be afraid of loud noises or fireworks then just be prepared.
We liked both shows but enjoyed the second show and fireworks the most.
Related Disney Cruise Posts You Might Enjoy 
159 Disney Cruise Tips that You NEED to Know Before Your Cruise!
Read this review before you book brunch or dinner at Palo!
My personal packing list of 35 Essentials that you need to pack for your next Disney Cruise! 
Want to see what the food is like (pictures + video of each meal) at Animator's Palate, Enchanted Garden, and Royal Court? 
11 Funtastic activities for adults on a Disney Cruise! 
Disney Cruise Pirate Night Menu 
Pirate night dinner at Animators Palate was so cool! It was our second time going to that restaurant during the trip and we expected it to be the same theme and menu as the first night we were there. It was completely different!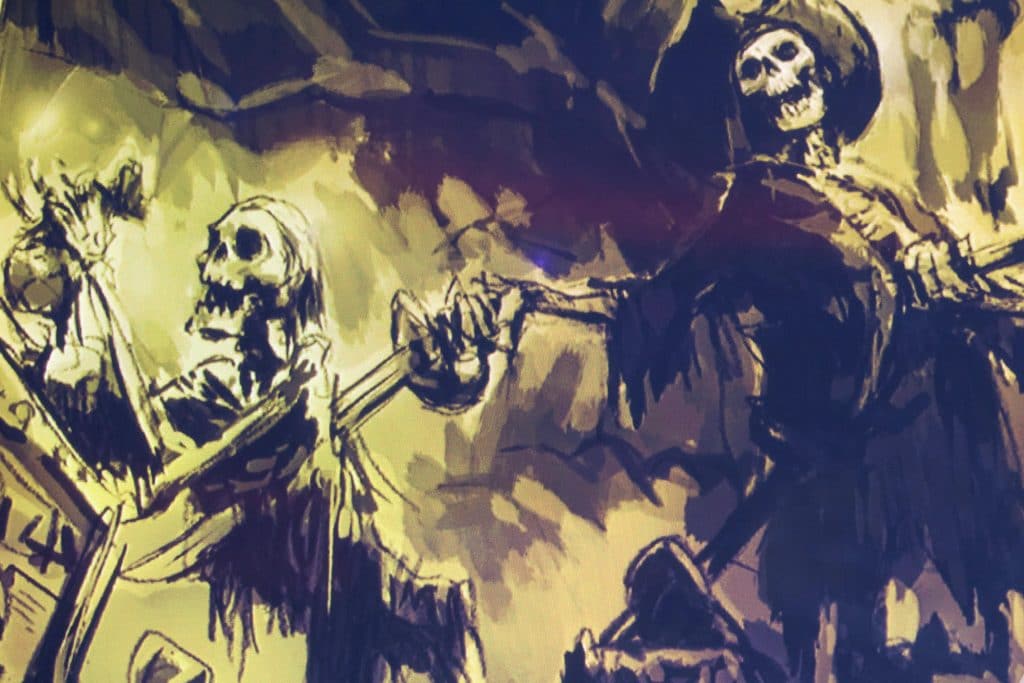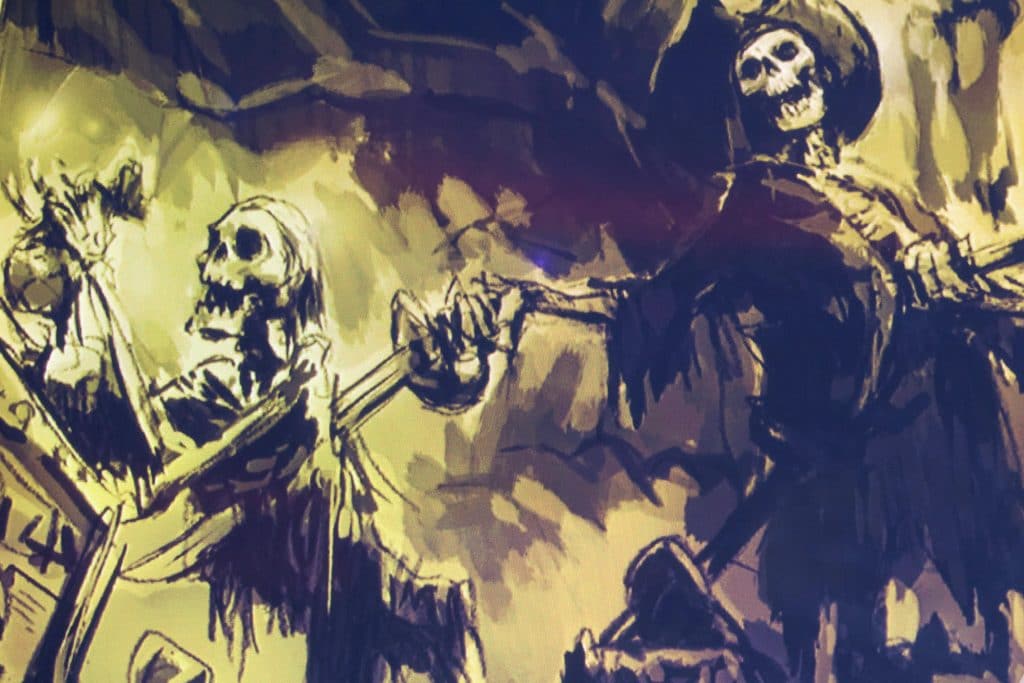 All of the servers were dressed like pirates, the menu was pirate-themed, and all of the dishes had pirate names! The screens on the walls projected images from pirate cartoons and pirate movies, there were treasure maps on the wall, and pirate music playing in the background.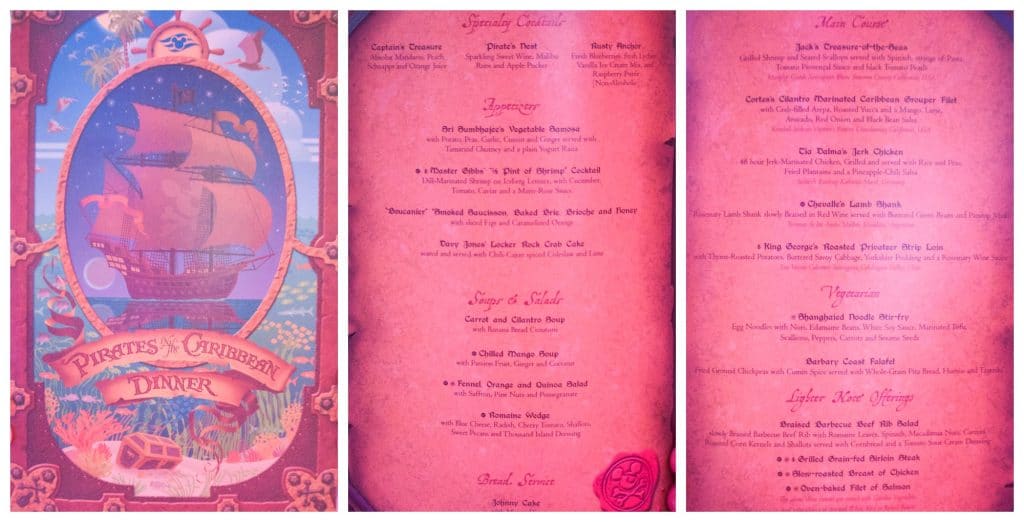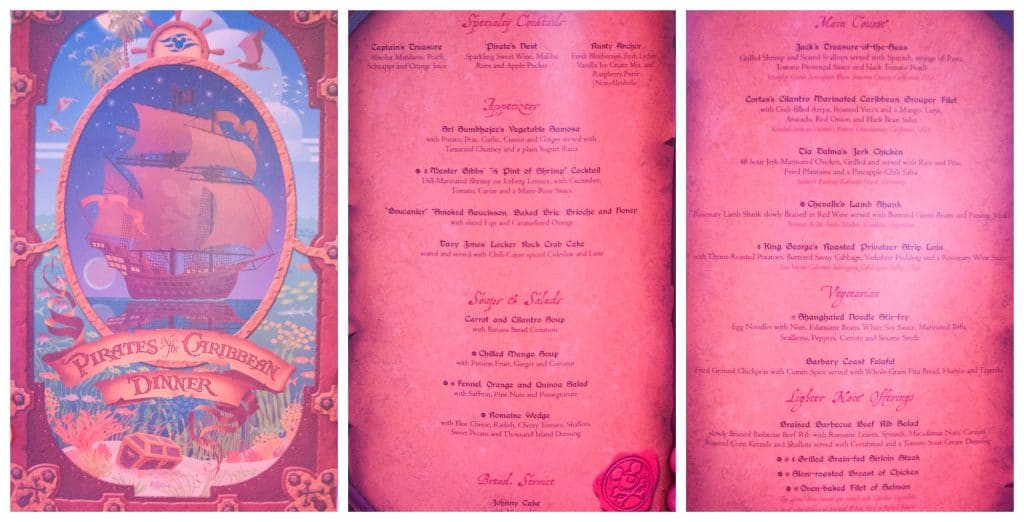 Previously, the lighting in the restaurant was blue to match the under the sea theme. On pirate night, all the lights were red! They really go all out to totally transform the restaurant. It's really impressive!
My favorite dish from dinner was the samosas, they were fantastic! Travis loved his dinner, he got Cortez's Cilantro Marinated Caribbean Grouper. We both got the rum cake for dessert, it was moist and loaded with rum flavor.
You can see all the food that we ordered in the video at the top of the page!
Disney Cruise Pirate Night Fireworks
The firework show was awesome!
It wasn't just a few blasts like I thought it would be, it was quite a long show with a dazzling finale! (The whole firework show is in the video at the top of the page.)
We found that the best place to watch the fireworks from is on Deck 12 on the starboard side of the ship. The fireworks go directly off that side of the ship, try to get a spot against the railing if possible.


Top Secret Pirate-Themed Buffet
Okay, the pirate-themed buffet at Cabanas isn't exactly a secret but it's not really talked about or promoted either. I only knew about it because I read about it in one of the Disney cruise Facebook groups that I'm part of.
It's listed in extremely tiny print on the back of the Personal Navigator for that day but you might miss it if you don't check the back!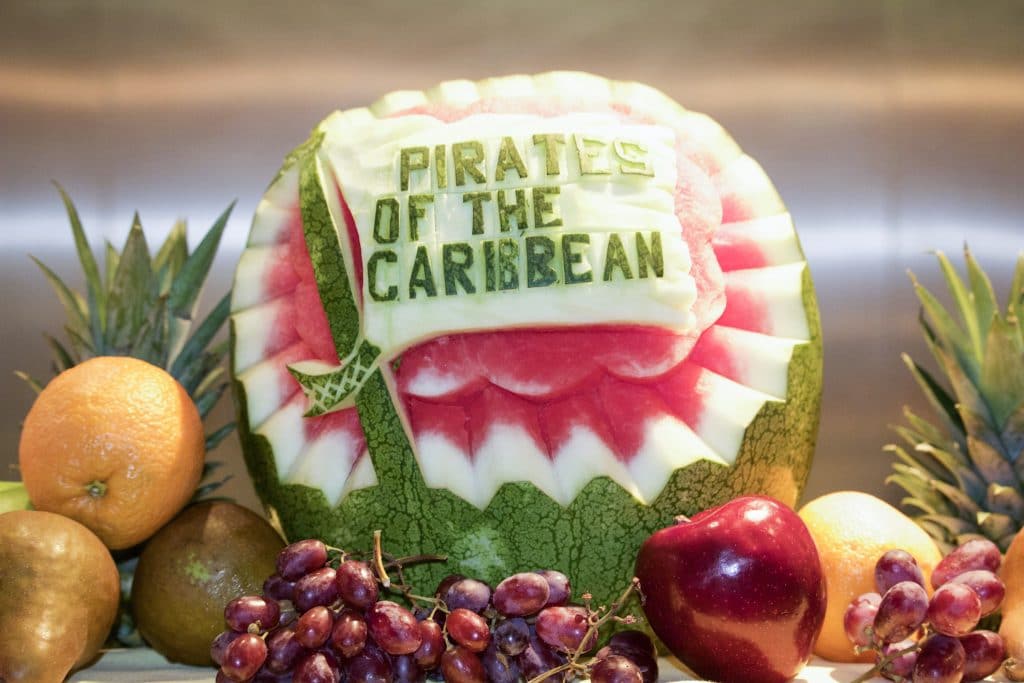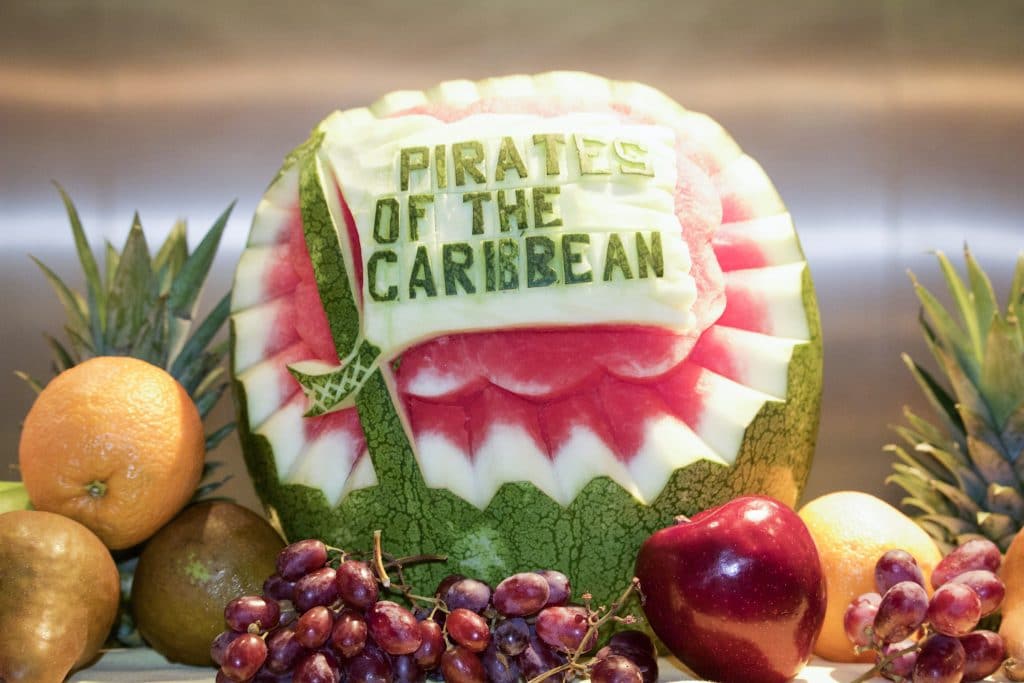 The Personal Navigator states that the buffet starts at 10:30 pm, but I checked in at that time and nothing was out yet. We went back right after the fireworks and it was already packed, so it must have opened up at during the fireworks.
The pirate buffet is only on one side of the restaurant, not both sides like every other buffet at Cabanas.
We didn't eat anything because we were so full from dinner but the buffet looked delicious! We might not have eaten anything but we got it all on video to share with you, so make sure to watch the video at the top of the page! (If you don't want to watch the whole video, the buffet starts at 16:25.)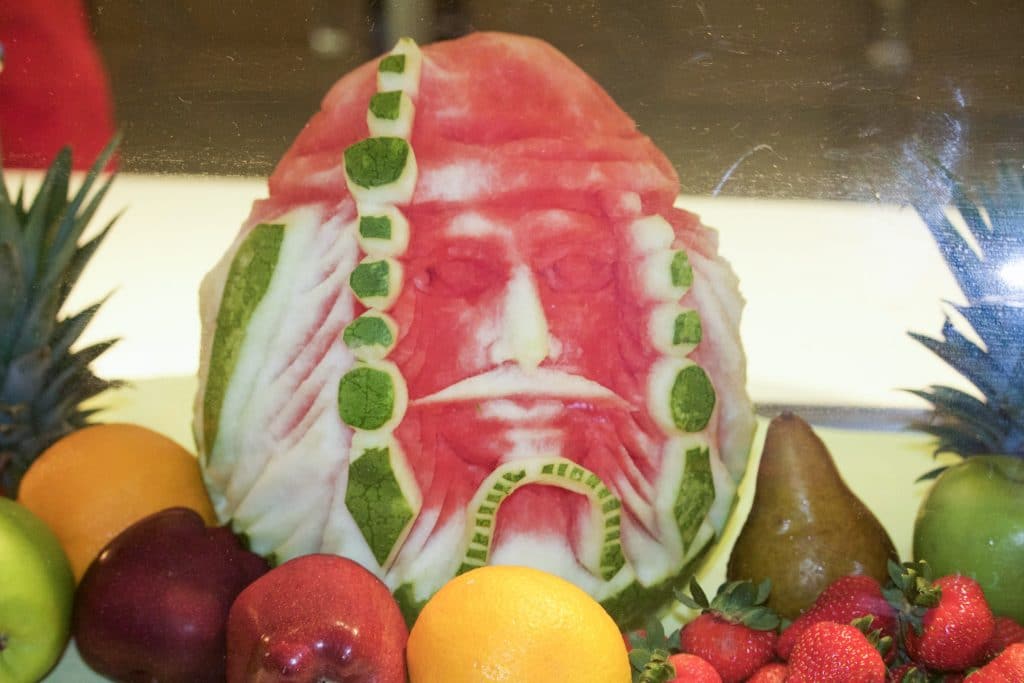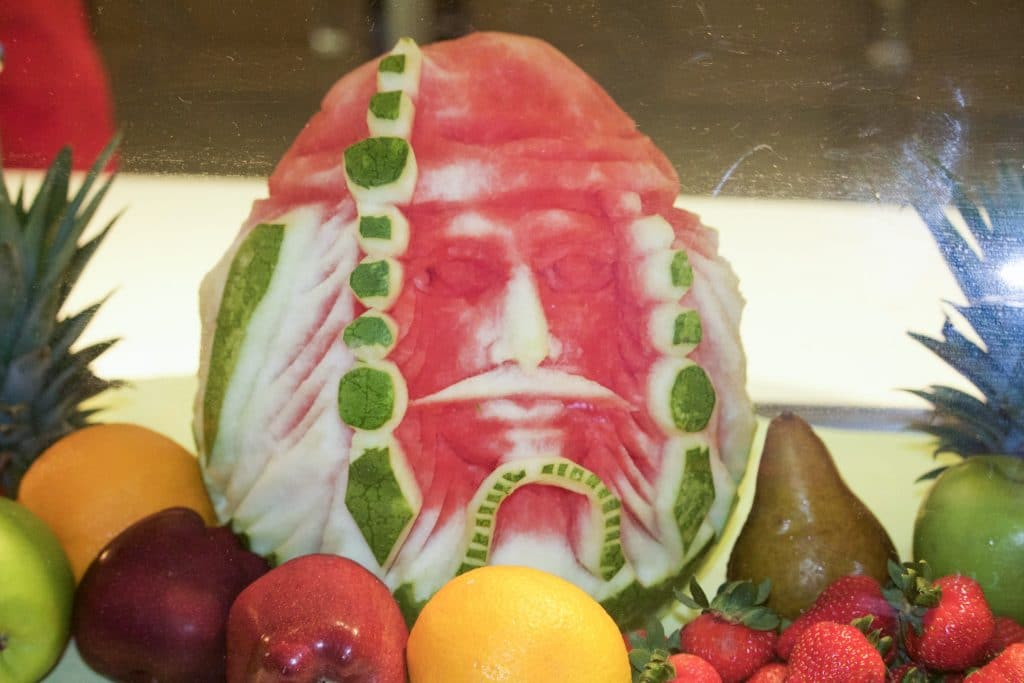 They had quite a few carved watermelons and cantaloupes to look like pirate faces, it was very artistic! There was a huge ship made just out of bread, a fruit treasure chest, plus lots of other pirate-themed details.
Disney Cruise Pirate Buffet Menu
Assorted breads
Fruit
Large turkey legs
Tacos
Burritos
Nachos
Loaded baked potato bar
Soup
Assorted desserts
Pirate Night Dance Party
After we checked out the pirate buffet, we headed back to the pool deck because the pirate dance party was just getting started!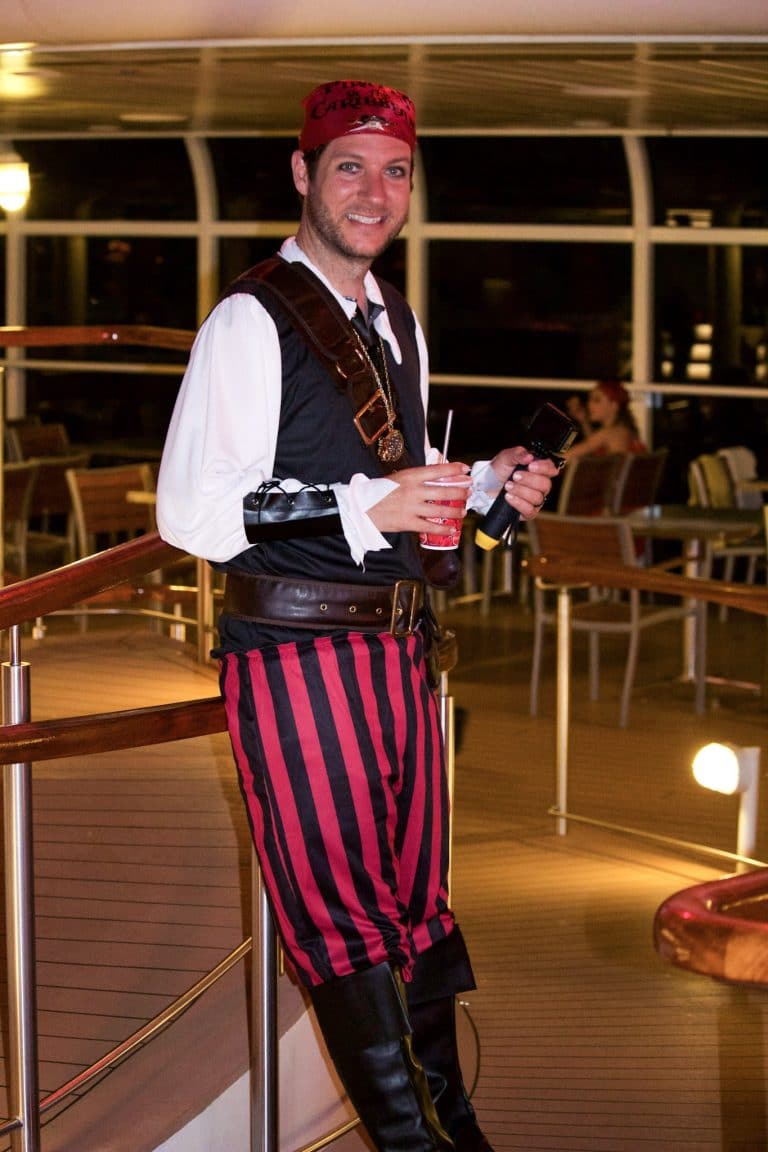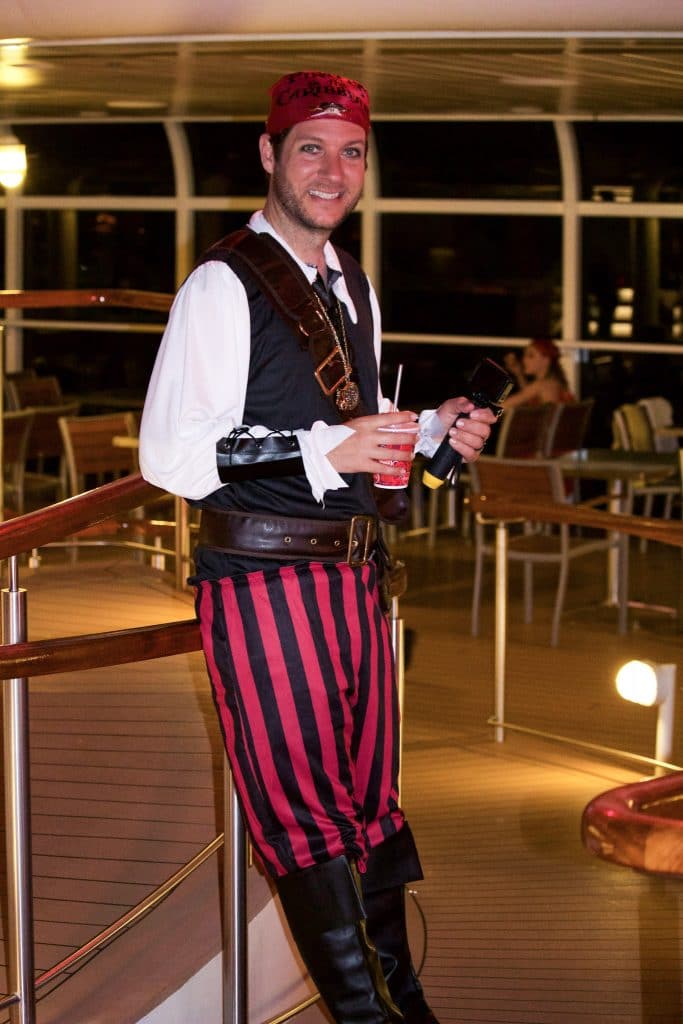 The dance party was for everyone, not just for kids or adults. There were people of all ages breaking it down on the dance floor, including us!
There was a DJ playing lots of popular high-energy dance songs for the dance party and everyone was clearly enjoying themselves. We were pooped out around midnight but there were lots of people still hanging out when we left.
We were a little toasty after dancing for so long, so we grabbed an ice cream cone to cool off before we headed back to our stateroom. It was a delicious night cap. 
Disney Cruise Pirate Night Tips to Have the Most Fun! 
Pack a costume or at least a

pirate themed shirt

.
Take a picture in the lobby with one of the pirate-themed backgrounds! (We loved the pirate ship the best!)
Get the drink of the day– it's pirate-themed, of course.
Keep an eye out for the Captain Jack Sparrow meet & greet. We saw him taking pictures with guests by the Walt Disney Theatre.
Try not to plan dinner at Palo or Remy on pirate night because you don't want to miss the pirate-themed dinner at your MDR. Also, we changed into our pirate costumes as soon as we got back on the ship after our excursion (before dinner). YOu can't wear your pirate costume to Palo or Remy.
Don't over eat at dinner because you want to save room for the top secret pirate buffet at Cabanas after the fireworks.
If you have time, go to both pirate shows.
Go early to get a spot against the railing on the starboard side of Deck 12 for the firework show. We thought that it was the best location to watch the fireworks.
The dance party is held right in front of the giant TV screen on the pool deck. Don't miss it, it's a lot of fun for all ages.
Grab an ice cream cone after the dance party to cool down.
Overall, pirate night was AWESOME and was packed with fun activities for kids and adults from start to finish! We thouroughly enjoyed it and can't wait to do it again! Be prepared for pirate night and you'll have a blast too!
Have you experienced a Disney cruise pirate night before? Let me know what you thought in the comments!
You may also like…
13 Activities to do at Castaway Cay