This post may contain affiliate links.
Please read my disclosure.
***UPDATED on 1/5/19*** We have since been on three Disney cruises and learned so many new tips!
Watch our Halloween on the High Seas Disney cruise videos!
Watch our Very Merrytime Christmas cruise videos!
We had the best time on our first Disney cruise! We learned so many awesome Disney cruise tips that I wish we would've known before we went on the cruise! This list of 159 Disney cruise tips has everything you need to know to have the best cruise ever!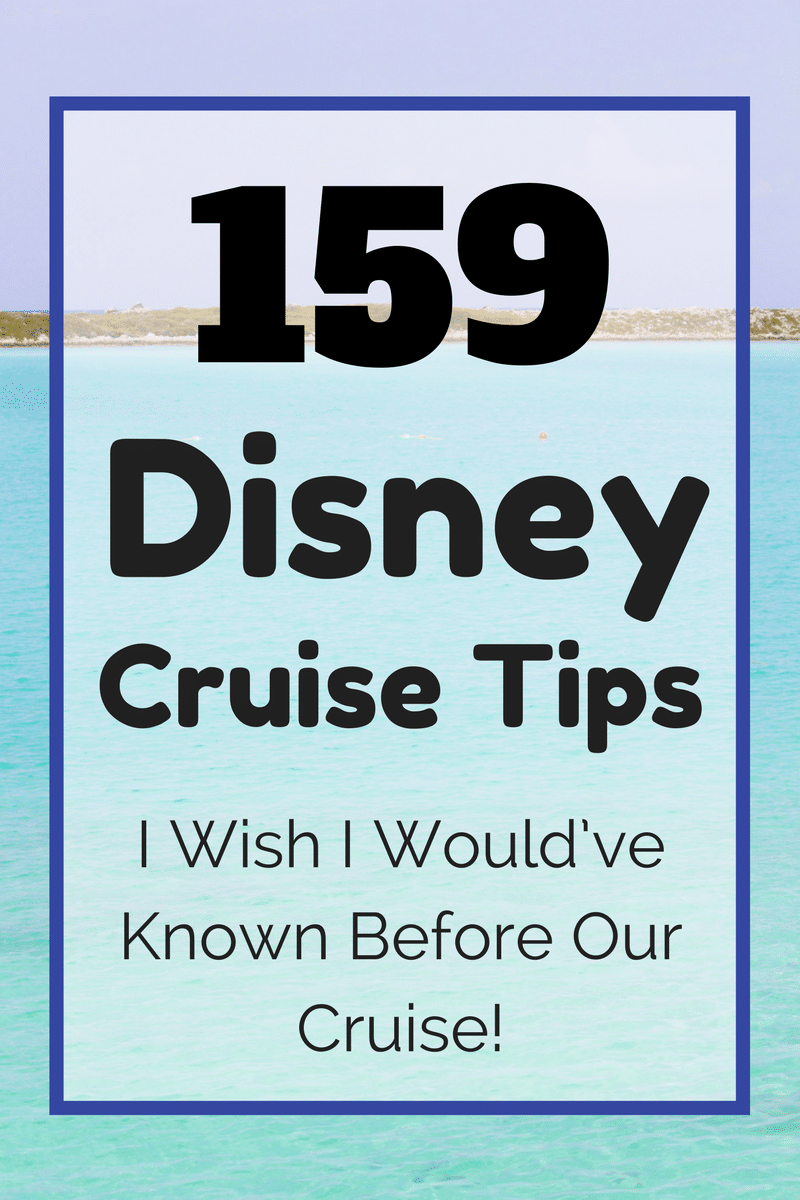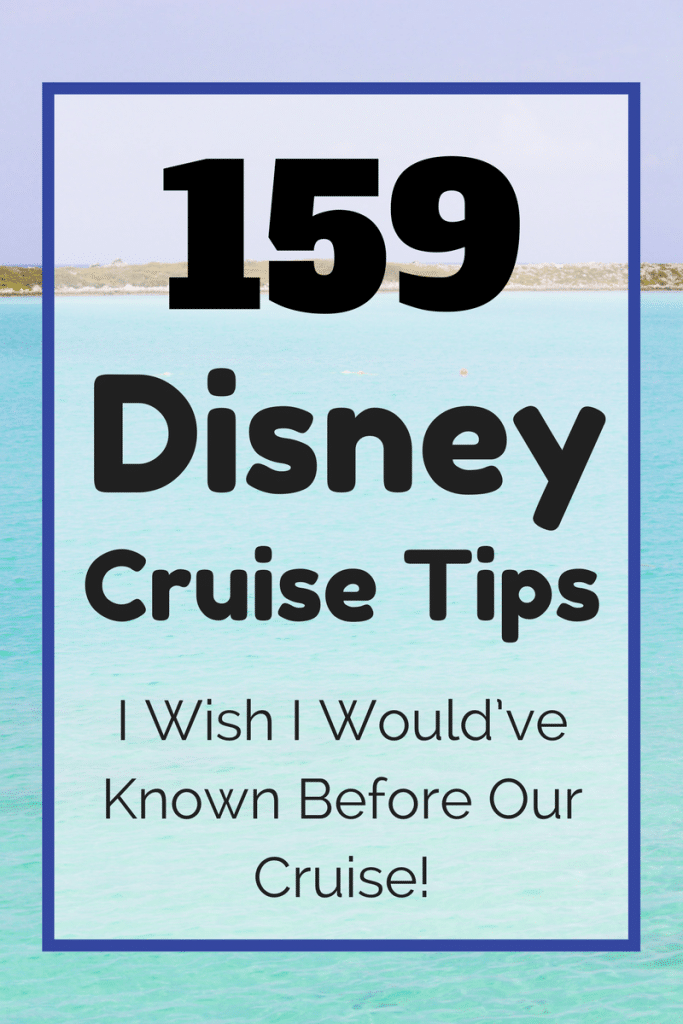 We're huge Disney cruise fans and cruise as often as possible! So far, we've been lucky enough to go on a summertime cruise, a Halloween on the High Seas cruise, and a Very Merrytime cruise! Each one was amazing and magical in its own right but we've learned so many tips from each cruise.
We want you and your family to have the best time ever on your next Disney cruise, so I've compiled a list of everything that I learned from our three Disney cruises. The following list and questions is everything that I think is important Disney cruise advice for first-time cruisers to learn before their first cruise. I hope this list is helpful to you and please feel free to reach out to me if you have any questions!
Frequently Asked Disney Cruise Questions
Are meals included on a Disney Cruise?
Yes, almost all the food on a Disney cruise is included in the price of the cruise. This includes:
All of your meals at the MDR (main dining room) restaurants (Animator's Palate, Royal Court, and Enchanted Garden)
Cabanas (all you can eat buffet)
Flo's (quick service pizza)
Room service (remember to tip at least $1 per item)
All the self-serve ice cream you can eat!
However, there are a few exceptions that are not included in the price:
There are two specialty adult-only dining restaurants on the Fantasy: Palo and Remy. The last time I checked, it was an additional charge of $25 per person for Palo brunch and dinner. Want to know which is better: Palo brunch or Palo dinner? Read this post.
Sweet on You gelato shop charges a small fee (about $3) per scoop.
Specialty snacks at the movies (popcorn, candy, treats) are not included. We always bring our own candy from home or get snacks from Cabanas.
Cove Cafe is the adult-only coffee shop that makes specialty coffees (frappucinos, lattes, etc.) for an additional price.
What time can you get on the Disney cruise ship?
After you book your cruise and your window opens up, you can choose your port arrival time. I believe the first time slot is at 10:45am but usually, the ship doesn't start boarding people until 11:30am-ish. If you get there too early you may end up waiting in a long line waiting to board. Our PAT was 12pm and we walked right on!
Can you bring your own alcohol on a Disney cruise?
Yes, you can bring your own alcohol onboard with you. This is the official policy, but basically, it says that you can bring two bottles of wine or champagne per person or one 6-pack per person. You can even get more at each port!
Do you get a magic band on a Disney cruise?
No, you don't get magic bands on a Disney cruise. When you board you will get your KTTWC (key to the world card) that you will need for everything. It has your dining rotation schedule on it, it's your room key, and it will also act as your form of payment for anything that you want to buy on the ship.
What time is the second seating on a Disney cruise?
There is a main seating and a second seating for dinner. The main seating starts at 5:45pm – 6:15pm and the second seating starts between 8pm – 8:30pm.
Are soft drinks free on Disney Cruise?
Yes, soft drinks, coffee, and water are all included in the price of your Disney cruise!
Do they serve alcohol on a Disney cruise?
Yes, there is alcohol served on a Disney cruise. There are multiple bars located on the ship that serve alcohol to 21+ guests. You can order alcoholic drinks at dinner, when you're at the pool, and even in the theater. If you're trying to save a little bit of money you should take advantage of bringing your own alcohol on board with you and then buy more at each port.
Is food included on a Disney cruise?
You definitely won't go hungry on a Disney cruise! Yes, the food is included and you'll find it everywhere! The only restaurants that cost extra are Palo or Remy.
Which is better: Brunch or dinner at Palo?
What are the restaurants on the Disney Fantasy?
There are three MDR restaurants on the Disney Fantasy: Animator's Palate, Royal Court, and Enchanted Garden. There are two fine dining (additional cost) restaurants: Palo and Remy. Cabanas is open all day; it's a buffet for breakfast and lunch and then it changes to a sit-down restaurant with a set menu for dinner. There is also a quick-service pizza place next to the family pool and an adults-only coffee shop called Cove Cafe next to the adult pool. You could also order room service if you don't want to leave your room.
Read this post to see what the food is like at all the restaurants on the Disney Fantasy!
Disney Cruise Tips 2018
1. Disney cruises aren't just for kids and don't let anyone tell you differently! My husband and I went for our honeymoon and we had the best time! There were tons of adult activities, adult-only areas, and fun things for us to do.
Want more Disney cruise tips for adults? Read this –> 11 Funtastic Adult Activities to do on a Disney Cruise!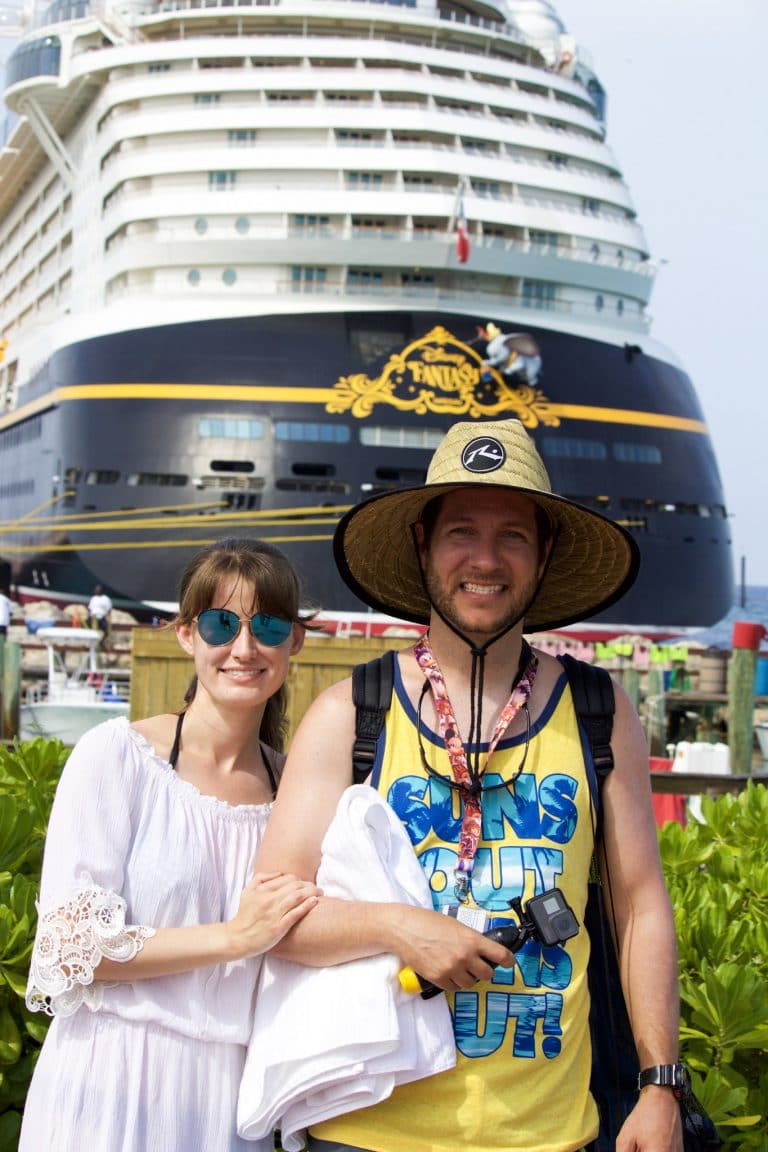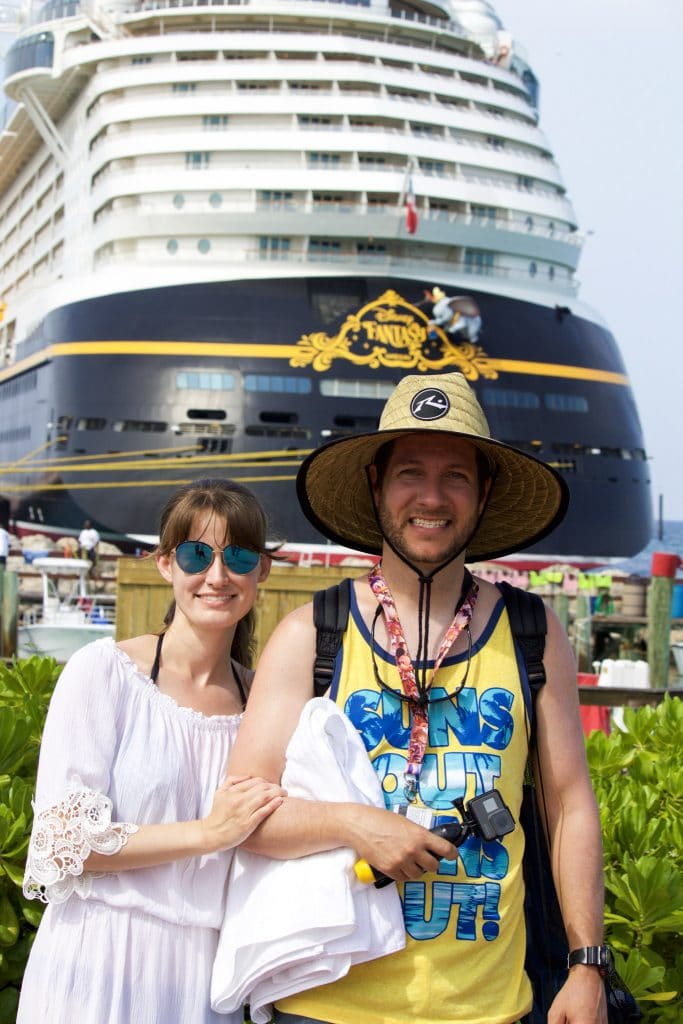 2. Do your research to find a travel agent that will give you onboard credit, or book your cruise through Costco (if you're a member) because they will give you a Costco cash card based on the value of your cruise. We did this for our last two Disney cruises and it was so nice to get a Costco cash card in the mail after we returned home from our cruise!
3. Disney offers cruise discounts to FL residents and Military on the DCL website. I haven't seen any other sales offered. Usually, the lowest rates are the ones listed on the day the sailing dates are first released.
4. Disney cruises are all-inclusive, unlike other cruise lines. Everything but specialty dining restaurants (Palo and Remy), bingo, excursions, cabanas, and alcoholic drinks are included!
5. I know there are 3-4 night cruises available but it's just not enough time to explore everything on the ship and fully relax into vacation mode. Save for the week-long cruise next year instead! I wish we could've stayed on the ship longer than one week! (We recently went on a 5-night cruise and it just wasn't long enough. Trust me, go for the 7-night cruises or longer if possible!)
6. When choosing a stateroom, I would recommend booking mid-ship on a higher deck if you're worried about getting seasick. I'm prone to motion sickness so I was worried that I would get seasick but I ended up having no issues. We barely felt any movement in our stateroom #8552, we only felt a little bit of swaying when we were at dinner on the lower decks. These herbal motion sickness patches were a lifesaver, they even helped me when we drove 5 hours to the port in the car!
7. You can book a free character call with Mickey, Minnie, or Goofy before your trip through the Disney Cruise Line website.
8. Join a FaceBook Disney Cruise group before your cruise to ask questions and learn tips from experienced cruisers! My favorite FB groups are Disney Cruise Line Junkies and Disney Cruising. (Just type those names into your FB search bar and they will pop up!)
9. You can load Disney gift cards onto your account to use onboard the cruise. Call DCL and they can set it up for you. That way, the bill that will be left at your door on the last day won't be as painful.
10. You can now book the alcohol tastings online. You used to have to wait until you boarded the ship and wait in a really long line to book these classes. Just make sure you book them as soon as your window opens up because they fill up fast! We have done the tequila, rum, cognac, whiskey, mojito, mixology, and the chocolate & liquor tastings. We loved all of them and would do all of them again, you really can't go wrong.
11. When you're deciding what port excursions to book, google them first to see reviews from other cruisers to help you decide which excursions are the best. OR if you're in any of the Disney cruise groups, search the name of the excursion in the group search bar and most likely a post will pop up with lots of answers or reviews because someone else already asked about the same excursion you did. That's how we pick which excursions that we will do on a Disney cruise!
12. Booking a port excursion through Disney is generally more expensive than booking directly with the excursion company but you get the benefit of Disney handling everything for you. Even though I love to save money, I always book through Disney because I like how safe I feel when they arrange everything. We have booked all of our cruise excursions through them over the last three cruises and I wouldn't do it any other way.
13. Book your excursions, ship activities, and Palo/Remy reservations as soon as Disney cruise online check-in time window opens up. For first time cruisers, the window opens 75 days prior to your cruise. If you miss a reservation you want, like Palo brunch, keep checking the week before your cruise because people change their minds about activities all the time. If you still can't get the reservation, go to Guest Services on the ship as soon as you board and get on the waiting list!
14. Let Disney know if you'll be celebrating a birthday or special event. We've celebrated our honeymoon and multiple birthday's on board and they always sing a birthday/honeymoon song at dinner + they gave us buttons + a special dessert!
15. Pick the earliest boarding time available so you can get on the ship as soon as possible and start your vacation EARLY!
16. ALWAYS order travel insurance just in case. We like to get the travel insurance directly through Disney because we didn't want to have any issues or delays in case we had an emergency.
17. Don't fly in on the same day that you're supposed to board in case you get delayed. I've heard multiple horror stories of families flying into port the day of the cruise, getting delayed, and then the ship leaves without them. Definitely not a way to start your magical vacation.
18. Cruising is not like flying, there is no limit to the number of carry-on bags you can bring. If you can carry it, you can bring it on with you.
.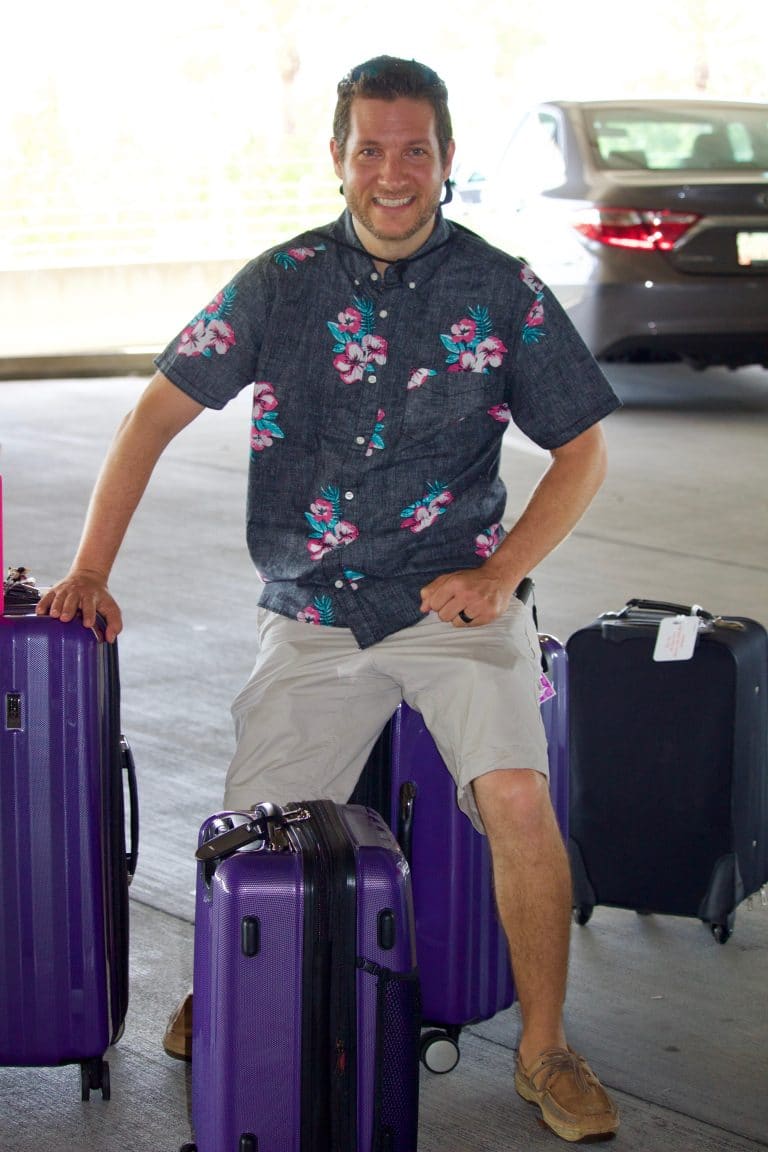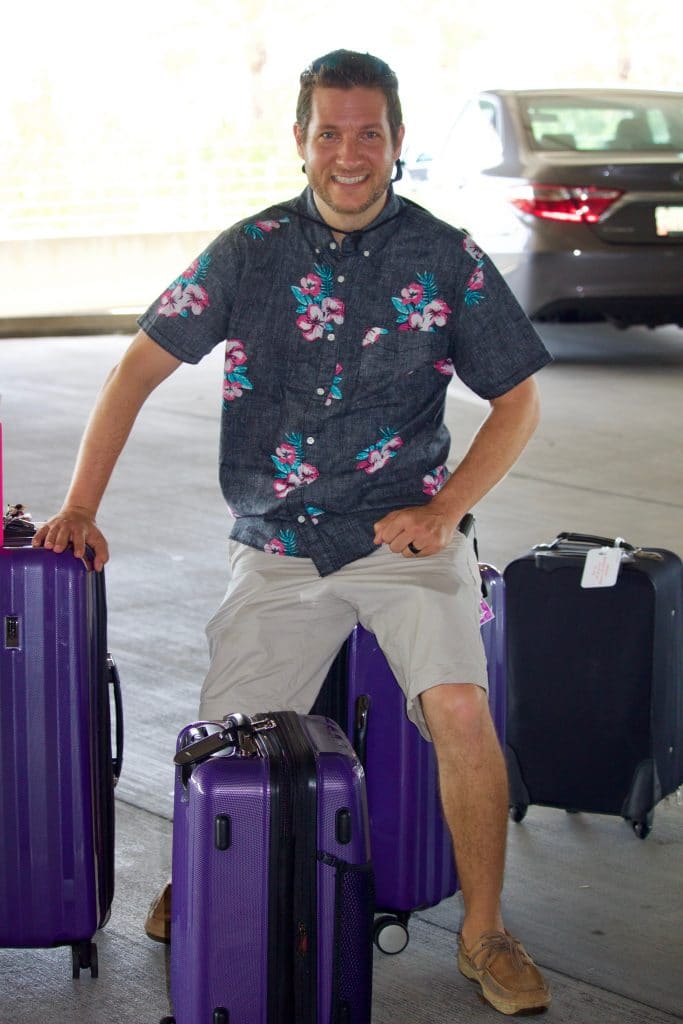 19. Trust me, a verandah room is WORTH the splurge! We've gotten a verandah for all three of our Disney cruises and we'll never go back. You'll love it, I promise.
20. If you're like me, you might have some irrational fears of sleepwalking right off the verandah. The verandah door is very hard to open, so there is no need to worry. The lock is located at the top of the door where kids can't reach it and then you have to lift the handle up and push the heavy door open. It definitely took me a few tries to get it to open. In case you were wondering, I did not try to sleepwalk out of our room!
21. Pack light! I know you think that you're going to change your outfit three times a day but you won't. Here's my personal Disney cruise packing list!
22. Bring a couple of different forms of motion sickness remedies in case one works better than another. I brought Seabands, herbal ear patches, and ginger chews. Luckily, we've never gotten seasick even though I am very sensitive to any type of motion, so I highly recommend these preventative items!
23. We ordered a spinning closet organizer but it didn't arrive in time so we had to go without it. It would've been so helpful to have it hanging in the closet to organize all of our small toiletries, medicines, and electronic accessories. At least I have it for our next cruise!
24. Pack a box of gallon-sized ziplock bags, they really come in handy for organizing and packing wet swimsuits.
25. Pack a light sweater. Even during the summer, it gets pretty windy at night on the top deck.
26. DCL alcohol policy is awesome! You can bring two bottles of wine or one 6-pack of beer per person on the cruise.
27. Assume that someone in your group will catch a cold and pack what you think you might need to feel better. There's nothing worse than being sick, away from home, and not being able to get the medicine you need to make you feel better. For us, that's sovereign silver drops, oregano oil, elderberry gummies, zinc pills, and vitamin c pills.
28. Pack individual wet wipes or antibacterial hand spray just in case. Even though our stateroom was very clean, I always spray or wipe down door handles, the remote control, and any surface that we might touch.
29. Clothespins are very useful for hanging bathing suits on the clothesline in the shower.
30. Pack a pop-up hamper (we love this one!) to keep all of your dirty clothes sorted and then transfer them on the last day to a trash bag to bring home. It keeps your stateroom organized and the laundry process very simple when you get home.
31. There are very few irons on board and you can't bring your own, so a travel-sized bottle of wrinkle releaser spray will be very useful. We used it every night when we changed into our outfits for dinner.
32. Some people like to carry on a case of water bottles BUT you don't have to do that– you can get free water on board the ship at the drink stations by the main pool or you can buy a case of water bottles when you board and have it sent directly to your stateroom.
33. Pack a large insulated travel mug (We love these BPA-FREE stainless steel mugs, they keep our water so cold!) so you can fill them up and have water in your room at all times. If you're like me, then you probably drink a lot of water and don't want to make a million trips to the drink station to fill a small paper cup.
34. Bring a large reusable shopping bag for shopping at each port. Decline the plastic bags if possible.
35. Pack extra memory cards in case you need more space for pictures or videos!
36. Bring at least $100 in $1's and $5's for tips. (This is the amount we usually bring for a week-long cruise but this is not including the extra tips that we leave our stateroom host and servers on the late night.)
37. The doors in your stateroom are metal, so bring magnetic clips to keep important papers organized and out of the way. We hung our Personal Navigator and reservation cards on the door each night.
38. Bring a highlighter to mark which activities you want to do the next day on your Personal Navigator. If you have kids, bring multiple colors so everyone can easily see what activities they want to do at a glance.
39. Each stateroom has a really nice hairdryer with attachable diffuser, you don't need to bring your own.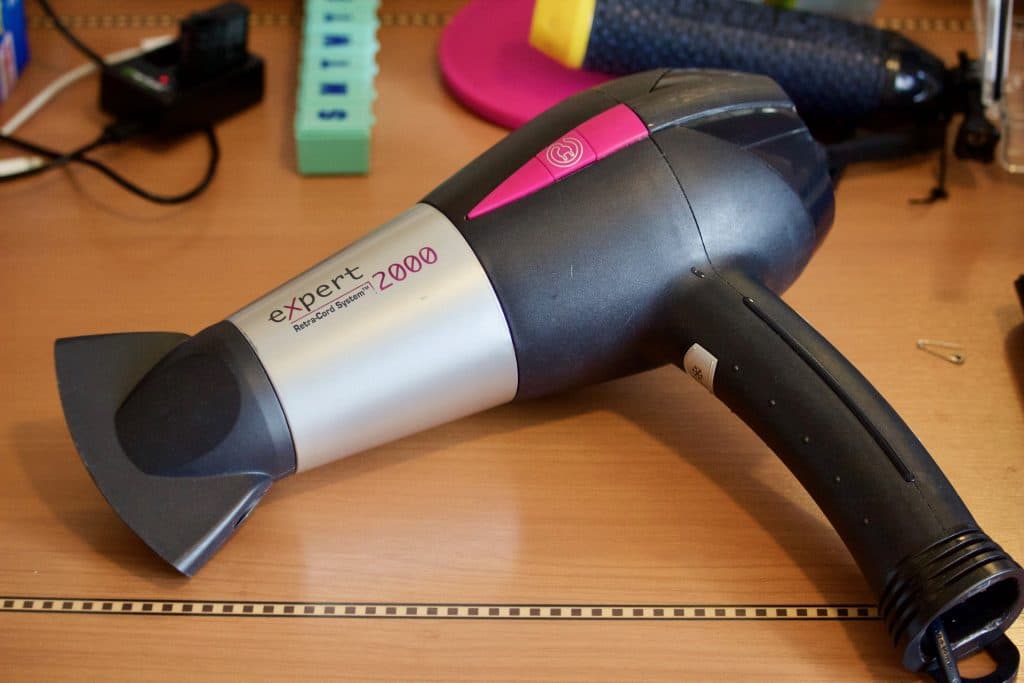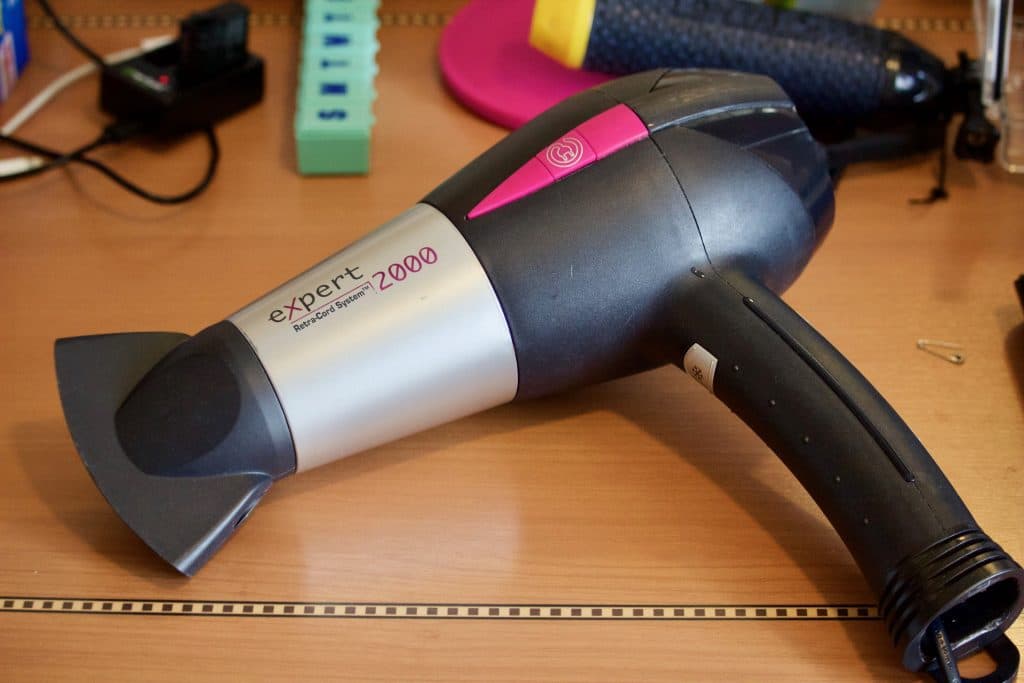 40. All DCL staterooms have mini-refrigerators underneath the counter. This is where I keep my dairy-free Ripple coffee creamer that I bring from home!
41. Bring magnets to decorate your stateroom door. It's a tradition for many people to decorate your door + it's an easy way to help you identify your stateroom door as you walk down the very long hallways.
42. If you're a first time Disney cruiser, bring a lanyard with a plastic case attached to hold your KTTWC. You'll be gifted a DCL lanyard on your second Disney Cruise.
43. Bring a beach bag! This is the one item that I forgot to pack for our cruise that I really needed for Castaway Cay and pool days. This is the beach bag that I have and I love it! It's large, it has pockets, it has a zipper so I don't have to worry about anything falling out, and I love the Mickey and Minnie design– it's so adorable!
44. Bring at least two swimsuits, it's not fun trying to pull on a wet suit!
45. You don't need to pack towels for the cruise, there are plenty of towels by the pool that you can use. Save the space in your suitcase for souvenirs! Also, when you go on water excursions, you don't need to bring towels from your room. DCL will give you towels to take with you as you walk off the ship.
46. I packed purses to match my outfits but I ended up wearing my small Disney backpack every day because it was so convenient to carry my water bottle, camera, wallet, etc. Make it easy on yourself, you're on vacation!
47. Leave the heels at home! If the ship sways at all it will be even easier for you to trip, I've seen multiple people fall. Pack an extra pair of comfy sandals instead.
48. Bring an old GC to keep in the power slot in your stateroom while you're in your stateroom (only on the Fantasy or Dream). Even better, stick a small piece of magnetic tape on the back at the top of the card so it will stick to the wall when you're not using it.
49. I know people have different opinions about needing a passport to travel on a cruise but I highly recommend bringing it just in case– even if it's not required for where you're traveling. You never know what will happen and it's better to be safe than sorry.
50. Download the Disney Cruise App before getting on the ship. It's free and so useful! You can access the Personal Navigator and communicate with the other guests in your group.
51. Parking for one week at the Disney cruise terminal garage costs $135.
52. The only pressed penny machine is in the boarding cruise terminal (Port Canaveral), and you won't be able to access it when you get off the ship.
53. While boarding the ship, keep your photo ID, passport, and signed cruise papers handy. You will need them multiple times before you can board the ship. I used one of these RIFD zippered pouches to hold all of our personal documents.
54. Have your video or phone ready because they announce your family's last name when you walk onboard for the first time. It's a super fun memory to look back on!
55. In your carry on bag: pack a bathing suit, a change of clothes, any medication you might need, personal documents, electronics (camera, GoPro), and any valuables you might have. The suitcases that you check will be left unattended outside of your stateroom later that night.
56. Disney cruise embarkation lunch – As soon as you board the ship, go get lunch at Cabanas, hit the Aquaduck/Aquadunk (it usually has short lines at this time), and get ready for the Sail Away Party.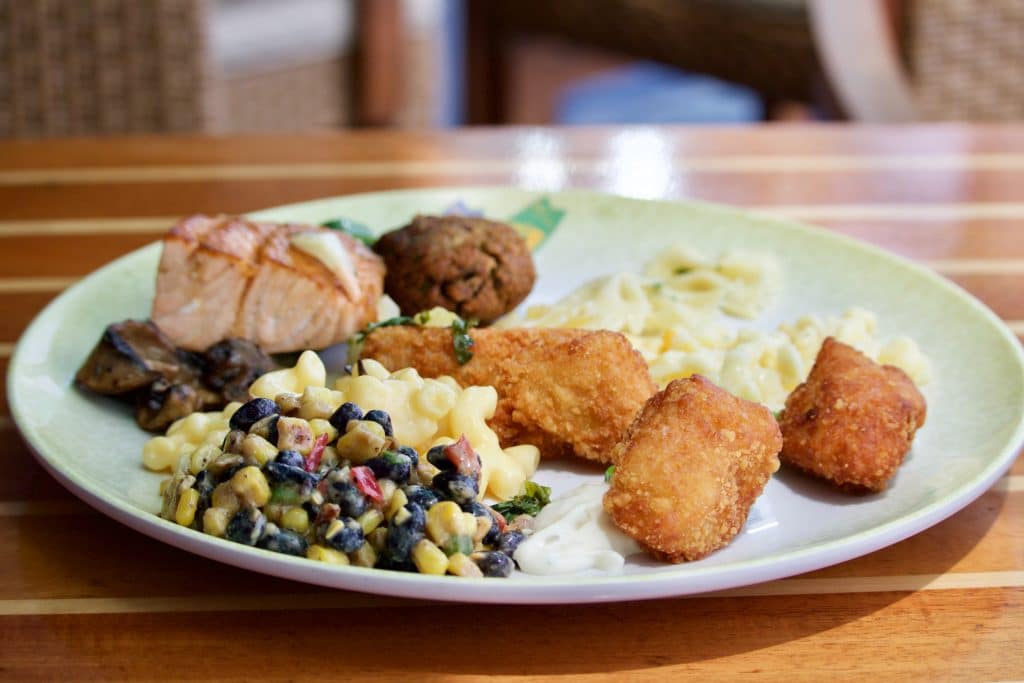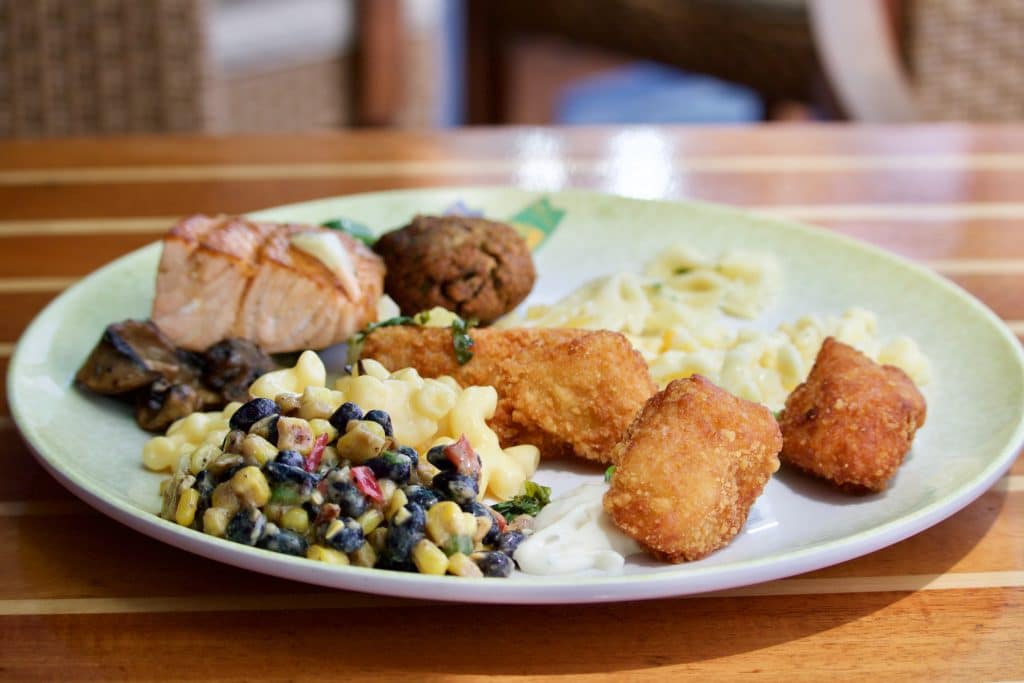 57. The safety drill on the first night is MANDATORY. You have to check into the meeting with your room number and they will wait until everyone shows up, so don't waste everyone's time by not showing up on time. Your assigned letter (A-Z) location will be listed on your KTTWC.
58. Be aware that the cruise itinerary can change at any moment. Our ports were changed last minute due to a delay on the first day of the cruise so our excursions were changed too. Another benefit of booking excursions through Disney is that if your ports get changed, they will automatically handle canceling and scheduling new excursions for you.
59. Explore the whole ship, every inch is gorgeous! There is a Disney Fantasy tour (I'm sure each ship has one) offered on the first day that is very informative and it helps you to learn your way around the ship.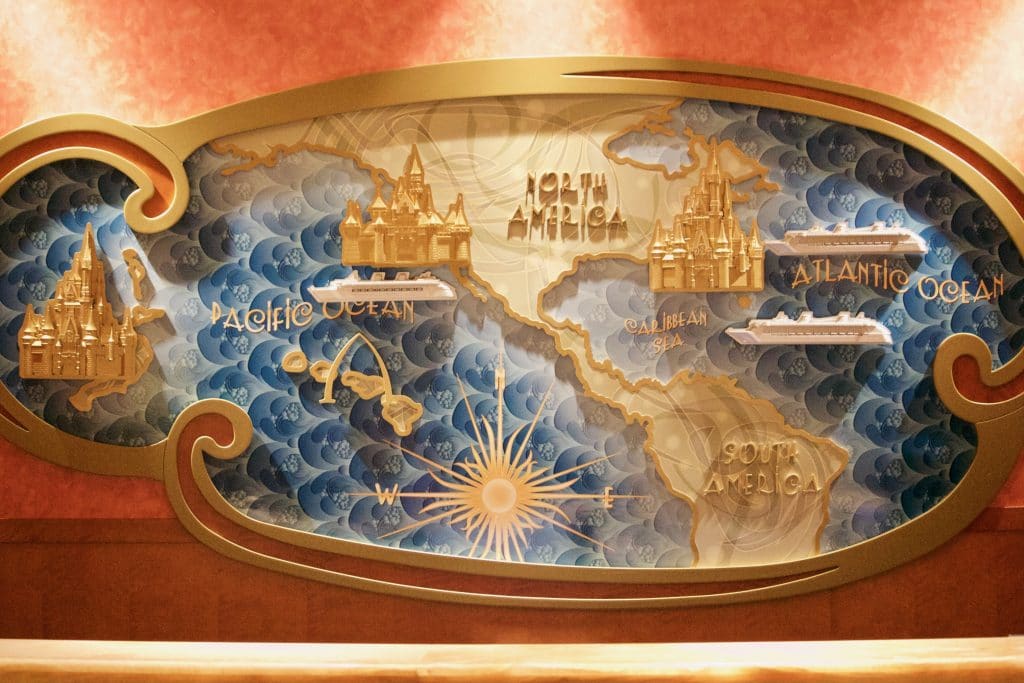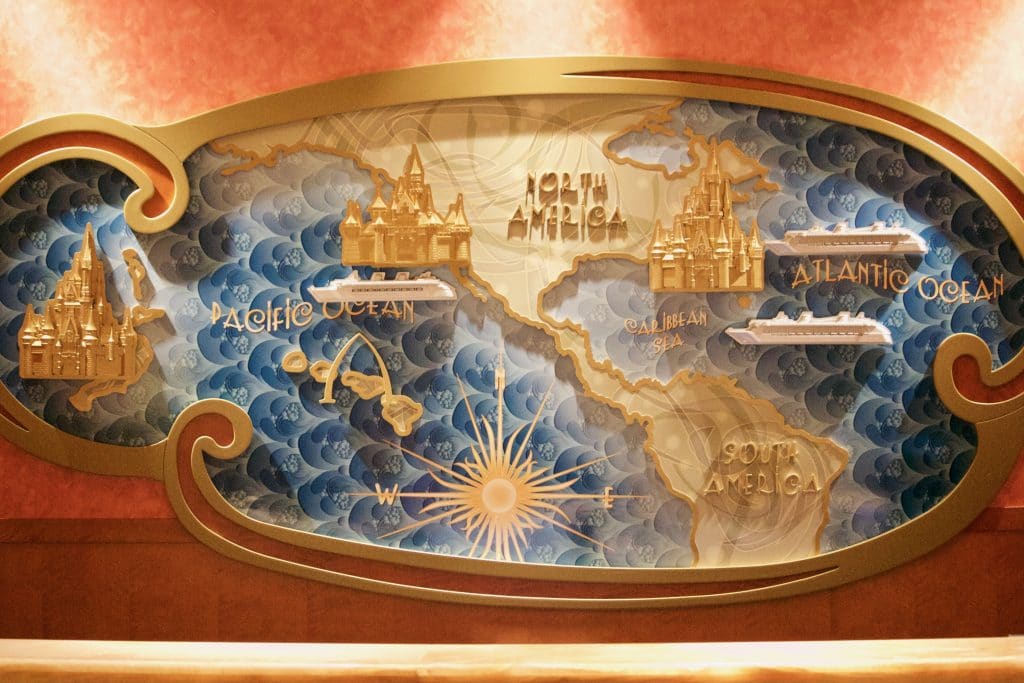 60. Once you board the ship, turn on airplane mode in all of your phones so you won't be charged for roaming fees.
61. You get 50 megabytes of free internet but you have to redeem it on the first night of your cruise. After you use the free 50 megabytes there is internet at sea option but it's very expensive and not worth it in my opinion. Disconnect from your phone and social media, enjoy your vacation and be present!
62. On the first day (before the muster drill), there is a raffle at the Senses Spa where you could win a gift card to use towards a service! Not too many people know about this so you're chances of winning are pretty good!
63. You can tell what side of the ship your stateroom is on based on the symbol next to your room number. If you have a FISH symbol, which is four letters just like PORT is four letters, then you're on the port side. If you have a SEAHORSE symbol, then you're on the STARBOARD side.
64. There are nautical maps on the floor, if you stand in the center of the map it will direct you which direction is Forward and Aft.
65. Your suitcases will fit underneath your bed, so unpack as soon as you get in your room and get the suitcases out of your way.
66. There is a safe in each stateroom. The safe is big enough to fit a 15-inch laptop. Make sure to lock up your valuables each day just in case. I've never had an issue with our stateroom hosts (I even forgot to put away my wallet with all of our cash for 4 days on our second cruise!) but it's better to be safe than sorry.
67. You can watch any Disney movie on-demand on the TV in your stateroom. We watched a movie every night before bed, it was such an unexpected and cool extra!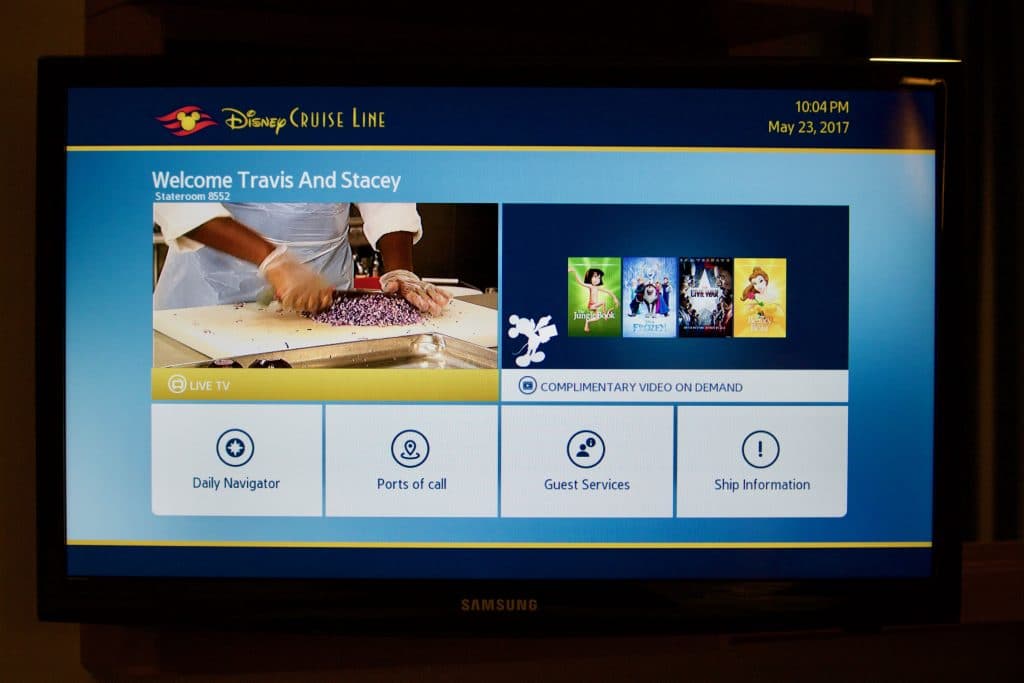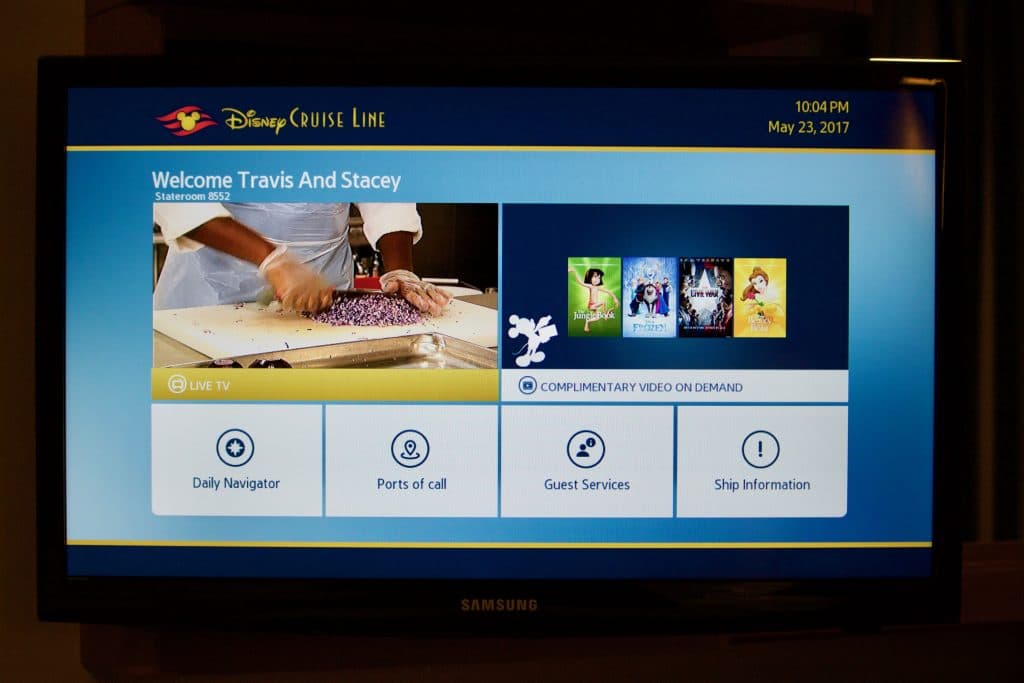 68. You can track the course your cruise ship is taking on the TV in your stateroom, we really liked seeing how fast we were moving, the weather, and learning cool facts about the ship.
69. There are wave phones in your stateroom for you to use to talk to each other while on the cruise. Just don't get them wet!
70. Every night, your stateroom host will leave a Personal Navigator (schedule for the next day) in your room for you to review and plan for the next day. If you don't want to look at the paper, you can check out the schedule on the Disney app on your phone! The app even has menus for the restaurant that you're going to that night.
71. You can find extra personal navigators and ship maps at the guest services desk on Deck 4. I always grabbed a few extra for scrapbooking when I got home. Remember to bring a folder to keep all your papers together!
72. Room service is free, just remember to tip! We loved ordering coffee, water, and fruit for breakfast every morning and warm chocolate chip cookies and Mickey bars for a snack at night. If you're in the mood, ask for the cake of the day and they will surprise you with a delicious treat!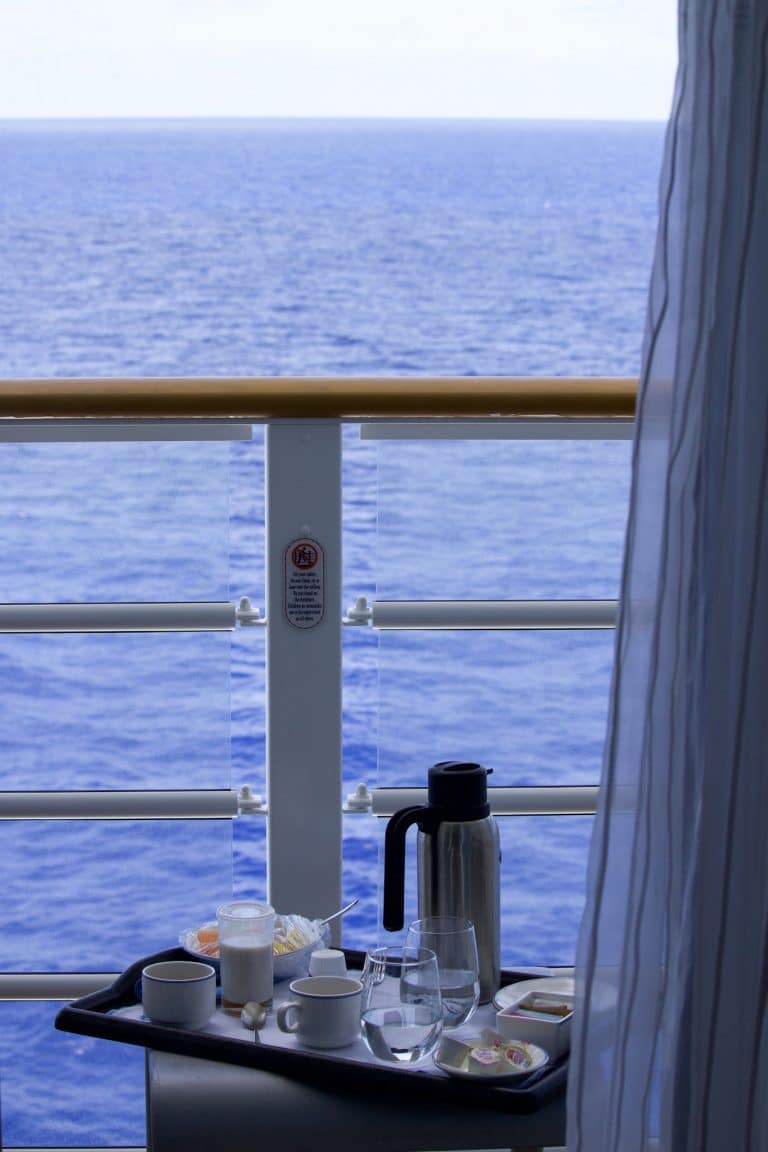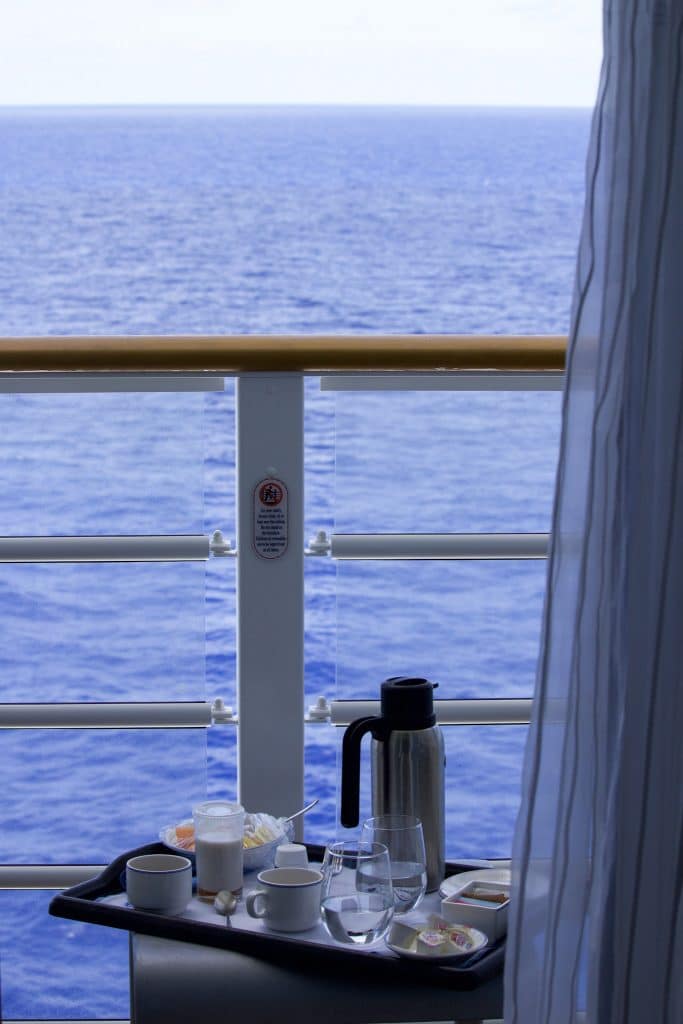 73. Unlike most cruise lines, soda, coffee, and water are all free on a Disney cruise!
74. You can tip in cash on the cruise but everything you purchase will be charged directly to your KTTWC and that is connected to your Disney cruise onboard account.
75. Your name, MDR dining rotation schedule, room number, and table number will be listed on your KTTWC (key to the world card).
76. You can call ahead and request your MDR dinner rotation but it's not guaranteed. This only matters if you have a favorite MDR restaurant because you will go to one MDR restaurant three times and twice to the other two MDR restaurants. You might want to request your favorite MDR restaurant be in your rotation three times.
77. The MDR and specialty restaurants will easily accommodate vegetarian or vegan diets. I ate vegetarian meals the entire trip (you can see everything we ate HERE) and each dish was unique and delicious!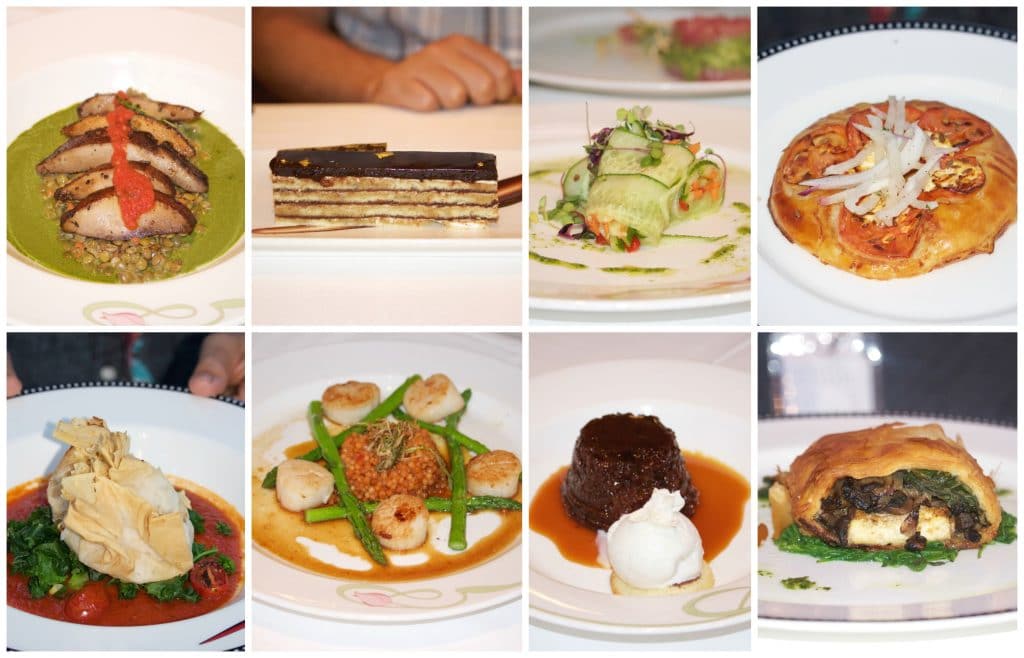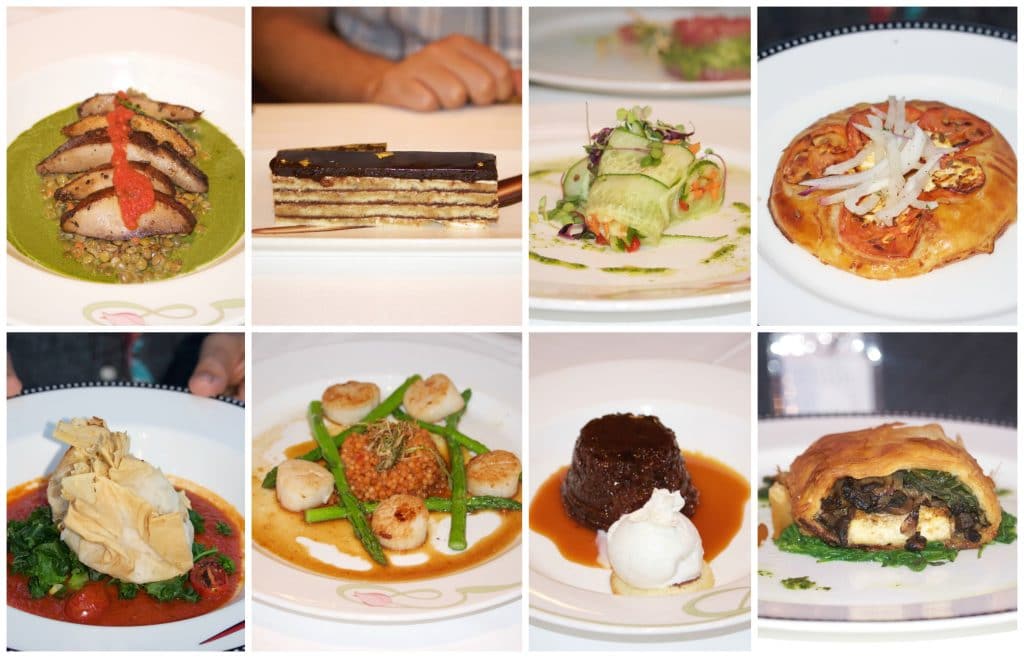 78. You can order as much food as you want at each restaurant. If you can't decide between two desserts, you can order both! Just try not to waste food, please.
79. On Animation Night at Animator's Palate, you will get your drawing back after the magical animation show and they will be stamped with the official animator seal! It's a pretty cool free souvenir!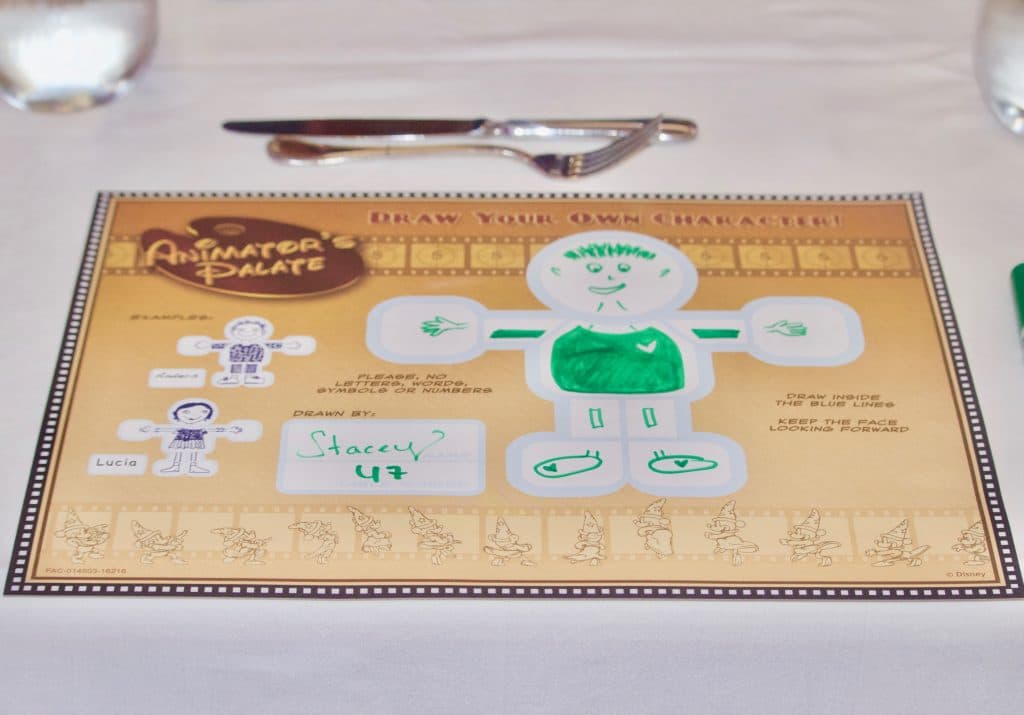 80. Make friends with your dinner tablemates, you'll be sitting with them every night of the cruise! If you don't want to share a table with strangers, you can call Disney directly and request a private table when you first book the cruise. We have requested this three times and our requests have always been granted.
81. You can ask for recipes at the MDR restaurants. I got the recipe for my favorite Snow White's Mushroom Soup and the recipe for glazed portobello mushrooms!
82. The 1st dinner seating is at 5:45 pm and the 2nd dinner seating is at 8:15 pm. We prefer the second seating because it gave us more time to enjoy activities during the day and we didn't have to rush back to our room to get ready.
83. If you love a specific meal that you had at one of the MDR restaurants, you can request it the next night too. Just let your server know the night before and they will try to accommodate your request.
84. Make sure you walk all the way around the Royal Court MDR restaurant, there are beautiful mosaics of each Disney princess on the walls!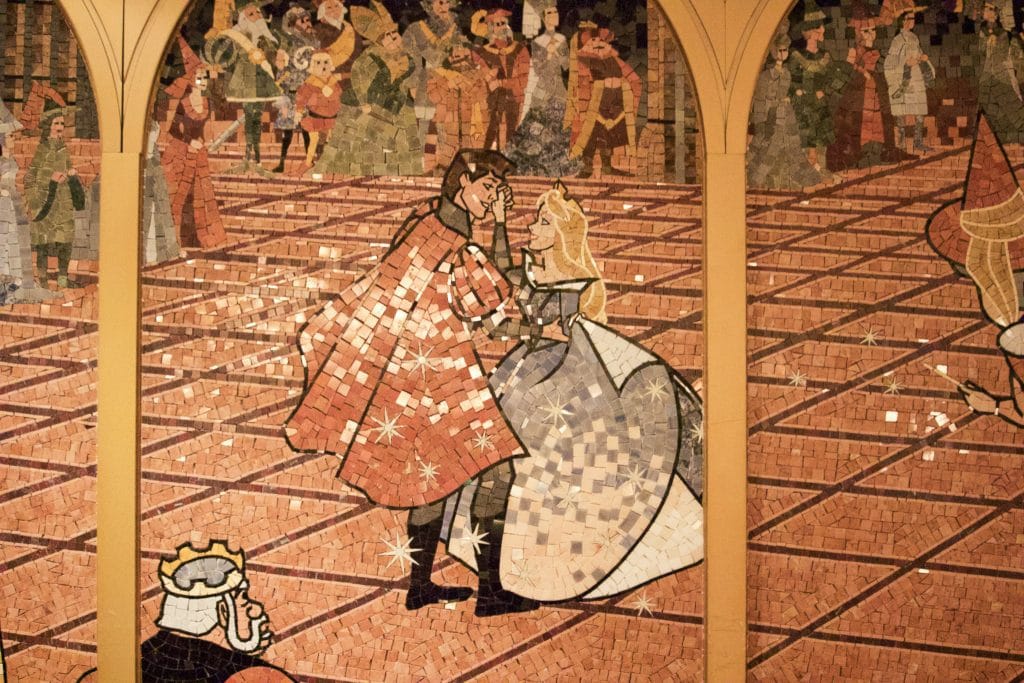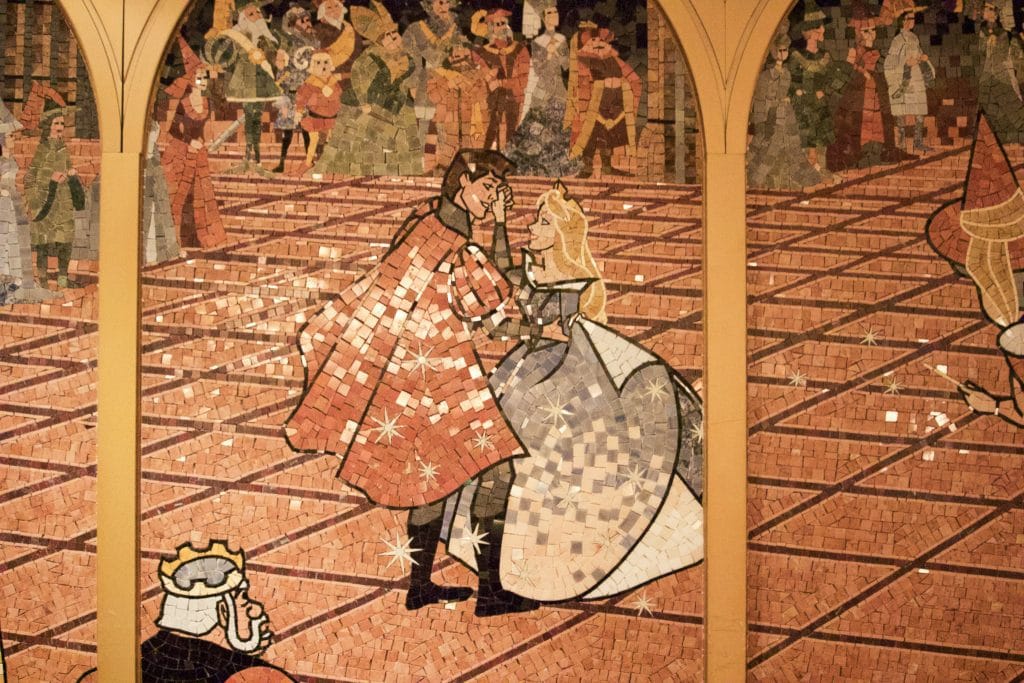 85. I highly recommend going to brunch AND dinner at Palo, both are FANTASTIC!
86. Palo brunch and Palo dinner both cost an additional $40 per person.
87. Palo strictly enforces the dress code, so make sure to follow it or they will ask you to go back to your room and change. Men are not allowed to wear shorts or sandals, we learned that the hard way.
88. Palo brunch is only offered on sea days so reservations are very hard to get. Make the reservation as soon as your window opens up!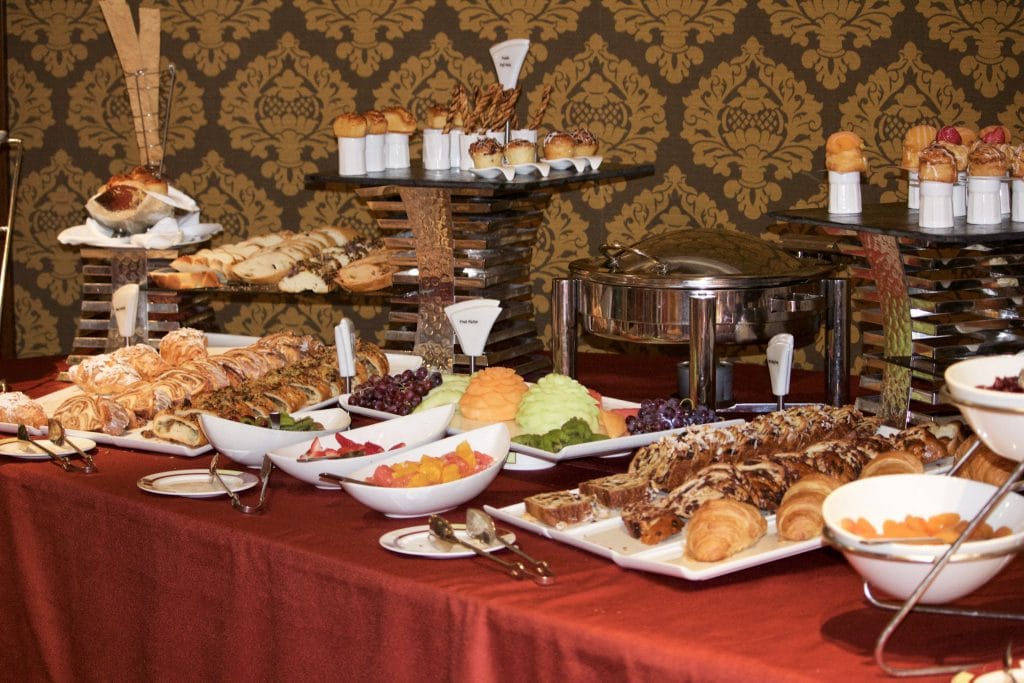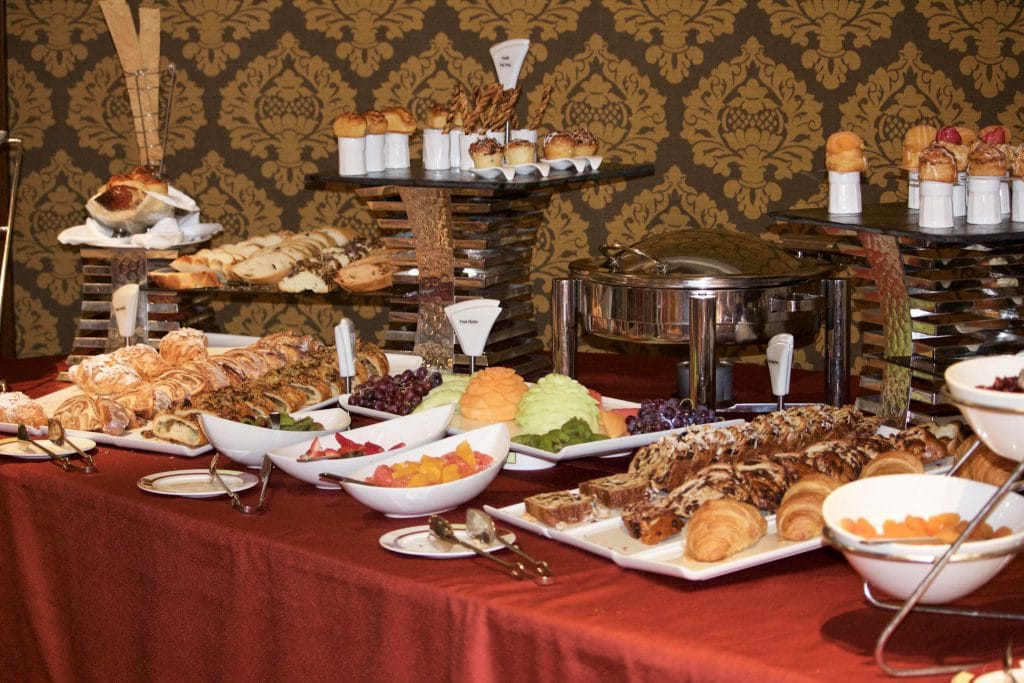 89. On port days, ask the cast members where to find free wifi spots. They will know the best secret spots!
90. Formal night is usually on the second night of the cruise. Before dinner, there will be photo ops and you can greet the captain. Free drinks are served during this meet and greet.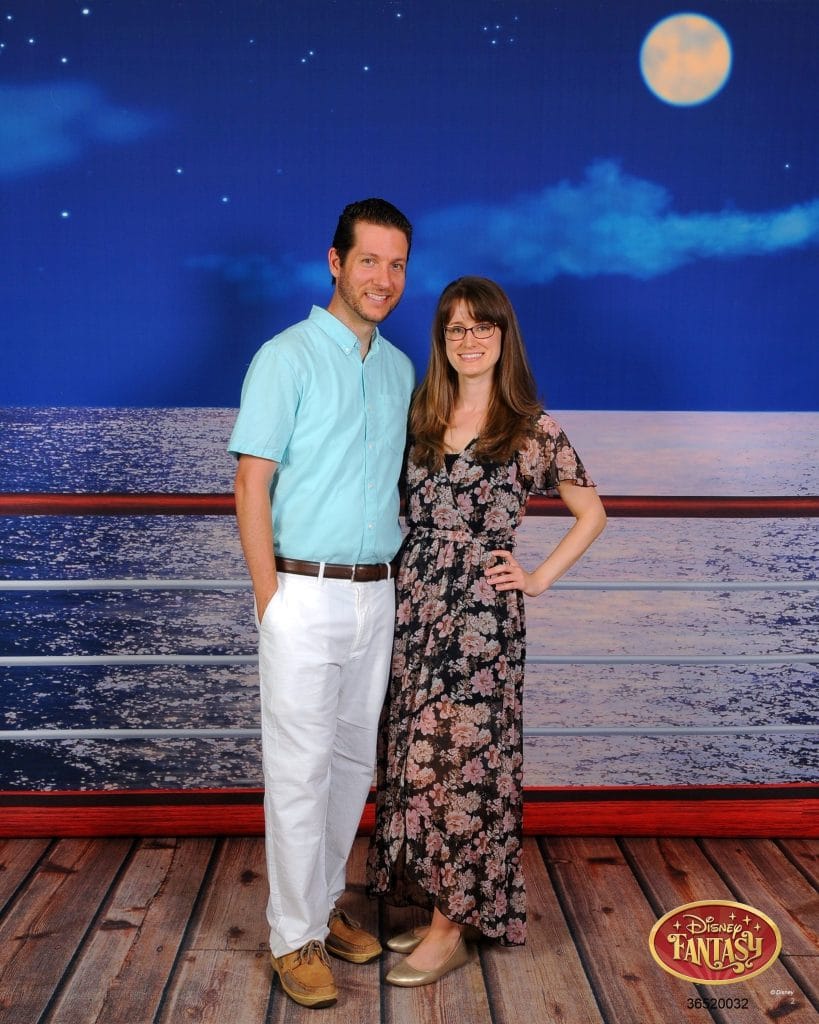 91. Formal night isn't that formal. Of course, if you want to dress up then go for it! I wore a comfy sundress with flats and I was just dressy enough.
92. The alcohol tasting events cost an additional $20-$35 per person but they're worth it for the number of drinks that you get to try during the class!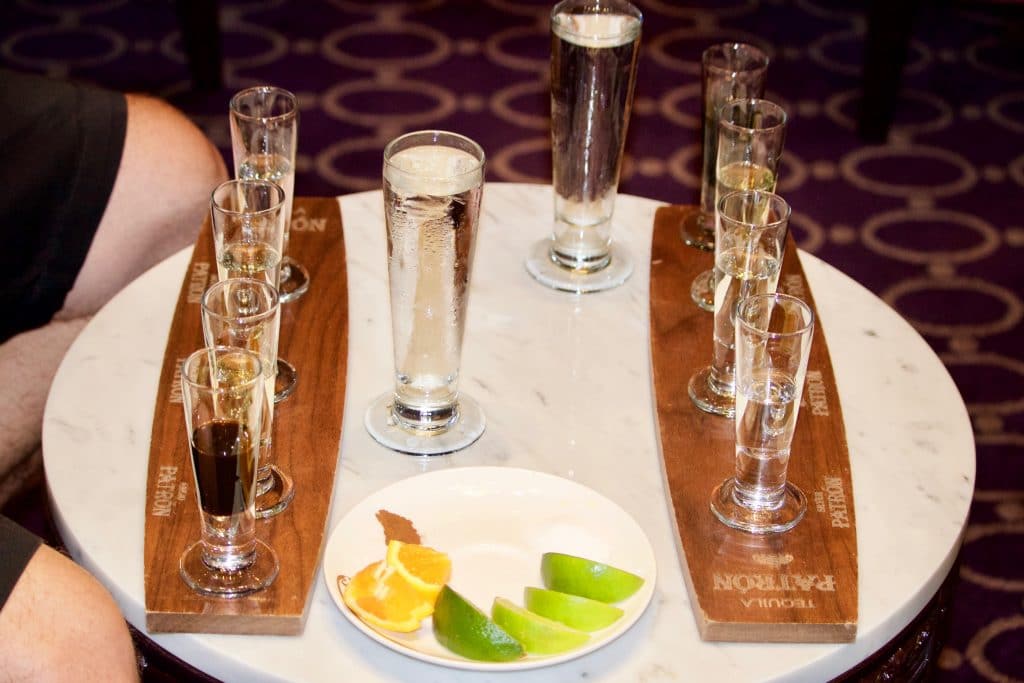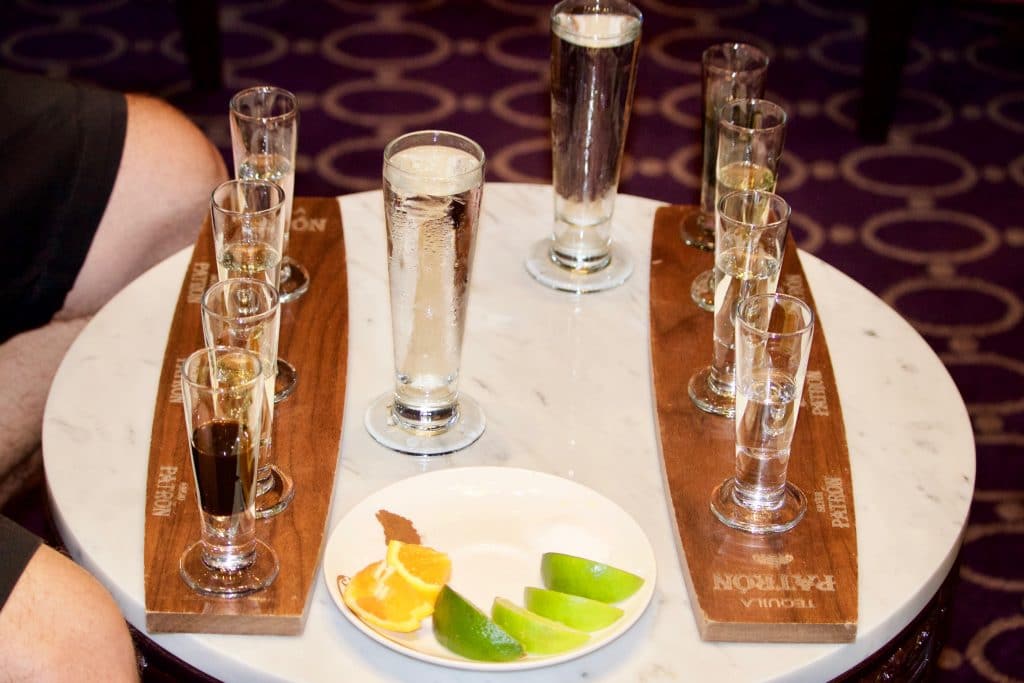 93. If drinking tasting events are sold out, show up to the event anyway and ask if they can accommodate you. We did this twice and they squeezed us in both times!
94. There is a $5 Drink of the Day special on every day of the cruise. Our favorite was the Sunken Treasure on Pirate night.
95. There are early morning drink specials at the adult pool before noon. Bloody mary's, screwdrivers, and mimosas are only $4.25!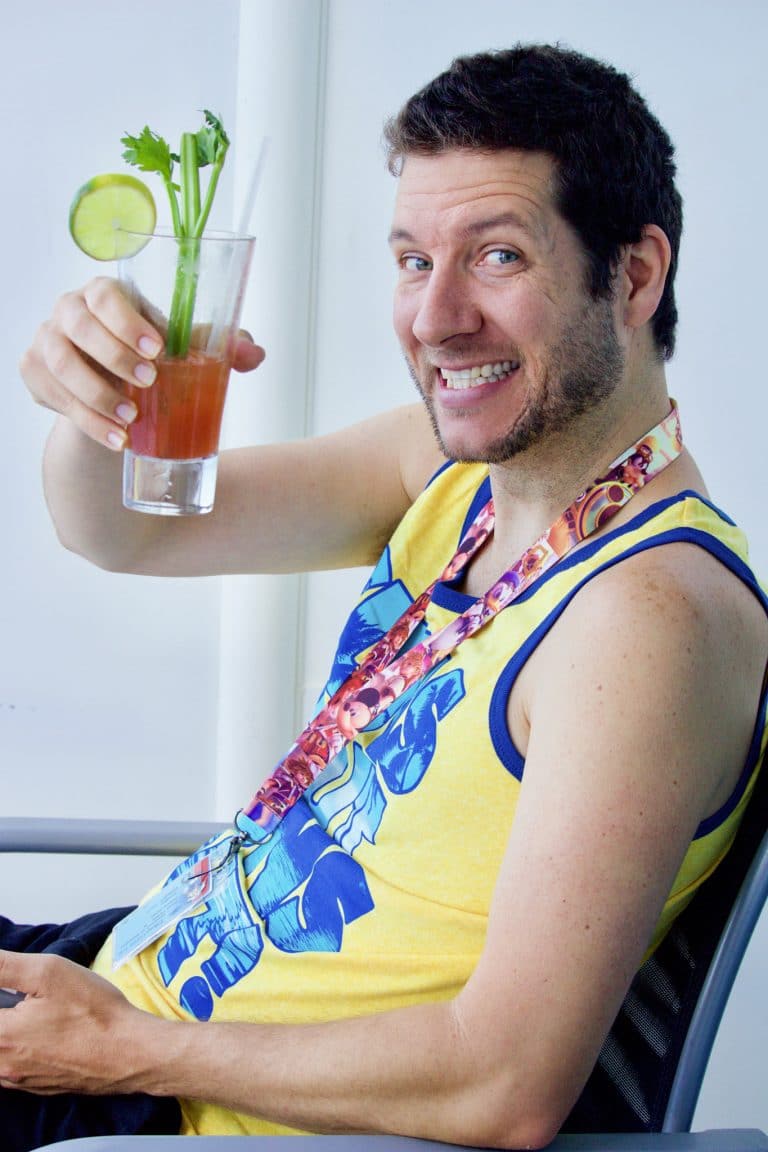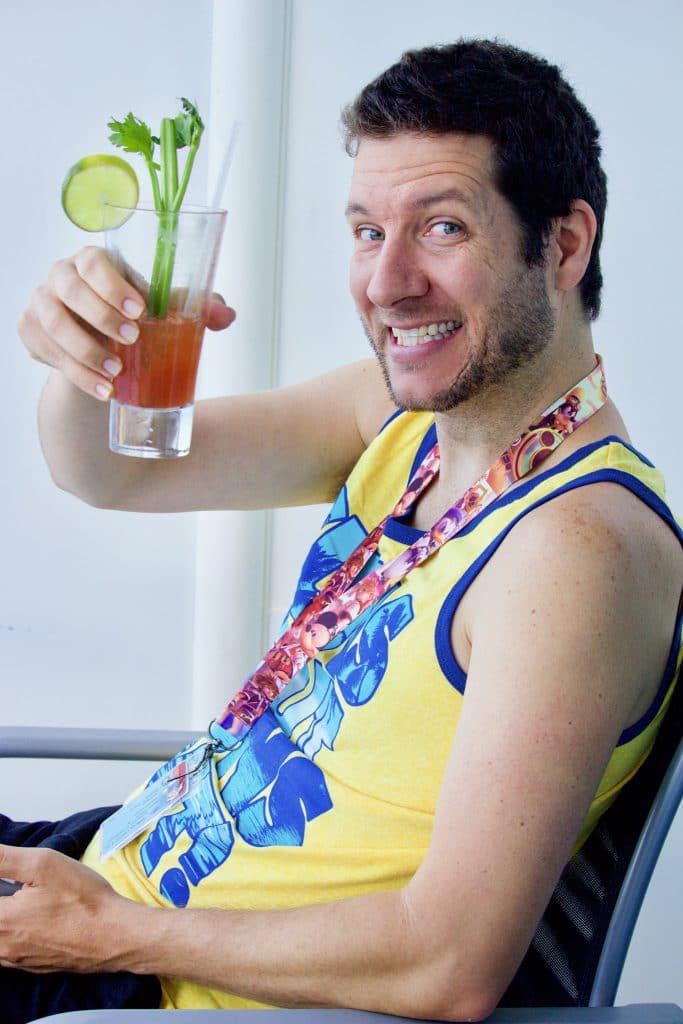 96. There are two adults-only pool areas on the Fantasy, make sure you check out both! We didn't find Satellite Falls until the middle of the cruise, it's kind of tucked away at the bow of the ship.
97. Disney photographers (at the special backdrops) won't use your camera to take pictures of you with the special photo backdrops, but you can ask people in line behind you to take a picture of you and then offer to take a picture of them. We met some new friends this way too! If it's a character meet and greet, you can ask the character handler (not the photographer) to take your picture and they usually will.
98. Disney uses a reverse osmosis water filtration system (this was very important to me to find out because we don't drink soda or juice) and it tastes delicious. No gross aftertaste!
99. You don't need to bring your own stroller, Disney has strollers on the ship that you can use. We don't have any kids yet but we saw lots of families pushing the Disney strollers.
100. There are so many chances to meet your favorite Disney characters. You can see the schedule for character appearances on the Personal Navigator. You might also run into a few characters roaming the ship as we did! I haven't seen him yet, but I've heard there is a sleepwalking Goofy that roams the halls at night!
101. If there is a new Disney movie being released while you're on the cruise, there's a good chance that they'll play it on the cruise. We got to see the premiere of the new Pirates of the Caribbean movie and the new Mary Poppins while we were at sea!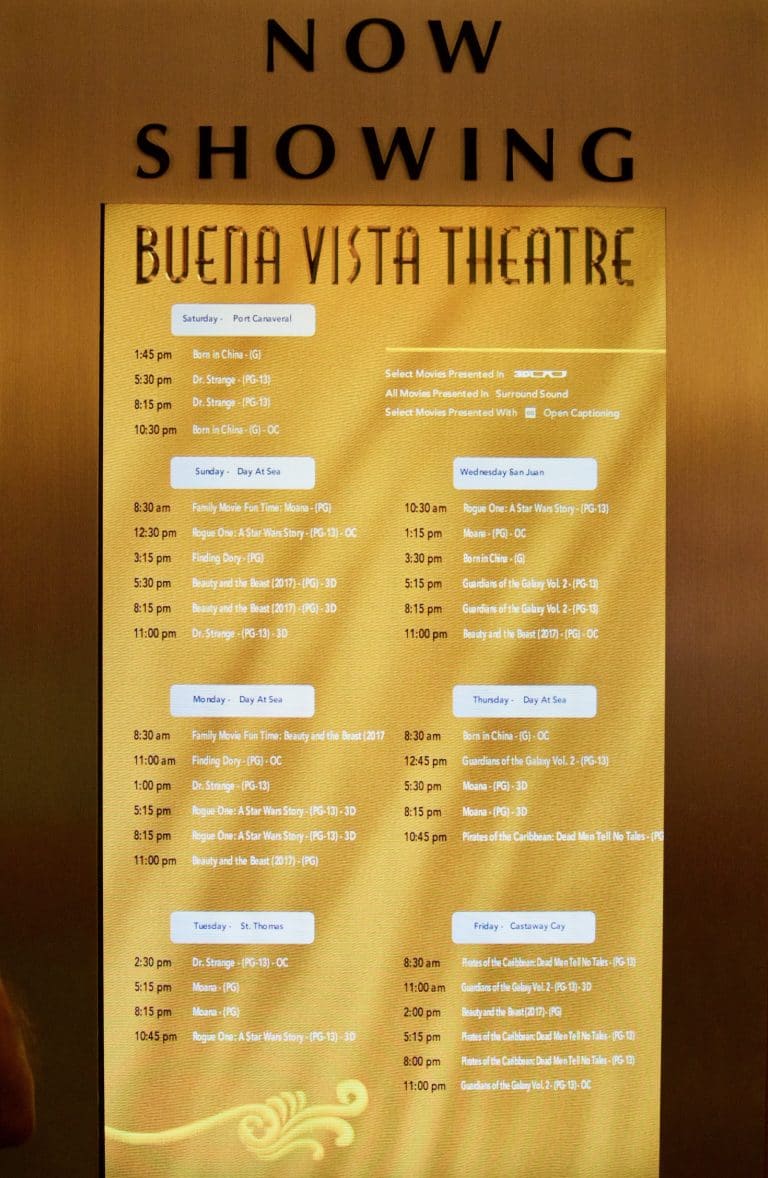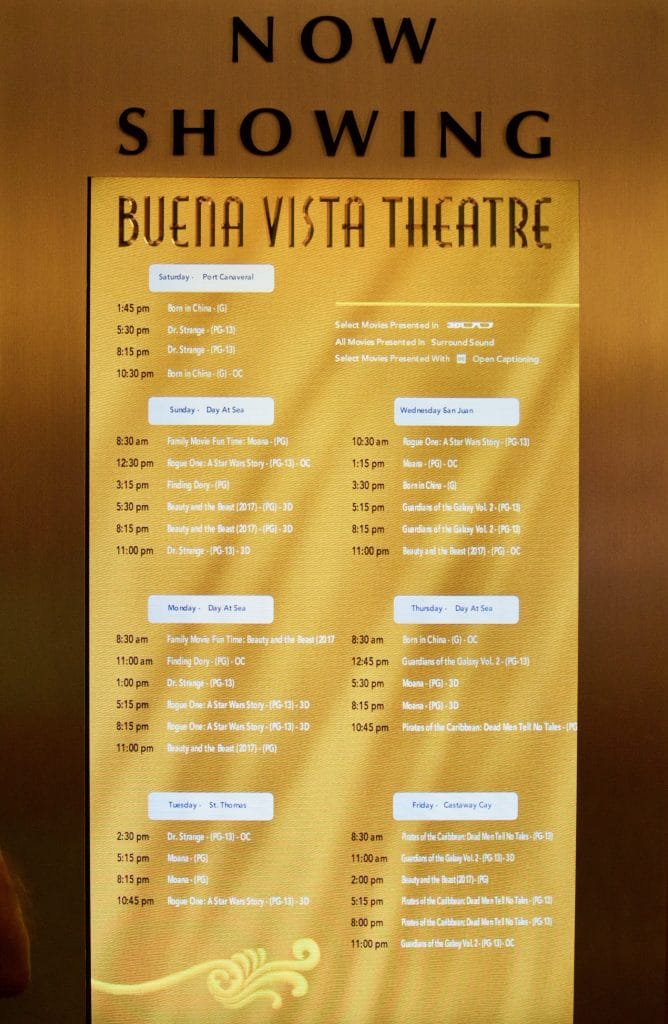 102. Pack your own candy for the movie theater, the ship candy and popcorn isn't free and it's expensive.
103. There's a pirate-themed buffet (see the video of the buffet HERE) after the fireworks on Pirate Night.
104. The best spot to watch the fireworks on Pirate Night on the Fantasy is on deck 12, Starboard side right by the railing.
105. If you forget your costume for Pirate Night, there are kids costume for sale in the gift shop + you'll receive a Mickey bandana for each person in your party in your stateroom on Pirate Night.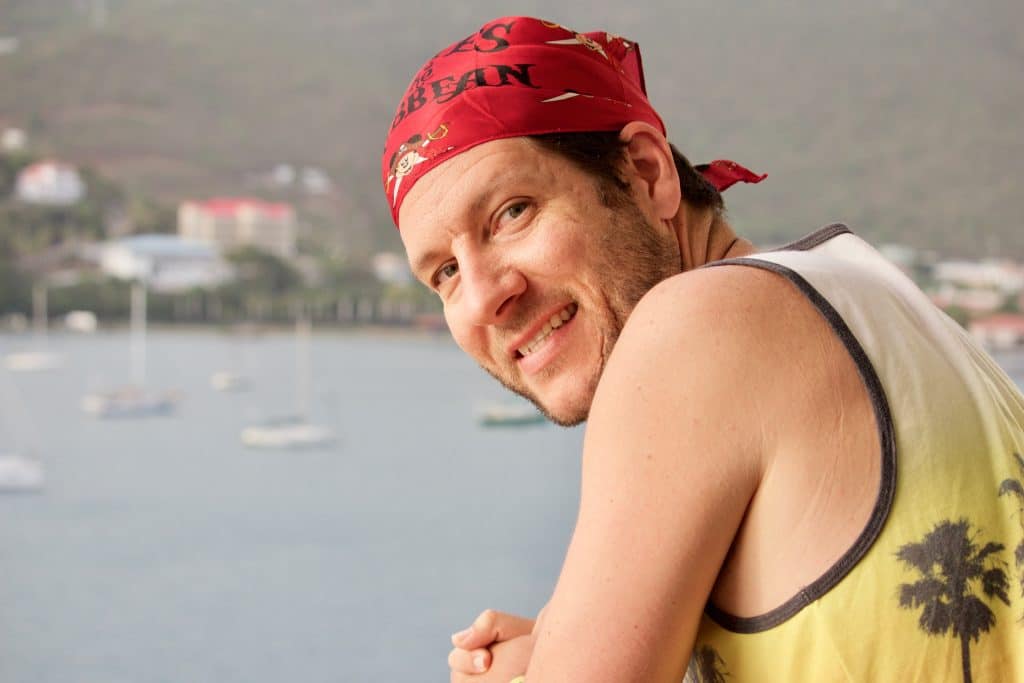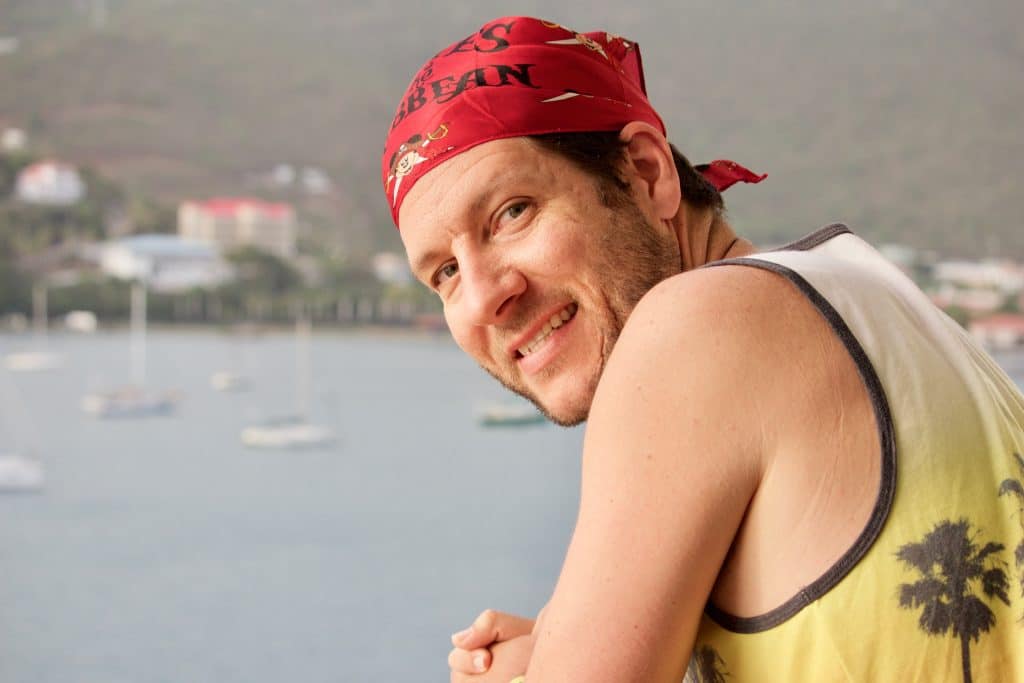 106. The horn on Disney cruise ships plays Disney songs! It's so cool!
107. Don't miss the Diaper Dash in the lobby atrium, it's hilarious and everyone cheers on their favorite baby. We didn't plan on going to the race until our tablemates told us that their baby was going to race so we wanted to watch him. I'm so glad we went!
108. There's a magical map onboard (on the Disney Fantasy), make sure you look for it!
109. The health center has (off-brand) free seasickness medicine if you need it.
110. DCL serves (my favorite) free Joffrey's coffee onboard.
111. If you're dairy-free, they have almond milk that you can use as a coffee creamer but they don't have real almond, soy, or coconut coffee creamer. Since we live close to Port Canaveral, I bring my favorite Ripple coffee creamer in a cooler with me and keep it in the fridge in our stateroom.
112. You can buy affordable toiletries at the ship gift shop. We dropped a toothbrush on the bathroom floor in the middle of our trip so we obviously needed a new one for the rest of the cruise. I was expecting to have to shell out $20 bucks for a toothbrush at sea but I was happily surprised to find that it only cost $2.95!
113. Arrive early to Pin Night in the lobby atrium, the best pins go first! Bring at least 10 pins with you to trade.
114. The line for the Aquaduck/Aquadunk is shortest in the early morning and late at night. or on port days
115. The coffee at Cove Cafe and treats at Sweet on You cost a small additional price but are so worth it.
116. There are complimentary pastries in the adults-only Cove Cafe for you to enjoy with your coffee.
117. One of our favorite things to do on a Disney cruise is to watch the sunrises and sunsets on the water, they are GORGEOUS! Don't miss it!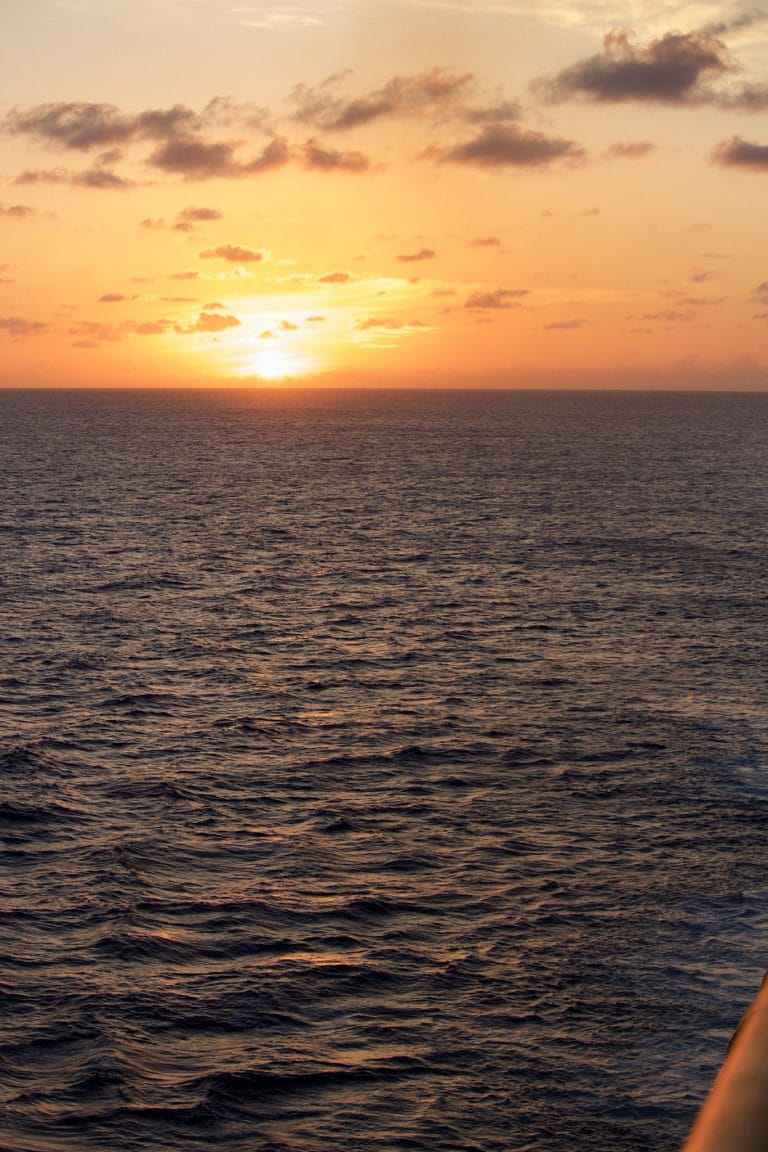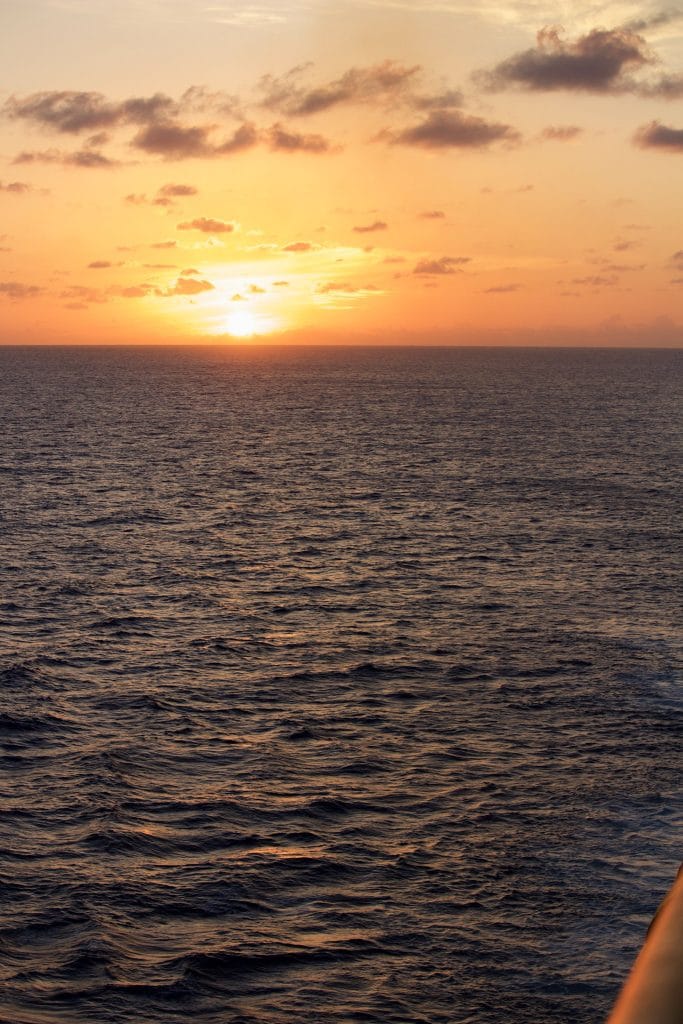 118. You can order a corkscrew and wine glasses from room service to use for the wine you brought on board with you. I recommend packing your own corkscrew to save time waiting for room service.
119. There is a free ice cream machine on deck 11 by the pool!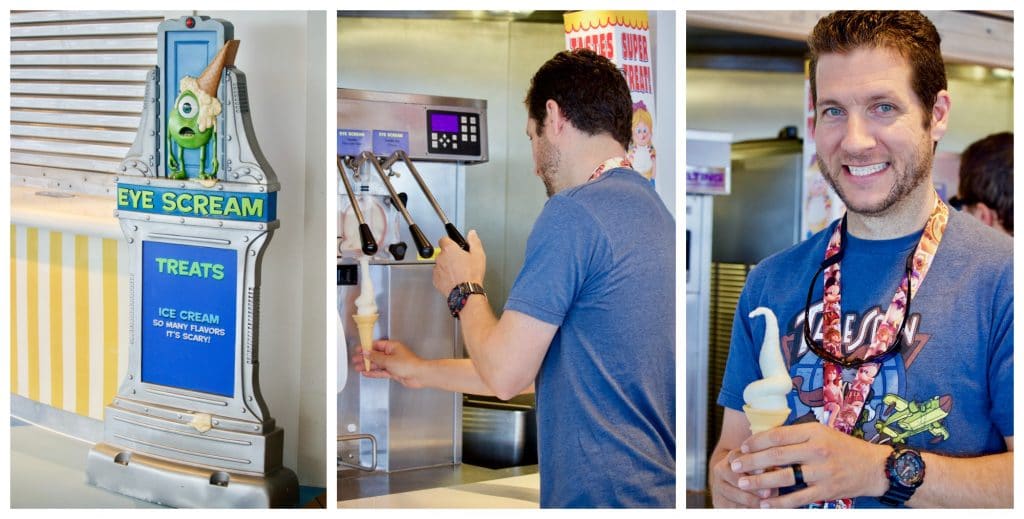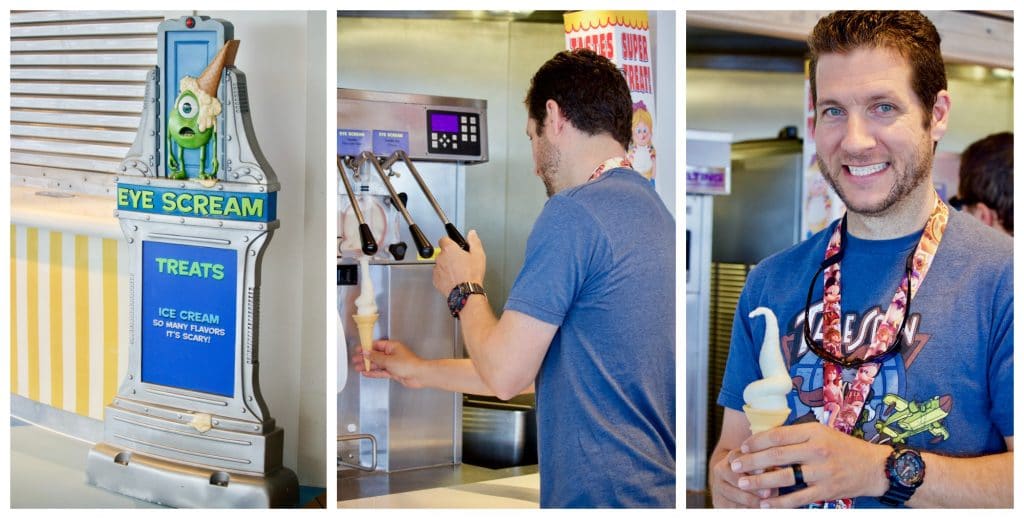 120. Go to as many stage shows as possible, they're all wonderful!
121. There are movies played at the Funnel Vision Theater every night on Deck 11. Grab an ice cream cone or hot cocoa and enjoy the show! I've seen many families go up in their pajamas, it's really fun!
122. If you decide to do a craft class, go to the early morning class so you get the first choice of supplies. I did a tile coaster class in the morning and I decided to go back for the afternoon class too but they were running out of the popular color tiles! Some people had to make their coasters with all brown tiles!
123. The Disney trivia games are fun and the questions are hard! Do you know what Donald Duck's middle name is? I didn't but I do now!
124. Don't miss the adults-only Match Your Mate comedy show, it's a blast!
125. Skip the elevator and take the stairs! It will really help work off all the calories you'll eat at dinner!
126. You can now get pineapple dole whips on board but they are not the same at the dole whip you get in Disney World. These dole whips are more like slushies– IMO they're not as good.
127. Cleanliness and handwashing are very important on DCL. There is a super convenient handwashing station at the entrance of Cabanas and smaller stations by the quick service counters. Please, wash your hands before you eat to protect your self from catching a cold!
128. Unfortunately, Bingo isn't free to play like I thought it would be. The cheapest option we could find was $30 for four cards! Most of the people there were playing the $70+ electronic boards and they won all the prizes. We played once and it was really fun, we'd definitely do it again.
129. On Castaway Cay day, I recommend eating breakfast at Cabanas and then grab lunch at Cookie's BBQ buffet (Read the restaurant review HERE) on the island! There's no need to go back to the ship for lunch, lunch at Cookie's BBQ is free and delicious!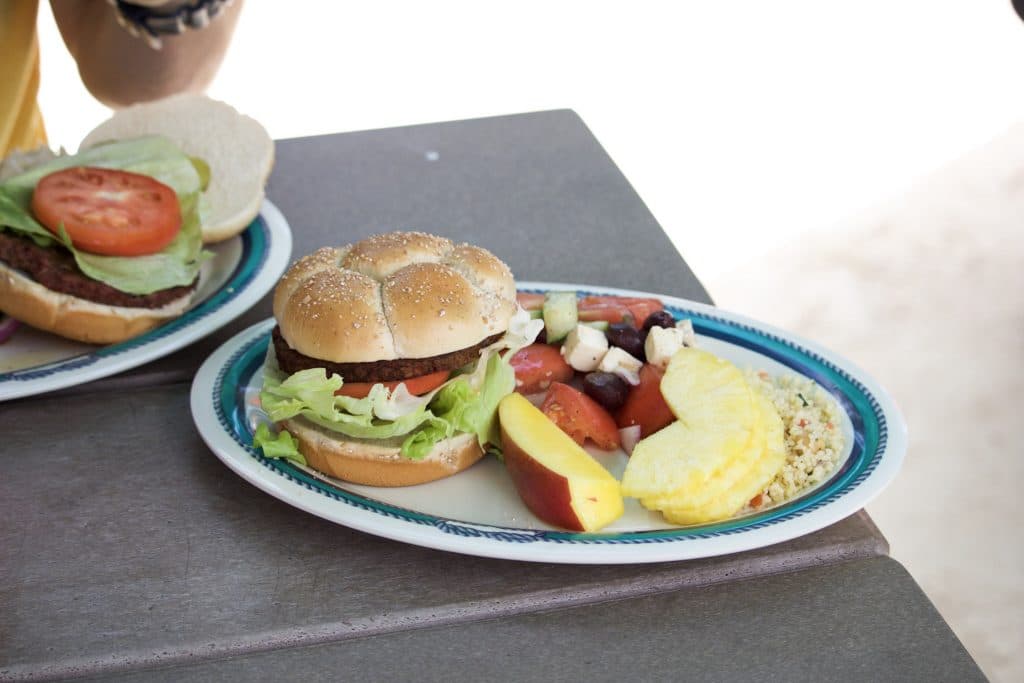 130. You don't have to pack your own snorkel gear for Castaway Cay, you can rent it for $32 on the island.
131. Everyone who wants to snorkel in the Snorkeling Lagoon is required to wear a life jacket. The water is very deep!
132. Castaway Cay Secrets -At Castaway Cay in the snorkeling lagoon, the underwater Mickey and Minnie statues, the submarine, and fish castles are marked by big floating white buoys (ask the lifeguard if you're looking for a specific item because they're very spaced out and pretty far from the beach!). I didn't know this until our last cruise– it sure would have saved me a lot of time looking for the Minnie Mouse statue!
133. You can only buy Castaway Cay merchandise at the gift shop on the island (That's where we bought our Christmas Castaway Cay t-shirt, Olaf Christmas ornament, and magnet!), there is no Castaway Cay merch on the ship.
134. You can mail a postcard from the Castaway Cay Post Office. Buy a postcard ($2) and stamp ($.65) onboard the ship the night before port day. It might take a little while to get delivered, our postcard took one month to make it to our house but it made my day when we finally got it!
135. There is a free 5K race that you can run or walk on Castaway Cay. Everyone who finishes gets a medal! We would've done it if it wasn't 100 degrees out.
136. The mojito tasting event is held at Head's Up Bar on Castaway Cay and it's one of our favorite alcoholic tasting classes, it was so much fun and we got to make 5 drinks each!
137. You can arrange a private beverage tasting, meet & greet, tea party, or mixology class for your party if you have enough people to attend. Lots of people like to set up private events on their Facebook Disney cruise group.
138. The slides at Pelican Plunge on Castaway Cay are not just for kids! Don't miss them!
139. There are plenty of beach chairs on Castaway Cay for everyone on the ship! According to a ship cast member, there are 2:1 beach chairs to people. However, there aren't as many hammocks or umbrellas so get off early and claim your spot if that's important to you.
140. If you're over 18 years old, make sure you visit Serenity Bay at Castaway Cay. The adults-only side of the island is GORGEOUS!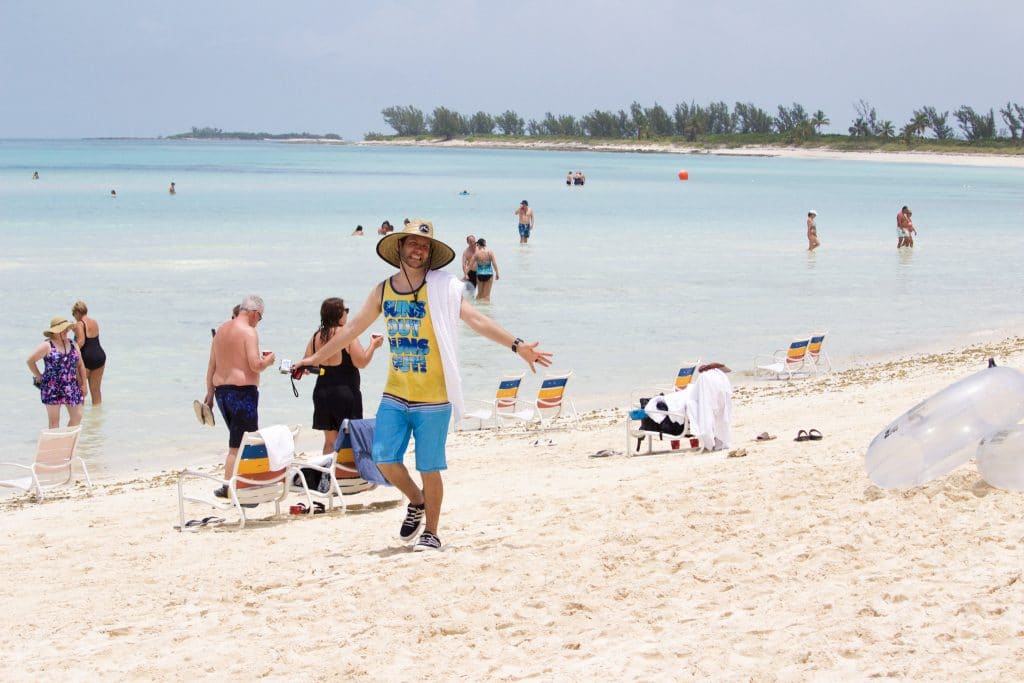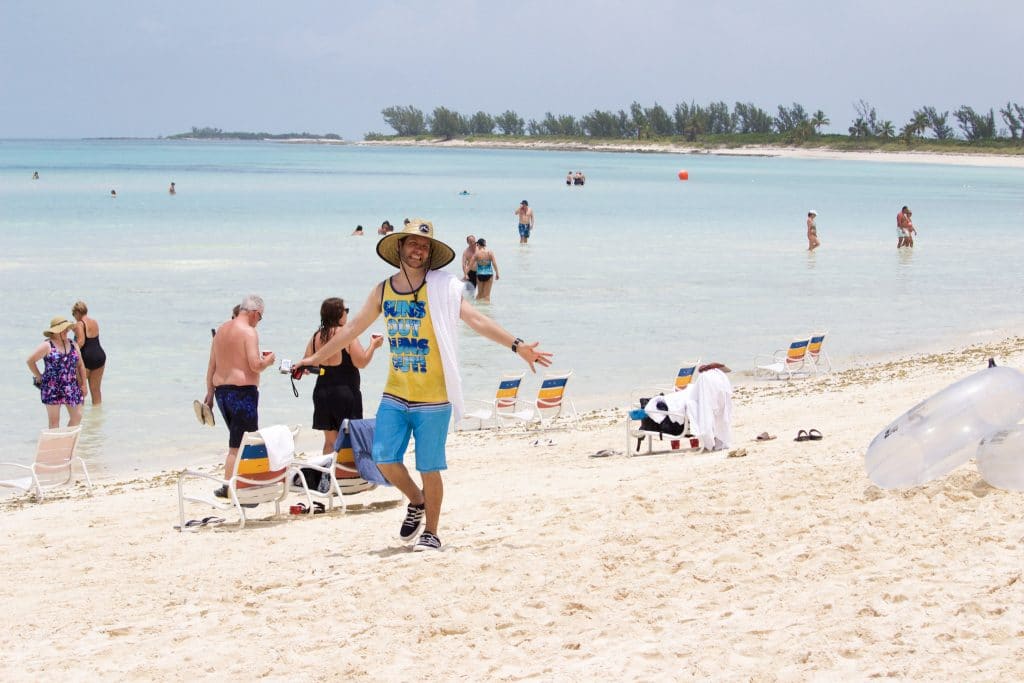 141. You don't need to pack towels for Castaway Cay. They will hand you towels right after you walk off the ship at the port. You return the towels at the same place before you get back on the ship.
142. DCL has Deet bug spray for you to use when you get off the ship at each port but if you prefer a natural spray you need to pack it. We use this organic bug spray.
143. If you have any food allergies or diet preferences, ask your server at dinner to see the next night's menu and you can request exactly what you would like to eat. They are very accommodating and extremely careful with allergies!
144. Unless it's absolutely necessary, leave your passport locked safely in the safe in your stateroom. You don't need to bring it with you unless they specifically tell you to. I saw a woman get her passport stolen on our last cruise to Key West where she definitely didn't need it.
145. All of the gift shops on the ship are closed while the ship is in port so do your shopping while the ship is moving and don't wait until the last day because the shops will be packed!
146. If you travel to an Eastern or Western Caribbean port during the summer, there's a good chance that it will be extremely hot. You need a fan necklace to cool yourself off! It's the only reason that I didn't sweat to death in Puerto Rico in the middle of May.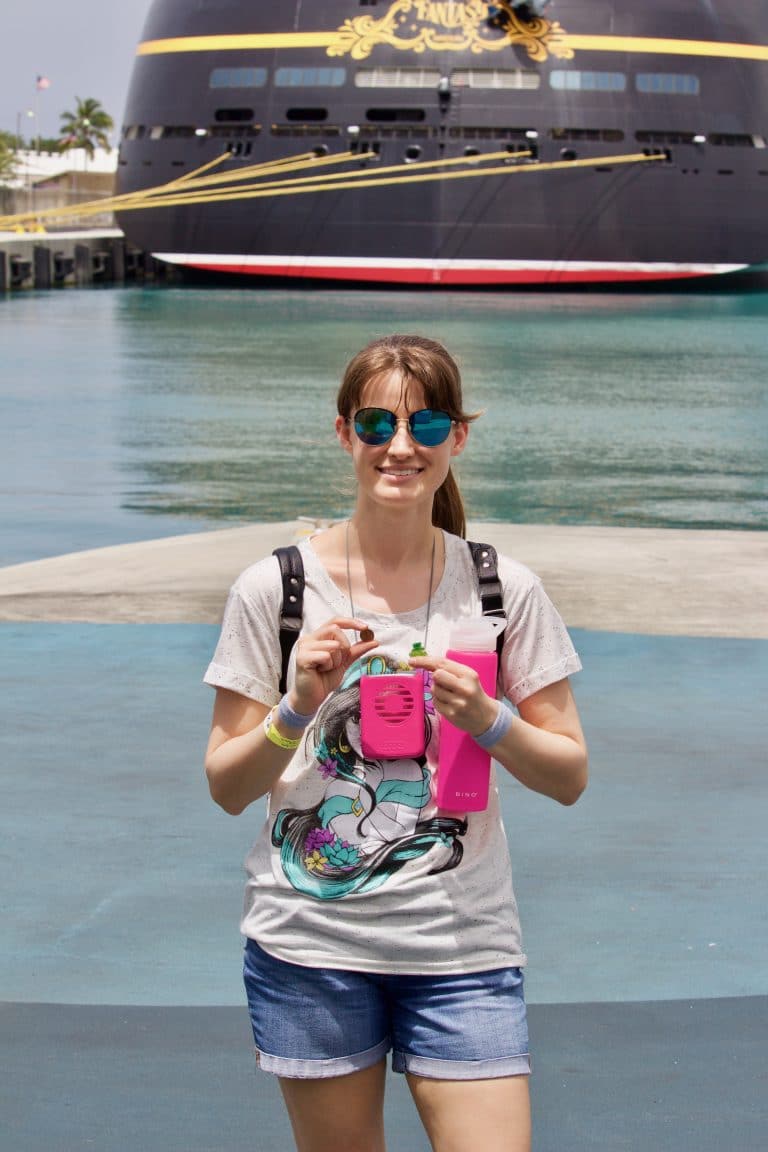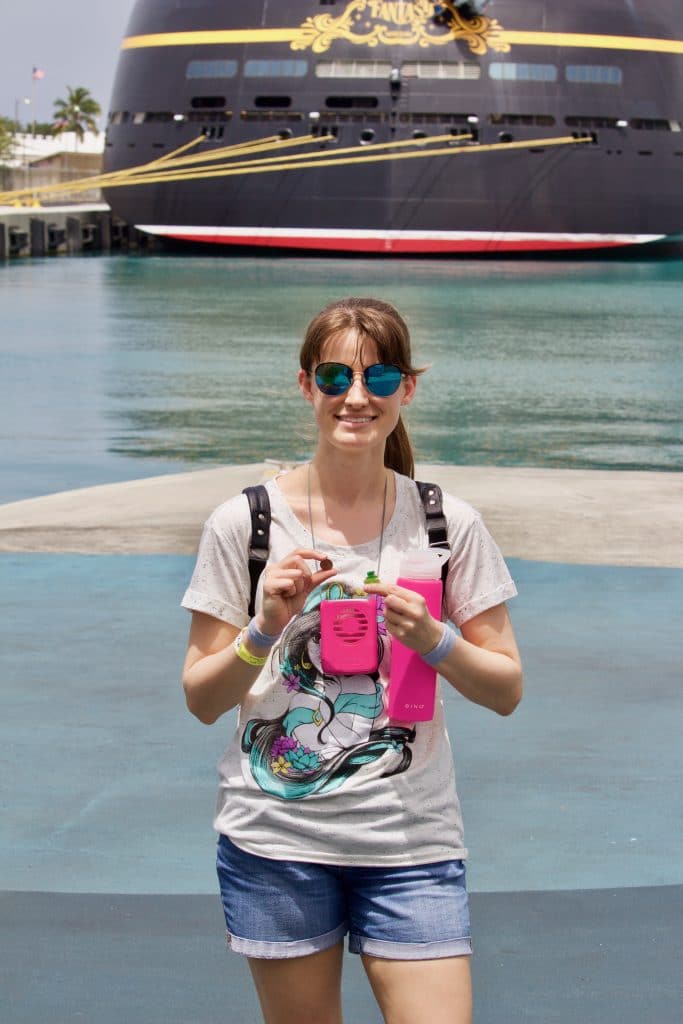 147. If you're traveling with friends or family, you can request adjoining staterooms or you can ask your stateroom host to open up the outside divider if you both have verandahs.
148. You must order any DCL pictures that you want to buy from Shutters Photography by the last night of the cruise.
149. The Disney photo package is 15% cheaper if you buy it before the cruise. You can cancel it by the last night of your cruise for a full refund if you're not happy with the pictures that have been taken.
150. You don't have to eat breakfast at your assigned MDR restaurant on the last morning, we prefer to take our time and eat at Cabanas instead because we like the options and it feels less rushed. I've heard that the Disney cruise debarkation time is 9 am but we usually get to Cabanas at 8 am and have never been rushed off the ship.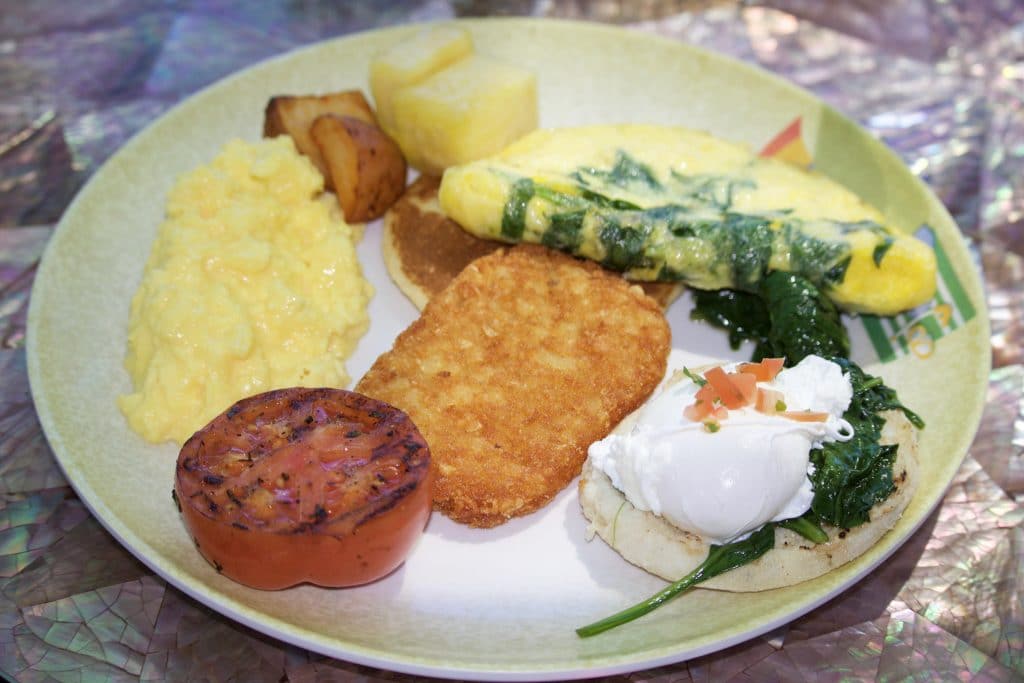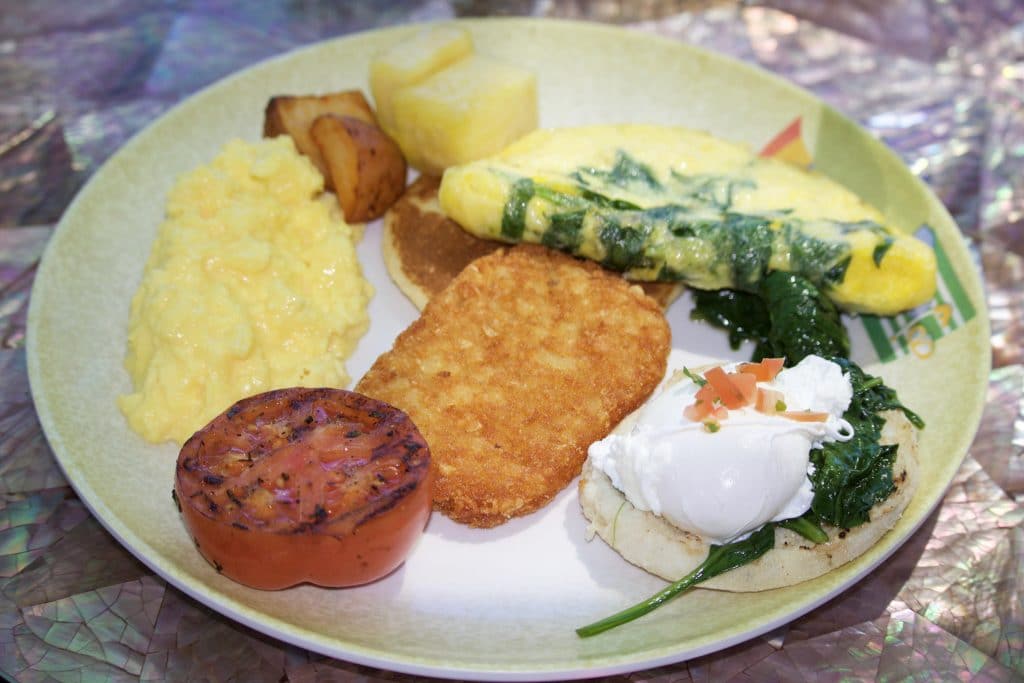 151. Disney cruise tipping policy – Your servers and stateroom attendants will get an automatic base tip per day but it's customary to tip extra based on performance. If you feel that the service has been amazing (which it most likely will be) then you should tip extra as a thank you for their hard work. Don't leave food, gifts, or handmade items as a tip (they don't have a lot of space in their rooms and most of them are away from their families to earn money)– money is the preferred tip.
152. Disney cruise tipping options – You can prepay your head server, server, assistant server, and stateroom host's gratuities before your cruise so you don't have to worry about it on the last day or you can ask guest services to add a specific amount to their tip when you're on the cruise, or you can give them cash in person in the little envelopes that they give you on the last day (this is what we normally do because we like to thank them in person too).
153. On the last morning, you'll get an itemized bill listing all the charges that you made on the cruise. If there is a mistake on it, go to guest services immediately to get ti corrected. It's much easier to fix the problem while still on the ship.
154. You can book a placeholder ($250) for a future cruise for each adult in your stateroom.
155. A placeholder is worth it because it's no risk and it counts as a reservation for a future cruise (you don't have to pick the date yet) within the next two years + you get a 10% discount and onboard credit! If you decide not to go on a cruise in that time period then you get your deposit back. Fill out the form (the stack on the right side of the picture) and drop it into the box next to the stack of forms.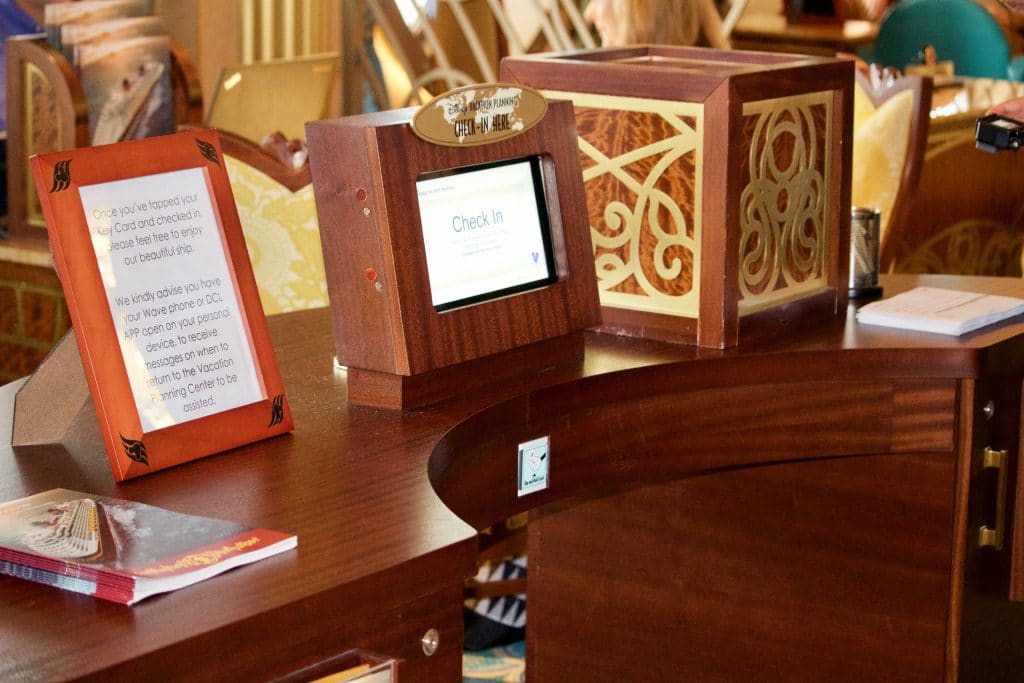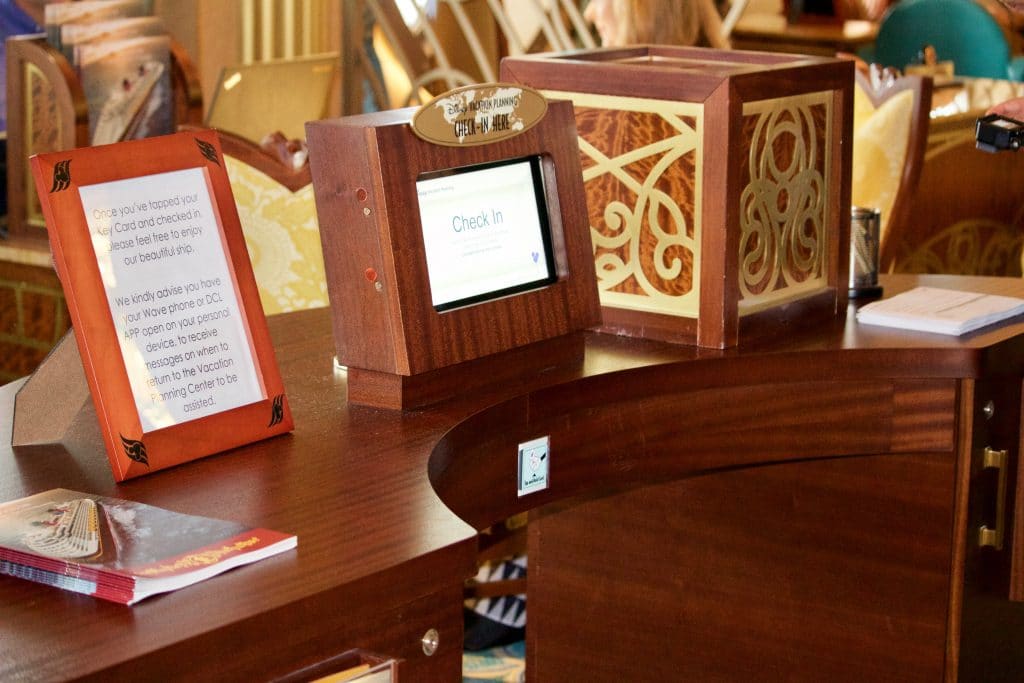 156. I highly recommend bringing some type of video camera to record all the special moments of your cruise. We brought a GoPro specifically for the cruise so we could take it zip lining and snorkeling with us. It's a fantastic piece of equipment! You can watch all of our vacation videos HERE!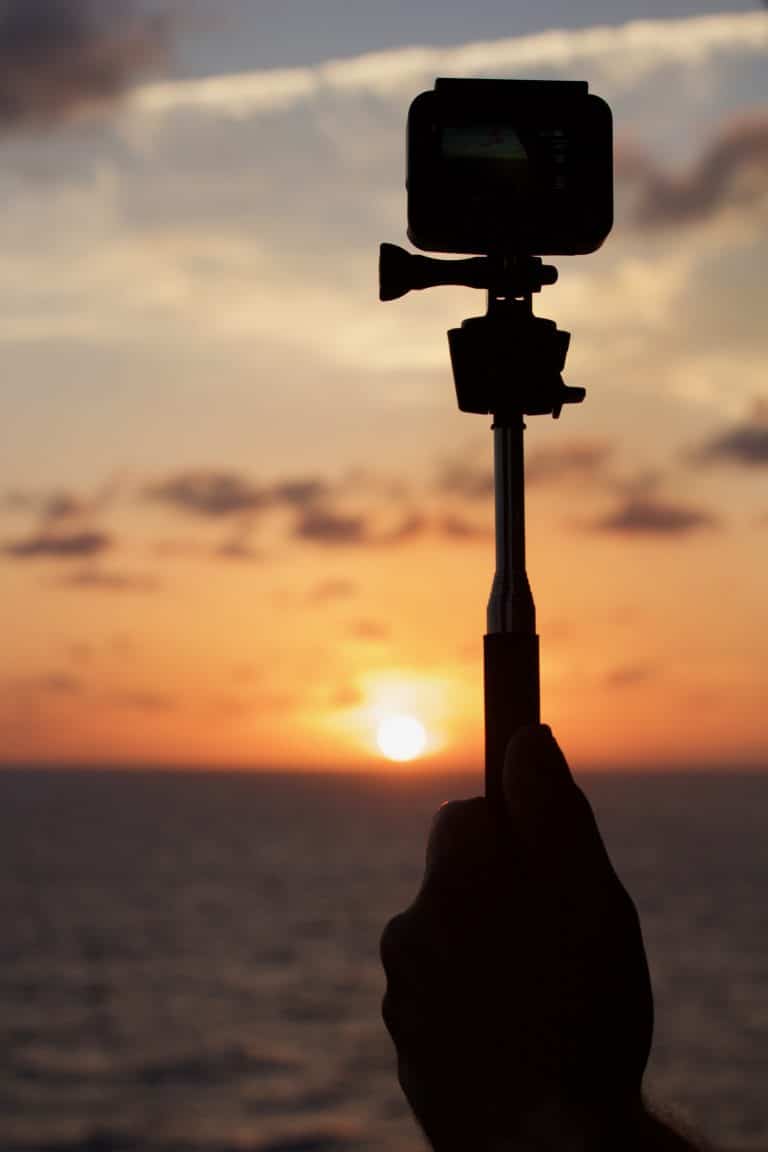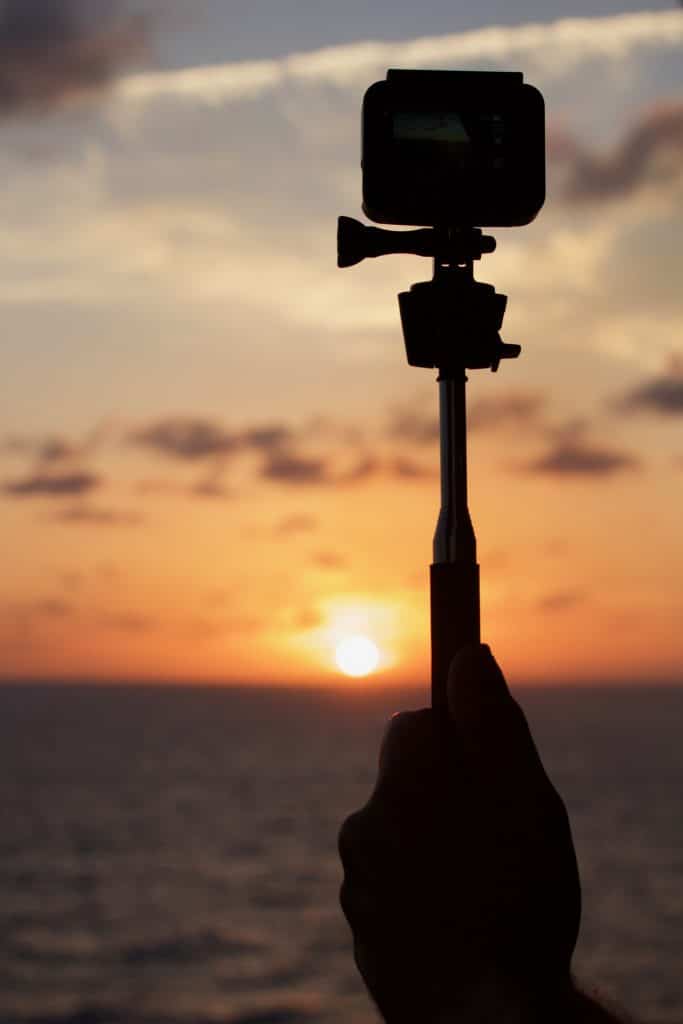 157. The lowest rates I've found for Disney cruises are in September and October because it's the peak of hurricane season. We went on a 7-night Eastern Caribbean cruise last September and had a blast! I could feel the motion a little bit more but no one in my family got seasick.
158. We were lucky enough to reserve a cabana on Serenity Bay on our last cruise and it was amazing! I highly recommend it if you swing it, it was well worth the $400 to us!
159. Most importantly, relax and enjoy every minute! It will be the best vacation of your life!!
More Disney Cruise Posts to Help You Plan Your Next Cruise!
Disney Cruise Palo Brunch or Palo Dinner: Which is Better?
Everything You Want to Know About a Disney Cruise Pirate Night
159 Disney Cruise Tips I Wish I Would've Known Before Our Cruise!
11 Funtastic Disney Cruise Activities That Aren't for Kids!
13 Activities to do at Castaway Cay!
Do you have any last-minute Disney cruise tips to share? Did I miss anything important? Let me know in the comments!