You will love how easy it is to make this delicious no knead bread recipe! Each bite is filled with sweet and tangy cranberries and bright orange flavor. Vegan.
Thank you to Mariani for sponsoring today's recipe post! My opinions are always 100% honest, thank you for supporting the brands that I love.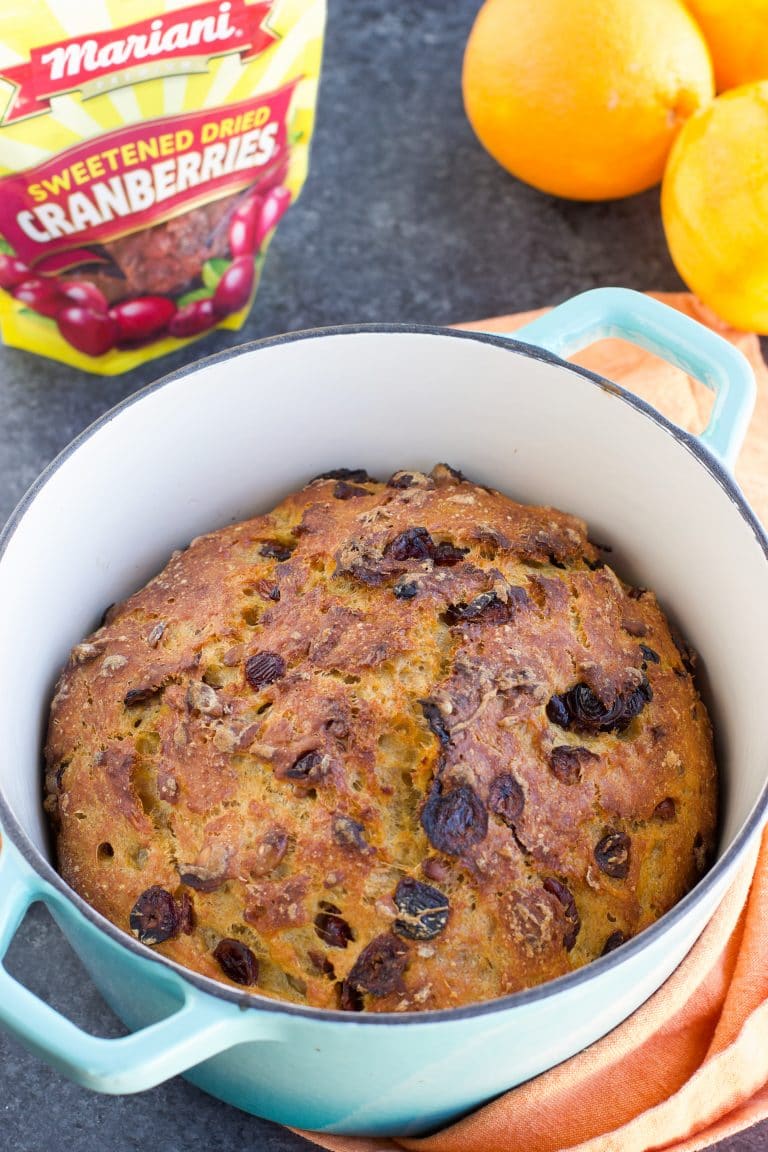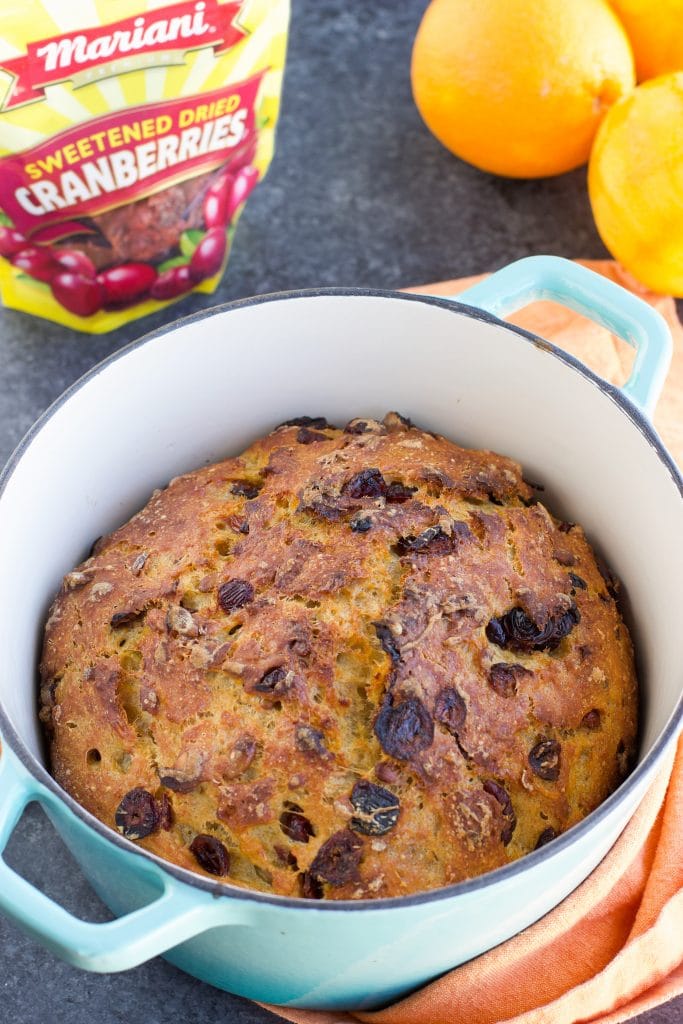 If you've followed my blog for awhile now then you know that I love making no knead bread!
Why?
Because it's so easy and so rewarding!
You end up with the most delicious loaf of warm, crusty bread with minimal effort. It's basically magic!
If you're like me and you're not big on baking than this no knead bread recipe is definitely for you. It's seriously fool-proof. If I can make it then you can too!!
I've tried so many different variations of no knead bread:
I love them all!
Surprisingly, this is my first time making a sweet no knead bread recipe! Geez, I've been missing out!
This cranberry orange no knead bread recipe is so darn delicious. Sweet and tangy cranberries + a delicate orange flavor in each bite. YUM!
I love how each slice of bread is studded with cranberries, and if you look closely, you can see a sprinkle of orange zest here and there. Each slice is beautiful!
If only you could've smelled my kitchen while this bread was baking….it was absolutely heavenly!
Is This No Knead Bread Recipe Easy to Make?
Yes!!! Yes!!! Yes!!!
No knead is the only type of bread that I make on a regular basis because you literally stir everything into a bowl, let it rise overnight, and then you can bake fresh it in the morning for breakfast! Easy peasy!
I strongly dislike kneading bread dough. It leaves patches of dried dough on the counter, it makes my hands tired, and it takes forever to get the dough to the perfect consistency. Ugh, no thanks!
Who has time for that?! Not me!
I like being able to make the dough the night before and then bake it the next morning. Make sure you use a dutch oven so while the bread is baking it develops the most delicious crust.
I like to use a 3 quart dutch oven because it gives the loaf a perfectly round shape to slice for sandwiches or avocado toast. (Make sure the handle is oven safe to 450 degrees.)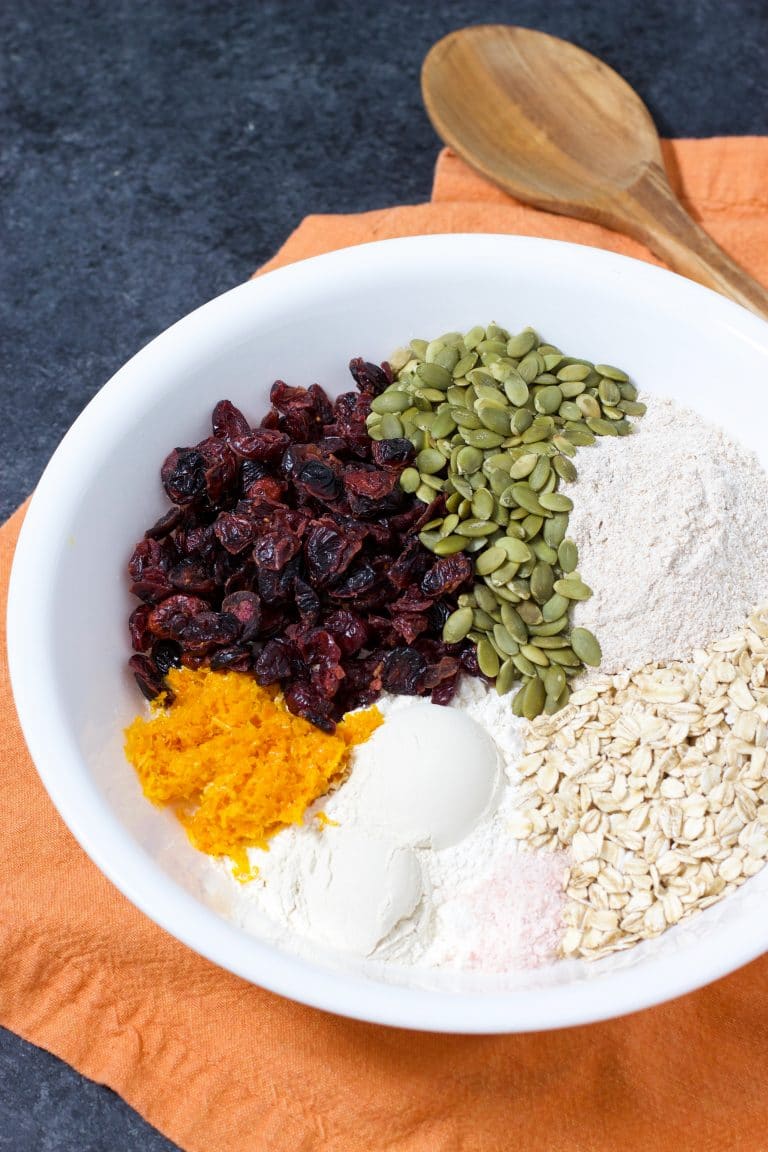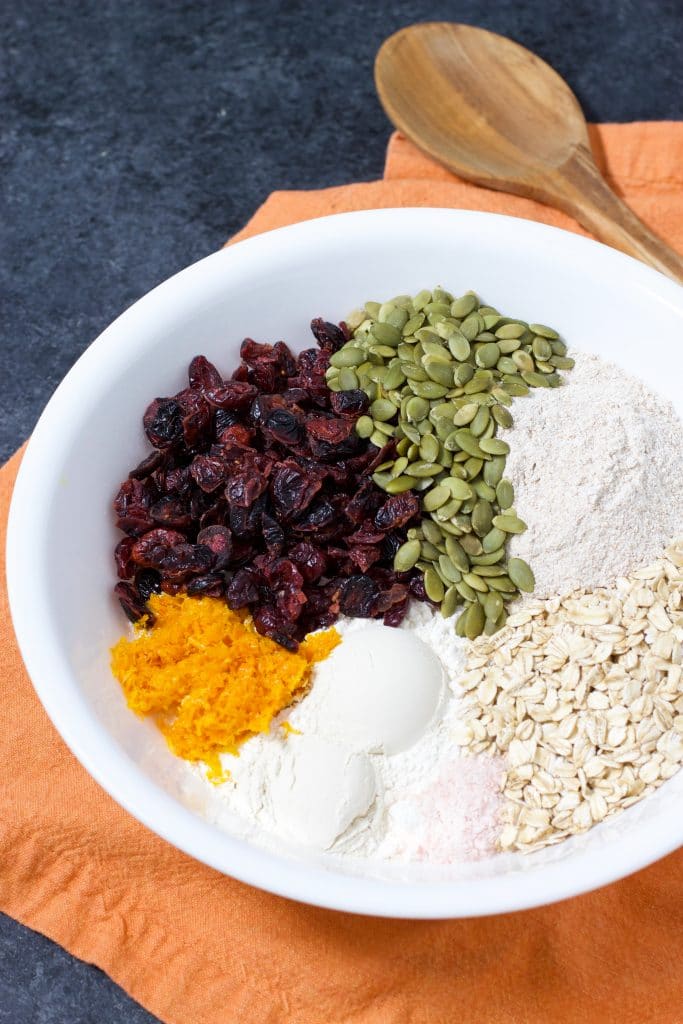 What Kind of Cranberries Should You Use?
It's really important to use high-quality dried cranberries in this no knead bread recipe because the cranberries are the starring players. They need to be super flavorful!
You want the cranberries to be sweet, tart, and juicy. I've had some dried cranberries that are hard, bland, and dry. Ugh. Believe me, nobody wants to bite into that.
I prefer to use Mariani dried cranberries in my cranberry orange no knead bread recipe because they're always juicy, and have the perfect balance between sweet and tangy. They add so much flavor to any recipe!
You could also add dried cranberries to trail mix, cookies, salads, or savory side dishes. They make a delicious snack on their own too!
If you love dried cranberries then I bet you'll go crazy for these vegan chocolate mango candy bites too. It's one of our favorite desserts, we love the tropical dried mango candy filling!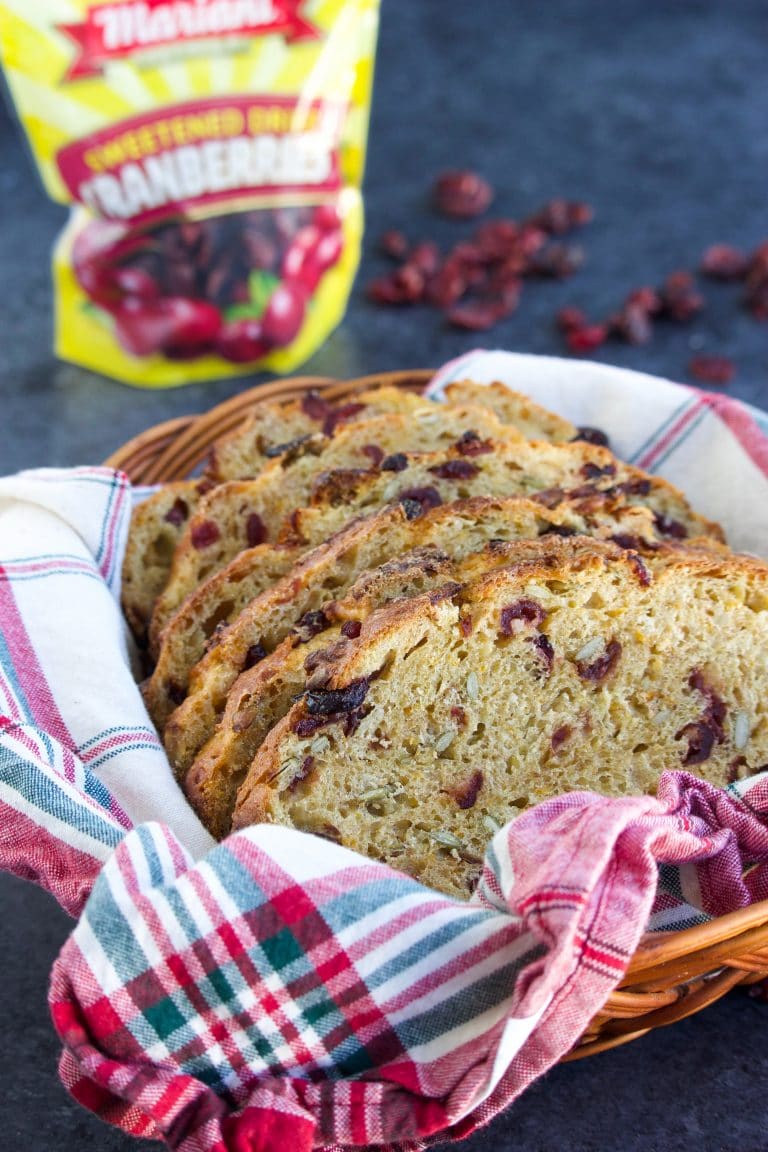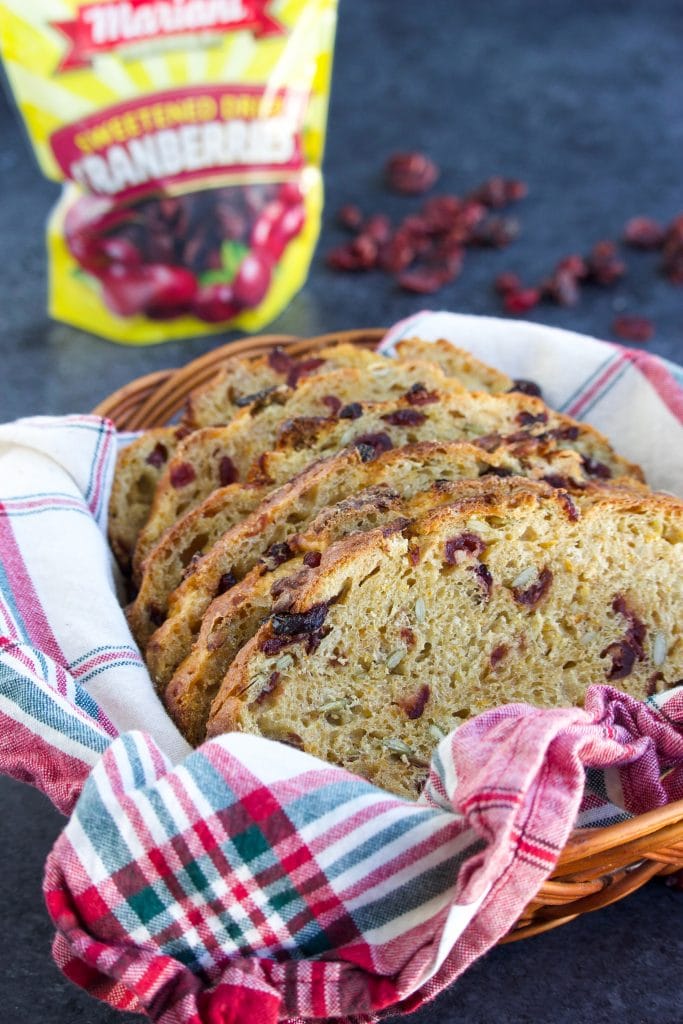 Can You Use Store Bought Orange Juice?
Yes…but I wouldn't.
In a pinch, you can use store-bought juice, but fresh squeezed orange juice is 100x better. No added sugar, no weird ingredients, and the flavor of fresh juice is so much better!
You want that delicate, bright, citrus-y flavor from a fresh orange, not the overly sweet, artificial OJ taste. Believe me, you can tell the difference.
You need the zest from the orange anyways so just go all out and use the juice too. Zesting and juicing a couple oranges is the most work that you have to do for this recipe, promise.
It's so worth it.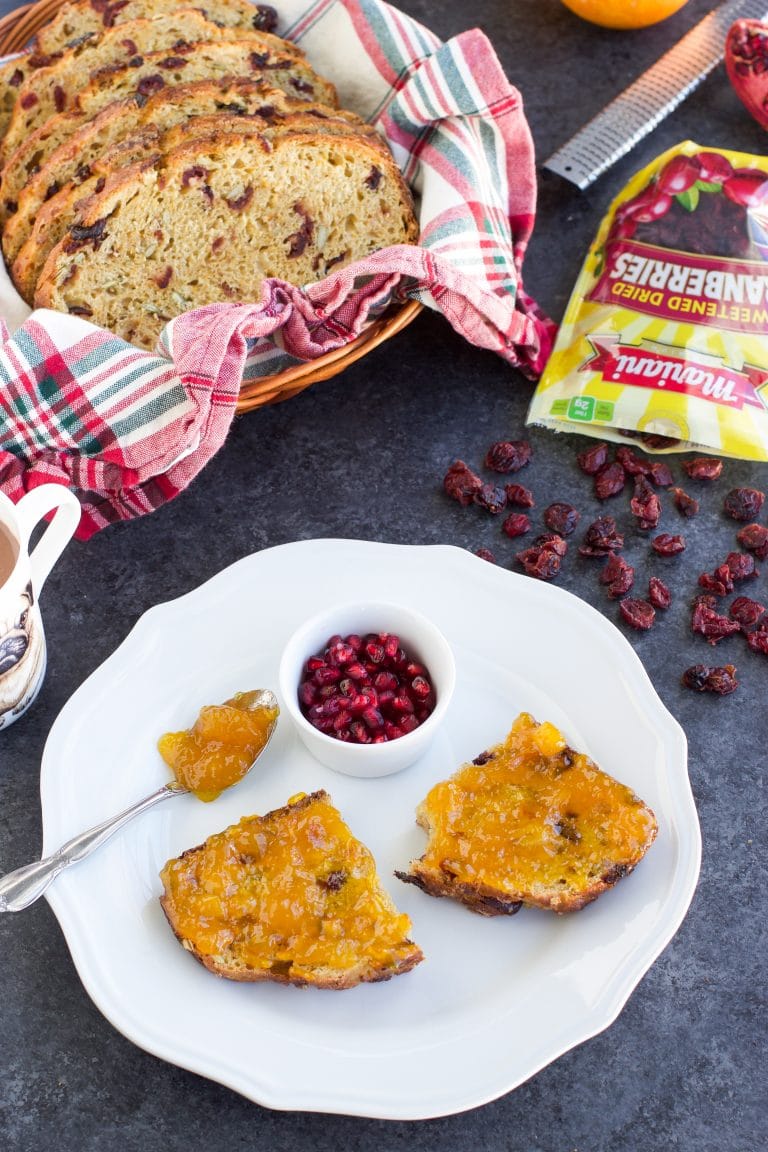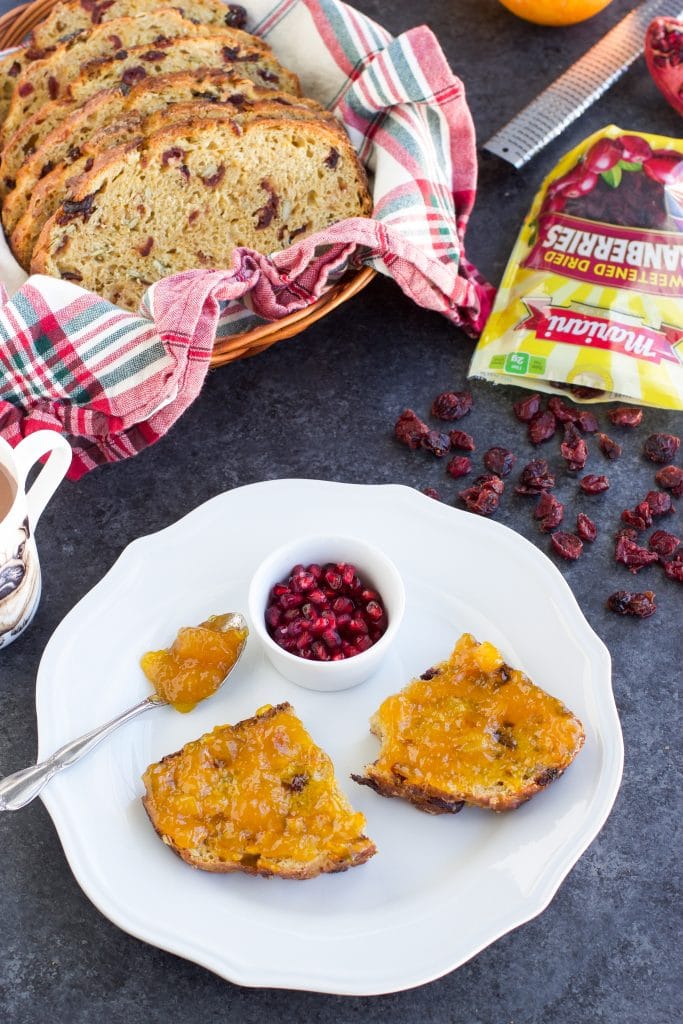 How Should You Serve This Bread?
I love to put a few spoonfuls of mango or peach jam on this cranberry orange bread, all the tangy flavors are such a yummy treat!
Or if you want to cut back on the sugar a little bit, you can spread a little bit of vegan butter on a slice of toasted cranberry orange bread. YUM!
A loaf of this cranberry orange bread would be a delicious Christmas gift. Your neighbors will love you!!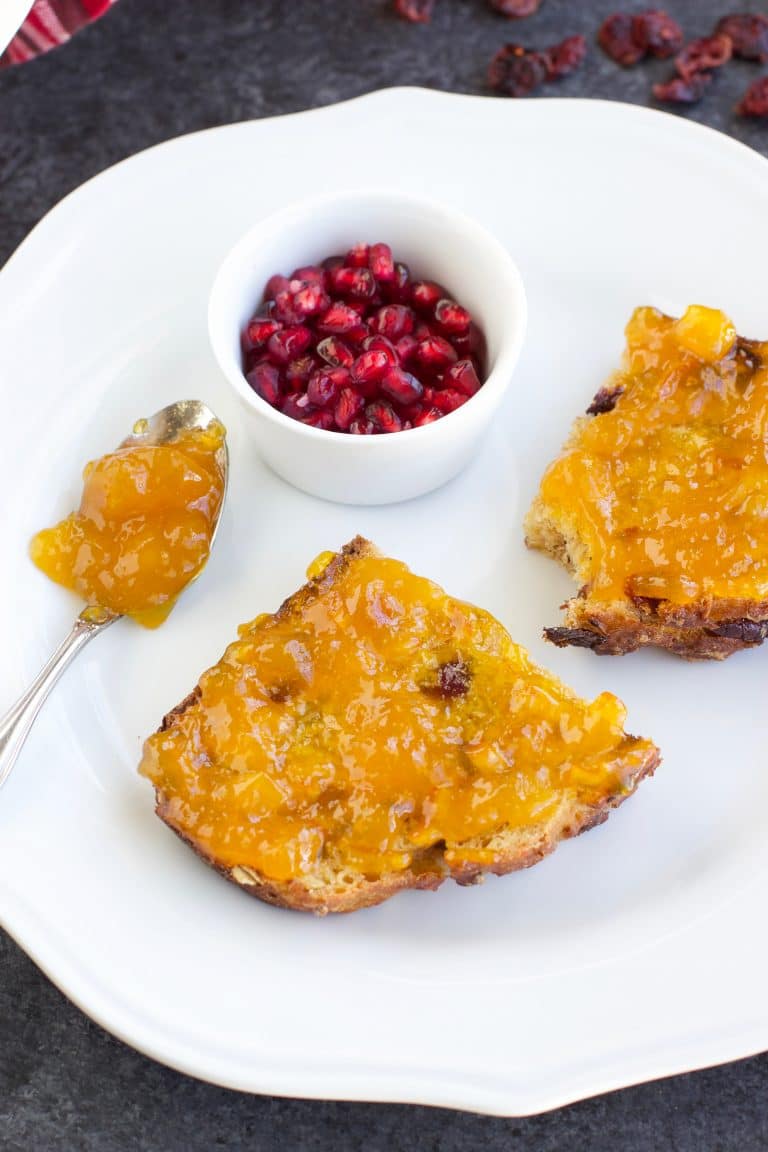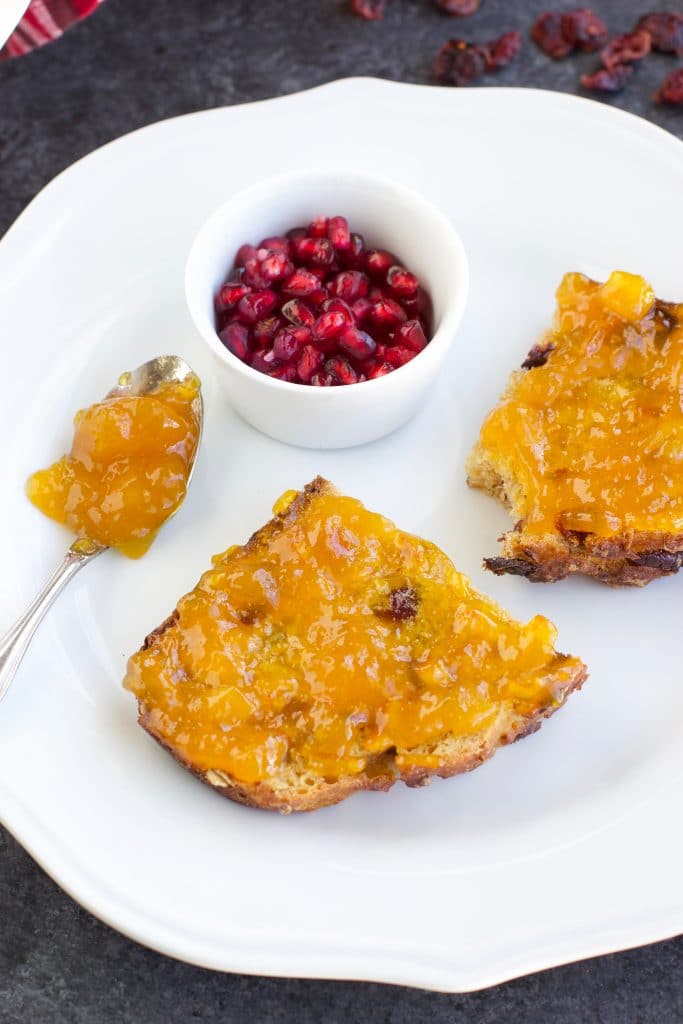 More No Knead Bread Recipes You'll Love!
No Knead Whole Wheat Chia Bread
No Knead Parmesan Rosemary Garlic Bread
No Knead Green Onion Cheddar Bread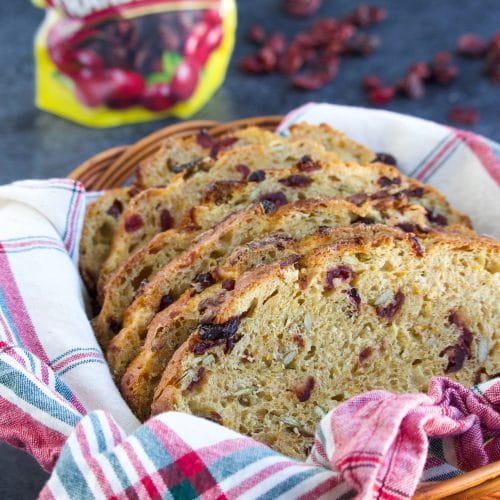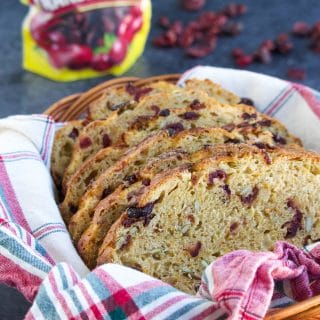 Ingredients
2 1/2

cups

all purpose flour

1/2

cup

whole wheat flour

1/2

cup

old fashioned oats

1

tsp

pink sea salt

2

tbsp

vital wheat gluten

1/4

tsp

yeast

1/4

cup

pumpkin seeds

2

tbsp

orange zest

1

cup

orange juice,

freshly squeezed

3/4 - 1

cup

warm water

1

tbsp

wheat bran
Instructions
Add all purpose flour, whole wheat flour, oats, salt, vital wheat gluten, yeast, pumpkin seeds, cranberries, and orange zest to a large mixing bowl. Mix well to incorporate all the ingredients.

Make a well in the middle of the mixture and pour in the orange juice and 3/4 cup of warm water. Mix until you don't see any more flour. If the mixture feels dry and crumbly, add more water (up to 1/4 cup) until all the flour has been mixed in and you have a shaggy, sticky dough.

Cover the bowl with a towel and let the dough rise for 12-18 hours, or overnight. Place the bowl in a warm place to help the dough rise.

Preheat the oven to 450 degrees. Put the dutch oven (with lid on) into the oven to preheat for 30 minutes. While the pot is heating, uncover the dough. You'll know it's ready because the top of the dough will be covered with tiny air bubbles. Punch the dough down with your fist and fold the dough over itself four times. You might need a sprinkle of flour if the dough is too sticky. Cover the bowl again and let it rise for 30 minutes (while the pot is heating).

Carefully, remove the pot from the oven and remove the lid. Sprinkle wheat bran into the bottom of the pot.

Hold the bowl directly above the hot pot and use a spatula (or your hand) to scrape the dough into the pot. It will sizzle and start to cook, so, quickly replace the lid and put the pot back into the oven.

Bake (covered) for 40 minutes. Remove the lid and check the crust. If you like a dark brown crust then you can remove the lid while it bakes for 5 more minutes. If you like a softer, lighter crust, leave the lid on and continue baking for 5 more minutes.

Carefully remove the bread from the pot and place it on a cooling rack for one hour!
Notes
If you don't like pumpkin seeds, sunflower seeds, or chopped pecans, almonds, or walnuts would be delicious too!
The vital wheat gluten is used to help the whole wheat flour rise. If you don't want to use whole wheat flour, use 1/2 cup all purpose flour and omit the vital wheat gluten.
Let the bread rise somewhere warm, if it's too cold it won't rise properly. 
If you slice the bread too soon then the middle will get gummy, so make sure to let it cool for one full hour. It's hard, I know!