This post may contain affiliate links.
Please read my disclosure.
We visited all of the Disney cruise restaurants and quick service spots on our Disney Fantasy Cruise. Want to know what the food is really like on a Disney cruise? I'm sharing all of the menus, food pictures, videos, and reviews to help you decide where and what to eat on your Disney cruise.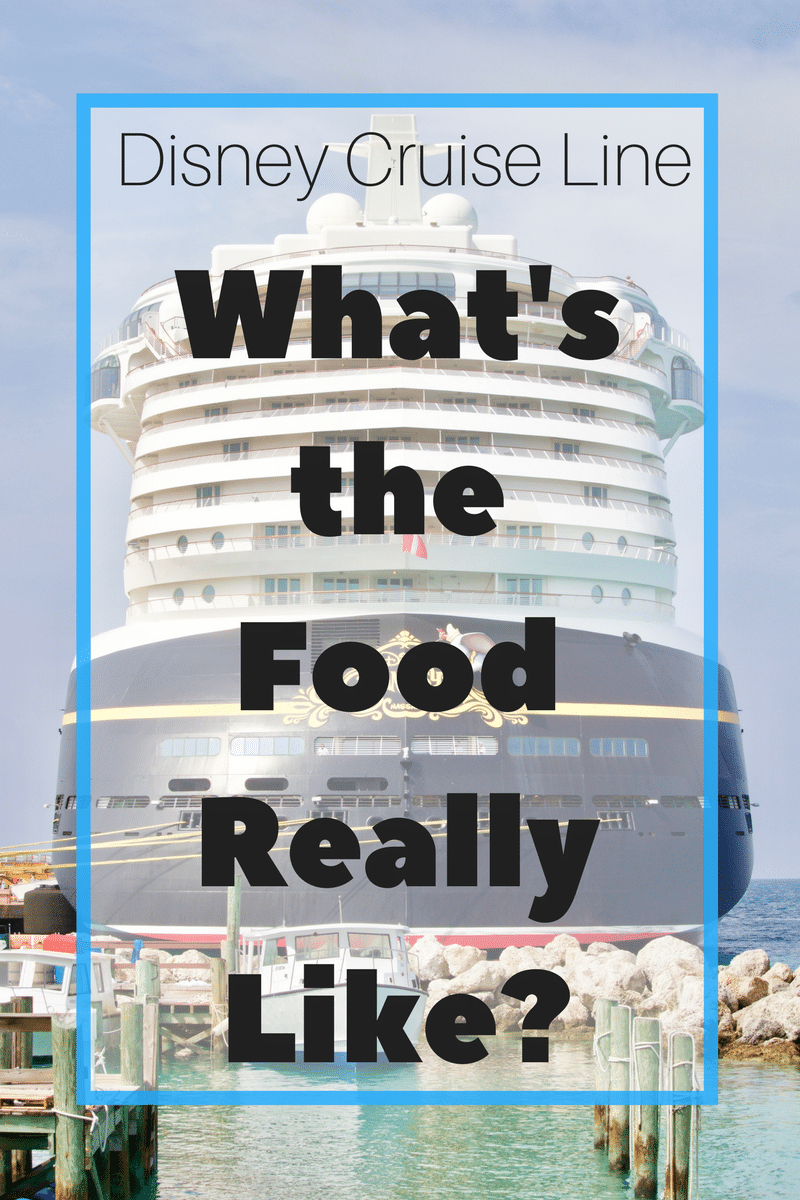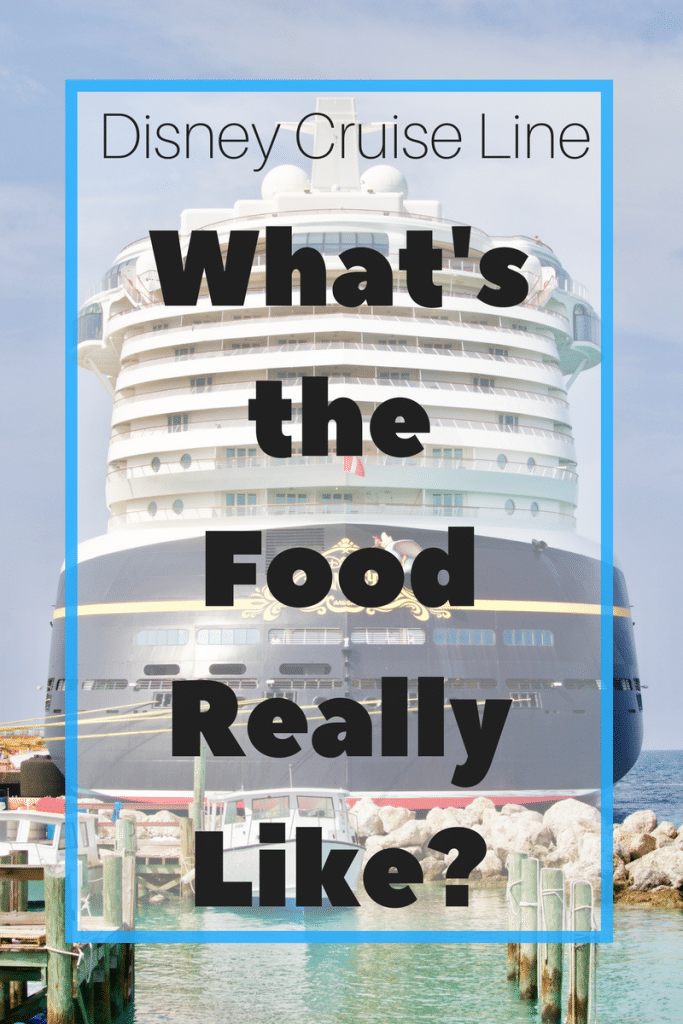 After our Cross Creek Ranch wedding, we went on a 7-night Eastern Caribbean Disney cruise in May for our honeymoon. The whole trip was fabulous and I fear that we've spoiled ourselves for life by cruising with Disney for our first ever cruise. I don't think any other lines can measure up to the high standards that Disney set.
The whole experience was A+++, from the cleanliness of the ship, the ports of call, our sparkling verandah stateroom, the Broadway-style shows, pirate night, visiting Castaway Cay and, of course, all the fantastic food!
It was all top-notch.
However, this post is just about the MDR (Main Dining Room) Disney cruise restaurants, Cabanas buffet, and quick service spots on the Disney Fantasy. Check out these posts if you want to read the overview of our 7-night cruise, where to eat at Castaway Cay, or see what brunch and dinner are like at Palo.
What are the Main Disney Cruise Restaurants?
When you check-in for your cruise, you are given your KTTWC (key to the world card). The card will have your name on it, your stateroom number, your table number, and your MDR (main dining room) Disney cruise restaurants rotation schedule.
It will look something like this – AERAERA.
A = Animator's Palate
E = Enchanted Garden
R = Royal Court
The first letter corresponds to the restaurant you will visit for dinner on the first night of the cruise. Our MDR rotation was Animators Palate -> Enchanted Garden -> Royal Court.
Note: The MDR that you dine at on your last night of the cruise will be the restaurant you're assigned to visit for breakfast on the last morning (disembarkation day) of your cruise. However, if you don't want to go to the MDR then you could go to Cabanas instead.
I would recommend going to Cabanas if you want a more relaxed breakfast with more food choices. We went to Animators Palate for breakfast and it felt very rushed and the food was just so-so.
Cabanas Buffet
After we boarded the ship on the first day, we headed straight to the lunch buffet at Cabanas on Deck 11 (AFT). We were famished!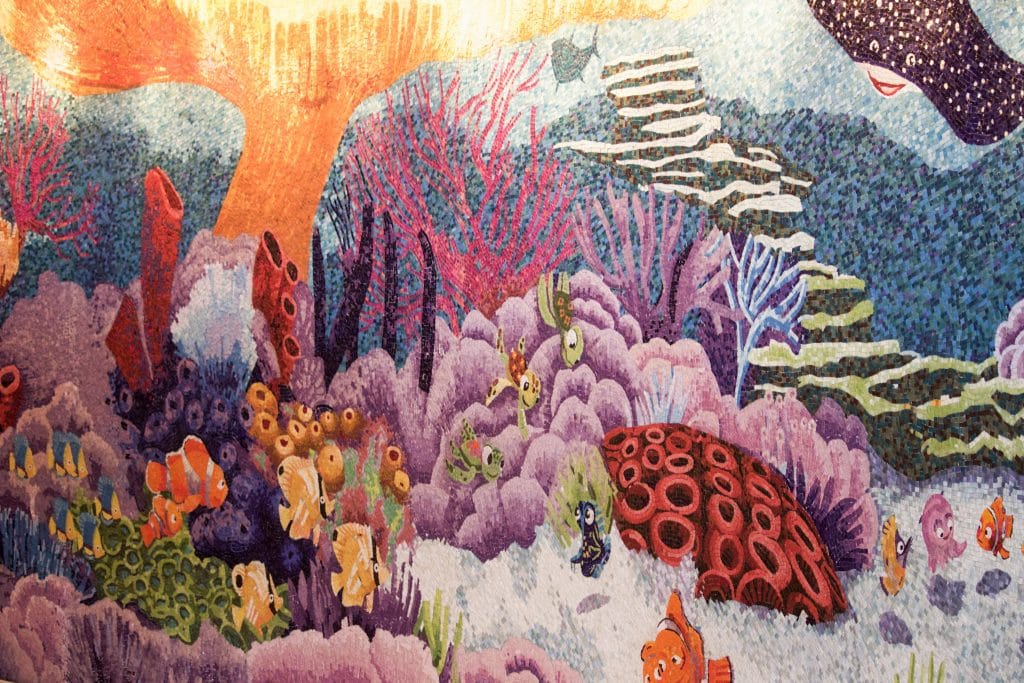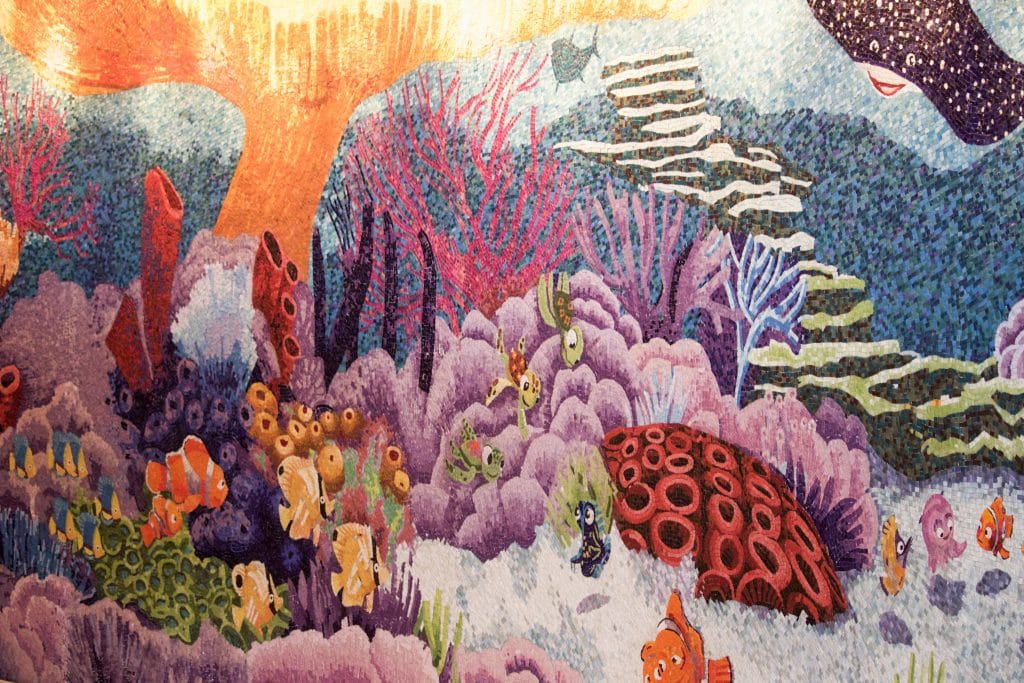 I wasn't sure what to expect but I was pleasantly surprised. The restaurant wraps all the way around the back of Deck 11, it's huge!
The buffet is split up into sections that are repeated on both sides. There is a bar in the center, coffee dispensers, and soda machines by every section of tables. There is also a gorgeous tile mural of Nemo and friends on both sides of the restaurant.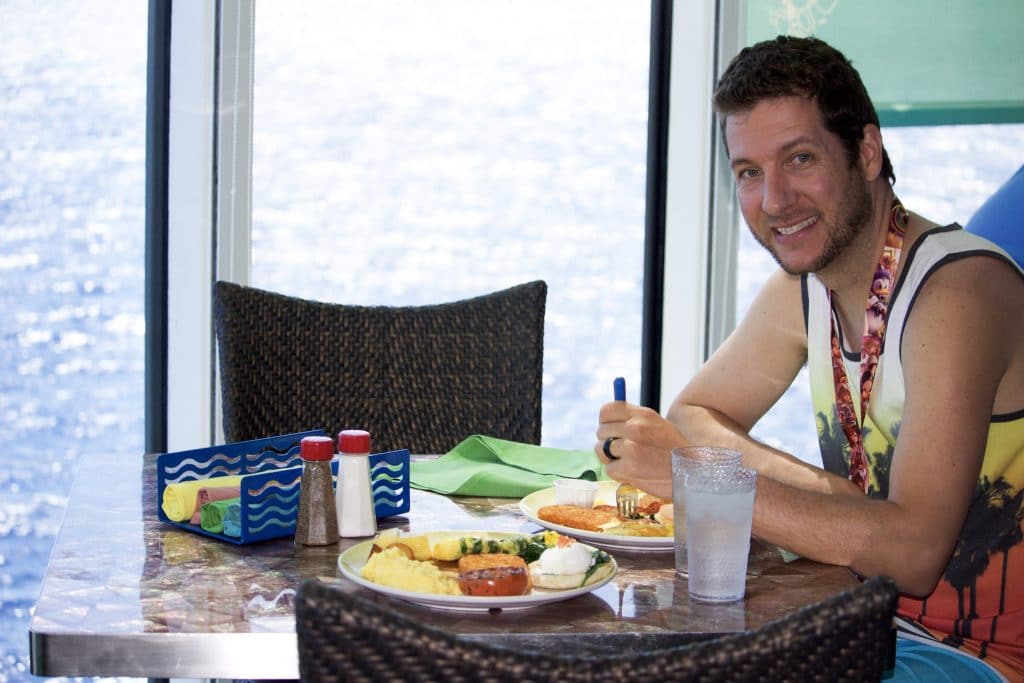 We had no problem getting a table with a gorgeous window view every single time we ate at Cabanas. There are also tables outside on the deck if you want to enjoy the ocean breeze.
The food at Cabanas reminds me of the food at Cape May Cafe at the Beach Club Resort in Walt Disney World. Lots of fresh seafood along with a vast assortment of other tasty options.
Cabanas Breakfast
We ate breakfast at Cabanas 3-4 times during the cruise. The food was always hot, fresh, and plentiful. It was always busy but it never felt overly crowded or like they were running out of food. There was always a backup dish laid out right behind the main serving dish, so as soon as it was empty it was switched out.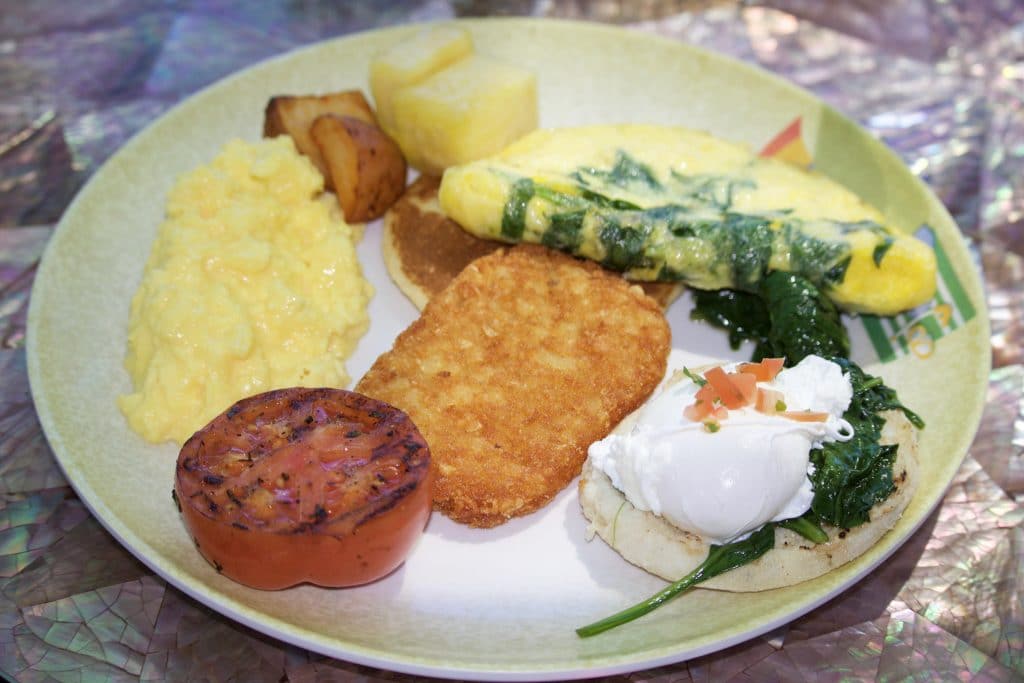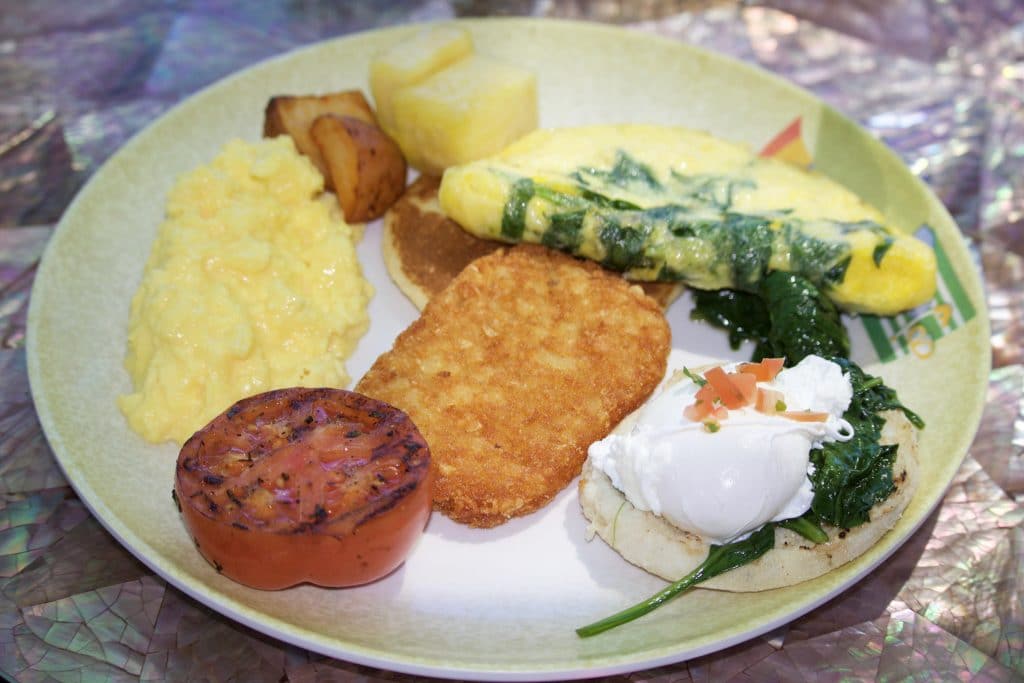 The breakfast menu wasn't always the same every day but this is generally what was available to choose from.
Breakfast Menu –
Fresh fruit
Eggs Benedict
Scrambled eggs
Hash browns
Omelets
Donuts
Muffins
Assorted bread and pastries
Grilled tomatoes
Roasted potatoes
Mickey waffles
Pancakes
Oatmeal
Cabanas Lunch
We ate lunch at Cabanas quite a few times during the cruise as well. I really enjoyed the variety that's offered at lunch. There are a few staple items but there were always new dishes too!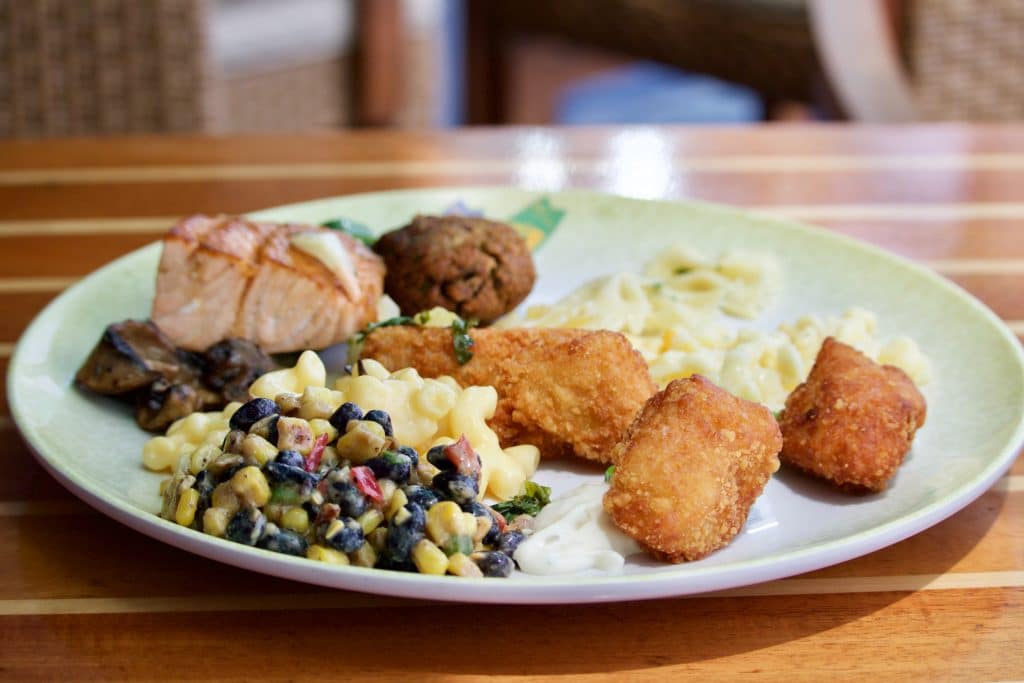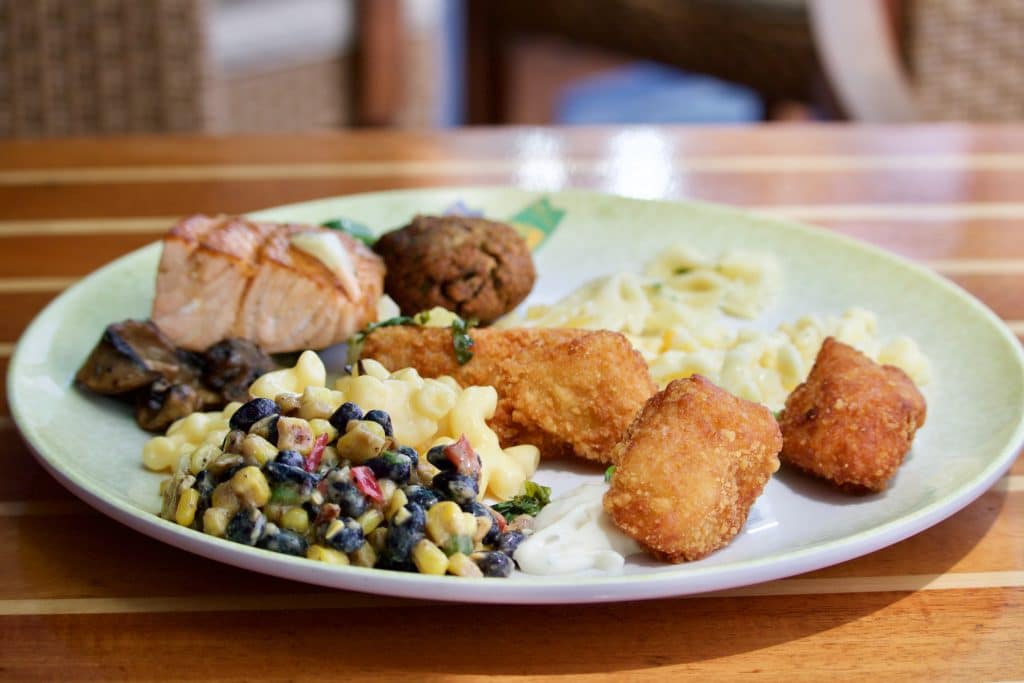 I'm sure that what they make is based on what they can pick up at each port so the menu probably changes often.
Cabanas Lunch Menu –
Assorted pizza
Roasted vegetables
Macaroni and cheese
Spinach gnocchi
Chicken curry
Pork tenderloin
Beef
Crab legs
Cold boiled shrimp
Assorted soups
Couscous salad
Salad bar
Sushi
Fresh fruit
Marinated mushroom & asparagus salad
Blackened mahi-mahi
Grilled salmon
Sesame tofu & noodles
Fried grouper nuggets
Chicken fingers
French fries
Wraps and sandwiches
Pasta
Assorted desserts
Animator's Palate Restaurant
We went to Animators Palate three times for dinner during the cruise; the first night, pirate night, and the last night. Every time we went to the restaurant, the theme, decor, and menu, was completely different! The menus changed at all of the other restaurants every night, but this is the only restaurant that changes its entire theme!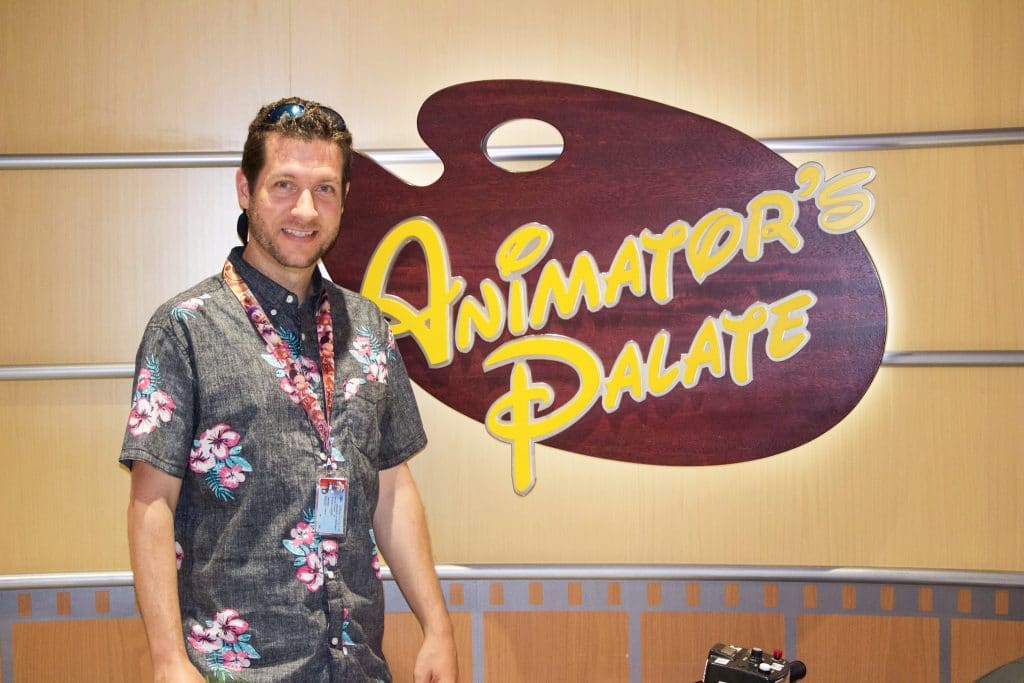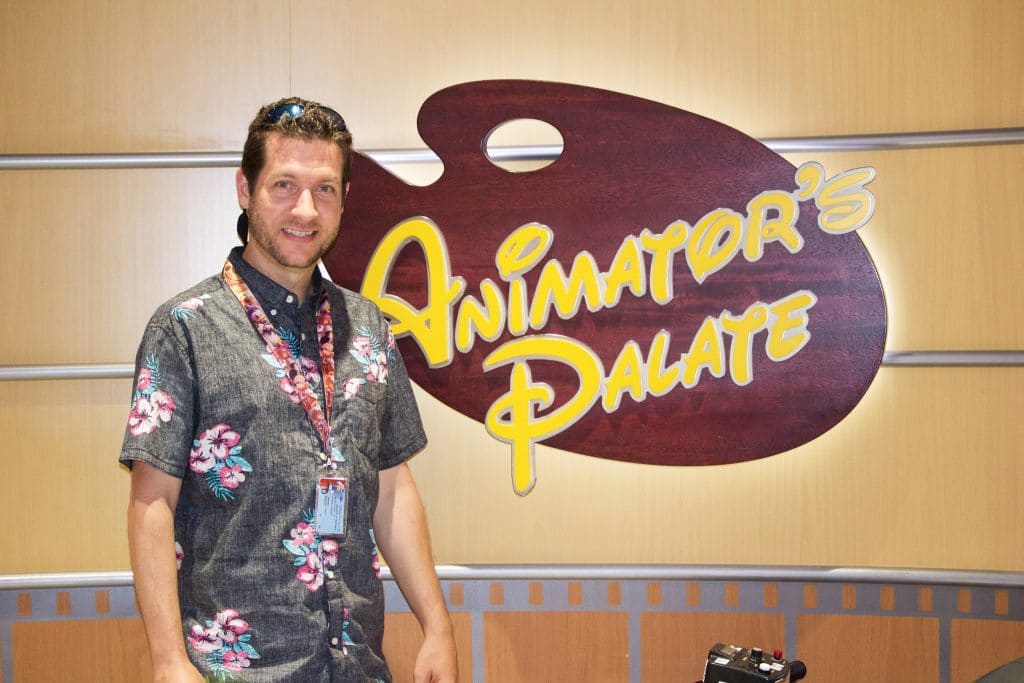 What does stay the same is your table number. The number on your KTTWC will be the table number that you sit at for every MDR that you eat dinner at.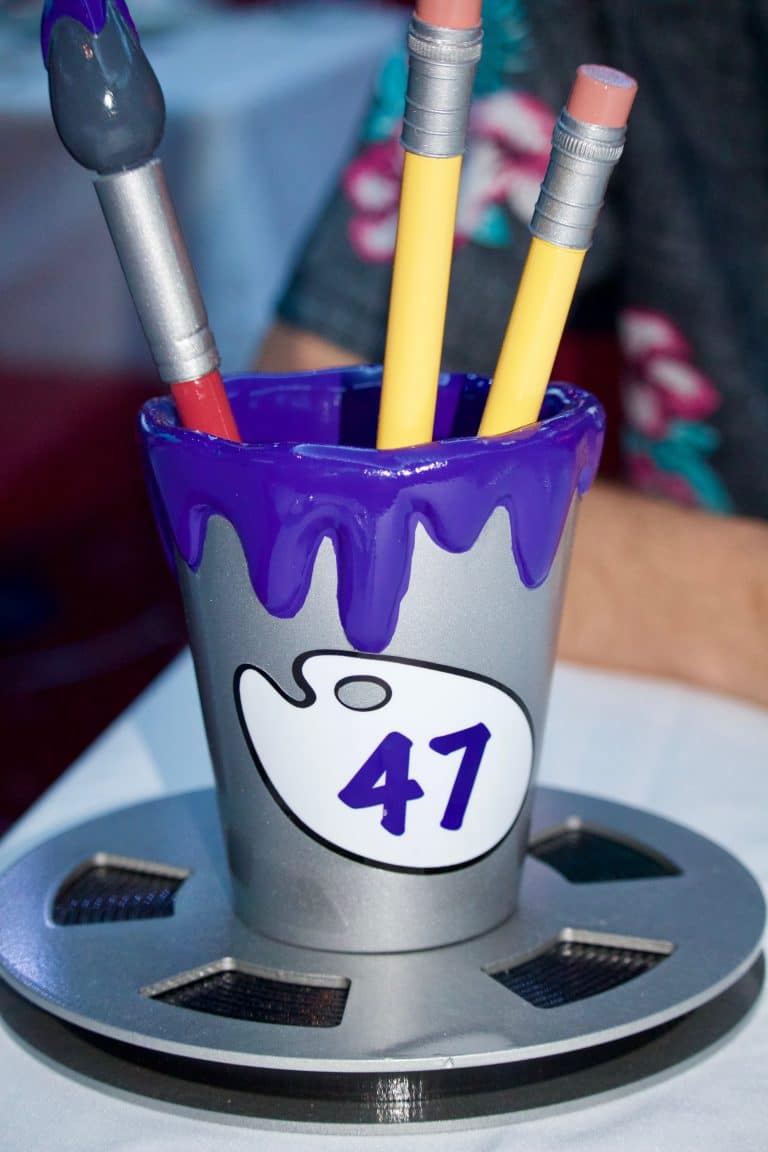 Animator's Palate – Under the Sea Night
Animators Palate is designed to make you feel like you're under the sea with Crush and his friends. The lights are blue, and there are huge screens on all of the walls that show an ocean background that Crush swims around and talk to you from!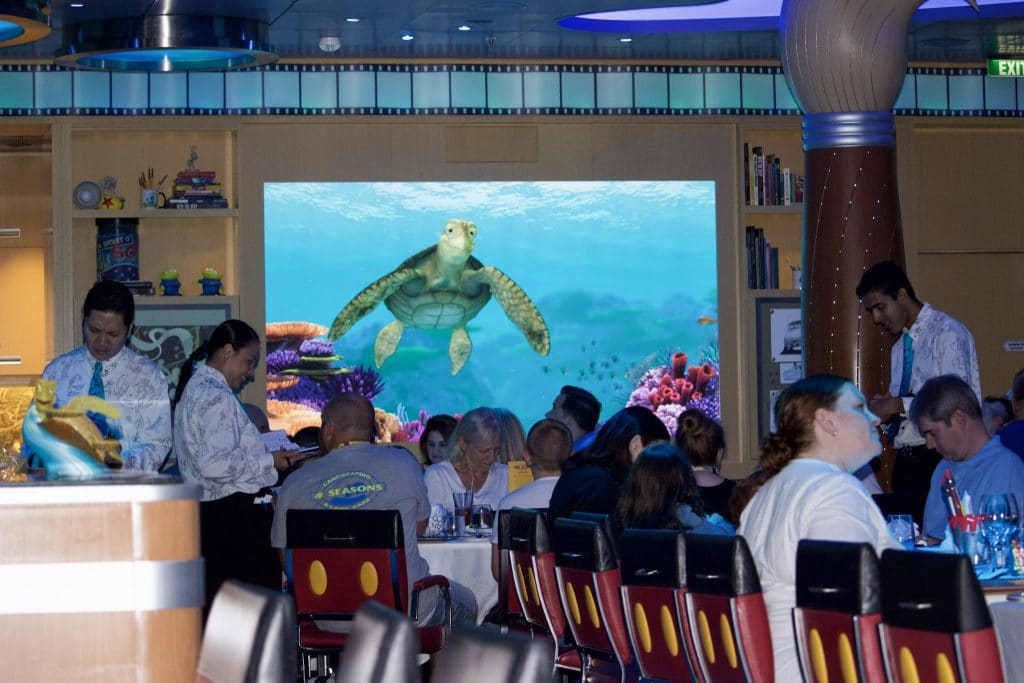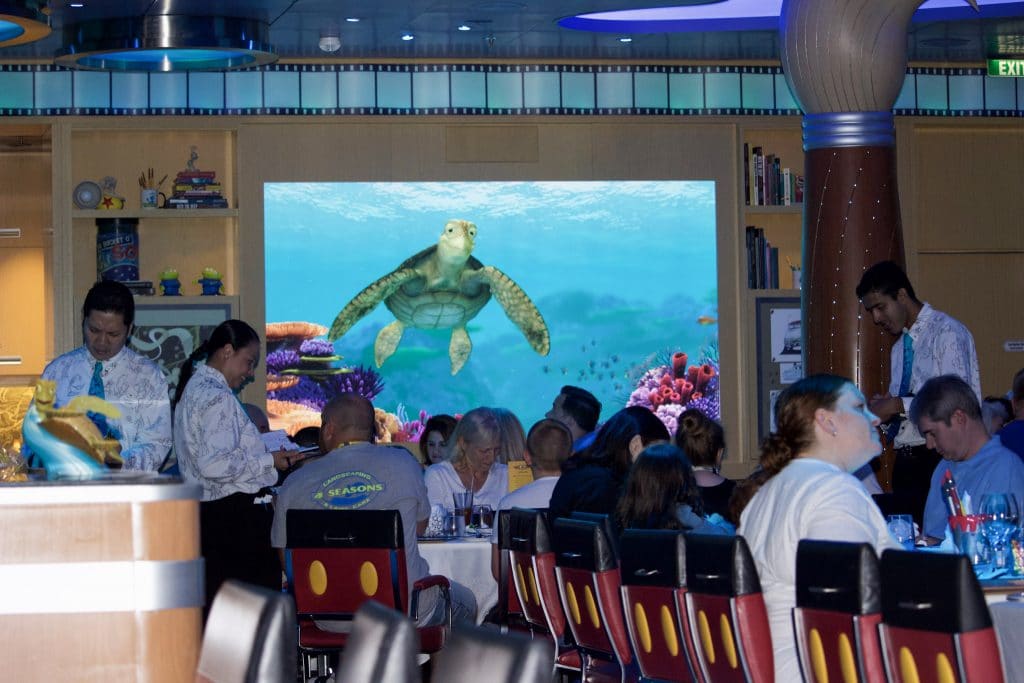 I don't know how they do it but Crush talks to people in the restaurant! Not just like, "Hello, welcome to dinner!" Crush talks directly to people and has a full-on conversation about something specific to you. It's pretty darn cool.
Animator's Palate Under the Sea Dinner Menu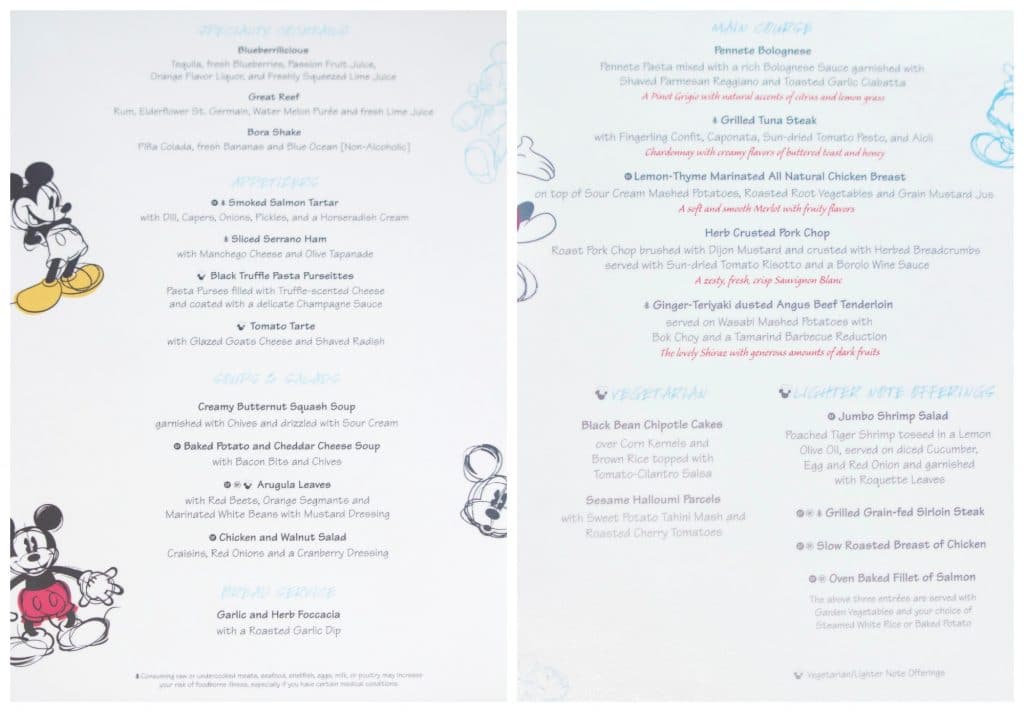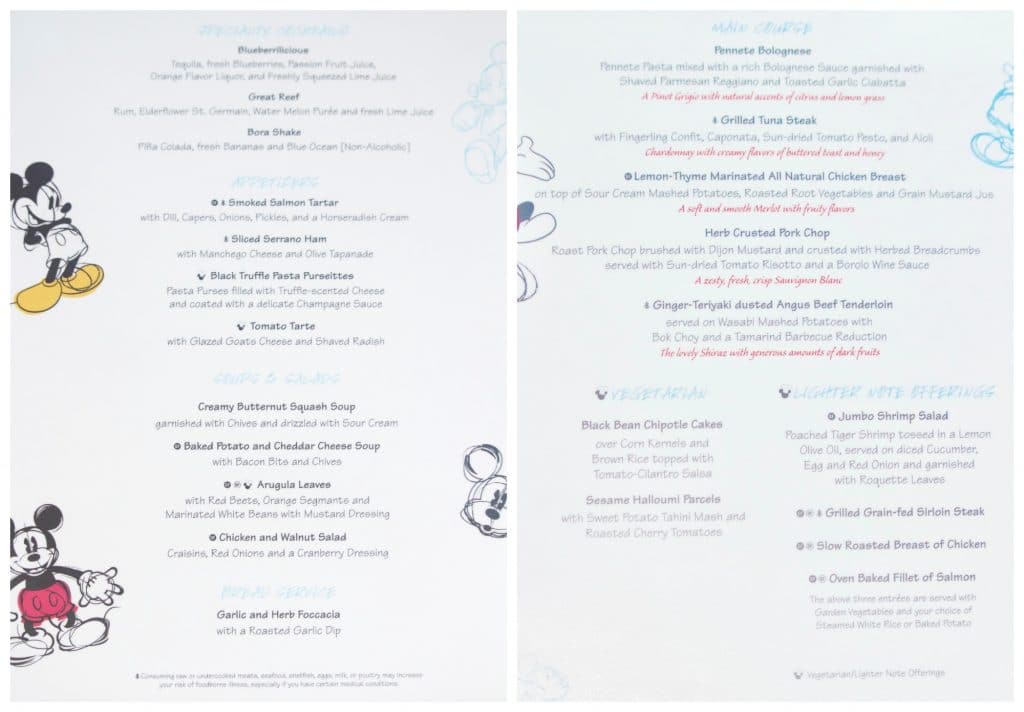 You can order as much as you want but we generally stuck to ordering two appetizers, two soups/salads, two entrees, and two desserts. If we had a hard time deciding between entrees, our server would bring us both but we tried to avoid doing that because we didn't want to waste food.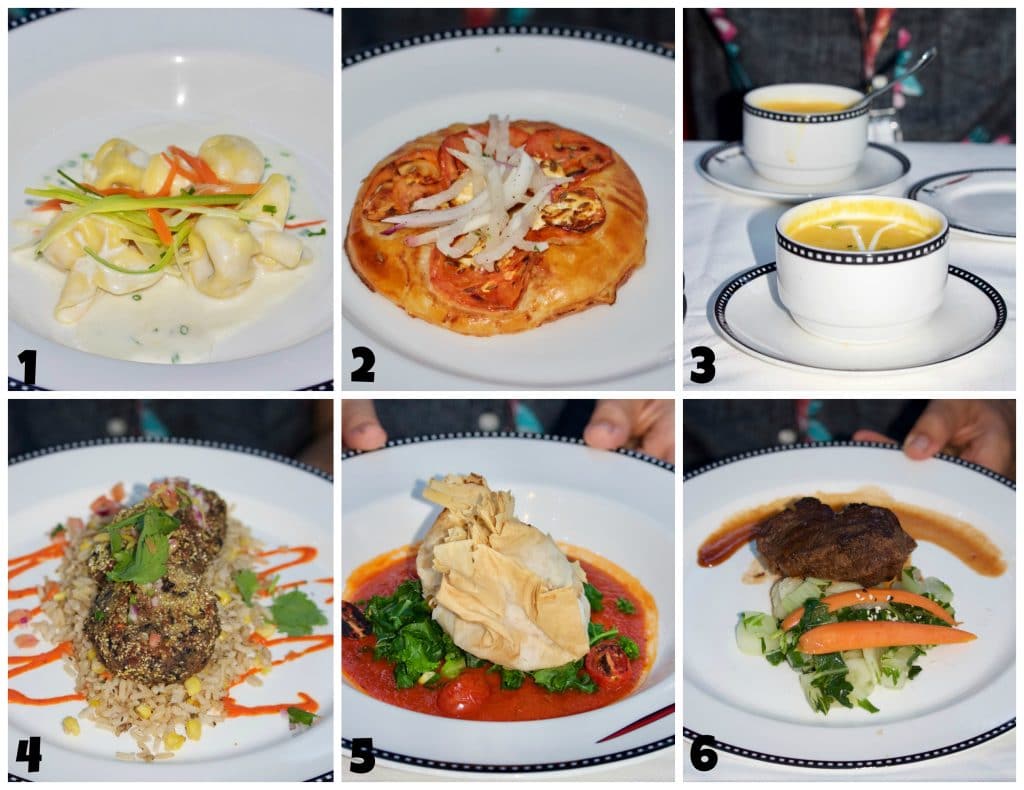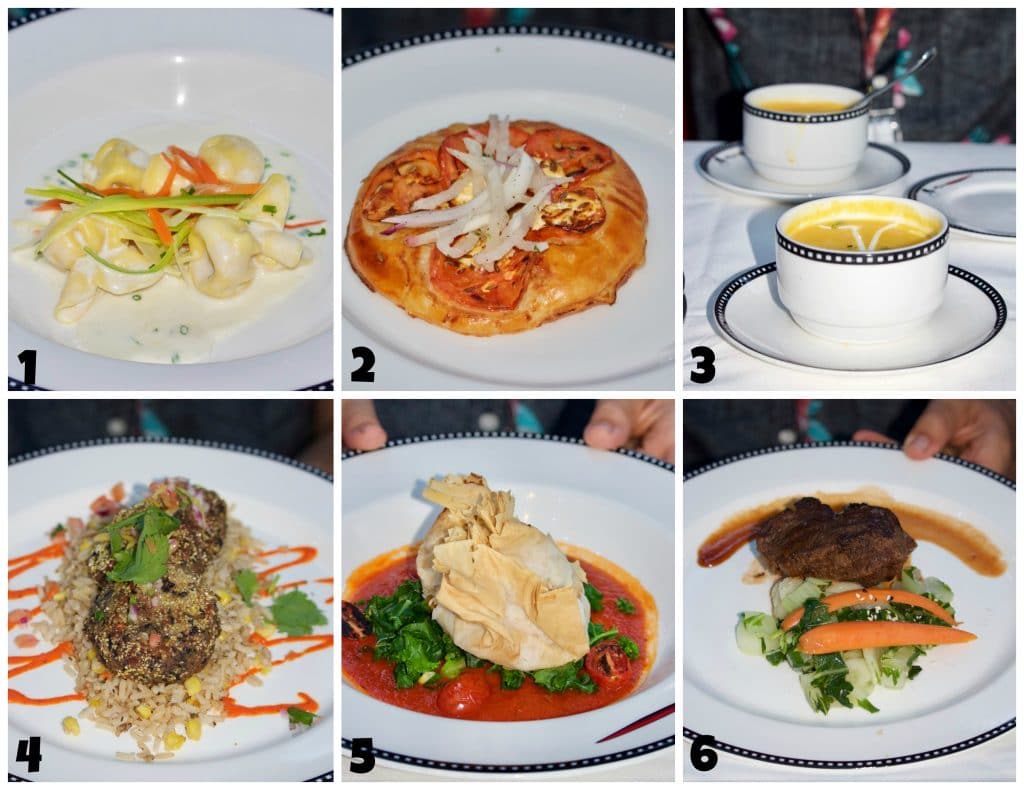 Black Truffle Pasta Purseittes – This was appetizer was delicious, it tasted like a decadent tortellini.
Tomato Tarte – This was one of my favorites! The puff pastry was crispy and it tasted like a pizza pastry!
Creamy Butternut Squash Soup – This soup was so creamy and had so much flavor, I loved the strong butternut flavor.
Black Bean Chipotle Cakes – I didn't care for this entree, the cakes were dry and lacked seasonings.
Sesame Halloumi Parcels – The parcels were crispy and unlike anything I've ever tasted. I would recommend it!
Ginger Teriyaki Dusted Angus Beef Tenderloin – Travis enjoyed the beef, he said it was very tender and flavorful.
Animator's Palate Under the Sea Dessert Menu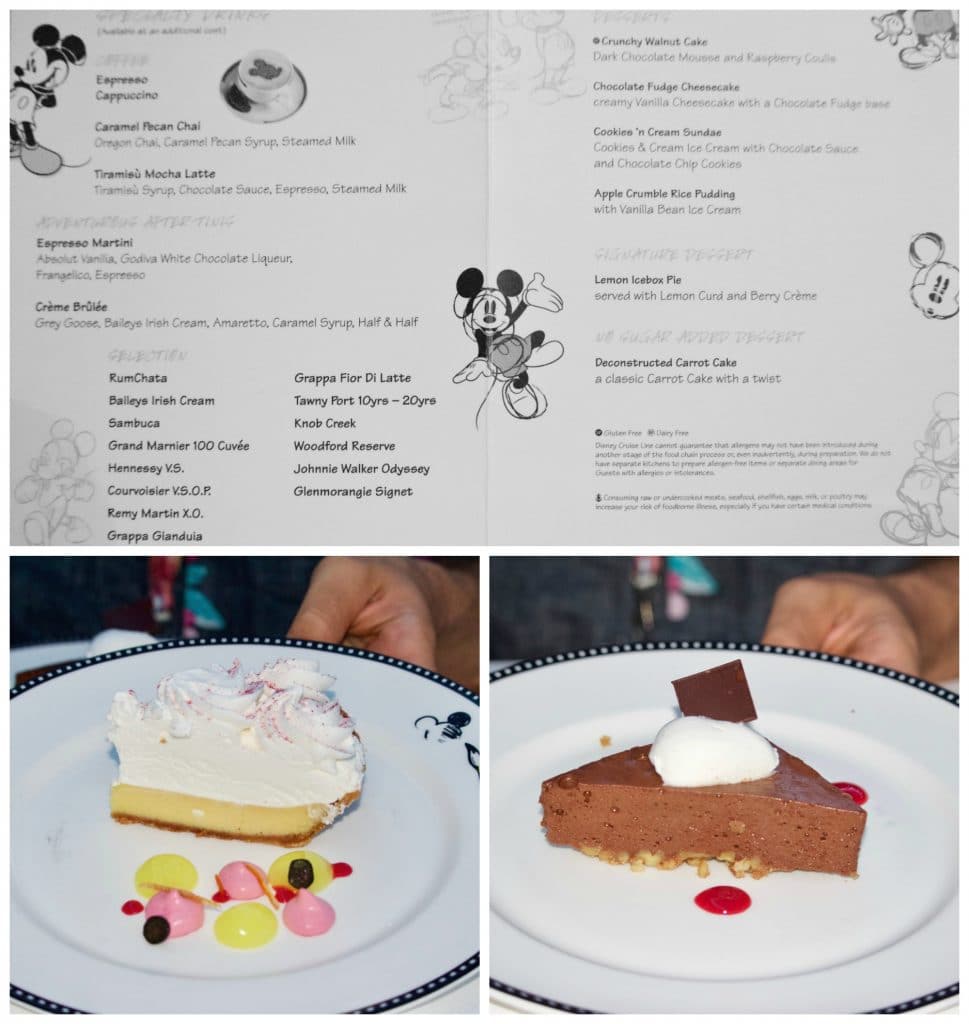 I had the lemon ice box pie, it was tart, tangy, and so delicious! Travis had the crunchy walnut cake. I thought that the texture was a little spongy when it should've been creamy, but Travis said he liked it.
Animator's Palate – Pirate Night
We went back to Animator's Palate for the second time on Pirate Night. (Click here to read, Everything you want to know about a Disney cruise Pirate Night.)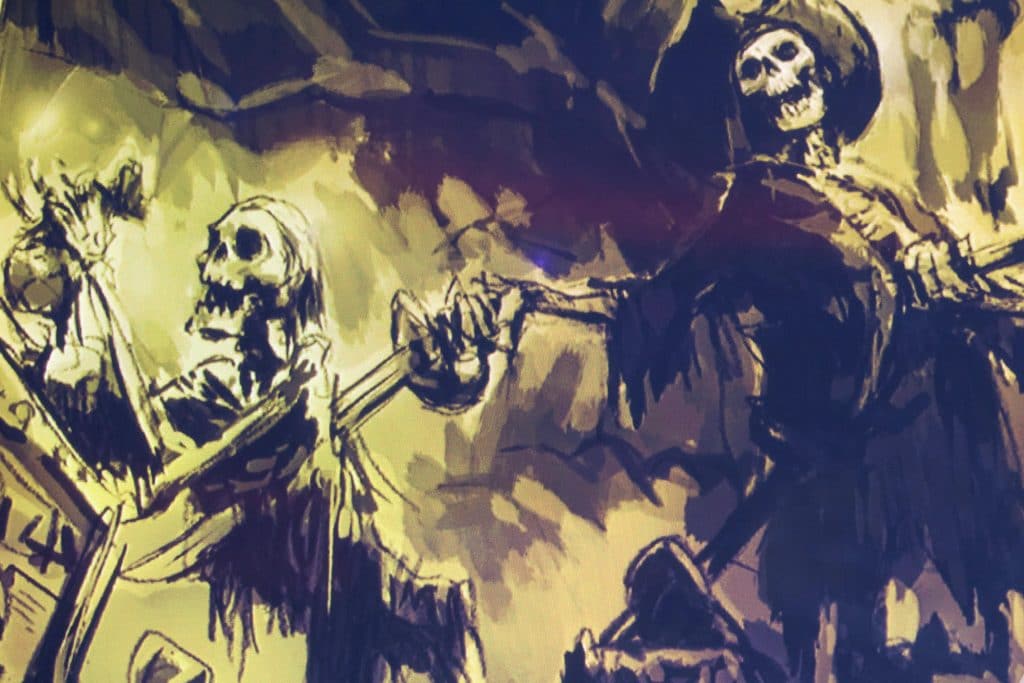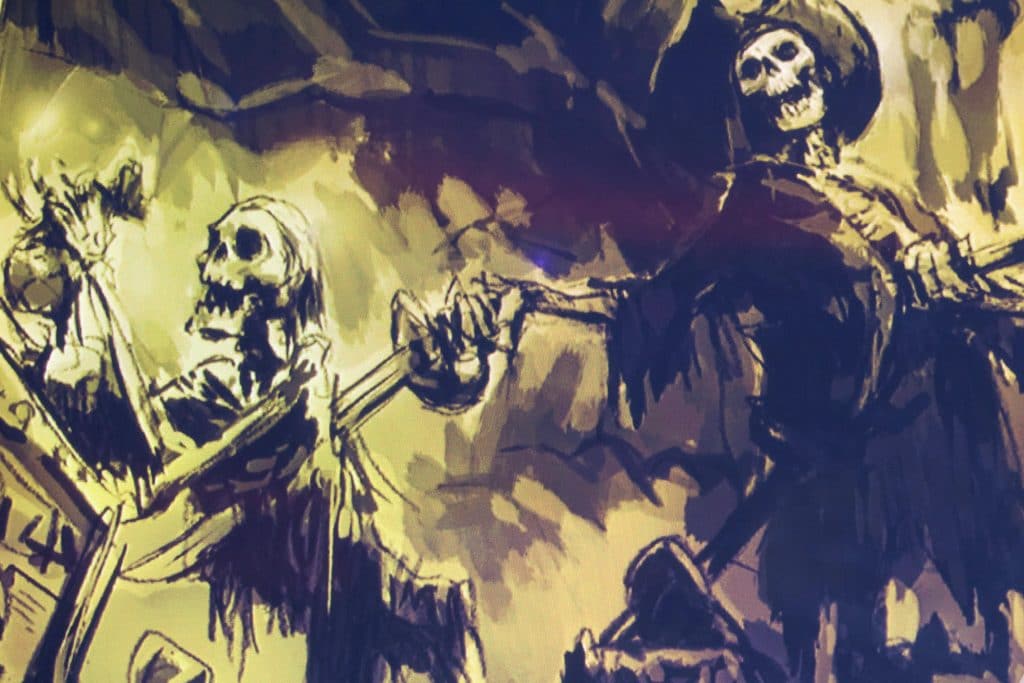 I was so excited to walk into the restaurant and see that the theme had changed completely! The lighting in the restaurant changed to red, the servers all wore pirate costumes, there were clips from pirate movies on the screens, and the menu was completely pirate-inspired.
Animator's Palate Pirate Night Dinner Menu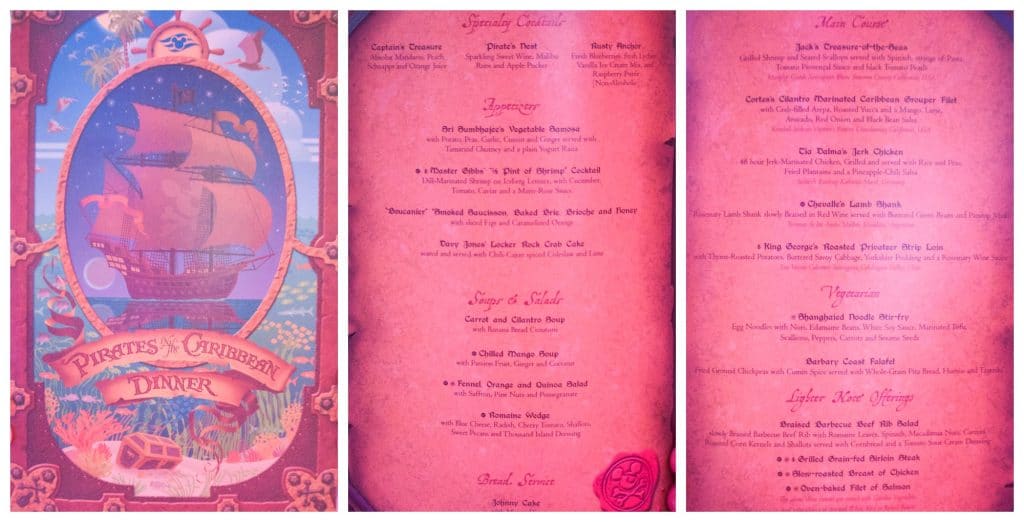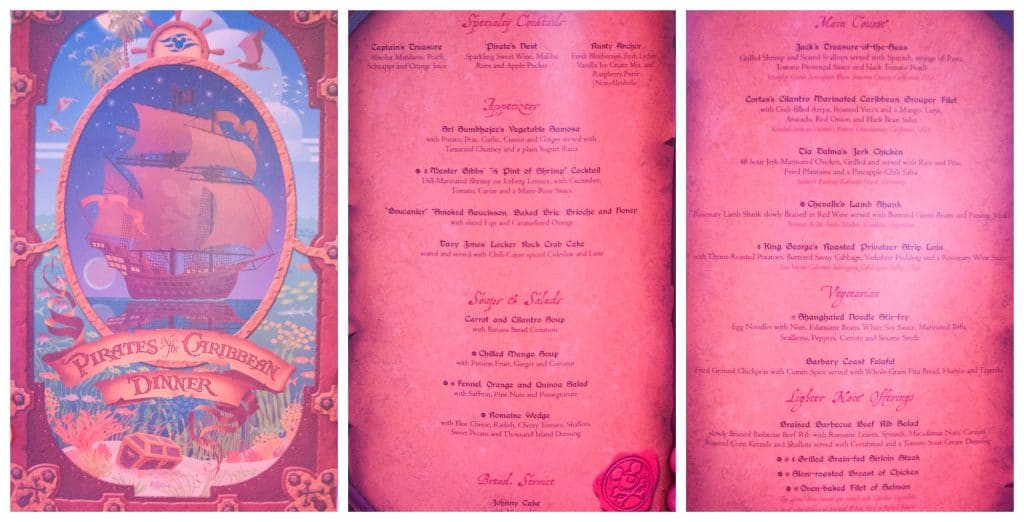 I reallllyyy wanted to love the pirate night menu but it was my least favorite dinner of the whole cruise. Compared to all of the other amazing dinners, it just didn't compare.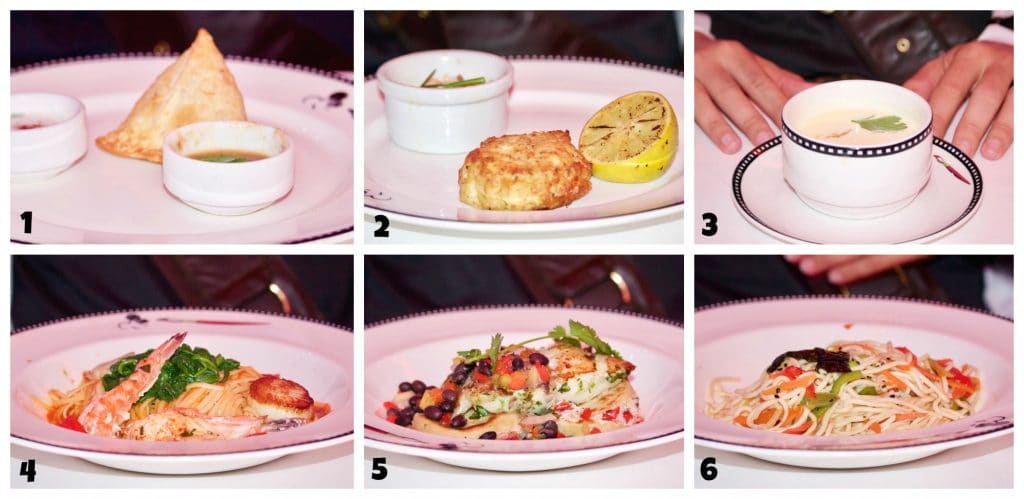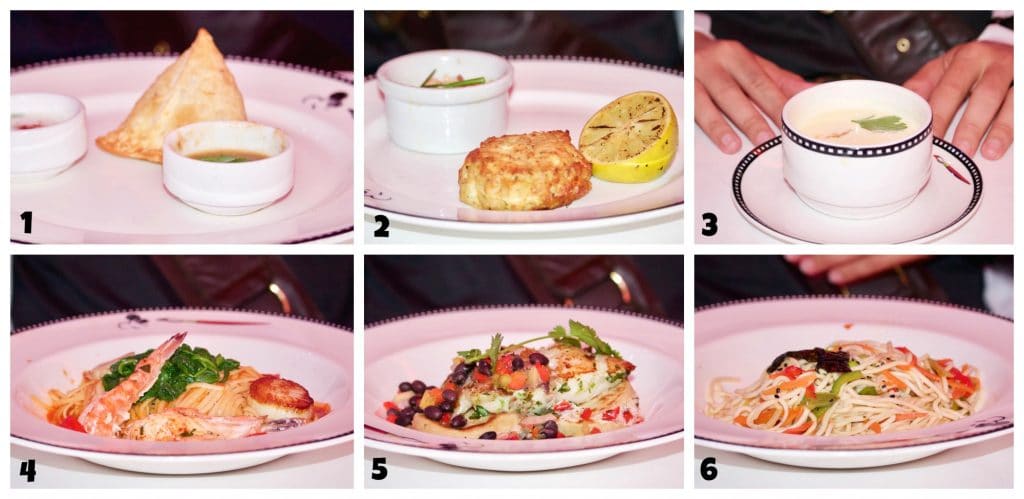 Vegetable Samosa – This was my favorite course at dinner. The samosa was hot and crispy and loaded with the filling. The tamarind chutney dip was tasty too.
Davie Jones Lock Rock Crab Cake – The crab cake was seasoned well, crispy, and loaded with crab meat.
Chilled Mango Soup – This tasted like a smoothie, not soup. I was not a fan.
Jack's Treasure of the Sea – Travis really liked his entree, he said the seafood was cooked perfectly.
Cortez's Cilantro Marinated Grouper Filet – Travis said the fish was light and flaky with loads of flavor.
Shanghaied Noodle Stir-Fry – This was my entree, I thought it was awful. It was pretty much just plain noodles and a few veggies. I ordered extra sauce but it really didn't help too much.
Animator's Palate Pirate Night Dessert
We both ordered the rum cake, it was delicious!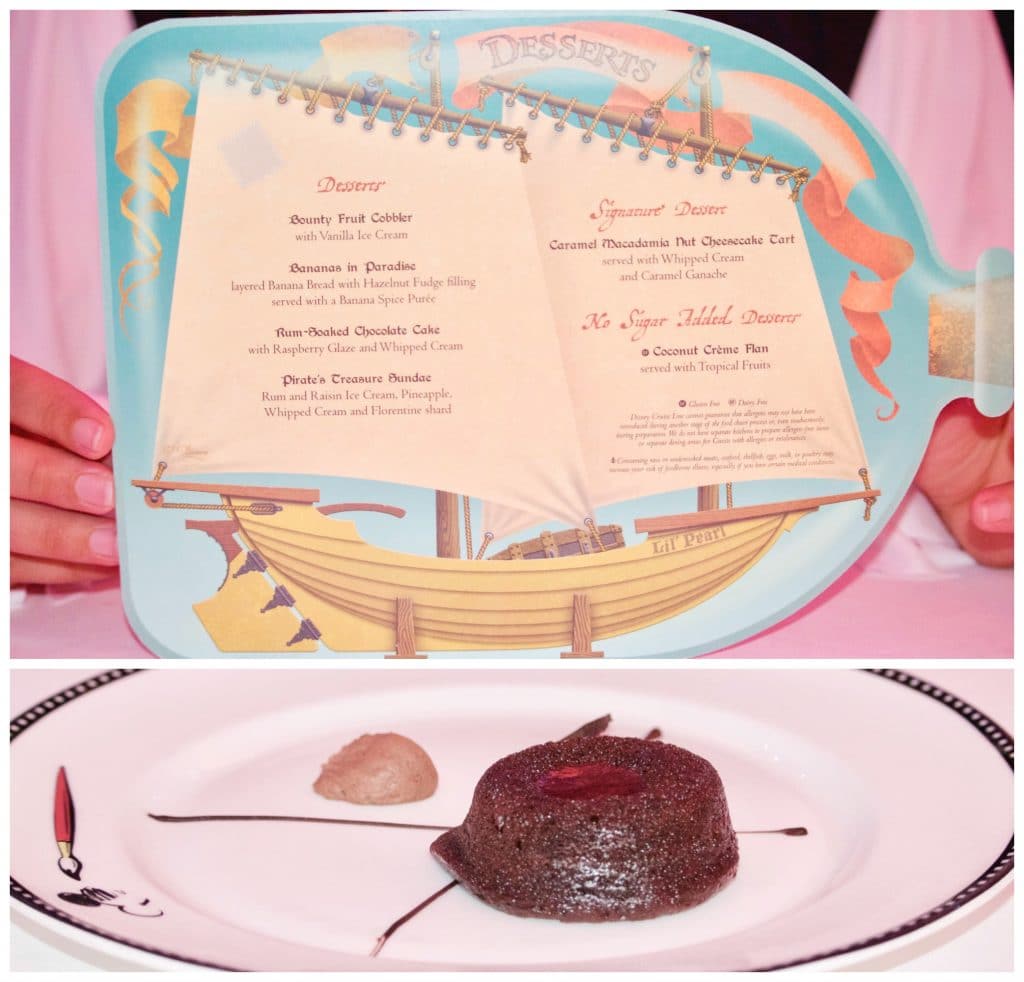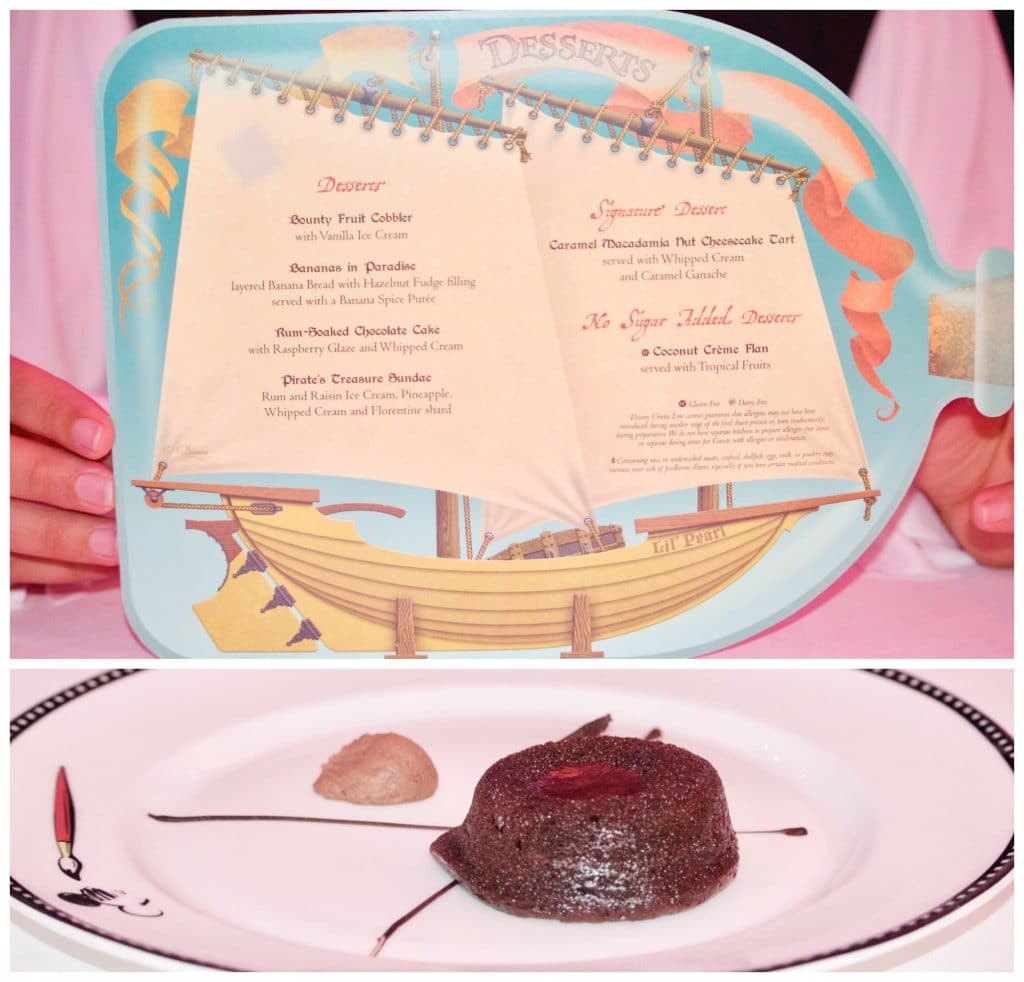 Animator's Palate – Animation Night
The theme of Animation Night is, drumroll please…animation! Classic clips from Disney movies that we all know and love and how to draw them are played on the screens in the restaurant.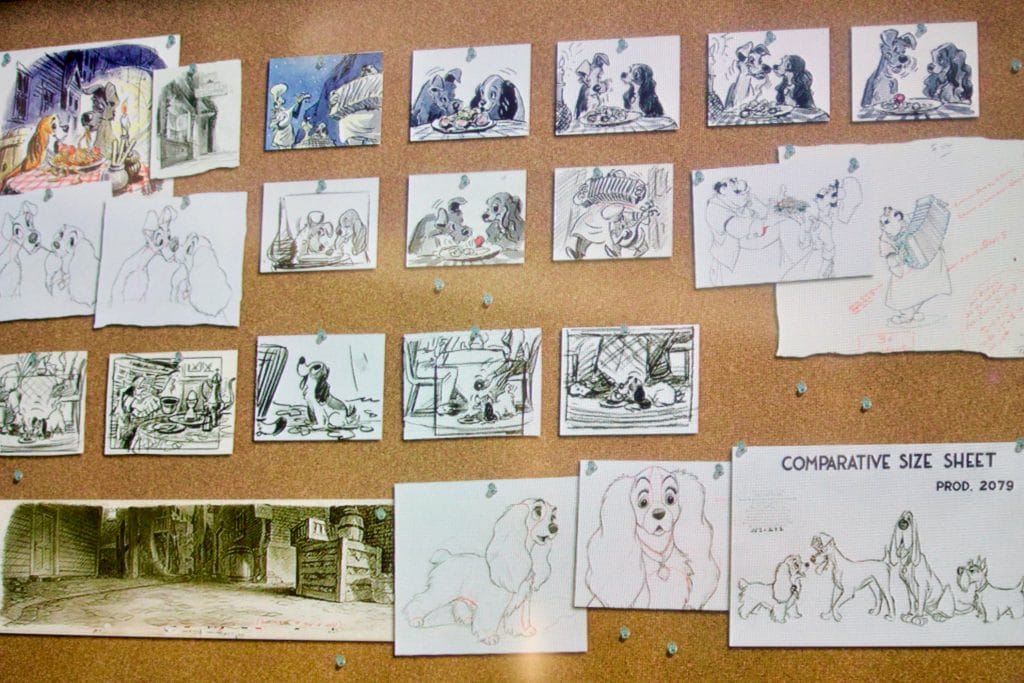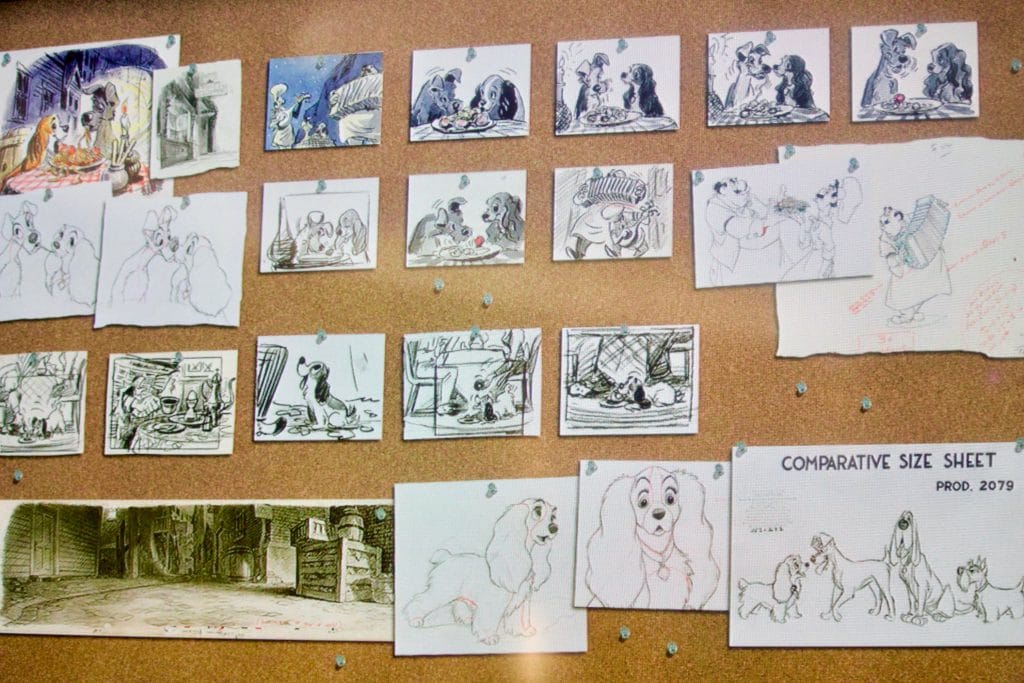 When you first sit down, your server will give you a blank character design sheet that you will draw in your character.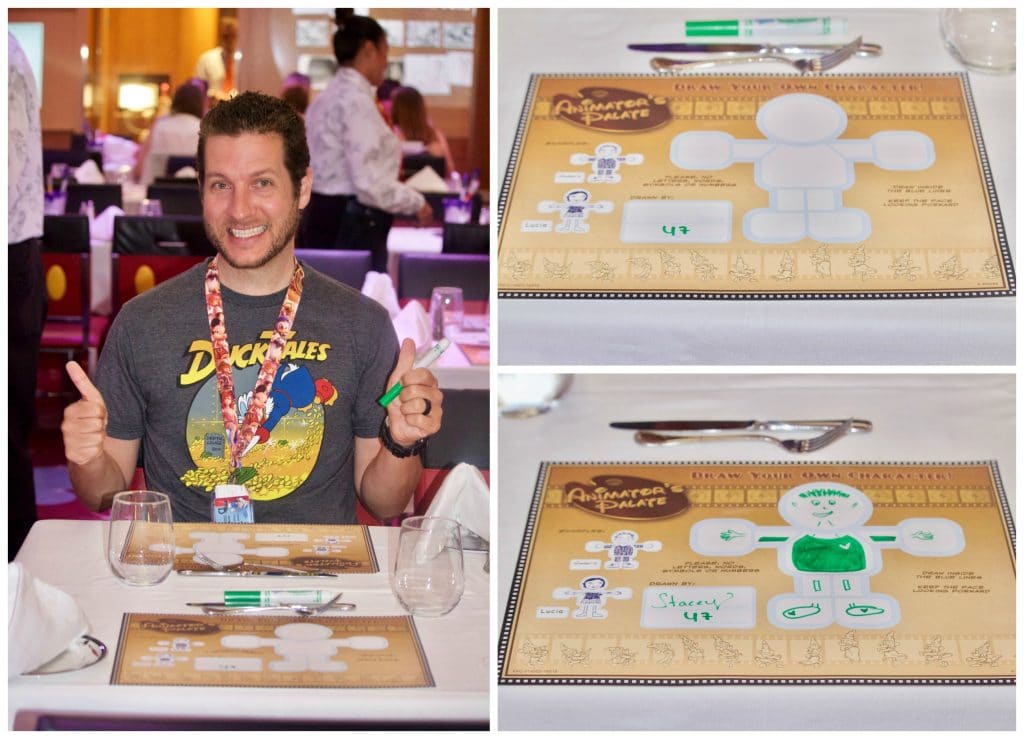 Somehow, they scan your design into a video on the screen! It's so cool! Then everyone's characters that they drew will dance together and be part of Sorcerer Mickey's design! It's a really fun show. You'll get your character design back after the show to keep as a souvenir.
Animator's Palate Animation Night Dinner Menu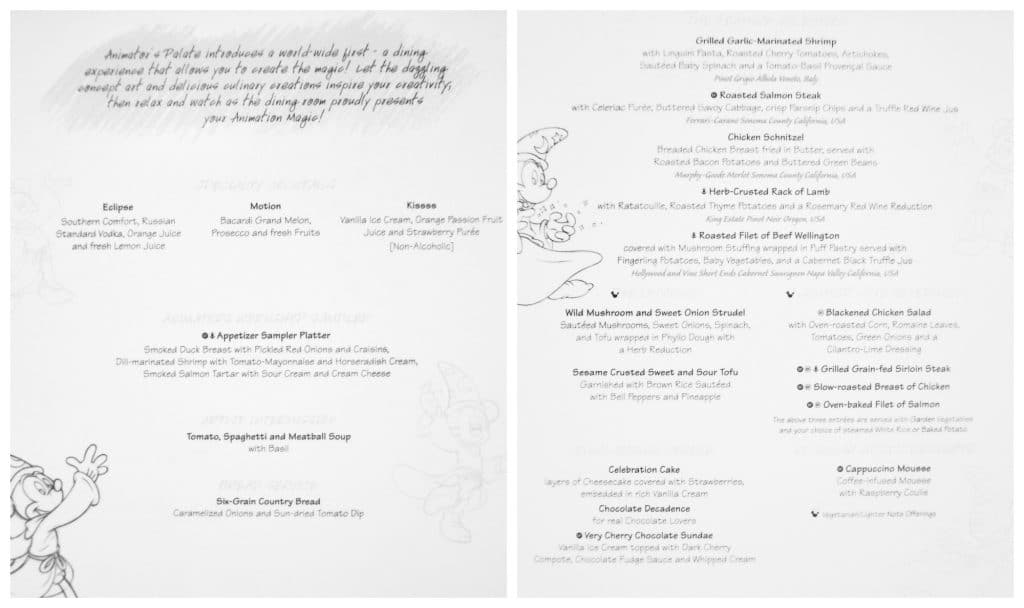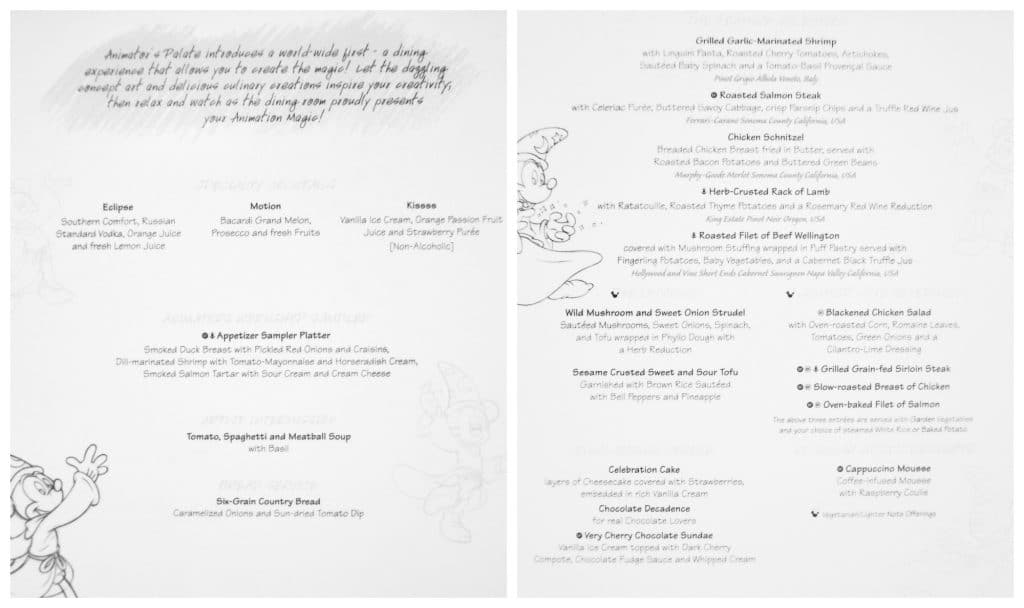 This was the only night that there wasn't a vegetarian appetizer or soup for me to order off the menu. For some reason, there was only one sampler and soup to choose from.
However, I was able to order the mushroom soup that I absolutely loved from a few nights before at Enchanted Garden and they got it for me!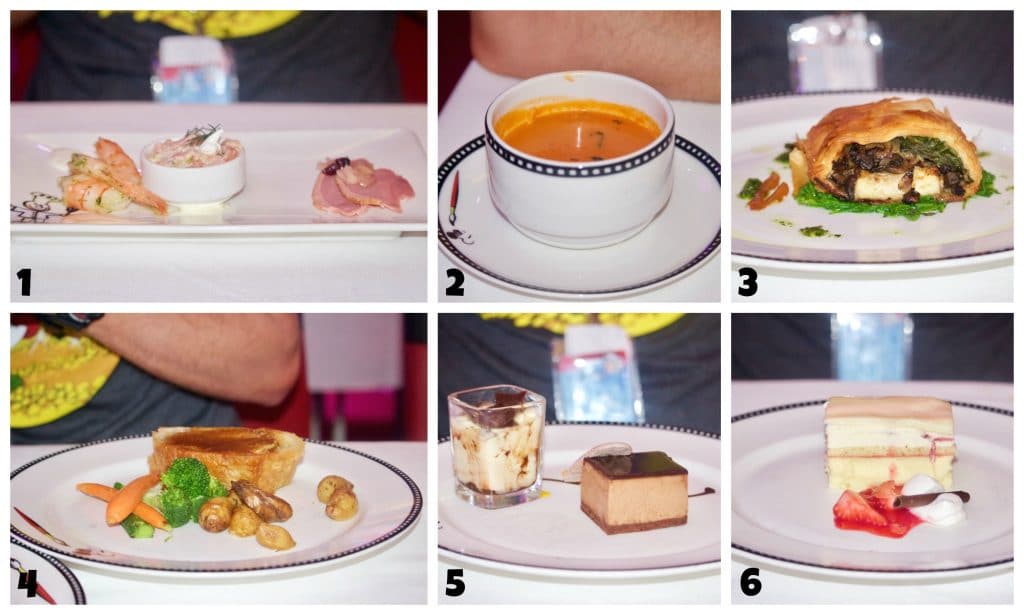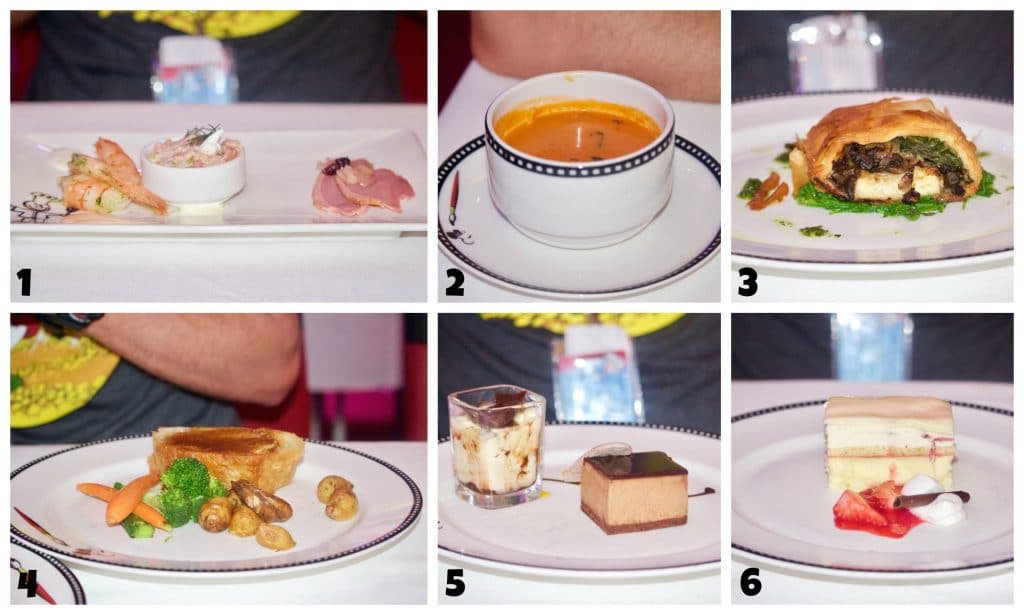 Appetizer Sampler Platter – Travis said this was just okay, he wasn't too impressed with it.
Spaghetti & Meatball Tomato Basil Soup – He liked the flavor of the tomato soup and enjoyed the addition of meatballs. I wonder if they just added meatballs to the tomato soup recipe they serve a few nights before?
Wild Mushroom Sweet Onion Strudel – This was fantastic! You can even hear the crispy, flaky layers when I cut it in the video. The tofu was cooked well and it was loaded with mushrooms and spinach!
Roasted Filet of Beef Wellington – Travis really liked this and said the shell was hot and crispy!
Chocolate Mousse Cake – This was our favorite of the two desserts, it was super chocolatey!
Strawberry Shortcake – I thought this was good but it needed more strawberry flavor.
Enchanted Garden Restaurant
We went to the Enchanted Garden twice during the cruise. The theme didn't change like at Animator's Palate but the menu changed both times.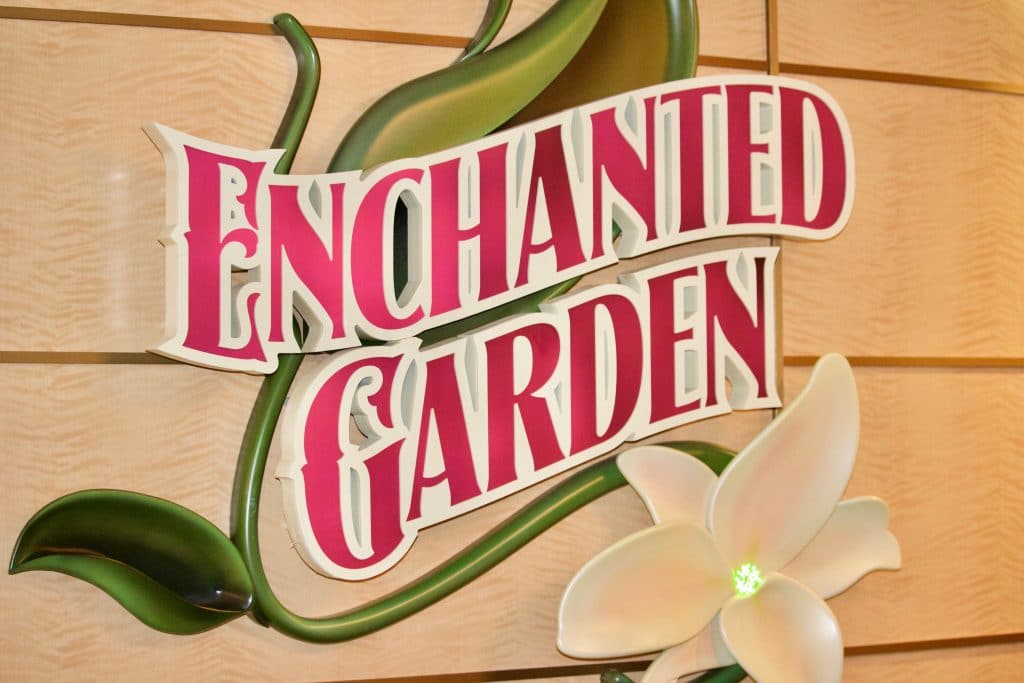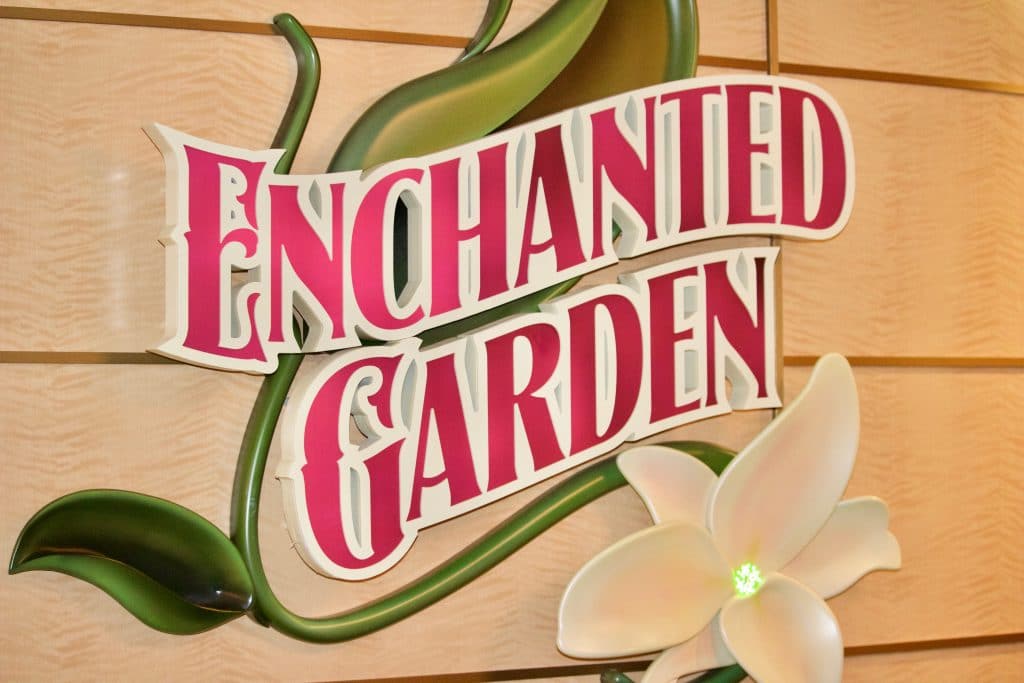 The Enchanted Garden is a beautiful restaurant! I don't know how they do it but they designed the ceiling to be lit up and look like the ceiling on an atrium. Even though the restaurant is on the Deck 2, when you look up, you feel like you're looking out to the sky! It's lovely.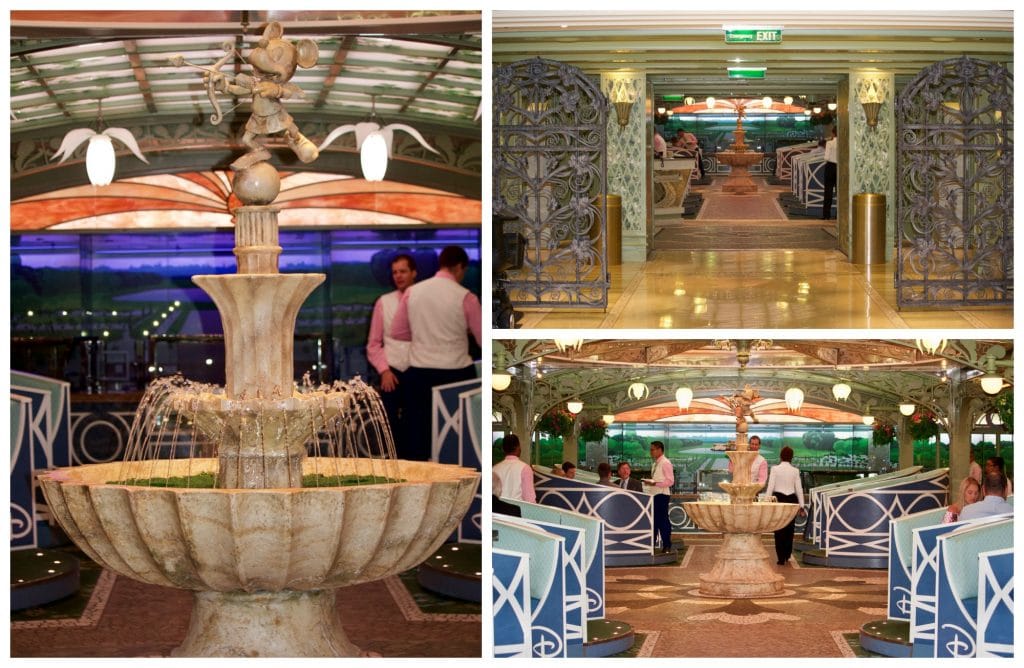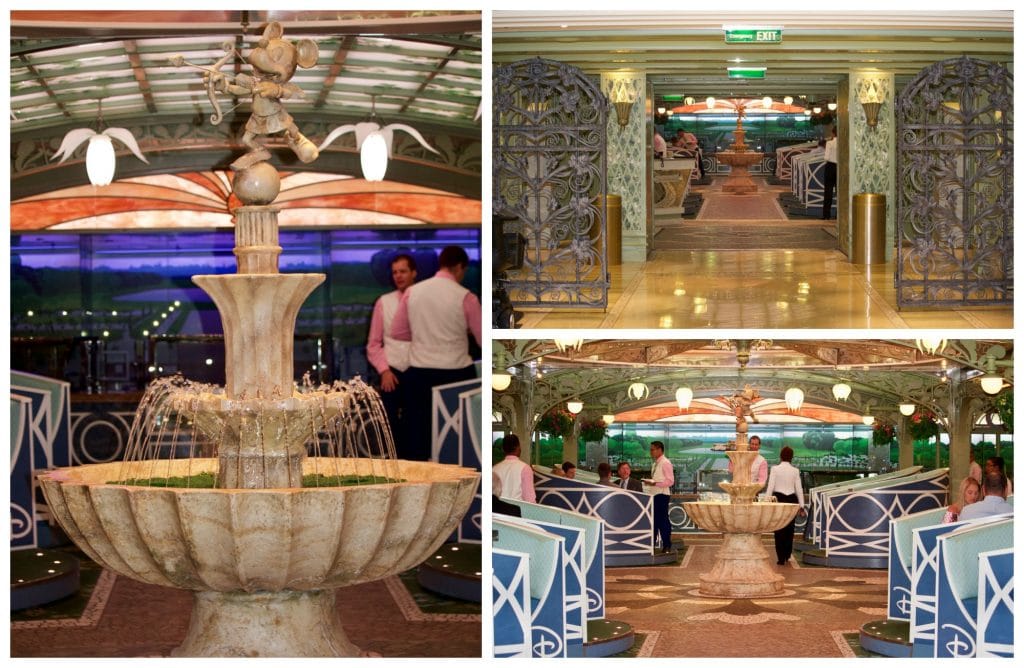 There are green ivy vines and flowers everywhere, you really feel like you're in the middle of a garden. Even the lights are gorgeous white flowers!
Enchanted Garden Dinner Menu – Formal Night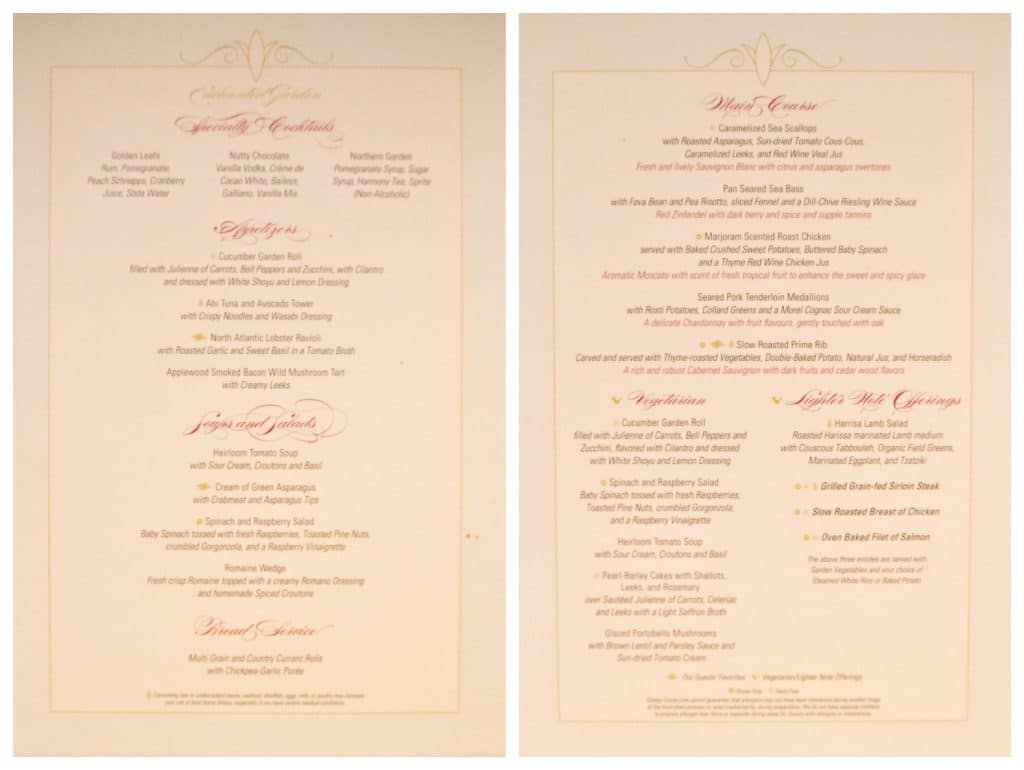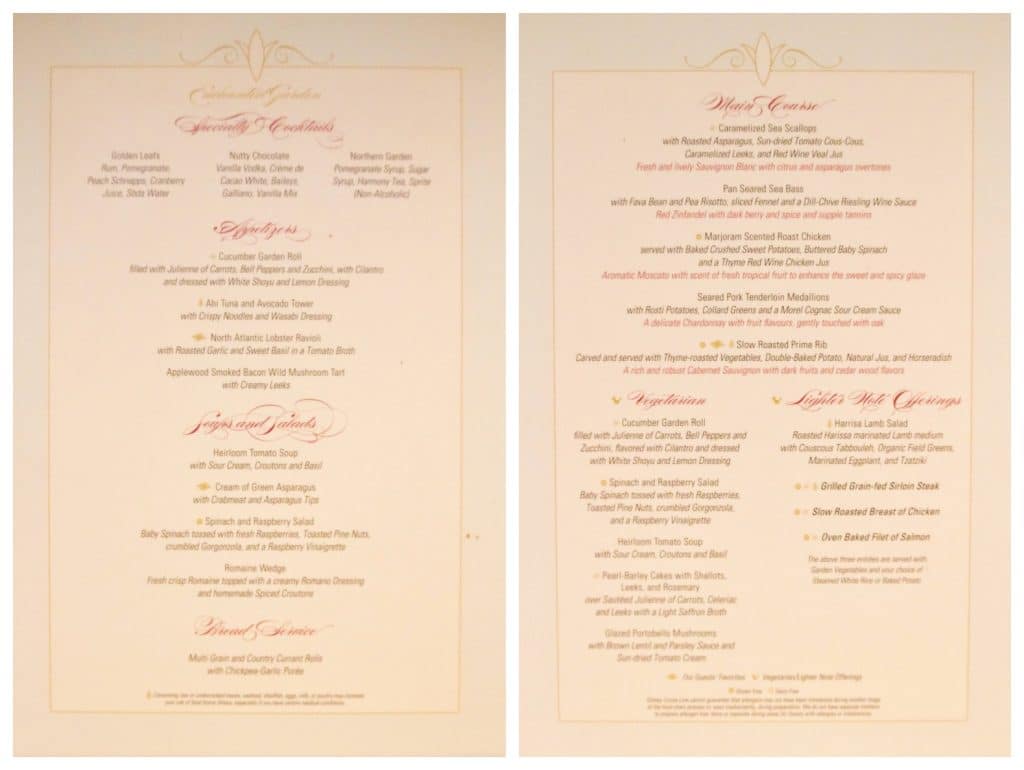 The food was soooo delicious at the Enchanted Garden, it was my favorite MDR restaurant food-wise. The food quality, creative dishes, and presentation was top notch.
I loved the Glazed Portobello Mushroom so much that I recreated it when I got home! Get the recipe here –> Roasted Portobello Mushrooms with Green Pea Pesto Lentils.
I'm currently working on getting Snow White's Mushroom Soup recipe posted on the blog too, so check back soon!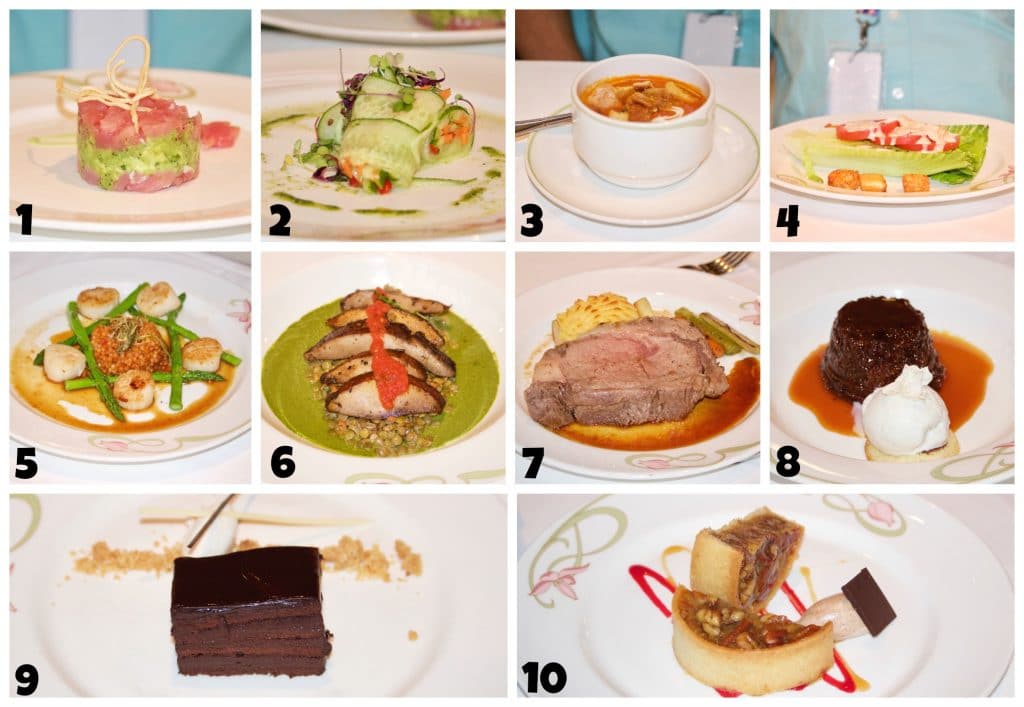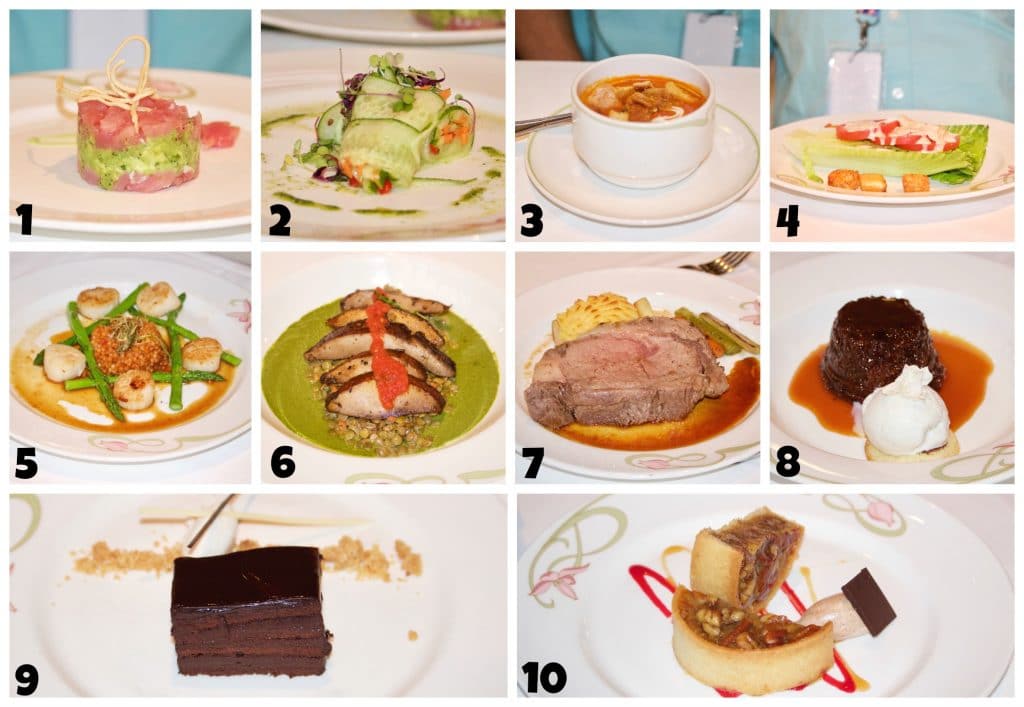 Ahi Tuna Avocado Tower – Travis loves tuna and said this was delicious! He liked the addition of avocado.
Cucumber Garden Roll – I really liked this, it was light and fresh. All raw veggies but very flavorful.
Heirloom Tomato Soup – The tomato soup was so creamy and loaded with fresh basil, I loved it.
Romaine Wedge – I thought the salad was a little boring but Travis said it was good for a salad.
Caramelized Sea Scallops – The scallops were seared perfectly and the asparagus was cooked exactly how I like it, crisp yet tender! Yum!
Glazed Portobello Mushrooms – This is one of my favorite dishes of the whole cruise! The mushroom actually tasted like chicken and the pesto sauce was so flavorful. All the flavors went so well together, I loved it. I even recreated it when I got back home
Seared Pork Tenderloin Medallions – Travis liked it but it was a massive piece of meat. They forgot to serve it with the horseradish sauce but once we got it, he enjoyed it more. He really liked the fancy piped mashed potatoes!
Warm Sticky Date Pudding – This was my favorite dessert that we had at a MDR restaurant, it was warm and gooey and so decadent.
Chocolate Garden Torte – This dessert was a little dry, I didn't care for it.
Southern Style Pecan Tart – This was tasty but the date pudding was better!
Enchanted Garden Dinner Menu – Prince & Princess Night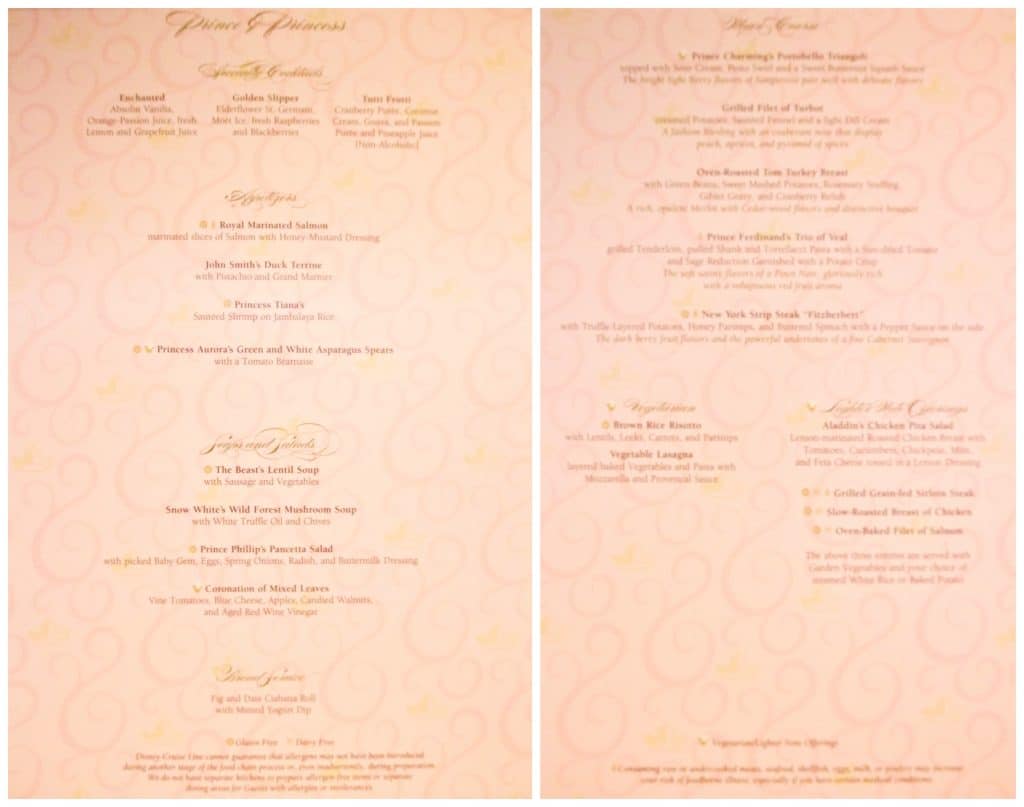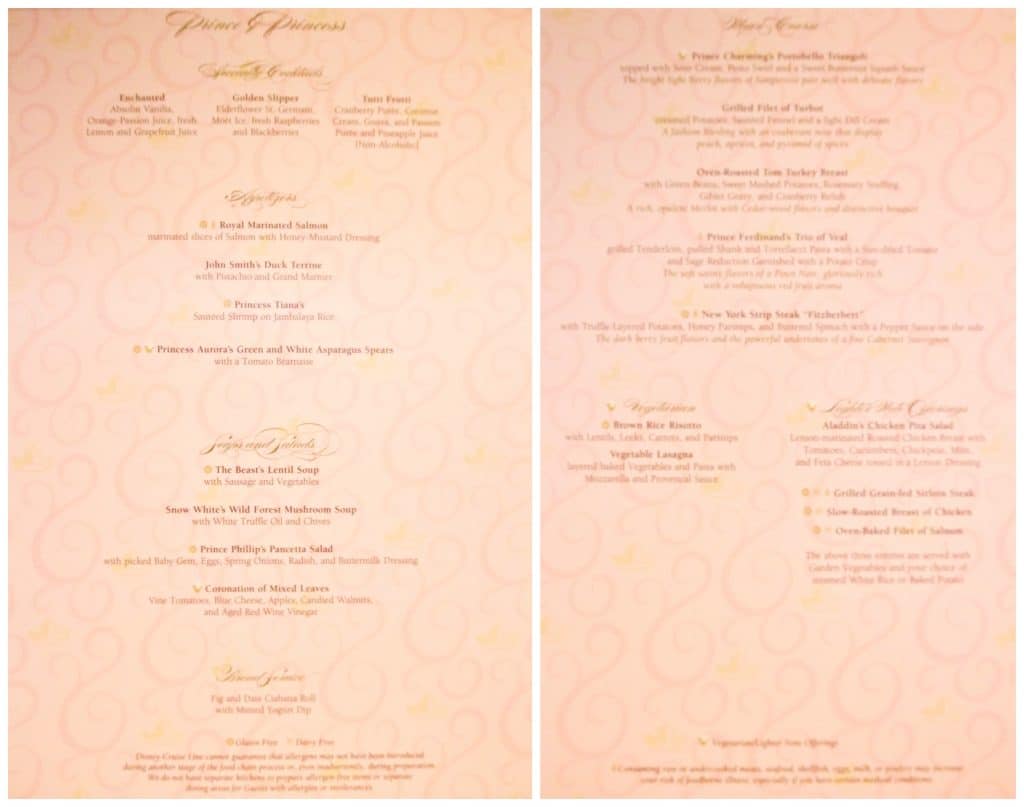 The dinner we had the second time at Enchanted Garden was fabulous! Every course I had was so delicious, I loved every single bite!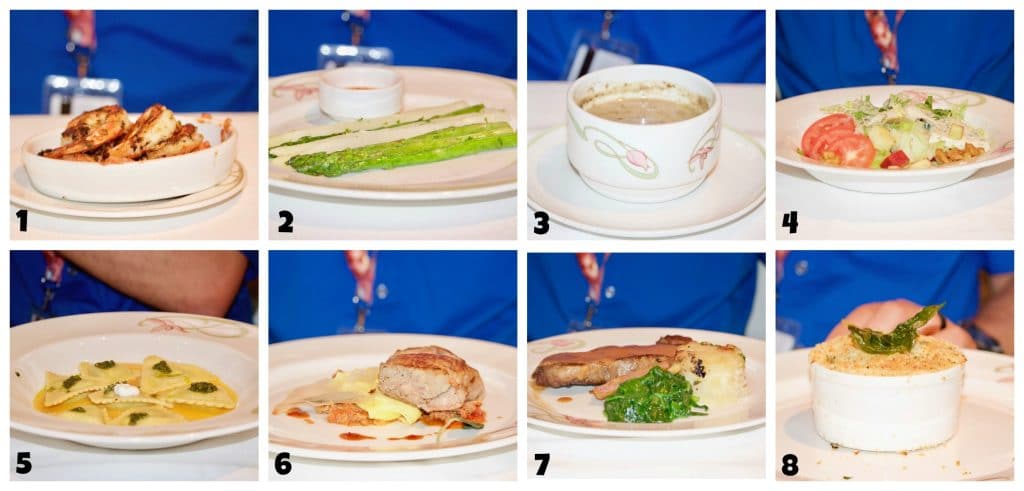 Princess Tiana's Shrimp and Jambalaya Rice – Travis loved the flavor of the shrimp in this appetizer, even the rice was tasty.
Princess Aurora's Green & White Asparagus Spears – Every spear of asparagus that I ate on the cruise was cooked perfectly, crisp and tender at the same time! I loved the different colors, white asparagus is surprisingly delish!
Snow White's Wild Forest Mushroom Soup – This was my absolute favorite appetizer that I had at one of the MDR. It was loaded with mushrooms and truffle oil, the consistency was rich and smooth– it was killer. I loved it so much that I had it three nights in a row!
Coronation of Mixed Leaves – This was just a regular salad, nothing special.
Prince Charming's Portobello Ravioli – I was in mushroom heaven with these ravioli and the butternut squash sauce was the perfect contrast.
Prince Ferdinand's Trio of Veal – Travis didn't like this, he said it was just okay.
New York Strip Steak – Travis said this was very tender and seasoned well, he enjoyed it.
Vegetable Lasagna – I loved this veggie lasagna! It was loaded with veggies and a delicious sauce. If I'd had room, I would've ordered a second one!
Enchanted Garden Dessert – Prince & Princess Night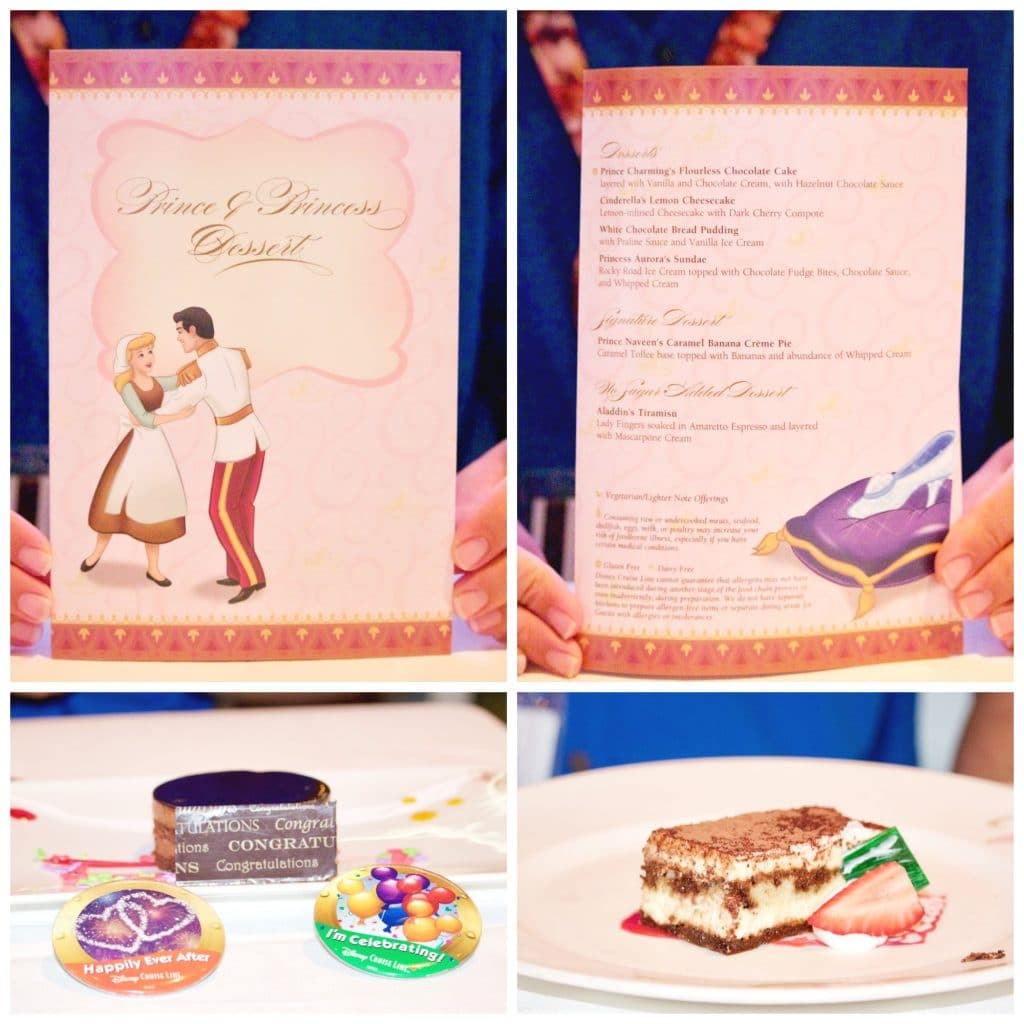 Dessert at Enchanted Garden was especially memorable because our servers celebrated our honeymoon! They sang us the happy honeymoon song (to the tune of "Happy Birthday") and brought us a delicious chocolate cake and Happily Ever After pins! It was so sweet and really made our experience over the top.
We shared the chocolate cake and the no-sugar-added Aladdin's Tiramisu. The tiramisu was delicious and I didn't think it was lacking in sugar or flavor at all, we thoroughly enjoyed both desserts!
Royal Court Restaurant
In my opinion, the Royal Court is the most beautifully decorated of the three MDR restaurants.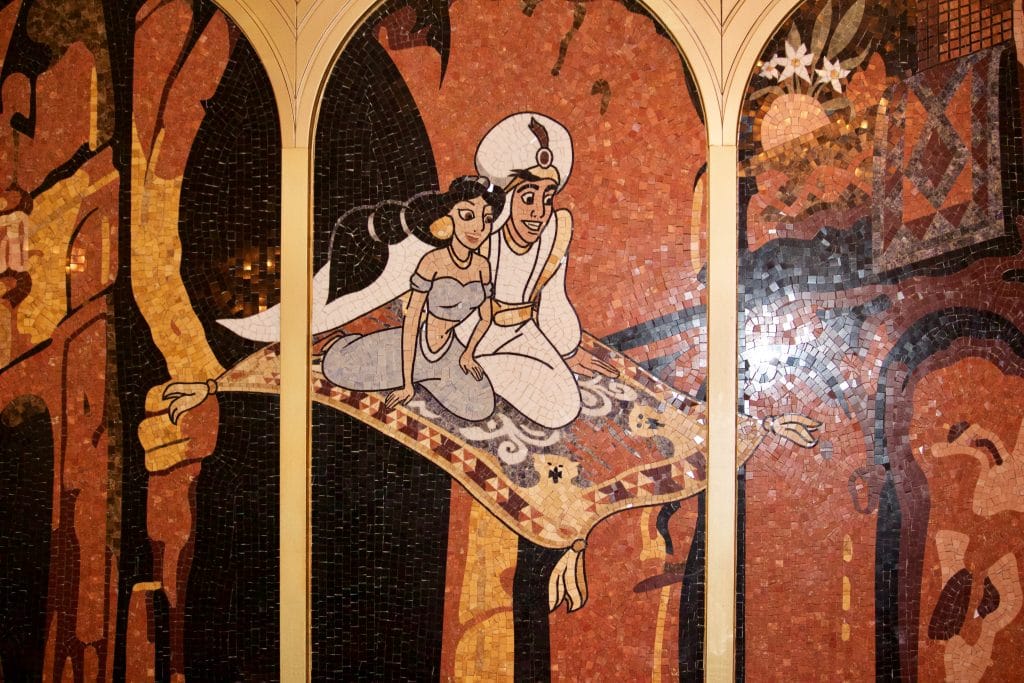 There are stunning tile mosaics and portraits of each of the princesses on each of the walls in the restaurant. Each one is so intricate and decorative.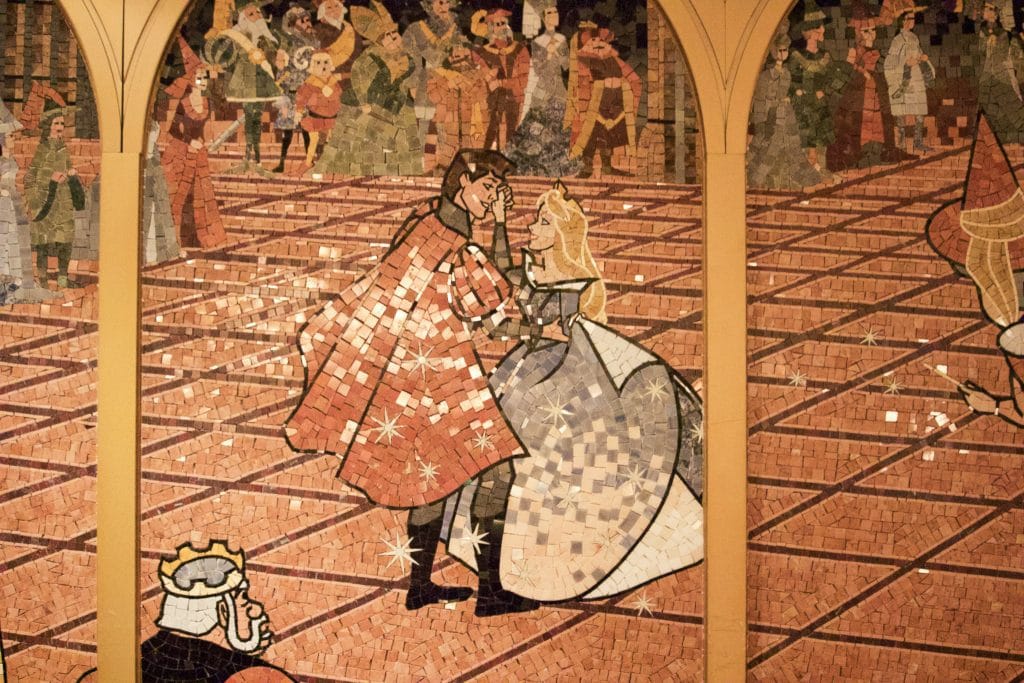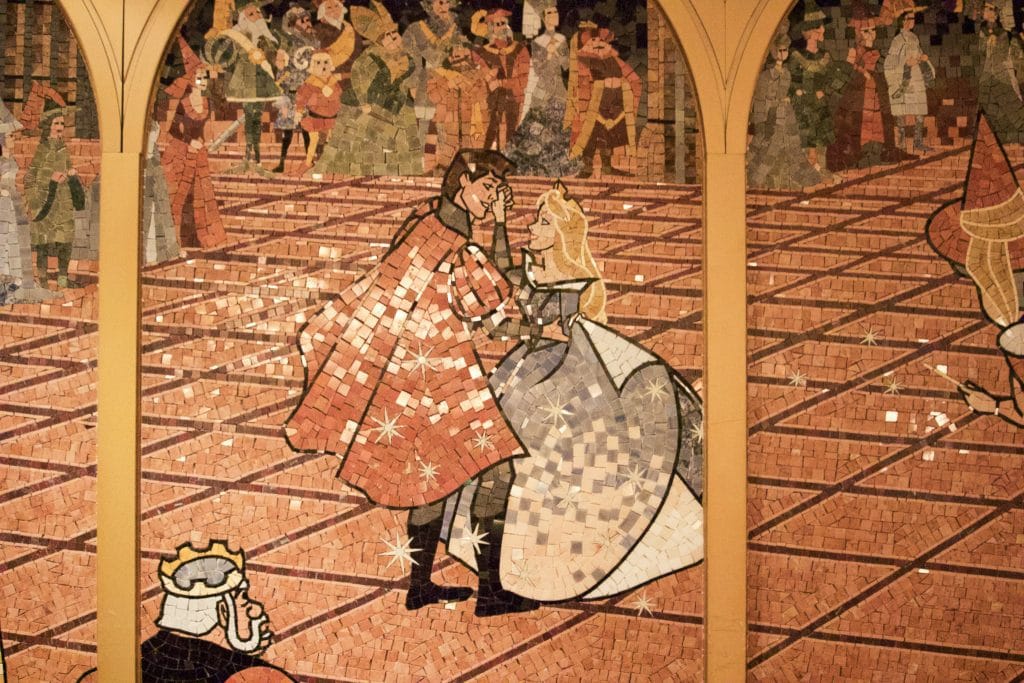 If I could, I would just sit in the restaurant looking at the mosaics for hours.
The details make all the difference at Royal Court. The light fixtures and bread baskets are all Cinderella carriage-shaped, there is a huge round royal table in the center of the restaurant, and even the servers wear fancy uniforms.
Royal Court Dinner Dinner Menu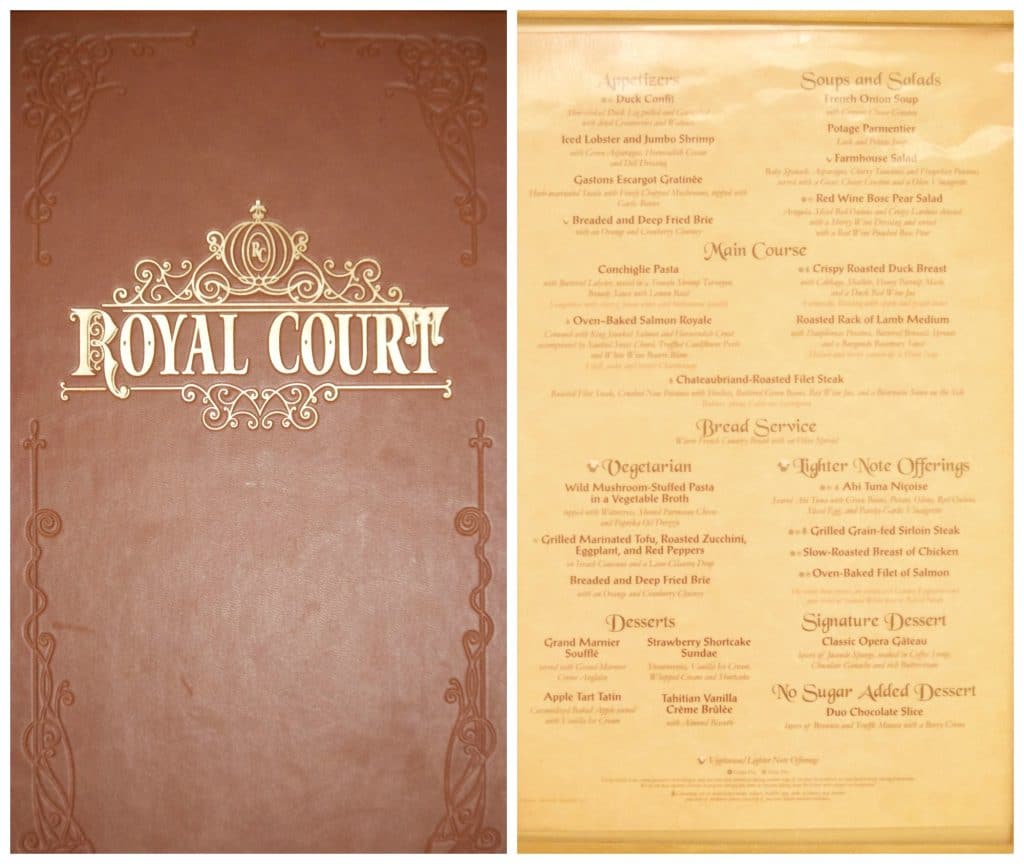 The dinner menu at Royal Court is just a tad bit fancier than the other MDR restaurants.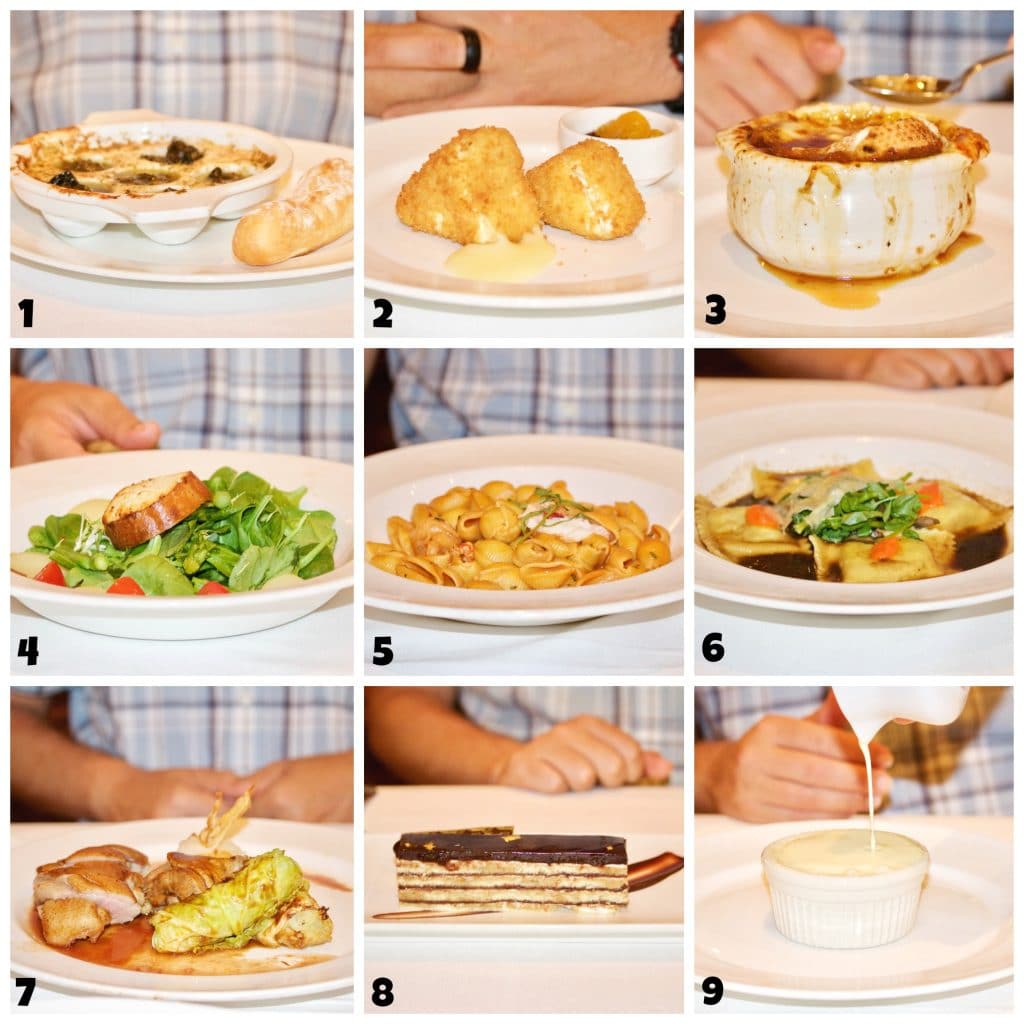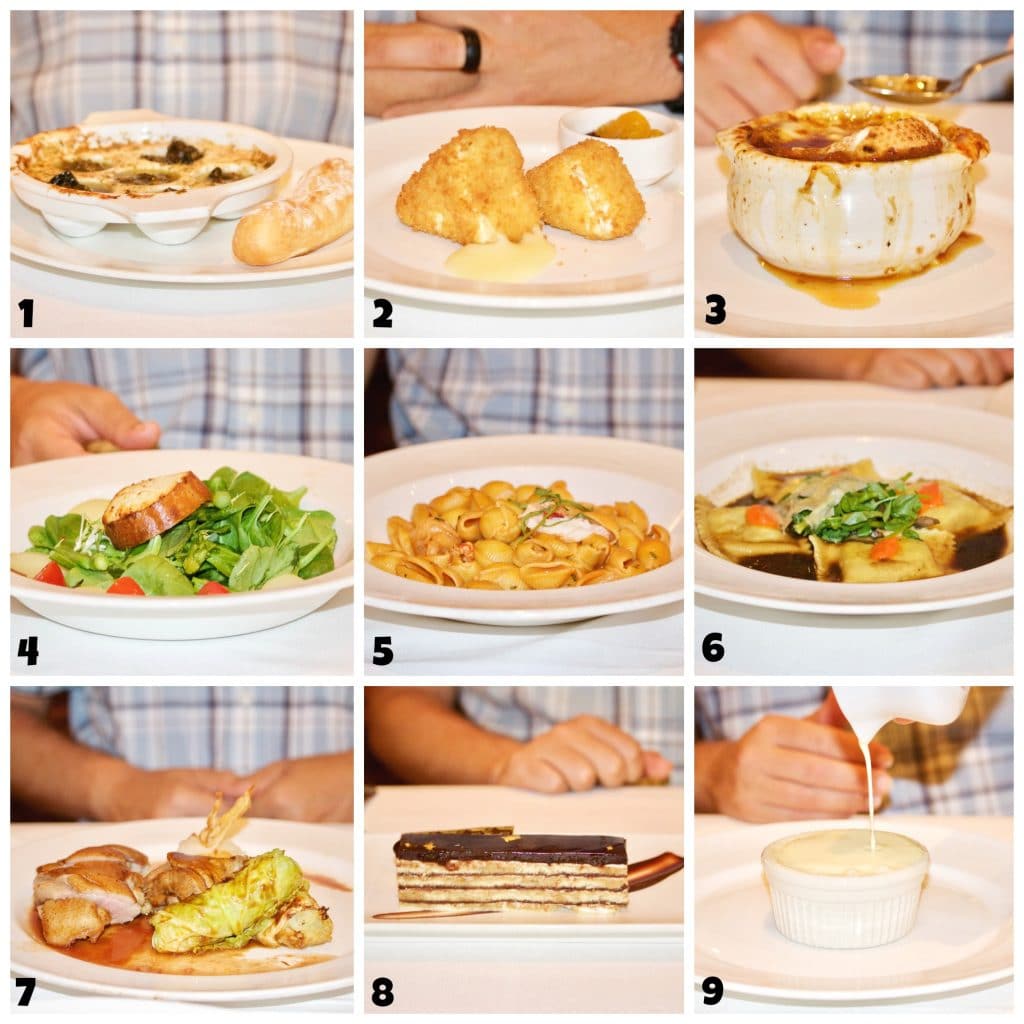 Gastons Escargot Gratinee – This was our first time trying snails, they tasted like buttery mushrooms. A little chewy, but all in all, pretty tasty.
Breaded and Deep Fried Brie – The brie was hot, fresh, and crispy– yum!
French Onion Soup – Travis is a French onion soup connoisseur and he approved!
Farmhouse Salad – I loved the goat cheese crostini on top of the salad, it really enhanced the salad. I wish that there was more than one.
Conchiglie Pasta – Travis didn't care for this, he thought it was pretty bland.
Wild Mushroom Stuffed Pasta in Vegetable Broth – This pasta dish was delicious and full of mushroom flavor, exactly how I like it!
Crispy Roasted Duck Breast – Travis thought the duck was just okay. He said it was a little chewy, not crispy like it should've been.
Opera Gateau – We both liked this dessert, all the layers were absolutely delicious!
Tahitian Vanilla Creme Brulee – Travis loved this dessert, it was warm in the middle and the vanilla sauce was so tasty.
Royal Court Brunch Menu
We had reservations for dinner at Palo on the night that we were supposed to go to Royal Court for the second time of our dinner rotation. We were bummed that we were going to miss a second dinner at Royal Court, so we decided to go there for brunch instead of going to Cabanas.
That was a mistake!
The brunch was sub-par at best. I don't know if it was because we went towards the end of brunch or because we didn't have our regular servers, but the food was cold and not appealing. We should've gone to Cabanas, we would have had a much better lunch.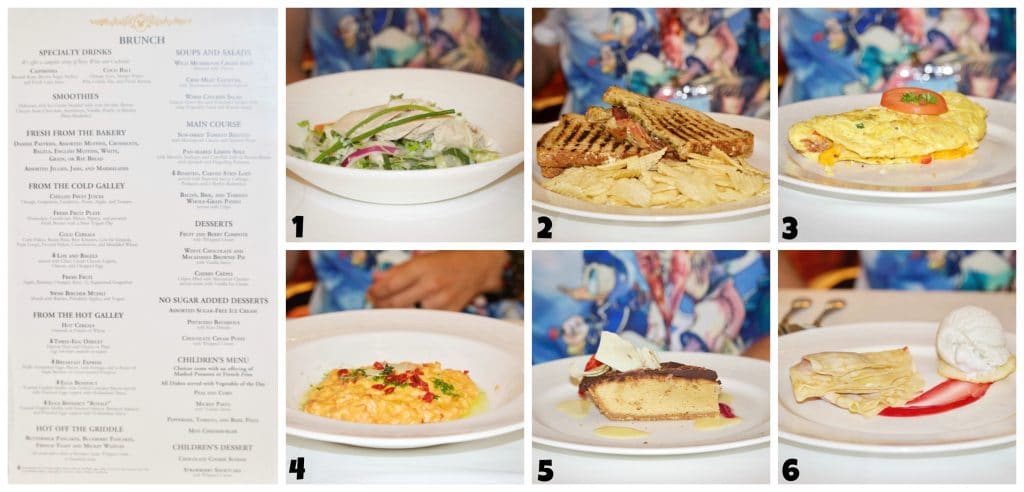 Warm Chicken Salad – The chicken was cold and it didn't have a lemon grass flavor like the menu stated it did. Travis did like the wasabi sauce but other than that it was very plain and unappealing.
Bacon, Brie, and Tomato Panini – It would have been better if this sandwich was made with different bread. It was soggy and mushy, definitely not how a panini should be.
Vegetarian Omelet – This omelet was just okay; the eggs were a little tough, it was luke warm, and it only had a few veggies in it.
Sun-Dried Tomato Risotto – The sun-dried tomato flavor was good but the rice was undercooked and it was cold. It tasted like it had been sitting for awhile because it was just one big lump on the plate.
White Chocolate Macadamia Brownie Pie – This didn't taste like a brownie to me, it was very cakey and dry.
Cherry Crepes – I had high hopes for this because I love cherries but it was pretty bad. The crepes were chewy and cold, and the cherries tasted overly sweet and artificial. I was not a fan. The vanilla ice cream was tasty, I did enjoy that.
Quick Service Spots
If you somehow find yourself wanting a snack in between the lunch buffet at Cabanas and dinner at one of the main Disney cruise restaurants, there are multiple places for you to grab a bite.
Sweet on You
Sweet on You is a brand new ice cream and gelato shop on the Disney Fantasy. They even have a life-sized Mickey and Minnie statue eating ice cream at a table in the corner. It's a fun photo-op!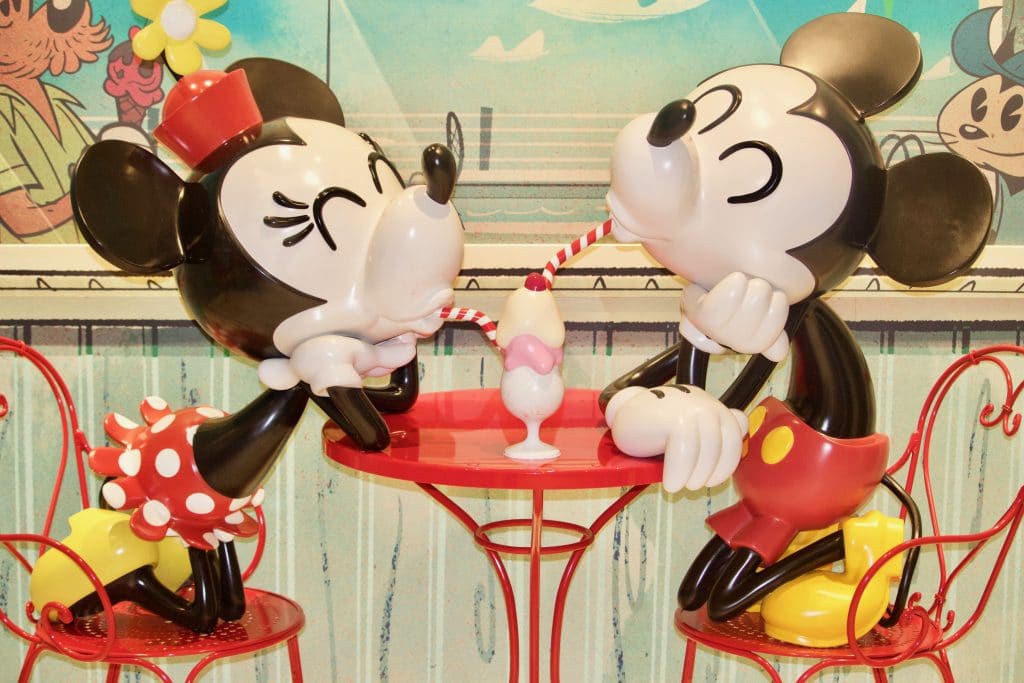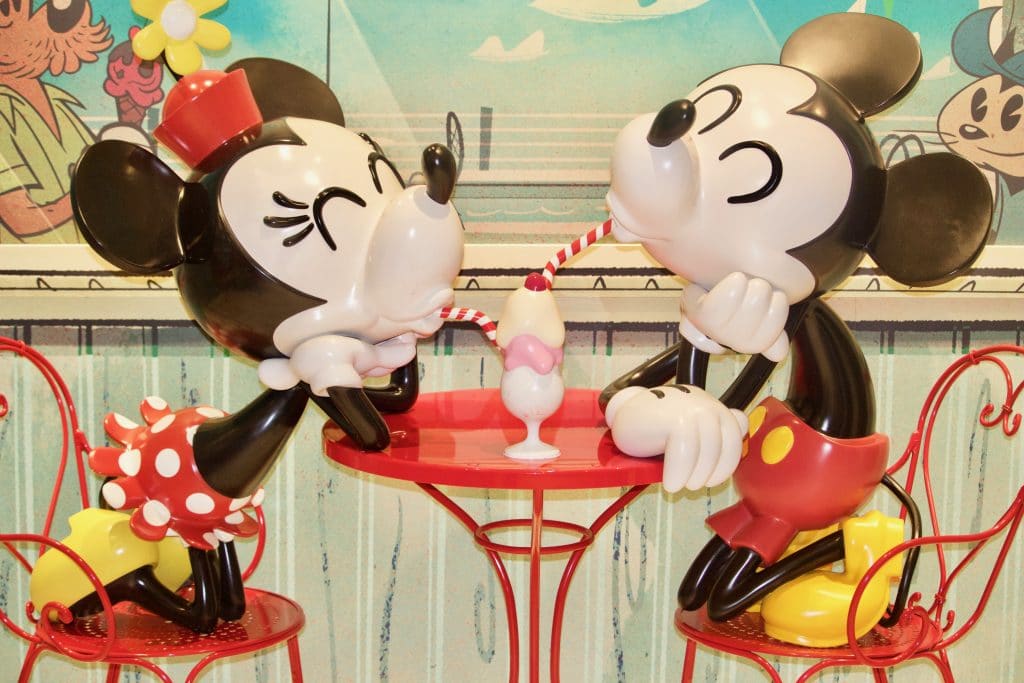 There are so many flavors of gelato and ice cream to try, I really love that they let you try samples before you order.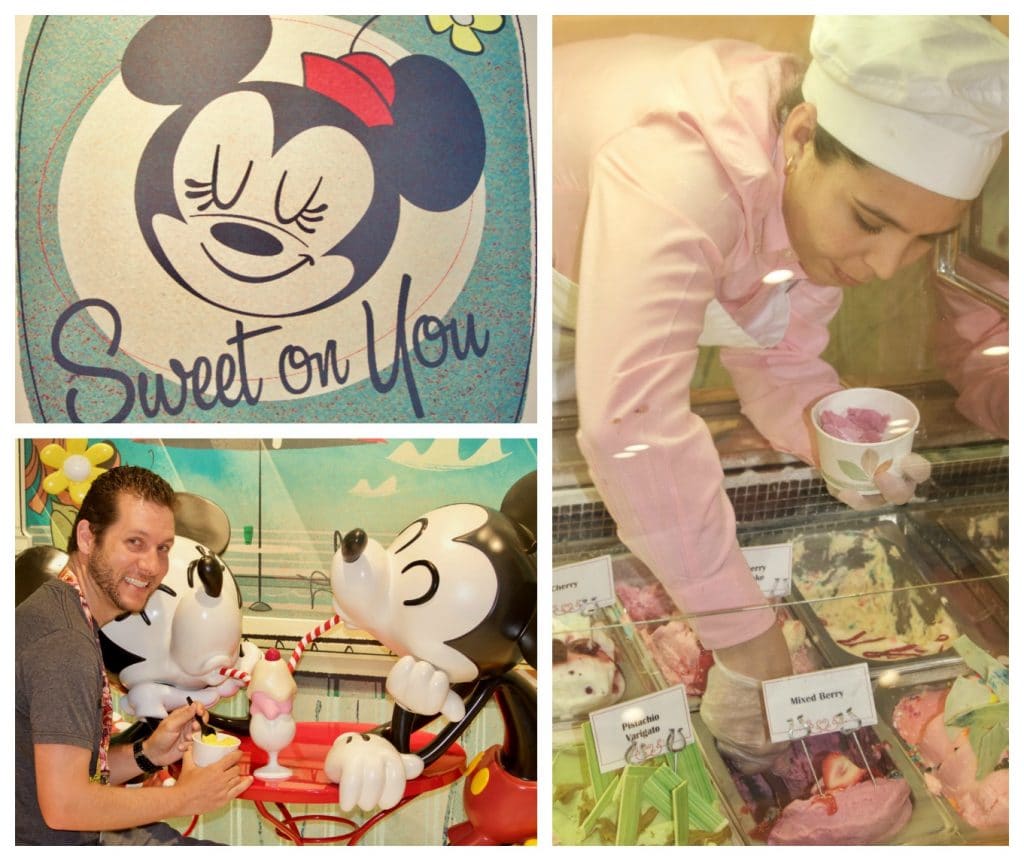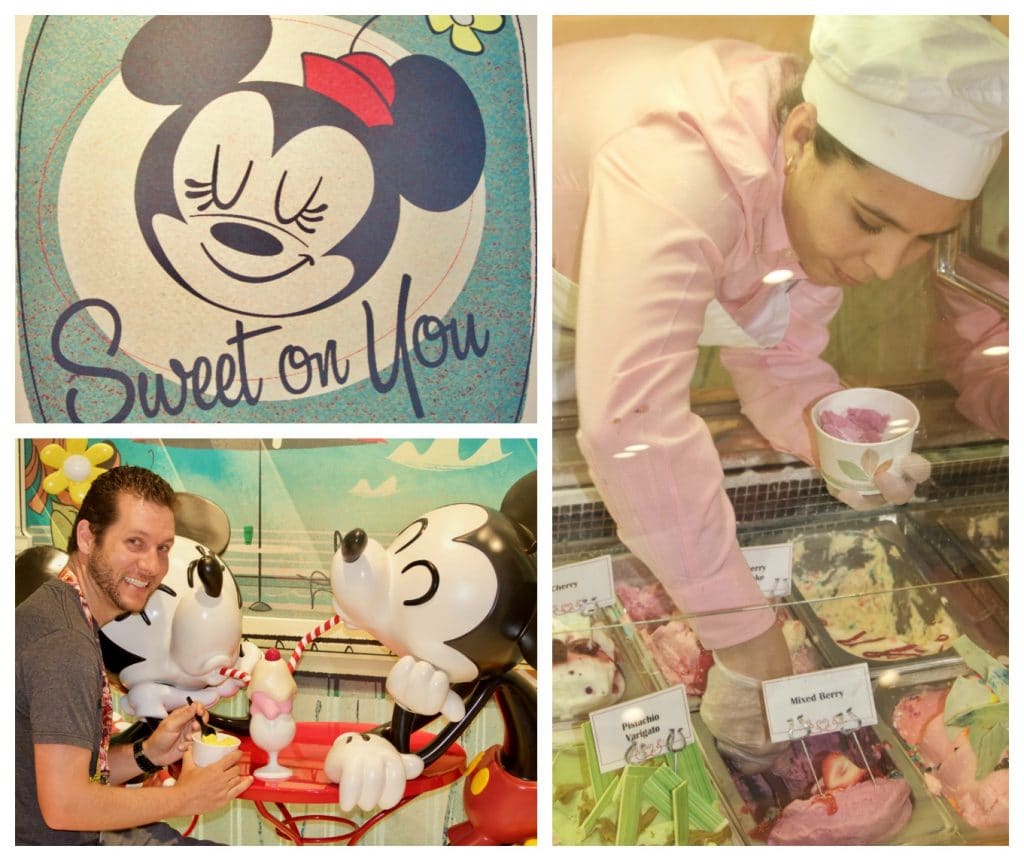 After quite a few samples, we decided on the mango coconut swirl gelato. It was delicious! There is an additional cost for this treat, but I think $2.95 is a great price for the gigantic scoop that they give you.
Flo's Cafe
Flo's Cafe is a quick service counter right next to the pool area, you can order pizza, burgers, fries, and sandwiches.
I think it's mostly geared towards kids, but after a few hours at the adult pool, we were ready for pizza and fries. It's standard fare, nothing special but it hits the spot.
The pizza at Flo's Cafe is the same pizza that is served at Cabanas.
Room Service
If you don't feel like leaving your stateroom to go to one of the main Disney cruise restaurants, you can always order room service. It's free but please remember to tip a few bucks depending on how much you order.
I loved ordering coffee and fruit for breakfast in the morning to enjoy on our verandah and Mickey bars for a snack in the afternoon.
If you bring wine onboard with you, you can order wine glasses and a bottle opener (we brought our own) to be delivered right to your room. We liked to drink the wine in our room because if you bring the bottle to the MDR, they will charge you a $25 uncorking fee. Drinking our wine on the verandah is just fine for me!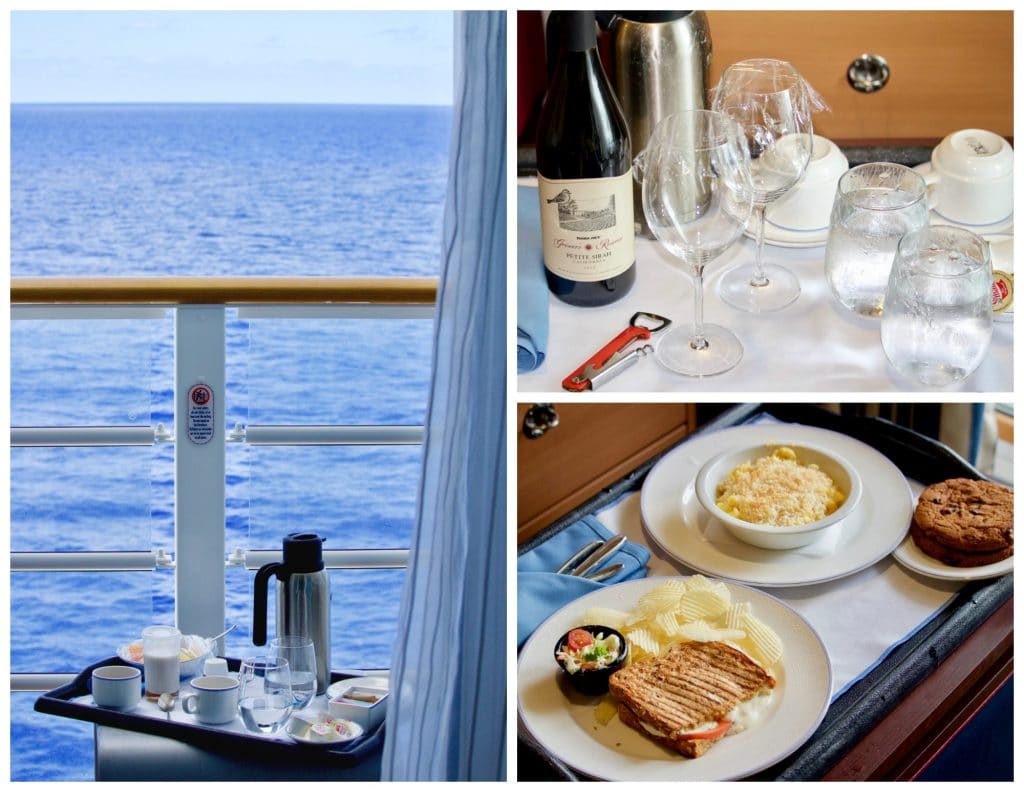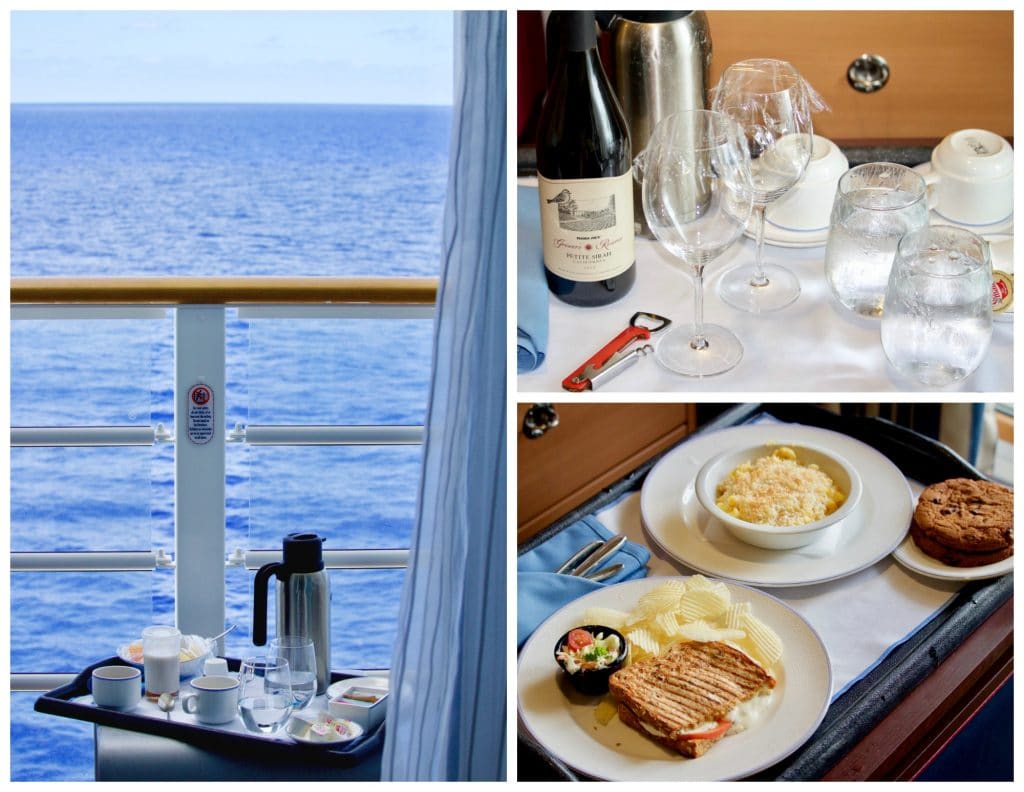 We only ordered real food off the room service menu once during the trip because there was so much other delicious food to eat.
I ordered a Caprese panini, macaroni and cheese, and chocolate chip cookies. The sandwich was just okay, the mac was pretty tasty but the crumb topping needed to be toasted longer, and the cookies were delish!
Cove Cafe
The Cove Cafe is an adult-only coffee shop next to the adult pool. The specialty coffee at Cove Cafe costs extra but if you want something more than the regular Joffrey's coffee by the pool or at Cabanas then this is the place for you.
There are also complimentary desserts in the cafe for you to munch on while enjoying your coffee.
I didn't order any coffee from the Cove Cafe because I didn't want to pay extra when I could get free Joffrey's coffee. Joffrey's is the coffee brand that I drink at home so I was really happy that they had it onboard.
The only coffee-related item that they didn't have was dairy-free creamer. You could call room service for almond milk but that's the only option. Hopefully, they'll start carrying almond or coconut creamer in the future!
Eye Scream Treats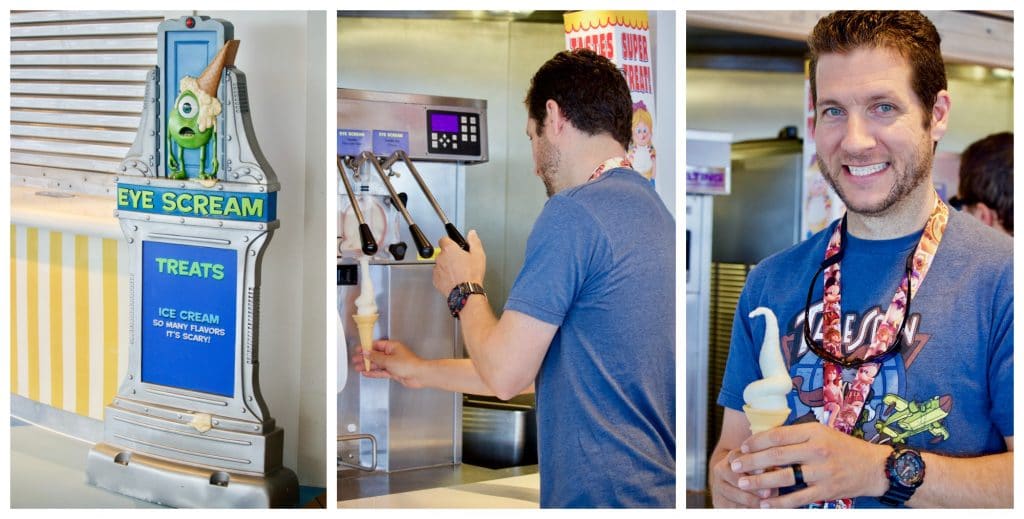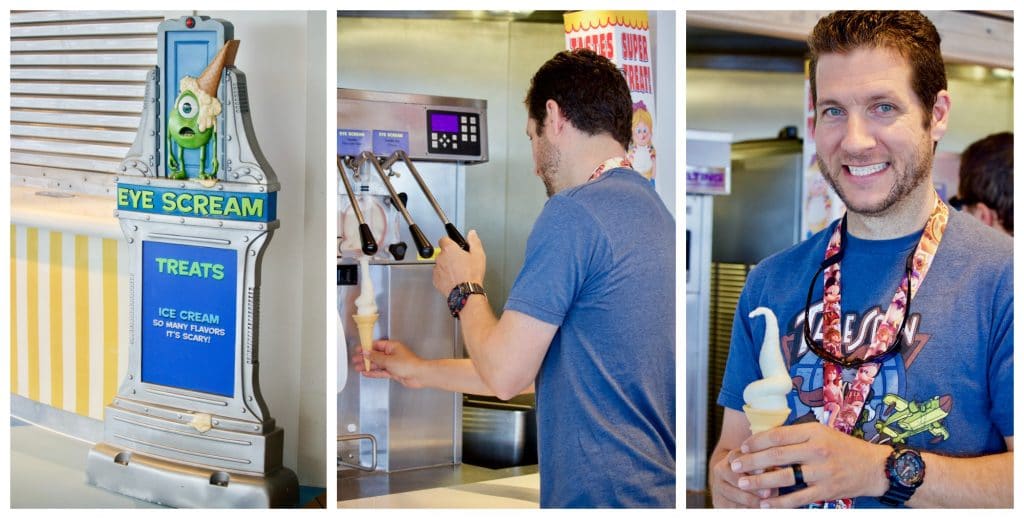 Travis loved the soft-serve ice cream machine! He got a cone almost every day of the cruise. It's located right next to the door that goes out to the pool on Deck 11.
Overall, there is absolutely no reason that you should ever be hungry while on a Disney cruise! There are so many Disney cruise restaurants to eat at, there's definitely something for everyone!
More Disney Cruise Posts to Help You Plan Your Next Cruise!
Disney Cruise Palo Brunch or Palo Dinner: Which is Better?
Everything You Want to Know About a Disney Cruise Pirate Night
159 Disney Cruise Tips I Wish I Would've Known Before Our Cruise!
11 Funtastic Disney Cruise Activities That Aren't for Kids!
13 Activities to do at Castaway Cay!
I loved all of the Disney cruise restaurants on our cruise but I think the food we had at Enchanted Garden was the best. What's your favorite MDR restaurant? Let me know in the comments!