If you're going on a Western or Eastern Caribbean Disney cruise then you need this detailed Disney cruise packing list! This FREE printable checklist includes everything you'll need, from what should be in your embarkation day bag to what to pack for a day at Castaway Cay to 40+ items that I bet you didn't think about packing!

After going on three magical Disney cruises, I've got my packing process and packing list down pat. I know it can feel overwhelming to pack for a week-long cruise, especially if it's your first cruise!
What type of clothes should you pack for a Caribbean cruise? Do you need to bring a hairdryer? Can you bring an iron to iron your dinner outfit after it got all wrinkly in your suitcase? So many questions and I have the answers that you're looking for!
This Disney Cruise Line packing list is going to help you to pack only the things that you really need to pack! In addition to the basics, I also included a list of essential items that you may not have thought to pack but they'll come in very handy once you're on the cruise!
Like, a hanging closet organizer. I bet you didn't think you'd need to pack that for a Disney cruise, did ya?!
Preparing for a Disney Cruise
You've already booked your cruise, made Palo brunch reservations, and picked out the perfect new swimsuit. Now you're starting to think about what you're going to pack, but have you done research about the food on a Disney cruise, what to expect on Pirate Night, or what activities you should do at Castaway Cay?
Don't stress, I have all the information that you need to know about a Disney cruise right here!
Also, you should join Disney cruise Facebook groups (like this one and this one) so you can ask questions and get advice from other seasoned cruisers! I found this to be so helpful when I was planning our first Disney cruise.
Disney Cruise Packing List FAQ's
Before we get into the list of packing essentials and helpful extras that should be on your Disney cruise packing list, let's go over some frequently asked Disney cruise packing questions.
What Should I Pack for a Disney Cruise?
At a minimum, you should pack cruise casual attire (at least one outfit per day), a swimsuit, cover-up, hat, sunscreen, pj's, sandals, a pirate costume, prescribed medications, and personal care items.
Do I Need to Bring Shampoo on a Disney Cruise?
No, you don't need to bring shampoo on a Disney cruise with you because DCL provides it for you. Recently, DCL transitioned away from the travel-size bottles of toiletries to larger shampoo bottles (that you can't take as a free souvenir) in the shower.
This is the brand of shampoo and conditioner that they have on board the ship, just in case you fall in love with it and want to buy more when you get home (like a lot of people do!) to remind yourself of being on the cruise.
Can You Bring Snacks on a Disney Cruise?
You can only bring non-perishable snacks that are factory sealed with you on the cruise. I brought a box of sealed granola bars on the ship with me to pack for excursions, and I had no issues getting them through security.
What Can You Not Bring on a Disney Cruise?
See below for a detailed list of what shouldn't be on your Disney cruise packing list:
Irons
Bottle Warmers
Sporting Equipment
Balloons
Candles
Musical Instruments
Illegal Drugs
Coolers (Unless they're for baby food, medication, or allergy-related items)
Homemade or Perishable Food Items (You can bring non-perishable food that is factory sealed)
Weapons (Including knives, daggers, sword, firearms, and ammunition)
What Are Disney Cruise Luggage Limits?
According to this post, DCL allows each guest to bring two pieces of checked luggage (no more than 50 lbs each), and one carry-on bag that isn't bigger than 9x14x22.
However, I have to say that after three cruises, I've never once seen my bags being weighed or measured (like at the airport) at the port, so I don't know how serious they are about these limits.
My husband and I always bring four pieces of luggage (see picture above) with us on a Disney cruise. We each pack one large suitcase (we check these), one small suitcase, and we both wear a backpack. I wear this small Belle backpack, it's the perfect size to hold the basics that I need while walking around on the ship!
I know it says that you can only bring one carry on bag per person, but we always each bring a small carry on and a backpack and we've never had an issue. On our last cruise, I carried on three bags (the third carry on pink bag (in the main image at the top of this page) has our Fish extender gifts in it) and I still had no problem carrying it all on board with me.
Disney Cruise Packing List 2019
This is my Disney cruise packing list that I use to pack for every Disney cruise that we go on. I hope it helps you!
Embarkation Day Disney Cruise Essentials
Pack these embarkation day items in a separate carry-on bag from your checked luggage because you'll need it once you get on the ship! Also, remember to put the luggage tags that DCL sent you on all of the luggage that you're going to check.
Photo ID
Passport
Cruise Check-In Documents
RFID Wallet - I bought this wallet to hold both of our passports, ID's, cash, and credit cards for the trip. I love it because it protects against identity theft and I like how the zipper keeps everything contained. If you have any questions about what type of documentation you need to bring, you can find that information, here.
Glasses, Sunglasses, and Contacts (and contact solution if you wear contacts)
Medication (in original container)
Camera + Accessories
Swimsuit + Coverup
Sunscreen
Change of Clothes
Anything Valuable (Expensive jewelry, camera gear, electronics)
Lip Balm
Wine or Beer - If you're bringing alcohol on the cruise ship with you, you have to pack it in your carry-on bag. Don't check it! If you have questions, you can read the Disney Cruise Line alcohol policy,

here

.
Note - Keep in mind that your checked luggage will be left outside of your stateroom for you to bring in yourself, they're not put safely inside your stateroom. I wouldn't leave anything valuable in your suitcase for this reason. I've never had a problem but I still wouldn't risk it.
Caribbean Cruise Attire for Women
T-Shirts
Shorts
Sundresses
Bathing Suit
Cover-Up
Jeans or Pants
Sandals/Flats/Heels
Sneakers
Water Shoes (if you're doing a water excursion)
Light Sweater
Pajamas
Bras & Underwear
Socks
Belt
During winter, you may also want to pack:
Sweatshirt
Jacket
Leggings
Scarf
Caribbean Cruise Attire for Men
T-Shirts
Shorts
Button-Down Collared Shirts (My husband loves wearing these tropical shirts on a cruise)
Jeans or Pants
Sandals
Sneakers
Water Shoes
Bathing Suit
Light Jacket
Pajamas
Boxers
Undershirts
Socks
Belt
Dinner Dress Code
Main Dining Room (MDR) - The dress code for the main dining rooms is cruise casual (No bathing suits or tank tops). However, many guests like to dress up, it's your choice.
Related: Disney Cruise Restaurant Food Guide
Palo - If you dine at Palo or Remy, be aware that they enforce a very strict dress code. Women should wear a dress, a skirt, or dress pants with a blouse. Men should wear slacks, a collared shirt, and closed-toe shoes. Jackets aren't required.
Remy - Women should wear a cocktail or evening dress, a blouse with dress pants or a skirt, or a pantsuit. Jackets are required for men, along with a collared shirt, dress pants, and dress shoes. Ties are optional.
Related: Palo Brunch or Palo Dinner: Which is Better?
Themed Night Dress Code
If you go on a 7-night + cruise, there will be themed holiday nights, like, Pirate Night, Formal Night, or Halloween Night if you go on a Halloween on the High Seas Cruise. There is an optional dress code for each of the themed nights.
Formal Night Dress Code
If you'd like to dress up for Formal night, it's up to you how fancy you'd like to dress. I've seen a range from cruise casual to black tie, so it's really a personal preference. I wore a long, flowy maxi dress and I felt like I was dressed perfectly. You can see our Disney cruise formal night photos above.
If you do decide to dress up, you might find these clear garment travel bags to be helpful to protect your fancy outfit.
Pirate Night Dress Code
It's not mandatory to dress up for Pirate Night but it's really fun, so why not join in? If you want to participate but not wear a costume, you could wear this pirate t-shirt and the Mickey Mouse pirate bandana that your host will leave in your stateroom!
Related: Everything You Need to Know About Pirate Night on a Disney Cruise!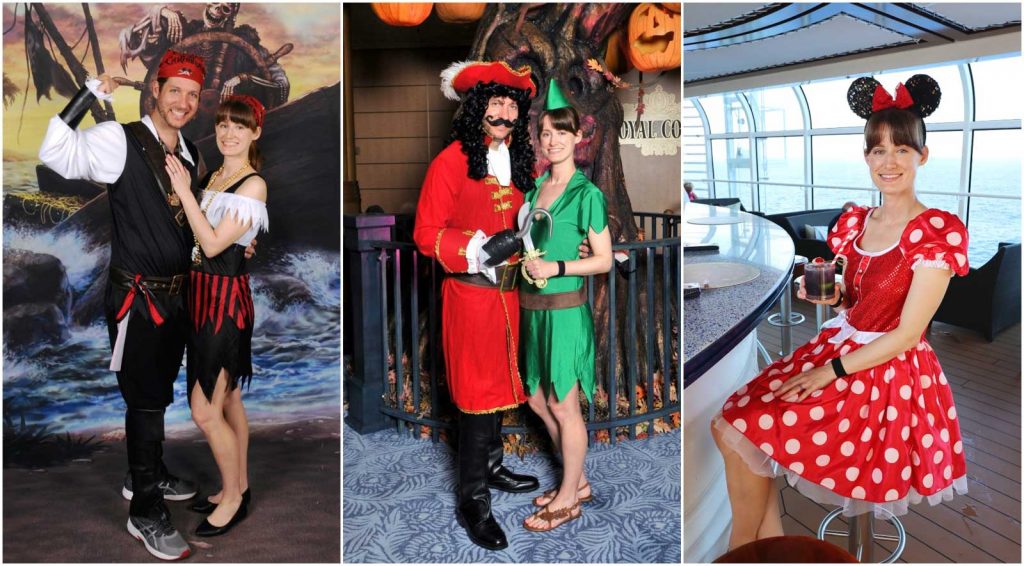 Halloween Night
If you go on a Halloween on the High Seas cruise, there will be a Halloween day during the cruise. On this day, most guests (kids and adults!) dress up in costumes.
We've dressed up in the following costumes:
Disney Cruise Outfit Ideas
If you're like me, you'll want to be comfortable while on vacation. I stuck to sundresses, shorts and really cute Disney cruisewear t-shirts (like this I Want Adventure in the Great Wide Somewhere women's (small) aqua t-shirt), and light-weight floral maxi dresses.
I mostly wore flats or strappy sandals, but I also brought one pair of comfortable low-heeled wedges (similar to these shoes, this brand is really comfortable for me), water shoes, and my favorite sneakers for excursions at the ports.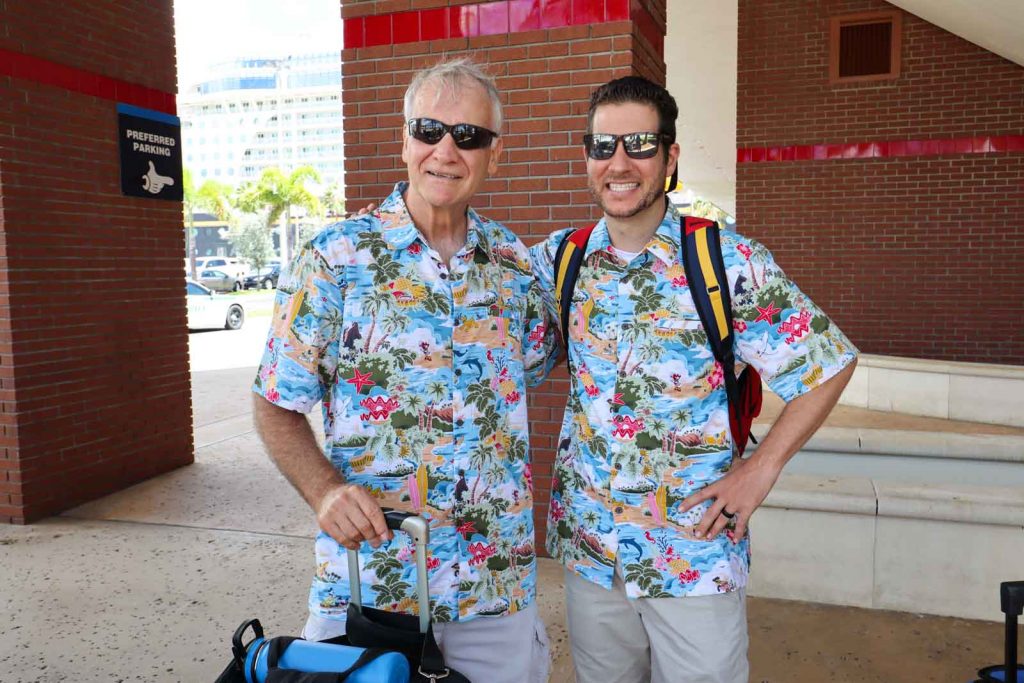 My husband and dad both wore button-down shirts or t-shirts with shorts (except at Palo) and sandals for most of the cruise (they only matched on the first day!). We never really dressed up and that seemed to be the norm for most of the people on the ship. You're on vacation, you should be comfortable!
Additional Items You Should Pack for a Disney Cruise
Camera Gear & Accessories
Cold & Seasickness Remedies
Organic Lavender Hand Wipes

- These chemical-free hand wipes are the best! They don't dry my skin out and I love the fresh lavender scent.

Elderberry Gummies - We each ate one of these gummies every morning and I really believe that it helped us to not get sick on the cruise! Be prepared, there are a lot of people with colds on the ship.

Oregano Oil

- We took these drops once or twice on the cruise as a precaution to ward of sick germs. It mush have worked because we never got sick!

Sovereign Silver

- This is another immune system booster that we take as a precaution to not get sick.
Hand Soap - I prefer to use liquid soap to wash my hands with (your stateroom only has a bar of soap) so I bring my own small bottle of castille soup.
Advil
Sea-Bands - I was very worried about getting seasick so I wore these pressure point bands every day and I never had a problem!
Herbal Ear Patches - I get very bad motion sickness in the car, so I took extra steps to prevent seasickness on the cruise without having to take medication. I swear these herbal patches are magic! I say this because I also wore them in the car driving to the port and I didn't get motion sick at all! You can see what the herbal patch looks like in the picture below, it's a very small circle patch that sticks behind your ear.

Ginger Capsules

- I brought these ginger chews as a last resort for seasickness but I didn't end up needing them because the herbal patches and bands worked so well!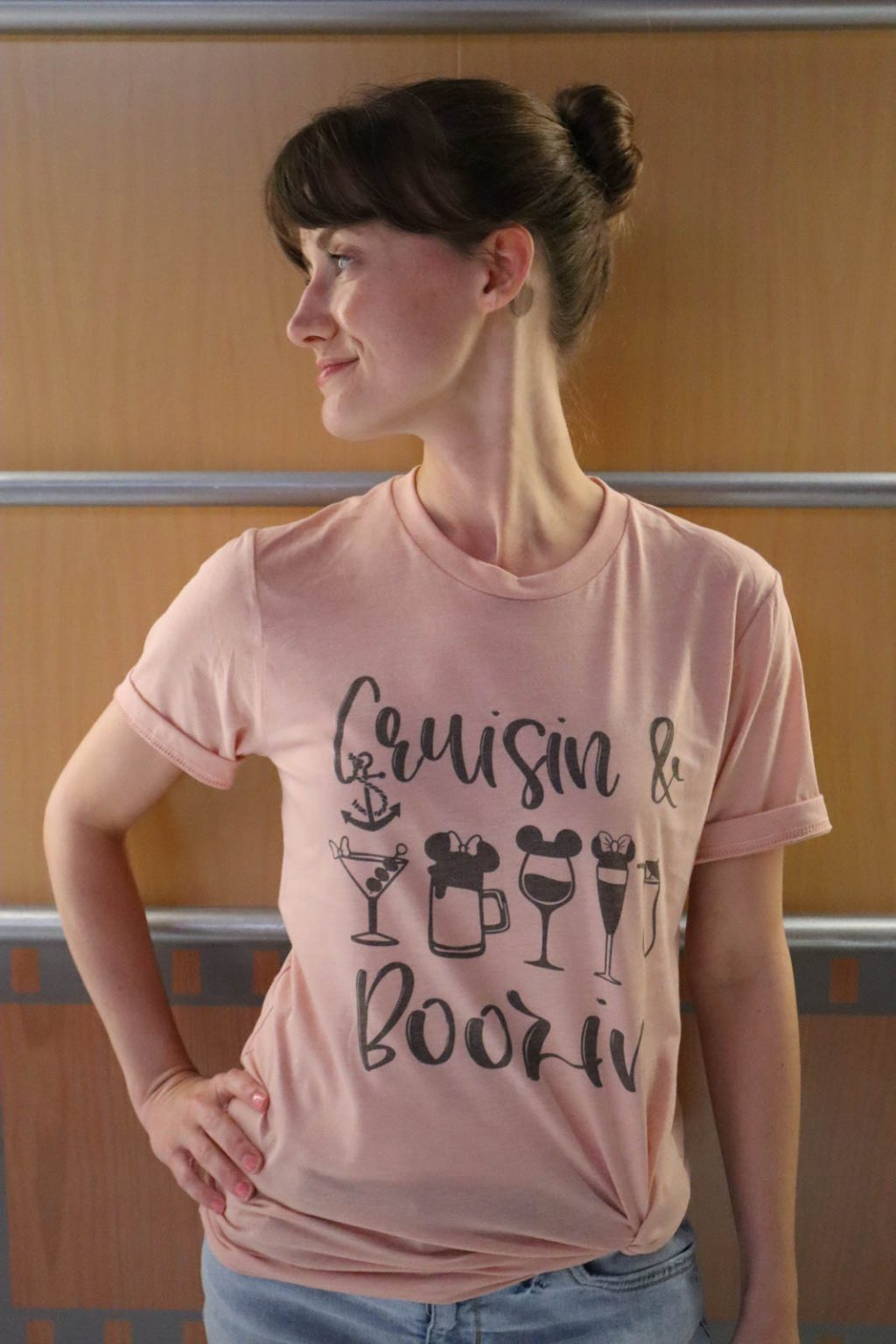 Click here to see the Cruisin & Boozin women's (small) peach t-shirt that I'm wearing in the picture!
Stateroom Essentials
Magnetic Clips

- We used these magnetic clips to keep all of our tickets and Personal Navigators together and then we stuck them to the door to stay organized.
Reusable Water Bottle - If you're like me, you like to have water around at all times. I'm always thirsty and I didn't want to make a million trips to the drink station! Also, I'm a bit of a germophobe, so I absolutely love that these water bottles have an attached screw cap that covers the mouthpiece so you don't have to touch it when you open it.
Clothes Pins - You'll need these to clip wet swimsuits to the clothesline in the shower to dry.
Door Magnets - Most cruisers decorate their stateroom door with magnets! It's really fun to do and it helps you to find your door easily in the neverending hall of identical doors. We get a new magnet for every cruise and then bring them all on each trip, it's so fun to look at our magnets from over the years!
Wrinkle Spray - There are very few irons on board and you can't bring your own, it will be confiscated. I brought a small bottle of wrinkle releaser to spray our clothes before dinner and it worked like a charm to get rid of wrinkles.
Ziploc Bags -We used Ziploc bags to pack our shoes in, store wet swimsuits, and to keep little things organized.
Battery Operated Fan - If you can't sleep without a fan blowing on you (like me!) then you might want to think about bringing your own small fan. Disney only allows battery-operated fans (or rechargeable) so don't bring a fan that plugs into the wall. I brought this small fan to set on my nightstand and it was perfect. There is a plug right next to the nightstand that you can plug it into.
File Folder - I like to keep all the personal navigator's (now you have to ask for a paper copy), maps, tickets, check-in papers, and any other documents that we received, organized and wrinkle-free in this file folder.
Hanging Organizer - You're going to pack so many little random things and there really isn't a lot of counter space to store everything. This organizer fits perfectly in the closet and it holds all those small items. We used it for vitamins, seasickness medicine, trading pins, sandals, my first-aid box, and so much more. Clutter makes me feel really anxious, so this hanging organizer was a lifesaver!
Castaway Cay & Excursion Gear
Wide-Brimmed Beach Hat - I brought a beach hat just like this one to protect my face and neck from the extremely strong summer sun at the pool and at Castaway Cay. This is the

straw hat

that my husband wore to Castaway Cay (See it in the photo below).
Reef-Safe Sunscreen (this is the brand I use)- This is my favorite sunscreen. It rubs in easily and it works very well. The spray version of this brand is great too.
Beach Bag - This is my favorite Disney beach bag! I love the Mickey and Minnie print, it's so roomy, and the durable material is perfect for the beach and water. You'll need a beach bag for carrying things to Castaway Cay or to any water excursions.
Sunglasses - Bring an extra pair of sunglasses just in case you lose one pair!
Snorkel Gear - If you plan on going on a snorkeling excursion or if you want to snorkel at Castaway Cay, I would recommend bringing your own snorkel gear. You can rent a set for $32 at Castaway Cay but I just don't like the idea of putting my mouth on a snorkel that someone else has already used.
Reusable Shopping Bag - If you go shopping at a port, bring a reusable bag to put all of your purchases in. You can also buy a reusable bag at the gift shop on Castaway Cay.
Water Shoes - If you're going on any water excursions, you might need to bring water shoes! We visited the Baths in Tortola and these water shoes were invaluable for climbing over the rocks in the water.
Sun Shirts - This is the women's sun shirt that I wore and this is the men's sun shirt that my husband wore on the cruise (see photo above). These shirts are the best! We've never burnt when we wore them, even if it's all day out in the sun!
Baseball Hat - Bring a baseball cap (that you don't care if it gets wet) to wear during any water excursions to protect your scalp and face from the sun.
Small Backpack - Bring a small backpack that you can carry the basics in if you do any physical excursions. We brought the Castaway Club backpacks with us when we went to the Baths in Tortola. I'm glad that I didn't bring my nice Mickey Mouse backpack because the Castaway Club bag got wet and sandy.
Sunglasses Floating Neoprene Strap - Don't ever lose your sunglasses in the water again! These straps attach to your sunglasses and they float in the water if you drop them. This strap came in so handy when we were snorkeling at Castaway Cay!

Silicone Ring

- I never wear my wedding ring on vacation. I don't want to risk walking around at a port that I'm not familiar with and possibly being jumped for my jewelry. This is the silicone ring that I wear for fun instead of my wedding ring while on a cruise.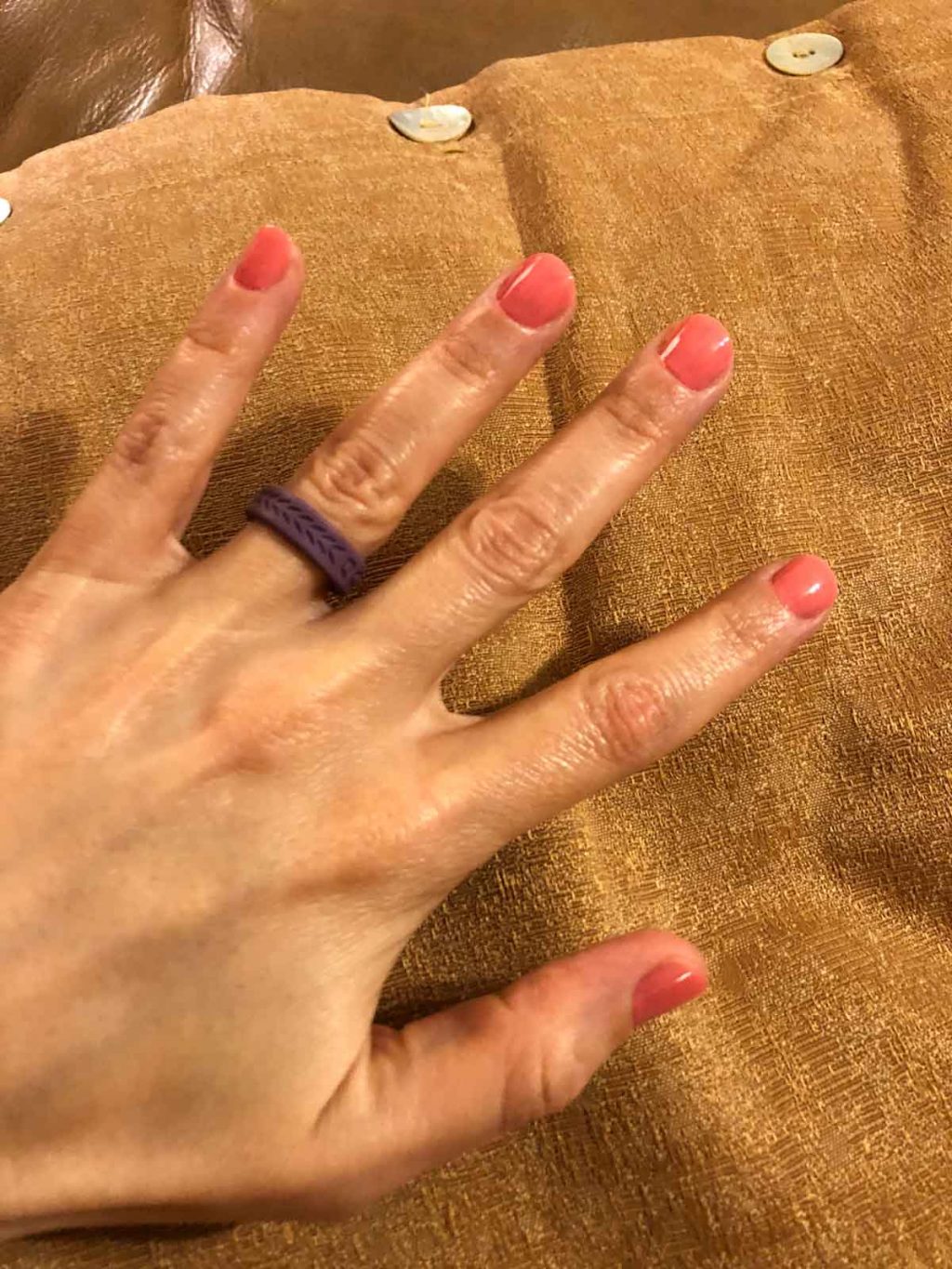 Items to Carry With You on the Ship
Cash for tips - Mostly $1's and $5's for tipping and for shopping at the ports.
Backpack or Small Purse - I carried my small Belle backpack around the ship and I brought it out on port days too. It was very convenient, I didn't even use any of the purses that I packed. If you don't want a Disney-themed backpack, I also love this

slim anti-theft safe backpack

.
Necklace Fan - This was the most important item to pack for me (it's the little pink or purple box hanging from my neck in most of the pictures), I wore my necklace fan every single day. The ship sways quite a bit and it bothered me sometimes during dinner. Having the fan around my neck with the air blowing up at my face helped to distract me from noticing the swaying. It was also really helpful at the ports because it was extremely hot!

Disney Cruise Lanyard

- Travis wore a lanyard the whole cruise and kept our KTTWC in the plastic holder for convenience. You need it for everything! Getting on and off the ship at port, to buy souvenirs at the gift shop, even to check-in at the fire drill.
Lip Balm
Personal Care Items
Hair Straightener
Hair Curling Wand
Hair Spray
Hair Gel
Hair Ties
Face Wash
Face Lotion
Body Lotion
Makeup
Lip Balm
Tooth Paste
Tooth Brush
Deodorant
Shaving Razor (I brought this electric razor)
Tampons (I use this menstrual cup)

Clear Zippered Bags

(to organize all the small toiletries)
Blister Bandaids - If you ever get blisters on your toes, these are the best band-aids to use! For those of you that like to break in new shoes or heels on the cruise, you'll be happy you brought these!
Assorted Important Items
1st Time Disney Cruise Buttons - I bought these buttons for my parents on their first Disney cruise and they loved them! My mom wore her button every day of the cruise, it was one of her favorite Disney cruise accessories!
Disney Pins - Bring at least 10 official Disney pins to trade at the Officer's Pin trading Event.
Sealed Candy - We packed our own candy to bring to the movies because the candy at the theater is expensive and it's not included in the price of your cruise!
Fish Extender (I've ordered Halloween-themed and Christmas-themed fish extenders from this Etsy creator, she's so talented and even offers super quick delivery if you order last minute!) - You don't have to participate in the fish extender groups on Facebook to join in the fun! On our last cruise, my husband and I went with my parents, and my mom and I enjoyed leaving little treats for each other to enjoy every morning.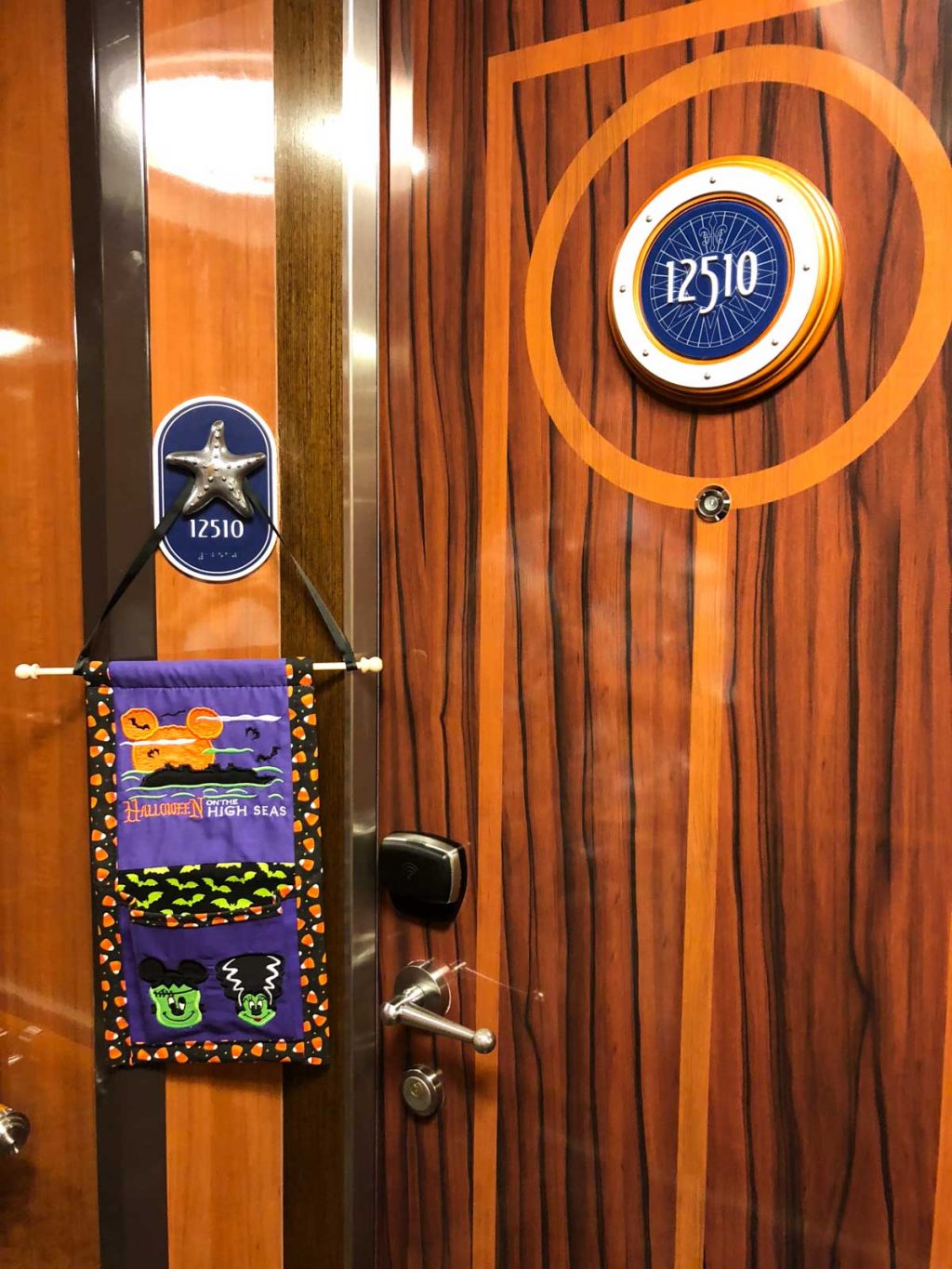 Book (I brought my favorite Outlander Book) - It's nice to relax by the pool with a good book or trashy romance novel, whatever you're in the mood for!
Towel Clips - We liked to sit on the top deck in the pool chairs because it was so breezy up there! These towel clips will hold your towel to the chair and stop it from whipping off in the wind.
Travel Journal - You might be like my mom and like to write down all the details of the day so you can remember them forever!

Unofficial Guide to Disney Cruise Line Book

- If you want to do more cruise research, this DCL guide will be very informative for you.
Hidden Mickey's at Sea Book - We love to look for hidden mickey's on the cruise, this guide will help you find the hard ones!
Glasses Wipes
Free Printable Disney Cruise Packing List
I compiled all of the lists that we just went over into categorized printable checklists to help you pack for your Disney cruise! You can see an example of what the checklist pages PDF looks like below.
Get your FREE printable Disney cruise packing list, here.
159 Disney Cruise Tips You Need to Know
Once you've finished packing using this printable checklist and making your Disney cruise to-do list (make a checklist of everything that you still need to do before the cruise and check off as you complete items), make sure to go over the following tips that I've learned after going on three Disney cruises!
I wish I would've known these tips before my first cruise, my loss is your gain!
Every stateroom has a hairdryer with an attached diffuser, so you don't need to bring your own!
The only pressed penny machine at Port Canaveral is in the port before you board the ship. If it's important to you to get a DCL pressed penny, make sure you get it before you walk through the Mickey Mouse gate!
There is a walking tour of the ship offered on the first day of your cruise. The ships are massive and these tours will really help you to get a feel of the ship.
You get 50 megabytes of free internet but you have to redeem it on the first day of your cruise.
It's not listed on the room service menu, but you can call and order a slice of the cake of the day to have a surprise slice sent up to your stateroom!
If you order a one-day rainforest pass for Senses Spa before the cruise begins, it only costs $17!
If you don't get a reservation for Palo brunch or dinner before the cruise starts, you can get on the waiting list for a reservation once you board the ship.
There are morning drink specials (only $4.25!) at the adult pool bar on mimosas, bloody mary's, and screwdrivers.
If you buy a specialty coffee at Cove Cafe, there are complimentary treats that you can enjoy with your coffee.
The underwater statues of Mickey and Minnie in the snorkeling lagoon at Castaway Cay are marked by floating white buoys. Knowing this will save you so much time swimming around the huge lagoon looking for the statues like I did!
Continue reading the rest of the 159 Disney cruise tips, here.
Final Thoughts About What to Pack
I hope that you find this Disney cruise packing list to be helpful while you're packing and preparing for your magical vacation. You're going to have the best Disney cruise experience!
We love cruising with Disney and we plan to go on cruise #4 in 2020, so I'll update this post with any new products that I find, new Disney cruise outfits that I wear, or new tips that I learn!
If you have any packing tips or items that you think are important to bring, please leave a comment below and tell me all about it!
Have a magical cruise! Bon voyage!
More Disney Posts to Help You Plan Your Next Trip!
Top 12 Best Restaurants in Disney World!
How to Ride Avatar Flight of Passage Before the Park Opens!
The Best Vegan Quick Service Meals in Disney World