If you're planning a Disney World Christmas trip this holiday season, don't miss out on these five festive and free activities that you and your family can enjoy together!

This list was originally published on 12/13/16 but I updated it with current information on 7/8/19.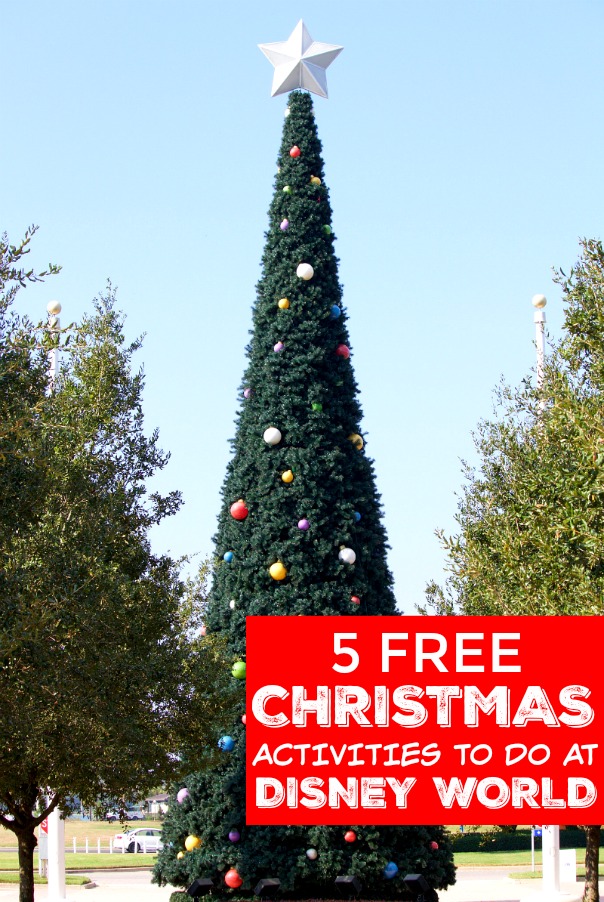 Disney World is so magical during the holidays and there are so many fun and festive activities for you to do to get you into the Christmas spirit. Did you know that there are also a bunch of free Christmas activities that you can do at Disney World too?
Seriously, all of these activities are 100% free, they won't cost you a penny, and they're open to the public! You don't have to stay at a Disney World Resort to participate and you don't have to purchase any expensive tickets to enjoy these activities.
These free Christmas activities at Disney World are offered all season long, not just on Christmas eve or Christmas day. Just in case you are wondering about visiting on Christmas day, check out the following questions and answers.
Is Disney World Open on Christmas?
Yes, Disney World in Orlando, Florida is open on Christmas eve and Christmas day.
Is it Crowded at Disney World on Christmas Day?
It is extremely crowded at Disney World during Christmas day through New Years. It's so crowded that we've never even attempted to experience it because the crowd level is always super high that day. I think that people expect to see the Christmas parade that is aired on TV on Christmas day but that event is actually filmed earlier in the month.
What Dates is Disney World Decorated for Christmas?
Disney World is decorated for Christmas by the end of the first week of November and the decorations stay up until the end of the first week of January.
Is December a Good Time to Go To Disney World?
Yes, December is a great time to go to Disney World and enjoy the season! However, I would recommend that you go as early in December as possible to avoid the holiday crowds. November would be an even better time to visit because the crowds are lower and the Christmas decorations are already up.
What is There to Do in Disney World at Christmas?
There are so many fun things to do in Disney World at Christmas time! You can visit the decked out theme parks (they have special holiday events, holiday fireworks, festive treats), explore the festively decorated resorts within the Disney bubble, go for a horse-drawn carriage ride through the Wilderness Lodge campgrounds to see all of the campers that have been decorated for the holidays, and there are even free Christmas-themed activities that you can do! Keep reading to find out what they are!
5 Free Christmas Activities to do at Disney World
The following Christmas-themed activities are all festive and free to do at Disney World! Have you done any of these holiday-inspired activities? Did I miss any special free events? If so, please let me know in a comment!
5 - Resort Hop and Enjoy the Free Decorations
All of the Disney World resorts are decked out to the max for Christmas! Decorations start going up the day after Halloween and they're in full swing by the end of the first week of November.
You can make a whole day out of resort hopping and looking at all of the Disney World Christmas decorations at each of the resorts, it's one of our favorite free Christmas activities to do in the Disney bubble!
Grand Floridian Resort - The Grand Floridian has a huge gingerbread house with a functioning store inside of it. You can actually buy gingerbread cookies from the gingerbread house, it's so cool! There is also a beautifully decorated Christmas tree in the lobby and a pianist who plays Christmas carols. Take a seat in the lobby and take it all in!
Contemporary Resort - The Contemporary Resort has a huge Christmas tree (with the biggest ornaments you've ever seen!) right outside of the resort. Inside, you'll find the life-size gingerbread castle. Every year it has a different character theme. Last year, all of the characters from Cinderella were depicted and the year before that is was Frozen-themed.
Beach & Yacht Club Resort - The Beach Club has a life-size carousel with moving horses and it's made of real chocolate and gingerbread! The horses move, it plays music, and it smells amazing! Don't miss it! Walk around the Boardwalk after you check out the carousel for even more free fun!
You should also check out the Animal Kingdom Lodge, Wilderness Lodge, and the Polynesian Resort to see their huge Christmas trees in the lobby!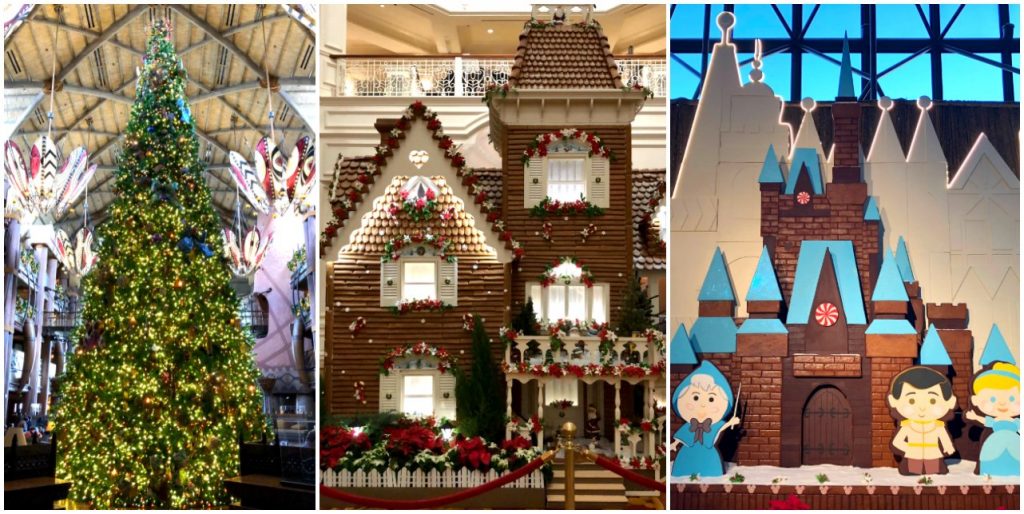 4 - Take Your Christmas Card Picture at Disney Springs
Disney Springs has the cutest free Christmas backdrop that features Pluto, Goofy, Mickey Mouse, and Donald in Christmas garb standing next to a tree. It's actually available all year long so you could plan your Christmas card picture whenever you'd like. The photo-op is located behind the Christmas store, where the entrance to the old bus stop used to be.
During the Christmas season, there are also Disney photo pass photographer's located at different spots in Disney Springs. You can ask them to take a picture of you with their holiday props on your camera/phone for free! Aren't my parents adorable?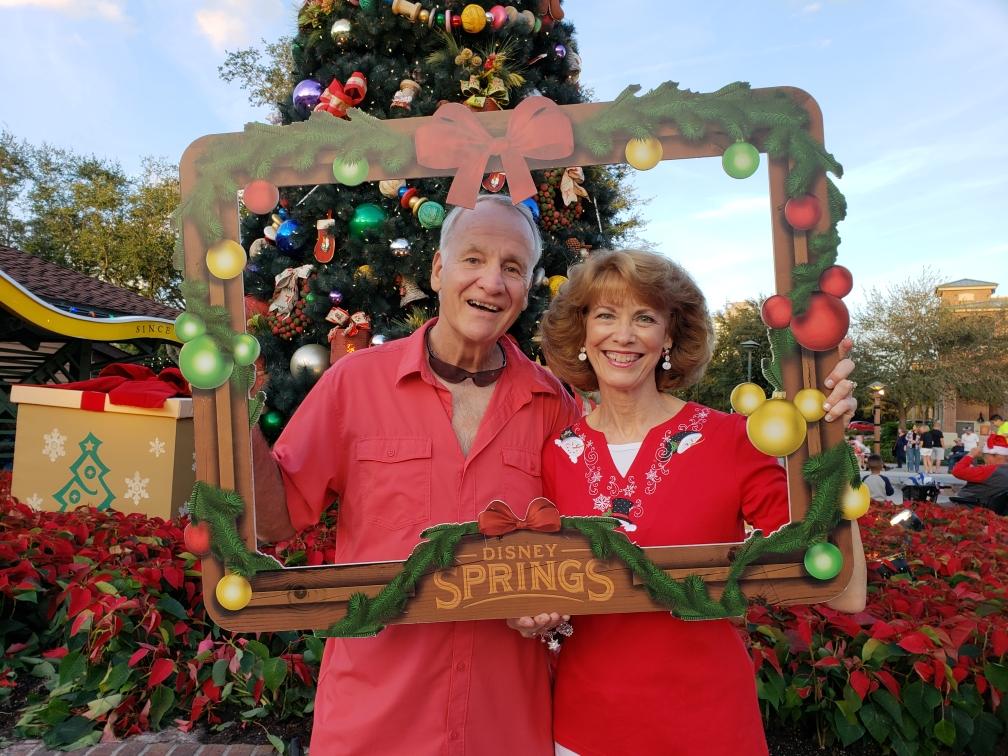 3 - Enjoy the Chip & Dale Campfire Sing-a-long and Movie Under the Stars at the Fort Wilderness Campground
Did you know that you don't have to actually stay at the Wilderness Lodge Resort in order to enjoy the free Chip & Dale campfire sing-a-long? The free meet and greet with Chip and Dale is located at the Meadow Trading Post area of the campgrounds and it usually begins around 7 p.m. during the fall/winter season.
During the activity, you'll sing songs (led by a cast member), roast marshmallows at one of the two campfires (you can bring your own ingredients or buy them there), and you'll mingle with Chip and Dale while you enjoy the fire.
After the campfire sing-a-long, you can watch the free movie under the stars! I would call ahead ((407) WDW-PLAY or (407) 939-7529.) and choose a night to go when they're showing a Christmas movie. There are bleachers available for you to sit in or you can bring your own foldable chairs or a blanket to lay on.
2 - Watch the Mickey's Very Merry Christmas Party Fireworks From a Resort on the Monorail Loop

The firework show at Mickey's Very Merry Christmas Party in the Magic Kingdom is truly spectacular! The ticket to this special event is a little pricey, so if you just want to see the special fireworks you can watch them for free from the Contemporary Resort, Polynesian Resort, or the Grand Floridian Resort.
First, check the My Disney Experience app or call the resort to find out what time the fireworks start at. Plan to arrive at the resort one hour prior to the fireworks starting so you can get a good spot. They even pipe the music in so it's like you're right there in front of the castle!
Don't try to do this on a holiday or any day there is a special event happening at the resort because they probably won't let you park at the resort. Pick a day where nothing scheduled is happening and tell the front gate guard that you'd like to explore the resort. They *should* let you park at the resort but there are no guarantees.
We usually end up eating at the resort quick service or getting drinks at the bar so we tell the guard that's what we'd like to do and they've always let us park at the resort on regular days.
If you have any problems parking at the resort, you could always park at Disney Springs for free and then take their bus system to whichever resort you'd like to visit. If you're an annual passholder, you could park at the Ticket and Transportation Center for free and ride the monorail to the resort.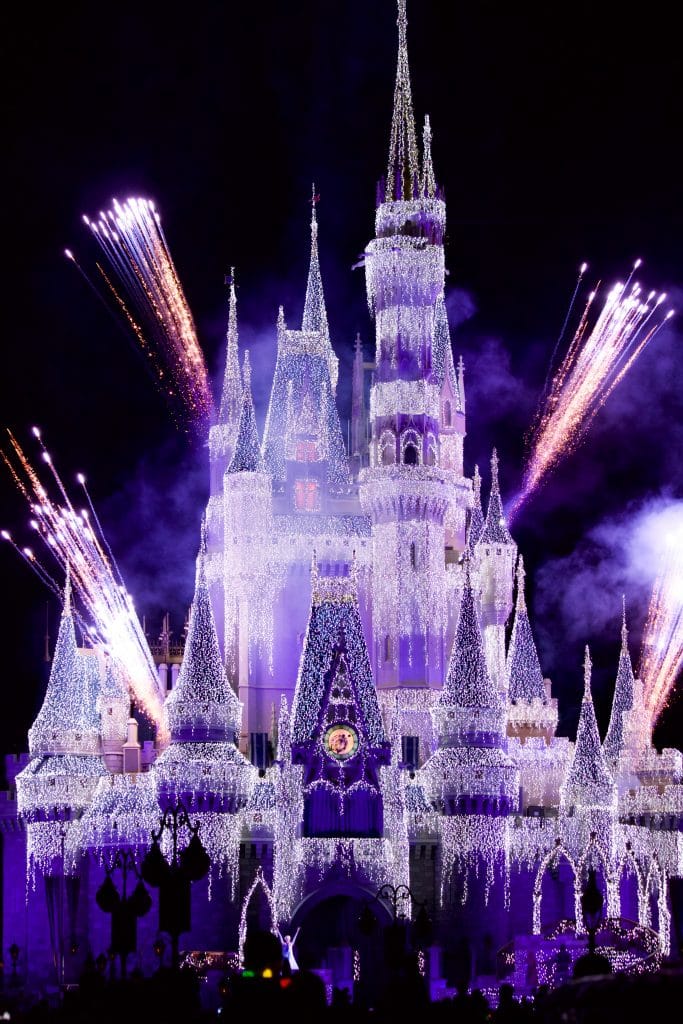 1 - Walk the Disney Springs Tree Trail
The Disney Springs Tree Trail is the #1 ultimate free Disney World Christmas activity because it feels like an event that you should have to buy a ticket to attend! It's free to park and get into Disney Springs so you truly don't have to spend a dime to experience this activity!
I'm actually surprised that they don't charge anything for it because it's extensive and you can make a whole night of it! You can see what the 2018 Disney Springs Tree Trail looked like, here.
There are close to 30 decorated Christmas trees along the trail and each tree is themed after a different Disney movie! Each tree is decorated so artfully, you can really tell that a lot of thought and planning went into each design. Personally, we loved the villain tree, Minnie Mouse tree, Haunted Mansion tree, Peter Pan tree, and the Little Mermaid tree!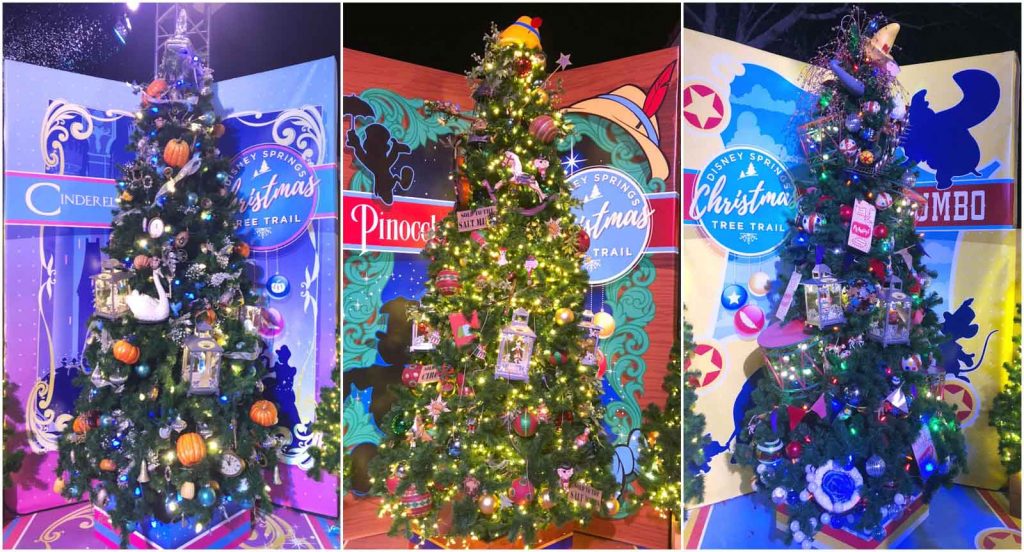 While you walk the Christmas Tree Trail, bubble snow will be blowing all around you, there's Christmas music playing, you can meet Santa (towards the end of the trail), there are festive refreshments (for a small fee) available, there are nutcrackers walking around on stilts, and there's even a gift shop. You'll definitely be in the Christmas spirit after experiencing the Disney Springs Christmas Tree Trail!
Also, if you see a Christmas ornament on one of the trees along the trail, you can buy the same ornament at the Christmas shop that is located at the end of the Tree Trail.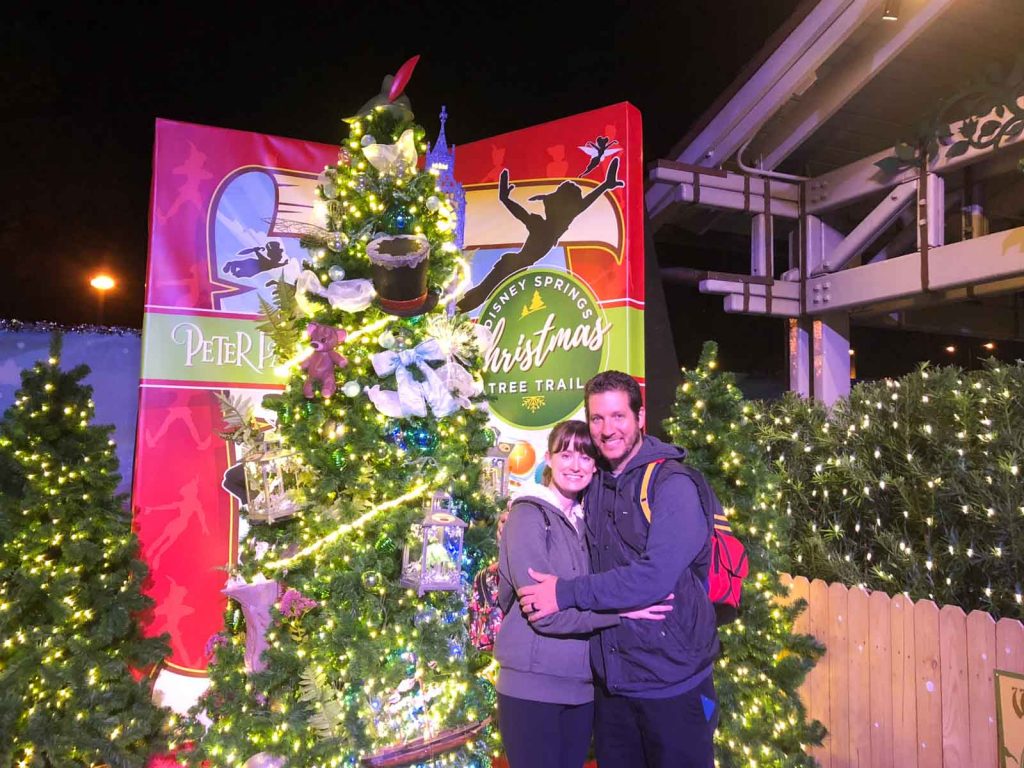 See, there are a bunch of free activities that you can do during the Christmas season at Disney World! You don't have to spend money to have fun and make new memories with your family. I hope that you get to experience some of these free Disney World Christmas activities this year!
Remember, if you can't make it to Disney World to see the decorations before Christmas, the decorations will stay up until the end of the first week of January so you still have time to see them! If you want to see what Disney at New Years is like, watch this video.
More Disney World Christmas Activities (Not Free)
The following activities aren't free but if you're looking for more Christmas activities to enjoy at the parks then this is what I recommend. Want to see what new Christmas activities are happening at Disney World in 2019? Read this for more WDW holiday information.
Go to Epcot to see the Festival of the Holidays in the World Showcase. There is a huge Christmas tree and multiple food booths stocked with festive treats! You might even run into Mr. and Mrs. Clause, Winnie the Pooh, or princess Belle dressed in her Christmas best!
Visit the Magic Kingdom to see the Cinderella Castle dream lights up close and personal, they're magical! If you're able, buy a ticket to the

Mickey's Very Merry Christmas Party

! It's a nighttime event that has a fabulous Christmas parade, snow on Main street, a Frozen stage show, and Christmas treats throughout the park. In my opinion, it's the best Disney Christmas party event that's offered at any of the parks and the price of the ticket is worth every penny!
Go see the Jingle Bell, Jingle Bam! Holiday Fireworks Spectacular show at Hollywood Studios!
Stop by the Animal Kingdom to experience their Winter Celebration in Discover Island and to watch winter tales depicted on the Tree of Life along with holiday music.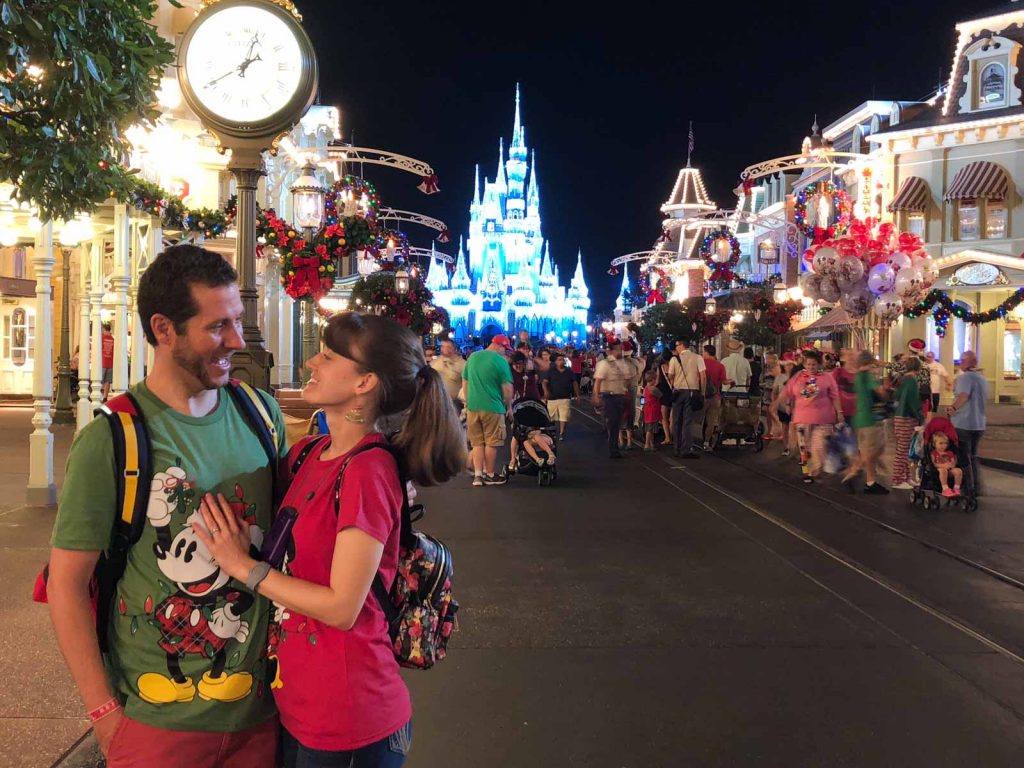 What are your favorite free Christmas activities to do in Disney World? Let me know in the comments!
More Disney Posts You'll Love!
Top 12 Best Restaurants in Disney World
159 Disney Cruise Tips I Wish I Would've Known Before Our Cruise!
5 Activities You Don't Want to Miss at Mickey's Very Merry Christmas Party
11 Funtastic Disney Cruise Activities That Aren't for Kids!
The Best Vegan Quick Service Meals in Disney World!