This is the ultimate guide to everything you need to know about Castaway Cay + 13 fun activities that you can do on the island!
*I received a pair of sunglasses from GlassesUSA.com in exchange for my honest opinion and review.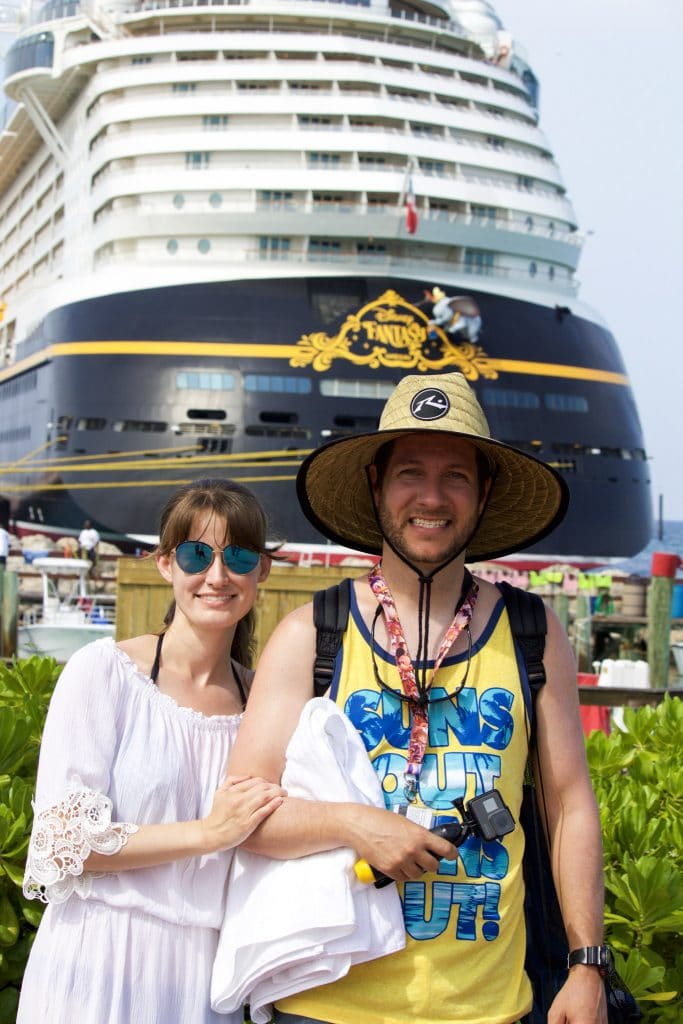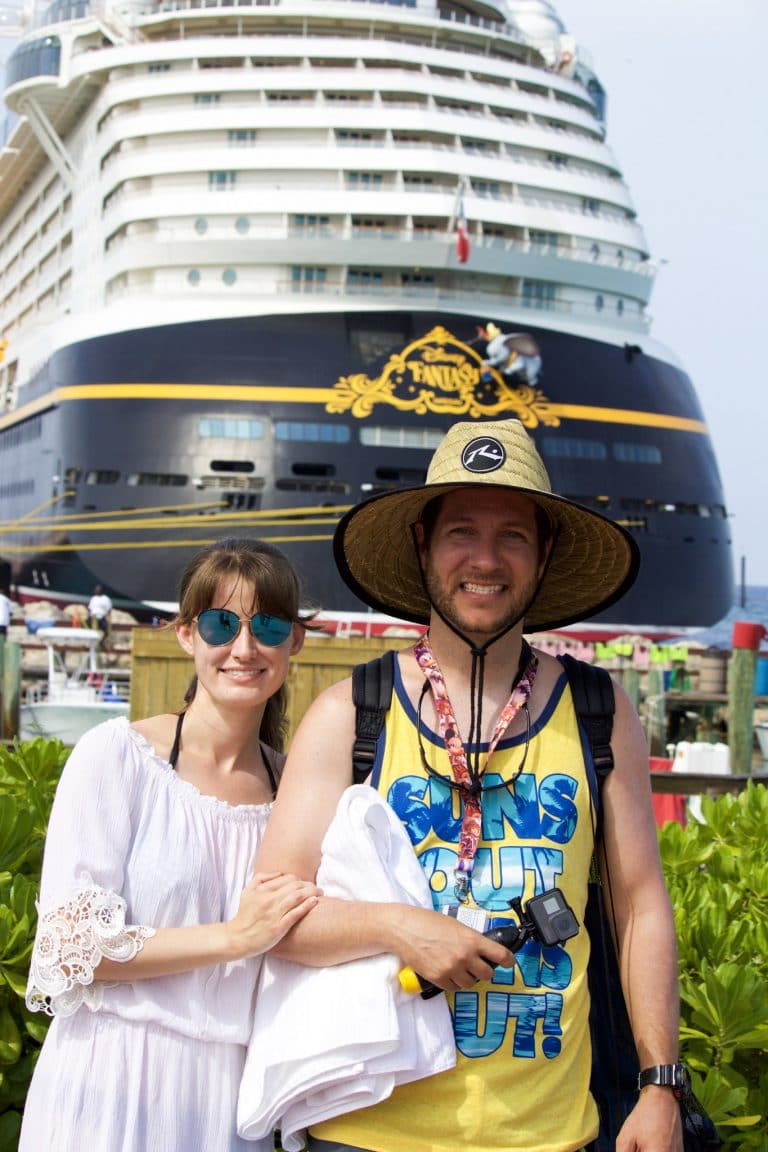 If you are lucky enough to go on a Bahamas or a Caribbean Disney cruise then you will get to experience the stunning beauty of Castaway Cay!
Castaway Cay is Disney's private island and it's literally breathtaking. The entire island feels like a pristine water park out in the middle of the Caribbean. You will be blown away by the vibrant aqua water, swaying palm trees, and beautiful white sandy beaches.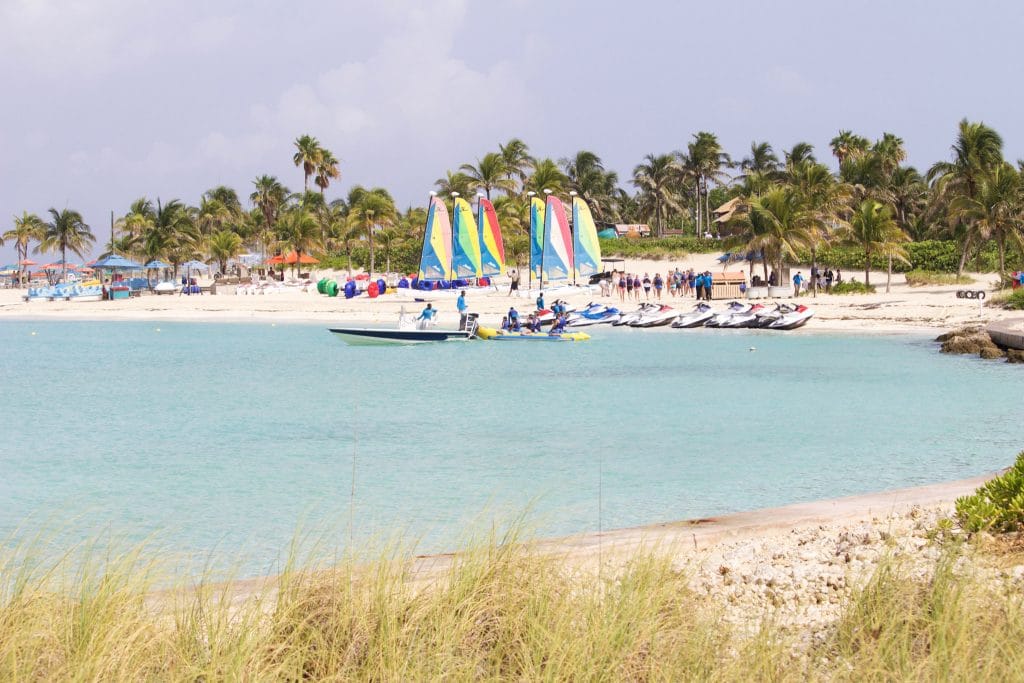 There's so much to do and see at Castaway Cay that even after three Disney cruises to the private island, I still don't think that I've seen it all! My Castaway Cay pictures don't even do it justice, you truly have to see it for yourself to experience its natural beauty!
If this is your first Disney cruise, don't miss my list of 159 Disney Cruise Tips that I wish I would've known before our first cruise and this FREE Printable Disney Cruise Packing List! I think you'll find both posts to be very helpful!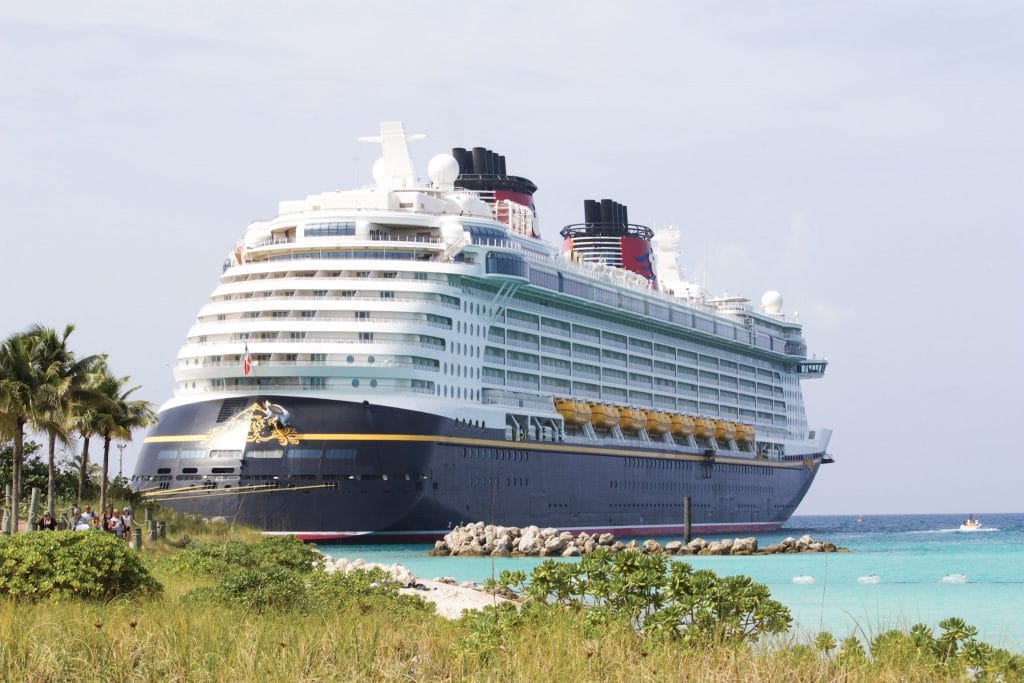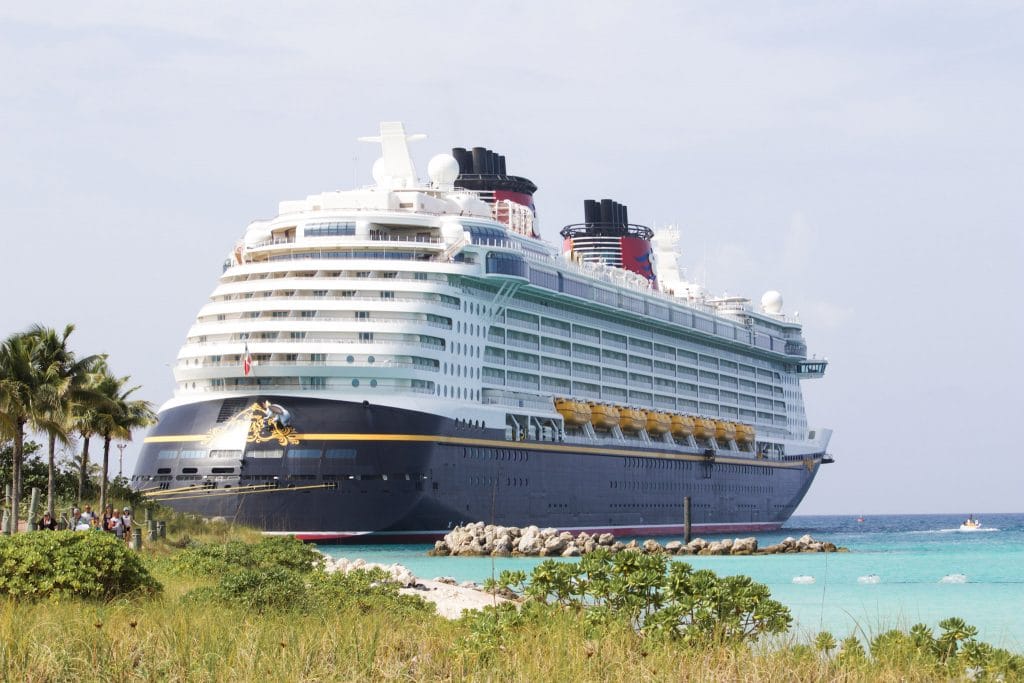 10 Things You Should Bring with You
Sunglasses - If you wear prescription glasses on a regular basis, I would highly recommend that you get prescription sunglasses for your vacation! I'm so happy with these prescription sunglasses that I ordered from GlassesUSA.com

.

Beach Bag - A Disney-themed beach bag is a must to carry all of your things to Castaway Cay!

Sunscreen

+ a Sun Shirt - This is the only sunscreen that we use because it's reef-safe and it doesn't have any parabens, phthalates, or harsh sulfates. It's easy to put on, it's water-resistant, and it actually works. We also wore our sun shirts later in the day when we felt like the sun was really strong. We didn't burn at all!
KTTWC + Photo ID - To get off the ship, back on the ship, and to buy any drinks or souvenirs, you'll need your Key to the World Card and a valid photo ID.
Snorkel Gear - We brought out own gear to use in the snorkeling lagoon on the family side. If you don't bring your own gear you can rent a set for $34.
Bathing Suit + Cover-up - Wear your bathing suit and a cover-up off the ship. It's easier to be ready to swim instead of having to change once you're on the island.

Sandals

- These hemp Rainbow sandals are the best! I've been wearing them for 10+ years and they're still in great shape. Perfect for a day at Castaway Cay!

Wide Brimmed Beach Hat

- Packing my floppy hat was a last-minute decision but I'm so glad that I packed it! It worked wonders to protect my face and neck from the extremely strong sun on the island. My husband also brought a big straw hat to protect his face from the sun.
GoPro + Waterproof Case - I'm so glad that we brought the GoPro to capture our snorkeling adventure on Disney's Castaway Cay Island. I love looking back through the underwater videos now.
Water Bottle - You need to drink lots of water while on the island! It's extremely hot so it's very important to stay hydrated! You can get water at lunch but I liked having my water bottle with me at all times.
What Can You Do at Castaway Cay?
The following list includes 13 fun activities that I would recommend you do while at Disney Castaway Cay. On our last cruise in December 2018, all ashore was at 8:30 AM and all aboard was at 4:45 PM. You should have plenty of time to experience most of these activities if you plan your day right!
Make sure you get up early on Castaway Cay day and eat a hearty breakfast before you get off the ship so you have enough energy to enjoy the day!
1 - Take Pictures in Front of the Ship + With Characters
I know it's hard to stop and take pictures when all you want to do is get in the water or start relaxing but some of our favorite pictures from the cruise were taken by a Disney photographer in front of the ship. It's a great shot! We like to take the pictures first thing so you don't look like a hot mess trying to take pictures later in the day.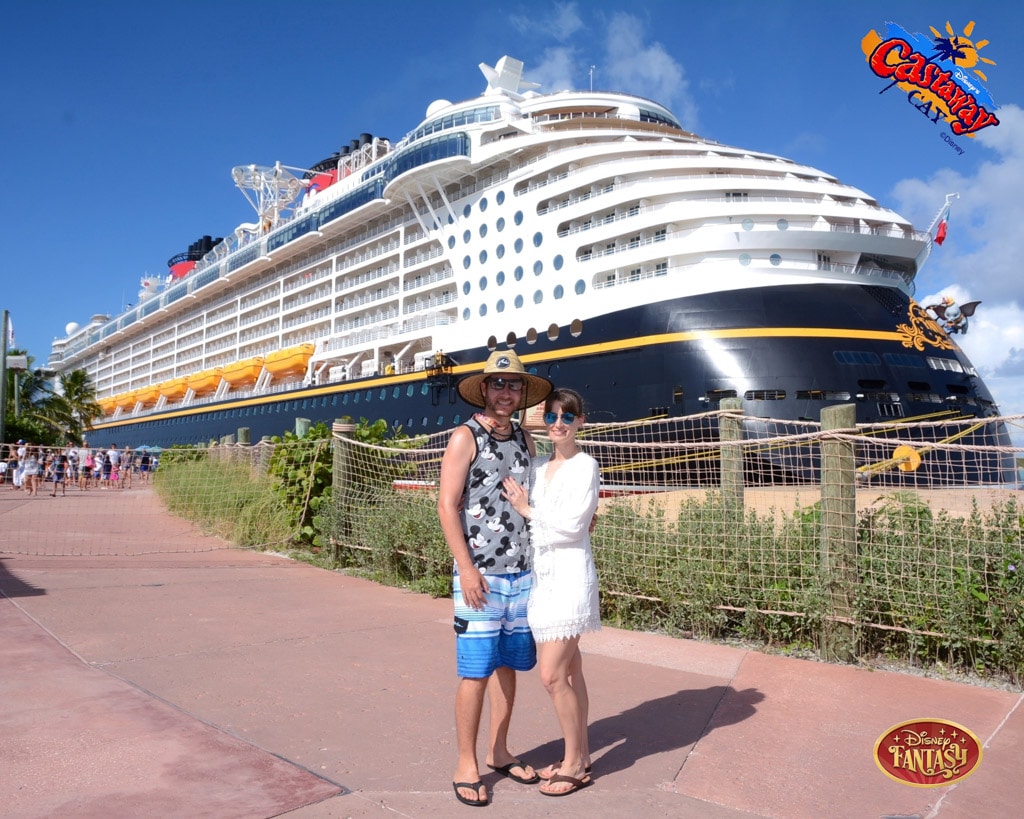 We also noticed that Minnie, Mickey, Pluto, and Goofy were only out to take pictures in front of Mount Rustmore early in the morning. If you wait until the afternoon to take pictures with them then you risk missing the characters.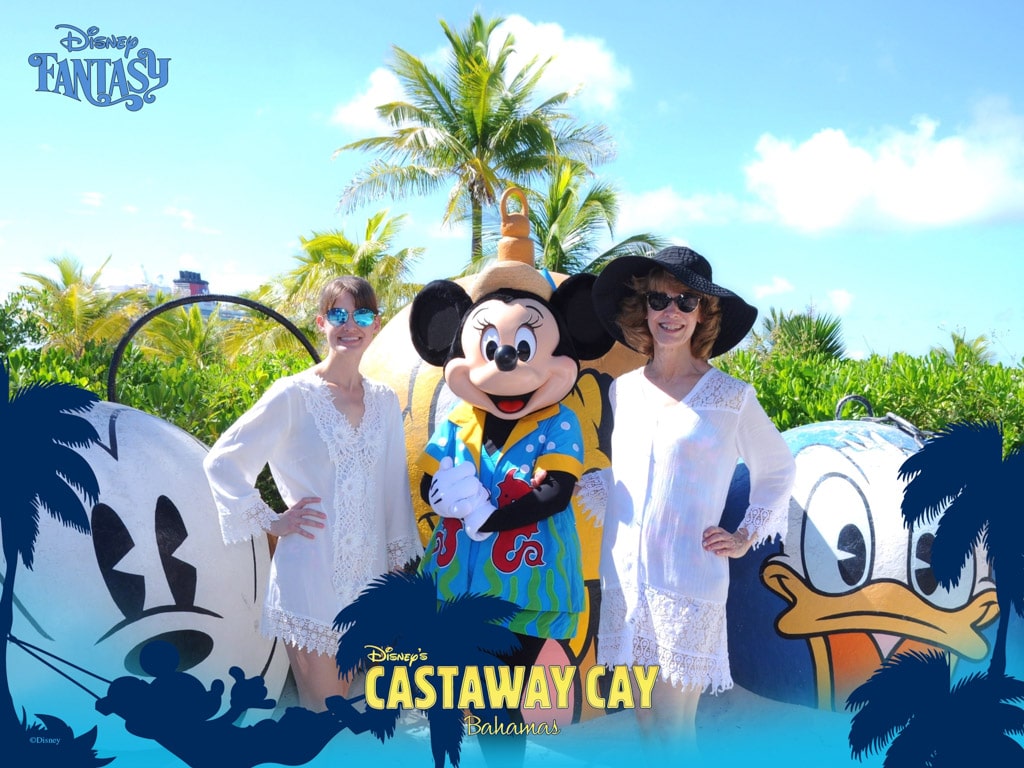 Also, at Christmas (from the beginning of November - the end of December) time, there is a huge festive Christmas tree, snowmen, and a sleigh set up right outside of the ship that you can take pictures in front of. Don't miss it!
2 - Mail a Postcard
Castaway Cay has its very own post office! Buy a postcard from the gift shop on the ship and a $.65 stamp from the Guest Services counter and then mail it to yourself at the Castaway Cay post office on the island. The post office has a special Castaway Cay stamp that makes it a really fun souvenir and memory to receive in the mail weeks later when you're back at home.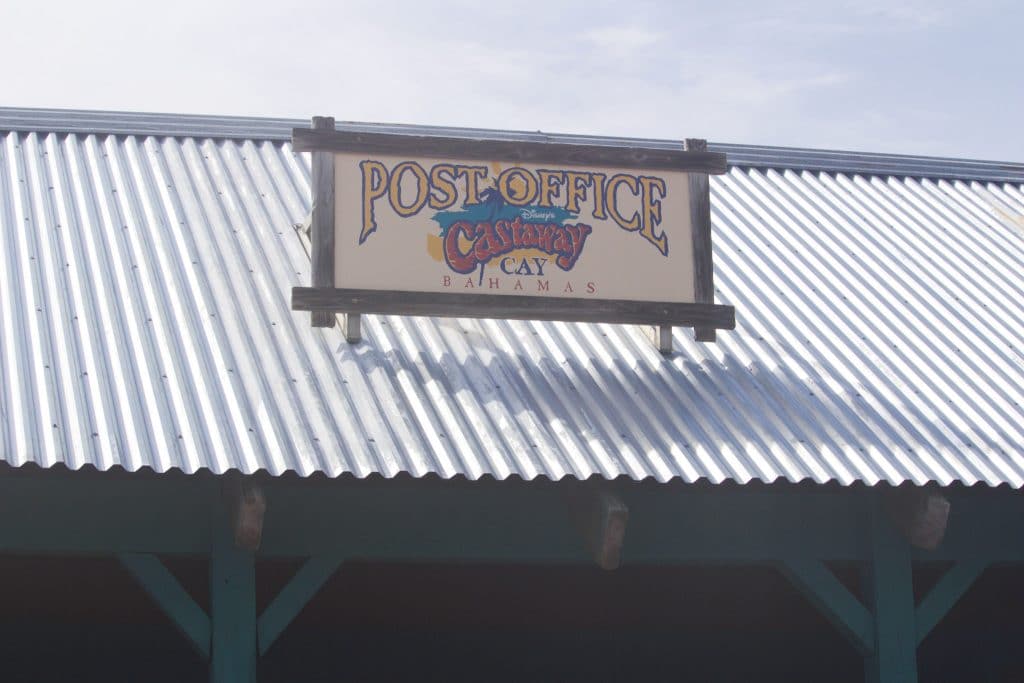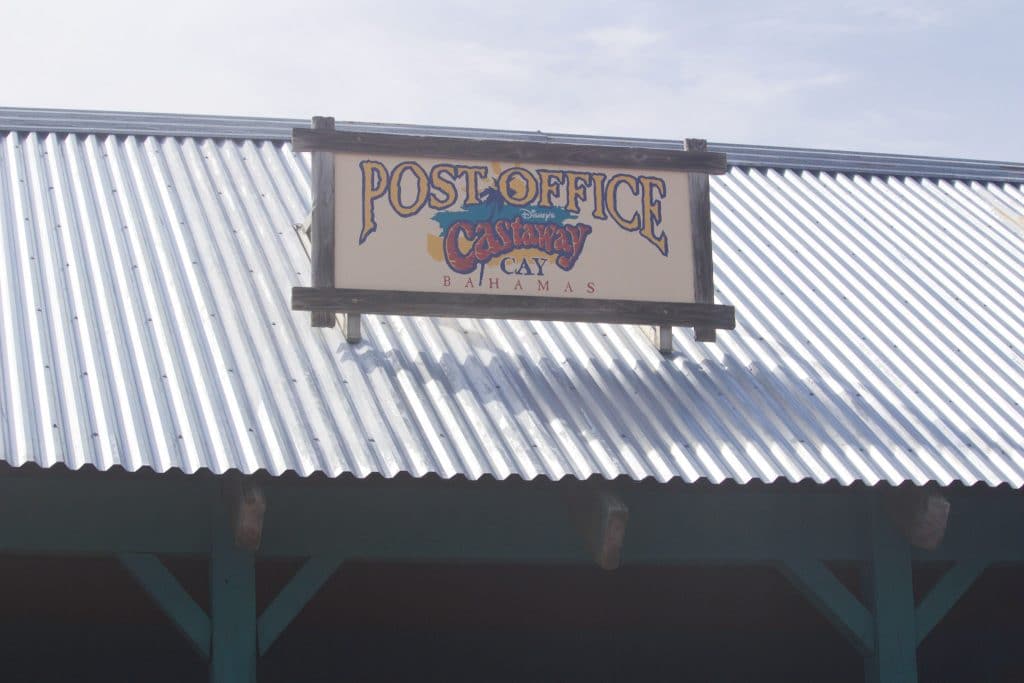 3 - Book Excursions 
We booked the Watercraft Ski Adventure - Double (C12) excursion and we loved it, it was so much fun! My husband and I rode together on one jet ski and they took our group out to the other side of the island. Riding the jet ski was fast and a little bumpy but very exciting and I would definitely do it again. Our guides stopped the group a few times to point out big fish and a huge stingray that was swimming by, it was awesome.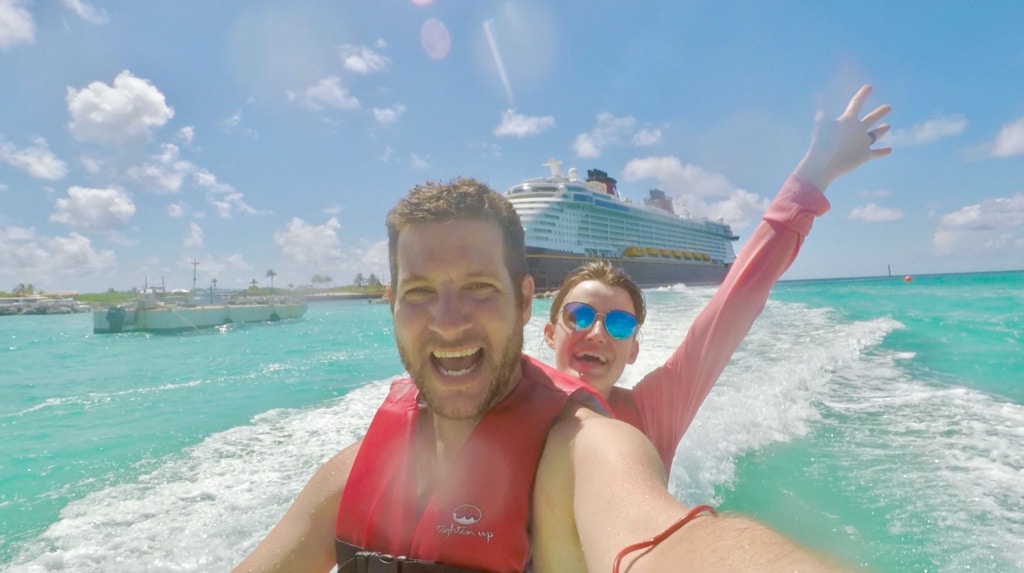 The excursion is only one hour long so it doesn't take up much of your day at Castaway Cay but it shows you a different part of the island and the ocean that you normally wouldn't see. I highly recommend the excursion! If you're interested, you can watch our jet ski excursion video.
A few tips if you decide to do the jet ski excursion -
Don't bring any valuables with you because there is nowhere to lock them up safely. They have a large open cubby for you to leave your stuff (shoes, hat, backpack) in but there's no way to lock it.
Bring a waterproof cell phone case that hangs around your neck if you want to keep your phone, photo ID, and KTTWC on your person.
Make sure to put sunscreen on (I also wore a long sleeved sun shirt) and drink lots of water before you get on the jet ski because the sun is very intense.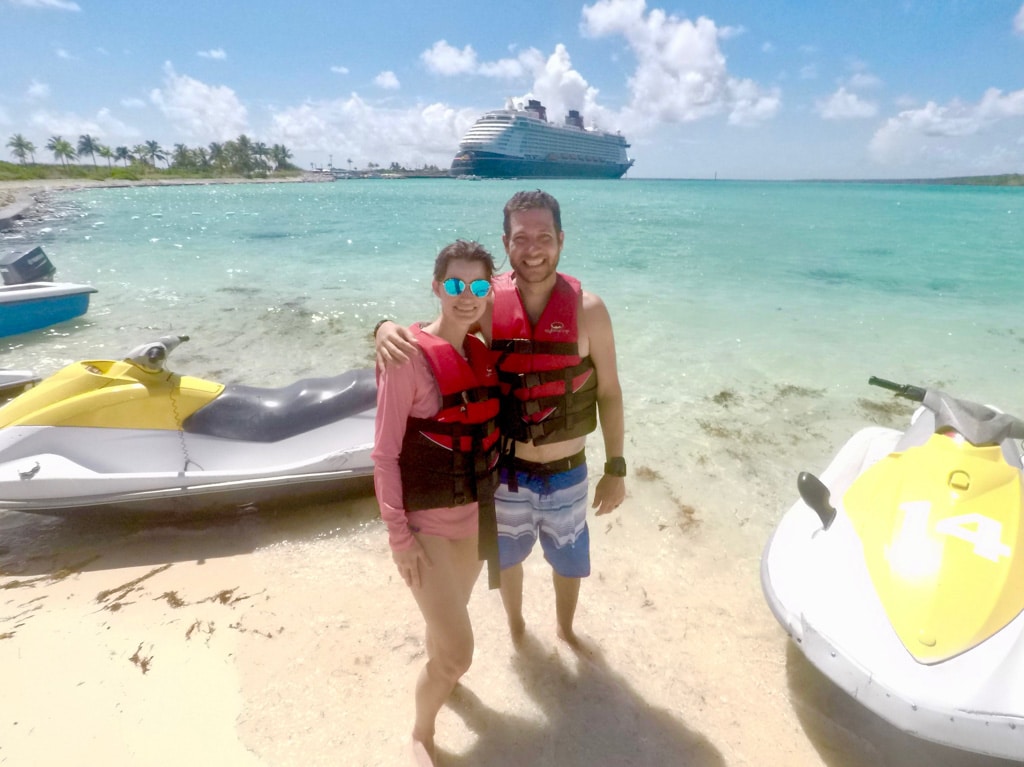 4 - Run the Castaway Cay 5K
I'm not a big runner so I didn't participate in the Castaway Cay 5K on any of our trips to the island. However, I can tell you that it's a fun and non-competitive 3.1 mile race that you can run or walk on the island. You can't sign up for the race until embarkation day and everyone receives a special medal that completes the race. You can learn more details about the Castaway Cay 5K, here.
5 - Snorkeling
The Snorkeling Lagoon is located on the family side of the island. Be prepared because it's a huge swimming area, it's just a shallow kiddie swimming area like I initially expected it to be. The water is very deep in some parts and the underwater hidden Mickey and Minnie statues are pretty far out in the lagoon. There are lifeguards in the lagoon but it's mandatory for all swimmers (regardless of age or experience) to wear a life vest while swimming.
You might see tropical fish, barracuda, turtles, and starfish while snorkeling in the lagoon. Make sure you keep your eyes open for sunken treasures, a submarine, and other surprises that are marked above the water with floating buoys.
Also, if you don't want to bring your own snorkel and fins as we did, you can rent a set on the island for $34.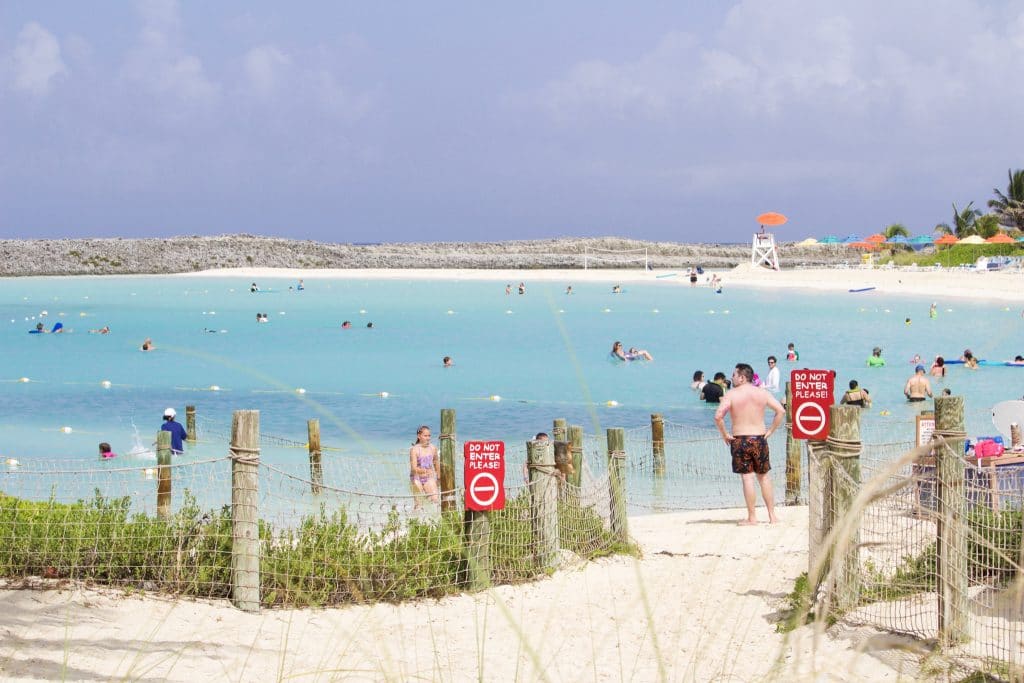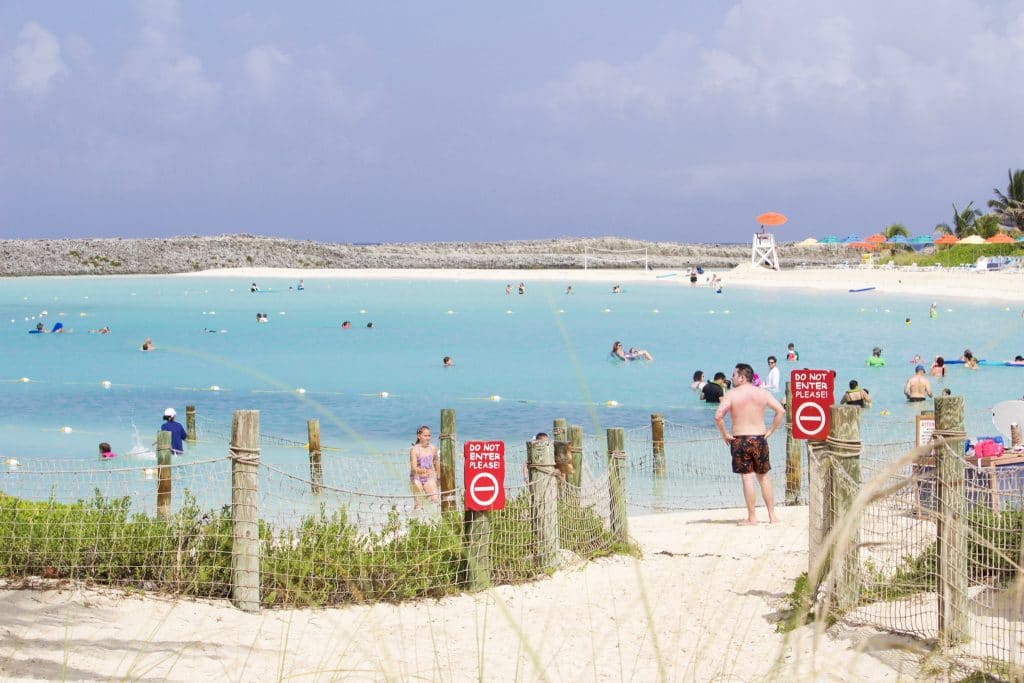 6 - Pelican Plunge Slides
Pelican Plunge is a floating deck with two slides (one open and one closed tube) attached to it and it's located on the family beach side of Castaway Cay. The slides are not just for kids and they're so much fun!
7 - Eat Lunch at Cookie's BBQ
There are three Cookie's BBQ locations on Castaway Cay: two on the family side and one at Serenity Bay. The food is served buffet style and it's typical BBQ fare that you would expect. Cookie's is open from 11 AM - 2 PM.
If you have any food allergies or special dietary preferences, make sure to pre-order your food the night before at dinner with this printable pre-order form. You can specify which location you would like your meal to be held at and you can pick it up whenever you're ready.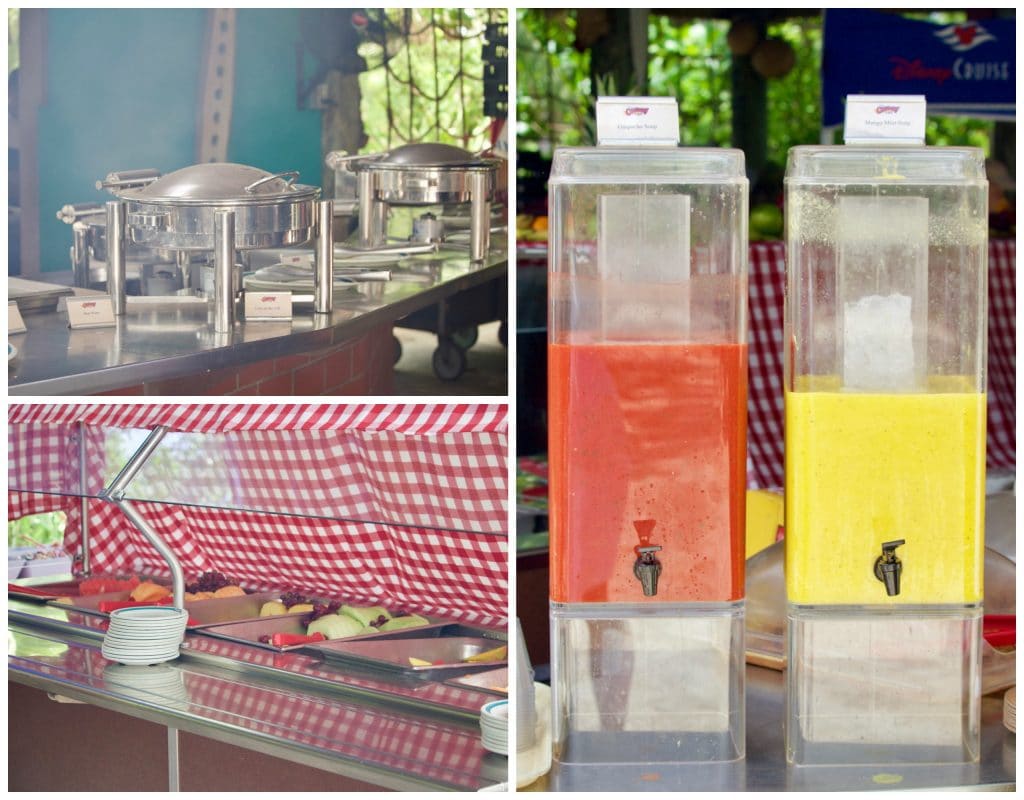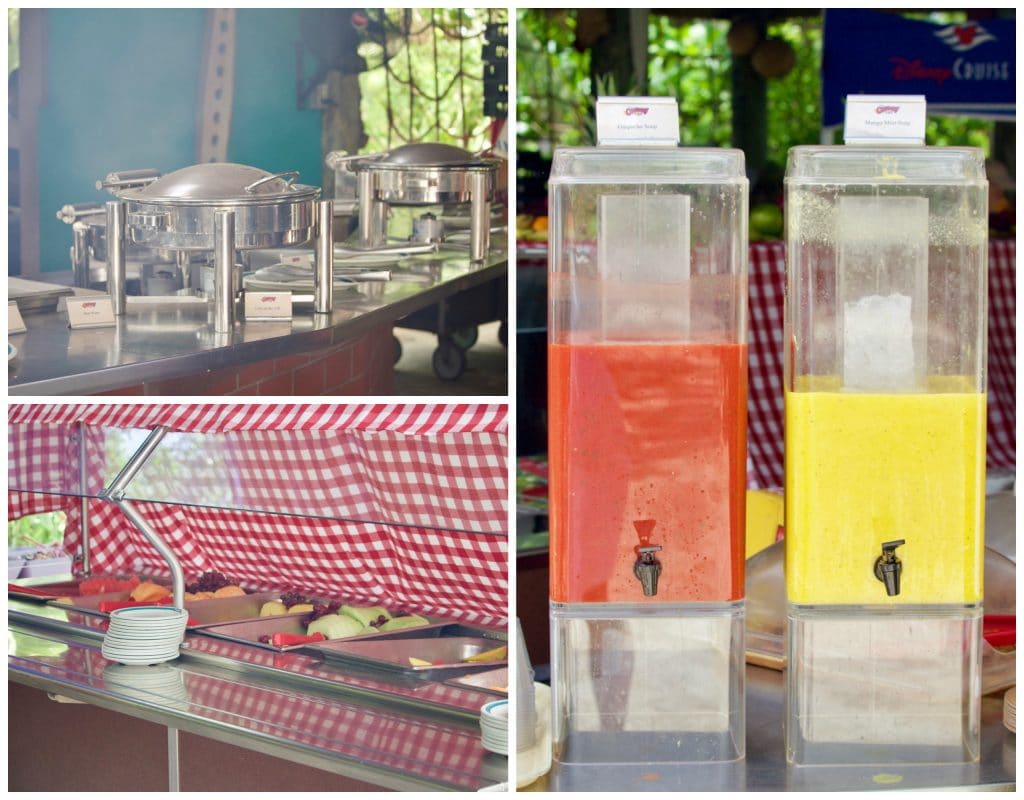 Cookie's BBQ Castaway Cay Menu:
Hot dogs
Hamburgers
Veggie burgers (made to order)
Bratwurst
Corn on the cob
Fresh fruit - mango, watermelon, pineapple, cantaloupe, and honeydew.
Couscous salad
Potato salad
Coleslaw
Gazpacho
Mango mint soup
Cucumber feta salad
Fresh chocolate chip cookies
Soft serve ice cream machine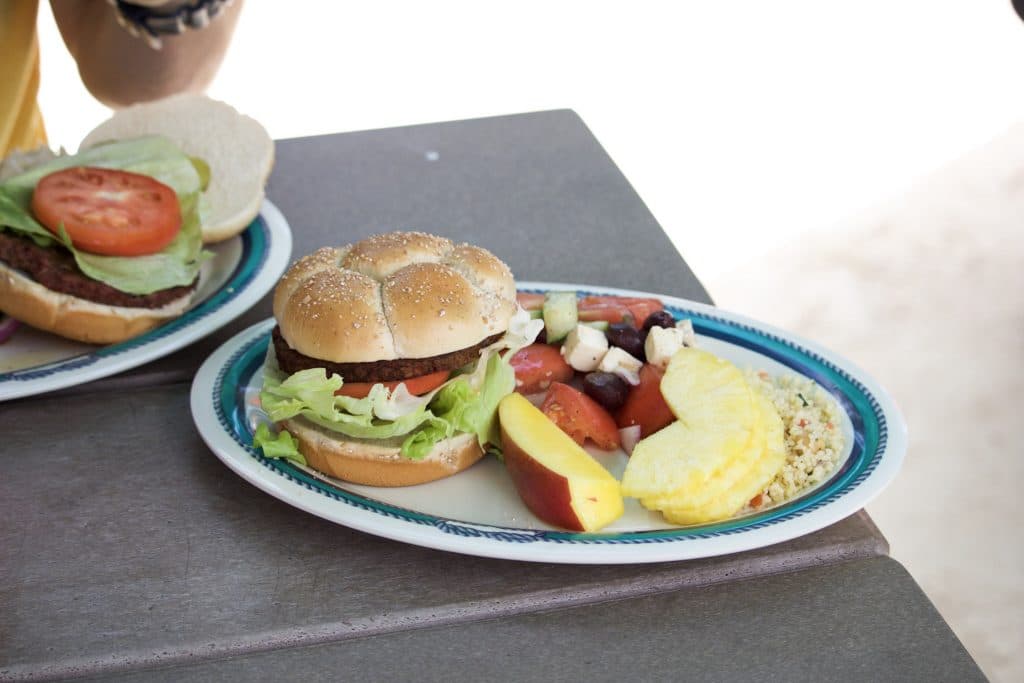 My husband and I are both vegan so we pre-ordered veggie burgers with tofu greek salad and couscous. We loved the fresh fruit bar and we thoroughly enjoyed our lunch! If you'd like more info about how to eat vegan on a Disney cruise, you can read this helpful guide.
8 - Book the Mojito Tasting Seminar at Heads Up Bar
If you've done any of the beverage tasting seminars on the ship then you might have heard about the elusive Mojito Tasting at Heads Up Bar on Castaway Cay.
My husband and I have done almost all of the beverage seminars that are offered on the ship and the mojito tasting is our favorite one! Why? Because of the bar location, the delicious and plentiful drinks, and the hilarious class host!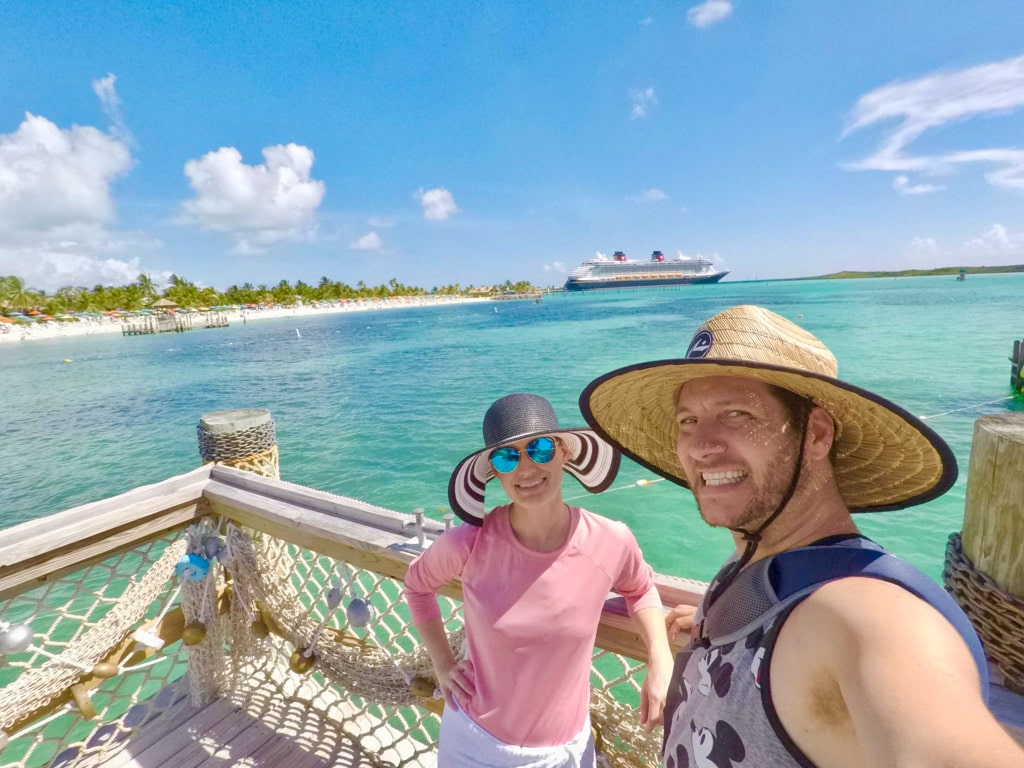 We love that the tasting is held on the island instead of the ship and Heads Up Bar has the most beautiful panoramic views of the ocean! The refreshing ocean breeze that blew into the open air bar didn't hurt either.
You will enjoy four freshly made full-size mojitos (coconut, lime, raspberry, and mango) plus a caipirinha. The cost of the tasting was well worth it and we would do it again in a heartbeat. Be aware that this tasting is difficult to book because it's only offered one time on Castaway Cay day.
If you're not able to book the mojito tasting then we also like the Castaway Air Bar at Serenity Bay. The tropical frozen drinks are delicious and we really enjoyed sipping on them while floating in the water.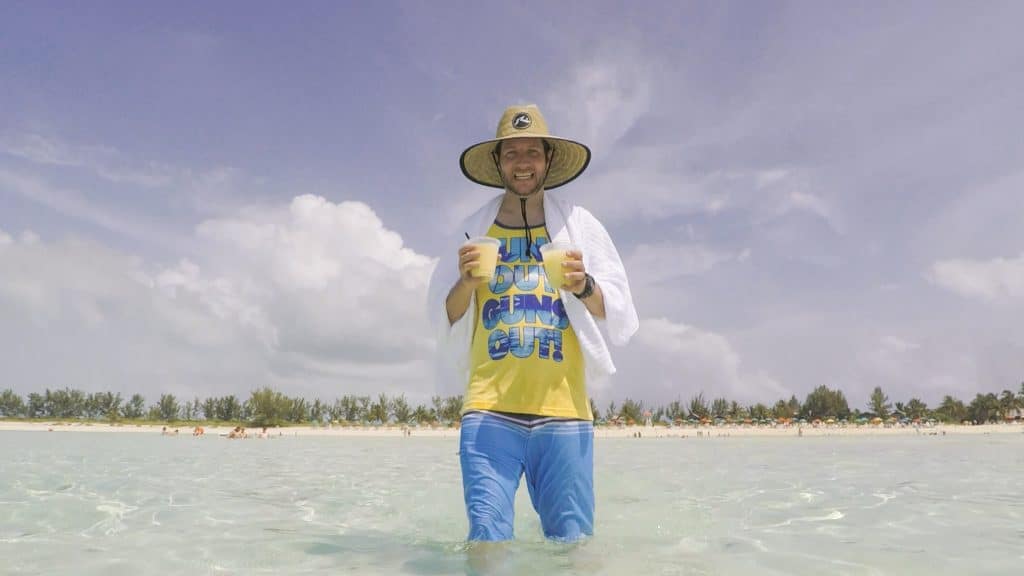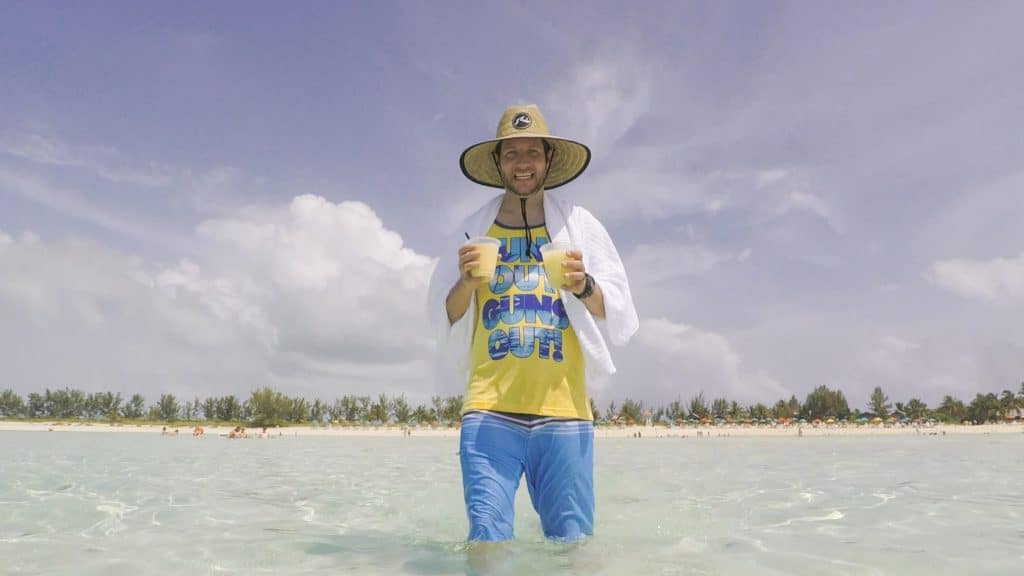 9 - Visit Serenity Bay
If you're 18 or older then make sure that you save at least 1-2 hours to visit and enjoy Serenity Bay.  Serenity Bay is absolutely stunning! It's completely different from the family beach: there's no snorkeling lagoon, gift shops, or screaming kids. It's a peaceful oasis that you don't want to miss!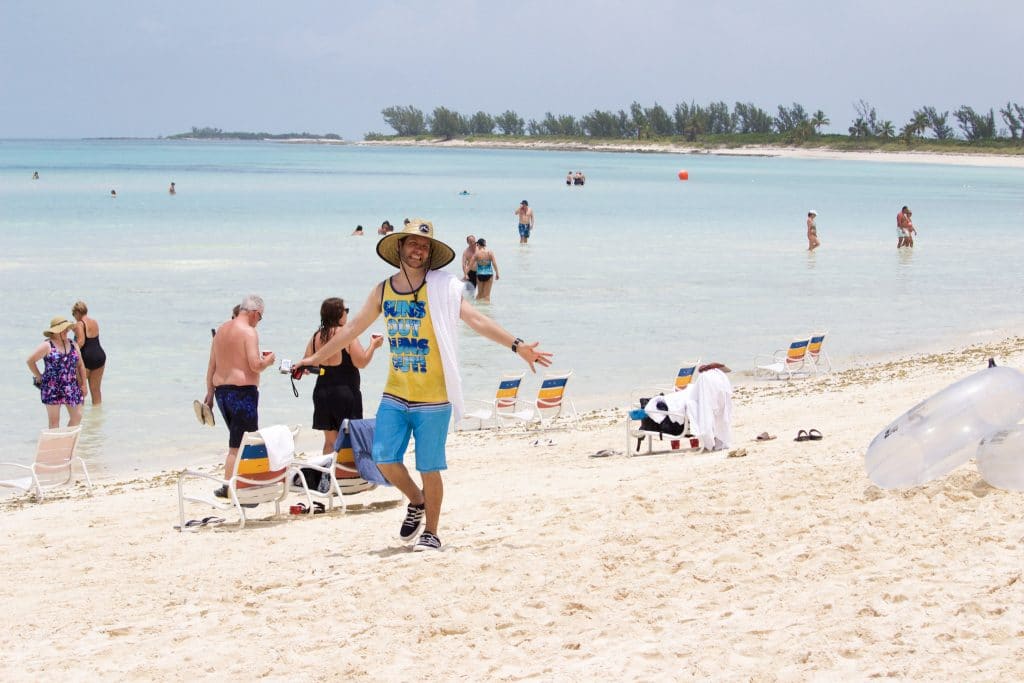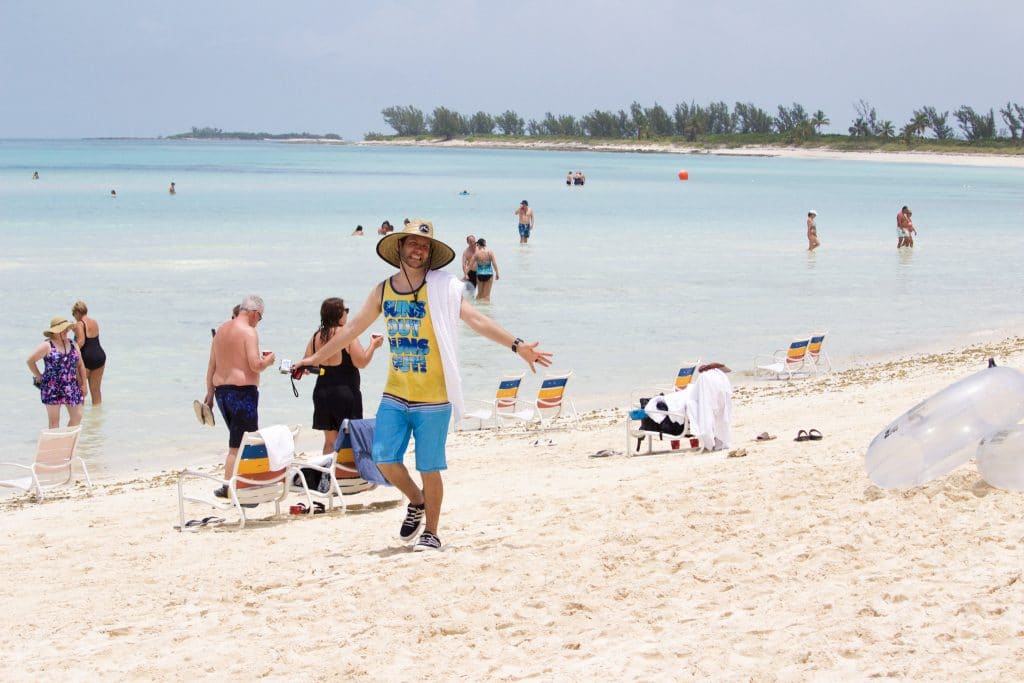 At Serenity bay, you'll find a beautiful stretch of white sandy beach with plenty of lounge chairs, hammocks, and umbrellas, a bar, and adult-only cabanas. The water is calm because the jetty blocks the waves and when the tide is out you can walk on the sandbar and look for starfish! It's so magical!
We saw multiple starfish in the water at Serenity Bay. They're such beautiful and unique creatures that I understand the urge to want to play with them. Please be extremely gentle if you touch one and don't take it out of the water.
We saw a few people manhandling the starfish and then throwing them back into the water like they were skipping rocks, this is not ok! Please be respectful of any marine life that you come into contact with.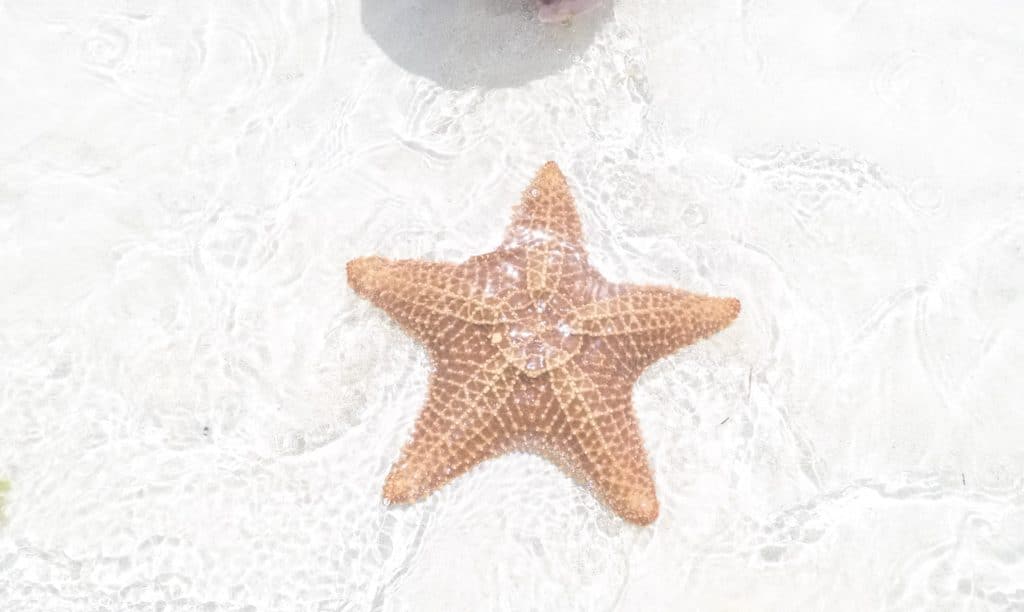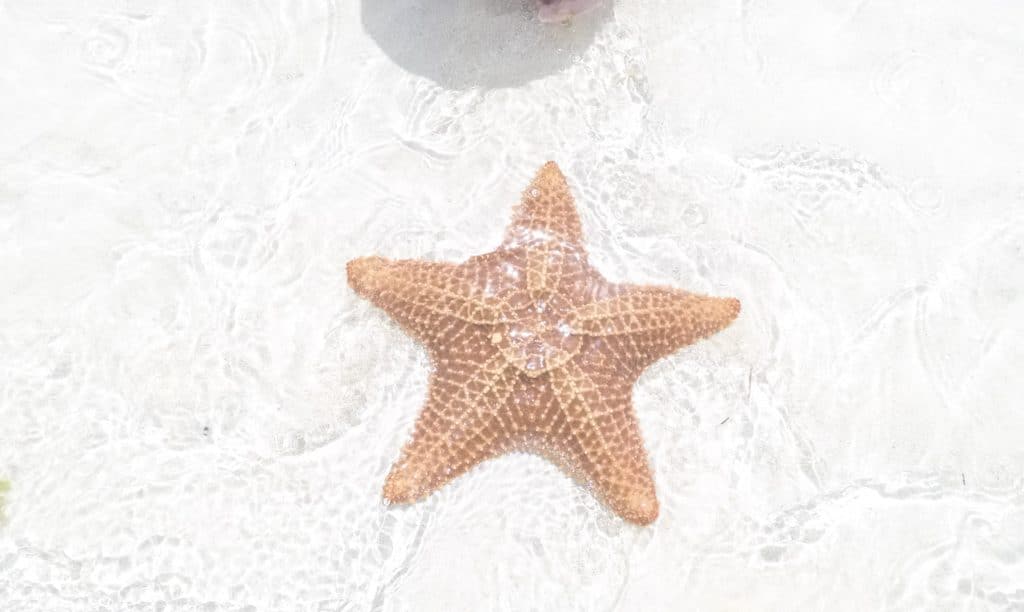 11 - Rent a Raft or Tube
You can rent rafts or tubes for the day for $13 on the island. I definitely think it's worth it because floating in the tubes at Serenity Bay really helped us to relax for a little bit. There's so much to do on the island that you feel like you have to go-go-go to get everything done but it's also important to remember to slow down and just enjoy the day.
12 - Rent a Bike + Explore the Trails
My husband and dad rented bikes for the first time on our last cruise and they really enjoyed it! They loved exploring the trails, biking to the overlook (climb to the top to see a beautiful view of the whole island!), and working off lunch in the process.
You can rent a bike for $13/hour. If you plan on renting a bike while on the island, remember to pack water shoes or sneakers because biking in sandals is not safe!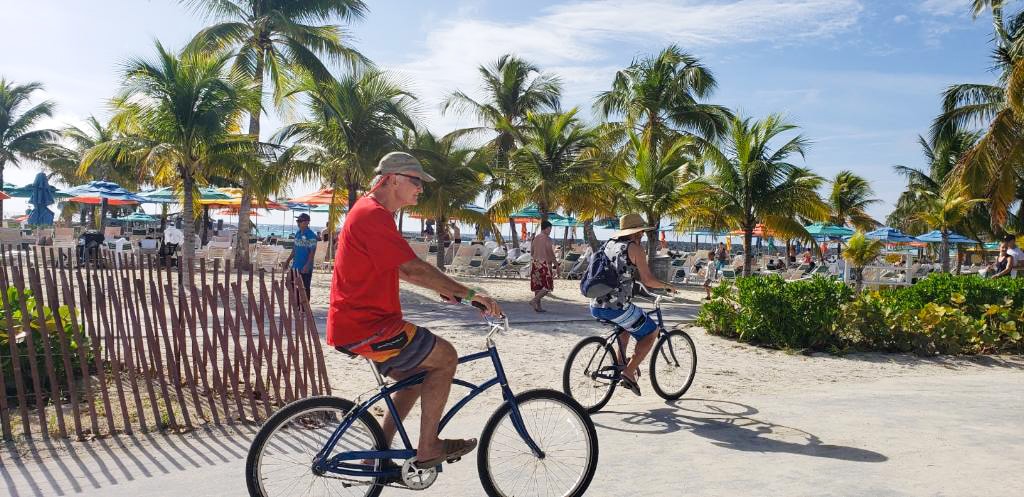 13 - Shop at the Castaway Cay Gift Shops
Keep in mind that you can only get Castaway Cay souvenirs from the gift shops on the island, there is nothing on the ship that says, Castaway Cay. We hit both of the gift shops on our way back from Serenity Bay and picked up a few souvenirs (a Castaway Cay magnet, Olaf Christmas ornament, and Castaway Cay t-shirt) to remember our trip by.
14 - BONUS - Rent a Cabana
I included renting a cabana as a bonus activity because I realize that Castaway Cay cabanas are very hard to get (there are only 25 on the whole island!) and not everyone will be able to book one.
We were lucky enough to rent a cabana on Serenity Bay on our last cruise and we loved it! We really put it to good use and we eeked out as much enjoyment as we could. Want to see the cabana that we rented for the day? Watch this video!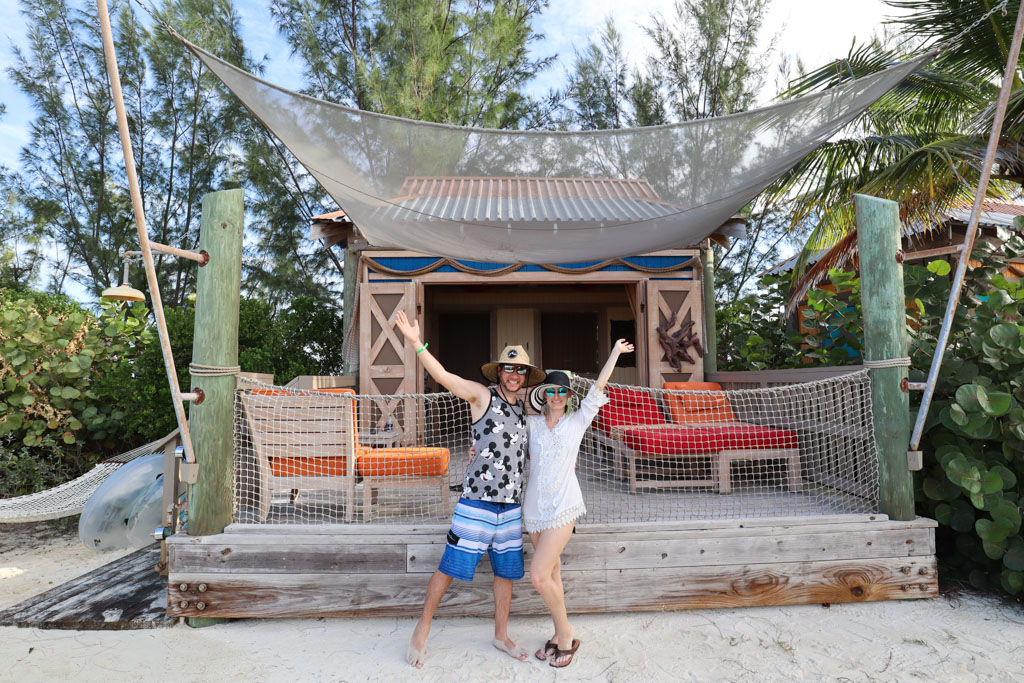 We especially enjoyed having a quiet and private area to relax together away from the crowds. The comfortable padded lounge chairs (in the shade!), beautiful beach view, personal attendant, cabana safe, mini fridge (with fresh fruit and water bottles!), rafts, hammock, and pool floats that are included with the cabana rental really made our day extra special!
Our cabana attendant even drove us over to Cookies BBQ for lunch and he also drove us back to the ship at the end of the day. The service and accommodations were excellent and I wouldn't hesitate to book another cabana again in the future!
Pro Tip - If you do manage to snag a cabana, remember to bring a cash tip for your cabana attendant because they work very hard to take care of you that day and deserve a tip. 
11 Tips to Have the Best Day at Castaway Cay
Get up early and eat a hearty breakfast at cabanas because lunch isn't served until 11 AM on the island.
Pack a beach bag or backpack the night before with your photo ID, KTTWC, a reusable water bottle, sun lotion, lip balm, and any medications that you might need during the day. It's a far walk back to the ship if you forget something.
Get off the ship as soon as possible (check your navigator for the All Ashore time), your time on the island is limited.
You don't need to bring towels with you, they will give you towels for your party as soon as you walk off the ship.
If you want to mail yourself a postcard, remember to pack a stamped postcard in your beach bag.
Drink a lot of water throughout the day to stay hydrated. The sun is very strong in the Caribbean and it can quickly sneak up on you.
Use reef-safe sunscreen and reapply multiple times throughout the day. Even better, wear a sun shirt (this is the sun shirt that I wear and love!) and hat to protect your skin and scalp!
Take pictures in front of the ship and with the characters as soon as you get off the ship if that's on your priority list. On our last cruise, the characters weren't out later in the day so you don't want to wait and miss them!
Bring an anti-theft locked backpack to store your camera, cell phone, photo ID, wallet, or any other valuables that you might have but don't want to leave out on a beach chair. There are no lockers to rent on the island.
If you plan on renting a bike, remember to pack water shoes or sneakers to wear. Riding in sandals is not safe, my friend lost her pinky toe by riding her bike that way.
If you plan on doing any excursions on Castaway Cay, make sure you fill out all the safety paperwork prior to arriving for your excursion.
More Disney Cruise Posts That Will Help You Plan Your Next Trip!  
159 Disney Cruise Tips that You NEED to Know Before Your Cruise!
 What's Better: Palo Brunch or Dinner?
35 Essentials that you need to pack for your next Disney Cruise! 
What's the Food Really Like on a Disney Cruise?